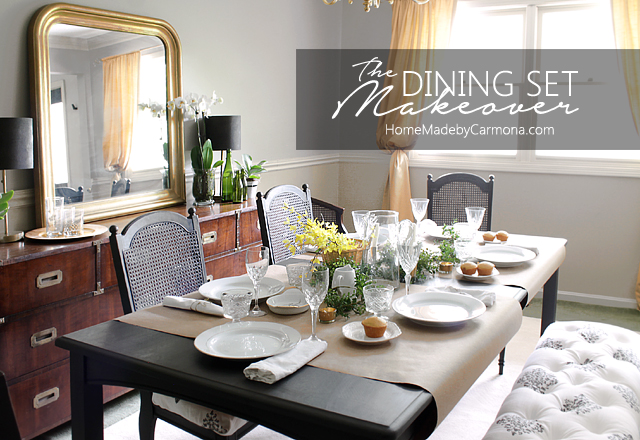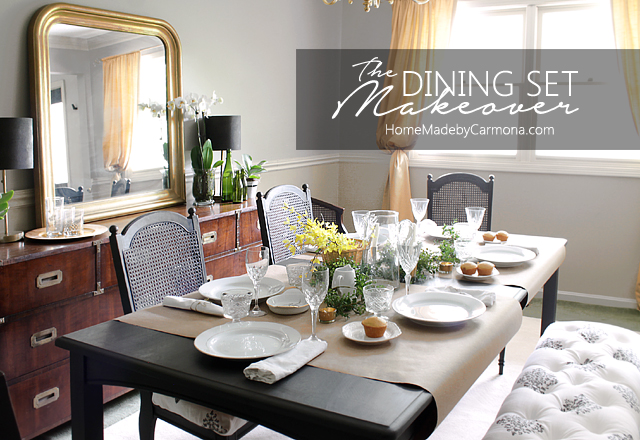 Ok, it's not pretty…it is kind of a weird hodgepodge of styles that could have been popular, but really just didn't make the cut. Yes, that's right, I'm talking about my happy dance. Oh you thought I was referring to the mismatched furniture in my dining room I've been promising to show you? Haha!
Every time I walk into my dining room now, I break into that happy dance. Then as I leave the last thing you see peeking around the corner is my little grinning head doing it's happy bobble head shake (does this make me weird?). That is because this mismatched mess finally came together and now I'm beginning to see the end in sight for my impromptu dining room makeover! Did you miss the before picture and the crazy story of how it all began? Yeah, I lost my mind.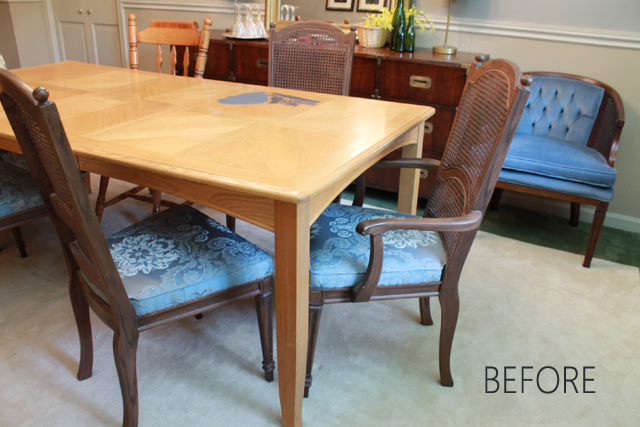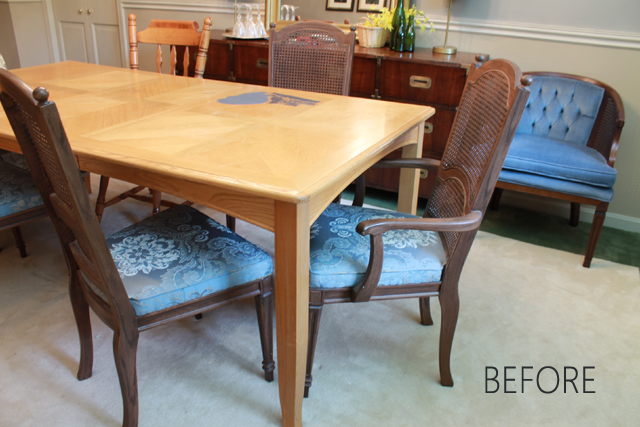 I'm stoked to have teamed up with Annie Sloan Unfolded this month during their #MadeItMyOwn campaign. Using their exceptional products made all the difference in my dining room. By the way, I'm not just saying that, I've had a bit of a paint crush on Chalk Paint® decorative paint for well over a year and a half now… my first project was my TV console-dresser and in spite of 3 kids banging up against it daily (my youngest uses part of it as her school desk), it still looks as good as it did a year and a half ago! That, my friends, is one heck of a success story where paint is concerned!
Dining In Style
Lets talk about my dining room makeover. I knew I wanted dark and moody colors in my dining room space, so I immediately went for the darkest Chalk Paint® color available: the very sophisticated looking Graphite.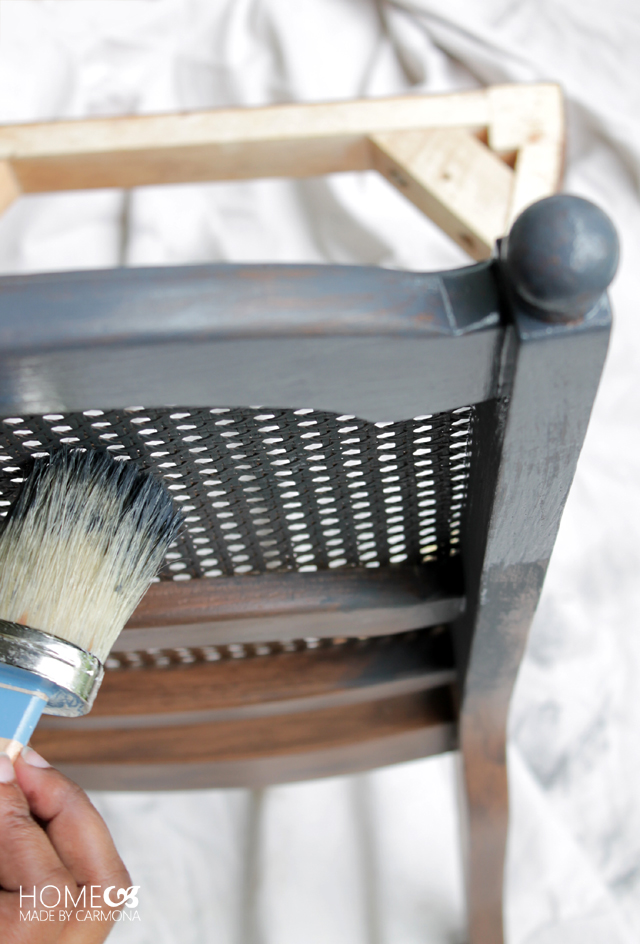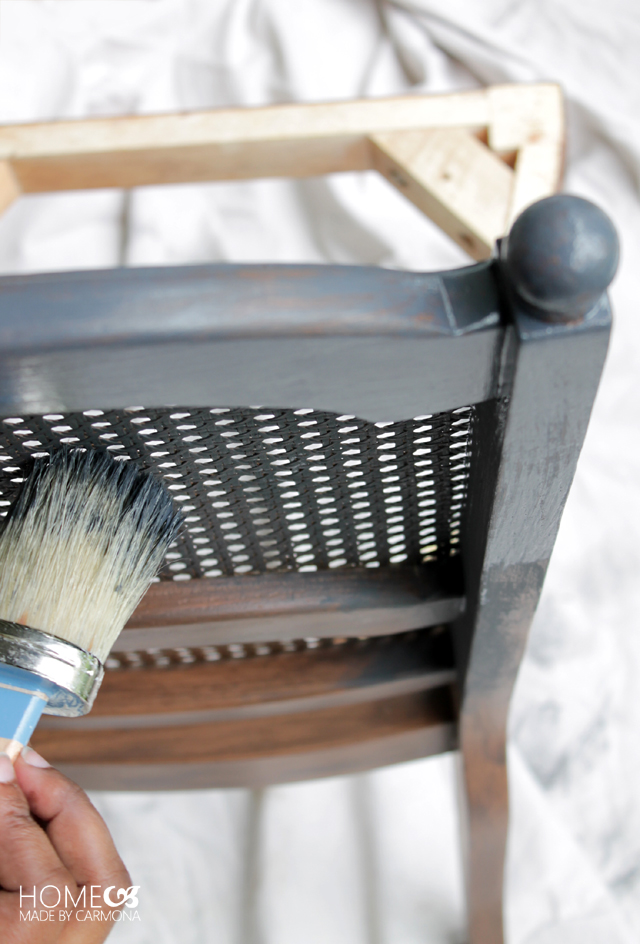 It was beautiful! But it wasn't the black I was expecting…it appeared very blue toned in my space…which would NOT match the space at all.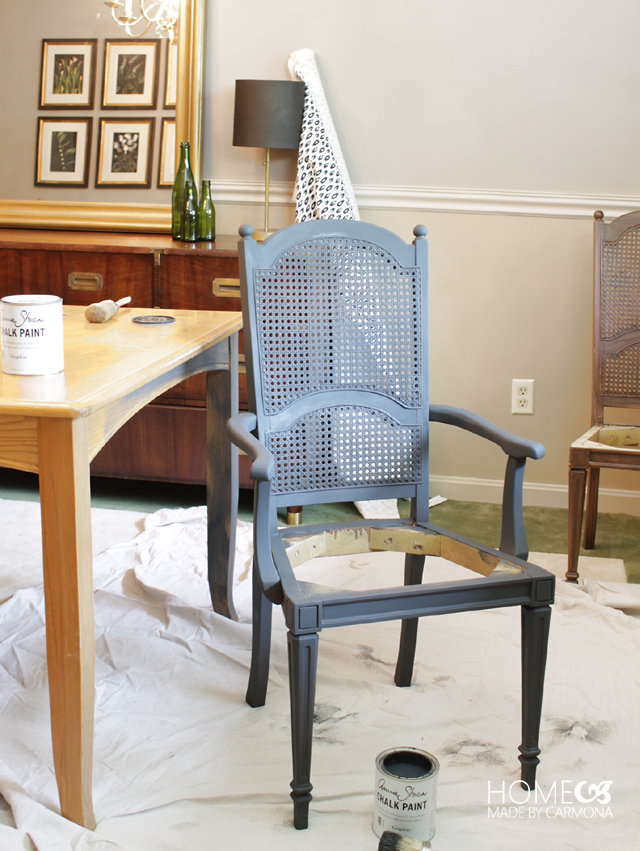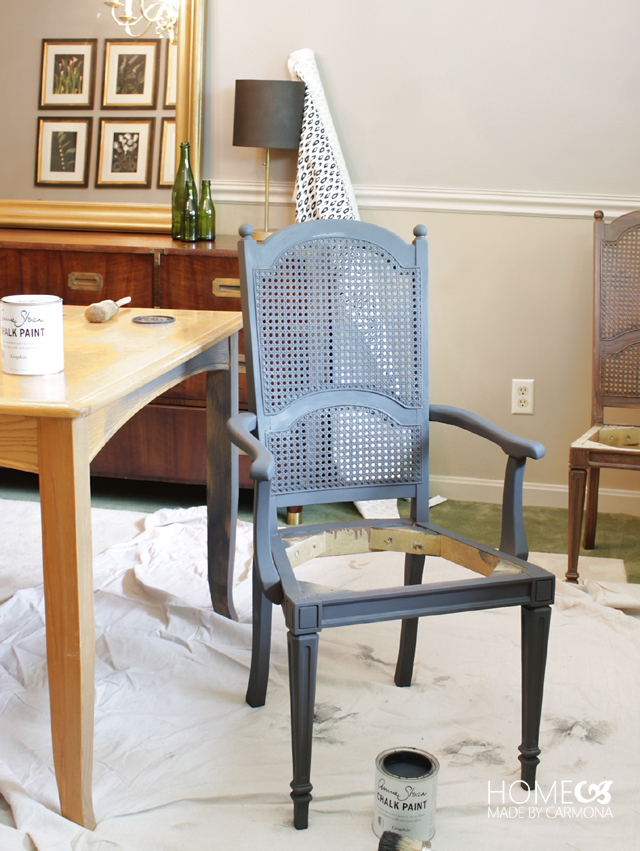 Let me be honest, I panicked. I didn't want to send back the paint and exchange it for another color. Shucks, I was hoping to have the paint dried, and potentially have guests by the weekend (apparently I didn't learn my lesson the first time!). I gathered myself and made a call to my local Annie Sloan Stockist who happens to be a charming little shop called Methany Weir. Let me tell you, the awesome ladies who own this shop have saved me twice now. Haha! Well, you know me, when it comes to paint colors I'm crazy indecisive. One minute I want a dark color, the next I want something light.
Kim of Methany Weir reminded me Annie Sloan keeps her colors historically accurate (no hard black available), but that if I wanted a darker hue I should use the Annie Sloan soft dark wax. I breathed a sigh of relief, and dashed over to the shop that very afternoon, where she exchanged my soft clear wax for soft dark wax, and even showed me some application techniques! Did I mention that this shop rocks? For those of you living in Cleveland, it is a must visit; plus they offer classes! For those of you living elsewhere, it is definitely worth finding your local Annie Sloan Unfolded stockist. Comes in handy for those emergency "I need to makeover an entire room using only paint, and in 2 days!" moments. 😀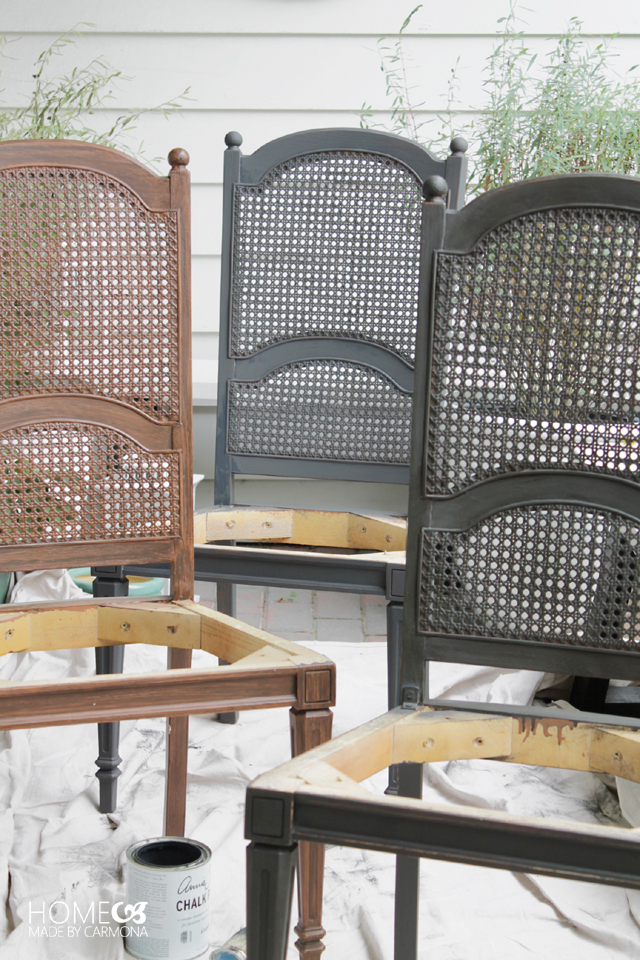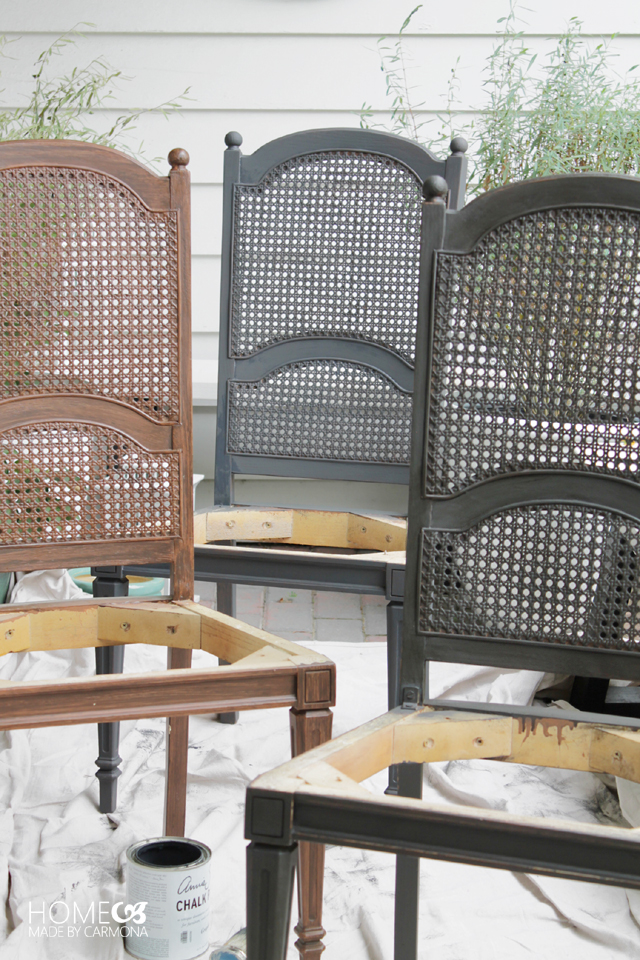 See the dramatic difference between the painted chair and the chair after I've used the dark wax? I have used the clear wax before (which I love), but now I think I have a new love. The dark wax creates a kind of aged look that is stunning. You just brush it on, and wipe it off using a lint free cloth. Easy peasy. Oh, I did do a little furniture distressing before waxing.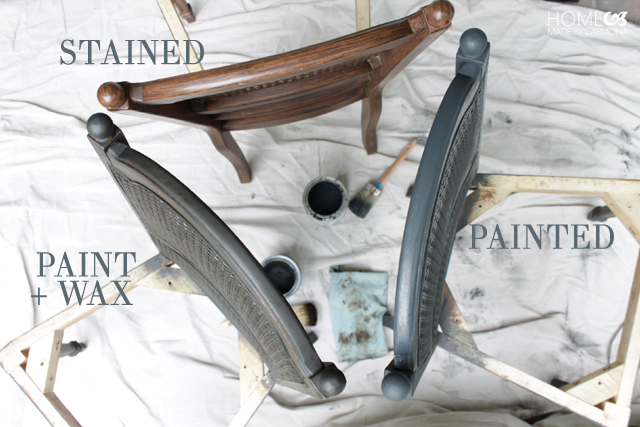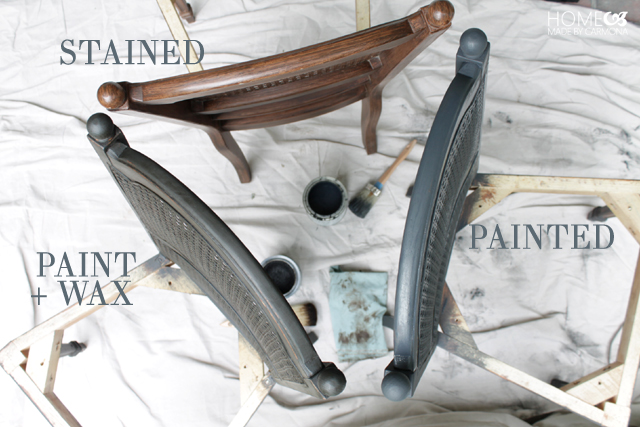 I did all the chairs, and the dining room table in the same color to make it seem like a single set. I got the table from a thrift shop for $30, all four chairs for $45 on a Facebook garage sale, and the rest of the furniture were items people were getting ready to throw away. Great finds right?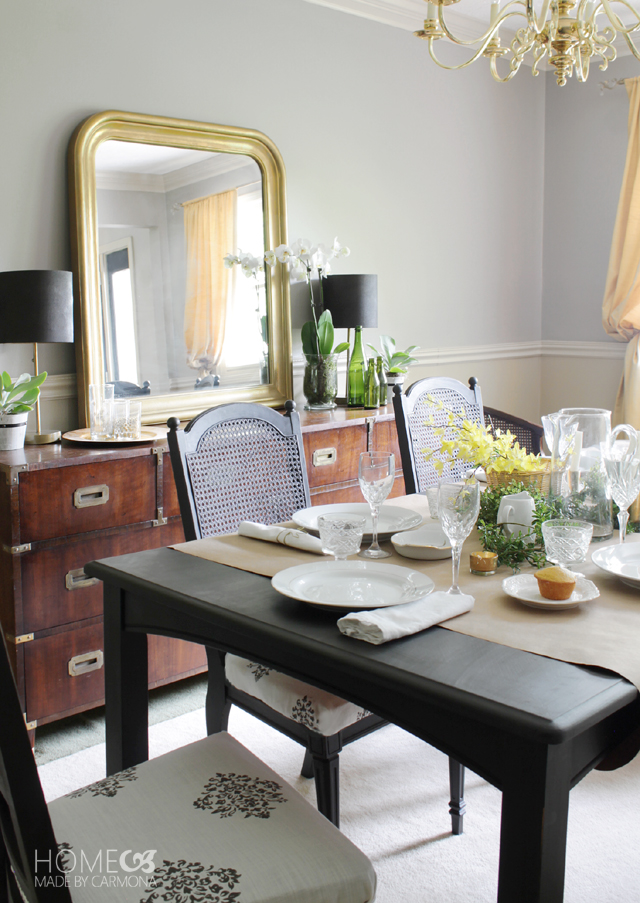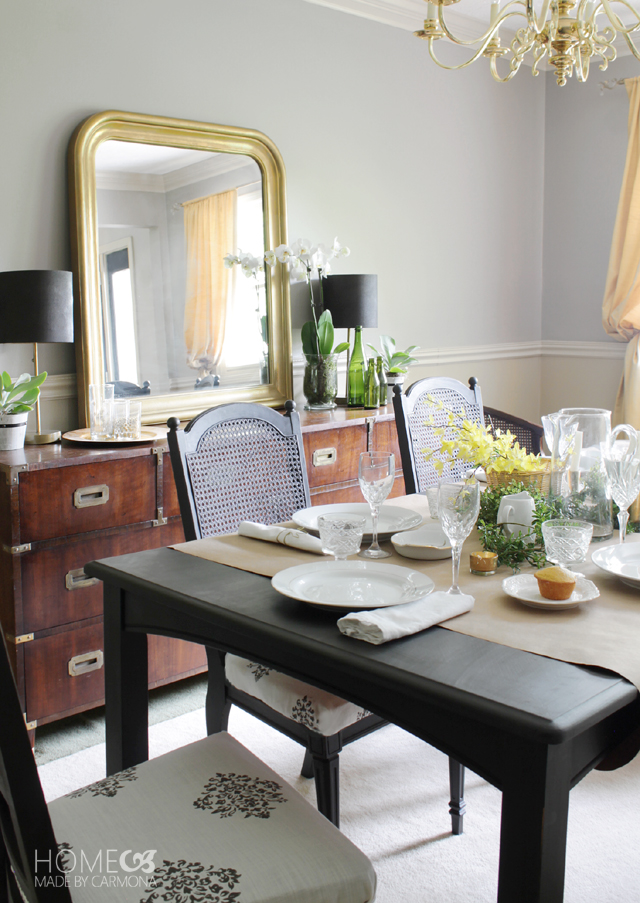 Isn't this dining room coming along wonderfully? I'm excited to finish up this space and finally be happy to host dinner guests. I think in my heart I always felt a twinge of shame before. Isn't it is amazing what a bit of paint can do to bring cohesion to such a mismatched space?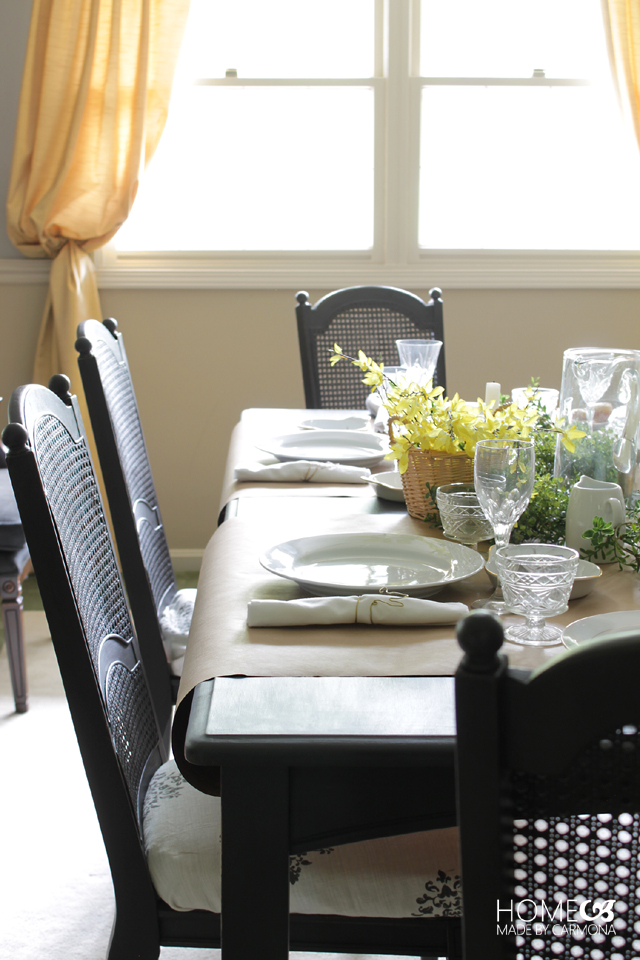 I also painted this little round armchair using the same Graphite colored Chalk Paint® to give it a sophisticated air. That bright blue was not working before. You can read more about it here.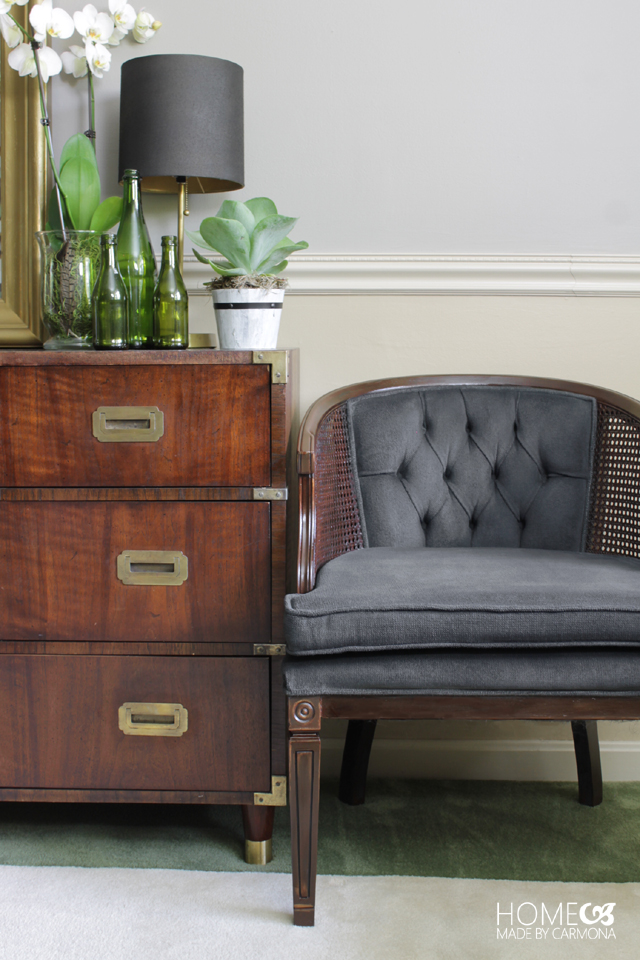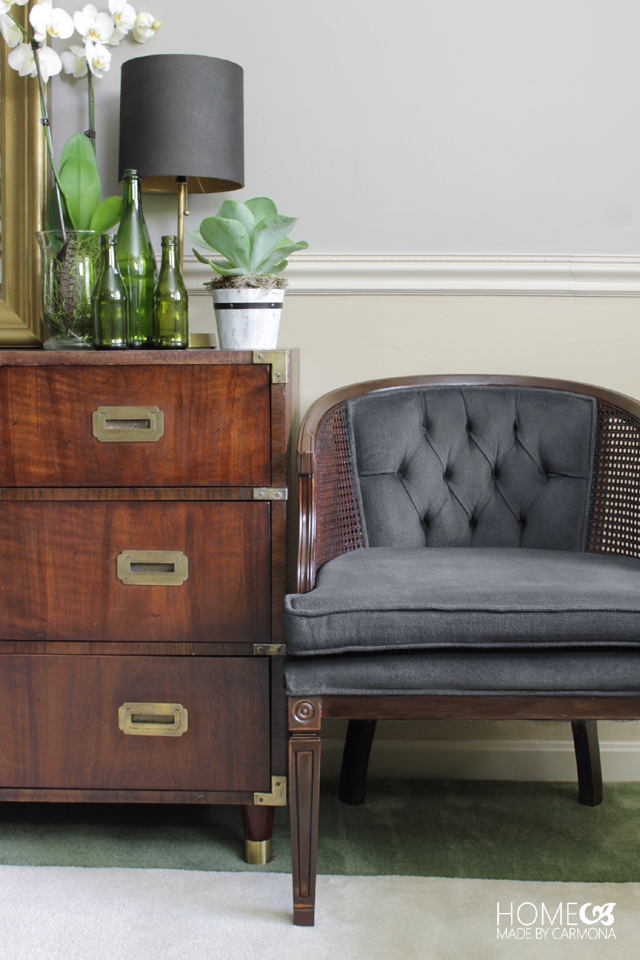 Next up on my to-do list to complete the space is a gallery wall. I know, I already have some art in the space, but the mirror is just begging to have art surrounding it.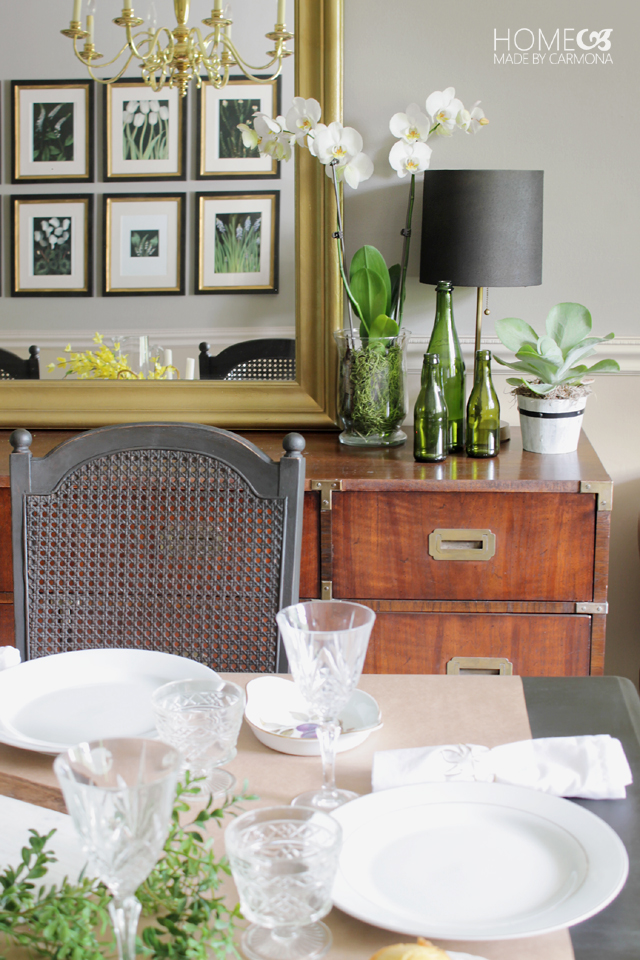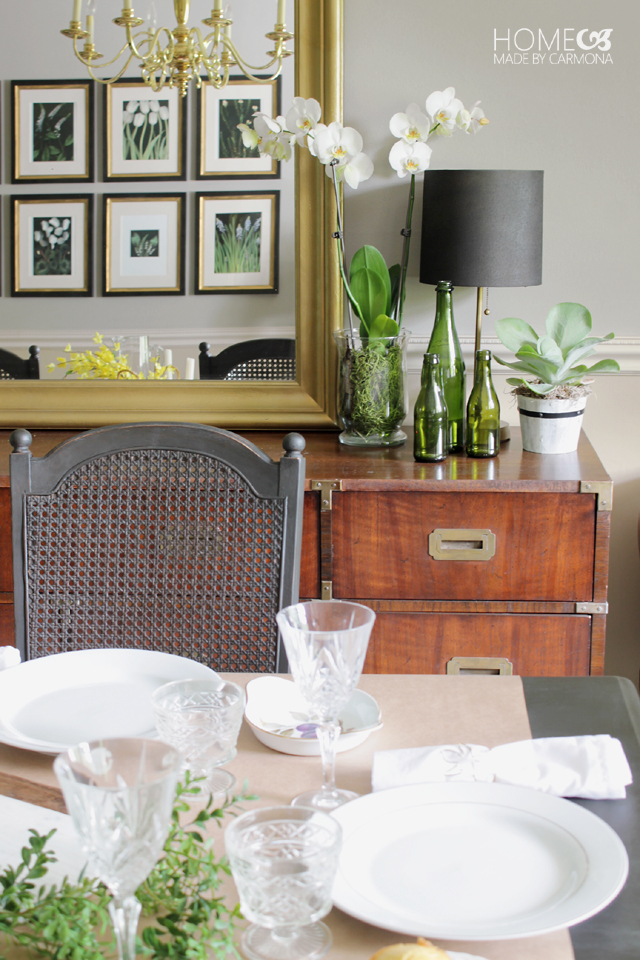 You Asked, I Answered!
Recently a lot of you have been asking me all kinds of questions regarding Chalk Paint® decorative paint. Well I'm no expert, but I'll do my best to answer. You have been especially curious about why I like it so much, so without further ado…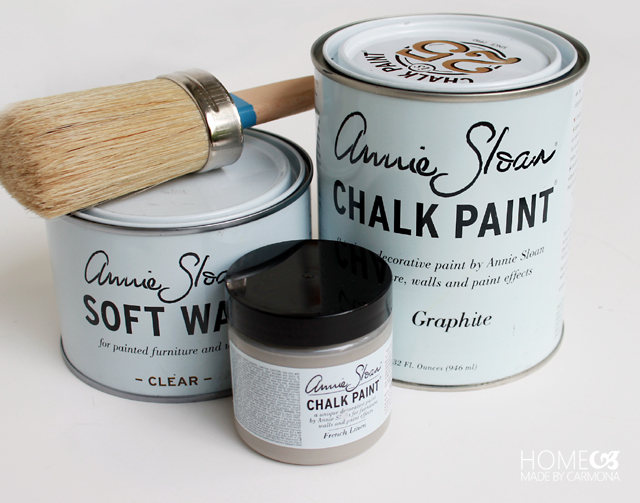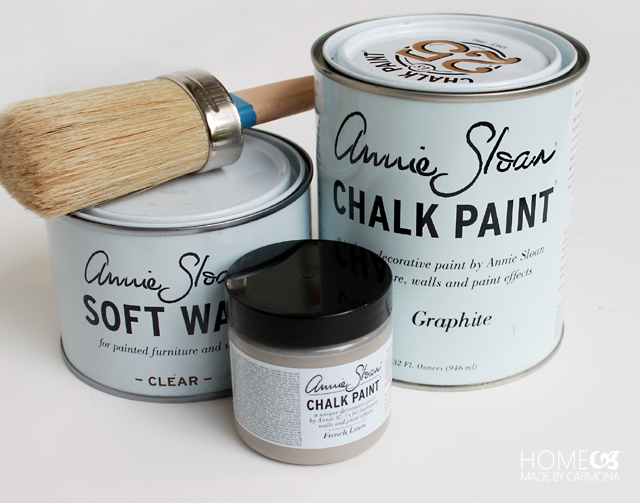 Here is why I personally love it:
Easy application: It rarely requires any sanding or priming beforehand, and goes on usually in one application, sometimes two! Just the way this lazy DIY'er likes it!
No harsh fumes: I'm not saying you can't smell it (if you are a hound), but it is so mild compared to the average paint, that I feel comfortable doing furniture makeovers indoor during the winter months.
A finish that is smooth as silk!: Seriously, I LOVE the finish. I sanded the first piece I ever painted for a perfectly brush-stroke-free finish. And even when I didn't sand it (as with the dining set) it has such a smooth finish.
Durability: After painting, you seal it with a soft wax. When I first used it I thought there was no way this soft stuff could be protective. With 3 kids, even my walls look dingy after just a few months…but miraculously the furniture I painted using Chalk Paint® and finished with wax (including my kitchen table used by the whole family 3 times a day), has endured marvelously! I know, even I am surprised. I would have thought a re-application would be in order by now.
A couple Tips & FAQ's:
No it is not "chalkboard" paint: This paint is the secret sauce of Annie Sloan, you use it to paint furniture (and more!).
Not all chalk based paint is created equally: Thanks to a little experimenting after a conversation with a DIY loving friend (thanks Hilary!), I learned that just because something says "chalk paint" doesn't mean it is good or effective. Chalk Paint® by Annie Sloan is an excellent choice I personally recommend.
Have you experimented with Chalk Paint®?: An itty bitty bit. I used it to paint upholstery twice in my home, and it turned out amazingly! But I have also learned to trust the manufacturer and all of their recommendations. They haven't steered me wrong yet!
Just do it, spring for the brush: Granted, I am a bit of a brush snob, but the Annie Sloan pure bristle brush is fantastic! I have a few other round bristle brushes, but this one doesn't lose as many bristles while painting…oh, and it is soft which is great for a smooth application. I used one large round brush for painting and one for wax application.
Paint application questions: You had lots of questions for me, but you can find a great FAQ page at Annie Sloan Unfolded here and get it directly from the pro's! There is also a tips and techniques page where you'll find tons of video tutorials. I'm just a hobby user like you.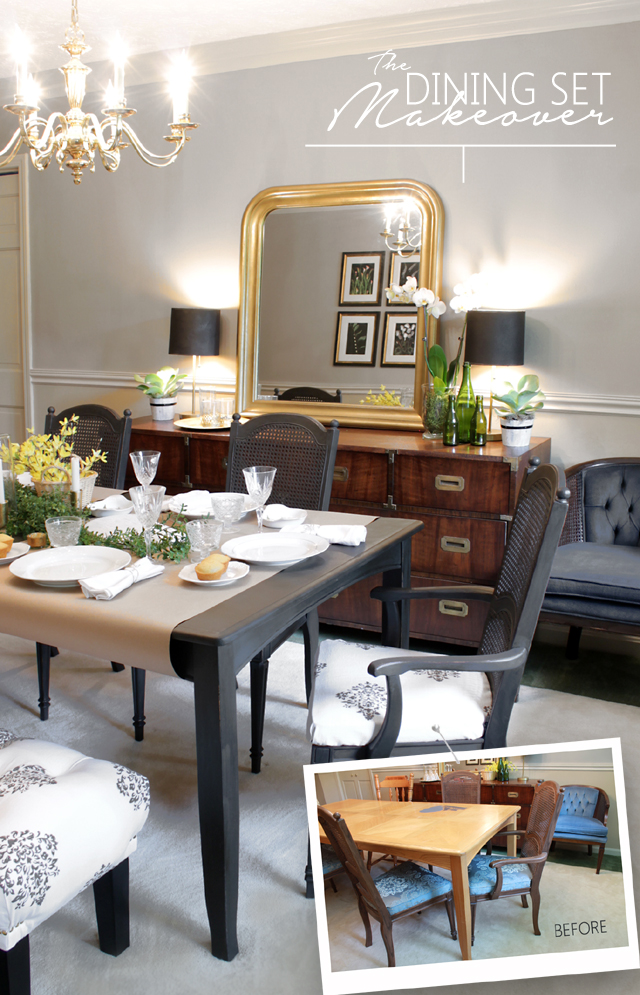 Hope that helps just a bit. Thanks for asking by the way! I love that you guys trust me enough to ask all your DIY questions and share your latest projects. Keep on asking, keep on sharing! And if you join in the #MadeItMyOwn campaign and upload your own project, be sure to share it with me as well! You know I love when you share your projects!!
[line]
**Special thanks to Annie Sloan Unfolded for sponsoring this post. My dining room truly thanks you! 🙂 I've been a fan for years and I'm always excited to join in the fun of your campaigns.


[go_portfolio id="diy_gallery"]