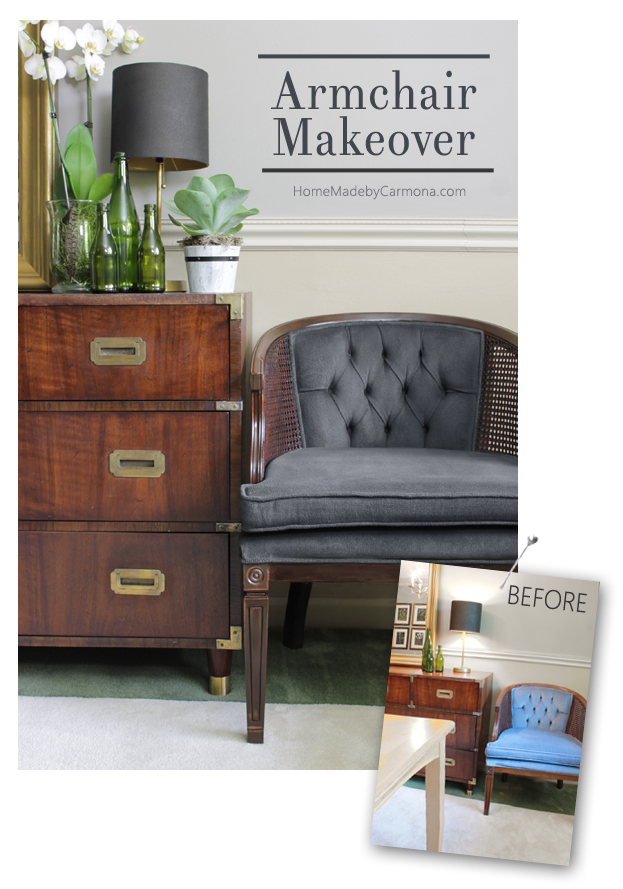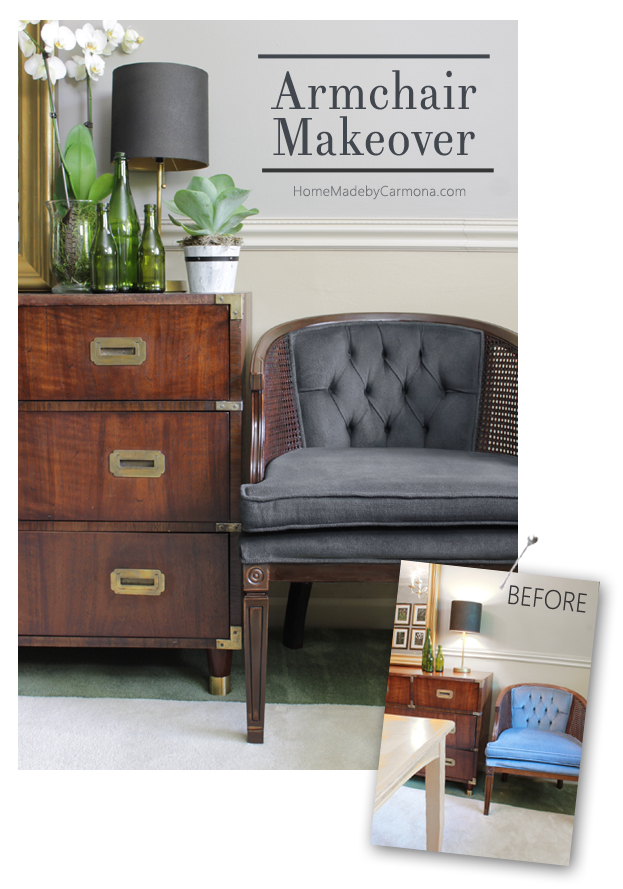 Do you remember the last time I painted upholstery in my home? It was magical I tell you! I took a couple of worn mid-century modern chairs and gave them a much needed refresh using Chalk Paint® decorative paint. Well, I'm excited to join up with Annie Sloan Unfolded for their #MadeItMyOwn campaign! This time I'm taking an army of mismatched dining room furniture pieces and turning them into one cohesive style.
[left]
Want to join in the fun too?
Just upload a photo of your own Annie Sloan projects using the hashtag #MadeItMyOwn to the interactive online gallery. Let me know if you do! I love seeing your creativity in action…plus I'm convinced no one has more amazing readers than I do. 😉
The projects can range from furniture to flooring to décor – and everything in between! By posting your project to the gallery, you'll automatically be entered for a chance to win $100's worth of Annie Sloan prizes, including Chalk Paint®, signed books, as well as a unique illustration drawn by Annie! But hurry, it all ends September 30th.
[/left]
[right]
Here's what you do:
1. Print out your frame here (or pick one up from your local stockist: find yours here)
2. Carefully cut out the middle section
3. Hold the frame in front of your painting project
4. Take a photo and upload it to the gallery
5. Share it and the post with your friends and followers on Twitter, Instagram or Facebook, adding #MadeItMyOwn
[/right]
Making My Dining Room My Own
Look at this hodgepodge disaster. This big project was perfect for a great paint-over, or chalk-over if you will. I have SO much to share, a single post couldn't contain it all, so today I'm going to start by sharing just this one sweet little armchair and the great big makeover it got. Then in the next post, I'll share the rest of the dining room set.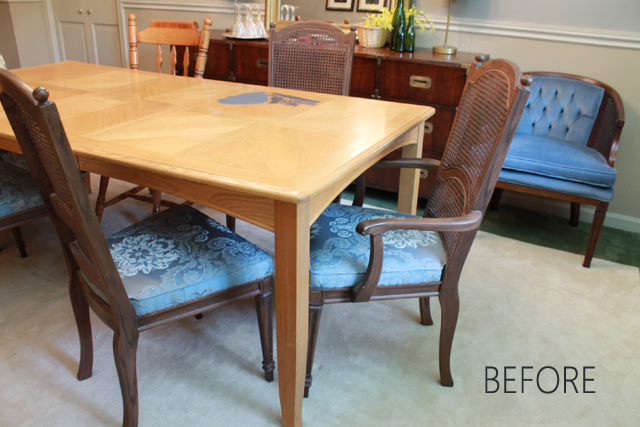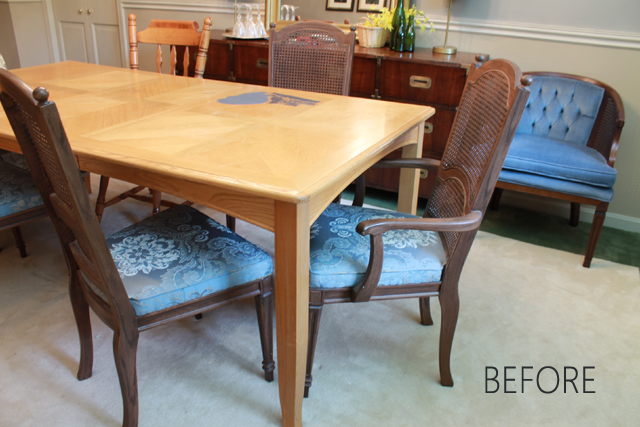 See that little guy hiding in the corner? The fuzzy blue tufted one? That blue was just too bright and ugly to work in the space, but I loved it's little tuft, and hated to rip it all out in the name of re-decorating, so I'm diving into my old love of upholstery painting and giving this bright little guy a much more sophisticated air.
Options, Options, and Yet More Options…
What a fantastic canvas this little round chair is; the options are endless! Hmm, having so many possibilities can be your best friend or your worst enemy if you are as indecisive as I am. With a chair like this you can easily go either direction, light or dark, bold or neutral. Since this baby is going in my dining room, I'm leaning toward a dark blue or blackish hue to add to the moody design I want in my space.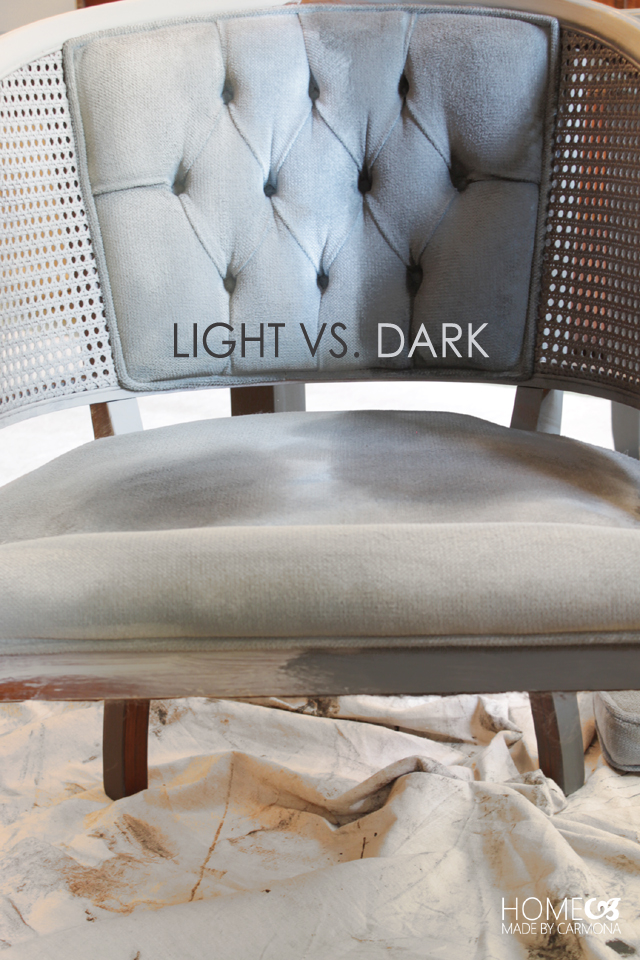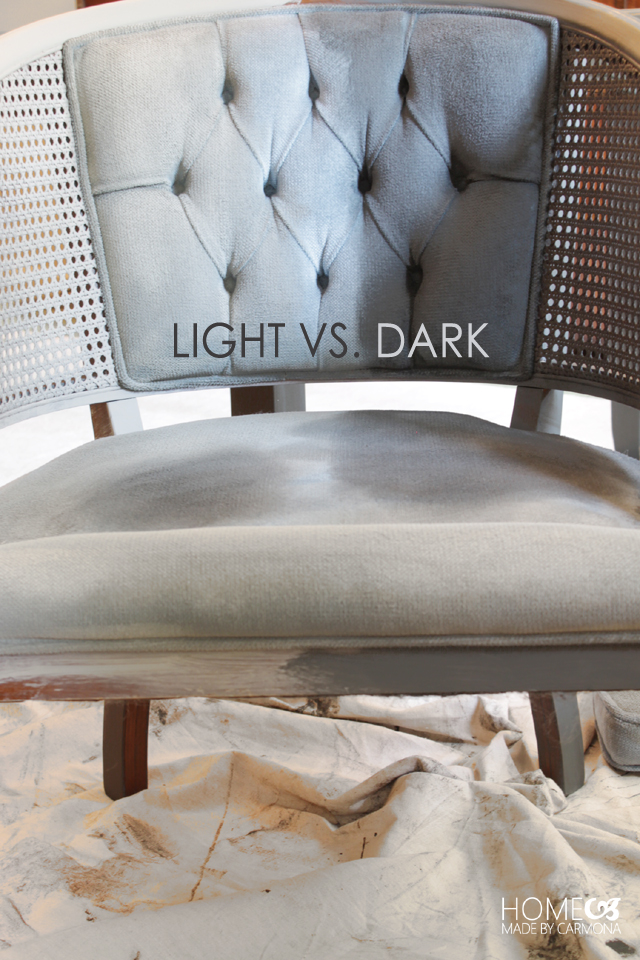 Once you choose which direction you want to go with your color, trust me and don't go back! Make it a one time paint job to keep the material nice and soft.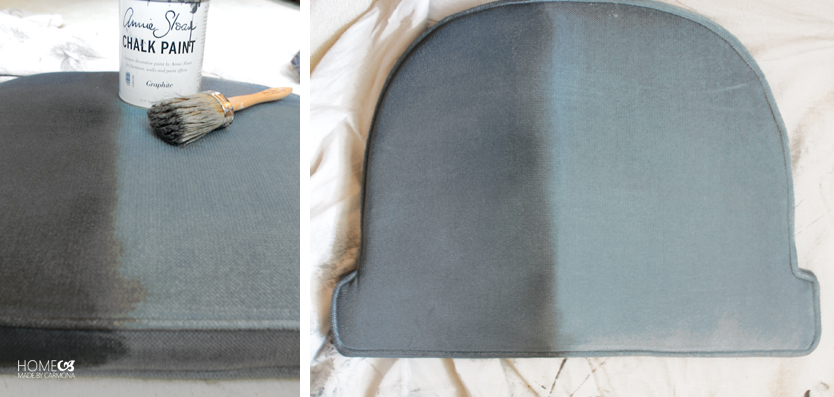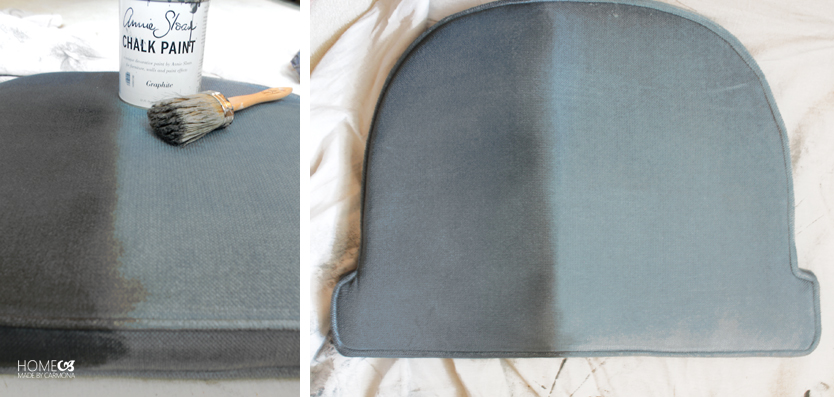 Last time I painted upholstery, I watered the Chalk Paint® decorative paint down and rubbed it in using a sponge brush. However the cushions of that seat were removable and I was able to rinse them down after. On this little round chair some of the upholstered area is built-in to the design of the seat itself. In this case, I'm using my Annie Sloan pure bristle brush (love this thing!) to dry brush the paint on. Don't water it down, use the Chalk Paint® at it's full strength. Don't dip your brush deeply in the paint either, just a little on the tip of the bristles brushed on will be enough. Brush in a circular fashion, and leave it with all the fibers standing up to dry.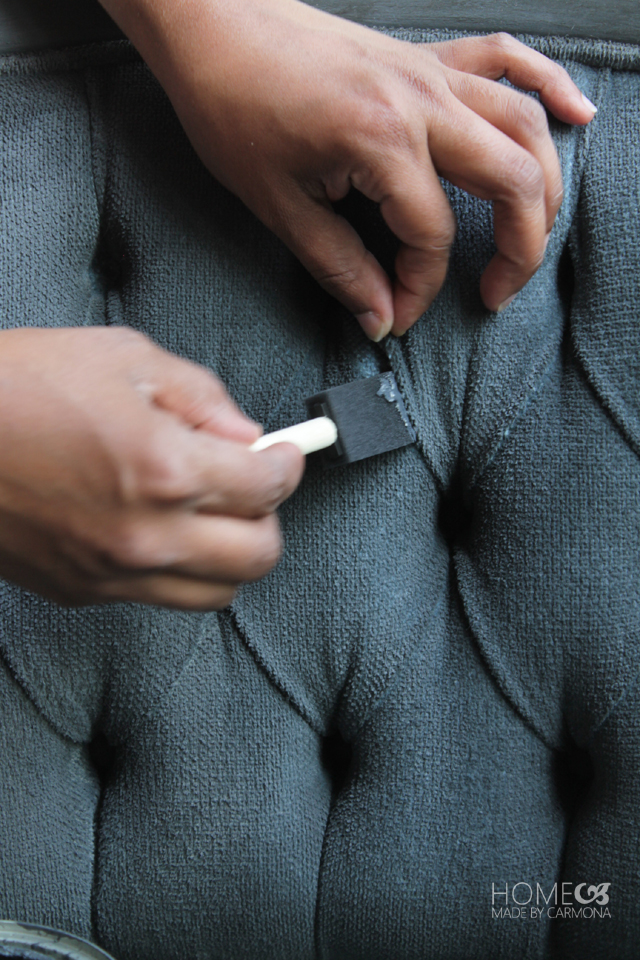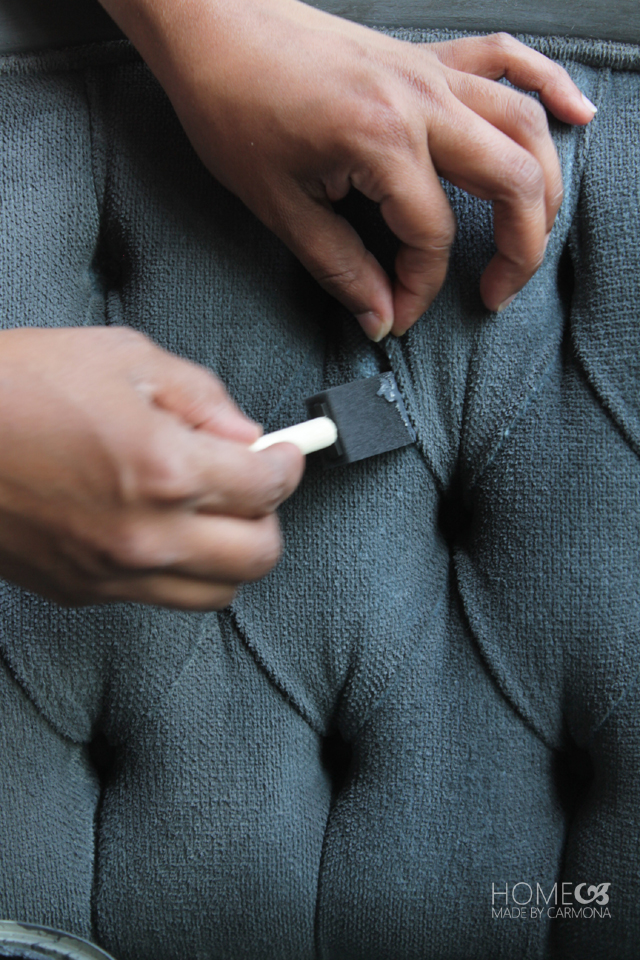 It covers very easily, but be thorough so you only require one coat. You want to keep the application as light as possible so the fabric stays soft. I used a sponge brush to get in the little nooks and crannies of the tufts.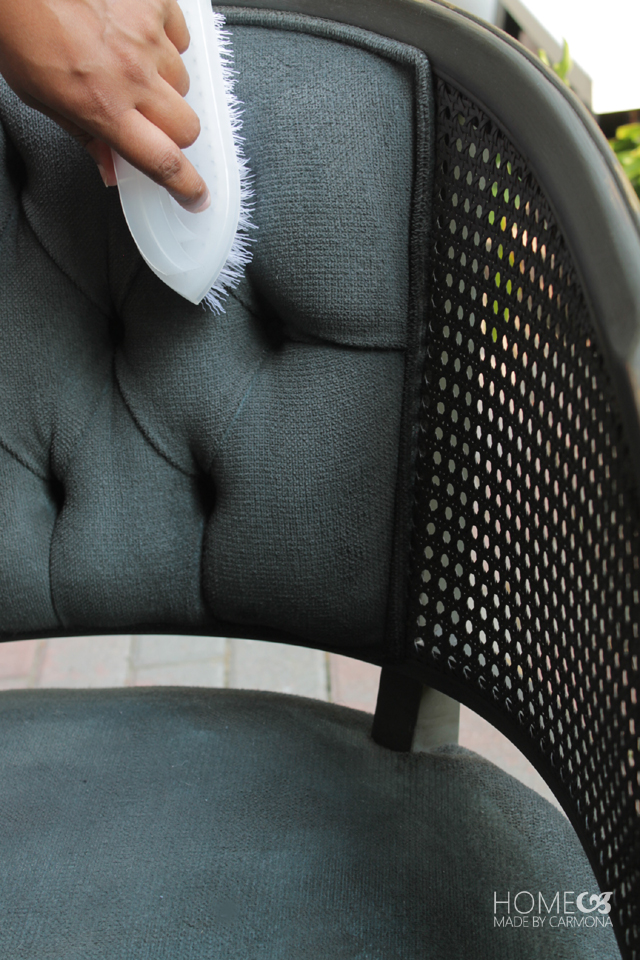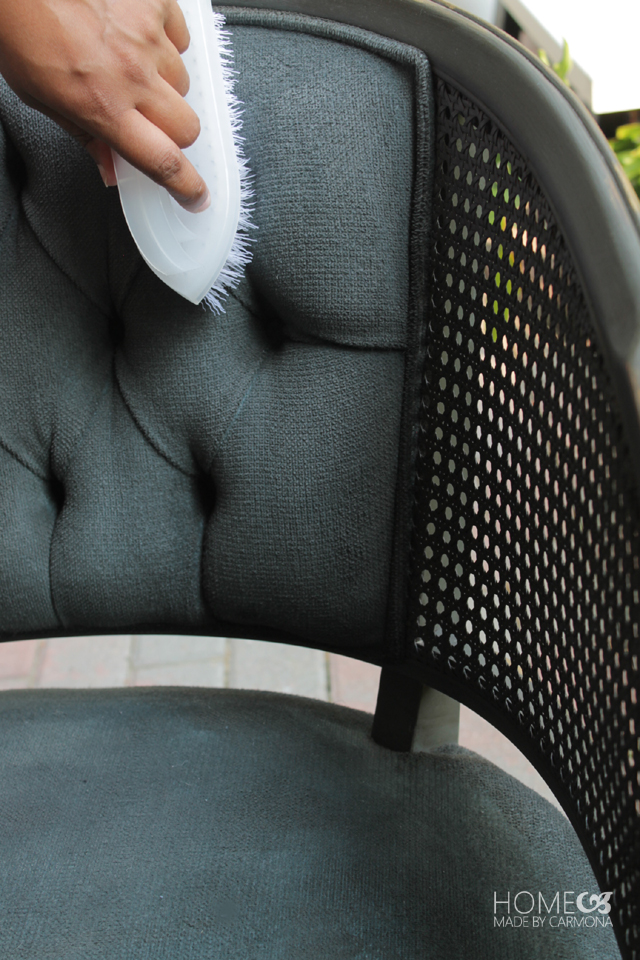 Let the paint dry, then use a stiff bristled scrub brush and vigorously brush it all over. This is like 'sanding' without the harshness of actual sanding. I don't recommend actual sanding while using this dry brush method, it will take some of the color off. This will suffice to soften your paint job up.
It is very easy to paint the rest of the chair from there, then you don't have to worry about taping off the upholstered areas. Just paint it all!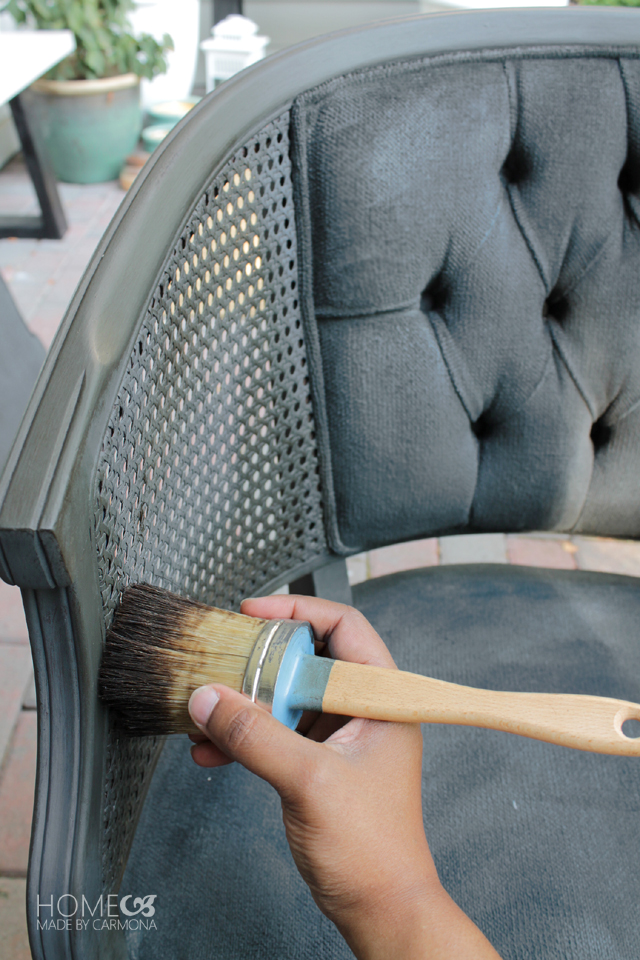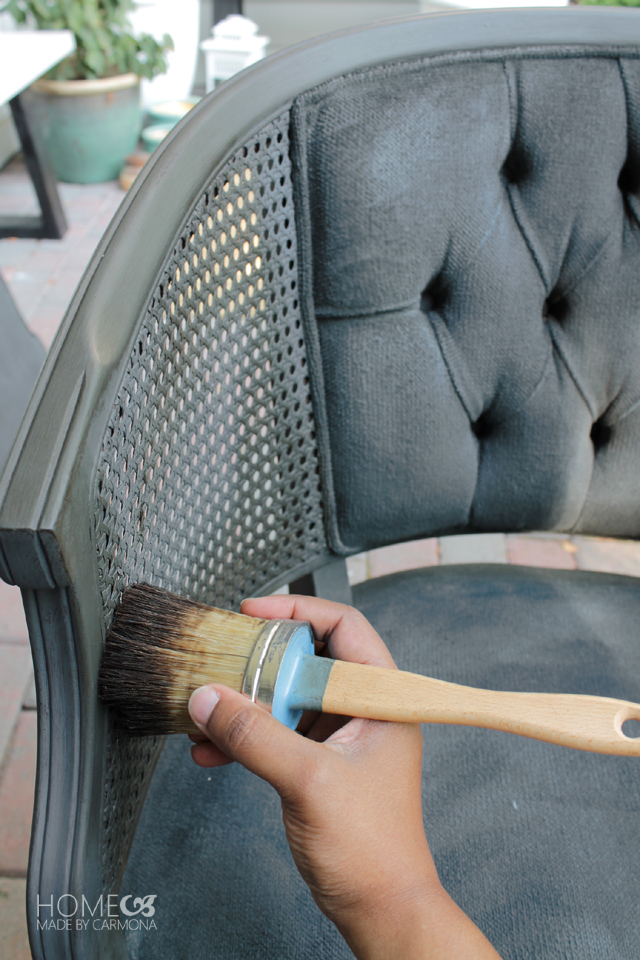 Here I am applying the Annie Sloan Dark Soft Wax to seal the paint job (tips to follow in the next post). Rather than taping off the upholstery to protect it from getting wax on it, I wrapped the rag around my finger and used it to push the wax into the edges.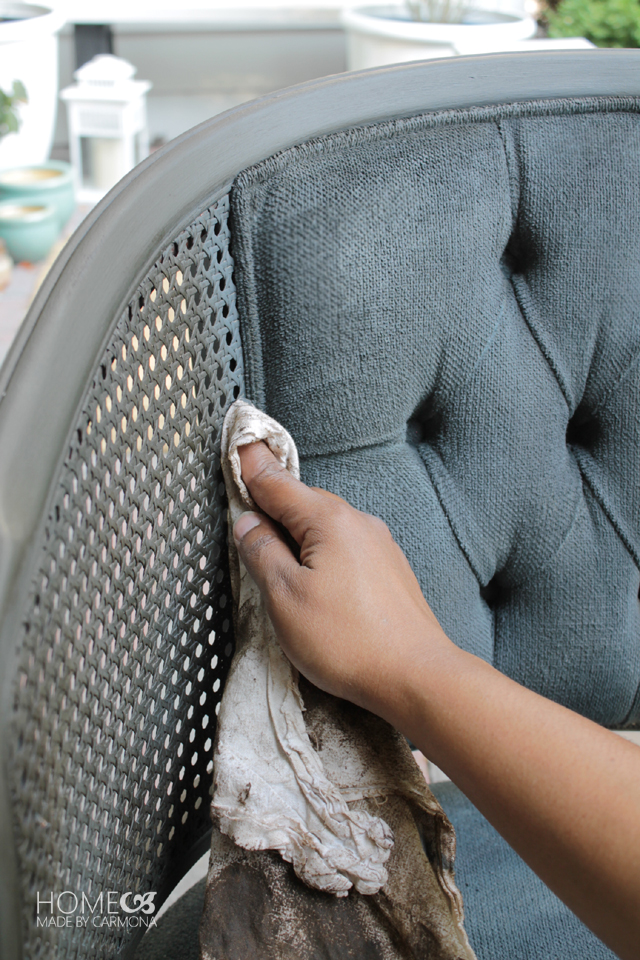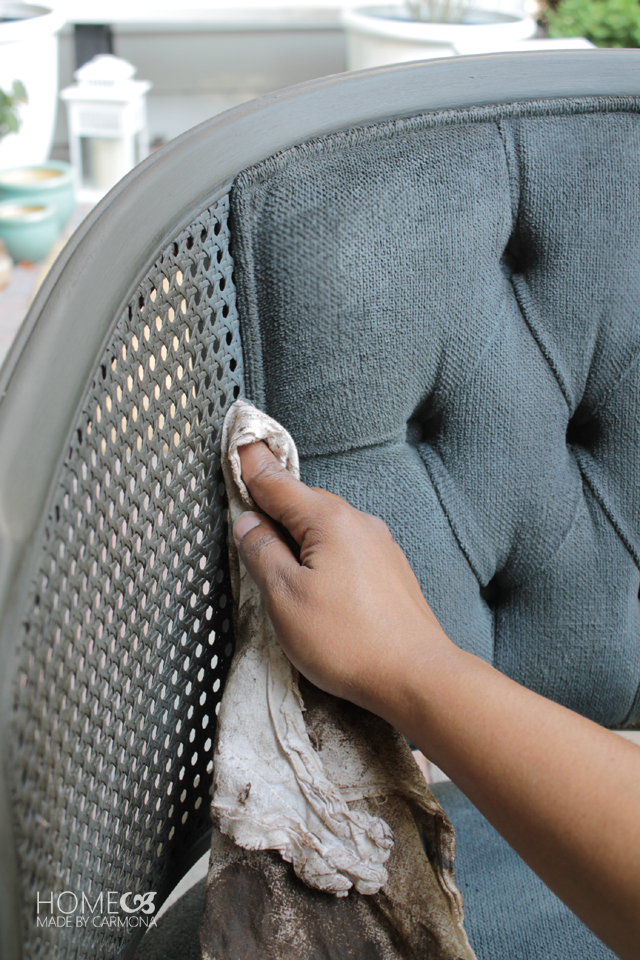 I love a slightly distressed edge, but a beautiful alternative was to use a bit of gold rub-n-buff along the edges.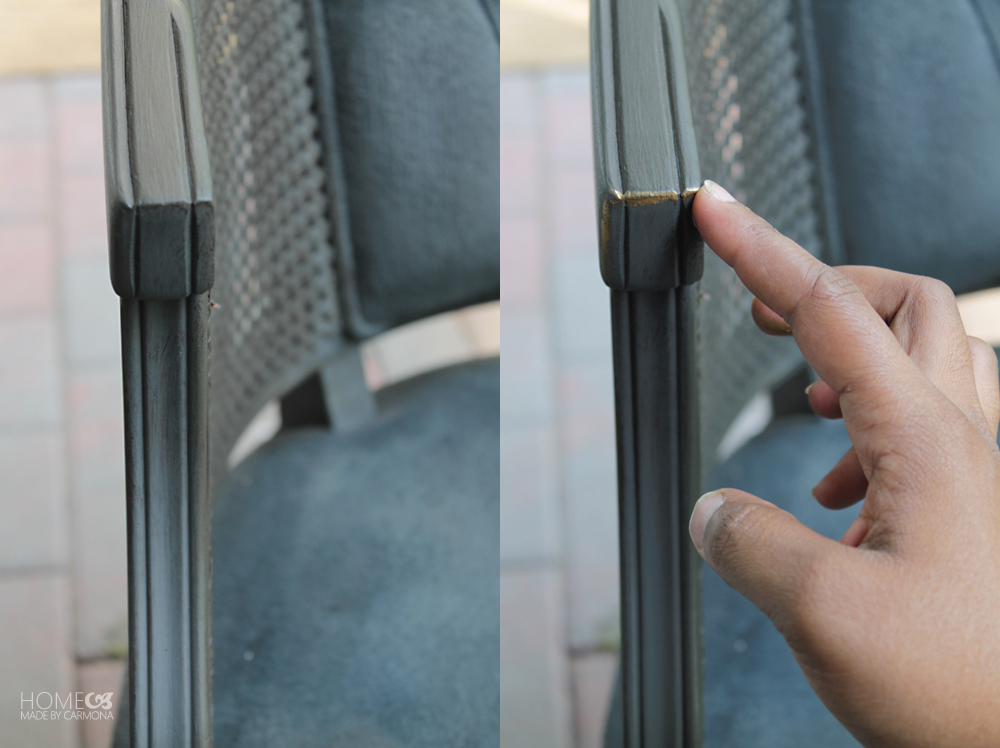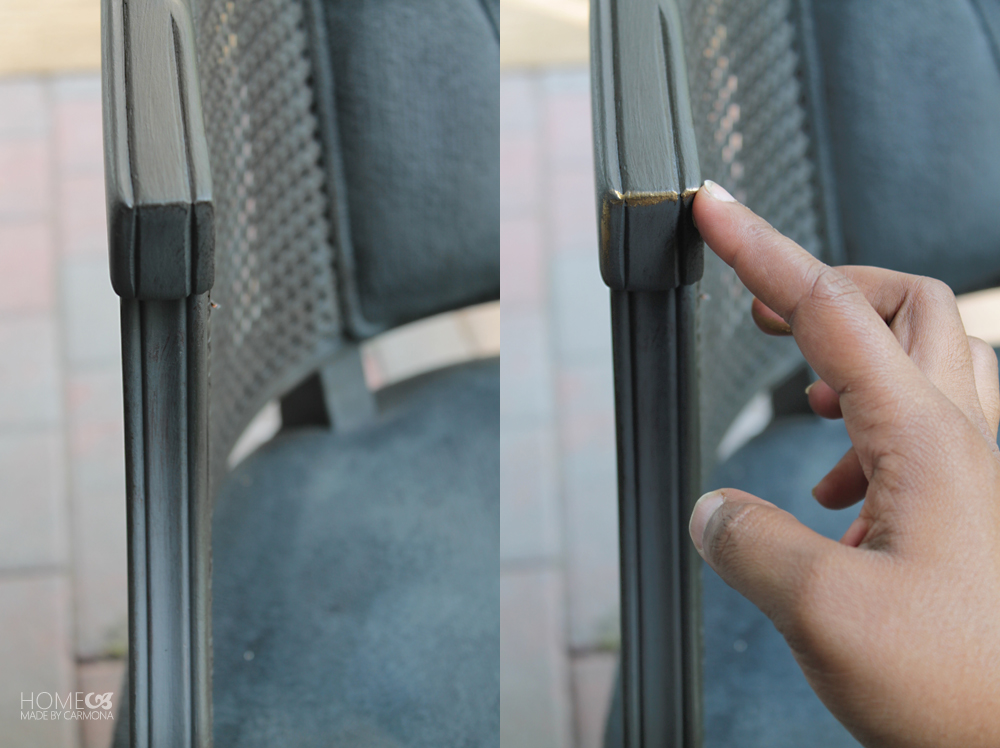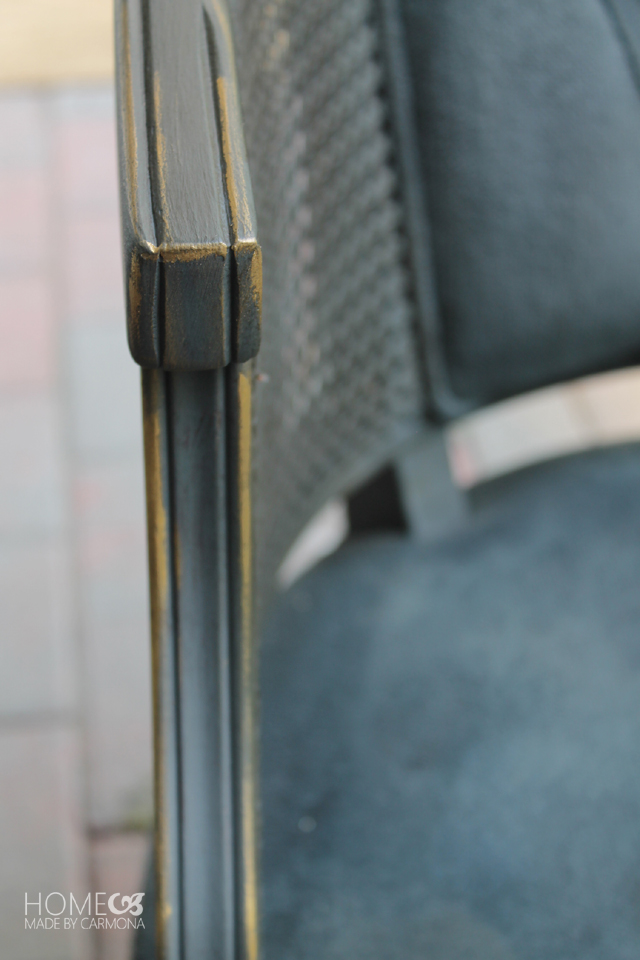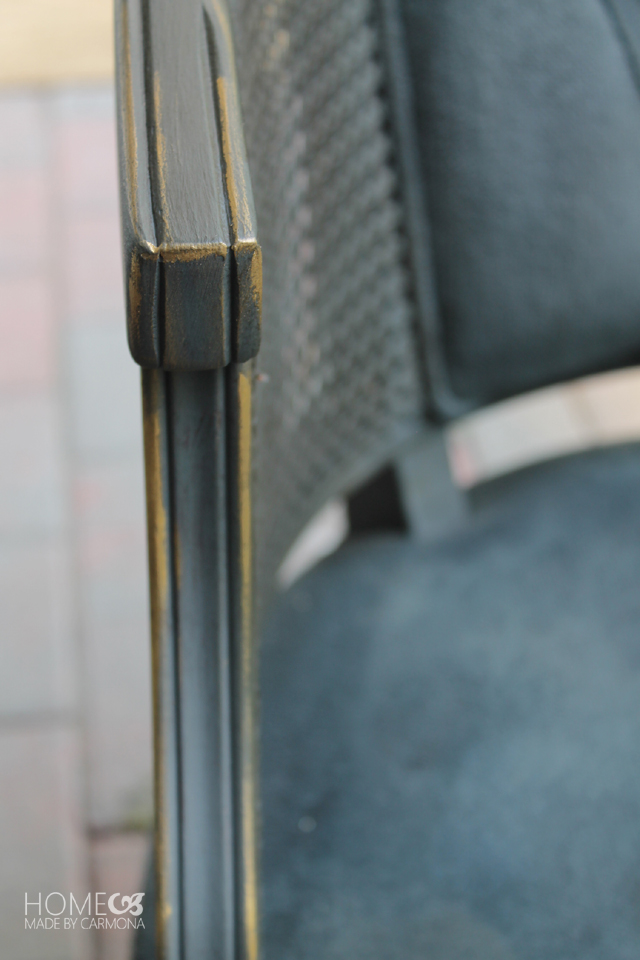 Once you are done with the wooden parts of the chair, allow it to dry thoroughly.
When everything is dry, go back and brush the upholstery one last time, for good measure. 😉 This is what the chair looks like when it is complete with a full paint job all over.
Stained Wood Option
I've shown you how easy it is to paint the entire chair and own a completely new look. However if you love the wood grain look, simply protect the wood by taping it off near the upholstered sections, and only paint the upholstered parts!
That can make for a beautiful finish as well!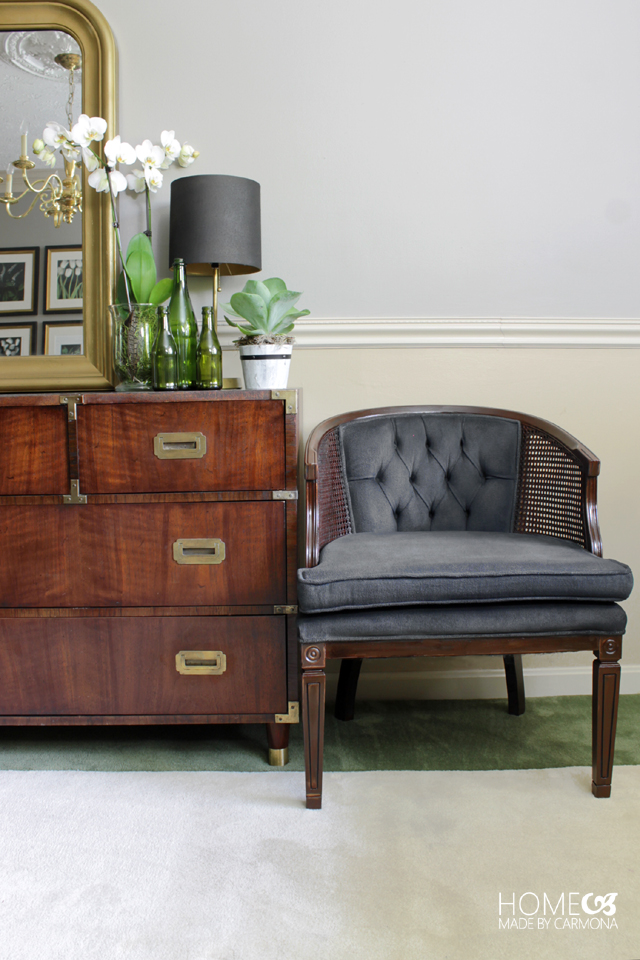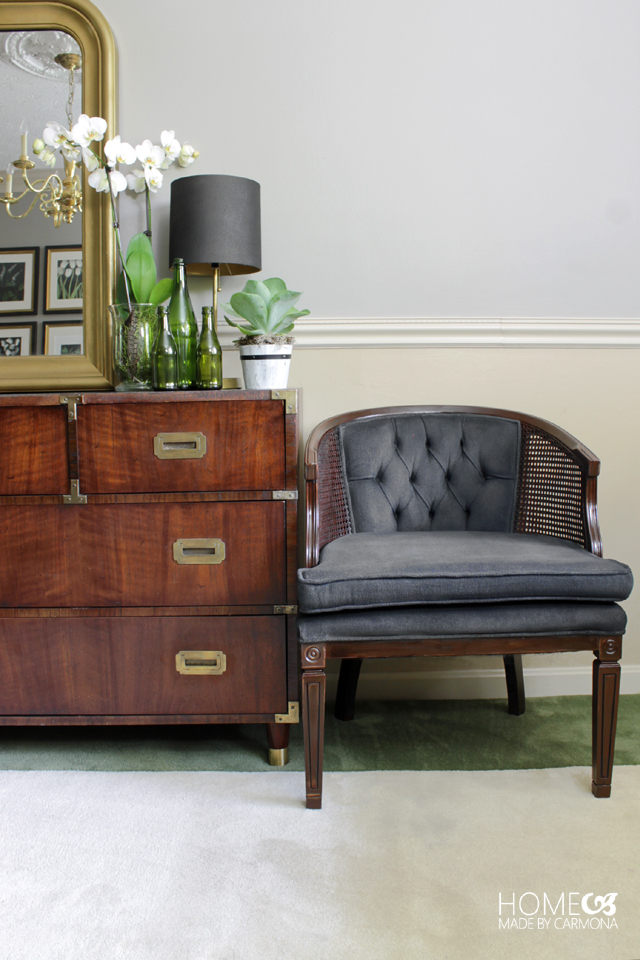 I can't wait to show you what I've done with my dining set. The change to the dining room from a simple chalk-over is phenomenal! Till then…


[go_portfolio id="diy_gallery"]