What if you don't have a garage or workshop to build or DIY? You learn how to create a remote workshop that can go anywhere and everywhere!
Today I'm sharing my top 5 tips to creating an on-the-go workshop that you can set up anywhere.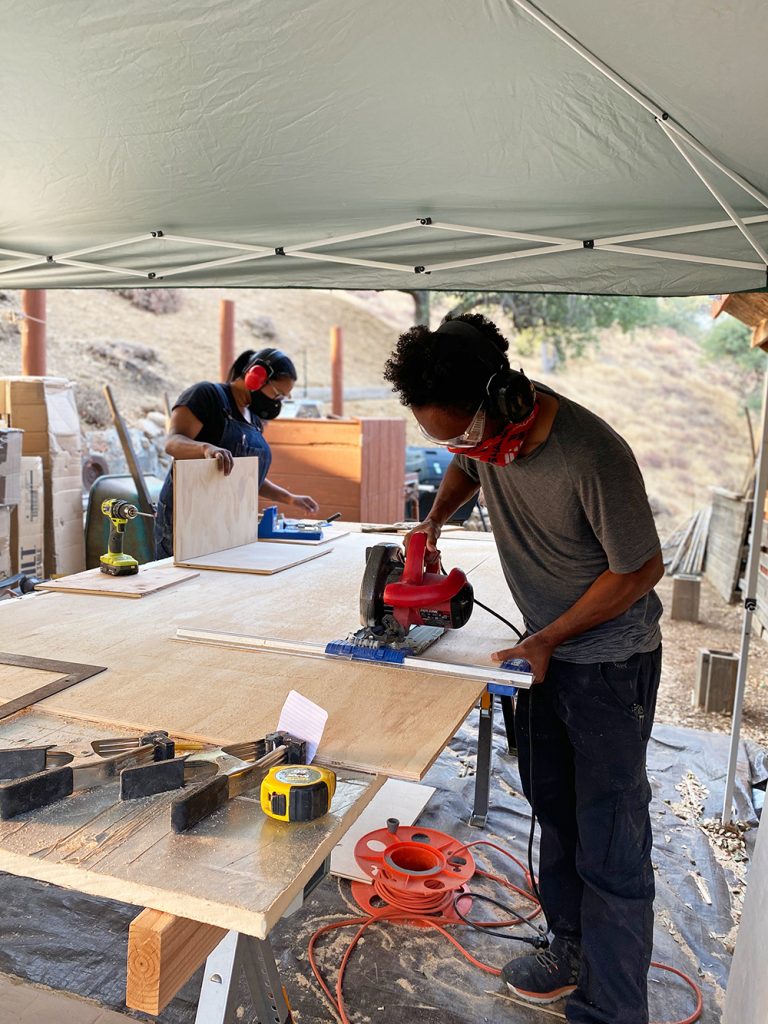 *This remote workshop was made possible by our friends at ToughBuilt!
Flying across the country to my parent's house to work on a remodel project meant I had to leave my own workshop and tools behind.
Unfortunately, my dad doesn't have a workshop, garage, or space for us to build from. So I planned carefully for the things we would need to allow us to turn any space into a mobile workshop.
Set Up A Movable Work Table
On the top of my list is a tabletop to work from, and the best way to do that is use the ultimate sawhorses! I asked my friends at ToughBuilt to supply us with the most tricked out sawhorses; the ToughBuilt C700 Sawhorse!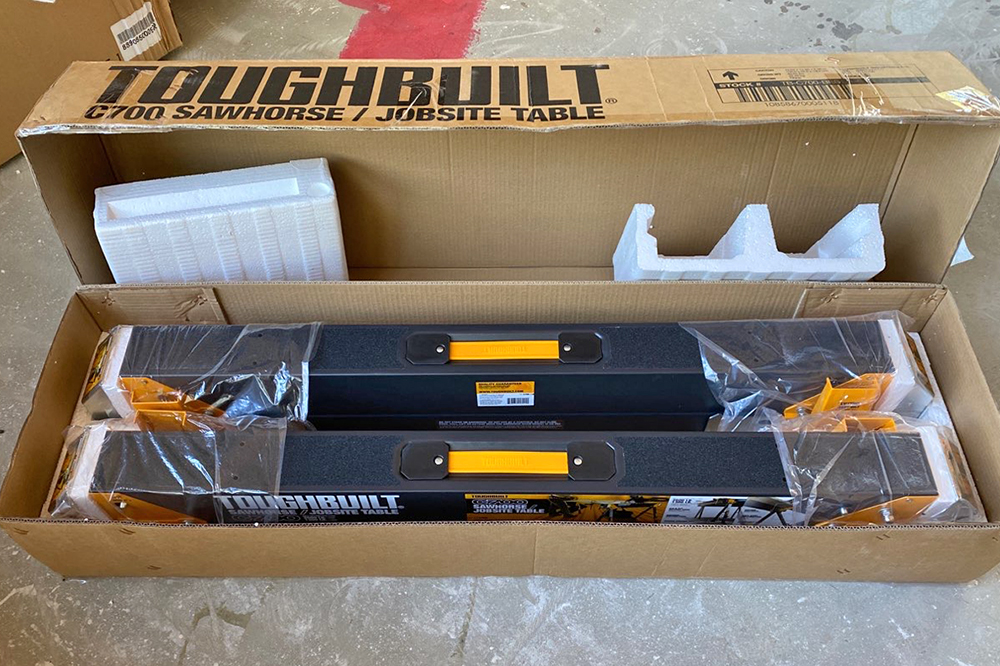 This bad boy has all the bells and whistles! Each individual leg is an adjustable telescopic leg, so you can set it up on any terrain and still have a level tabletop.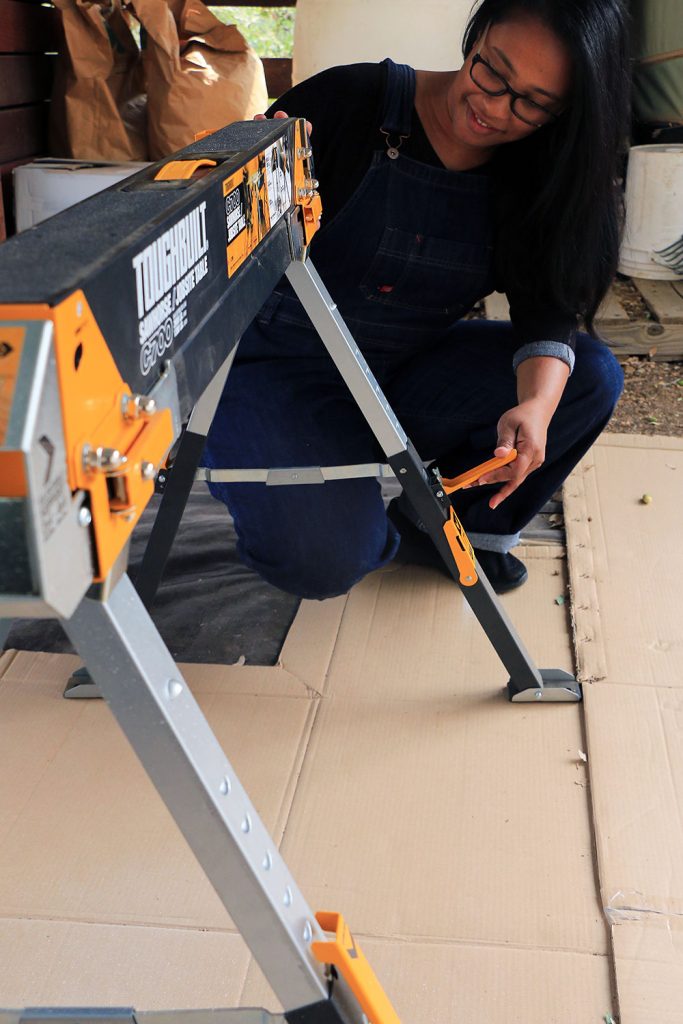 It is incredibly sturdy, has adjustable arms to hold 2×4's or 4×4's, and it's easy to fold down and carry. I really like the side pegs that allow me rest wood on it's side and cut from another angle like a panel saw.
Honestly, I can't sing it's praises enough (and neither could my dad)! Especially for the type of terrain my parents live on… a rough mountain side, with many slopes all around the house.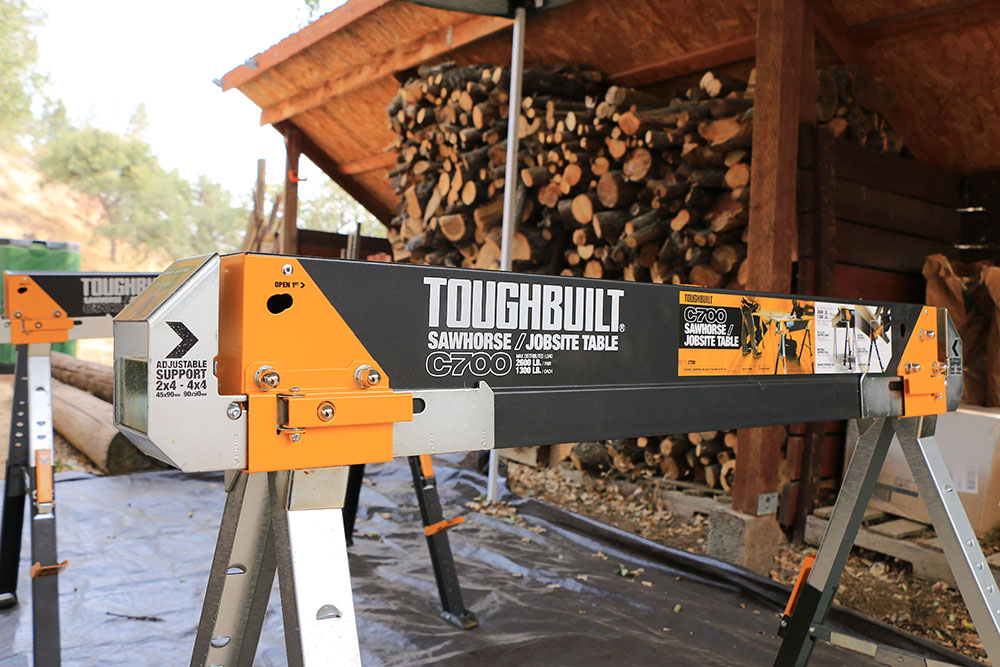 Dad had been using whatever random work surface he could jury rig to get projects accomplished. Something he would have to start from scratch every time, and often in a new location close the task.
Having a quick-setup jobsite table makes every project easier on the back, and saves time!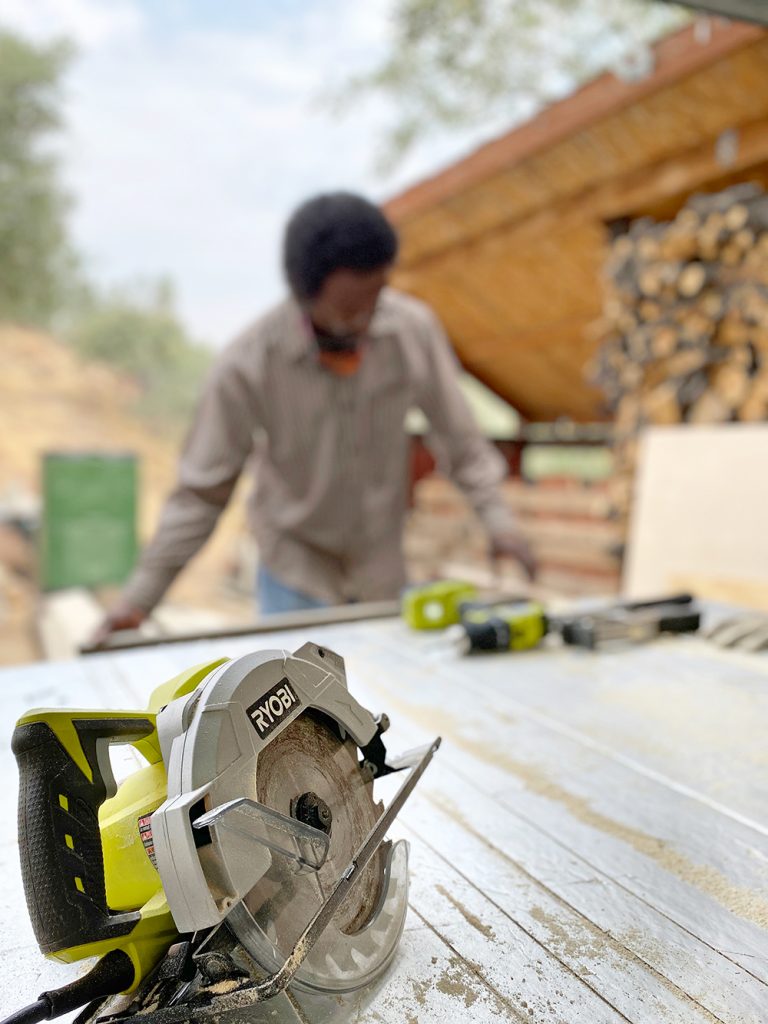 I always top off my sawhorses with one or two sheets of rigid foamboard insulation. You can cut your wood right on top, cutting into the foamboard. It makes cutting easier and prevents the wood from dropping and splintering as you finish a cut.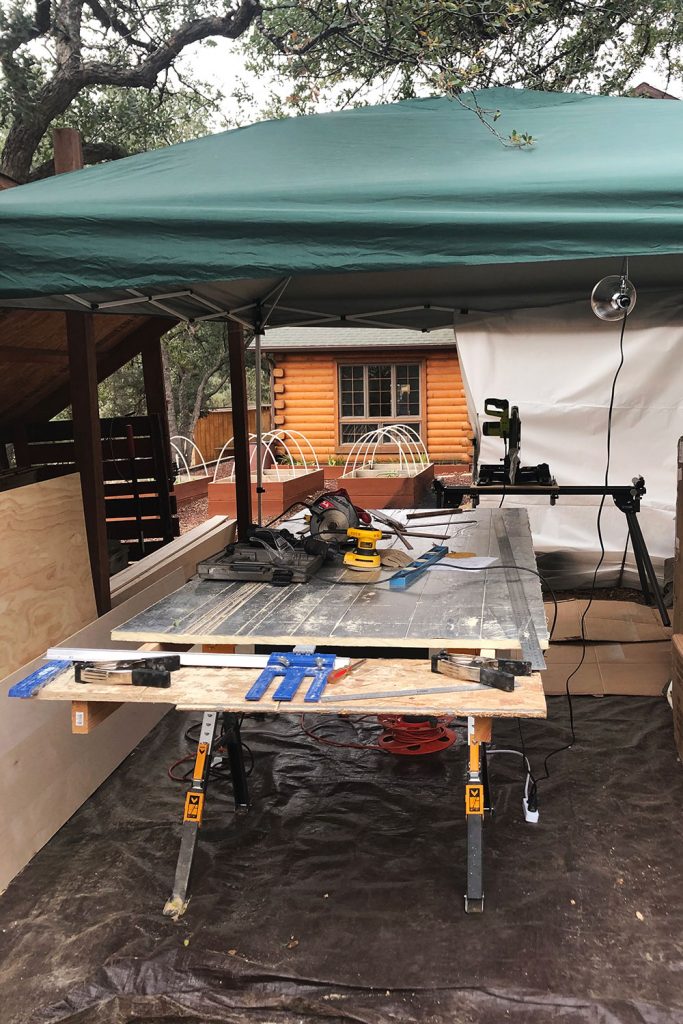 Additionally, set up an adjacent section at the end of your sawhorses for stationary power tools, like a miter saw. Or use a separate miter saw stand for maximum tabletop workspace.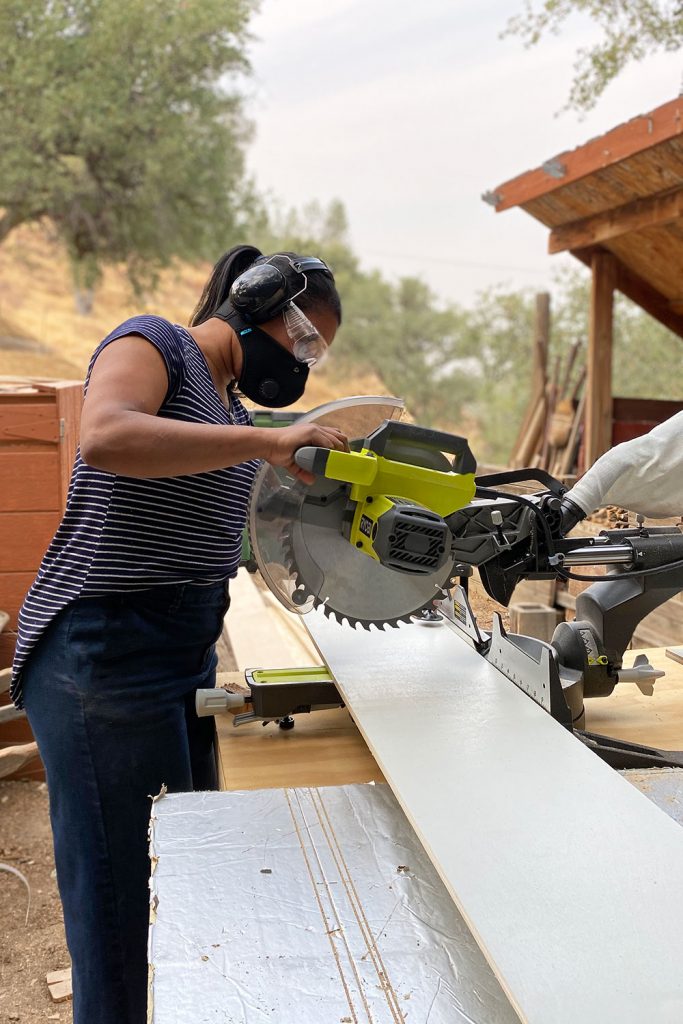 Use Cordless Power Tools
Being limited by an extension cord is not ideal, especially when you have to switch power tools frequently for a project, or don't have the closest access to a power source.
Whenever possible, choose cordless power tools to round out your collection. Obviously there will be those tools that you can't avoid being corded. Not to mention those tools you wouldn't want to be cordless for optimum power.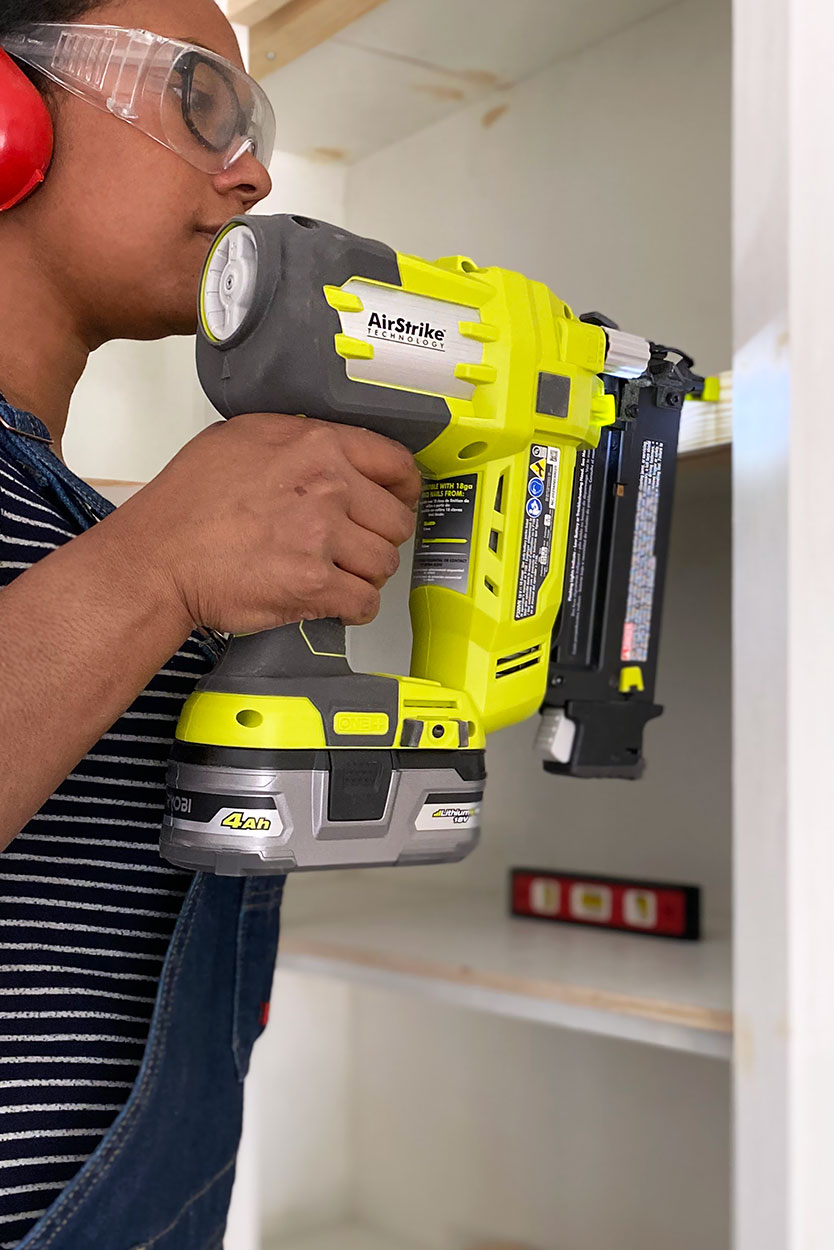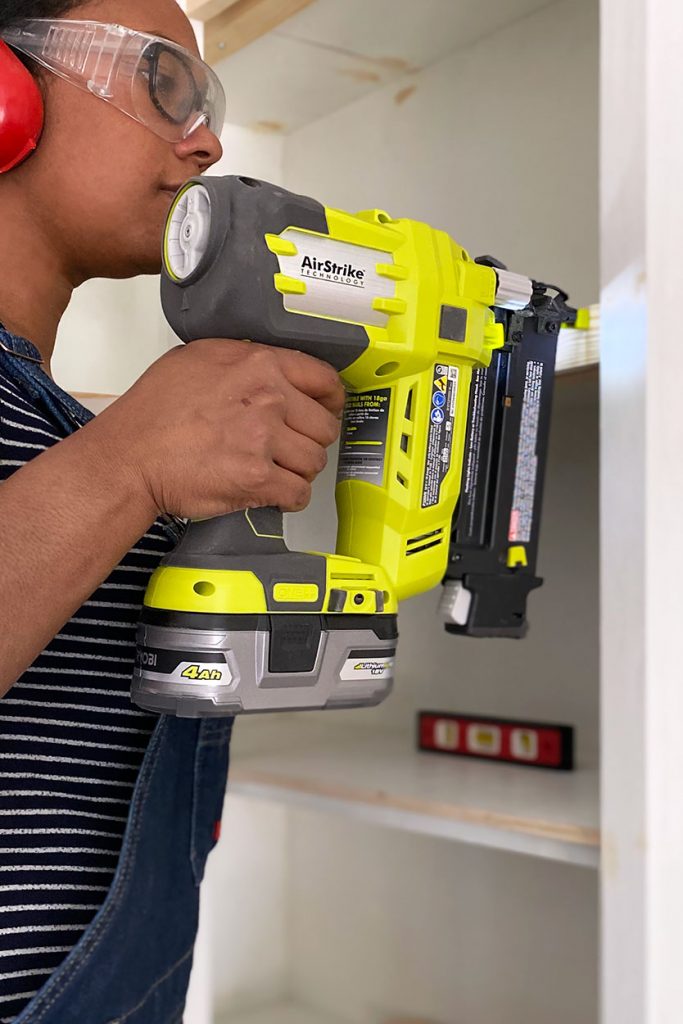 But having a few frequently used power tools that operate with a battery will free up the extension cord for those other tools. It will make life without a workspace much easier.
Easily Transport With Toolbelts, Toolboxes, & Totes
Since your workshop is always on the move, plan for your tools and supplies to be on the move with you.
In this project, we quickly discovered that setting up a remote workshop in one location, but executing the actual build in another location meant losing track of supplies.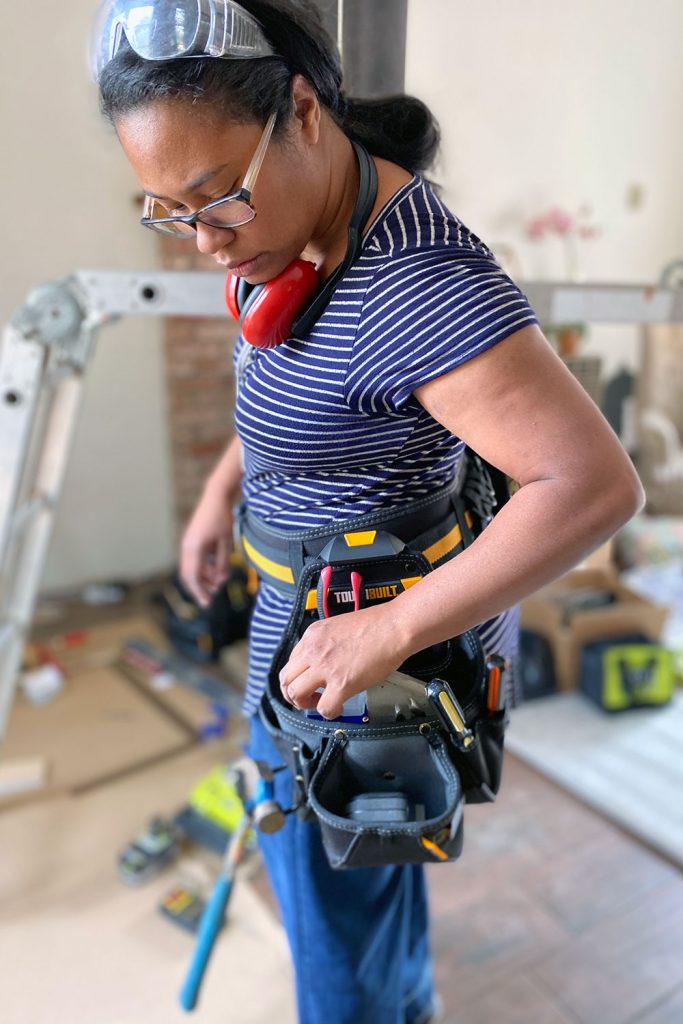 It can be frustrating having to hunt for the tape measure, that bit you used last, or run back to find the hammer…yet again.
Make life easier by using a toolbelt, bag, or box, and organizing it before use.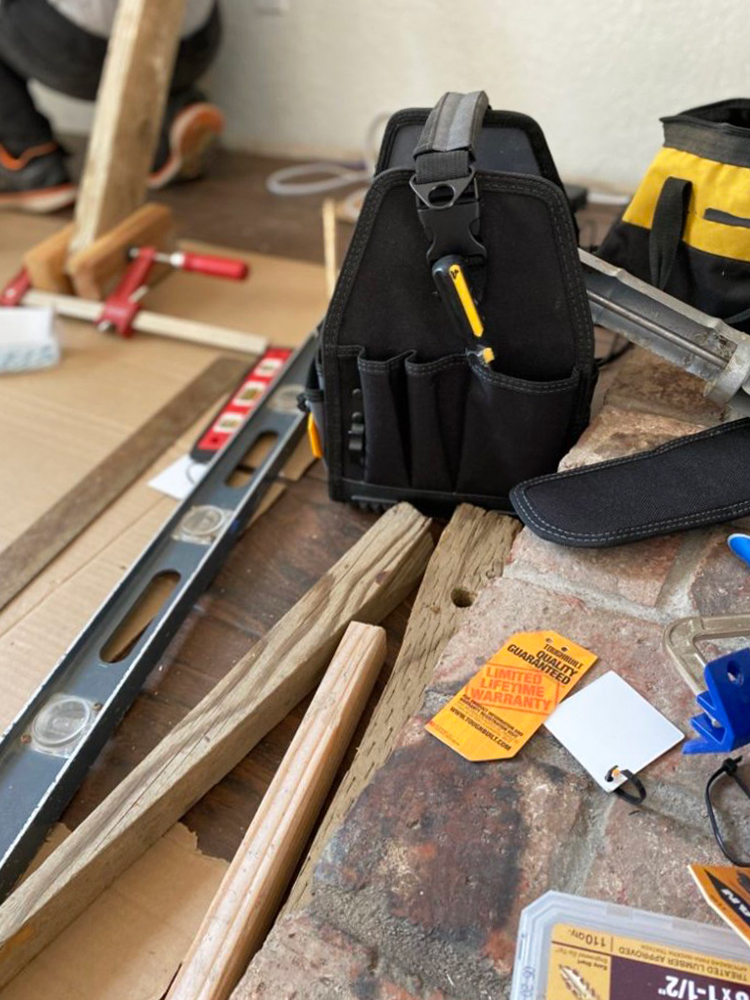 Protect Your Work Area With An Awning
While not every job will require a protected area to work, you'll be happy you took the time to set something up for a multi-day project.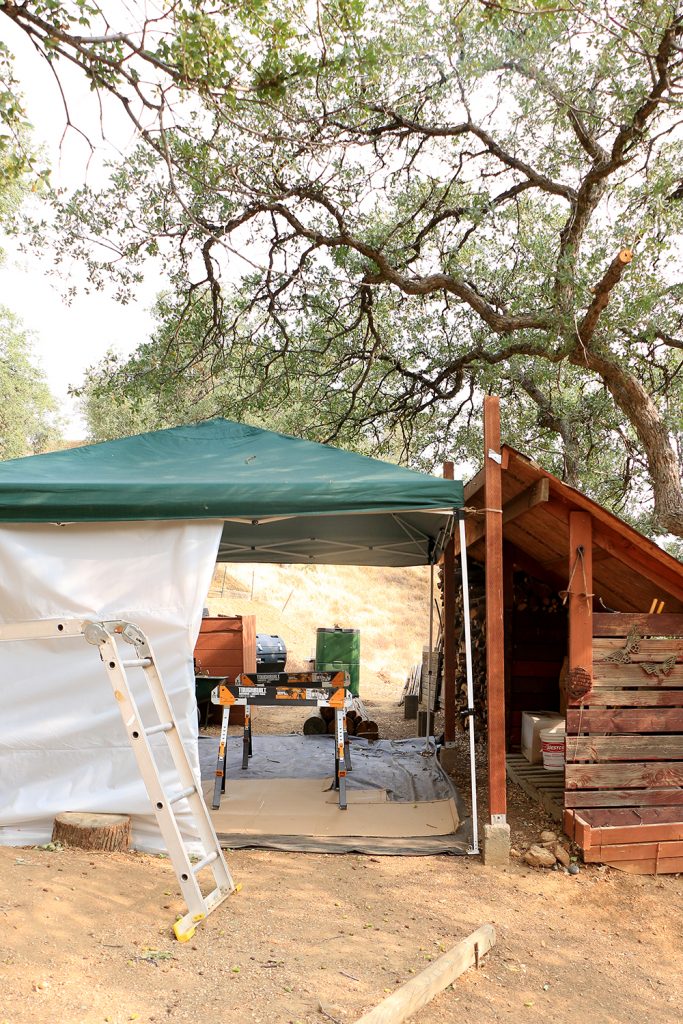 A simple awning tent can provide protection against the sun, rain, dust, and in our case, fast falling acorns!
So many acorns pelted that awning, that I was very relieved my dad took the time and consideration to set this tent up before we started our projects.
Add Work Lights
Finally, outfit your temporary remote workshop with proper lighting. This helps extend your working hours as if you had a workshop. But it's also important to have good lighting when doing detail work.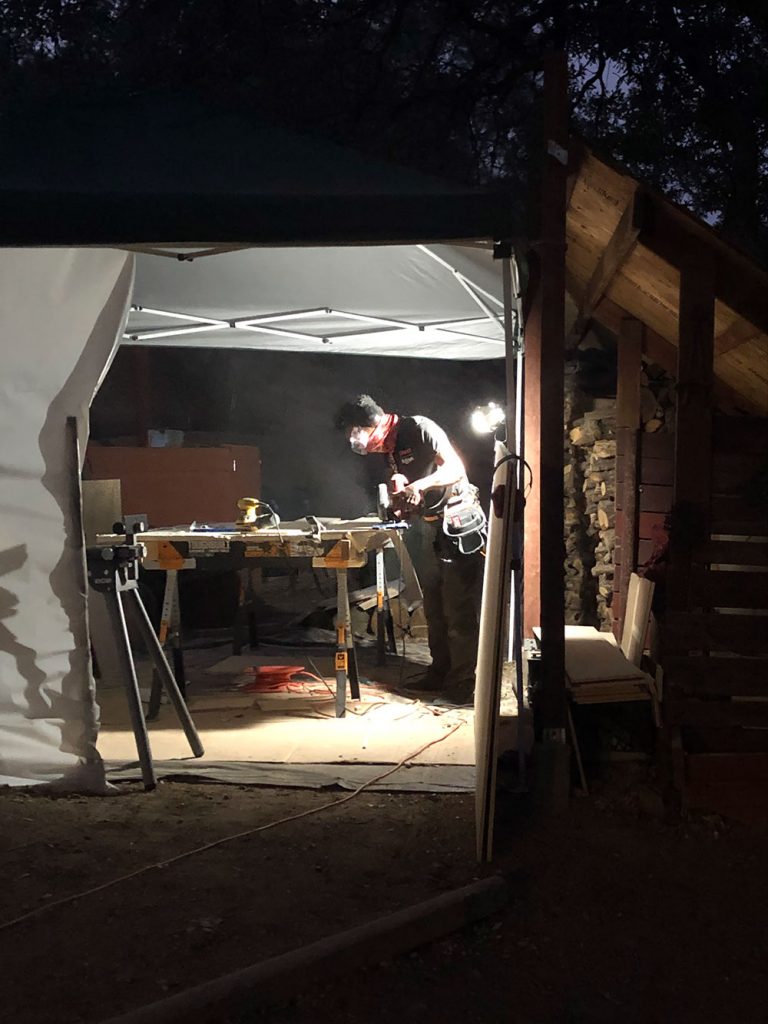 These simple solutions made it that much easier on our bodies for an already physically taxing project. It makes the workday easier, more organized, and extends the workday!
It was good we took the time to prepare for work situation like this! I may not have had my typical workshop or tools, but this made for a pleasant remote jobsite.
Shop Remote Workshop Aids:
Be sure to check out the progress of my Artists Mountain House build here:
Sewing Room Custom Drawers | Sewing Room Organization | Library Remodel
*Special thanks to ToughBuilt for gifting these specially requested items… this project wouldn't have been possible without them! All opinions shared my own!