I'm frequently asked What starter power tool set do I buy as a beginning DIYer on a budget? And what do I buy next as my skill level grows?
Usually, when people ask me, it is because they want to accomplish some of the same projects they have seen me tackle. Small craft builds, first-time beginning furniture builds, and remodel projects. There is a tendency to think you can't do all of this without an expensive and expansive power tool set, and that's just not true.
*This post is sponsored by The Home Depot! Affiliate links contained below.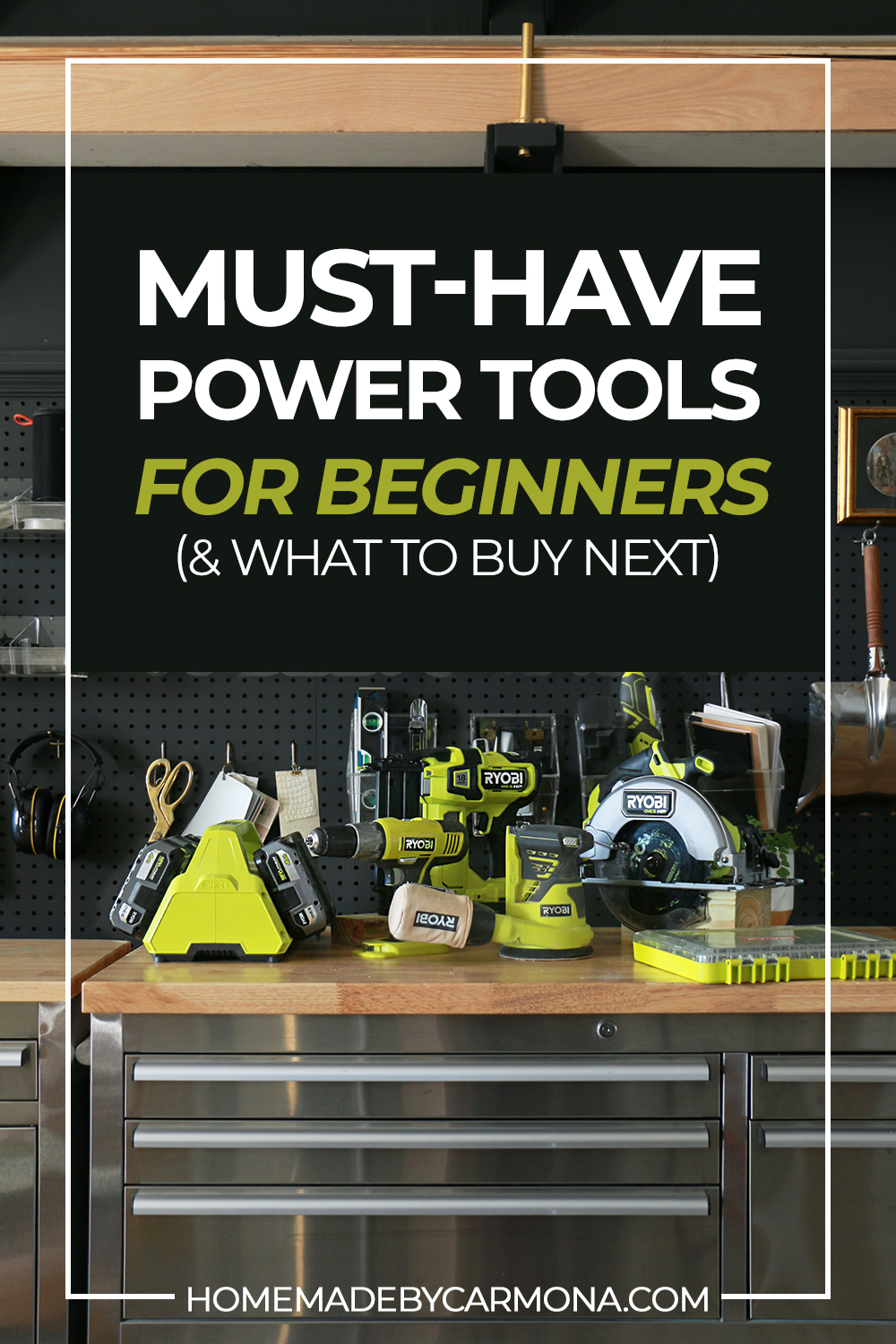 When I first tried my hand at DIY, I built basic furniture with just 3 power tools in my toolkit. A drill/driver, a jigsaw, and an old second-hand miter saw. It was all I could afford at the time, in addition to a few manual basics like a hammer and pliers.
While everyone's needs are a little different, here are a top list of power tools that make my must-have list for every DIYer.
Starter Power Tool Set (Budget Friendly)
1. Cordless Power Drill / Driver (+ Bit Kit)
A cordless drill / driver is something every household should have. Besides using it as a screwdriver, or for drilling holes of every size, you may discover there are other uses. With the right bit, you can mix concrete or paint, sand surfaces, grind metal, remove rust, and more!
This is an important starter tool for your woodworking projects, and while you could get a corded drill, why not make life simpler by going battery powered?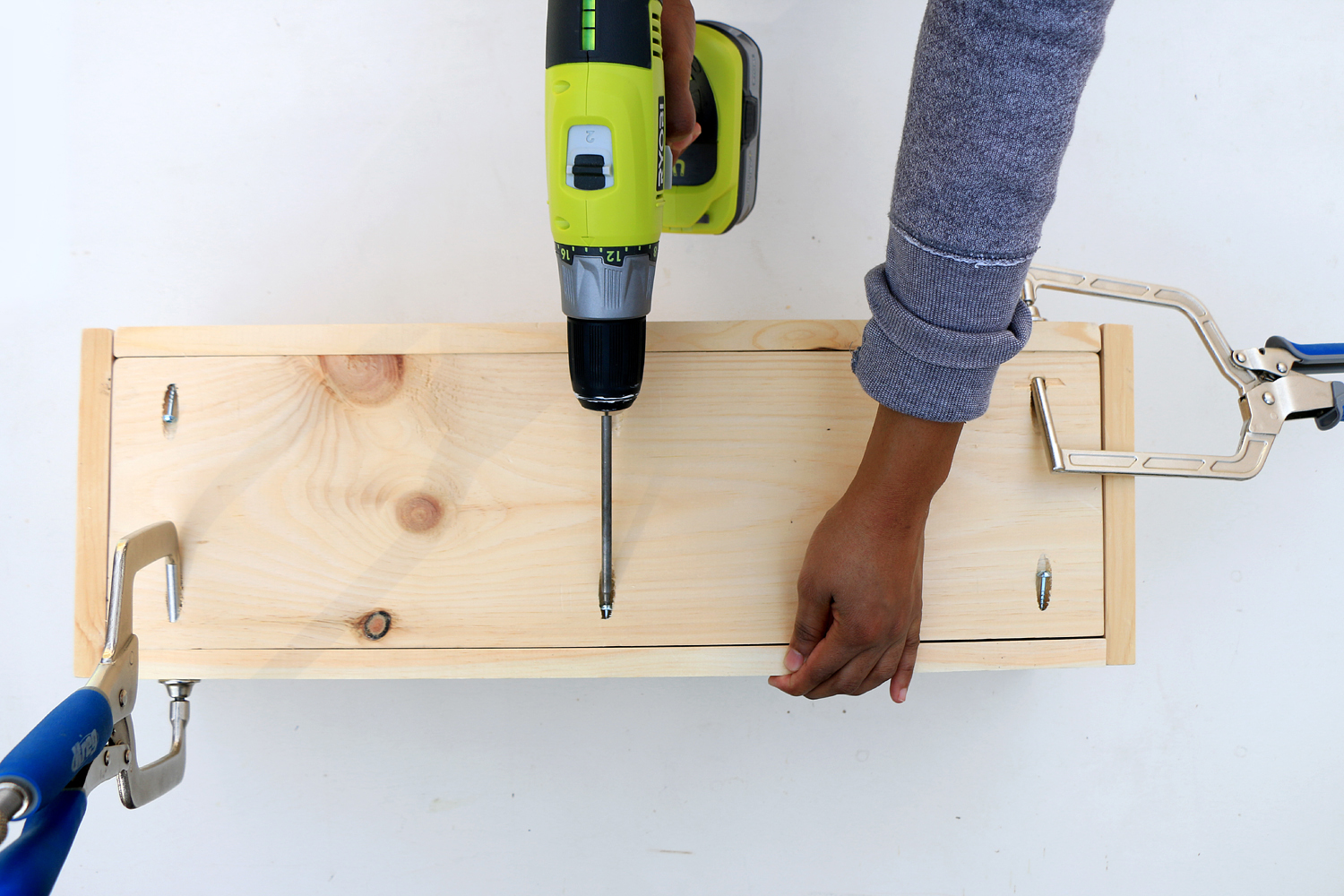 My Choice: RYOBI ONE+ 18V Cordless 3/8 in. Drill/Driver Kit
NOTE: You'll need a good bit kit with a variety of screw driving heads, drilling bits, impact driver bits, plus spade wood drill bits, and masonry bits. It doesn't cost much to upgrade to a mid-level bit kit, so I would jump right to the 65 piece or 95 piece kit and be prepared for all kinds of projects and all kinds of materials.
My Choice: RYOBI Drill & Impact Drive Kit (65 Piece)
2. Sander
When I first started, my cheap self thought I would just sand by hand and save a few bucks. It turns out, you can save more by buying an inexpensive power sander, various grit sandpaper, and then go for budget-friendly wood rather than premium. BUT that definitely means more sanding in your future than you'll want to do manually. Do yourself a favor and just buy the power sander…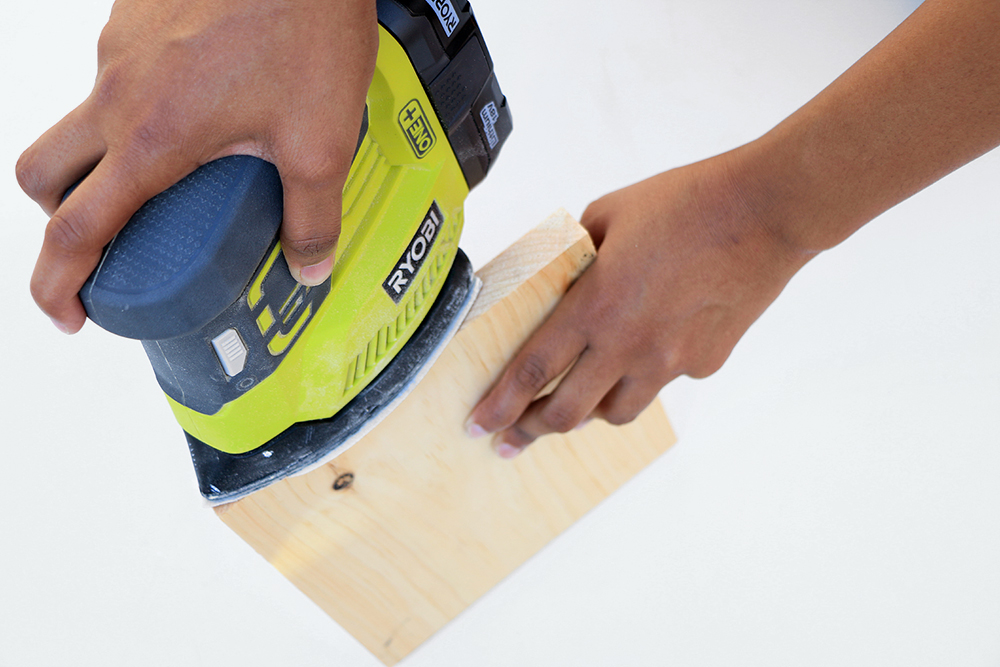 If you are wondering which type of sander to buy, consider the TYPE of projects you'll be doing most. A Corner Cat sander with pointed tip is great for simple craft-like projects. But if you are making built-ins, furniture, and doing small remodel jobs, you may want to look into a random orbit sander which can be used on a variety of projects. A belt sander is a very powerful tool for stripping or sanding very rough surfaces, but may not be needed by most beginners.
My Small Craft Project Choice: RYOBI ONE+ 18V Corner Cat Finish Sander
My Versatile Big or Small Project Choice: RYOBI ONE+ 18V Cordless 5 in. Random Orbit Sander
3. Circular Saw
Of all the cutting tools, a circular saw is probably the most versatile.
It is easily mobile, can cut a large range of size and type of wood, plus a variety of other materials. Let's be honest, it is probably the scariest tool any beginner will handle, but once you've learned to safely manage a circular saw, your confidence will soar!
Use a circular saw with a jig to help maintain accuracy of cuts, and you can do a LOT with it.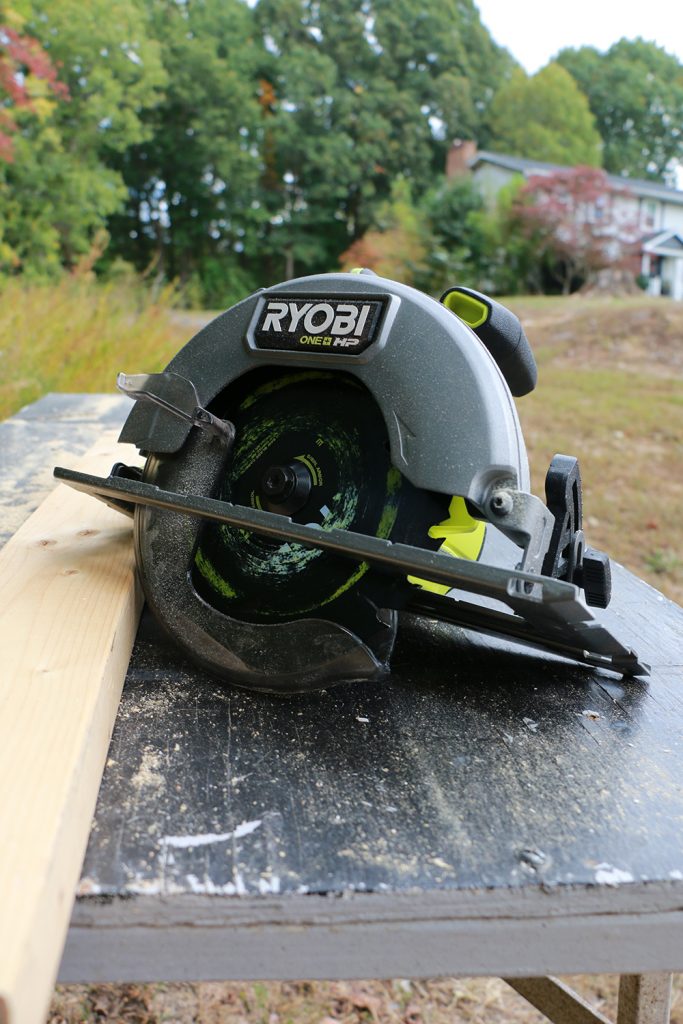 Why do I suggest a circular saw before a table saw or miter saw? Partly because it is portable, but also because of it's versatility in a pinch, and the price point is lower.
My Choice: RYOBI ONE+ HP 18V Brushless Cordless 7-1/4 in. Circular Saw
Budget Alternative: A smaller size that also does the trick> RYOBI ONE+ 18V Cordless 6-1/2 in. Circular Saw
Beginner Add-On's For Woodworking (When The Budget Allows)
At this point, you're starting to get serious about DIY, and you are tackling small renovation style projects in addition to small builds. You've earned the right to invest in some more serious woodworking tools. You know without a doubt there are plenty of projects in your future!
4. Sliding Miter Saw
If you can buy this power tool right at the outset, it is worth buying! It is a GAME CHANGER! Especially as a beginner. It's more convenient and accurate to use than a circular saw, and makes quick work of board and molding. Plus you can easily make beveled or angled cuts. Sure, you can't cut large sheets of plywood, but I actually use my miter saw more than any other cutting tool! It is the only cutting tool I use for my bookshelf builds, most furniture and craft projects, and molding. Plus I change out the saw blade to cut PVC pipe and softer metals for much of the metal work I do.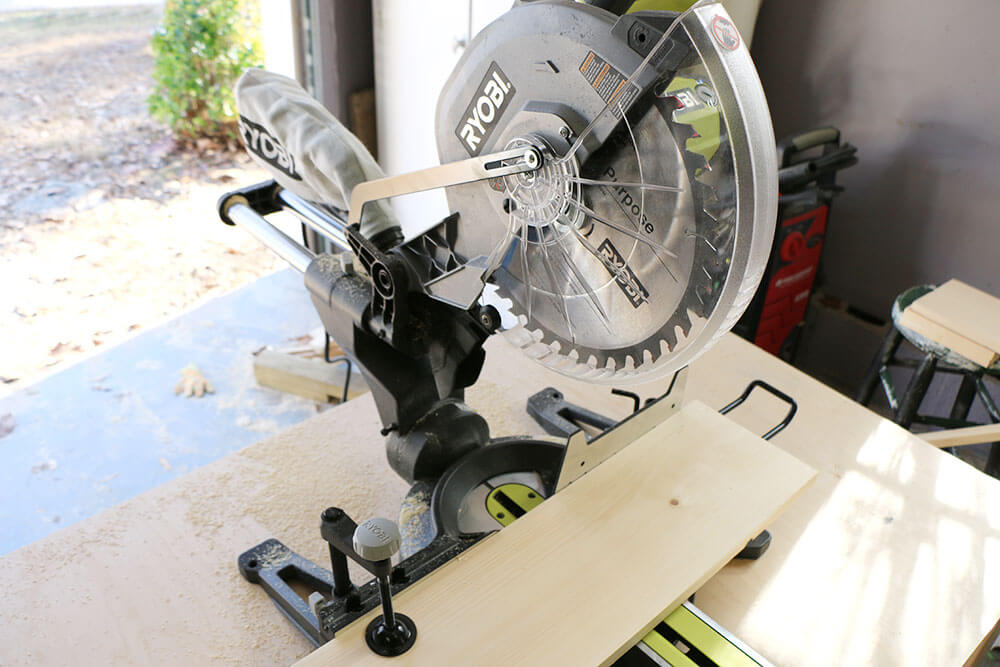 Invest in the largest size sliding miter saw right at the outset. It can handle larger boards (up to 13-1/4 inches) in addition to the smaller pieces and molding.
My Choice: 15 Amp 12 in. Corded Sliding Compound Miter Saw with LED Cutline Indicator
5. Cordless Nail Gun
I'm sorry, but a hammer and nail just doesn't hold a candle to a cordless nailer. You'll save so much time and effort!
I particularly love RYOBI's ONE+ battery powered set of nailers because you don't need to worry about an air compressor or hoses getting in the way. If you are a builder by trade, you might want something with a compressor, but for the common DIYer, this has all the power you'll ever need.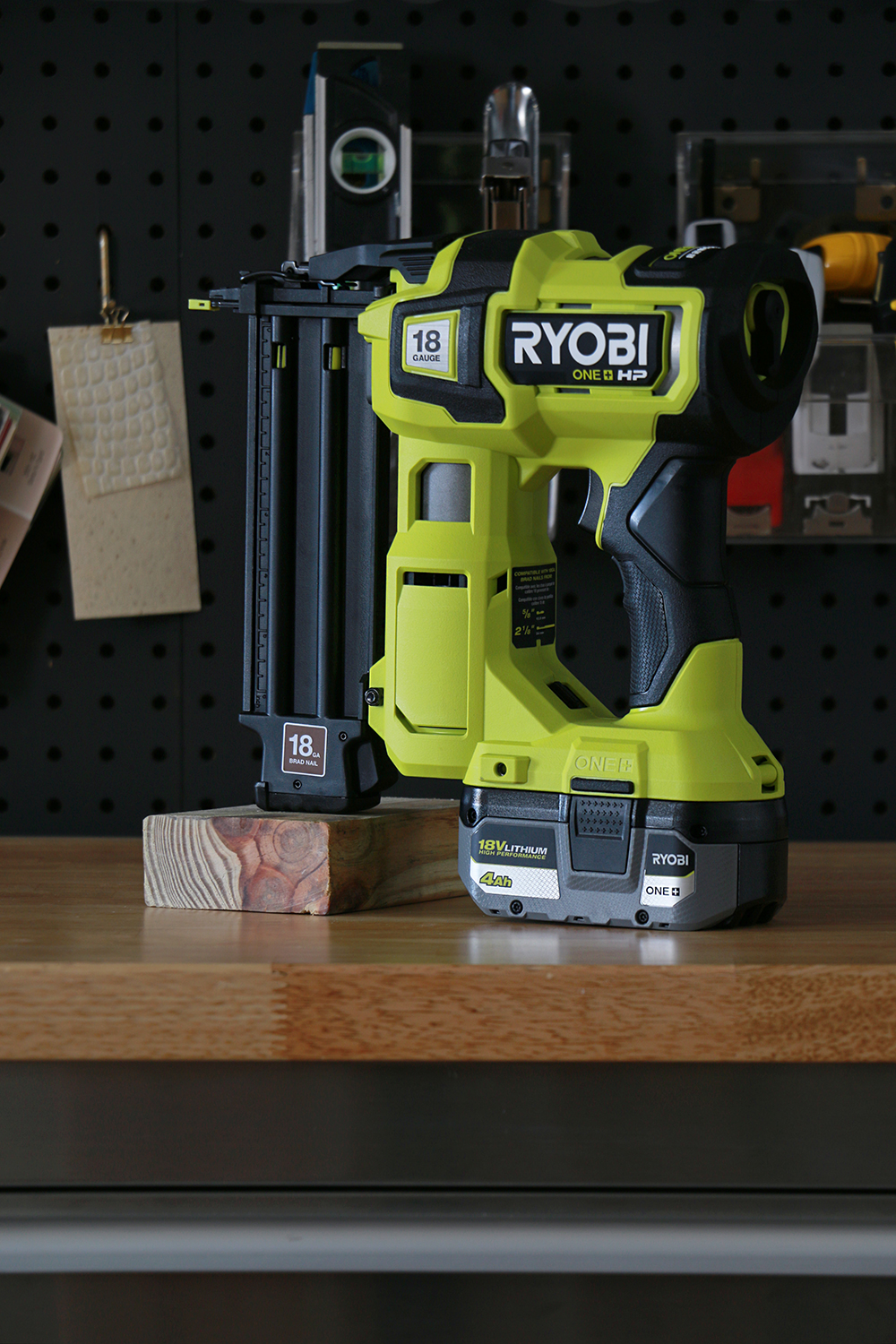 My starter choice is an 18-gauge brad nailer because it is a good in-between for a wide variety of projects. The small gauge of the nail and tiny nail-head is ideal for most small crafty DIY projects, but can also be used on your renovation projects like molding, and furniture builds. Eventually you may want to expand your nail gun collection ( I love my micro nailer), but this is a great one to start with!
My Choice: RYOBI ONE+ HP 18V 18-Gauge Brushless Cordless AirStrike Brad Nailer
6. Jigsaw
Although a jigsaw is in my add-on-later section, it was actually the first cutting tool I owned. I inherited one, and used it to cut a large variety of materials. The reason it was moved to the add-on section, is because a circular saw should probably be one of the first saws you own for the variety of board sizes it can cut. However, the jigsaw is going to be that tool you wish you had when you need to cut a hole in something, or you want to make a complex, or curved cut.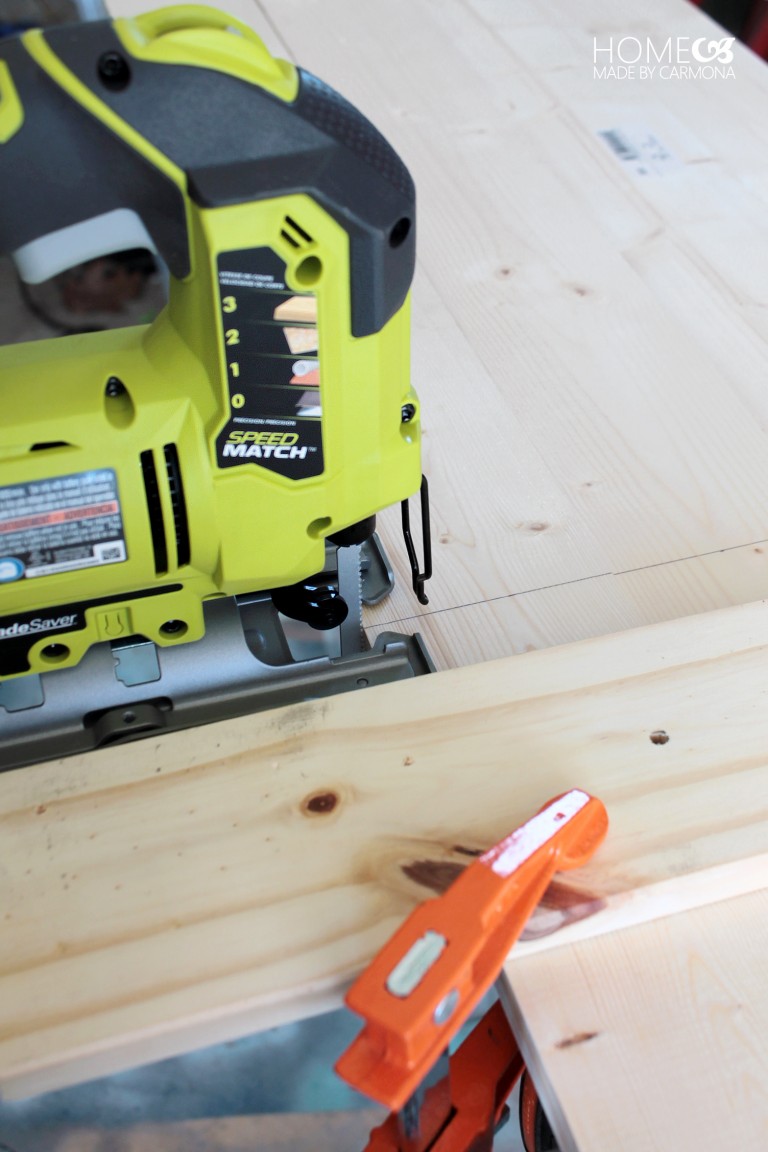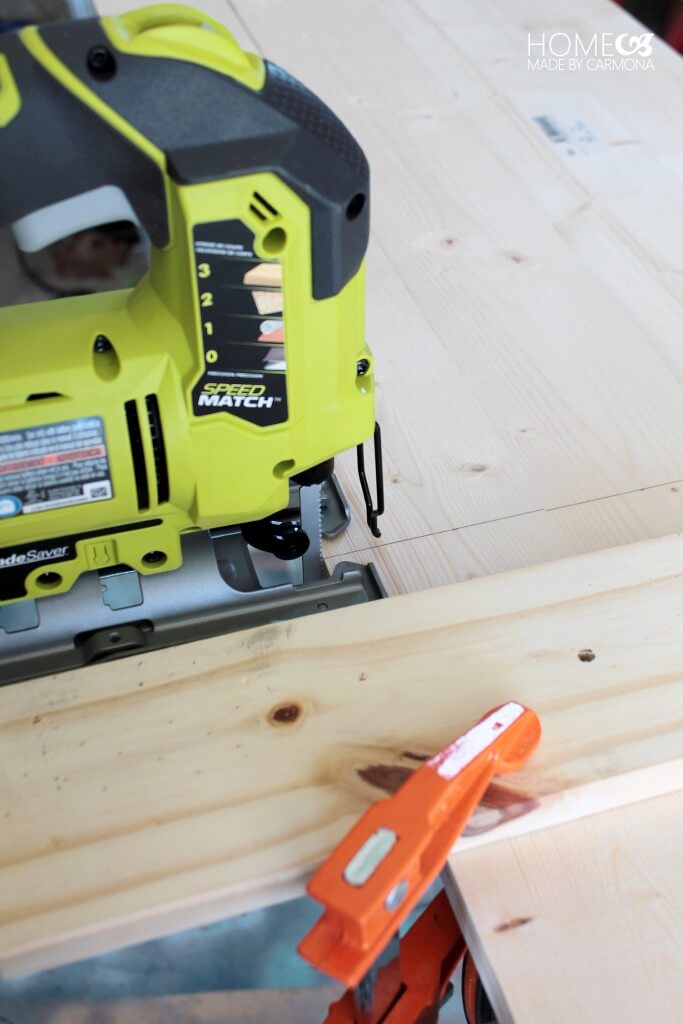 A jigsaw doesn't just do straight cuts, it can also cut angles and bevel cuts, making it a great addition to your power tool set!
My Choice: RYOBI ONE+ 18V Cordless Orbital Jig Saw
Beginner Growth To Intermediate (Investments Worth Making)
By this point, you should probably stop calling yourself a beginner although you may still feel like one. It's time to up your game, and invest in specialized woodworking tools for your workshop!
7. Table Saw
The perks of the table saw is in it's ability to make really precise and uniform cuts. It's much easier to make rip cuts using a table saw than with a circular saw… You would have to use a jig to help maintain accuracy when using a circular saw. On the table saw, you can make through cuts, or routed cuts.
If you aren't sure, and want to experience using a table saw before making this bigger purchase, consider renting one for a project to experience it first.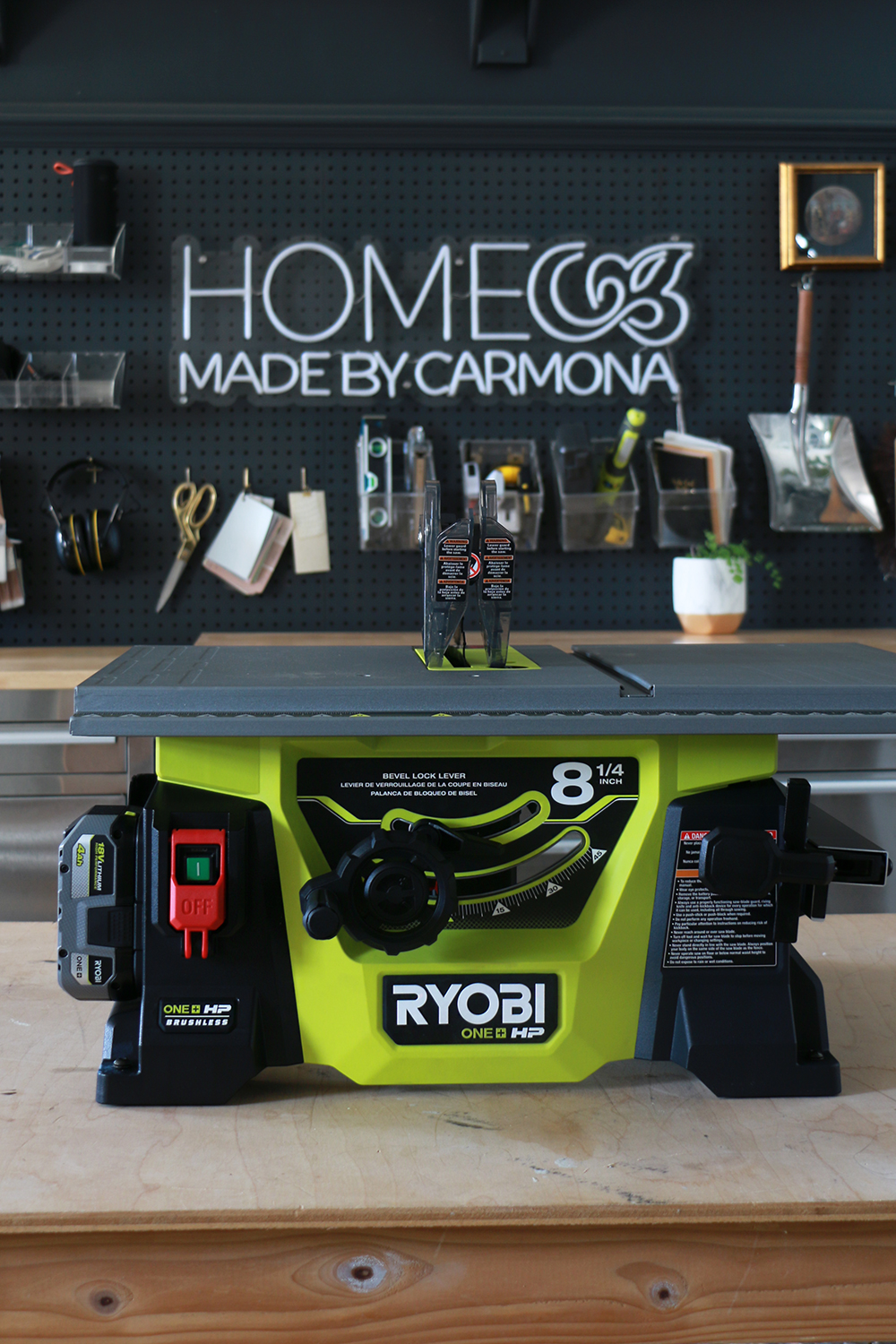 This particular compact jobsite table saw is battery powered, and that makes it incredibly convenient for projects all over my 16-acre property! Plus, I held back on getting a table saw for a long time because I didn't think it was in the budget…turns out you can get incredible quality at a great price with this compact table saw.
My Choice: RYOBI ONE+ HP 18V Brushless Cordless 8-1/4 in. Compact Portable Jobsite Table Saw
8. Cordless Multi Tool
If you find yourself doing various renovation tasks, a multi-tool will help prevent many a headache. This is for those moments you are scratching your head wondering how to cut that pipe that is too close to the wall, or how to sand a hard to reach corner.
My Choice: ONE+ 18V Cordless Multi-Tool
Get Your Power Tools As Part Of A Set
Consider buying your tool set in a combo kit to save a few extra bucks. RYOBI has some great sets with many of these must-have power tools! Search Combo Kits Here.
Another tip, invest in a multi-battery charger, then after you've gotten a few batteries included with your first few kits, opt for the tool-only purchase. It will save a few bucks along the way, and you won't have a ton of single chargers plugged in everywhere.
My Charger Choice: ONE+ 18V 6-Port Dual Chemistry IntelliPort SUPERCHARGER with USB Port
Frequently Asked Questions
Why do you use RYOBI power tools?

RYOBI was a great starter set for me in my woodworking journey because of the quality at a price point I could manage.
What is your most commonly used power tool?

I use my drill / driver pretty much weekly.
How do I learn how to use these tools?

I know it's hard to sit and read a manual. But before you start using a new tool, it's important to know the basics so you don't ruin the tool or hurt yourself. After going through the parts, setup, and safety, YouTube is a great resource. Then the best way to learn is by doing! Test it out, and get a feel for it before trying it on your project.
What tools do I need for around the house?

If you aren't going to do a ton of DIY projects, just the occasional craft, or for regular homeowner needs, these are your basics:

Cordless Drill / Driver
Jig Saw
Manual tools: hammer, pliers, screw drivers, etc.
I'm on an extremely tight budget, what two budget power tools do I need?

If you are on a bare bones budget, but still want to upcycle furniture, build what you can, and take on small fixes and renovations, it is doable! Trust me, I've been there!

You still need a drill/driver, plus one versatile cutting tool.

Either a circular saw or a jigsaw…but it depends on the types of projects you plan to take on:

A jigsaw will do a wider range of things. Especially if you plan to work with thinner wood on projects, upcycle furniture, or build things like bookshelves. It handles a variety of materials, and can make angled and beveled cuts if needed. This is the tool that served me well as my first cutting tool!

A circular saw is your choice if you plan to build structures and do renovations that require more grunt work. This has the power behind it, and will make quick work of 2×4's, plywood sheets, and more!