The sewing room is coming together beautifully! We made stock cabinets to store all my mom's sewing supplies. But now comes the big task of bringing all those supplies into the space and organizing it for success!
I love decorating spaces, but organization is my favorite type of makeover. This week's One Room Challenge is all about what's happening inside those cabinet doors!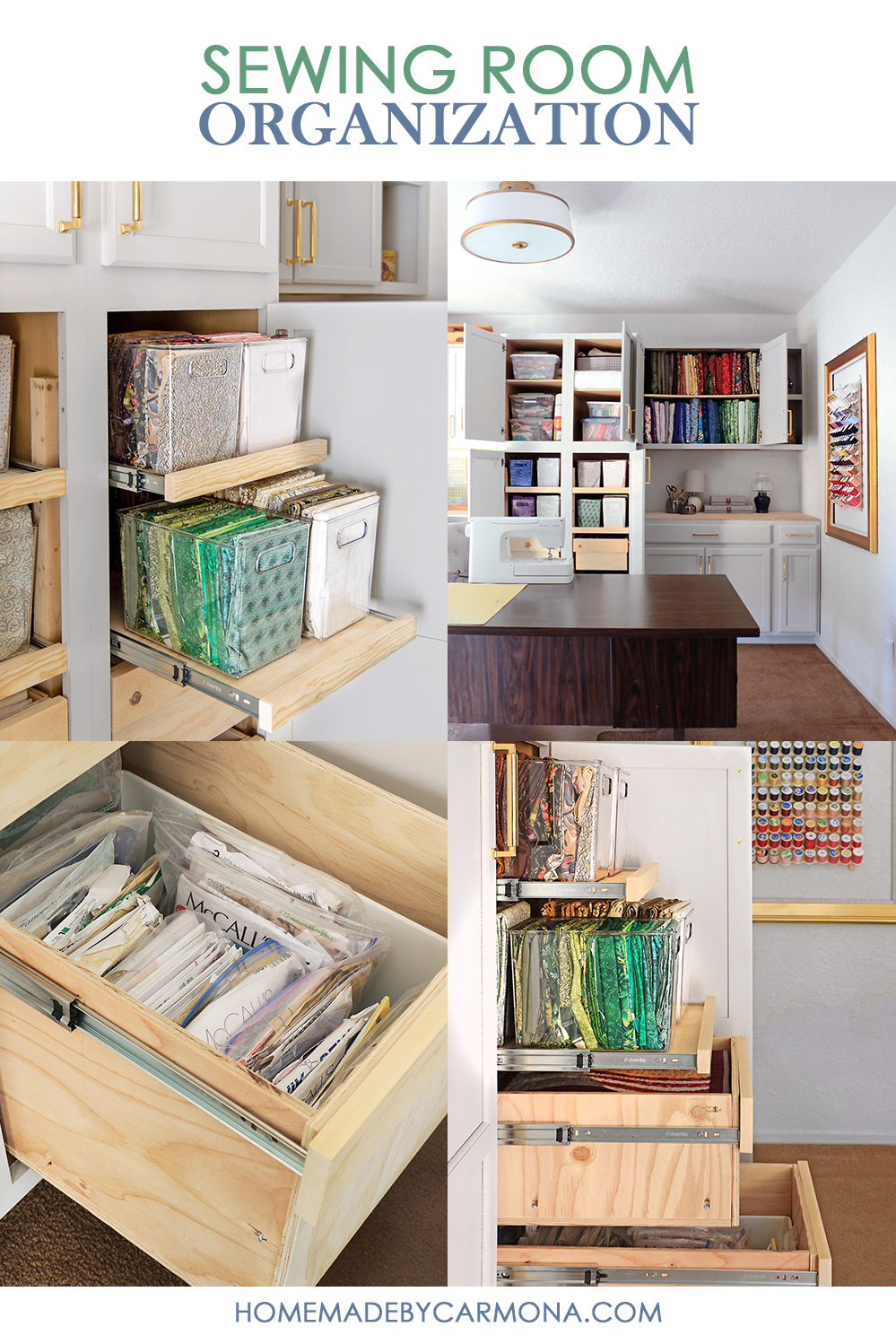 This post is awesomely made possible by sponsor mDesign Home Decor! Affiliate links below…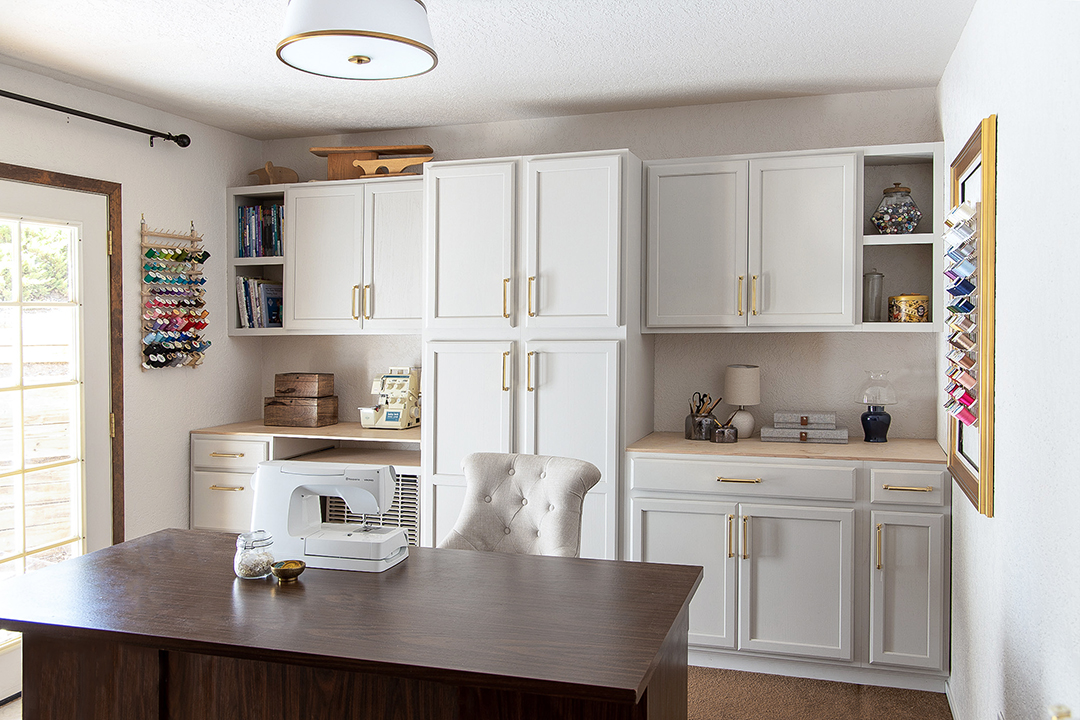 What good is having a wall full of cabinets if they only have a single shelf inside each cabinet, and you don't have a way to sort and organize goods?
Last week I shared the process to build full extension pullout shelves and custom drawers for the cabinets, but I didn't share how I determined the height and size of the pullouts. Or how I determined where each item should be stored.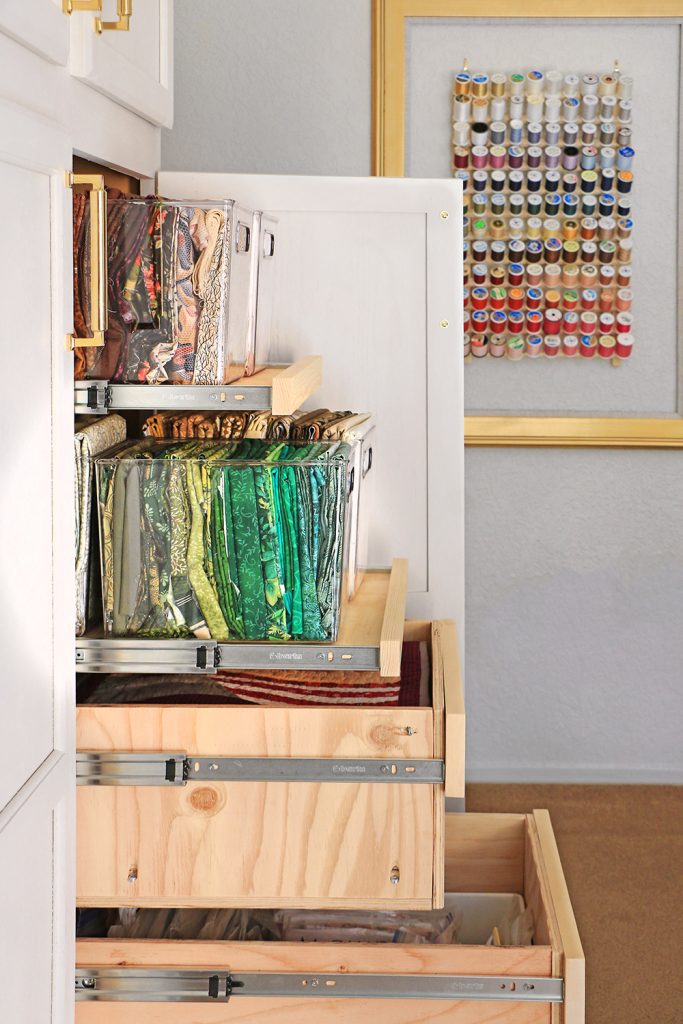 Simply, I planned it around the storage bins. First I shopped mDesign Home Decor online for the perfect bins for each of my mom's fabric and craft needs. Next I searched for stock cabinets that would do the job of housing those bins. Finally I designed the custom full-extension pullout shelves to perfectly fit several of mDesign's bins.
Crazy right? To think, all the planning in this room actually started with a set of bins!
Selecting The Right Organizational Bins/Boxes
Always start an organization task by taking stock of what you have. In this case, it was a bit of a challenge because I wasn't physically on location. I had to determine my mom's needs based on photos she sent of her sewing room.
The existing containers she stored her fat quarters in were too small. She couldn't make use of the covers, and had to put a lot of effort into folding them to just the right size to fit the container and shelf.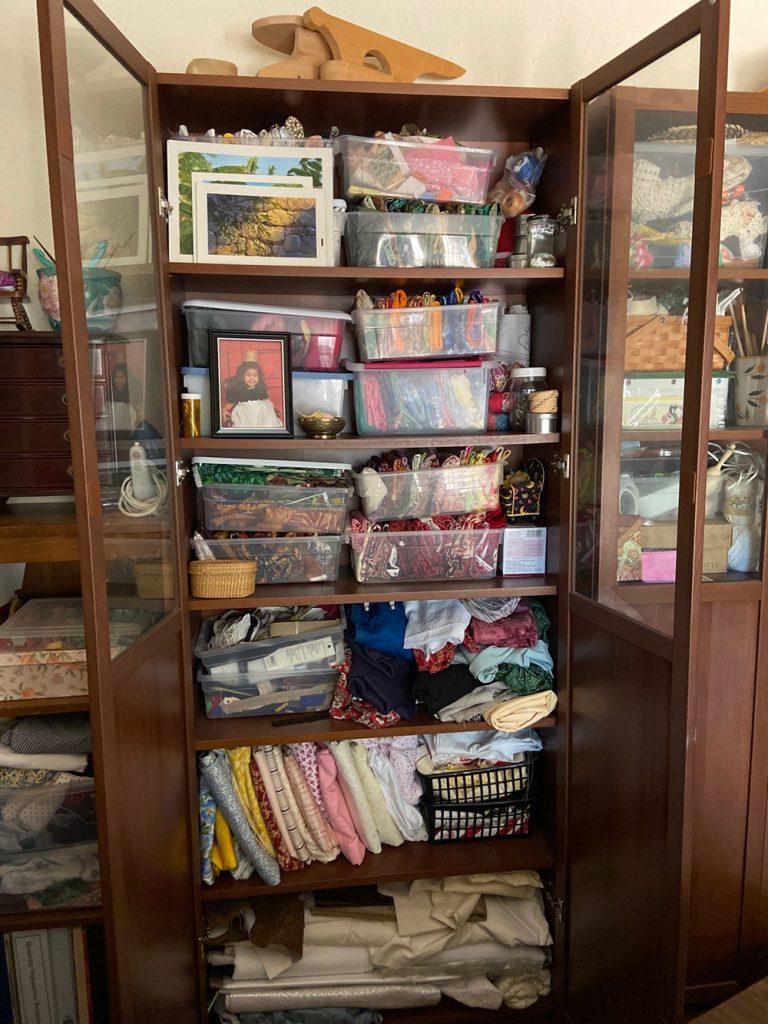 Knowing the size of individual items you have is half the battle; so I had mom measure the fabric pieces and the bins they resided in.
My hope was to help reduce the amount of effort that goes into folding these fat quarters. So I went with mDesign's 10″x6.5″8″ plastic bins for a little more leeway, and little less scrunching of the fabric. These bins turned out to be the perfection size and solution!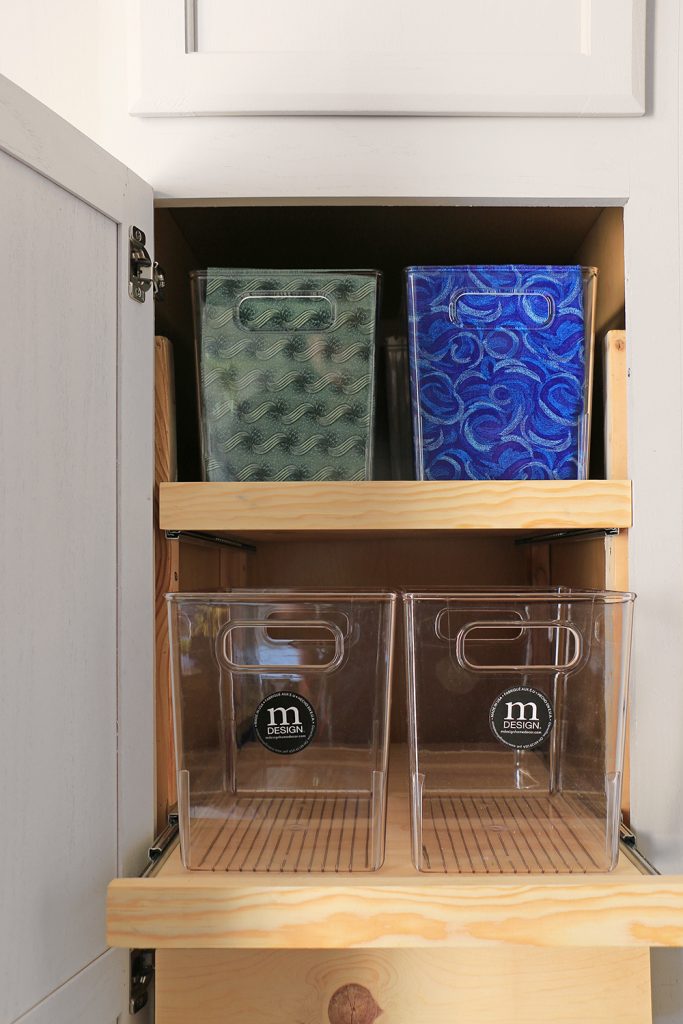 I built the pullout shelves to perfectly accommodate 4 bins per shelf, so we have 16 fat quarter bins total.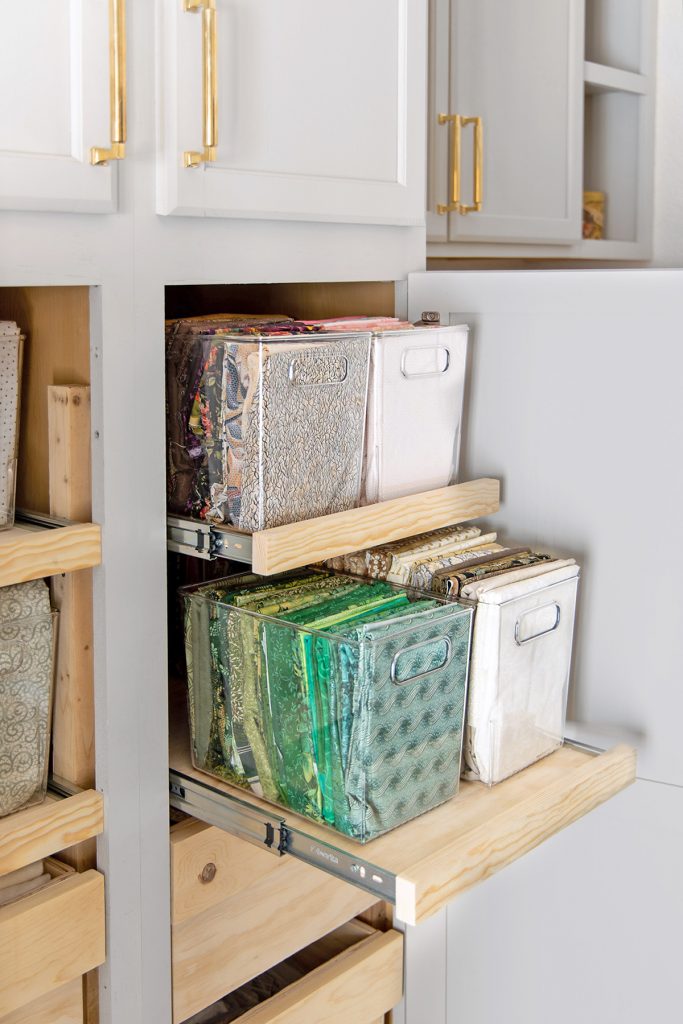 Other Storage Methods
I delegated the shallow upper cabinets to store bolts of fabric so they are easy to see and grab.
The initial plan also included bolts of fabric stored in the top of both 'pantry' cabinets, as well as part of the base cabinet. Ultimately my mom has to decide where each item is best placed for how she works.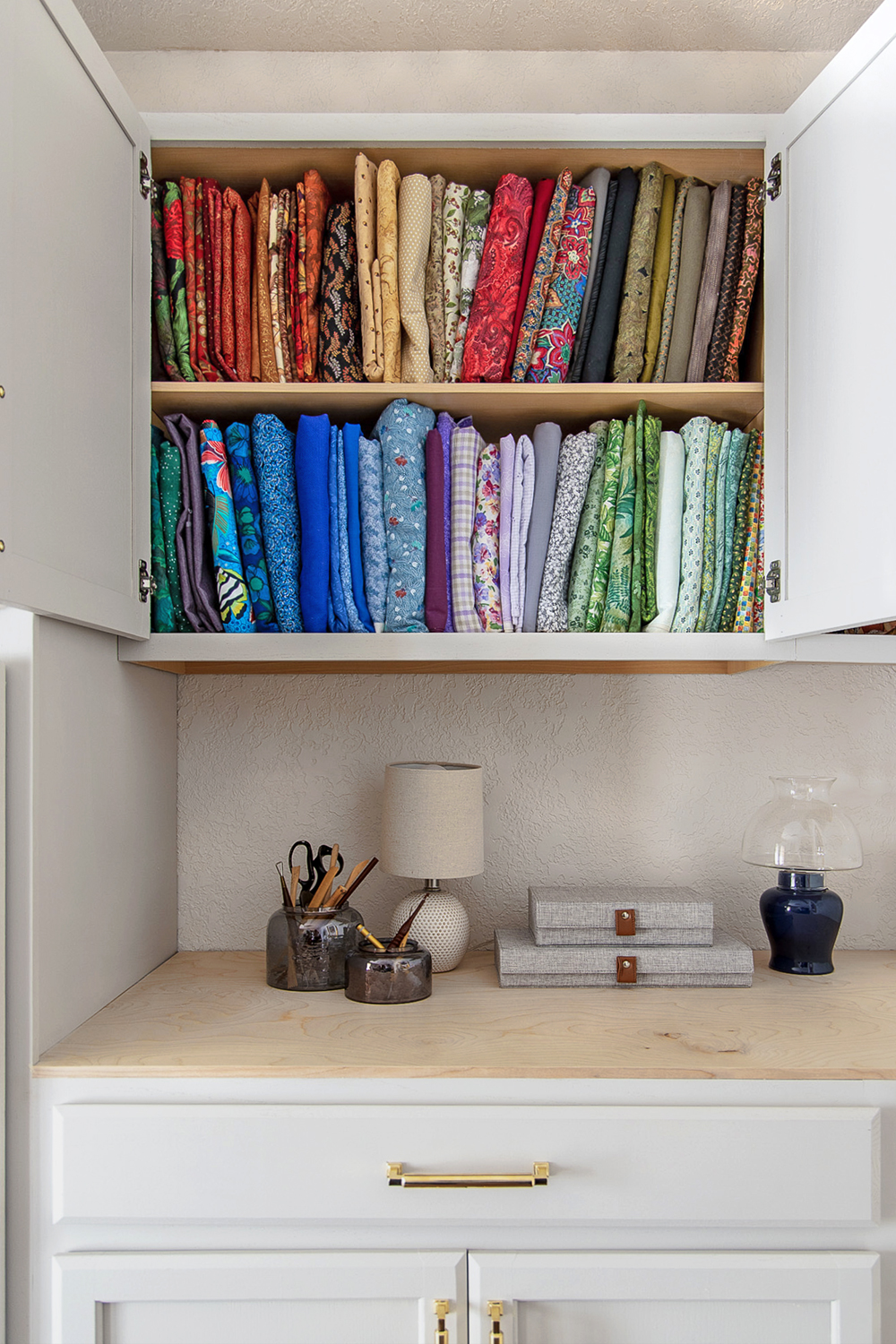 A set of clear drawer organizers from mDesign help create compartments to sort like-items, and keep everything tidy.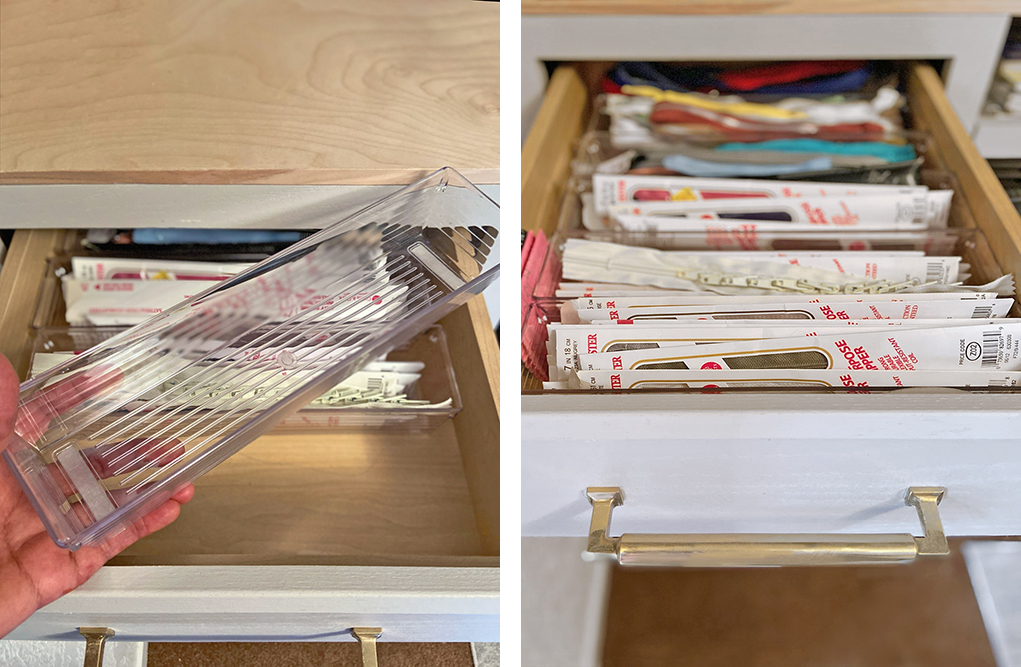 When looking for the perfect storage solution, don't just look in the category or department associated with that room. If you are organizing an office, look for organizing solutions both in office and in kitchen department… you never know what you'll find!
An organizer typically found in the 'auto parts' category at Home Depot was the perfect solution for buttons, pins, and miscellaneous small sewing pieces.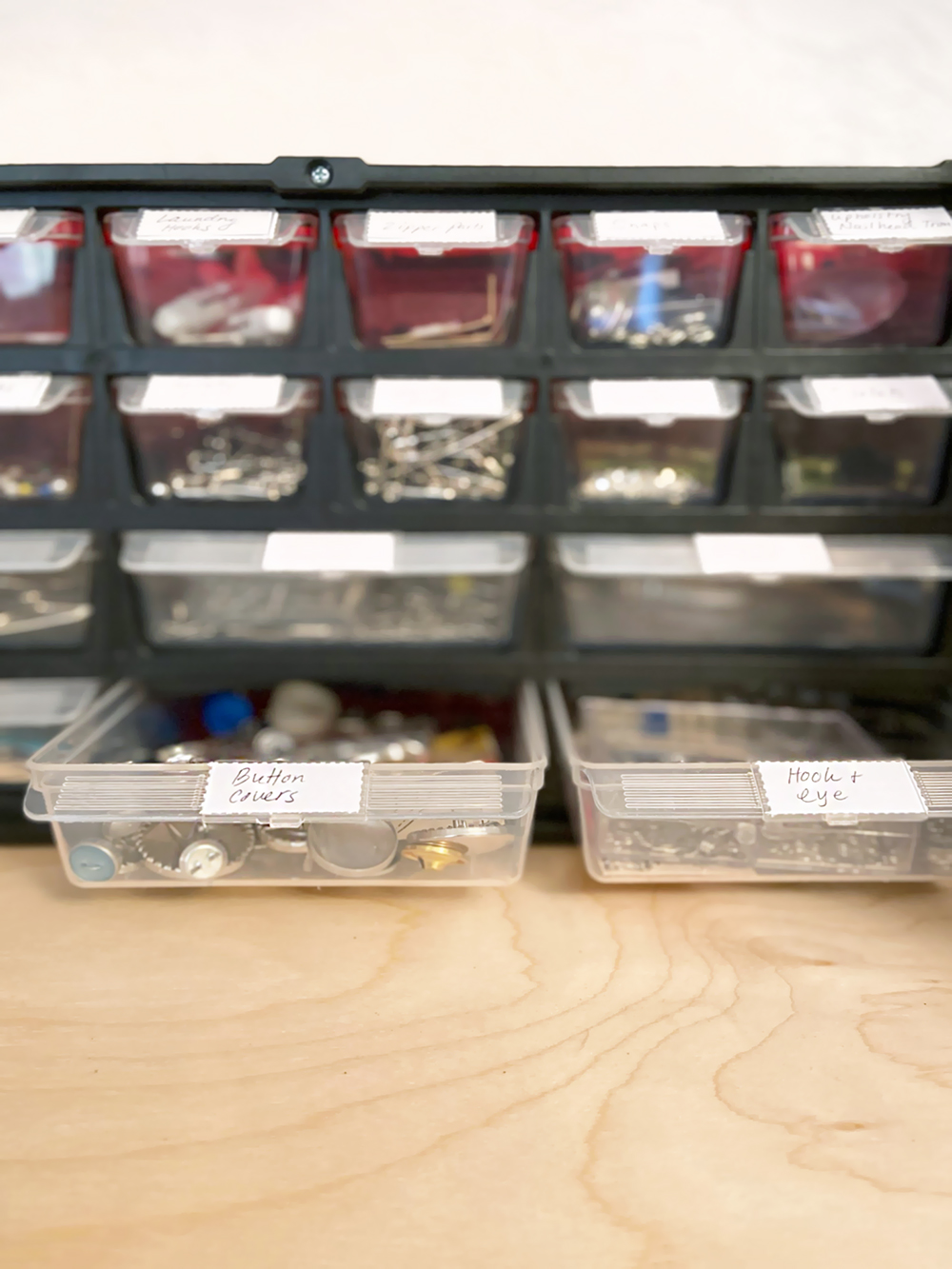 My preference has always been clear storage solutions so you can see what you have. But as great as see-through storage is (often behind closed doors), I also like to plan for some non-clear solutions to store items on display.
Attractive Storage Boxes In Plain Sight
When storing craft or any other good in plain sight, make it attractive. Work it in as part of the décor.
Think fabric covered boxes, wooden boxes, or even jewelry boxes! MDesigns gifted us these gorgeous fabric covered jewelry organizers, which could store needles, and sewing machine parts, or any small frequently used items.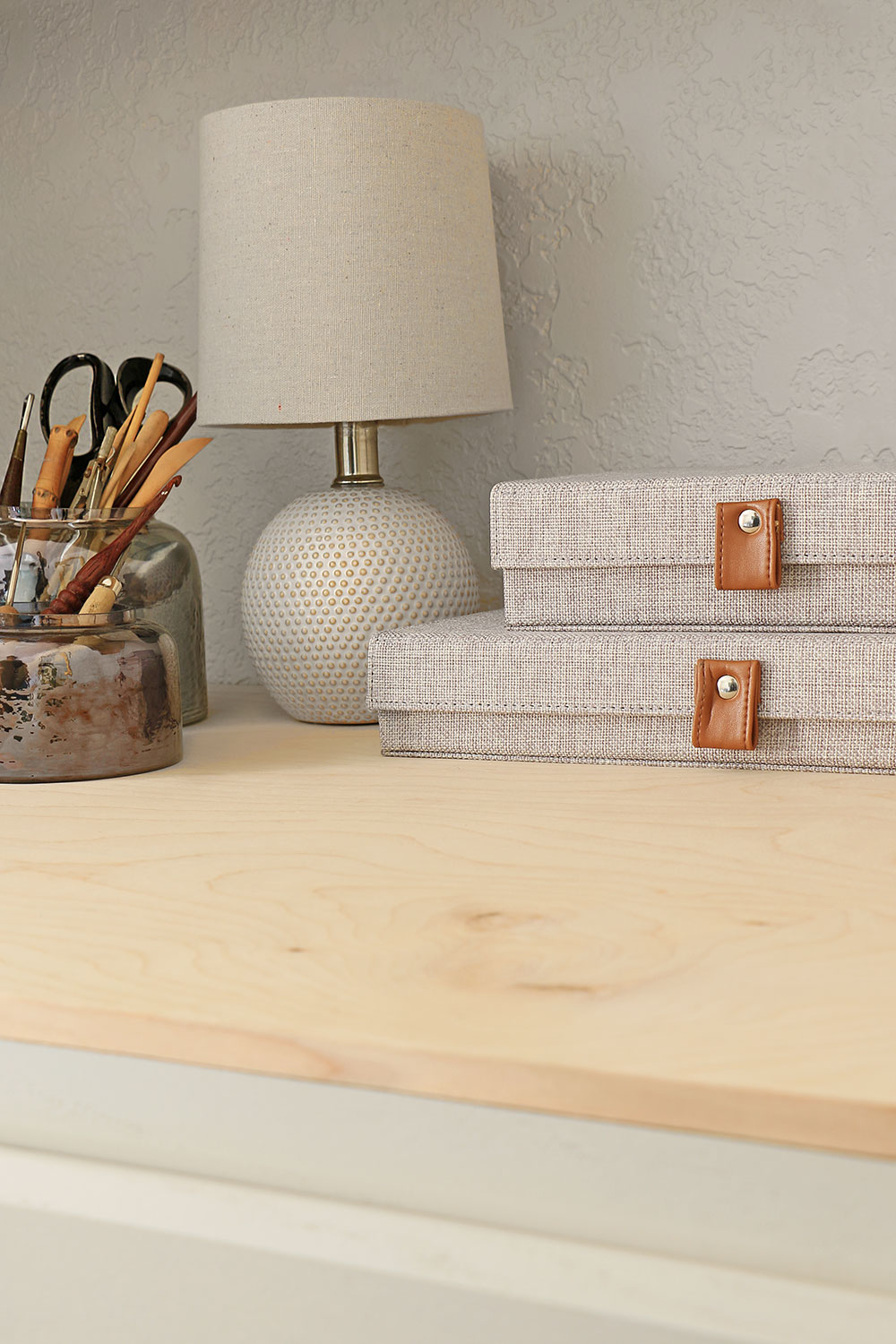 Not all 'in-plain-sight' storage has to hide goods from view. If you have a set of attractive tools or supplies, you can store them on display.
We opted to store wooden handled tools in glass jars, and the thread spools on display. It adds a fun pop of color in the space, and acts as 'artwork' on the wall with a frame around it.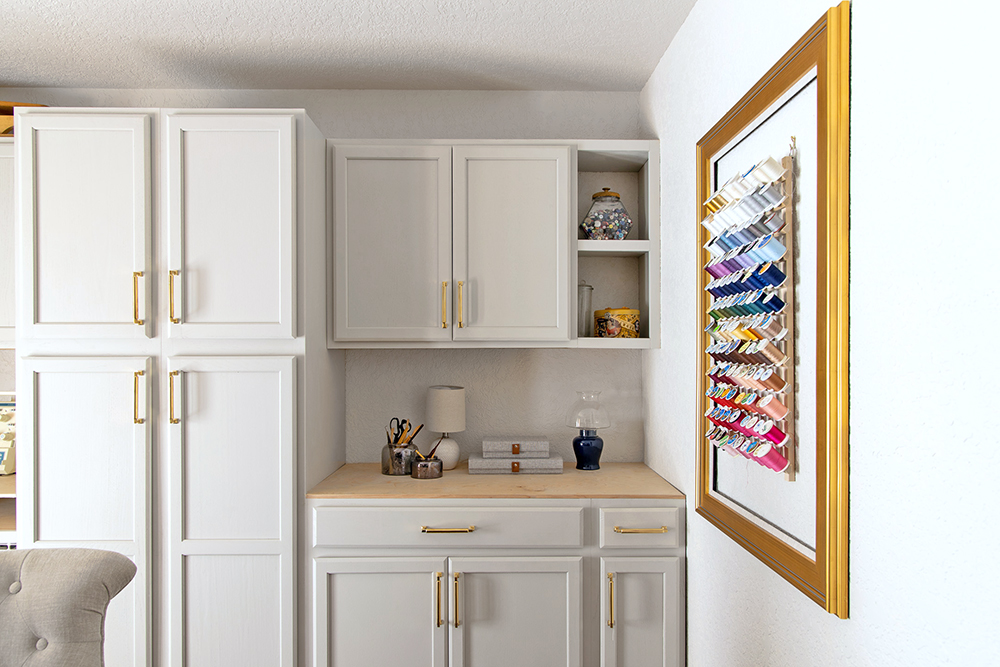 Charting Out An Organization Plan
I've shown you all the pretty organizational shots, but let's take a step back… Back before I even purchased the stock cabinets.
This sewing room started as just a sketch on a notepad, then moved to an plan on my photoshop mood board. THIS is where the initial organizational plan began and evolved.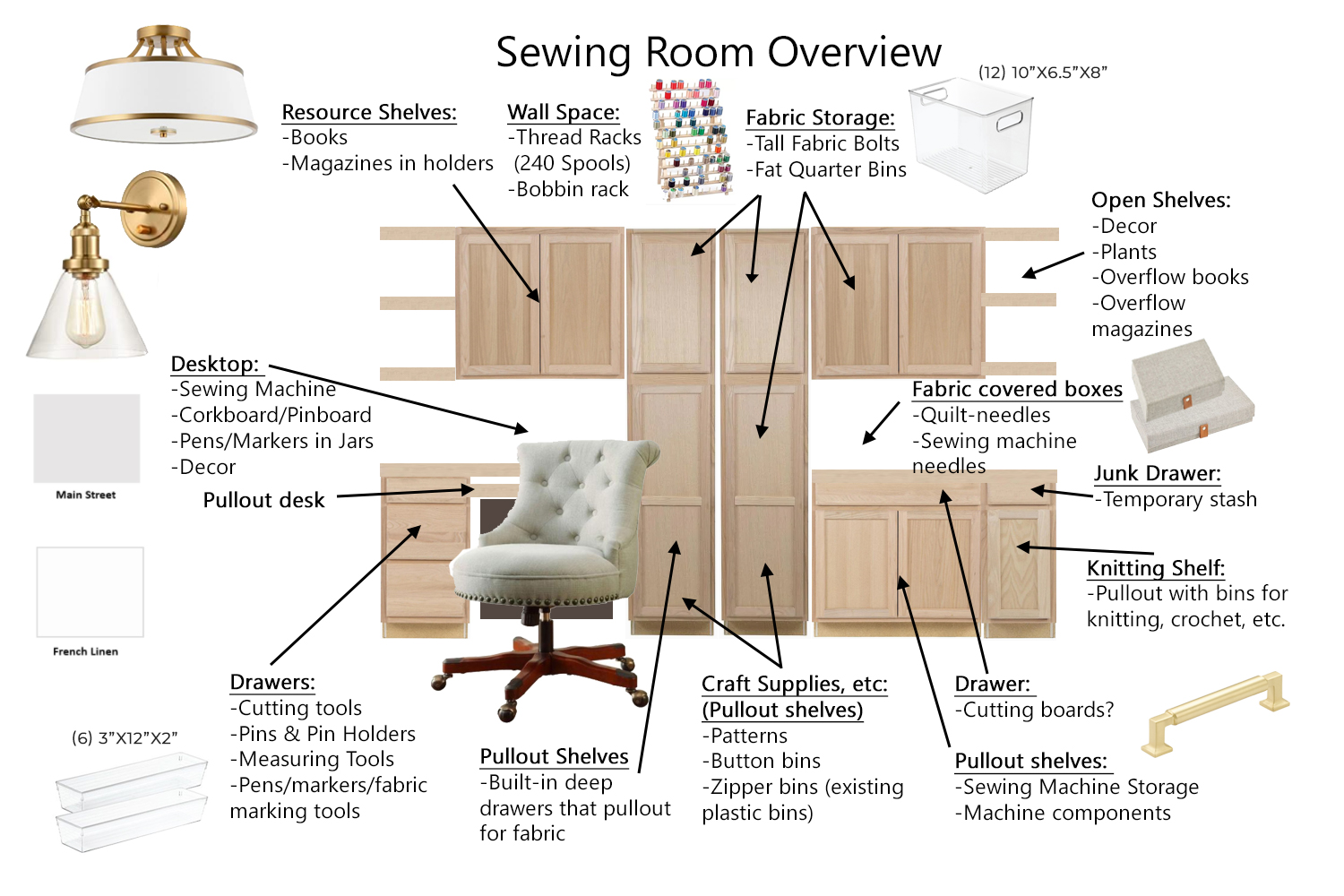 I poured over before pictures of the sewing room, and put together a loose storage plan based on those pictures.
Granted, even with a plan and dimensions, you don't always get it exactly right on paper. Once everything is in the room, and you are actively organizing, you have to adjust the plan to what works best for how you live and craft in the space.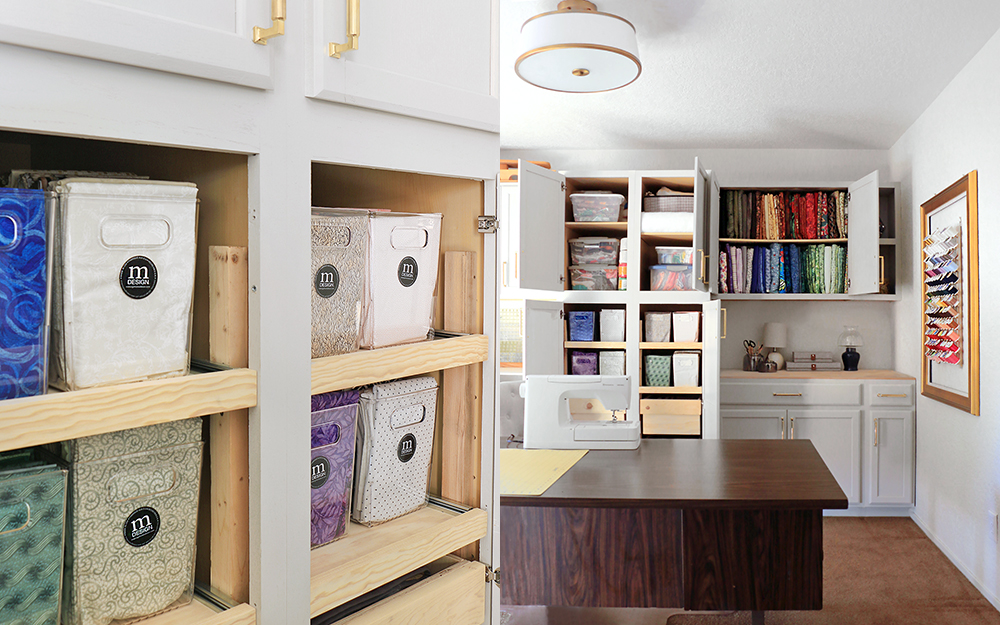 Overall, it's a fantastic start to this room. Unfortunately I ran out of time to complete everything I wanted to do in here. Such as extending these cabinets up to the ceiling and creating open storage on top. Or customizing the base shelving for maximum storage.
These tasks will have to be completed by my dad if he has time. On the bright side, I made sure he has all the tools needed to finish tricking out this room!
Shop The Room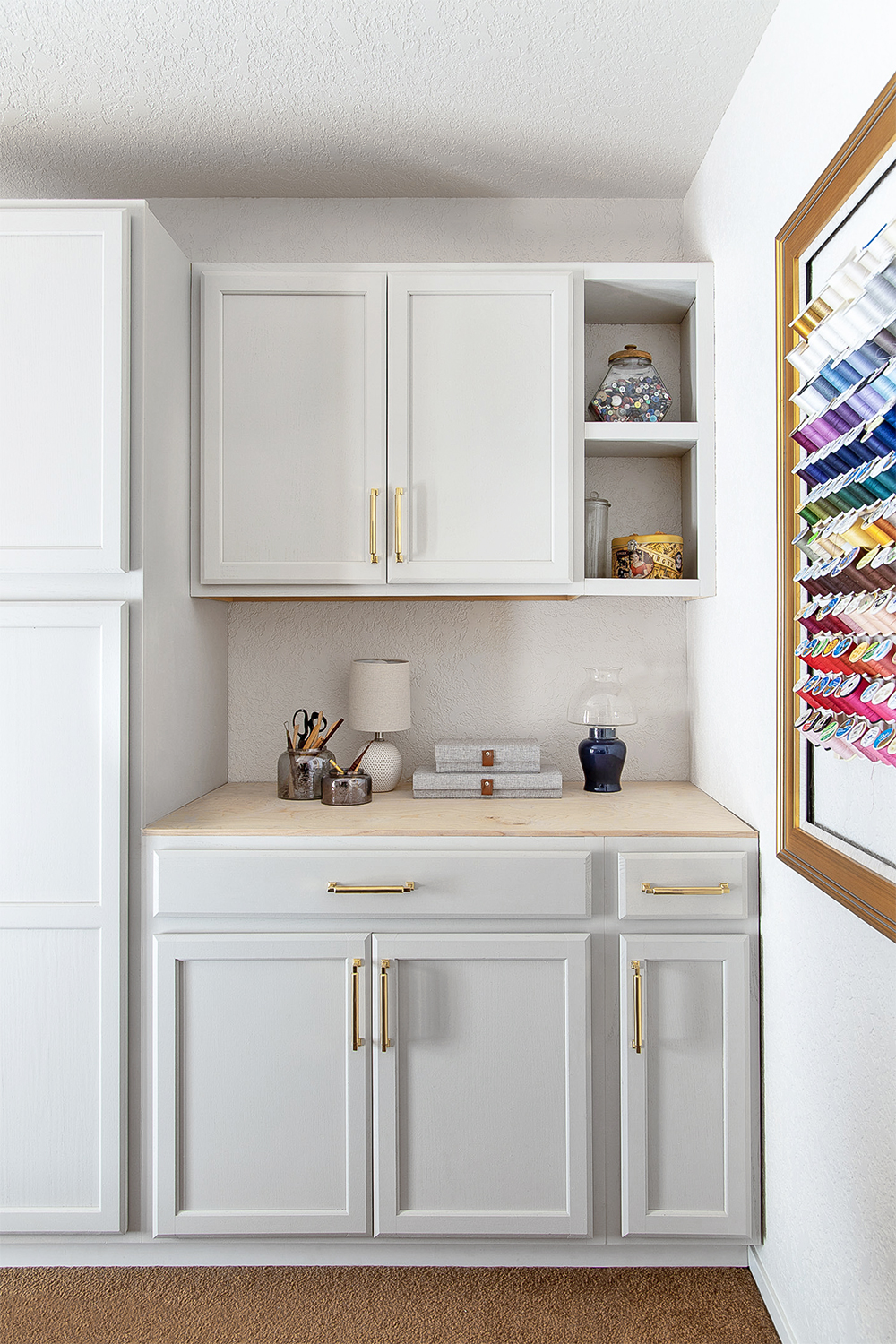 What's Left To Do:
When you are tackling multiple rooms in a house for a challenge like this, it's a huge job! Hopefully we are able to get everything done on the list before the big One Room Challenge reveal…
Whole Home: project planning/before
Mobile 'Workshop': Create space to build
Living Room, prt 1: Curtains, area rug, style
Living Room, prt 2: Style vignettes
Sewing Room, prt 1: Paint, install stock cabinets
Sewing Room, prt 2: Build drawers for cabinets, style
Organize Sewing Room, prt 3: Organize fabric, craft, & sewing materials
Master Bedroom, prt 1: Headboard, curtains, area rug, hutch styling
Master Bedroom, prt 2: Bedding, styling
Library, prt 1: Paint room, tile floors
Library, prt 2: Build bookcases & window seat, style room
Powder Room, prt 1: Paint, install light fixture
Powder Room, prt 2: Install new towel bars and hardware, style
Miscellaneous: Install new sconces throughout the house
Vignettes: Bookcase styling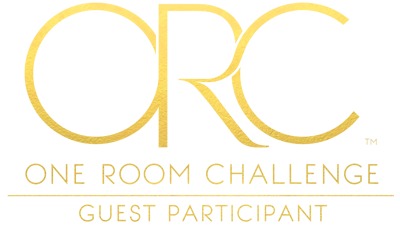 Huck & Peck | Kirkland's | Kreg Tool | Ryobi Tools| The Home Depot | Wovenbyrd | Rustoleum | mDesign Home Decor | ToughBuilt | Garnet Hill | Revival Rugs | Schaub & Company