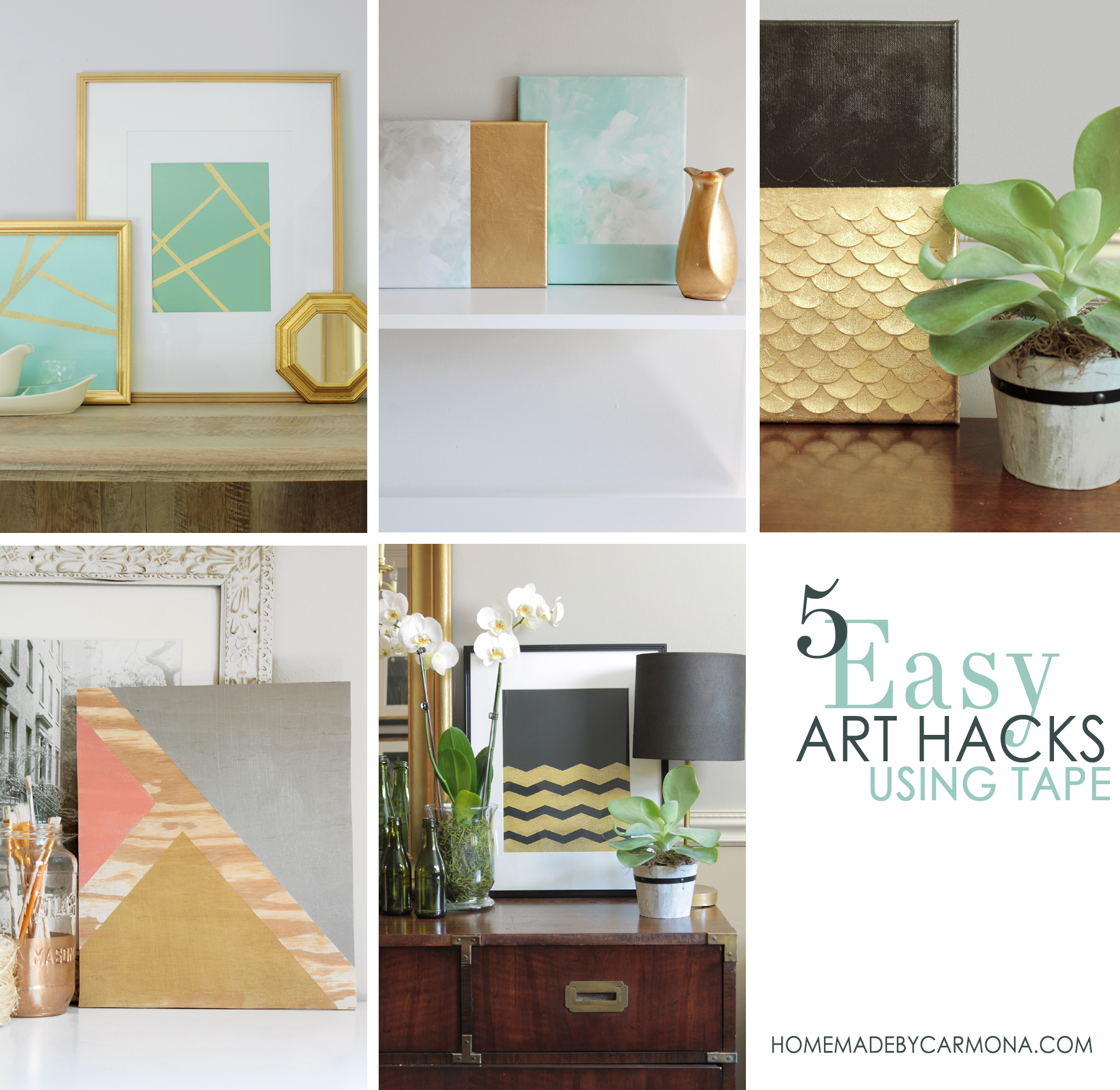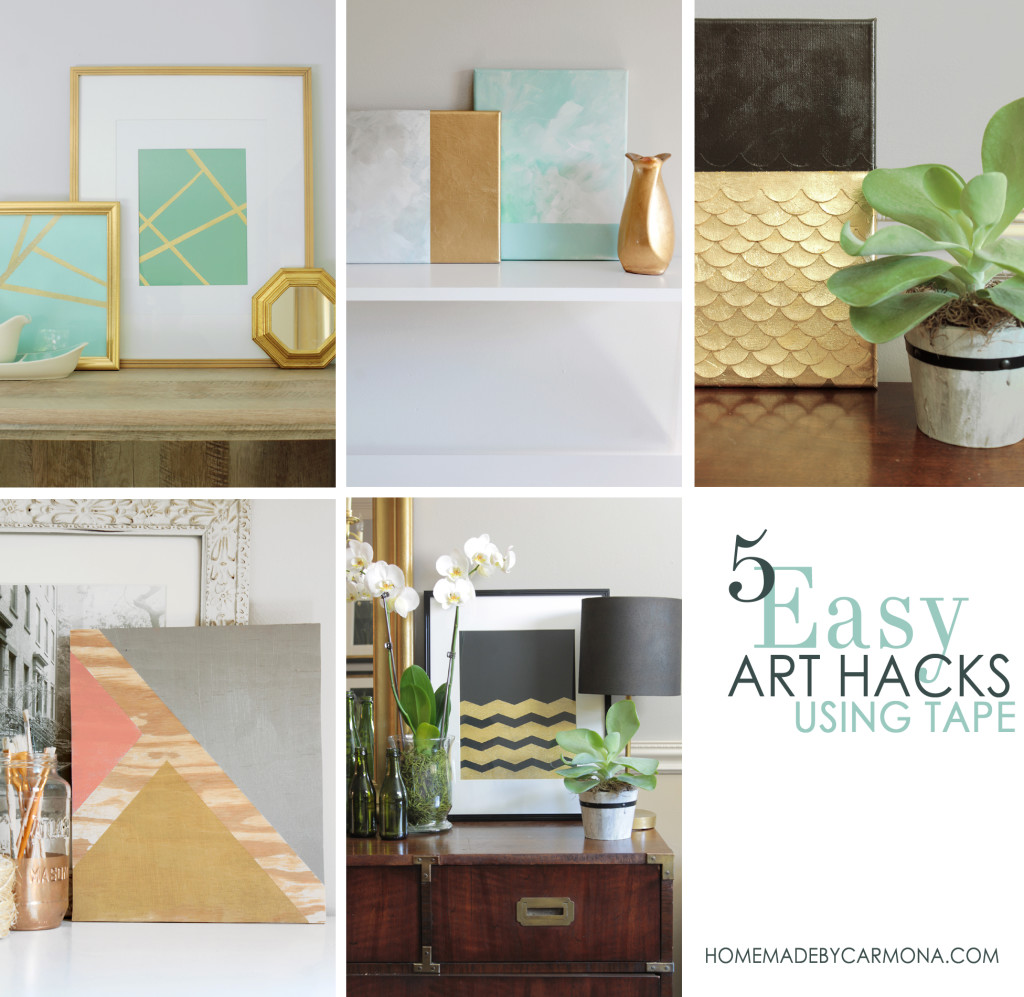 If you don't already know, I have a slight art obsession. A room just isn't dressed if the walls are bare (granted, I might cover mine just a little too well)! Of course, you have probably also discovered that I'm an incurable cheapskate, which makes art buying a tad difficult. As a result I've become quite adept at DIY art of every type. I've taught you to fake your own landscape painting, build your own floating frame, and today I'm excited to share with you yet another great art hack: DIY wall art hacks from tape!
I have a slight art obsession. A room just isn't dressed if the walls are bare (granted, I might cover mine just a little too well)!
Before we get started, let's talk materials. After much frustration with less than clean lines, I finally discovered a painters tape I can back 100%! I have used this brand's tape exclusively in my home since discovering it a year ago, and I'm thrilled to say that today's post is funded by the one and only FrogTape by ShurTech. They asked me to share what I could do with FrogTape, and of course I had a ton of projects in mind…ultimately I decided to share not one, but several tape-based DIY art projects. You probably recognize the green and yellow tape I'm always using for my many projects (and not just paint projects!). Yep, and now you know.
Ready to make your own art? Let's get started!

Mixed Media – Color Block Styled
Color blocking is hot in the fashion world, but if you are a little shy about using opposites on the color wheel, try a mixed media color blocking styled approach that reflects similar hues. It gives the same edgy feel of color blocking without the extremes.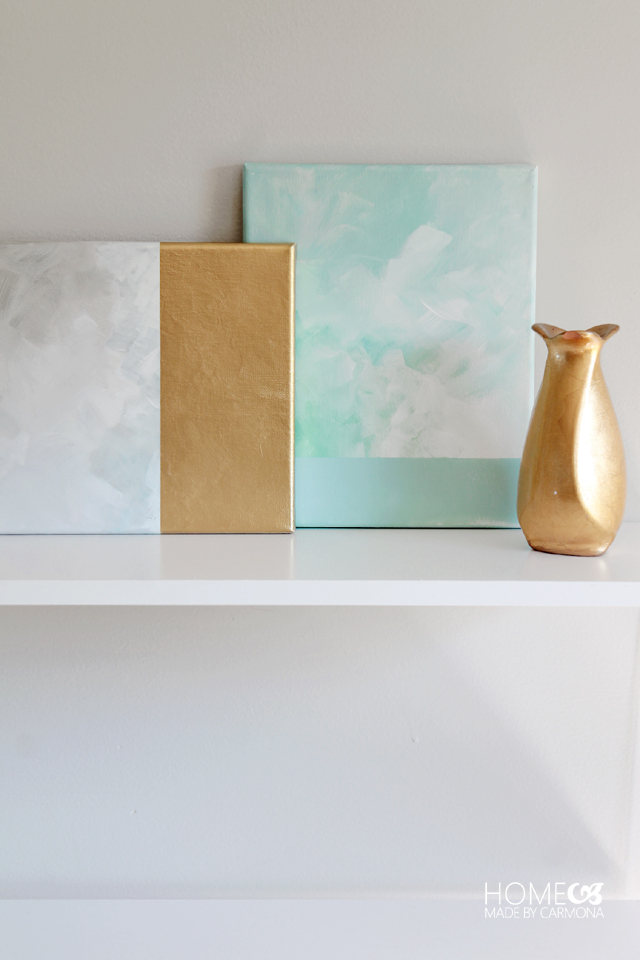 Start with your acrylic paint colors of choice, plus white paint. [tooltip text="Prepare the canvas with a layer of Gesso to smooth and tighten the canvas before painting. Let this dry thoroughly before painting"]TIP[/tooltip]
Paint on the colors starting from dark and gradually add more white as you work across the canvas. Blend your colors as you go and paint the entire canvas. Let it dry completely.
Using FrogTape, tape a straight line across the canvas off centered, then wrap the area you don't want showing with paper and adhere the paper to the existing tape (yes, you are going to tape on top of tape).
Spray paint the canvas area that is showing. Once dried, remove the FrogTape, and enjoy your work of art!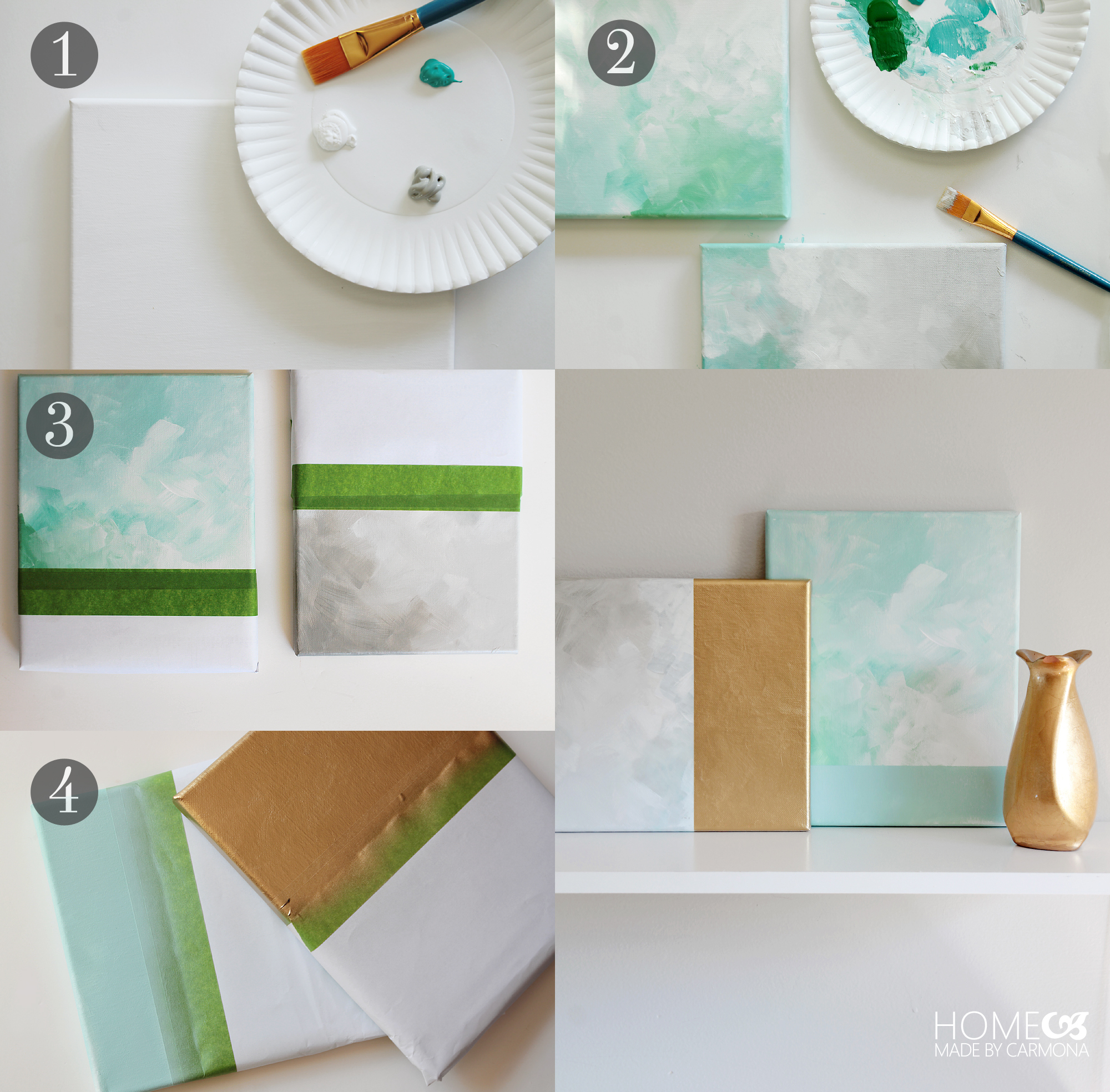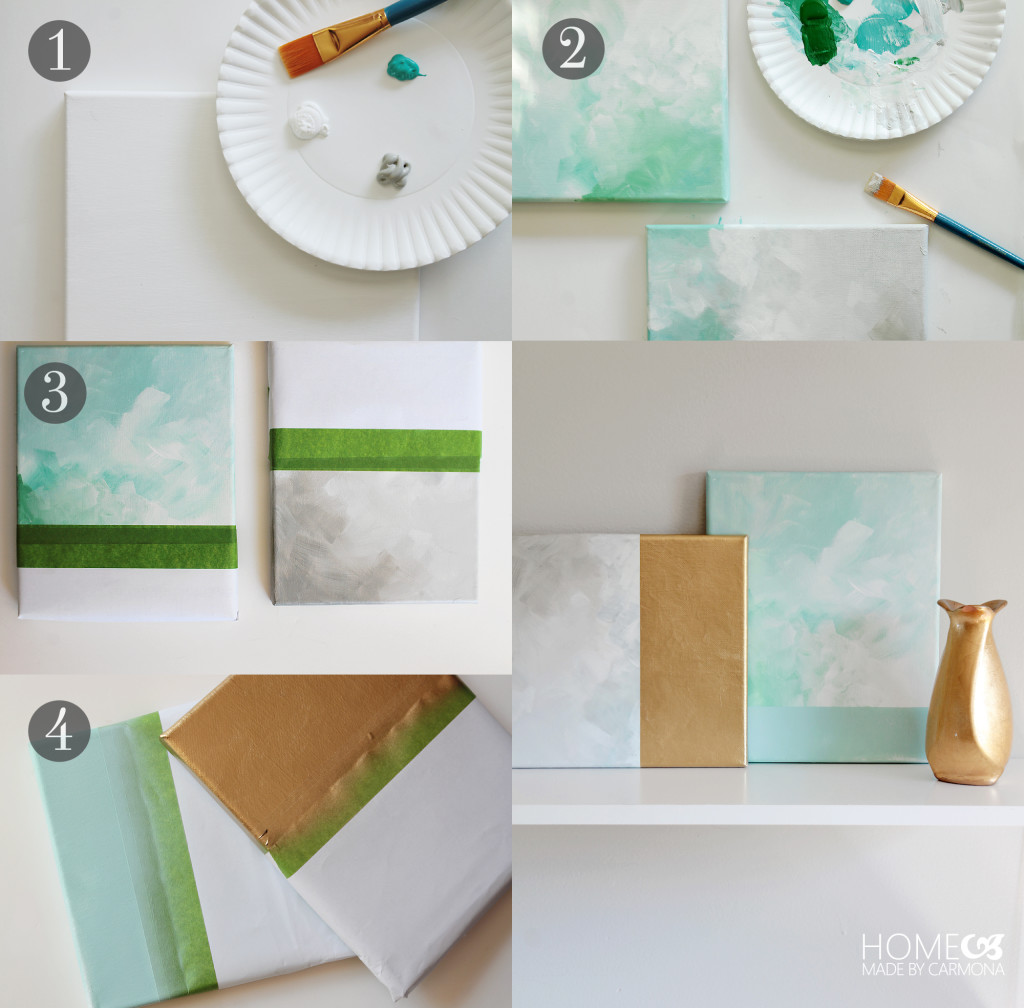 Fish Scale Art
Bold, glittery, and oh so sophisticated, fish scale art is usually expensive to buy, and hard to DIY. Not anymore! Thanks to the Scallop Shape Tape more than half the work has been done for us! Woop woop!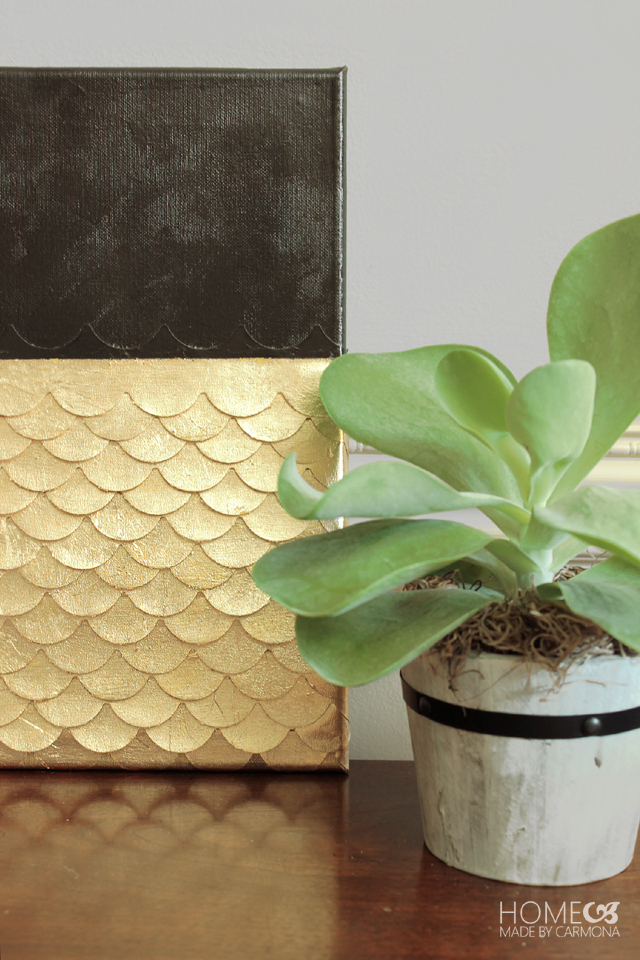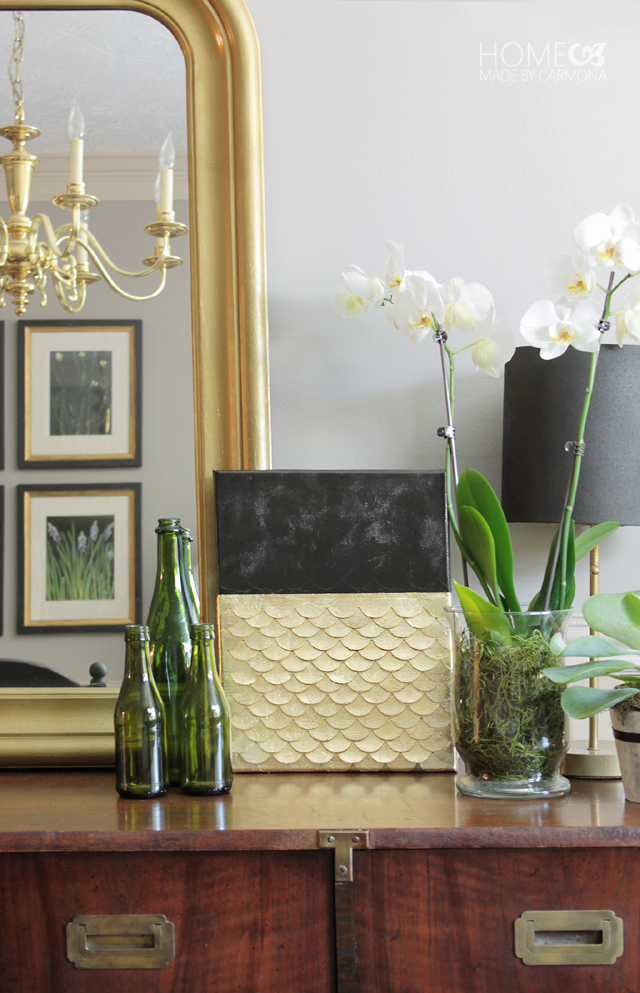 There are two versions of this project, you can simply spray paint the Scallop Shape Tape with gold spray paint (and some glitter spray on top would be stunning!), or for an extra high end look you can use gold leaf. That is the one we are doing here. You will need gold leaf, gold size, soft bristled paint brush, second brush for the gold leaf size, a canvas, and Scallop Shape Tape.
Cut strips of Shape Tape to cover the length of your canvas. Some rows may need to be longer than others so that every other row can be staggered.
Lay your strips of Shape Tape on a table (with scrap paper underneath) so they overlap slightly, and tape the ends to the table so they don't move. Apply gold leaf size to some of the Shape Tape and wait a few minutes for it to turn clear. Apply the gold leaf on top and brush it with the fine bristled brush. Do this until you have covered all the Shape Tape.
Pull apart the now gold Shape Tape strips; brush any residual gold until all you have is the scallop shape left, and apply one strip at a time to your canvas starting from the bottom. For the first strip you will remove all the backing off the Shape tape. The rest of the strips you will only remove the backing off the top part of the Scallop shape (the tips), keep the backing on the lower half so that they stand out. Wrap the strip around to the back, and staple in place.
ALT: You can continue the fish scale design all the way up, or you can spray paint half of the canvas to help it really pop!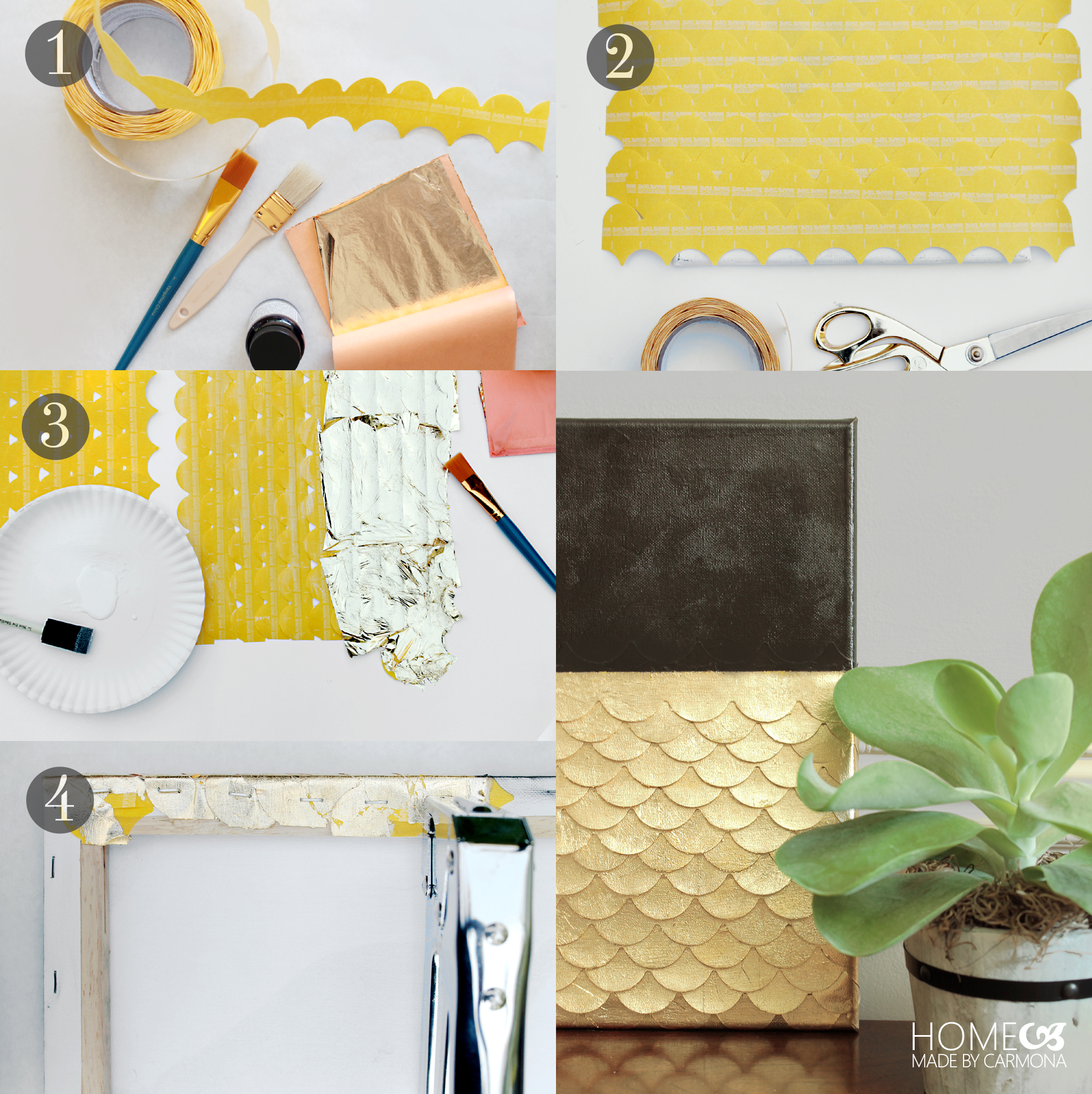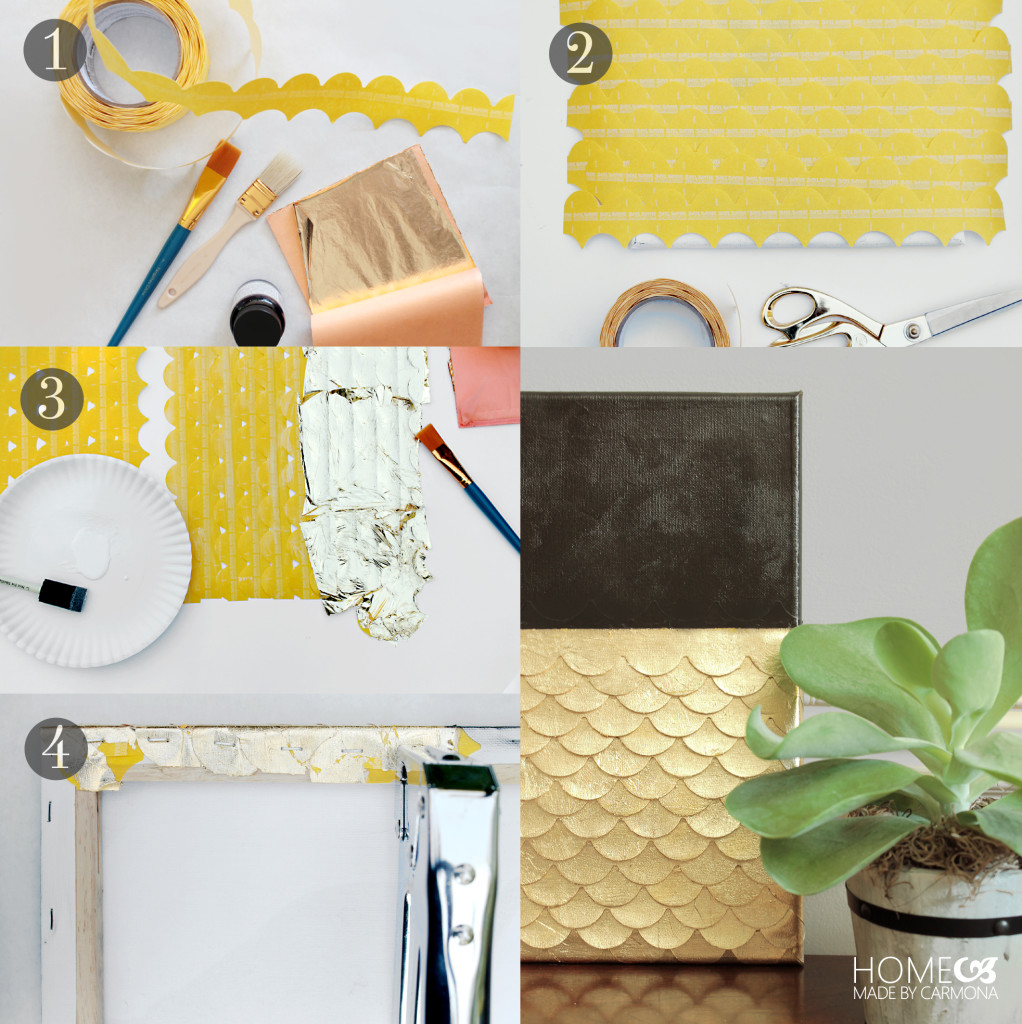 Chevron Art
We all love a good chevron design, but accomplishing those pristine perfectly measured chevrons can be a huge pain to do yourself. No fear, because the Chevron Shape Tape does the job for you!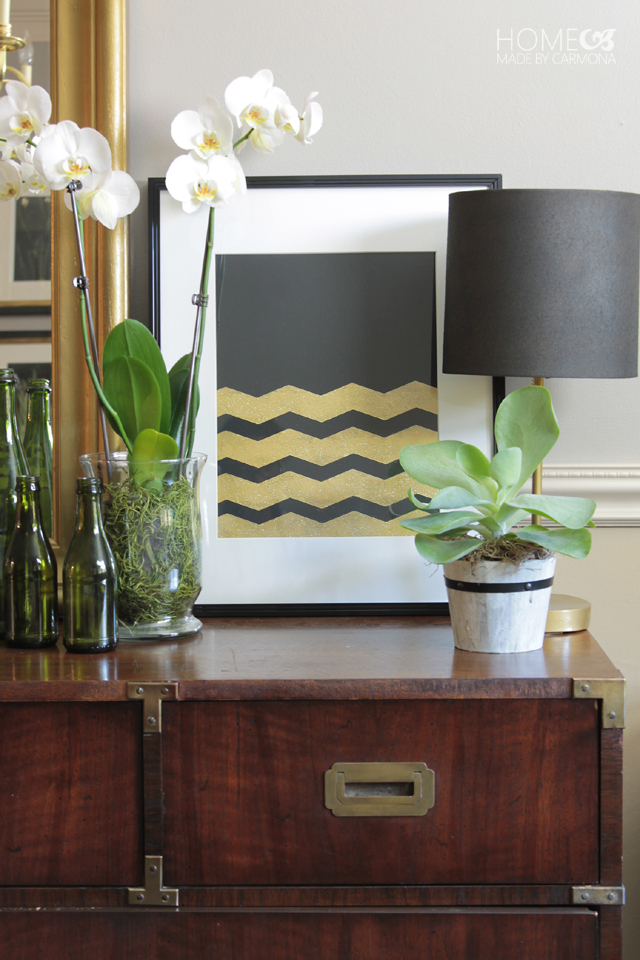 You will require the Chevron Shape Tape, poster board (in the color of your choice, I chose black), and spray paint of your choice (I chose gold and gold glitter spray). Cut the poster board to fit inside your frame.
Cut the Shape Tape to the size of your poster board piece. Create as many strips as you would like for the desired design.
Spray paint the cut Chevron strips to the color of your choice. I started with a gold spray paint, then used a gold glitter spray paint on top. Allow them to dry completely.
Peel the bottom of the Shape Tape backing, eyeball where you want it to go (start in the center of your poster board), lay it down (gently peel up if you placed wrong and try again), then peel the next half of the tape up once you have it positioned. Continue your pattern, adhering chevron strips to the poster board. Frame, and enjoy!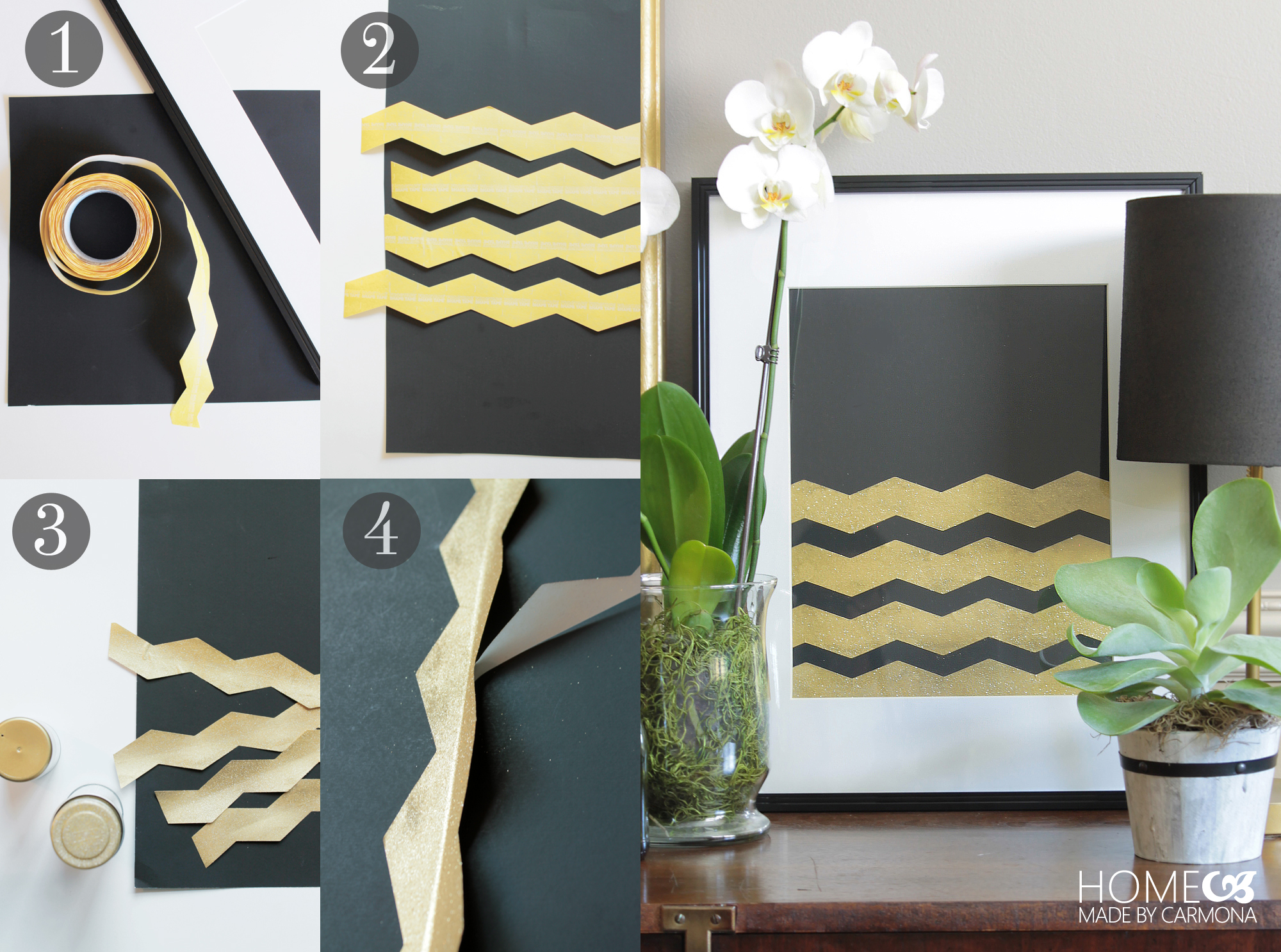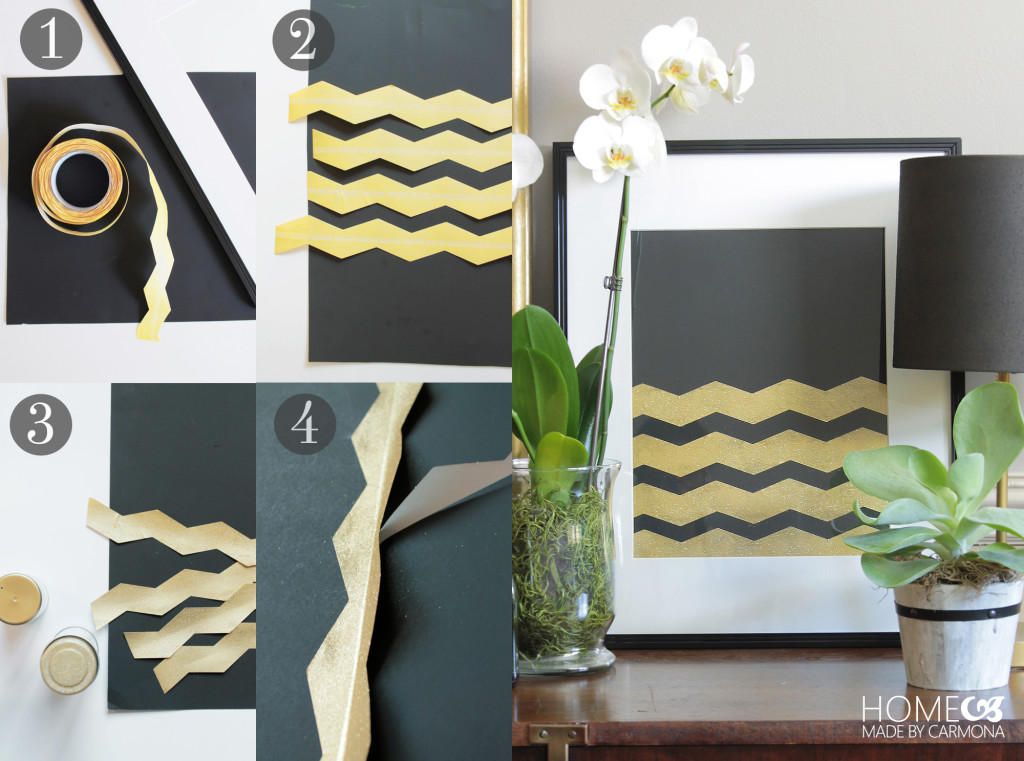 Geometric Shape Art | Wood Grain Art
I'm a huge fan of geometric shapes used in modern wall art. That being said, sometimes it is easy to go a little overboard with the shapes, keep it simple and enjoy the small detail. I'm enjoying the simplicity of triangles and wood grain with this easy art. You get to use up those leftover pieces of plywood; which would be lovely stained first as well!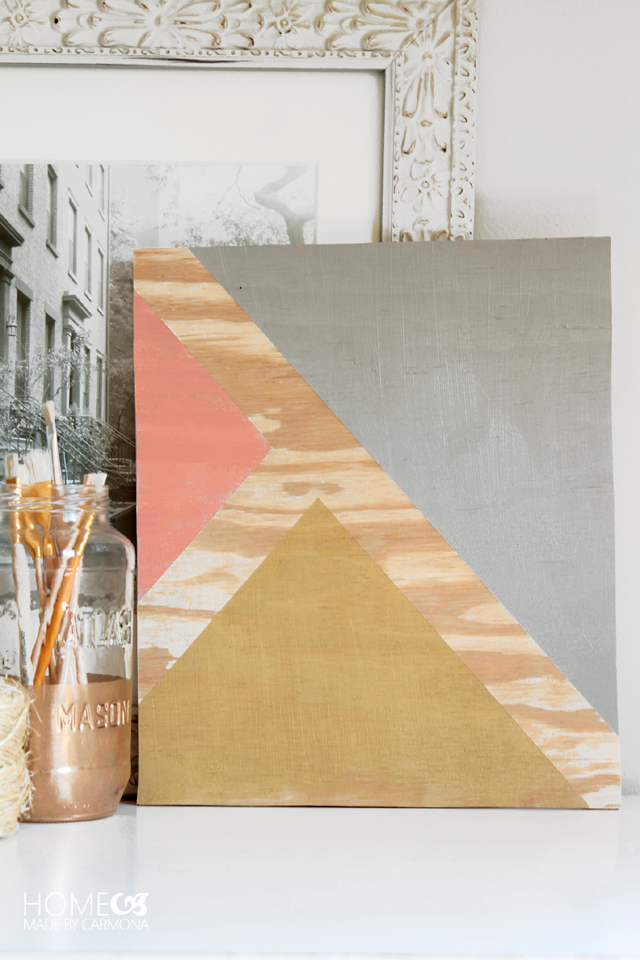 Cut your leftover plywood to the desired size, sand, and stain if desired. I'm leaving mine raw for this look. Using the green or yellow FrogTape (depends on which size you prefer), simply tape off a design. It can be as simple as mine, or as complex as you desire.
Spurt some paint of choice, and paint it on! Add some interest, use at least one bold or metallic for a pop! Let it dry completely before removing the tape, and viola!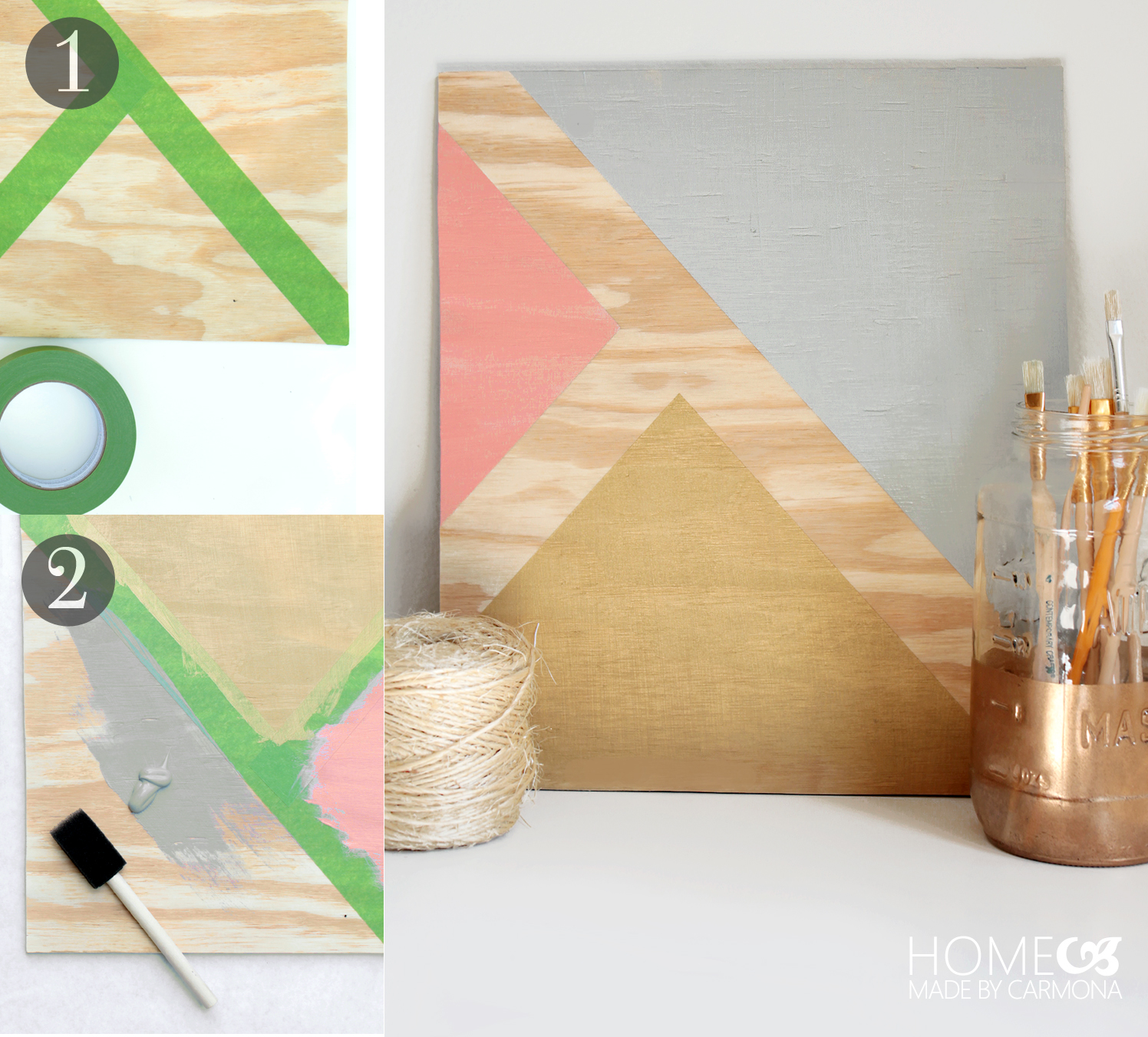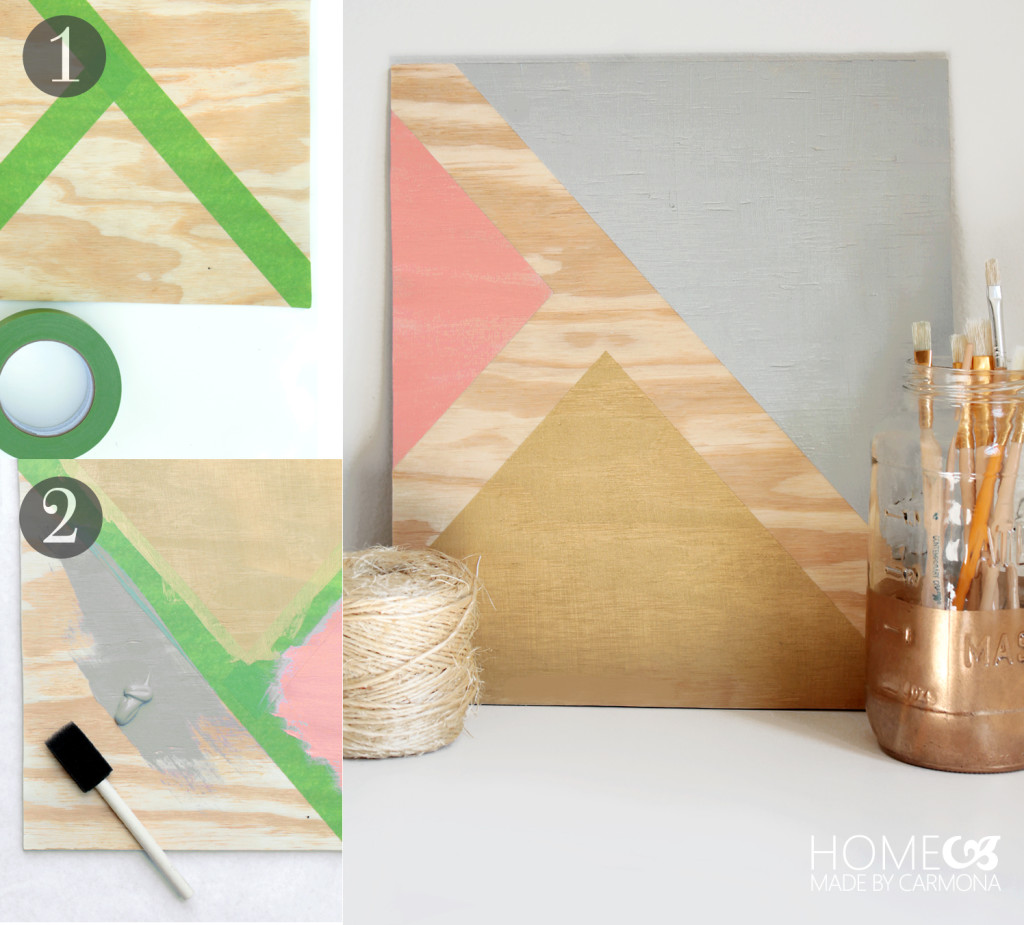 Line Art
Yet another art style that celebrates the geometric shapes by outlining them is line art. Really this is just a random hodgepodge of lines, and that is what makes this DIY so fun and easy!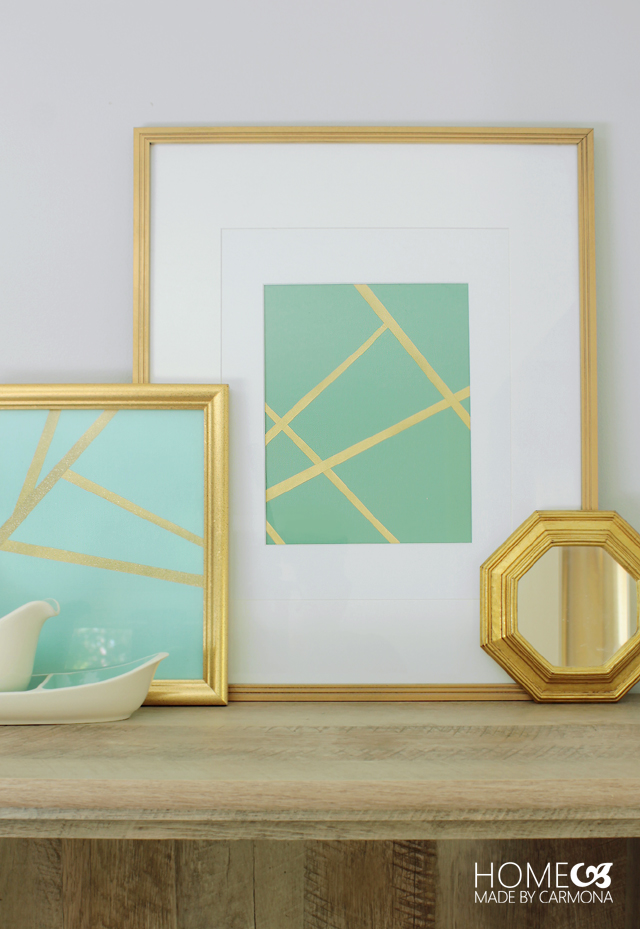 Typically it is not a good idea to cut FrogTape because the paint block is in the edges, but for this project you aren't using the FrogTape to keep the paint out, so it is ok. Tape strips of FrogTape onto some wax paper, then cut them into thin strips (keep the tops connected for easier handling).
Immediately spray paint the strips a color of your choice. I chose gold for one, and gold + gold glitter spray for another. While your spray painted strips dry, take your canvas and spray paint it a solid color of choice (a complimenting color!)
Once the canvas and the sprayed strips of paint have dried, peel the strips off the wax paper and apply it to the canvas in a design you like. Do it one strip at a time, and complete this project immediately because the longer the FrogTape is on the wax paper, the less easily it will want to come off. Frame and enjoy your sophisticated work of art!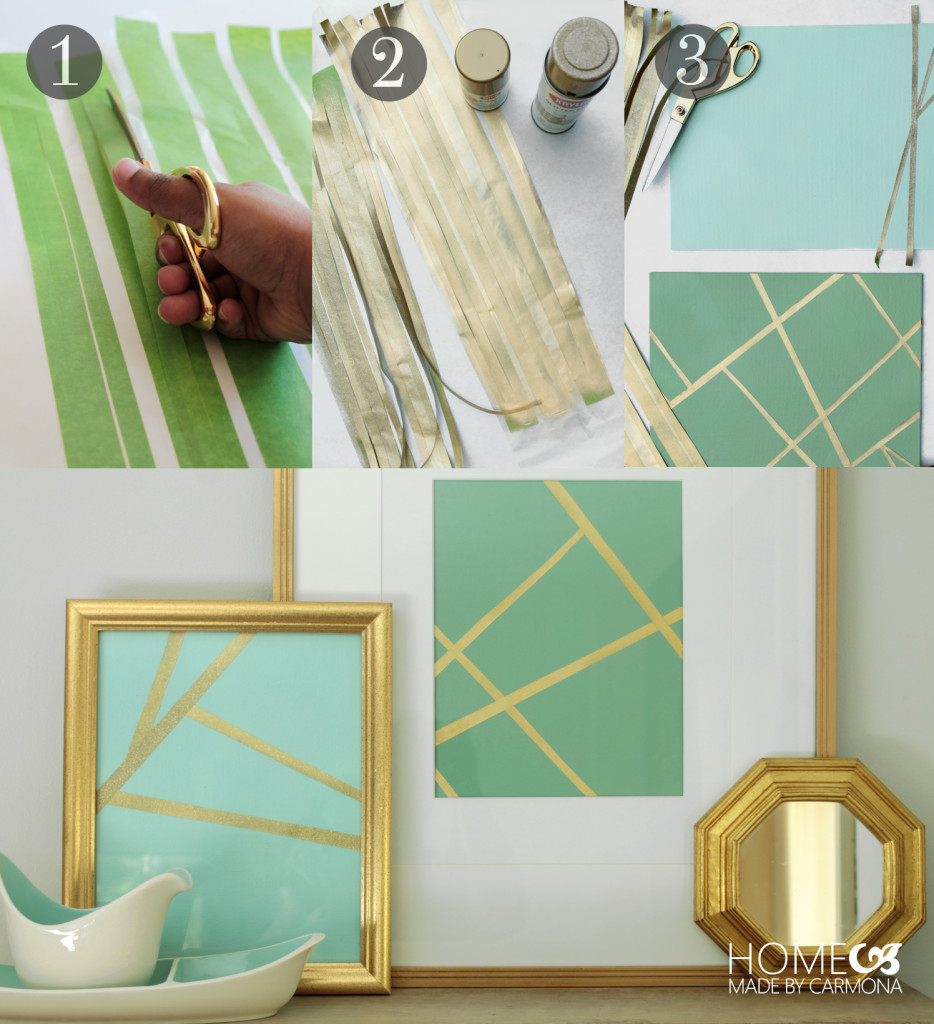 What did I tell you? Easy, and stunning! Plus, when your friends ask where you got that gorgeous art, you can say you made it yourself! 😉

You can find FrogTape and ShapeTape at most hardware stores and even super centers (such as Walmart).
Planning to try any of these projects? I'd love to see! Upload it to Facebook or Instagram, tag me at Home Made by Carmona and add #HMCmaker. Can't wait to see your project! Hmm, thinking of it, why not tag FrogTape as well, so they can see how amazingly talented my rock'in readers are! You can find them on Facebook and Instagram as well.
When your friends ask where you got that gorgeous art, you can say you made it yourself!
*A huge thank you to FrogTape for sponsoring this post. Your product stink'in rocks, and I'm absolutely a huge fan! 
**I received compensation to complete this project for using FrogTape products. All opinions, projects and ideas are based on my own experience.