Next week is the big reveal of the One Room Challenge, and while this week I'm sharing the bathroom vanity area, we've pretty much hit a wall.
I have a feeling we've done all we can do at this point, and any additions or changes will have to be small. My original plan was to do a traditional meets art deco styled bathroom.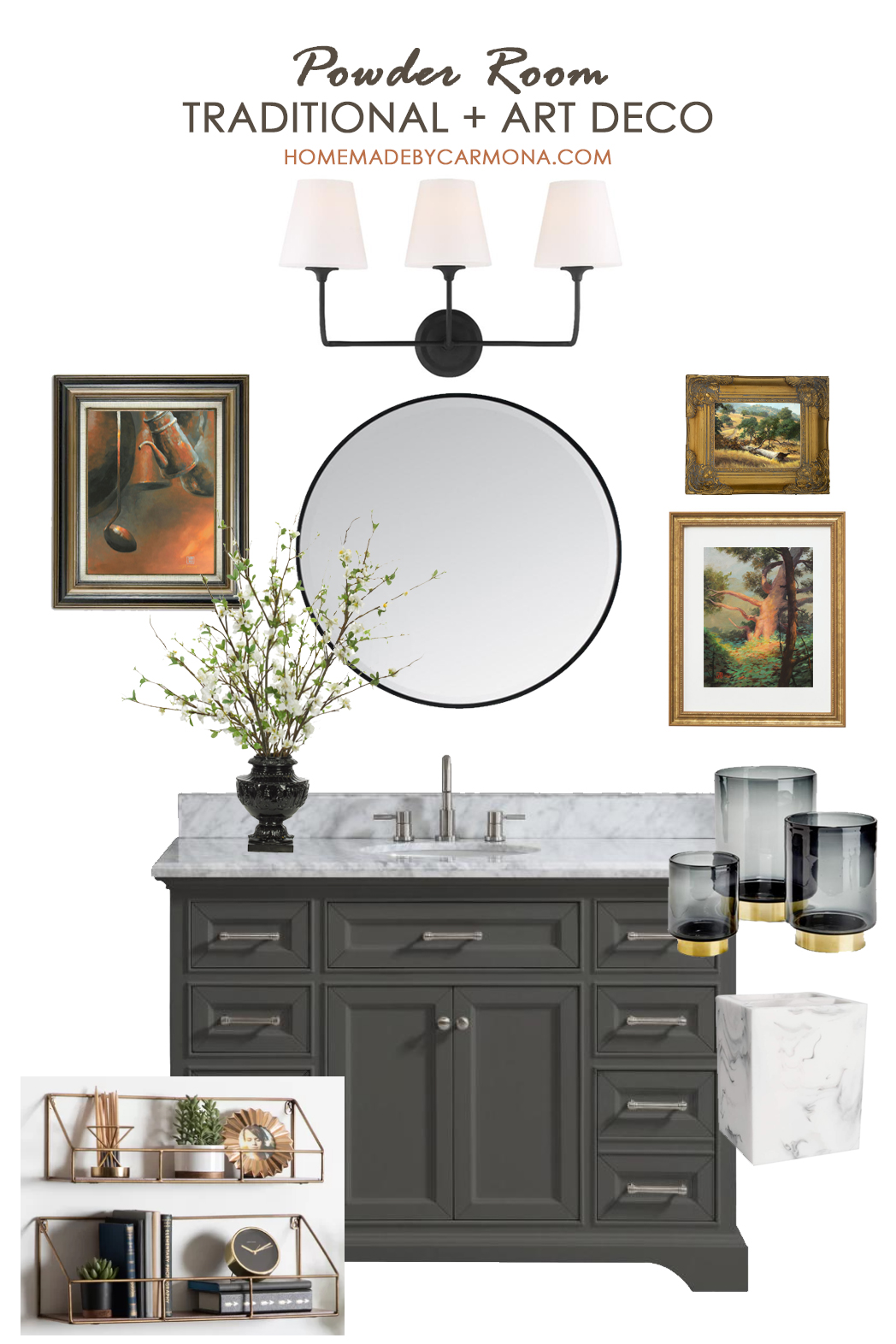 This week's One Room Challenge is made possible by Crystorama! Affiliate links included.
This has been a HUGE project, for this ORC we've remodeled a sewing room, a library, a living room, and a bedroom. Why in the world did I think we have time to improve the bathroom in the Artist's Mountain Home?
Because I dream big, and often overshoot my own time and ability. I've really got to stop that… plus I could only fly out to California to work on my parent's house for two short weeks. It just isn't enough time to do everything I would like to do.
The Downstairs Bathroom Before
I realize there is a lot I can't do in here. For one, there will be no re-tiling in this bathroom, and the shower door has to stay.
So I wanted to do small easy updates that would compliment the existing style of the shower door.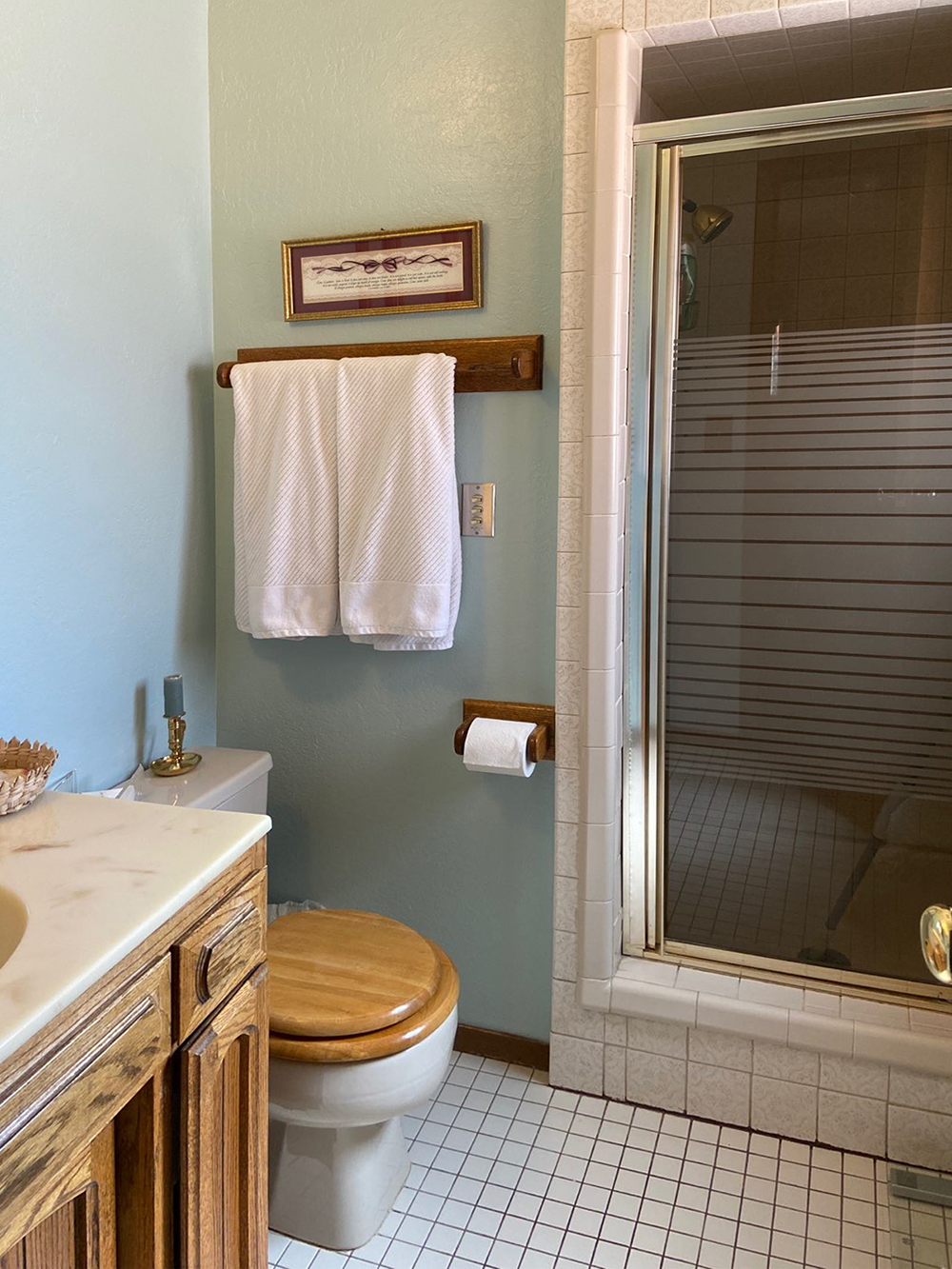 Ideally we would paint the walls, replace the mirror, paint (or swap out) the toilet seat cover, and replace the wooden holders throughout the bathroom.
Of course, the big ticket items are replacing the vanity and light fixture in the vanity area. They have the biggest impact, but require the most time.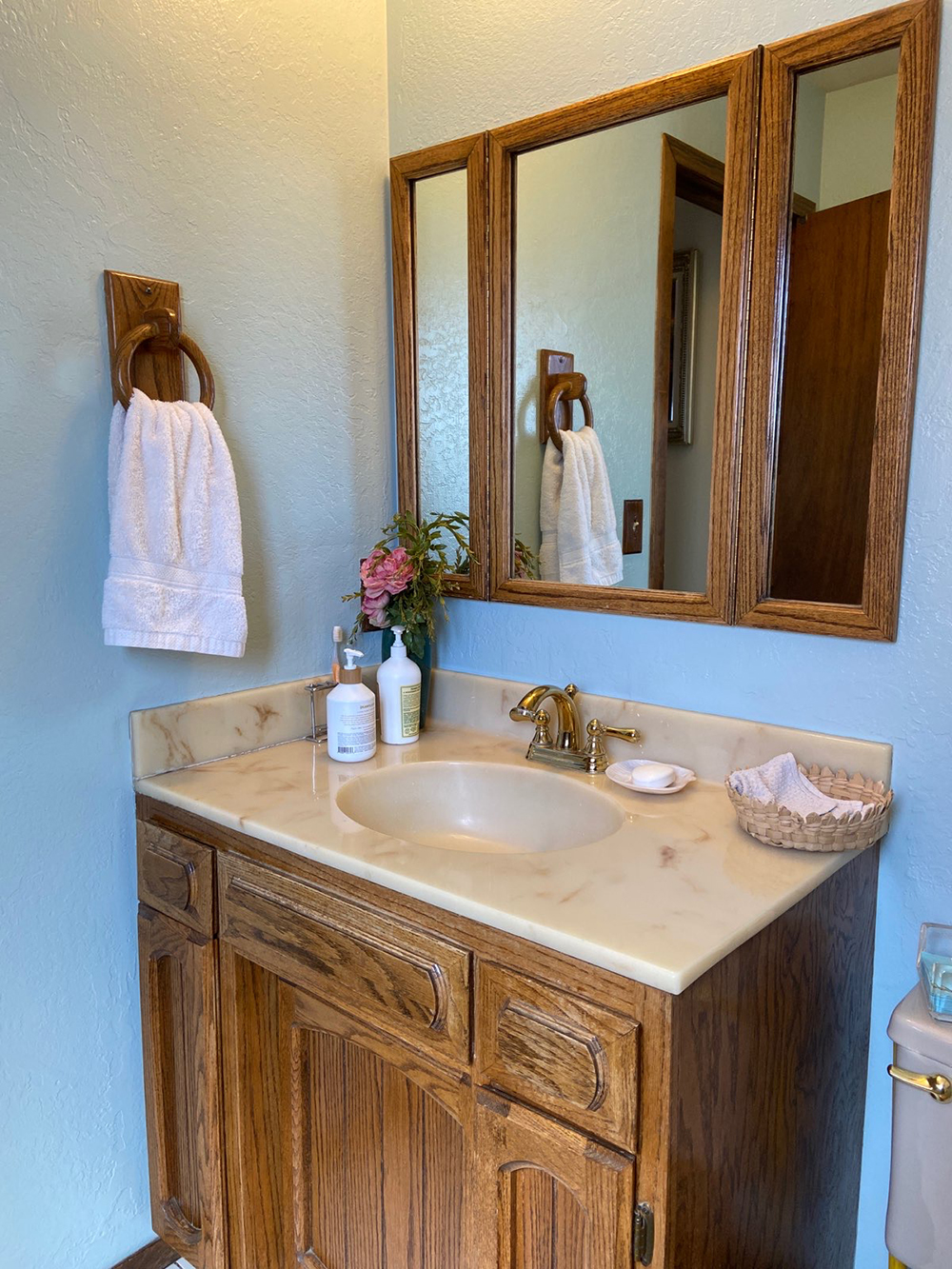 When A New Vanity Isn't In The Cards…
A slightly smaller version of the vanity you see there in the mood board was on sale, and a great deal too! I promptly double checked the specs, and put in my order. Unfortunately, this vanity just wasn't in the cards, since a couple weeks later I got a shipping date change saying that it would not be able to ship until December.
But anytime replacing a vanity is just not in the budget, don't worry! There are great alternatives.
In my last One Room Challenge, I remodeled my master bathroom without replacing the vanity. It didn't fit in my budget, so I made do with replacing just the vanity top. Later I added a new coat of paint and new drawer pulls.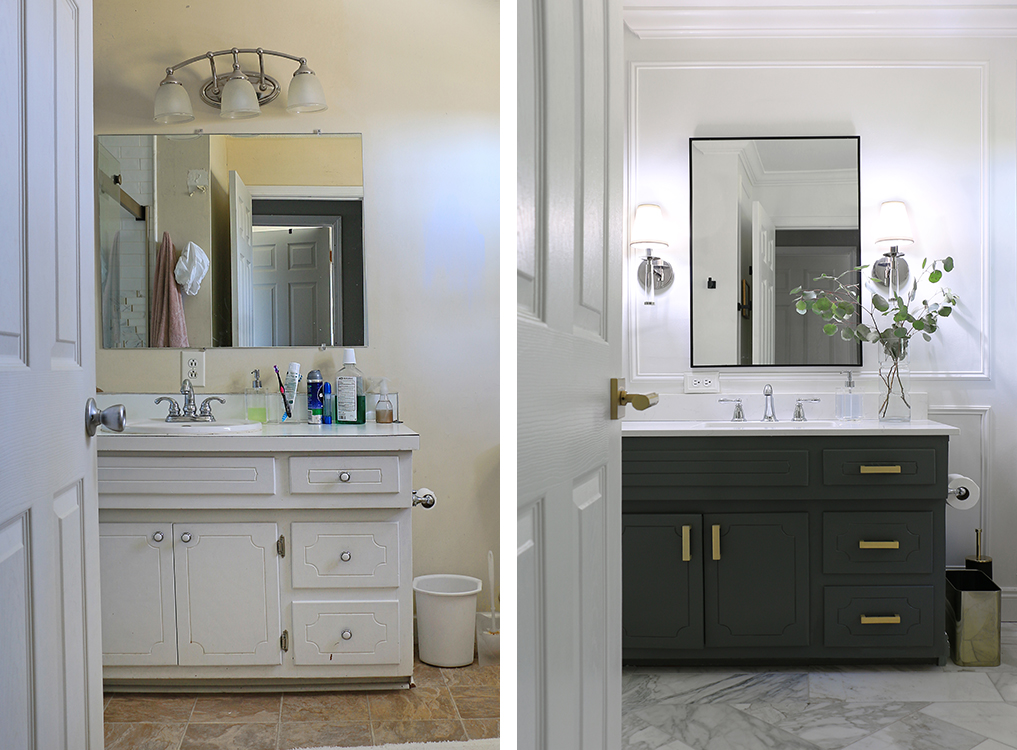 Depending on the size of your vanity base, you could snag a new vanity top for as low as $150!
In my parent's bathroom vanity area, just painting the vanity will help. In the future, perhaps we will add some pulls…
Light Fixture Update
This beautiful light fixture from Crystorama was originally supposed to go in my own master bedroom for the Spring ORC. But after seeing another set of Crystorama's sconces in my bathroom, I changed design direction.
That meant this pretty Crystorama Sylvan 3-Light Black Forged bathroom vanity light could now go in my parent's house!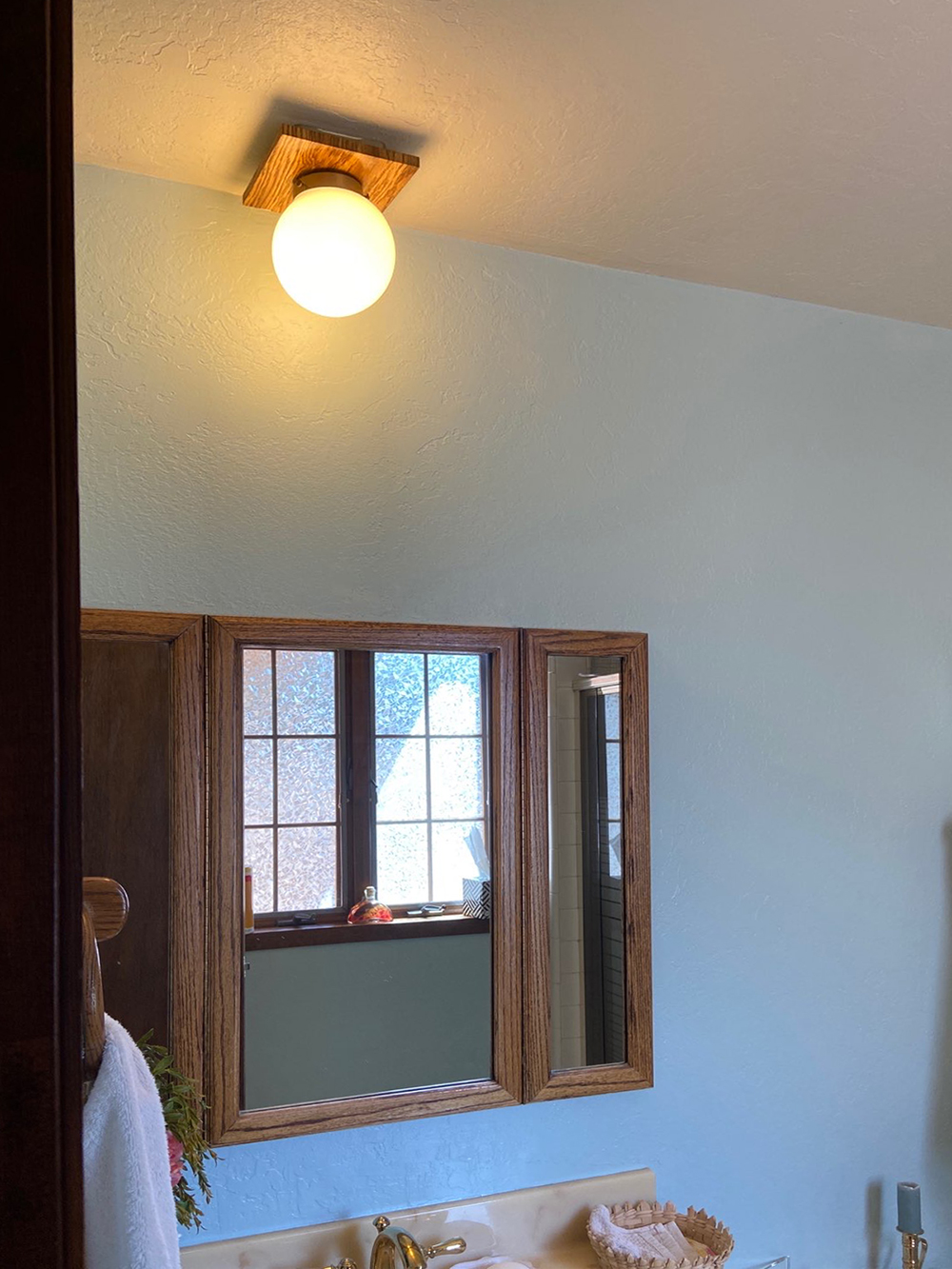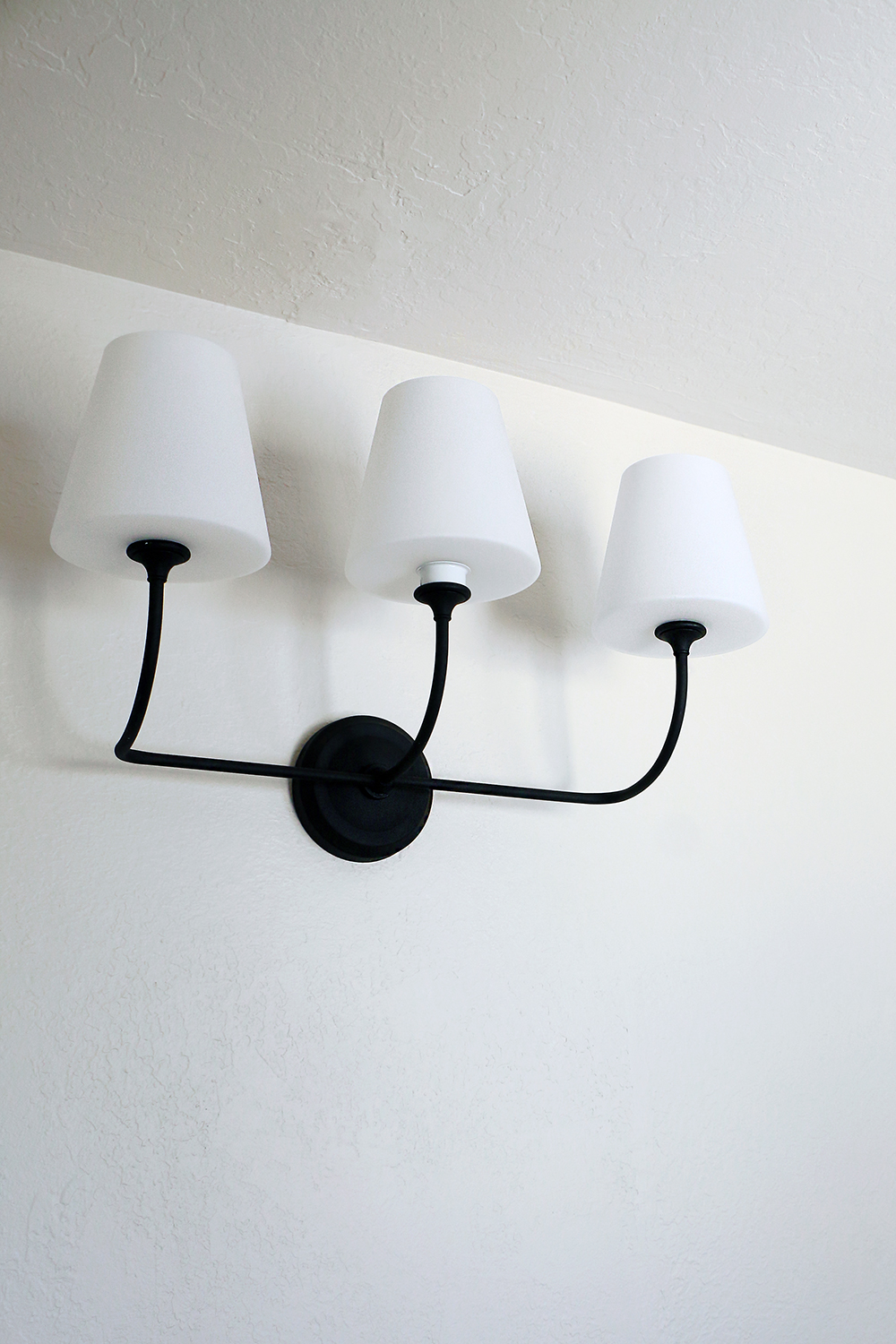 We had an electrician come in and move the ceiling box to the wall. I just wish he would have installed the actual light fixture…for whatever reason (miscommunication maybe?), he installed the box, and left. No patching/repair job, and no light fixture installation. Which left us to do the task ourselves. More accurately, it left my dad to do the job while my brother and I finished some building projects.
Wall Art In The Bathroom
I've always been a fan of ornate gold frames, and I think it is probably my dad's influence. Growing up I've always enjoyed seeing his artwork framed in these gorgeous show-stopping frames up on the wall.
Of course, the Artist's Mountain Home remodel should definitely showcase artwork from the artist himself!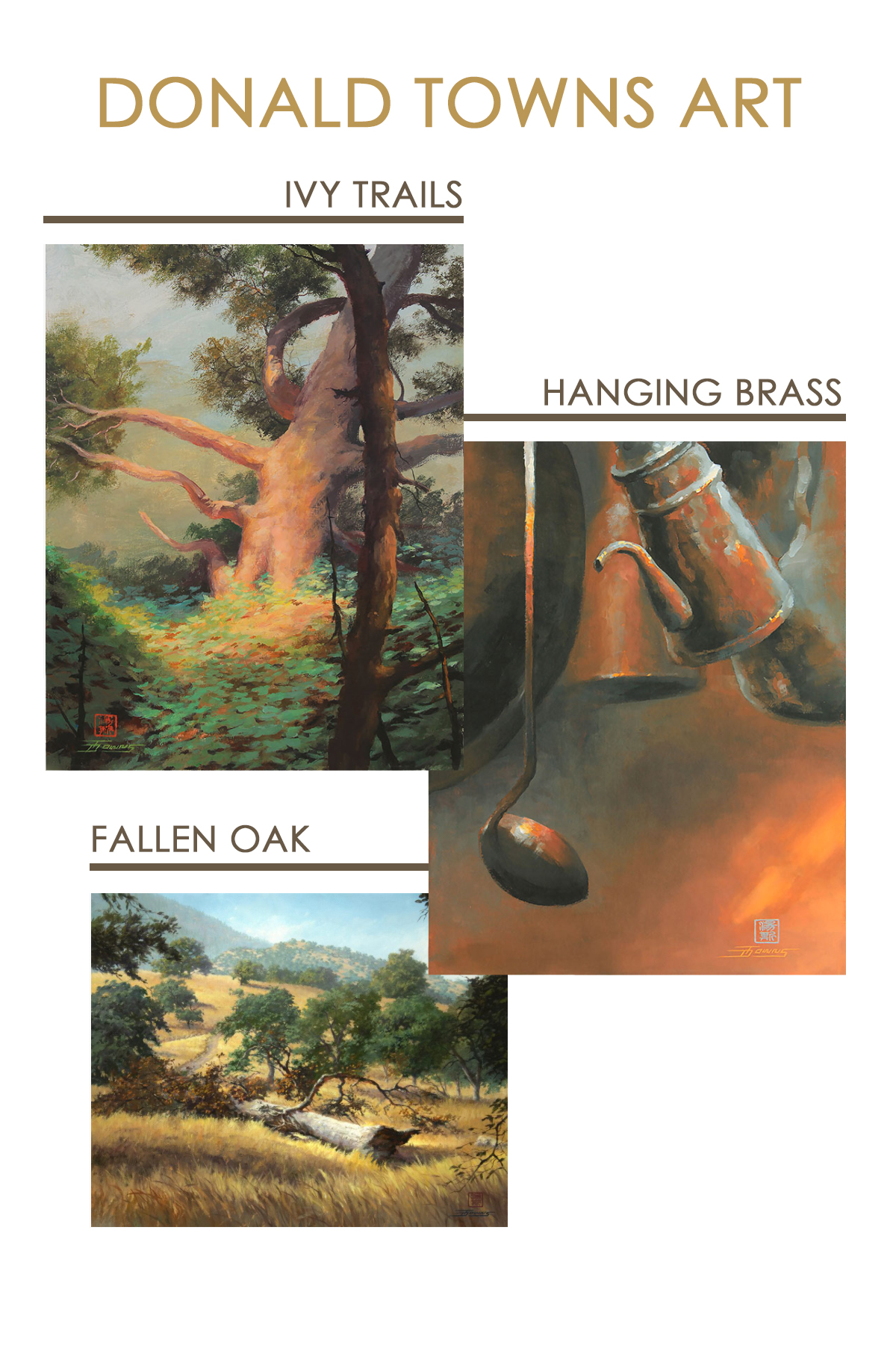 So my chosen pieces for this mood board aren't only painted by my father, but these prints are available at incredible prices here at his online art shop!
You'll Just Have To Wait…
I know, you were hoping to see more of this bathroom vanity area. But that was the only taste you'll get until next week!
We have to keep something as a surprise.


ORC To-Do List
Whole Home: project planning/before
Mobile 'Workshop': Create space to build
Living Room, prt 1: Curtains, area rug, style
Living Room, prt 2: Style vignettes
Sewing Room, prt 1: Paint, install stock cabinets
Sewing Room, prt 2: Build drawers for cabinets, style
Organize Sewing Room, prt 3: Organize fabric, craft, & sewing materials
Master Bedroom, prt 1: Headboard, curtains, area rug, hutch styling
Master Bedroom, prt 2: Bedding, styling
Library, prt 1: Paint room, tile floors
Library, prt 2: Build bookcases & window seat, style room
Powder Room, prt 1: Paint, install light fixture
Powder Room, prt 2: Install new towel bars and hardware, style
Miscellaneous: Install new sconces throughout the house
Vignettes: Bookcase styling
Thanks To All Our #ArtistsMountainHome Sponsors!
Crystorama | Huck & Peck | Kirkland's | Kreg Tool | Ryobi Tools| The Home Depot | Wovenbyrd | Rustoleum | mDesign Home Decor | ToughBuilt | Garnet Hill | Revival Rugs | Schaub & Company