Hahaha, that title is so misleading. The "final touches" of the half bath include removing the toilet in order to lay new flooring, adding molding, painting, and THEN the decorative touches.
It is week 5 of the One Room Challenge, and next week is suppose to be the big reveal of the half bath / powder room. Let's just say I have a lot of confidence in the power of the last minute DIY juju. I don't know why it works, but trust me, it does. The strange feats of DIY that I manage to accomplish in the last few days of a project baffles even me. DIY juju…I think a lot of creatives experience this strange magical phenomenon. 😀 We can spend weeks somehow not making much progress, and then the last few days before a project is due, everything suddenly just comes together.
The Powder Room So Far…
To date I have the wallpaper up, both new light fixtures installed, the new faucet in, and the chair rail up. It may not sound like much, but each of these items has taken time and no small amount of effort to accomplish. Because…well, Murphy's law.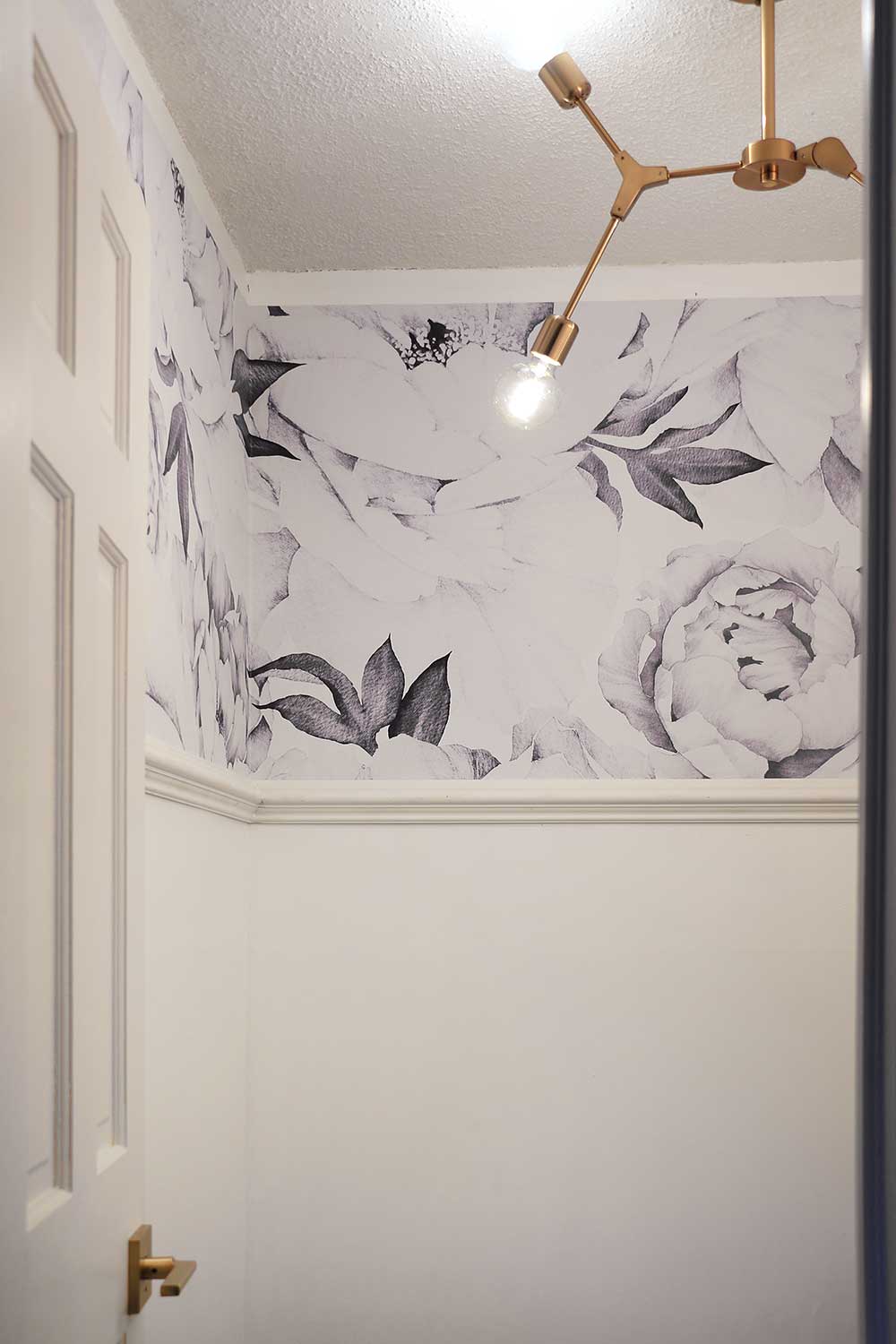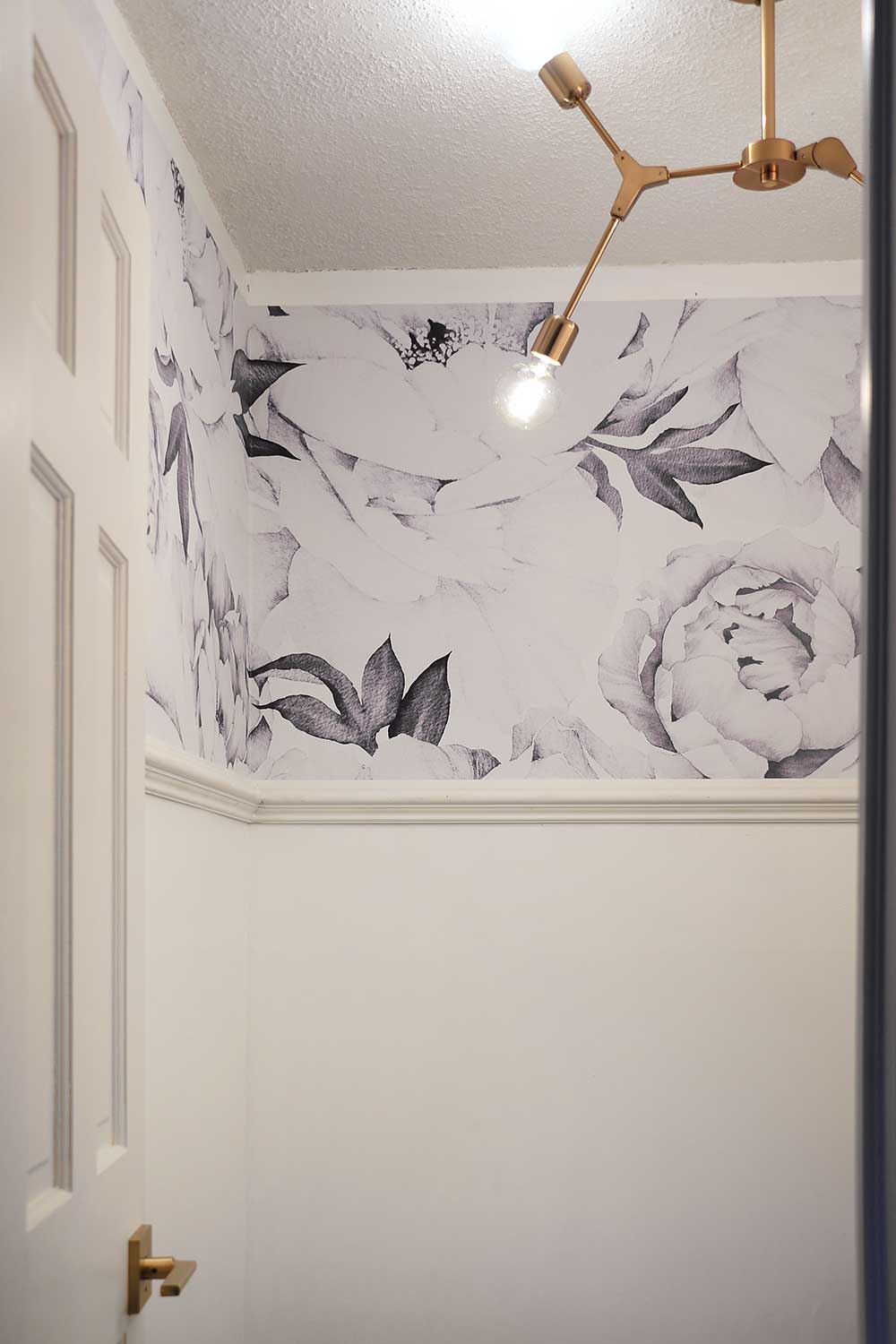 Just installing a simple faucet took two full days, plus a few days to order a replacement when I wasn't pleased with my original choice. The things I had to do to make this bad boy fit was ridiculous. We're talking gymnastic levels of contortion to get under that tiny narrow vanity to change out plumbing. And the dripping…I turned off the water to the house, but somehow it just kept dripping all down my arms while I worked. When I finally got all but one piece in place, I realized the "right" and "left" stickers on the handles were WRONG and the handles turned the wrong direction to turn water on. Yep, I had to take it out and do it ALL over again. *head smack*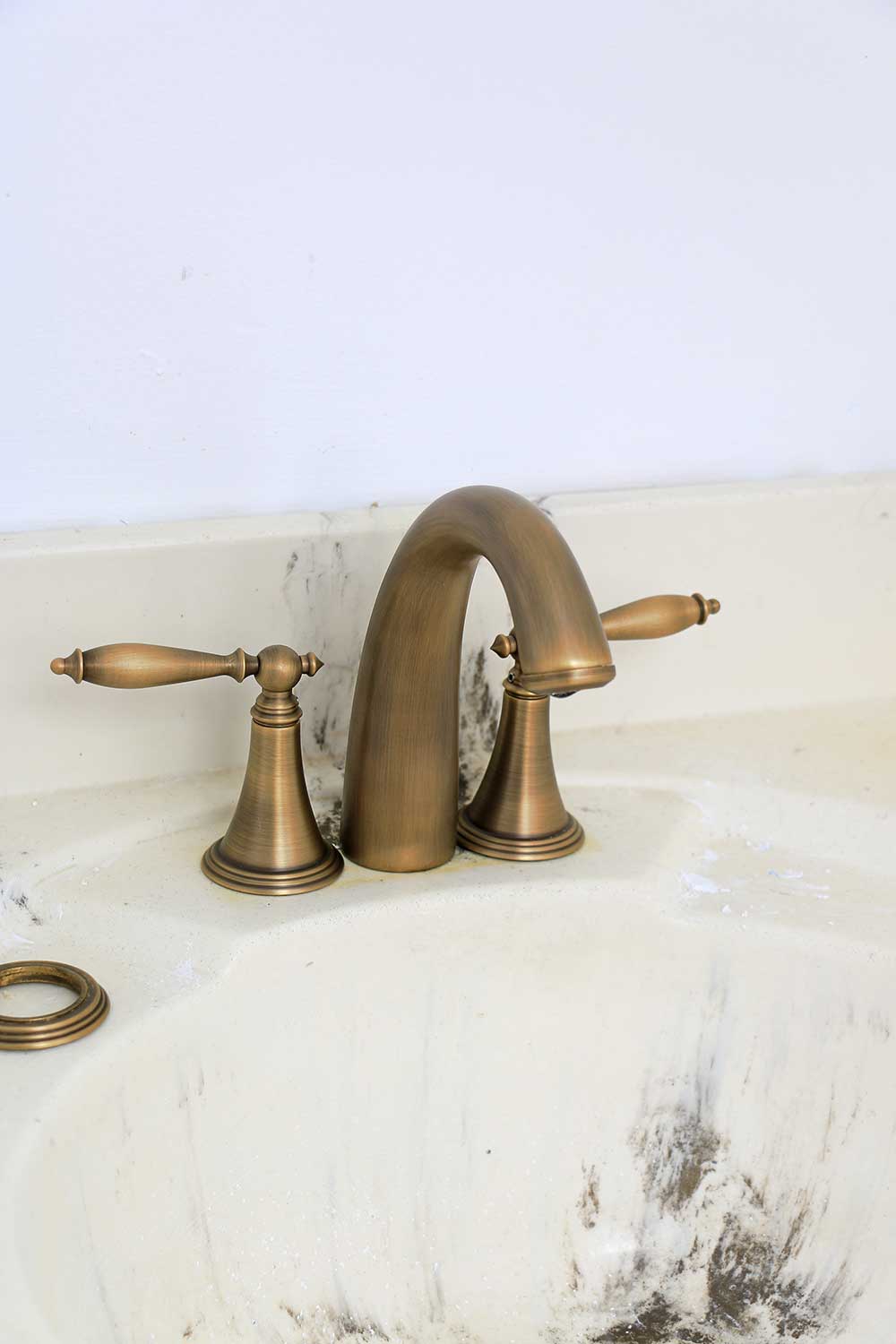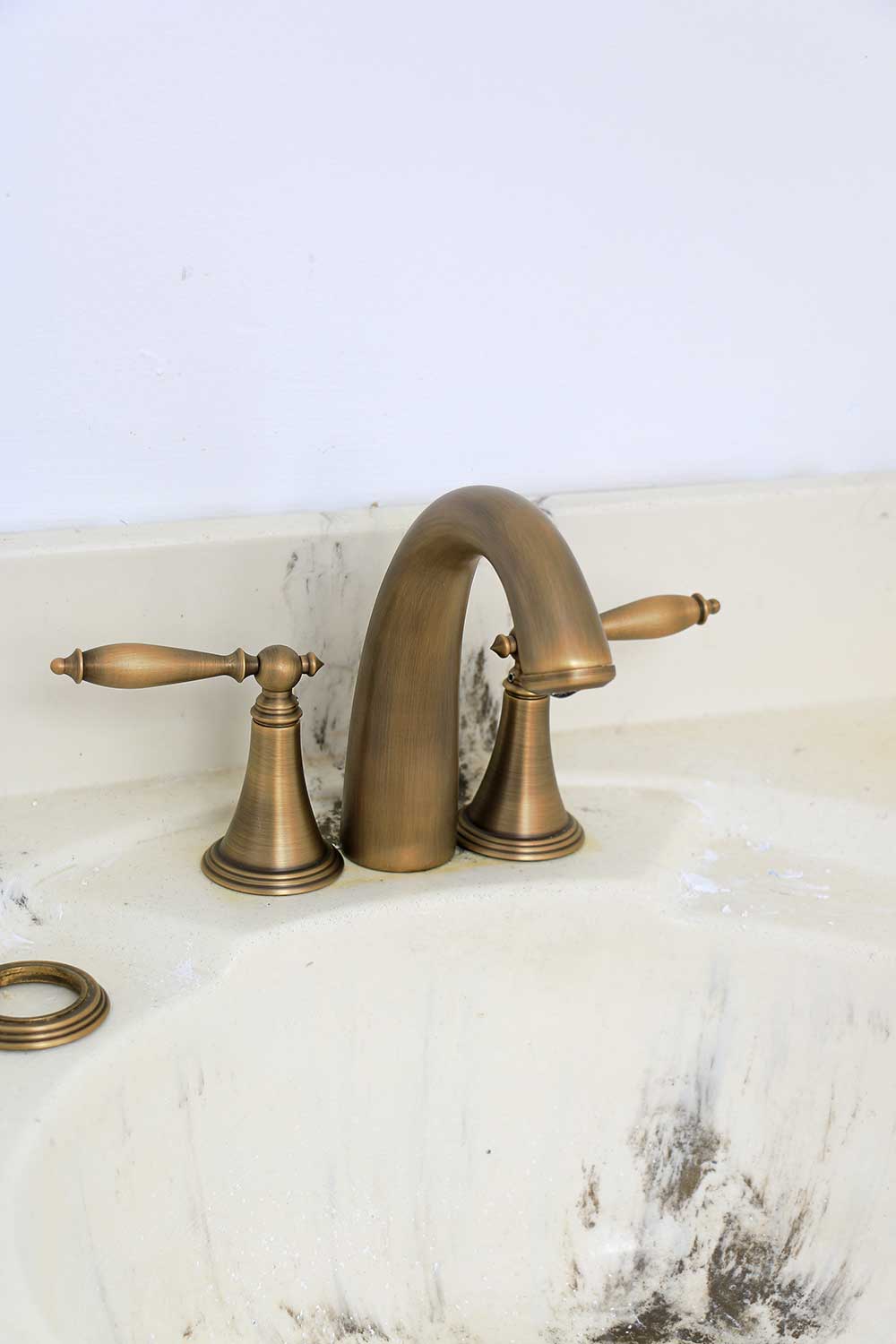 But it's finally done. No, that's not true. I should probably install a new pop-up sink drain to match… but I don't wanna. Not after all that drama just to install a new faucet. UGH!
A Few Good Accessories
Okay, so I don't have most of the final accessories a bathroom typically needs. No soap pump, or anything actually useful. But I have art, so that's a thing.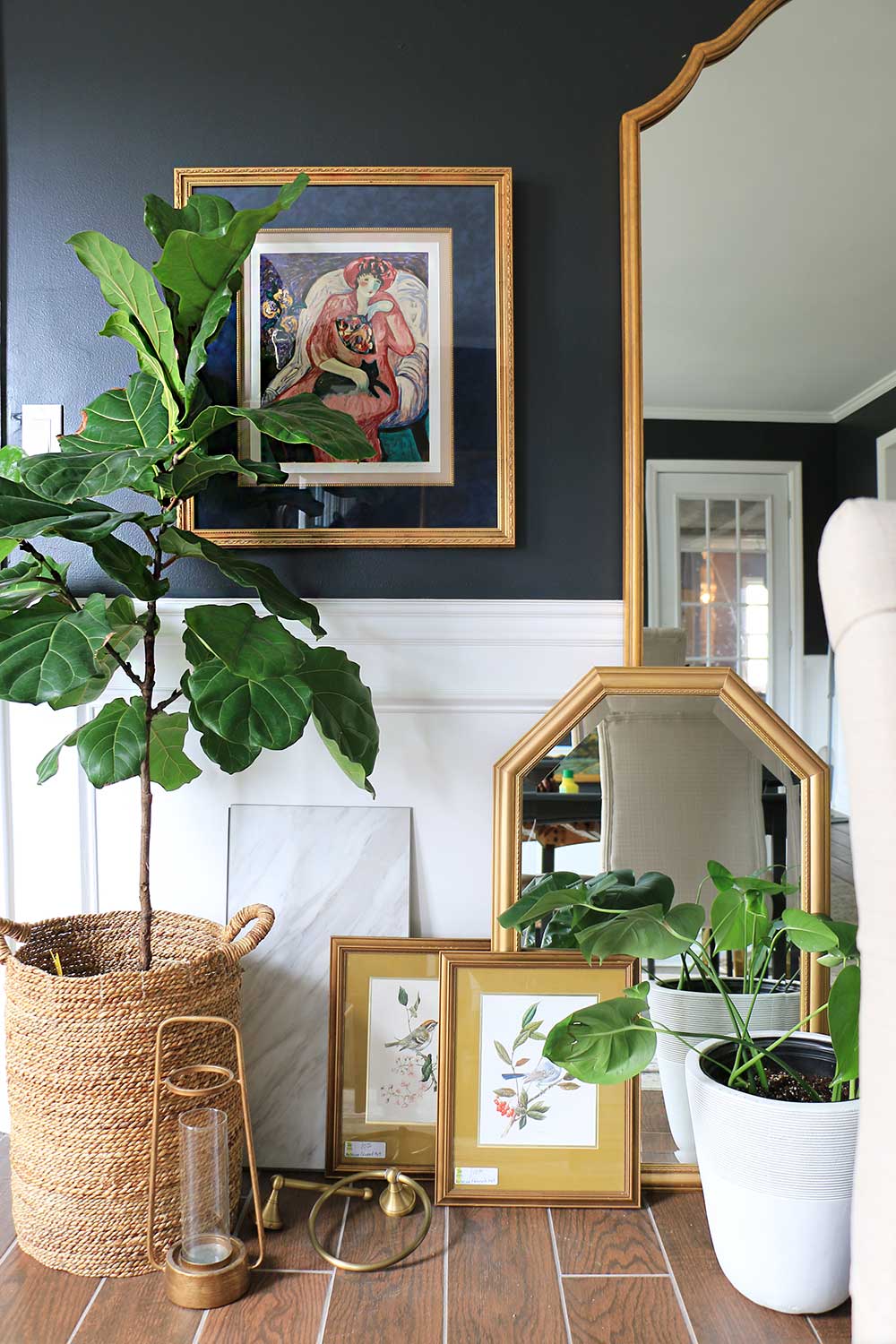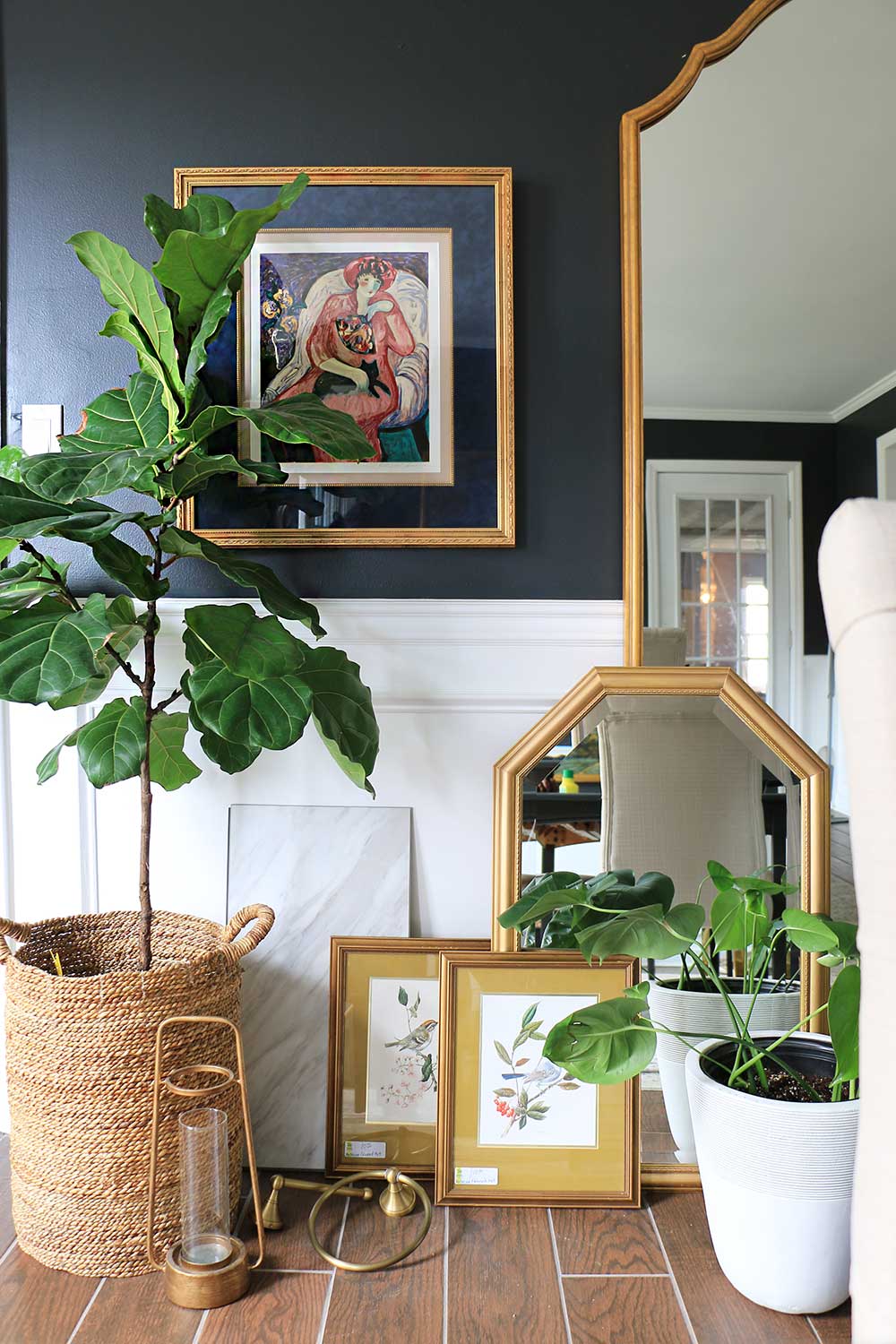 Well, actually I have a towel ring and toilet paper holder…so I guess I'm not doing too bad. 😉
And hows about them flooring tiles! Wowza! Tell me that very cool vinyl tile isn't a looker. I compared it to the actual marble side-by-side before choosing it, and I was pretty darn impressed. Now I just need to install them!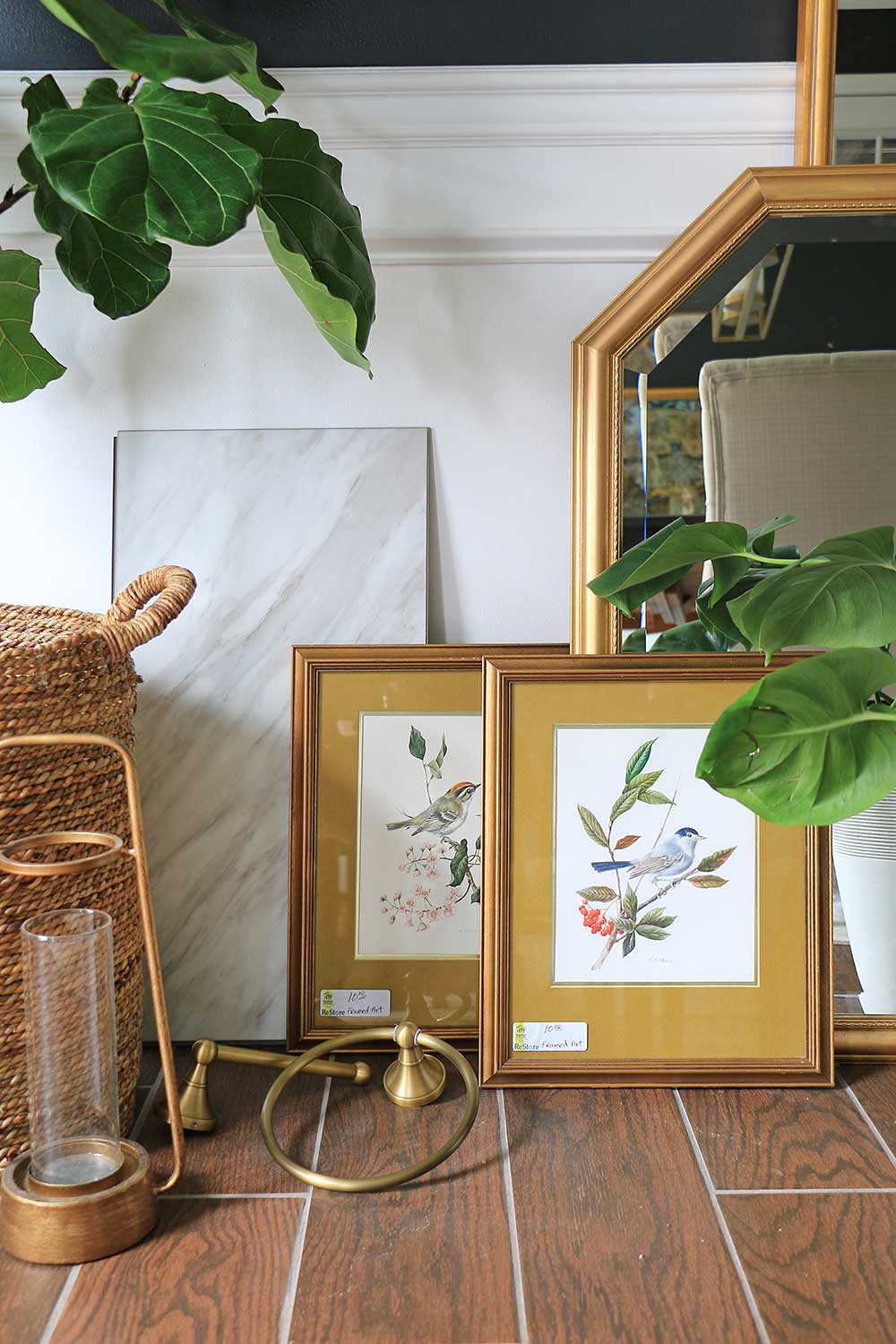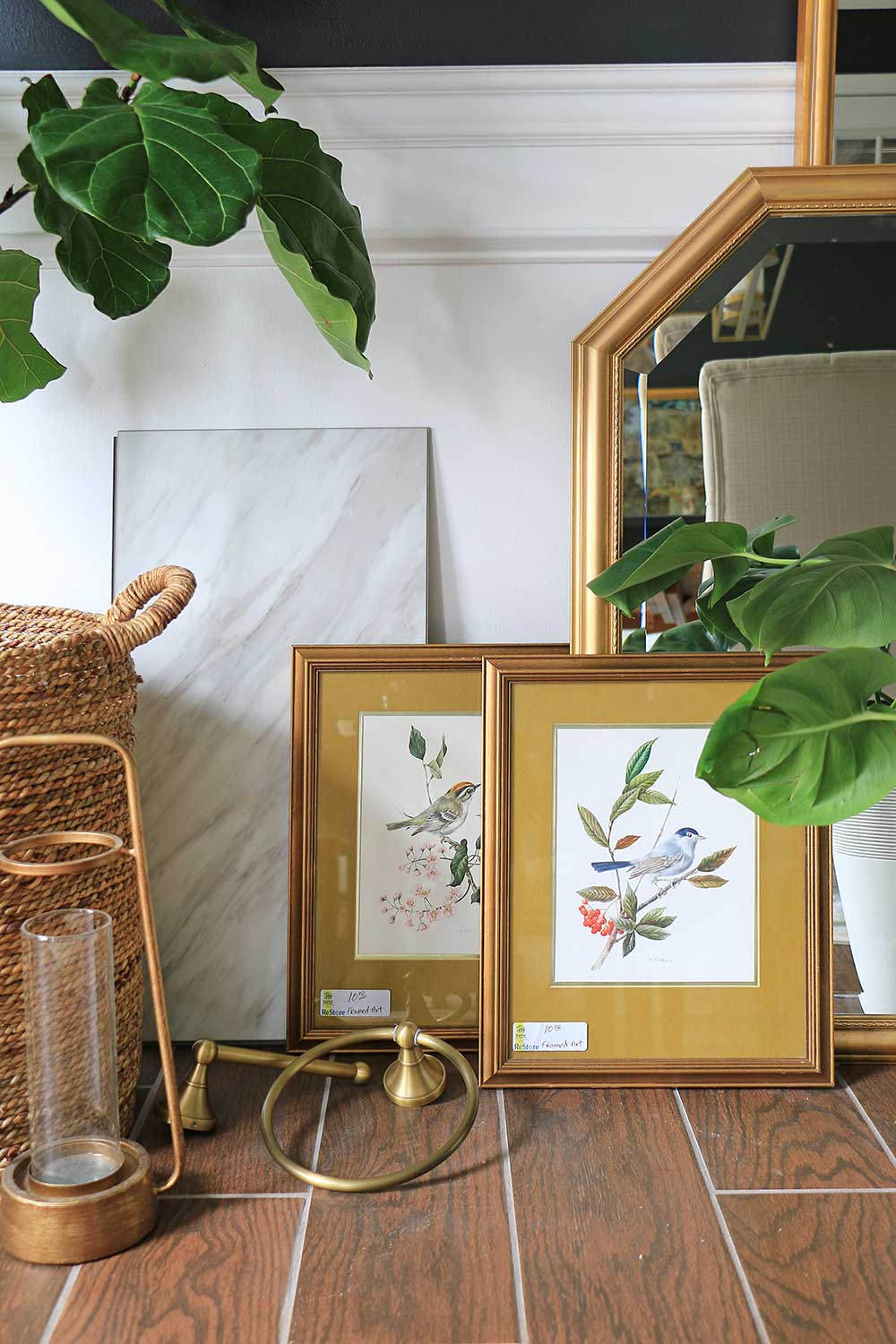 Cafe Curtains In The Bathroom?
Yep, you heard that right. I like to allow as much light as possible into my house, and the beauty of cafe curtains is the top half of the window is always pouring in light.
Design wise, I would have loved to add a roman shade here. But it really doesn't allow for maximum light into the space, and I put plants in every single room of my house. So that's not gonna work.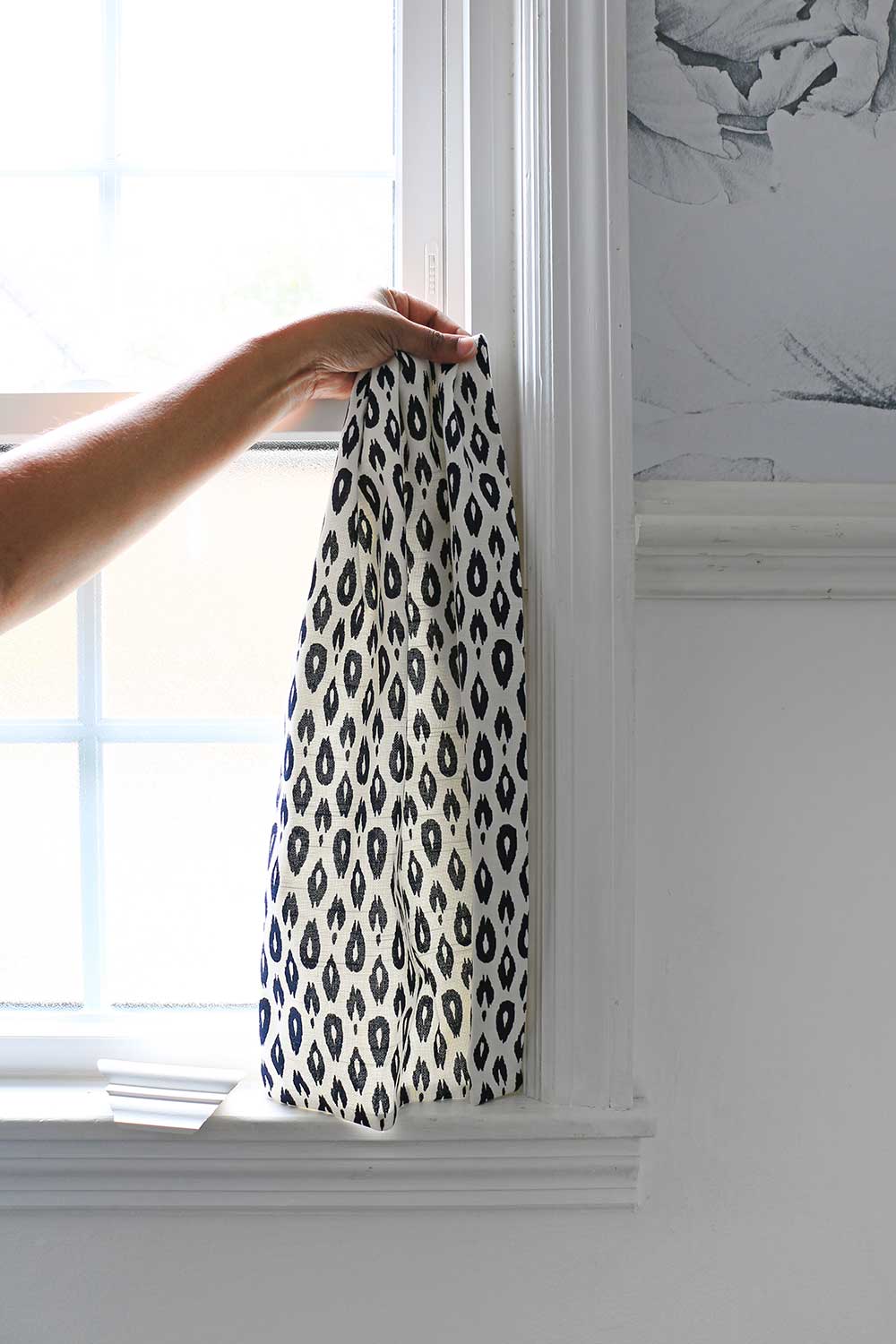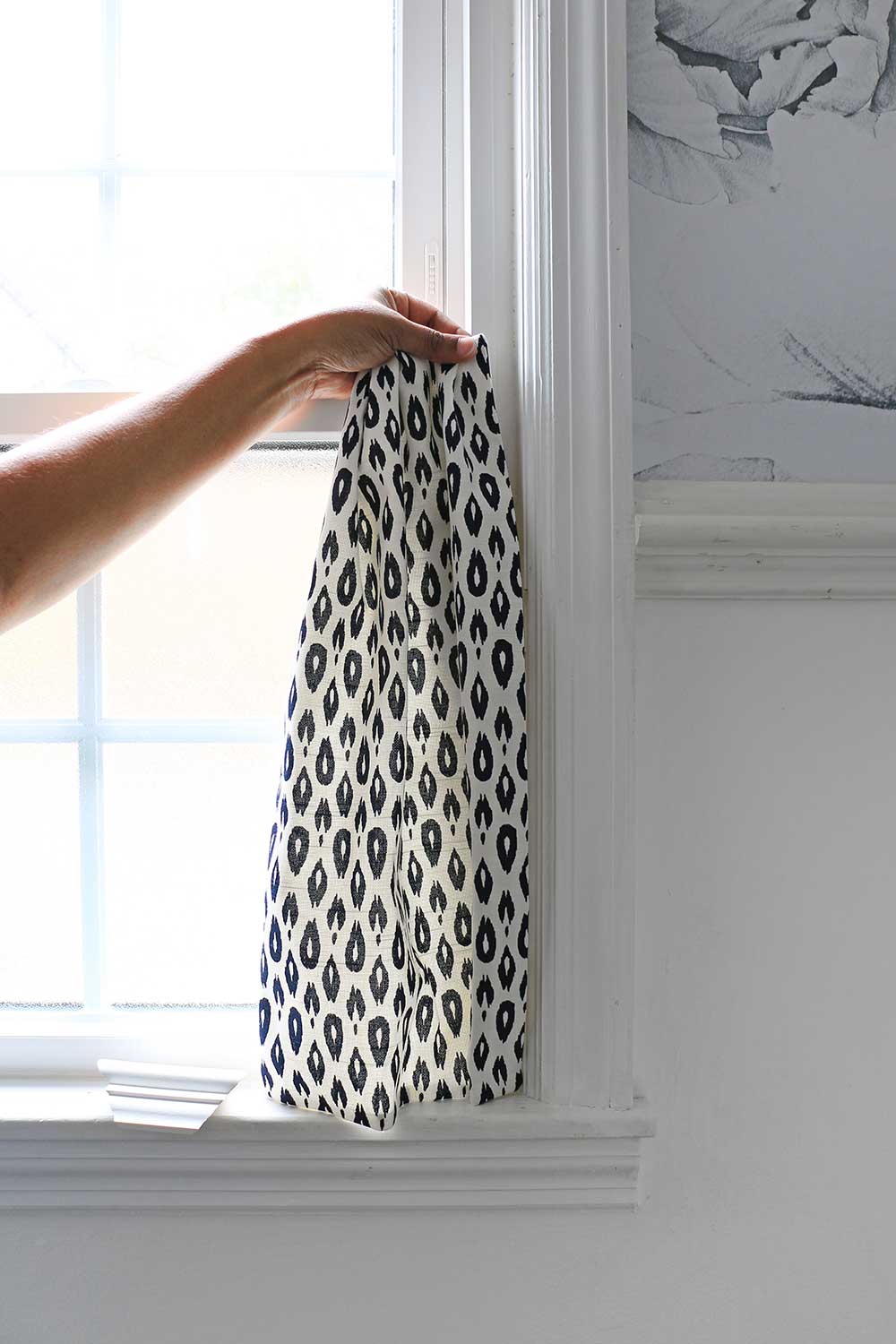 I did have my mom sew me these cafe curtains out of a remnant of Nate Berkus fabric. I bought this fabric years ago, and love it! Now I'm just waiting for the acrylic rod I ordered (fingers crossed that they aren't all scratched up), and the gold curtain rings.
So Much To Do, So Little Time…
Okay, so here's the plan. Ideally…
Thursday (today): remove toilet, and lay flooring, put toilet back without incident (year right)
Friday: Cut and install base trim and crown molding, paint vanity
Saturday: Rest. Go to church, spend time with my family and God. Try desperately NOT to think about work on the Sabbath…
Sunday: Complete decorative molding, install cafe curtains, paint wall/molding/trim work, hang mirror
Monday: Run out like a crazy lady shopping for decorative accessories, install shelf above toilet
Tuesday: Final touches, and photograph the powder room
Wednesday: Backup photo shoot day (in case of poor lighting), write blog post
Thursday: BIG REVEAL! Wonder how it ever got done…
So, what do you think? Doable??
[left]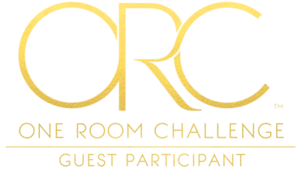 [/left]
[right]And in case you missed seeing it, don't forget to check out Week 1 – before pics, Week 2 – inspiration pics, Week 3 – the moodboard, and Week 4-light fixture shenanigans [/right]