Black painted rooms have been trending, and can add the feeling of coziness, warmth, and visual interest.
Dark and moody rooms have a sophisticated touch of luxury, whether the entire room is painted black, or just a single black accent wall.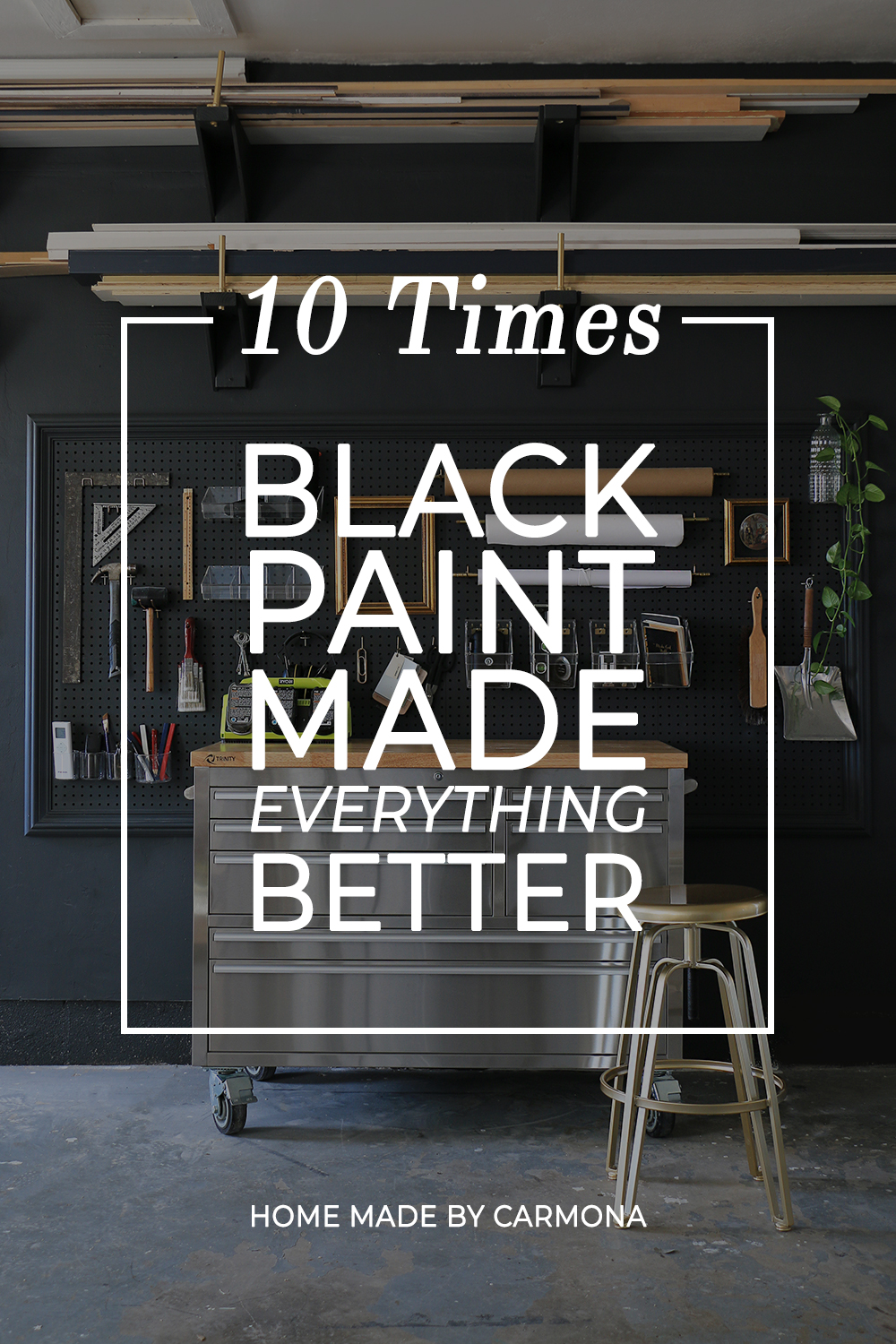 Long before it became a trend, I have been obsessed with black paint and rich moody rooms. If you haven't noticed yet, I might have over-used this incredible blue black paint color in my home… and I'm not sorry. Haha!
This paint color has been the number one most requested piece of info from readers, and it could be because it is in so many spaces in my home. Or just because it is a phenomenal color!
What Is that Moody Black Paint Color Anyway?
Drumroll please: It is called 'Satin Black' by BEHR (found at The Home Depot), and it reads somewhat blue in bright light, and a bit charcoal in green tinted light (such as when trees reflect into the home). I chose to go with the matte black finish in most of my spaces, and a semi-gloss in high use spaces.
It is the perfect black hue when you don't want to quite commit to a true black. Remember, there are shades of black just like there are various shades and tints of white.
Wondering what this color could look like in various spaces? You could say I have thoroughly vetted this color for you. Haha!
Here are 10+ spaces in my house this favorite black paint color made everything better.
Black Living Room Built-Ins
The living room was the very first room I used the Satin Black paint color on, and I love how it made the DIY built-ins pop! Although they are built-ins and not black walls, it also serves as a black feature wall instead of using dark colors throughout the entire space.
This is one of my favorite built-from-scratch projects. When I first built it, I painted the base unit white, and it didn't do much for the room. Now it pulls your eye to the unit and sets it as the clear focal point making the space feel larger.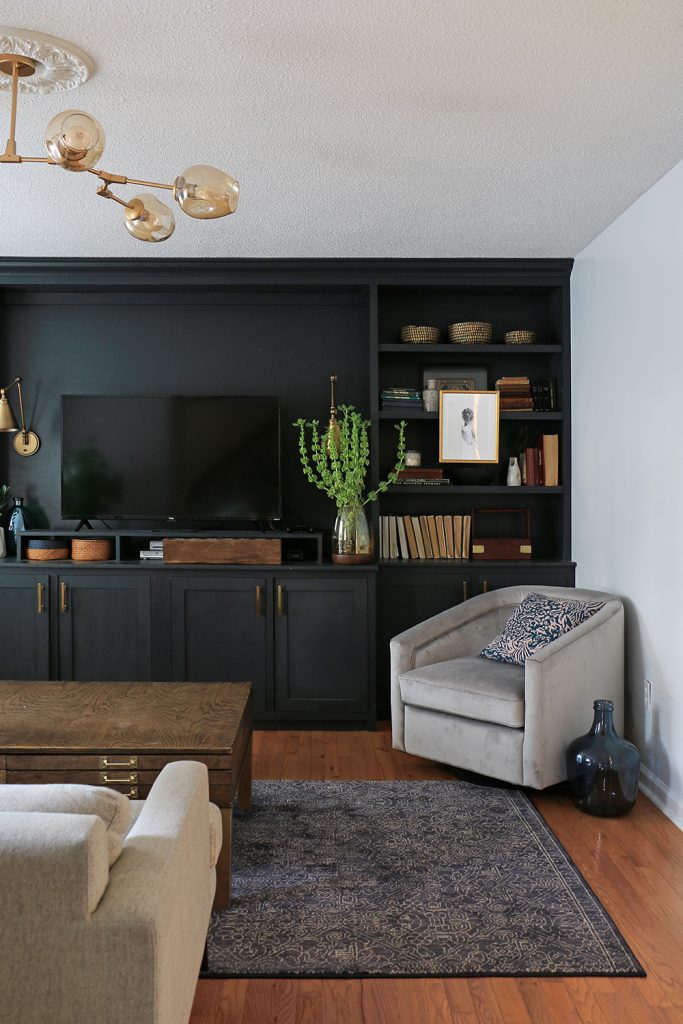 Black Accent Walls In The Garage Workshop
Welcome to my garage, also known as my DIYers workshop! This was quite the makeover considering how messy and unattractive this space was before. I wanted the back wall to feel like it recessed even further back for the illusion of a bigger space.
This color added an air of sophistication to a GARAGE. Which frankly, makes it magical paint… I wanted the garage workshop to feel more like an interior although it has tools and wood in it. Wouldn't you say this did the trick?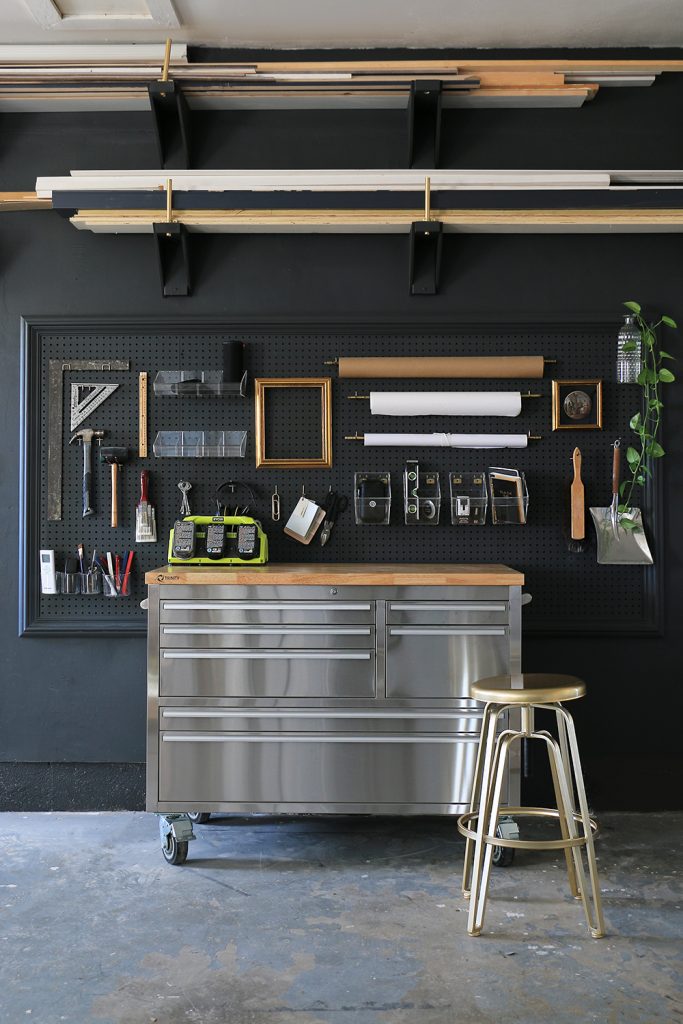 Bringing new life to this old storage unit in my garage required a paint-over and new hardware for an updated look. Just check out the before-and-after, you wouldn't believe how easy it was! Since this storage unit sits against the white wall, the Satin Black paint really grounds it and makes the gold fixtures pop. Additionally, it ties back to the black garage accent wall, making the room feel cohesive.

Dark And Moody Dining Room
I have always loved the idea of a moody dining room. You can see it really compliments the gold accessories and fixtures in the room, giving them something to stand out against. The dark color palette is continued with the black accents (like the dining table) and moody tones in the artwork.
And when the sun is low in the sky, it just catches the chandelier through the window creating a magical space. The prism effect means the whole room sparkles like a disco ball just lit up.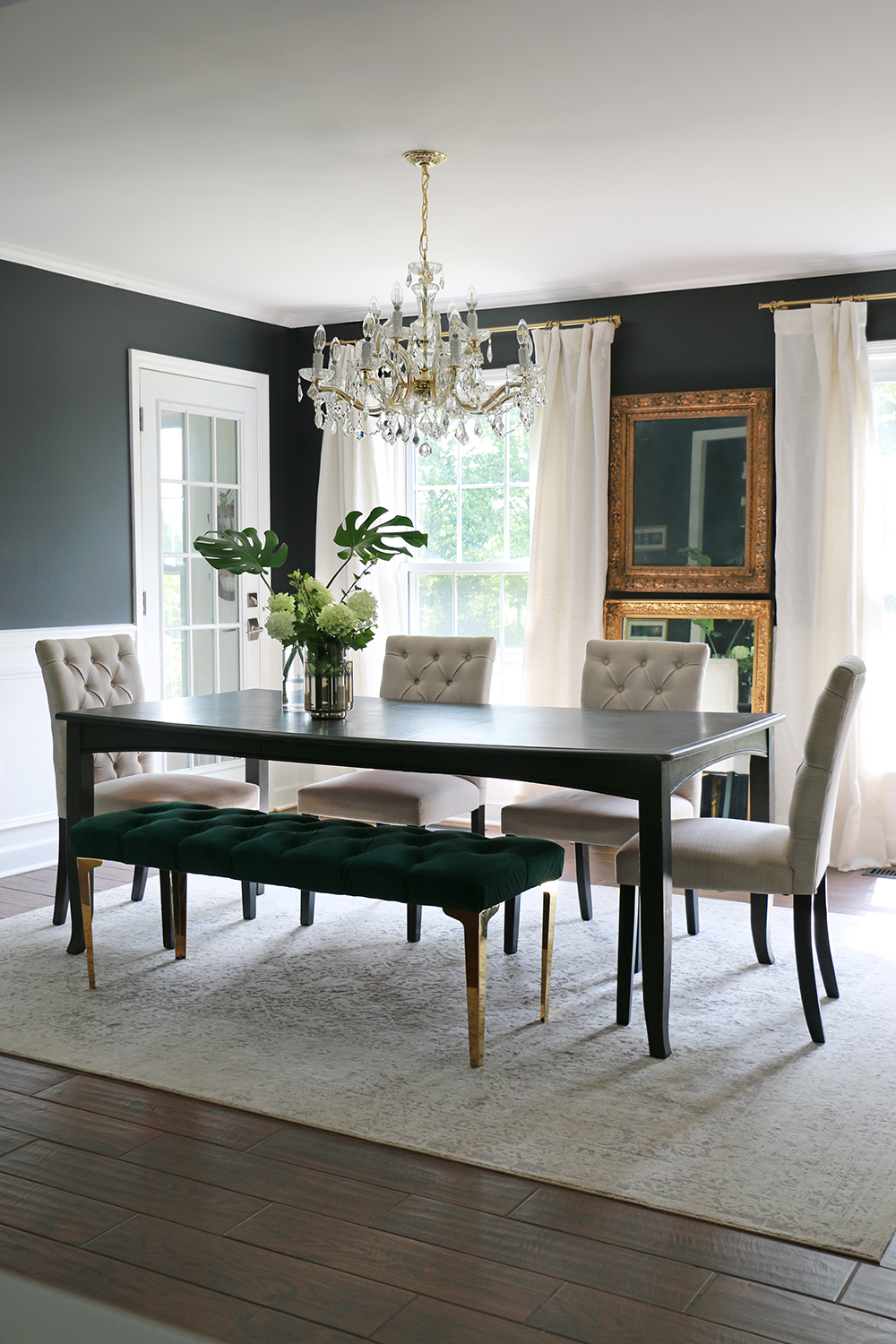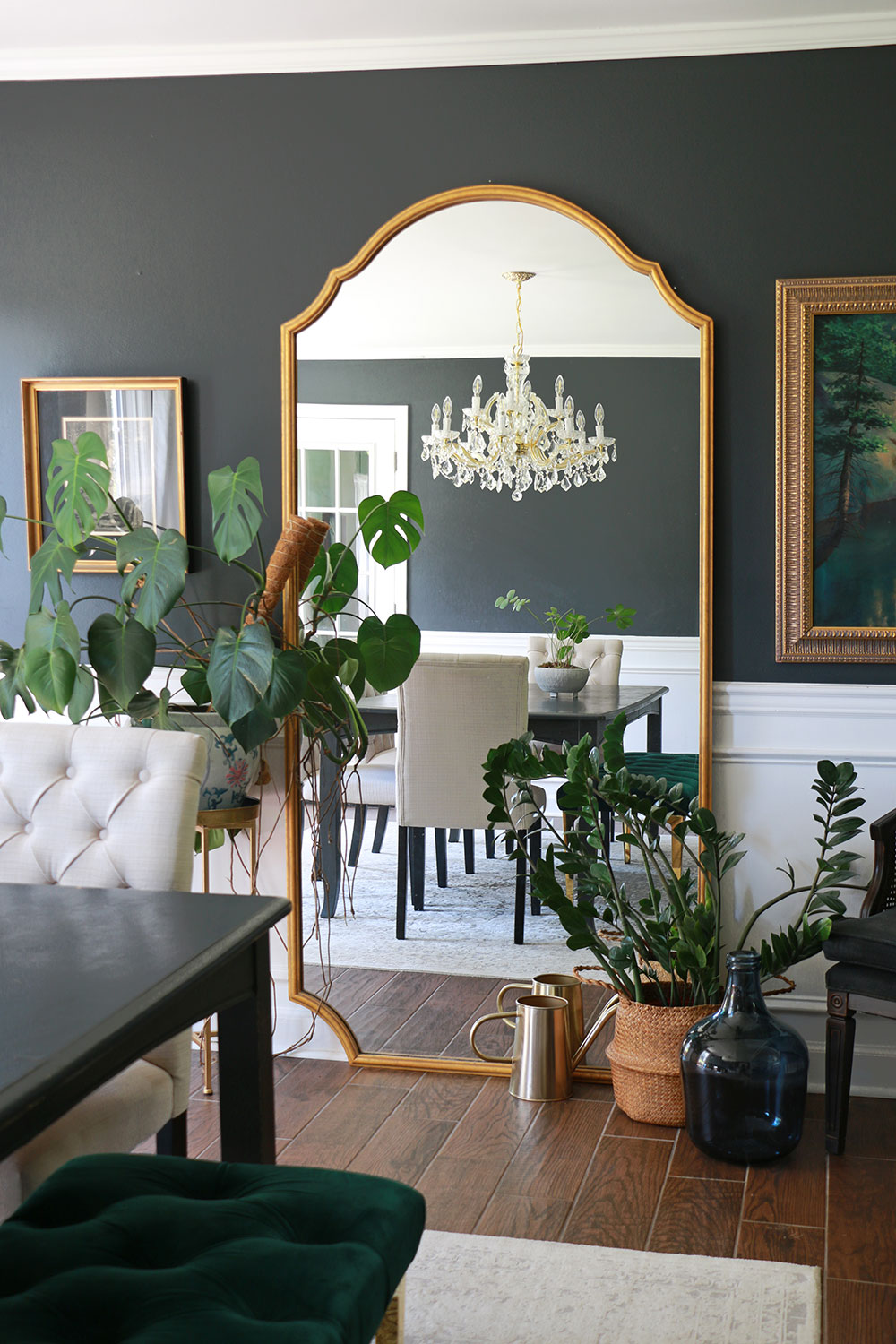 Black Wallpaper In The Garden House + Dark Accents In The Greenhouse
Here in the greenhouse you can see just how blue this "black" reads. Against the black color painted on the greenhouse walls, the legs of the potting bench reads quite blue. And of course, this space has tons of light pouring into it right now, which just amplifies the blue.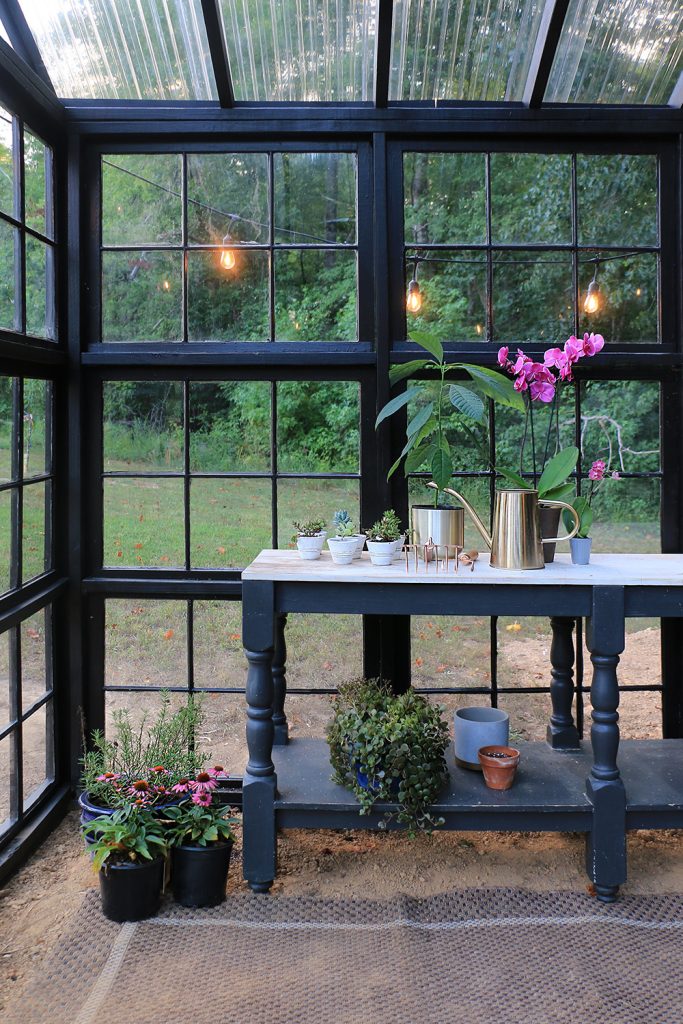 If you walk through the greenhouse doors into the garden house, you will see I also used Satin Black on the floating shelves and workbench.
It just so happened that it matched this Noir Peonies wallpaper from Tempaper pretty well! They aren't the exact same color, but it totally looks like it in this light!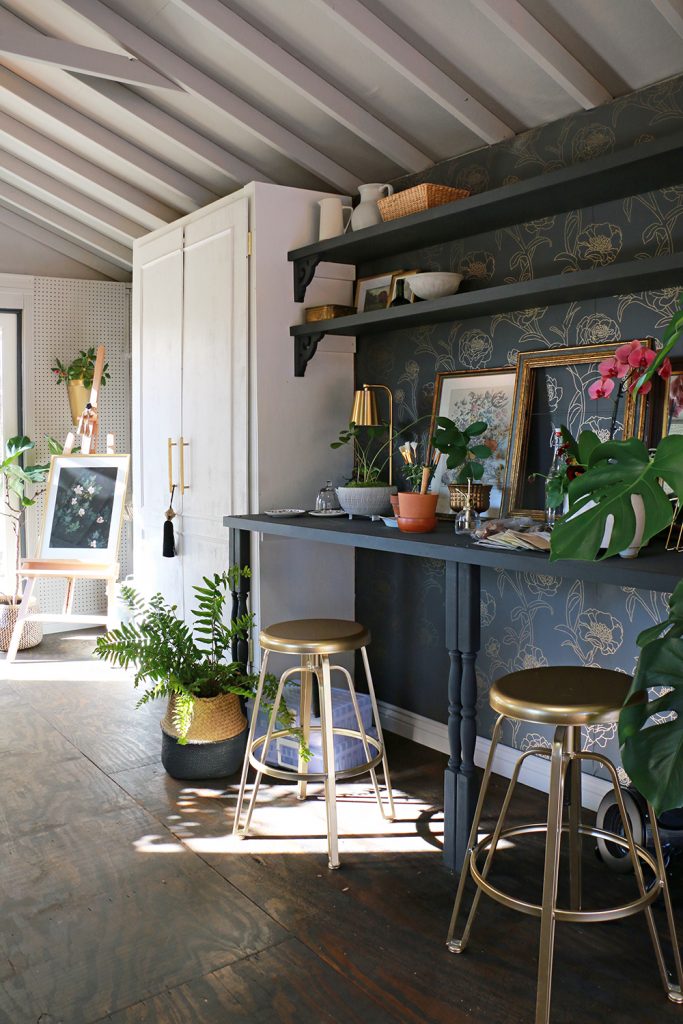 A Black Front Door For A Dramatic Exterior
It was one thing to have this color on so many spaces indoors, but then I introduced it to my exteriors.
Painting this white door black made it look completely different. It went from a country vibe to a NY style brownstone entrance with just paint. Check out my quick makeover in this video reel here.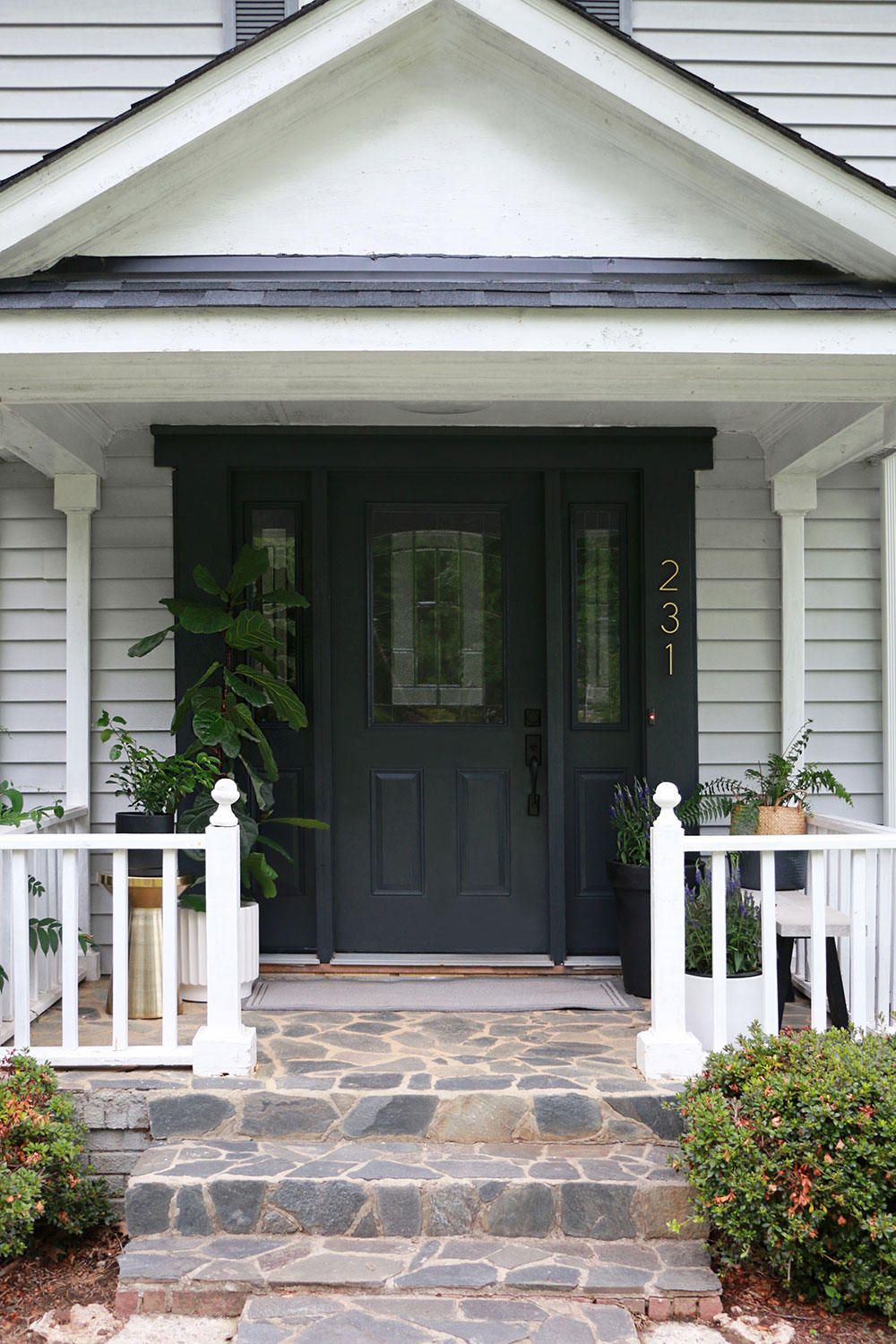 Black Exteriors For Cozy Charm
The guest house on my property is a little walk up the road from the main house. It is actually the first thing you see when driving onto my property.
It was painted red by the previous owners, which is not my vibe at all. I wanted to tie it to the main house which was slightly visible through the trees from the cottage.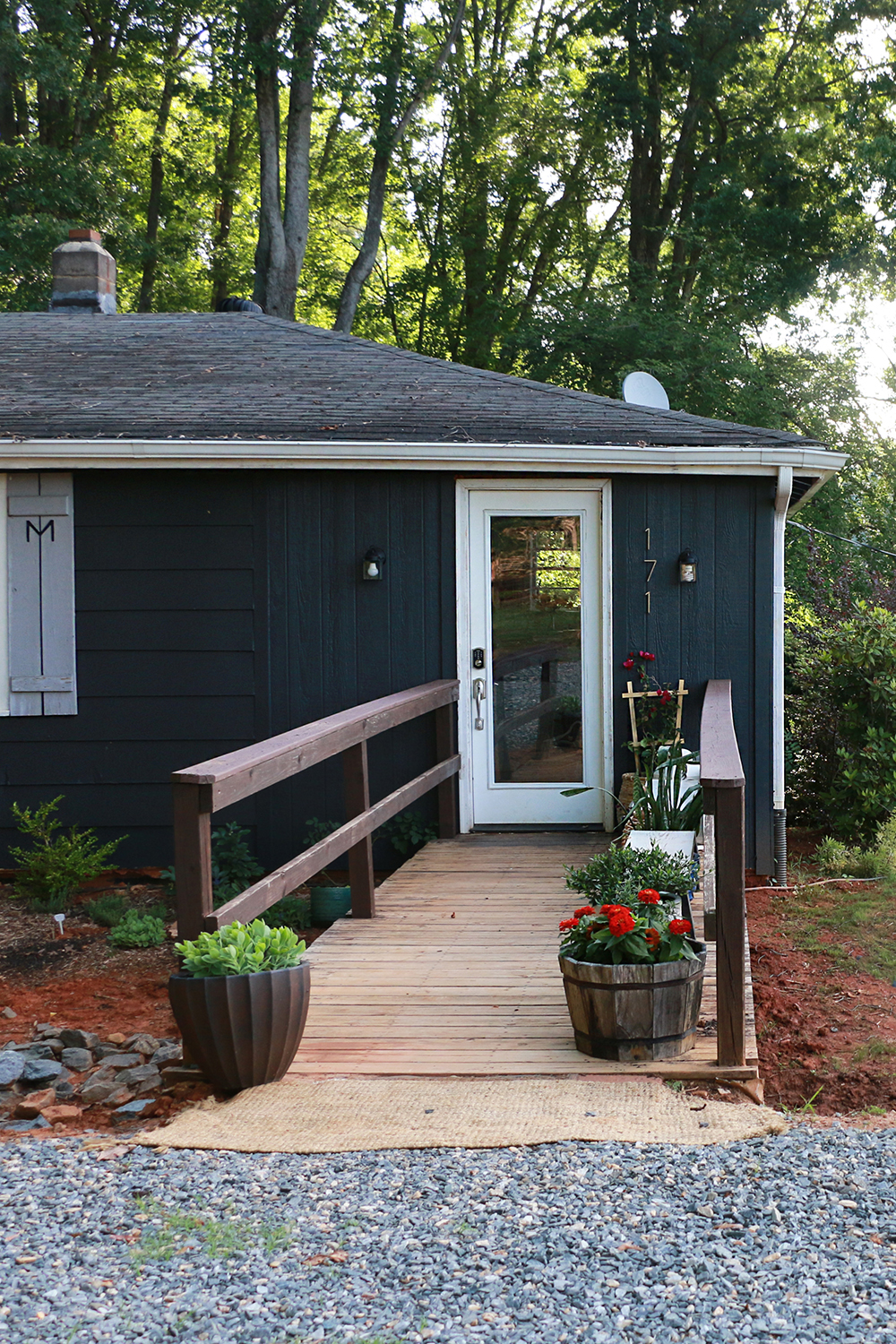 The shutters on the house are the same color as the main house exterior, so why not invert the colors a bit and add the black from the front door on the main house onto the cottage?
Black In Smaller Rooms / Black Bathroom Design
It is hard for me to get shots of this in-progress room since it's small. This is the best I can do…
The room already had a similar shade, but lighter. I chose to use the darker paint because it effectively hides imperfections on the walls. I find that lighter colors showed some bad spackling and bowing in the walls, and I wanted to hide it as best I could.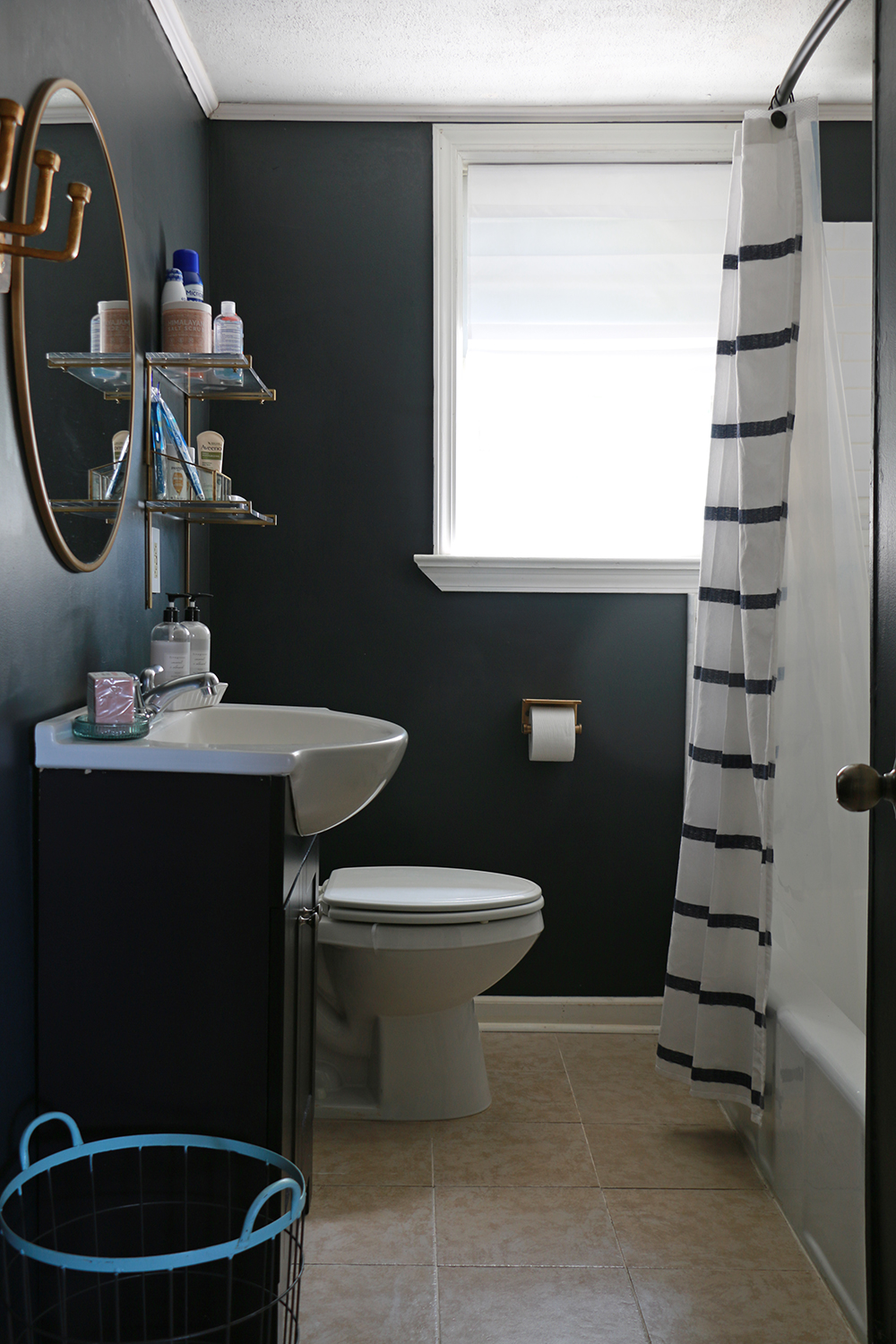 What I Love & Hate About The Color…
Clearly I love the color, but if I had to nit-pick, I would say that it doesn't play well with other more navy versions of blue. It sets the direction for the types of colors you will be using in any given room.
Because I am a fan of a moody vibe with jewel toned accents, this is perfect. This color brings an upscale sophistication. The fact that it is a blue-black takes the harsh edge off a true black, and lightens up the color a bit.
If you haven't seen the rest of my home, you probably think this feels like a LOT. But I promise, I actually have rooms with white walls and furniture other colors than just dark blue.
How To Design A Black Room The Right Way
Wondering how to design using a dark moody color scheme? Well that is an entire article in of itself, but here are a few pointers to get you started:
Use Black As A Neutral: I'm sure you never thought of darker colors like blacks, greys, etc. as neutrals, but they are! As a matter of fact, black may be the ultimate neutral!
Create Mood & Ambiance: Make it a mood by adding accent lighting, and let in lots of natural light so there is plenty of shadow play.
Add Saturated Color With Accents: Don't keep it all neutral, make that black a feature by accenting it with rich color via your throw pillows, curtains, wall art, and other décor!
Add Houseplants (or faux plants): The green of houseplants really stands out beautifully against a dark and moody color and acts as it's own type of natural decoration.
Keep The Adjacent Room Light: Create drama with contrast. When looking from one room into the other room, it makes a real impression when one room is painted in lighter hues, and you look across into the dark painted room.
Choose Smaller Rooms: These colors are best used in your smaller or enclosed rooms, rather than a huge open one. The object is a cozy and sophisticated feel.
Use Gold / Brass Accents: While this color could be paired with any metallic, brass accents have a warmer glow and really pop against the black for dramatic perfect!
FAQ's
Can I use dark wood in a black room?

Absolutely! You can also use darker hues on your furniture, such as the sofa, or a black headboard in a dark painted bedroom.
What colors look good with a black wall / black room?

Wondering what color compliments black? Because black is a neutral, almost any color works with it.

But if your black isn't a true black, and it skews toward a color (or warm versus cool), be sure to also choose an accent color that skews in the same direction.

Some easy to pair colors that go well with black are: green, blue, and other neutrals.
How do I pick the right shade of black?

Start with paint samplers. Paint large swatches on each wall. Observe it at varying times of day for a few days. There are many factors that affect how a paint will look in your house versus the store. This will help you choose which one you like best.
Should I paint the ceiling black or leave it white?

Either can be amazing! Start with just the walls, then live with it for a week (with a few pieces of furniture and décor). If you like white, but it feels too stark, you can use a warmer shade of white on the ceilings.

Here are a few rules of thumb:

Only paint if it has crown molding: It creates a transition. Otherwise a continuous wall and can feel more like a cave.
Leave white if you want to create the illusion of taller ceilings
Only paint the ceiling black if the room has lots of natural light
Only paint the ceiling black if there is architectural interest in the room: Is there molding, built-ins, a gallery wall, etc. It breaks up the black, and provides visual relief.
Like This? You'll Love These: