As promised, I'm finally sharing a whole house tour for the first time ever! You'll get to see a bit of the before and after… But I'm not just going to show you the good, I'll give you the bad and ugly too. However, you'll only see a peek of each room…I'll be sure to link to the full blog post containing allll the deets on each room!
We have lived here 3 years now, but I started decorating the guest house first, so the main house still has some ugly and disorganized left to take on. However I will say I made the kids clean up before I took pictures for our house tour. Haha! Hey, let a girl have a little self respect.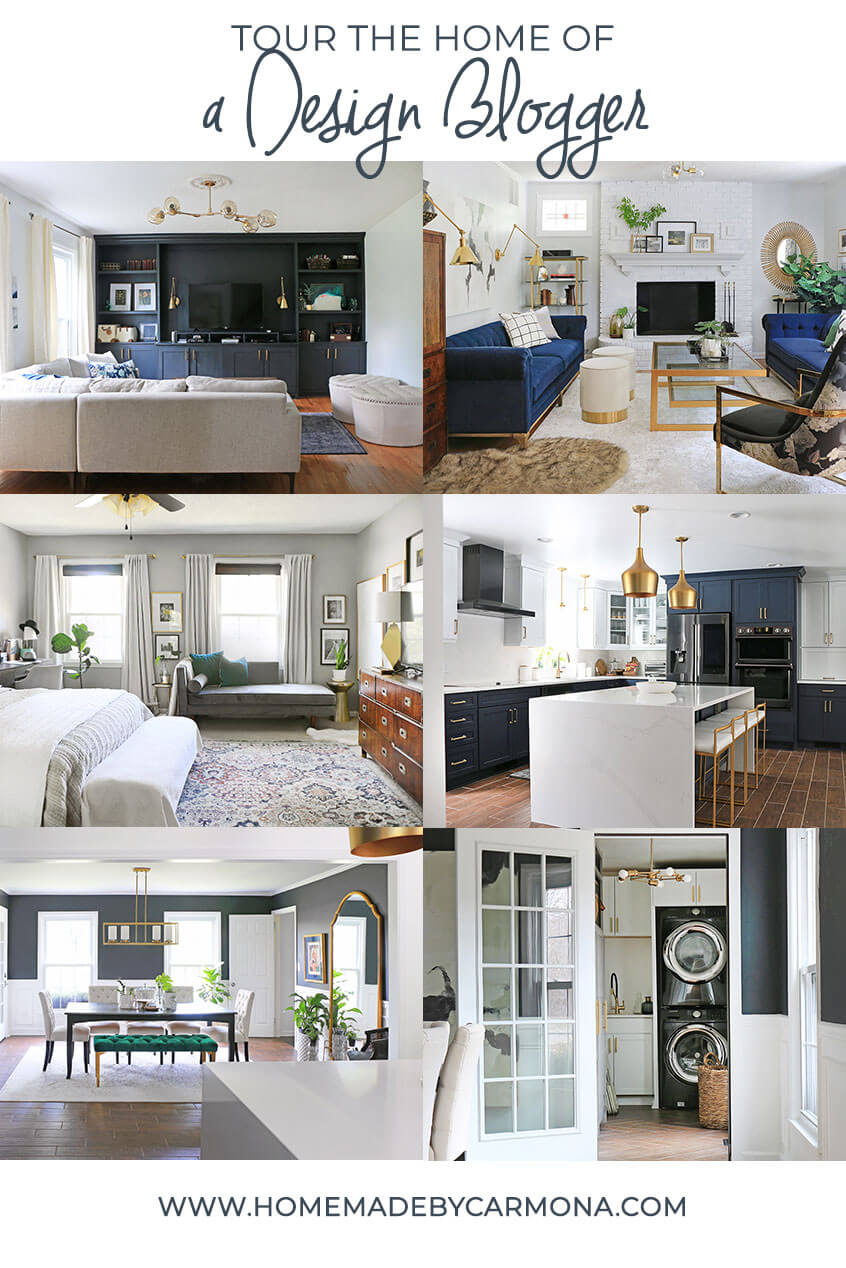 Welcome to the Carmona Home!
When you turn onto our private road, all you see is fields, a bit of barren land, and then lots of trees before passing our little red guest house on the left. I rent this little guy out on Airbnb, and surprisingly we have a lot of guests although we live in a tiny podunk town in the middle of nowhere.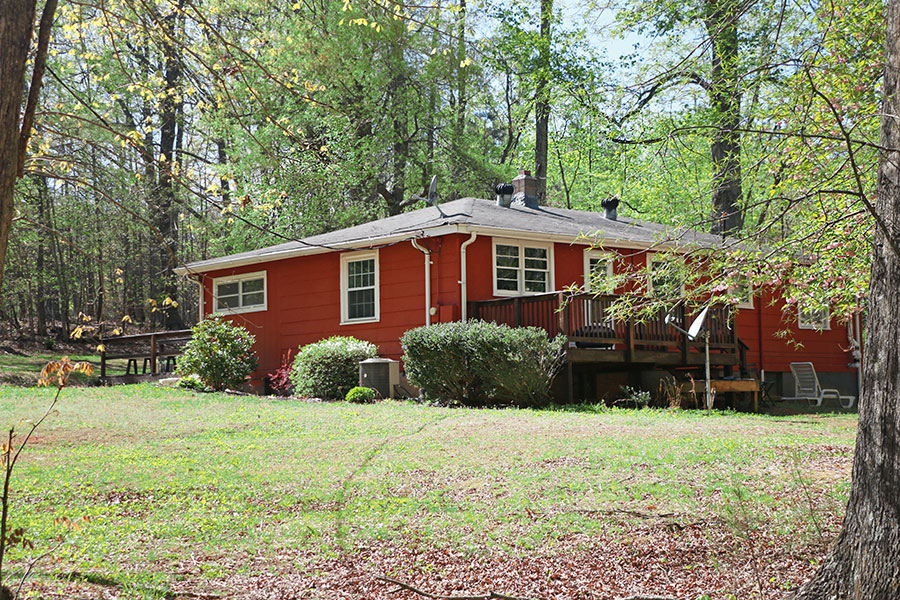 Then as you continue down the drive our home breaks into view as this pretty, but no-frill two-story country home. You might even startle a doe and her young, or a few wild turkeys as you come down the drive.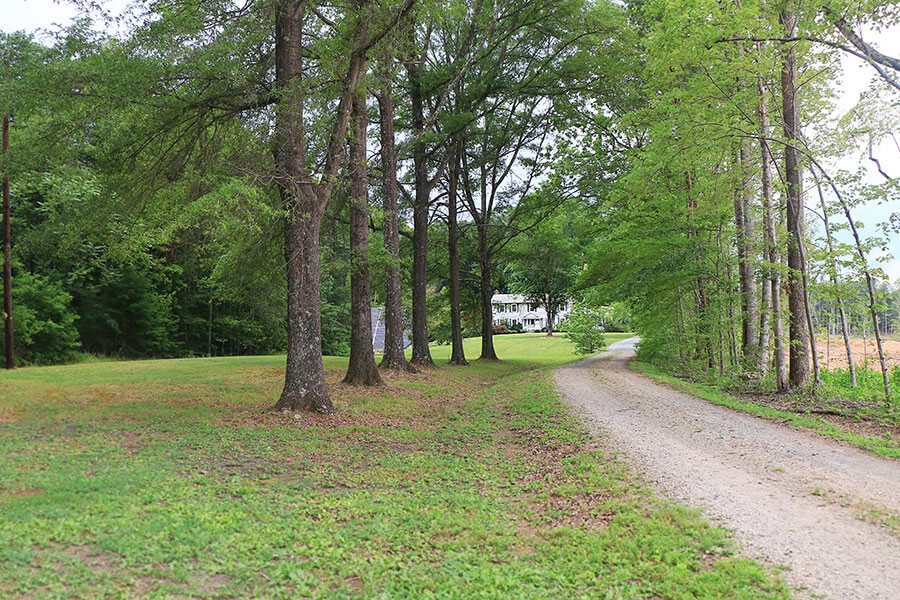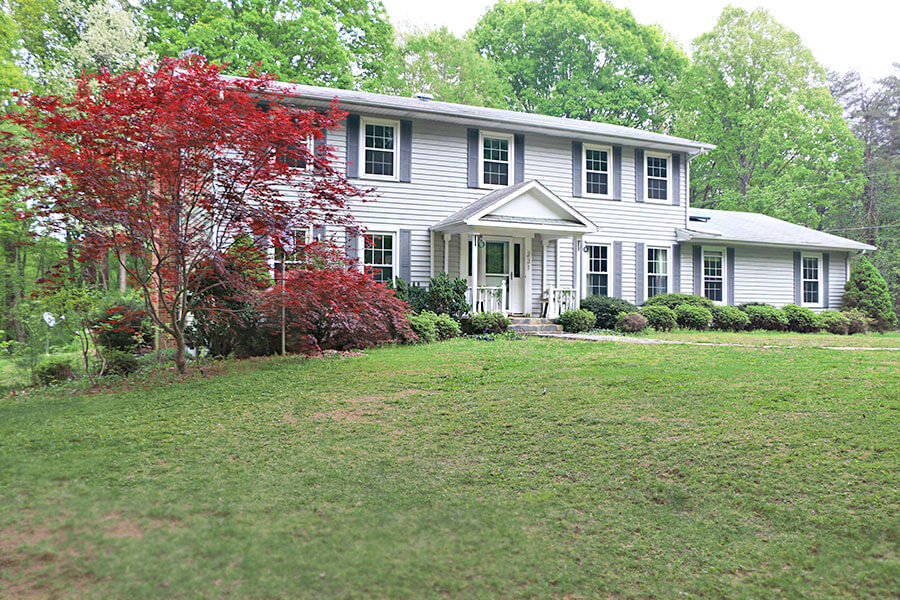 You'll likely see our stand-alone solar panel system doing it's thang on the left, alongside my raised garden beds. Only herbs are planted there right now, because I did NOT anticipate how hot the summers are in the South. Whew, I need to get use to that humidity…
The Entryway
Honestly, almost no one enters through the actual entryway since our driveway loops around to the back of the house. So we tend to park our cars (and our guests) at the back of the house and enter through the kitchen. Only once in a blue moon does a guest assume they need to come in via the front door and knocks from there. But we'll assume you are one of those people for today…

As you come through the door, to your right are stairs and a doorway where you get a glimpse into the dining room, and on the left a hall closet.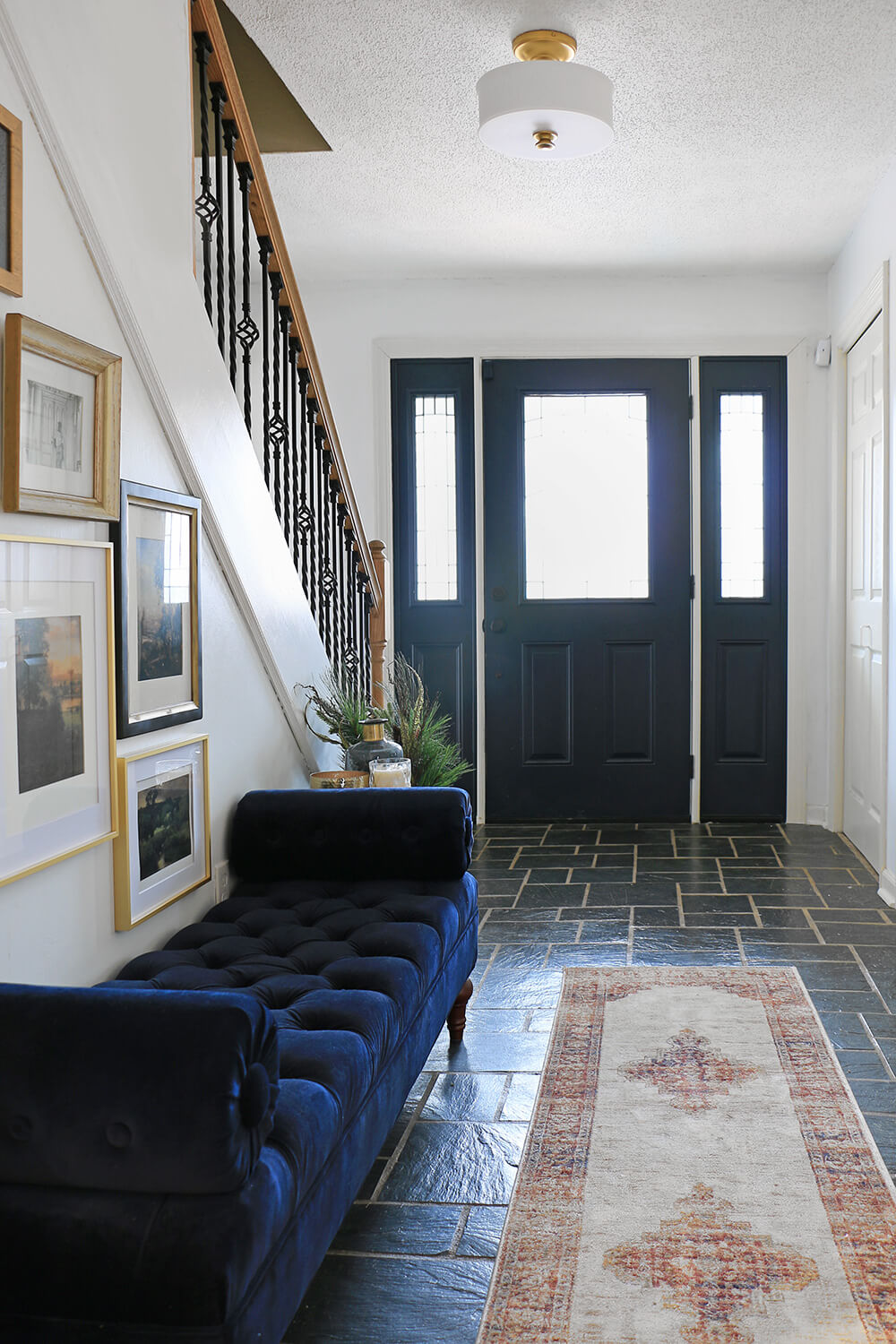 Come on in further into the entry and feel free to take a seat on our chaise to take off your shoes. I would probably offer to take your coat, and would put it right into the coat closet by the front door. From where you sit, you would look straight through an opening into the living room.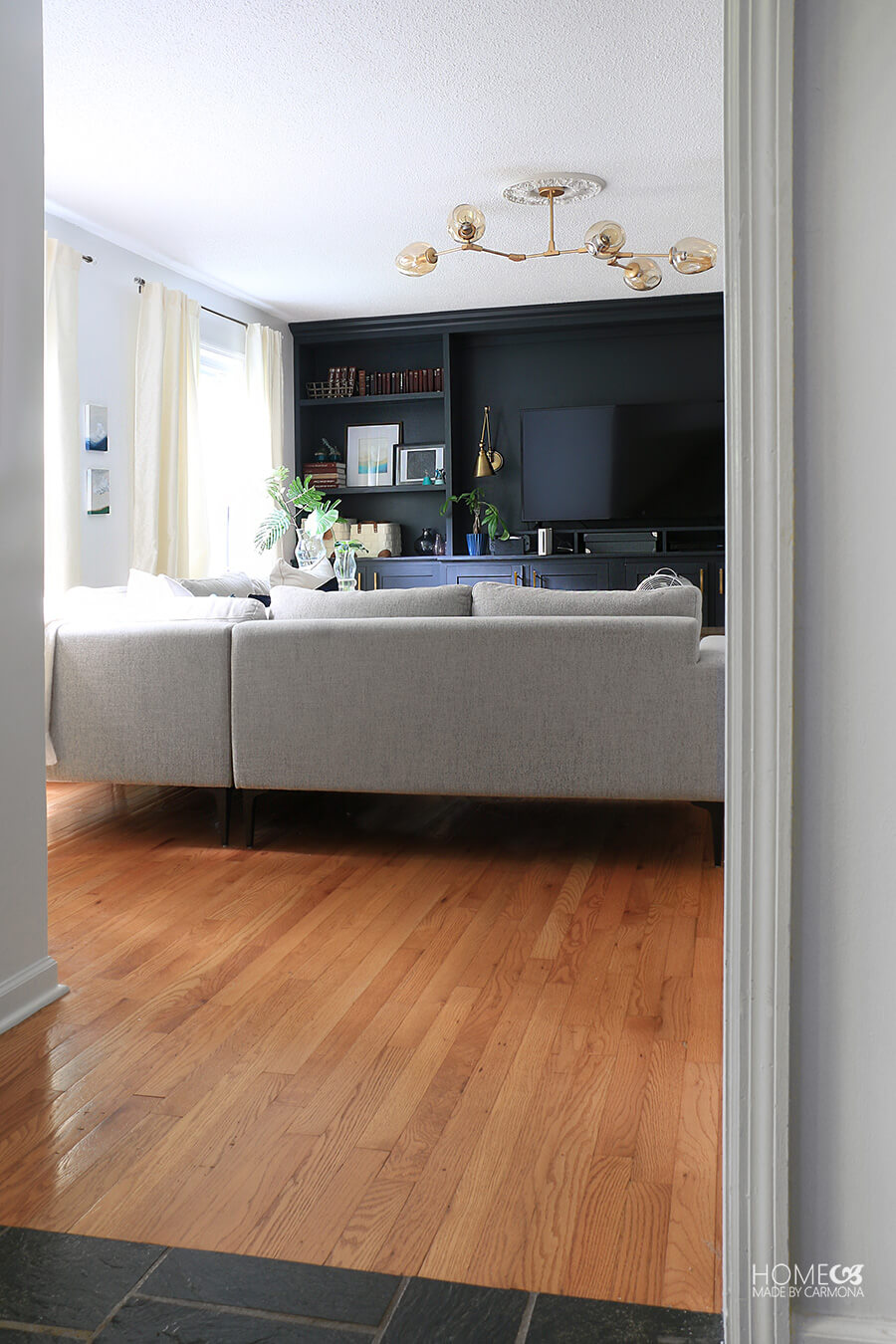 The Living Room + Secret Game Room
This is the space our family spends a lot of time together…and if you are staying a while, no doubt we would introduce you to a fun evening of tabletop gaming in our living room (aka secret game room).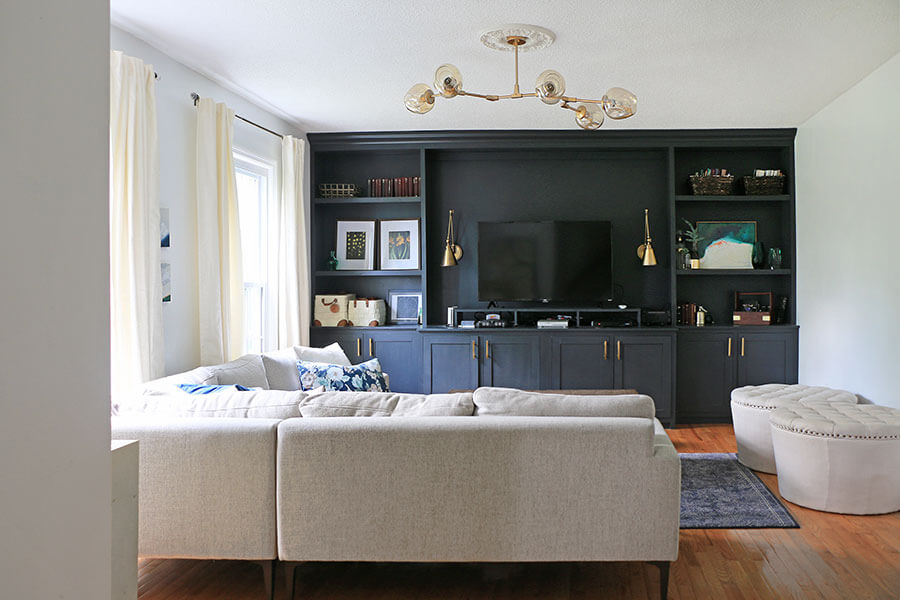 All those DIY built-ins made for some great board game storage, and my diy board game/puzzle coffee table has expandable surface space to fit those extra large games.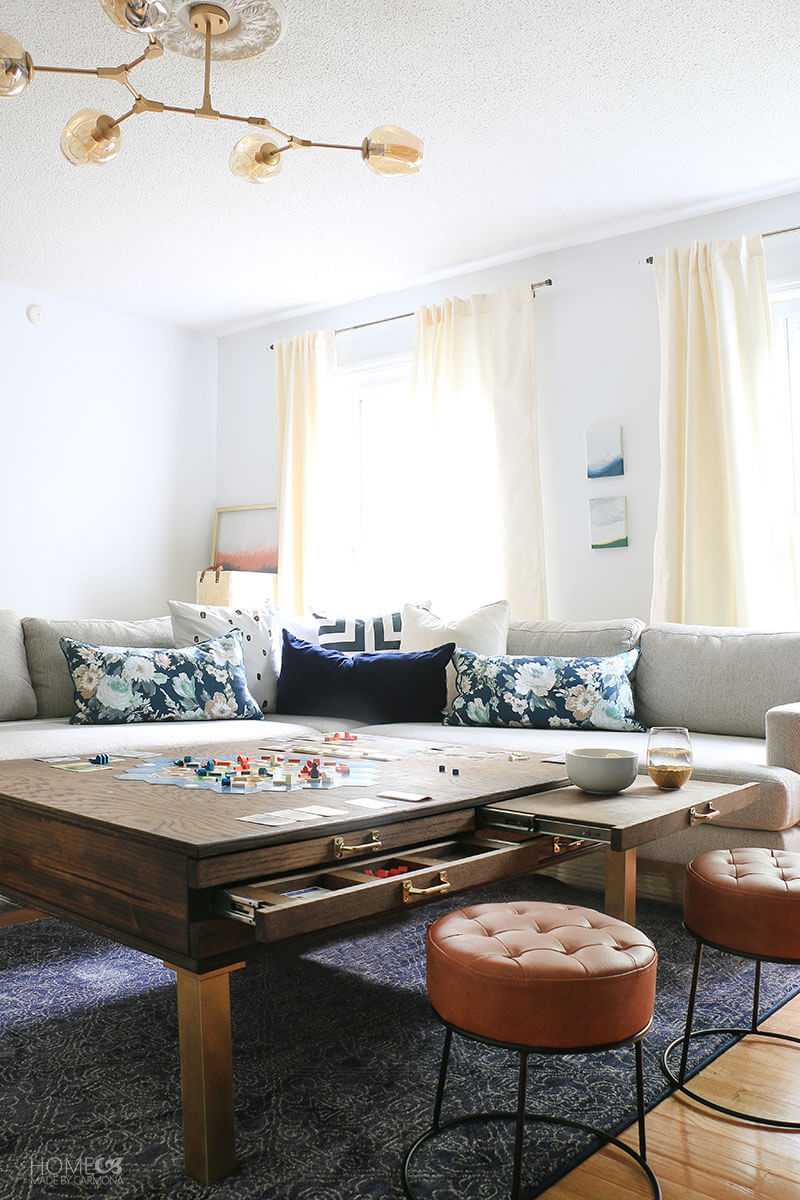 Kitchen & Dining Room
At the end of the entryway you can go left or right…let's go left first into the kitchen & dining area. After all, you already had a slight peek into the dining room via the door near entry, so why not?

From the end of the entry hall we'll walk into the kitchen first, but see it is connected by a large cased opening into that dining room you glimpsed a bit ago.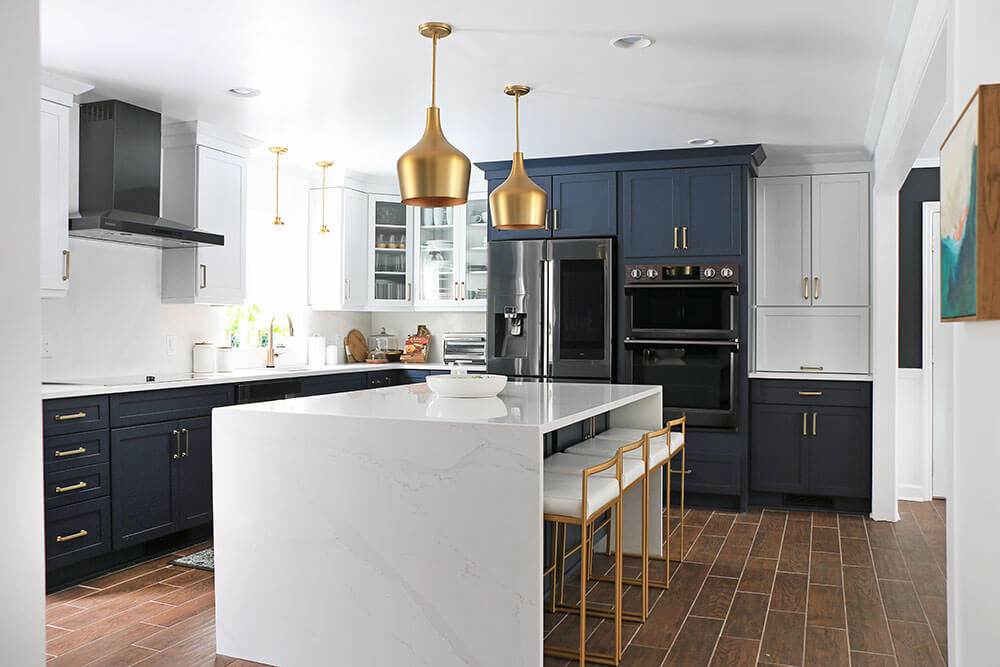 I opened the kitchen into the dining room so it would serve a more practical purpose for our family. It still has a bit of separation with its wide cased opening, but it accommodates more people when entertaining this way. Our family also uses it more now…before the dining room was more of a 'catch-all' until we opened it up.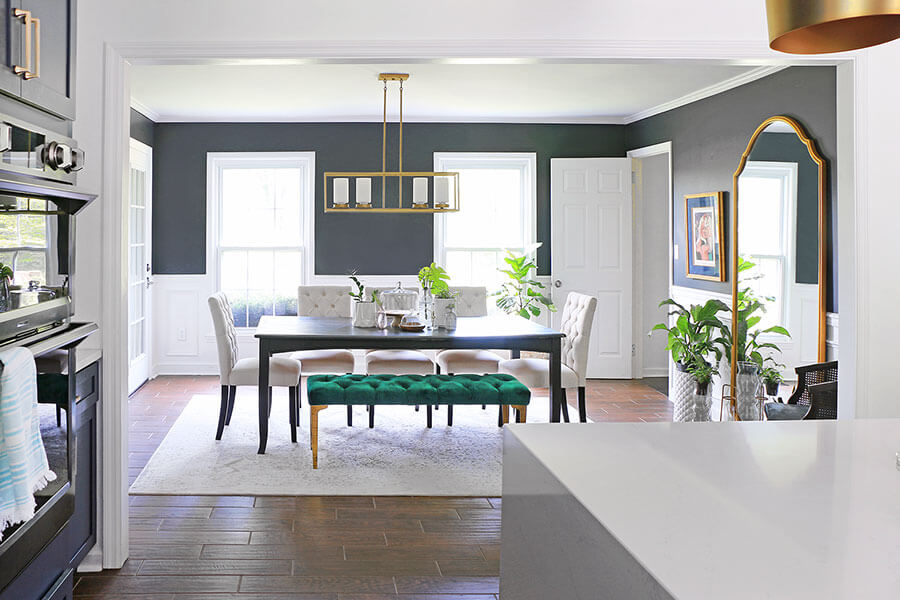 Laundry Room
If I'm going to show you the dining room, we have to pop into the laundry room quickly. This room is kind of an add-on to the house. Well, it used to be the back of the garage, but I turned it from a garage storage space/laundry room, into an interior laundry room!
The two glass doors in the dining room peek into the laundry room and the other into the garage. I know what you're thinking, "why would she have glass doors into a laundry room and a garage from the dining room??"

Because I love light and great sight lines into adjoining rooms! As long as both rooms are beautifully designed, it makes for a pretty view. As a matter of fact, it will help us keep those spaces tidy and pretty.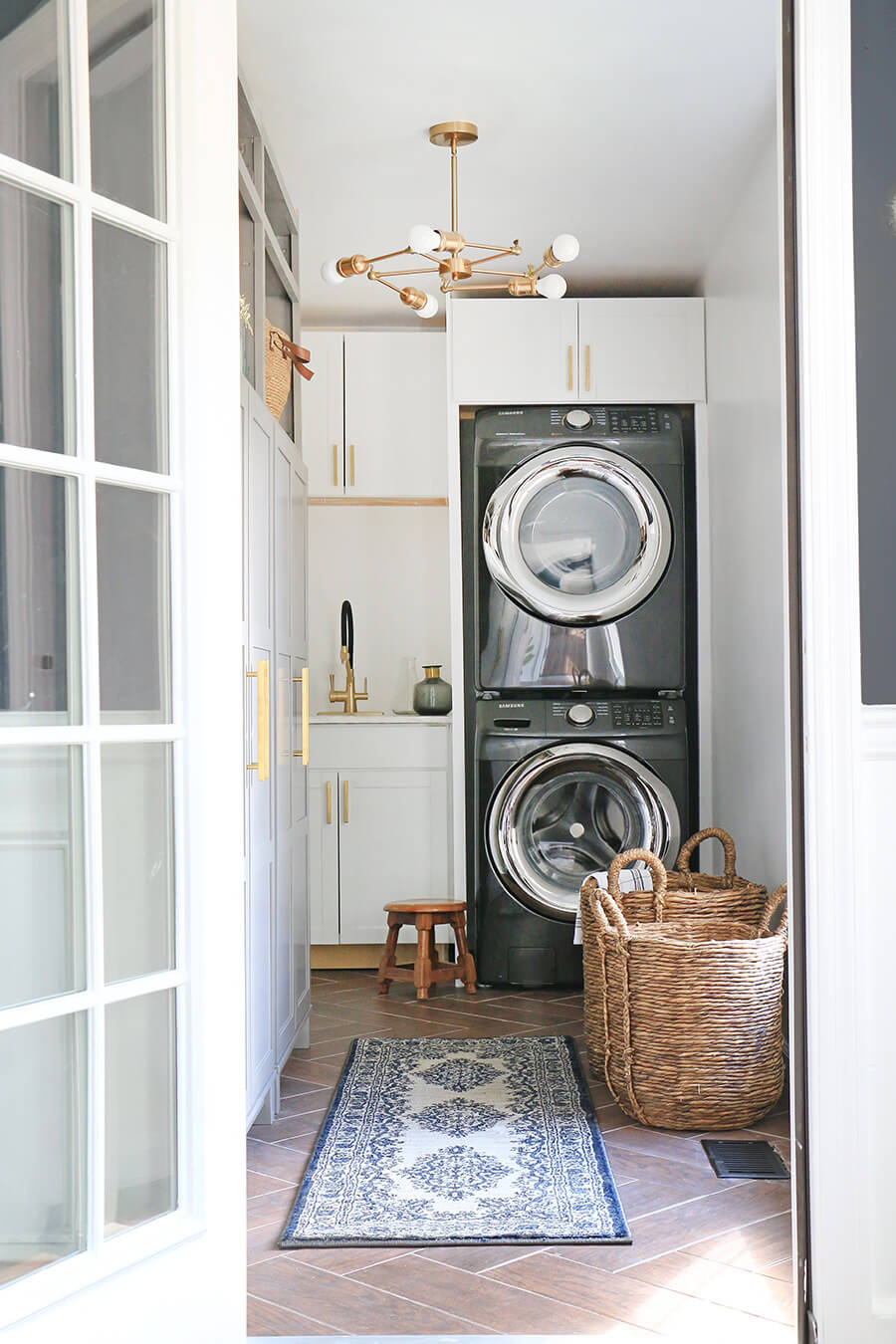 The Garage
The laundry room is pleasant to see through those glass doors, but the next door over leads to the garage which is a hot mess. We moved all our junk in there during the kitchen reno and now it's a disaster. But I have big plans to make it look like the most amazing workshop!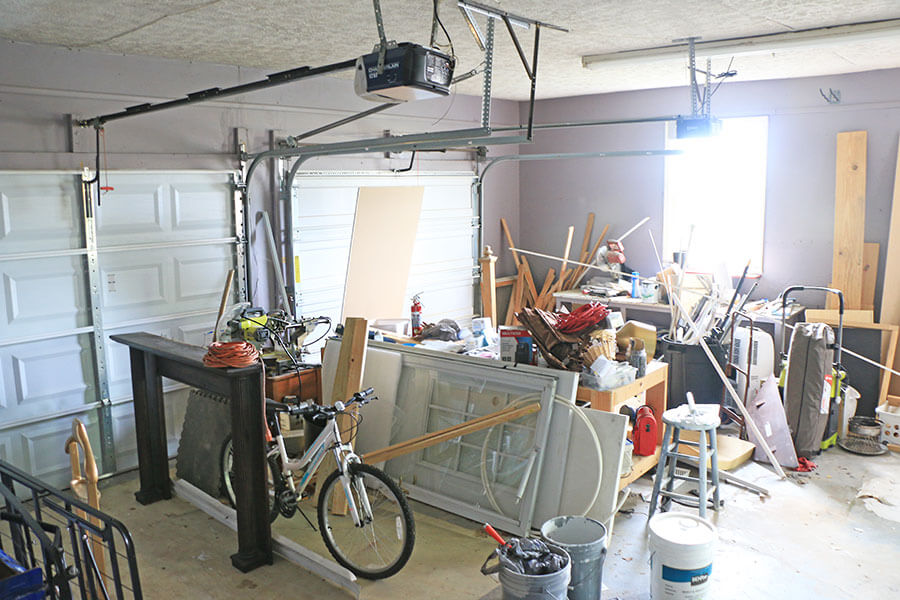 On the other hand, looking FROM the garage into the dining room is a lovely view! Don't worry, one day soon the view looking into the garage will be just as pretty.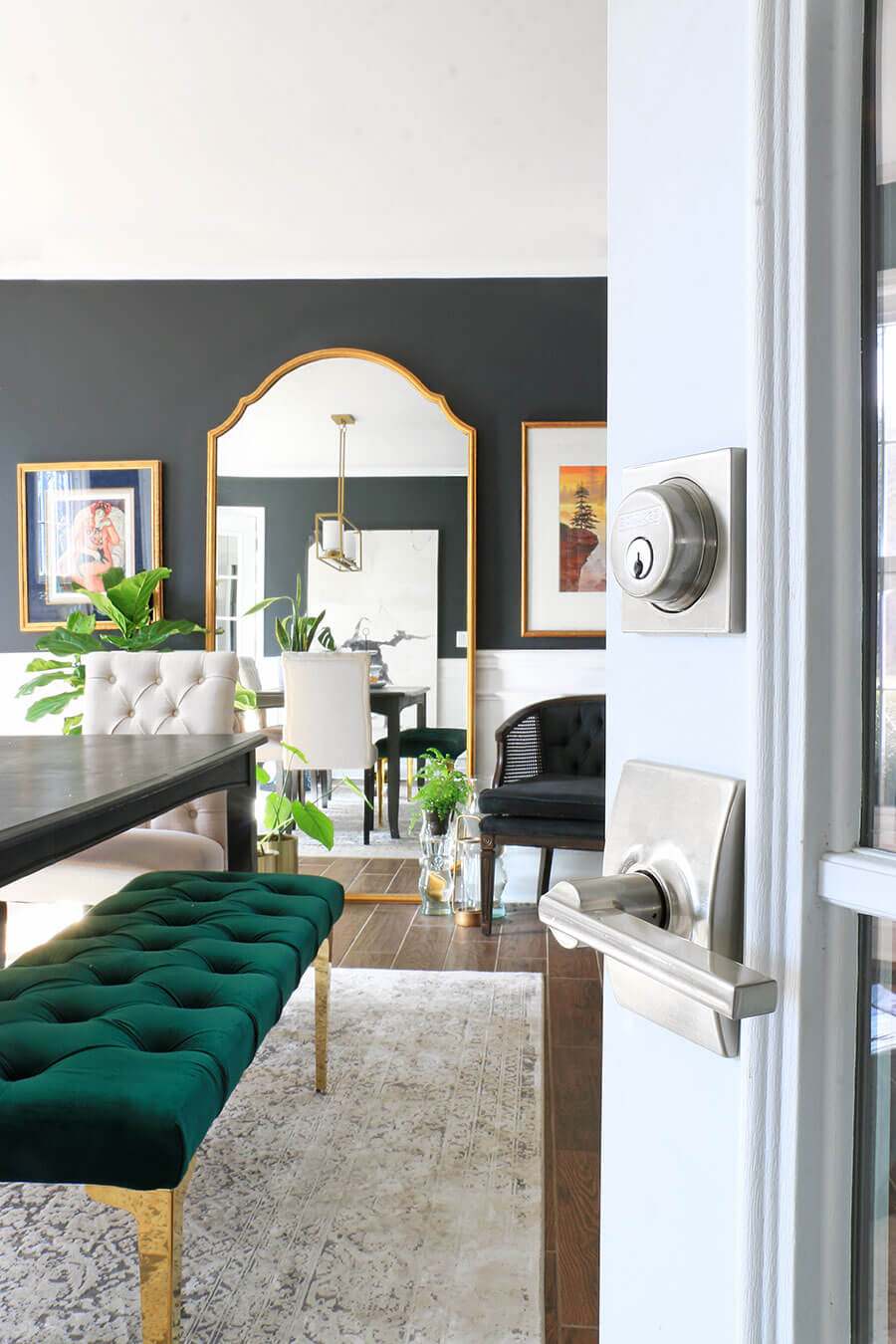 Okay, let's head back into the dining room and kitchen to continue our tour.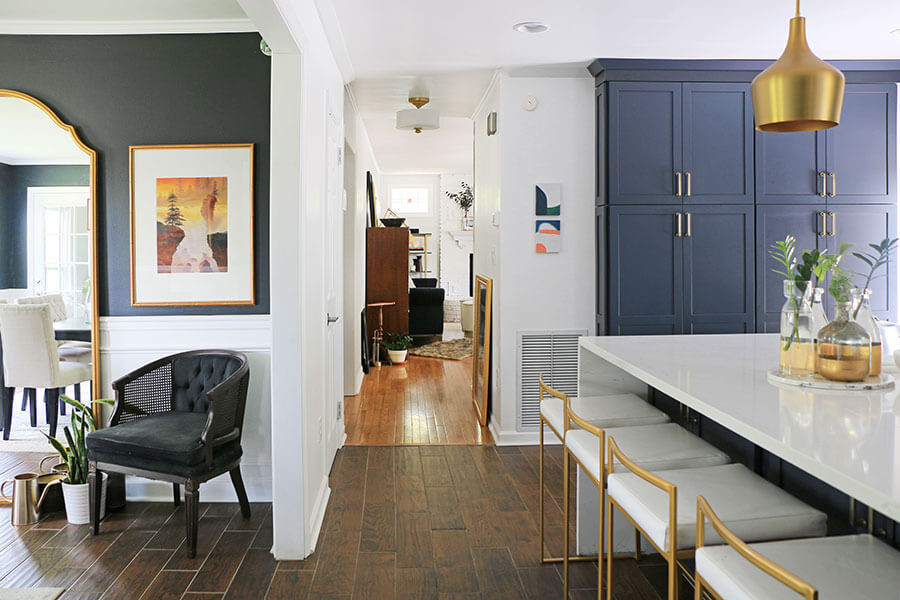 Now we head the opposite way down the hall, over into the family room. Don't mind the mismatched floors, I plan to stain the orange-y wood to match the kitchen tiles one of these days when my kids are all gone to college. Less risk of them getting scratched and destroyed if I wait. Some of you know exactly what I'm talking about!
Formal Family Room & Office
This is our formal sitting room, where we typically invite company to sit and visit, and where we hold our family worship. We didn't plan for it to be the primary entertaining space, but it has french doors that go out to the back patio, making for more square footage to host a larger gathering if needed.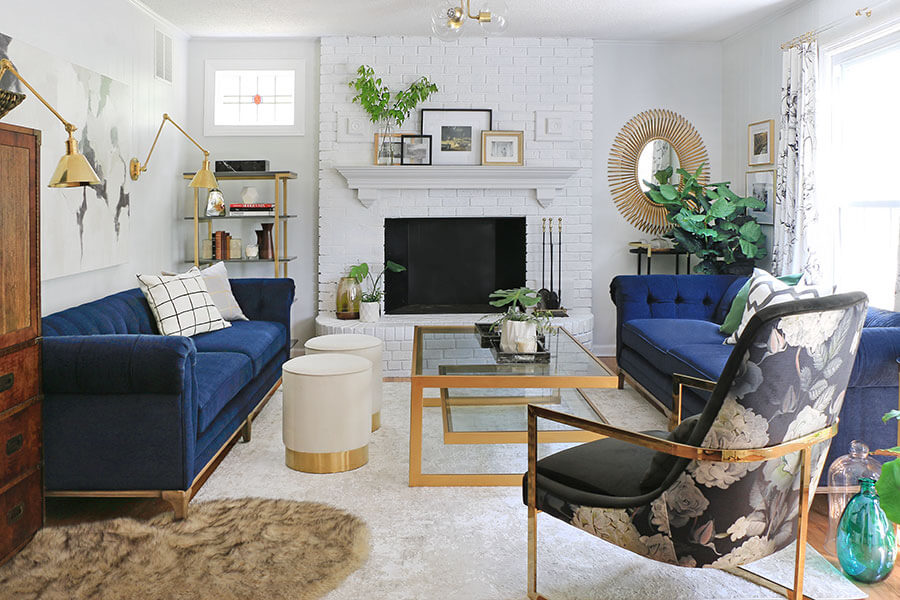 I would have liked to open up the two living room spaces to each other, but so far it just isn't in the budget. Plus the kids love having two separate spaces for those days when we all want to do our own thing. A couple of us can watch a cooking show in the Living Room, while another works on the computer in the office nook, while one curls up cozily on the sofa to read here in the formal family sitting room.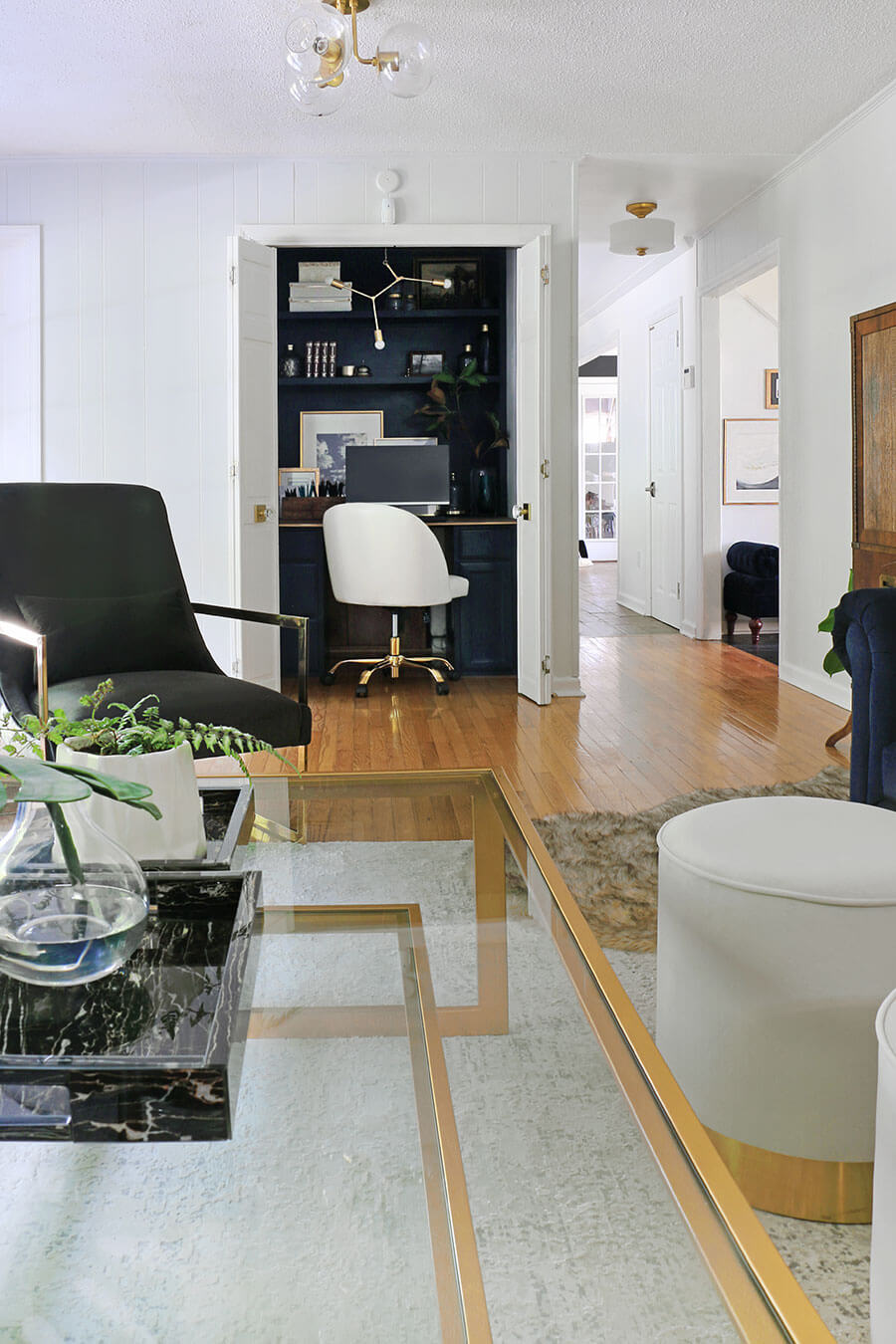 The half bath is also in this room, but we'll check that out later. And as you can see, the office nook I just mentioned is perfectly nestled into this deep closet in the family room.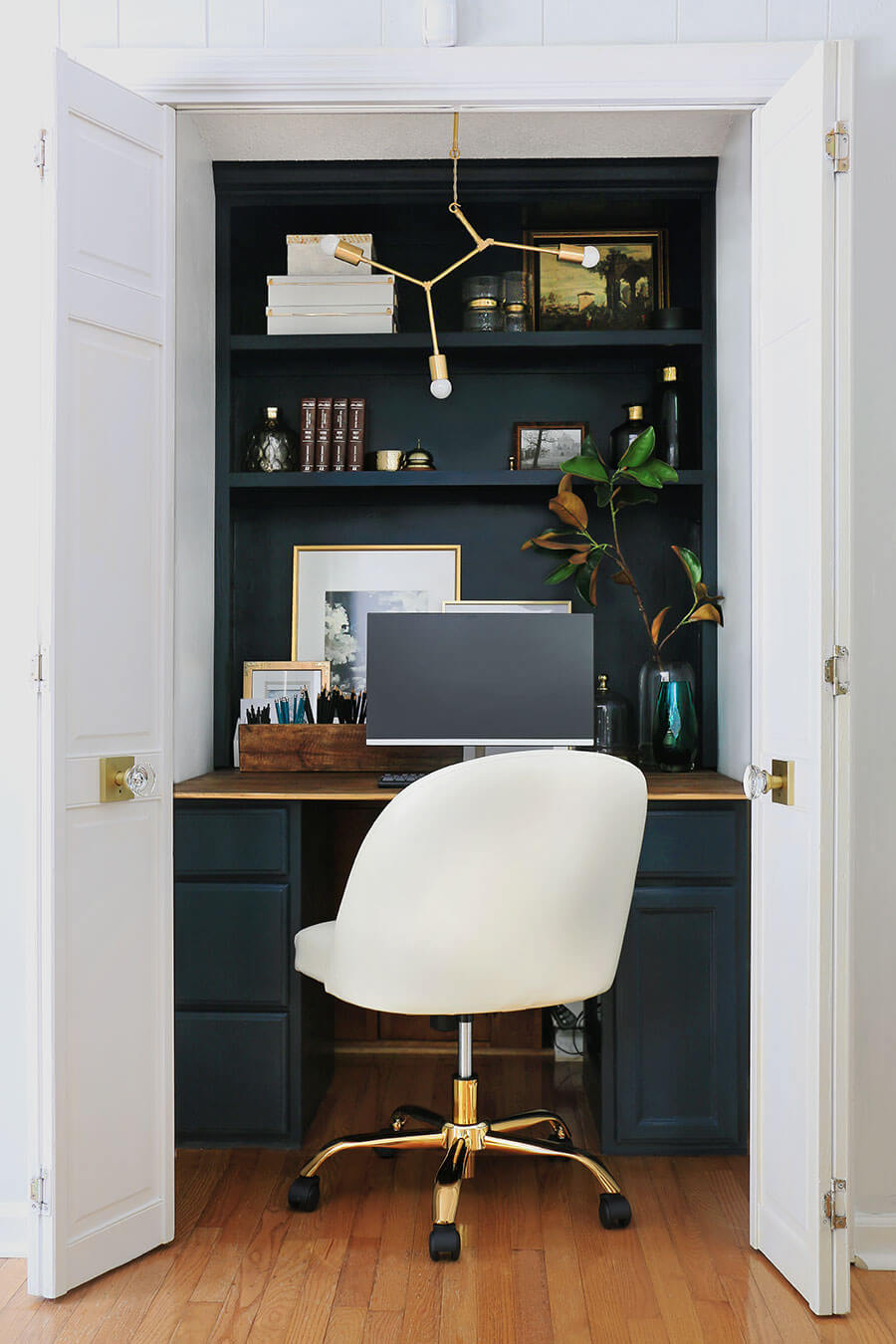 Powder Room
Right off the family room is the main powder room our guests use. It was in poor shape for a long time after one of my kiddoes thought they would be helpful and peel the wallpaper. But it got a very pretty makeover with all new wallpaper!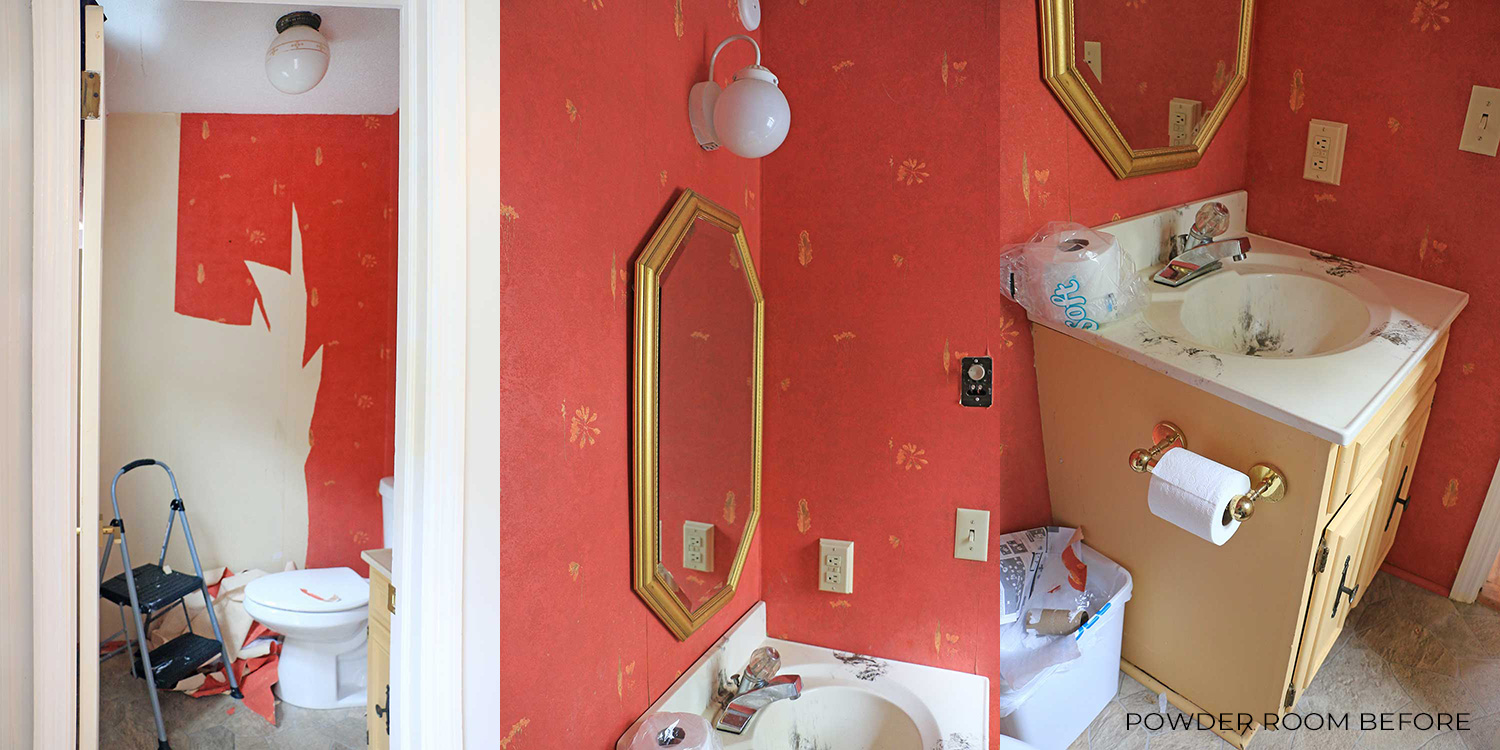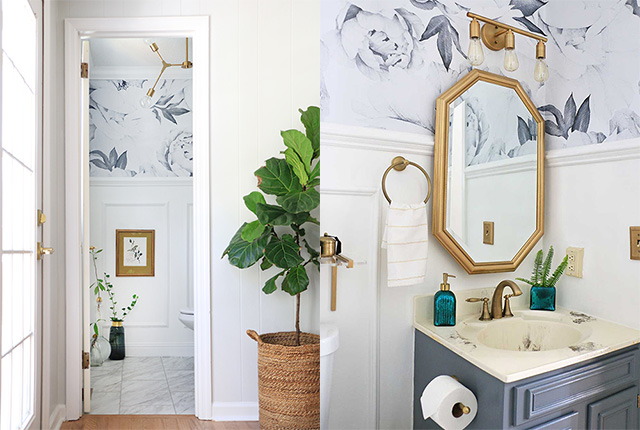 Master Bedroom
In past homes we have lived, our bedroom was always teeny tiny living space. So to have a bedroom big enough to fit a seating area, a walk-in closet, and a bathroom that we can both stand in at the same time, is pretty incredible for us.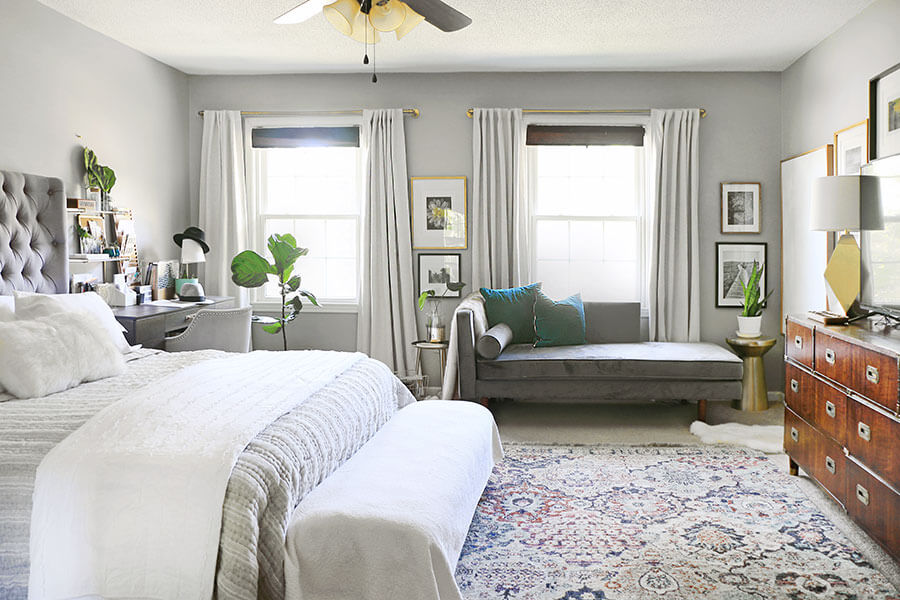 I haven't tackled the adjoining closet or the ensuite bathroom yet, but I have big plans for both.
Three Bedrooms, All Girly…
Walking through the upstairs hallway from my bedroom you'll see doors to all three girls bedrooms, and their bathroom.
My youngest daughter Sayuri was one of the first bedrooms to get painted. I'm sure you can see why…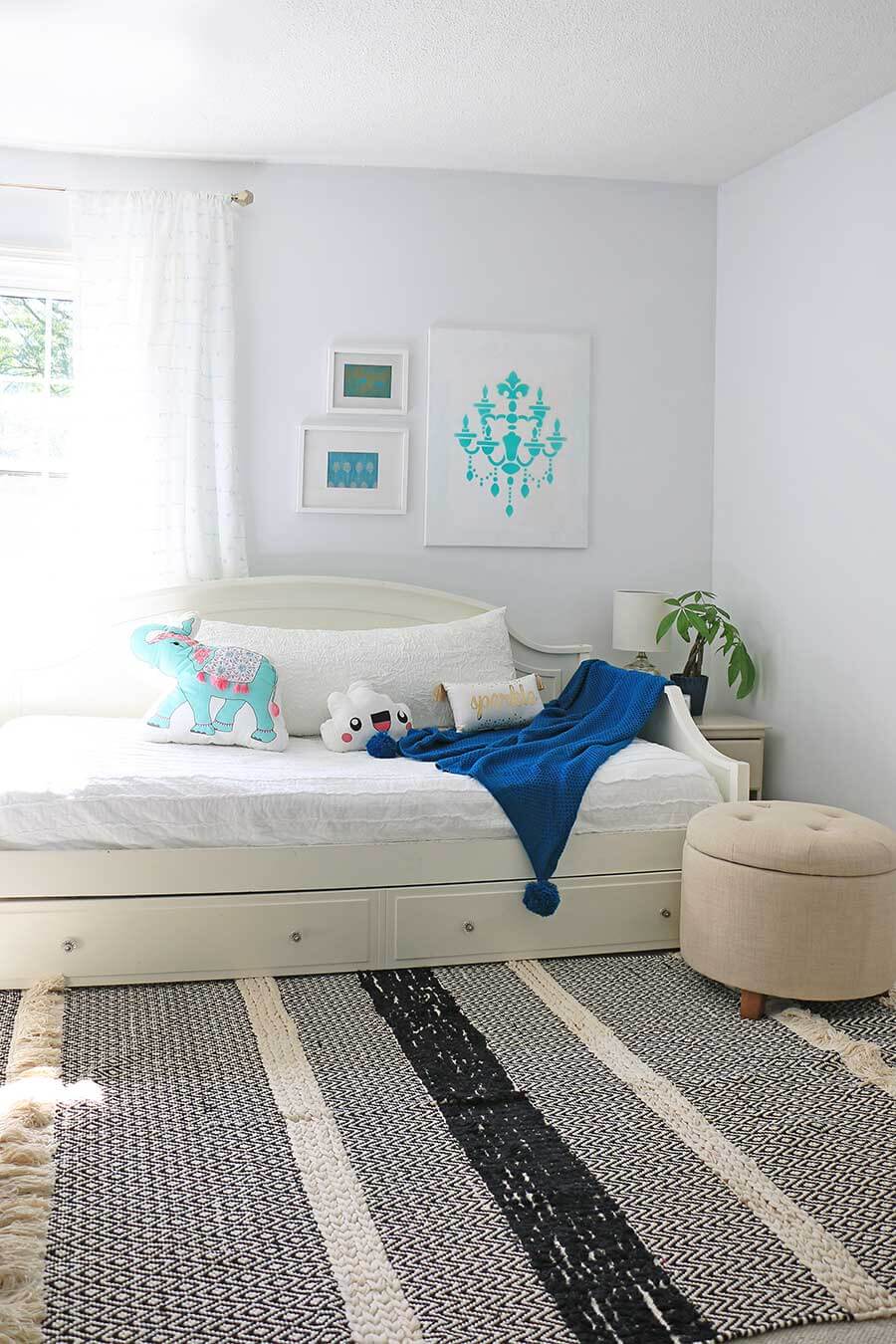 However my artistic daughter Priya got a more true room makeover with new furniture first. Mostly because she designed her own fabric line so I could build her a custom DIY headboard that fit her style. Everything else sort of fell into place after that.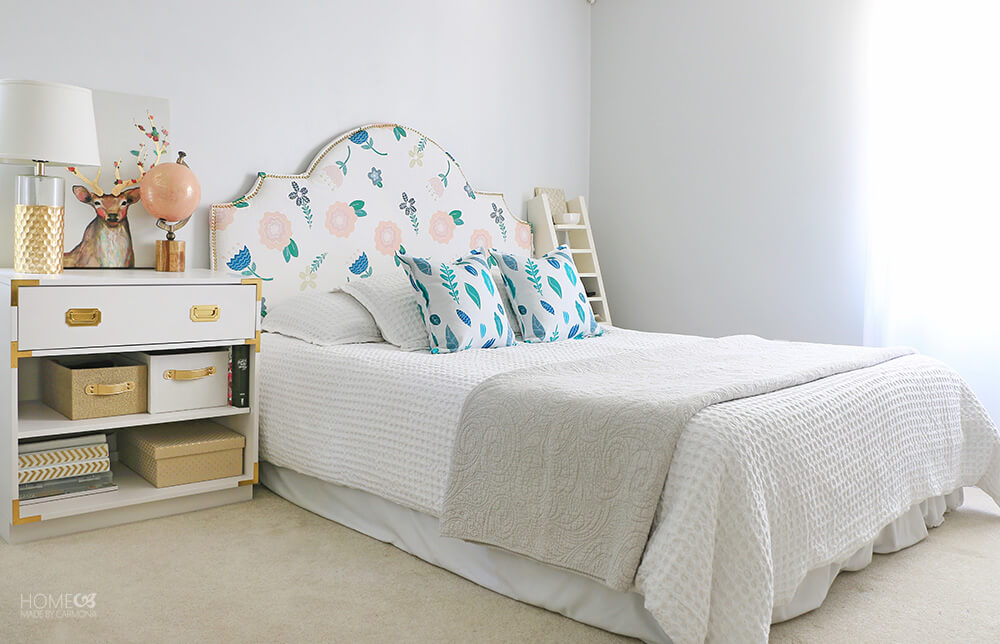 My daughter Fiora is our resident baker and runs our cooking blog Cooking with Carmona. I joke she not only got a bedroom makeover, but a kitchen makeover…since that's where she spends so much of her time.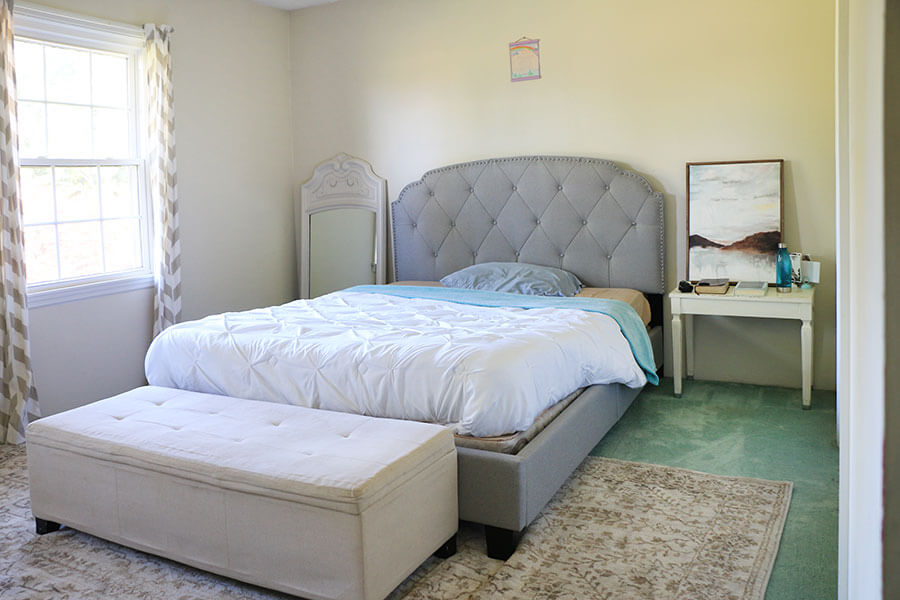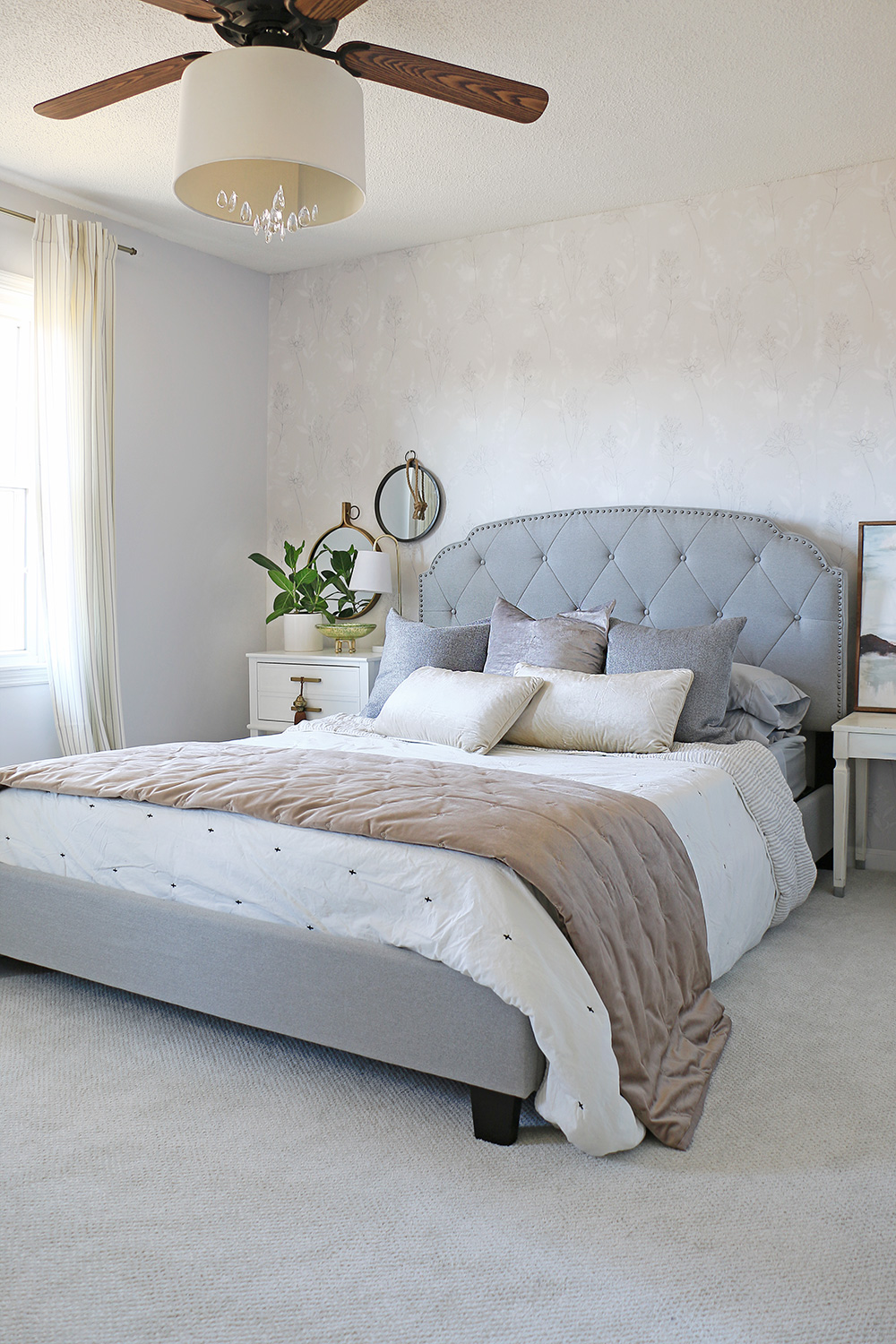 Upstairs Bathrooms, Basements…Move Along, Nothing To See Here
I haven't taken on any of the upstairs bathrooms yet either. Sometimes, too many projects at once makes for a lot of partially done spaces.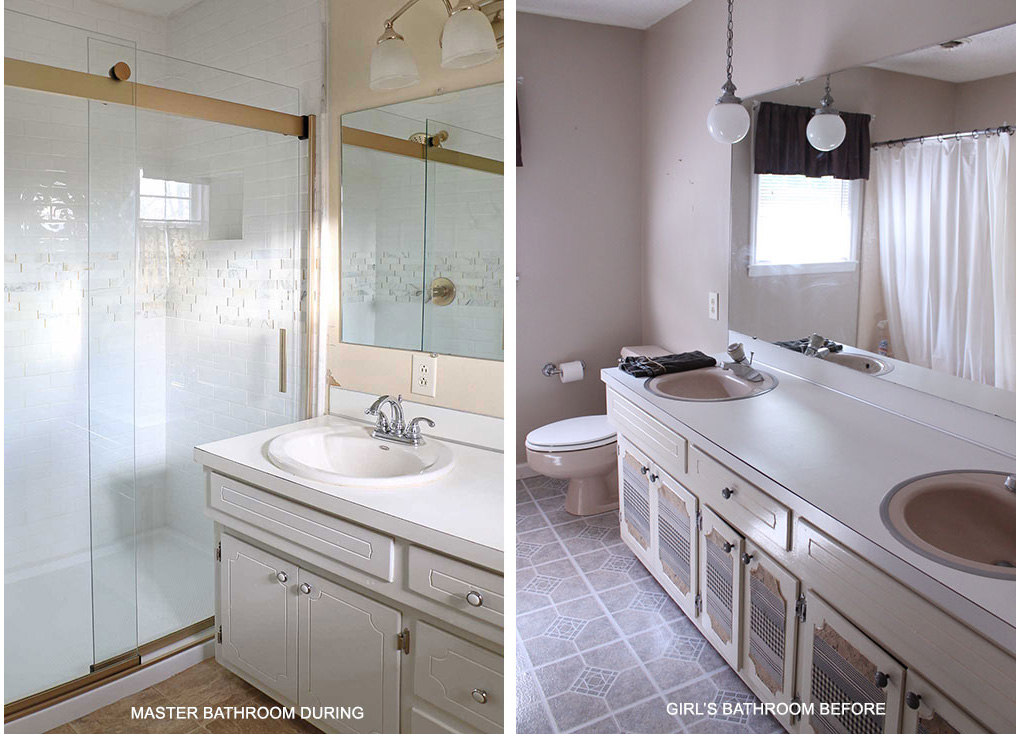 What can I say about the bathrooms and basement? Move along friends, nothing to see here.

The basement has had some flooding issues, so I can't do anything with it except use it for storage at the moment. The floor drain keeps backing up and depositing mud water up to an inch across the basement, so I can't leave anything on the floors. If I can get that fixed, perhaps I can turn it into a craft room, and maybe a more attractive storage room. But this is the last space on my list.

Okay, so you saw maybe 85% of the house since it would be crazy to show you every nook and cranny from all angles. Plus we have 16 acres, so there is a ton more going on outdoors than you'll see in a couple pictures.
But I hope you enjoyed my little 'good, bad, & ugly' house tour!
Now if you want to check out the inside of our guest house / Airbnb cottage, check it out here.

[go_portfolio id="decorate_landing_page"]