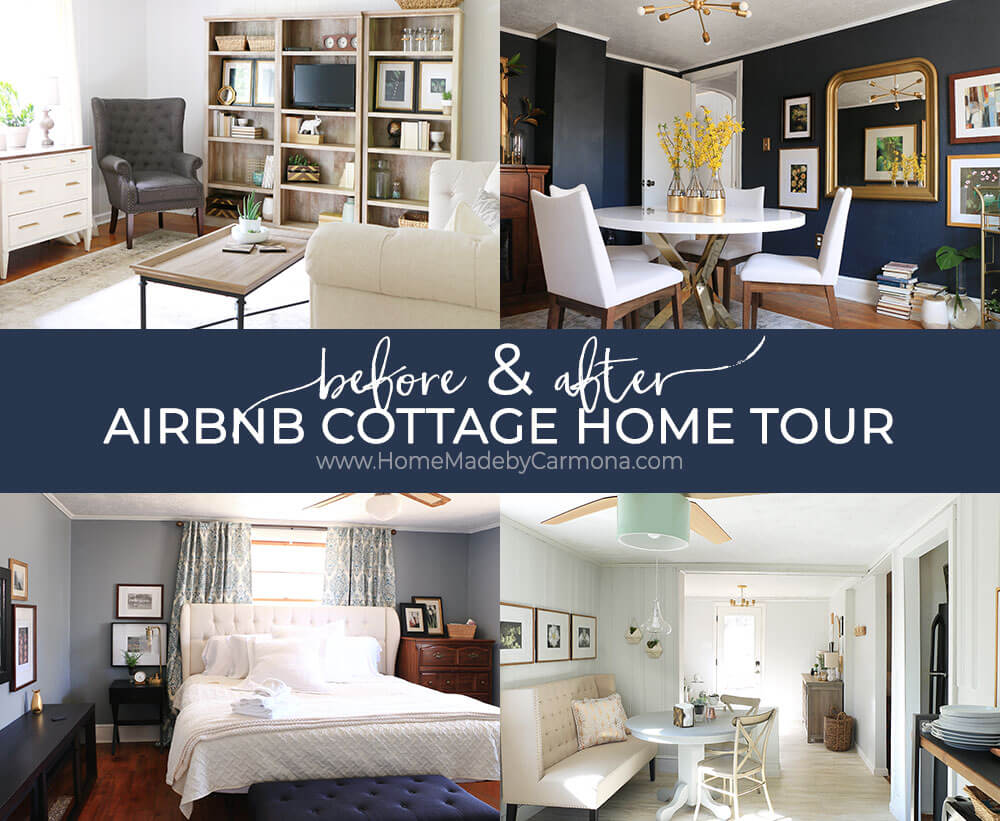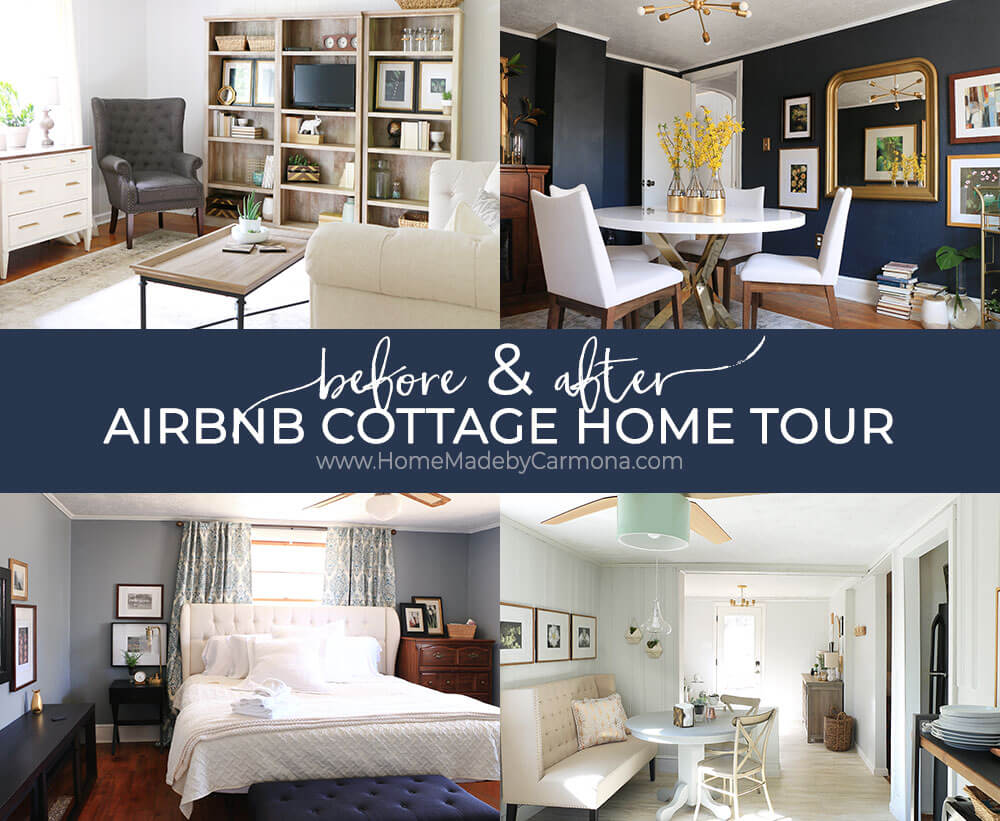 It has been a year since I started remodeling and decorating our cottage guest house and I don't think I have ever taken you on a before and after tour of the space.
I have worked hard to make it a sweet little space for Airbnb guests, and while I'm not quite done yet it has come a long way and looks pretty incredible (if I do say so myself). 😀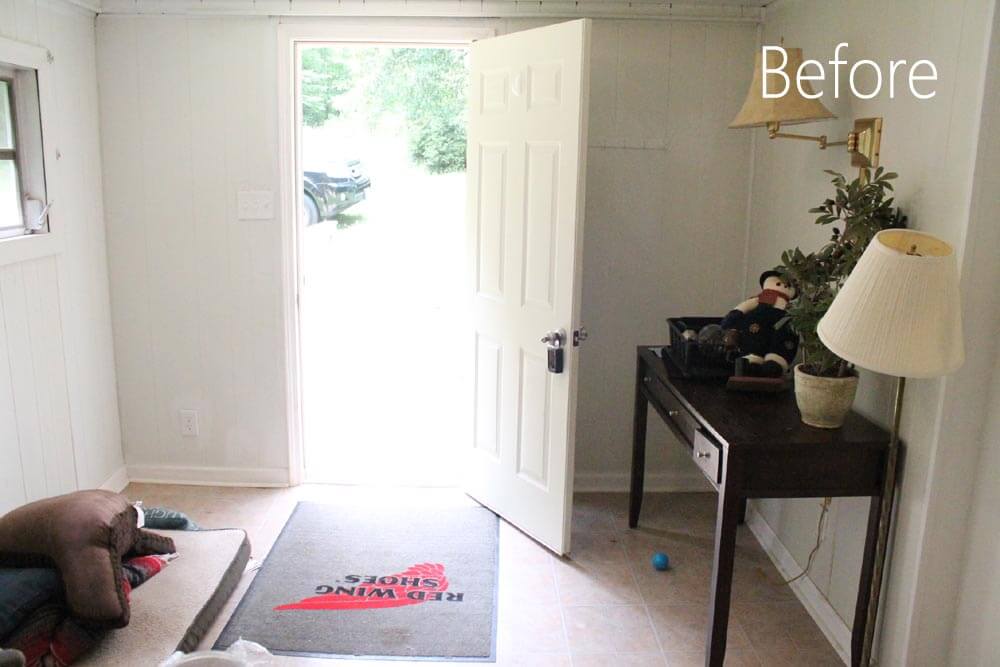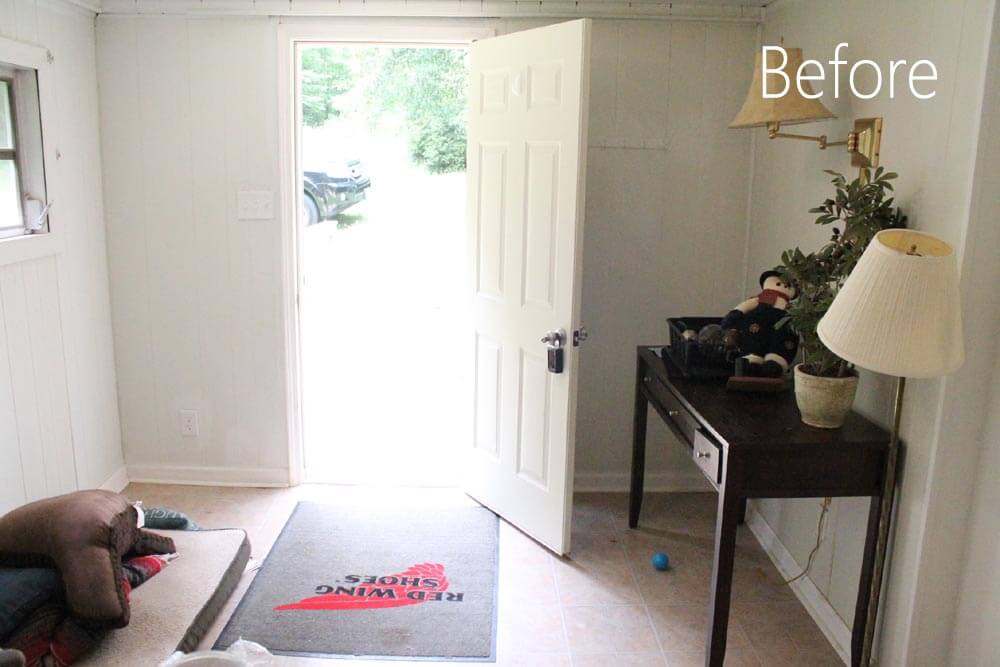 First impressions are kind of a big thing, and this entryway was kind of dingy looking and quite dark in spite of the half sized window there on the side. Changing out the front door for a glass one, painting the walls, and replacing the flooring made a huge difference!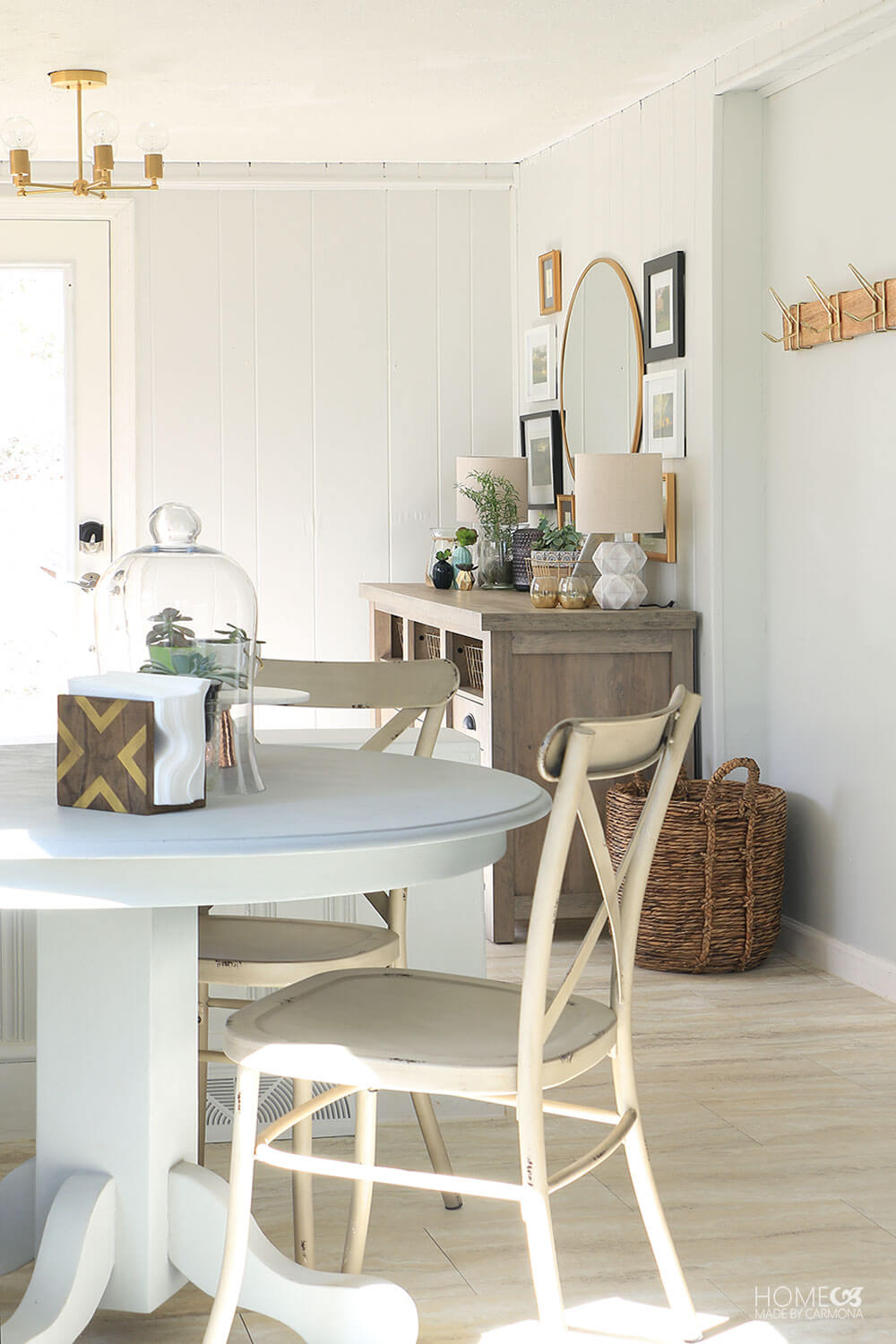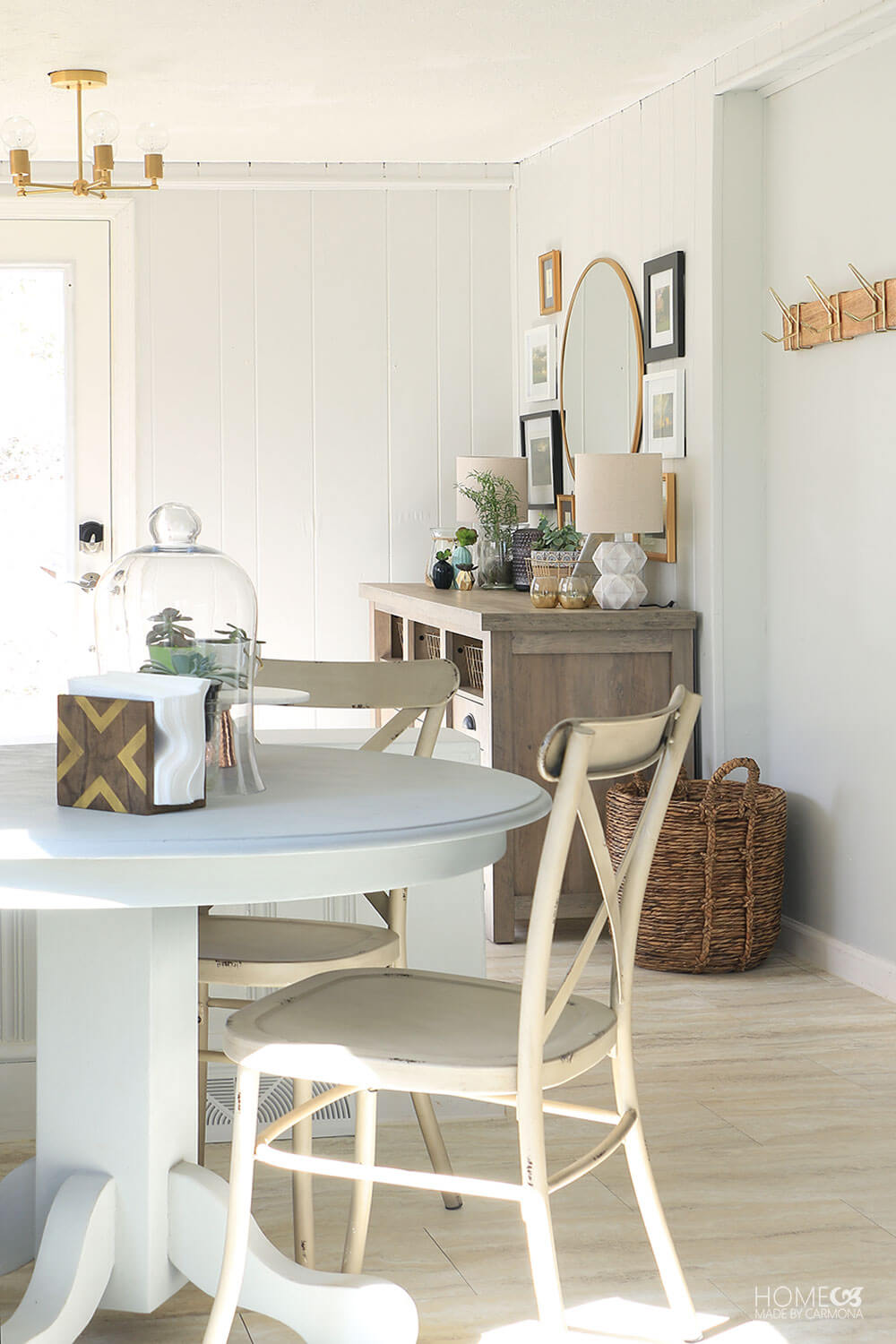 Okay, so this entry is quite roomy, and I love that there is a decent sized space for guests to come in, drop their suitcases and baggage, and take a moment to get situated. They can toss their coats, on a hook, leave their keys on the console, have a seat and slip into some warm fuzzy slippers before having to figure anything else out.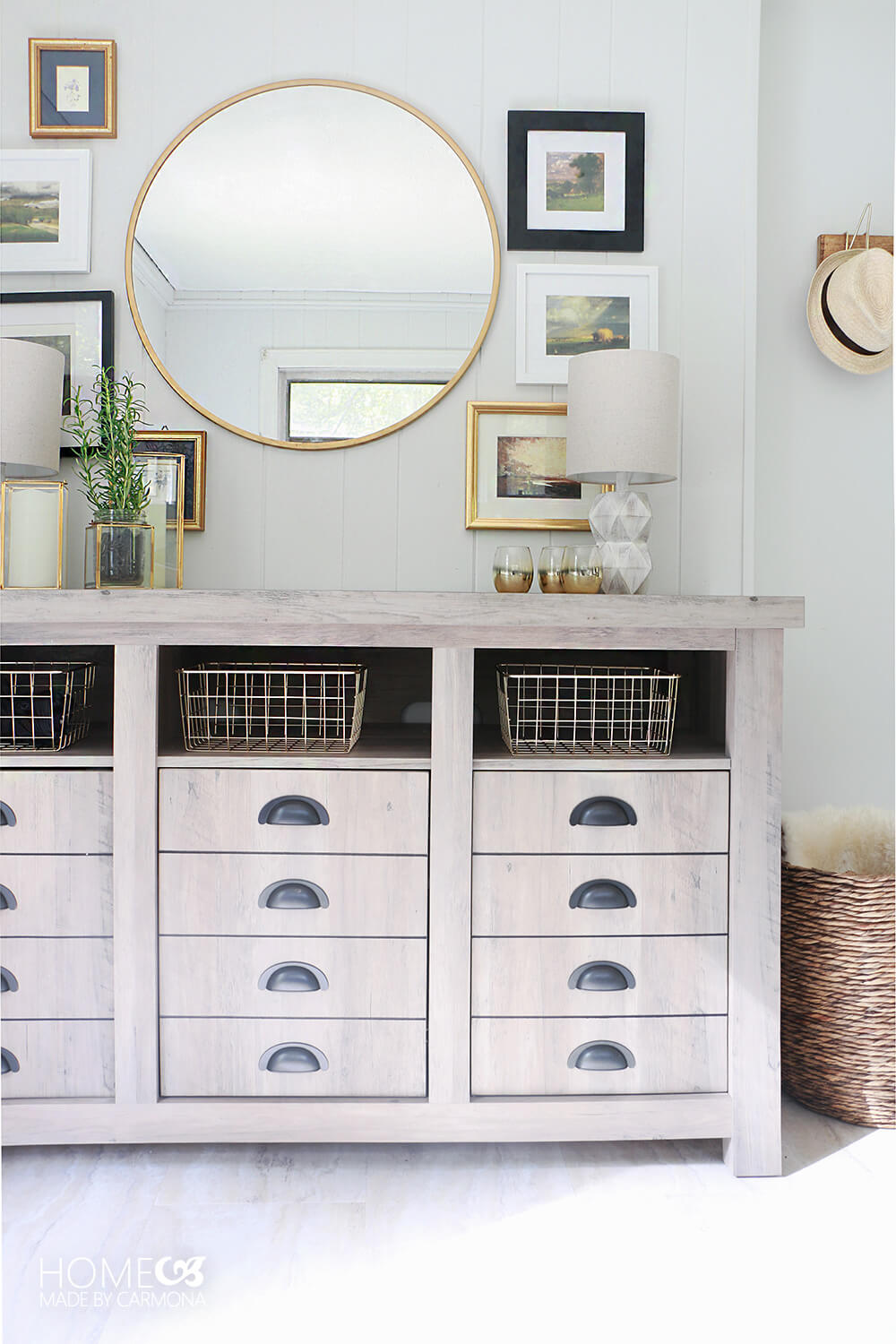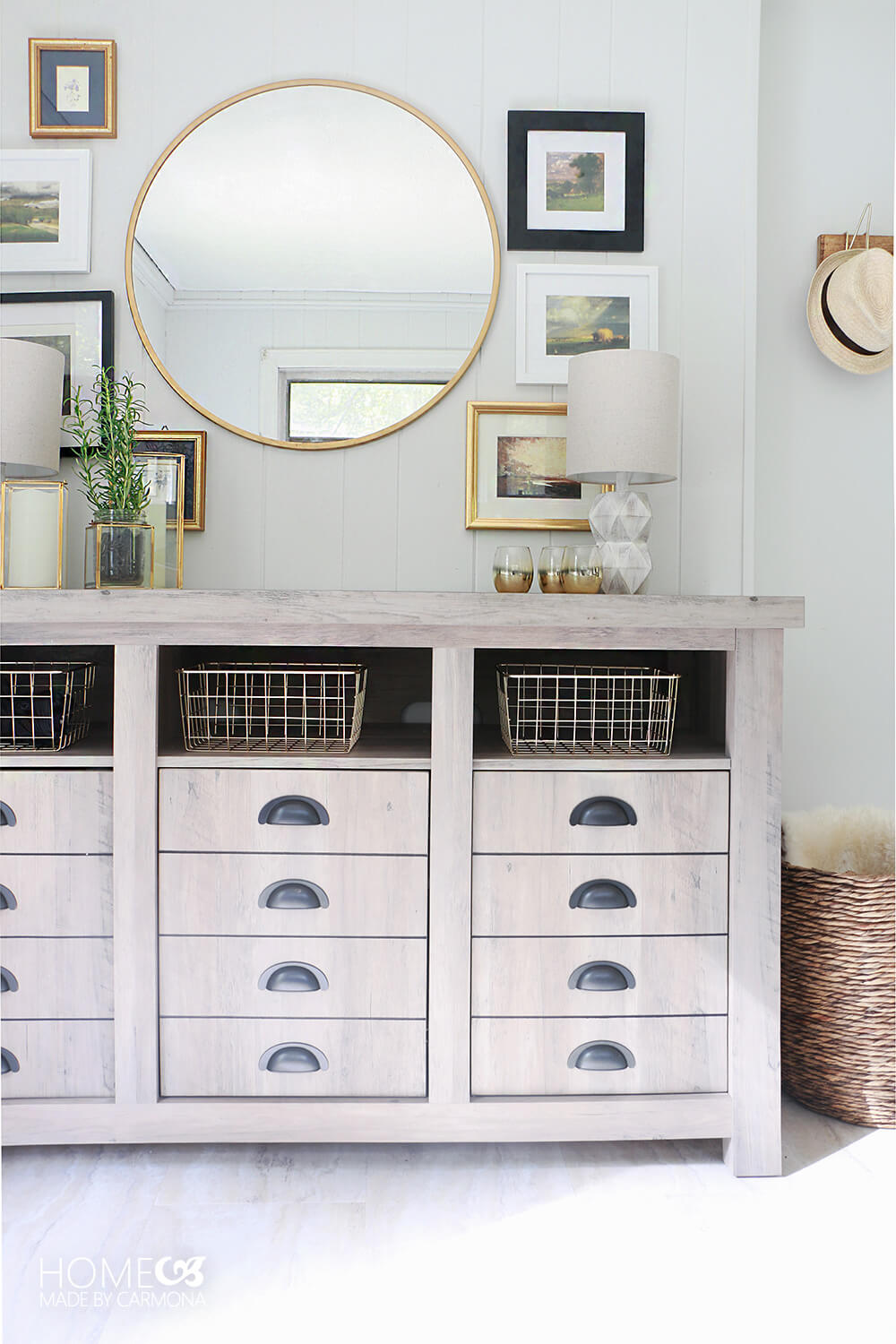 It's like taking a moment to breath and begin the process of relaxation as soon as you step in. All the while beginning to get excited about their stay since their first peek is into the kitchen and eating nook right there from the entry. The two spaces are only divided by a pony wall, so it feels quite open with a great flow, even for something dubbed "the cottage". At this point guests will probably start to realize that this bad boy is a full sized house, small but might!


There is that small dividing pony wall I was just telling you about. See? It gives a little division without making it feel closed off.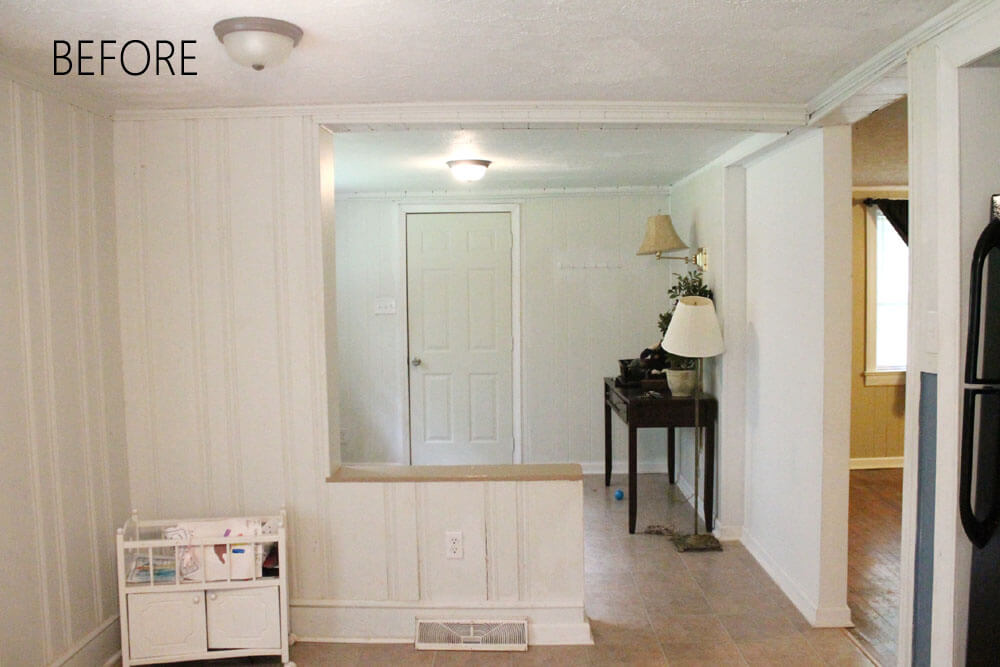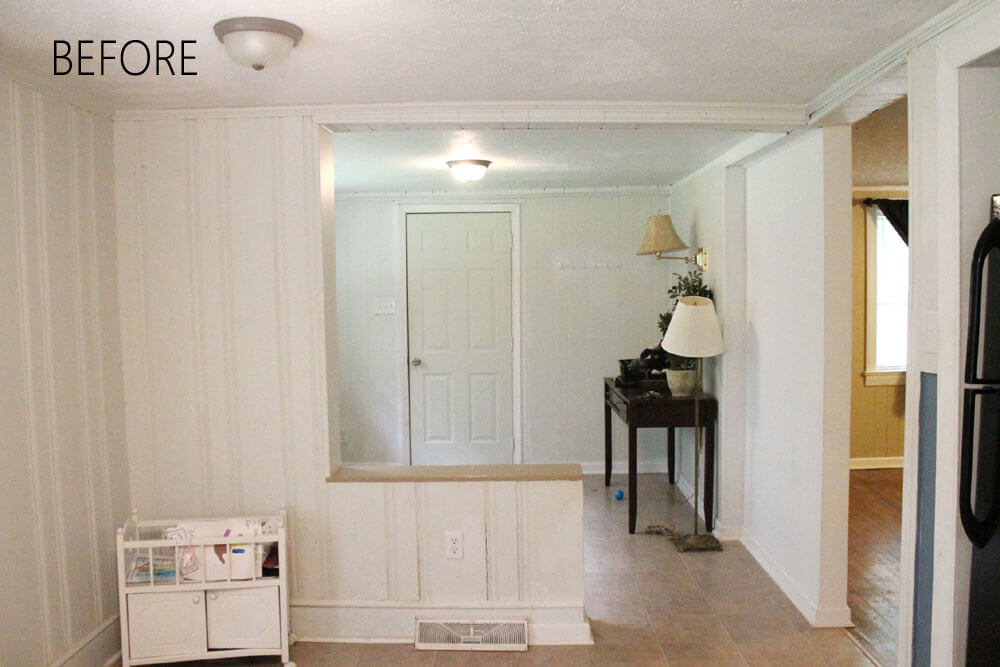 And now that there is a more fresh coat of silver white that flows between the two rooms, and the front door is all glass, all that light just pours into the room making it feel bright and open.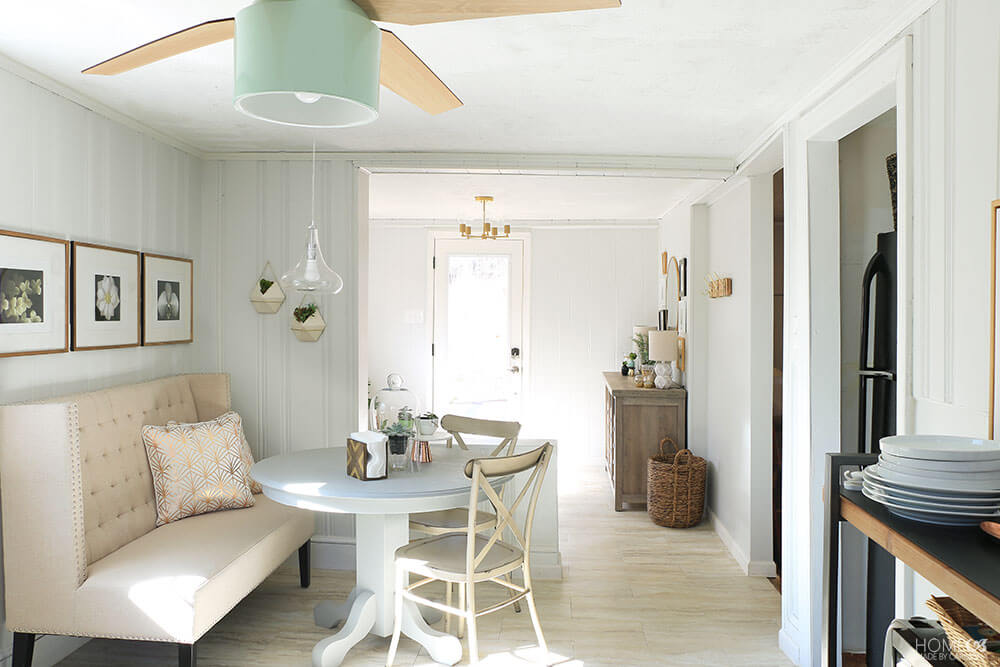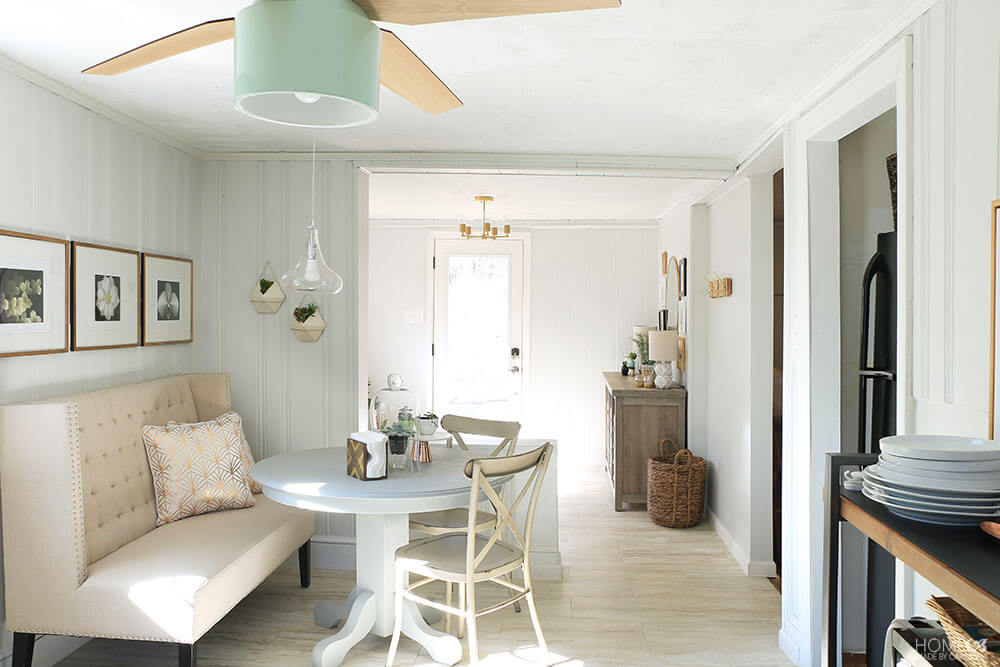 This is the primary eating space for guests…aside from the dining room (which is sometimes turned into a bedroom if their are large groups staying).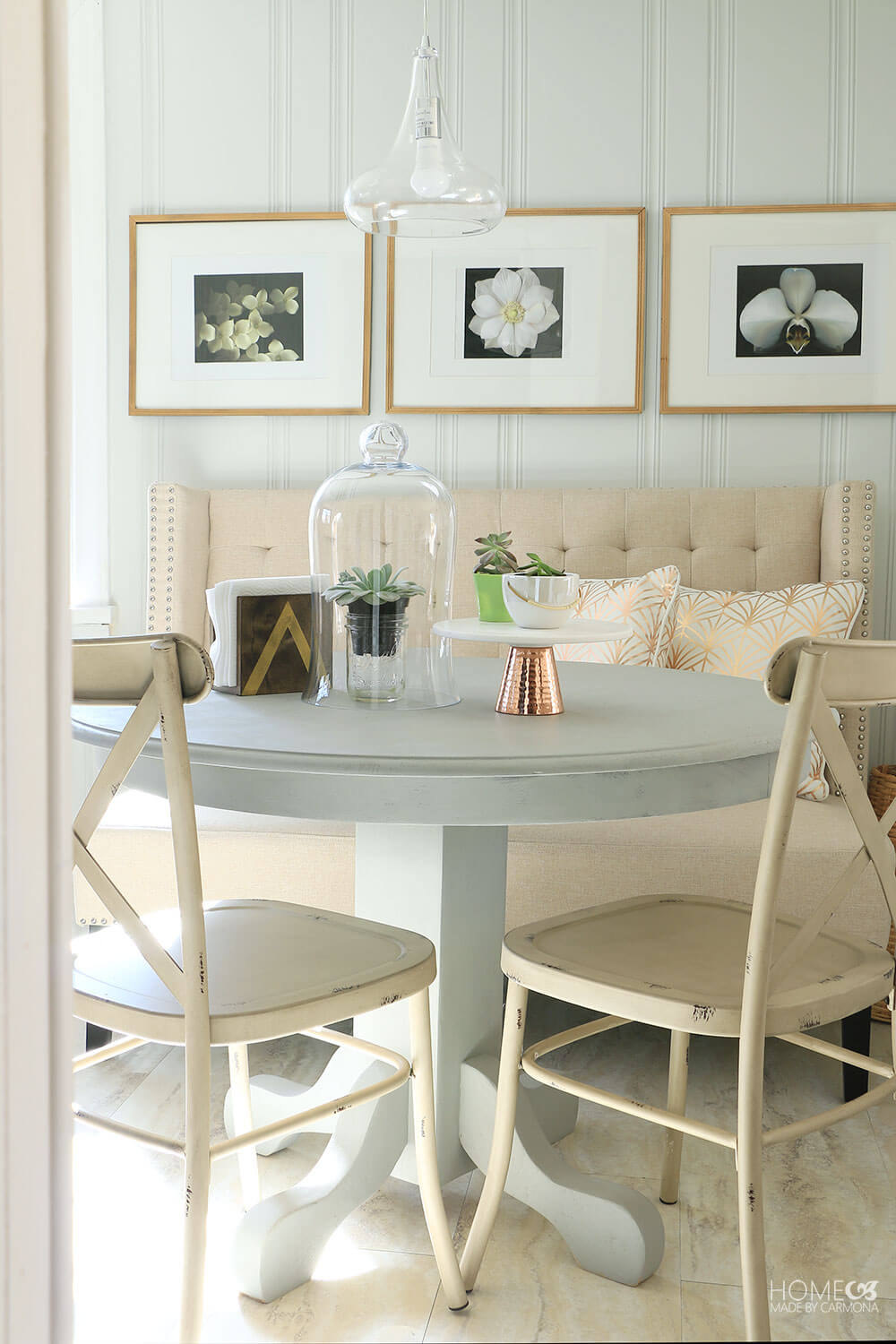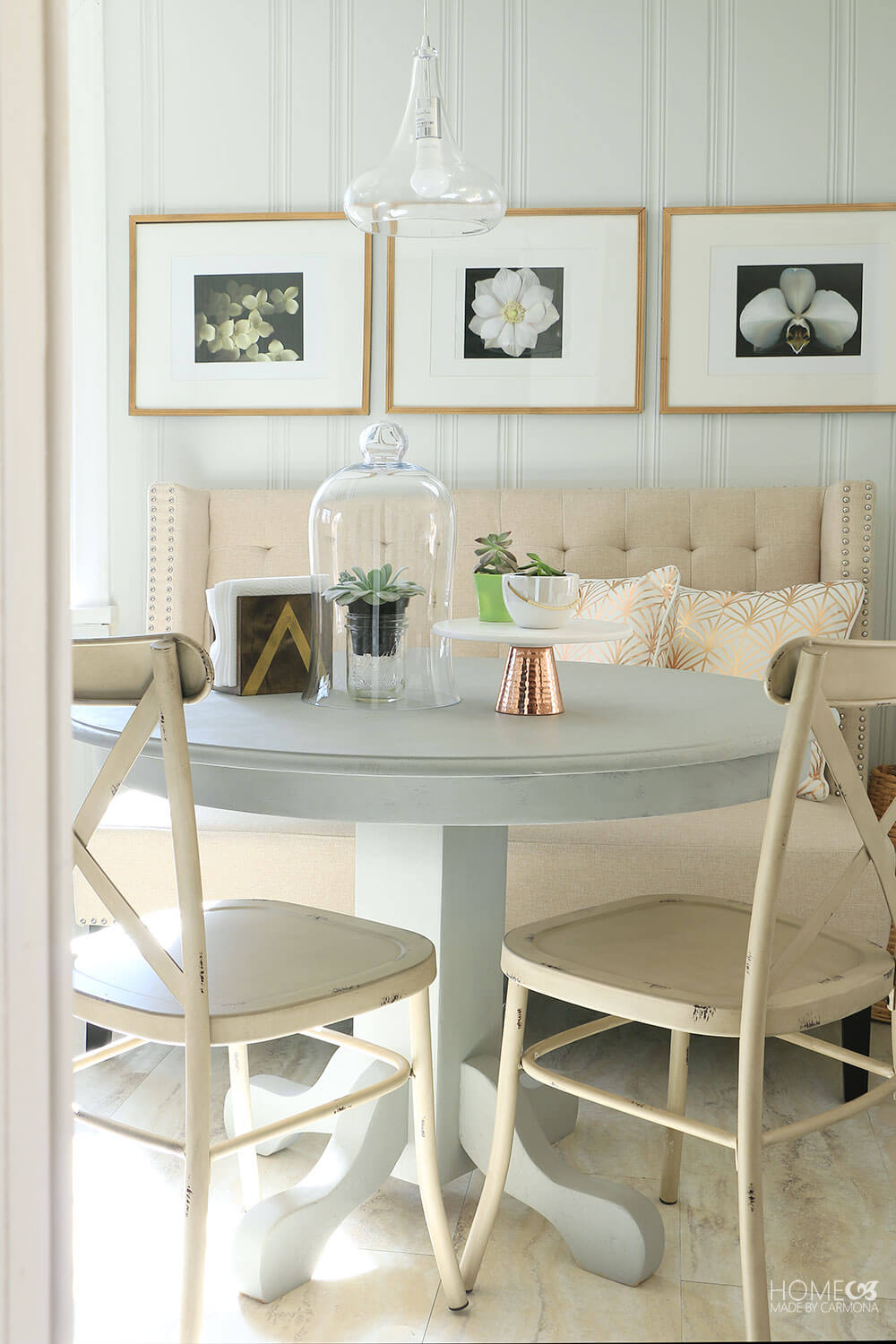 It is a charming and convenient little space since it is located right there in the kitchen and across from the refrigerator.


The kitchen was the biggest undertaking. I tore out all those disgusting cabinets and replaced them entirely. Trust me, they were so bad not even a coat of paint could make them better, and I'm the queen of salvage and transform.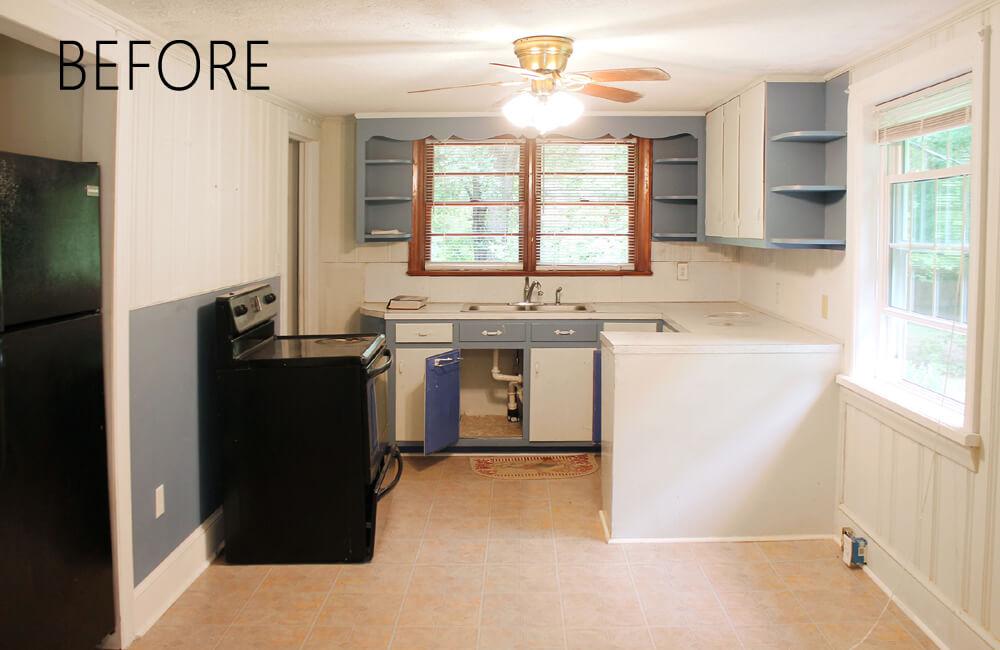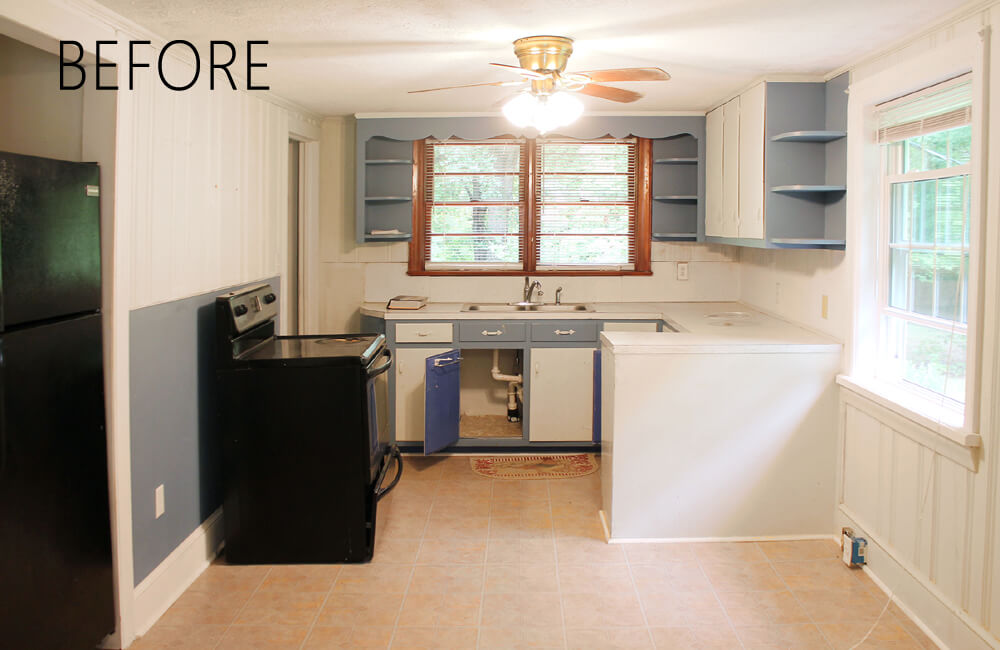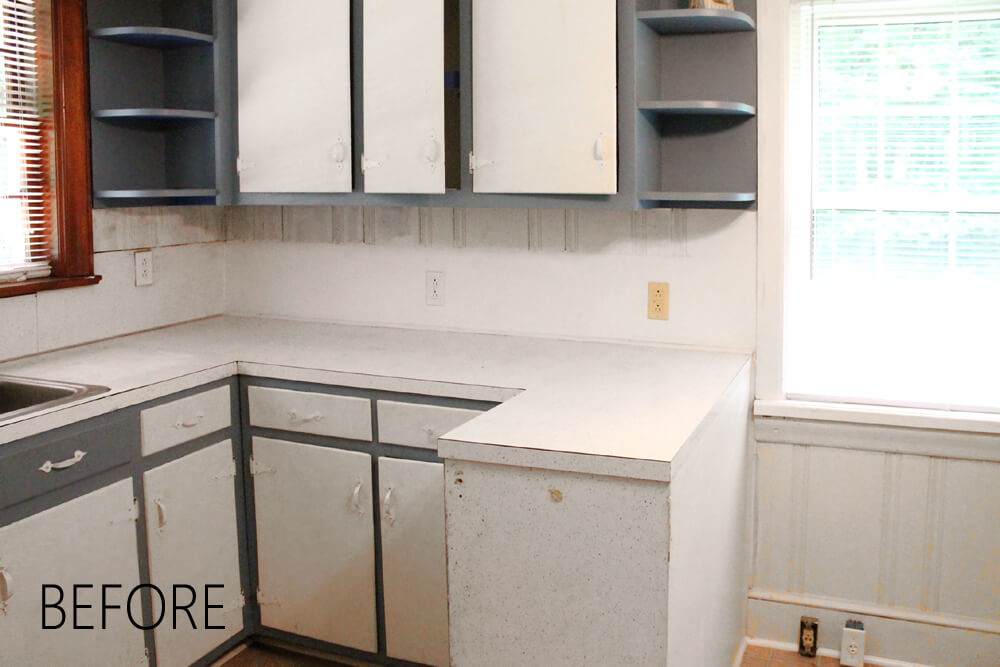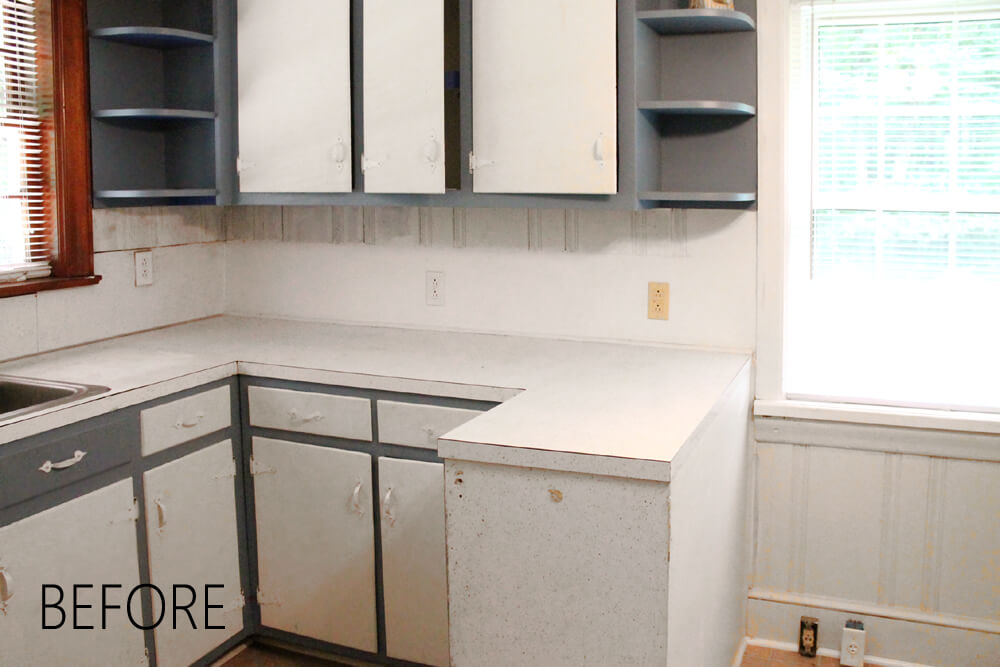 By adding the cutest little 20″ stove-oven combo right into the L shaped kitchen cabinets, it really opened things up. I also decided to use floating shelves as opposed to upper cabinets since the ceiling is a bit lower than the average house.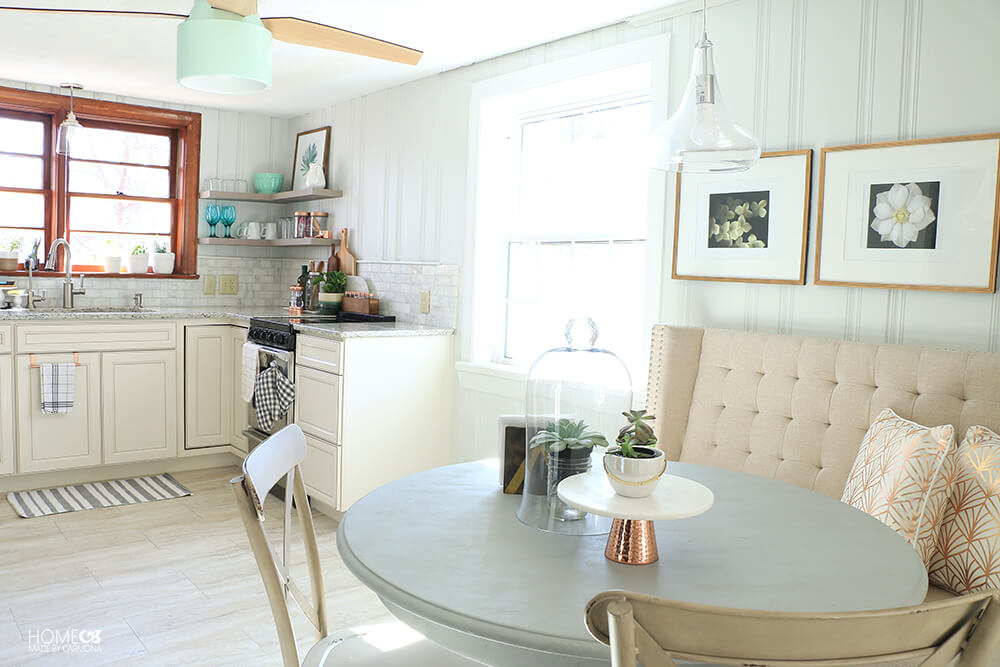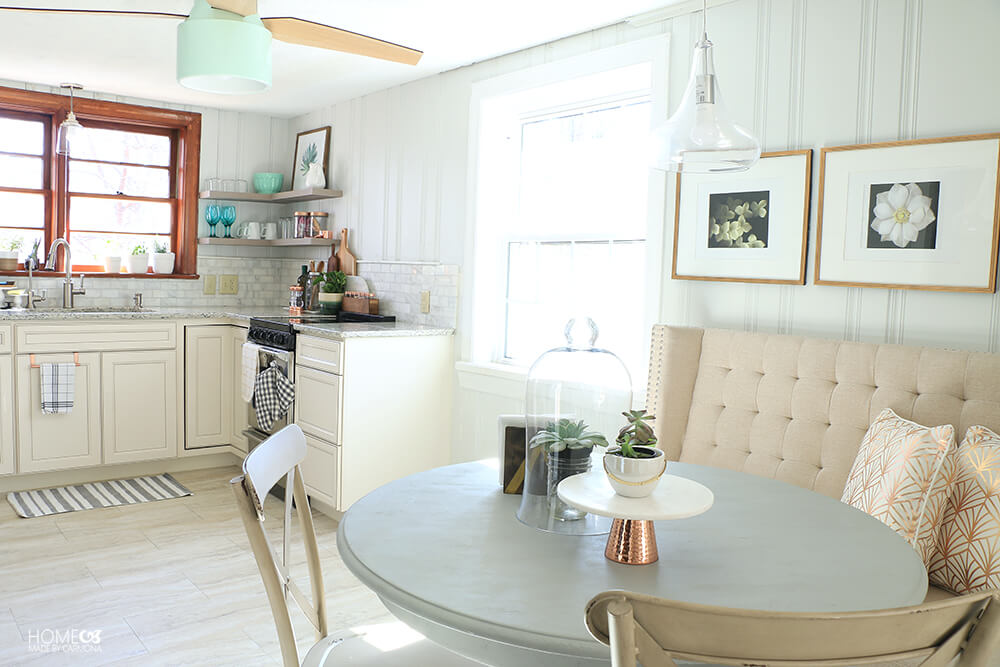 I decided to go all things copper and rose gold in the kitchen, from the pots and pans, to other useful (and beautiful) kitchen gear.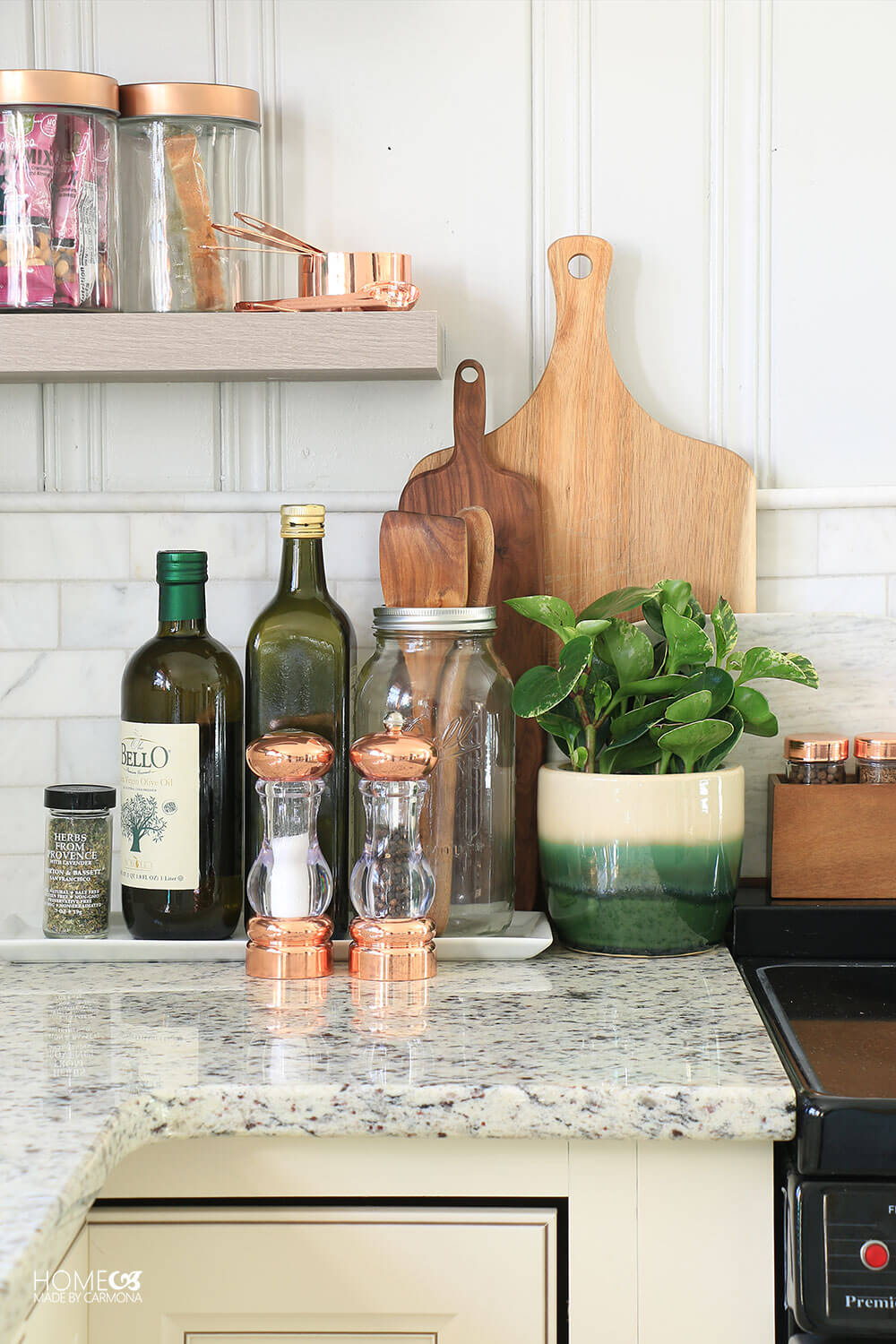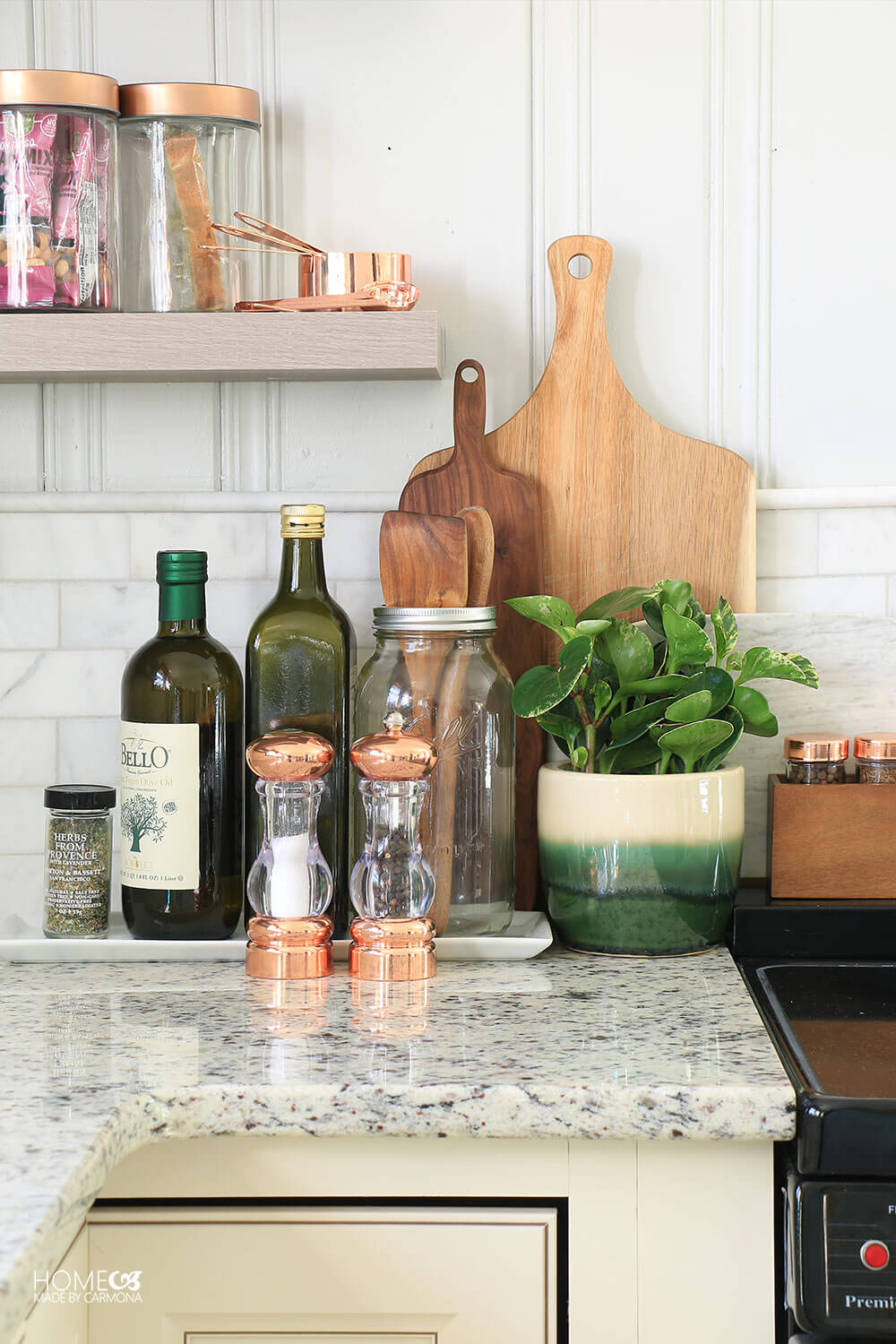 Just because the kitchen is small doesn't mean it can't do the job of a full sized kitchen. I've stocked it with everything guests need to prep, cook, or even bake, and never have to bring anything other than food supplies. Even then, I like to provide a few basics people often overlook, like a variety of great seasonings, cooking oils, etc… and for those who don't love to cook on vacation I keep a slew of warm drink choices, snacks, back-up breakfast items, and even a pizza in the freezer in case they don't feel like going out but didn't bring any food.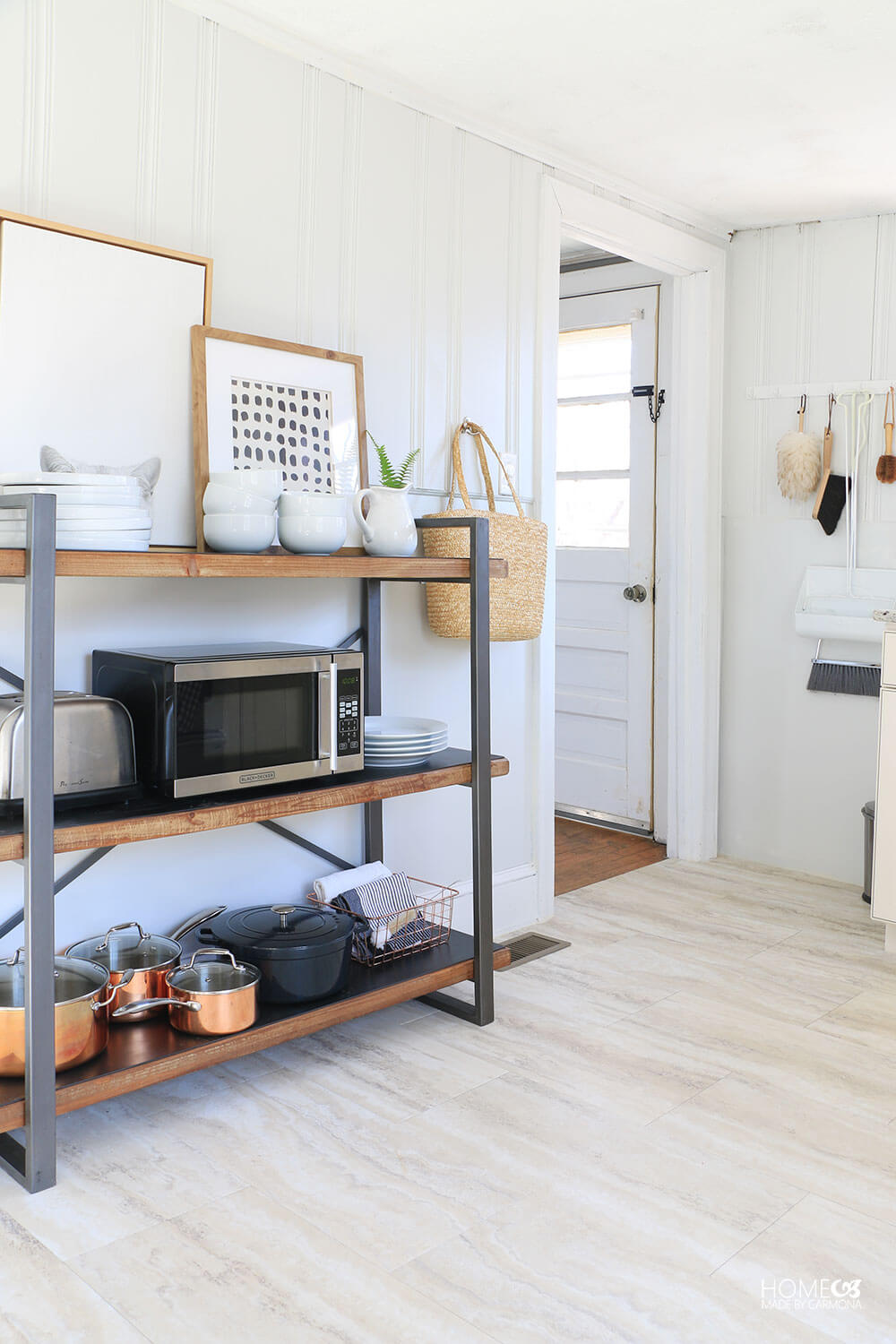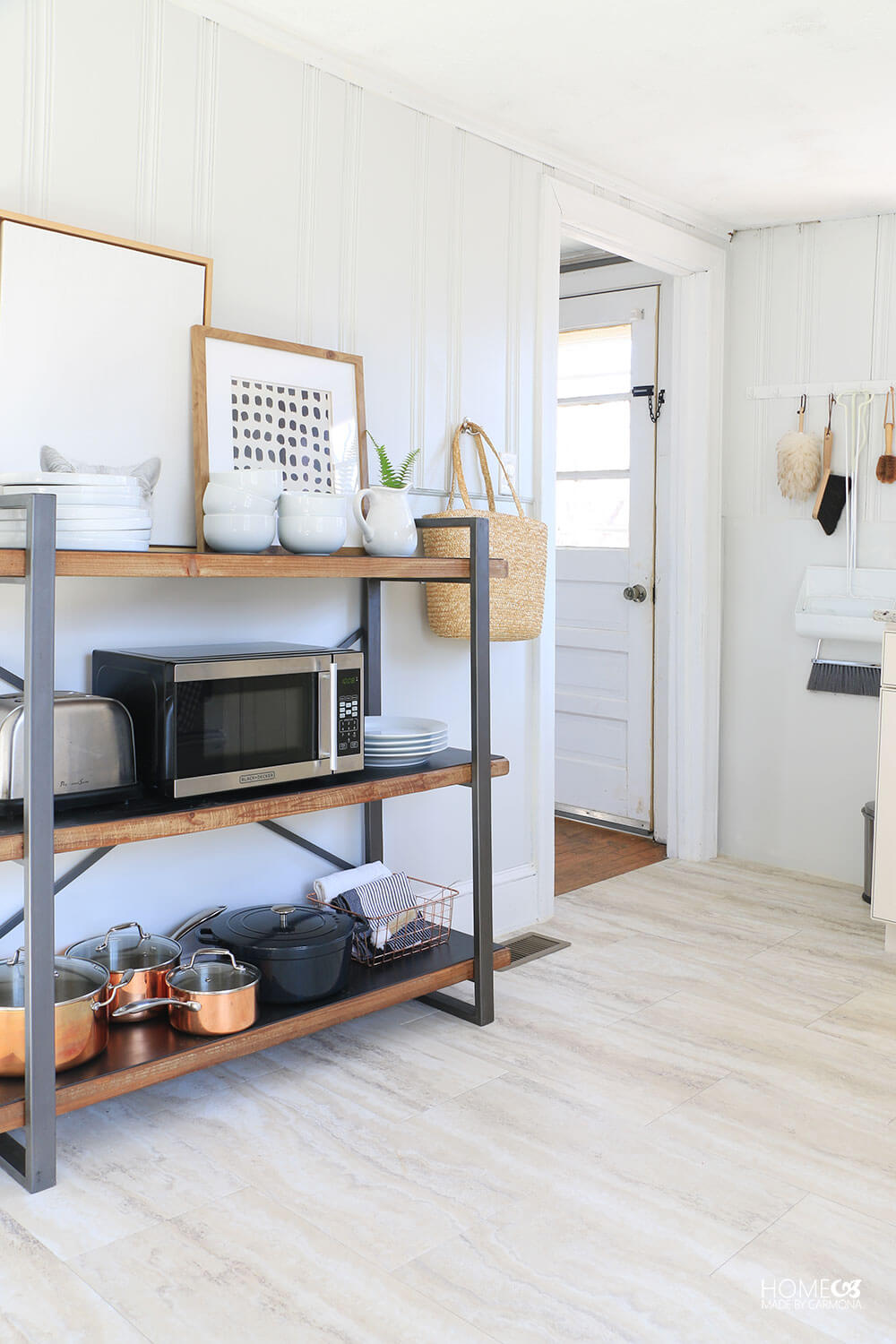 Most frequently I get couples who come here as a destination on a romantic weekend away, or individuals passing through for work or staying a couple days as an artist refresh, or a group of ladies on a girl's getaway…but sometimes I get a larger group or a family and they could use a dining room space.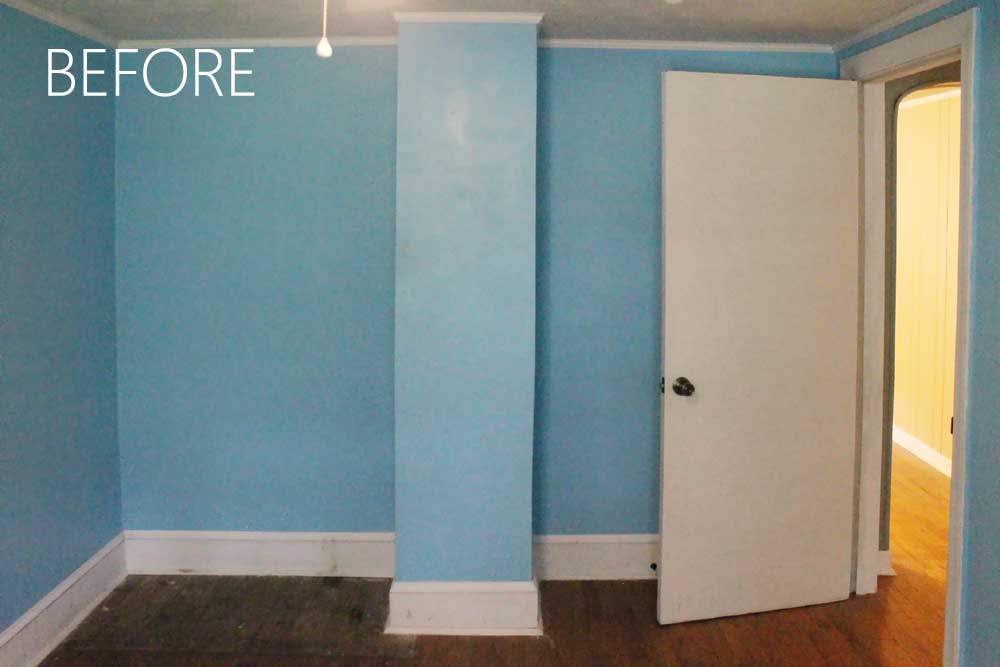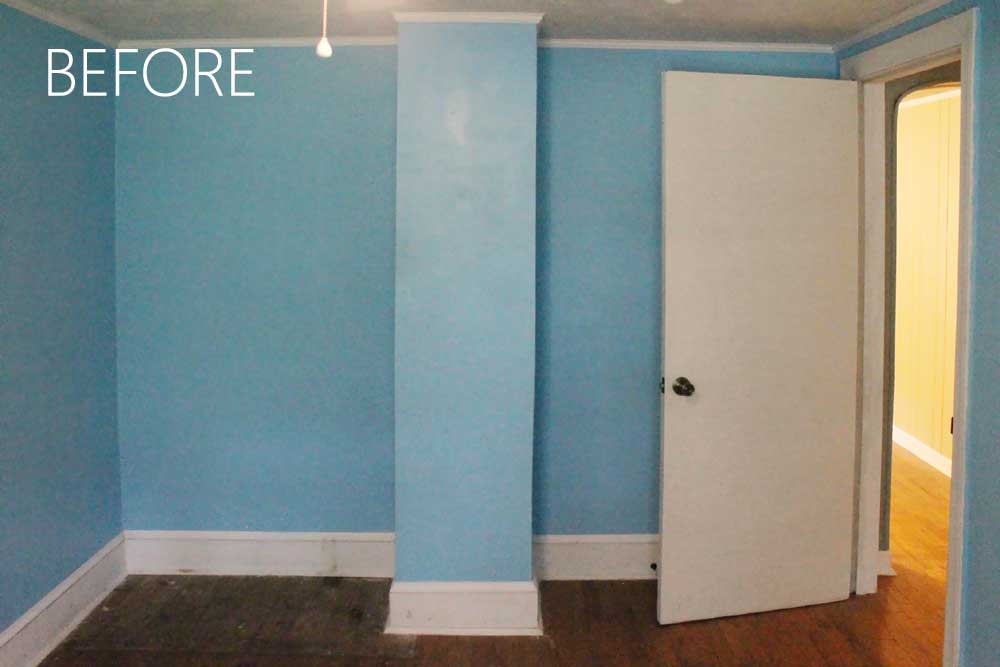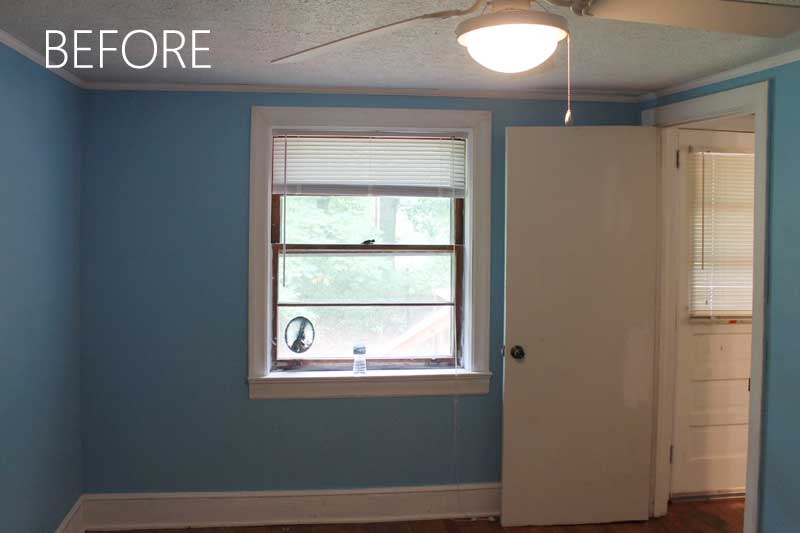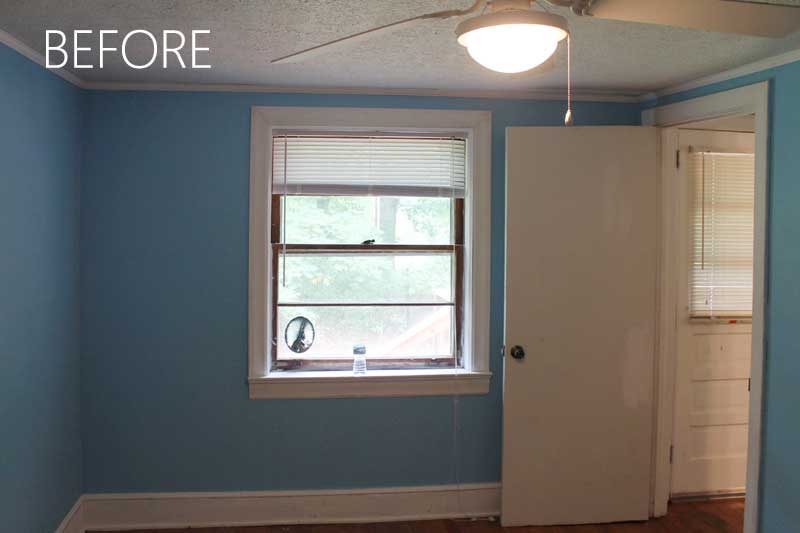 This dining room connects to the kitchen via one door, and the bedroom hallway via the other door. Which means it can make a great dining room, or be turned into a private bedroom for larger groups who stay.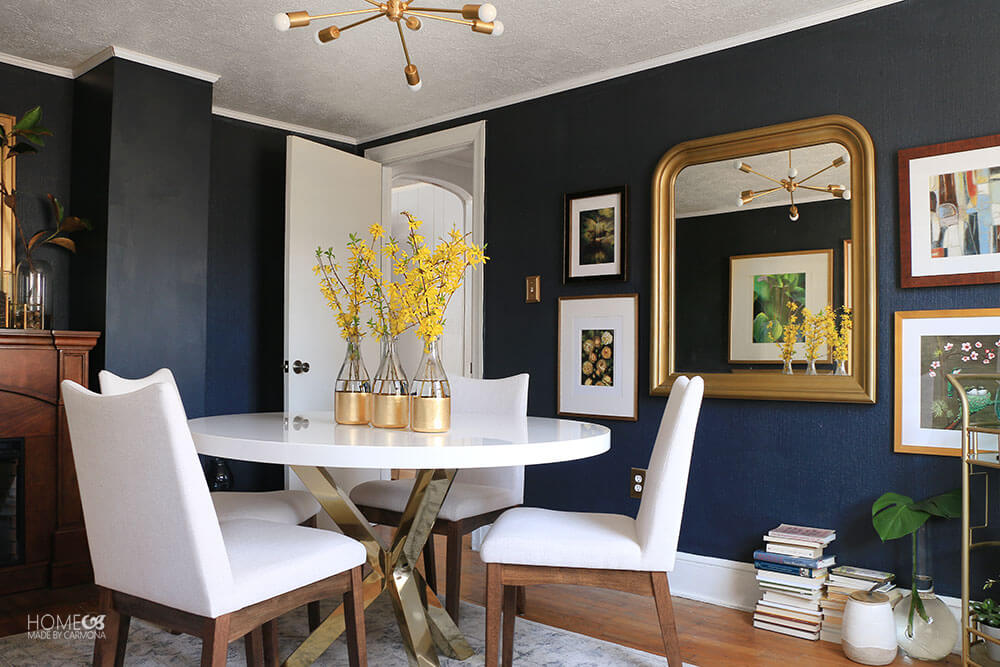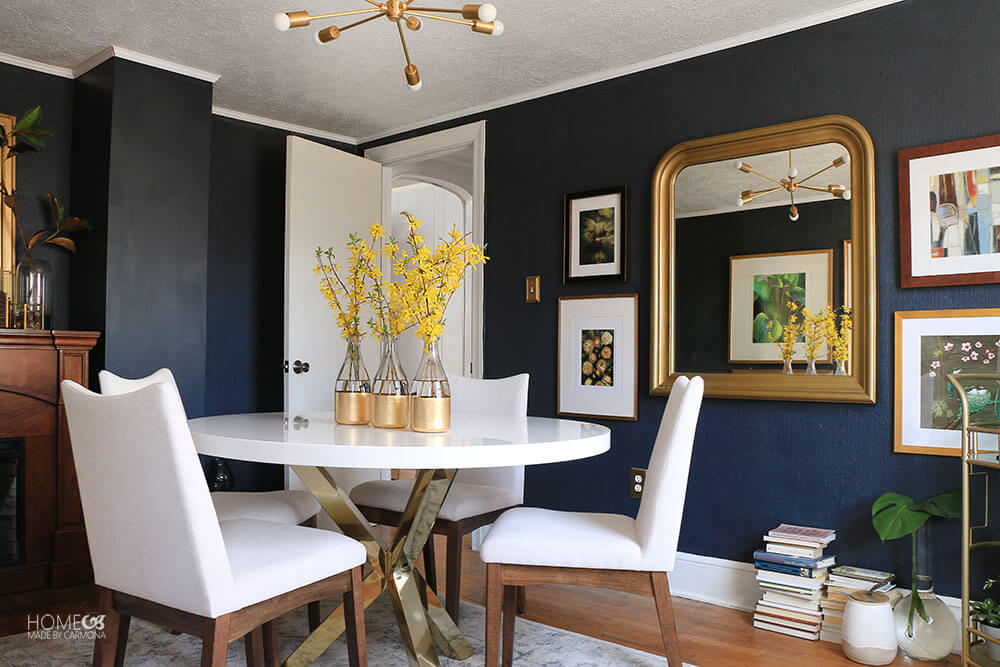 I remodeled this dining room for a One Room Challenge and absolutely love it! I kinda wish I had gone with this style in my main house…but I really wanted something special for that small but mighty space.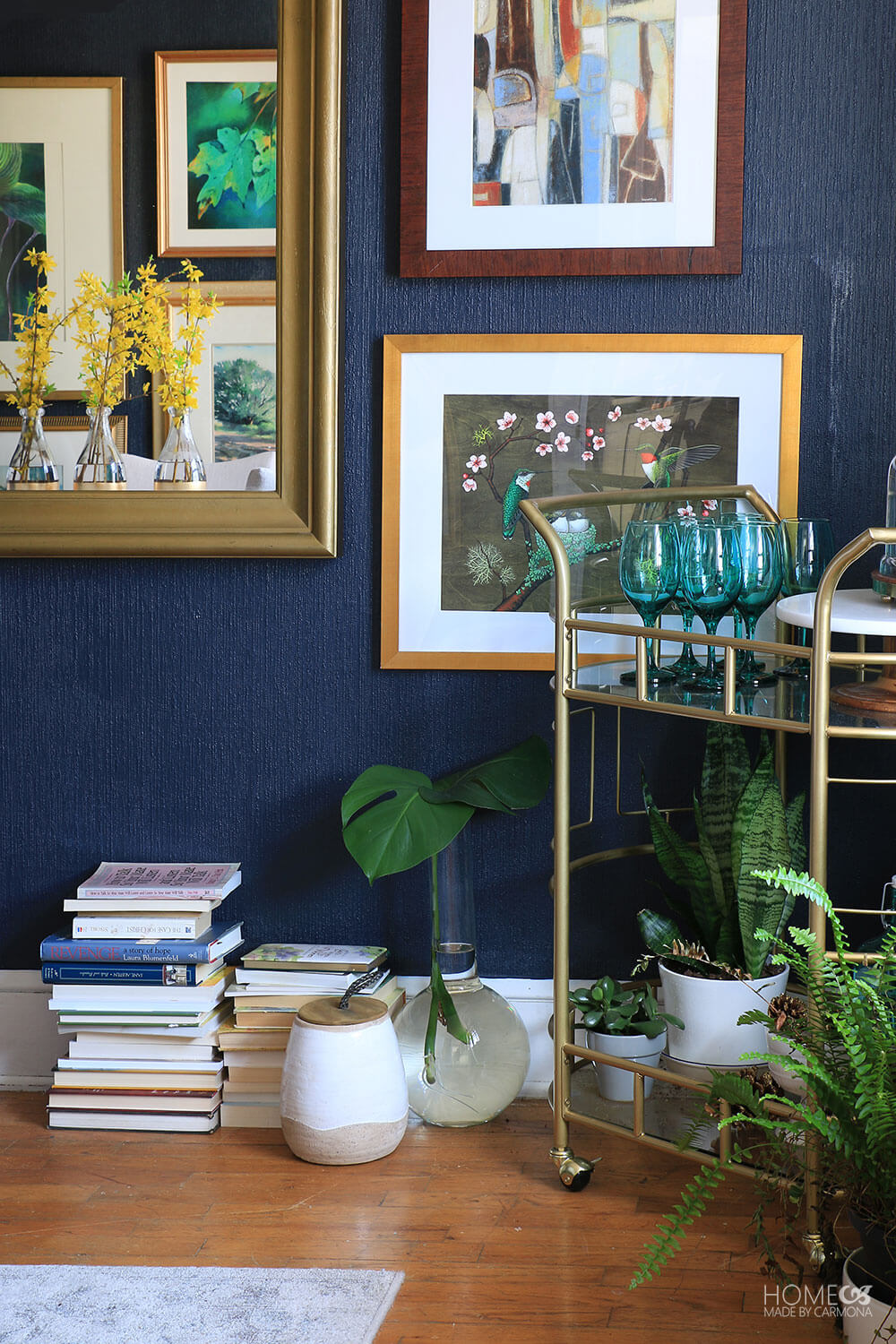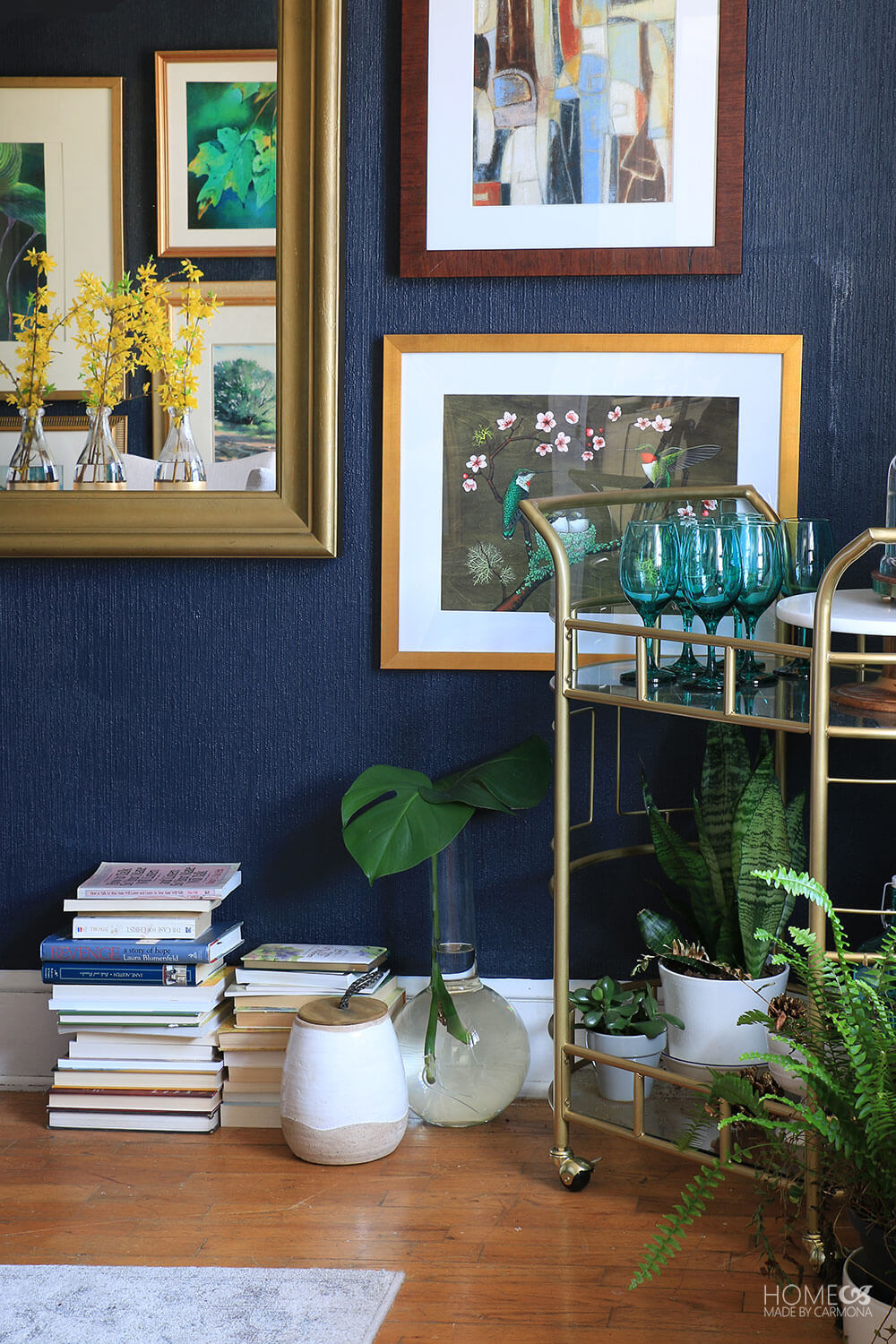 The living room didn't require a whole lot of work, mostly a fresh coat of paint and the right combination of furniture.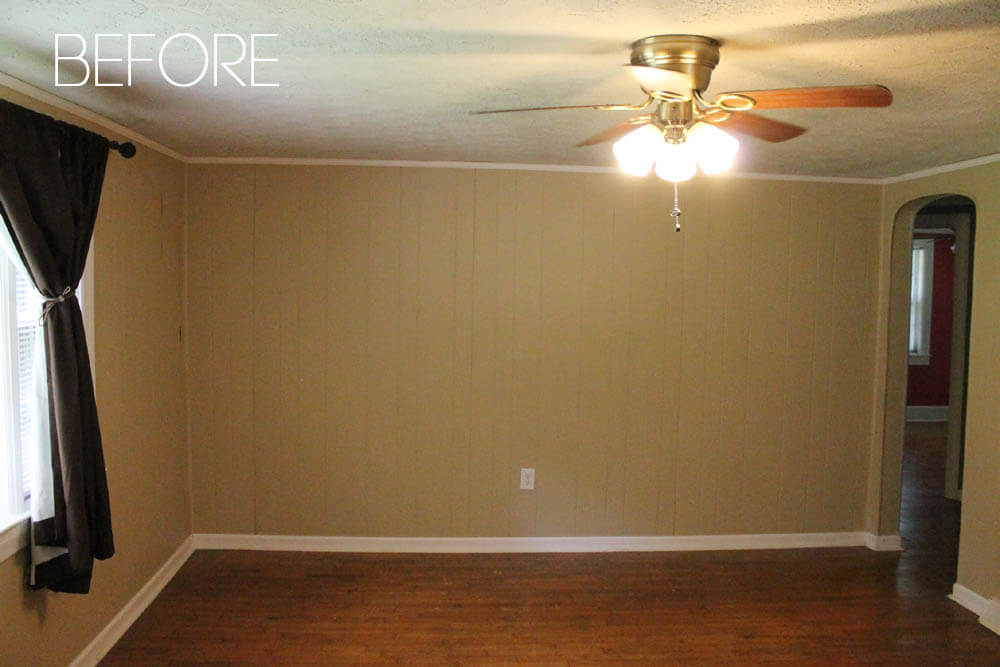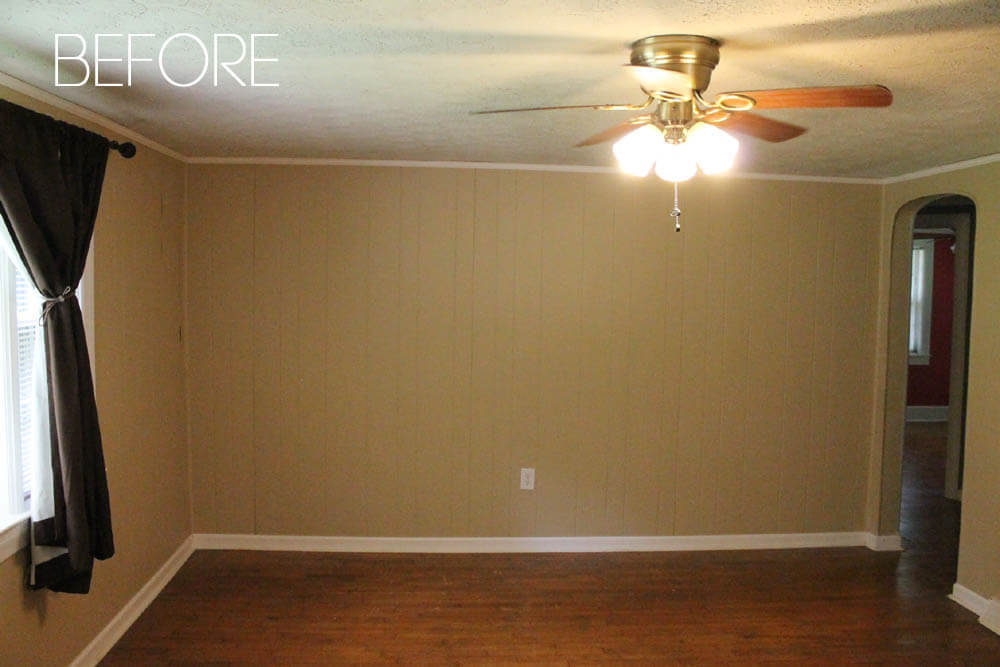 I'm still working on this space; but I think guests enjoy it and feel how cozy it really.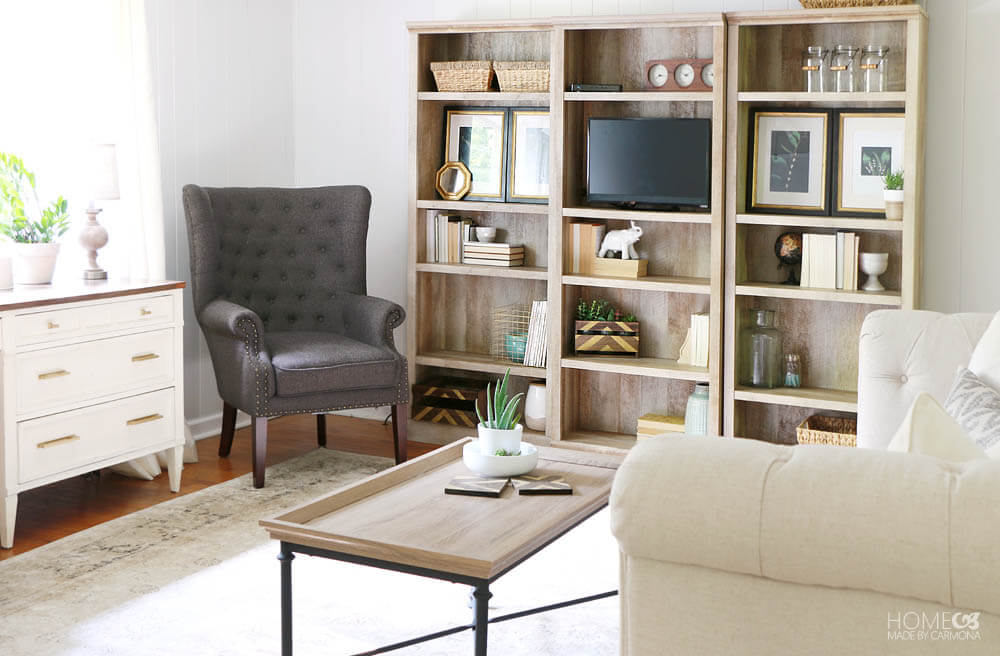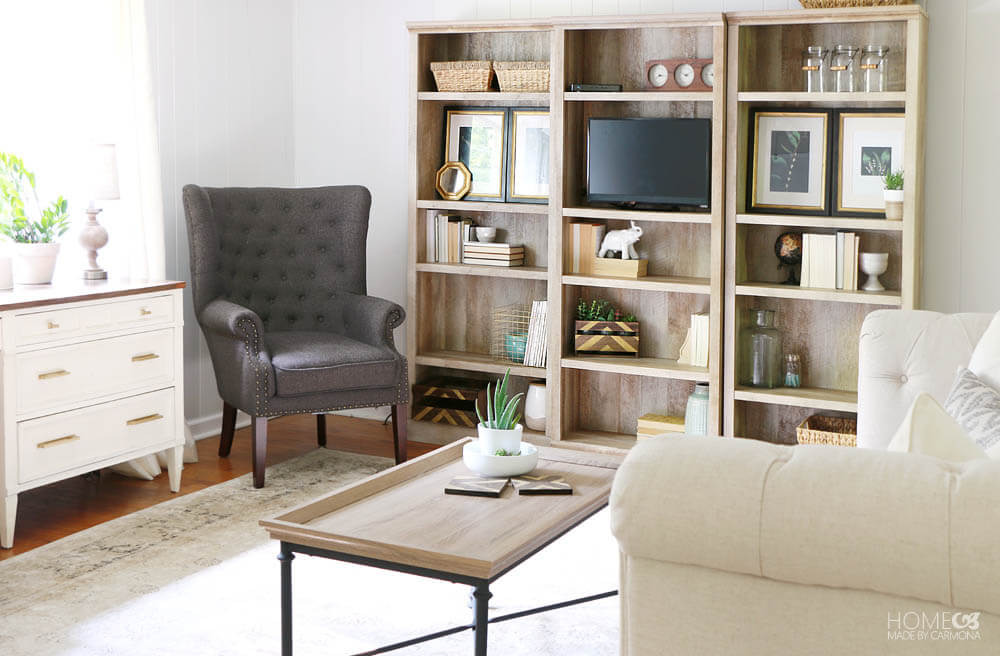 I'm getting ready to create a beautiful and well stocked work/craft area in one end of the living room. It will be perfect for the many guests who come to gain inspiration as a writer, artist, crafter, or even just for a little peace and quite to get their schedules organized.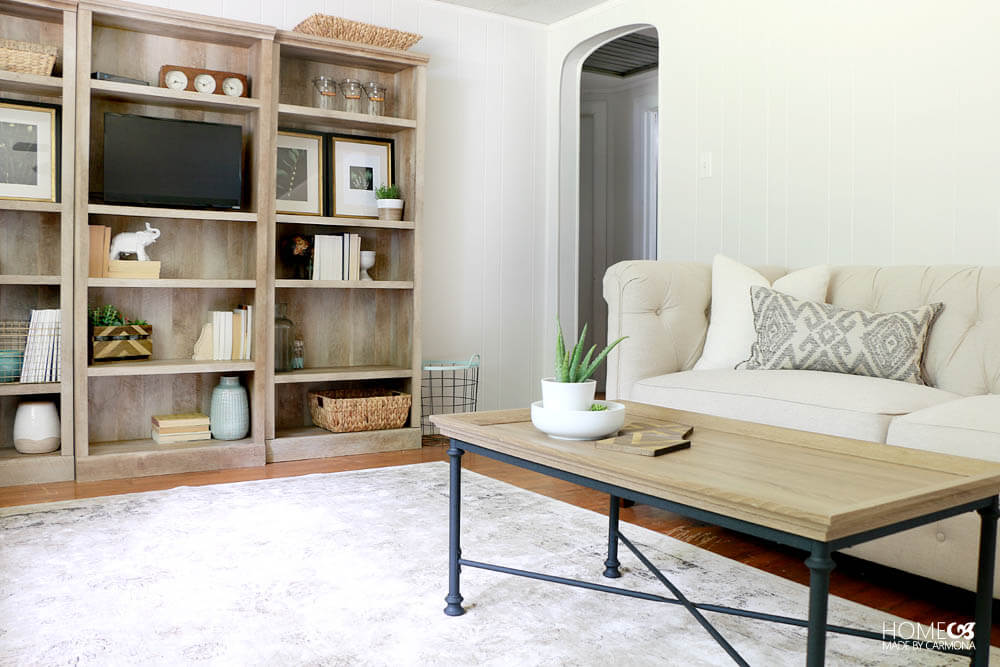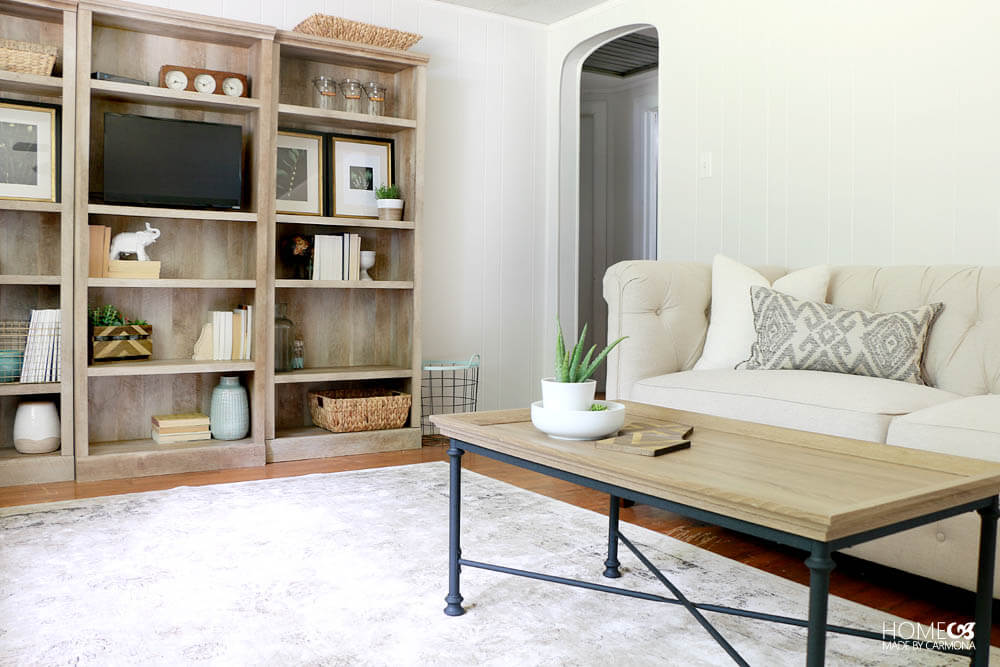 Recently this room got a bit of an update, and this is what it currently looks like: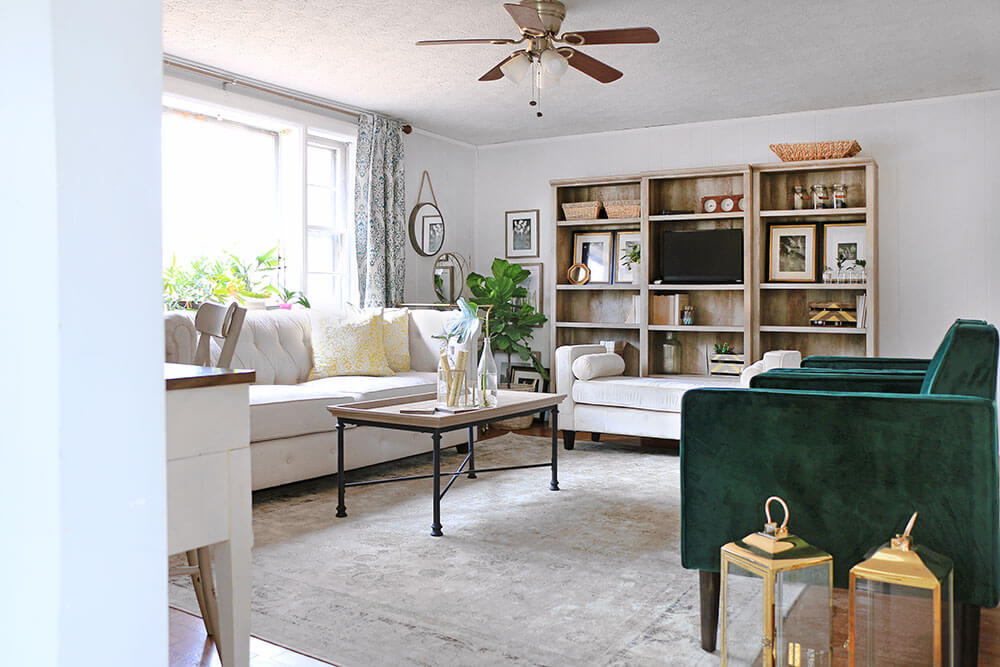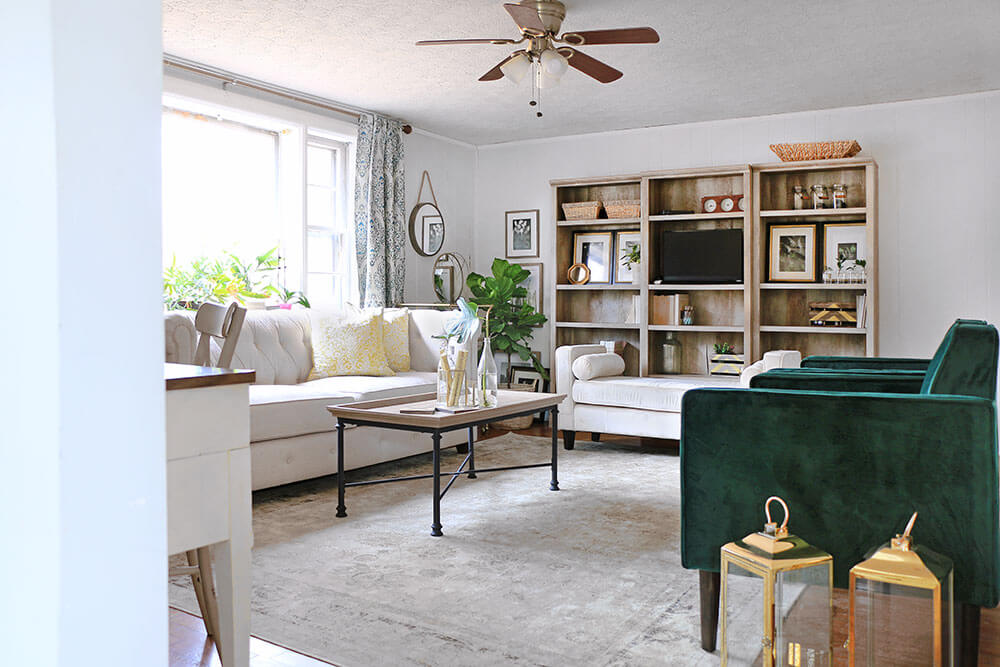 I may also consider adding a bigger TV to this space, but we'll see because there is already a big TV in the master bedroom. Speaking of which…


I really wanted to create a bedroom that would make guests want to sprawl onto the bed and be reluctant to leave.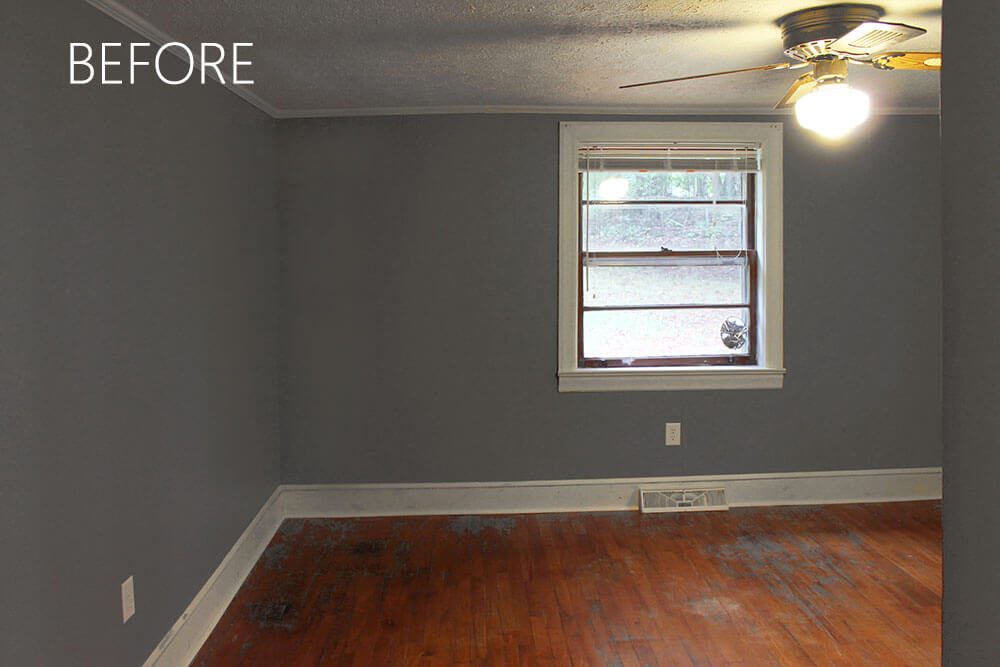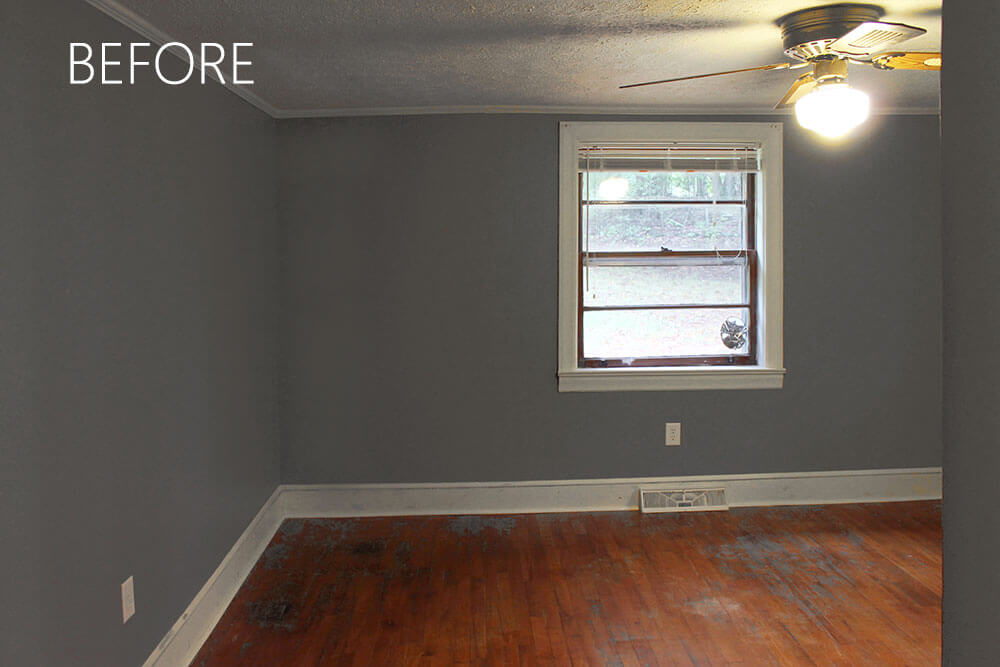 I want it to be soothing, inviting, and cozy. So I went with a large comfy King sized bed, an electric fireplace console (what is more inviting than a fireplace?), a nice big TV in the corner, but also the sights of nature right out the window.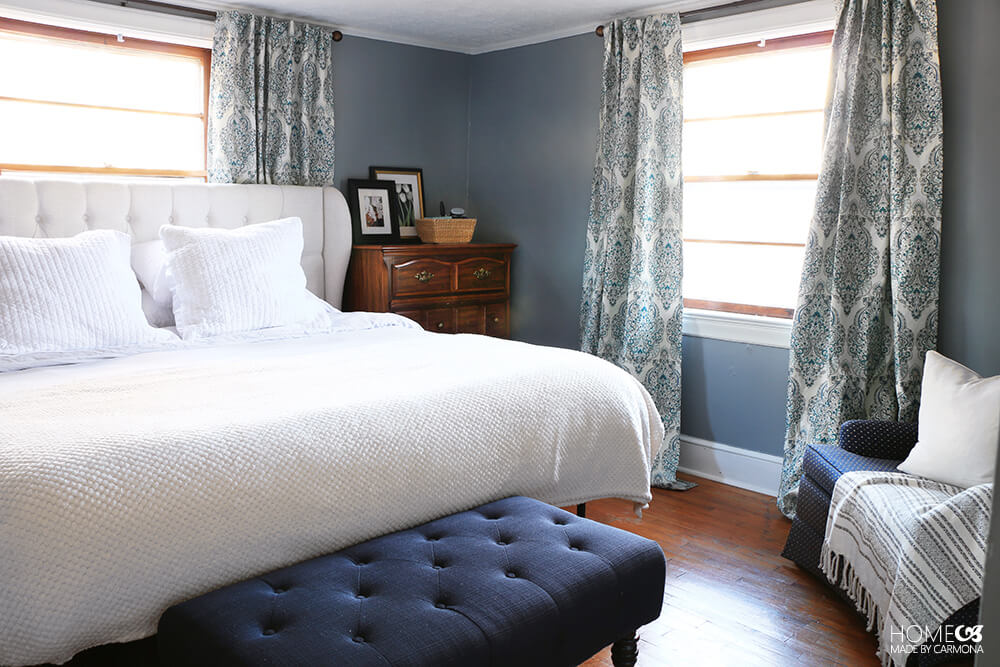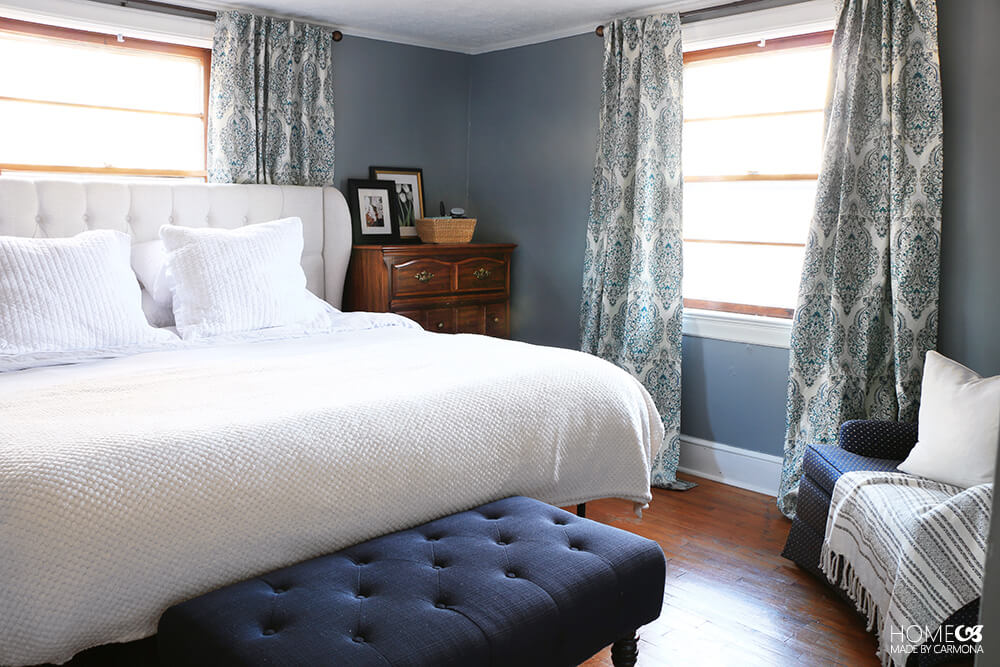 While I totally understand that the decor and amenities can make a space, I'm also convinced that when it comes to a bedroom the bed should be treated as the main star of the show and everything else is a supporting actor. I went for a variety of pillow types so guests can find their ideal pillow set, a large stylish and supportive headboard, and a nice height (but not too high) bed.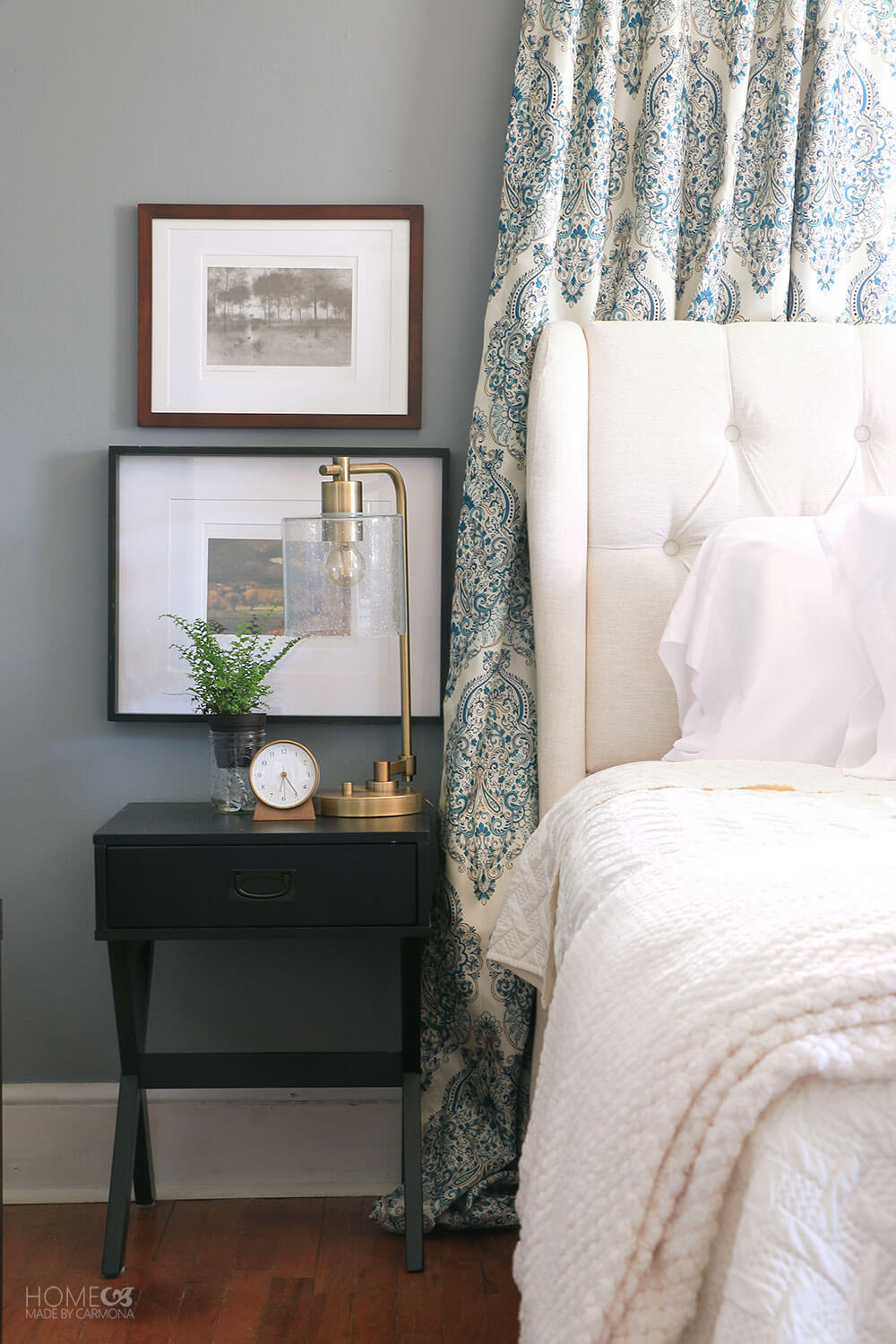 Who in the world goes for a brash red in the bedroom? Well maybe it used to be an office or something… all I know is that a bedroom should be soothing not overly stimulating.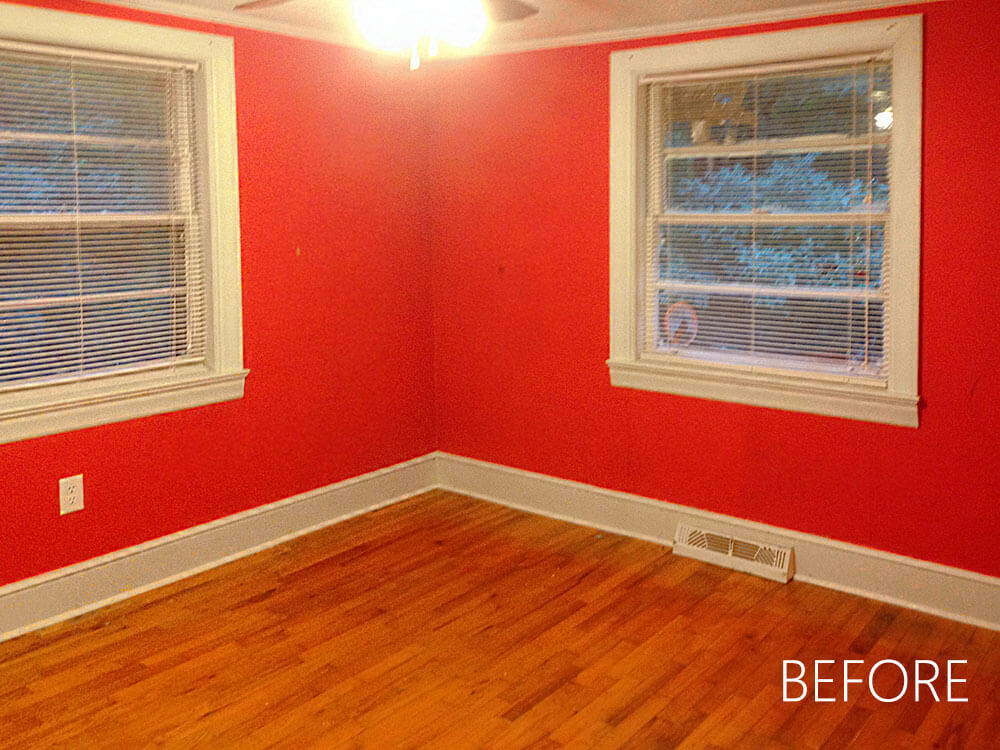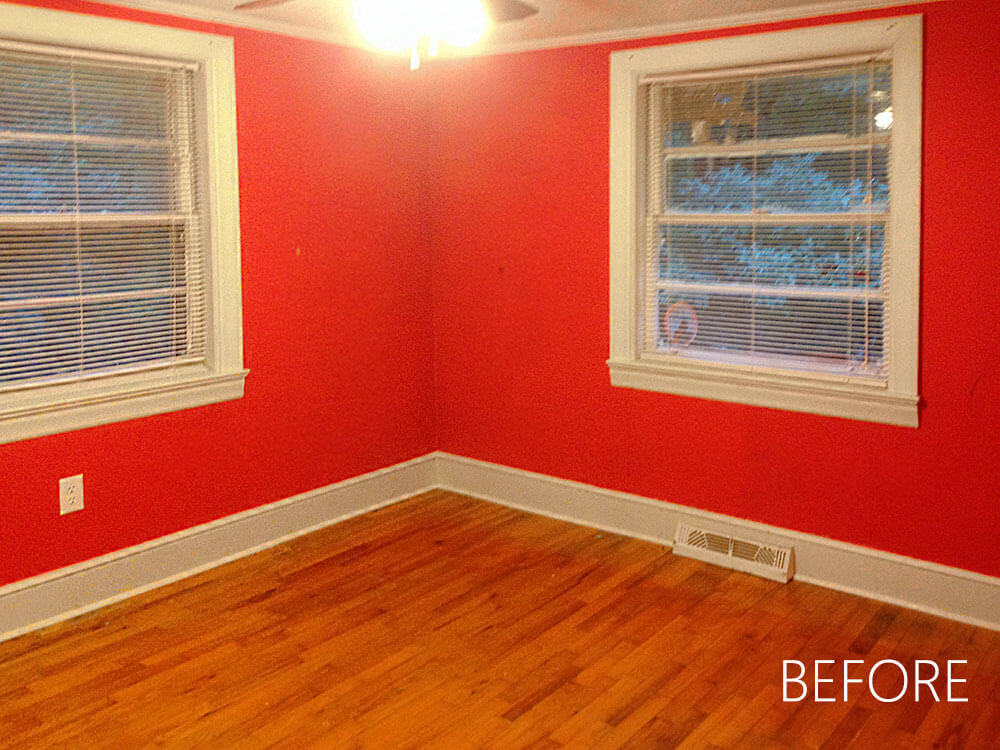 I decided a calming grey tone would be in order, and instead opted for pops of color in accessories rather than all over the walls.
I had a ton of fun making over this room! I finally had a chance to use the green that my girls wouldn't let me use in their bedrooms. 😀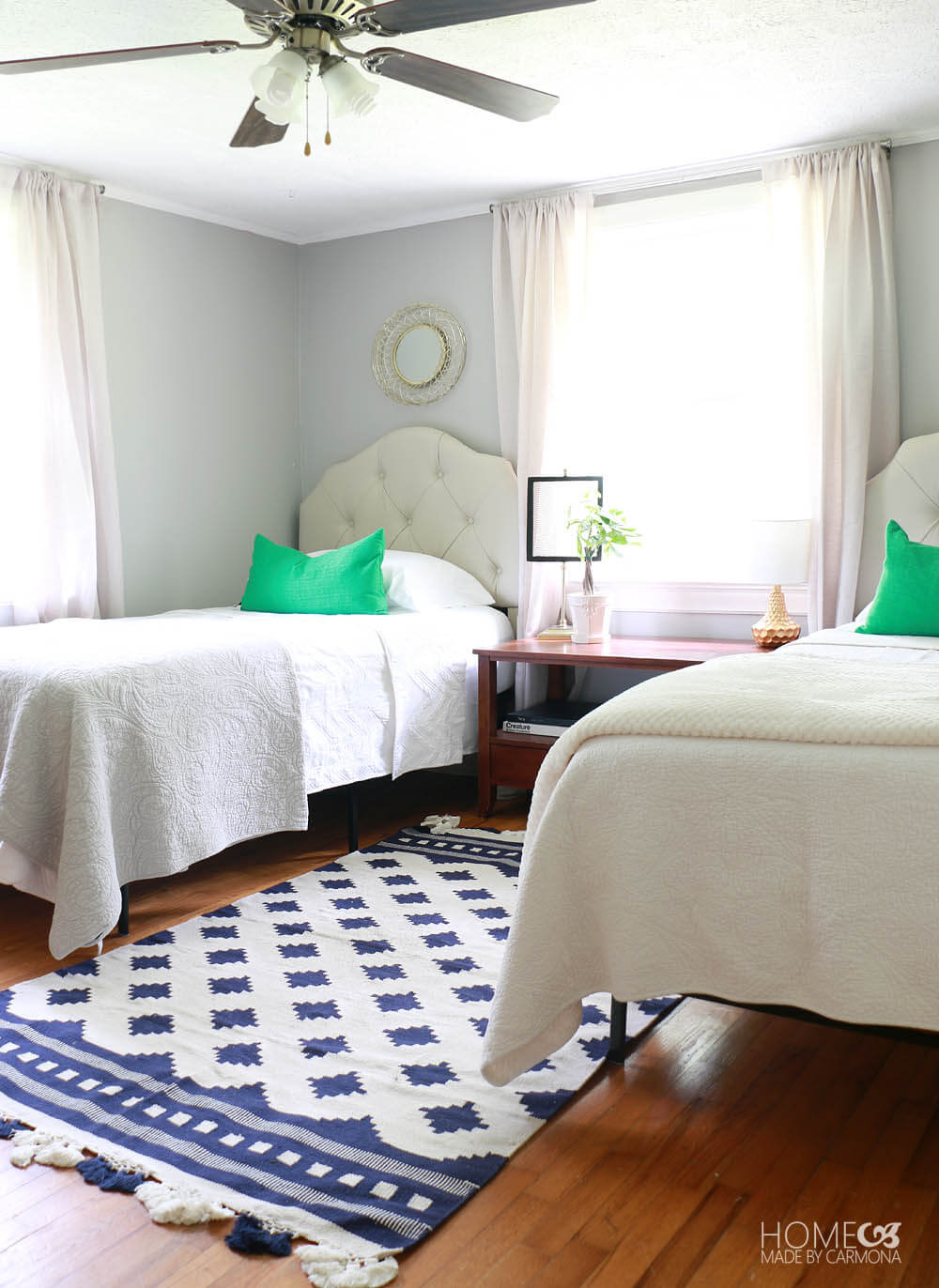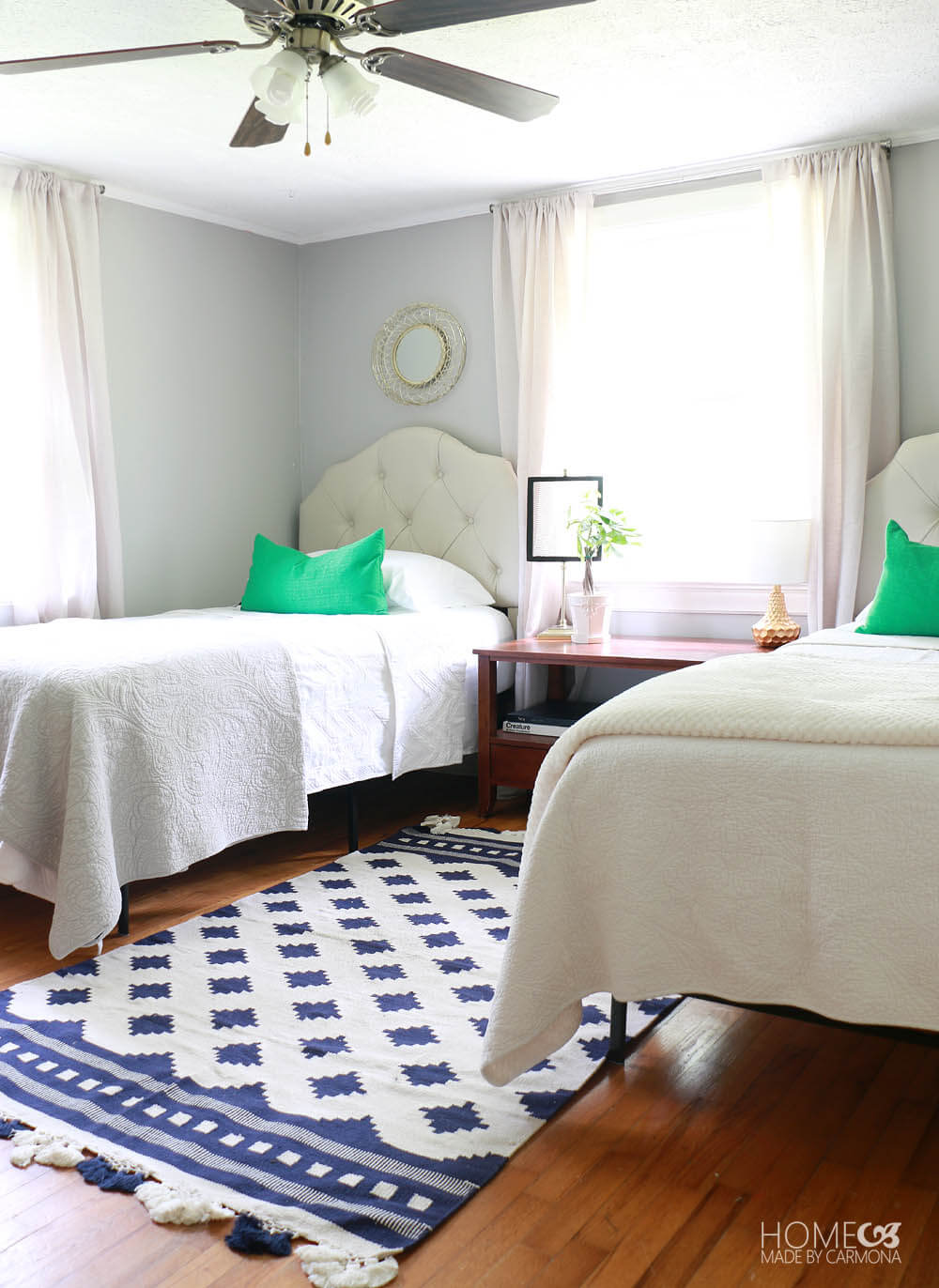 Ironically, now they want this to be their room. Sorry kiddoes, you can't live in the guest house.


The property is 16 acres of gorgeous woods…actually more since we don't have any neighbors and all the adjacent land is just hundreds of wooded acres. Our guests turn down our private road, and the first building they come to is the cottage. If they continued down that road they would end up in the driveway of our main house.
I can't wait to landscape this property! I've been here a little over a year now and I'm guessing that this many acres will take a little time to tackle. I have all kinds of plans to create charming paths throughout our 16 acres and even down to the creek in the woods. I want our guests to feel free to hike and enjoy the entire property!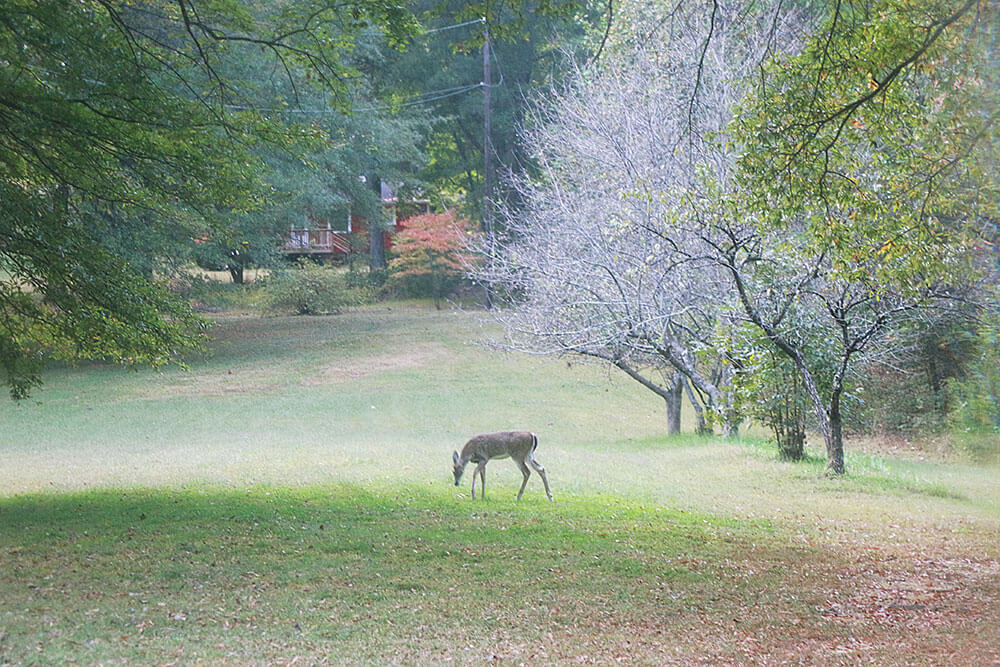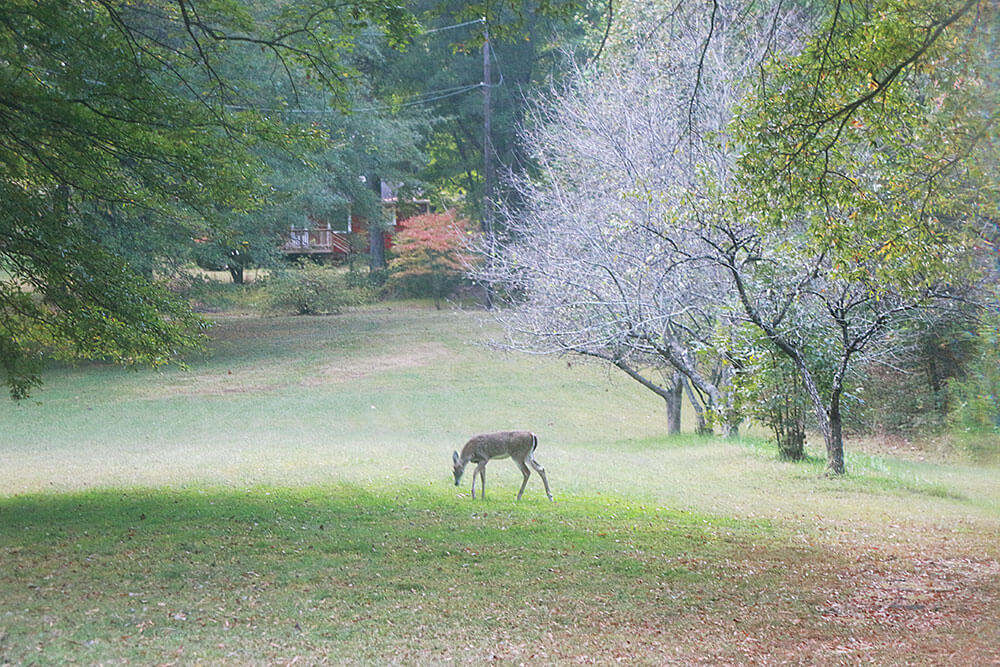 We affectionately dubbed the guest house the Carmona Cottage because of the size of this 1,170 square foot house, but also because of the modern cottage style decor, and the wooded nature of the area. So if you want to follow along with my latest updates and features in this house, you can follow #CarmonaCottage over on Instagram.
I hope you enjoyed this little tour! And if you want to come be a guest you can rent the cottage here on Airbnb.





[go_portfolio id="decorate_landing_page"]