Okay, not every room will go from being horrible to suddenly perfect in one makeover. Some require a lot of room tweaking over the course of time.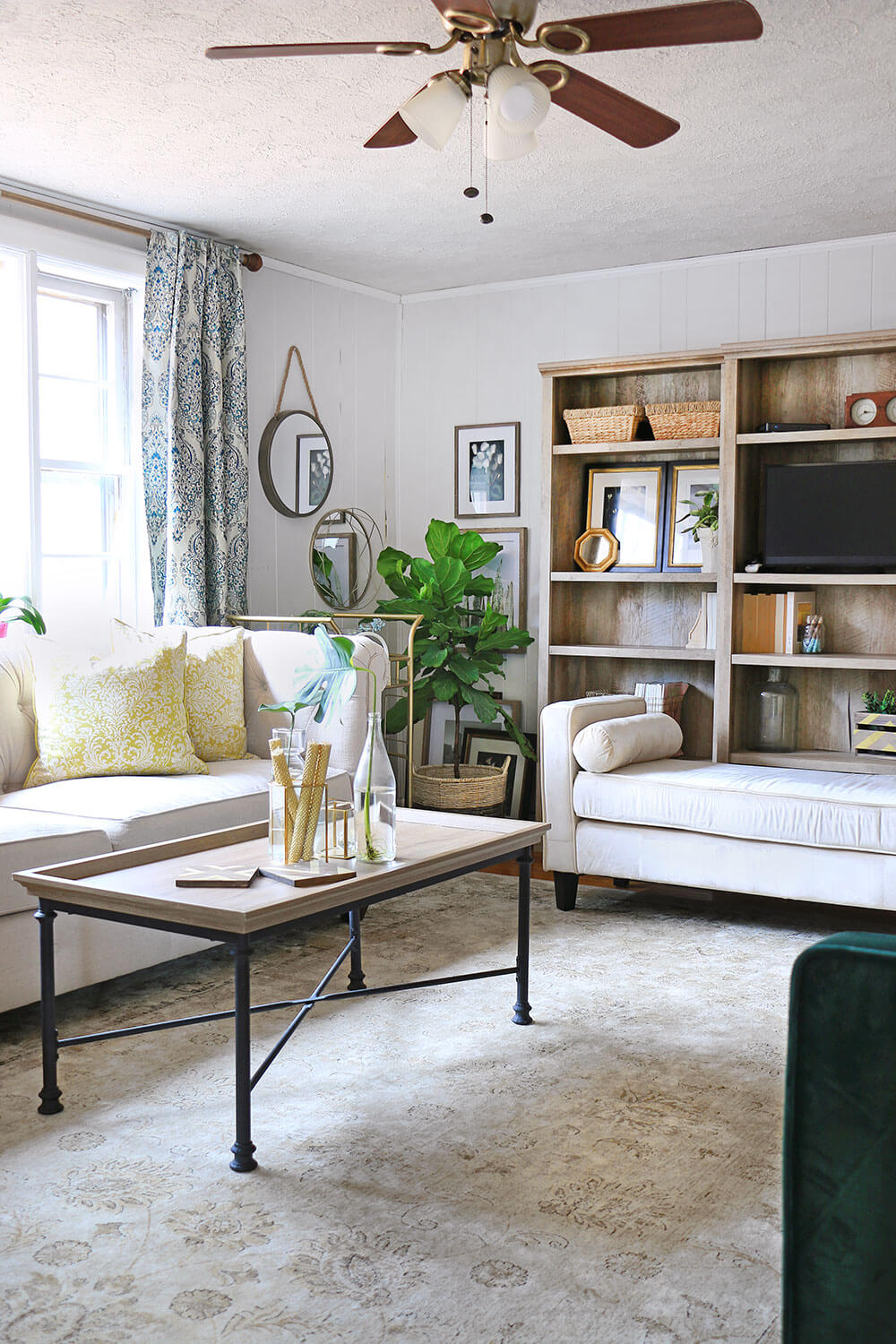 *This post is awesomely sponsored by Better Homes & Gardens brand carried exclusively by Walmart. Affiliate links contained below.
My cottage guest had one of those spaces that got a pretty dramatic first makeover, but what you might not notice from the pictures is a few corners that felt a little bare. As a matter of fact, it is how the space felt and looked standing in it that just wasn't quite right. Sometimes pictures don't quite capture how a space feels…it can make it look bigger than it really is, or even more full than it is.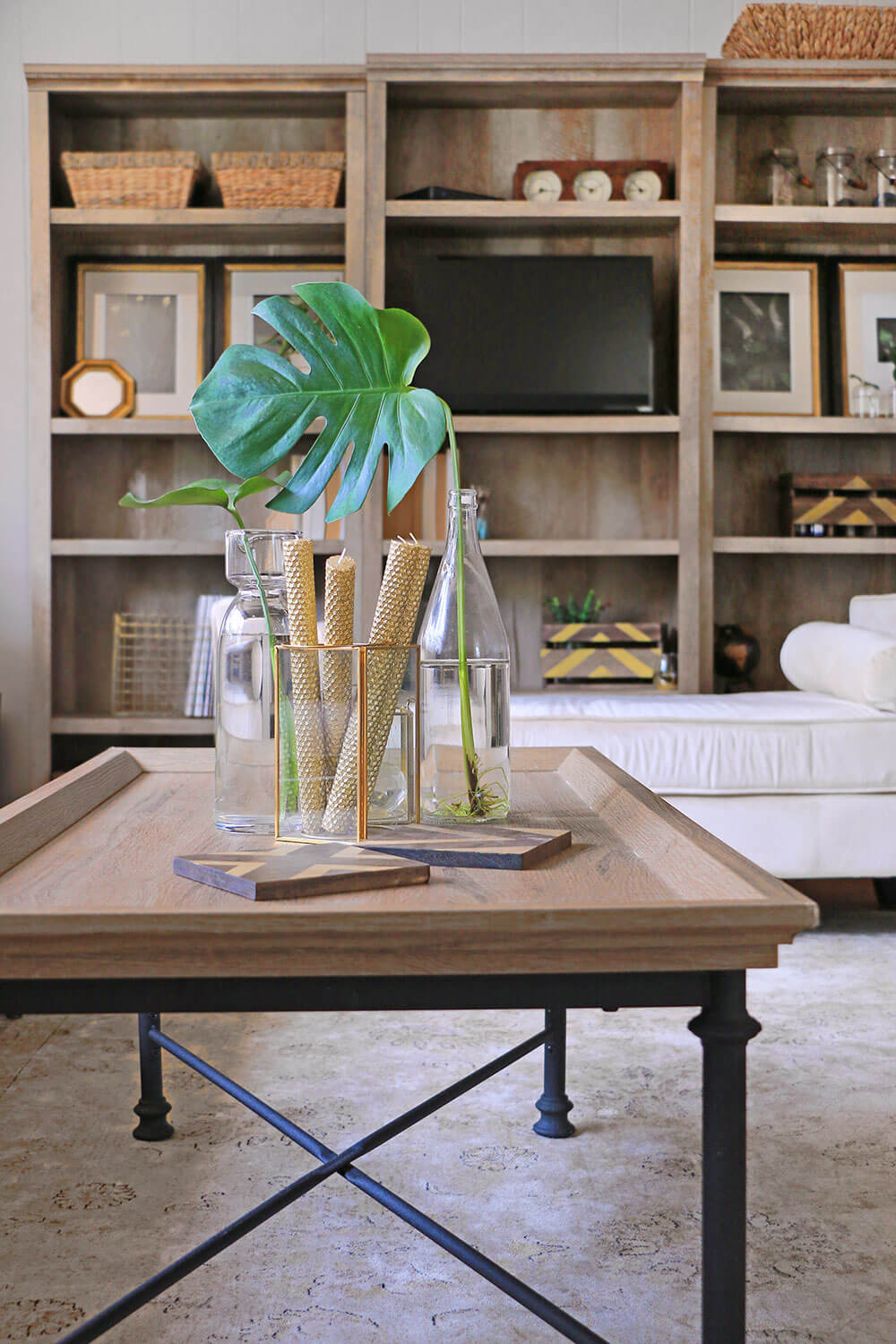 I really wanted it to feel just right for any guests I had over, and even more so for my Airbnb guests who usually have longer stays for work or vacation.
Makeover Steps & Room Tweaking
Okay, to best demonstrate some of the tweaks I had to make in this room lets take a look at them step-by-step and side-by-side.
[left]

[/left]
[right]
Tweak #1
It doesn't seem like you can call this a tweak, but it actually is. All I did was paint this room a cool white color to lighten up the space, and spaced the curtain rods wider so the panels wouldn't block incoming light. Isn't it amazing what a little paint can do?
Tweak #2
I used the Better Homes & Gardens Crossmill bookcases as a focal point and storage in the space. The addition of cute pieces of furniture really transformed the space. Unfortunately all the corners felt a little too empty, and guests couldn't close the curtains to block light coming on the TV.
Tweak #3
Several months later I moved the desk and added a smaller furniture piece in front of the window. I hoped it would allow guests to close the curtains more easily… I loved the mirrored Adair credenza when the curtains were opened, but it looked strange with curtains pulled closed behind it. Ultimately it got moved to one of the bedrooms. On the upside, I started finding pieces to fill in the blank walls on the left of the bookcases.
Tweak #4
Moving the sofa in front of the window solved all my curtain-closing problems. The sofa sits pulled forward by a few inches, and feels very natural in that position. Adding a couple extra armchairs and a seating bench also made the space finally feel right.
Let's talk a little more about this current tweak…
[/right]
The Current Living Room Layout
When I saw the Better Homes & Gardens Marlowe lounge chairs, I suddenly had new vision for this room! I love the pop of dark color they bring. They sort of help ground the space and add a rustic yet modern feel.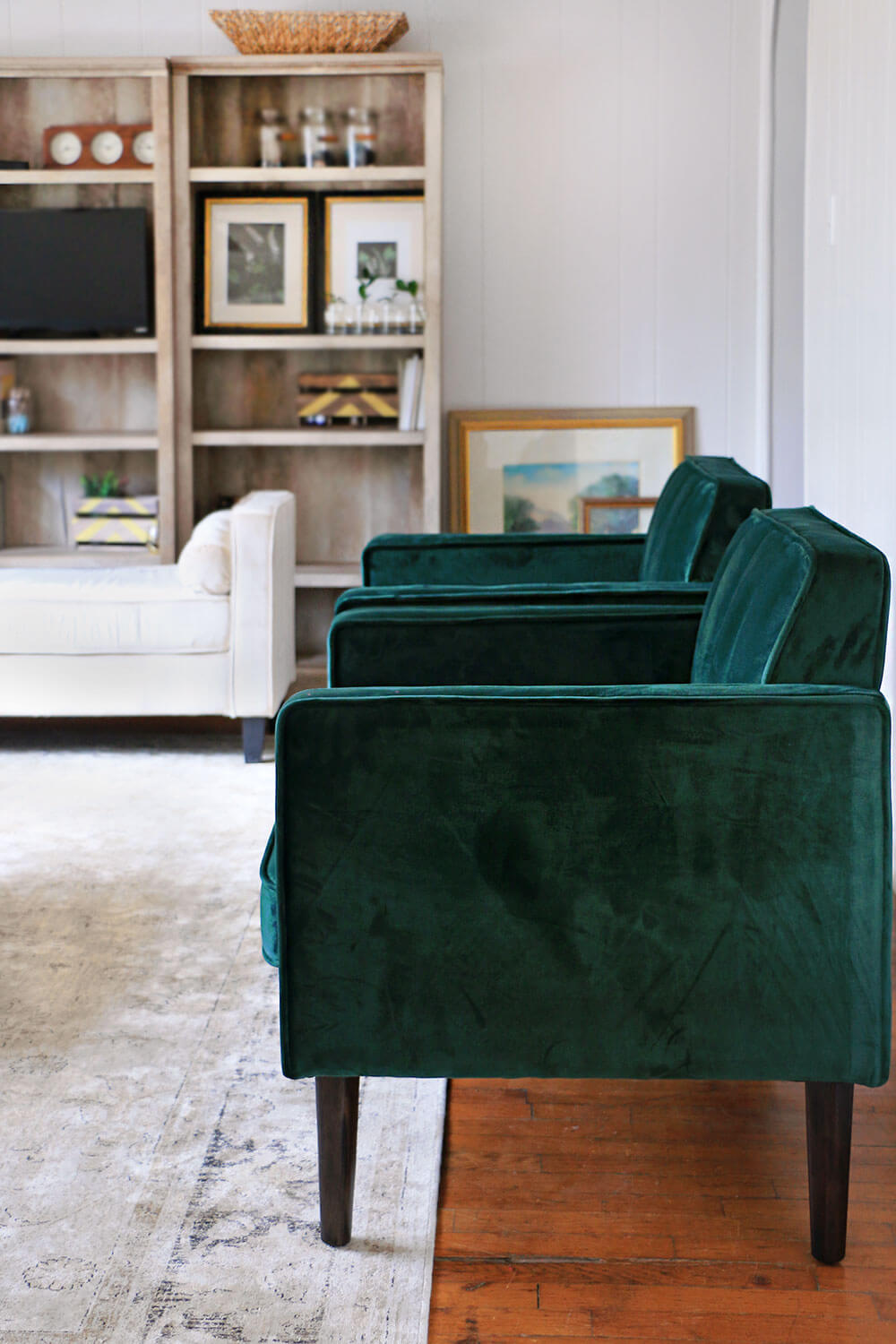 I also moved my Fitzgerald serving cart to the corner and a Fiddle leaf fig, and that whole side of the room looks and feels complete in it's decor.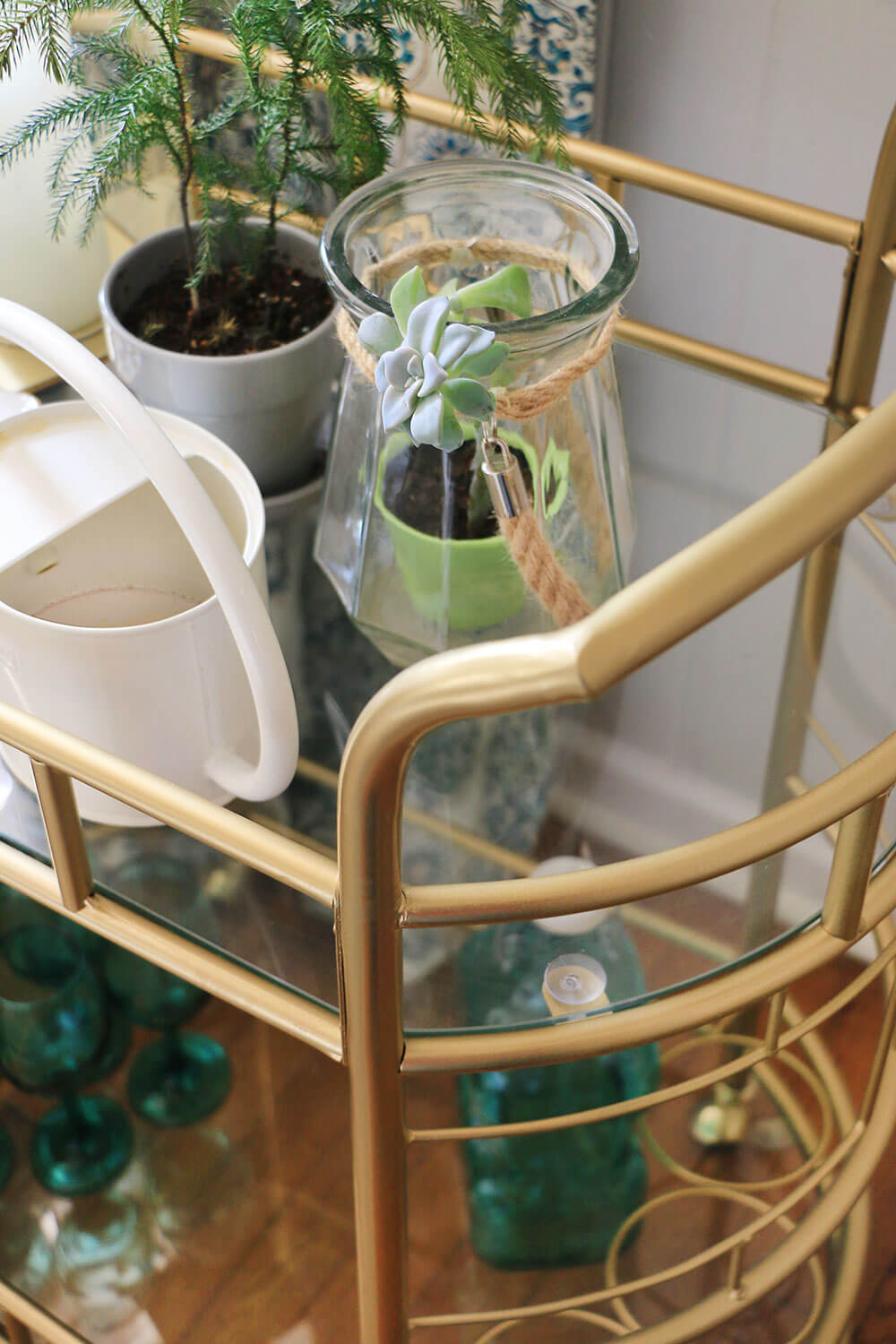 If I ever tweak that corner, it will be because I want something new, not because it needs it.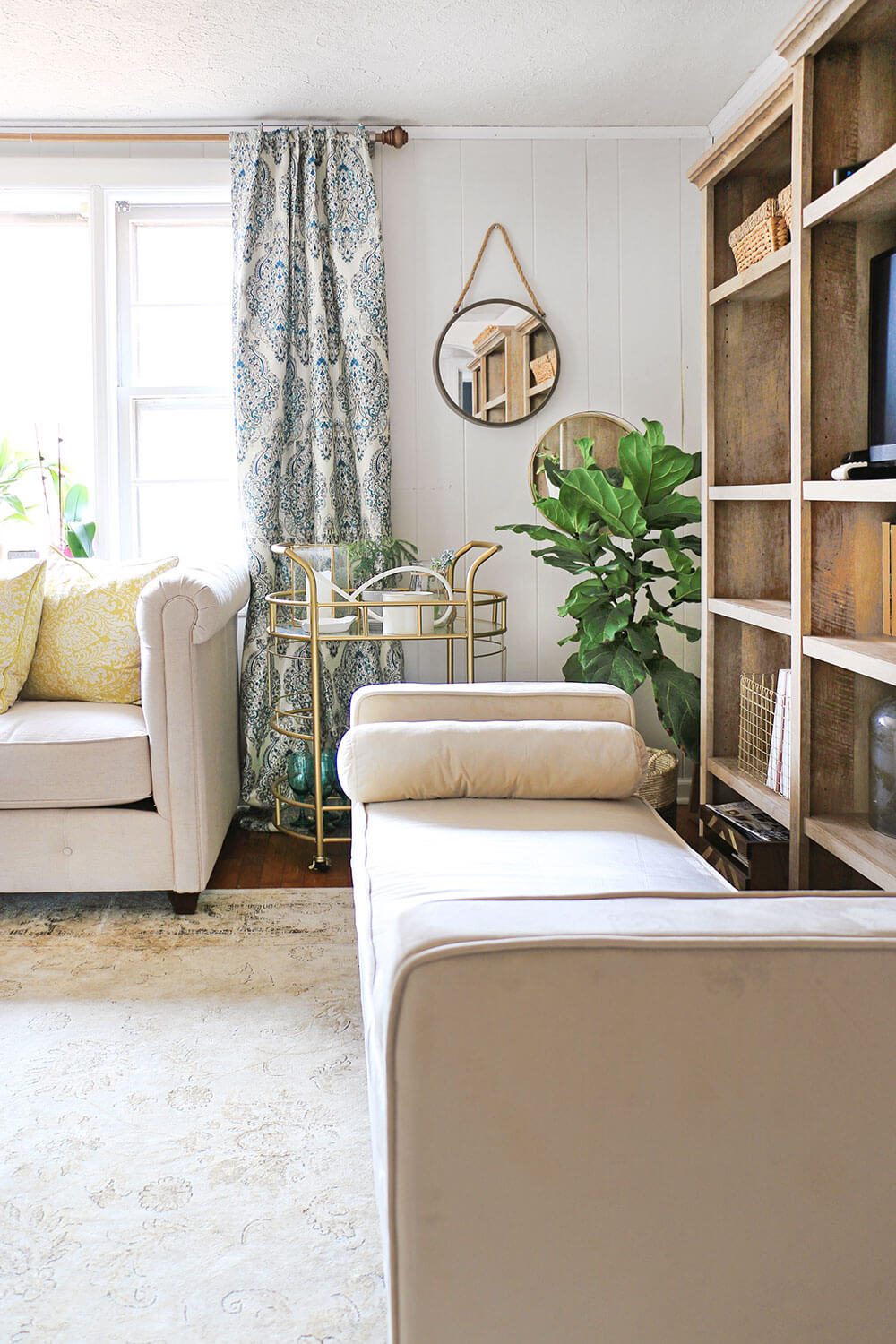 You'll notice I also got some new patterned curtains that have a hint of green in it to go with my new armchairs.
Future Tweaks
I still have a whole lot of room tweaking to do. And now that I have those armchairs, I have vision for what needs to be added to the space to eventually get it "just right".
I need to add art to the other side of the bookcases, and maybe a basket on the floor. I'm also thinking about adding a couple gold and glass bookcases to the wall with the armchairs. Right now, there is nothing but empty wall behind those armchairs ya'all.
I'm even more excited about taking on the corner with the desk. I want to create a workspace that is as inspirational as it is useful.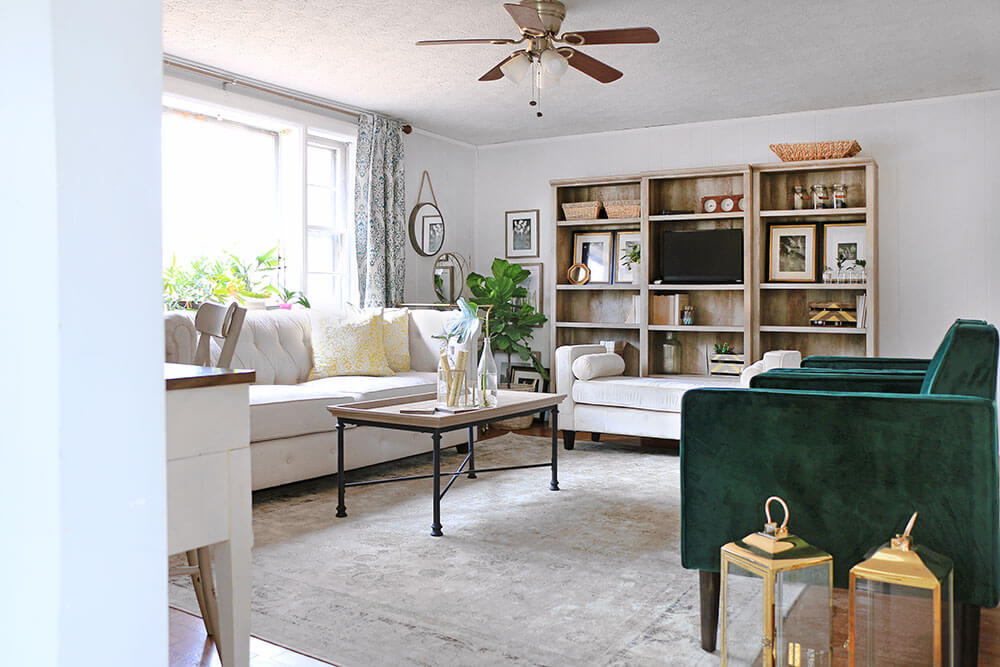 [left]
What about you? What spaces have you struggled with or spent time tweaking lately?
The Better Homes & Gardens Live Better brand at Walmart for partners with Home Made by Carmona every month on a new challenge. You can find the Better Homes & Gardens brand line carried exclusively by Walmart. For more inspiration and the latest line of goods, you can follow them on Facebook, Instagram, Twitter, and Pinterest.
**I am honored (and excited!) to be part of the Better Homes & Gardens Live Better influencer network, and am compensated for sharing a few of my favorite things, projects, opinions, and my own original ideas with you.
[/left]
[right]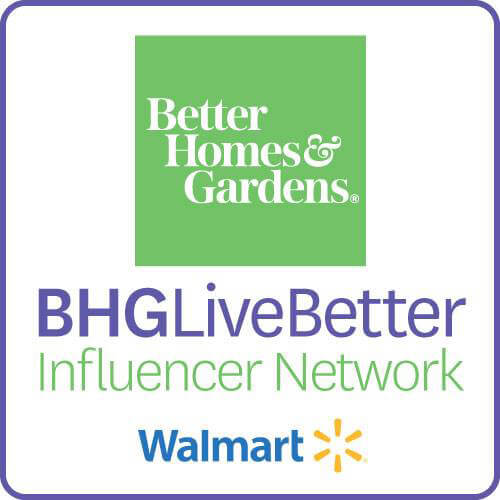 [/right]

[go_portfolio id="decorate_landing_page"]