Not everyone has the space for it, but even if you have a little nook, here's why you need to add a seating lounge…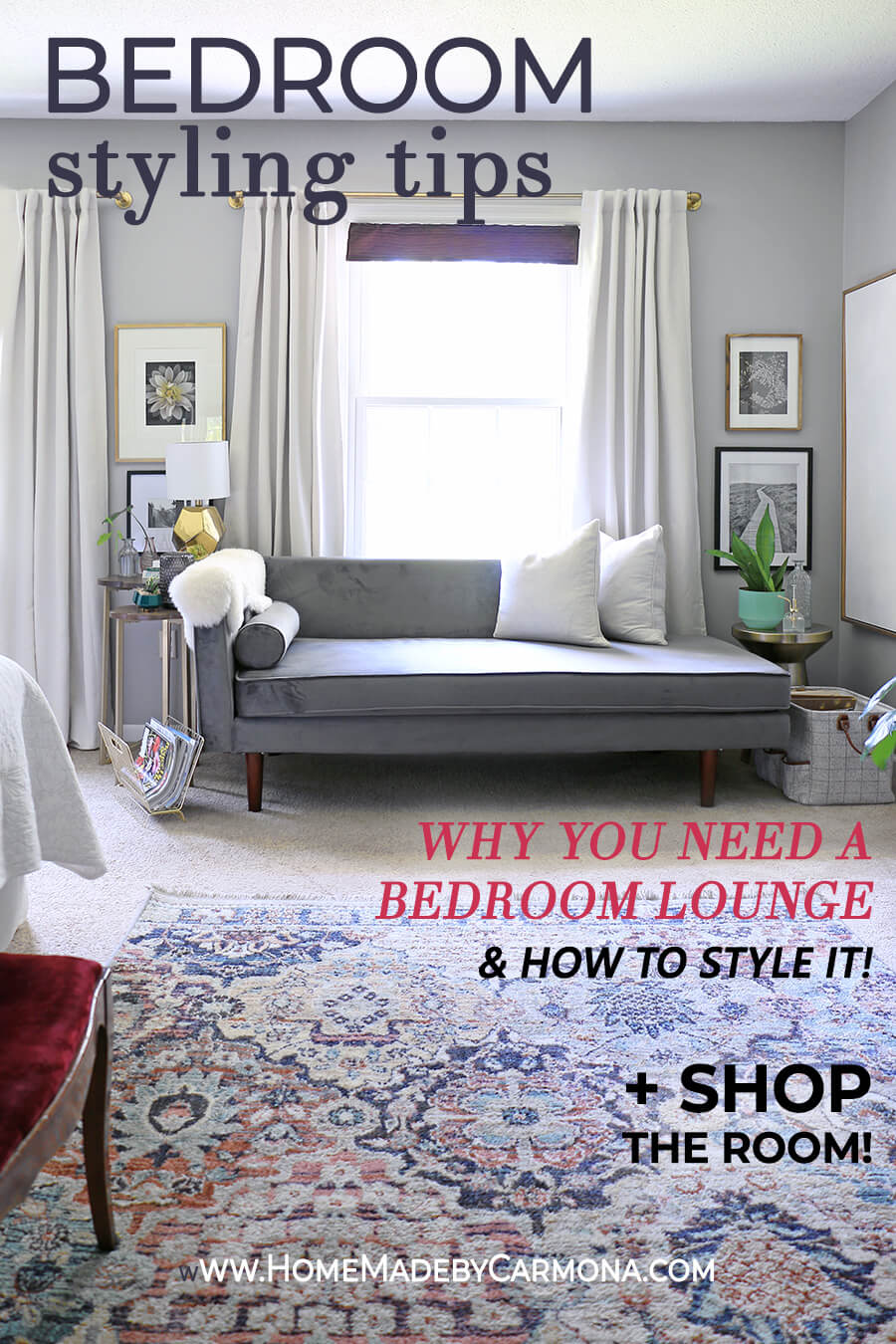 *This post is sponsored by Better Homes & Gardens brand carried by Walmart. Woop woop! Affiliate links are contained below.
I confess, I totally lucked out with a pretty good sized master bedroom in my North Carolina house…much different from my teeny tiny bedroom in my last home.
Still, the one thing I always tried to add was a little space for seating. Even if that was a bench at the foot of my bed, an armchair, or a full on chaise lounge.
This beautiful and private little spot is where you'll find me on a Sunday morning, taking a moment just for me to relax and unwind. I plug in my essential oils diffuser, gaze out the window with a warm drink, or catch up on my magazine reading! As a chronic over-achiever, I'm learning the value of small vacations and moments of rest.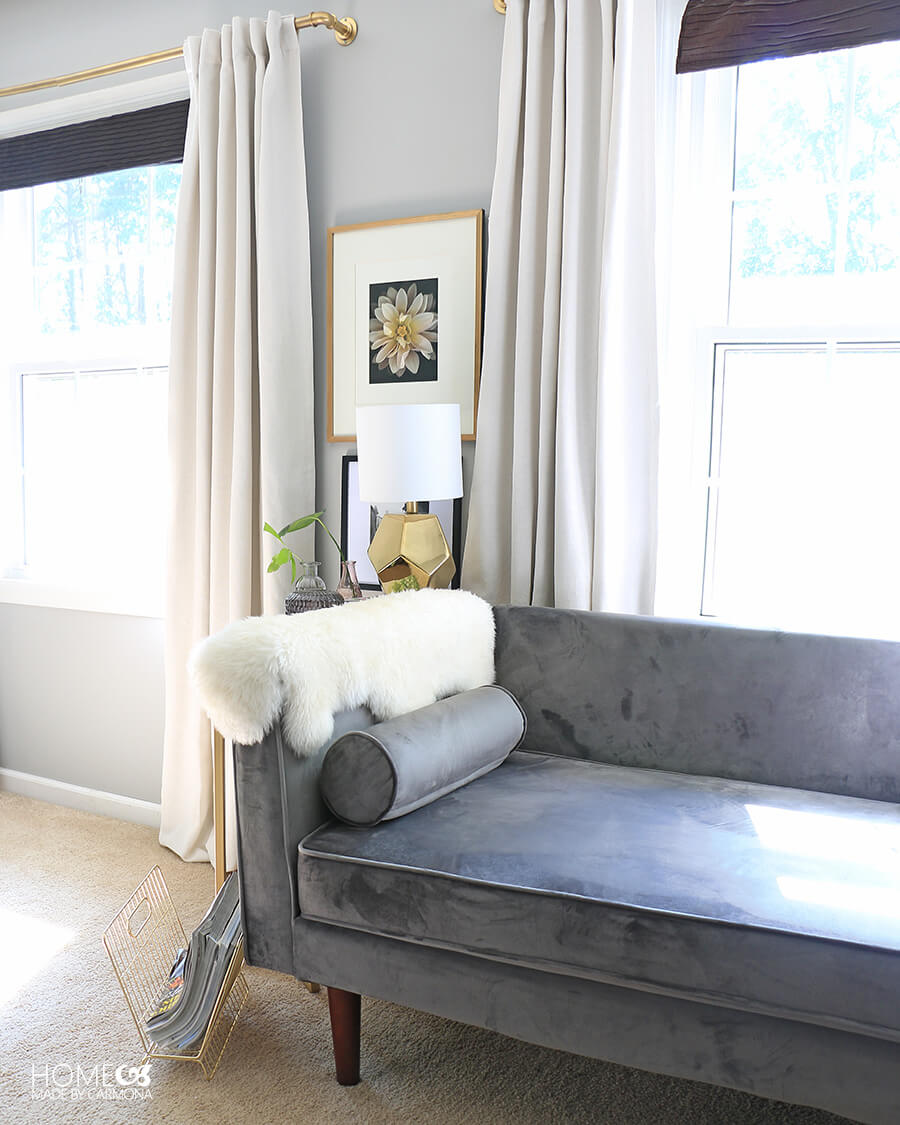 Why Bother With A Lounge or Seating Area?
Honestly, there is just something luxurious about having lounge seating in your bedroom. Who really needs another reason other than that? But just in case:
Duh. Because you deserve a spot to relax and unwind!
When reading in bed is bad for your back, but you don't want to leave the room, comfy seating helps!
When working at a desk, or working at your bed just isn't the best option; this is the perfect compromise between the two!
Because sometimes you need a spot to sit and put your socks on in the morning
Because your husband needs a spot to lay out his pants for the next day (and you just can't understand why he would do that on the floor and not just hang it up)
Because it is a posh way to fill your space if you have a large room
It's a great way to have a private morning cup of tea with your honey (before the kids come bursting in)
A daybed chaise can act as an additional bed if you end up with a house filled with guests over the holidays

Styling Your Seating Area
There are a few items you won't want to forget when styling your bedroom lounge area. It isn't enough to create it, you want it to be a focal point in the room. A spot you actually make good use of as it draws you in.
#1. The Right Lounge / Seating
Remember that not all seating is created equal. Go for optimal comfort and lounging. If you have the room for it, definitely go with a full sofa or chaise lounge. I went with this soft velvety lounge from Better Homes & Gardens Nola Midcentury Modern daybed/chaise found exclusively at Walmart.
Think both comfort and practically in terms of how you'll be using your lounge. My husband sits on it every morning to put his socks and pants on in preparation for work.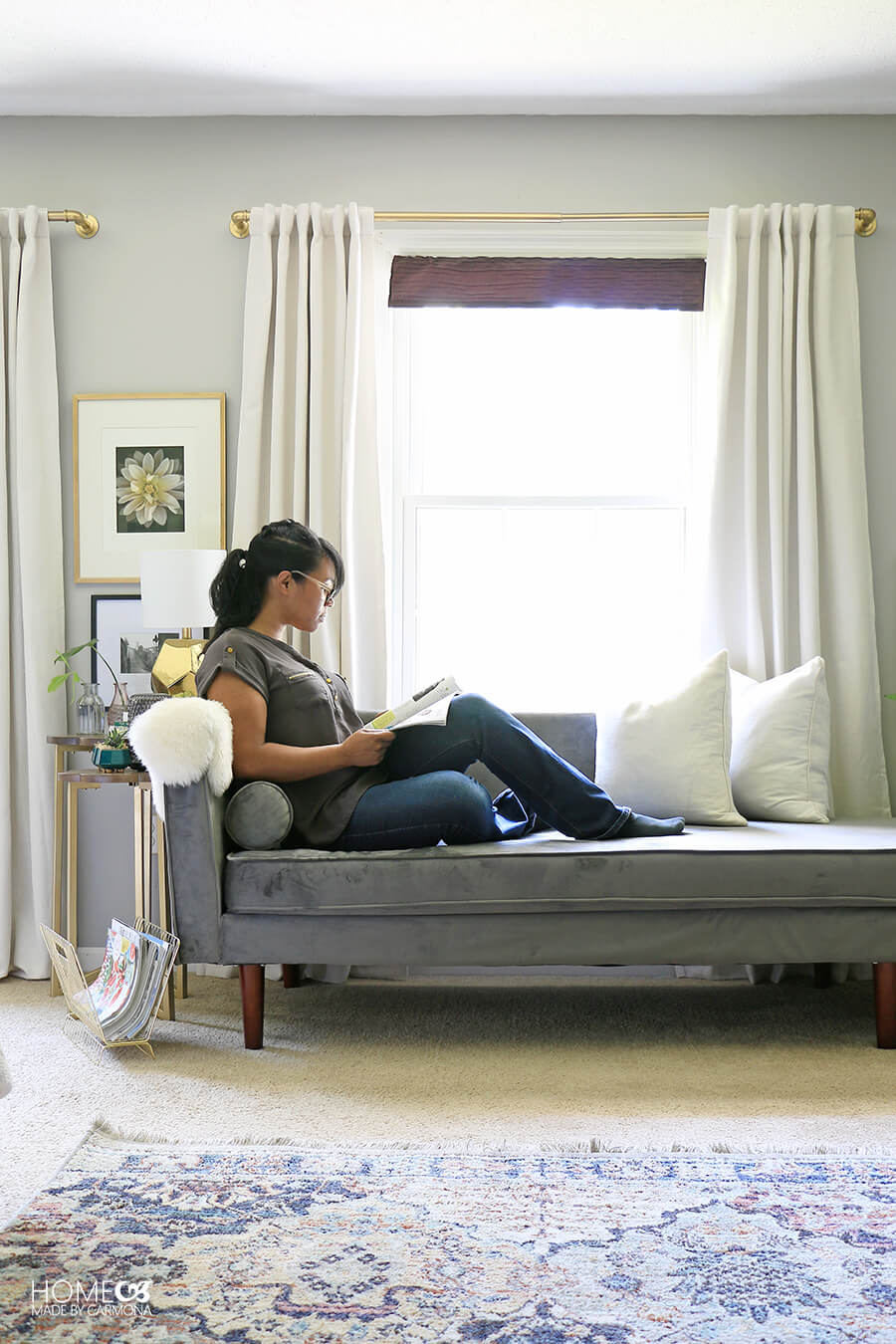 Almost every night you'll find me on it with laptop in hand doing a little light blogging. This is that time of day when my body is tired of sitting at a desk, but I still want to get a few things accomplished. It's also my "I'm so done with work" magazine reading area. Haha!
#2. Lighting As A Functional Accessory
Because I like to read here at the end of a long day, lighting is important. A reading lamp doesn't just have to be practical, it can lend itself to the style of your space.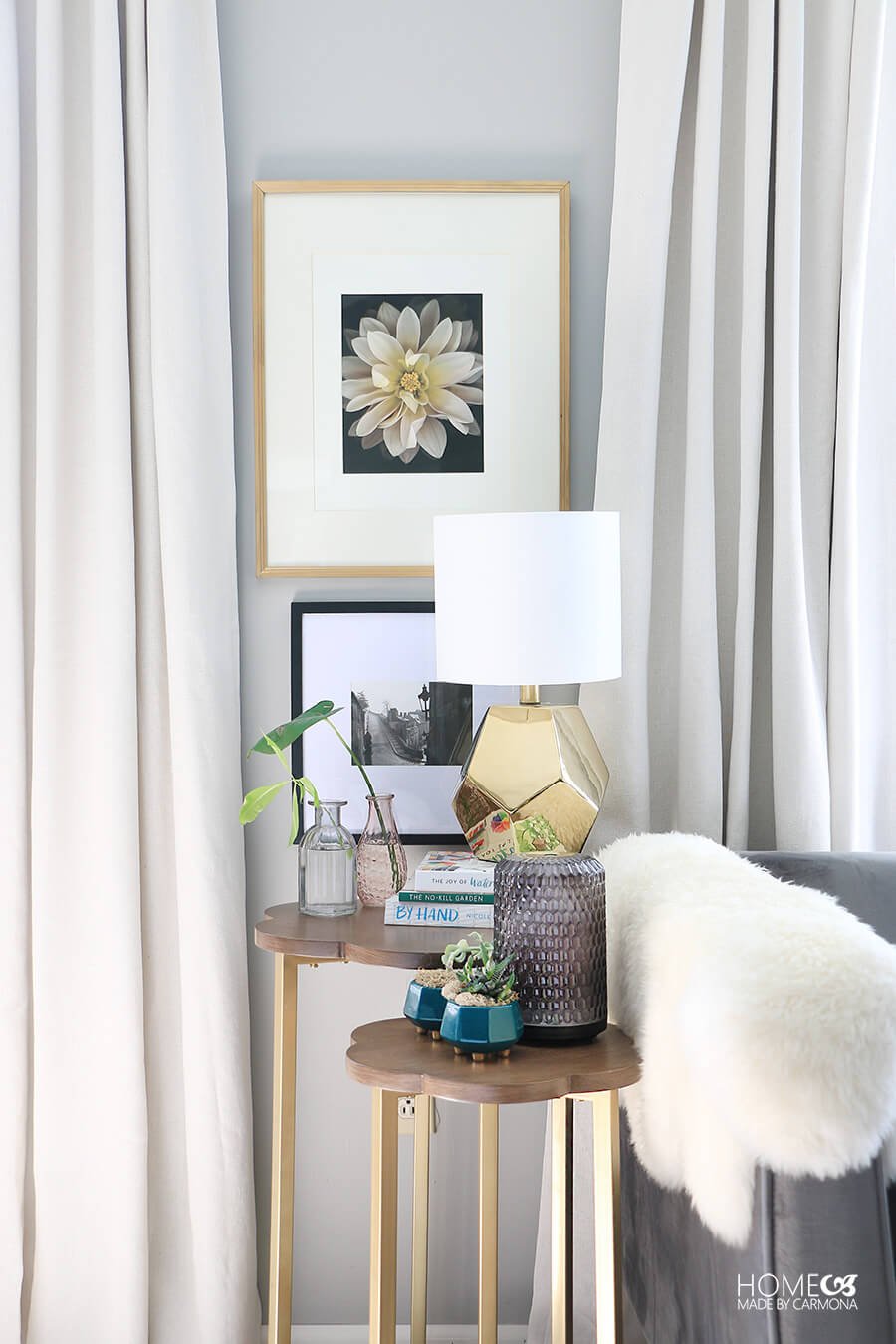 I love that my trendy Better Homes & Gardens Geometric lamp adds a bit a bit of a reflective quality with it's shiny gold finish.
#3 Wall Art
If you don't do anything else, just add art and stir. Yes, I'm kind of a fanatic when it comes to art on the walls. It truly has the power to make a bland room suddenly look so chic. Think about art galleries; all they have is art on the walls, and if you're lucky a bench or two in the room…yet galleries look so posh!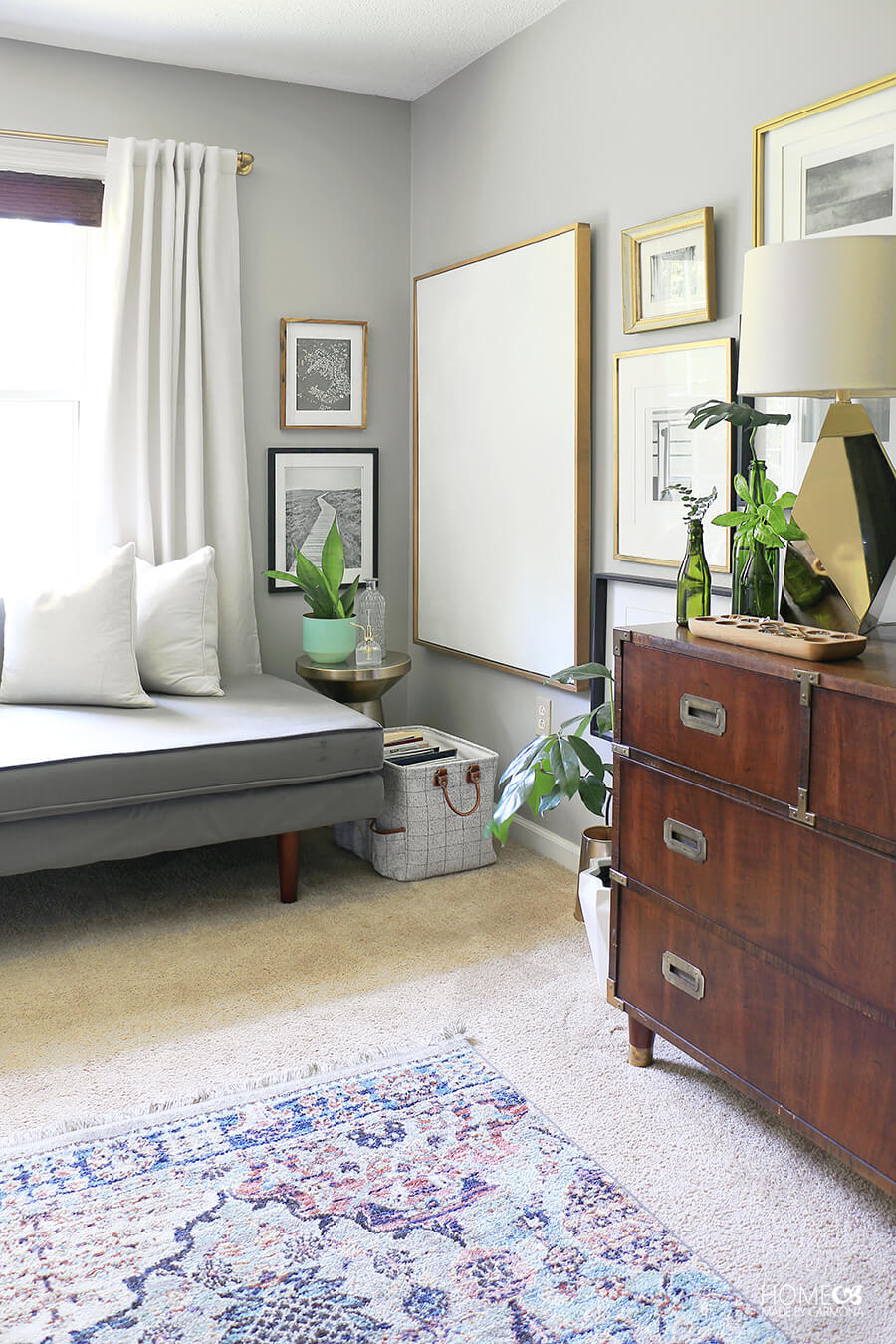 These days you don't have to go through the extra hassle of buying a frame, then finding a piece of art. When I purchased my Better Homes & Gardens frames they came pre-loaded with artwork!
#4. Accessorize
I'm a pretty firm believer in in everything having a purpose, but that doesn't mean accessorizing doesn't happen.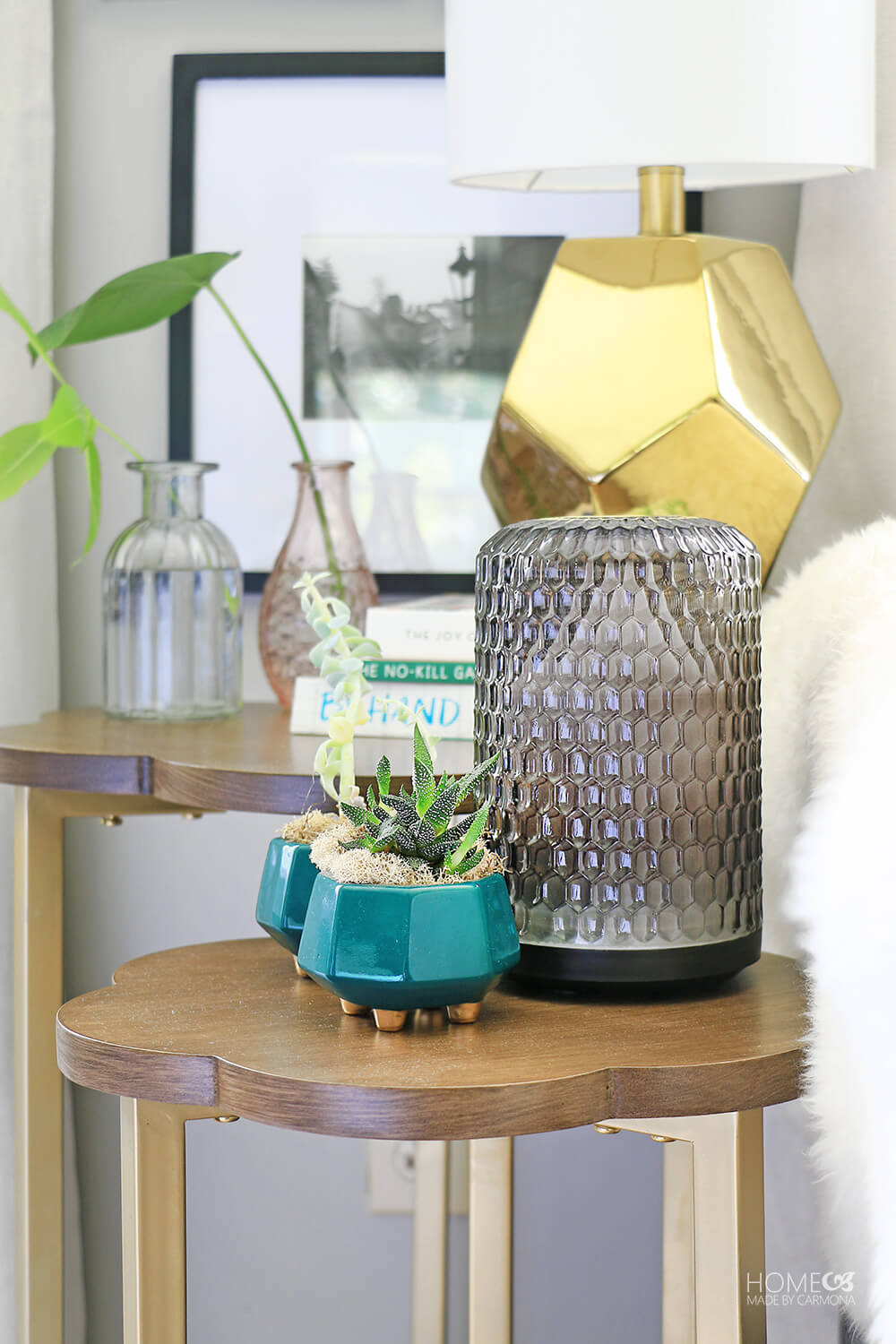 Every cute accessory you see in this space has a purpose. From the beautiful hammered essential oils diffuser, to my bud vases that sprout new plant clippings…everything is cute but purpose-filled. Even my favorite stack of books and magazines add to the style of the space!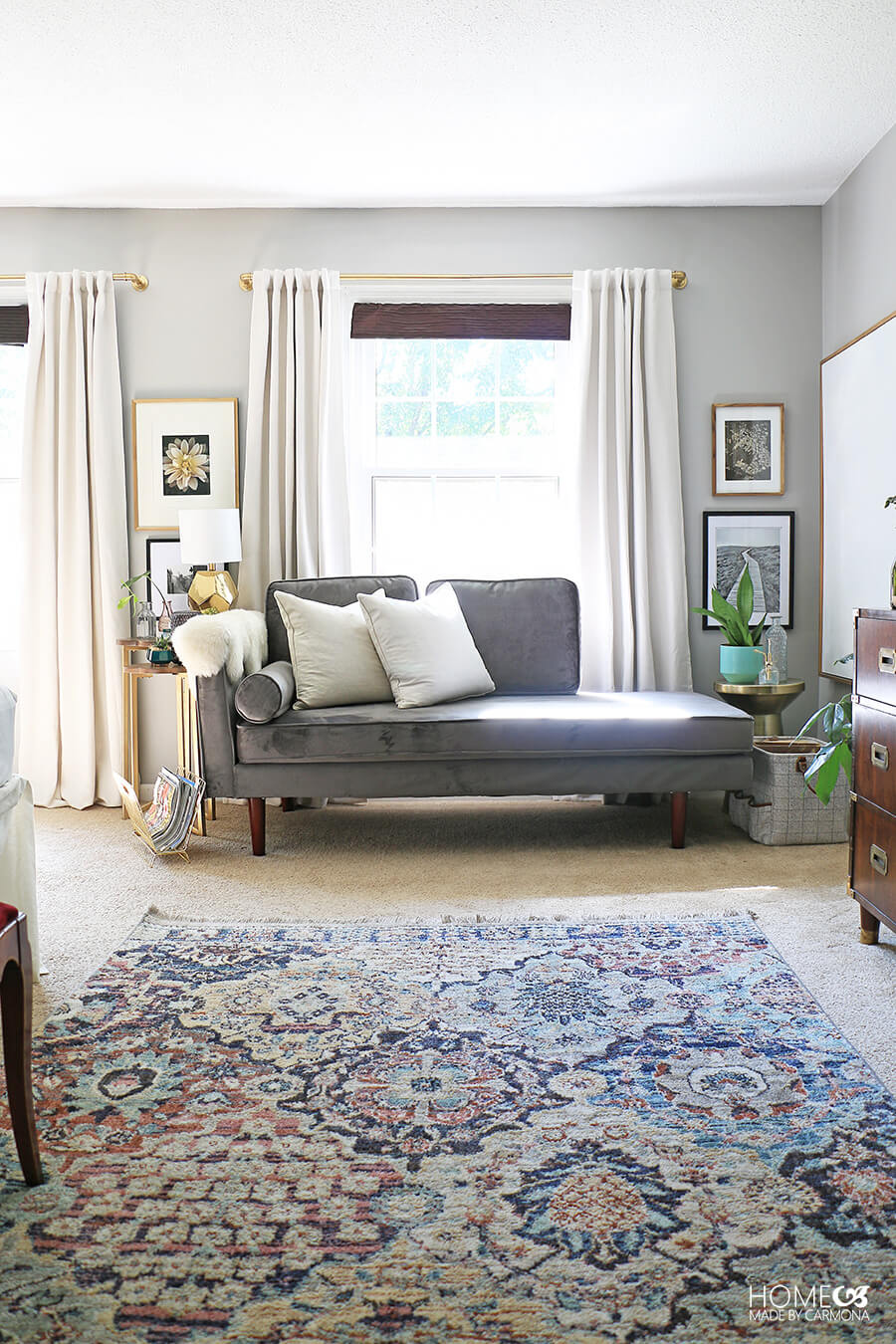 I'd love to know, what are those dream elements you would add to your lounge space?


[left]
The Better Homes & Gardens Live Better brand at Walmart for partners with Home Made by Carmona every month on a new challenge. You can find the Better Homes & Gardens brand line carried exclusively by Walmart. For more inspiration and the latest line of goods, you can follow them on Facebook, Instagram, Twitter, and Pinterest.
**I am honored (and excited!) to be part of the Better Homes & Gardens Live Better influencer network, and am compensated for sharing a few of my favorite things, projects, opinions, and my own original ideas with you.
[/left]
[right]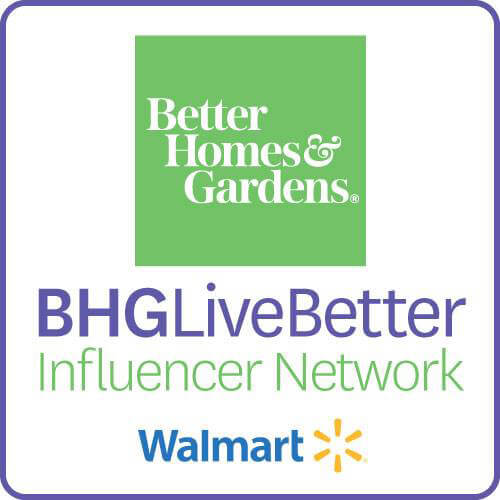 [/right]

[go_portfolio id="decorate_landing_page"]