Welcome to week 2 of the New Year New Room refresh challenge!
In case you missed last week's adventure, I joined in with an amazing group of bloggers who are all refreshing a room in 4 weeks. Our fearless leader: Stephanie of Casa Watkins Living. Our goal: turn a less than stellar room into a beauty!
Catch up on each week of this remodel here: Week 1 | Week 2 (you're here) | Week 3 | Week 4 | Week 5 Reveal!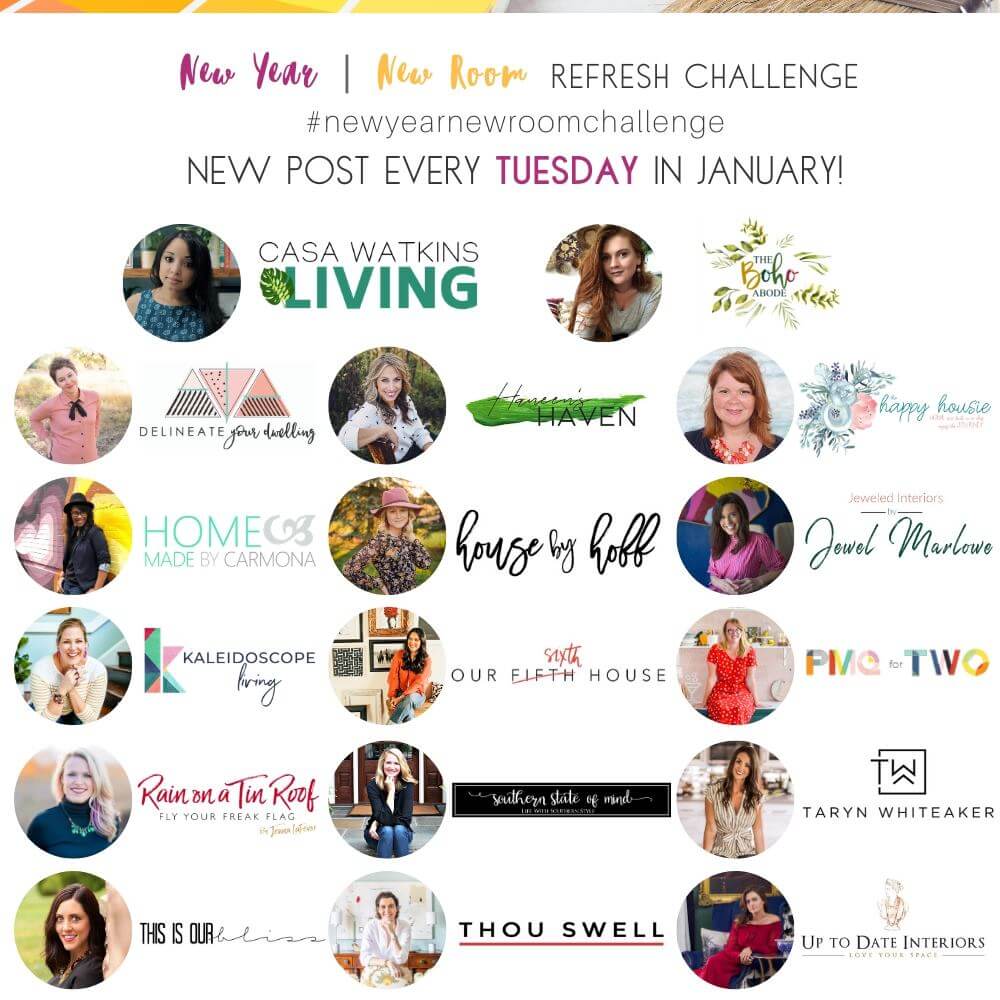 *This post is sponsored by: Milton & King, Spoonflower, Smith Honig, and other challenge sponsors
Teen Bedroom Progress
In case you missed all the 'before' pictures from last week, you will definitely want to take a gander here. Because who doesn't love to sit and gawk over someone's icky awful rooms? I mean, I watch Hoarders because it makes me feel highly motivated to purge and clean, AND makes me feel great about myself. So go, take a look at my before pictures and feel great about yourself. Ha ha!
This week I actually feel pretty optimistic about this room though. I think it will be a relatively easy refresh. Mostly because all surface areas are so nasty and stained (walls and carpet) that once those are changed, there will be immediate improvement.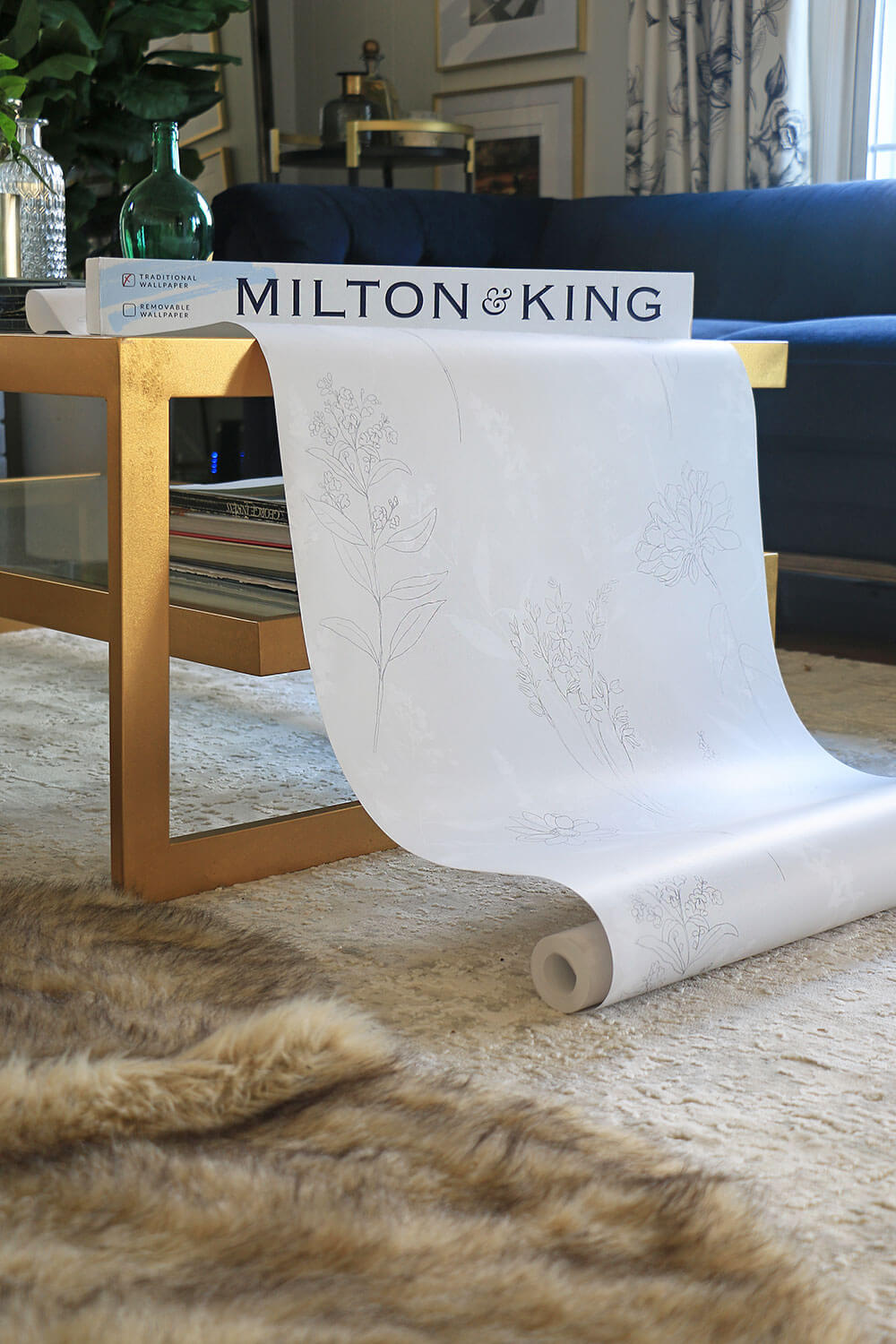 Last week I received this pretty wallpaper my daughter chose from challenge sponsors, Milton & King. This print is called Dalrymple wallpaper, and it was the first thing we chose for her room. We saw it and both immediately gravitated toward this pretty print. It will help retain a whimsical and feminine feel in the room, while still being the sophisticated look my 15-year-old daughter is seeking.
Feature Wall Or Full Room?
When in doubt about adding wallpaper to the full space, go with a feature wall. Fiora was pretty excited about the wallpaper, but she kept asking if it would be too busy in the whole room. I eased her mind with promises of a feature wall that would add just the right amount of design for visual interest.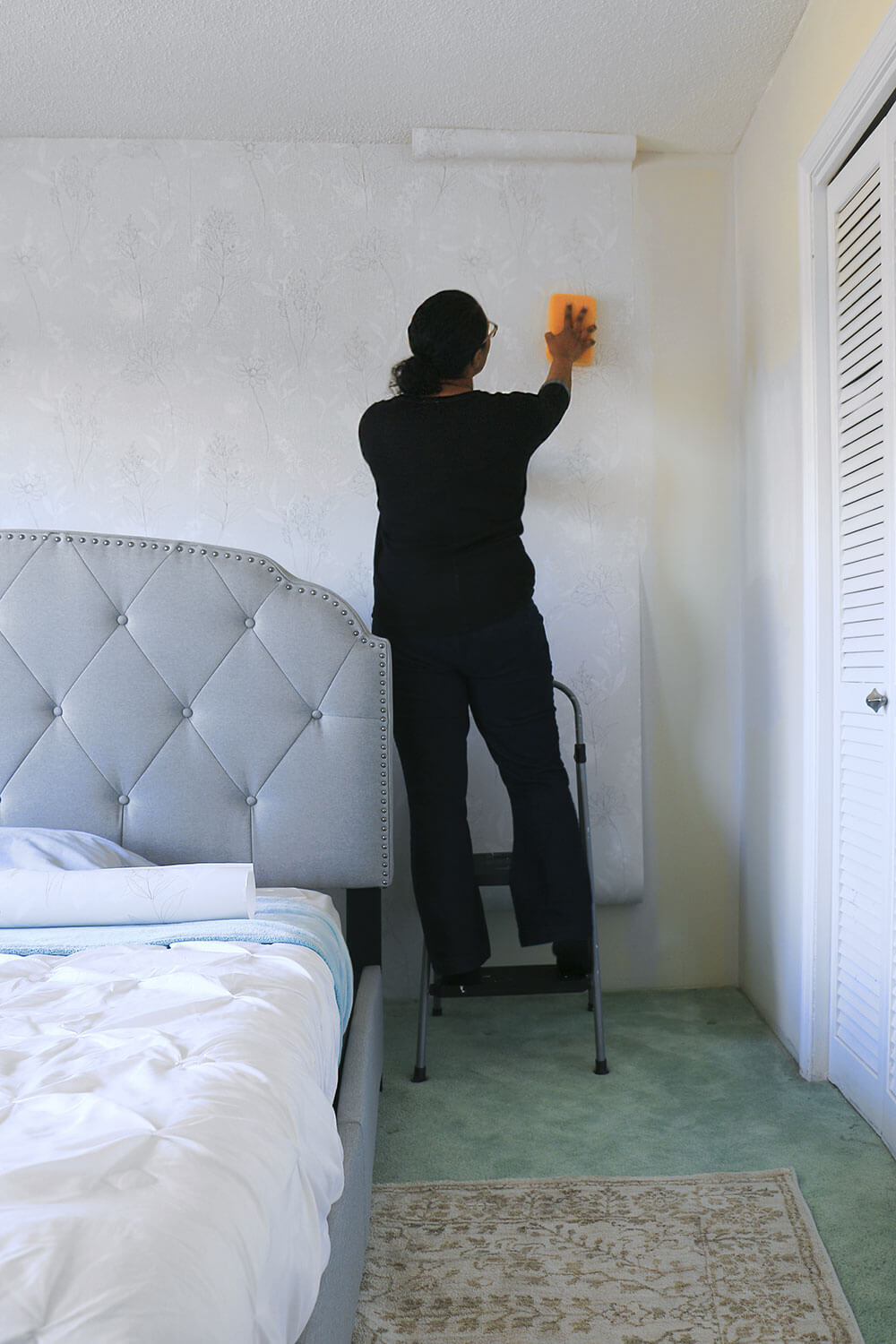 The wallpaper didn't take long to apply, and a second pair of hands from my brother made it a breeze. I had never worked with paste to install wallpaper before and was a bit nervous about it, but it was just as simple as slathering on the paste before applying the wallpaper. Thank goodness!
Now to figure out what color I want to paint the rest of the walls. Sometimes it pays to wait until the feature wall is complete to better visualize which color best compliments it. There are two ways I can go, match the main color of the wallpaper, or have it contrast. What do you think?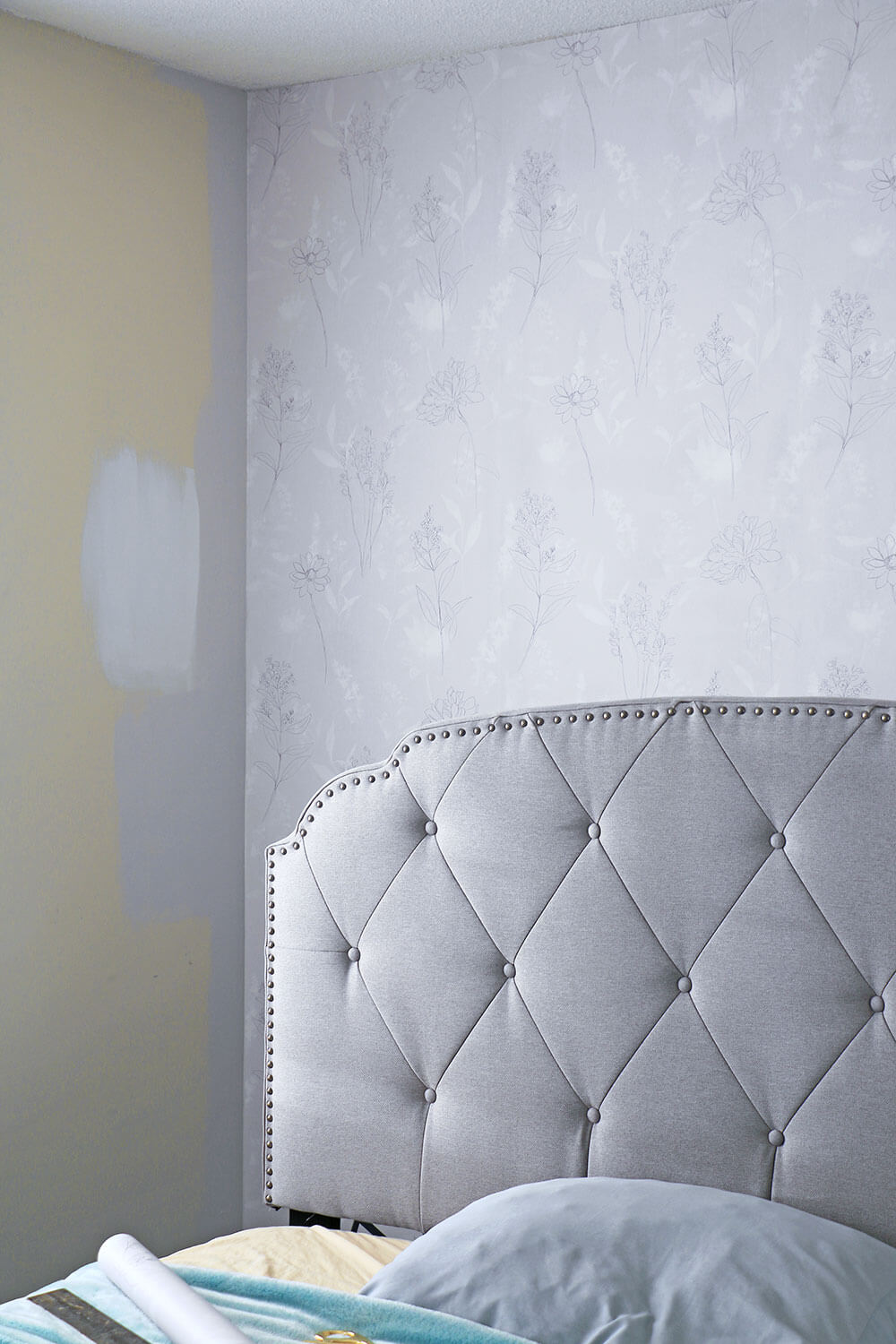 Choosing The Dressings
A room just doesn't seem properly dressed without something for the windows, so I'm pretty excited about getting custom curtains from Spoonflower. There are so many amazing fabric prints to choose from, but this pinstripe was what I needed for this particular space. Yes, I had to restrain myself…my daughter would not appreciate anything too unique or pattern filled. So, as many awesome choices as there were, this was the right choice for her space.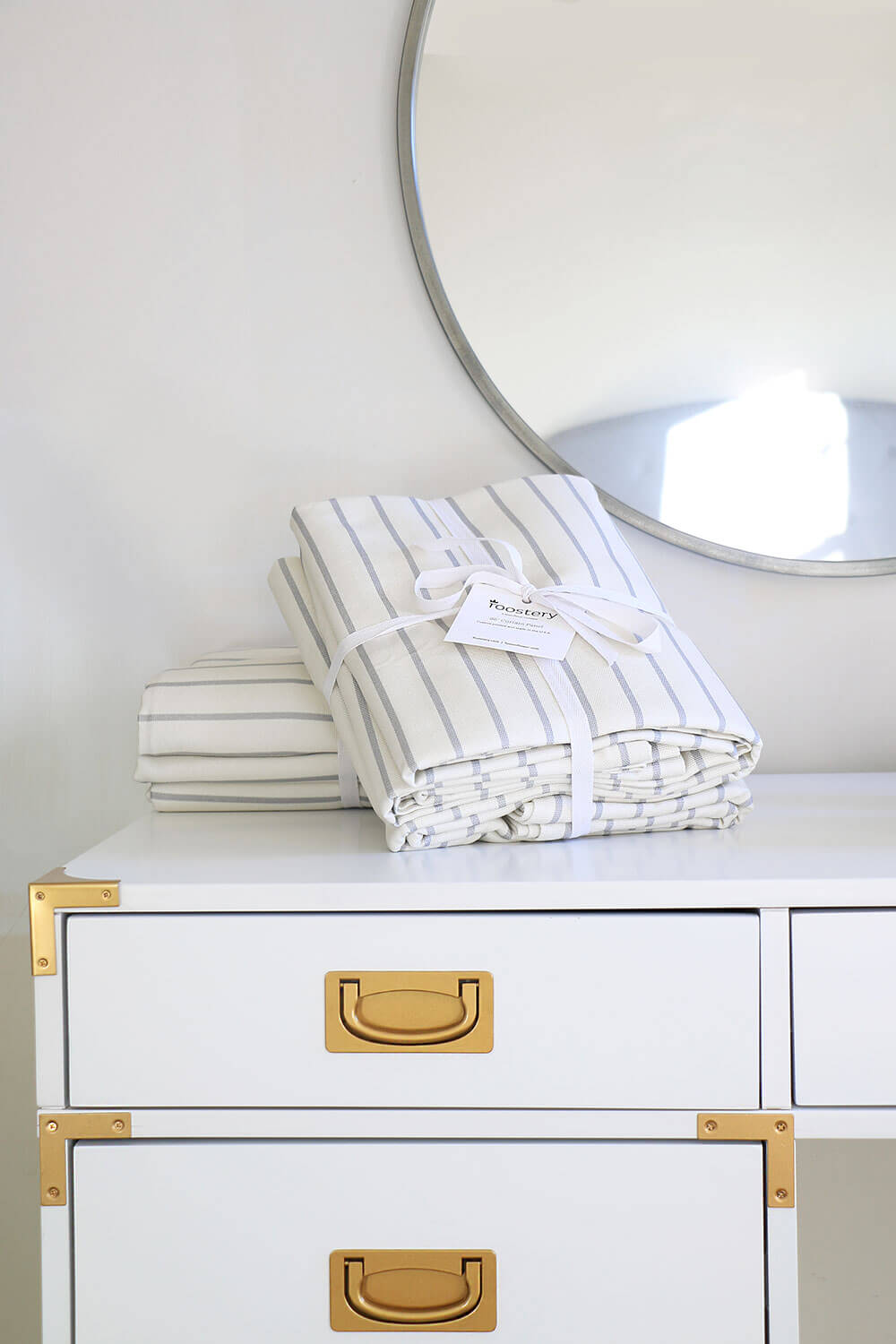 Not many people buy curtains before choosing a paint color in a room. But the window wall is just as important as the feature wall, and the curtain color and pattern should work with both the wallpaper and the paint color.
Choosing The Accessories
Accessories are usually the last thing chosen for the space, which makes perfect sense. BUT I always recommend choosing one inspiration piece for a room before it is even tackled. It is the item that becomes a jumping off point for all the rest of the room. OR sometimes it is the item that helps challenge you to think outside the box and not stay in your decorative comfort zone.
For Fiora's room, that is these gorgeous tassels by Smith Honig!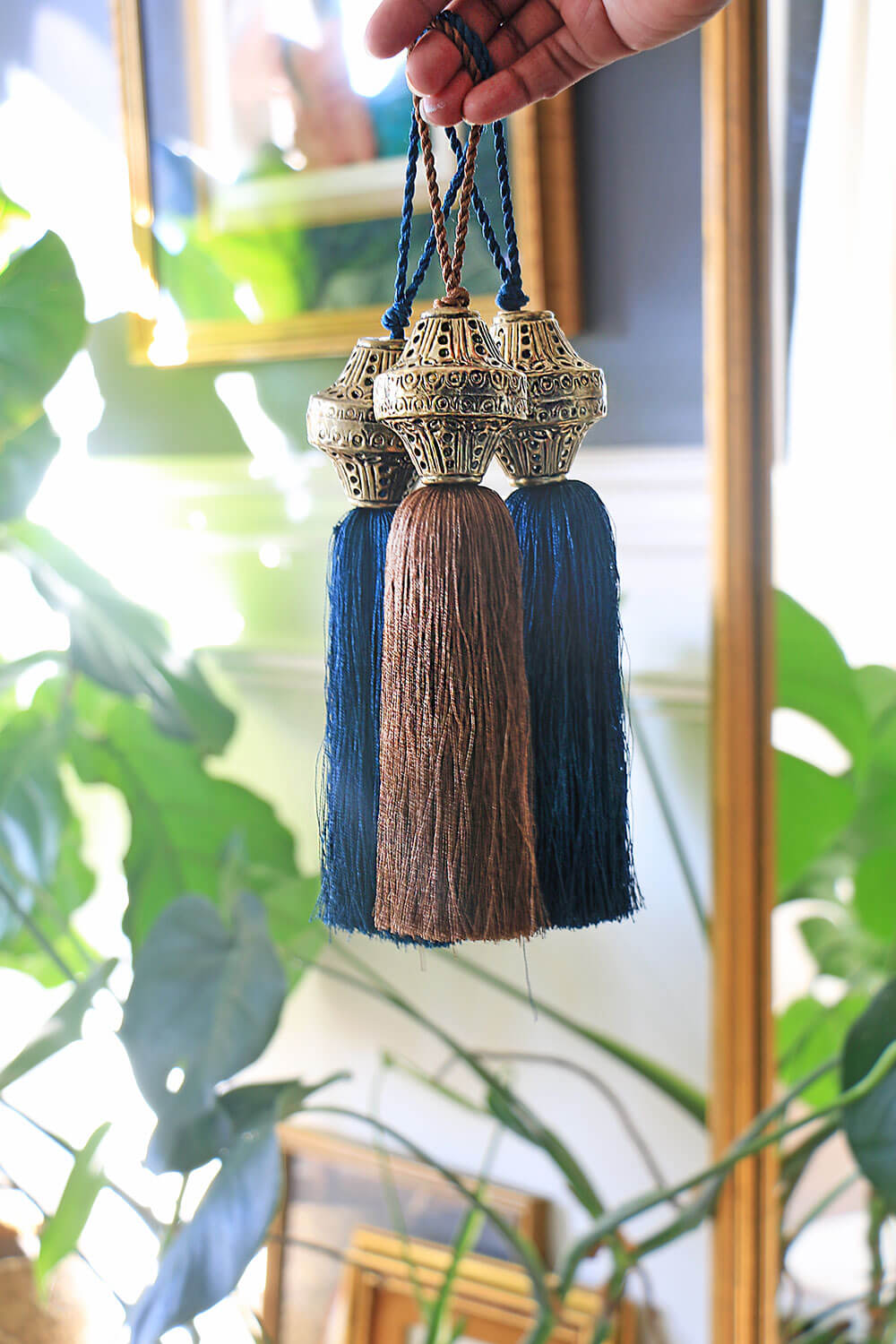 Instead of being a piece that keeps the direction of the room grounded, it is the piece chosen to challenge and push the design so it isn't stagnant or boring. The best rooms are just a little eclectic, and every space needs something fun!
Look at that beauty, with its rich color, and gold plated global design. I have been enjoying these tassels around the house until Fiora's room is complete. It might be a struggle to give them up!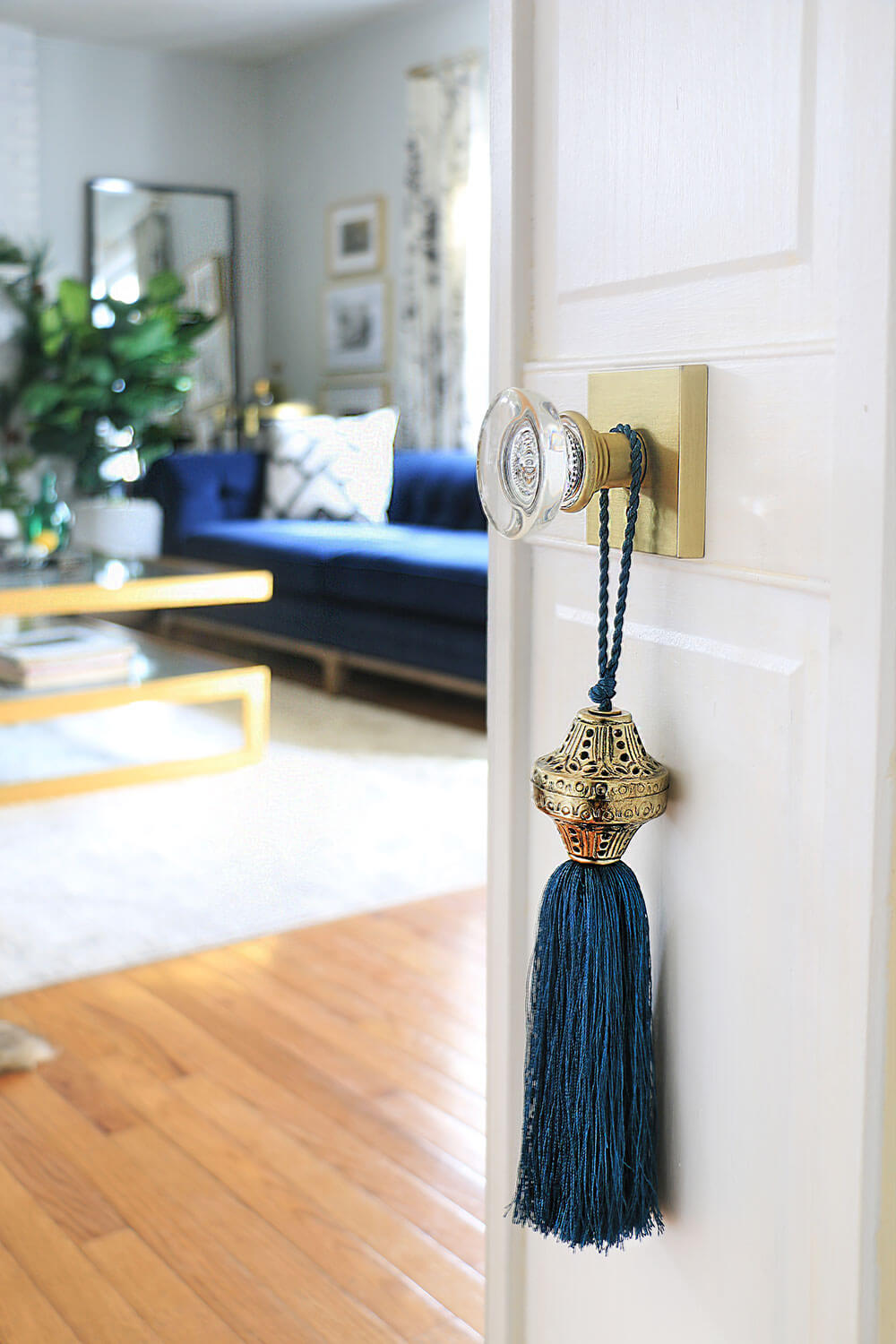 I have a few other exciting pieces that arrived in the mail this week. But you'll just have to wait until next week to see them.
So, What Still Needs To Be Done?
There is still a lot to do, but I don't expect it to be a huge task. Maybe a bit of drama if online orders don't arrive in time, or the carpet installers can't fit me in within the next week and a half. *crossing fingers and toes*
Wallpaper the feature wall
Paint other walls & trim
Install curtain rods and hang curtains
Build custom bookcase
Replace carpet
Add baseboards
Accessorize!
Don't forget to pop over to see progress on all the bloggers New Year, New Room Refresh challenges thus far!
Casa Watkins Living // The Boho Abode // Delineate Your Dwelling // Haneen's Haven // The Happy Housie // Homemade by Carmona // House by Hoff // Jeweled Interiors // Kaleidoscope Living // Our Fifth House // PMQ for 2 // Rain on a Tin Roof // Southern State of Mind // Taryn Whiteaker // This is Our Bliss // Thou Swell // Up To Date Interiors
Thank You To Our Sponsors: