Happy New Year! There is nothing quite like ringing in the new year by remodeling an entire room in 4 weeks.
Haha. I don't know. Seems like a totally fun, totally crazy thing to do. So when my good friend (and former contributor here on the blog!) Stephanie of Casa Watkins Living, invited me to join in the fun of the New Year New Room refresh challenge…obviously I jumped in head first with a heartfelt "heck yeah".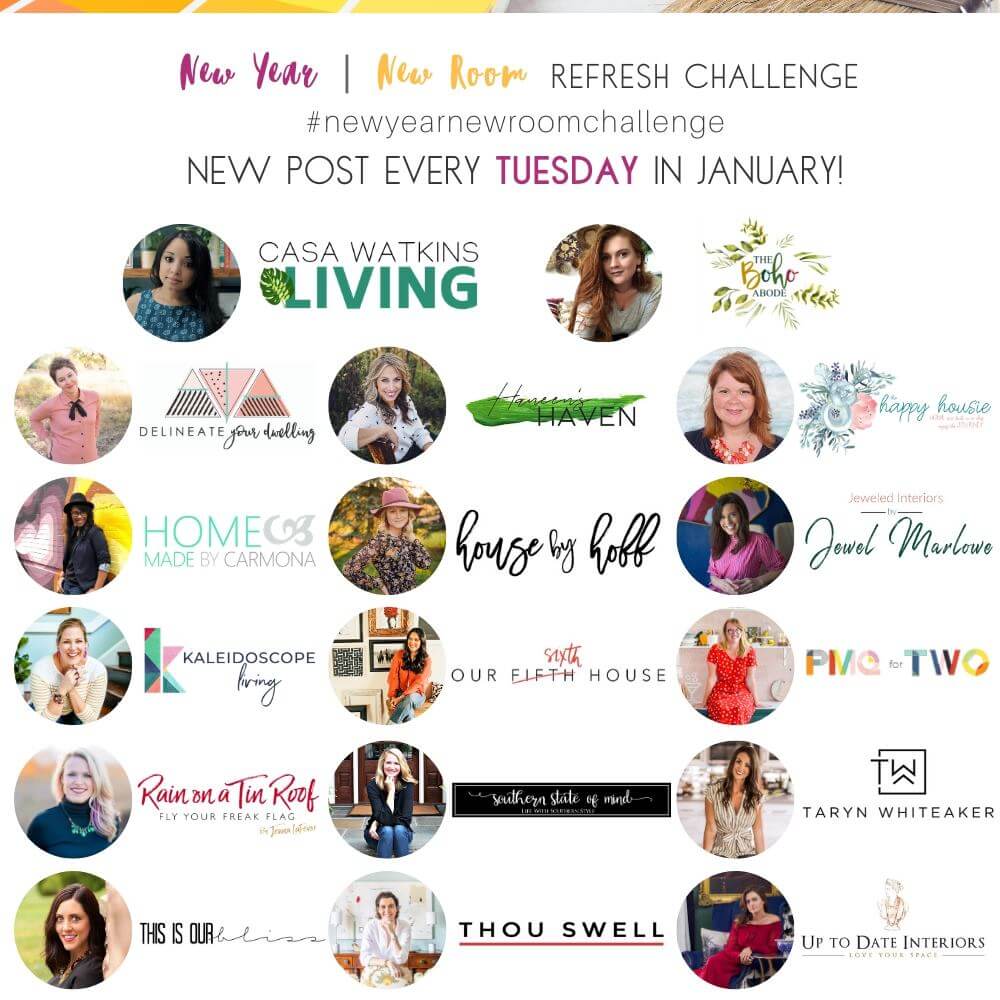 I mean, how can you say no to a fun challenge alongside this amazing crew? Most of these design bloggers I have known for quite a few years. Let me tell you, they are a talented bunch…you are in for a treat!
Every Tuesday in the month of January you can follow along with each of our room makeovers. Plus follow the hashtag #newyearnewroomchallenge on Instagram to keep up behind the scenes in real time.
Casa Watkins Living // The Boho Abode // Delineate Your Dwelling // Haneen's Haven // The Happy Housie // Homemade by Carmona // House by Hoff // Jeweled Interiors // Kaleidoscope Living // Our Fifth House // PMQ for 2 // Rain on a Tin Roof // Southern State of Mind // Taryn Whiteaker // This is Our Bliss // Thou Swell // Up To Date Interiors
My NYNR Makeover Space
There are still a ton of spaces that need some TLC in this house. But my darling eldest daughter Fiora is turning sweet 16 in 2020, and probably leaving me for college in a couple years. *Cue the weeping and gnashing of teeth*
She has been asking me to do something with her bedroom for quite a while now (since we moved in 3 years ago, to be precise). *Cue the guilt* So I'm thinking I should be a good mama and fiiiiiinnnnallly take it on.
Can We Just Talk About The Mint Elephant In The Room?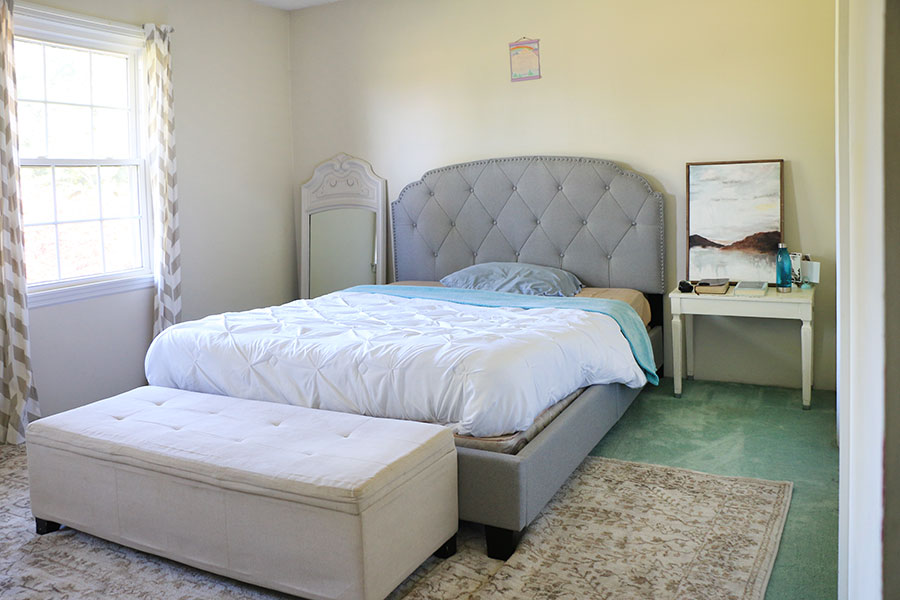 I know, you were thinking a bedroom would be a pretty neutral space to make over. Well check out this ugly thing. And lest you think it is as nice as this picture, the walls have weird discolorations from who knows what, and that carpet… I bought her a new bed, a desk, and an area rug to hide the big ugly mint colored elephant in the room. It still didn't help her poor room feel any nicer or homier.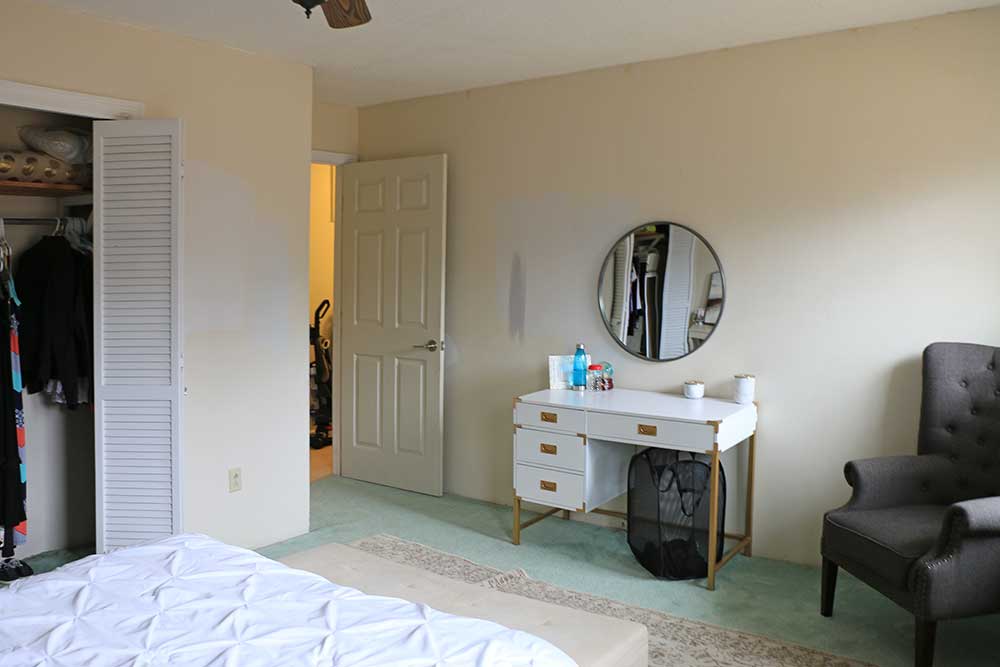 As you can see, that carpet cannot and will not be hidden. Oh, and worse, what you can't see in this picture is the gross brownish stains along the border that we tried desperately to get out when we moved in. Blegh! That carpet has GOT to go!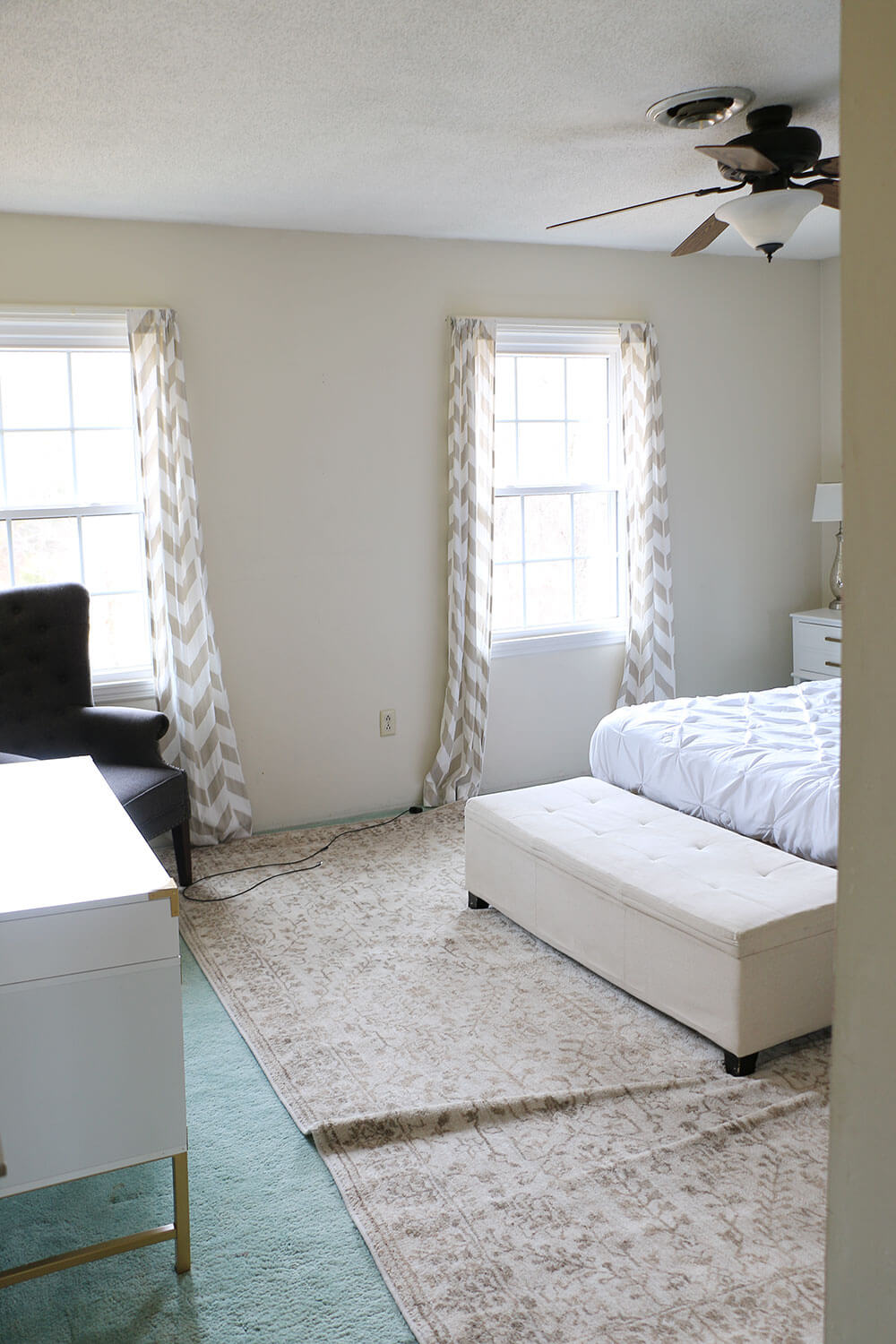 It's not easy doing a kids room…ahem, excuse me "teen" room. I mean, she went from all things pink, to "ew mom, I never liked pink" seemingly overnight. Then there was the teal phase that lasted a minute. I don't know how they grow up in a flash, but they do. Either way, I'm loving her new sophisticated style that is all about grey white and gold.
While I'm not exactly ready for her to be all grown up yet, I'm going to work hard to give her the sophisticated space she has been dreaming of. I still think it should retain some girlish charm, so I'll try to work that in too!
Sourcing Items For A Sophisticated Glam Space
The NYNR refresh challenge is going to be working with some awesome sponsors to help make over our spaces.
I did pick out a few items already, and you can see just how beautiful some of these pieces are. Like this beautiful custom sconce from Sazerac Stitches, one of the NYNR sponsors!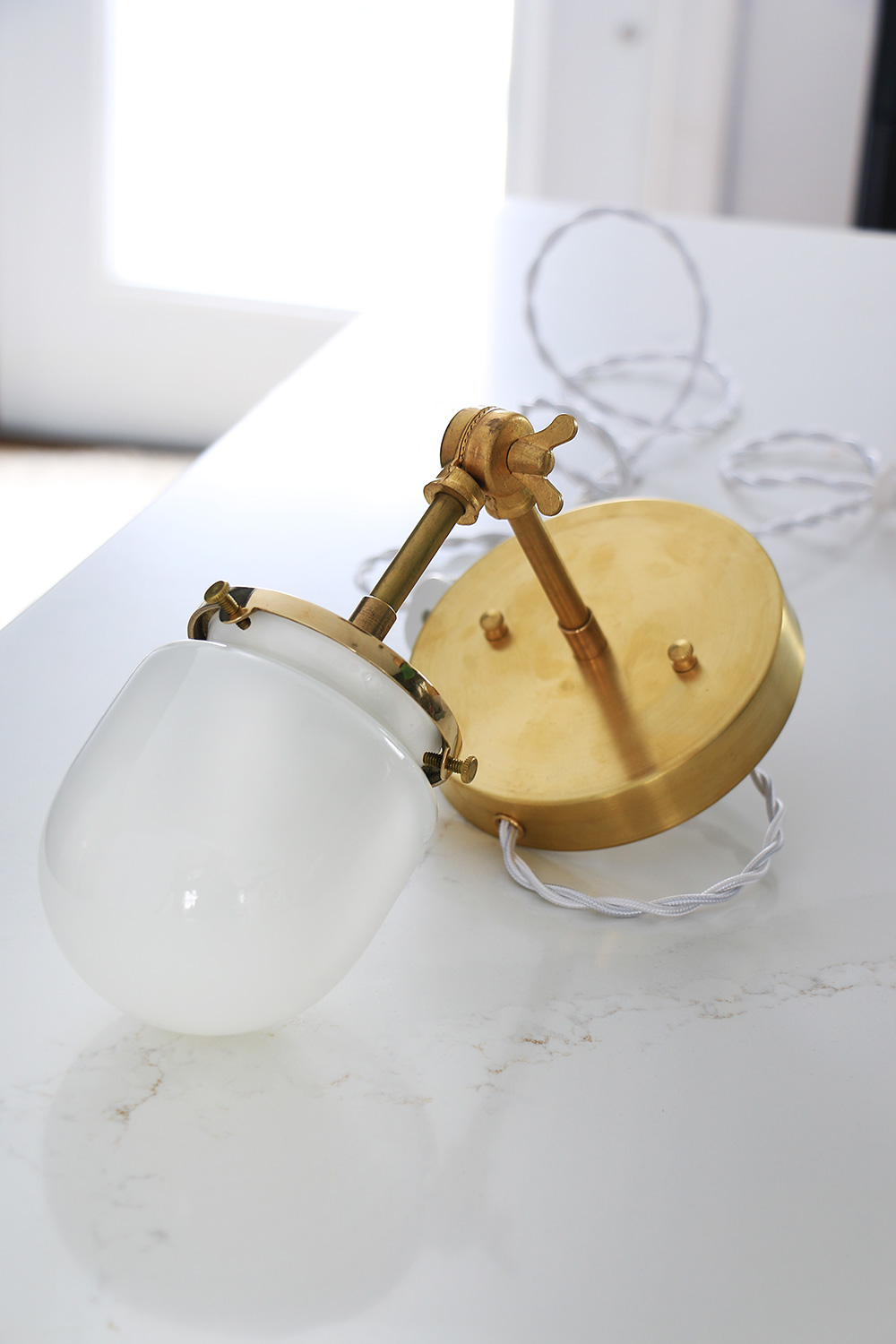 Well, I can't wait to finish sourcing! Follow along on my IG stories to help me out with some of the selections, and to see what I've already picked out.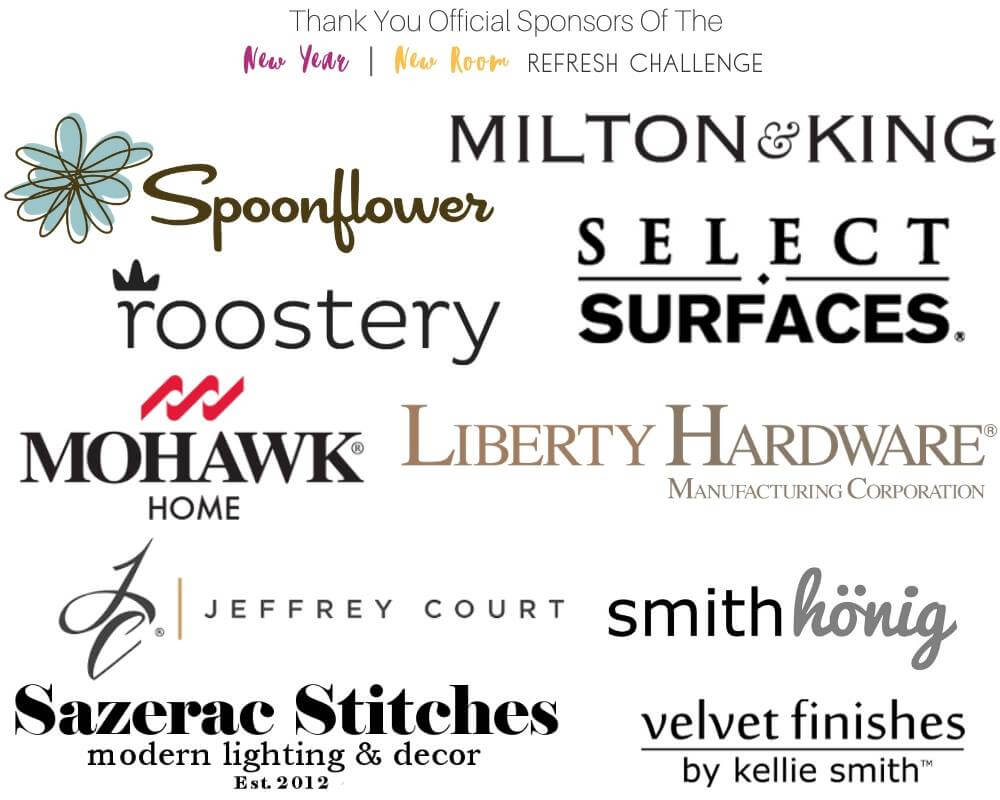 Wish me luck on these projects I have ahead of me in the next 4 weeks. With my record, I'm probably going to need it. Ha!
Wallpaper the feature wall
Paint other walls & trim
Install curtain rods and hang curtains
Build custom bookcase
Replace carpet
Add baseboards
Accessorize!