We're finally revealing this beautiful traditional-meets-rustic mountain home for the One Room Challenge!
Welcome to my parent's California mountain home! My father Donald is a former Disney artist, current fine artist at Donald Towns Art. My mom Karen is a crafter/maker who also helps run their small business.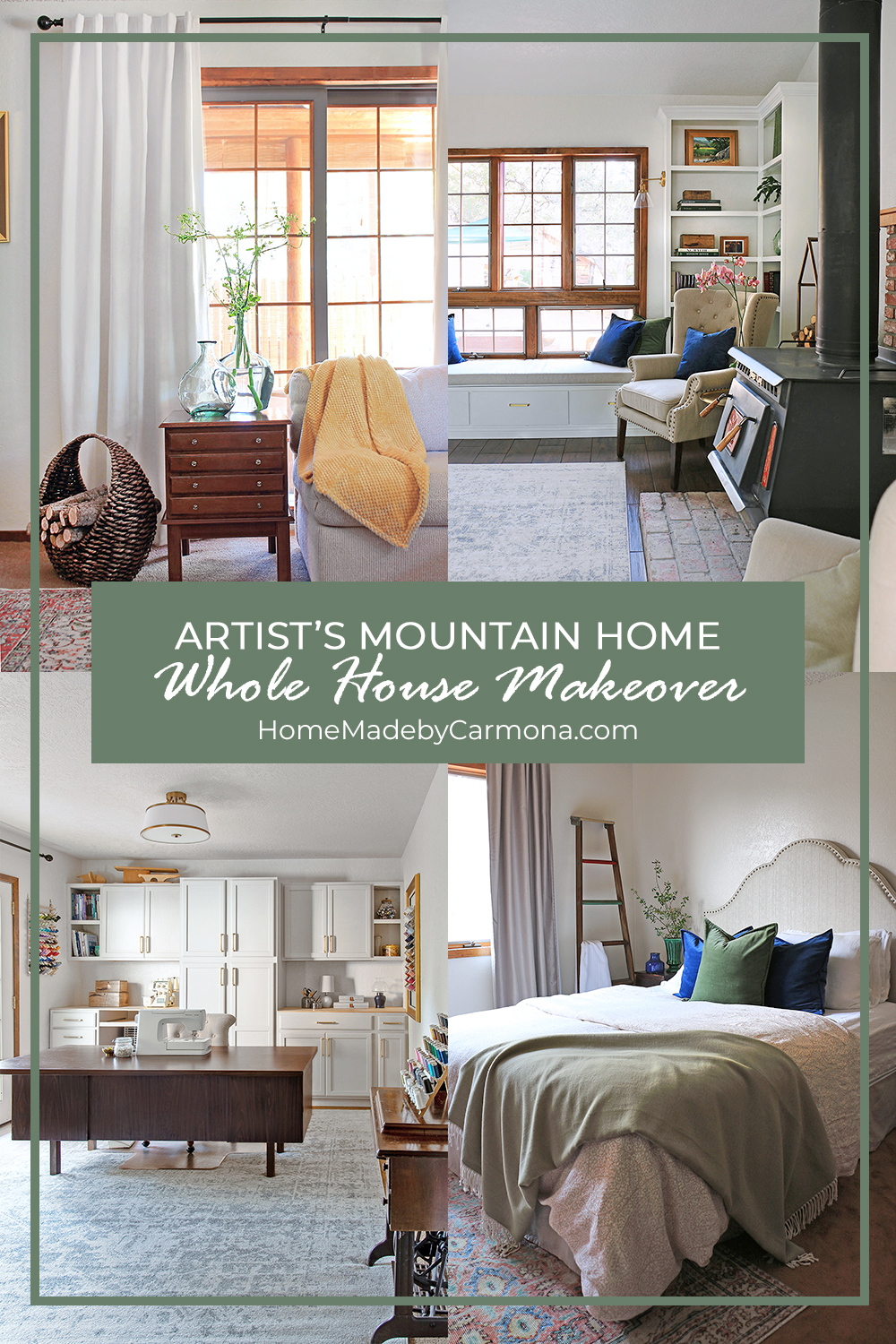 Special thanks to all the sponsors who made this project possible! Crystorama, Huck & Peck, Kirkland's, Kreg Tool, Ryobi Tools, The Home Depot, Wovenbyrd, Rustoleum, mDesign Home Decor, ToughBuilt, Garnet Hill, Revival Rugs, Schaub & Company | Affiliate links below.
I've affectionately dubbed this project the Artist's Mountain Home. This home should be a beautiful space to display dad's artwork, and be as magical as the pieces he paints.
My parent's have wanted to update the house, but had no extra time or money to put into it. After their online art shop, and church duties, any extra time is put into maintaining the outdoors in their property.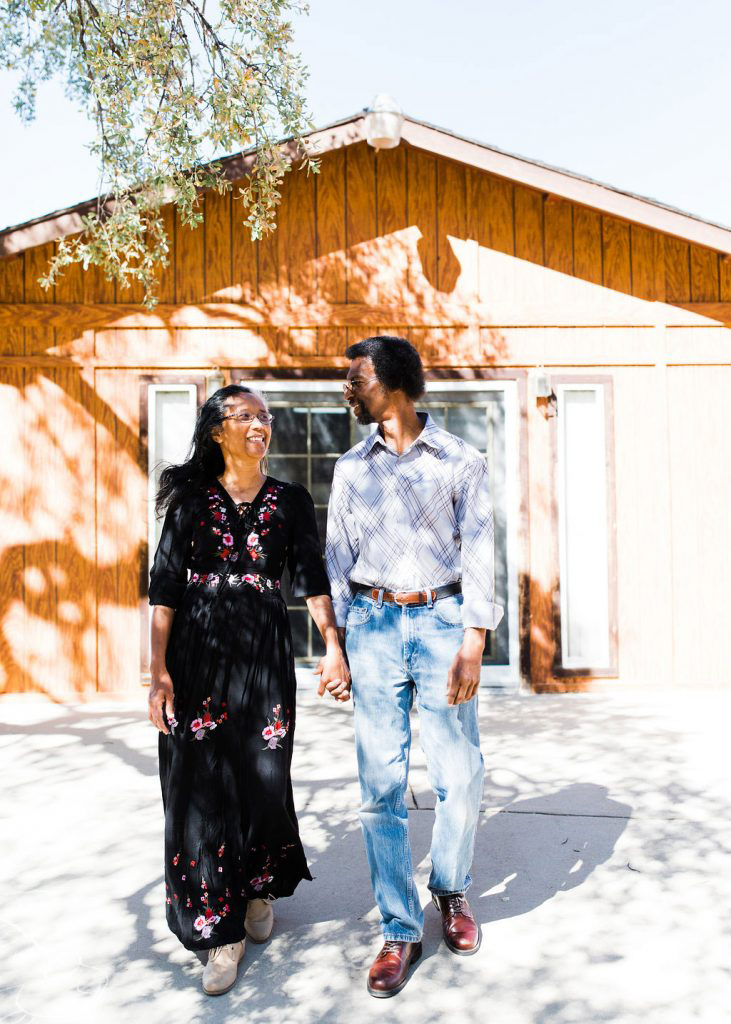 It's a beautiful log home, but requires so much maintenance that there was no time to devote to the interiors. I'd been dying to get my hands on it and reveal the charm in the space for a long time. Thanks to all the amazing sponsors, I was able to update not one, but five rooms in my parent's home!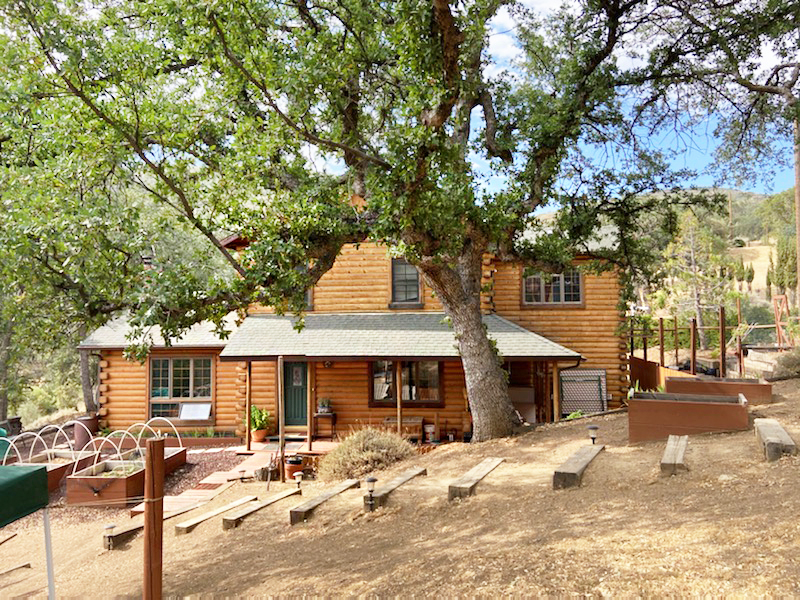 Of course, I couldn't do it alone, and my siblings and parents all worked tirelessly on this DIY remodel! My parent's got a head start several weeks before the One Room Challenge started. Then my sister and I flew out to join the rest of the family for a 2-week remodel trip.
We completed the library, sewing room, living room, master bedroom, and downstairs bathroom. A ton of work, but worth every effort!
The Library
The library <in my opinion> is one of the coolest rooms in the Artist's Mountain Home.
With the big beautiful window on one end, and French doors on the other end, it has a ton of light. This room also contained the wood-burning stove, which heats the entire house.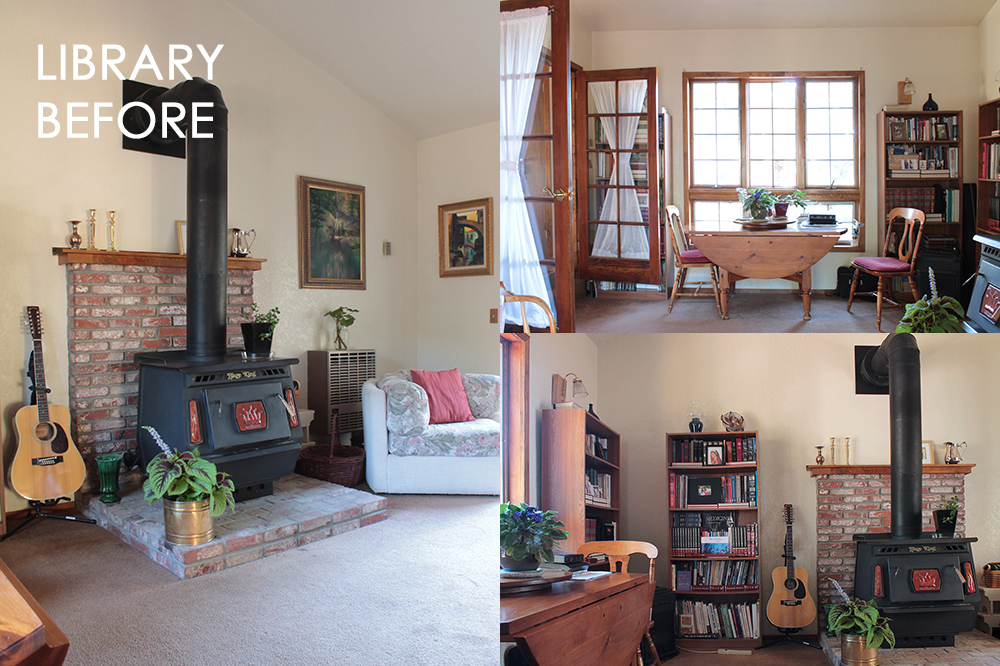 Unfortunately, the pre-fab bookcases didn't do justice to the high ceilings. And the carpeting meant little scorch marks where cinders spit from the wood stove. They were the first to go.
Thanks to our sponsors at The Home Depot, we were able to transform the library! We started with some wood-look flooring tile, and built custom bookshelves. But you can read more about it here in the full reveal.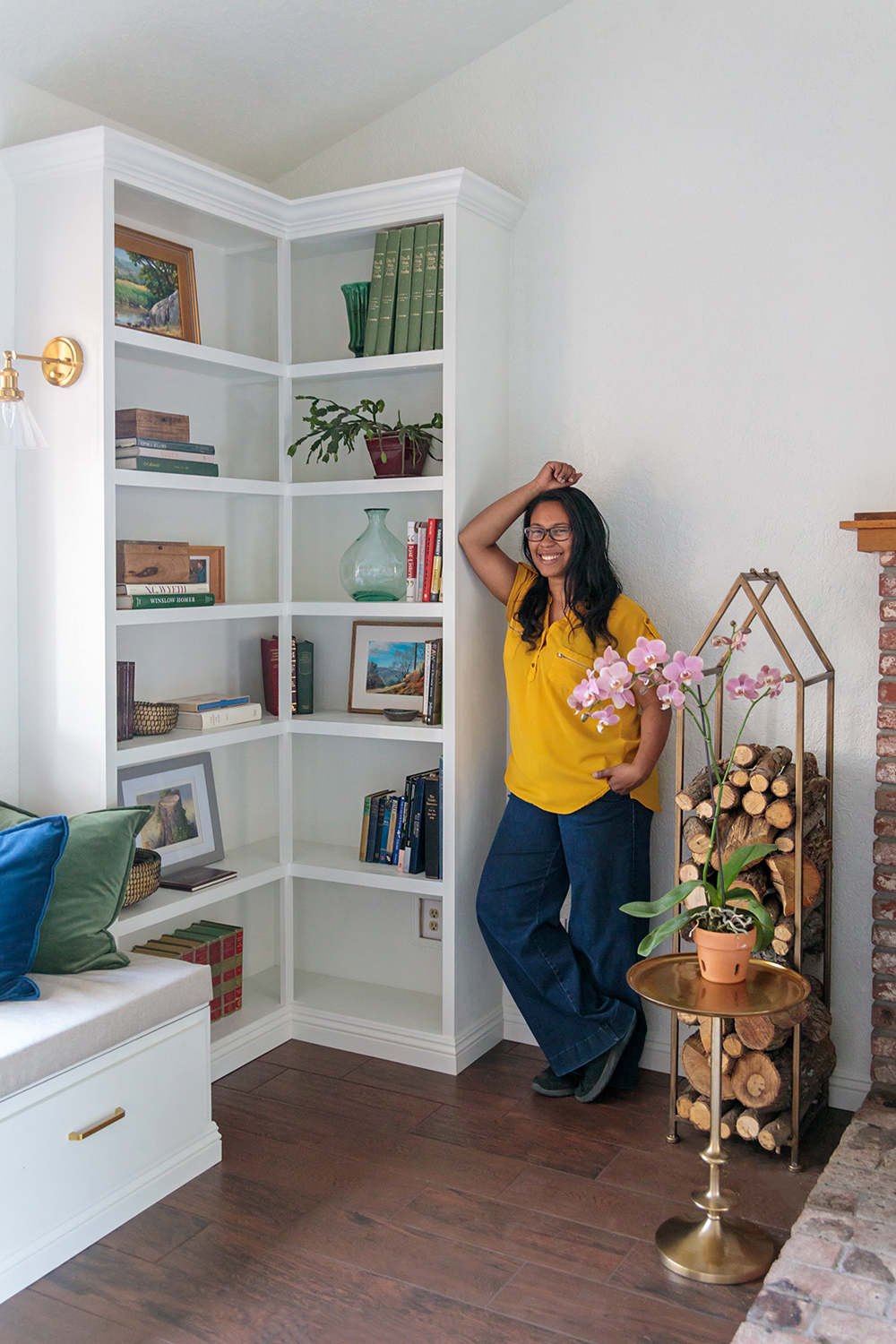 To be honest, I spent almost all of those two weeks in California building, and so did my brother. Just DIY'ing these bookshelves and window seat took a week. Mostly because we had never done an L-shaped shelf before.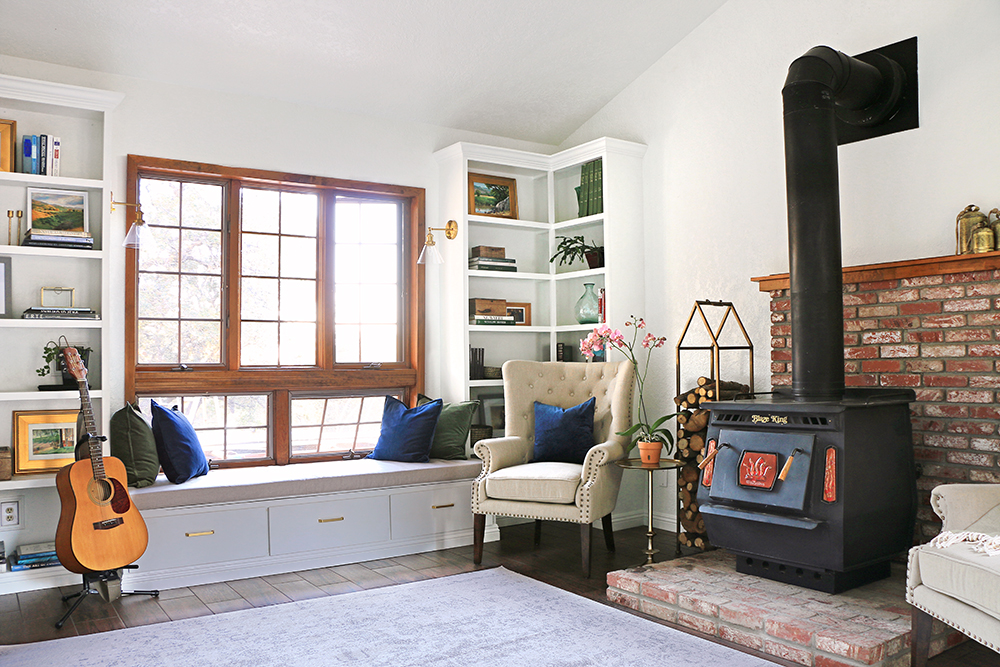 I would have loved to do more in this room, such as a huge gallery wall with my dad's artwork. But I did love seeing many of his smaller pieces displayed throughout the bookcases!
We managed to hide the ugly unused wall heater in the corner with a DIY cover. It was turned it into a stylish vignette, thanks to a few decorative items from Kirklands!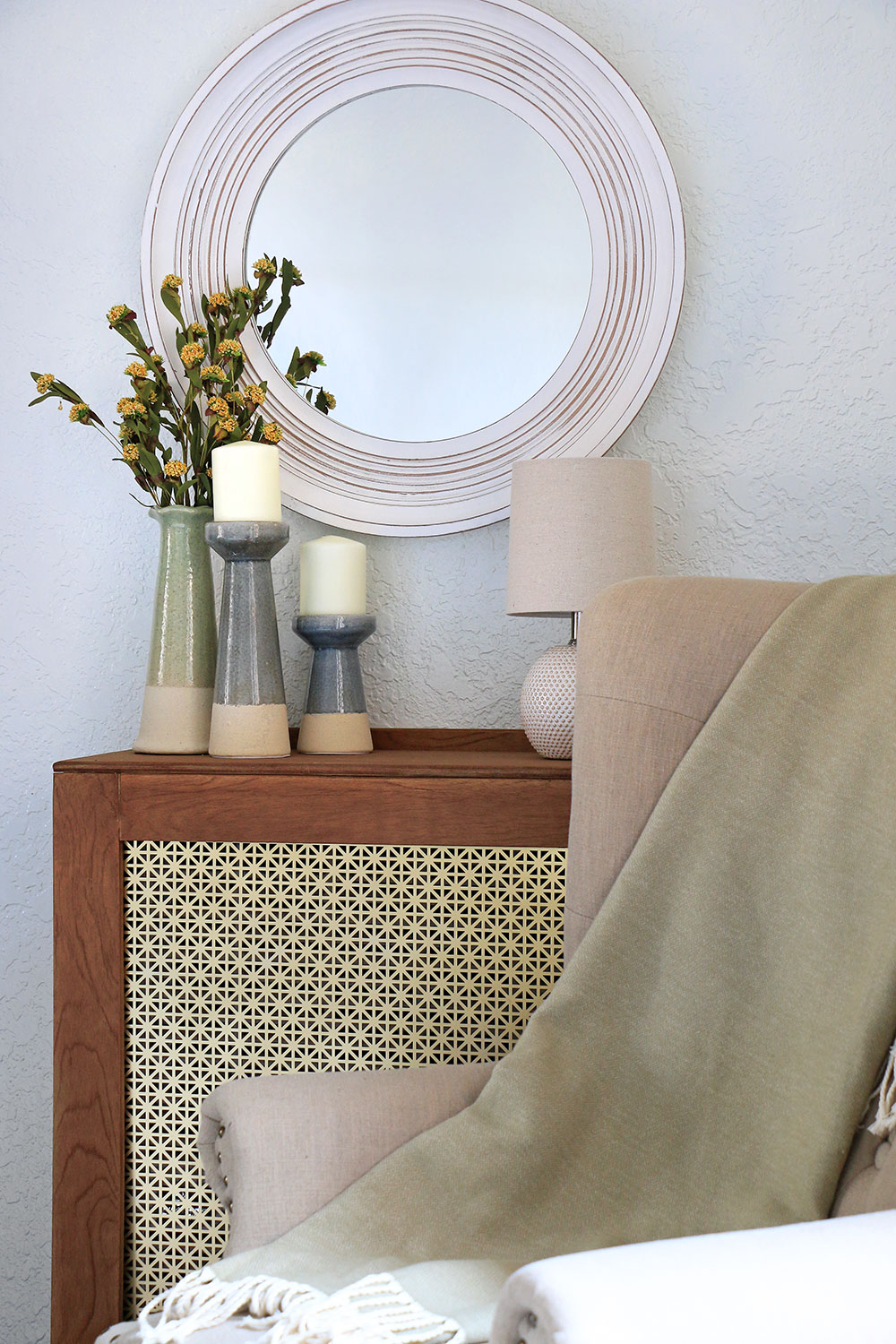 The library still has a ways to go. But my parents can add the final decorative touches, and the rest of their book collection. However, we gave them the bookshelf space to get started!
SHOP | Armchair | Demeter Gray Area Rug | Brass Wall Sconces | Metal Firewood Holder | Round Gold Accent Table | Throw Pillows | Decorative Baskets | Wooden Nesting Boxes | Candelabra | Round White Mirror | Small Hobnail Table Lamp | Ceramic Candlestick | Brass Iron Bells | TrafficMASTER Glenwood Cherry Flooring
The Sewing Room
Some of my favorite spaces to make over are the ones that encourage our creativity! Well, that and any space that has a ton of important utility to it…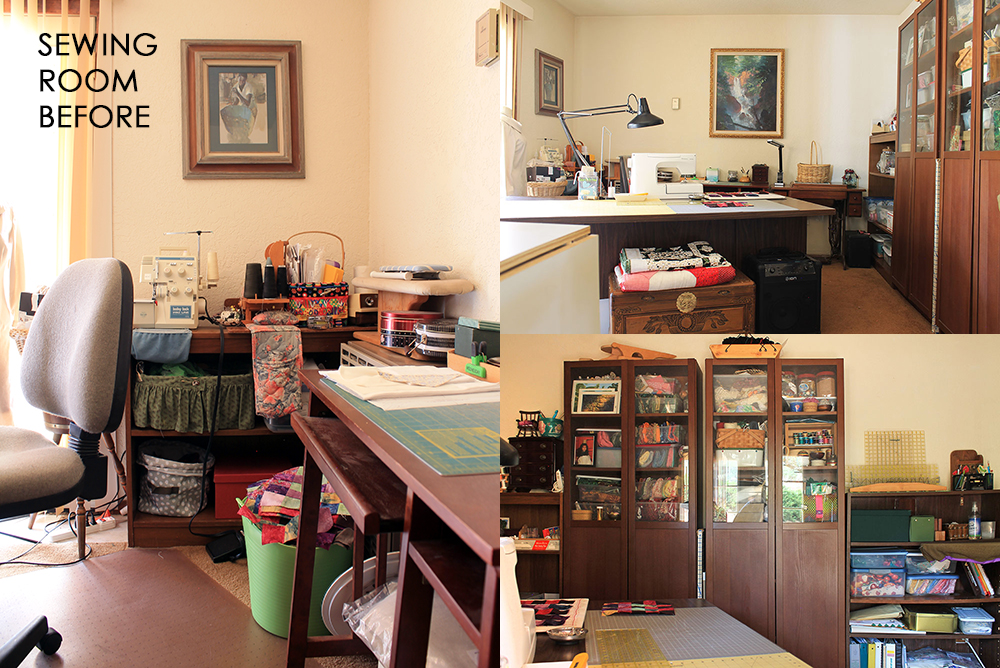 Organizing strategies become the prime planning in spaces like these, and this sewing room is no exception.
We created a stylish space for my mom to craft in by adding stock cabinets. Then we elevated the cabinet design with the most beautiful brass pulls by Schaub & Company. Isn't it amazing what a fresh coat of paint and new hardware will do to a space?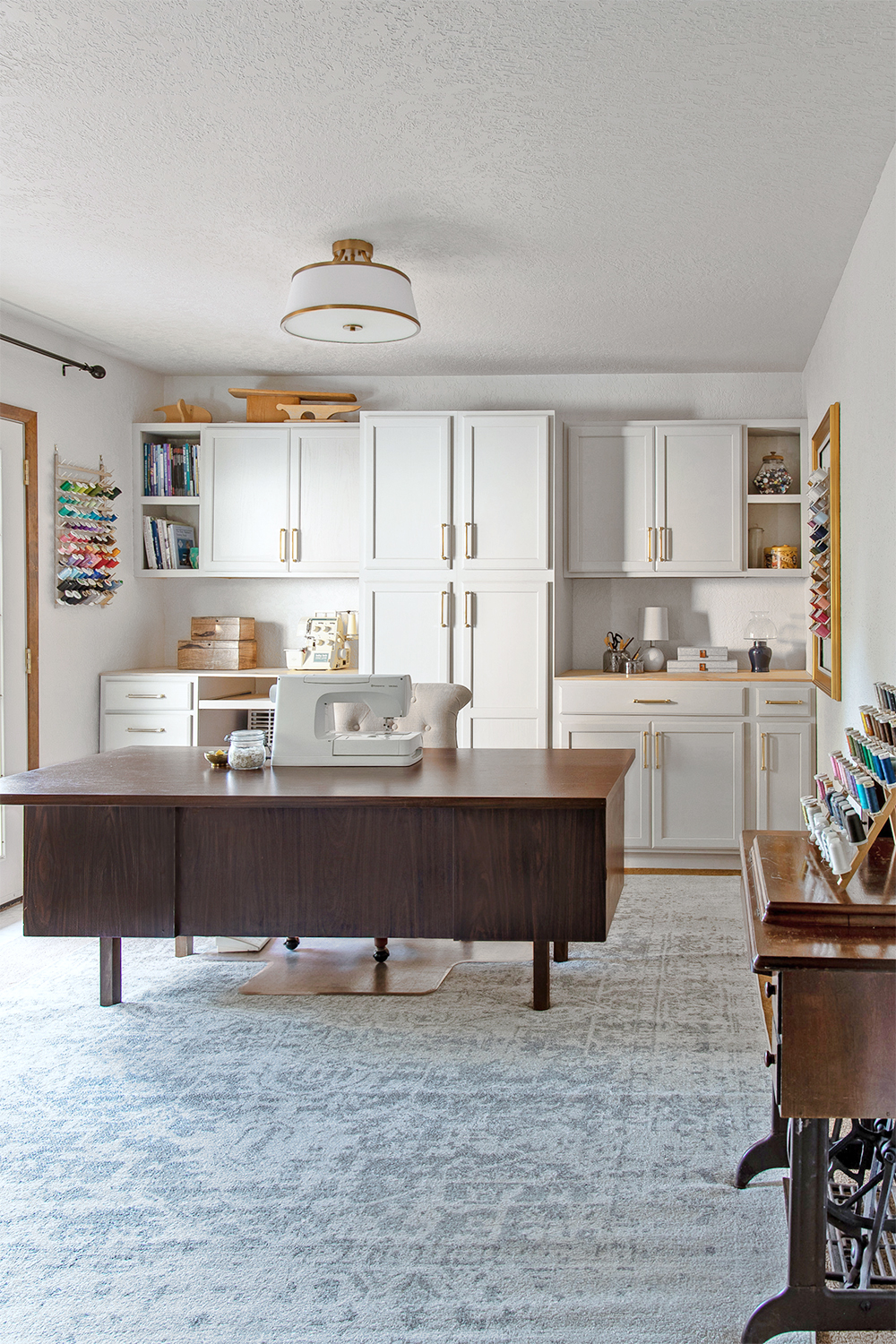 But let's be totally honest, it's the organization that excites me the most. We built custom full extension pullouts for the cabinets, and organized them with cute bins from mDesign Home Decor.
If you missed it, you have to go back and read my entire organizing post. You'll get a glimpse of the inside of the other cabinets, and my strategies for this space. It's like organized eye candy!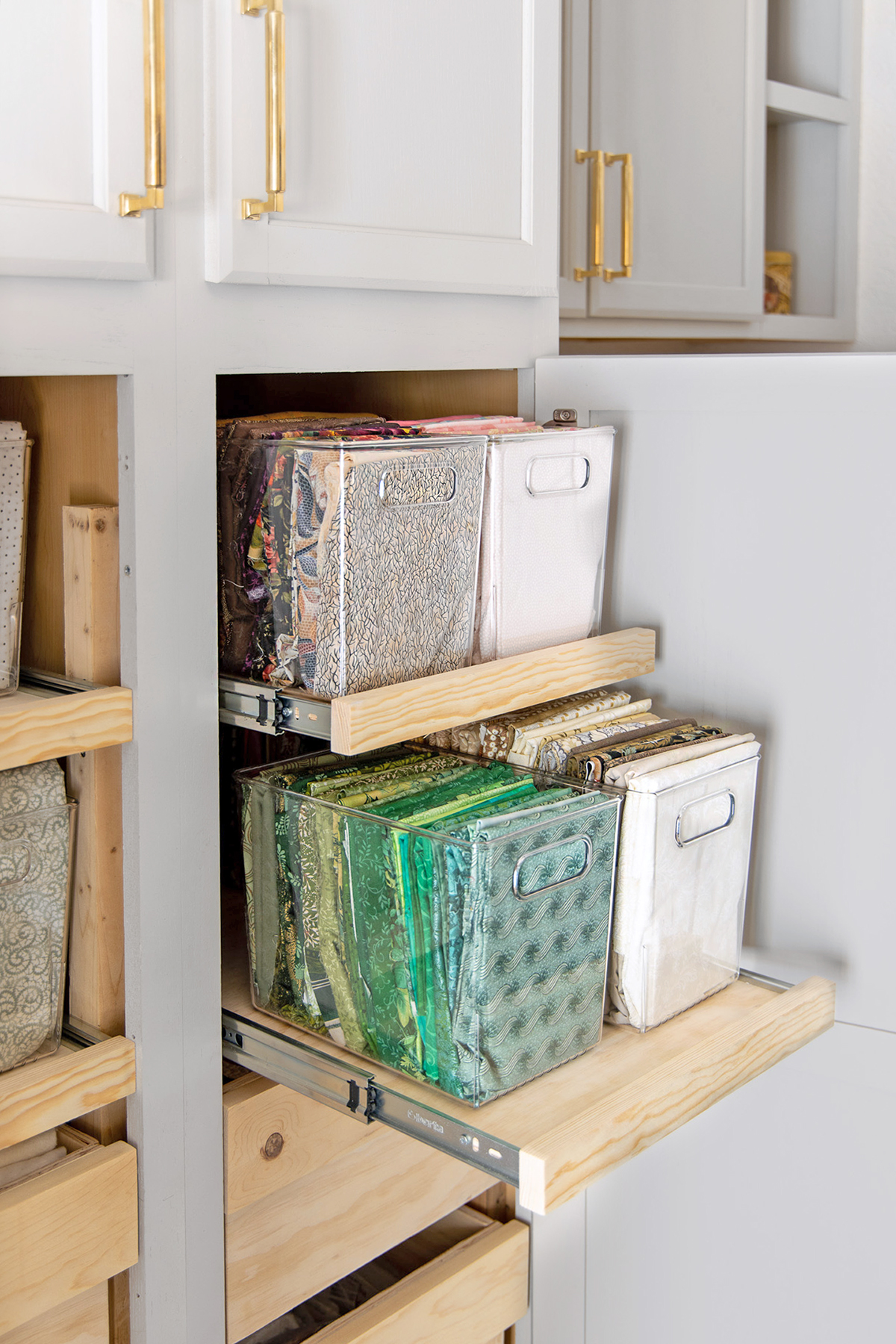 Unfortunately, with only 2 weeks to pull off all the building projects, I couldn't finish in here. A few cabinets haven't been optimized for storage, I have to leave that to my dad to complete. The extra cubbies I planned to make for the top of these cabinets also went undone.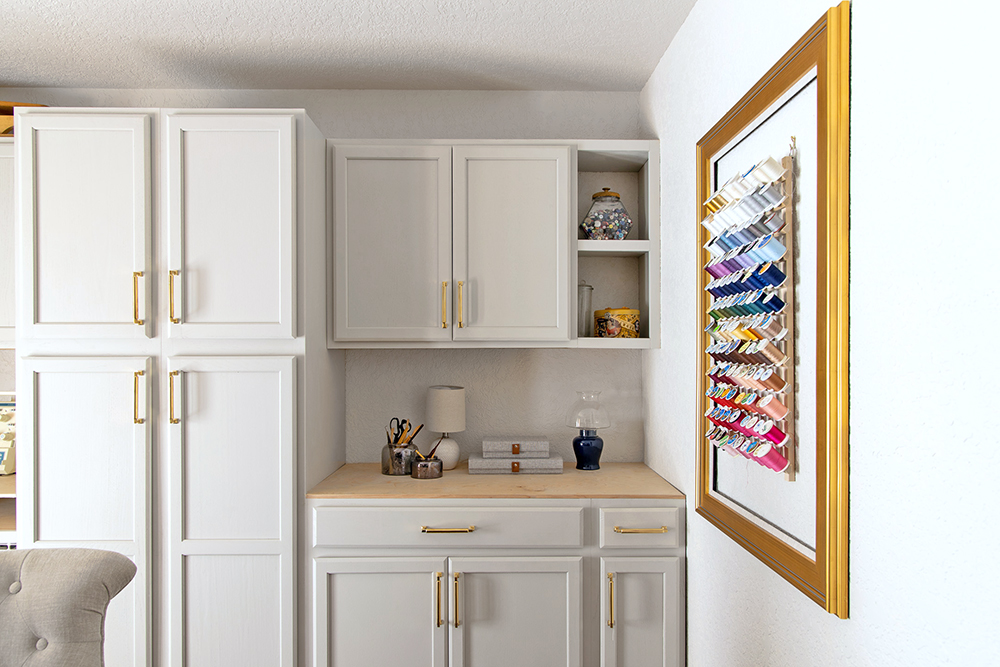 I wish I hadn't run out of time to finish the sewing room… My mom has so many more supplies than one room alone can handle, but I had a pretty good plan.
Maybe if I'm lucky, I'll have another trip in the future to finish implementing all my storage strategies.
SHOP | Plastic Fabric Bins | Cabinet Pulls | Flush Mount Light Fixture | Area Rug | Stock Cabinets | Cabinet & Wall Paint: French Linen | 2 Piece Glass Jars | Upholstered Office Chair
The Living Room
The living room is a prime example of how a few tweaks can transform a space. Sometimes, we think we have to put a ton of money into a room to make it look good. That just isn't true.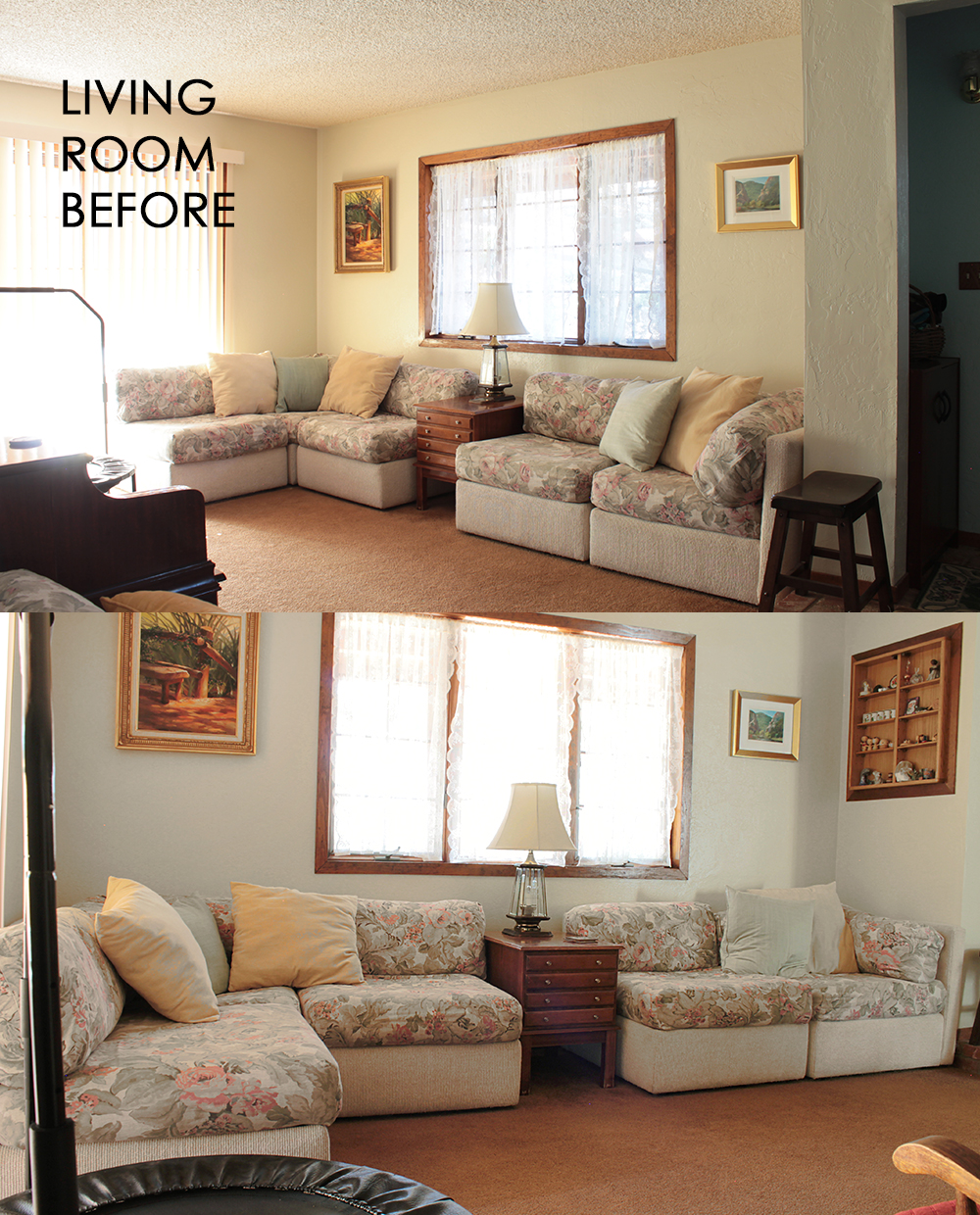 This room felt a little dated because of the lack of attention to design details. That's all! We didn't paint, we didn't rip out the carpet…we didn't even add any new furniture.
All it took was a beautiful area rug from Revival Rugs, curtains, and a slight change in how the sectional was arranged. Yes, that is the existing sectional…we just removed the sofa covers and added a couple new throw pillows.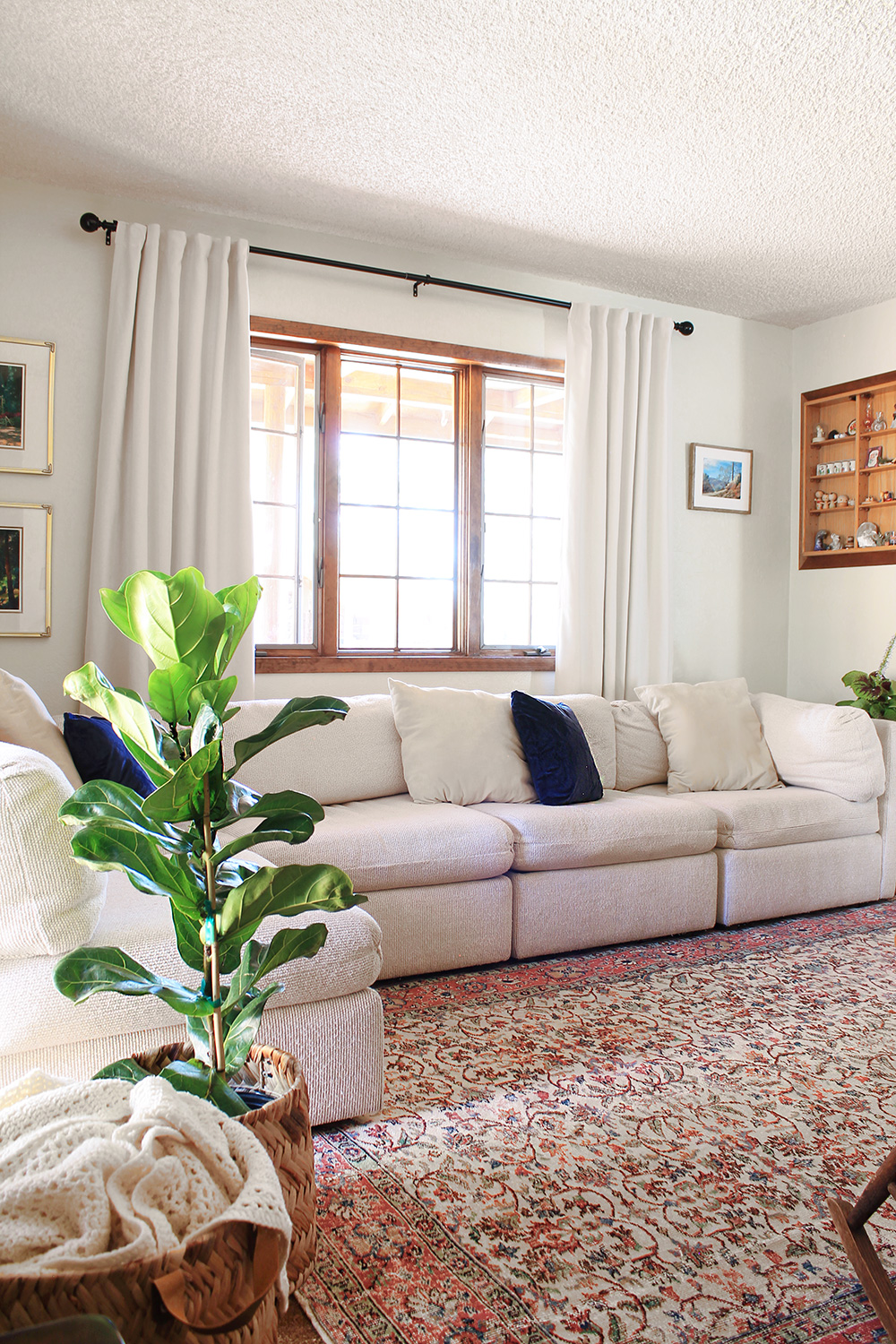 There aren't even a whole lot of accessories in this room! Besides the throw pillows, we added a couple baskets, and a plant. I also had my dad swap out his larger painting for two smaller ones in the corner.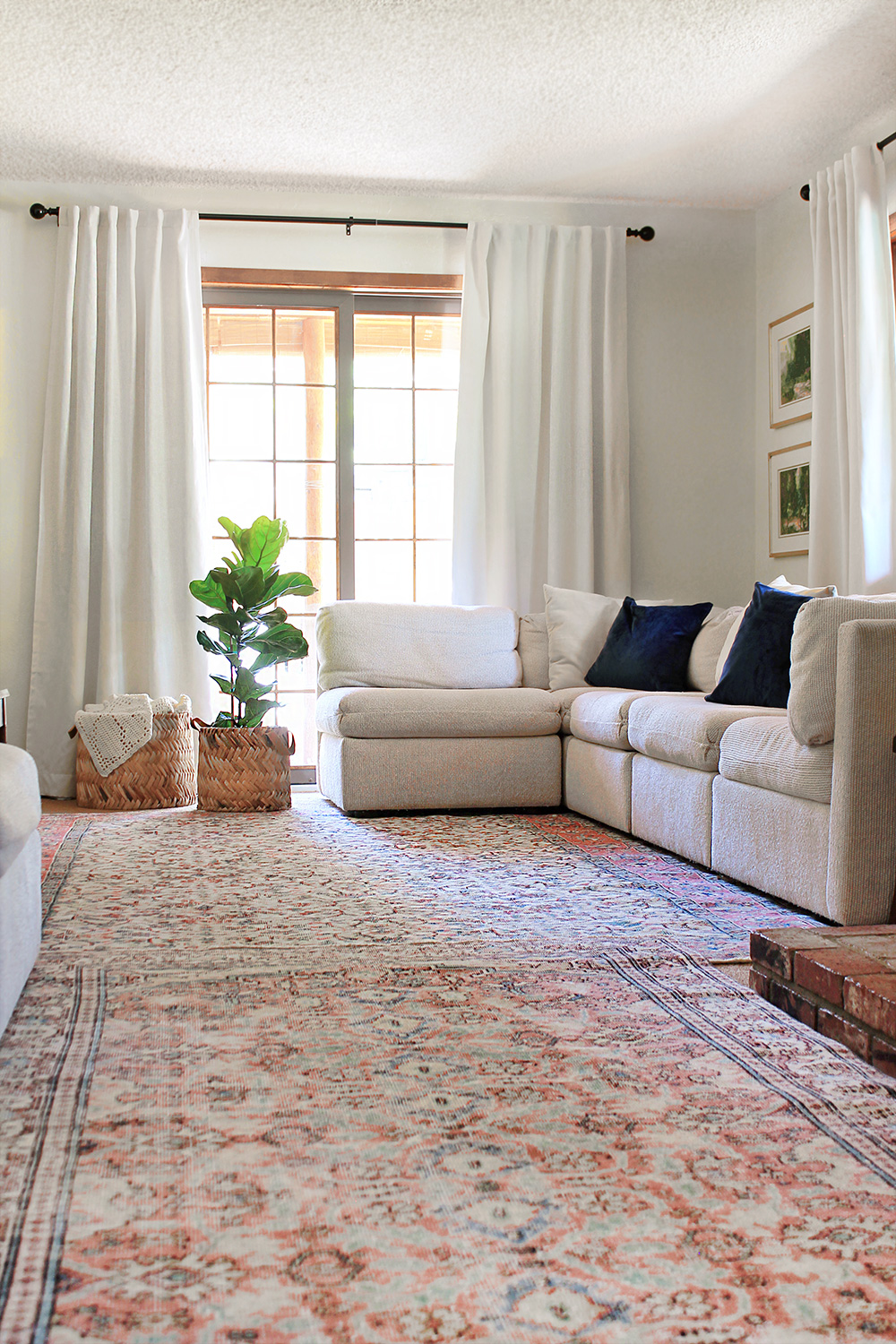 Later on, we added a few accessories from Kirkland's, like the yellow throw, two glass jars, and a basket. Very minimal, but effective.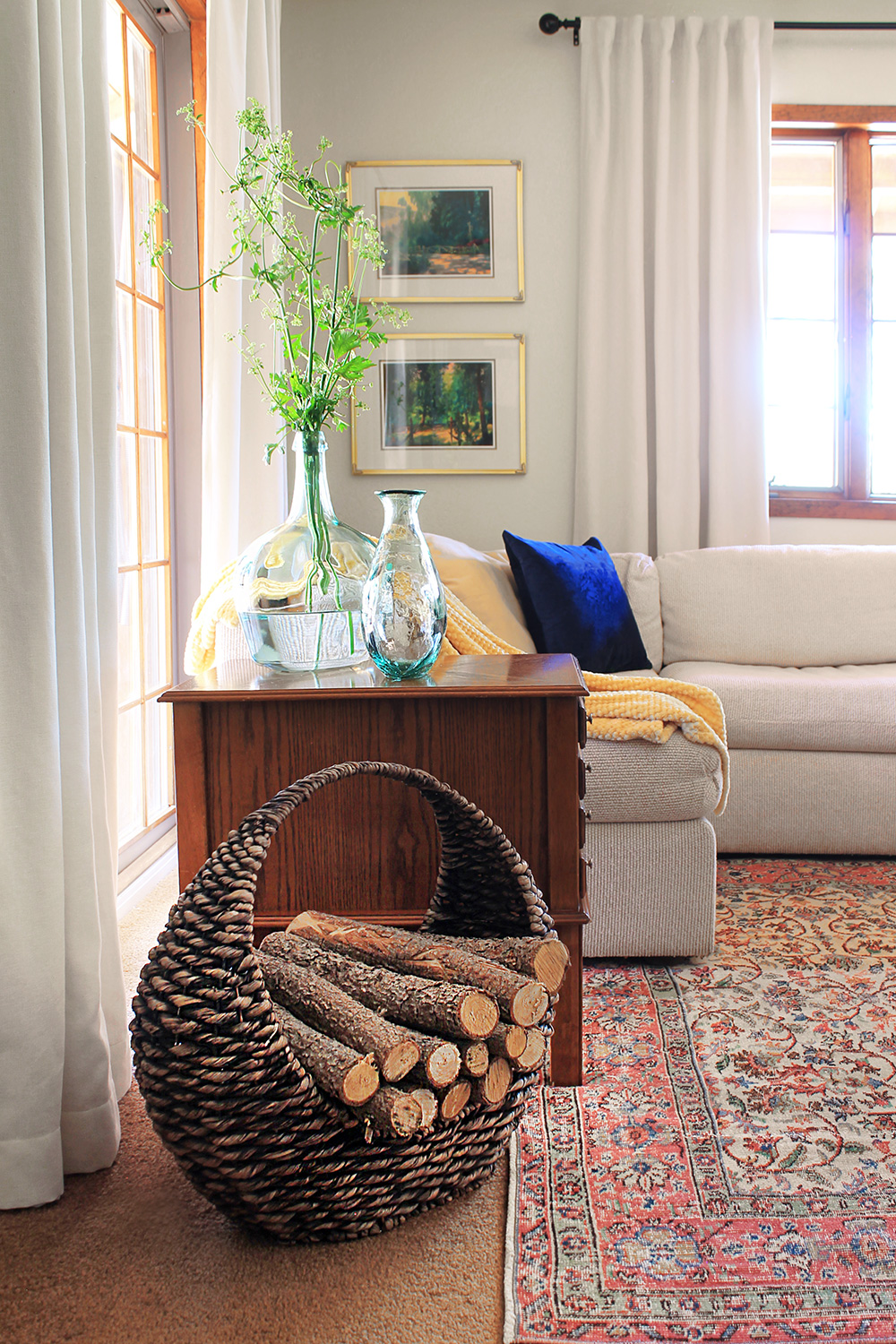 Moral of the story? Creating a thoughtfully put together, beautiful space doesn't have to be expensive. It might just need a little bit of thought and attention.
SHOP | Large Area Rug | Small Area Rug | Curtains | Crescent Basket | Green Jar
Master Bedroom
The master bedroom in the mountain home is yet another example of small tweaks making a big impact.
The room had too much wood and was generally beige and plain all over. A few pleasant hits of color, and an attractive arrangement of pieces would improve the space.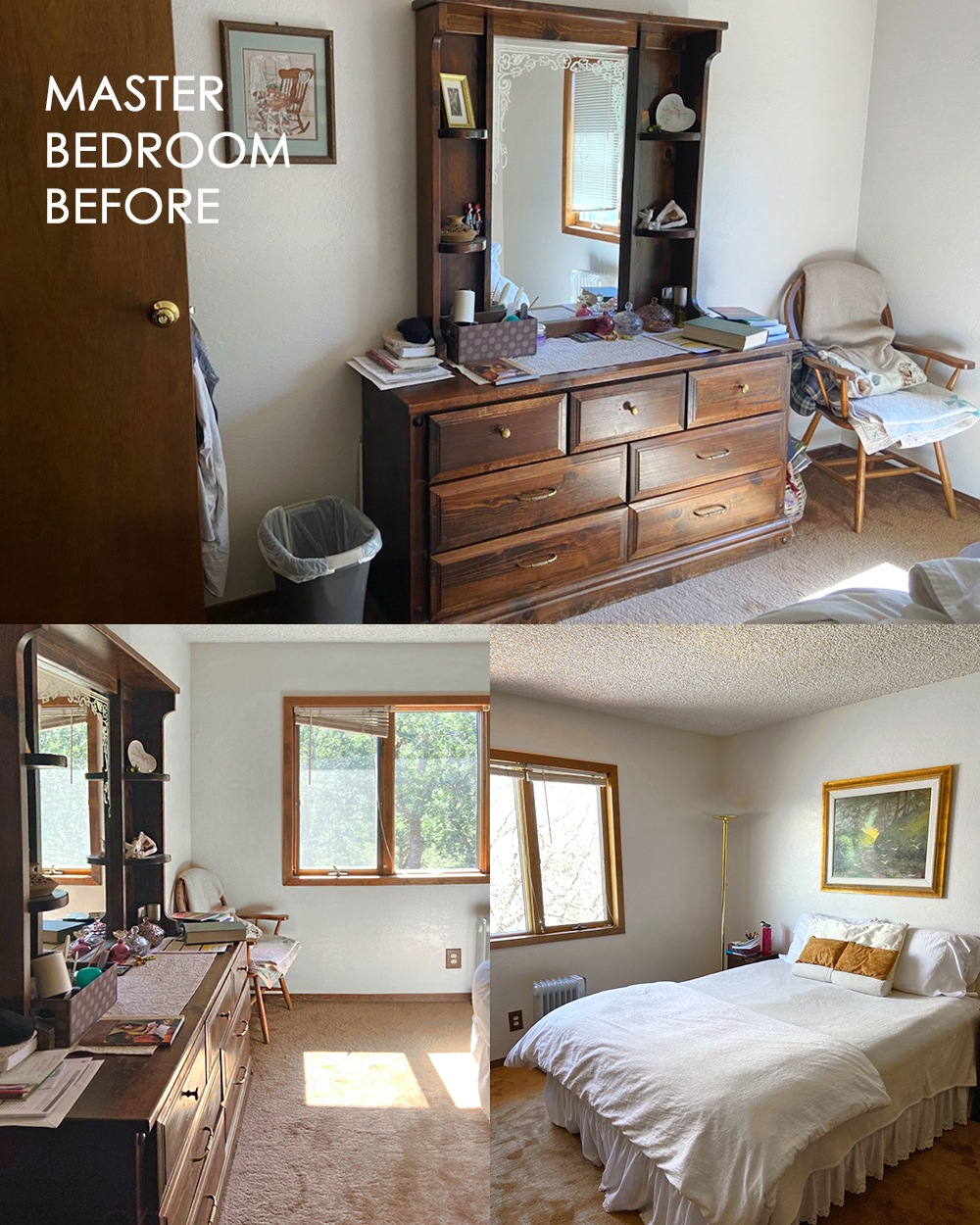 Simply removing the dated hutch top, and adding other fabric goods would also soften the space.
The upholstered headboard grounds the bed, curtains frame and soften the window. Even the armchair from Wovenbyrd played it's part in adding comfort and a softer touch.
Always consider the materials in a room. Too much of any one thing might make it feel harsh or unbalanced when you want comforting and inviting.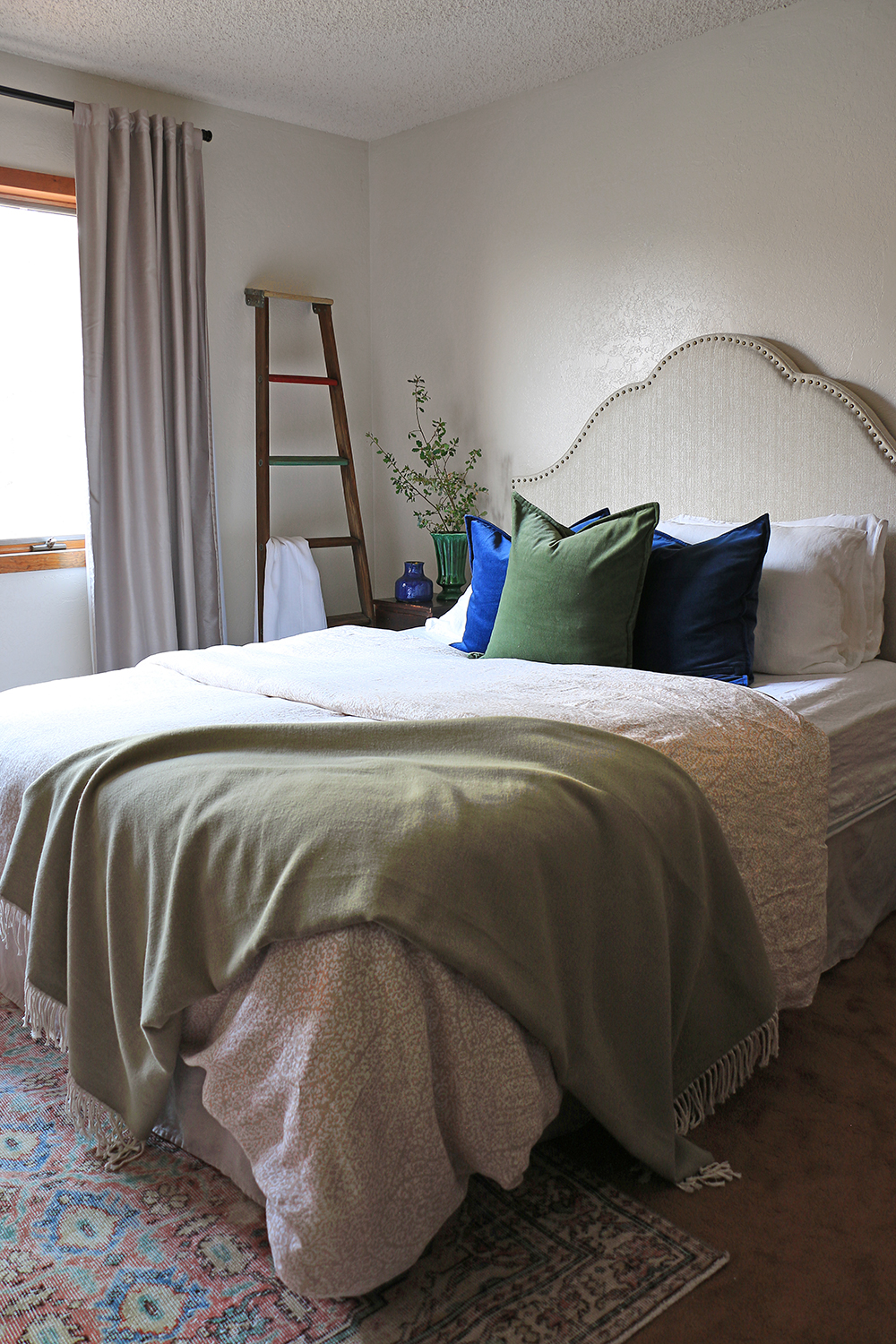 The bed got a whole new cozy feel, thanks to Garnet Hill! And their amazing cotton velvet throw pillows added the punch of color needed in the space. A bed should be inviting and comfortable, but it also usually the focal point of a room.
Not to say that the rest of the room didn't get an equally attractive update.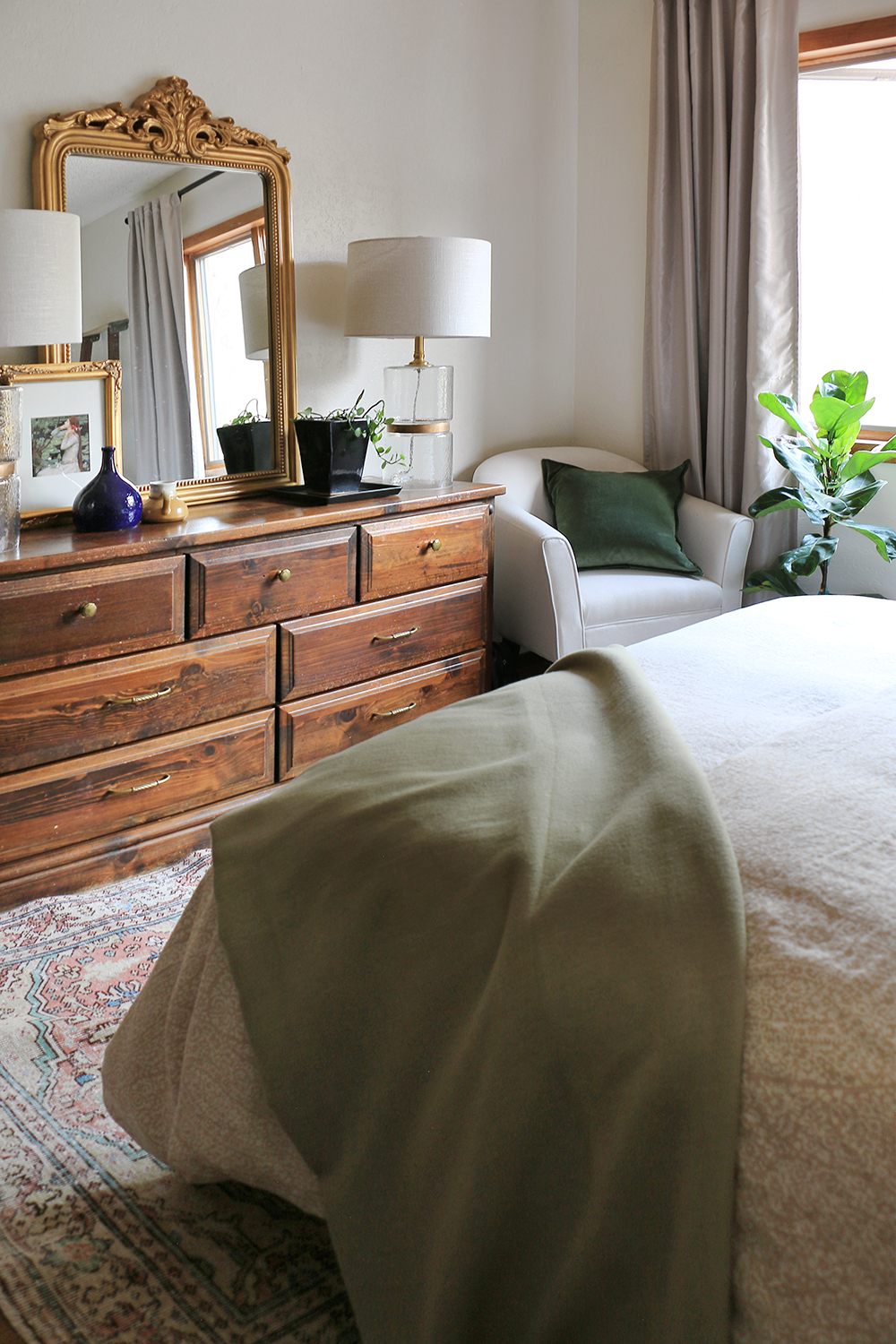 The existing hutch just was just too much wood in the space. Especially sitting right next to a wooden chair, plus a wood door, and wood window frame. But of course, if you remove the mirror, you need a replacement. This beautifully traditional gold mirror introduced another pop of color in the space, and was the wow factor it needed!
As heavy as the mirror is visually, the dresser can handle it. Still, I decided to take it a step further by flanking it with two spectacular large table lamps from Huck & Peck. I just love the glass with gold band around the middle!
SHOP | Area Rug | Mirror | Table Lamps | Curtains | Headboard | Armchair | Olive Throw | Comforter | Throw Pillows |
The Powder Room
We tried not to take on too much in this space. With such limited time, the focus would be to add a couple attractive fixtures, but the rest would have to wait.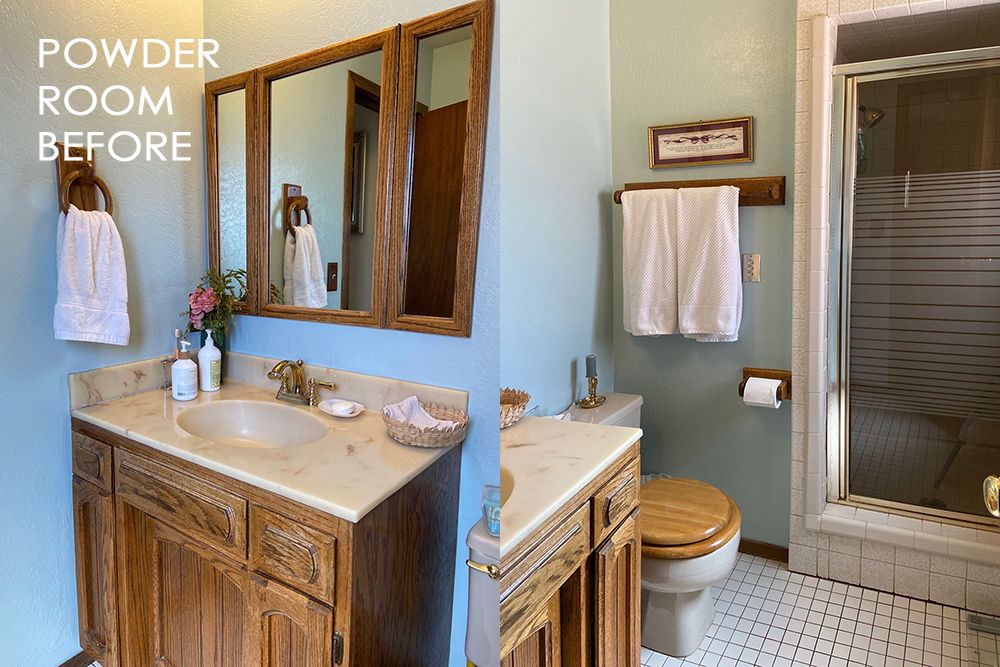 Again, we needed to tone down all the wooden elements in here. I love a good wooden piece in a room, but there was just too much wood in this bathroom. So we replaced the wooden toilet holder, and towel holders for iron ones.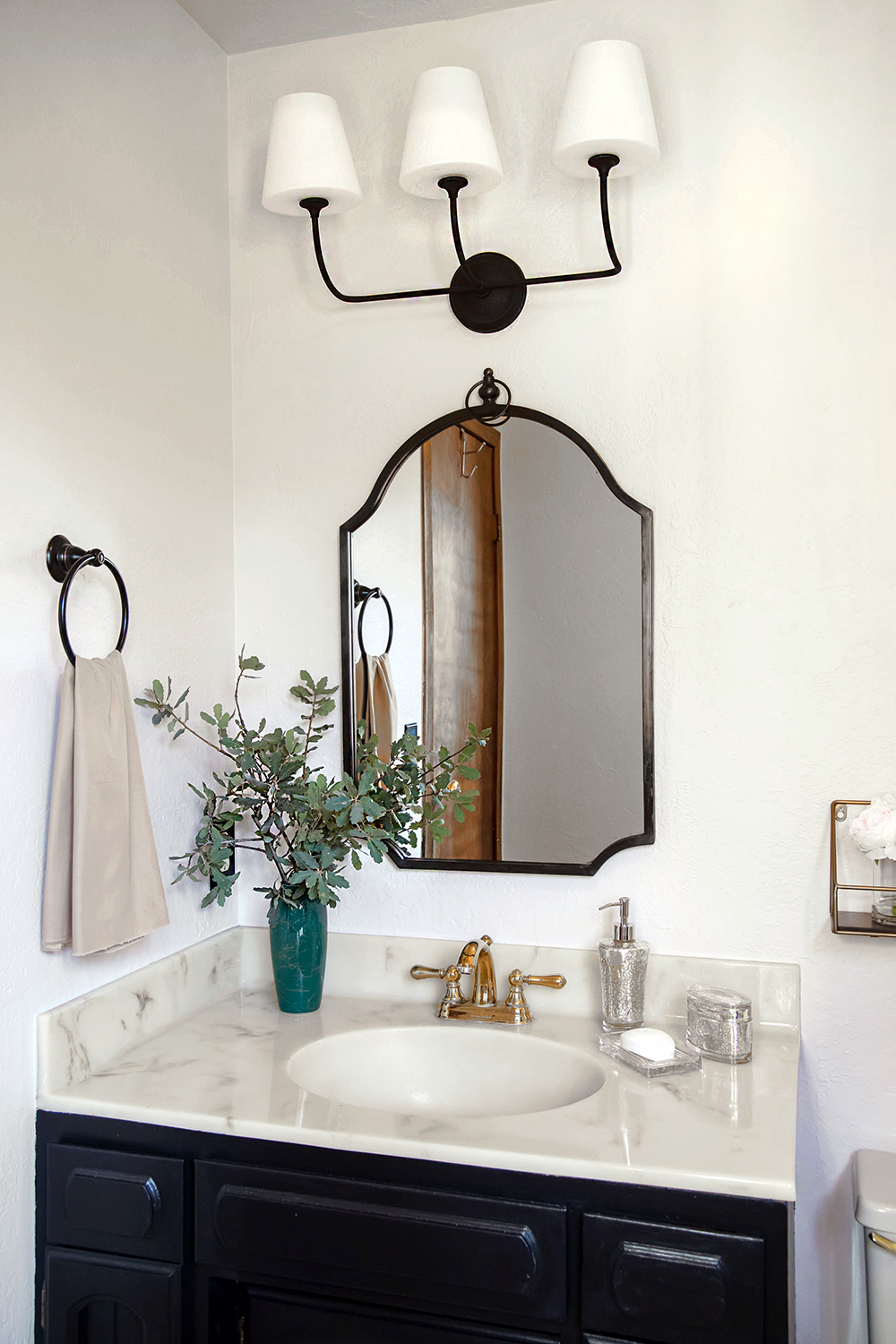 We did paint the vanity, and replace the mirror, but the show-stopper in here is the light fixture! This beautiful fixture from Crystorama is where the plan for this room started, and is inspiration for the future.
SHOP | Light Fixture | Mirror | Towel Holder | Soap Dispenser | Vanity Paint: Behr in 'Winter Way' | Wall Paint: Rust-Oleum HOME Ready-to-Use paint in 'Sandbank'
The Tools That Made It All Possible…
I can't believe we got as much done as we did in 2 weeks! Of course, my mom and dad put a lot of hours before we ever arrived. But all the build and DIY elements wouldn't have been possible at the Artist's Mountain home project without amazing DIY sponsors!
We are especially grateful to Ryobi, Kreg Tool, and ToughBuilt for providing tools and supplies necessary to make all these projects happen. It was vital to the space, especially since hiring someone to custom build was not in the budget.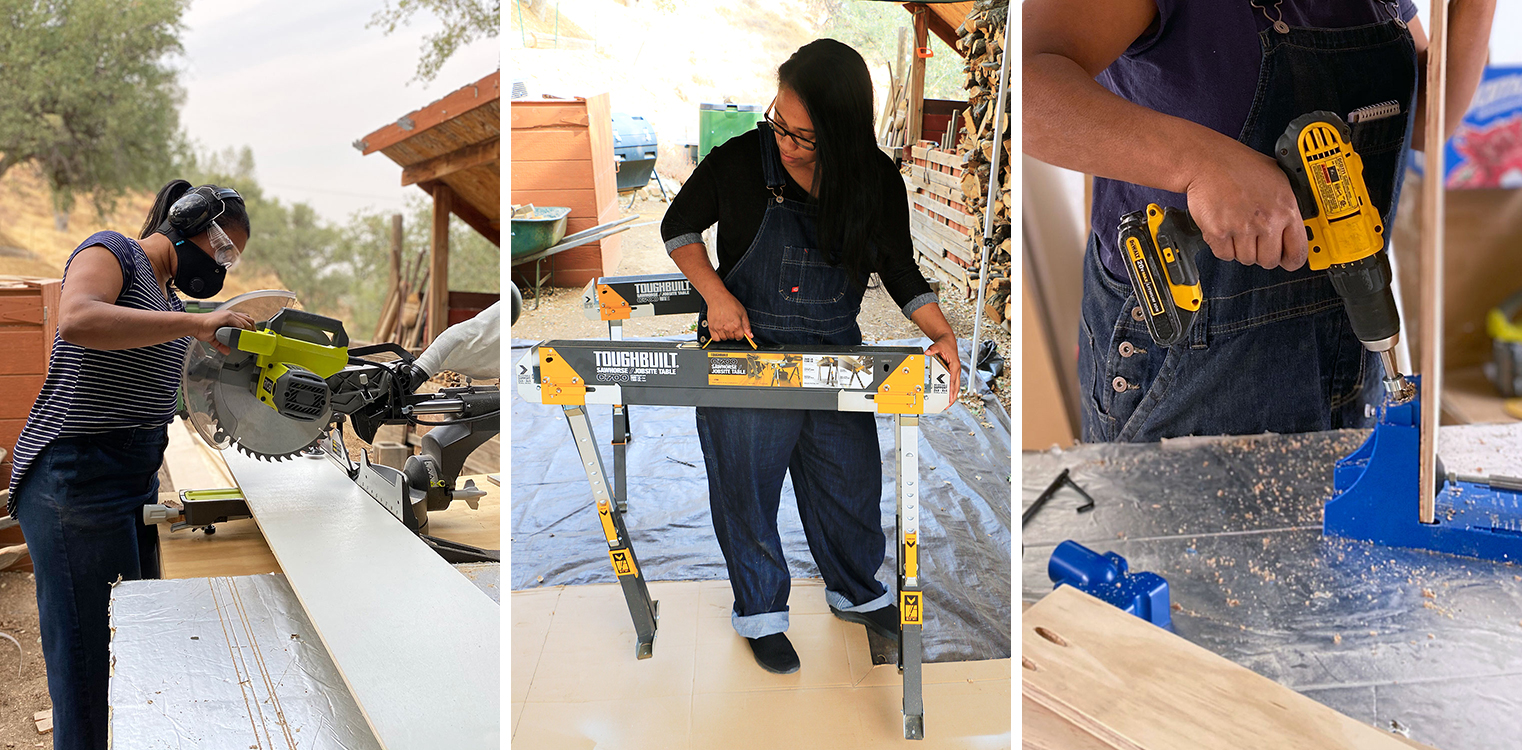 If you are wondering what it took to build and DIY these spaces, here are the tools we used to make it happen. In order of most frequent use:
Power Tools:
Circular Saw
Additional Drill/Driver
Cat Sander
Temporary Workshop Setup
Miscellaneous Supplies:
Level
Speed Square
Caulk Gun
Other Clamps
Infusing An Artist's Home With Charm & Magical Beauty
Hopefully I've created a pretty environment for my dad to style his artwork in the house and show you what it could potentially look like in your house!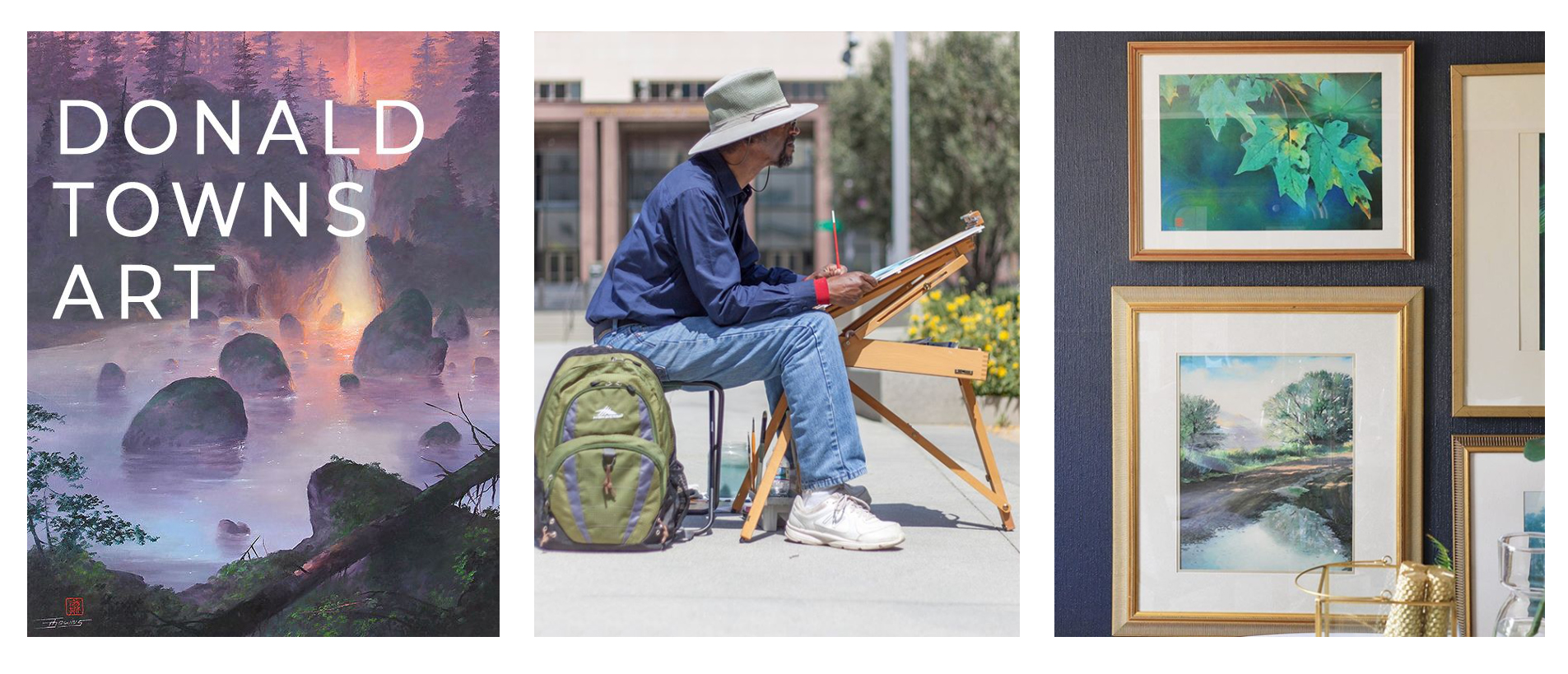 I've often used my own home to display his paintings for marketing his online art shop. But hopefully now we can begin to use some of the spaces in my parent's house as well!
There is something special about showcasing artwork in a well styled home rather than just on a wall in a gallery somewhere. Somehow, we can better envision it edifying our own slice of heaven.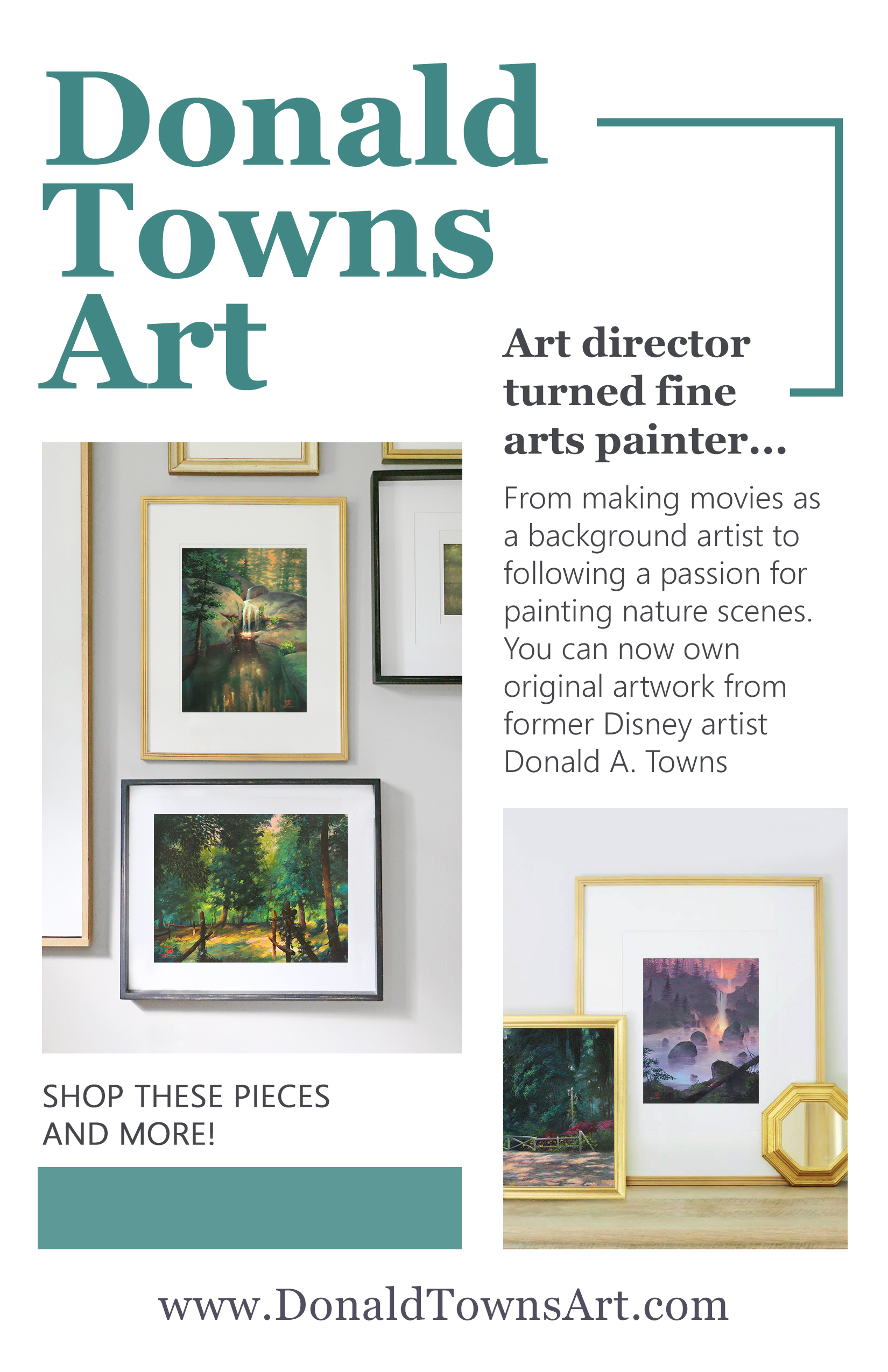 This project has been an amazing challenge! I can't wait to see how my parent's curate their home moving forward.
Thank you so much for joining us on the journey!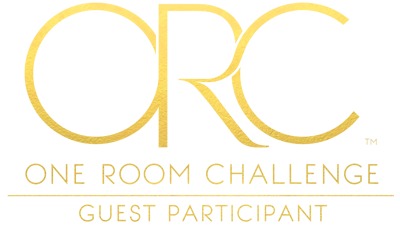 Thanks To All Our Artists Mountain Home Sponsors!
Crystorama | Huck & Peck | Kirkland's | Kreg Tool | Ryobi Tools| The Home Depot | Wovenbyrd | Rustoleum | mDesign Home Decor | ToughBuilt | Garnet Hill | Revival Rugs | Schaub & Company