Why do we always put ourselves and the spaces we occupy most last? Must be a mom thing. Well this time, I'm not leaving my bedroom as the last space in my house that gets decorated. I'm taking on this room for the One Room Challenge, which just the motivation I need!
This will be my third time making bigger plans than I can probably execute.
I have participated in two of these challenges and this will be my third time making bigger plans than I can probably execute. In case you are wondering what a One Room Challenge is, it is a 6 week design challenge for bloggers and designers hosted by Calling It Home. Basically I have 6 weeks from start to completion to take my Master Bedroom from plain to perfection.
Here is the initial inspiration board I've created for my room, but we'll see if this is the direction I ultimately go. My budget for this room is small, and I have other really huge projects getting ready to start that I may have to be content with a low scale makeover for the moment.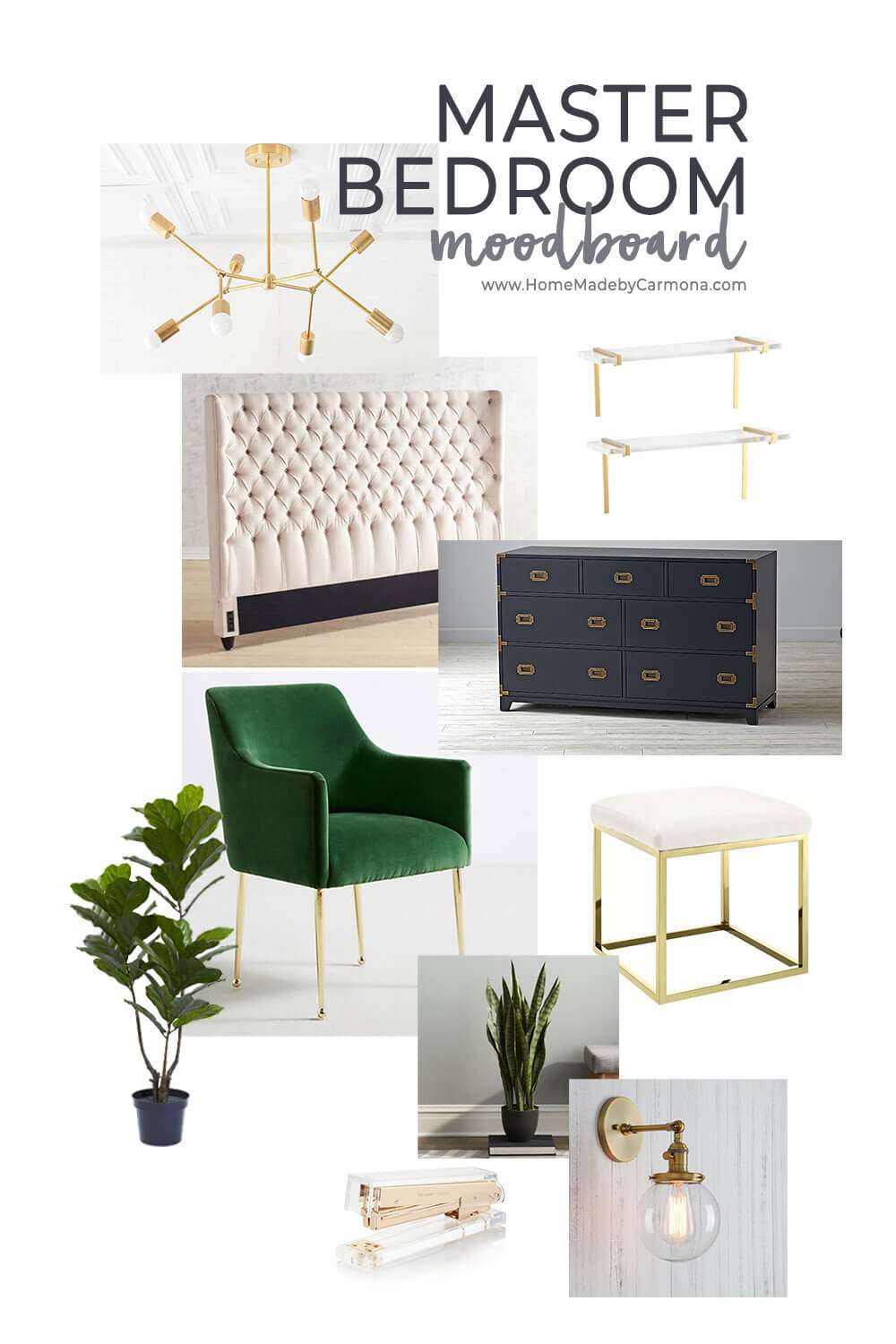 I have decided to blog about this project just a little differently than usual. I am taking on little bits of this makeover section by section, piece by piece. That way if I can't bring it all together before I run out of money or steam, at least the basics will all be in place and parts of the room will be stunning motivation to continue.



Today I'm taking a look at possible headboards, because let's be honest, the bed is always the star of the bedroom, even when it is the unsung hero. I'm looking to make the bed as stylish as it is comfortable, so I'm in the market for the perfect headboard.
The Headboard Dreams Are Made Of
Ooooooh mama! When I saw this photo on Pinterest I hunted far and wide until I found the blog responsible for documenting this drop dead gorgeous headboard. Carrie of Wish Wish Wish visited the incredible Cliveden House and happily documented this room and headboard in a variety of beautiful ways. So pop over to her website and check it out. All I know is that this headboard is the thing dreams are made of.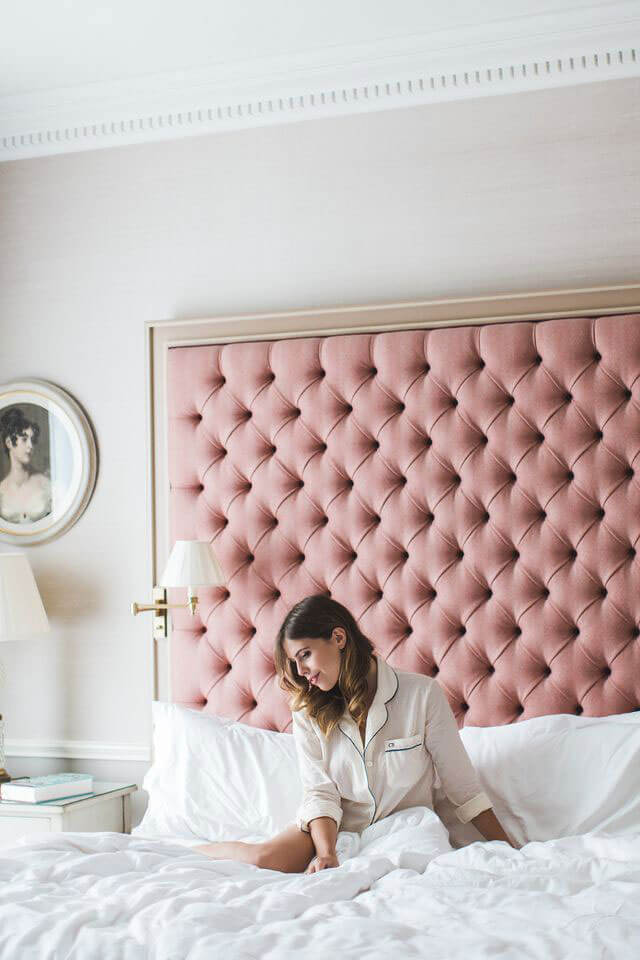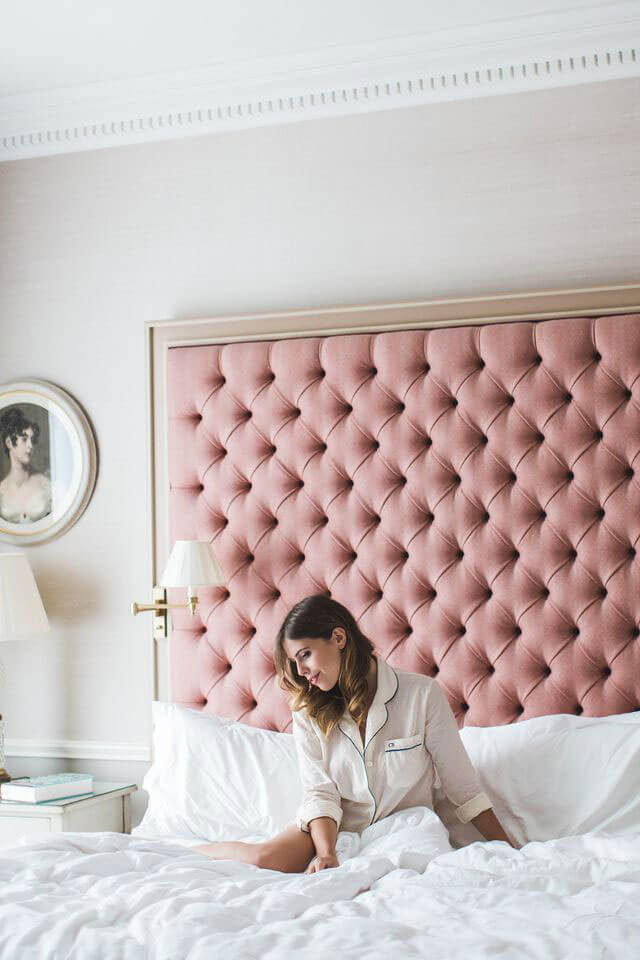 [left]I have a feeling that unless I DIY a headboard like the one above, it's just not going to happen. Plus I don't have tall enough ceilings *crying on the inside*. However I still want a tall headboard for this room, and maybe something a little darker like this stunning moody room and headboard. I searched high and low to find the source of this pin for you, but struck out.
Isn't it perfection? Even if I created a DIY version of the pink headboard above I think I would go with this amazing moody charcoal color. I'm a little obsessed with all things moody right now. But I think it would be amazing for my room since I want to go for a style that is not too feminine (hey, this is my husbands bedroom too), but can still have touches of glam. [/left]
[right]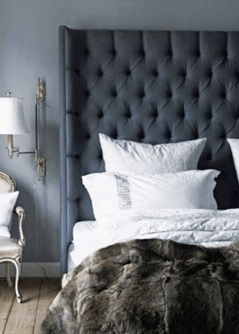 [/right]
Plus I love the curve on it the dark headboard. In all my searching I did find quite a few amazing tufted headboards within my budget…and admittedly a few outside my budget.
Possible Tufted Headboard Options

Guess which one I'm buying? Yep, the one just outside of my budget. Haha! Go figure.
The Audrey II Upholstered Wingback Headboard
I wish I could have found this bad boy in a dark charcoal color like in the inspiration photo, but this is only available in Pewter Grey, an off white Flax, and a striking blue Ink. I would have gone for it in Ink, but it wouldn't go with the wall color I've chosen.

I looked high and low for a headboard like in the inspiration photo, and this one from Pier 1 was the closest I could find. It has that diamond tufting I adore, the perfect tall height I require (not not so tall it dwarfs my regular height ceilings), and a slight curve on the sides (granted I wish that curve was just a little more pronounced).
I've put in my order, and it should arrive in two weeks! Eeep, I'm excited guys!
Next week I'll share a before picture of my bedroom, and the paint color going up on the walls.
Till then!


[go_portfolio id="decorate_landing_page"]