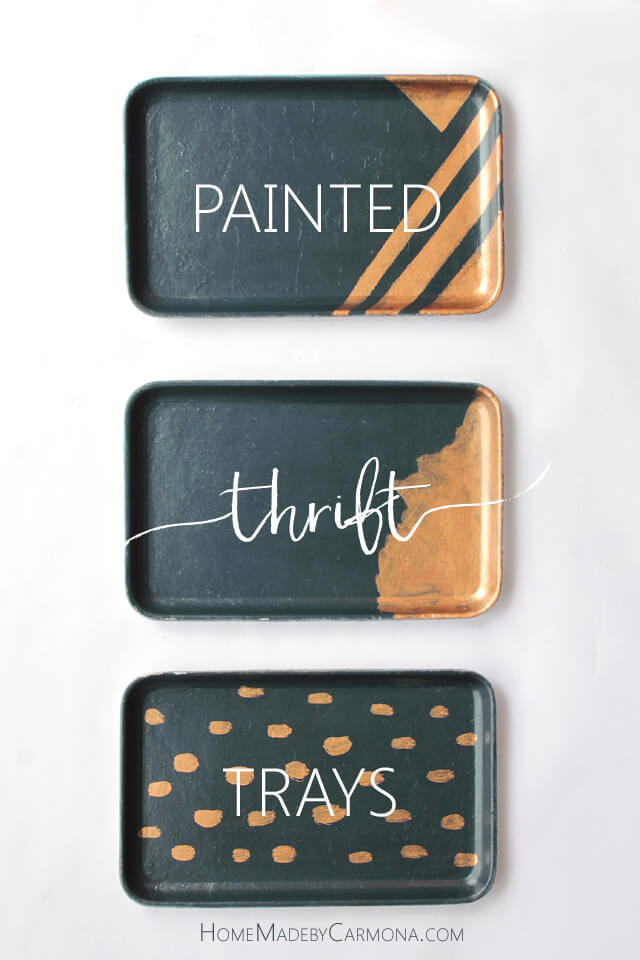 I've been avoiding the thrift stores lately…well you know how it is, you walk in, and an hour later you walk out with a cart full of items with "potential" you really don't need and probably won't have time to makeover.
You walk in, and an hour later you walk out with a cart full of items with "potential" you really don't need…
Since our fun Swap It Like It's Hot thrift shop swap, I have officially failed at avoiding thrift shops. 😀 But I'm giving myself a one-time pass for that challenge, and since I found these cute trays for under $1 each, I figured it was worth it. I kept three for myself, and sent blog friend Jess from Domicile 37 three.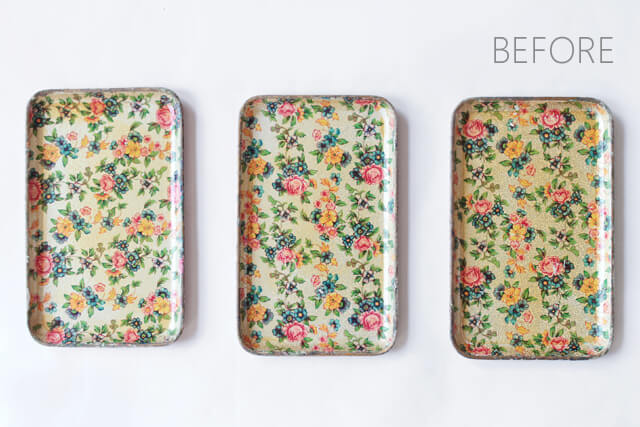 Jess did some fun things with the trays plus a few plastic animals (take a look!). Let me tell you, this gal knows how to work a thrifted item…I have a funny feeling I might be thrown right back into hardcore thrifting if we get together to hang out anytime soon.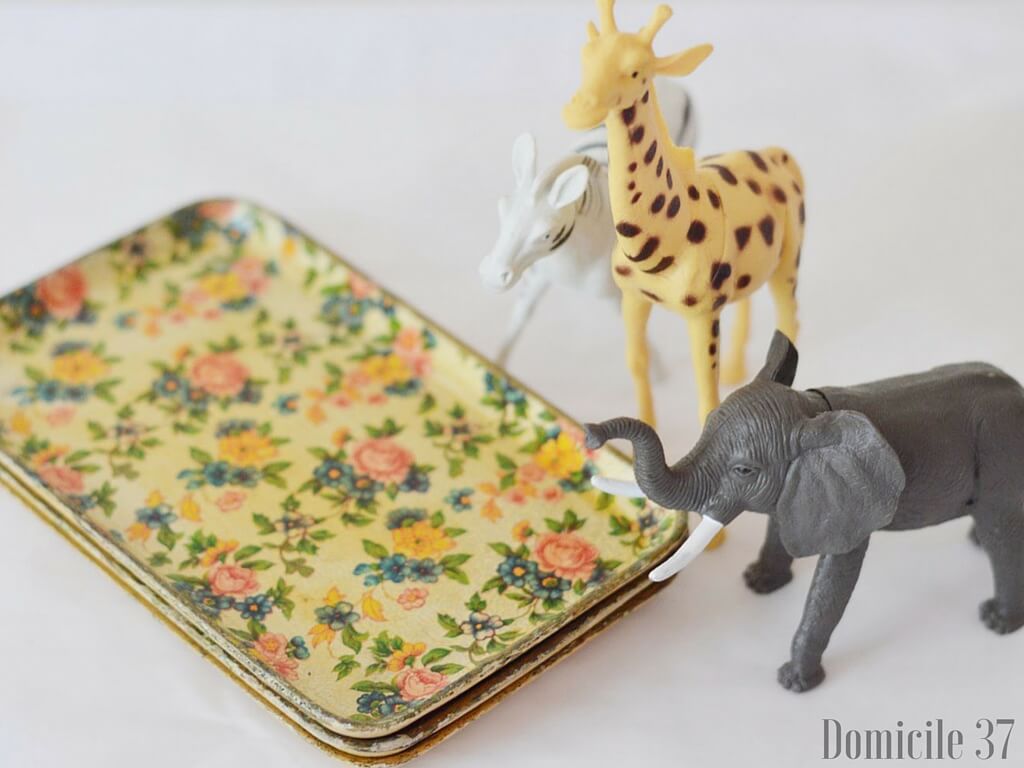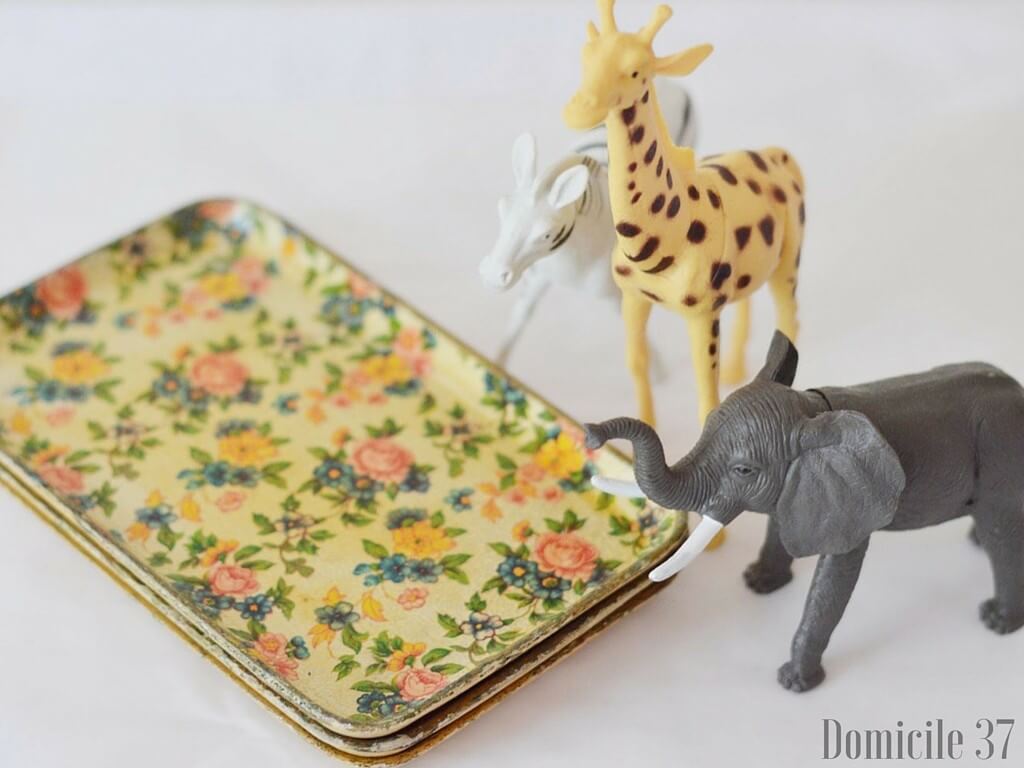 These trays are a little rough around the edges. You can see crackles in the original paper, but it doesn't bother me. I did consider papering over it and using Mod Podge to seal it, but it occurred to me I could always do that in the future when I'm ready for a new look. For now, these will be dandy little painted trays.

For this project I'm using some sponge brushes, regular paint brushes, a mix of the two acrylic paints below, frog tape, and liquid gold gilding.
[/col2]
[/col3]
I always like to mix my paints to get just the right hue. Just make sure you mix enough to cover it entirely, or you'll end up with a possible color variation. It took three layers of acrylic craft paint to get complete coverage, so mix accordingly!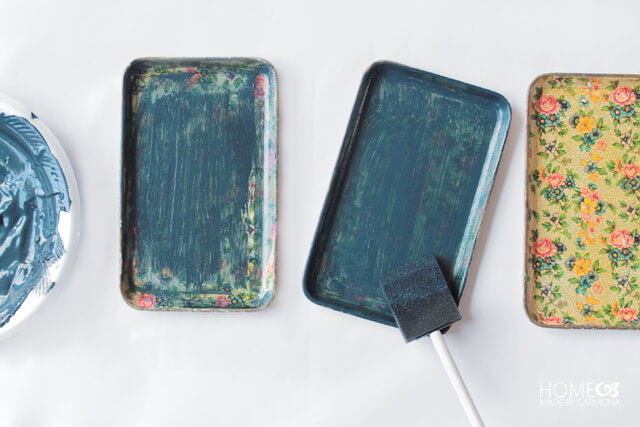 Next I whipped out the gold liquid gilding, my favorite crafty go-to these days.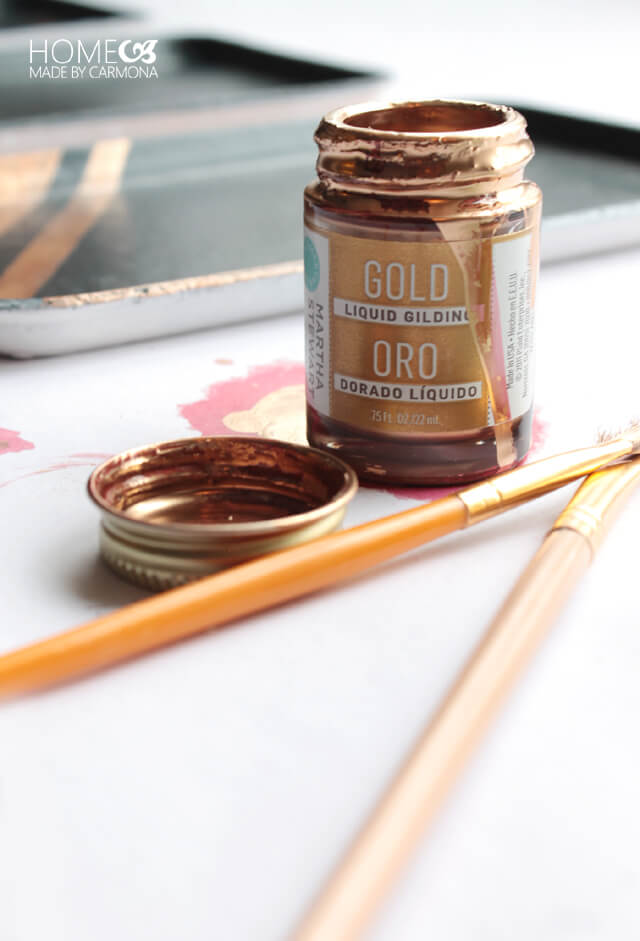 I've been using this liquid gold like it's going out of style. I've used it on painted throw pillows, rugs, art, and so much more. Haha, I might be a liquid gold gilding addict. Someone check me into a gold recovery center, or never mind…just join me!
Painting irregular patterns and dots are quick, easy, and just like the contemporary designer painted trays you see at Target or Home Goods.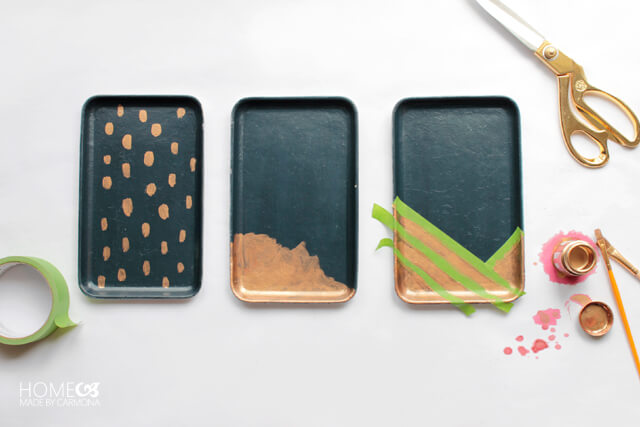 Of course designs like stripes and other geometric patterns are a great modern style to mimic, because you can't really mess it up.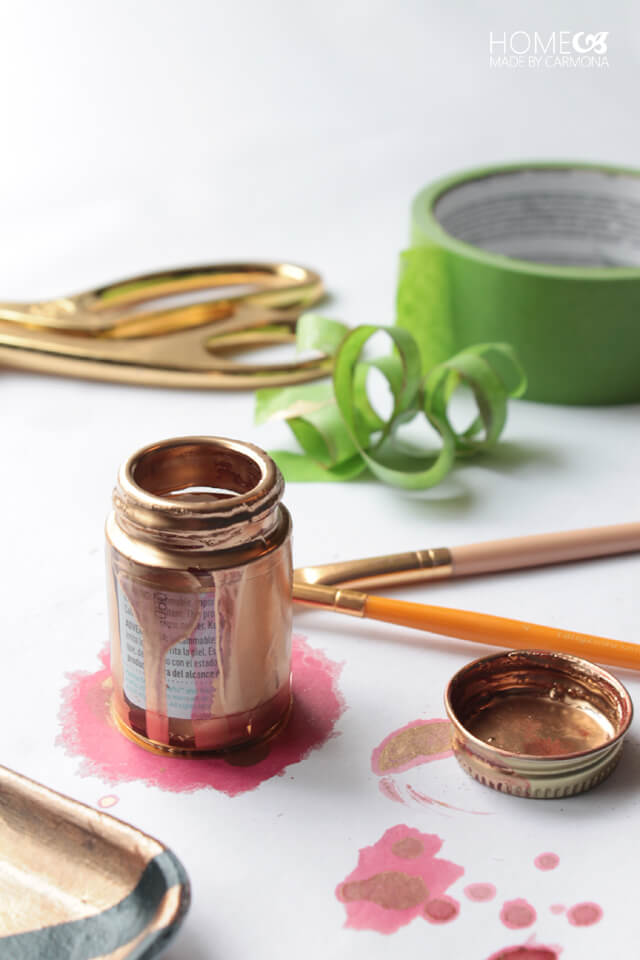 Or can you? 😀 …and your entire workstation along with it! I swear I'm not usually a messy crafter, but somehow today I seem to be spilling my precious gold gilding all over the place.
Is it weird that even the mess looks so pretty to me I want to frame it? That pink from the oils or whatever is in the gilding makes me want to work on some feminine projects for my girls rooms.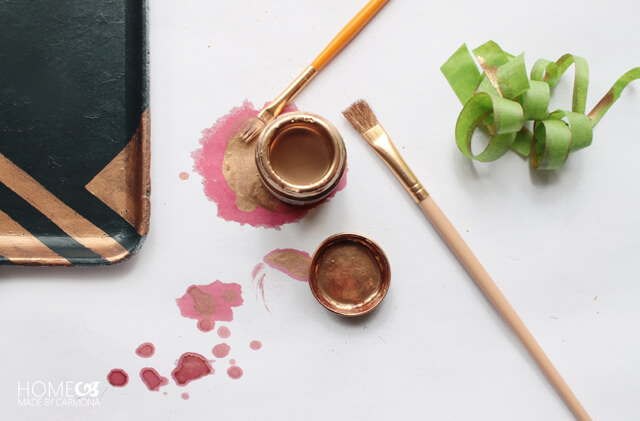 In spite of the mess I've made and the areas that bled, taped patterns really are fool proof (even if your work surface isn't). Just cut a smaller strip of tape to outline the area you messed up on, and try again!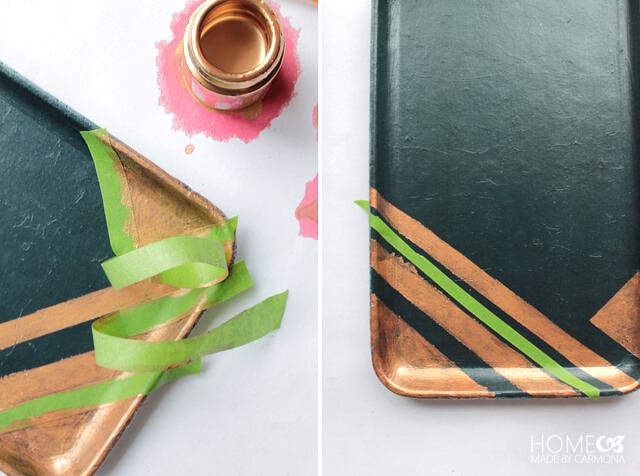 If you take your time and actually press the tape down properly (rather than rush excitedly through your project, like me), you shouldn't have any real paint leaks. The best thing about crafting…it teaches you patience. The worst thing about crafting…it teaches you patience. Ugh.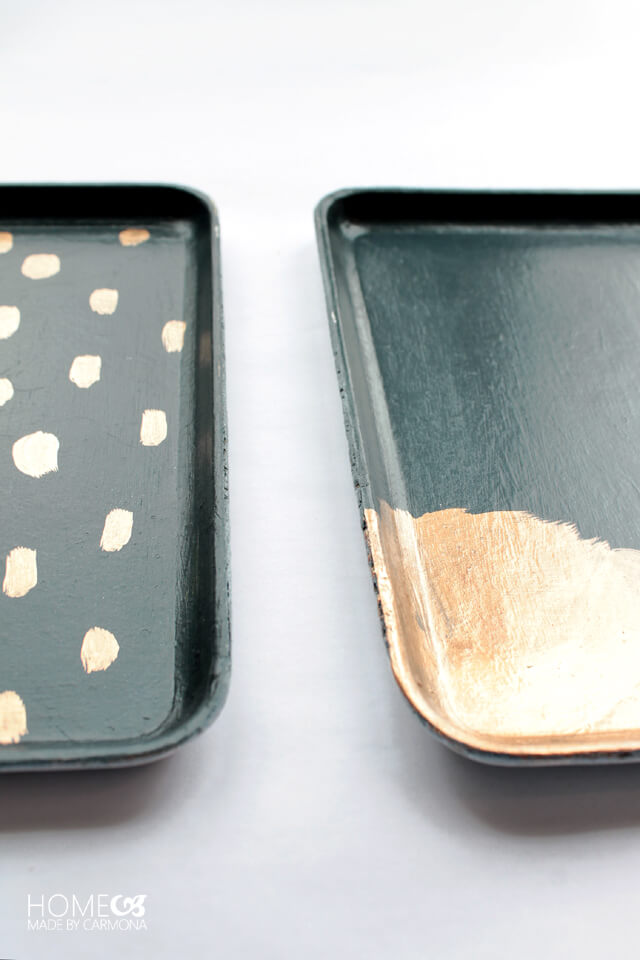 In the end, you'll have a cute set of painted trays perfect to hang on the wall as art, or standing at the ready to collect goods from back pockets, or just to make a stylish addition to the coffee table.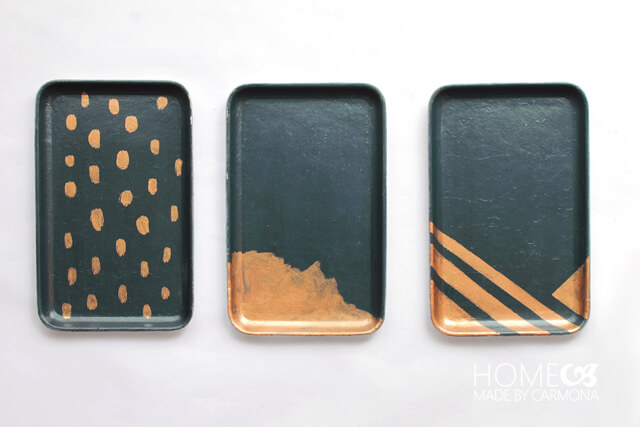 Whatever you choose to do with them, enjoy them. Use them for practical everyday life and don't worry about a damaged finish. When they start to look worn, just paint over them and start anew!
Hm, maybe next time I'll pull out the Mod Podge. *rubbing hands together like a devious villain*
What would you use painted trays for in your house?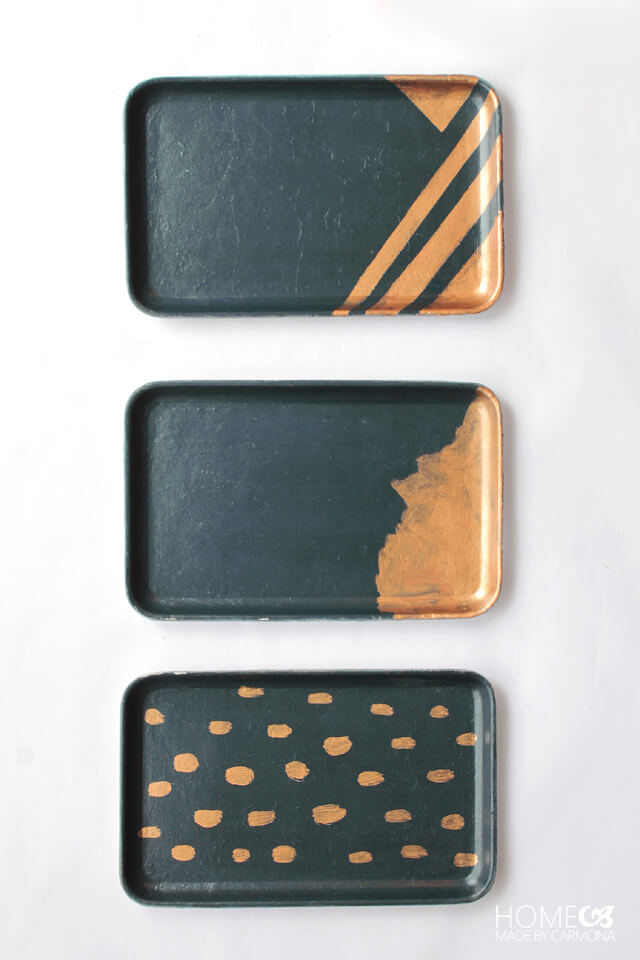 [go_portfolio id="diy_gallery"]