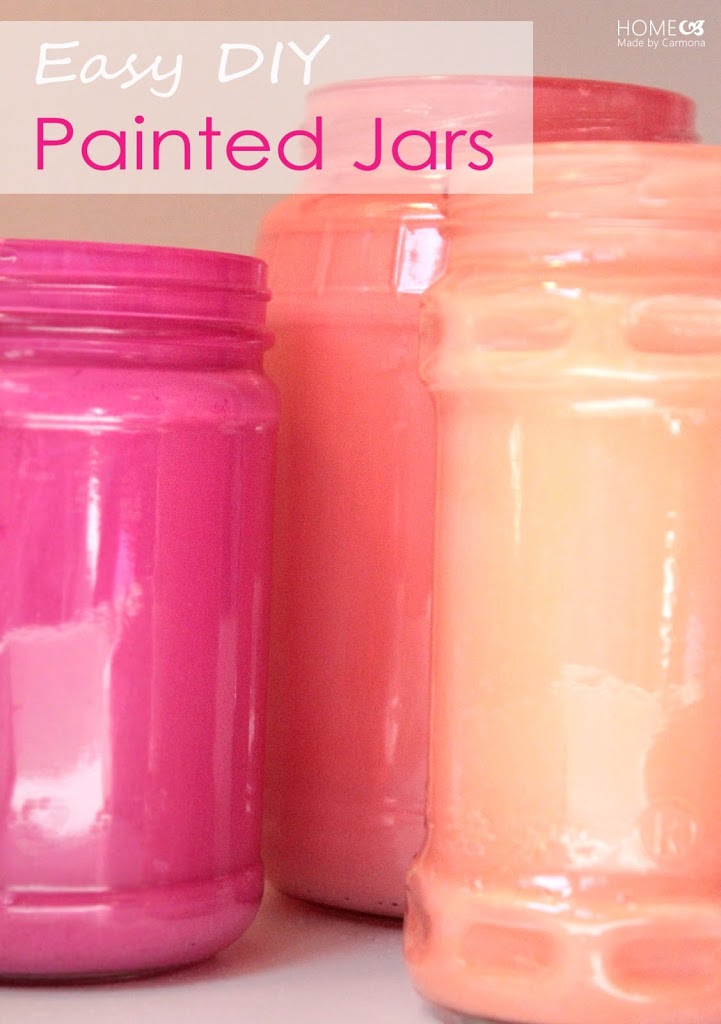 You know how much I love to reuse old jars. I use empty jars as storage in my office, in my bedroom, in my bathroom, and now in my daughter's bedroom!
After seeing how beautiful painted jars can be on Pinterest I whipped out my own paints and (true to Ursula style) began experimenting before reading the how. Lucky for me, this is kind of a dummy proof project! *chuckle* Now, you should know that I read more about it after-the-fact, and there are some differences…but in this case I'm happy with my head-first results, it was quick and easy, and created a tough enough finish to withstand my daughter's rough ways (that means no scratched paint!).
I'll show you how I did it (because you are smarter than me and read all the how-to's before jumping in head first…right?).

Here's what you'll need:
Pretty Glass Jars

Acrylic Paints

Paint Brush

Clear Protective Enamel Spray Paint
Start by making sure your jars are squeaky clean.



Next you need paint. Acrylic paints to be exact. For this project I used magenta tube paint leftovers from my artist dad, and mixed in an acrylic purchased for $2 from the art/fabric section of Walmart.



I confess that there was absolutely no skill to this. I just squirted the two paints into the bottom of the jar and mixed with a paint brush until I got the hue I was looking for.



Use your paint brush to drag the paint up the inside edges of the jar. Use enough paint to layer it on thickly so there aren't many brush strokes. You will see brush strokes from the inside, but judge your work from the outside…that's where it counts! Allow any remaining paint to swirl around jar covering lightly painted areas.



Each of my jars is a different ratio of the same two paint colors creating different hues. Allow them to dry (upside down to drip excess paint) overnight, and seal with a coat of clear enamel spray paint.



See, what did I say? Easy peasy DIY! Aaaah, I love the simple stuff!