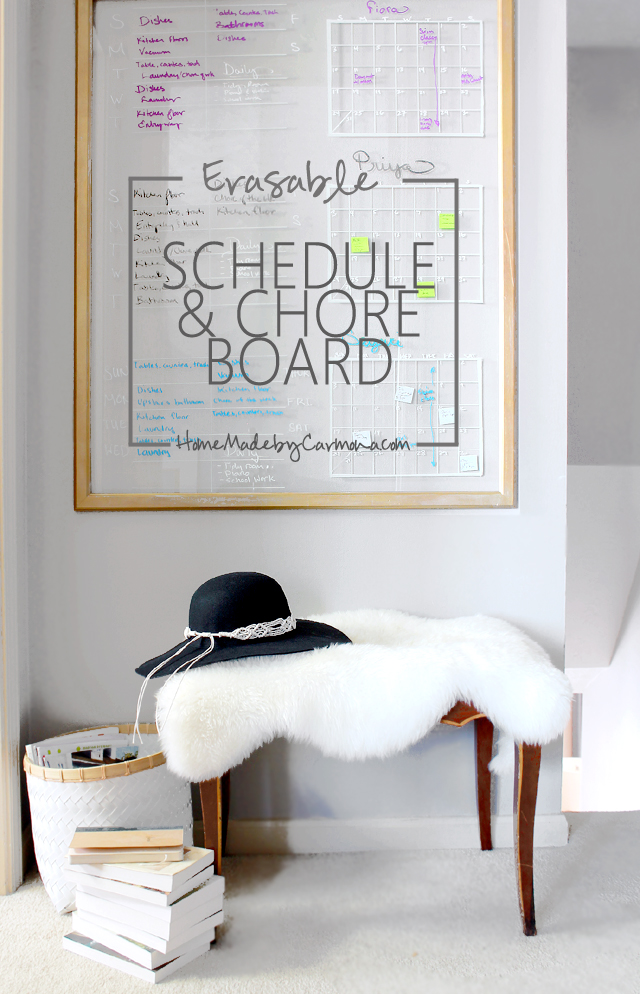 Well, it has finally happened. My eldest daughter asked me to create a chore board that is "pre-teen appropriate"…aka she is ready for a big girl chore system, no more cute printable sheets with colorful dots filled in like the ones we currently use. *Sigh* my baby is growing up! Seriously, anyone know how to stop them from growing so fast?
So today, I finally created a new teen appropriate chore board for my girls. One with their own individual calendar to keep track of events, dates, and their schedule.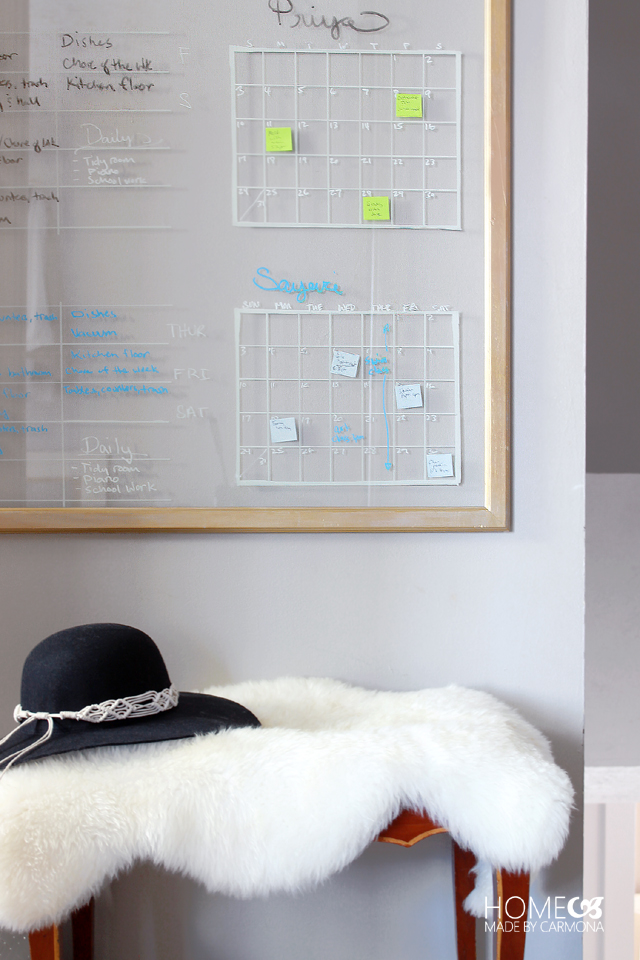 I could have just purchased a dry erase board and called it a day, but let's face it, my girls are still children (in spite of their anticipation of pre-teen status), and the last thing I want is marker smudges all over the house. Nope, just the thought alone kills me! And even if I use the dry erase markers myself, I don't want to have to re-write calendar lines every time I erase anything. This board would need to be easily customized monthly, and even altered altogether in the future. That's when the aha moment hit me, I needed a plastic or glass board that I could write both on the back and front, and I needed chalk markers that would only wipe off with a wet cloth, not dry erase markers that smudge easily.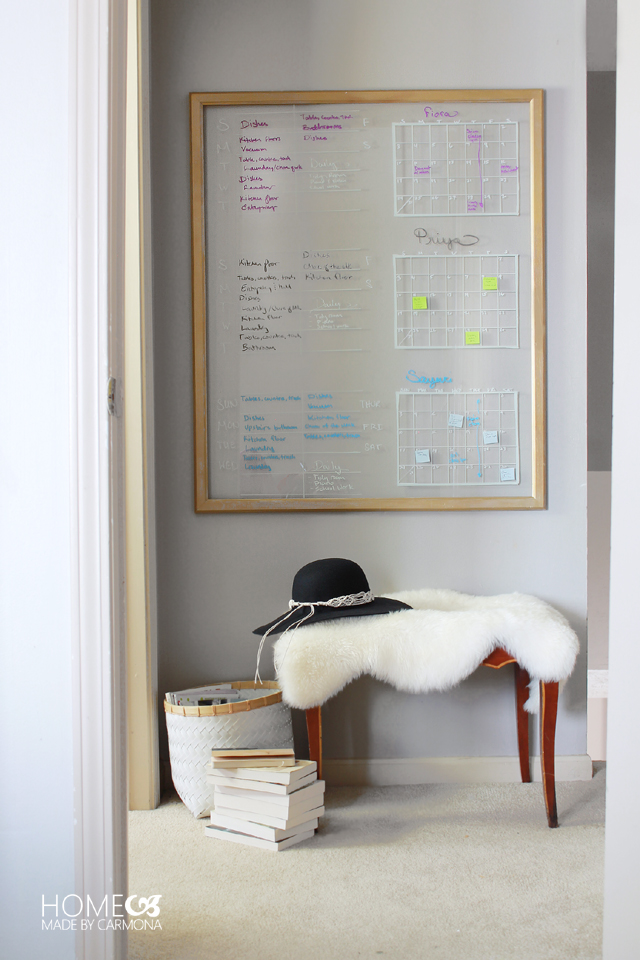 I knew I needed a calendar for the girls as well as a list of their weekly chores, but if you are making this for your own home, you can add whatever you need to help keep the family on track. Consider things like a shopping list, a reminder list, a checklist for chores, or a weekly schedule by hour, etc.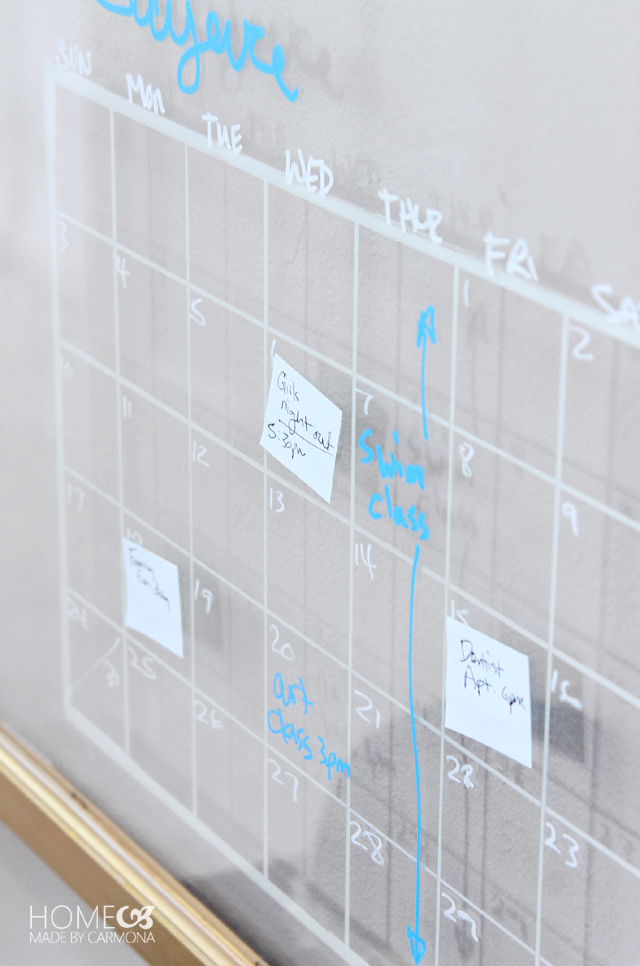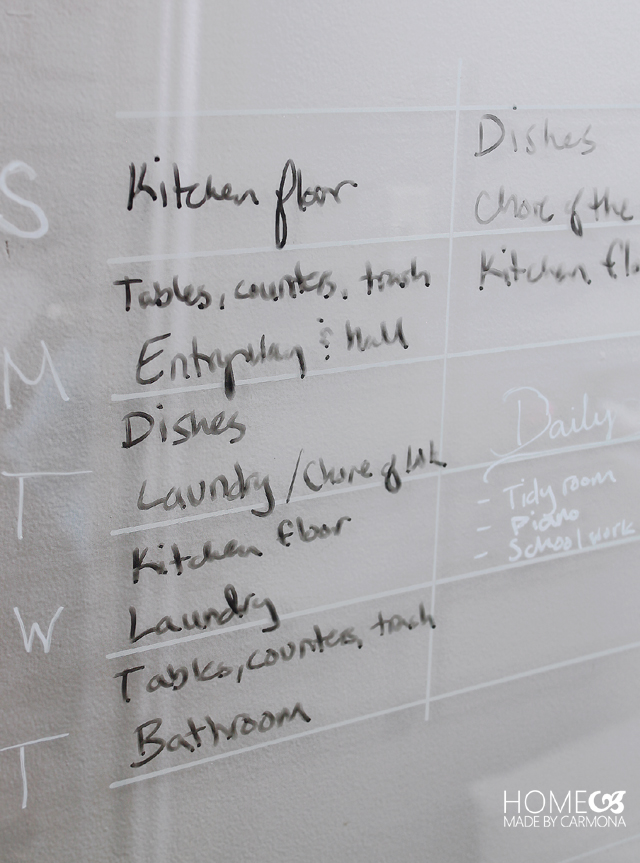 Steps & Supplies:
For this project I'm using ChalkOla premium wet wipe markers with a 5.5mm or 6mm tip, and their platinum 15mm jumbo tip series for my calendar outlines. The markers are used on hard non porous surfaces only (so it's best to test a small area first). If you are using it on glass like I am, or on mirrors, plastics, ceramics or chalk/whiteboards, you're good.
Chalk markers as a medium have high density chalk ink, so it takes a good 2-3 minutes to get them flowing on the very first use, but once used the ink flows smoothly after that. You'll have to shake well, and press the tip down to start the flow on first use. I love it doesn't smudge or wipe off when your hand rubs over it, but yet it wipes off easily with a wet cloth or a little Windex!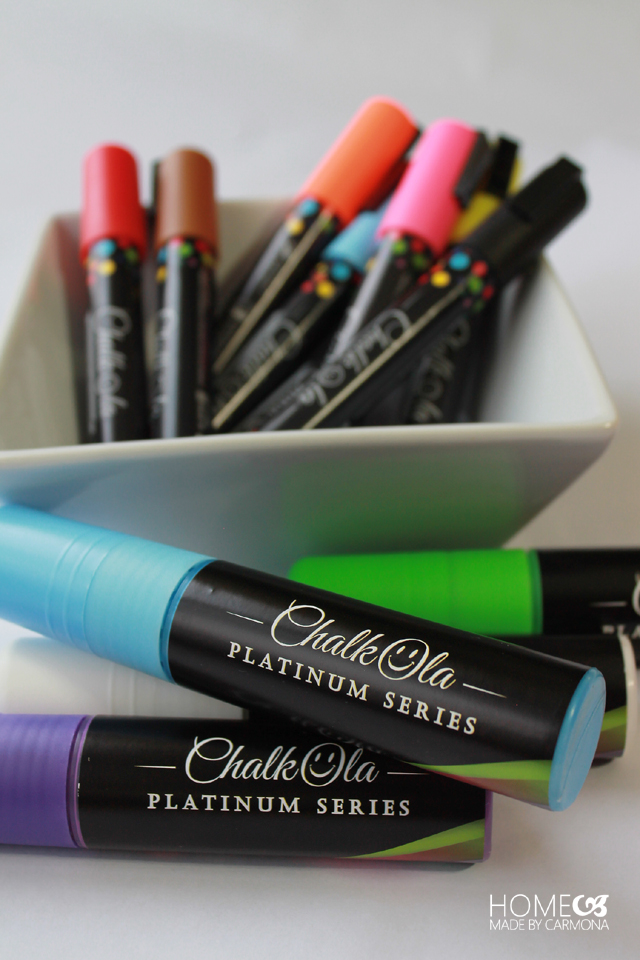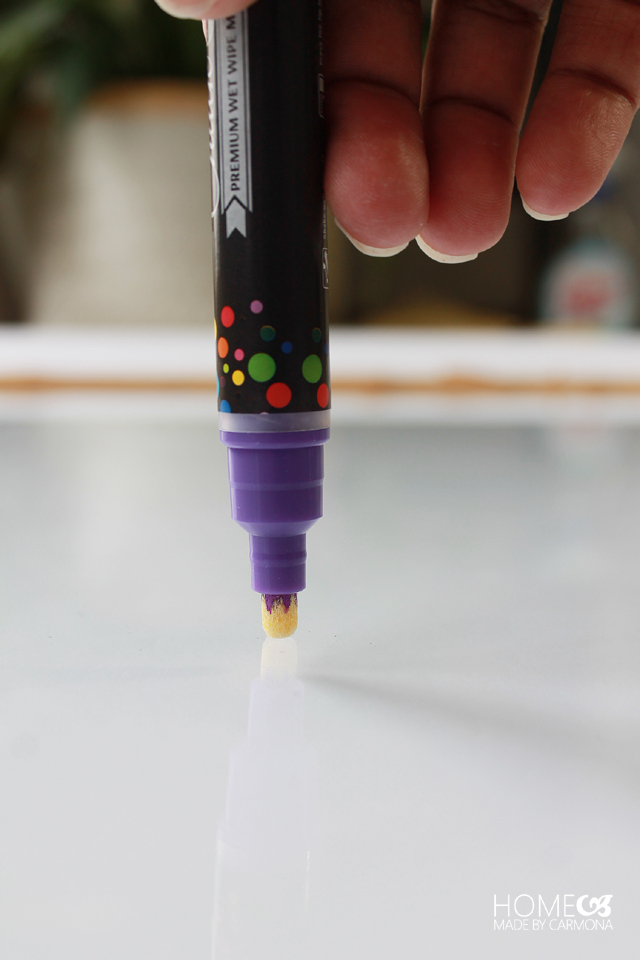 Here's what you'll need for this project:
Framed glass or framed plastic (thrift store art with the painting/photo removed)
Command strips
Sticky notes (optional for calendar)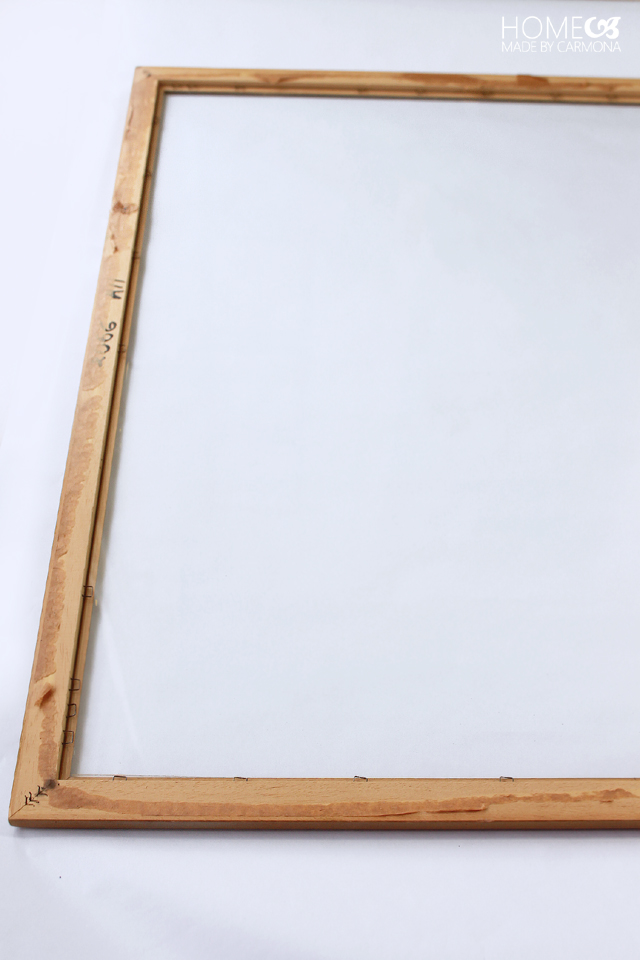 Start by removing the photo/art from the frame, and just leaving the glass intact in your frame. Flip it so the back faces up, and here is where you'll trace/draw your outlines for a calendar, schedule, or lines for your lists.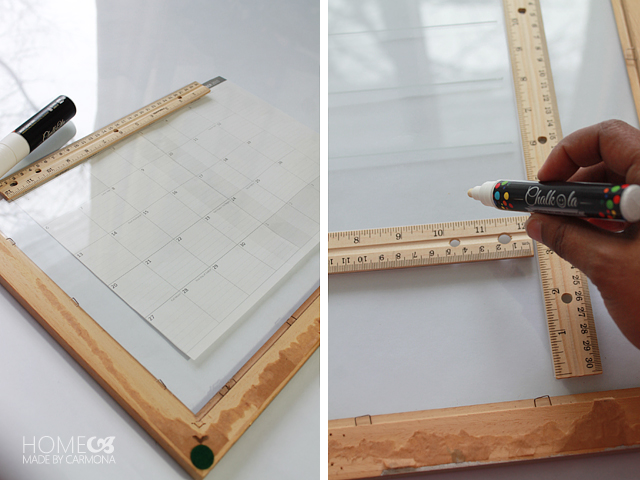 With the lines traced onto the back of the glass, the front is free to write things that will be changed on more regular basis. Then when you go to erase your writing, you aren't accidentally erasing your calendar and list lines as well.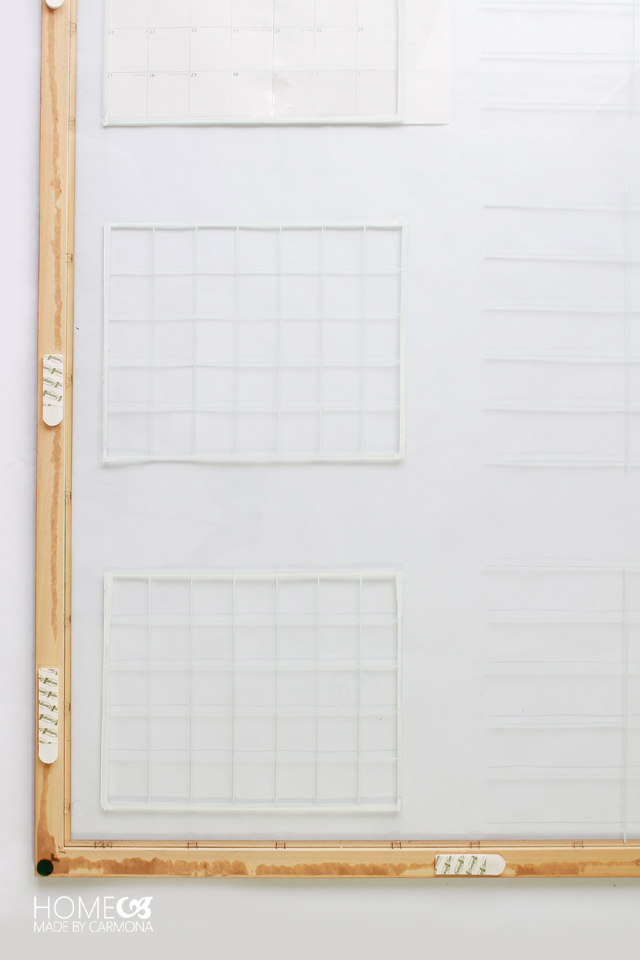 Flip it around to the front, to populate it. Here is what mine looked like when I was finished with my outlines. Some simple Command strips keep it secured to the wall.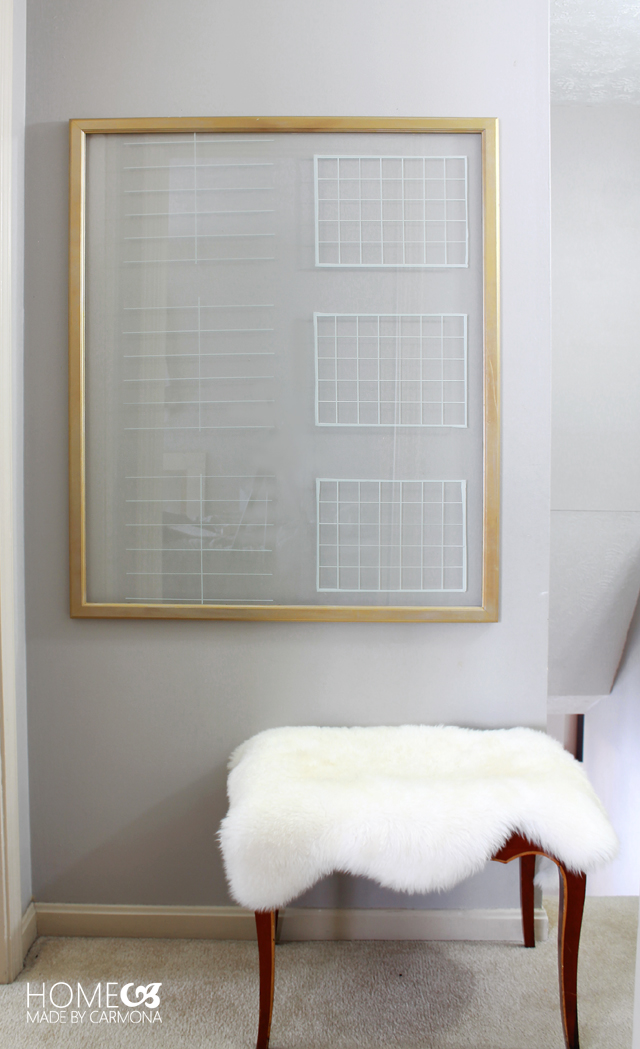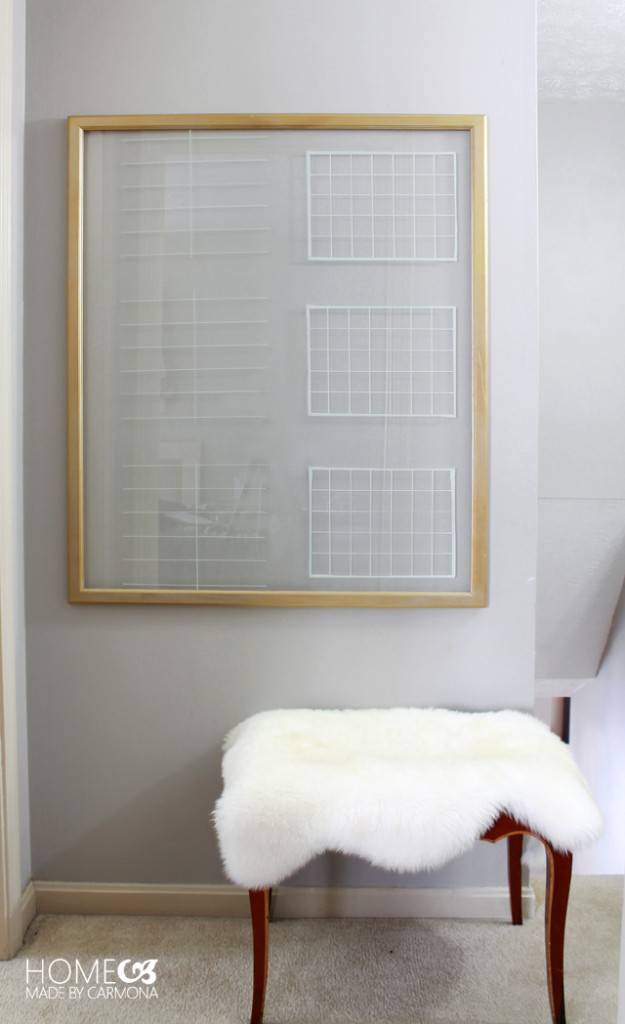 Now I am free to fill in the details! Each child got their color of choice, and my eldest got rights to use the wet markers to fill in her calendar, while my two younger girls will be using sticky post-it notes to populate their calendar (until they are old enough not to forget the marker lying open on my carpet somewhere). The good news is that even if I do decide to entrust them with a marker and a mishap does occur, these wet wipe chalk markers are child safe (non toxic), and water based (aka it washes off!). 😀 Actually, they are great to keep in the craft room or kitchen for the kids to use for projects, I'm just a control freak.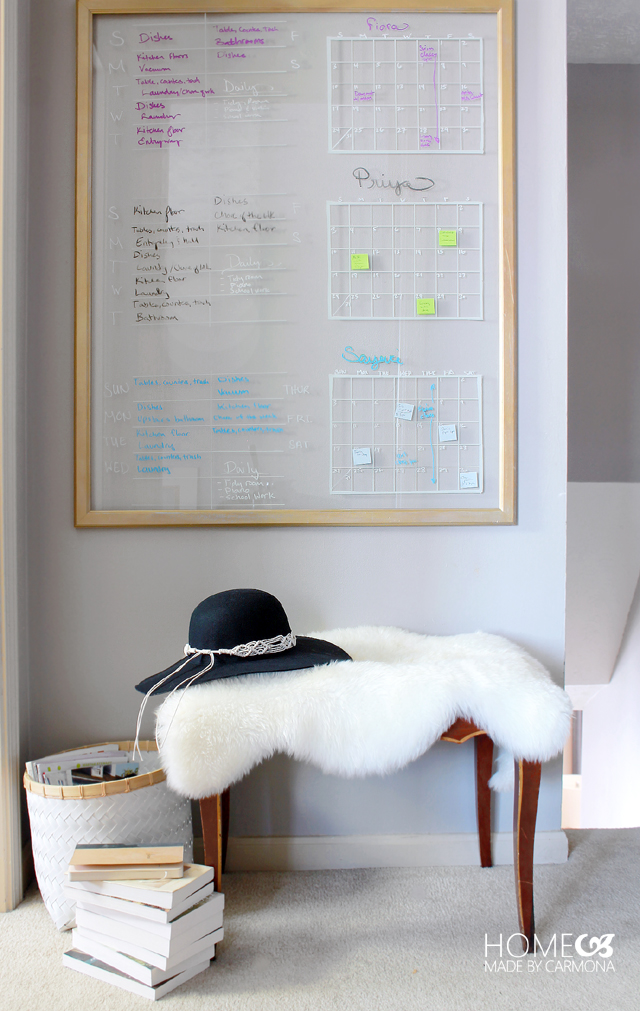 So what do you think? I loved using the chore charts and work for hire system (get free printables here), but now I love incorporating this version for older kids. And by the way, we still use the work for hire, but now this is their chore chart. Plus it helps us keep our increasingly complicated schedules organized and in sync! 🙂
My girls love it, and one day when they go off to college (waaaaay in the future), I'll use a little window spray, wipe off the back and front, and use it for something else…hmmm, maybe turn it into a honey-do list for when my husband and I become empty nesters? 😀
*Thank you to Chalkola for gifting me these markers to try out. I definitely enjoyed them. All opinions shared are my own.


Like this? Check out our free printable chore system for kids!