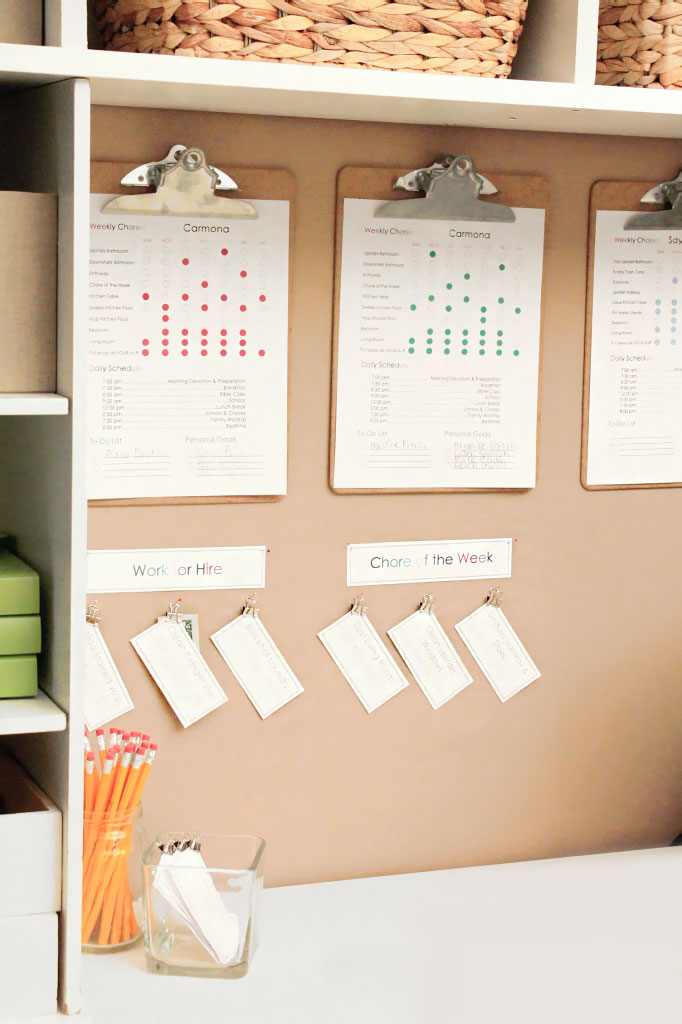 Keeping a clean house can be like pulling teeth…a lot of pressure now, and painful later.
Most of us fuss and "remind" until we're blue in the face. Hi, my name is "most of us", and I'm a recovering fusser. It has been quite a journey, I have gone through several chart variations, attempted several systems of reward and discipline, and lots and lots of sighing very deeply.
Here is one method I've come up with that has made a huge difference for me and my three kids!
THE "TASK" CENTER
This area consists of three important parts to help us stay on task; Customized Chore Charts, Work for Hire, and Chore of the Week. No worries, it is simpler than it sounds.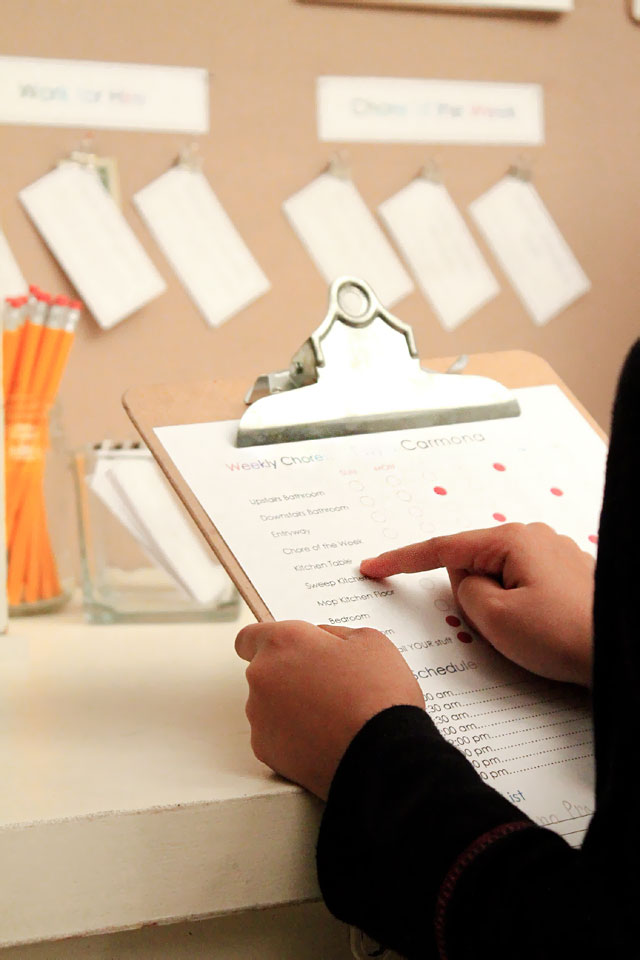 CUSTOMIZE CHORE CHARTS
There are plenty of awesome chore charts floating around Pinterest, but as I can never do anything the easy way, I went ahead and customized charts for my girls.
I felt the need to have a Daily Schedule for quick reference, a To-Do list and a Personal Goals list included in the chore chart. The To-Do's are more like reminders for those daily tasks that I didn't want my kids to associate as a chore, such as piano practice. I also allowed them to create their own personal goals to work toward, it gives them a sense of ownership.
I highly recommend you personalize it to your kids and their needs. Let them fill in the bubbles on the computer, type in their own names, and choose the colors and font. Maybe even change it drastically, add clip art, whatever appeals to you. I believe ownership of a project makes a big difference, both on your part as well as your kids! Make it fun, you really want your kids to have as much a positive view as possible when you're establishing a chore system!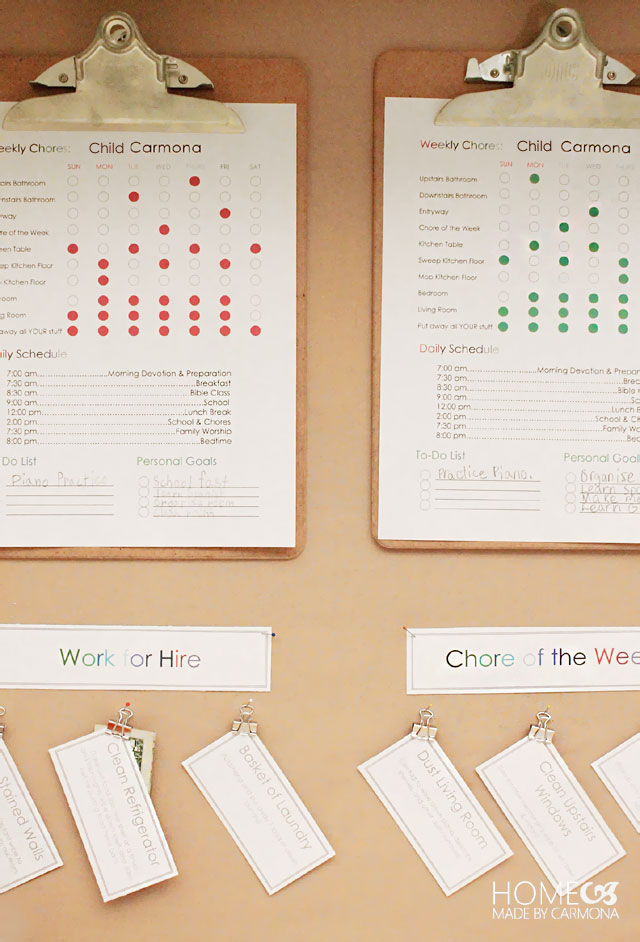 CHORE OF THE WEEK
Messes don't follow a schedule, so every chore chart needs a section that can be flexible. One of the weekly chores listed on the girls chore chart is "Chore of the Week". On that day, they can choose from one of the options I hang under a Chore of the Week label. It lets me get those extra little miscellaneous tasks accomplished that come along every month or so.
WORK FOR HIRE
The chores you use for Chore of the Week can be the same set used for Work for Hire. It gives you more opportunities to get those numerous tasks accomplished by your kids (sssshhhhh, don't tell them), and it gives them an opportunity to clean your wallet out. I'd call it a win-win, or at least a draw. Work for Hire is optional, but since my kids don't receive an allowance and they buy their own toys, they are always clamoring to make a little money… awesome right? I'm encouraging work ethic while keeping the home clean. That's right, like a fox baby, sly like a fox. (Wooo, sorry about that moment, I get a little cheesy sometimes.)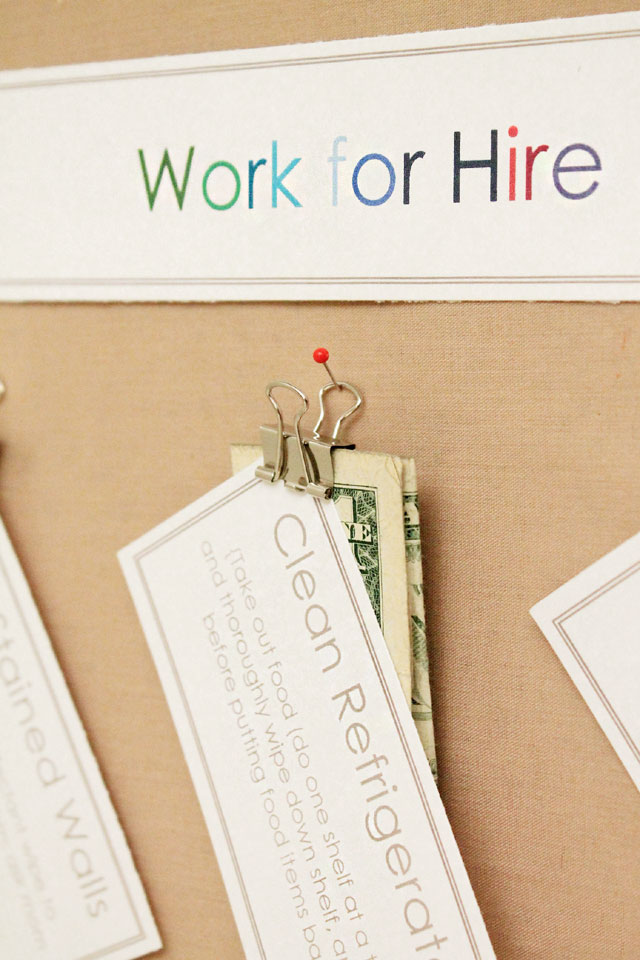 MAKING IT WORK
No matter how many charts you employ, it isn't the chart that is going to help your kids do their work and do it well, it is you and the system you put into place.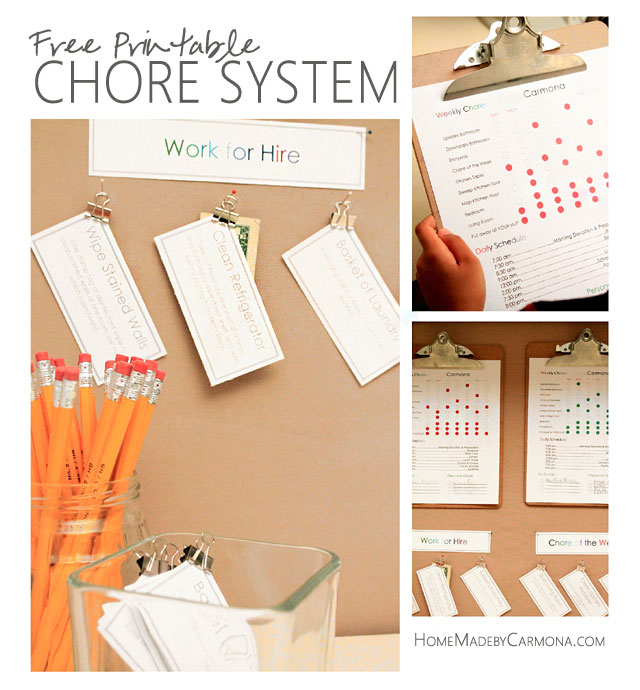 Practice Consistency | Help your kids get into the habit of checking their chart. My kids get small breaks in between chores and school, but until all their chores and tasks for the day are completed, no real fun shall commence. In addition, they cannot opt to "Work for Hire" until all chores and tasks are complete.
Motivate | The hubby very wisely plans "play dates" with the kiddos and "dates" with me, this way all his girls aren't clamoring for his attention at the same time. This and other fun end of day practices motivate the girls to be finished with all tasks and chores by the time dad comes home. They know that if they aren't done, they can't join in the fun until all work is completed. Then the poor sad munchkin who dawdled all day has to work whilst her sisters gleefully play.
Reward | It's the moment when your kid comes running up to you at the end of a work day and yells "mom, I'm done! Can I play Catan with you and dad when he gets home?". Victory! She was motivated enough to follow her chart and get all her day's tasks completed all by herself, and you didn't even notice until it was done. When this happens, every so often I give the girls an extra reward to let them know I appreciate their initiative and determination. Whether it be a sweet treat, a special activity, or a simply a big hug and an "I'm so proud of you", be sure to let your munchkin know that he or she did good.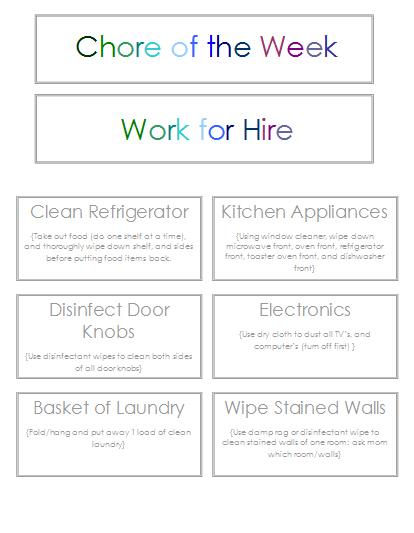 Download These For Free Here:
LOOKING FOR A DIFFERENT STYLE?
How about this chic mint version? You can download the regular version right from this page, but to access the Mint Edition and other exclusive printables, you'll need to sign up by email to become an Insider.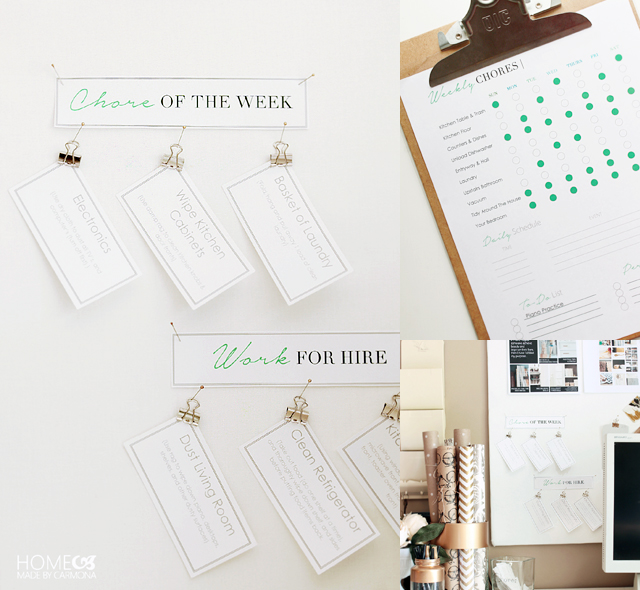 LOOKING FOR SOMETHING FOR TEENS?
---
Learn how to make this erasable schedule and chore board here. It is a great way to help your teens have a visual of their weekly tasks, as well as the month's activities.