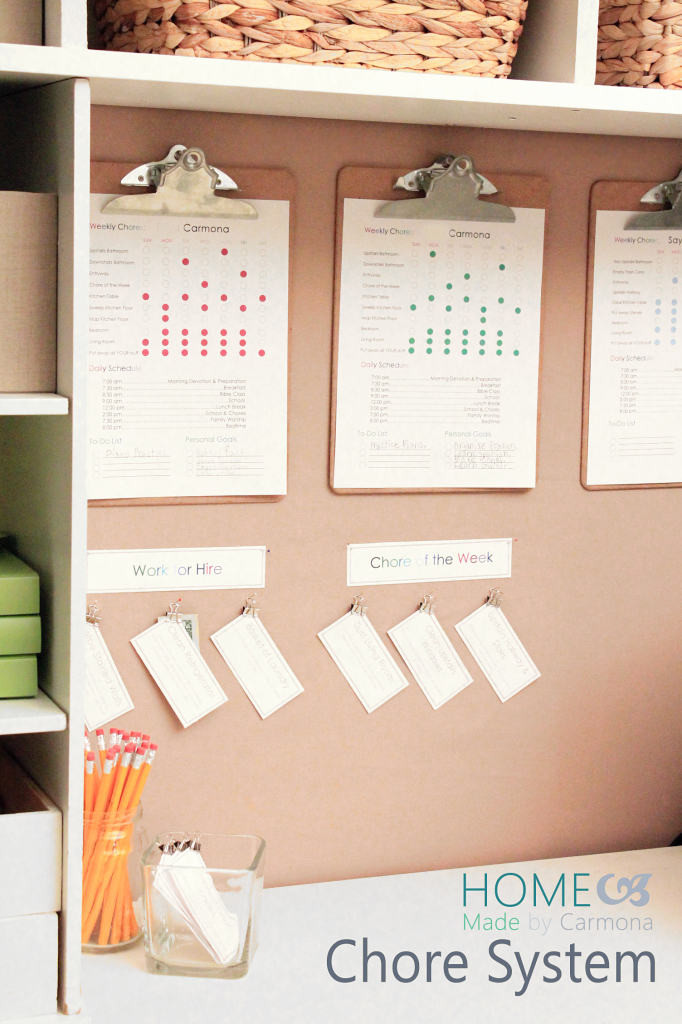 Keeping a clean house can be like pulling teeth…a lot of pressure now, and painful later.
Most of us fuss and "remind" until we're blue in the face. Hi, my name is "most of us", and I'm a recovering fusser. It has been quite a journey, I have gone through several chart variations, attempted several systems of reward and discipline, and lots and lots of sighing very deeply. 
Here is one method I've come up with that has made a huge difference for me and my three kids!
THE "TASK" CENTER
---
This area consists of three important parts to help us stay on task; Customized Chore Charts, Work for Hire, and Chore of the Week. No worries, it is simpler than it sounds.


CUSTOMIZE CHORE CHARTS
---



There are plenty of awesome chore charts floating around Pinterest, but as I can never do anything the easy way, I went ahead and customized charts for my girls. 


I felt the need to have a Daily Schedule for quick reference, a To-Do list and a Personal Goals list included in the chore chart. The To-Do's are more like reminders for those daily tasks that I didn't want my kids to associate as a chore, such as piano practice. I also allowed them to create their own personal goals to work toward, it gives them a sense of ownership. 

I highly recommend you personalize it to your kids and their needs. Let them fill in the bubbles on the computer, type in their own names, and choose the colors and font. Maybe even change it drastically, add clip art, whatever appeals to you. I believe ownership of a project makes a big difference, both on your part as well as your kids! Make it fun, you really want your kids to have as much a positive view as possible when you're establishing a chore system!