Struggling to keep your closets beautifully organized? We've got you covered with the best closet organization ideas!
Whether it is a wardrobe closet for clothes, a coat closet, linen closet, or craft closet… these clever solutions can be used in various closet types no matter the size!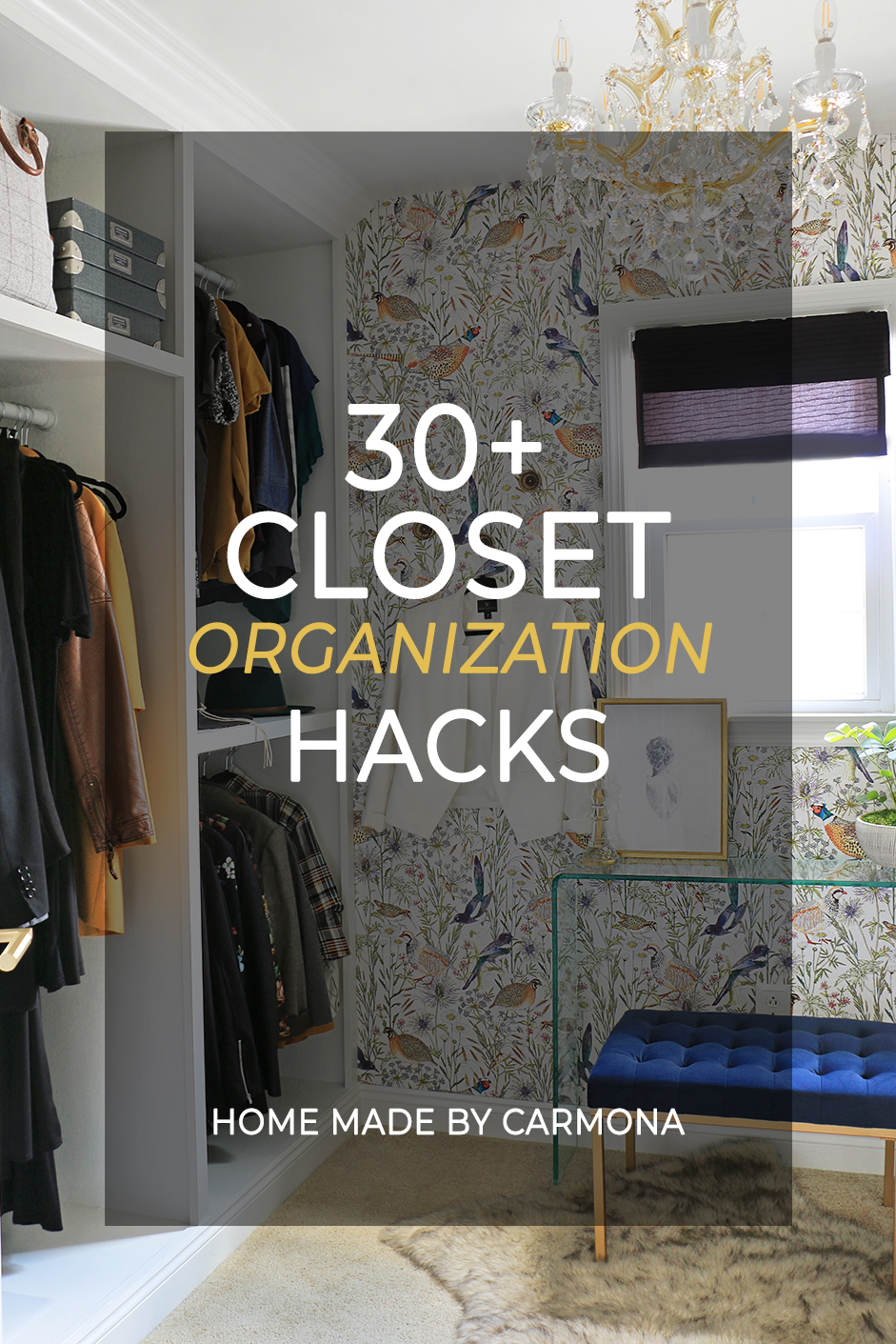 Solutions For All Closet Types (Pantry closet, linen closet, coat closet, clothes closet, storage closet, office / craft closet, etc.)
Clear Stackable Shoe Boxes
Shoe boxes aren't just for shoe storage! Use stackable shoe boxes with hinged fronts to store any like-item together. It's also a great way to make extra storage if you don't have shelves, or existing shelves are few and far between.
Use A Rolling Cart To Increase Storage
If you have lots of space at the bottom of a closet, or in a closet corner, use a rolling cart as a movable storage solution. Especially if you have a lot of hanging space, but less drawer or shelf space.
Store Small Accessories On Display With Acrylic Holders
Round acrylic holders come in a variety of sizes and types, and are a great way to display your accessories in an attractive way! Choose large stackable ones for items like belts, watches, and other small items depending on the closet type.
Also look for stackable containers that screw together… often used to store beads and craft supplies, but can be used for jewelry, and other small bits and bobs that you might store in a closet.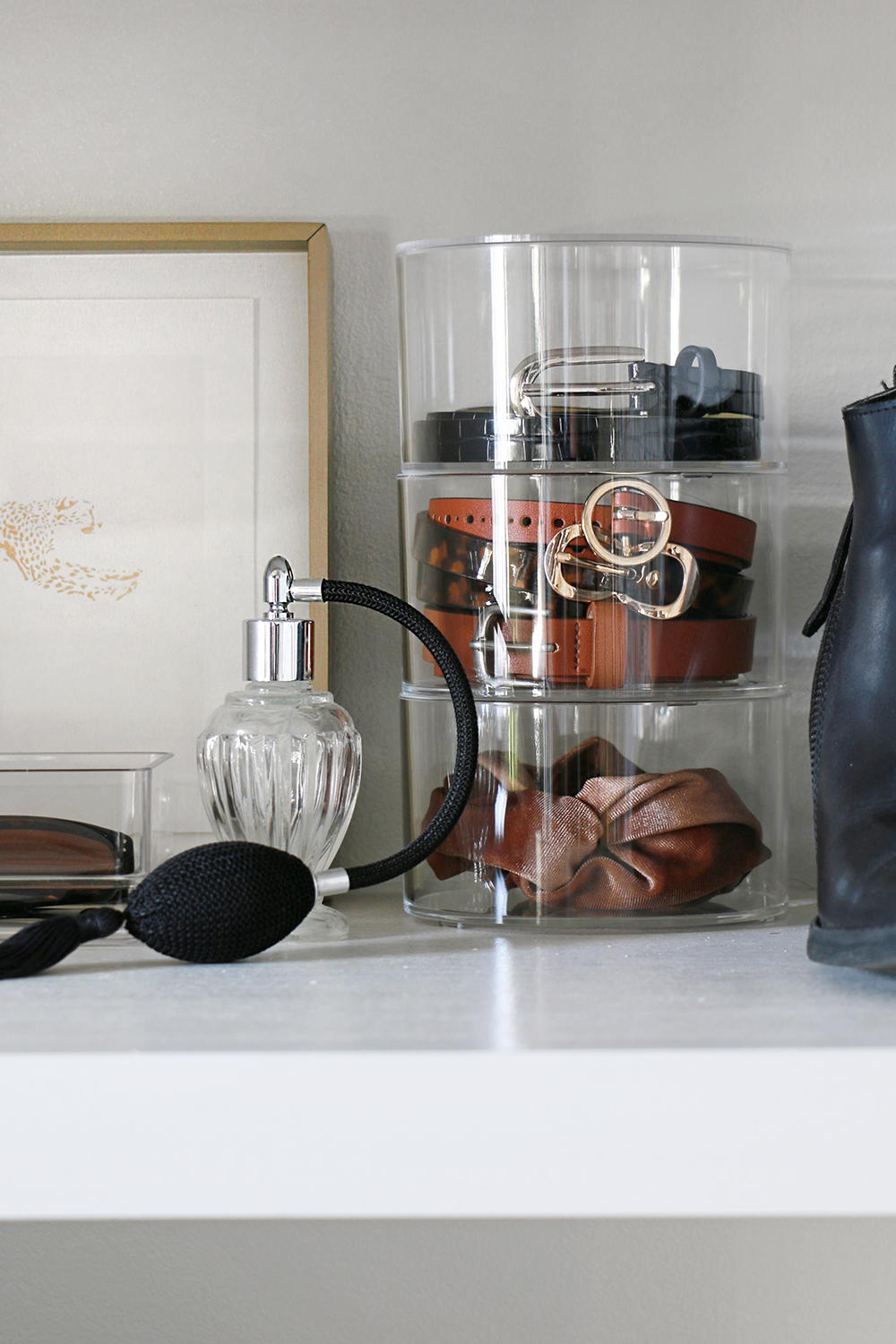 Shelf Risers
We often think of shelf risers for use in a kitchen cupboard so we can see layers of cans, or in a cleaning closet so we can see the full inventory of what we have.
But the same principle applies to any deep closet shelf. Place risers so you can see everything in your closet at a glance without having to dig for it. This helps eliminate clutter and creates an intentional space for each item.
Make The Most Of The Top Shelf With Pull Down Organizers
If the top shelf is rarely used, install a pull-down shelf organizer, or turn any shelf into a pull down one by installing rack hinges!
Ease-of-use solutions like these help maintain closet organization, otherwise you are tempted not to put things away you can't easily access, or not to put it away neatly.
S Hooks (For More Than Just Purses!)
If you have extra space on your closet rod, use purse hangers and S hooks to hang other items, like belts in a clothes closet, umbrellas in a coat closet, and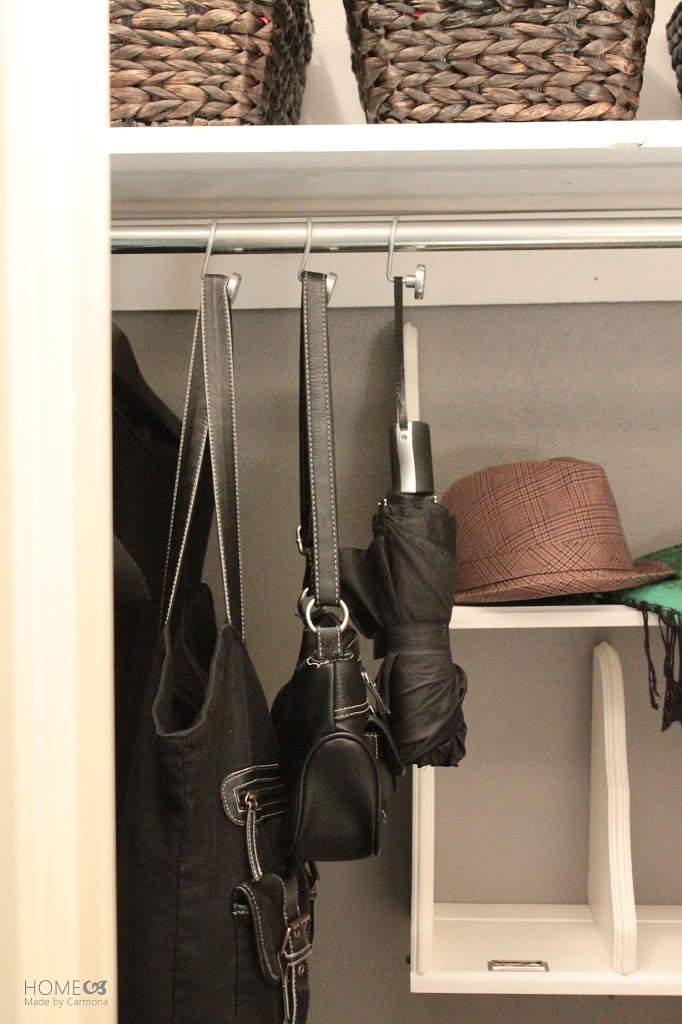 Wall Mounted Mini Drawers
Wish you had more drawer space for socks, underwear, small linens, or other smaller items? Use adhesive wall-mounted drawers on a closet wall, back of a door, etc.
Go Vertical With Wall Hooks & Valet Hooks!
Make the most of any empty wall space or closet door by installing hooks. It only requires a few inches along any vertical space to place a few small hooks.
Separate Like-Items With Shelf Dividers
Creating zones and categories means it will be easier to find what you are looking for. And that means less rummaging, and more streamlining. Divide shelves by categories (and label them!), then separate them using shelf dividers.
This is a great solution for storing sweaters on a shelf, stacks of jeans, bed linens, kitchen linens, and so much more.
Get Creative With Organizers From Other Rooms Of The House
The key to closet organization, and any other type of organization, is thinking outside the box. Use whatever works for YOU in your space.
Turn a pot holder into a purse holder, or a mancala game board into a holder for stray buttons and pins. Use bowls from the kitchen as drawer organizers if they fit best. Get creative, and think outside the box.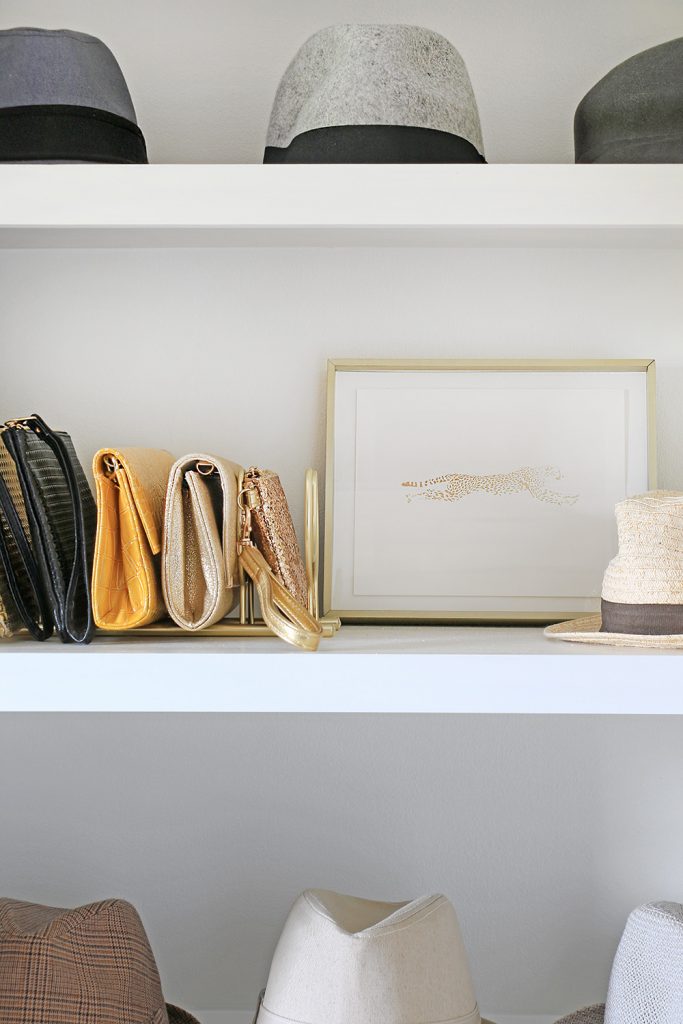 Add A "Junk Drawer" Basket
When you are in a hurry, do you find yourself leaving junk lying around that you haven't found a space for yet? Try keeping things tidy and limiting yourself with a "junk basket". But dedicate yourself to emptying it out once a week!
You can also use this basket for items that made its way into that space that needs to be moved to another area of the house later. Just don't procrastinate! It will keep things tidy temporarily while you are busy, but if you let it overflow, it won't do the job.
Incorporate Storage Bins, Boxes, & Baskets
Storage baskets, bins, and boxes are a great solution, especially if they stack! For items you need to see, clear bins and metal baskets are ideal. For those items that are stored rather messily, and no one needs to see, labeled fabric covered boxes and woven baskets are the way to go!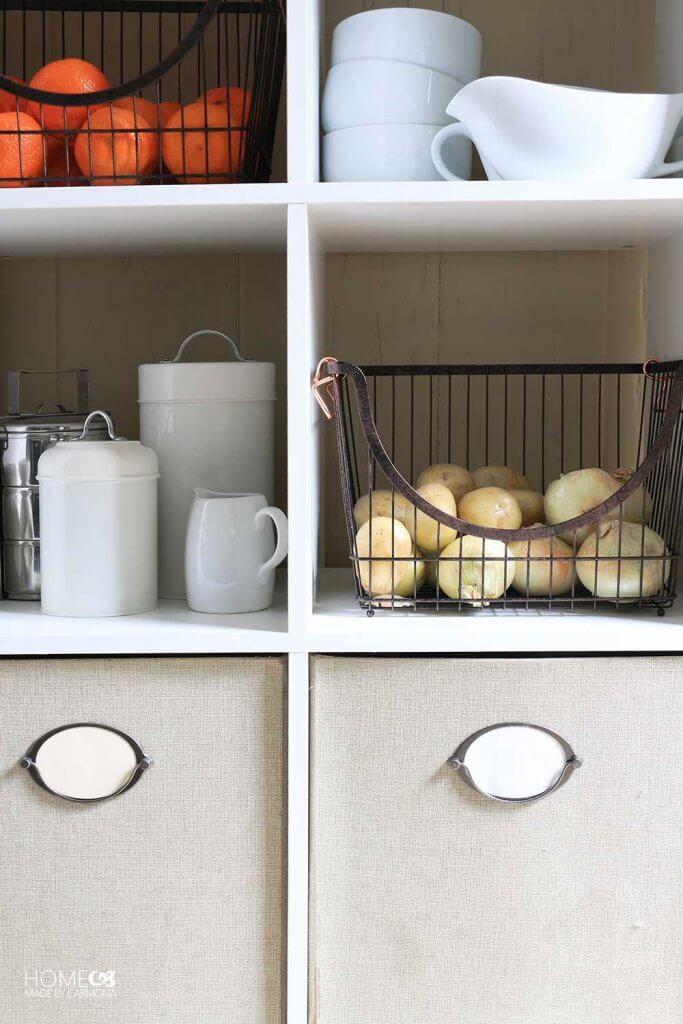 Use Multiple Shallow Boxes Instead of One Deep Box
There are times when a deep box is overkill and wastes space. But stacking multiple shallow boxes can store more items and achieve your purpose. Always consider what the right size storage container is for the job.
SHOP MARIE CONDO DOCUMENT BOX>>
Make The Most Of The Closet Door
If you have fully opening doors, it is valuable real-estate that shouldn't be wasted! Use that space for full-length mirrors, or to attach hooks, use over-the-door organizers with pockets, or even add / build simple door storage shelves like these.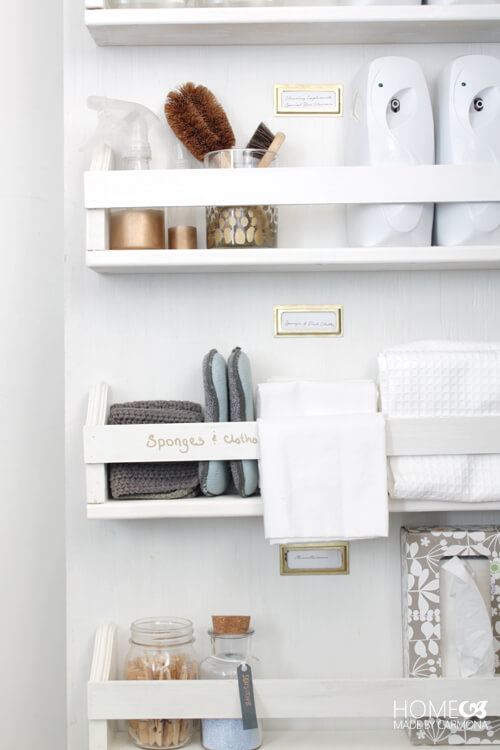 Vacuum Seal Rarely Used Items
If you have a particularly small space, consider vacuum sealing seasonal or infrequently used clothes and linens. Not only does it take up less space to store more items, but it's a great way to organize your closet seasonally!
Add A Thin (Towel) Hanging Rod With S Hooks
Attach a set of slim towel rods on an open wall or along the inside of a shelf, then add S-hooks to hang items from. This is a great way to hang items like belts & scarves, jewelry, zippered bags filled with small accessory items.
Drawer Organizers & Dividers
Segment items using expandable drawer dividers, custom dividers, or drawer organizers. There are so many different types to choose from! Be sure to add a label to the bottom of the organizer or drawer so you always know where every item belongs…even when it is missing!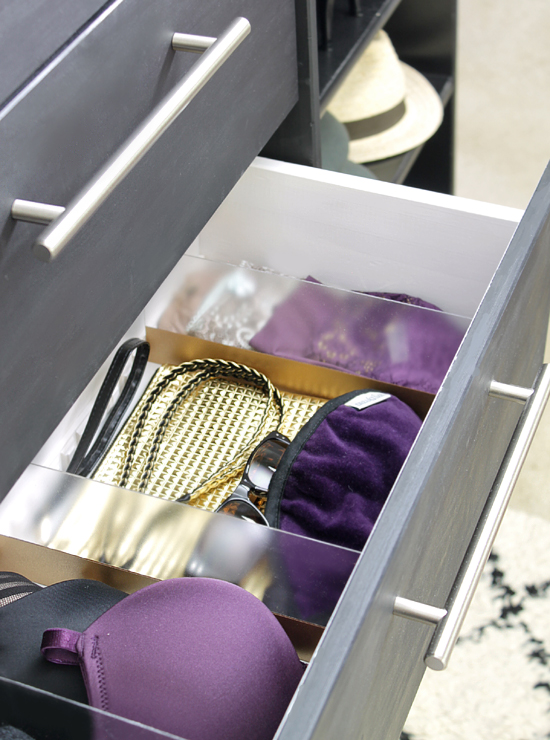 Install Floating Shelves
Make the most of empty walls, and store items on display with floating shelves. It's an attractive way to display jars filled with accessories, or even a favorite shoe collection.
Install Adjustable Closet Systems
A wire or wood closet organization system is a great way to create custom closet storage solutions that you can change as your needs change. These work beautifully in walk-in closets, or shallow ones.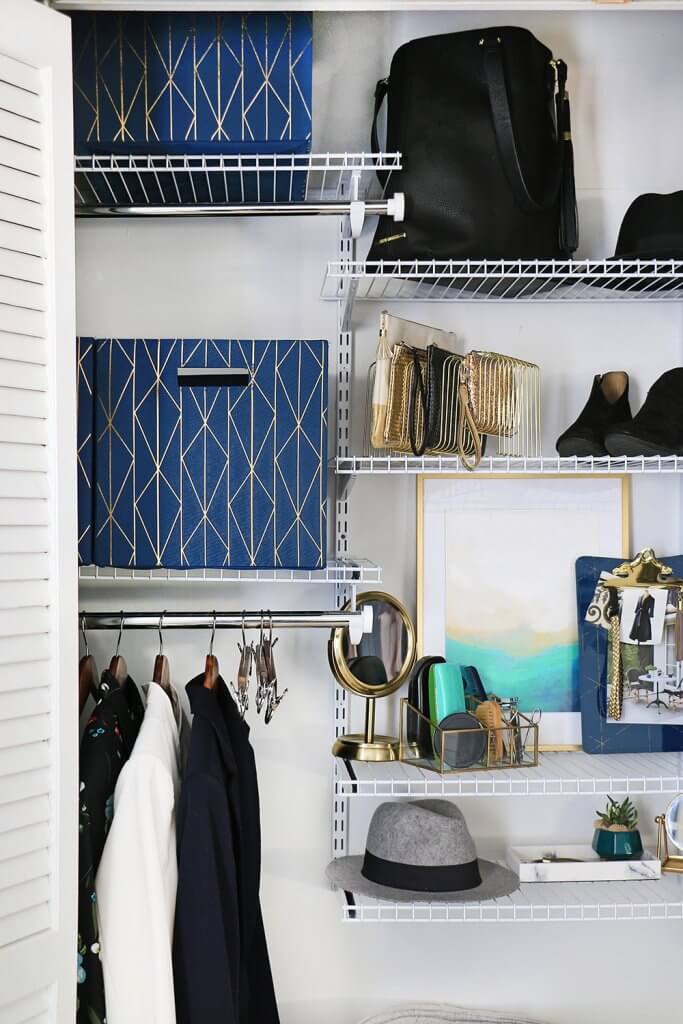 Label EVERYTHING!
If everything has a label, it means everything has a dedicated location. Plus when the roommate or family member puts that item back, they will know exactly where it goes and contribute to keeping things neat and tidy!
The only exception to this rule is for clear storage solutions, if you live alone.
Keep A Trash Can Handy
Part of closet organization is keeping it tidy. It's easy to accumulate small bits of trash on surfaces (tags, hair that collects, etc.). Make life easy and keep a trash bin handy for a tidier closet.
Hang Accessory Bags
Accessory bags / pencil bags / makeup bags… whatever you call them, they serve a multi-use purpose. These make great storage for any of those items and more. Hang them from small hooks in the space, and keep them labeled.
>Solutions Mainly For Wardrobe Closets<
Choose Thinner Hangers To Save Space
Go with velvet hangers or metal hangers for a thinner profile to save space. You can work more hanging clothes into a small closet without ending up with completely crushed clothes.
FYI there are special pants hangers that are thinner and make it easier to put them away.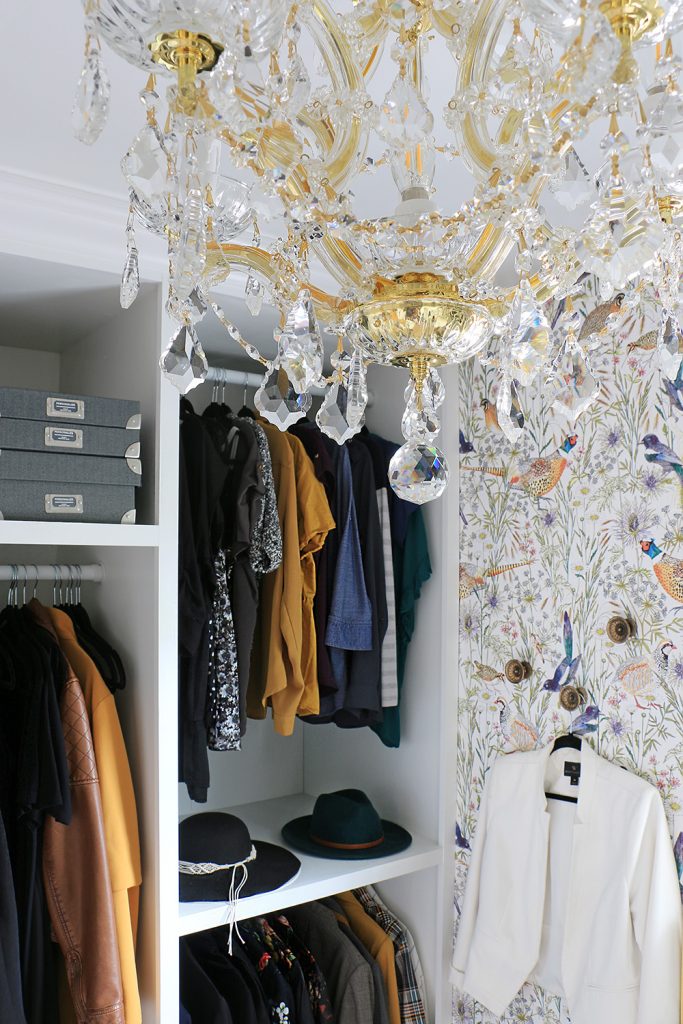 Incorporate Hat Storage Into The Design
Whether you use hooks on the wall, hat boxes, or hanging hat organizers in the closet, turn your collection into part of your décor.
If you keep hats on a closet shelf, use hat stands to lift them up off the surface so you can place items below for more storage space.
Shoe Organizer Systems
Shoe organizers come in a large variety of options! Everything from over-the-door pocket systems, to stackable boxes, to a simple shoe rack on the closet floor.
Just remember to consider what type of footwear you have the most of before pulling the trigger on a shoe organizer. If you have lots of heels, you'll want to measure and ensure they will fit in your organizer of choice. Definitely choose something that helps maintain your shoe quality and form.
Add A Storage Ottoman
If you have the room for a storage ottoman in a walk-in closet, this is a great addition for more than just what it can hide away.
It means a place to sit and remove socks, and handle clothing items to help put things away rather than a quick in and out.
Use A Hanger Keeper For Empty Hangers
Once you take a piece of clothing off the hanger, what do you do with the hanger? Some people leave them lying around on random surfaces throughout the closet, while others leave them in the closet taking up valuable space.
Make life easier by using a hamper designed for hangers! Then when laundry day rolls around, you grab the organizer, take it wherever you do laundry, and return the empty hanger carrier to your closet.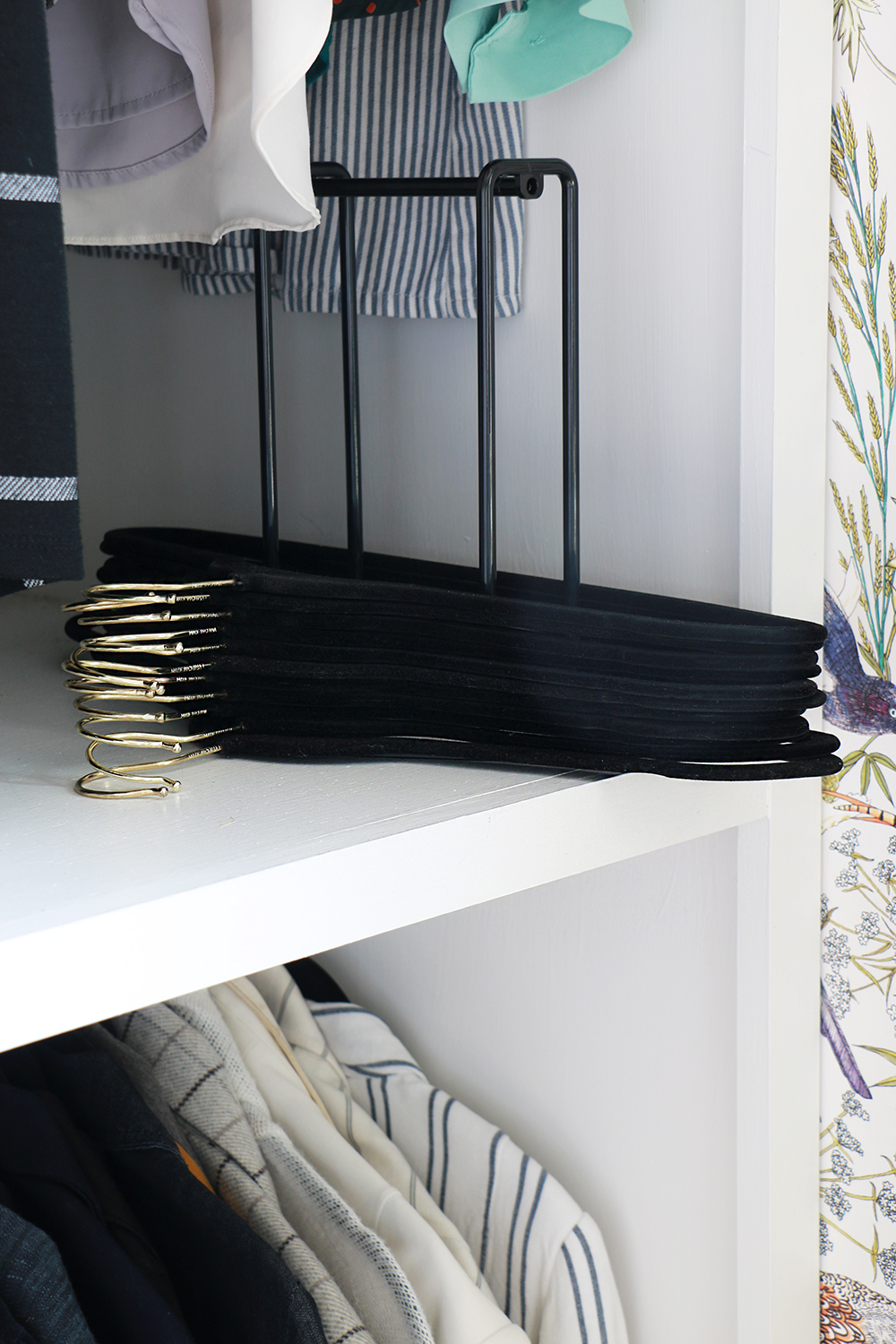 Slide Out Tie + Belt Organizers
Wrangle those ties in the way you find easy to keep tidy. Slide-out tie and belt organizers don't take up a lot of space, and you can pull it out to see it all at once. This also makes it much easier to take off and put back a tie in it's correct spot.
Expand Outside The Closet With A Clothes Rack or Wardrobe
If you just don't have enough closet space, expand into your bedroom. Use cube organizers, closet systems, or build a custom wardrobe on any available wall, like this DIY Ikea Rast Hack wardrobe system. And if DIY isn't your thing, buy a freestanding wardrobe, or roll a stylish garment rack into an empty corner.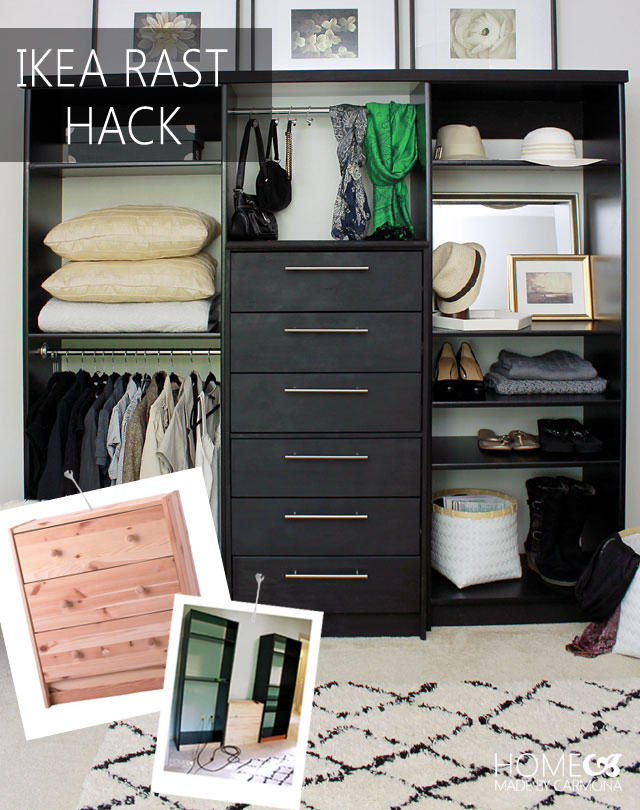 Modular Makeup Organizers That Can Be Added Onto
Use stackable modular makeup organizers that you can add on to as needed in the future. This keeps your makeup easily sorted in one area, and allows you to see everything you have at a glance. No more buying the same color you already had stashed in a drawer somewhere.
SHOP MODULAR MAKEUP ORGANIZER>>
Add A Laundry Sorter / Clothes Hamper
Eliminate those piles of dirty clothes that end up on the floor by keeping a laundry hamper in the closet.
---
Closet organization doesn't have to be a mystery or one of those seemingly unachievable goals. Take the time to apply some of these ideas, tweaked for the way you live, and enjoy a beautiful well organized closet!
Like This? You'll Love These!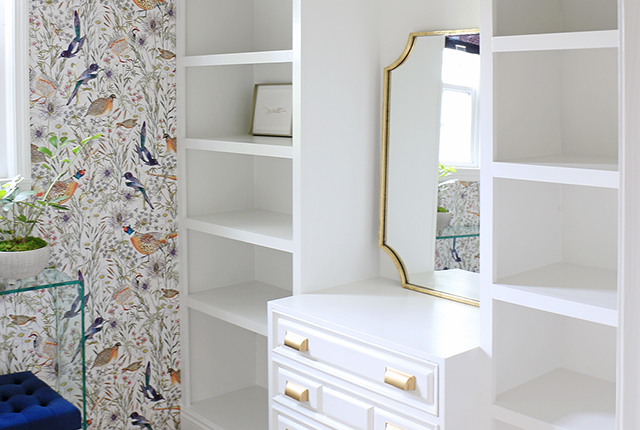 DIY Closet Built-In Out Of Plywood
Build custom closet shelves out of plywood and still get a high-end look!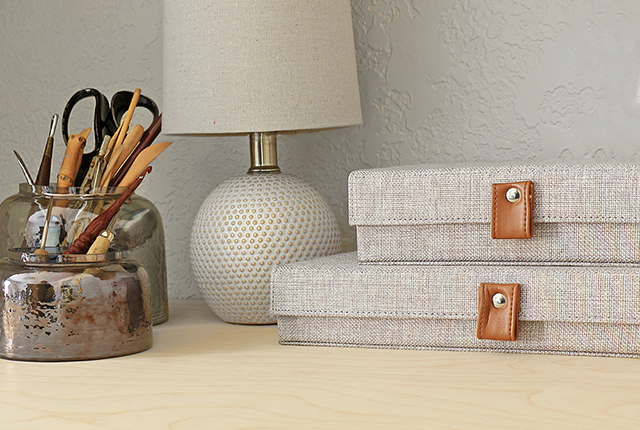 Sewing Room Organization
This sewing room got a makeover and organizing overhaul. See the amazing results!