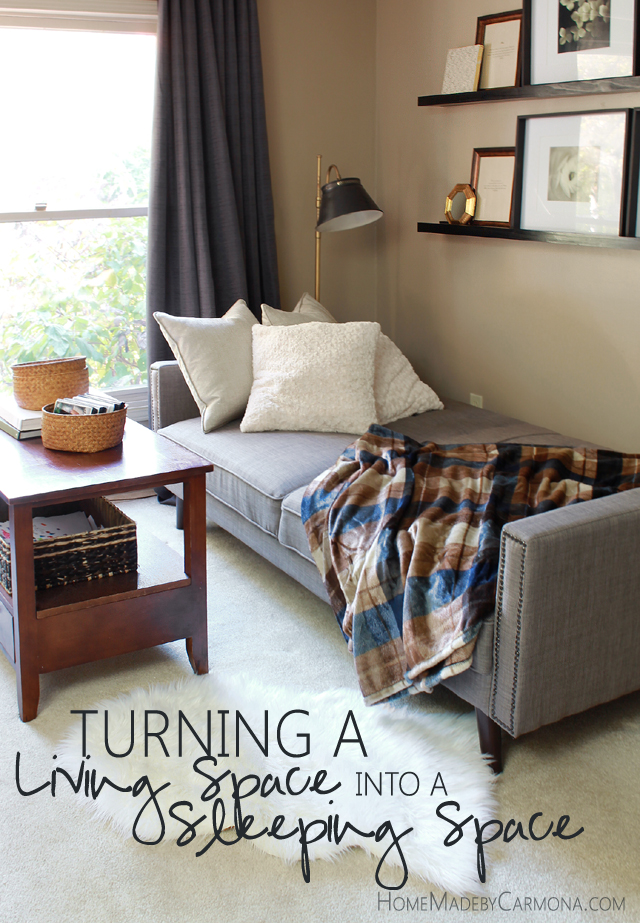 Maybe it is because there are two new babies in the family (yay, I'm an aunty!!), but I have never been more excited for the big holiday get-together! You know what this means? Time to get every room whipped into guest ready shape. There are only so many rooms in the house, and one of the younger siblings (usually a brother) always has to draw the "short straw" and sleep in the living room. This year, with a little help from Better Homes and Gardens Live Better line (who I have the immense privilege of partnering with every couple months!), I'm making that living space so comfy, that it might as well be the "long straw" of choices.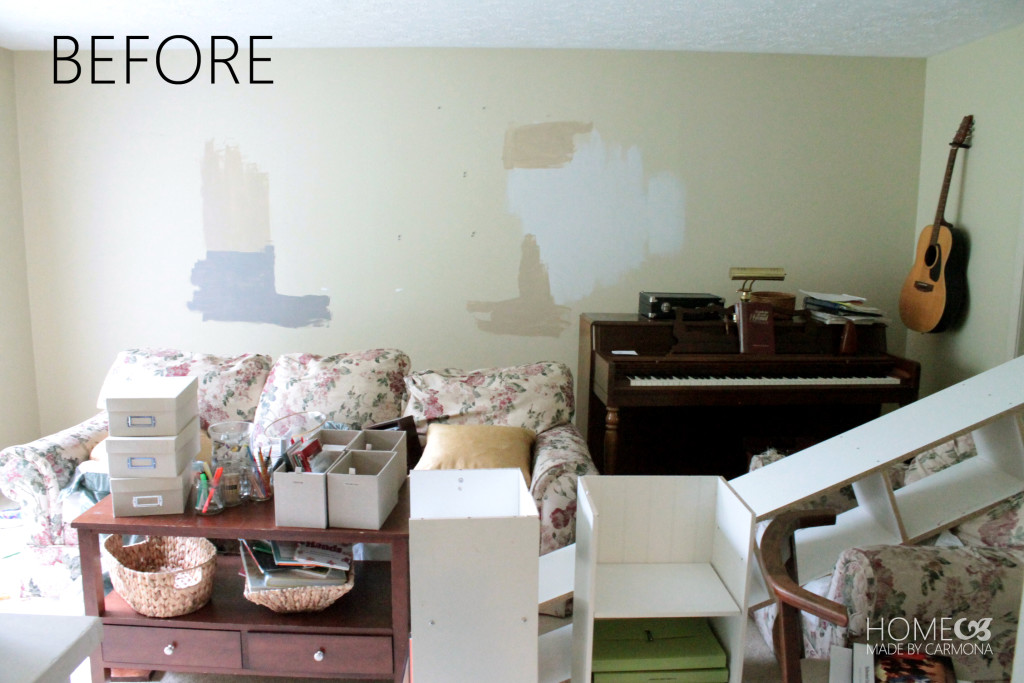 One of the younger siblings always has to draw the "short straw" and sleep in the living room. This year…I'm making that living space so comfy, that it might as well be the "long straw" of choices.
Here is what I've cooked up to make it great in the day, and the night!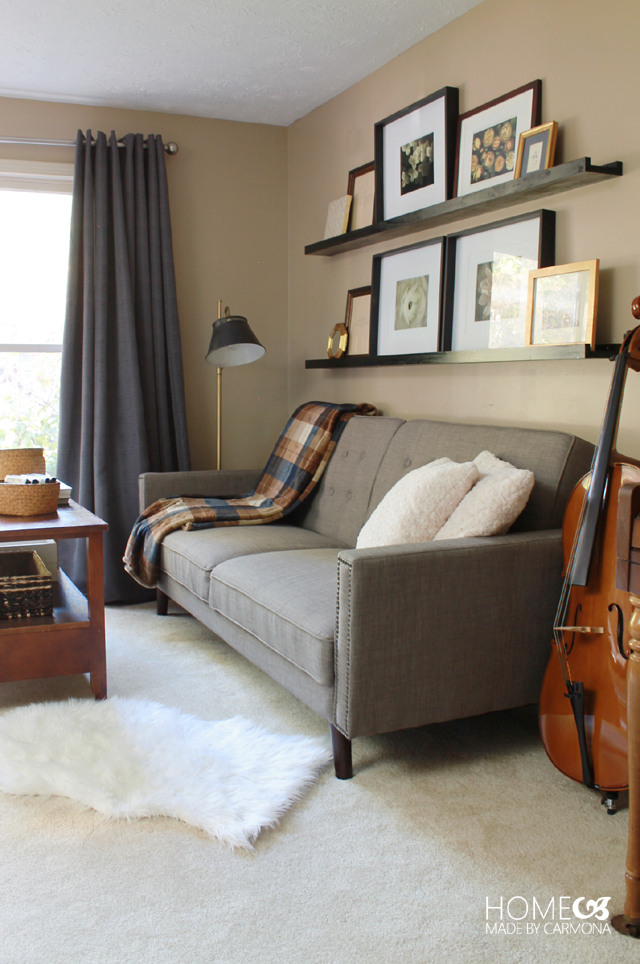 Seater by Day, Sleeper by Night
The couch that was here before left much to be desired, especially when my poor brother or brother-in-law had to crash on it after a long night of holiday fun and games. Nothing makes me feel more like a lousy host than to have my guests wake with back pain. Well no more!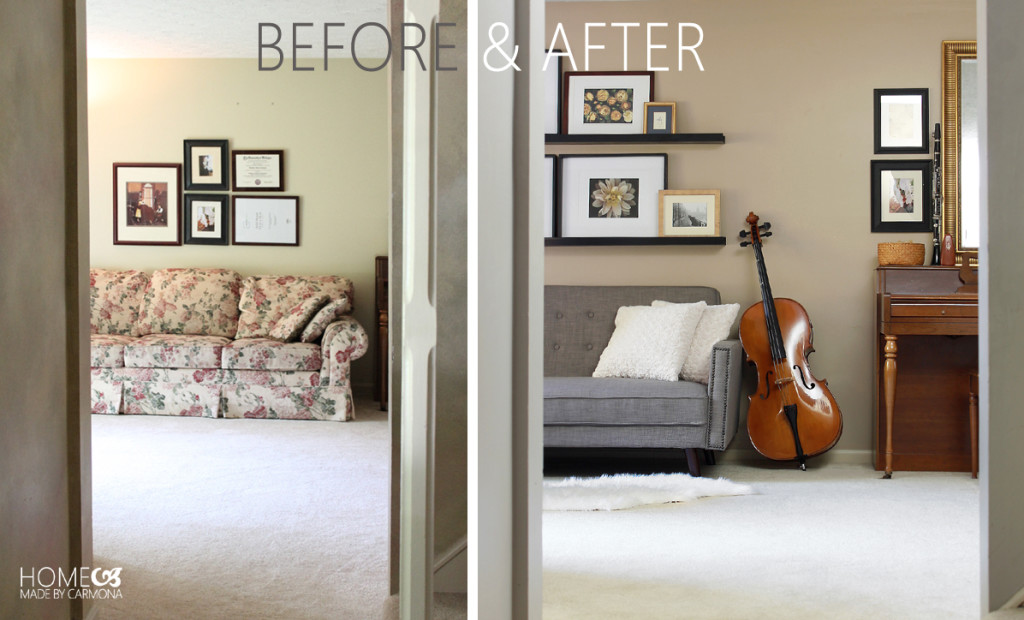 I replaced the old outdated couch with this gorgeous BHG Rowan Linen Futon. Isn't it quite a makeover? It set the tone for the rest of the room, which quickly came together after that. Granted, it isn't complete…but it is a great start!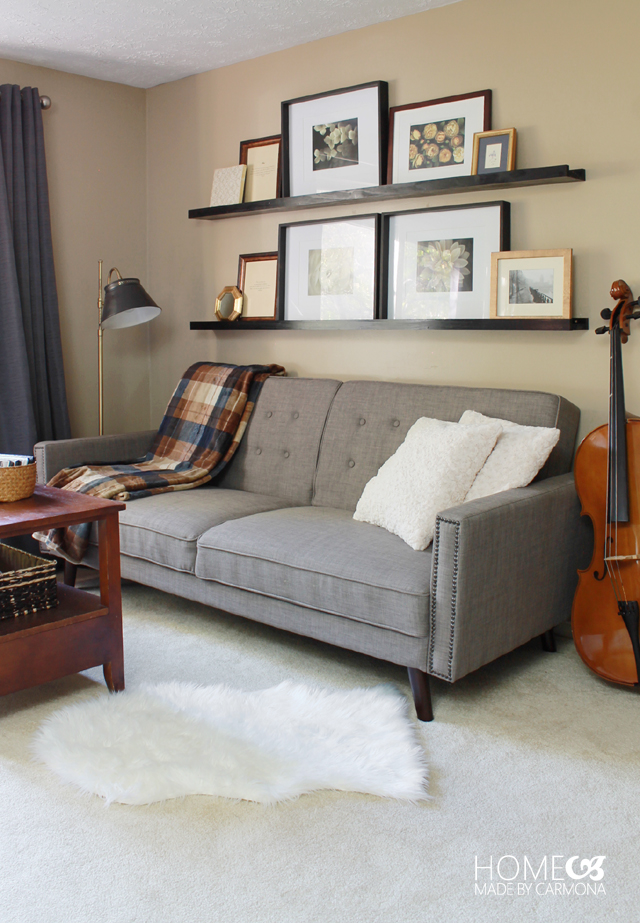 I love how chic this futon looks as a seater, but it is equally stunning as a sleeper! Imagine throwing some sheets and pillows… looks pretty comfy right? Definitely a huge improvement on my previous couch (which was quite lumpy).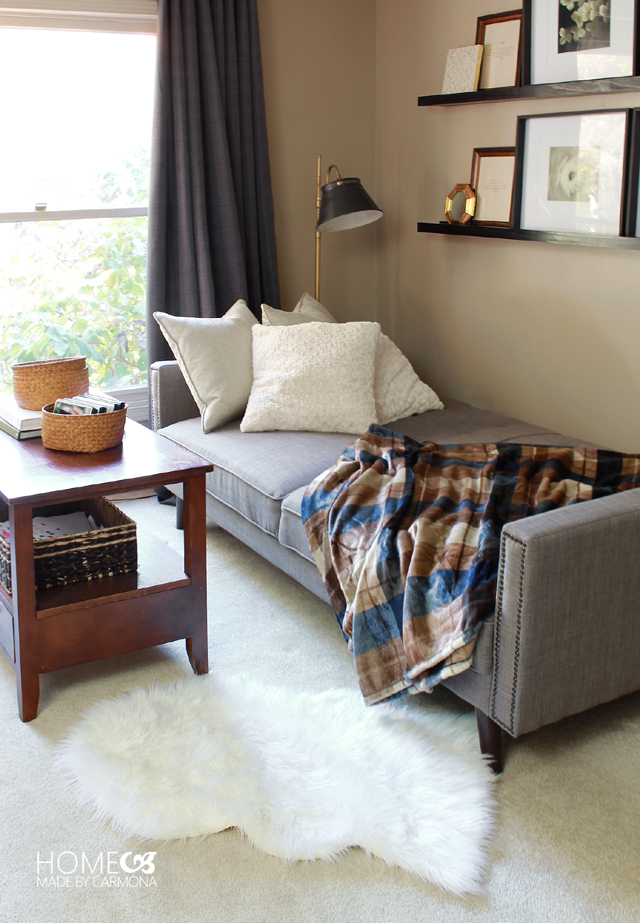 Bring On The Plush
A great way to make your home guest ready during the cooler holiday season is to bring in lots of warm plush throws, soft pillows, and even fluffy rugs to lounge on.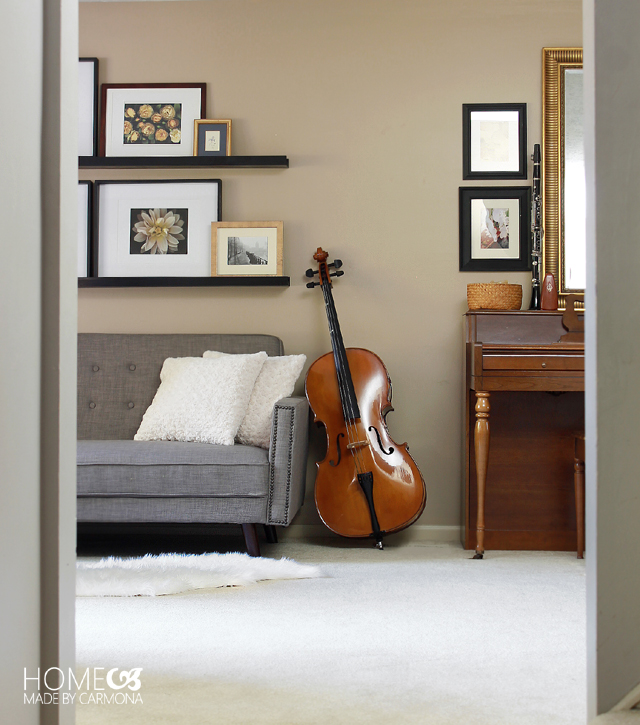 I love these BHG Rosette Plush Pillows…they are as cozy as they are cute. I've barely had a chance to enjoy them myself, my girls are always commandeering them for their reading corner.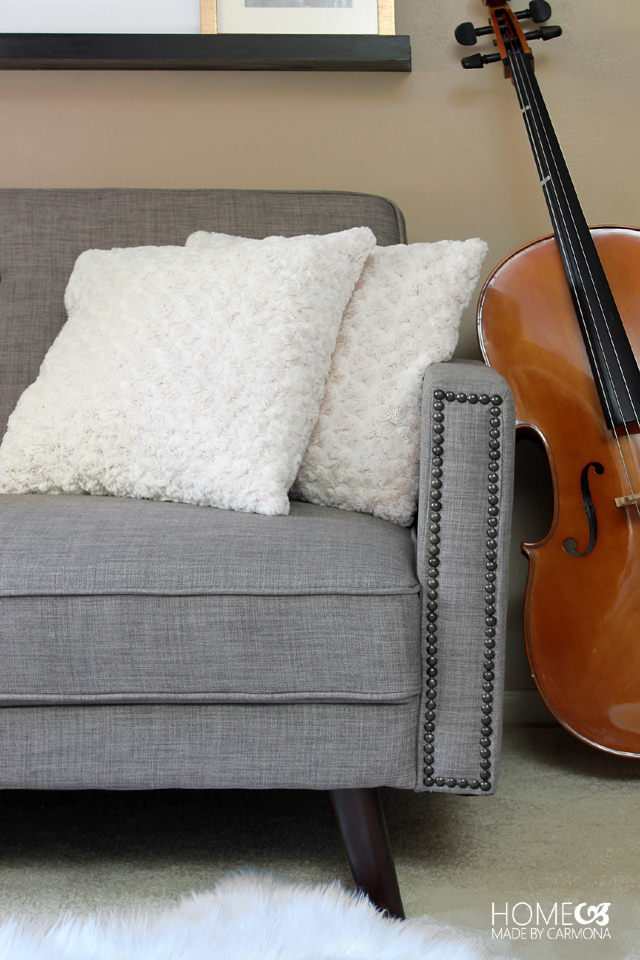 I'm THAT person, the one who is always cold. So whether I'm the guest or the host, I always appreciate a cozy throw on the back of an armchair or couch. This plaid BHG Solid Velvet plush blanket is so soft, I have a feeling that I will soon be fighting with my siblings (who are also always cold) for it soon enough. Better get one in every variety. 😀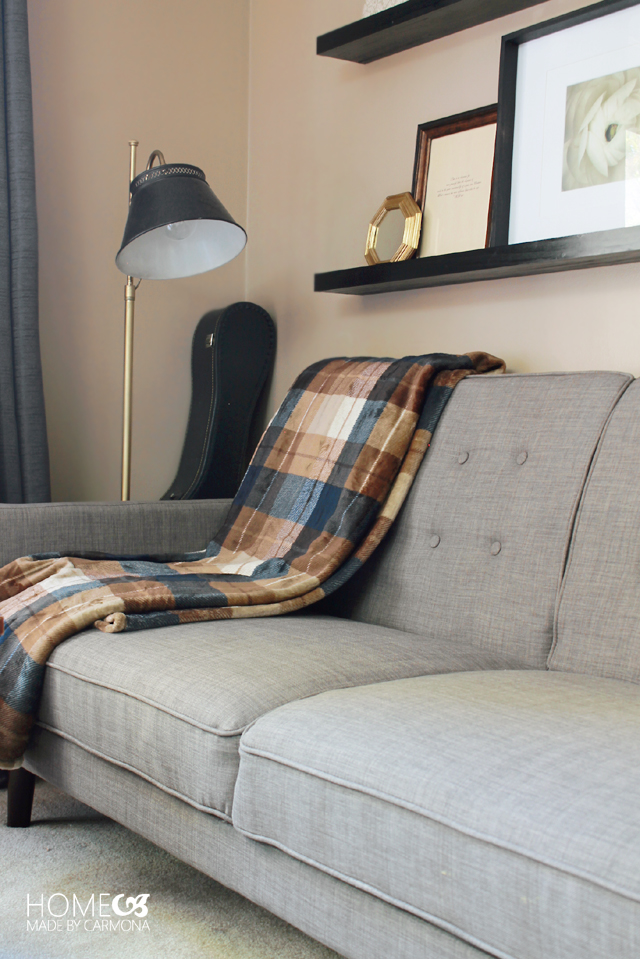 The whole space is starting to shape up beautifully! I didn't intend to take it on as a full makeover…but sometimes it's nice to pull out all the stops for a great holiday gathering. I love the way this space is shaping up! It was originally the "sitting room", but now it is an office, a music room, a living space, and now a proper sleeping space when the guest room is taken.

NEWS: Guess what? BHG is having a LIVE stream event on October 21st 8:00-9:00 pm EST via their website BHG.com. You do not want to miss it. All the winners of the various giveaways they've been featuring all month will be announced live, and there will even be an awesome Twitter party going on. Don't miss it, I'll be there! 😉

*I am always honored (and excited!) to be part of the BHG Live Better network, and to share a few of my favorite things, my own projects, and my original ideas with you. Thank you to BHG at Walmart for sponsoring this post. Follow BHG on  Facebook, Twitter, Pinterest, and Instagram.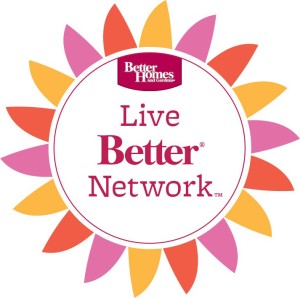 Portfolio with an id of "decorate_landing_page" is not defined.