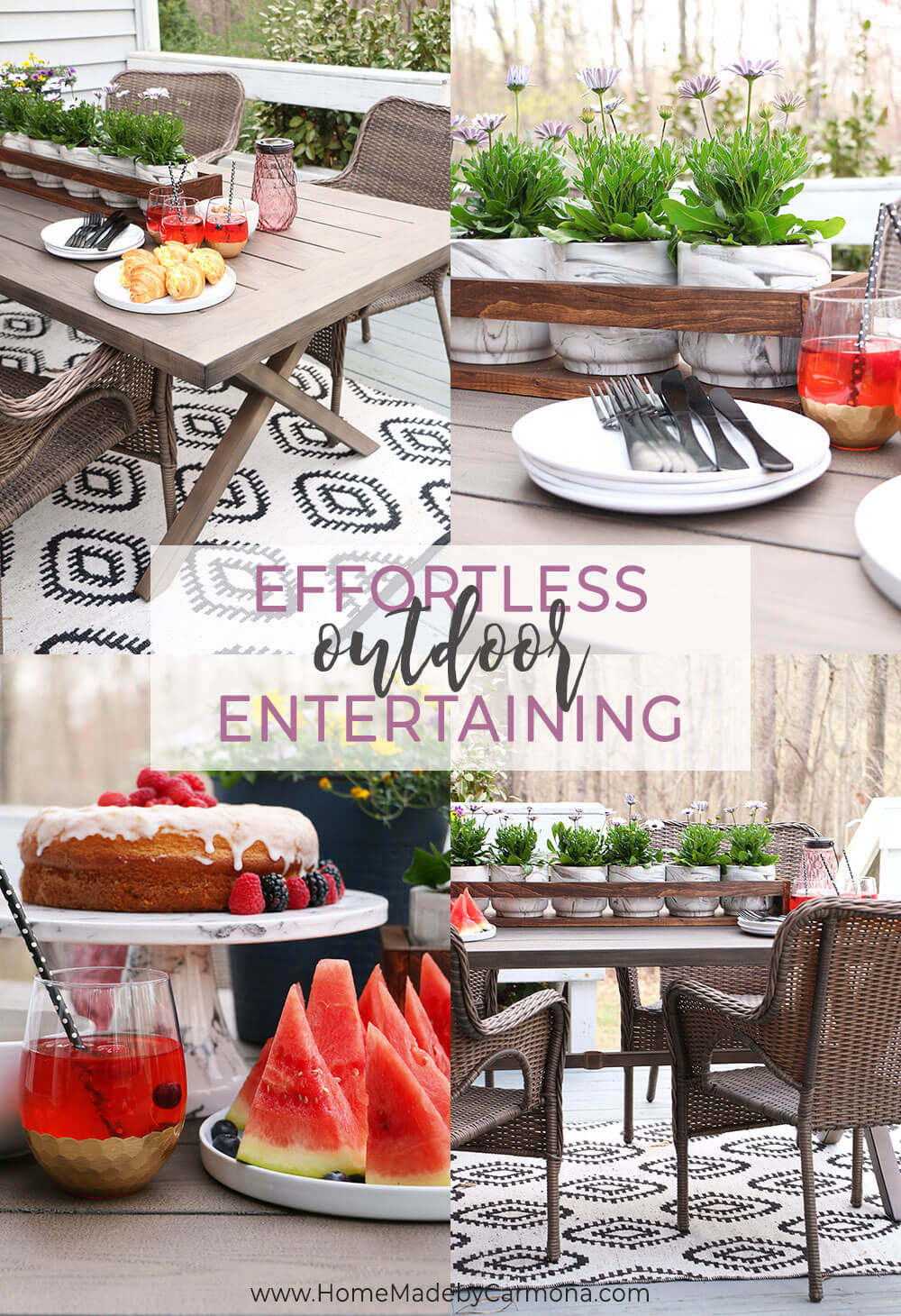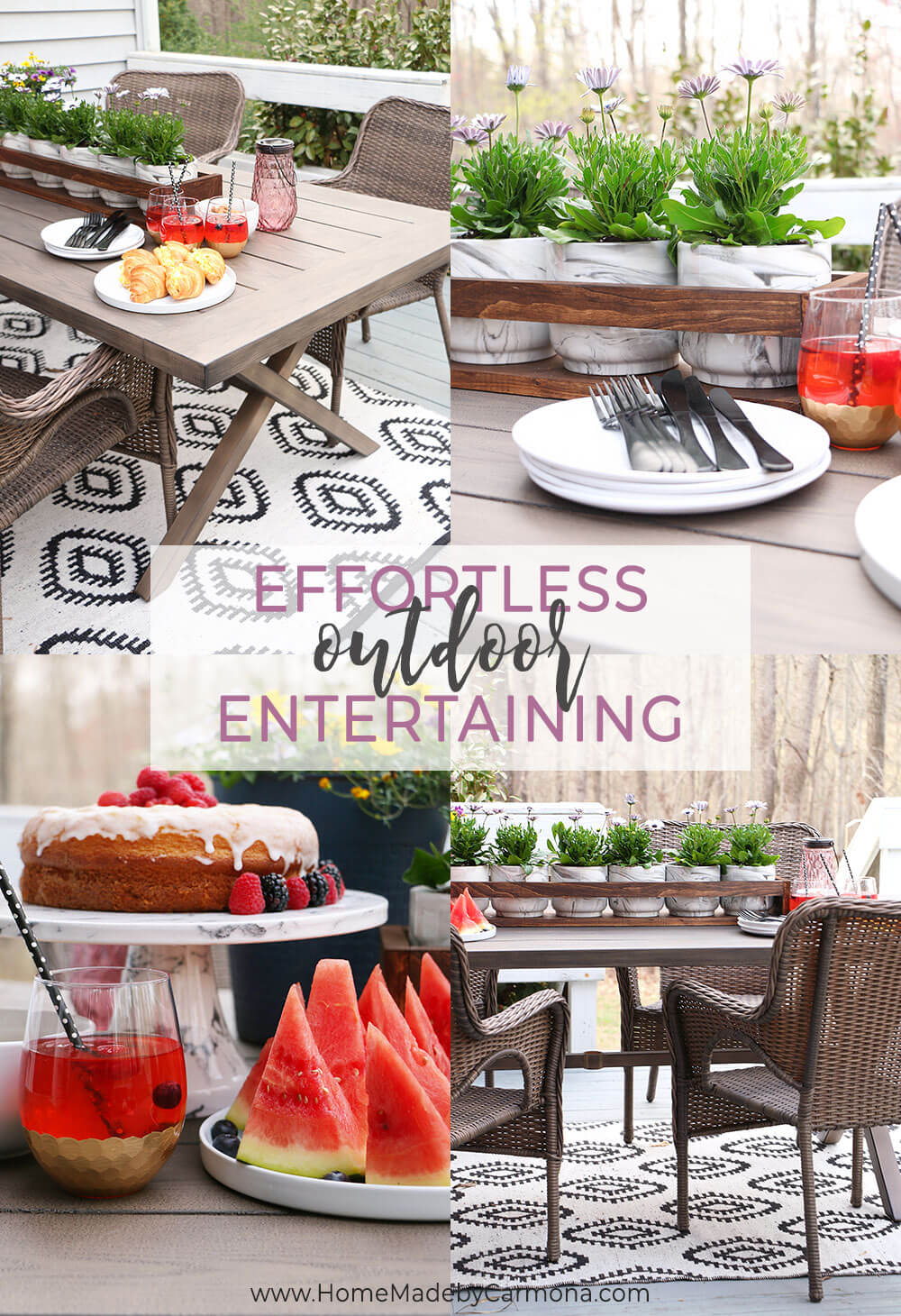 *This post is awesomely sponsored by Better Homes & Gardens, found at Walmart. Affiliate links below for your shopping pleasure! 😉
I can't possibly be the only work-at-home mom who loves outdoor entertaining but doesn't always have a whole lot of time to prepare an incredible party or event from the ground up. At the same time, you don't want to be seen as that person who "threw together" their garden party or gathering.
Make sure your inner hostess gets the job done right, but with a lot less stress and hassle…
You want your guests to feel important and welcome…like every detail has been addressed with loving effort. Here are 5 helpful tips to make sure your inner hostess gets the job done right, but with a lot less stress and hassle.

Create An Ever-Present Stylish Space
What you need is an effortlessly thrown together outdoor entertaining dining space that you can keep set up throughout the seasons. Something that is always ready for impromptu guests and entertaining at a moments notice.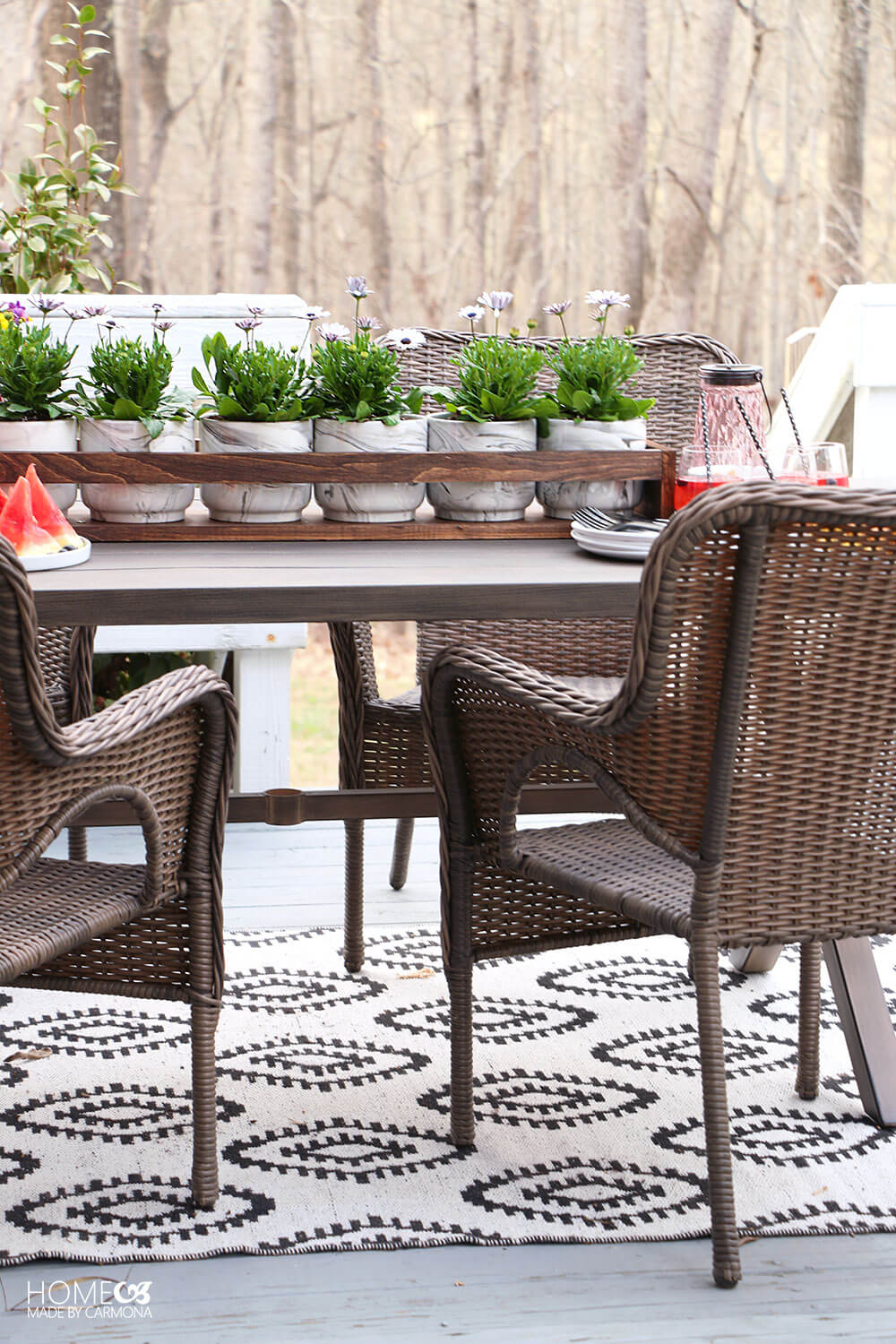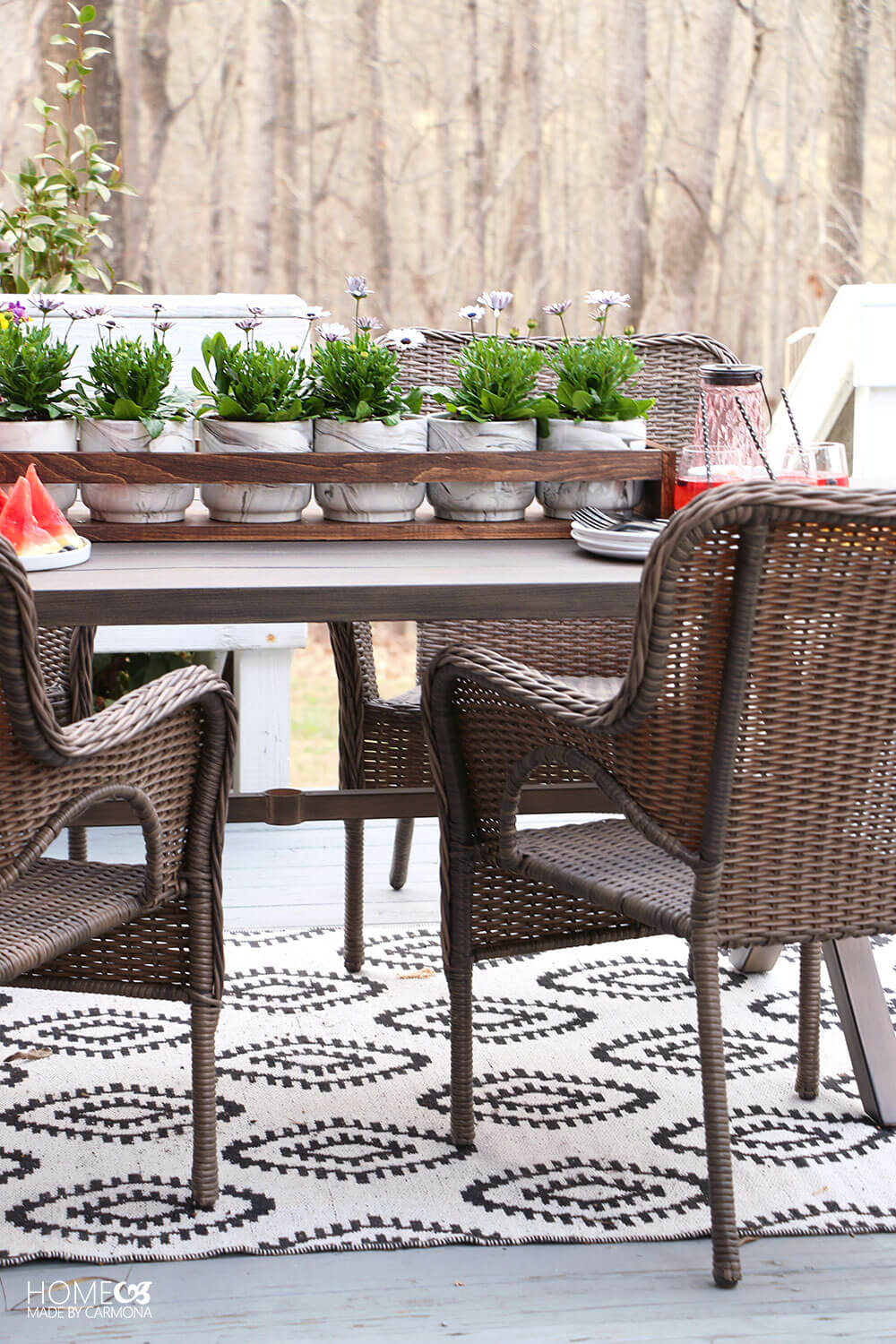 That is precisely why I went with an extremely durable outdoor table, the Better Homes & Gardens Hawthorn Park dining table. It looks like wood, but it is actually embossed metal that has been coated to be rust resistant! It took us 10 minutes to assemble when it arrived, and has been almost no maintenance, which makes it the perfect large entertaining surface.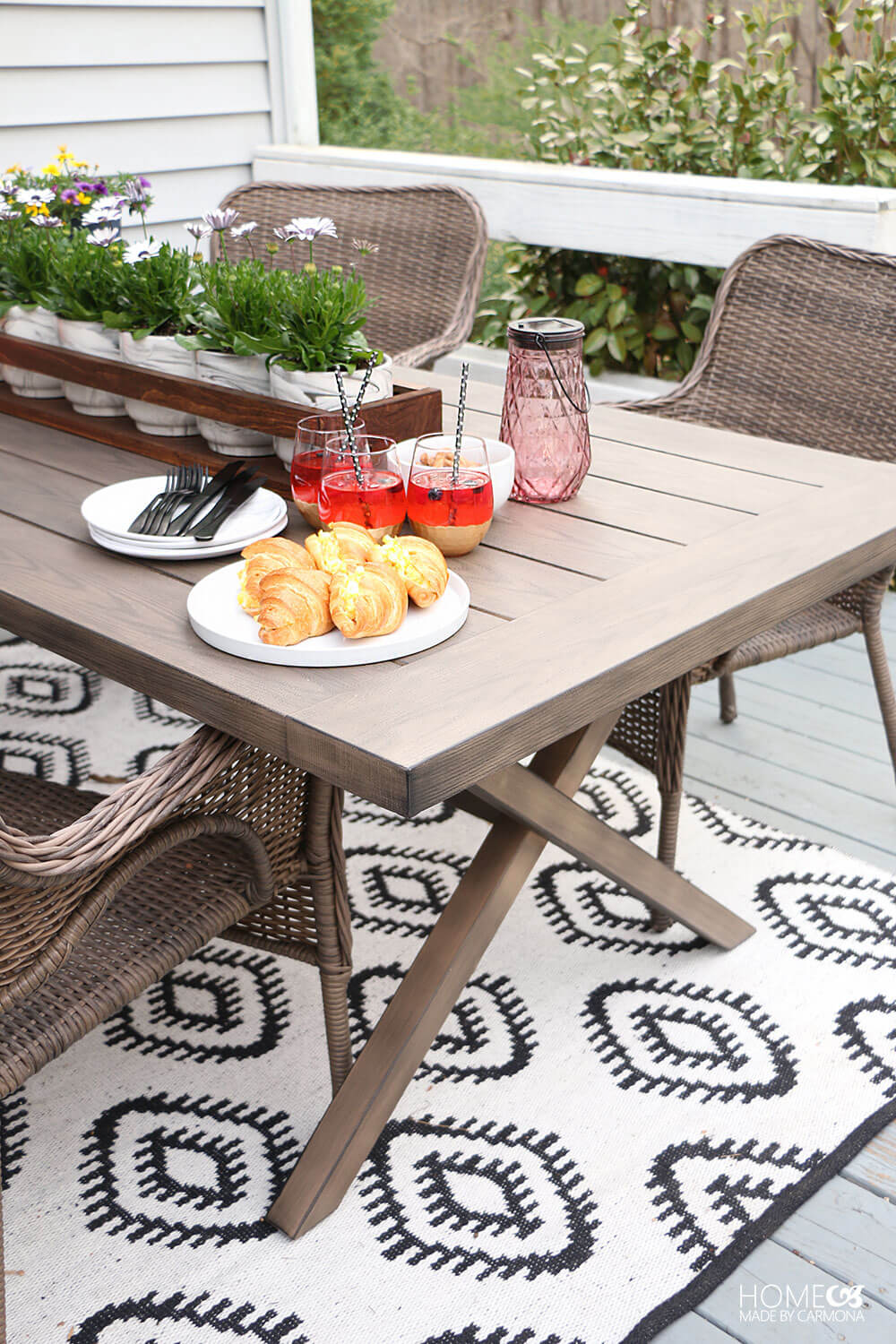 A few simple outdoor wicker chairs such as my BHG Garden Camrose Farmhouse set, and a hearty statement outdoor specific area rug like my BHG Diamond Wandering Ikat, and you have all the basics you need for everyday use or for entertaining. Plus it is durable enough that it doesn't require extra time and effort to maintain, so it is always ready for quick use after a little dusting.


Buy Everyday Dishes That Have Style
Let's be honest, having one set of dishes for daily living and another for entertaining can be costly and a bit of a hassle to keep clean. Personally I prefer to opt for style and function in one.
I really feel like I get that using any of the stylish BHG melamine plates (the marble-looking ones are my favs). My kids (or my guests kids) can't destroy them because they are melamine, which prevents embarrassing incidents if your guests have kids by the way. Plus our daily use BHG flatware set is stylish enough for use even during our little spring garden party.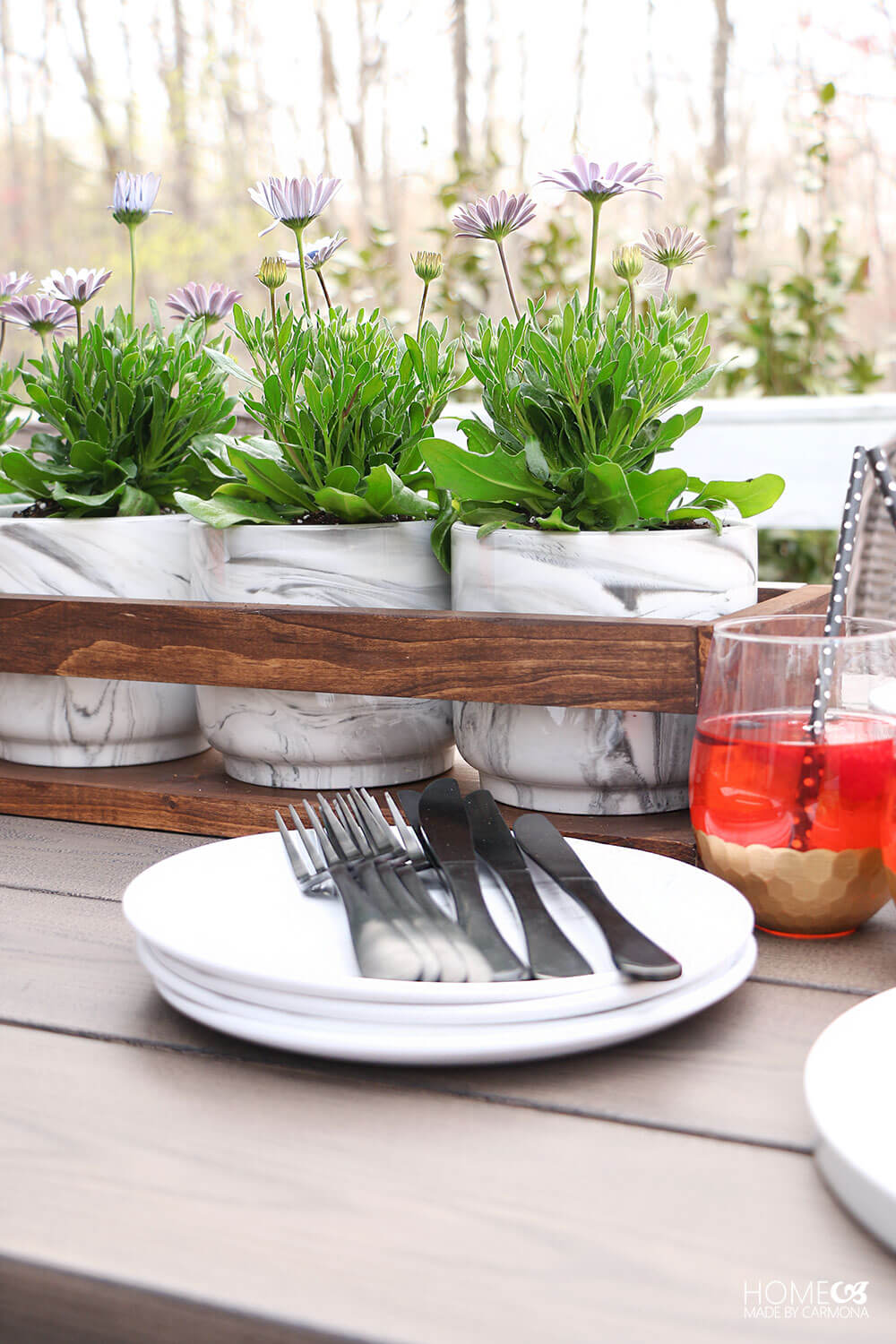 I love cake stands because I always feel like they make a stylish statement and make for practical serving (find this one here). One little tip for outdoor entertaining however; keep glass cloche tops and mesh covers around to keep your food bug and dusty free.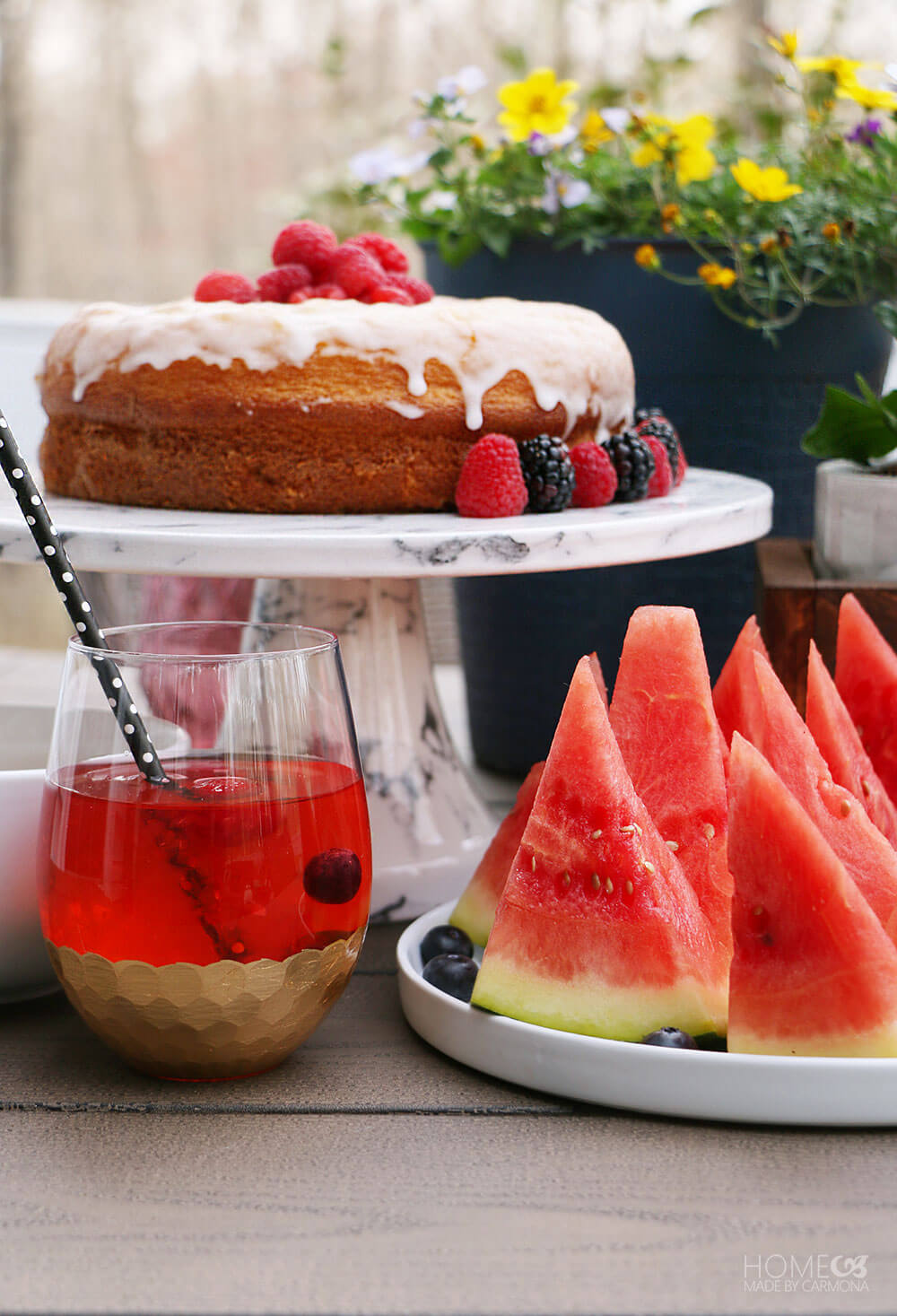 Add A Touch of Something Handmade
Sure, you don't have a lot of time but your creative soul would shrivel up inside you if you didn't get your hands a little dirty and at least add something cute easy you can be proud of. And why not? A handmade element will make it seem as if you put a lot of time, effort, and thought into your space…not as if you threw it together in a single afternoon.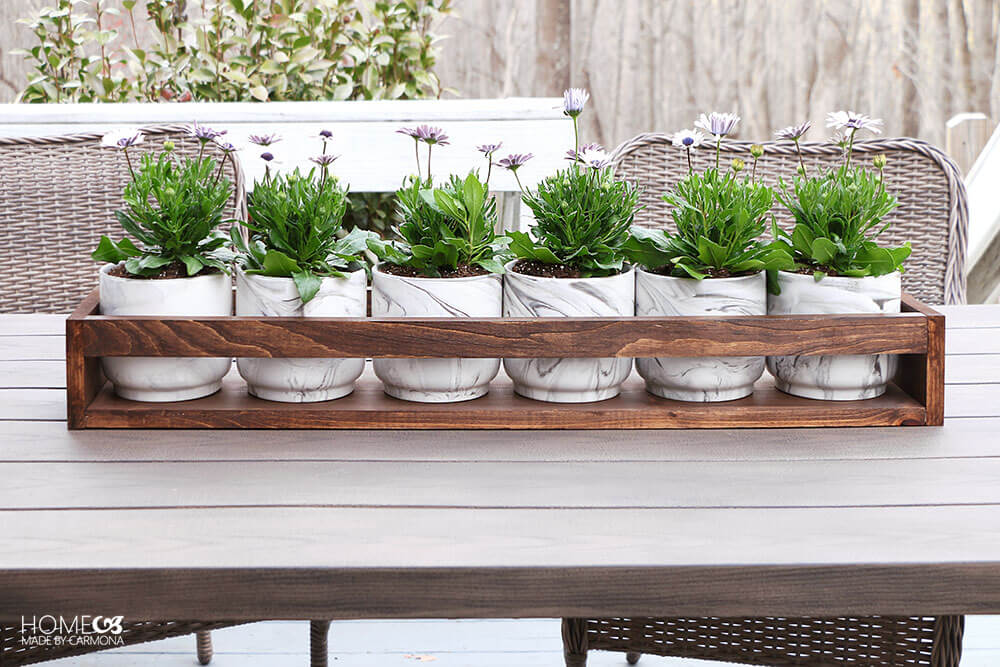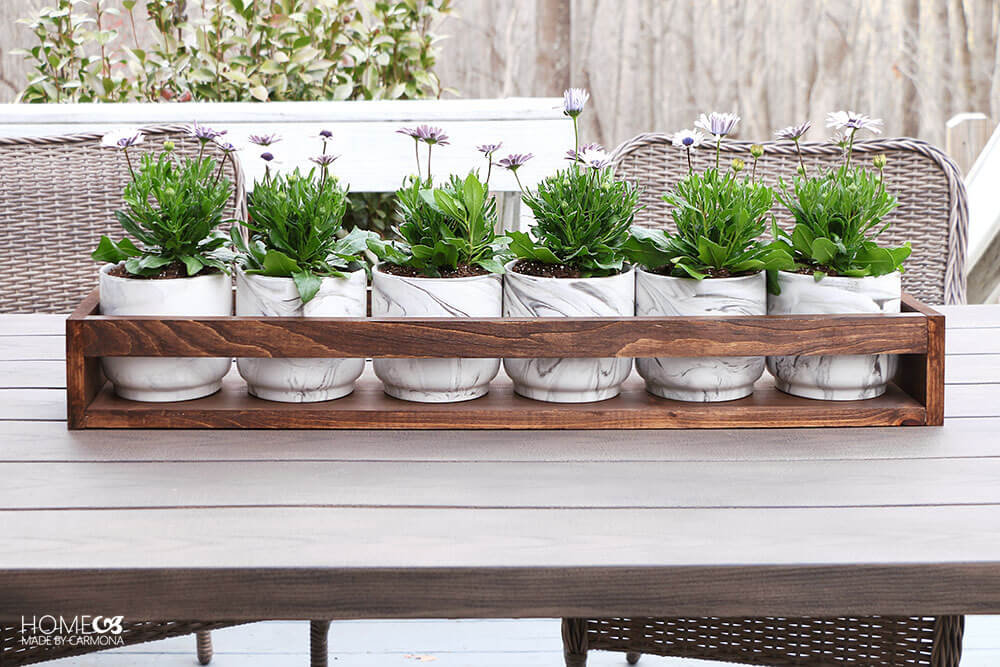 This adorable centerpiece is a planter holder that only takes 20 minutes to craft (minus the drying time if you decide to stain or paint it).
Here is a quick little video how-to:
This project was specifically sized to match these Better Homes & Gardens 6″ marble-like outdoor ceramic planters. By the way, these are a really great price, and you get two for that price! You'll also need some BHG potting soil, and these flowers are just one of the many BHG varieties now found in the Walmart garden center.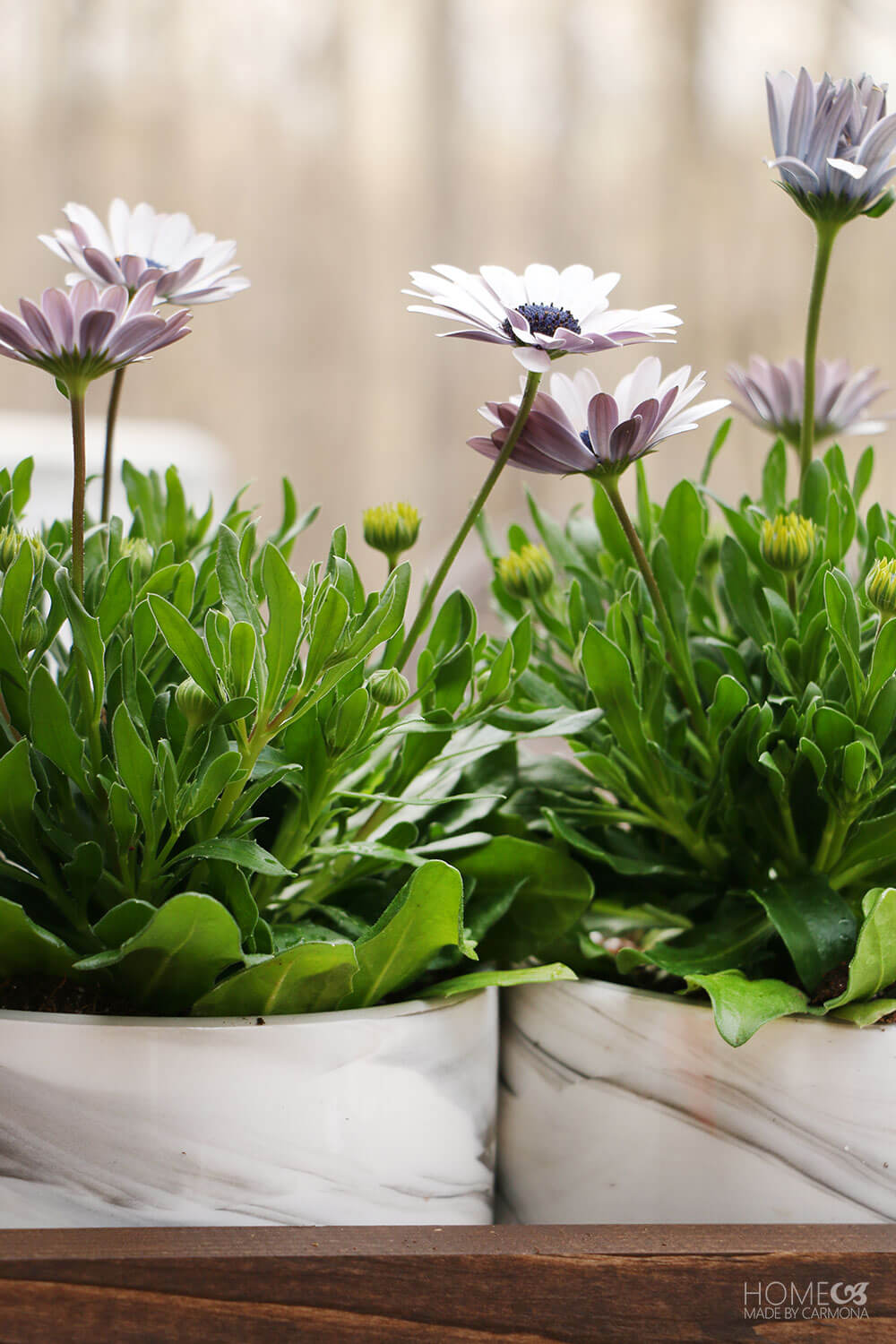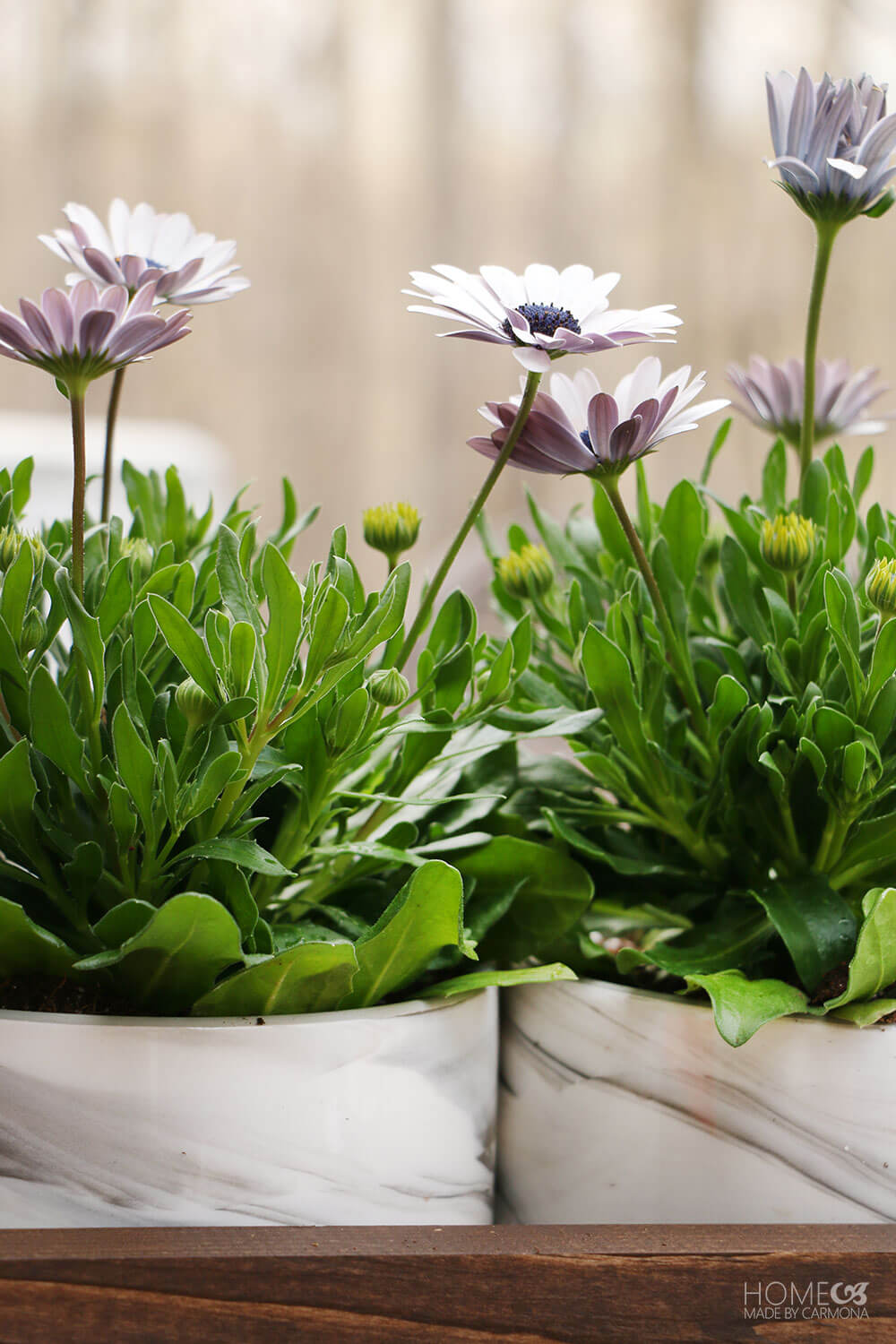 Cutie, you are going to look like hostess of the year! You've got this outdoor entertaining thing down!


Making Store Bought Seem Homemade
Okay, not all your food has to be homemade to be delicious or look custom. Go ahead and whip up something light like your signature potato salad, but add easy-make custom touches to store bought items too.
Such as your cake: buy a pre-made bundt cake and drizzle your own choice of icing and add fresh berries.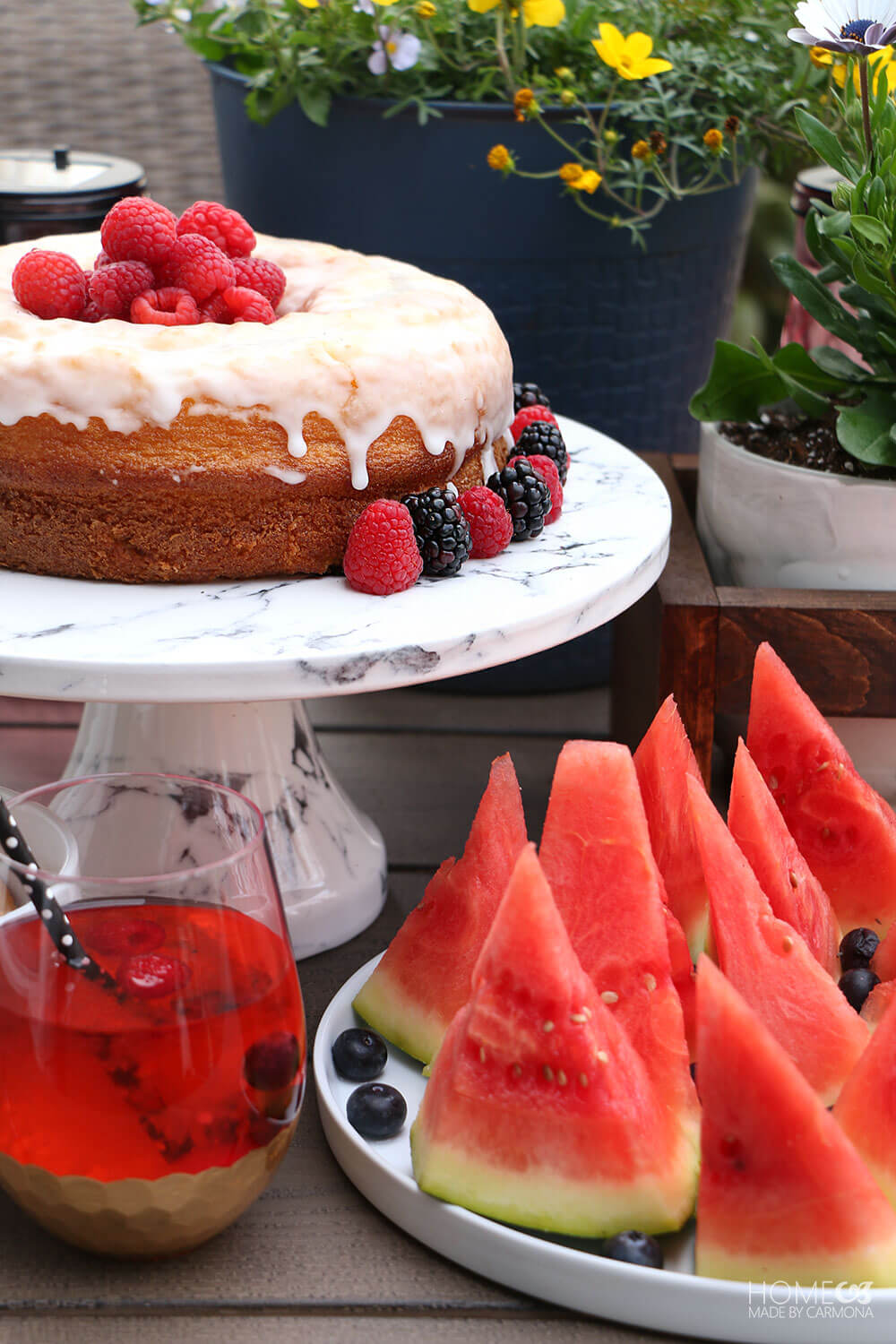 A fun little trick to customize drinks; add sweetened aloe very juice with bits in it to your sparkling juice of choice and top it off with some berries.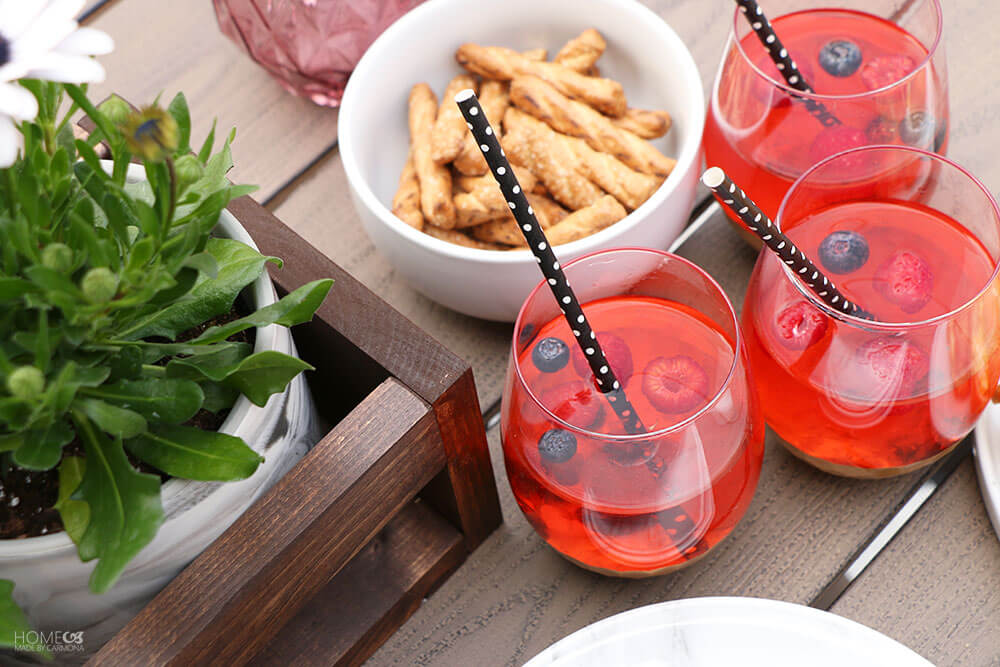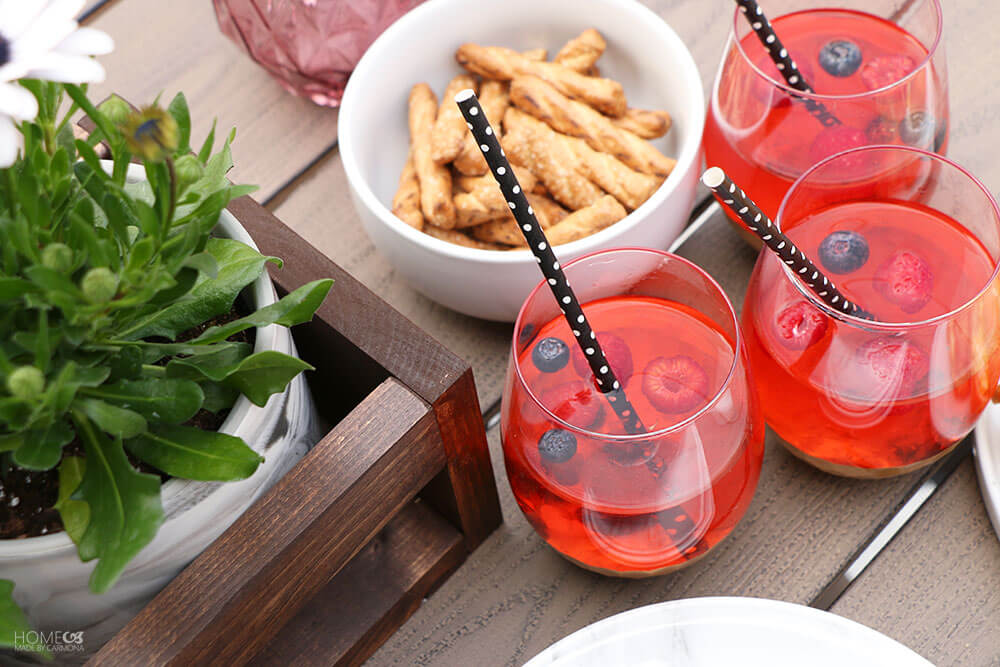 It becomes a custom mix, something new your guests may have never experienced before (which makes a good conversation starter as you share what aloe tastes like), and a bit of a novelty.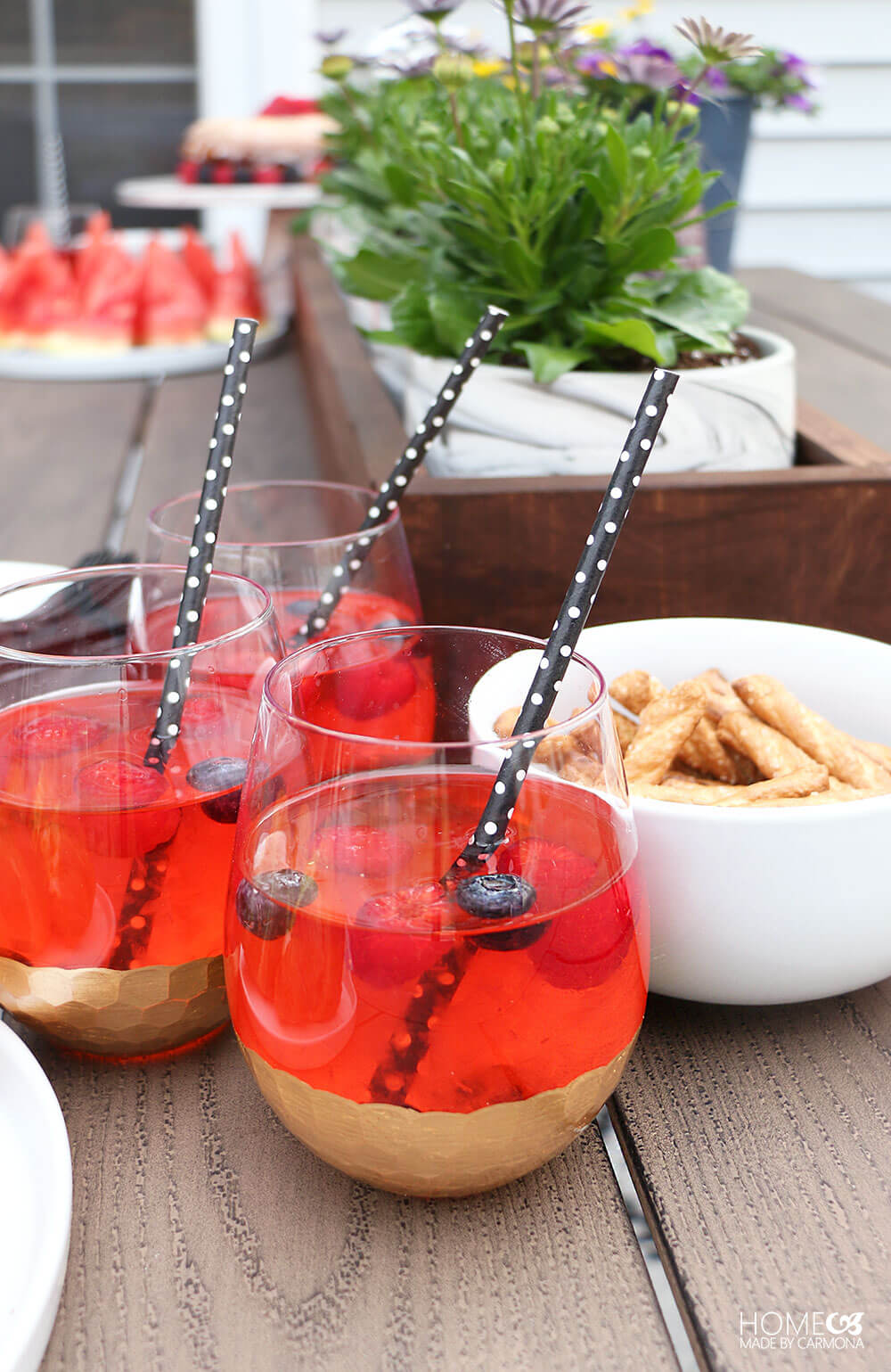 Adding Whimsy & Warmth To Outdoor Entertaining
All it takes is a few small touches to make a space feel like you slaved for hours to set up and style a stunning party. Honestly, it's more about WHAT you add and HOW MANY than it is how long it takes. For example, lots of flowers and plants make a space feel decorated and complete, but doesn't take a whole lot of effort to add.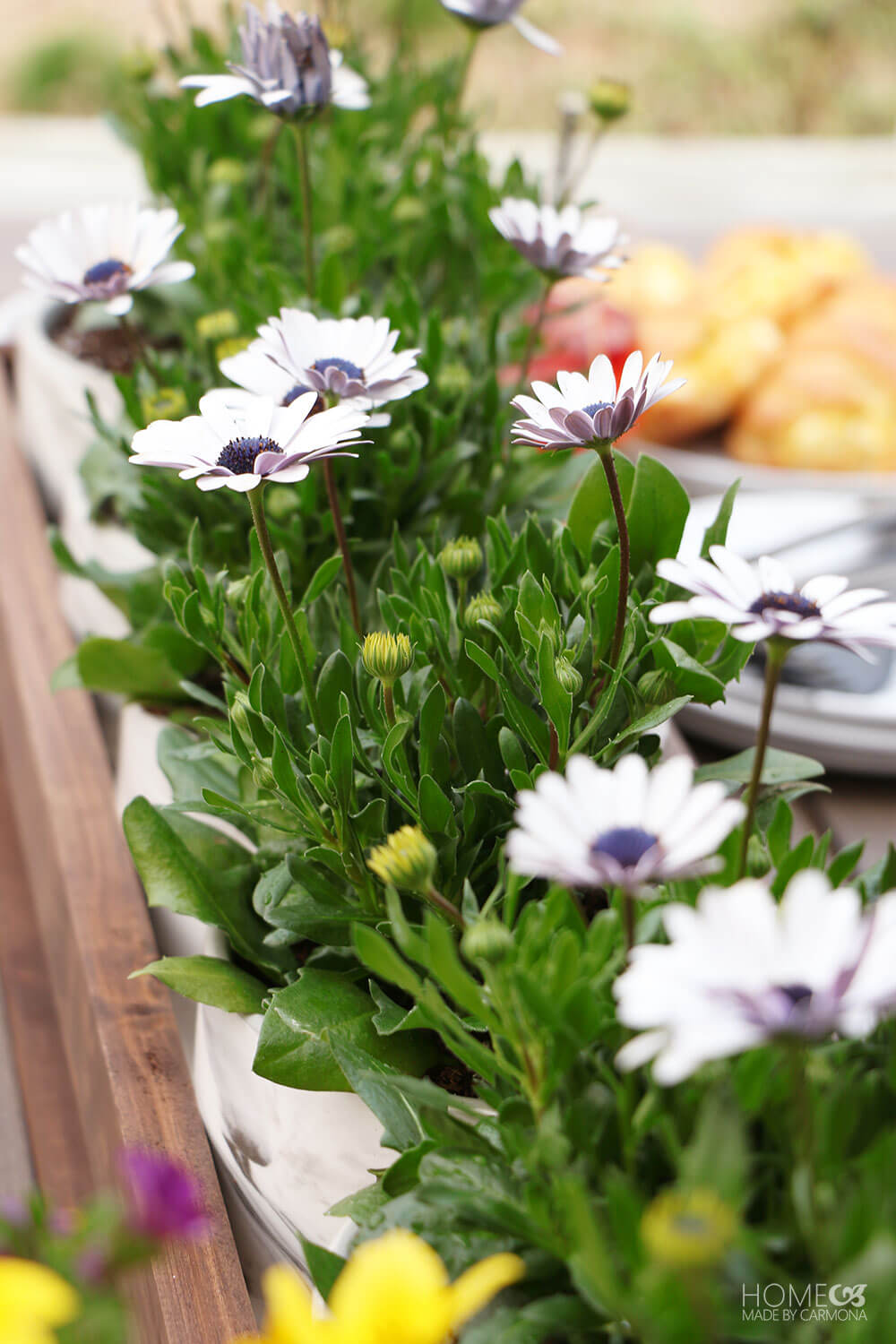 I also like to keep a few solar lanterns on my deck because it adds both warmth and whimsy to any space. Plus as the evening begins your space will only get prettier…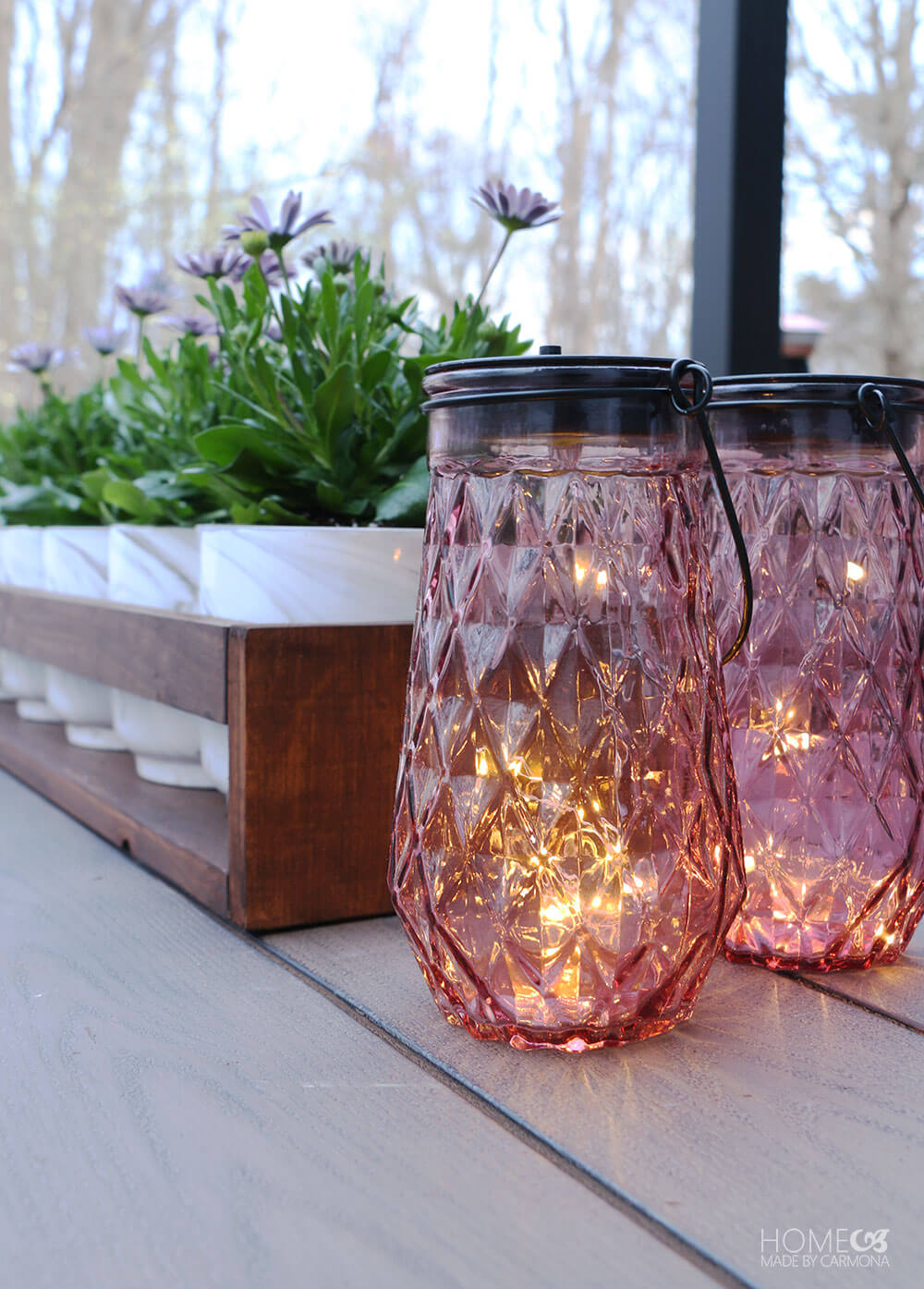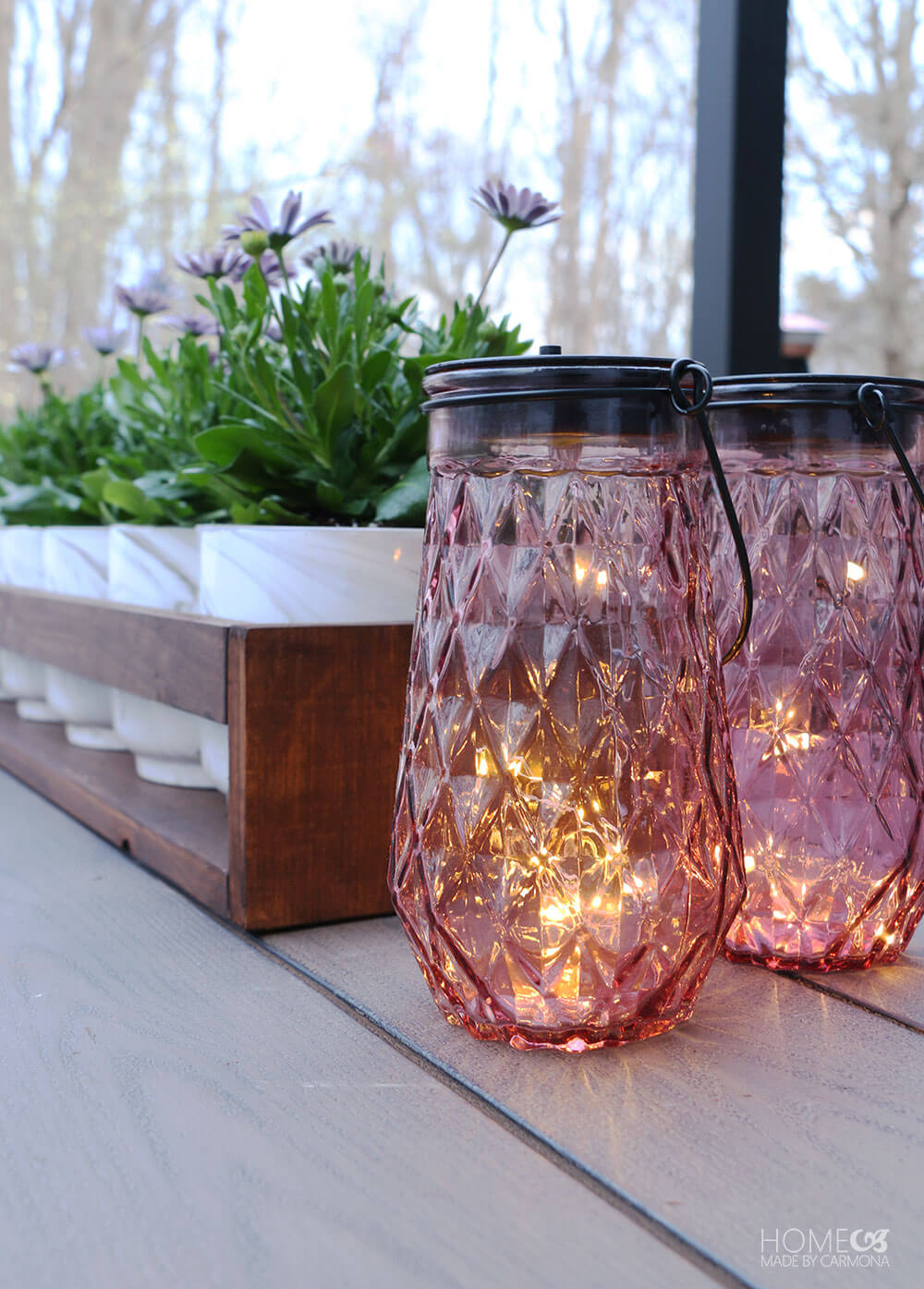 You can find these pretty BHG violet colored twinkle solar lanterns in store, and they come in a beautiful teal blue as well.



Want to take a look at the outdoor 'living area' adjacent to this little outdoor dining area? Check out the first part of this makeover here.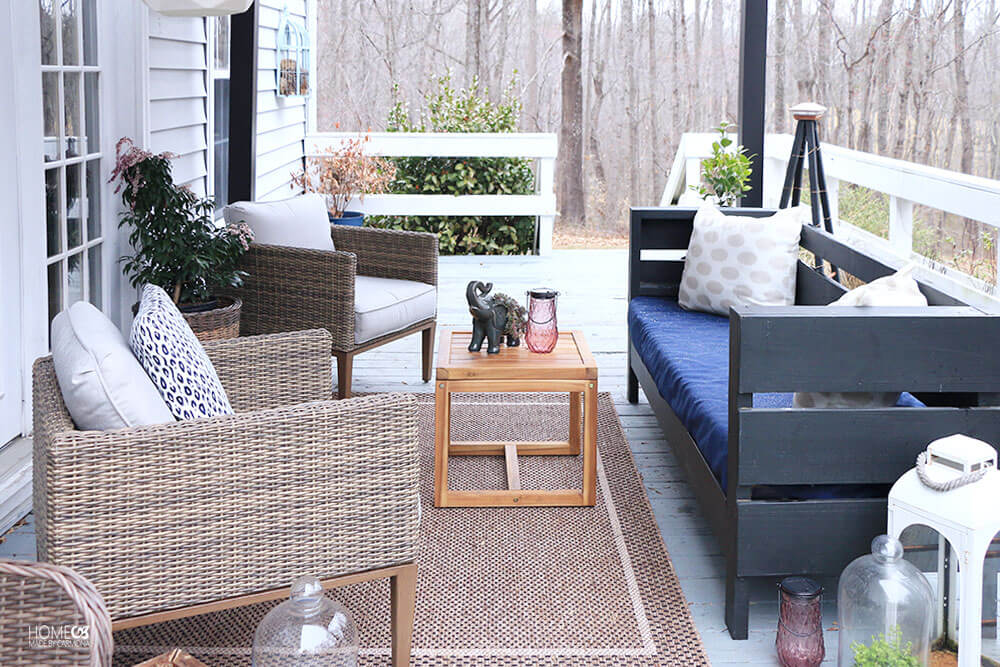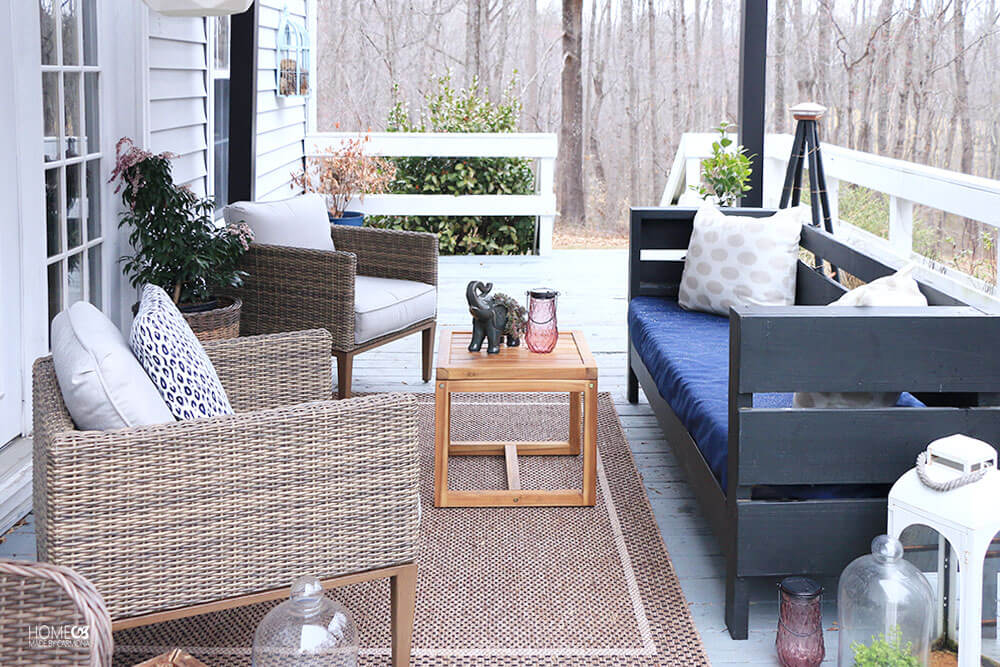 [left]
I'd like to say a special thank you to my friends at Better Homes & Gardens for partnering with me every month on a new challenge! You can find the BHG brand line carried exclusively by Walmart. Follow BHG on Facebook, Instagram, Twitter, and Pinterest.
**I am honored (and excited!) to be part of the Better Homes & Gardens Live Better influencer network, and am compensated for sharing a few of my favorite things, projects, opinions, and my own original ideas with you.
[/left]
[right]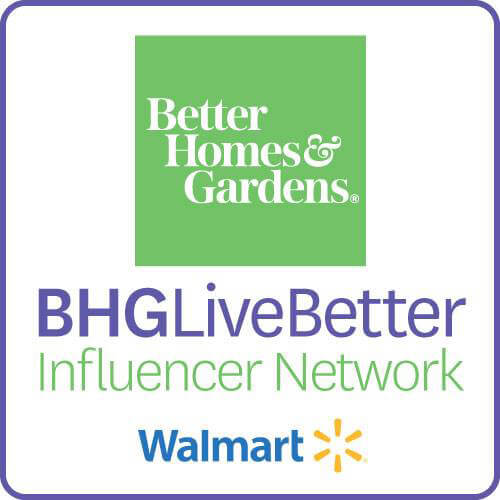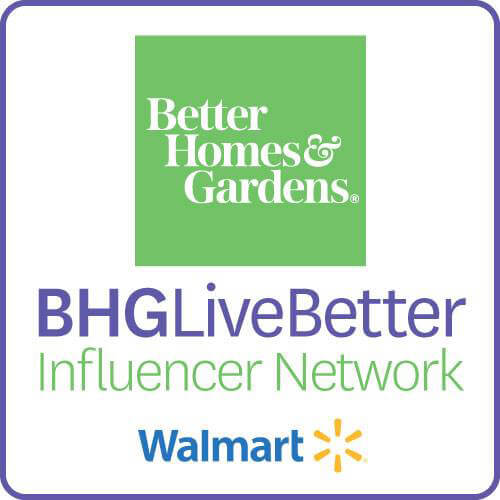 [/right]


[go_portfolio id="entertaining_tips"]