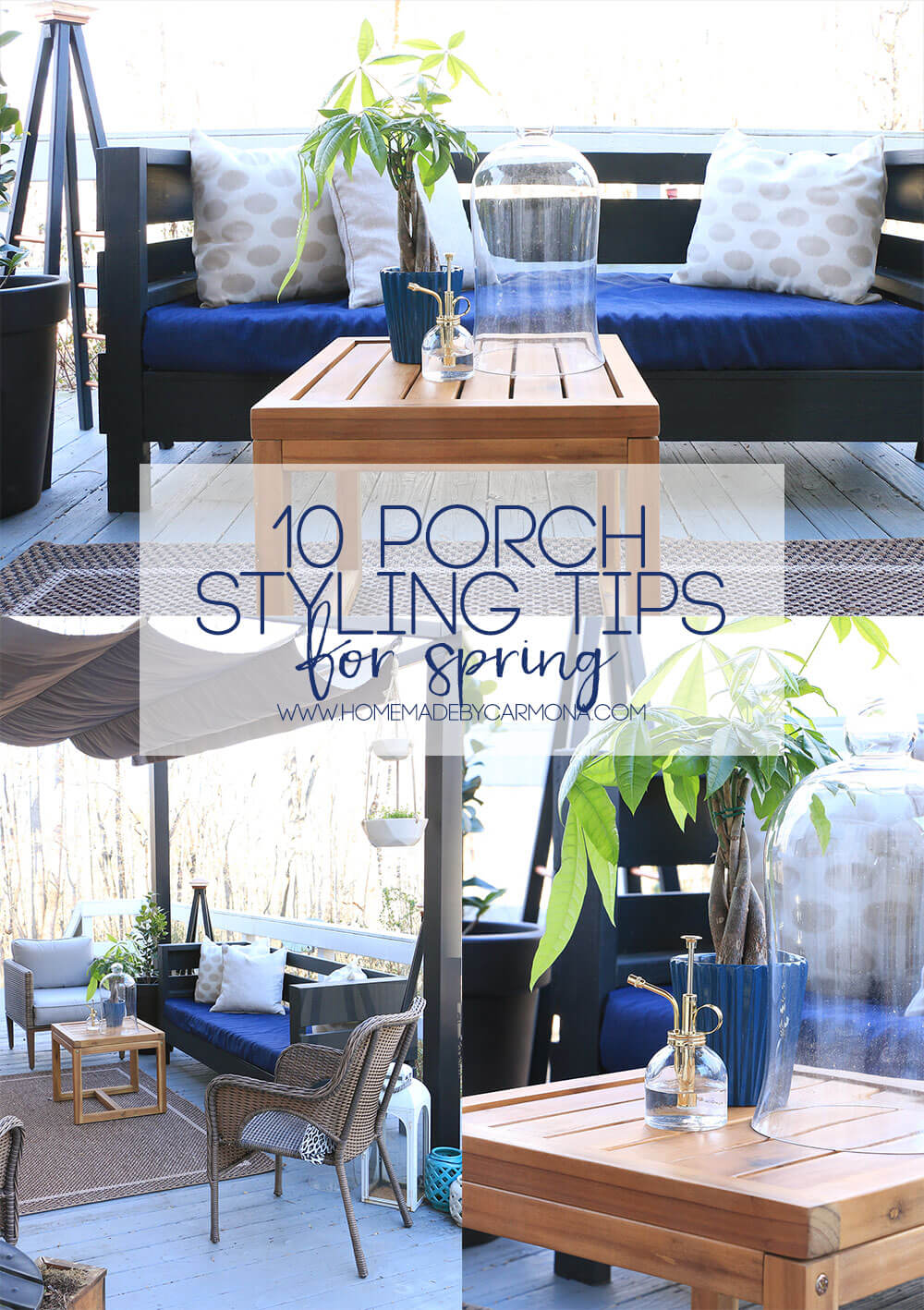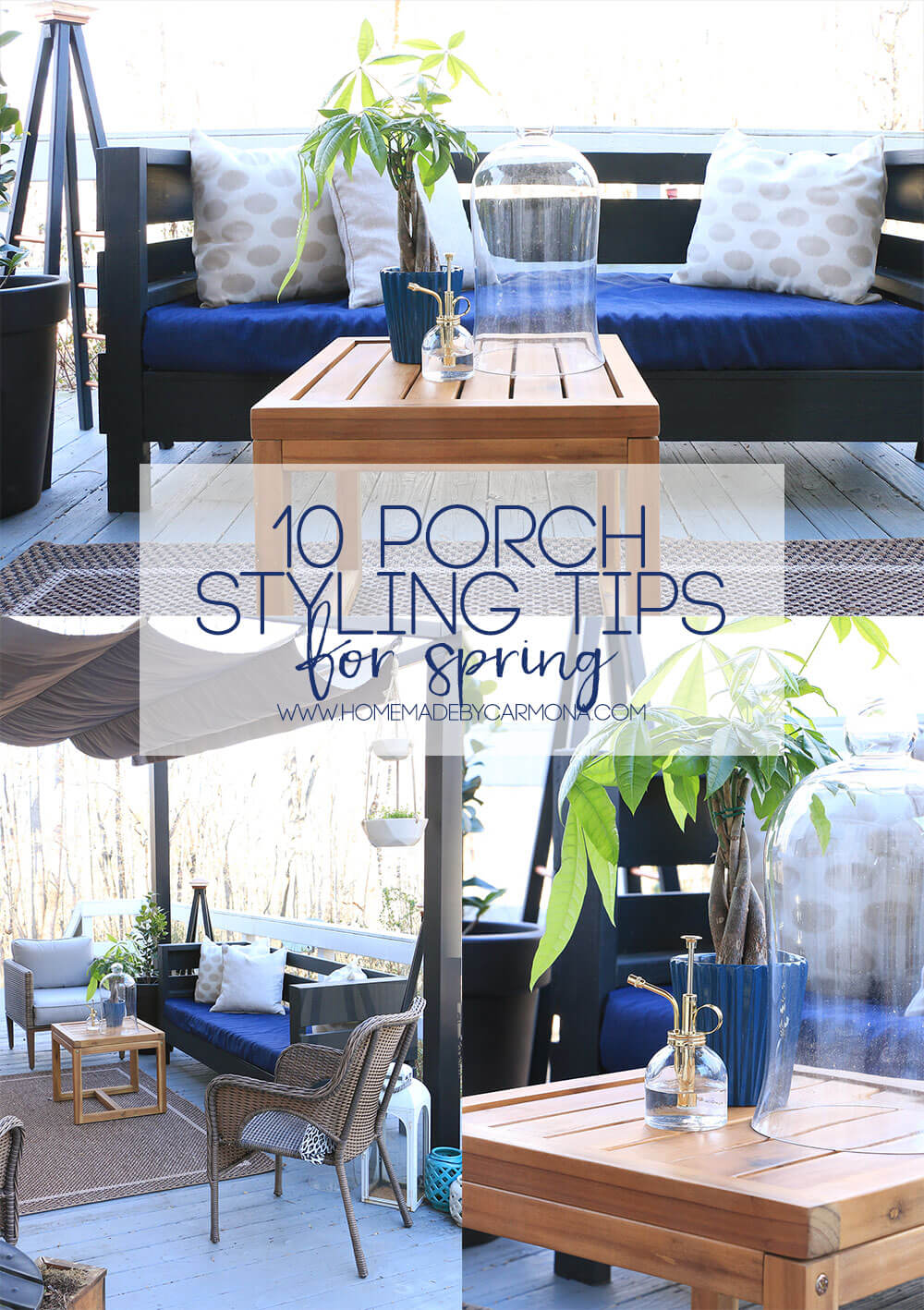 *This post is awesomely sponsored by Better Homes & Gardens, a brand you'll find at Walmart. This is my jam ya'all! Oh, and affiliate links below!
Are you as ready for spring as I am? Even if there is still a rather frigid nip in the air, you can start planning for your spring porch ahead of time.
 Even if there is still a rather frigid nip in the air, you can start planning for your spring porch ahead of time.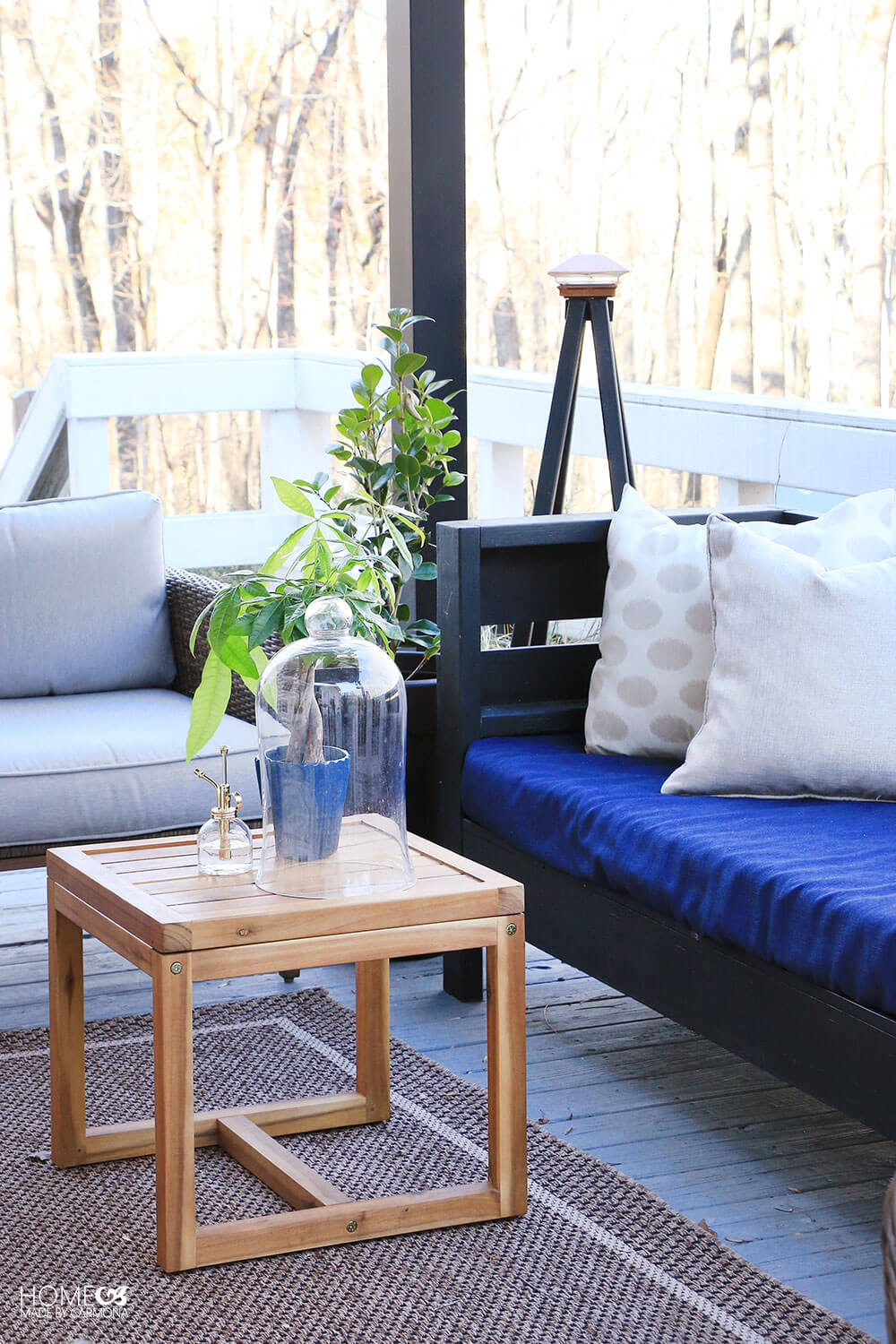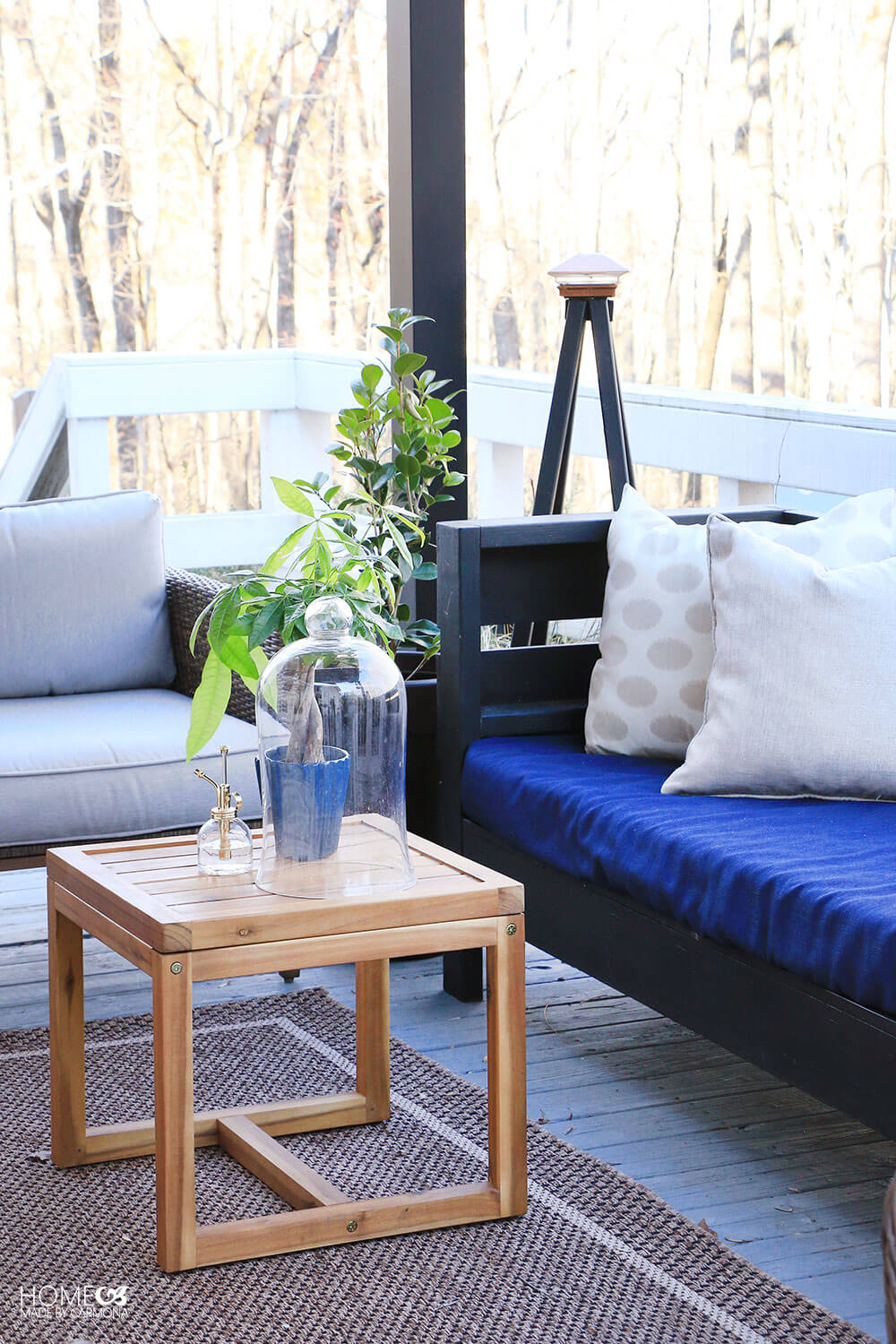 Yes, it may be the "skeleton crew" of patios and porches for the moment, but that doesn't mean it can't look stunning before being filled with a full bloom of plant life.
Here are your 10 Great Porch Styling Tips For Spring so your deck looks stunning even before the warm weather arrives.


Start With An Awning, Umbrella, or Protective Covering
If your porch isn't covered, you'll want to cover it to protect your furniture from all those spring showers. This is just the price of getting the perks of summer spaces during the spring season. Don't worry, it doesn't have to be expensive to be beautiful, and you don't need to hire a carpenter to make it happen.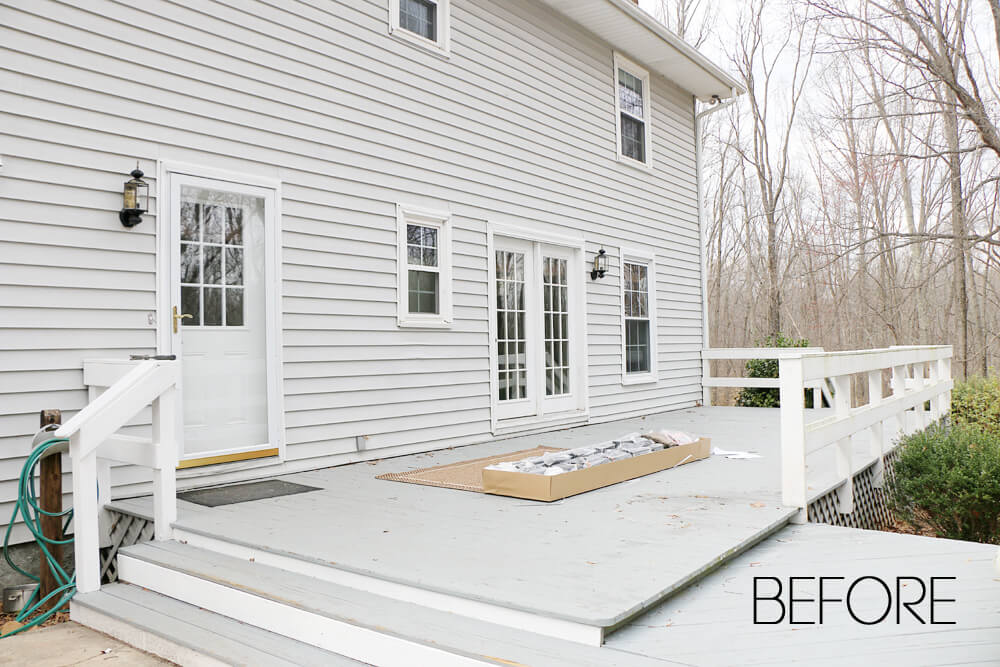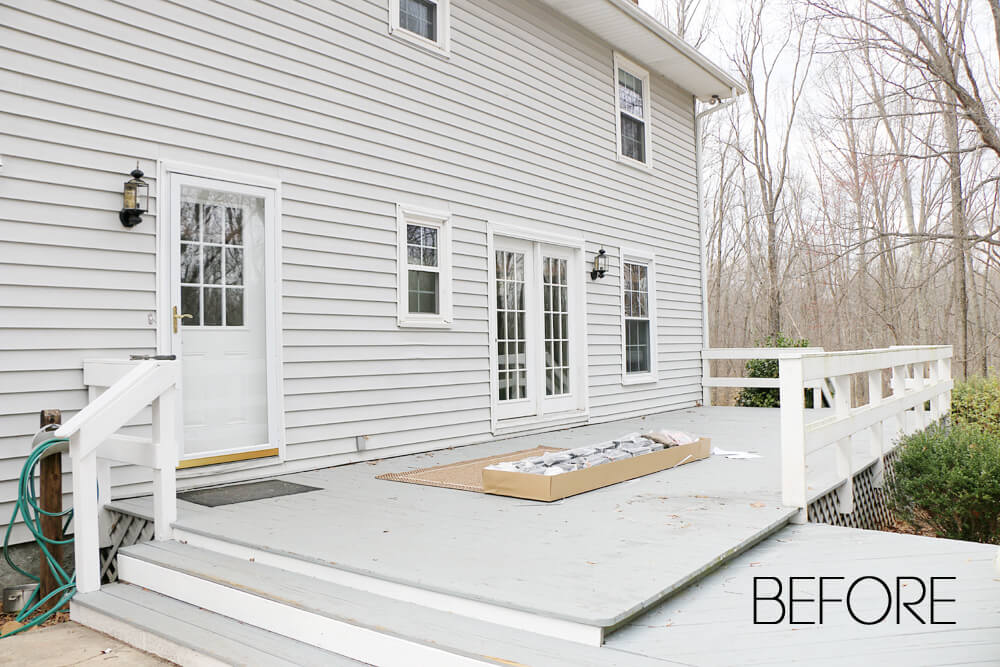 This was my porch this time last year. Then I added the Better Homes & Gardens Meritmoor Aluminum Steel Pergola, and it added instant charm and function. It protects my patio furniture from being soaked by rain, damaged by excessive sun, and adds protection for your lounging. Just last week we sat and enjoyed the weirdly warm weather even though it was lightly spritzing out.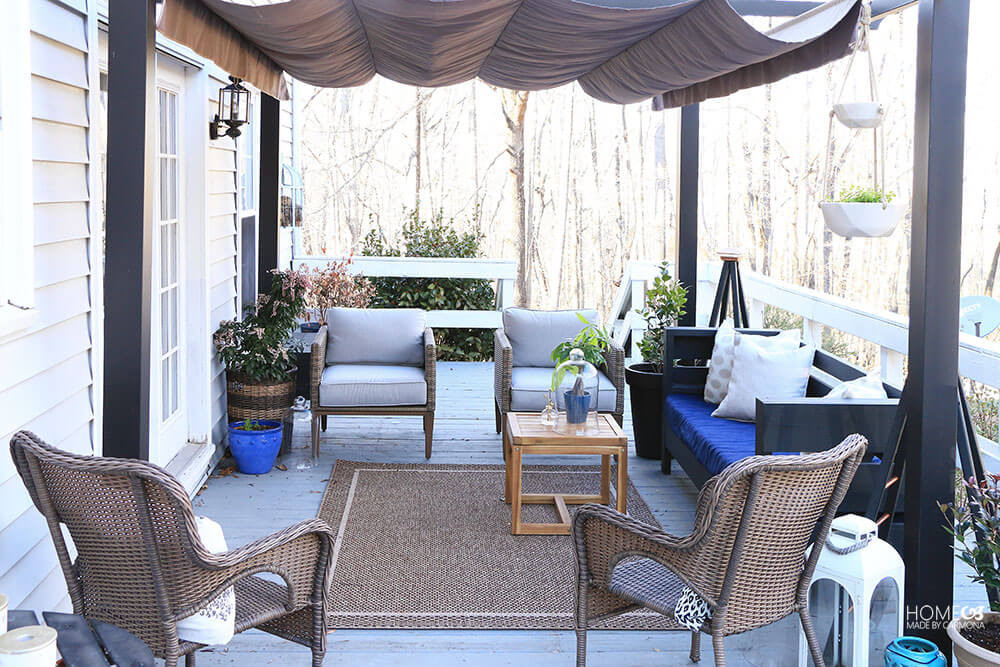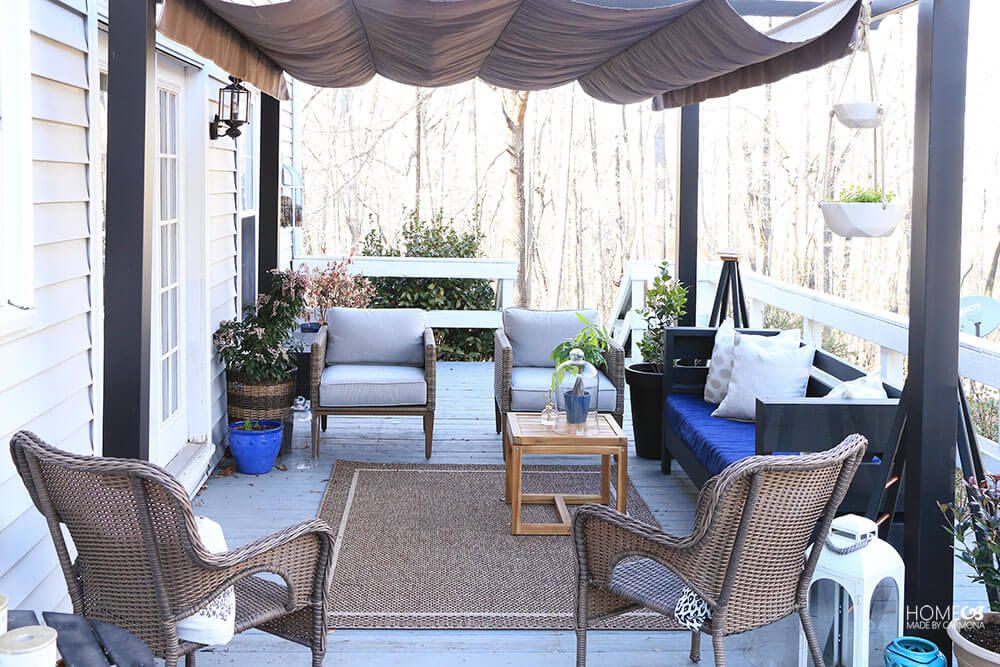 Here are some super cute pergola, gazebo, or umbrella choices:


Outdoor Rug To Ground The Space
Go ahead and further anchor your space by adding an outdoor area rug under your pergola or awning. You may think this is just great for defining an area or looking great…and while that is all true, it isn't the only reason.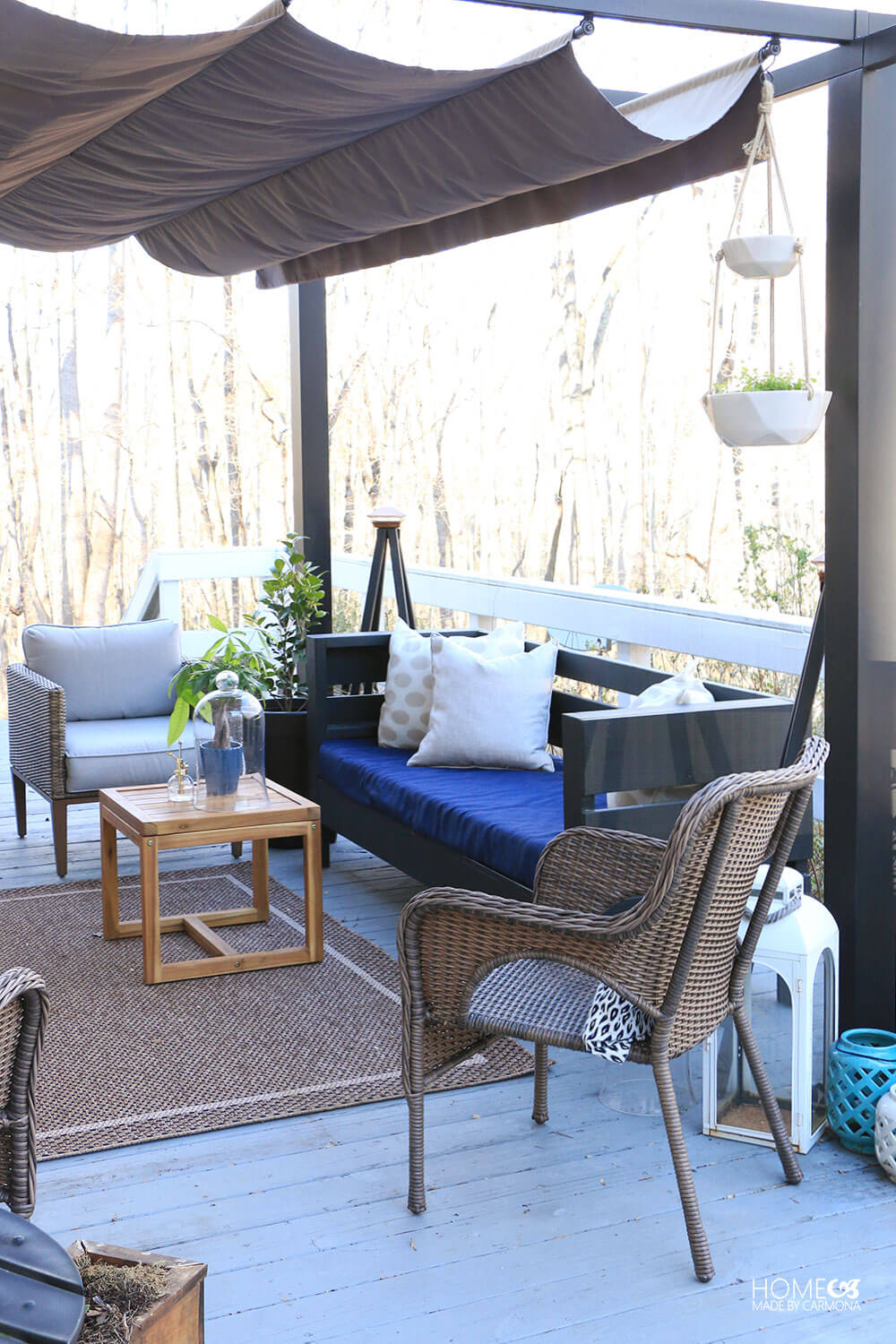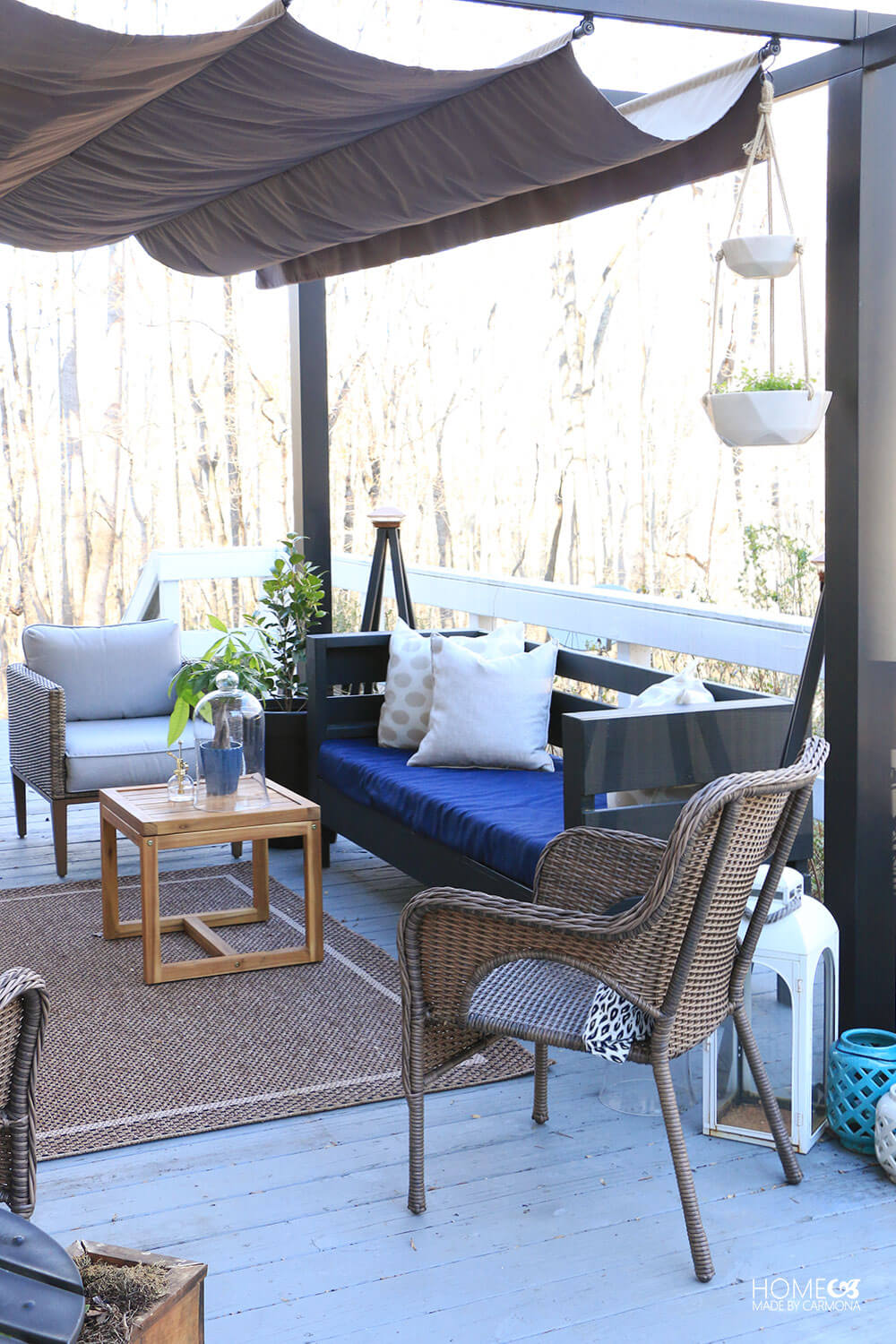 Painted or solid stain decks can get quite slick in the misty mornings or dewy rain, make it safe for your family to venture outside and enjoy lounging no matter what the weather a few hours ago was.


Mix & Match Furniture
Now that you have an awning to protect your furniture, don't be afraid to go start your patio furniture shopping early! I just purchased this Better Homes & Gardens Davenport 3-piece set with the two wicker armchairs and the acacia wood coffee table and it is stunning!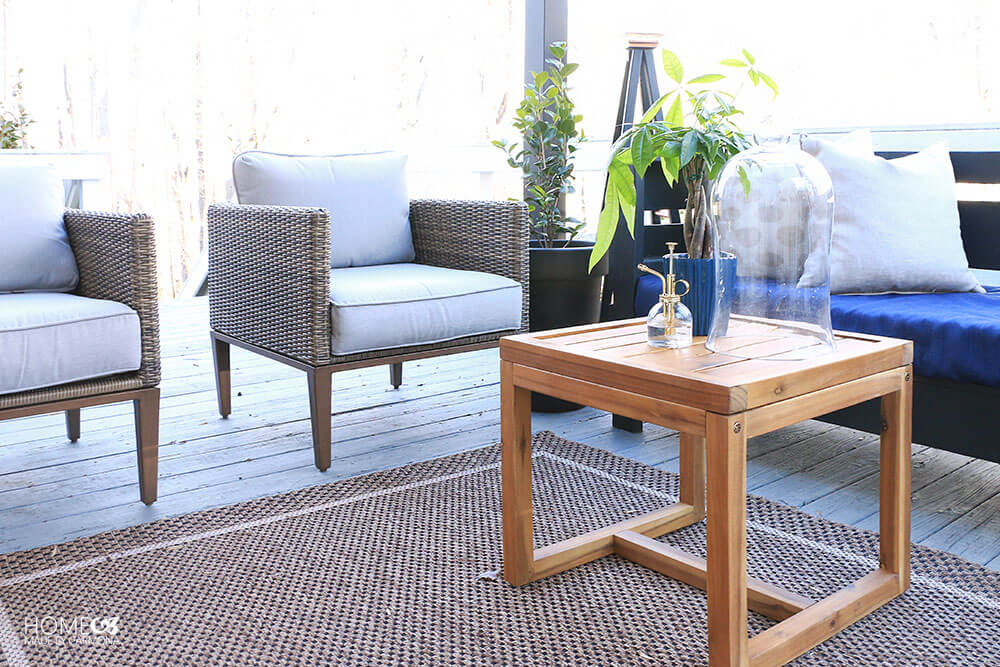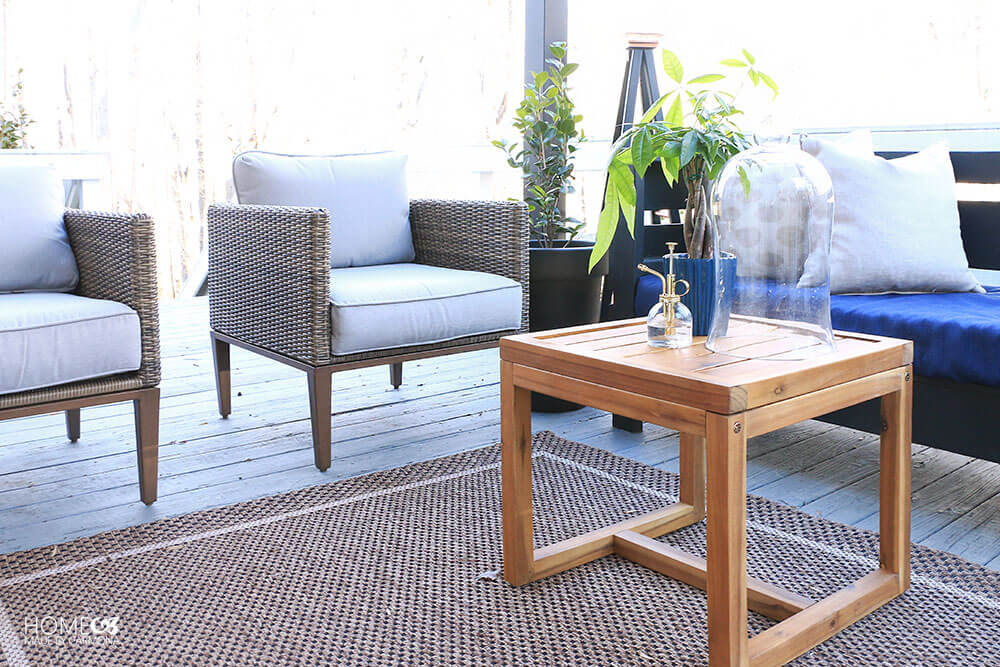 Keep things interesting by mixing and matching your outdoor set. You want a few common themes, but nothing matchy matchy.


Add Planters With Interest
Think outside the round plastic planter, and mix it up a little. You are likely to end up with a whole lot of empty planters if you start too early. So shake it up a little, go for planters that add visual interest even if they don't have anything in them. Think of them as architectural features…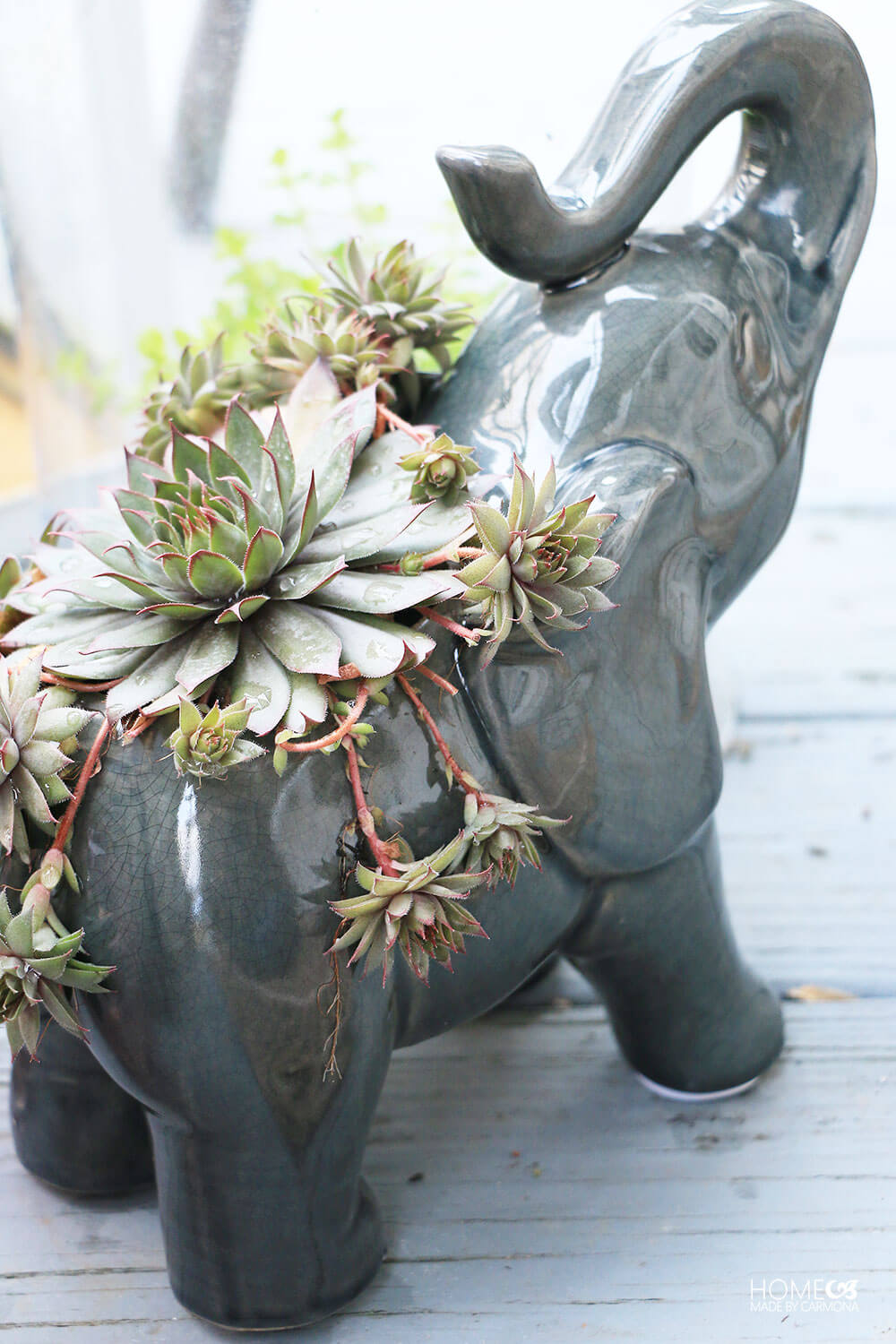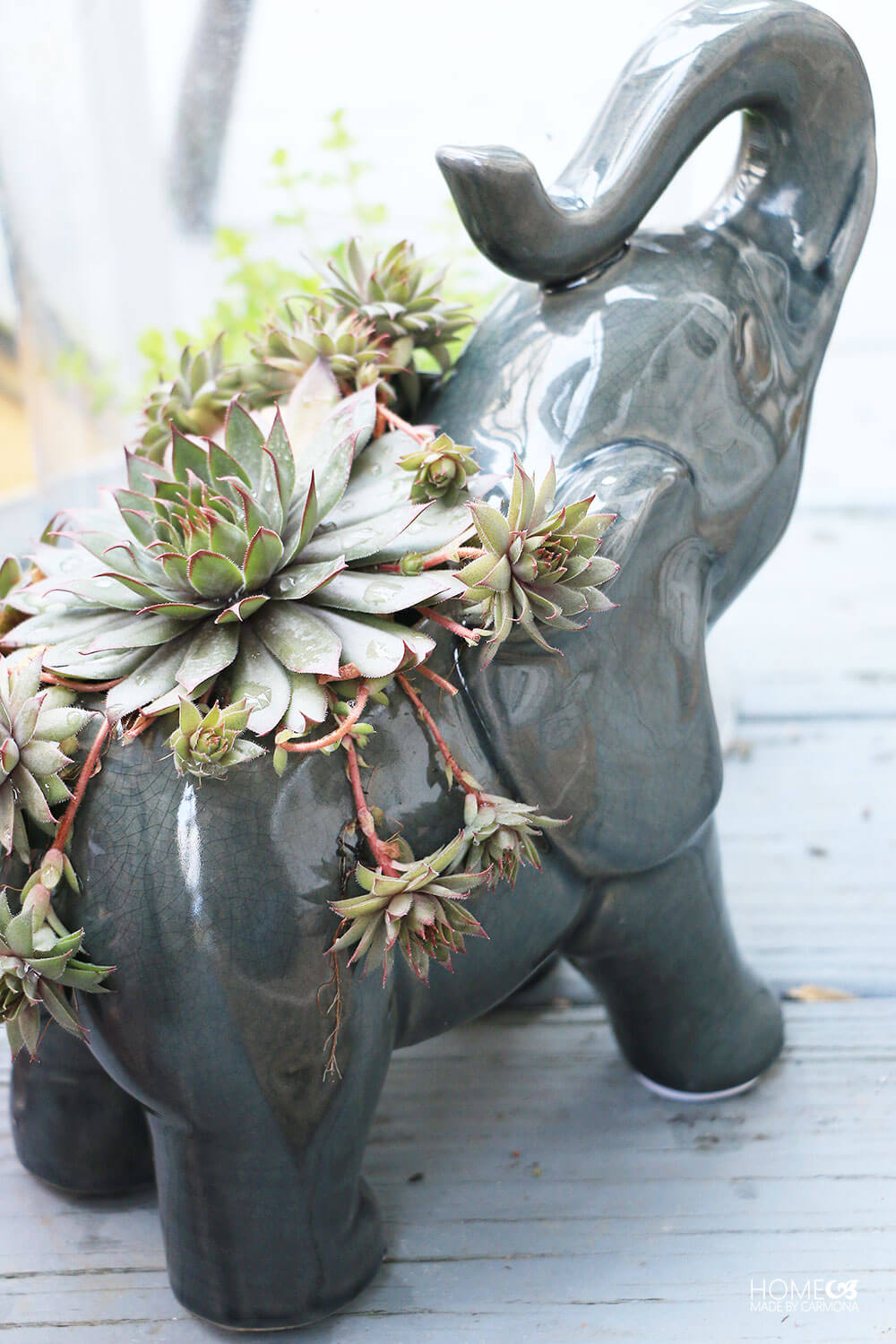 Think baskets that have been stained and waterproofed, or feature planters such as this adorable BHG Elephant planter (found in-store), and the BHG Parquet Double Hanging Planter.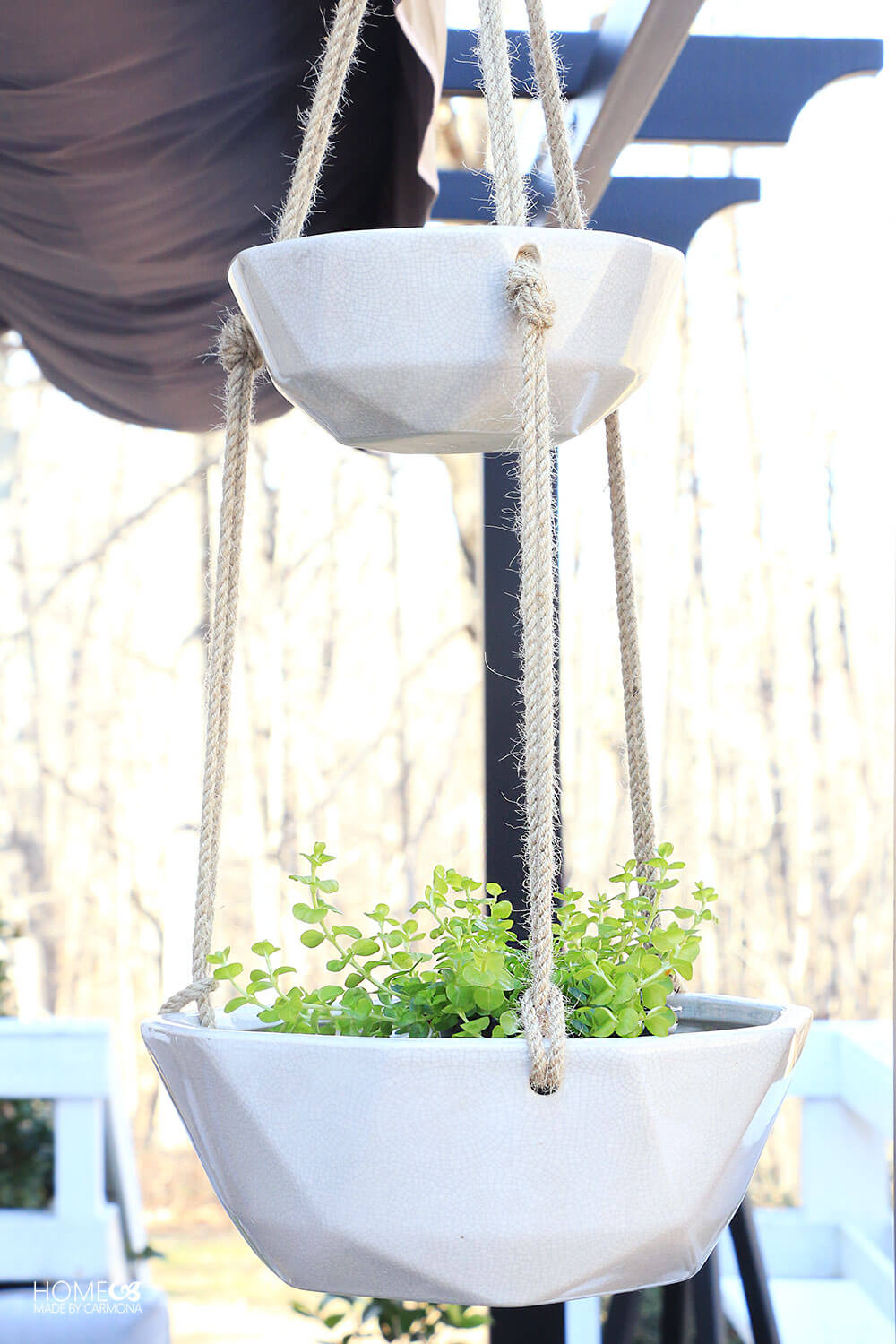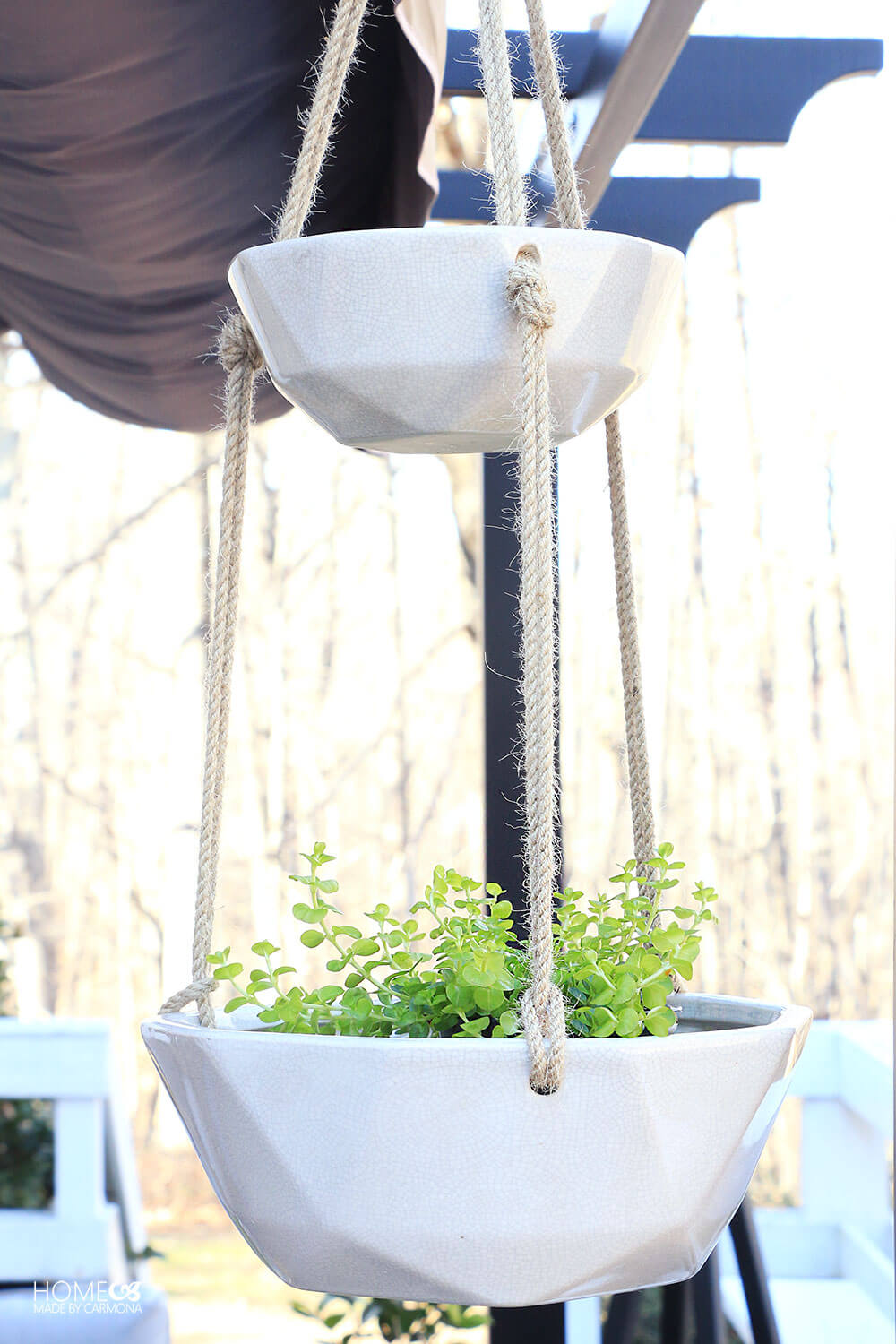 Buy Cold Hardy Plants and Bushes
Early spring is time to start planters and boxes with bulbs, evergreens, cold hardy bushes…basically any plant that can withstand pre-frost conditions.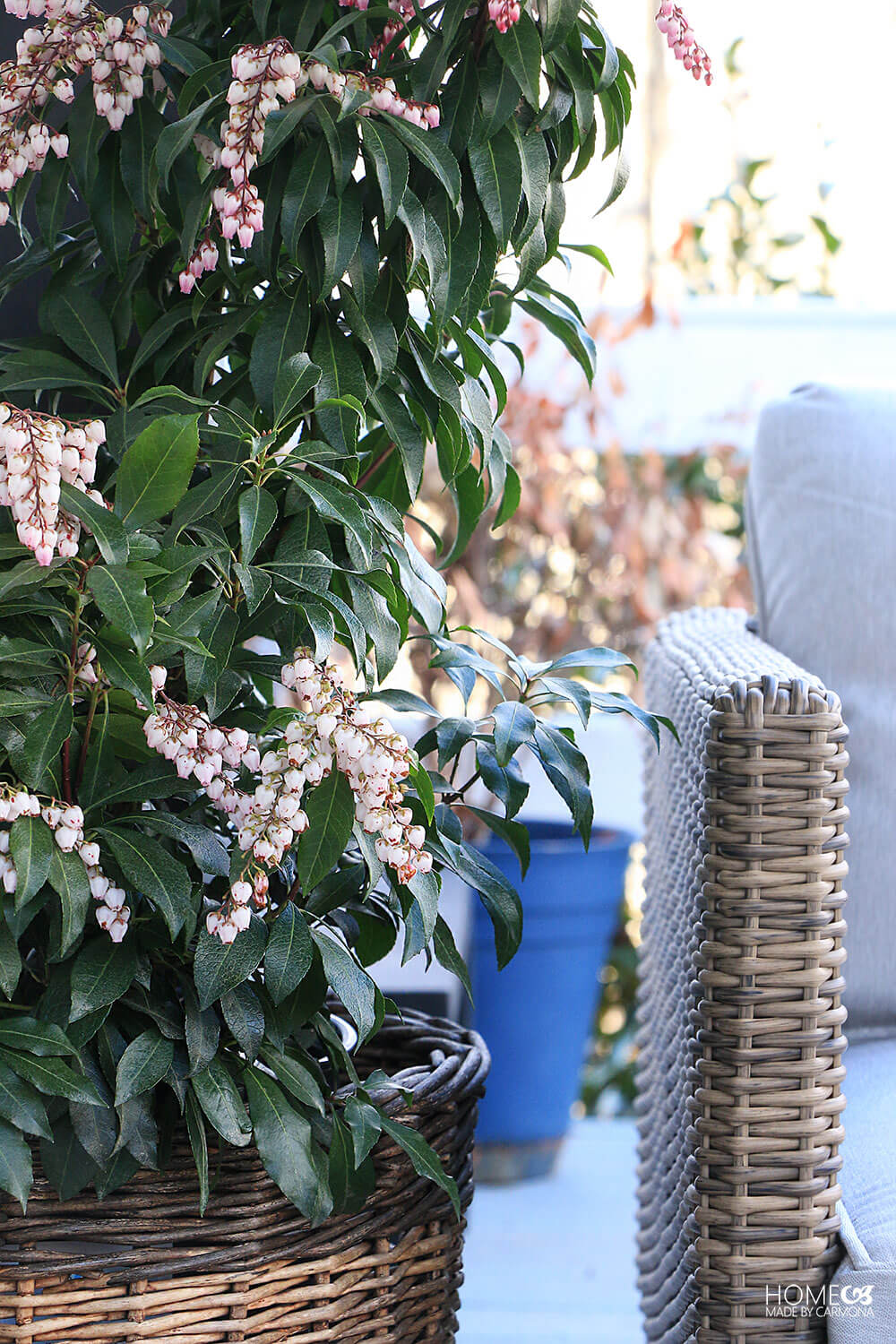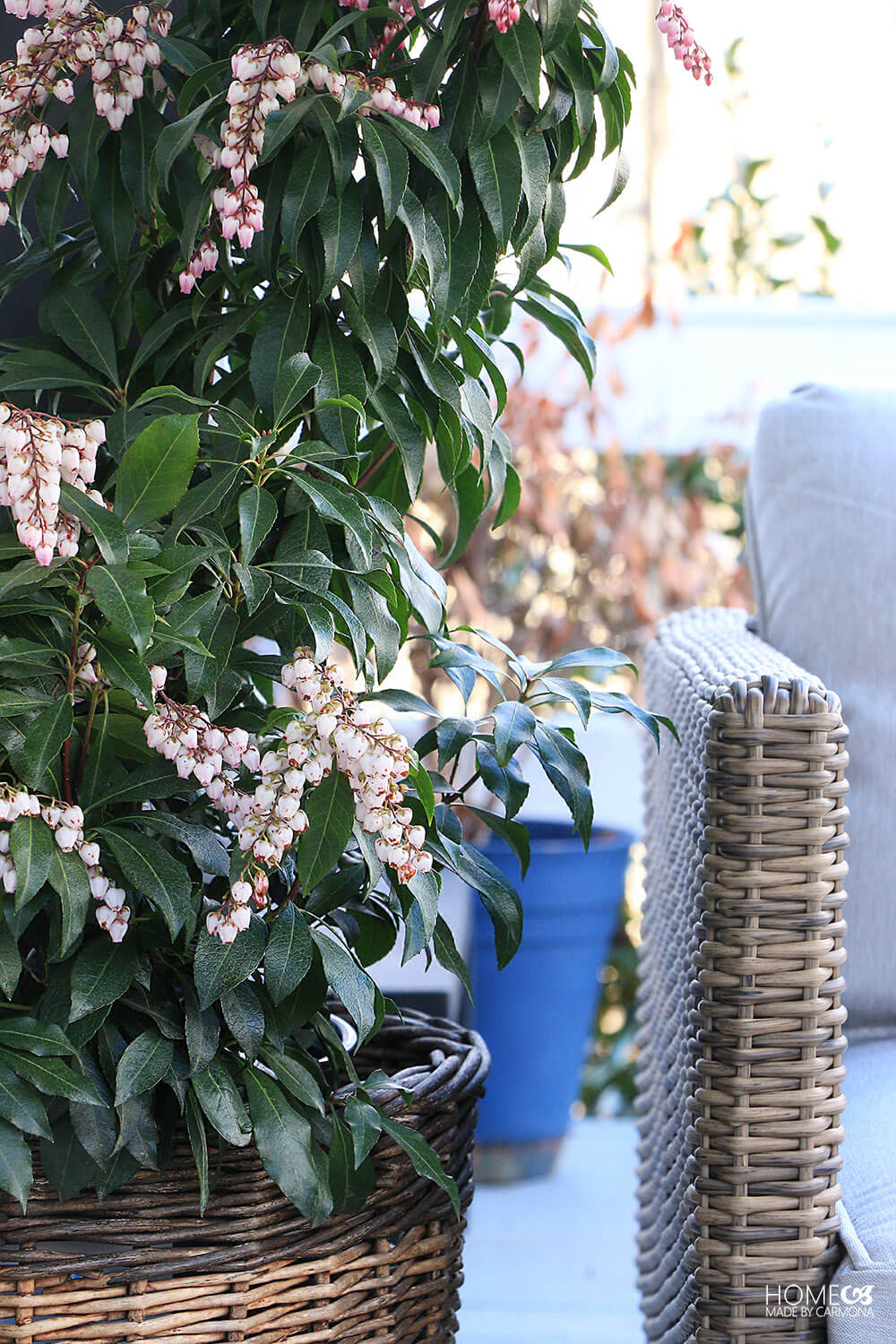 Okay, so it might not quite be the time to go all out on garden plants just yet, but this is a great way to get a head start.

Add Touches of Decor & Pops of Color
Now is the ideal time for decor such as bell jars and lanterns. They are a great way to add visual interest and keep your small plants like creeping jenny's safe through the cooler nights, but still in your outdoor space. After all, it's no fun hauling your plants in every night.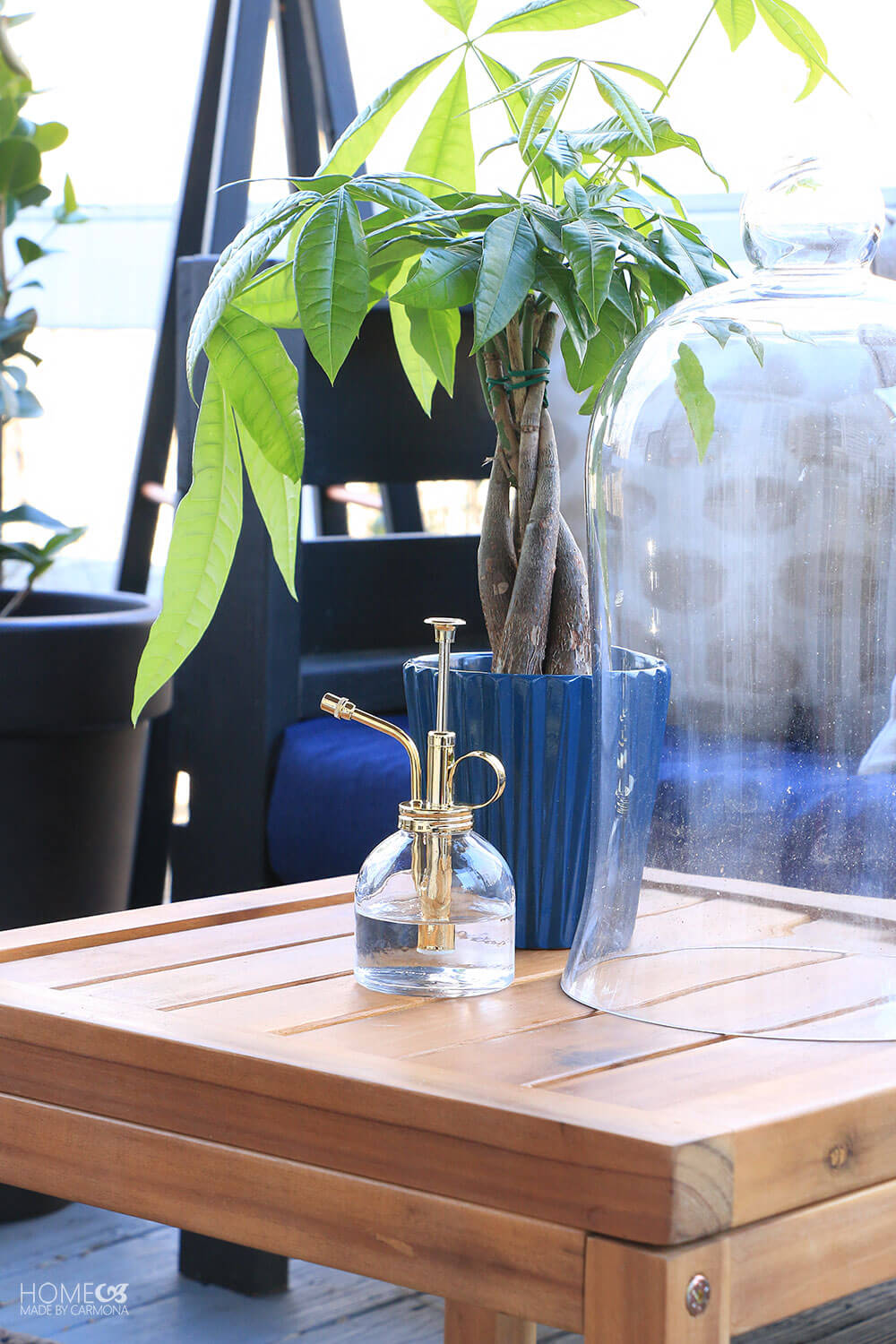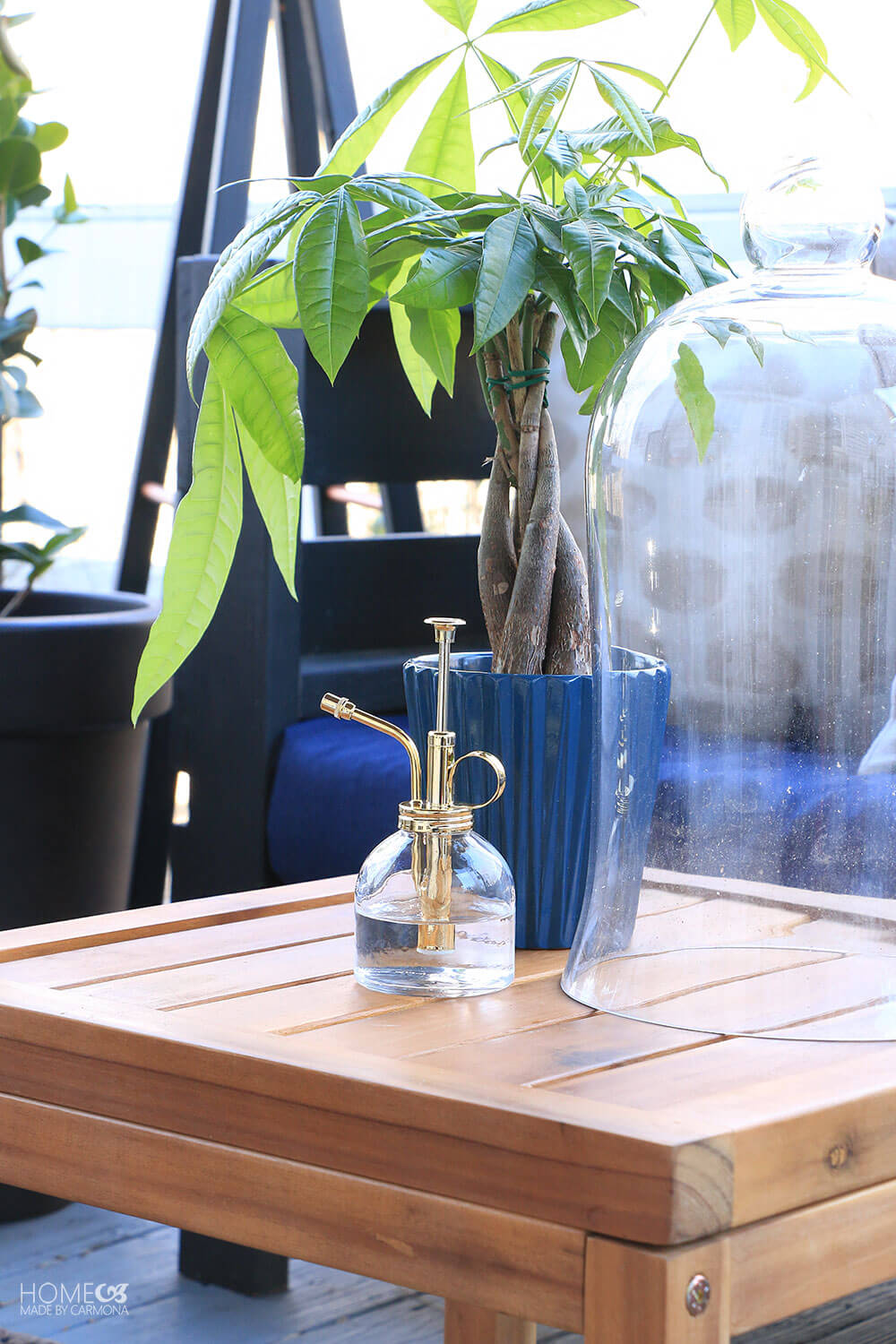 Also think of items you will use regularly but can also serve as decor, such as watering cans, candle stick holders, lanterns, etc.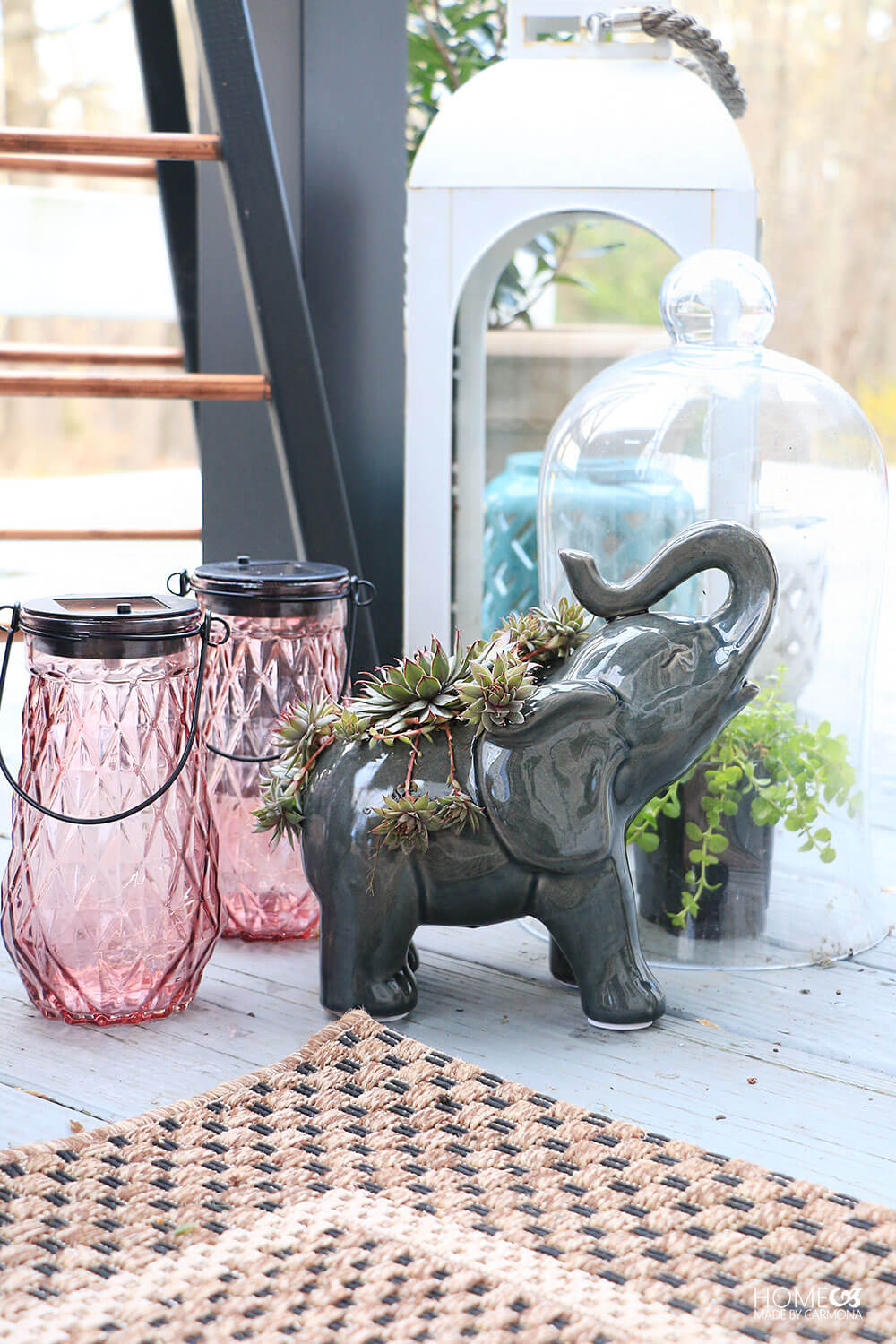 Warm Things Up With A Fire Pit
With that spring nip in the air why not go ahead and literally 'warm up' the space with a fire pit or outdoor freestanding chimney?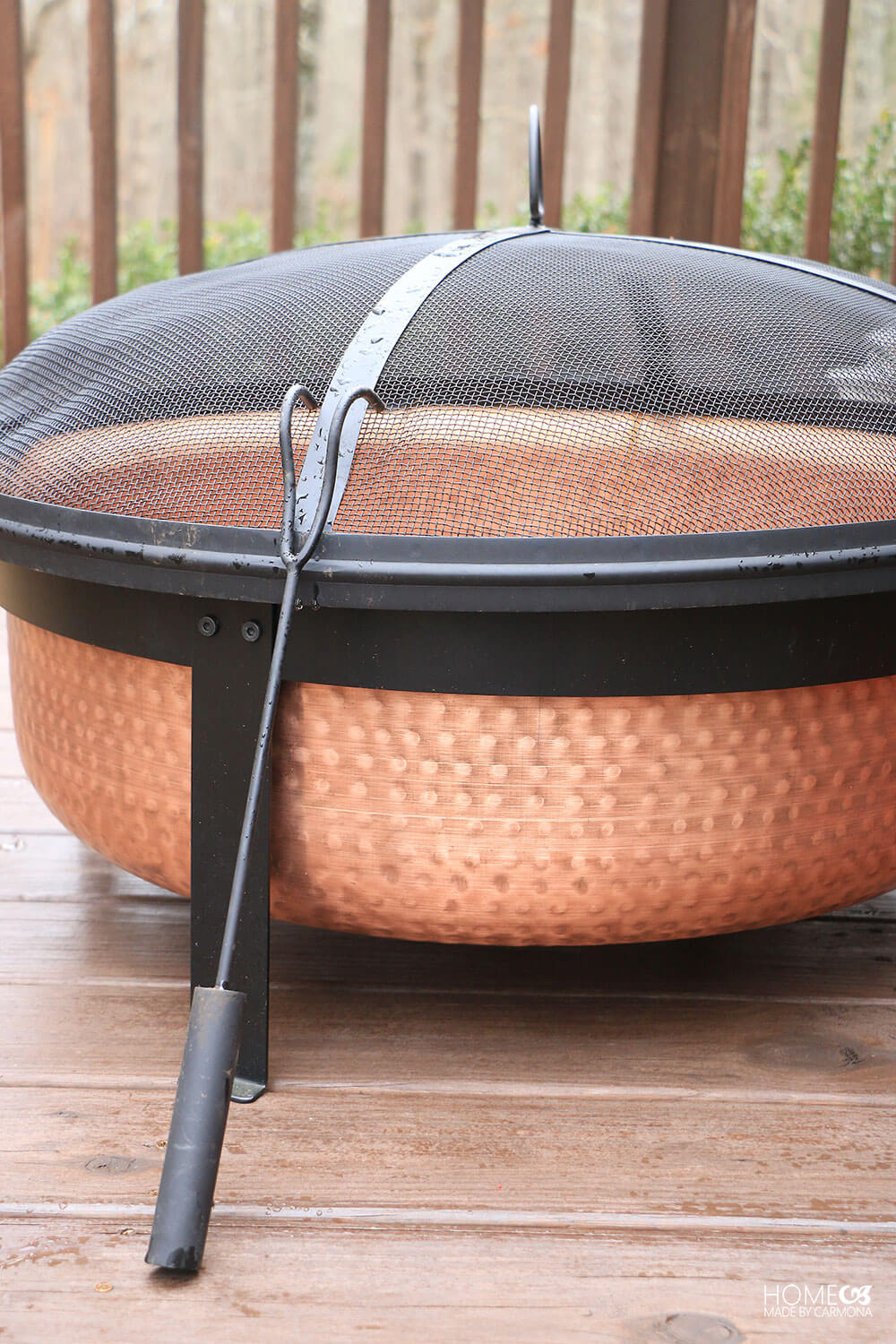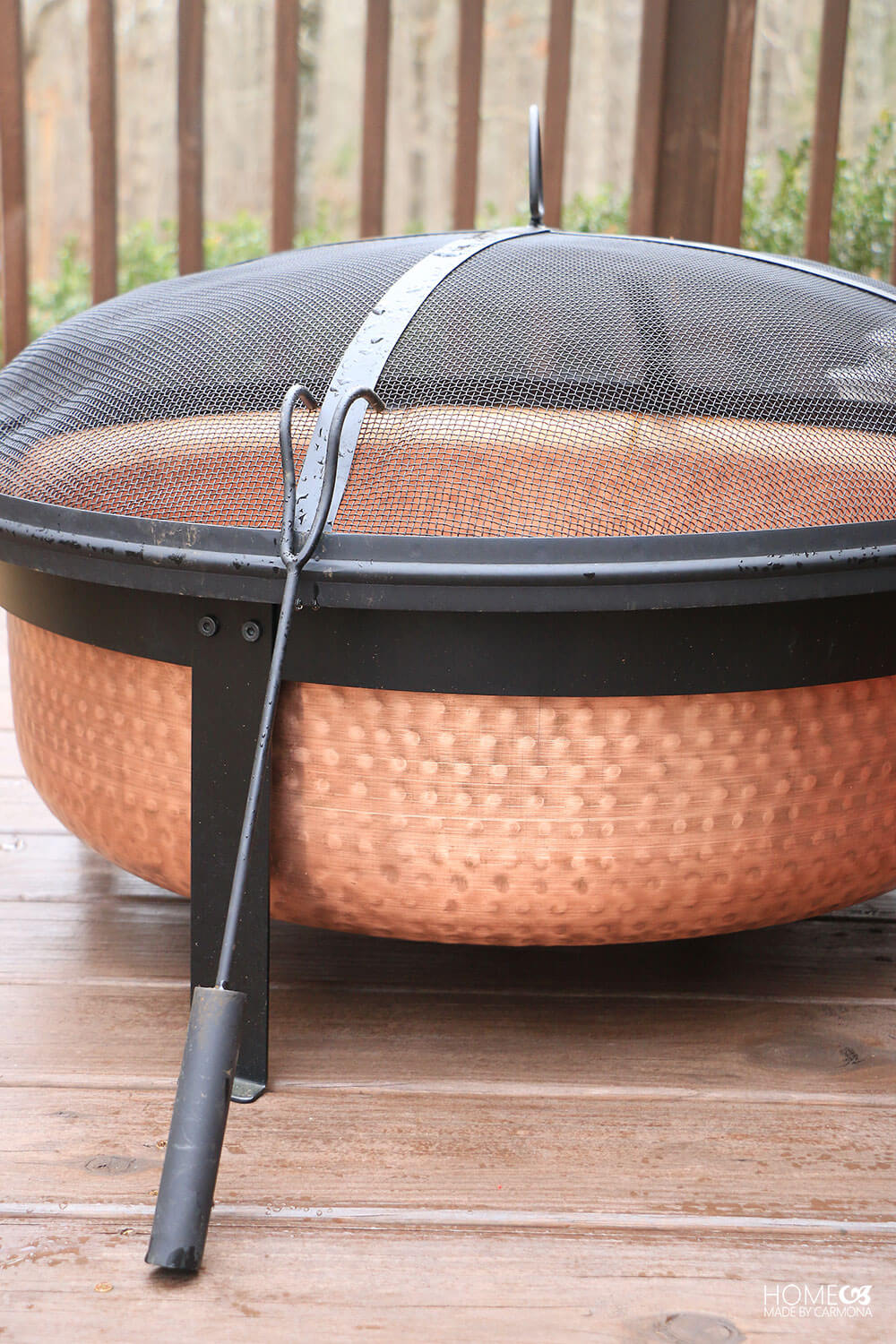 I'm a big fan of my BHG copper hammered fire pit, which is currently being used at my guest house, but I think I may get a second one for this deck.


 Outdoor Lights
A little outdoor lighting can go a long way to add design, mood, and a beautiful sparkle to your porch during the twilight hours.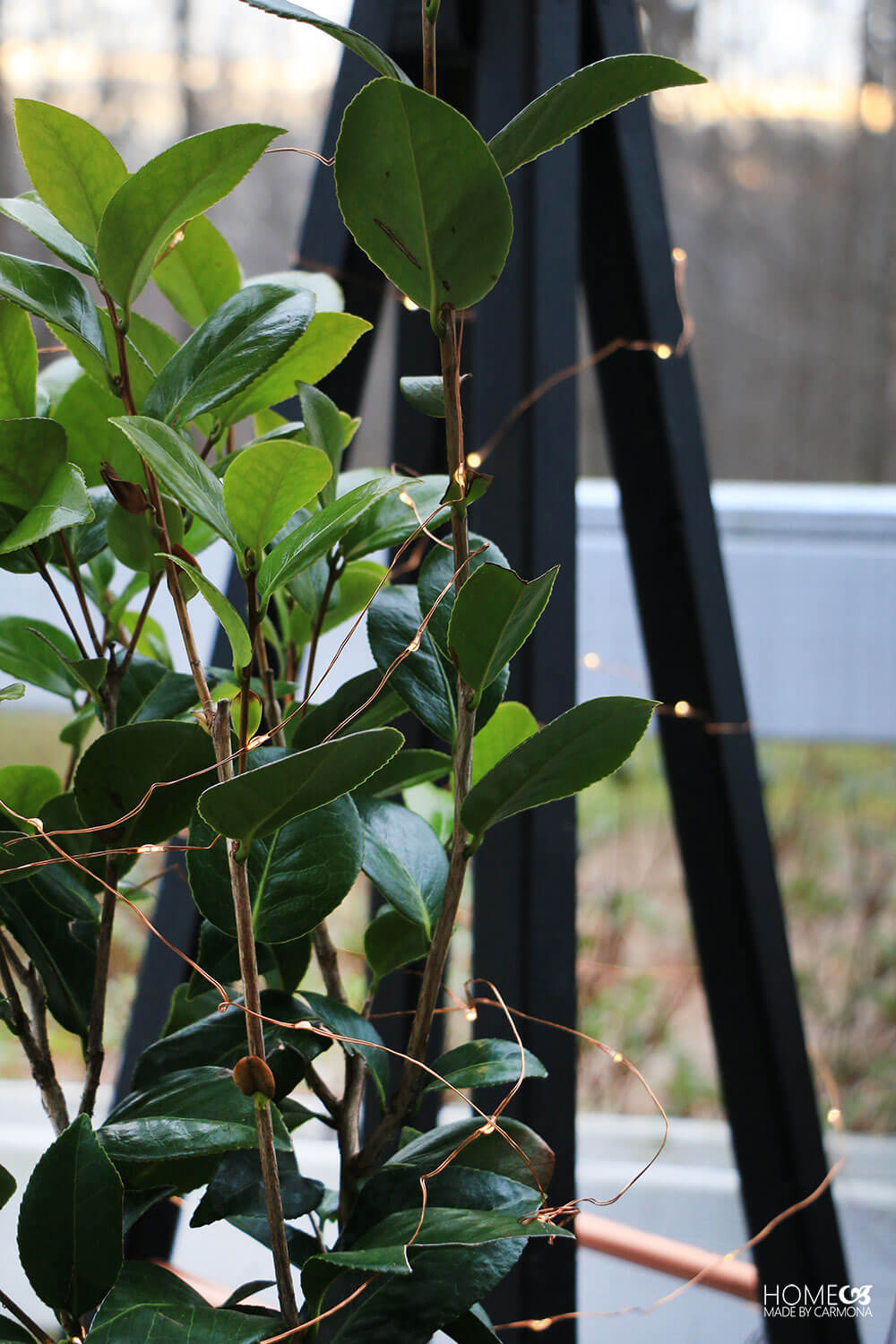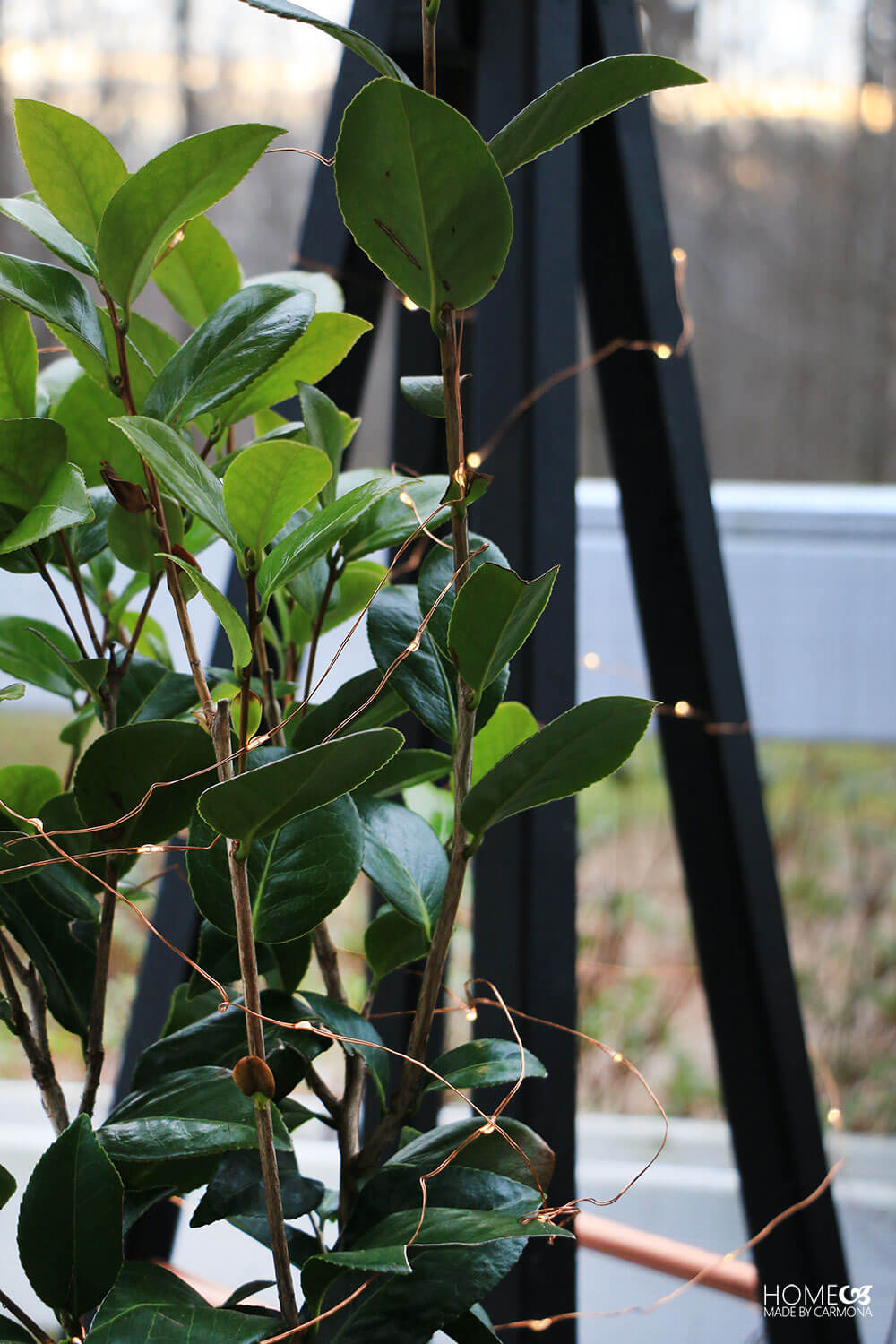 DIY Projects
From furniture pieces, to DIY outdoor games, to DIY trellis, add your own special touch by building a fun piece for your space.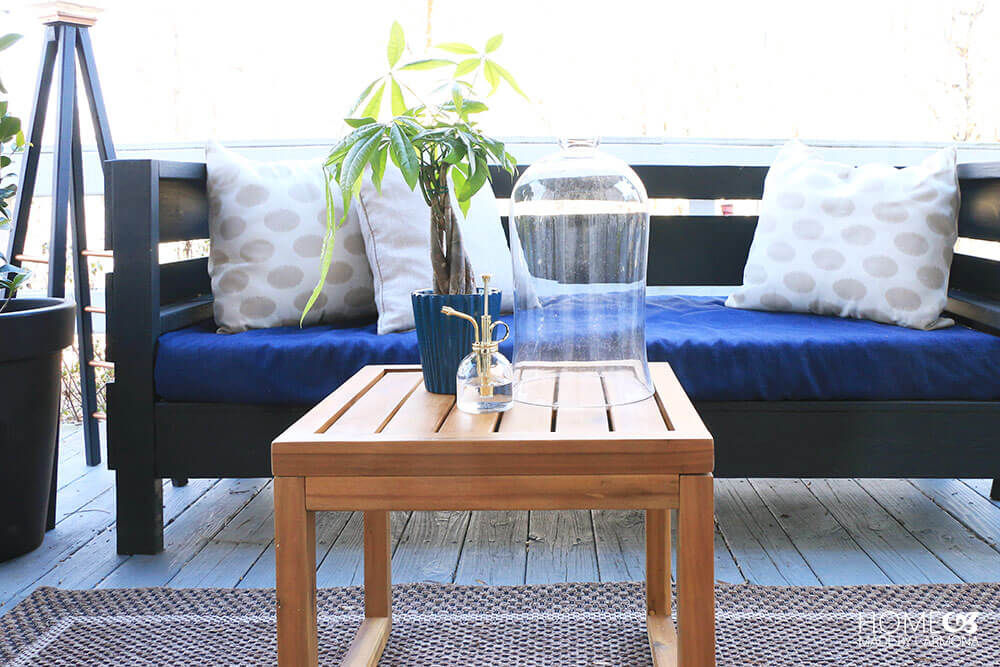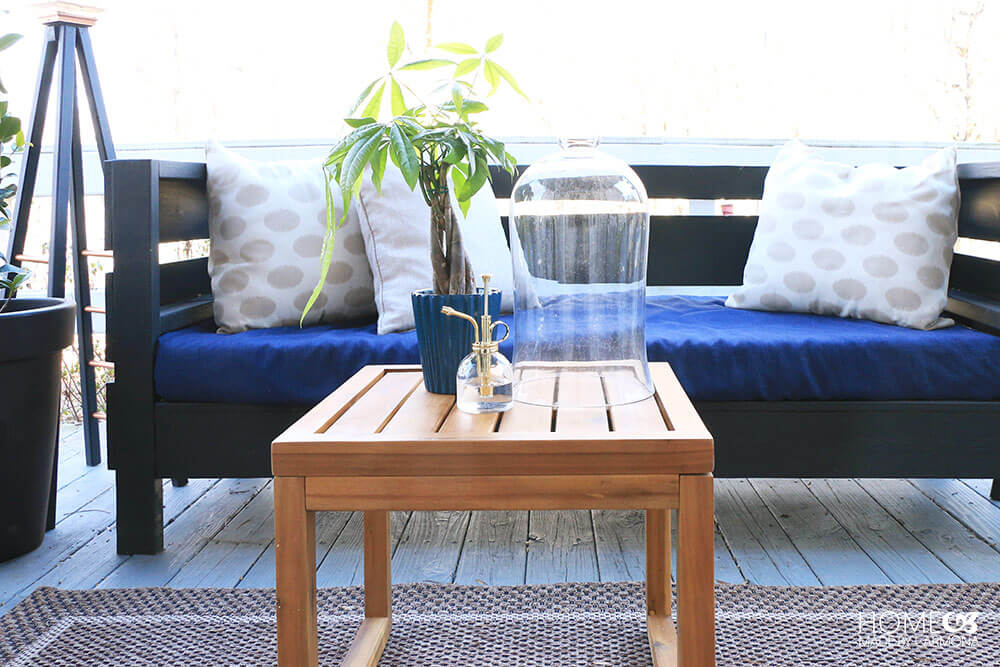 You can find the tutorial for my DIY outdoor sofa here, or my copper obelisk trellis here.

Finding The Perfect Flow & Layout
Now that you have all the perfect elements gracing your porch or deck, this is the time to try a variety of configurations. You want to sit and take in the view from each seat… For a while I thought this setup would be the ideal one for me, but after testing it out a day or so I realized that a simple switch around with the seats looked and felt better for flow on this deck.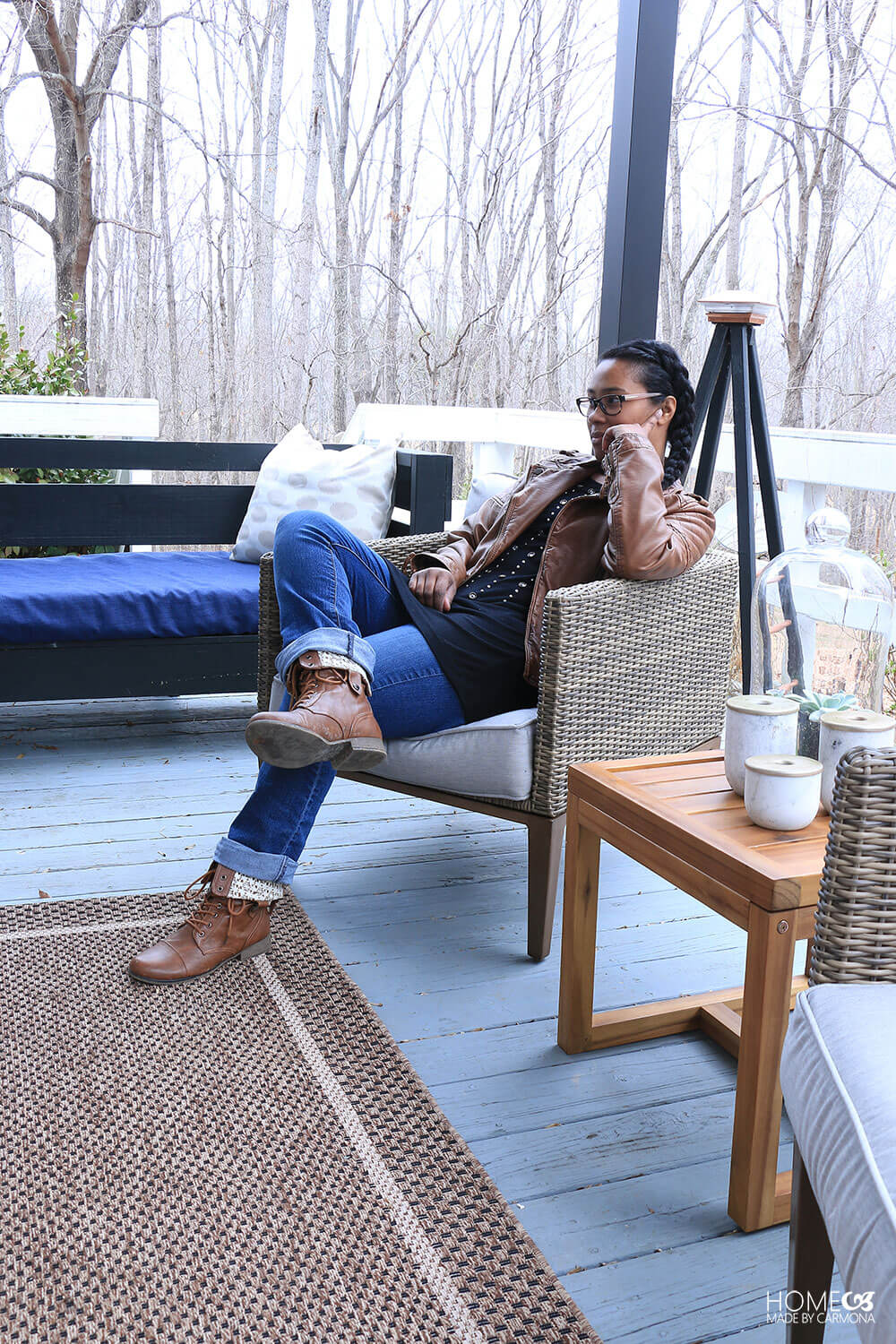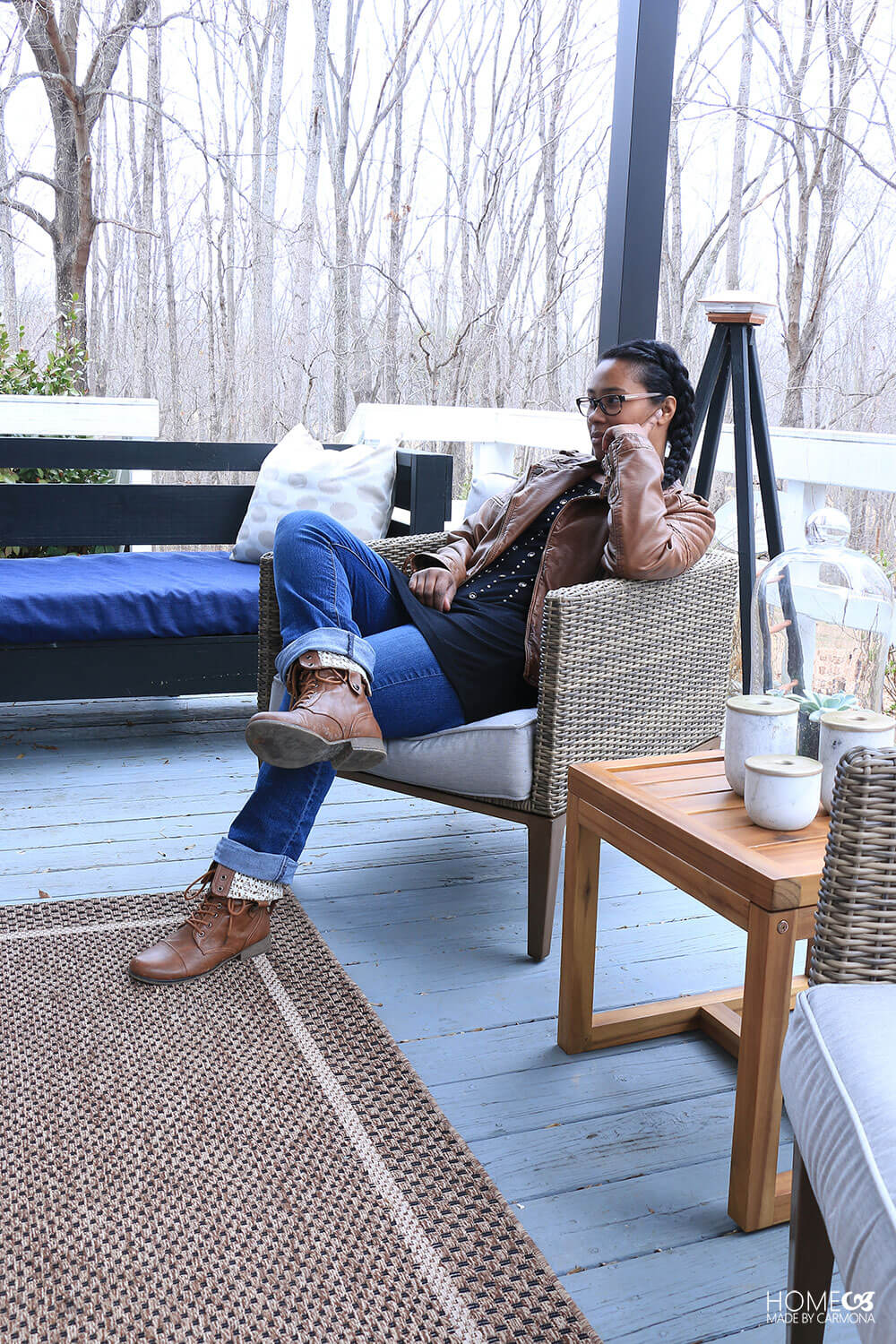 Test everything by walking all around, sitting in each chair, looking at the configuration from inside and outside the house, until you find the perfect layout.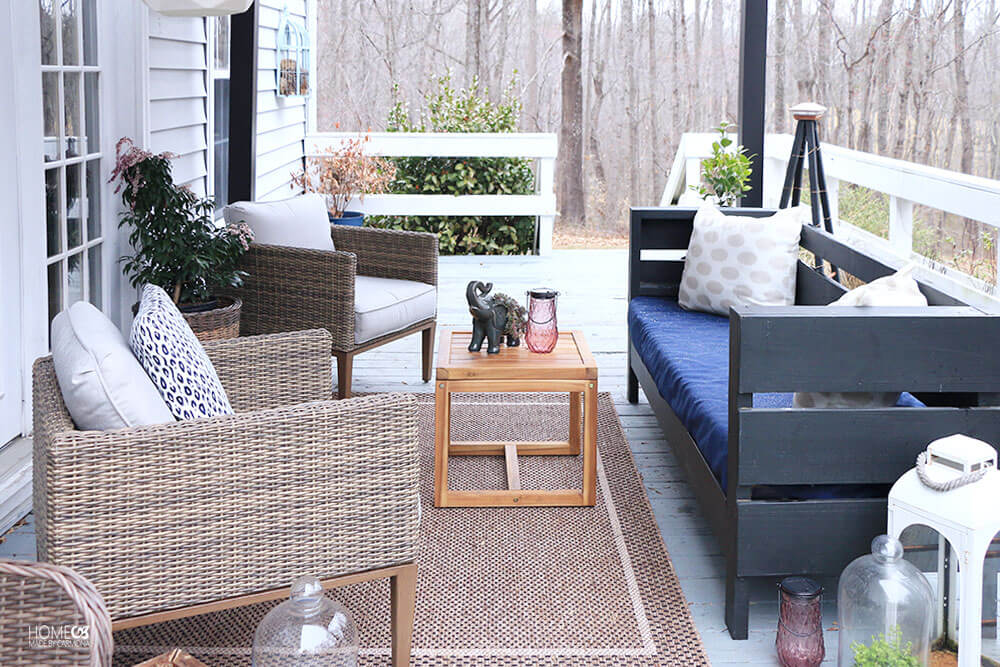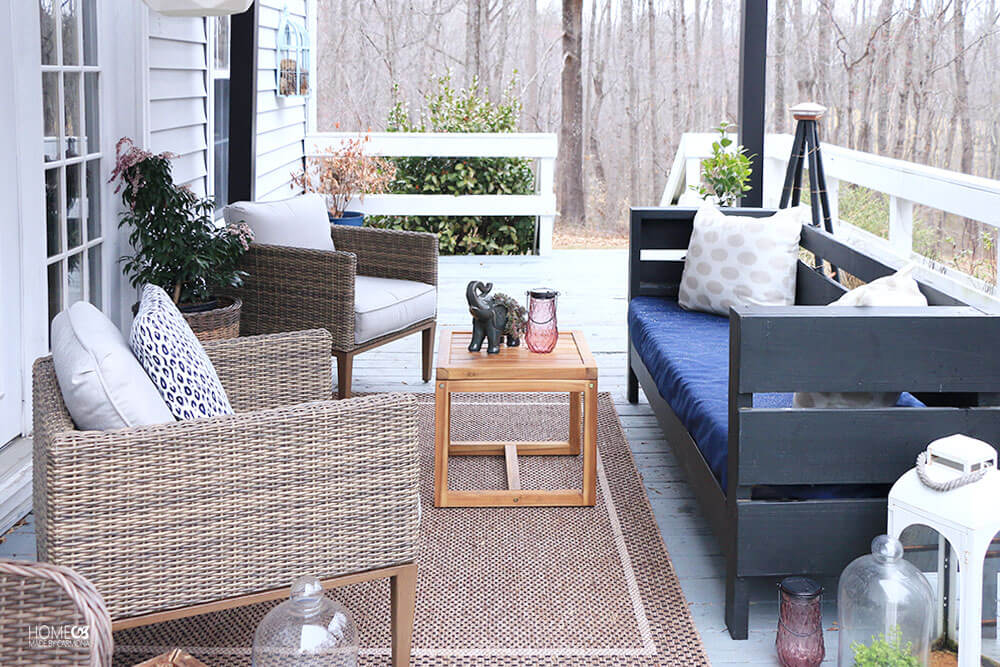 You are going to love your new spring porch! It is going to be stunning even though everything isn't in full bloom. Let me know how your spring porch looks by sharing a picture with me over on Facebook. I love seeing your talent in action!
[left]
I'd like to say a special thank you to my friends at Better Homes & Gardens for partnering with me every month on a new challenge! You can find the BHG brand line carried exclusively by Walmart. Follow BHG on Facebook, Instagram, Twitter, and Pinterest.
**I am honored (and excited!) to be part of the Better Homes & Gardens Live Better influencer network, and am compensated for sharing a few of my favorite things, projects, opinions, and my own original ideas with you.
[/left]
[right]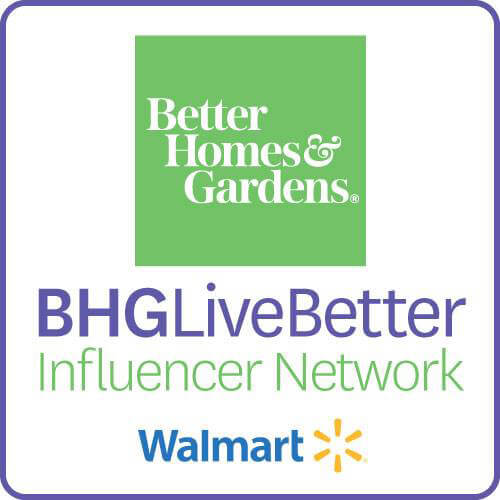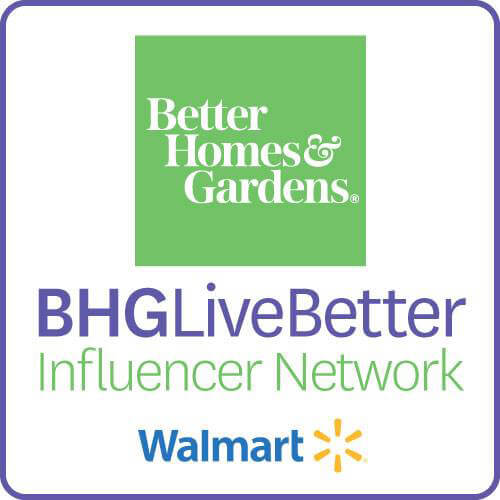 [/right]


[go_portfolio id="decorate_landing_page"]