Add a little character and charm to your garden and landscaping with a DIY Obelisk Trellis.
Why grow your climbing plants on a simple trellis when you can build a showstopper?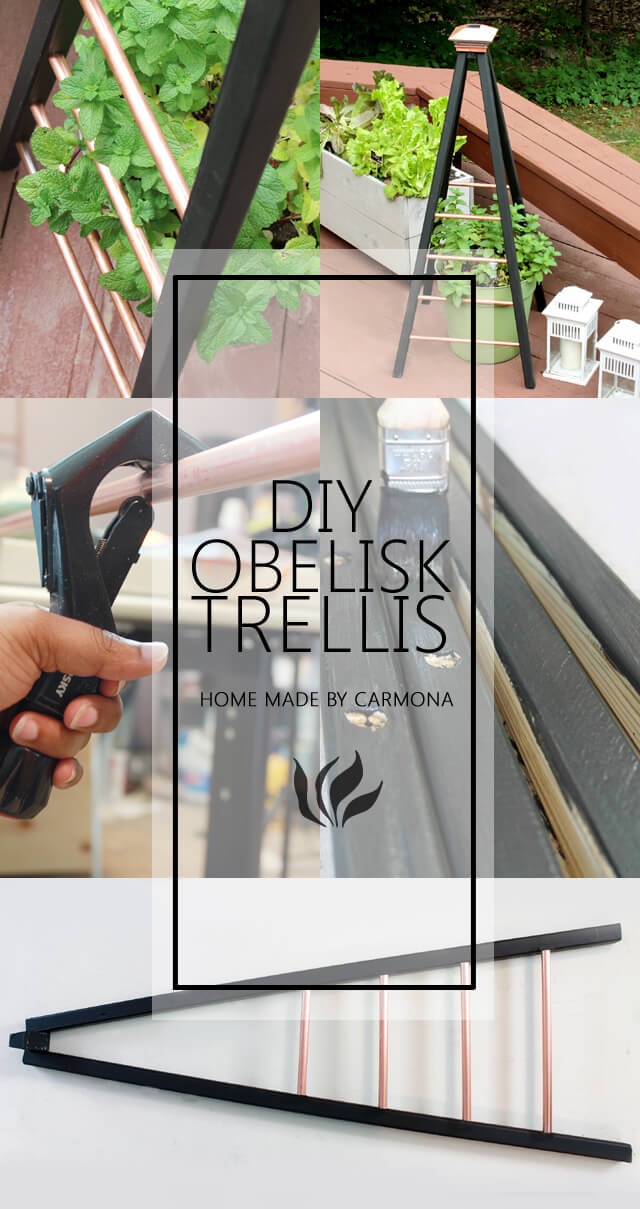 *This post is sponsored by Angie's List, where I first shared this project as a regular contributor
What gives this gorgeous trellis it's stylish twist is the copper piping used to make the rungs. Because, well even our gardens should be the stuff dreams are made of!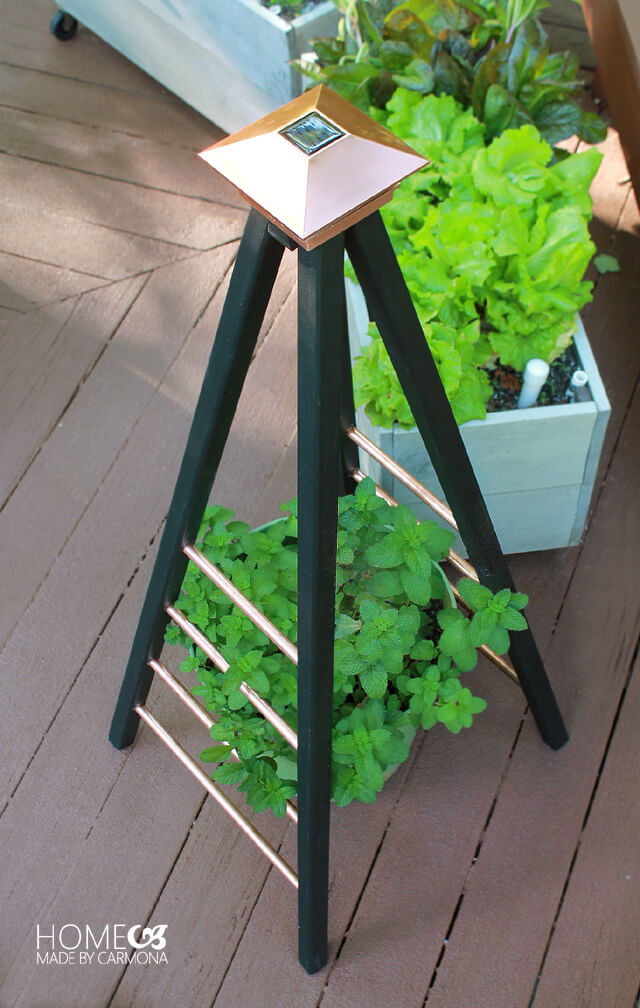 Supplies Needed:
While it may be made with copper, this trellis isn't expensive to make. One long piece of pipe will do the trick, and you can always substitute it with any other type of pipe if preferred.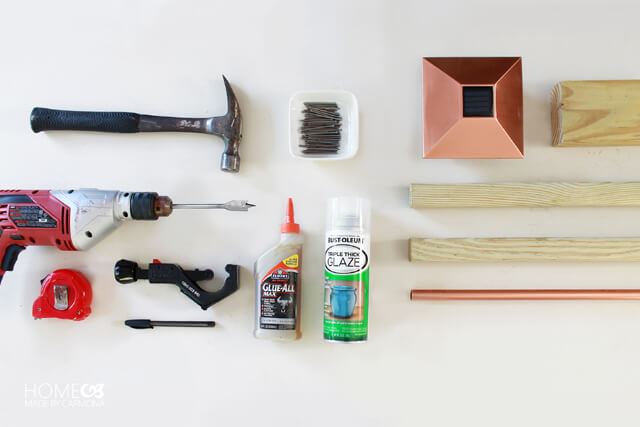 [left]
Materials
[/left]
[right]
Tools
[/right]
#1. Seal The Copper Pipes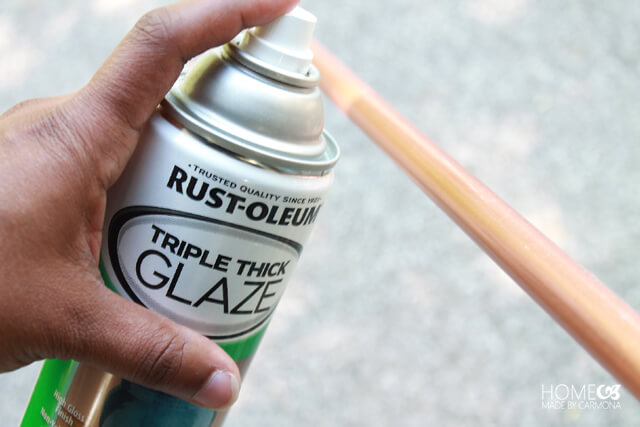 If you want the copper on the trellis to continue to have that rose gold hue, you'll need to seal / weather proof it. If you like the look of copper with a green patina, then skip this step.
Spray the pipe with a clear spray paint sealer like Rust-oleum's Tripe Thick Glaze. Be sure not to handle the pipes without gloves while transporting or spraying them. The oils from your fingers will leave marks. And trust me, you don't want to have to use a chemical to clean the pipes before spraying them…I tried that, and it just tarnished under the spray a day later (nope, lemons didn't work either…they still tarnished a day later).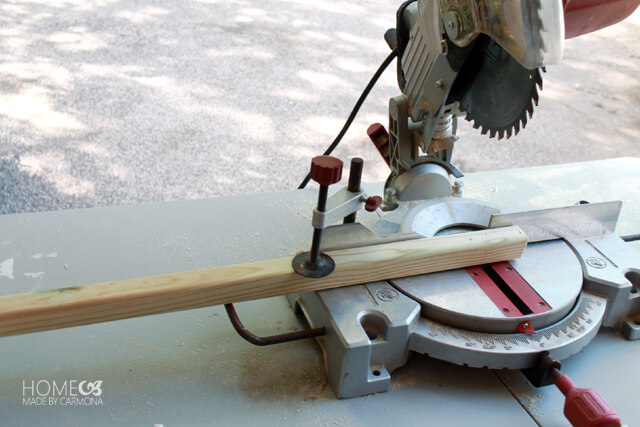 #2. Cut The Wooden Legs To Size
Cut the 2″x2″x8′ wood in half (that's 4′) to create four 2″x2″x4′ pieces. Each of those four pieces should additionally be cut with at a 10 degree angle on one end. Do this about a half inch up.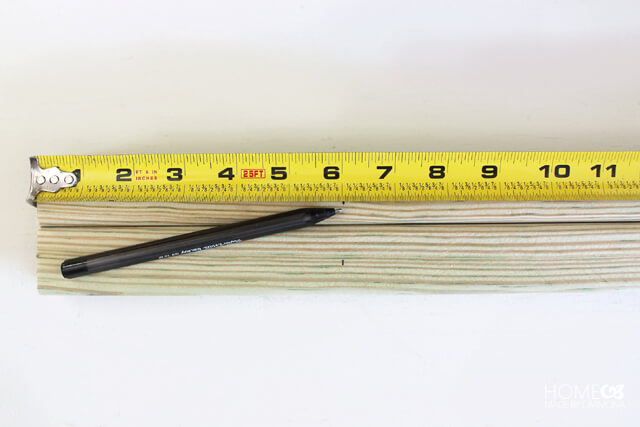 #3. Mark & Drill Holes For The Rungs
Next you'll mark each wooden leg at 6″ increments (right in the middle) starting from the angled feet up.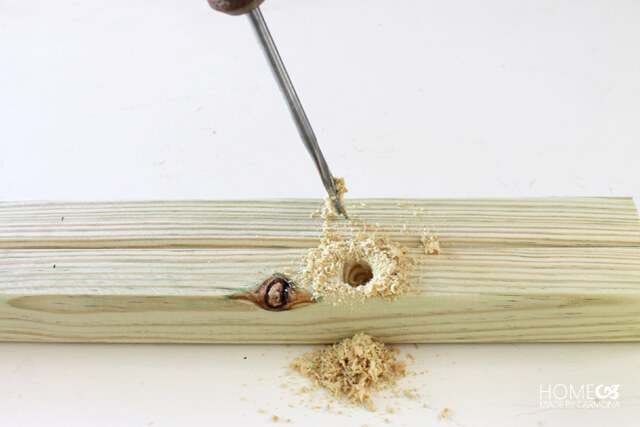 Using a 3/4″ spade bit, drill holes where you marked. Drill at a 45 degree angle with your bit facing the same direction as the angled feet.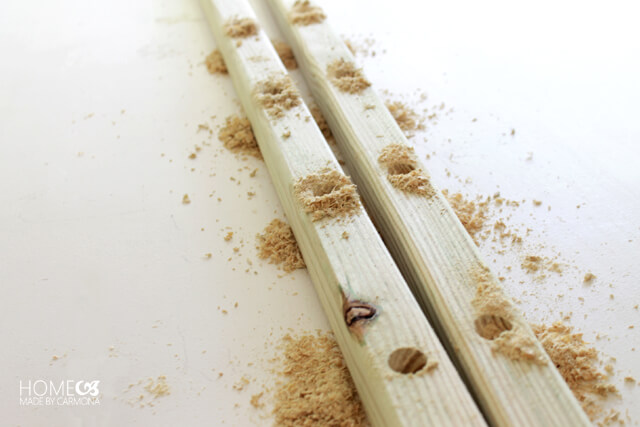 You'll drill a total of 5 holes in each leg. Try to make your holes line up and be as consistent in their angle as possible.
#4. Stain / Seal The Wooden Legs
Next, stain or paint and seal your legs. I am using some leftover deck stain…remember this trellis will be outside year round and may be watered frequently. Seal it well!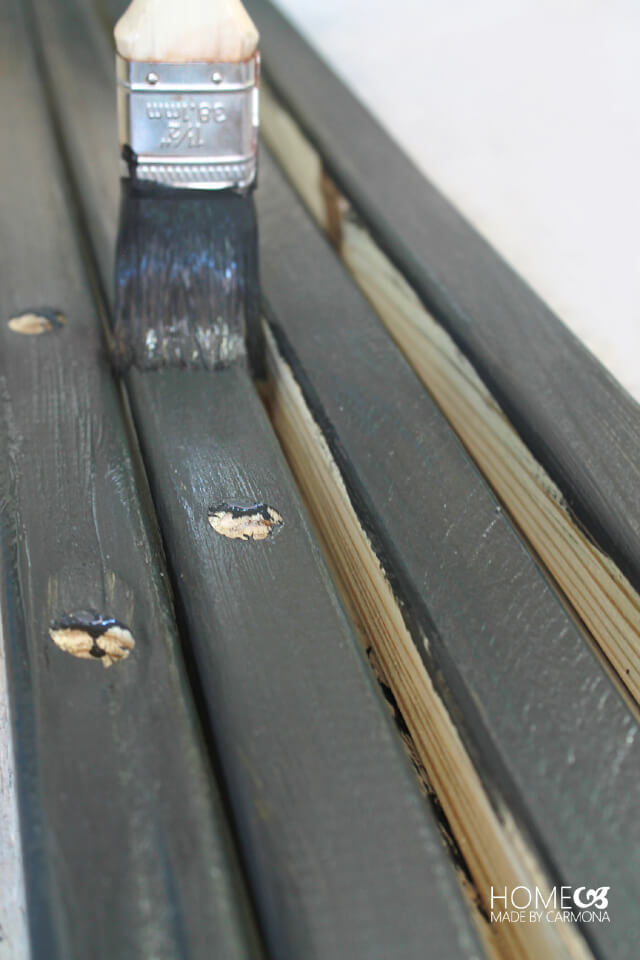 Leave your painted feet for a moment and take your scrap 2″x4″. You'll be cutting a wedge that is angled at 10 degrees. Then stain and seal your wedge as well.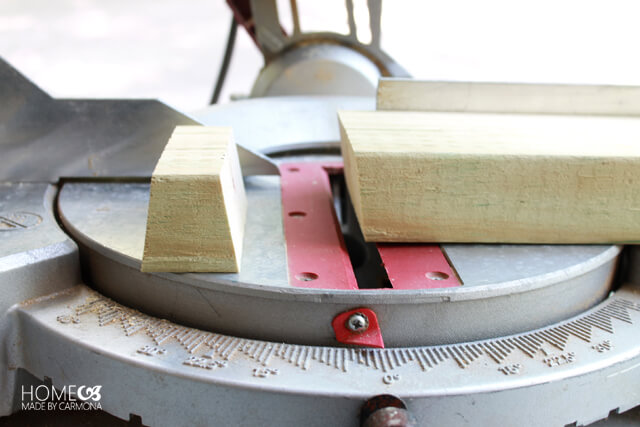 #5. Cut Copper Pipe To Make Rungs
While you wait for the paint to dry it is time to mark and cut your copper piping to size.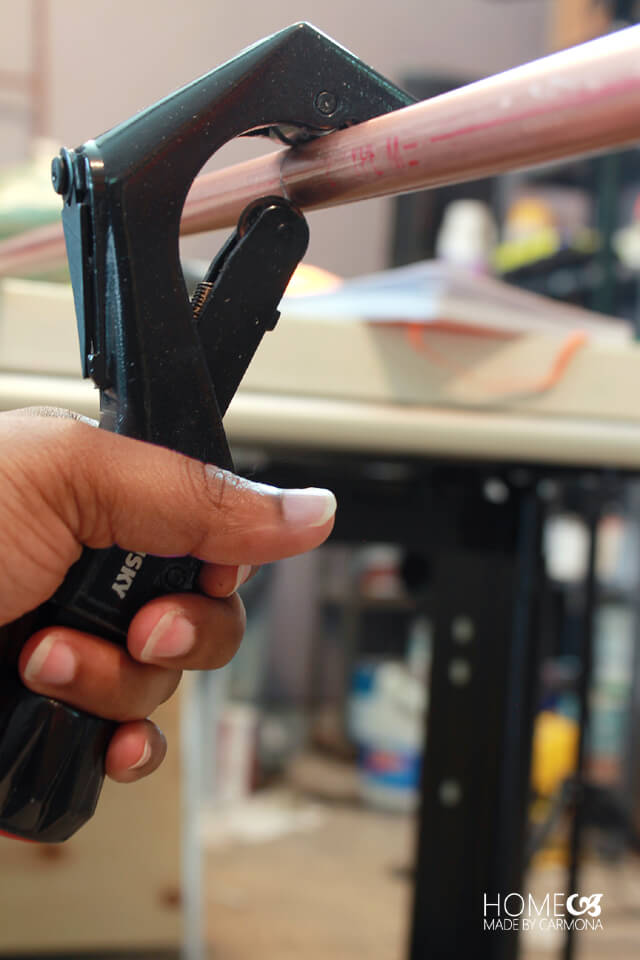 You will measure and mark your copper pipe using a measuring tape and pen…just mark directly on the pipe as if it were wood.
Here is your cut list (cut 2 of each):
8 1/2″
10 1/4″
12″
13 3/4″
Lay out two of your wooden legs, and place the wedge between them at the top. You are going to double check the depth of your drilled holes in the sides of the legs. If you lay each pipe piece just above the leg you can see how everything will fit when you start inserting the pipes.
#6. Glue Pipes In Place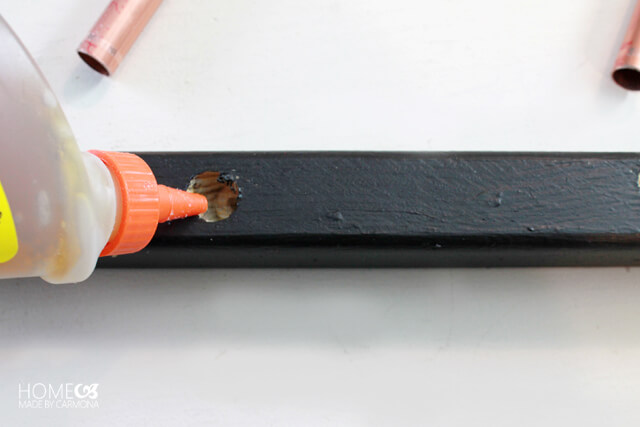 Once you are ready to insert each pipe, use a little all-purpose glue in each hole, then insert each pipe into one leg, then into the other.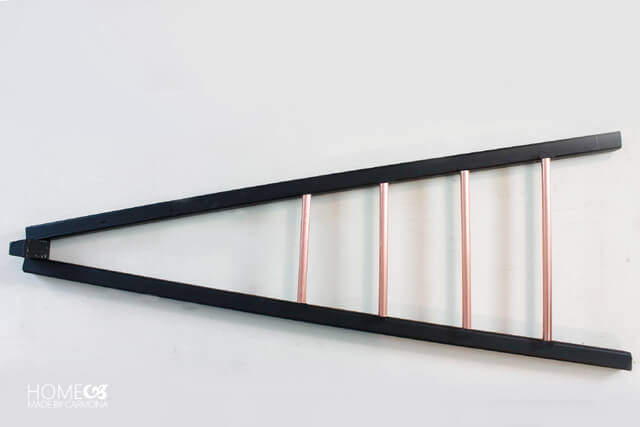 Inserting the pipes may be a little bit of a snug fit…you may need to hammer the wood to get the pipe to slide in. Remove the wedge while the glue dries on the first set of legs, and use it to get to work on the second set of legs.
#7. Attach Legs To One Another With Wedge Between
Allow time for the glue to dry completely, then place the two leg ladders leaning up against each other, and insert the wedge between the open space.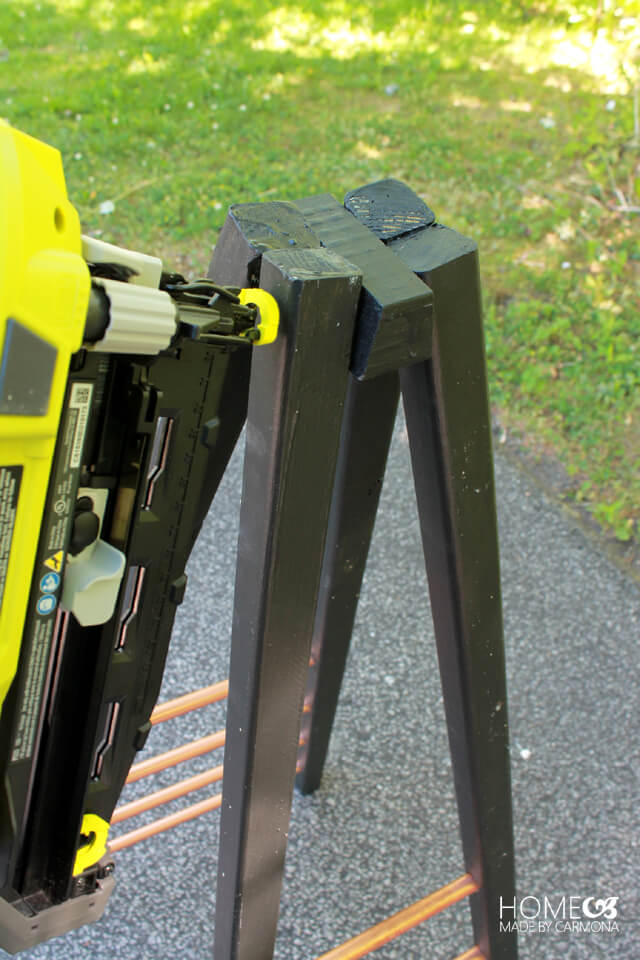 Be sure to use a nail gun to do this, or screws work as well. You may need an extra pair of hands to help hold these pieces in place while you attach them.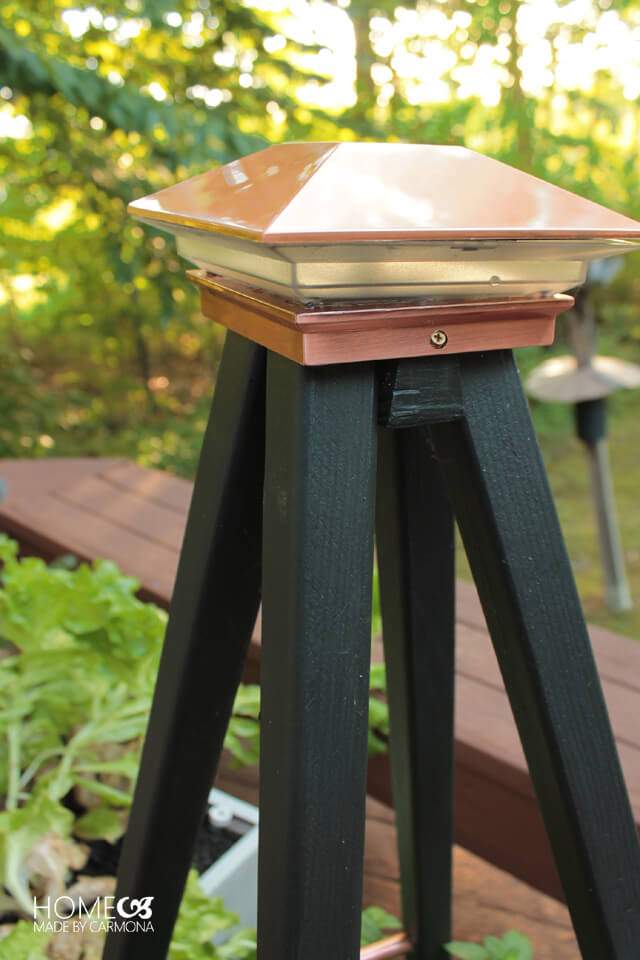 Now place your 4″x4″ copper post cap atop, screw it on, and stand back and admire your handiwork! By the way, if you get a solar powered cap like mine, your garden will look great day and night! I love how beautiful it is all lit up.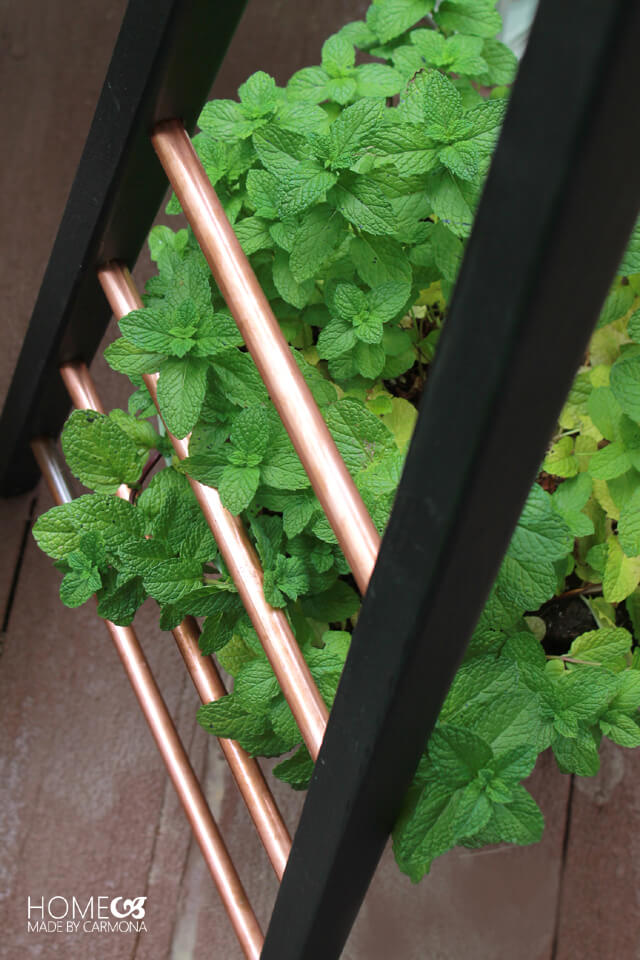 >> RELATED PROJECT: Learn how to build a Cabana from copper here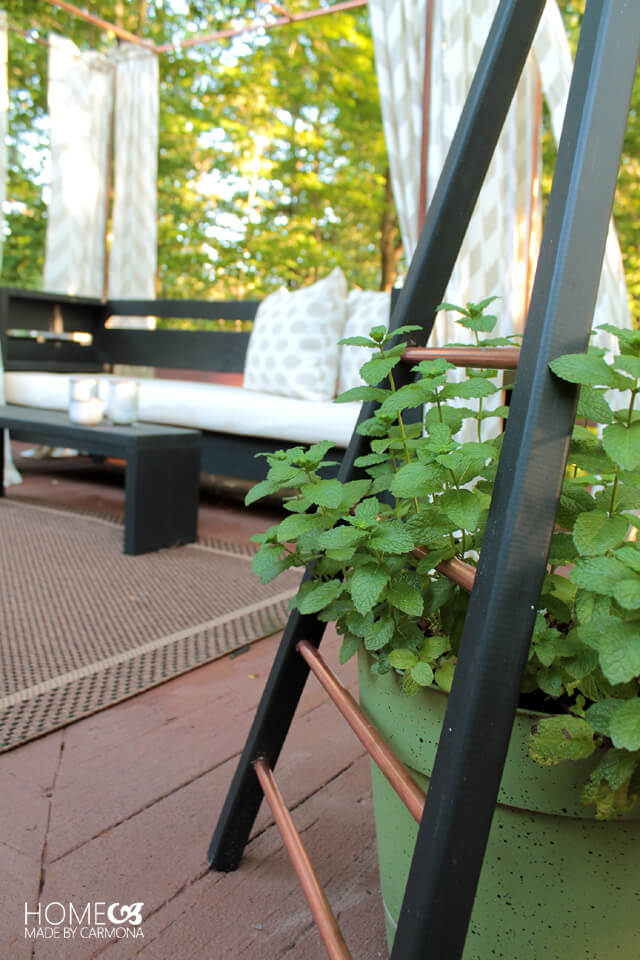 *Thank you to Angie's List for sponsoring this project! I'm honored to be a contributor! All opinions and projects are my own.


[go_portfolio id="diy_gallery"]