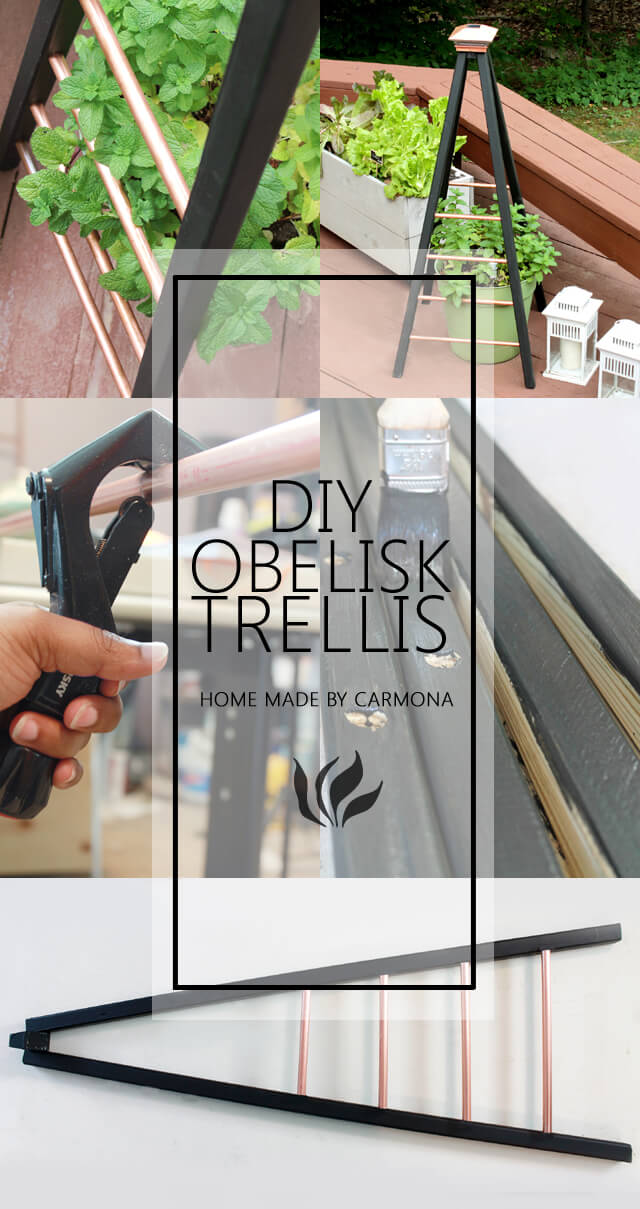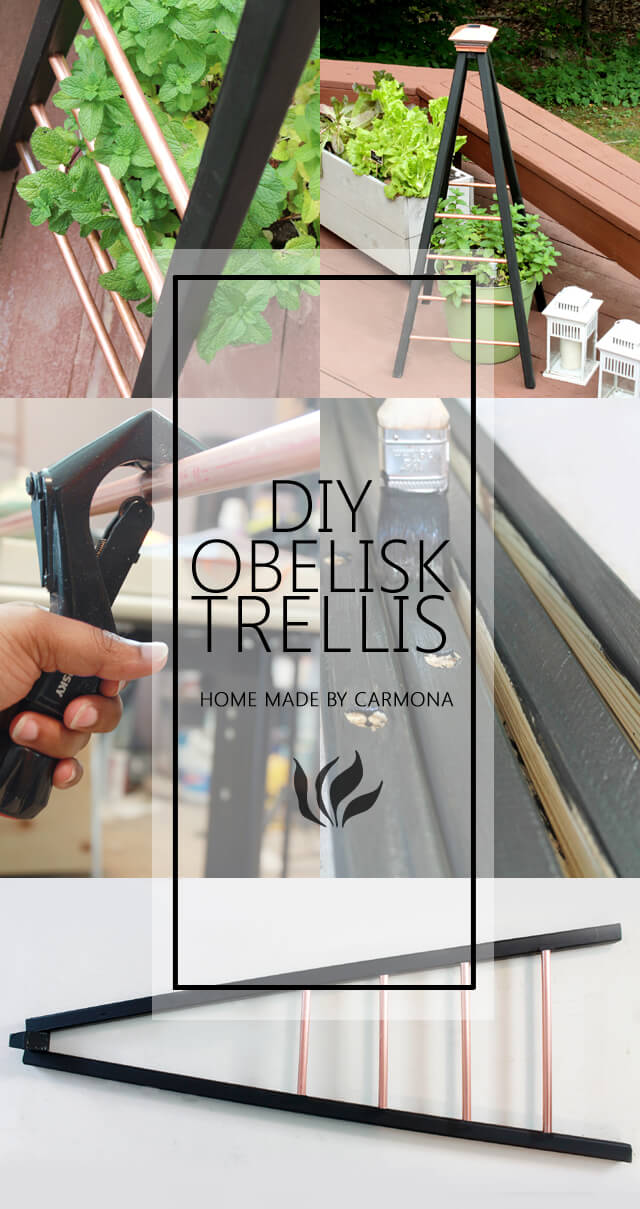 We relish a nice sweet sugar snap pea! The price tag to buy them fresh, not so much. I decided I would grow a giant patch of delicious peas and keep us satisfied all summer long, and those dearly beloved pea plants would wrap their little tendrils around a beautiful copper and wood trellis…I was determined to enjoy a good looking and yummy tasting patch!
Even our gardens should be the stuff dreams are made of!
Weird the way my mind works isn't it? First I daydream about…well food usually, or living life like I'm a character out of a Louisa May Alcott book. Then inevitably I picture the decor that surrounds that dream. Haha, what can I say, I'm a bit of a romantic, and I like pretty things!
Today I'm going to teach you how to make this gorgeous copper obelisk trellis. Because, well even our gardens should be the stuff dreams are made of! I first shared this project over on Angie's List, where I'm honored to be one of their regular contributors.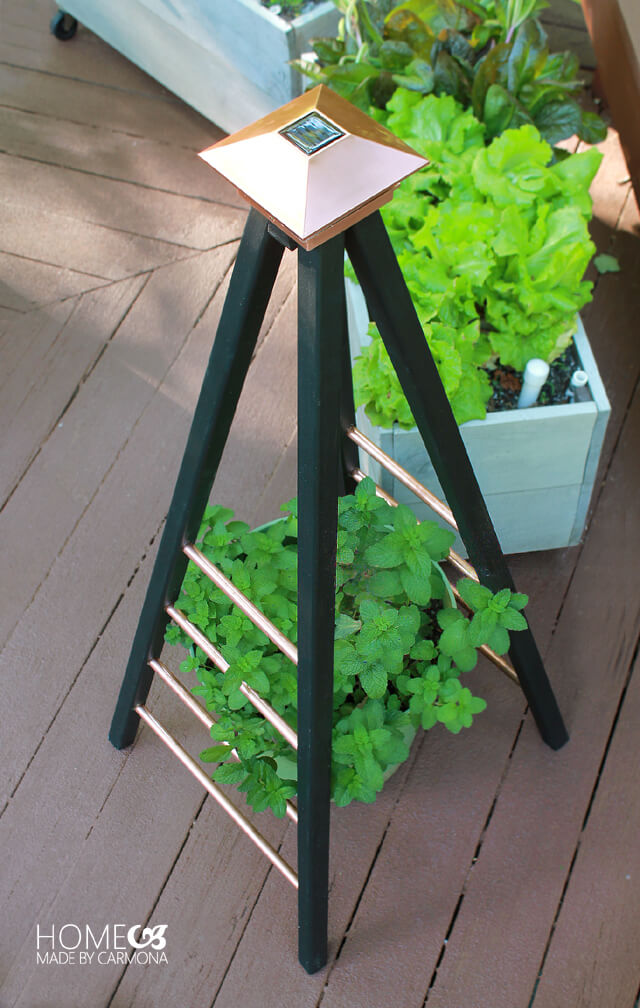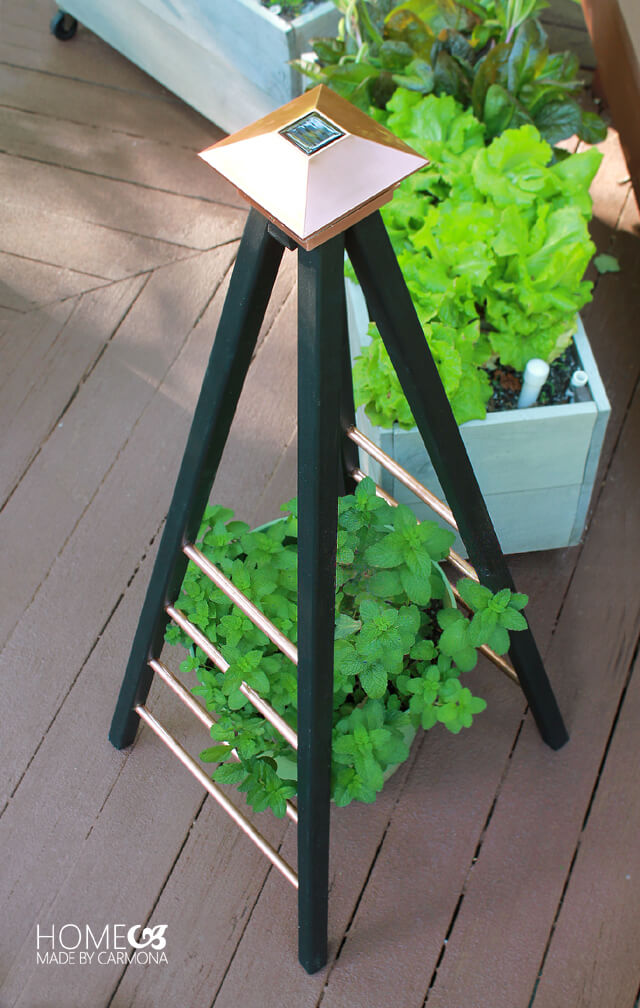 Here's what you'll need: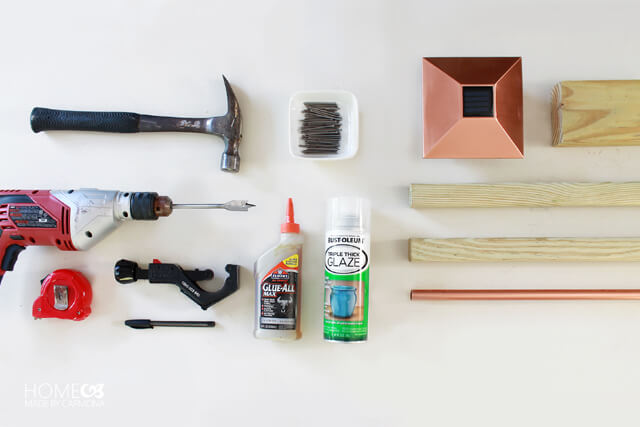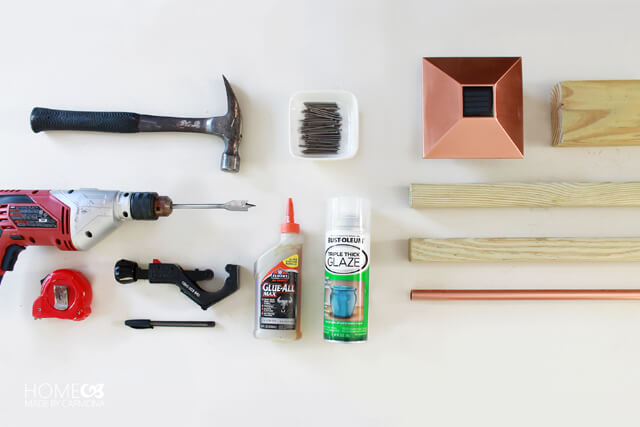 Materials
1/2″ Copper Pipes (10′ length)
(2) 2″x2″x10′ pressure treated lumber
Scrap 2″x4″ piece of lumber (6″ or less)
All Purpose Glue (adheres to wood & metal)
Copper Finish Solar Cap (4×4)
Tools
Let's Get Started!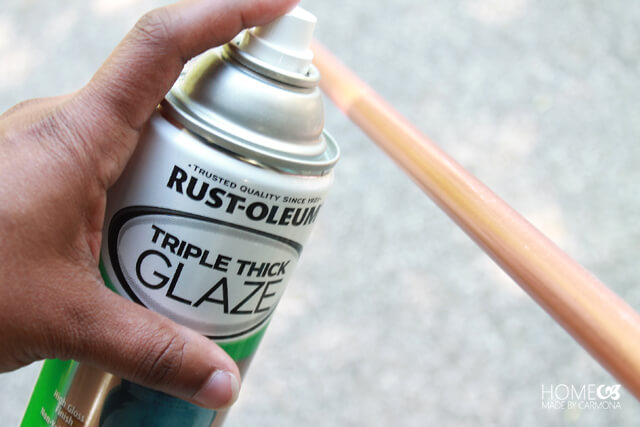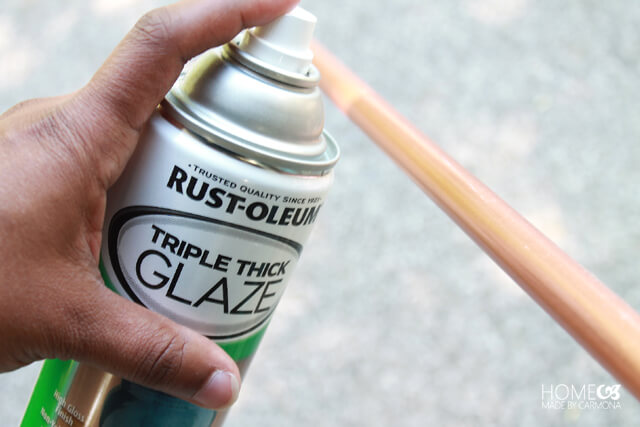 First you'll want to seal all your copper pipes with a spray paint sealer. I'm using Rust-oleum's Tripe Thick Glaze. Be sure not to handle the pipes without gloves while transporting them, and spraying them, or you'll leave smudges. And trust me, you don't want to have to use a chemical to clean the pipes before spraying them…I tried that, and it just tarnished under the spray a day later (nope, lemons didn't work either…they still tarnished a day later).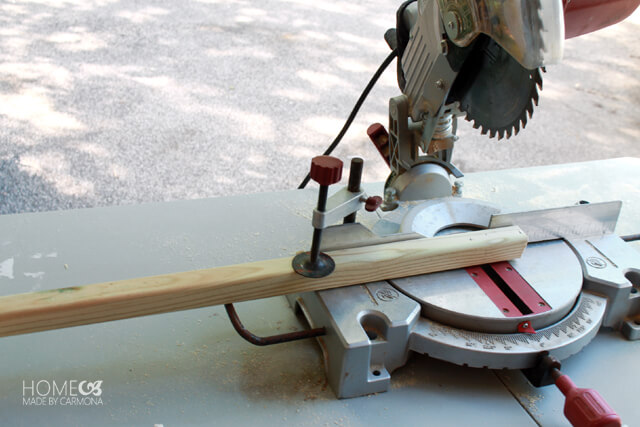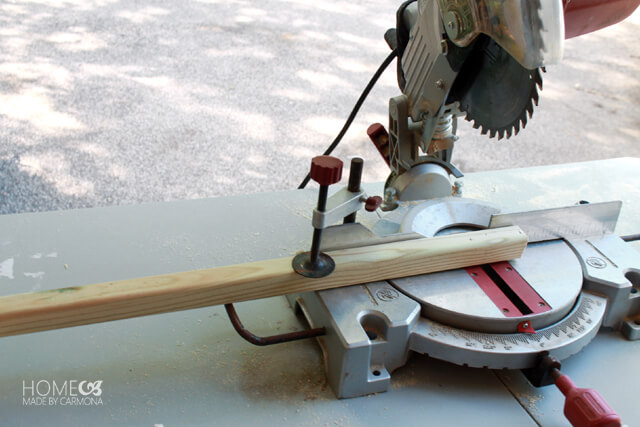 Grab your 2″x2″s and cut them in half (that's 4′) to create four 2″x2″x4′ pieces. Each of those four pieces should additionally be cut with at a 10 degree angle on one end. Do this about a half inch up.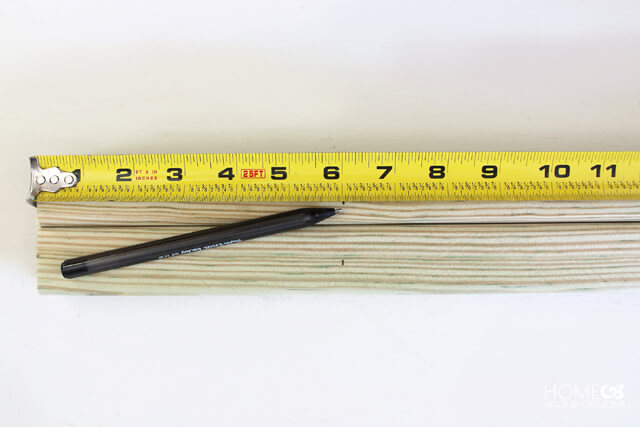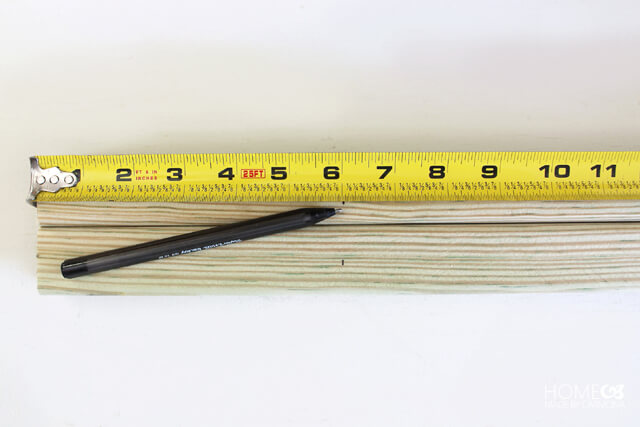 Next you'll mark each wooden leg at 6″ increments (right in the middle) starting from the angled feet up.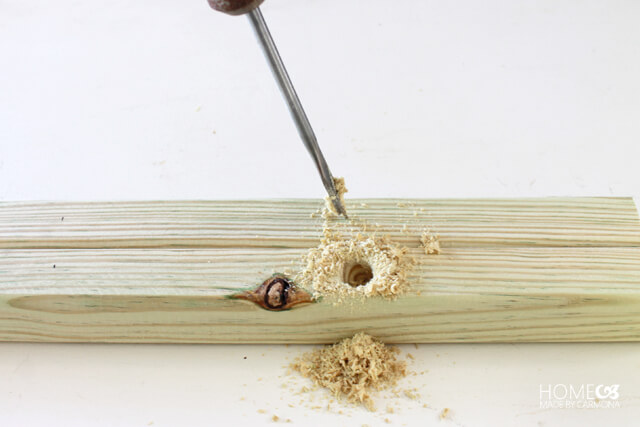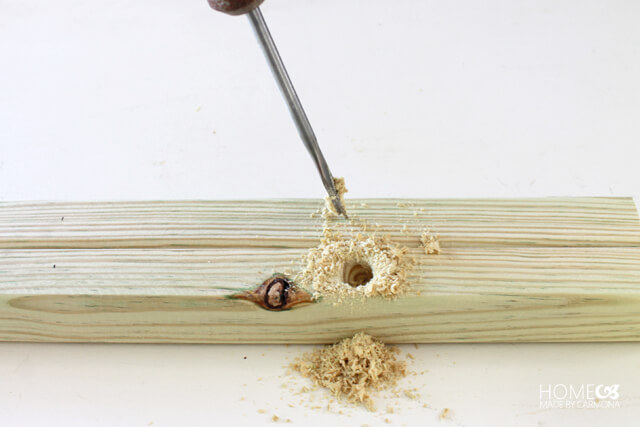 Using a 3/4″ spade bit, drill holes where you marked. Drill at a 45 degree angle with your bit facing the same direction as the angled feet.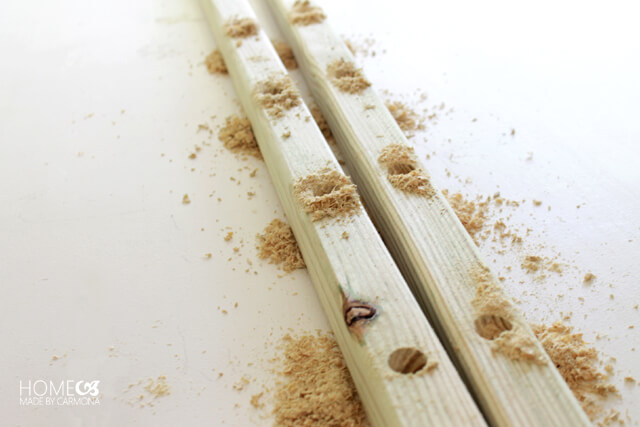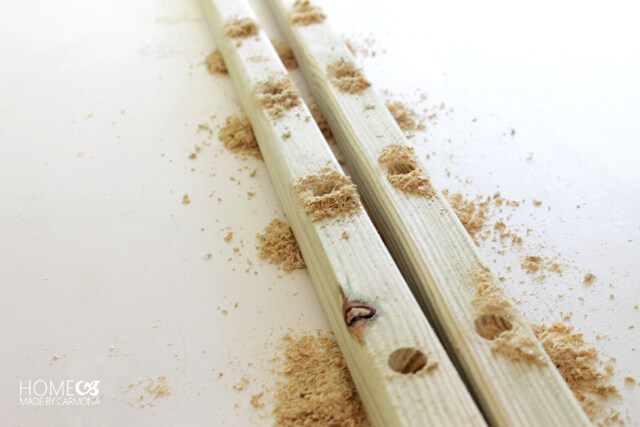 You'll drill a total of 5 holes in each leg. Try to make your holes line up and be as consistent in their angle as possible.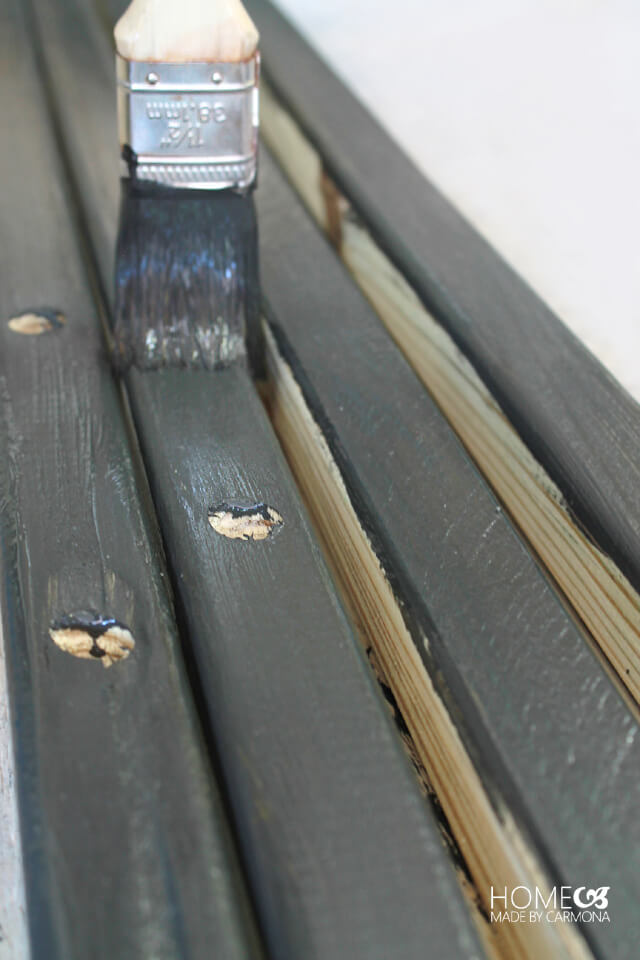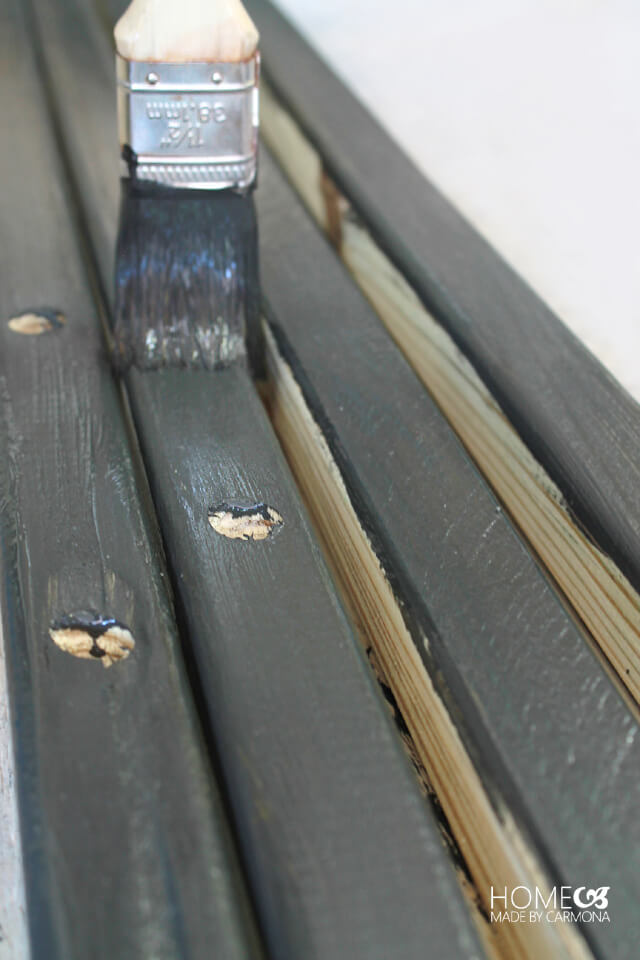 Next, stain or paint your legs. I am using some leftover deck stain…remember this trellis will be outside year round and may be watered frequently. Seal it well!
Leave your painted feet for a moment and take your scrap 2″x4″. You'll be cutting a wedge that is angled at 10 degrees. Then stain and seal your wedge as well.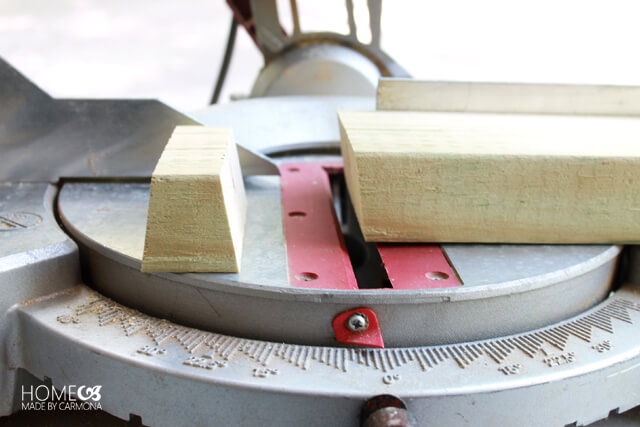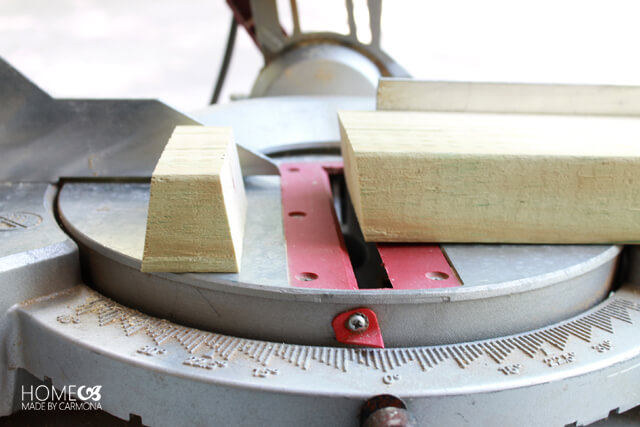 While you wait for the paint to dry it is time to mark and cut your copper piping to size.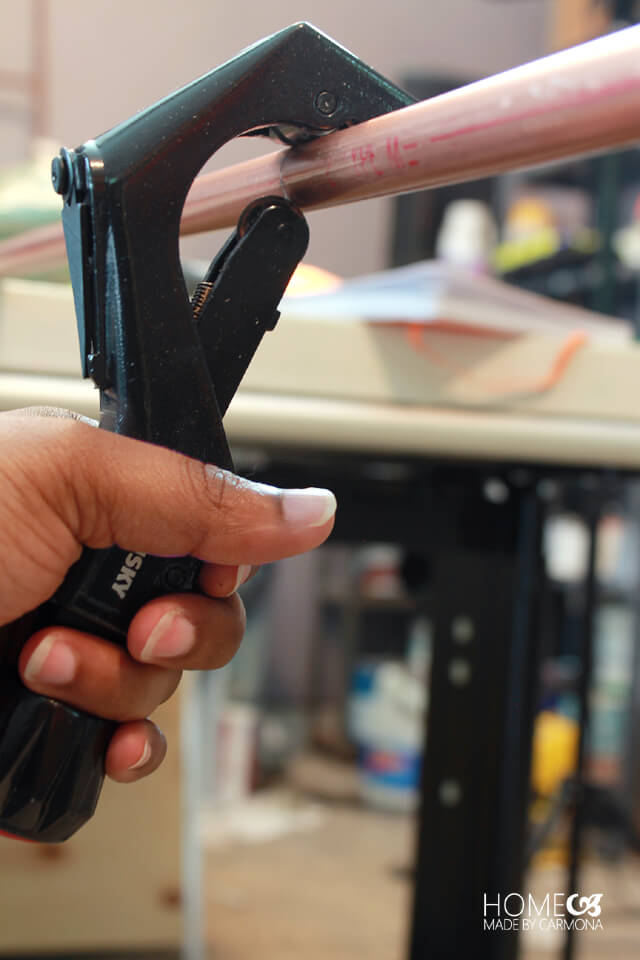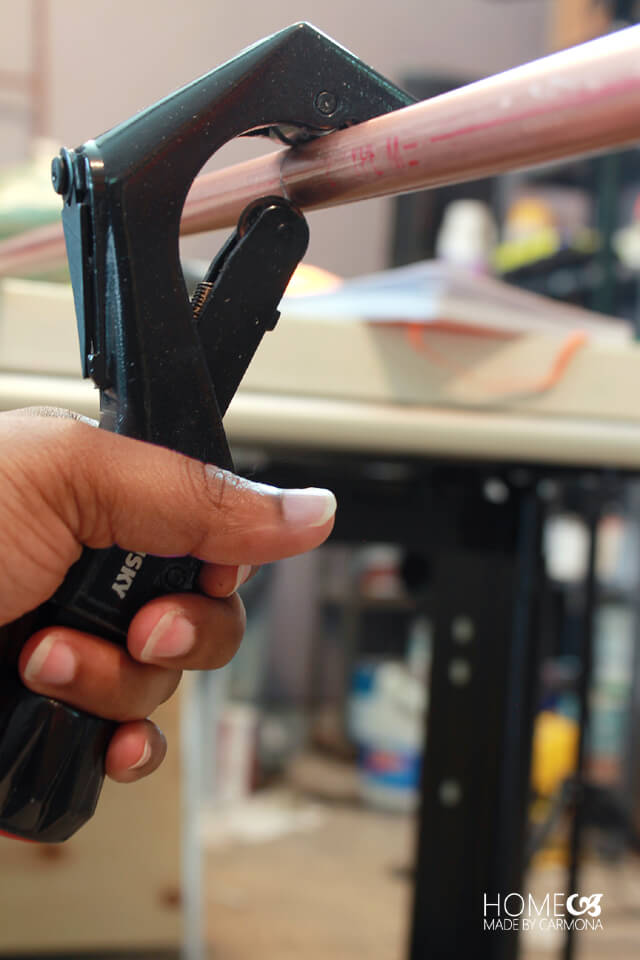 You will measure and mark your copper pipe using a measuring tape and pen…just mark directly on the pipe as if it were wood. Here is your cut list:
(2) 8 1/2″
(2) 10 1/4″
(2) 12″
(2) 13 3/4″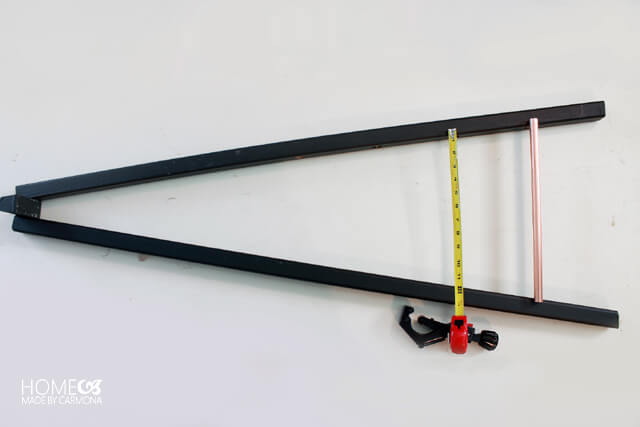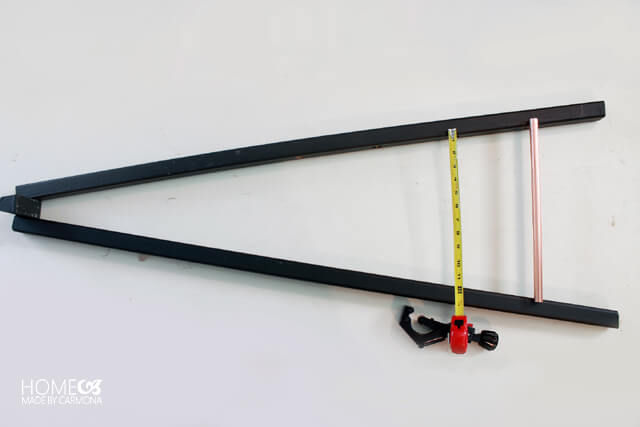 Lay out two of your wooden legs, and place the wedge between them at the top. You are going to double check the depth of your drilled holes in the sides of the legs. If you lay each pipe piece just above the leg you can see how everything will fit when you start inserting the pipes.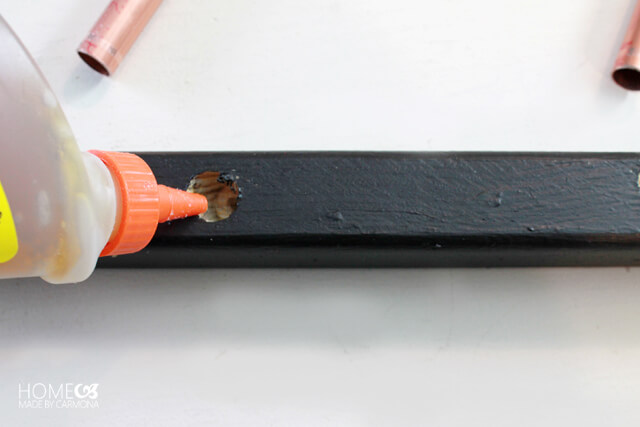 Once you are ready to insert each pipe, use a little all-purpose glue in each hole, then insert each pipe into one leg, then into the other.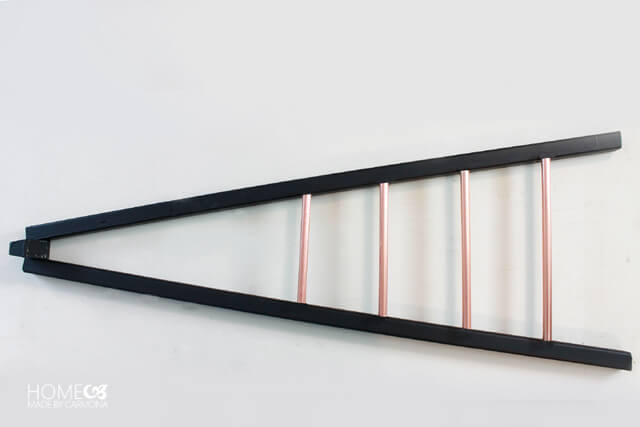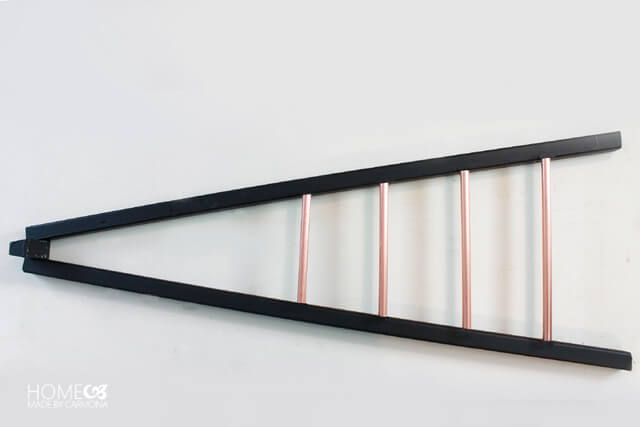 Inserting the pipes may be a little bit of a snug fit…you may need to place some wood on either side to hold it in place and protect the wood while you hammer it in. Remove the wedge while the glue dries on the first set of legs, and use it to get to work on the second set of legs.
Allow time for the glue to dry completely (a minimum of 3 hours), then place the two leg ladders leaning up against each other, and insert the wedge between the open space.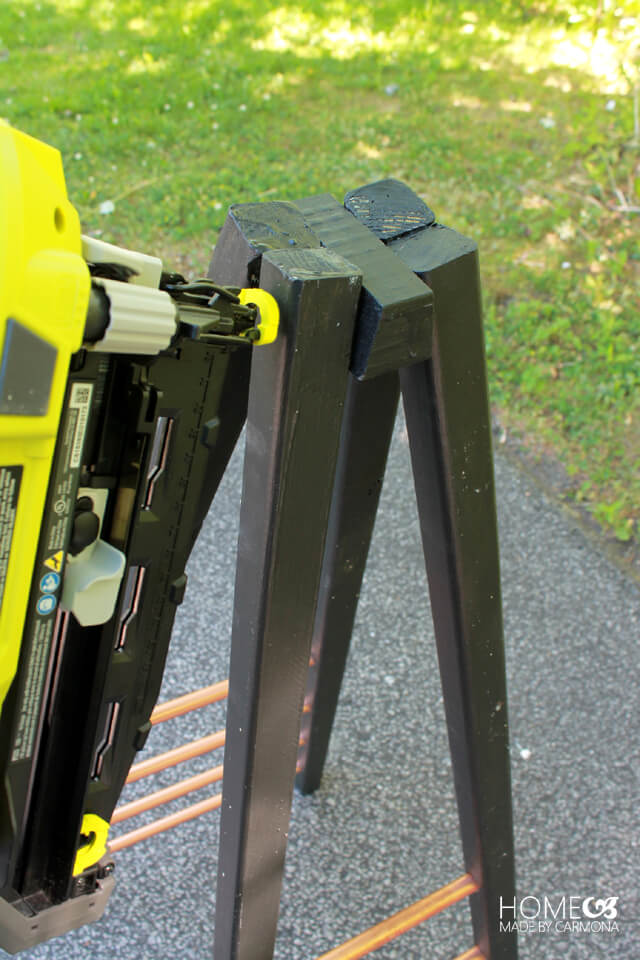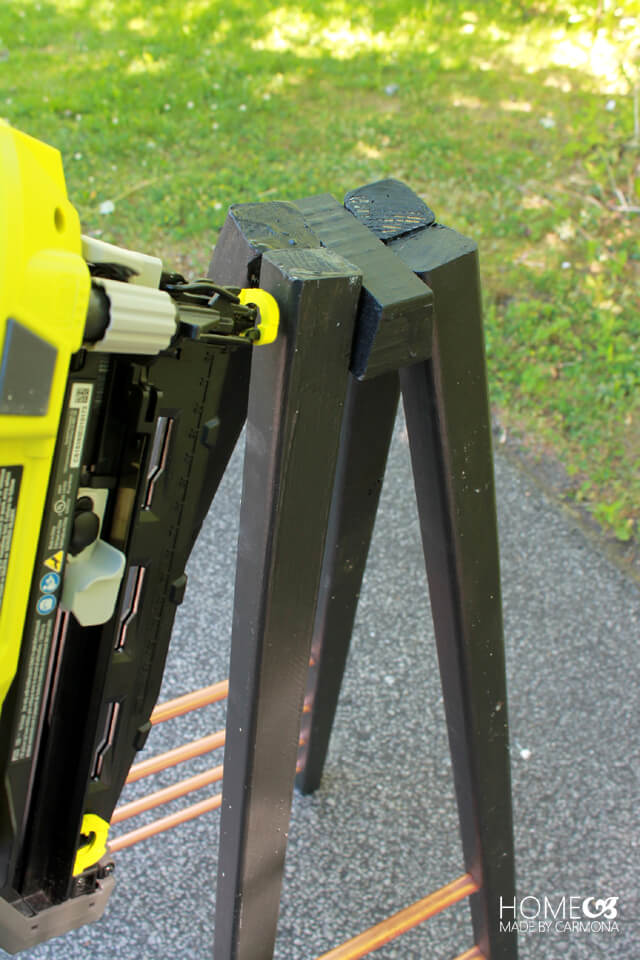 If you have to use a hammer and nails you'll need to lay the whole thing on its side on the floor. If you can use a nail gun (with 2″ nails), it will be much easier and you can get the job done upright.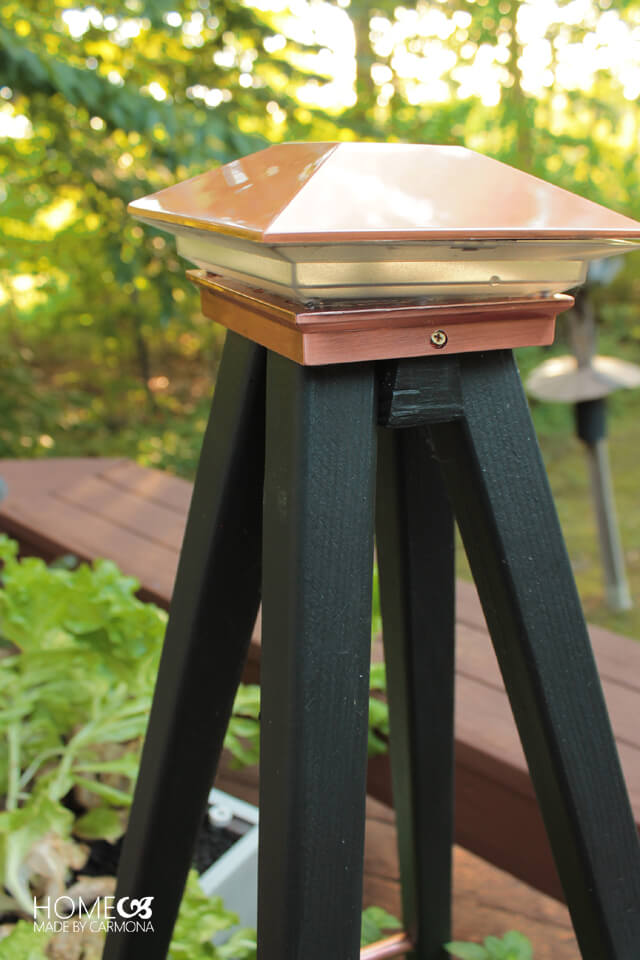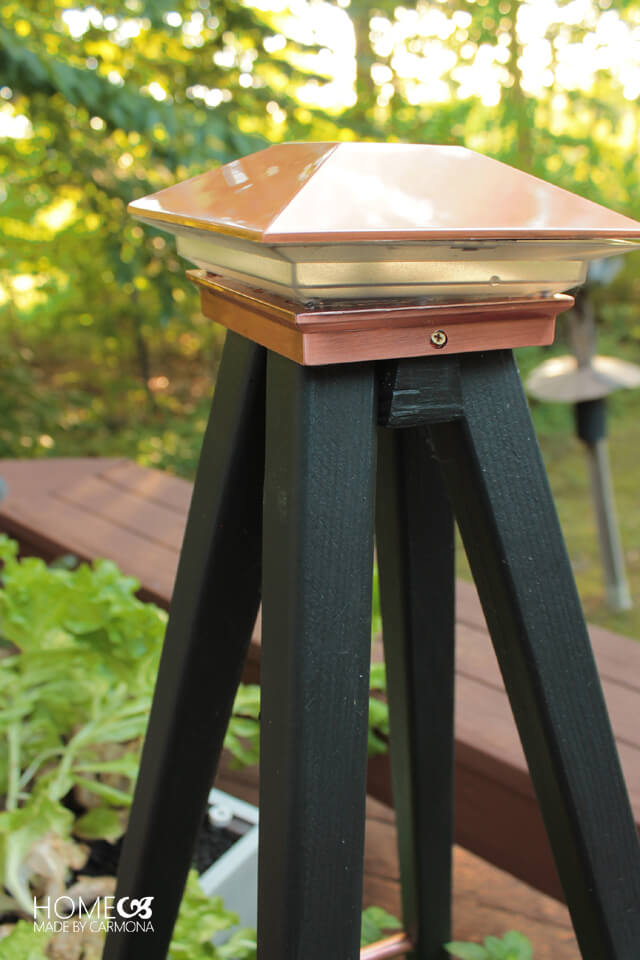 Now place your 4″x4″ copper post cap atop, screw it on, and stand back and admire your handiwork! By the way, if you get a solar powered cap (like mine), your garden will look great day and night! I love how beautiful it is all lit up.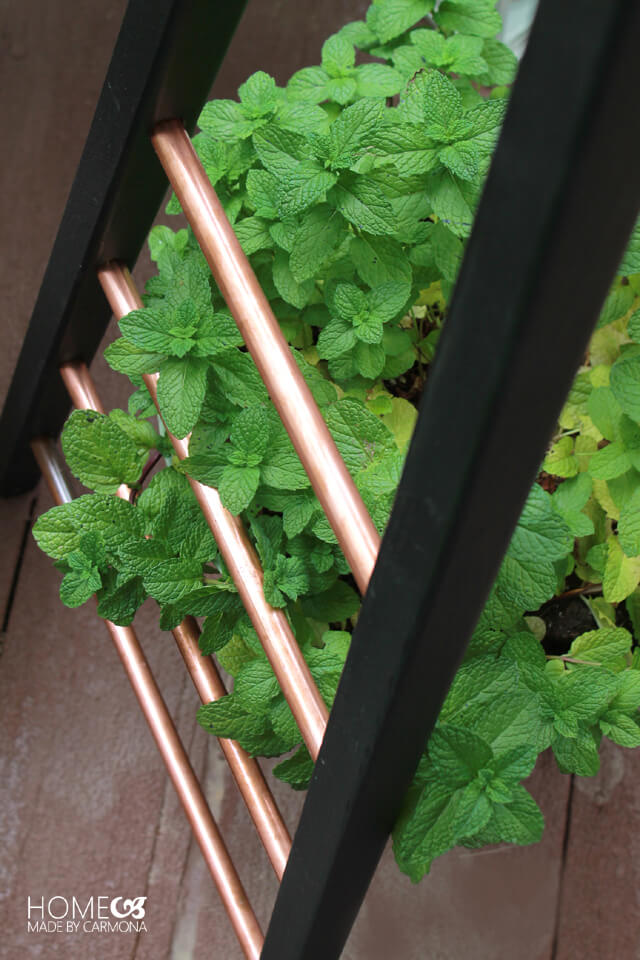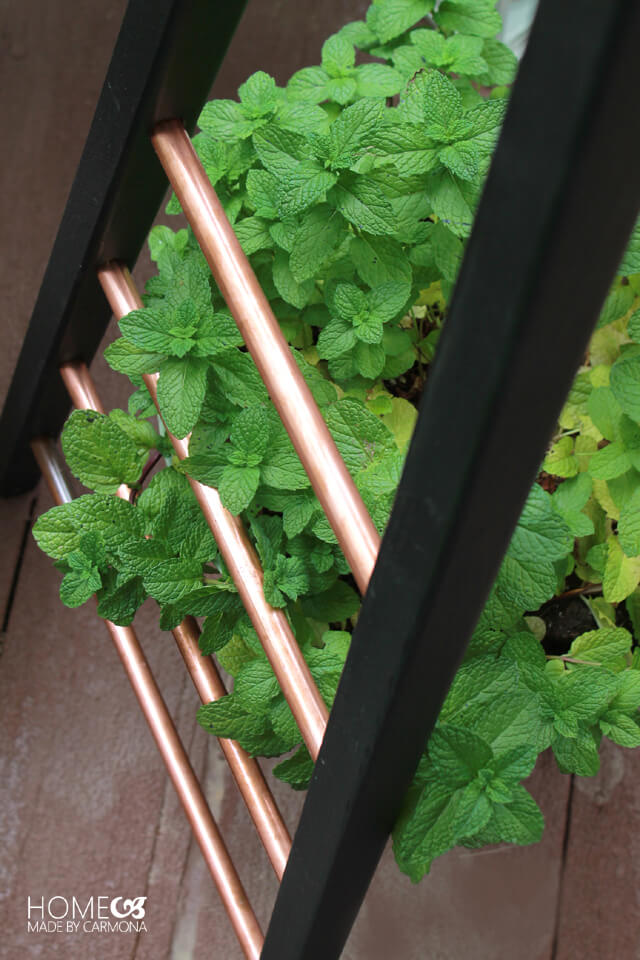 Well, as you may notice, I still haven't planted my sugar snap peas…and now I'm thinking it may have to wait until next year. But I'm still enjoying my hand-made obelisk trellis, and it looks just as good on my deck amid my container garden!
Want to see the rest of my deck garden? Take a tour here and check out the outdoor sofa I built, and the cabana I made from copper pipes!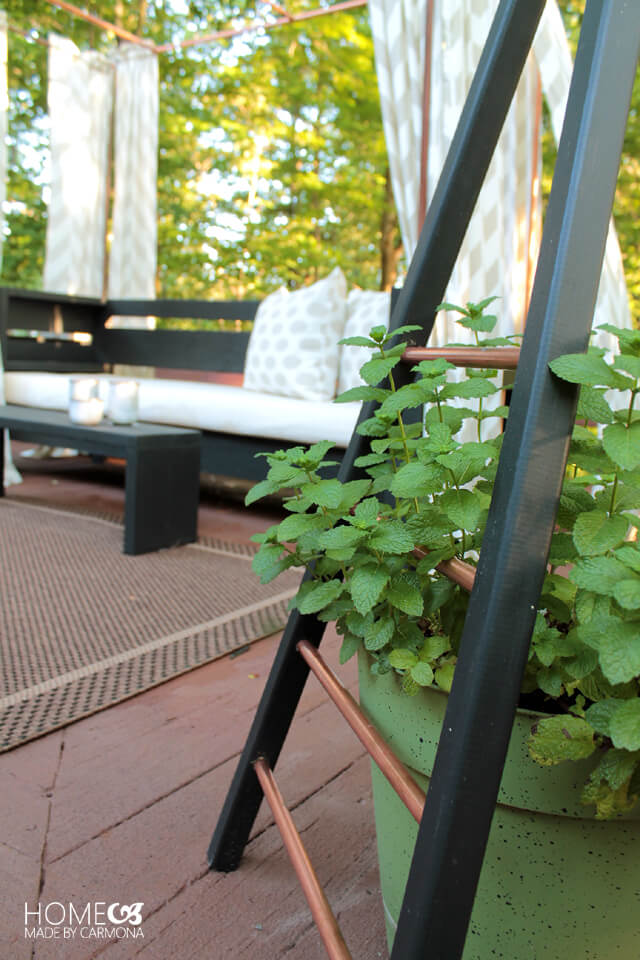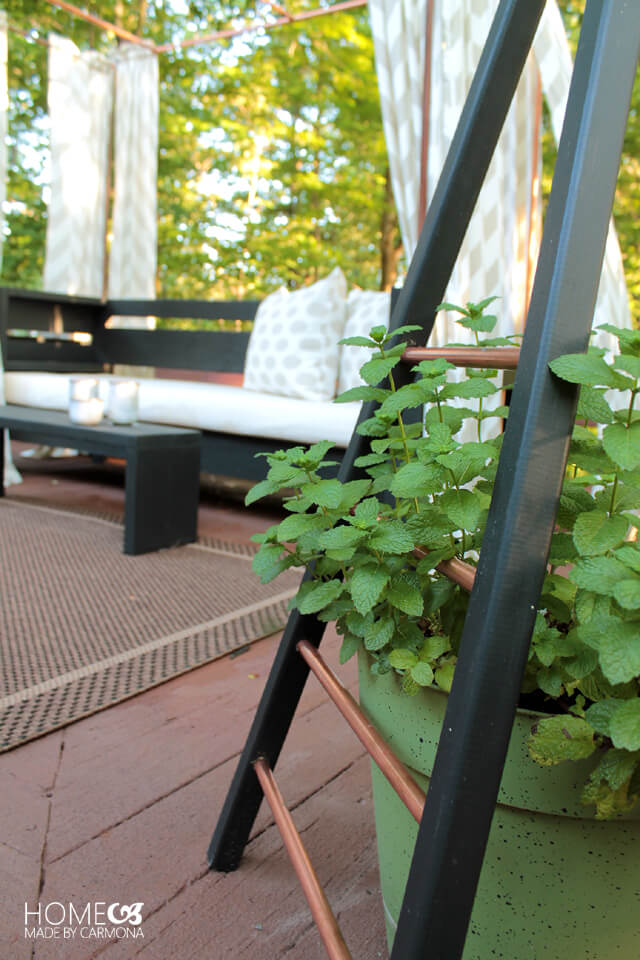 *Thank you to Angie's List for sponsoring this project! I'm honored to be a contributor! All opinions and projects are my own.