Looking for ways to up your hosting game and make your guest feel welcome? These 10 thoughtful touches are the perfect way to get guest ready, and make visitors feel extra special.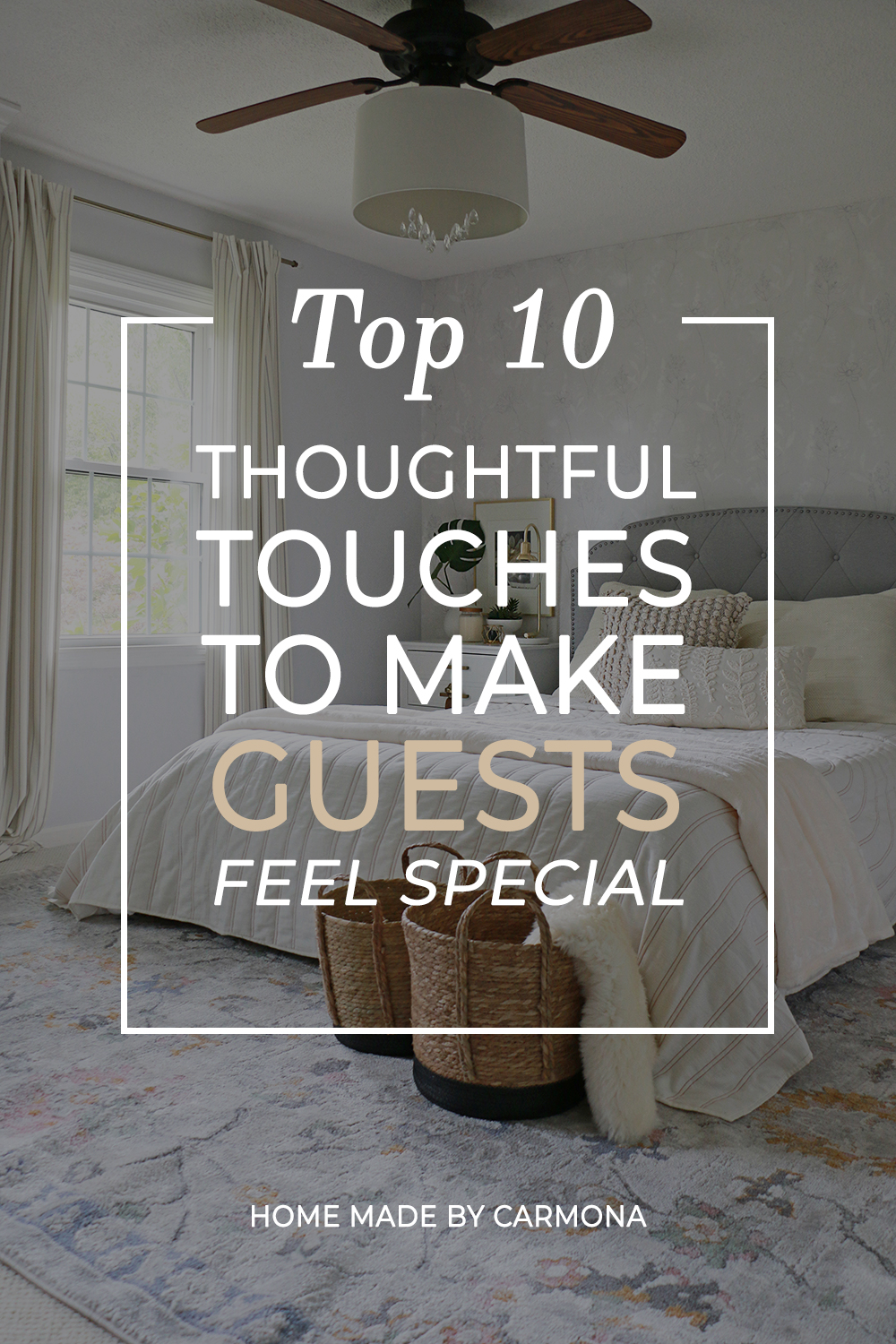 This is everything you need to know to go the extra mile when it comes to hosting guests.
Besides making your living space super comfy, think about the little details that will make all your guest feel welcome:
1. Create A Welcome Basket
Include the essentials, such as a towel, washcloth, and other essential linens in the guest room. But make guest feel welcome with these extra touches:
Take it up a notch by adding a welcoming note, a scented candle for them to take home, or some other lovely little gifted item.
Just don't forget the helpful little necessities, like tissue, a bottle of water, and forgotten items listed on tip #2.
2. Provide For Forgotten Items
Place a basket with frequently forgotten essentials where it can easily be accessed. Add toiletries like a toothbrush, toothpaste, shampoo, conditioner, lotion, soap, a razor, shaving cream, hair spray, and makeup remover wipes.
3. Add A Goodies Section To The Fridge or Countertop
Show your guests how to get to the kitchen, and make sure they know how to access anything they need just in case they get a hankering for a midnight snack. This is the proverbial "my house is your house" move, and ensures they feel at liberty to get comfy.
Carve out a space on a countertop and / or refrigerator with snacks and drinks for your guests.
4. Make Sure They Will Sleep Comfortably
Everyone has different sleeping quirks, so it can be tricky to provide a comfy sleeping situation for overnight guests.
If you can avoid using an air mattress and provide a real bed, amazing! If not, choose one with a frame that lifts it off the ground, and test it out to make sure there is no loss of air.
Lightweight comforters make the best top covering. And add an extra blanket (a fuzzy blanket is best) at the foot of the bed in case anyone gets cold in the night or can't share a blanket.
Make sure each guests has at least 2 pillows, and the optional extra pillow if available. Provide a couple different types of pillows on the bed so they can use the ones that work best for how they sleep. Fluffier and bigger, versus firmer and flatter… you would be surprised at how different people can sleep!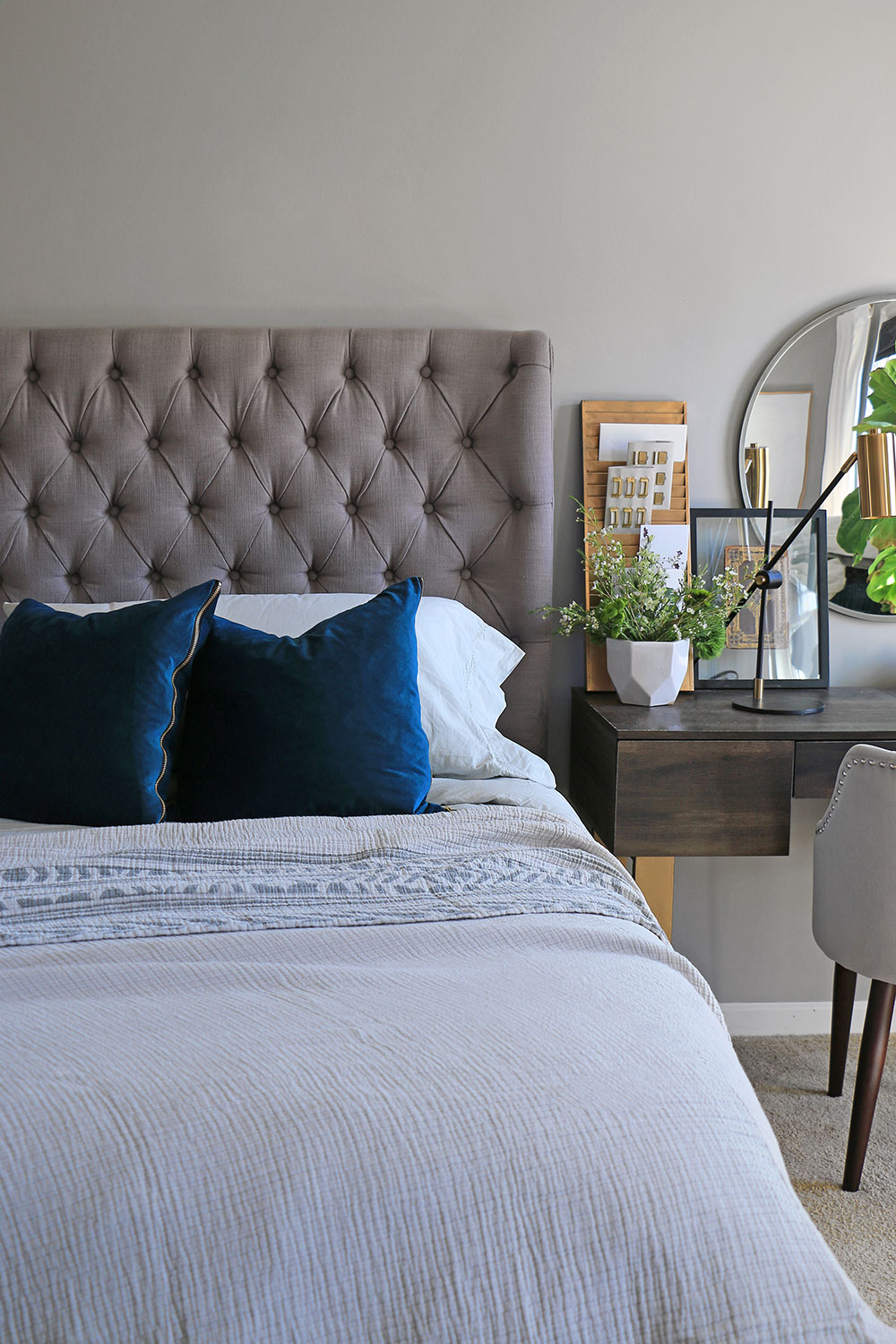 5. Provide Some Temperature Control
This is a BIG one! Temperature can make or break how comfortable a guest feels. Some run hot, some run cold… the real challenge is when you have a couple that experiences opposite scenarios.
Try to accommodate those the best you can by leaving a table fan in the room for the one that runs hot, and a warm extra blanket for the one that runs cold.
Throw blankets on sofas and armchairs will also be handy for the guest that feels cold.
6. Make Space For Guest's Belongings
It may seem small, but making room for your guests belongings is a thoughtful touch that says you value their presence.
Clear some closet space for hanging clothes, and provide enough empty hangers. Room in a dresser drawer is a nice touch if it is a dedicated guest bedroom, but a luggage rack or a spot to put their suitcase will do if not.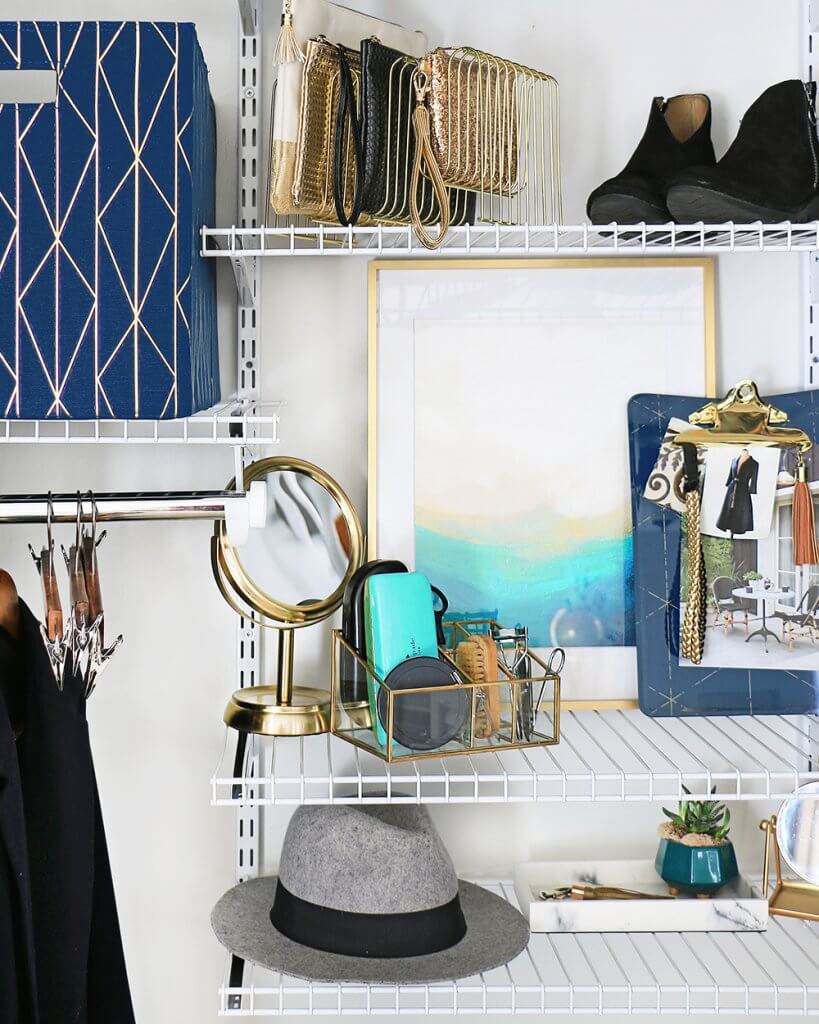 7. Provide For Wifi Password & Entertainment Options
Leave a note containing the wifi password so guests don't have to ask. Plus, if you happen to have a TV in the room for guests, add a list of channels! If a hotel does it, it is probably a helpful thing to do.
Also leave some books and a magazine for nighttime reading.
8. Create The Best Bathroom Situation
If you can provide a dedicated guest bathroom, that is the most comfortable setup. But if not, make sure there is extra toilet paper within reach, air freshener, disinfectant wipes for surface cleaning, and a toilet plunger. Do everything possible to avoid awkward situations and guests having to ask for any of these.
I'm sure it goes without saying, but make sure the bathroom is sparkling clean with a good scent, and well stocked.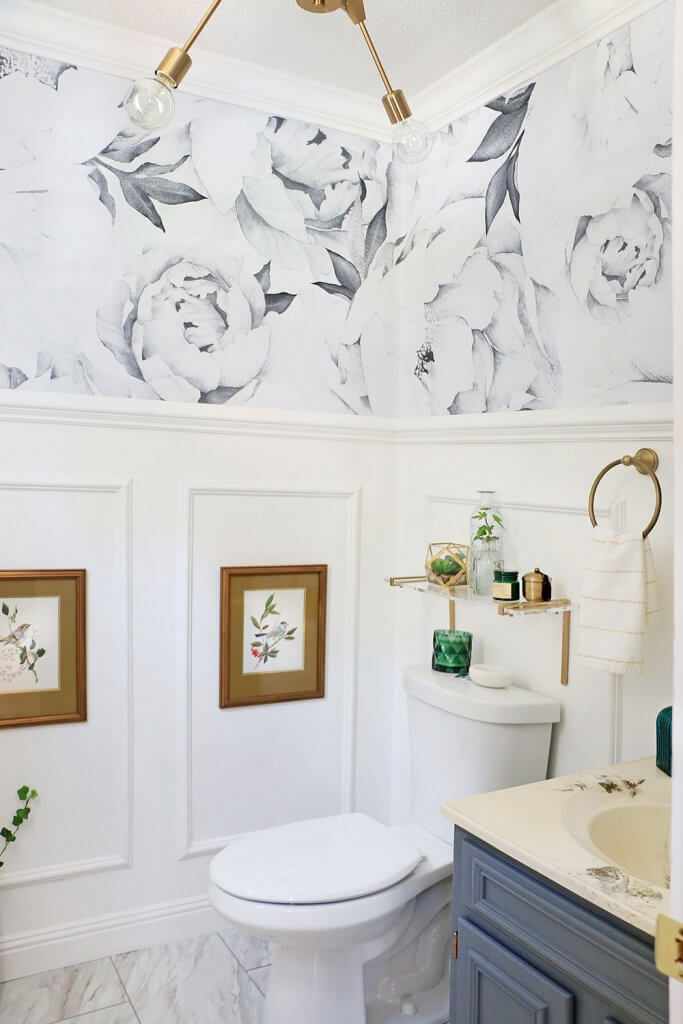 9. Add Small Homey Touches
Think of things most people use when at home… such as an alarm clock for time and as a wake up call. Or a bedside lamp for the reader.
Then go the extra mile by adding things like fresh flowers to create a welcoming space.
10. Add Spa-Like Touches
Homey touches are amazing, but spa touches are even more likely to earn you hostess of the year.
Hang a bath robe behind the door, add a basket of extra slippers, bottled water, and some granola bars for snacking.
Other lovely spa-like touches include a scent warmer (a safer alternative to a candle), bath bombs, or facial scrubs!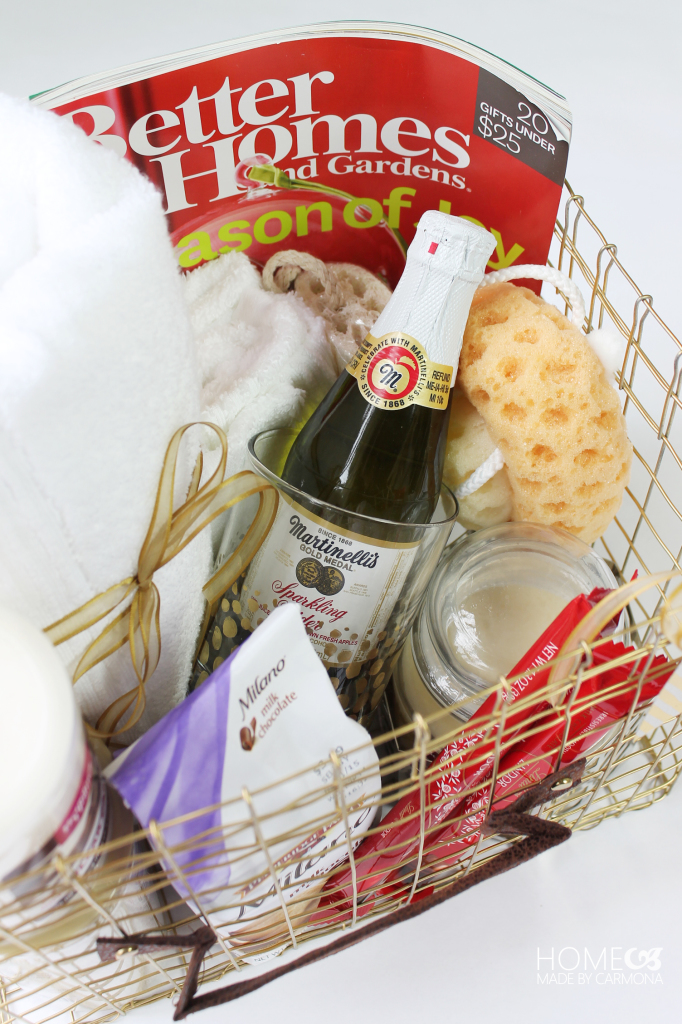 With these 10 thoughtful touches, you'll definitely be the hostess with the mostess, and make your guest feel welcome!


Make your whole home more comfortable and accessible to guests with these 5 detailed ideas.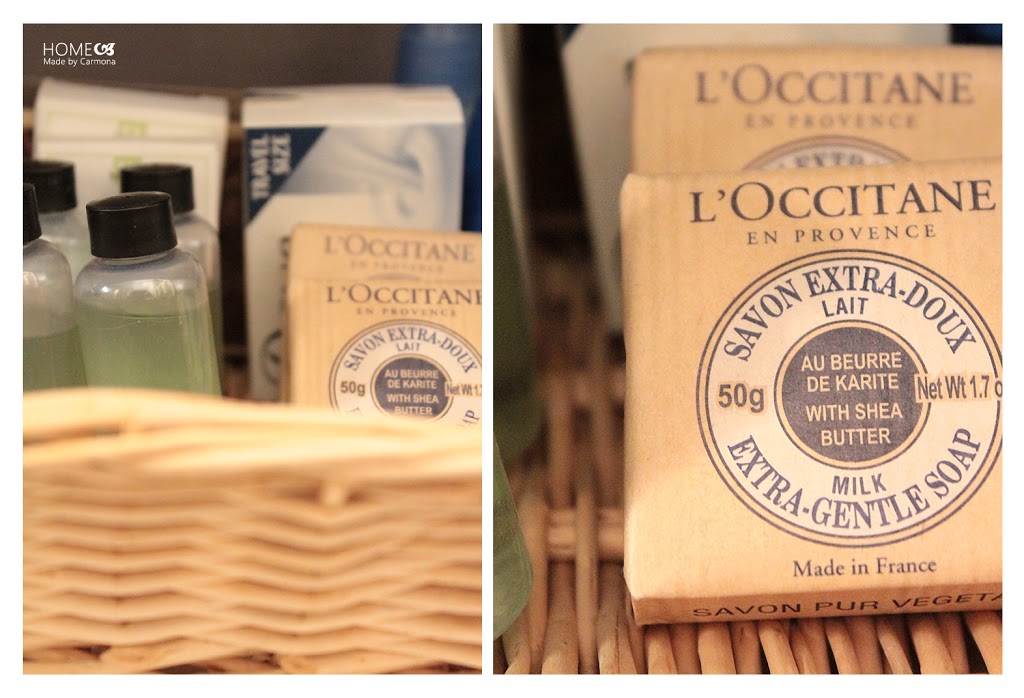 Share your guest ready spaces and ideas with me over on Instagram!
Share / Save This Article