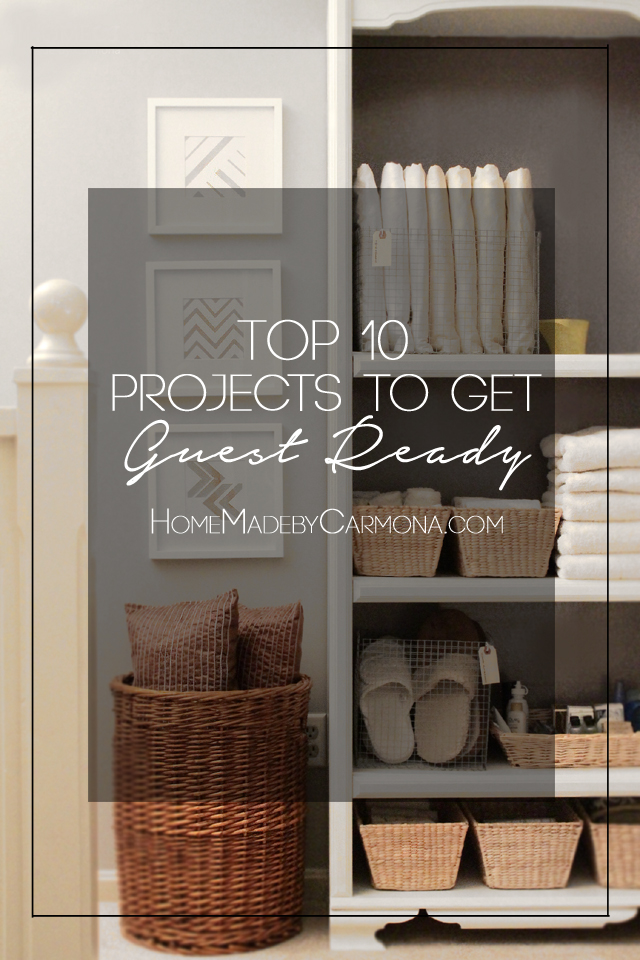 Can you believe it's that time of year already? This year seems to have flown by! But I can't complain; I love any excuse to get the house ready for guests and what better excuse than Thanksgiving and Christmas?!
Personally I love to go the extra mile when it comes to hosting guests. As well as making our living space super comfy, I like to think about the little details that will make all the difference. So this year I decided to look for a bit of inspiration around the internet.
I found loads of brilliant ideas and I'm definitely going to steal one or two of them for myself! Behold, the top 10 projects to get guest ready!
If you have teenagers coming to stay with you, one of the first things they're bound to ask you is "what's the wifi code?" Whether you find that cheeky, amusing, or just a sign of the times, you can win your guests over right away by displaying your wifi code where everyone can see it.
The lovely Michelle over at Elegance and Enchantment has created a gorgeous print that you can download and customize to turn your wifi code into a beautiful piece of art. If you hop on over to her site, you'll also find links to a couple of bonus prints to get your home guest ready too! Thanks, Michelle!
>> Guest Room Printables by Elegance and Enchantment <<
Why stop with just one sign when you can go to town and create a huge "be my guest" pallet sign?!
The Salt and Pepper Moms went all out when they created this piece of art for their guests using some old pallets, vinyl stencils, and a bit of paint. You could stick with this message or come up with your own, and place your sign outside your home or even in the guest bedroom. You can't get much more welcoming than that!
>> Pallet Signs by Salt and Pepper Moms <<
When you host a lot of guests, you find that they tend to need the same items over and over again. Rather than putting together guest baskets and leaving on their beds, or keeping them in the bathroom and having no access to them when someone's using it, I've found it's easier to keep all these guest necessities is one place.
That's why I turned my upstairs hall into a special guest corner. Now, whether my guests are in need of towels, sheets, pillowcases, toiletries, or slippers, they can find exactly what they need without asking me or my husband.
>> Guest Corner by Home Made by Carmona <<
Once your guests arrive, they'll need somewhere to store their luggage. What's the point in slaving away to make your guest room look pretty if it doesn't then look pretty when it's in use because your guests have had to drop their suitcases on the floor?!
I love this DIY luggage rack by Roeshel from DIY Show Off. It's super cute and you can easily switch up the colors and fabric to make it match the style of your guest room. It's also foldable, making it easy to store when your guest room is empty.
>> DIY Luggage Rack by DIY Show Off <<
Again, it's no good sprucing up your guest room if a lack of storage space means your guests have to leave their belongings lying around all over the place. Help them keep their phones charged and their leads tidied away by providing them with a charging dock.
I'm in love with this gorgeous Homedit charging dock by Chelsea Mohrman from Farm Fresh Therapy. It's the most sophisticated DIY charging dock I've ever come across and, with Chelsea's step-by-step tutorial, it's also pretty easy to make!
>> DIY Charging Dock by Homedit <<
You know what it's like when you're at someone else's house and you're fumbling around looking for the light switch because it never quite seems to be where it should be… Well, it's exactly the same for your guests. Help them out by drawing attention to your switch plates, and why not make them pretty at the same time?!
These switch plates by A Piece of Rainbow have so much personality! They're a brilliant way to add a bit of character to an otherwise simple bedroom. You can download these exact designs from A Piece of Rainbow or come up with your own designs to match your guest room decor.
>> Designer SwitchPlates by A Piece of Rainbow <<
It's the little details that make your guests know you've put a lot of thought into their stay. Guest rooms have a tendency of looking fairly drab and plain. When no one person has ownership over a room, it can lack a bit of personality.
That's why I love this piece by Rachael from This Is Our Bliss. It's a stand-out laundry hamper that's she's made out of a round piece of metal that she found at a clearance sale. With a little bit of imagination, it's easy to turn an unwanted object like this into the perfect place for your guests to throw their bed sheets and towels once they're done with them.
>> DIY Guest Laundry Hamper <<
It's the little touches that make a home feel welcoming. That's why I adore this house-shaped doormat by Little White Whale. Your guests are bound to notice it as they step into your home! Isn't it adorable?!
Instead of putting out a basket full of goodies for your guests, why not go all out and load up a hotel-style cart instead? I *love* this idea!
You should be able to get hold of a cart like this from a flea market or other sale, give it a lick of paint, and fill it up with mini toiletries, snacks, towels, and whatever else you want to delight your guests with.
I put together a handy post about 5 Detailed Tips To Make Your Home Comfortable for Guests (or how to be a serial hostess). I made sure to include several supplies hosts often overlook. Yep, I've got you covered!
So there we go: the top 10 projects to get guest ready! Now before I go and start making my home perfect for the guests we've got coming soon, I'd love to know how you plan to get guest ready this year. Share your plans in the comments below!


[go_portfolio id="organized_hostess"]