We like to believe that it is our biggest rooms that have the greatest impact when it comes to decorating, but I find that it's the small spaces that I love to makeover the most. First off, who says a small space can't have a big impact? And then there is the benefit of completing a small makeover in a day or two and feeling that sense of accomplishment with a fraction of the money in a fraction of the time. 


Let me start by saying that there was nothing terribly wrong with the function of this bathroom. It functioned just fine, and I suppose some people would have liked the wallpaper. However one of my little girls took it upon herself to be "helpful" and prematurely peeled the curling wallpaper border along the base. *sigh*…kids. I suppose that means it's time for a makeover, and guess what little person has to do most of the low wallpaper peeling? Do the crime, do the time!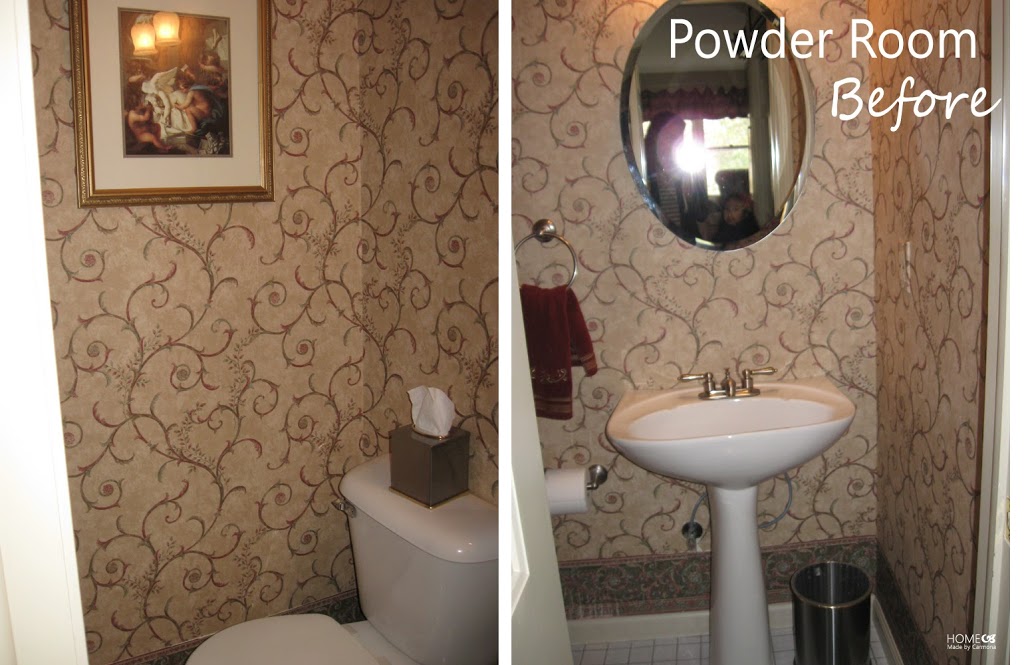 Wallpaper removal took a grand total of 2 hours using some simple steps you can read about here.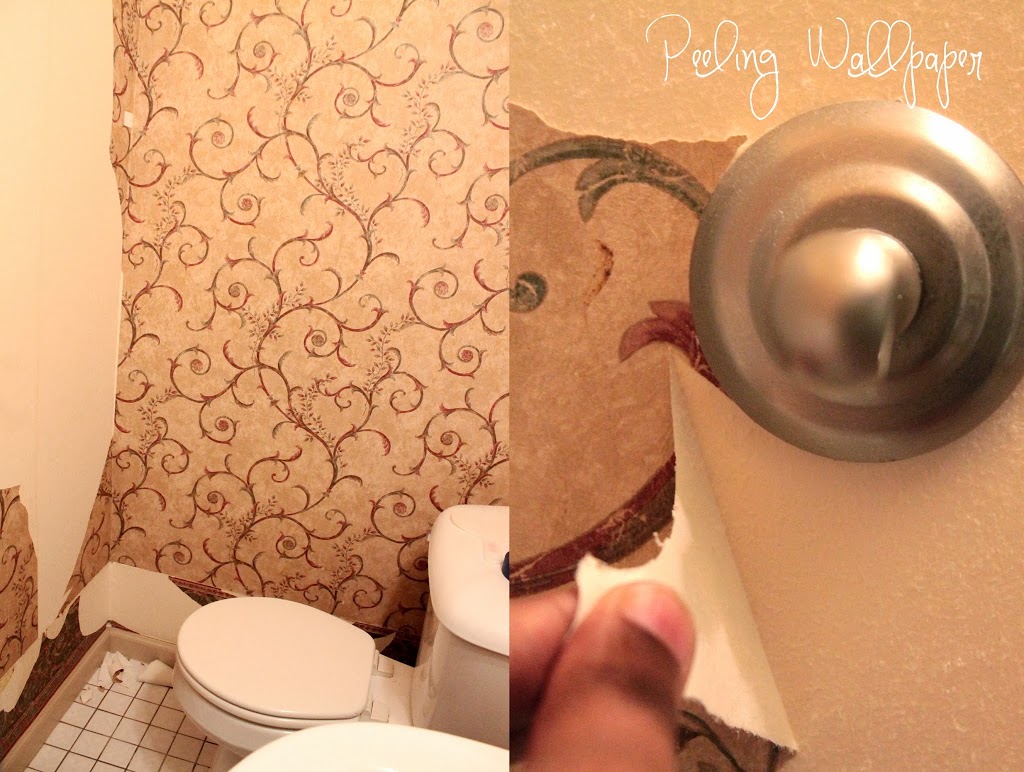 Lately I've noticed I seem to have gained an obsession with dark walls…I've probably pinned a hundred incredible photos of gorgeous charcoal and navy colored rooms! Mmmmmm, a nice dark navy with big bold pieces of gold leaf art…. *drool*  Well I decided to indulge that obsession, just a little bit. *grin* It's a small space, so it can't hurt! You can imagine how thrilled I was to find a deep blue Glidden paint color in the oops/discount section at Walmart for $12… yes, that is 50% off the regular price! Cha-ching!!
Of course, those big blue walls just don't do justice without being complimented by some art to make them both pop. I found deeply discounted frames at Joann's Fabric Store and spray painted them with Krylon metallic gold paint.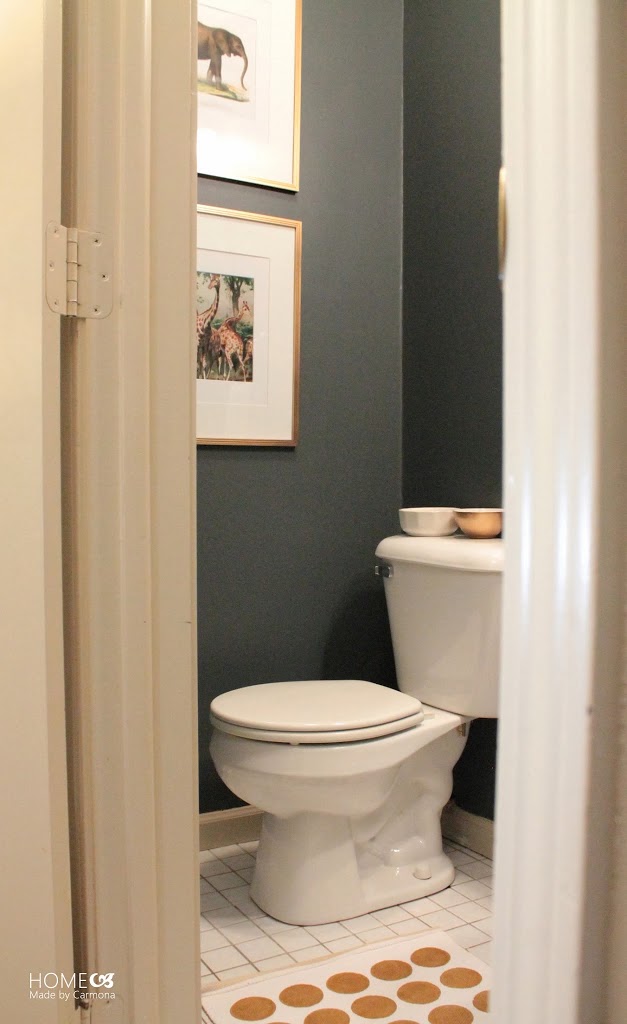 These lovely prints I found free online at vintageprintable.com . For the elephant print go here, for the giraffe print go here.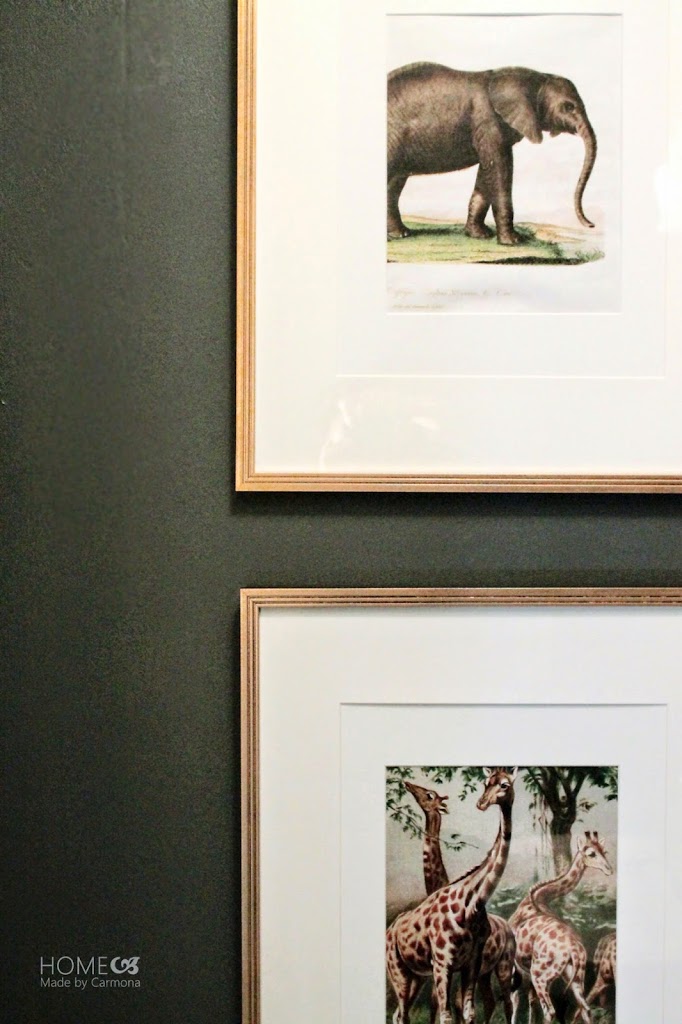 Accessories
Target is my kryptonite. You should have seen me with my little $10 Mypoints Target gift card, flying around the store in a blissful tizzy, my 3 kids in tow. I kept putting items in the cart, then running them back when I found something I wanted more! *giggle* 
I finally settled on this marble salt bowl priced at $3.98 marked down from the original $7.99. Forget the kitchen, this would be my ideal soap dish!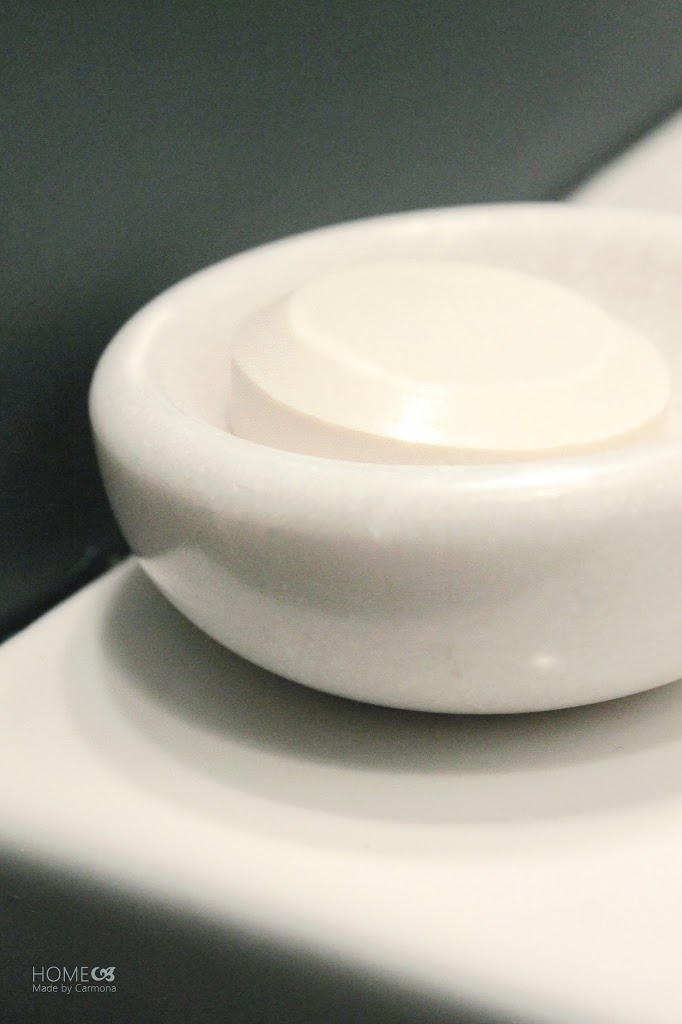 I also found this awesome metallic soap dispenser at Target for $12.99, but it rang up for $9.99, and when I told the cashier, she just shrugged and said "that's what it rang up for". Be still my frugal heart! *beaming* After using my $10 gift card, I only had to pay for the marble dish and the rug!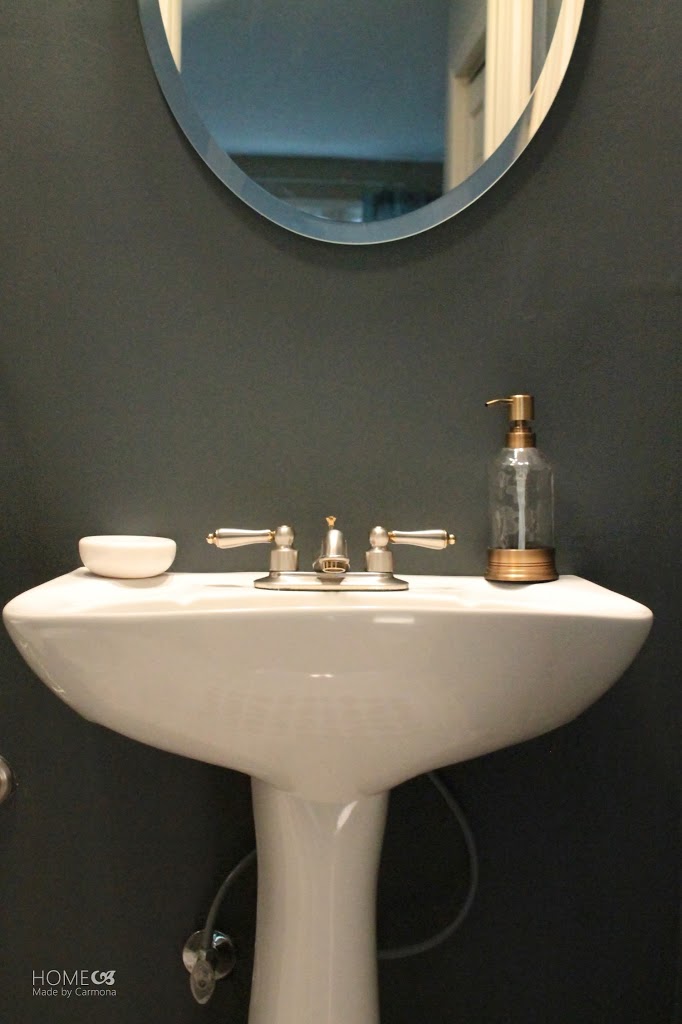 While working on the upstairs bathroom I painted some

decorative bowls

a gorgeous metallic gold, and while my trigger finger was gold paint poised, I painted one extra little Goodwill bowl just for good measure (or because I'm now obsessed with this gold paint…you choose)
.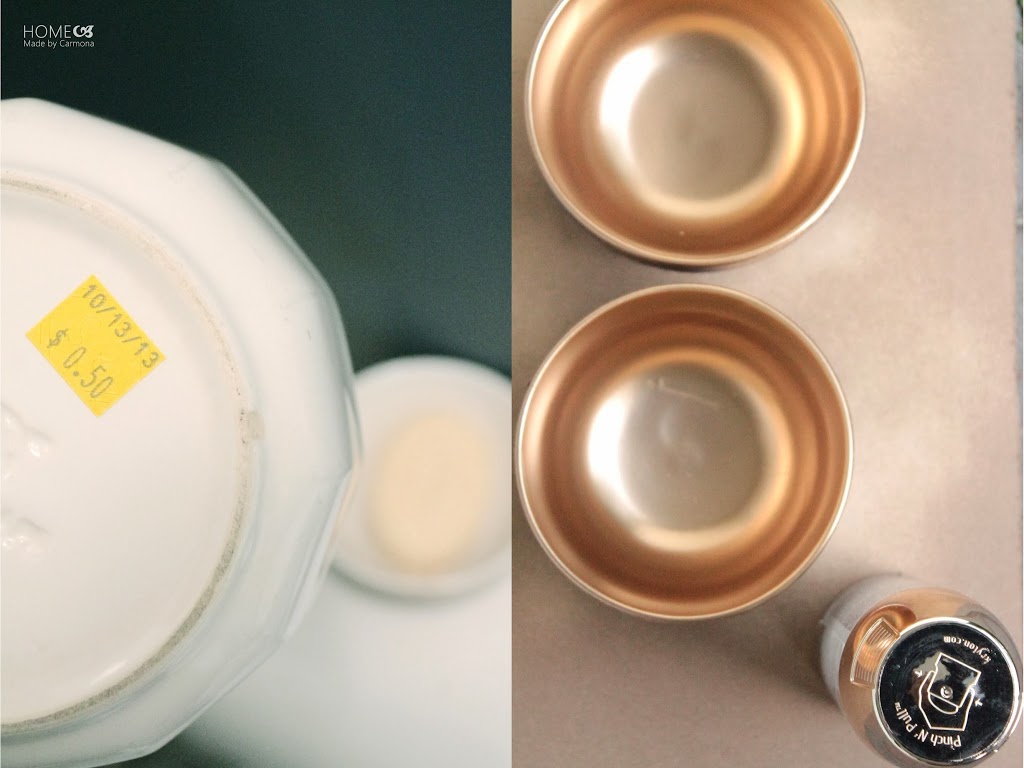 I had such a great time making 

DIY Lulu & Georgia inspired rugs

for both of my bathrooms, but I particularly love this Dot rug. Thanks again to Target's kitchen section (ha! there is more kitchen in my bathroom than bath goods!), I was able to find a plain mat for $7.19… that makes this DIY rug an inexpensive winner at $9!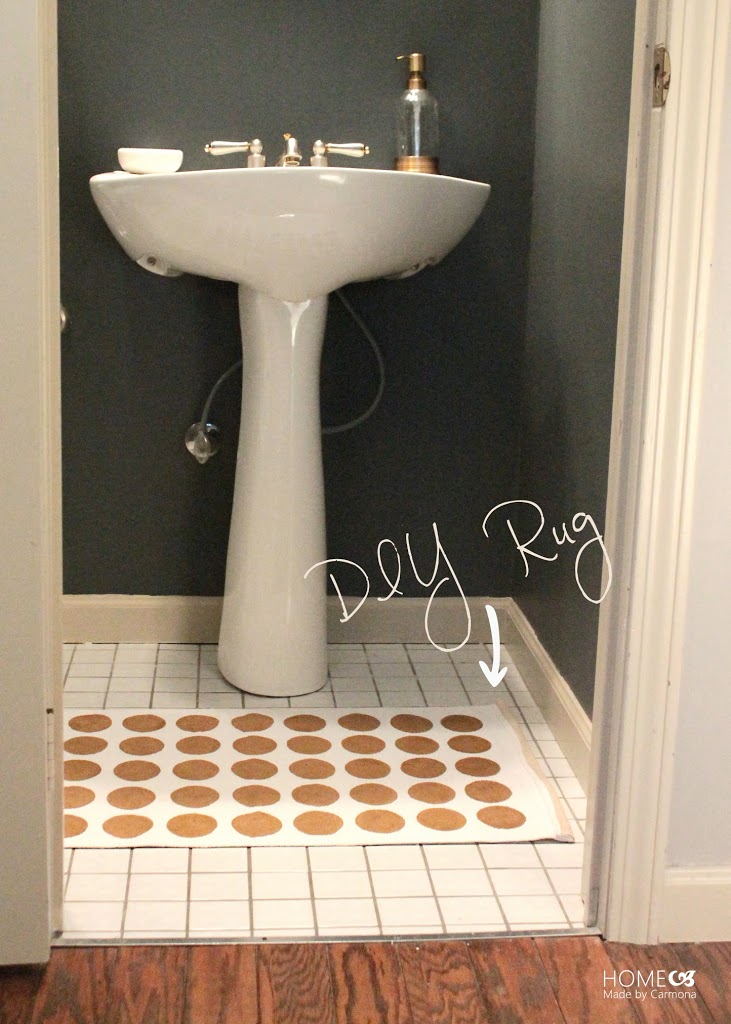 Powder Room Budget Breakdown: 
Keep in mind that I just made-over my girls Jack & Jill bathroom on $83, so this bathroom needed to be…well, cheap. Here are all the details on how I refreshed this little 1/2 bathroom on a total of $36!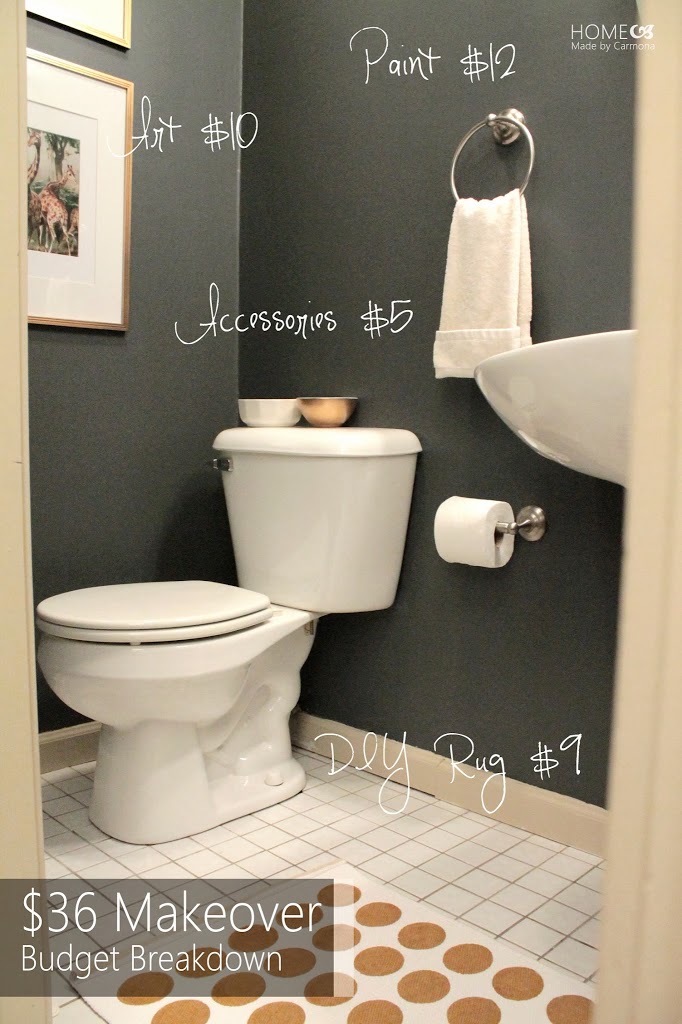 Bath Rug – $9: Target rug, $7.19 (after 10% reduction for damage). Folkart acryllic paint from Walmart $1.77.
Wall Art – $10: 2 frames from Joann Fabric Store (60% sale off + 25% off coupon) @ $4.89 each. Prints $0 (prints found online, Staples enlargement 49 cents each before staples rewards).
Accessories – $5: 1 soap dispenser from Target $0

 ($9.99 before using a $10 Mypoints gift card to Target)

. 1 marble salt dish from Target (marked down) $3.98 …(minus a 5% discount)

. 2 bowls/dishwear from Goodwill 50 cents each.

Wall Paint – $12: From the "Oops" discounted section at Walmart (was 50%)
Miscellaneous Project Materials – $0: Already owned. Includes painting tools, and spray paints.