Make the most of the cool weather by creating a beautiful firewood holder, and enjoying a warm fire!
The winter can either be miserable or magical. In my mind, nothing is more magical than a cold evening spent curled up in front of a fire with a cozy throw and my favorite book.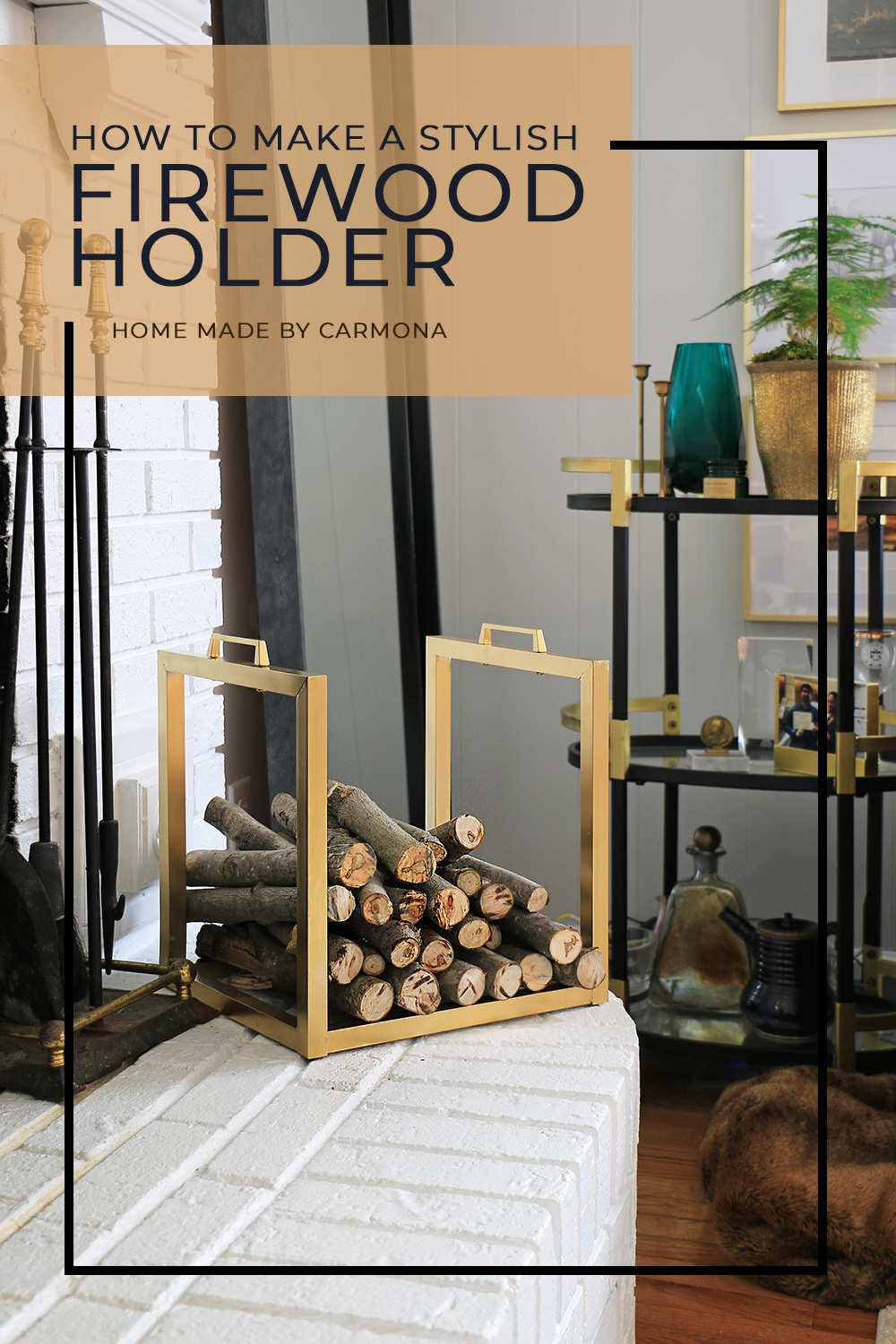 *This post is awesomely sponsored by our friends at Bernzomatic!
The problem? The days I want a fire most I've often forgotten a key element… stacking a bit of wood in the house so it doesn't get rained on. Let's just eliminate that problem right off the bat with an attractive and handy firewood holder!
And when fireplace season is over, put this simple beauty to use as a chic book holder for those oversized books!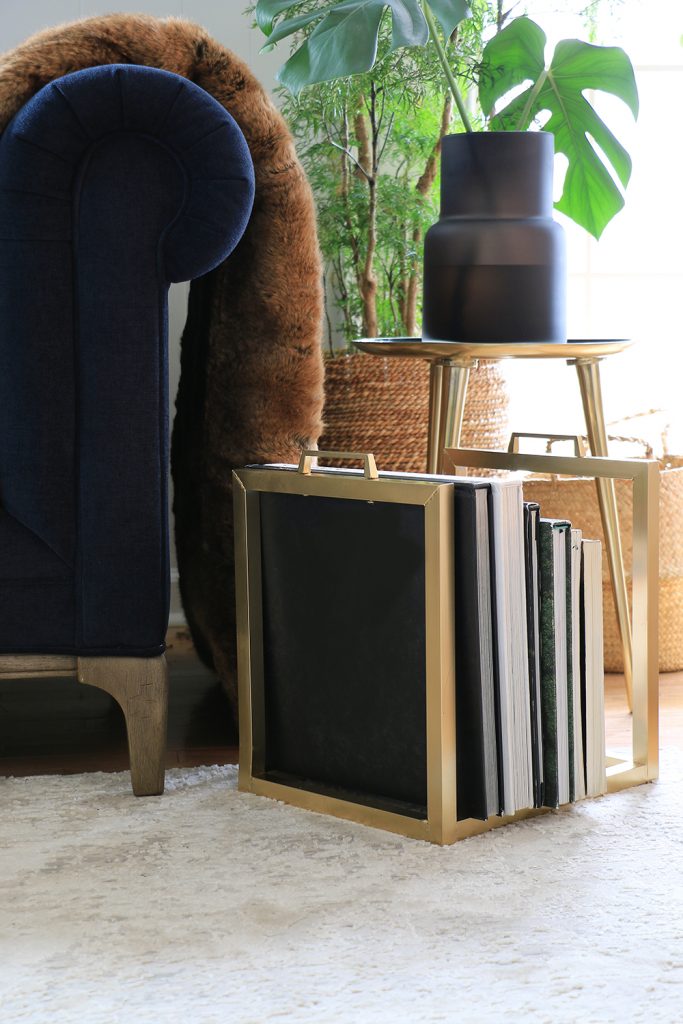 Watch The Tutorial:
Here's What You'll Need:
Aluminum Soldering Tips
This firewood holder is made using aluminum, and soldering aluminum is just a little different than brazing or soldering other alloys.
The trick to a strong connection is to heat the aluminum until it is hot enough to do the work of melting the aluminum brazing rods. In my last project I brazed steel using bronze flux coated rods, and in that case I heated the brazing rod at the same time as the surface of the steel. This time, I am not heating the brazing rod at all, but allowing the heated surface to do all the work.
Ensuring your aluminum is properly cleaned is also an important tip for a for a strong connection. Use a metal brush to clean the connection points, and acetone to wipe it clean.
Firewood Holder Steps
Step 1: Cut Aluminum Tubes
You can use your favorite metal cutting tool to chop the aluminum square tubes down to size. That can range from an angle grinder with a cut off wheel, a chop saw with the appropriate blade, even a jigsaw with a metal cutting blade could be used in a pickle, and more…
Here is your cut list:
(2) Top: 11″ (from point to point) – 45-degree cuts on both sides
(4) Sides: 13″ – 45-degree at the top, and straight cut at the bottom
(2) Bottom: 9-1/2″
(2) Connecting Tubes: 12″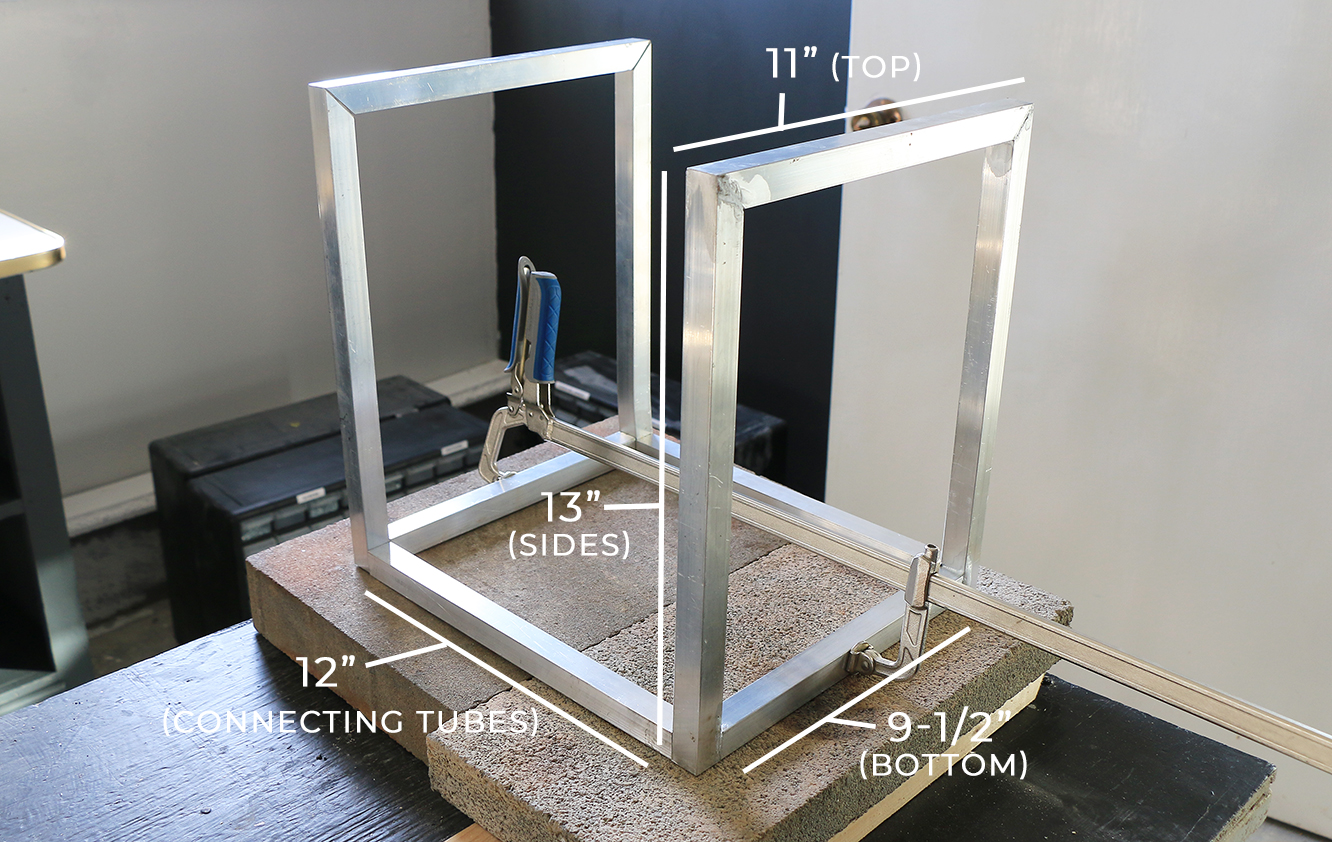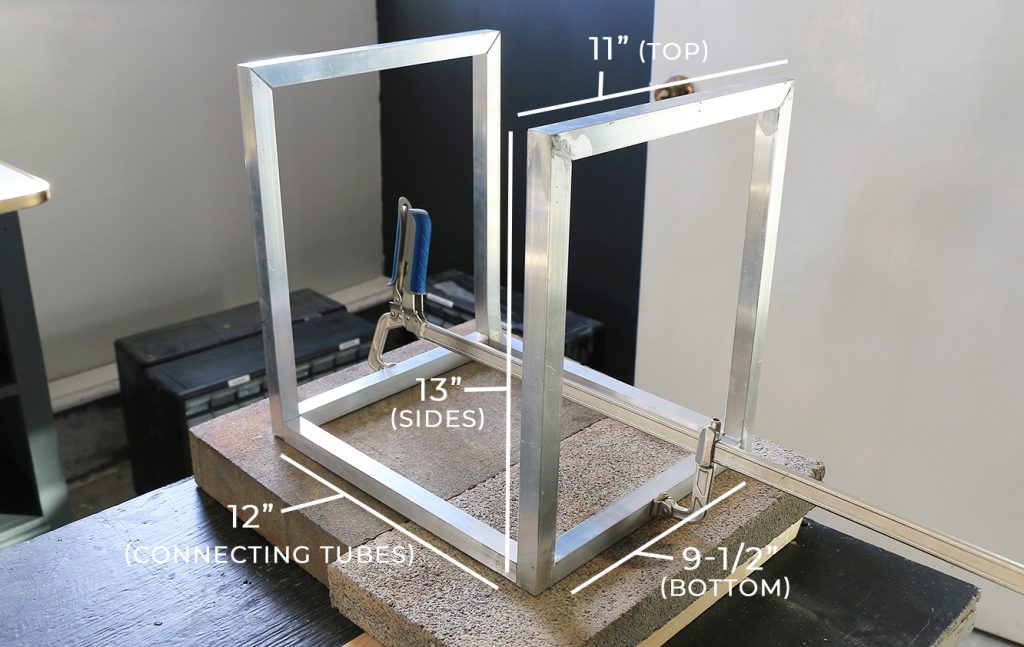 Step 2: File & Clean The Aluminum
File any rough edges, and optionally file a small channel for the brazing material to fill. Do that by filing a slight angle into the connecting edges.
Only file a channel for two sides per tube: If this is your first time working with aluminum, it is recommended that you plan to solder only two connecting points per side. You won't solder all four sides of the connecting point, just two. It will be more than adequate in strength for this project, and for newbies it's easy to break the previously soldered point when heating the back side.
As mentioned before, be sure to use a metal brush all along the edges you cut and filed. And don't forget to clean up the aluminum tubes with acetone.
Step 3: Clamp In Place & Solder Sides Together
Your ideal worktop will be a small one that can accommodate high heat. If you can create a raised top to clamp all four sides to your worktop (rather than to each other), that is best.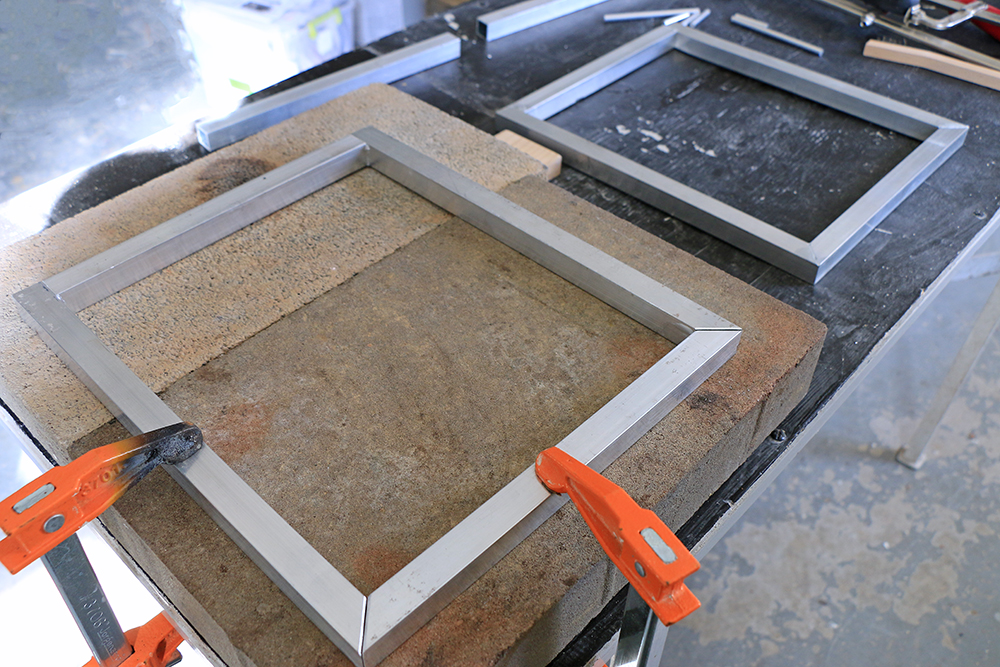 But if necessary, you can also clamp 2-3 sides to the workbench, and use a long clamp to hold the other piece together as show below.
**IMPORTANT NOTE: Do NOT clamp tightly. As the aluminum heats it becomes pliable, and the clamp will cause your aluminum to bend. You don't want that. Clamp pieces as loosely as possible while still maintaining a hold.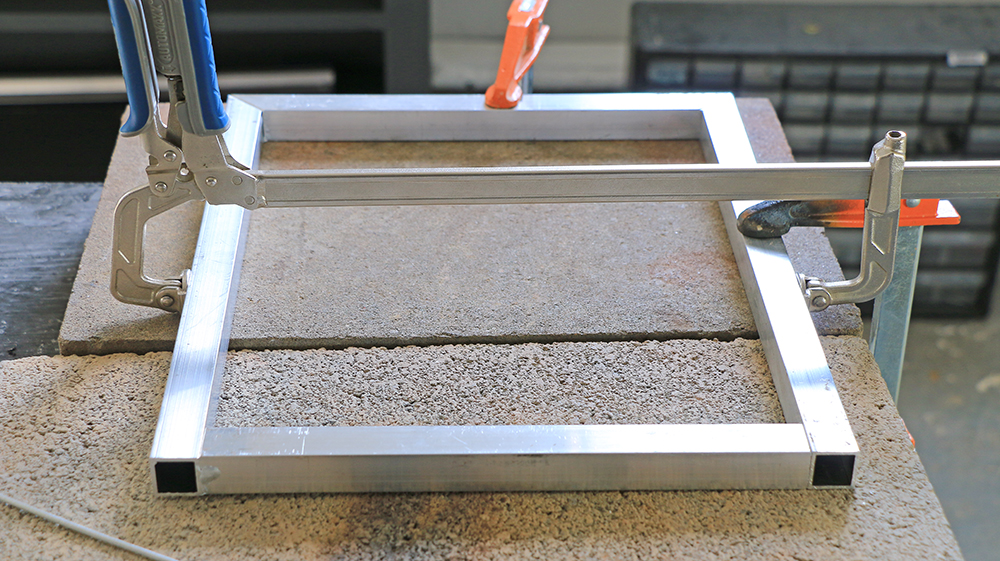 Use your Bernzomatic torch to heat the aluminum on one corner. Once the aluminum is hot enough, IT will do the work of melting the aluminum brazing rod. It can take several minutes to get it hot enough, but after the first corner is heated, the other corners will heat faster because the heat spreads across the entire work surface.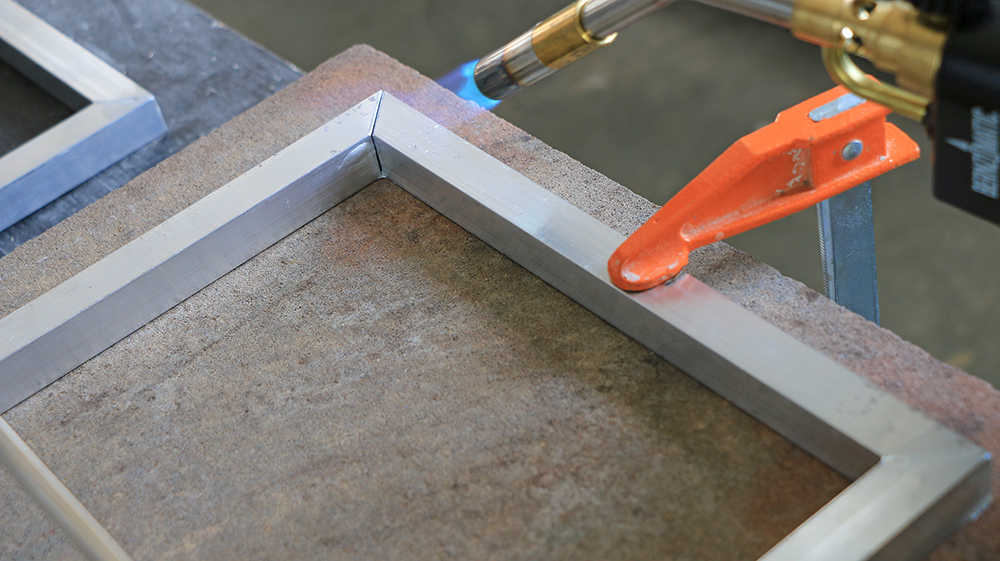 You'll have to touch the aluminum brazing rod to the surface several times to see if it's ready, and act quickly to drag it across the desired joints before it cools.
Step 4: Add Connecting Legs & Paint Once Cool
Now that you have two rectangular sides, it's time to add the connecting pieces. Again, if you can, clamp the pieces to the worksurface rather than to each other.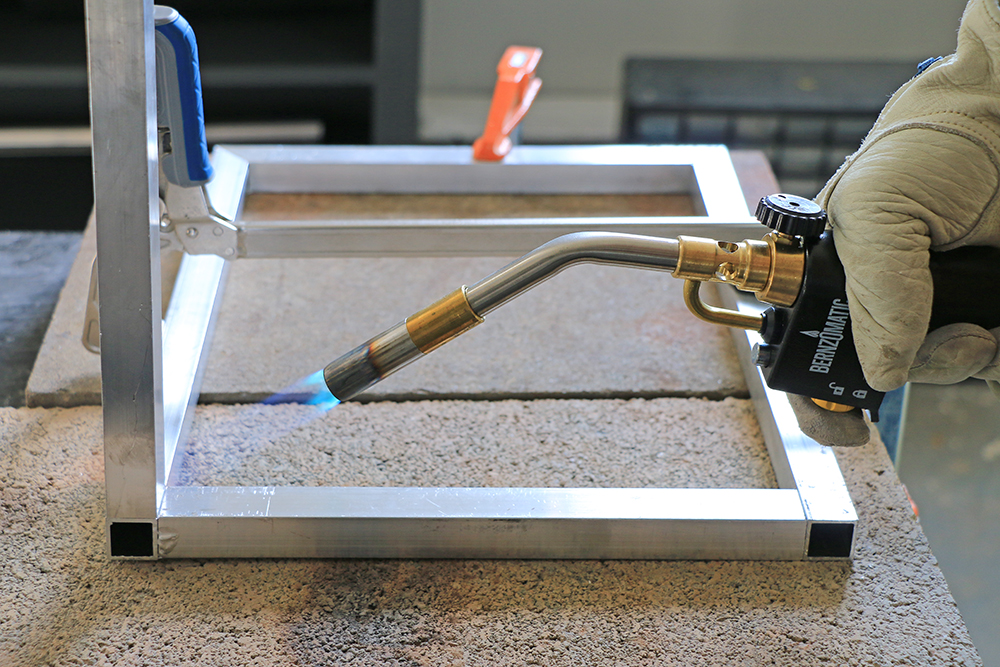 It will take quite a bit of time to cool, but once it is cool spray paint your firewood holder.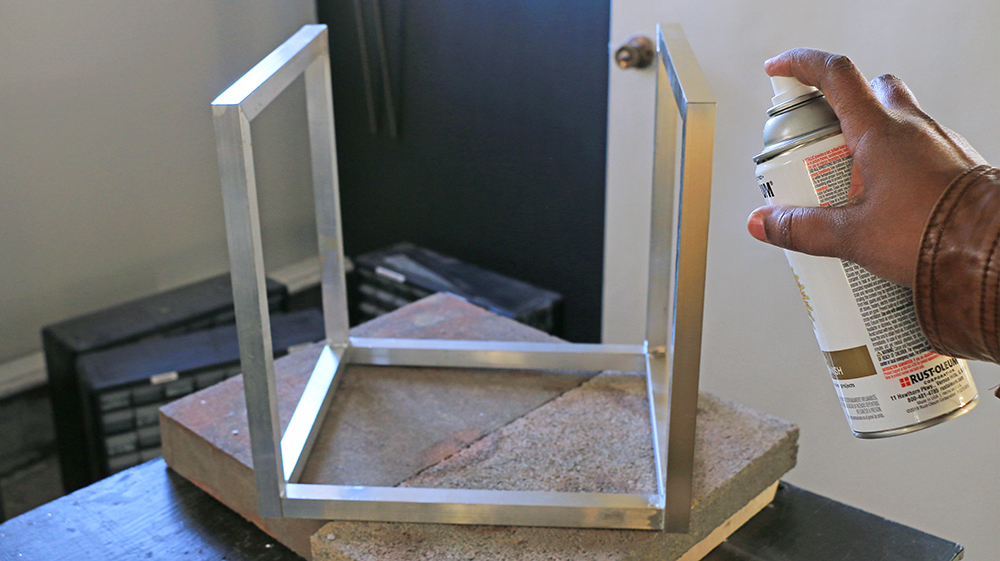 Optional Step: Add Handles
I'm sharing this step last because it is optional, but really the best time to do this is in step 1. Do it right after you cut your pieces, and before you file rough edges and clean it.
In the two 45-degree cut top tubes, drill holes for pulls of choice. Any drill bit will likely do, but a cobalt bit is helpful for dissipating heat. Still, be sure to wear gloves while drilling your holes. It can heat the entire aluminum tube!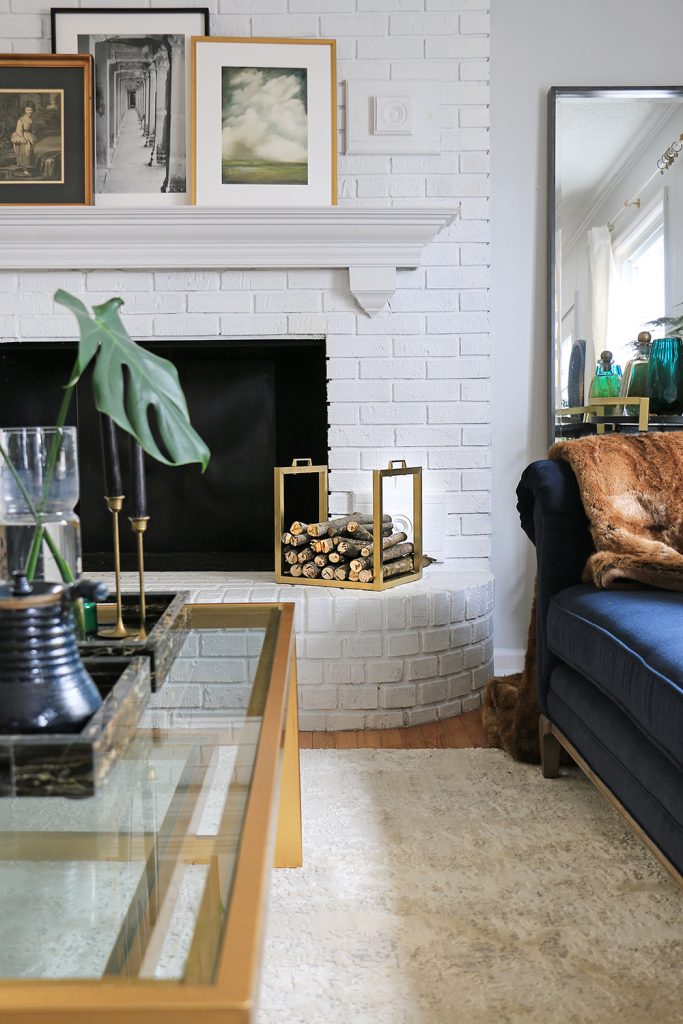 Now enjoy your beautiful new firewood holder / oversized book holder! If you sew a fabric insert to hang on the handles, you could even use it for smaller books and magazines.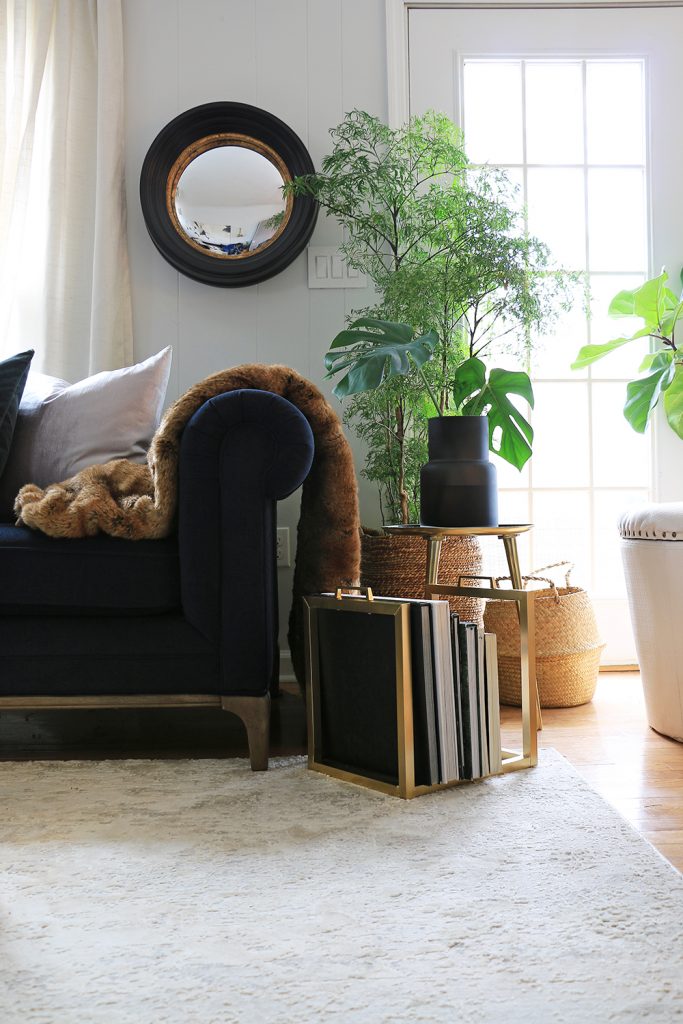 It's a simple, but chic design that fits perfectly into any space! You can even customize it to the size that works for you in your home.
*Special thank you to Bernzomatic for sponsoring this project!


[go_portfolio id="diy_gallery"]