A great way to bring style into the outdoor spaces, is to dress up those exterior walls! One way I'm doing that is with a stylish wall trellis, and some vining plants.
Pssst. It's also a great way to conserve space if you happen to have a small garden. Try trellising plants up the side of your house, shed, or fence. It adds both visual interest, as well as saving space!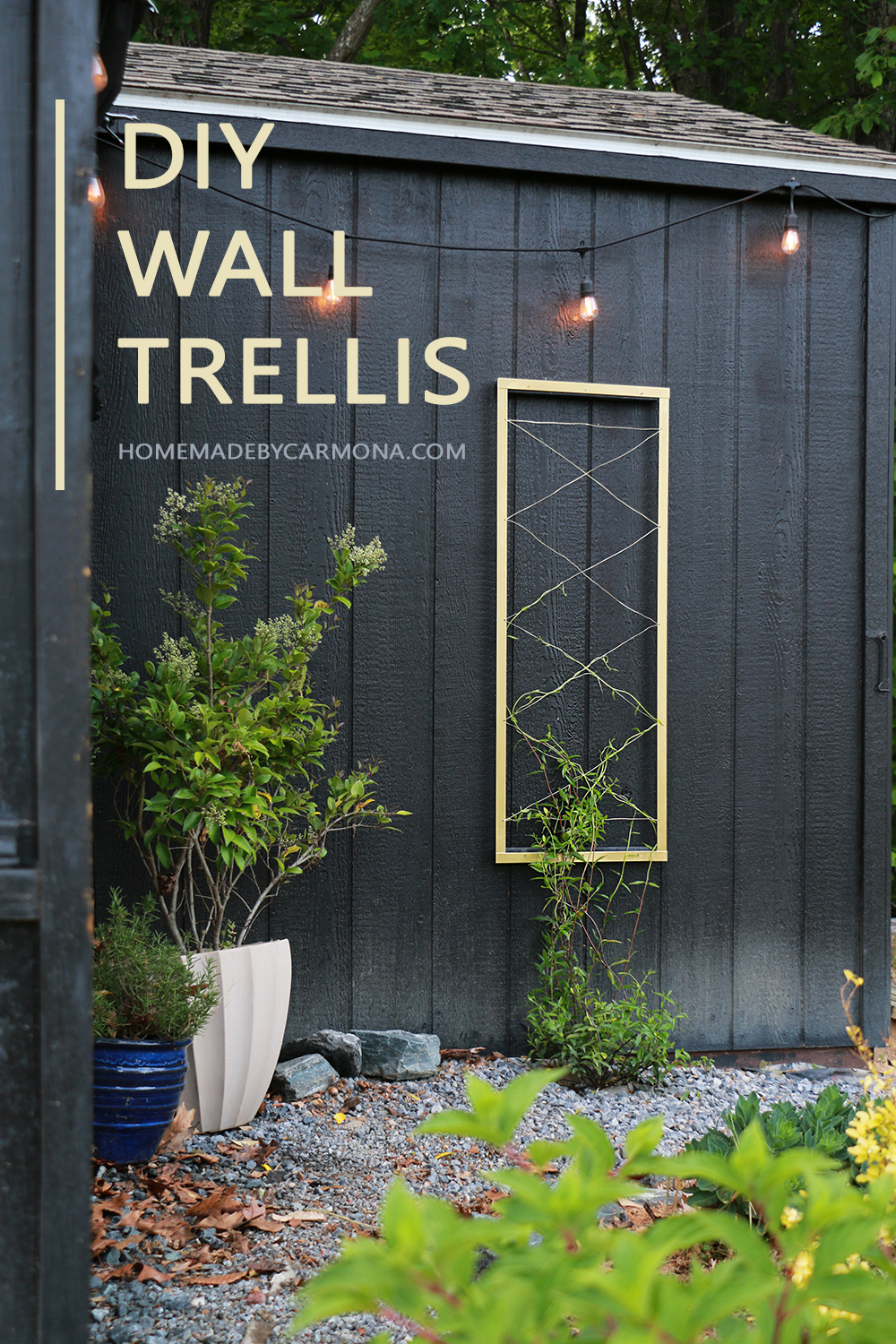 *This post is kindly sponsored by our friends at Bernzomatic!
This trellis is an excellent project for those who haven't ventured into metalwork before. It's an easy no-weld project to get your feet wet into the world of torch use!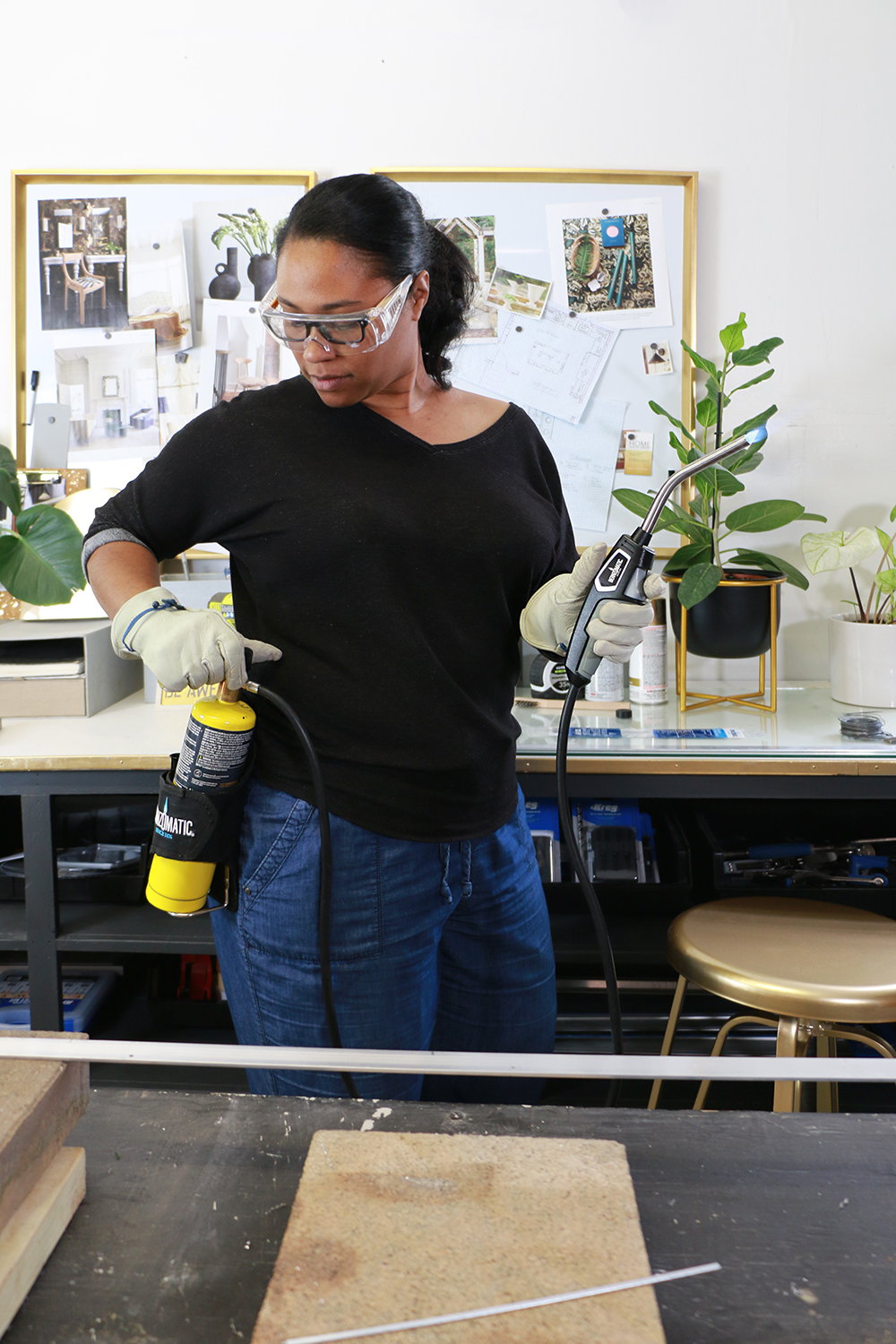 I'll be using my Bernzomatic BZ8250 Hose Torch with the MAP Pro fuel. This particular torch is perfect for large diameter soldering, and for use whenever I need to tilt or invert my torch.
Other Supplies
(2) 1/8″x1″x48″ Aluminum Flat Bar
(1) 1/8″x1″x36″ Aluminum Angle Bar
Picture Frame Wire
Watch The Video Here, Then Read Tutorial Below:
1. Measure & Mark
Start by marking the areas to be cut, and to be drilled. The angled bar is the only piece to be cut, and should be marked at the halfway point of 18-inches. Be sure to differentiate this 'to-cut' mark from the other marks by drawing a long line across.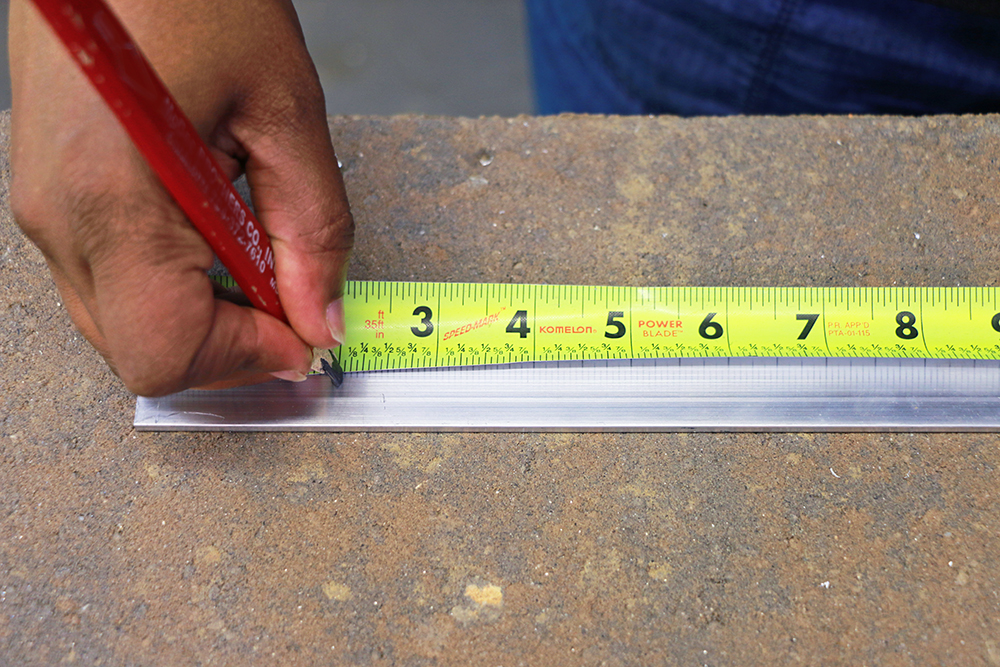 Mark these increments with an 'x' for drilling:
The Angled Aluminum Bar: Mark 3-inches from the end, then 3-inches from the other end. The last mark should be center at 9-inches.
The Flat Aluminum Bar: Place the first mark at 4-inches, then every 10-inch interval until you reach the end. Place those marks a 1/4-inch near the edge.
2. Cut Pieces To Size
Aluminum is a soft metal and you can use a variety of cutting tools. I am using my miter saw with a medium toothed blade to cut through.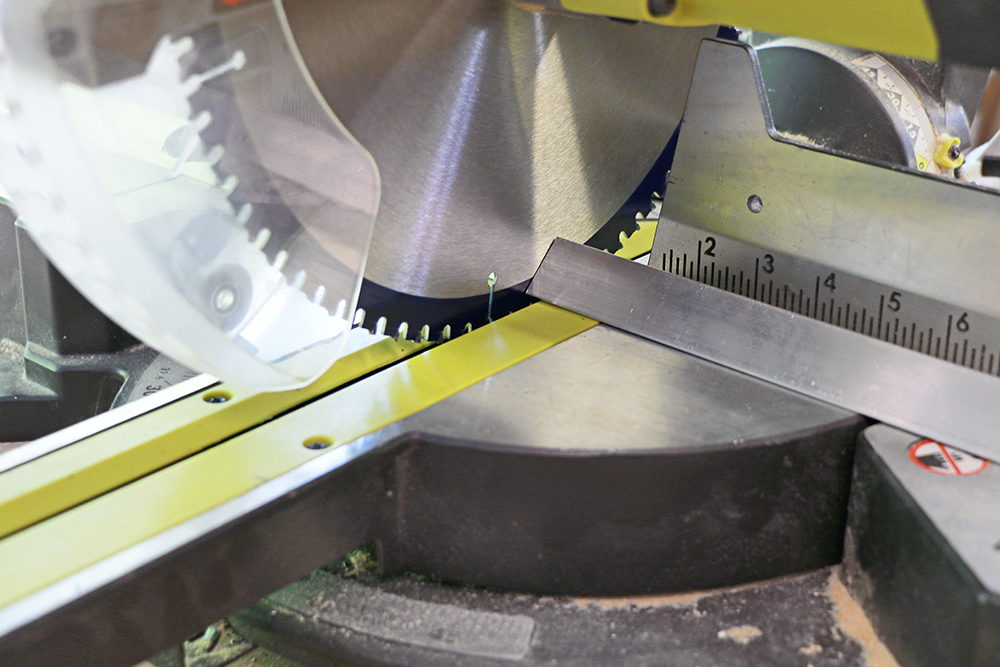 The angle bar is the only piece that needs to be cut in this project. It will act as the top and bottom piece to your trellis. Take your time and cut slowly!
3. Drill Holes
Both the angle bar and the flat aluminum bar will require holes drilled along the length of it. You've already marked where to drill, so go to it!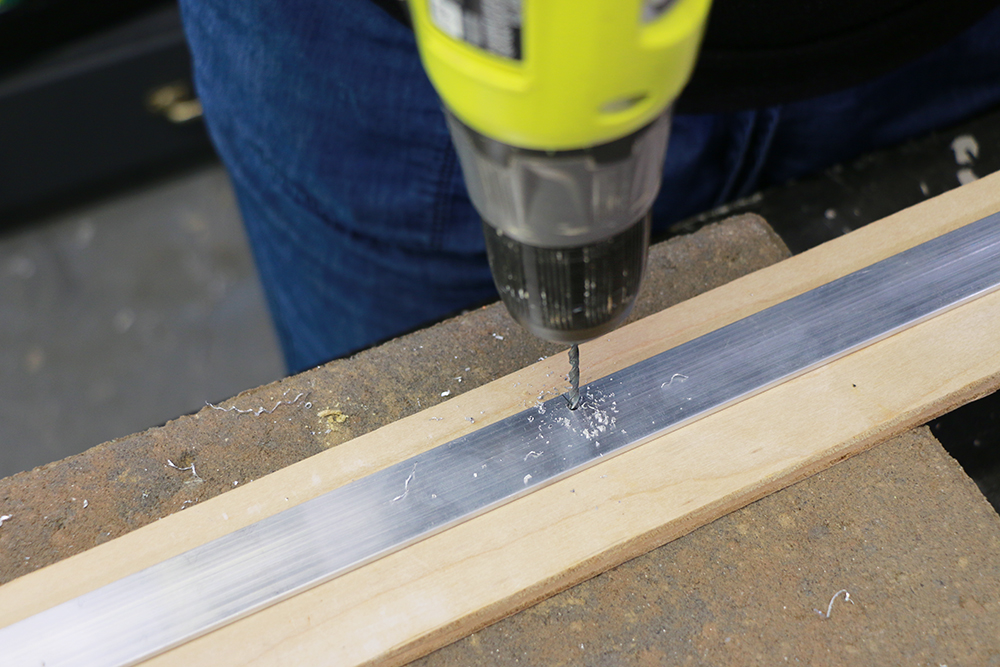 The best bit for aluminum is a strong cobalt bit in a 1/8″ – 1/4″ diameter. You will be pulling your picture frame wire through this hole, so file any rough edges.
4. Arrange Pieces & Clamp
Lay out the pieces by overlapping the flat side pieces onto the angle pieces to make a rectangle. (View image below)
All holes should be placed closest to the center of the trellis.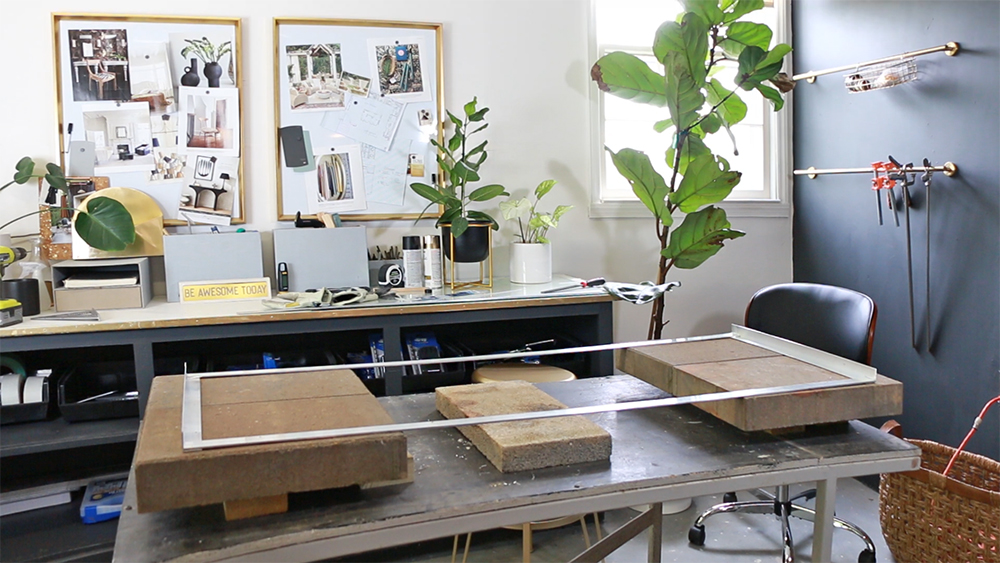 Lightly clamp the flat side pieces to the work surface. The raised concrete blocks will make clamping easier…simply clamp to the blocks (upside down).
IMPORTANT: Do not clamp tightly! When the aluminum is heated, a tight clamp can cause it to bow.
Use a speed square to ensure each piece is square before clamping.
5. Solder Pieces Together
IMPORTANT: The method to get a strong joint is to heat the aluminum trellis pieces until IT does the job of melting the brazing rod.
Be sure to heat all three points by which the pieces of aluminum meet. It may take several minutes to heat, and you will need to touch your brazing rod to the surface several times to see when it is ready.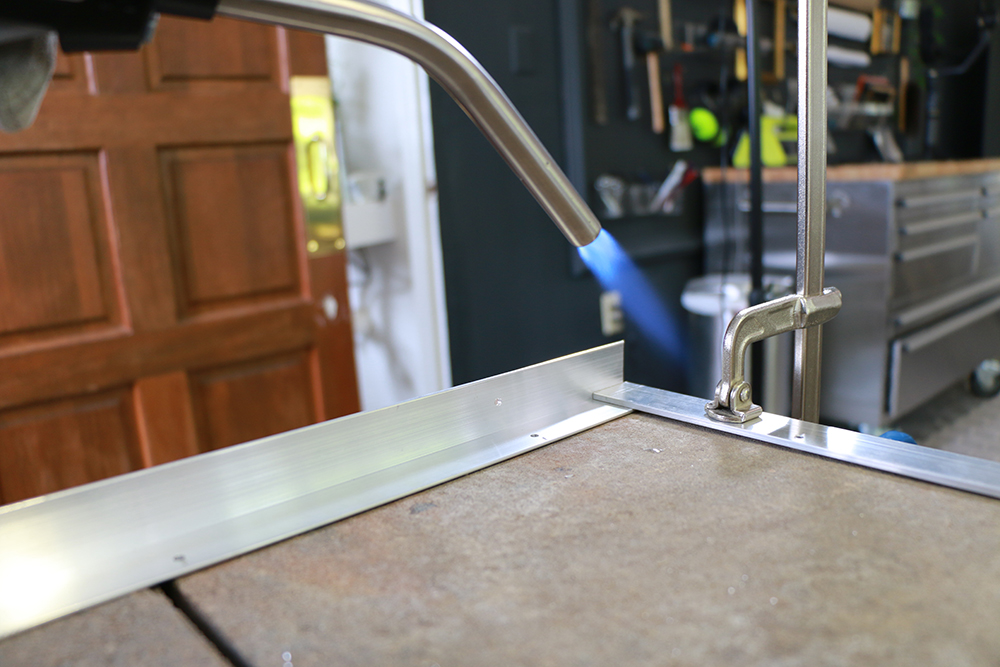 Once the trellis pieces are hot enough to melt the brazing rod, drag the rod along the joints.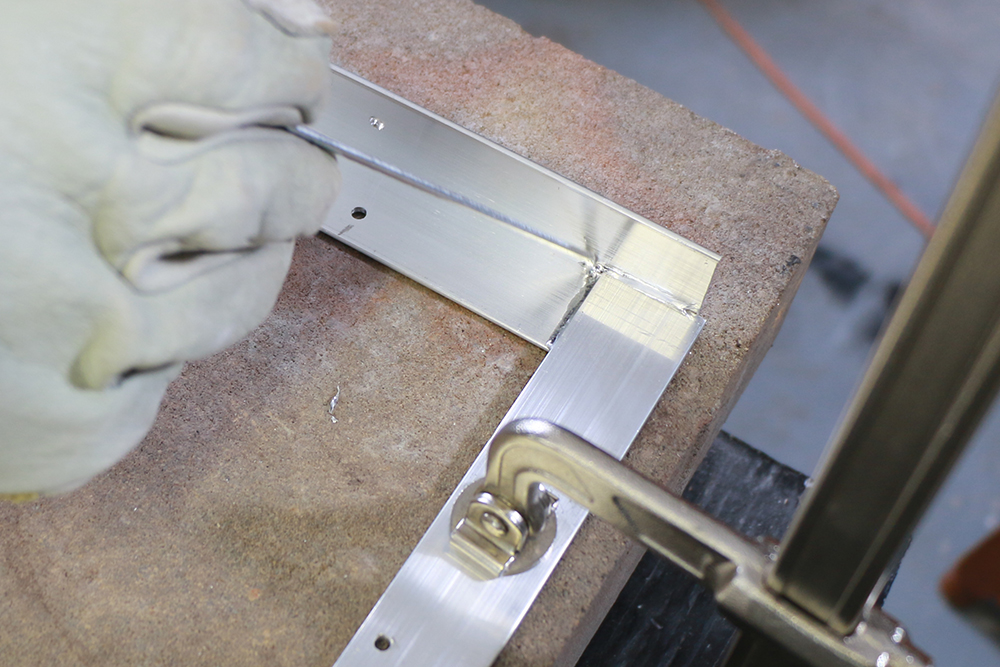 Repeat on all four joints, and allow it to cool completely before removing the clamps.
6. Loop Wire
Once the trellis frame has cooled completely, thread the picture frame wire through the drilled holes.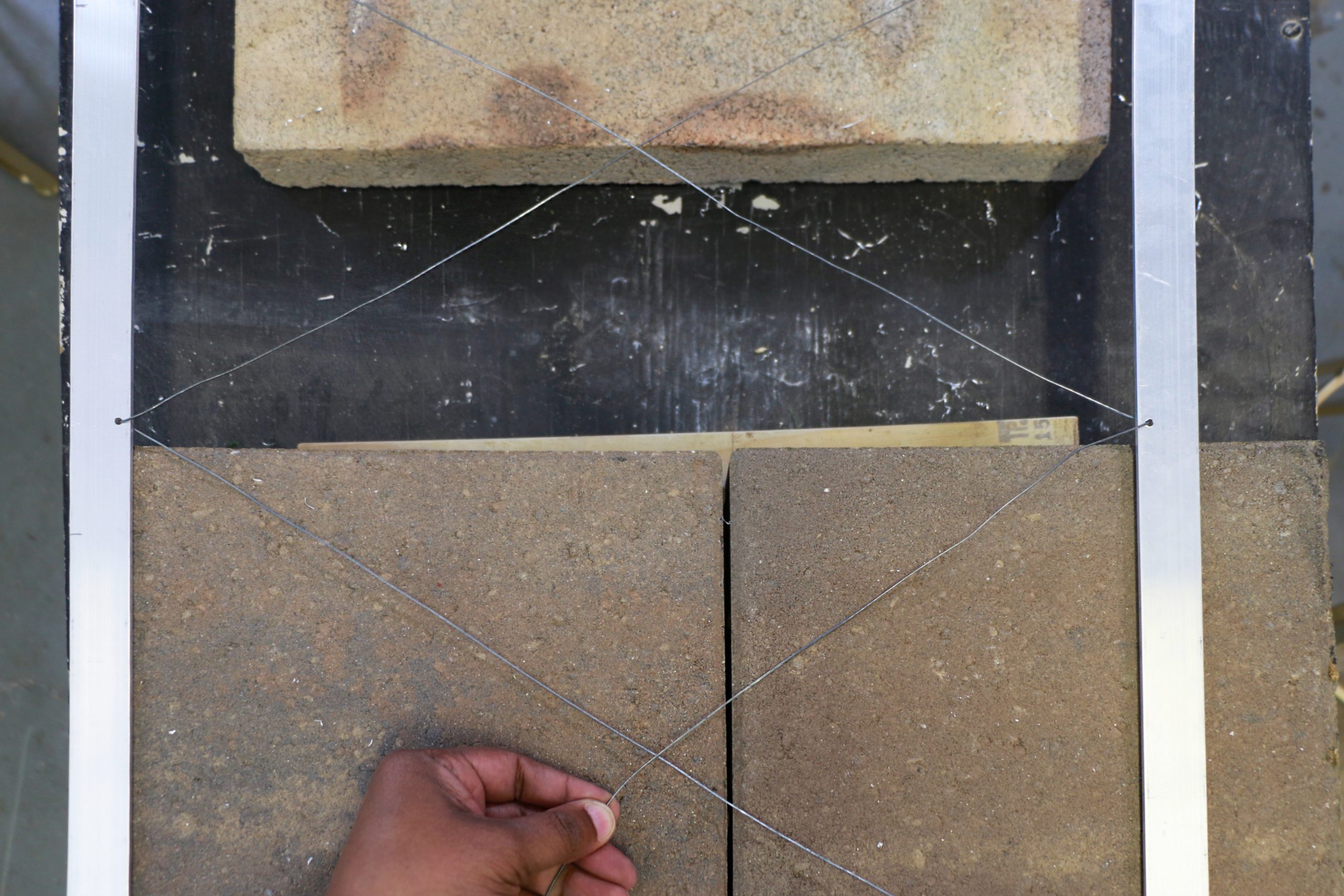 Crisscross for a traditional style, or draw straight across for a modern look.
7. Spray Paint & Hang
Optionally spray paint the trellis to your color of choice. Seal with a clear coat of spray paint rated for outdoor weather.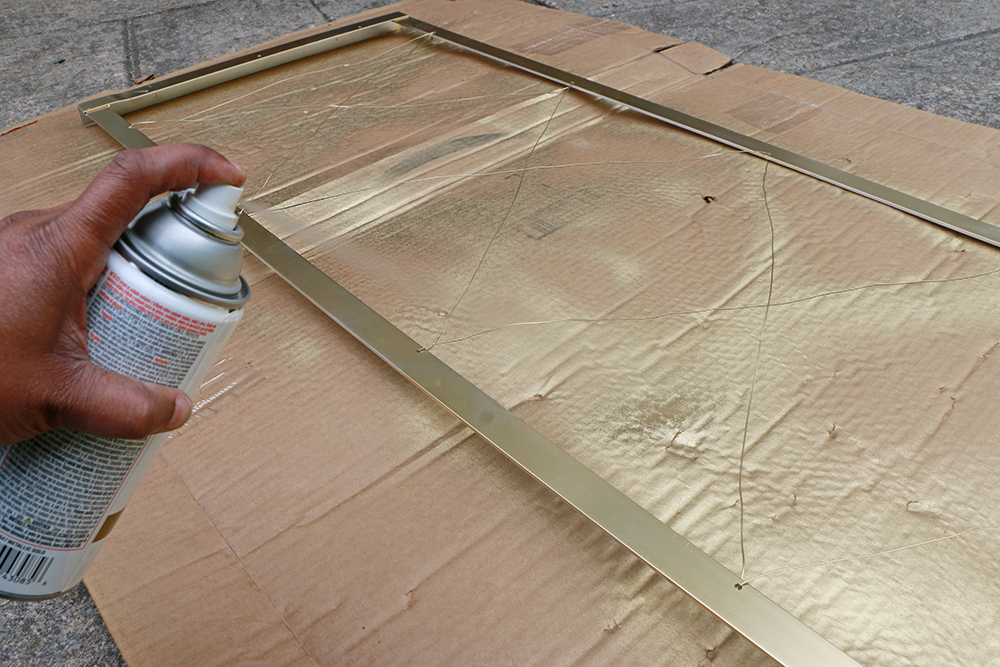 Attach 2″x2″x18″ wooden cleats to the wall and hang the trellis from the cleats. Secure to the wood with screws through the holes in the top and bottom pieces.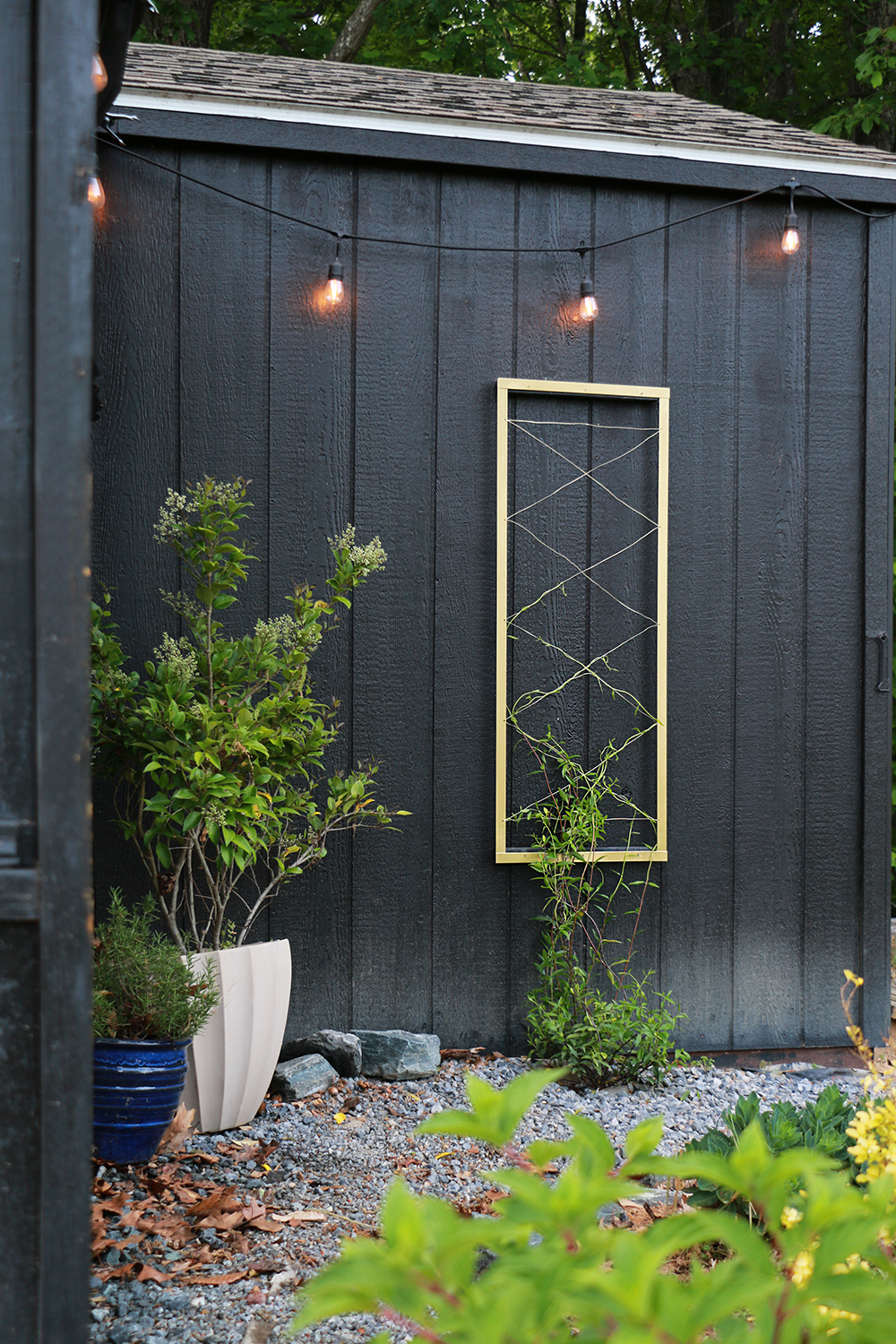 Enjoy Your New Trellis!
Your beautiful outdoor spaces will never look better with this wall trellis!
I know mine got a huge upgrade… I can't wait to see it once this flowering vine has a chance to grow to be full and lush!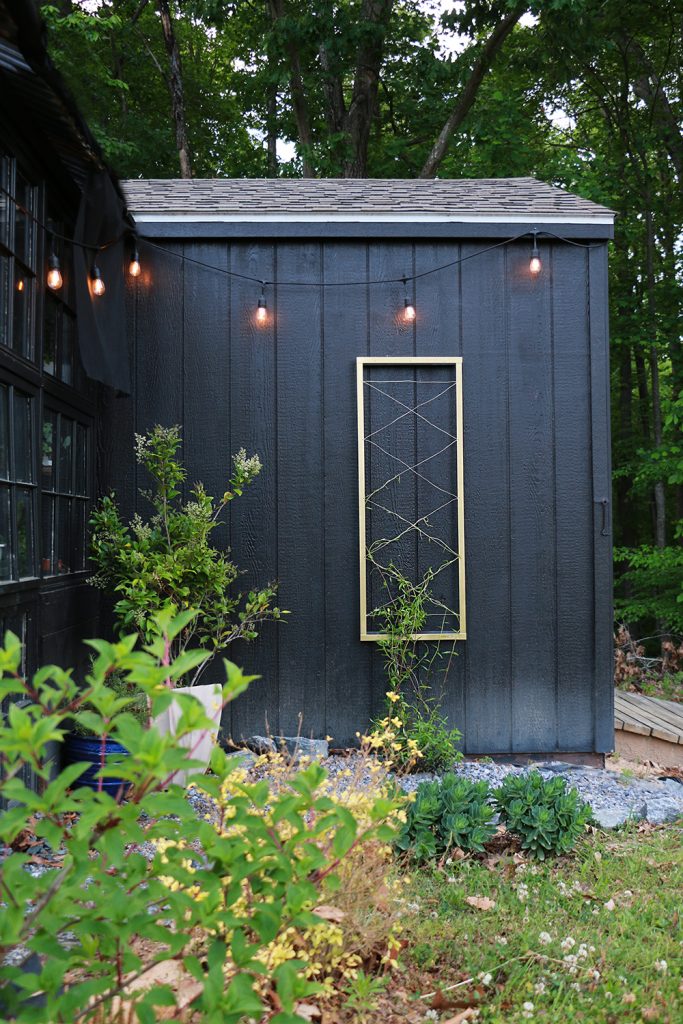 Looking for another amazing no-weld project? Check out this stylish firewood holder / book holder tutorial!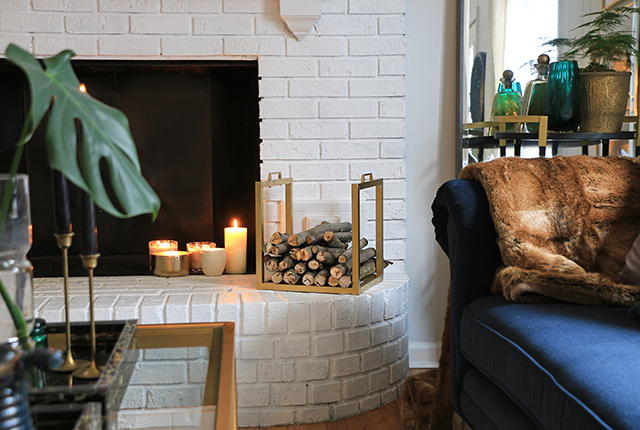 *Special thanks to Bernzomatic for sponsoring this post!