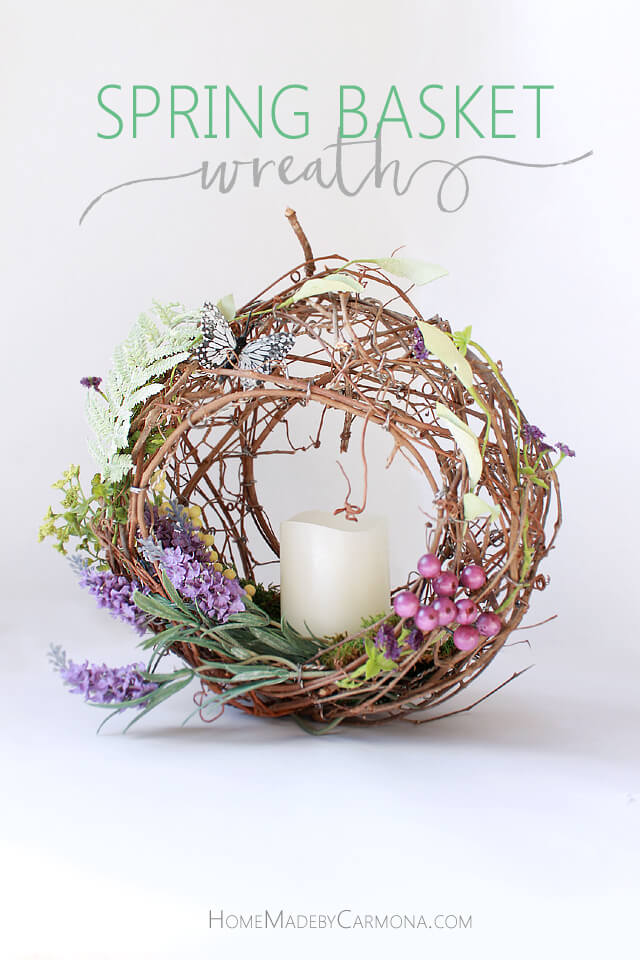 I love Spring. I've been waiting for Spring for what feels like forever…that happens when you live in the snowbelt and Jack Frost is nipping at your heels well into April. It's no wonder then that I am bringing bits of Spring into my life in every way I can!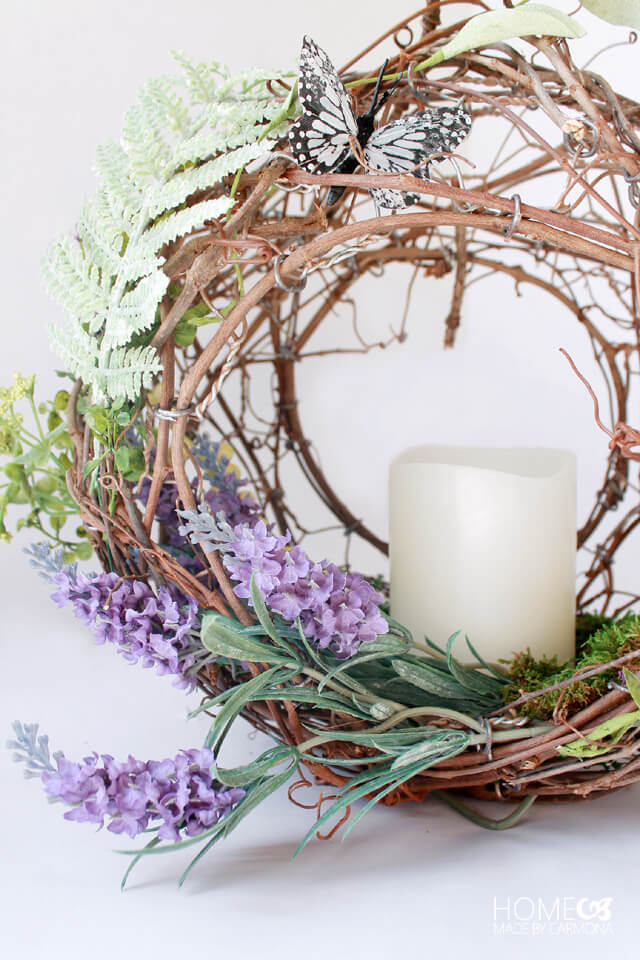 Can you believe this peekaboo grapevine wreath? SO cute! I was walking through Pat Catan's, and suddenly there she was. What a novel idea for a wreath, a basket wreath out of grapevines! I loved the idea, and could immediately picture it with flowers climbing the sides, and birds or butterflies adorning it.
Let's Make A Spring Basket Wreath!
Here's what you'll need: plus you can find sources at the bottom of this post.
The beauty of the peekaboo grapevine wreath is that they are so versatile. You could create a cute rabbit hole and stick a toy bunny inside, you can make a fairy dwelling, or keep it simple and place a flameless luminary inside. You could use it as a centerpiece, hang it from a tree as a birds habitat, or hang it on your door or patio. See? Versatile.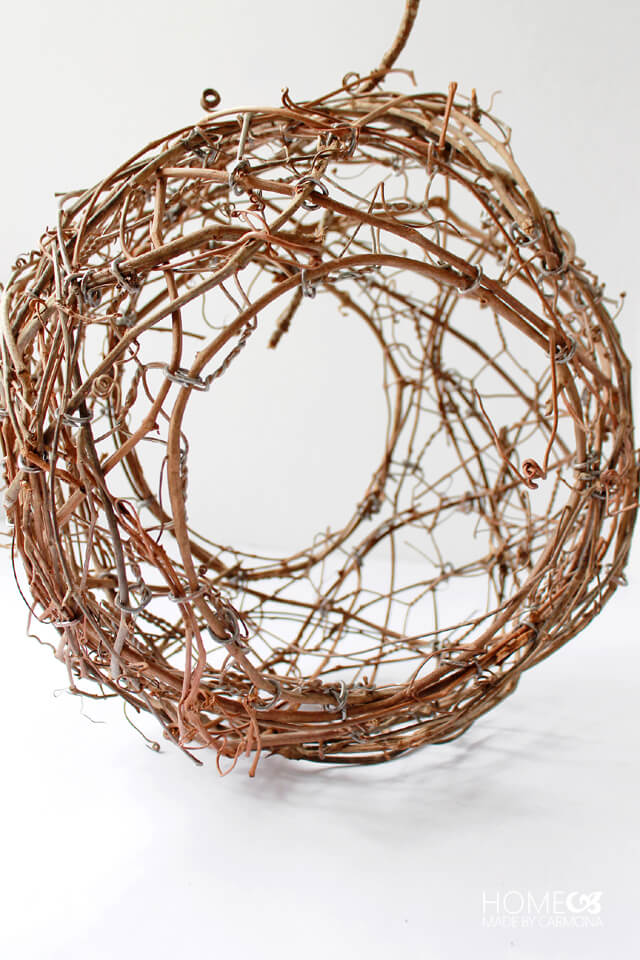 All we have to do is doll our wreath up a bit. Moss set down in the base makes for a beautiful bed to start off.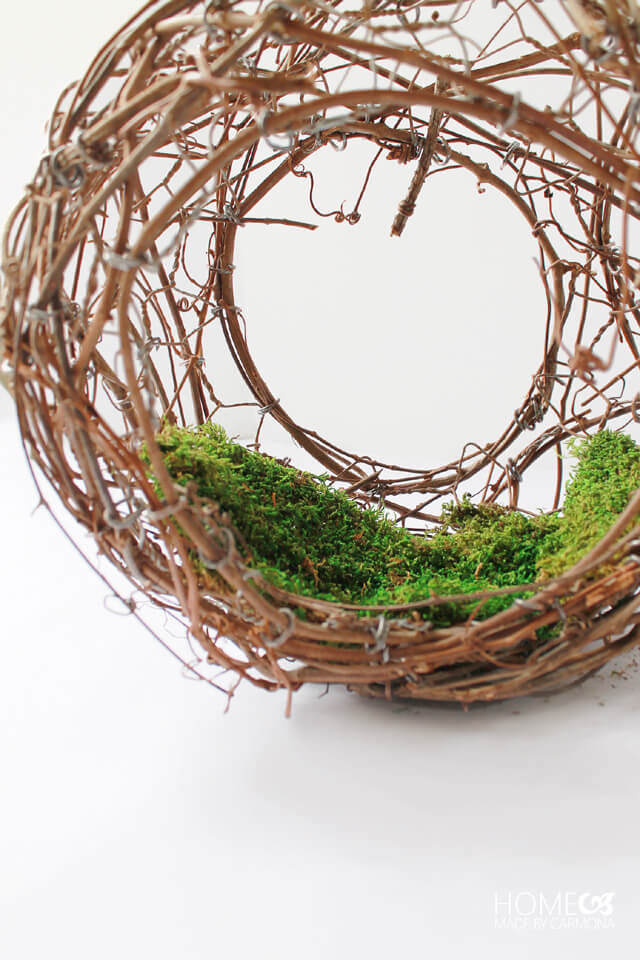 Add foliage to the sides to make it look as if it is being overgrown. You can weave pieces in through the wire loops that hold the peekaboo wreath together.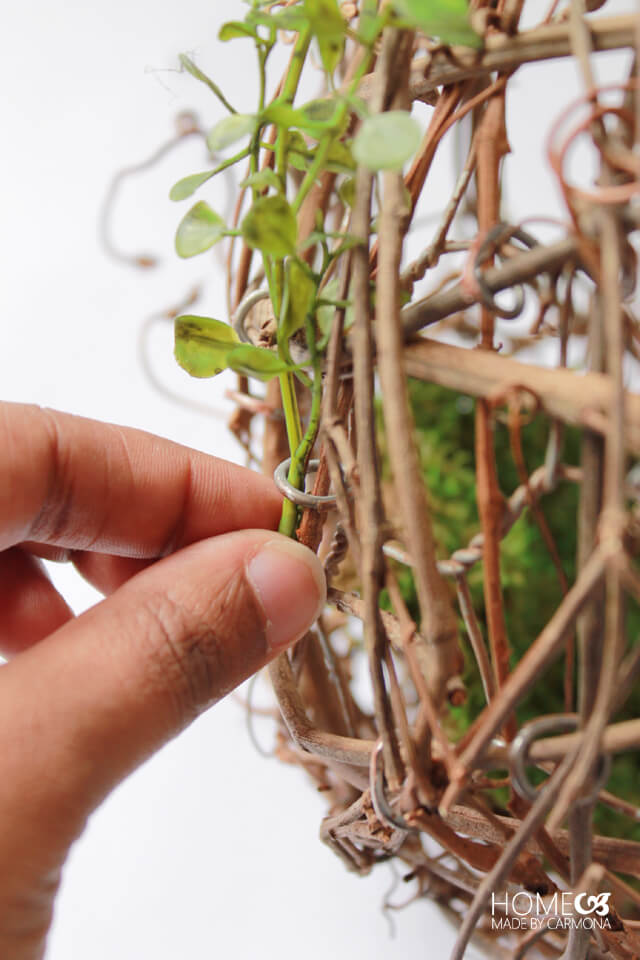 There were so many gorgeous fake floral bouquets to choose from, but I looooove lavender and was thrilled to find some! The best type of florals and foliage you can choose are ones with wire in the stems, it make it easier to weave into the wreath, but a few plastic stemmed pieces can sit at the bottom of your basket wreath as well.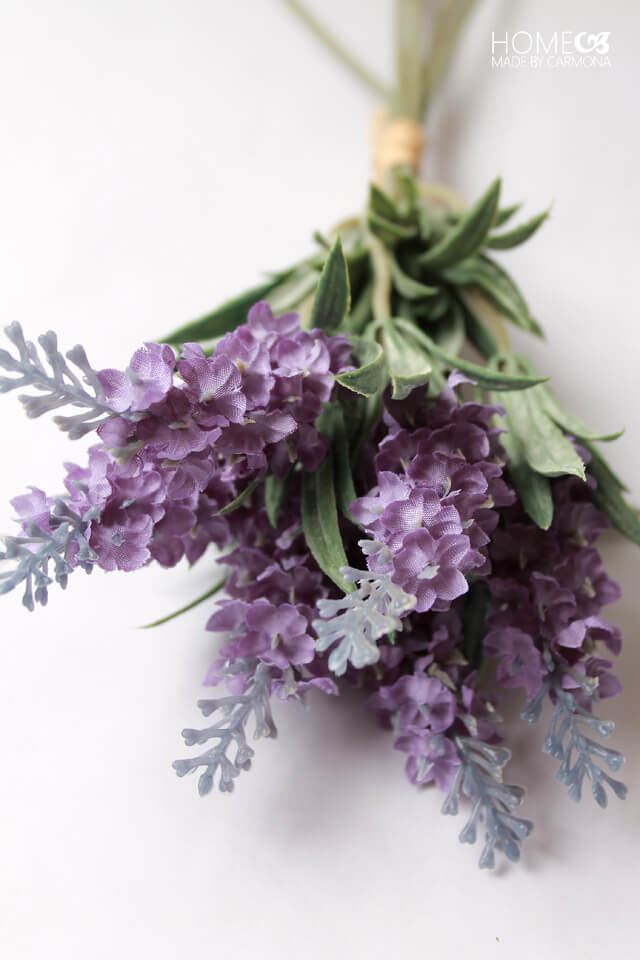 Think of it like creating a soft beautiful bed for an animal habitat. Make it cozy with a few unexpected elements.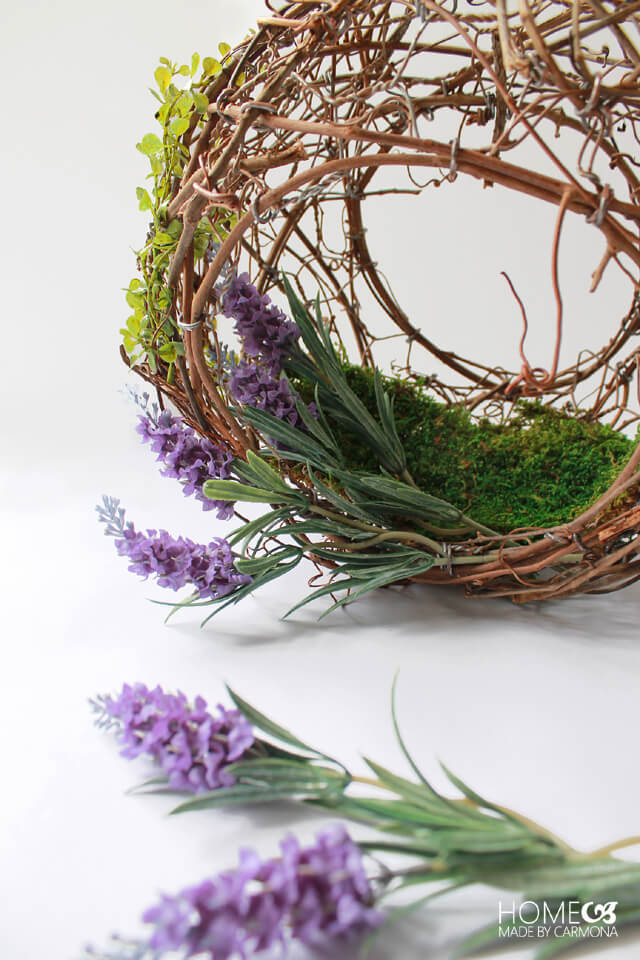 I got a second varied bouquet that contained grape leaves, a fern leaf, small purple paper flowers, and more. It is springy, but falls into that cool color family that I think is so attractive.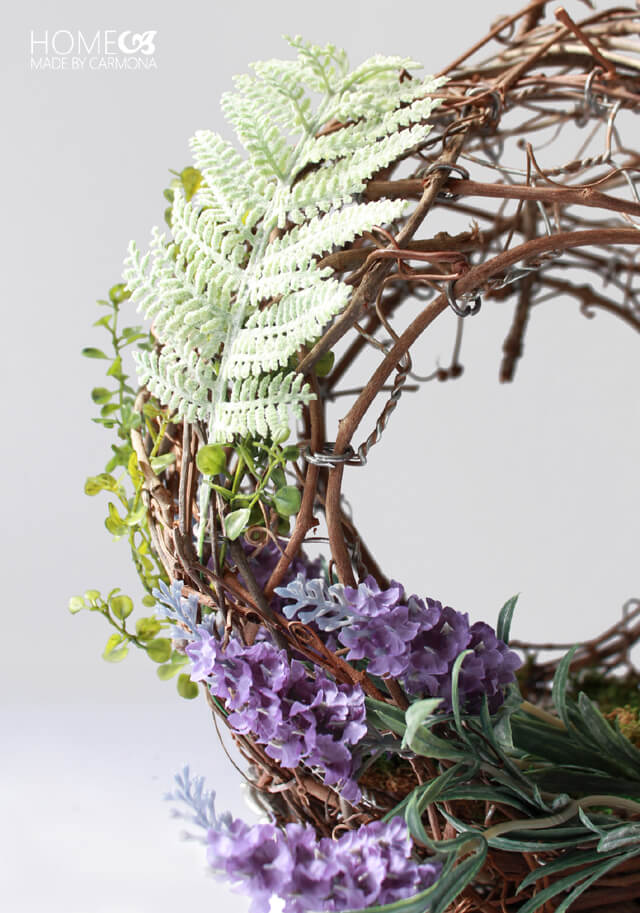 Don't forget to add a few birds, butterflies, bees…whatever extra element of nature you love! I bet even a moss covered bird's nest perched atop would have been quite pretty.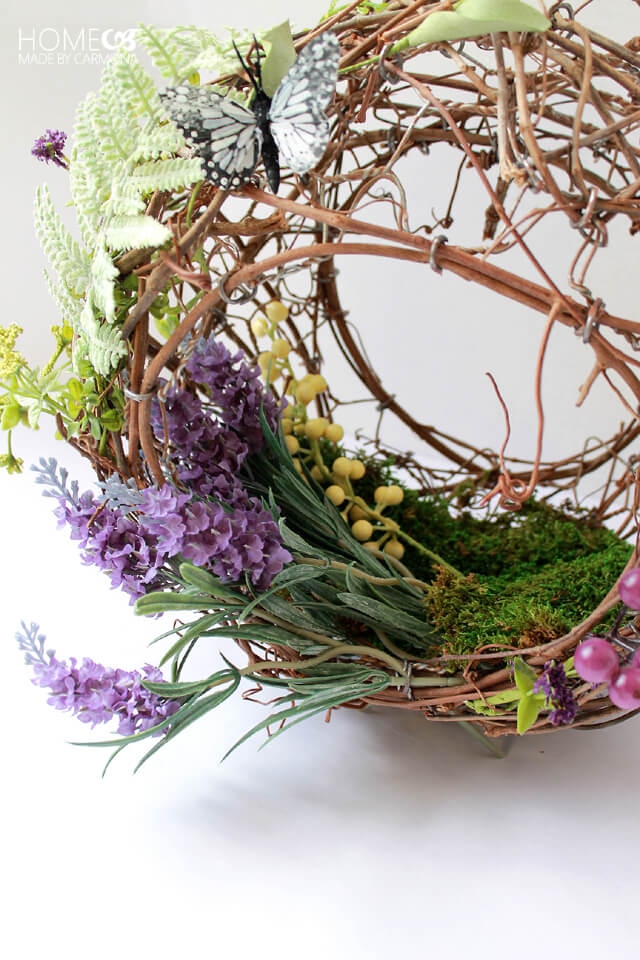 I think this would make the cutest little bunny habitat, imagine a fluffy little fake bunny tail poking out the back. However I am choosing to go with a simple flameless candle in the middle.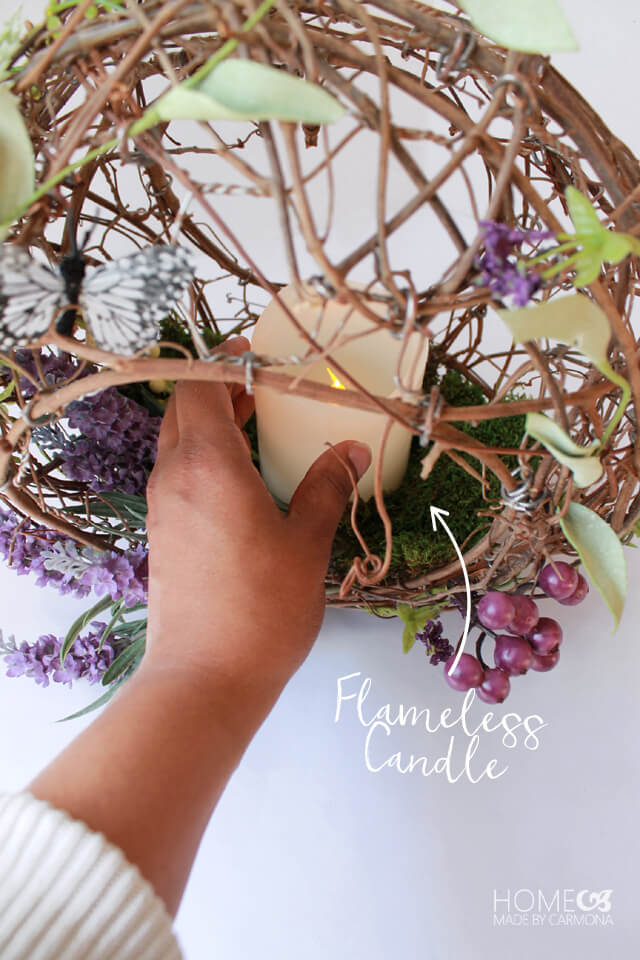 Wouldn't two of these on either side of my front door be stunning?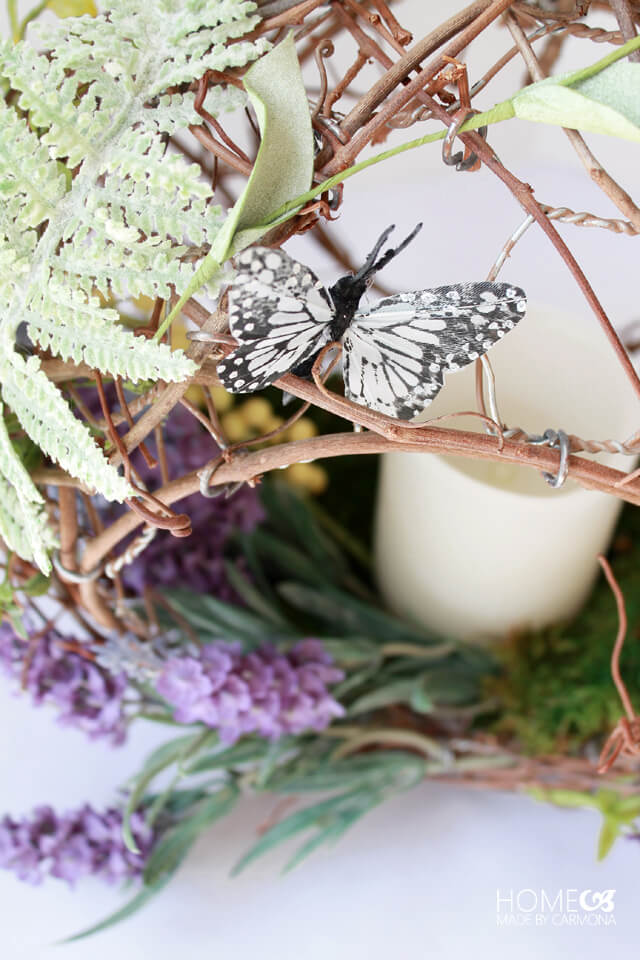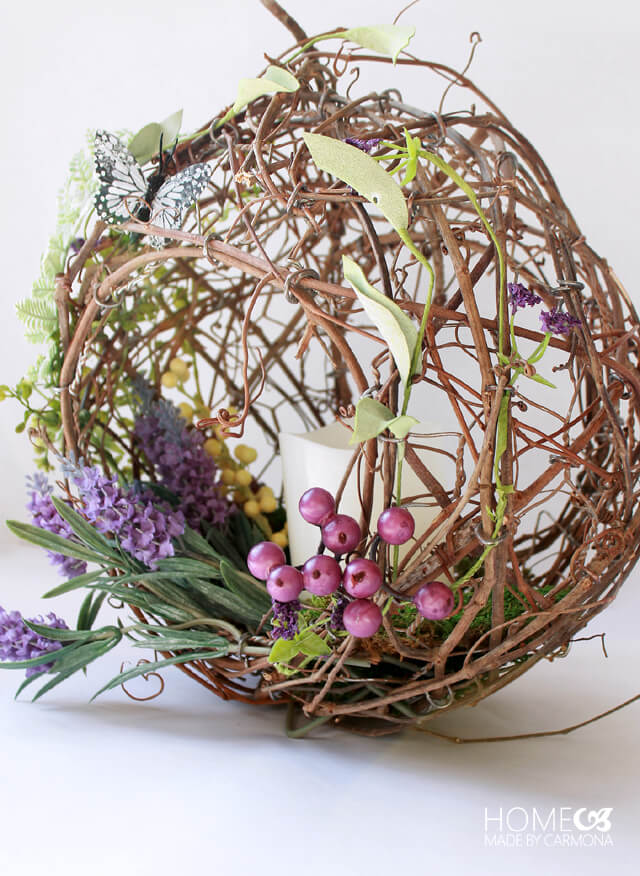 Maybe I'm helping Spring along just a bit, but until all the flowers have bloomed, this beauty will adorn my porch with just a bit of nature inspired greenery. 🙂 What about you? How do you bring in the Spring season? Are you as eager as I am to see growth after the winter months?

I found all my supplies at Pat Catan's for under $15. Beside wire florals of your choice, you'll need a flameless candle, and these items:

[go_portfolio id="spring_projectst_gallery"]