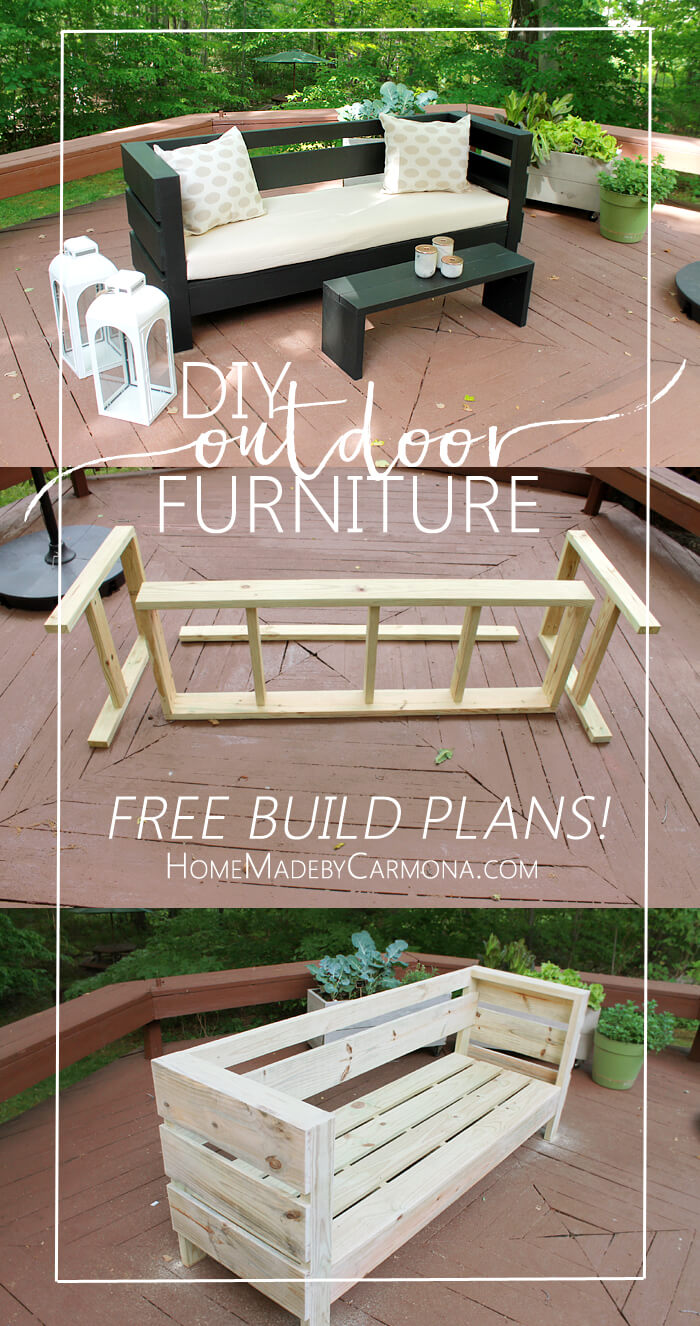 Every time I don a power tool, I swear I feel like a superhero. It's like an invisible cape starts flying in the wind, and I feel invincible. 😀 I know, I'm a total nut… But when you love beautiful things like I do, and can't bring yourself to spend an arm and a leg on them, being able to craft or build that desired item for next to nothing feels like a super power.
This week I was SO excited to partner with Kreg Jig and build the outdoor furniture I've always wanted, but could never afford. Guys, you should have seen me when I got my Kreg Jig 5 Master System in the mail…I was like a kid on Christmas morning. I kept jumping up and down hugging the box and yelling at my husband, "I can finally build REAL furniture! Like what you buy in the store. I'm legit!!". He just laughed at me.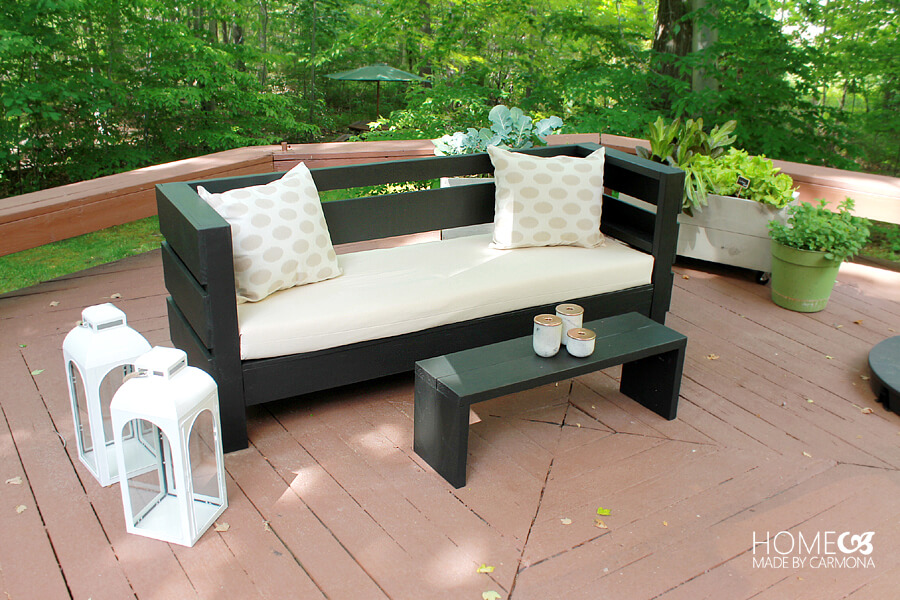 I have a marvelous deck, and I'm so ashamed to say it has been wasted all the years we lived in this house…until now! I'm sharing with you the free plans on how to build this stunning modern outdoor sofa and bench/coffee table over at BuildSomething.com, Kreg's new DIY project plan site.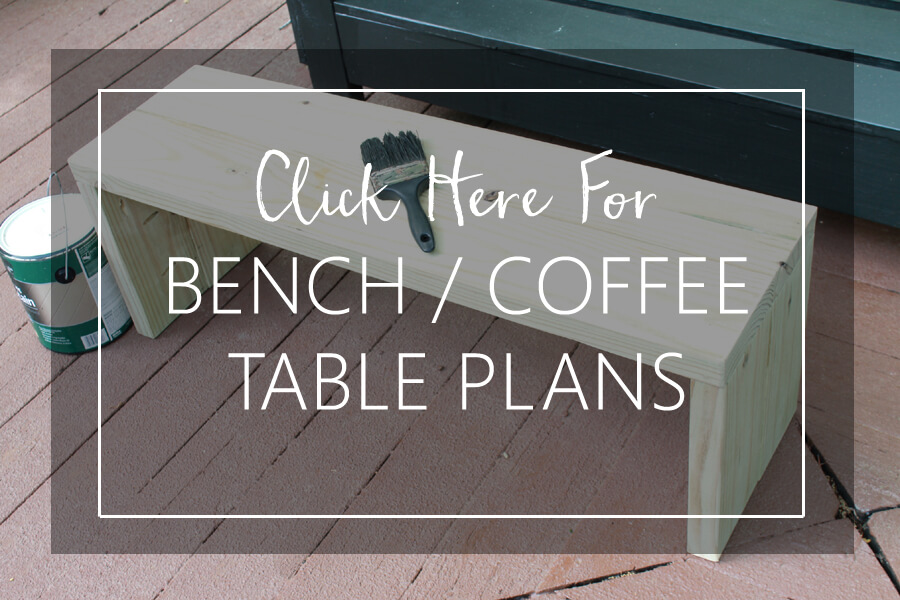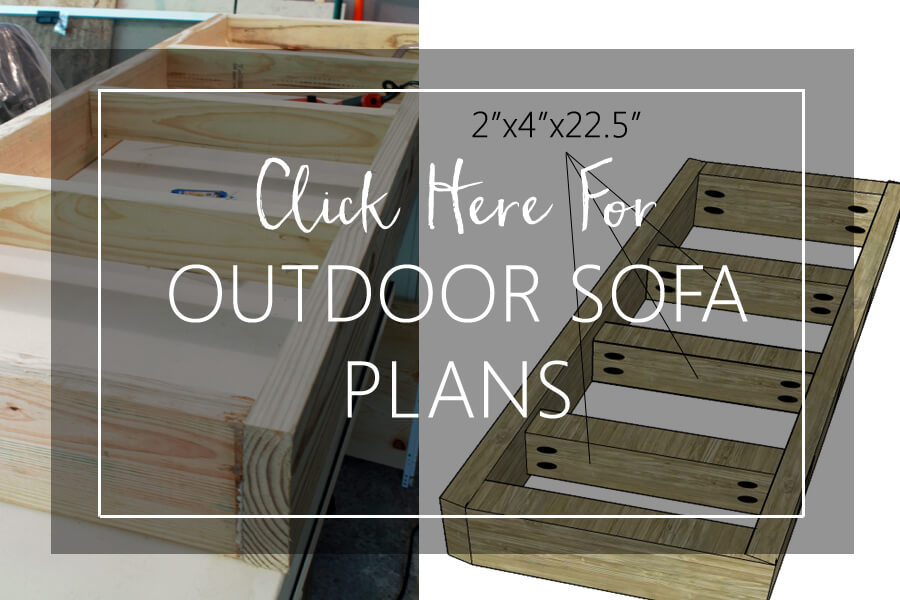 Let me tell you, it was an amazingly easy build (this coming from a beginning-mid level builder), and super sturdy using pocket-hole joinery. It should also be noted that I used pressure treated lumber (because this furniture is staying outdoor year round!), and stained it with a solid color deck stain and sealer.
One clever piece I added later on was a little shelf just inside the armrest on either side. Just cut a 2″x4″ to the same 22.5″ armrest board, place pocket holes on the two ends, and attach from the underside.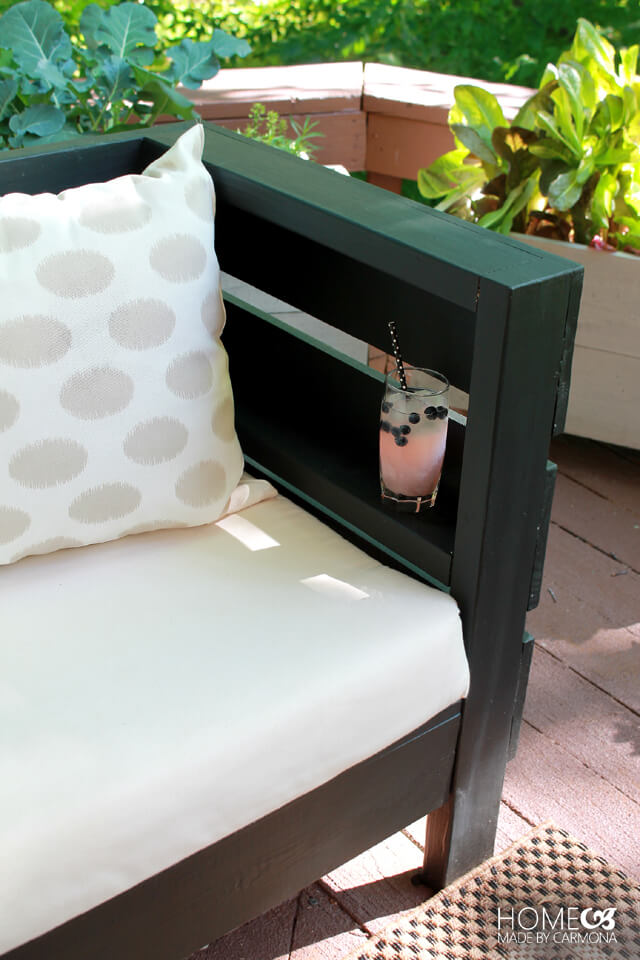 It is perfect for those gatherings with a larger number of guests. Then you can use your coffee table as a bench for extra seating, and not lose a place for guests to put their drinks, snacks, and desserts.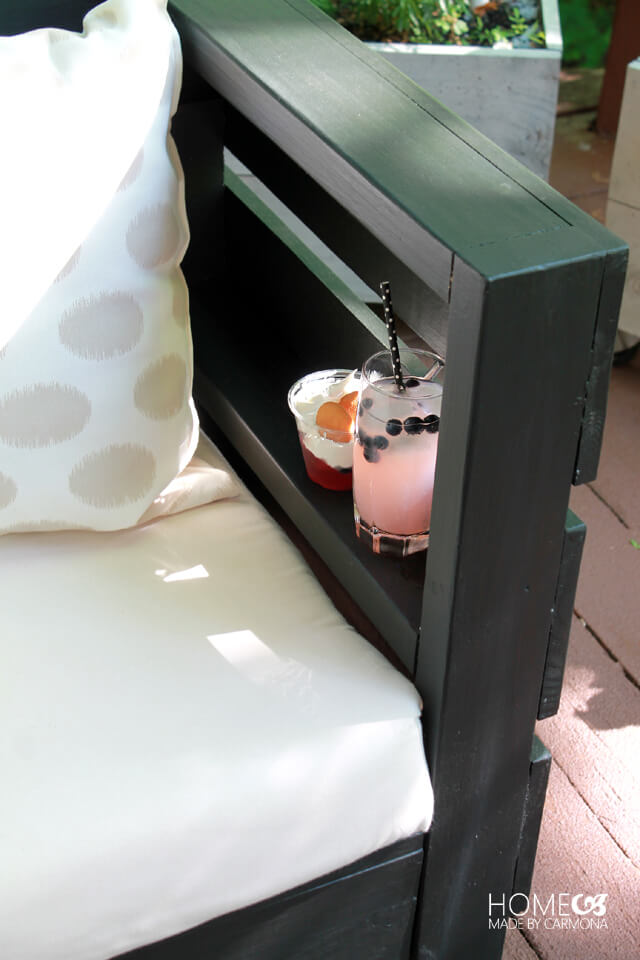 I think the bench looks chic with or without the cushions! This is a shot of it without cushions after a torrential rain we had. And yes, this is how I leave everything regularly.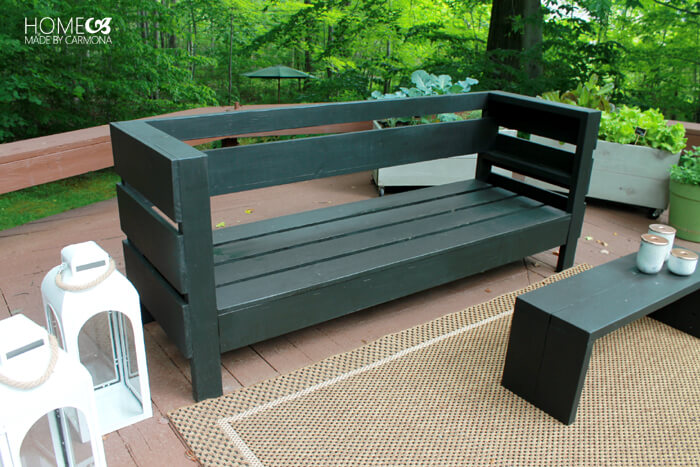 To make the sofa cushion I ordered this 72″ foam sheet from Amazon (affiliate link) which fit perfectly (no cutting required). And I originally bought two King sized bed pillows, thinking to sew a pillow case out of waterproof fabric…but then I liked the idea of large throw pillows, so I pulled the fluff out of them to make smaller throw sized pillows instead.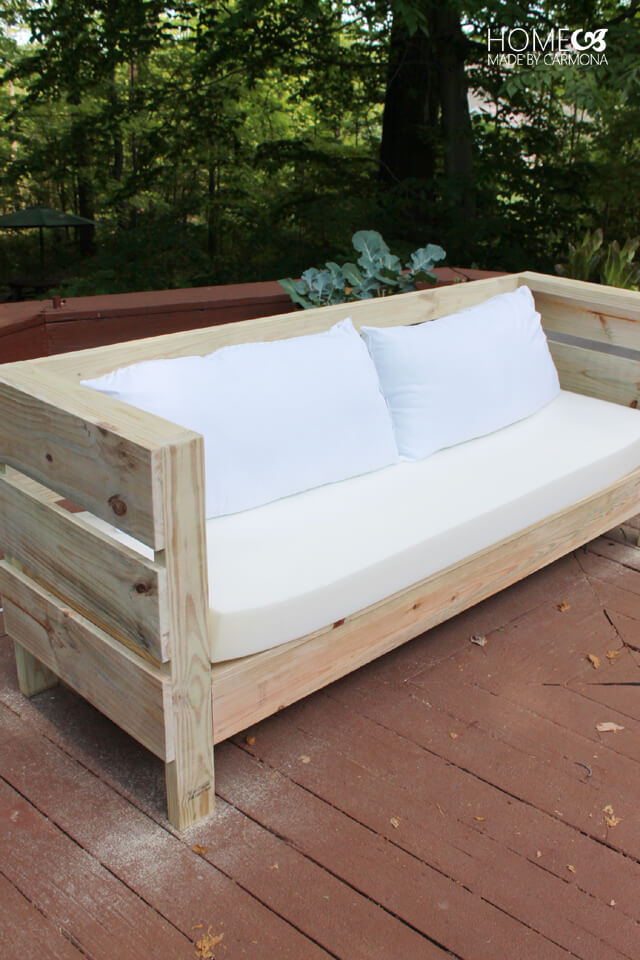 I sewed a cover for the seat cushion with outdoor fabric. I pretty much wrapped it in the fabric, then sewed across the two ends as if I was sewing a pillow case, and sewed velcro to the back to close. Nothing fancy, but I love it!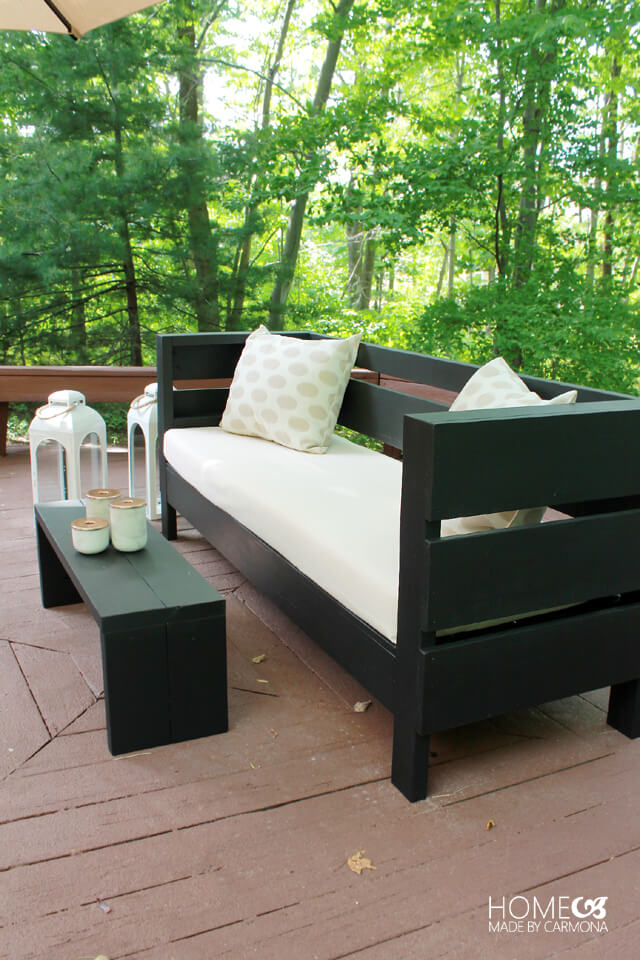 This was just the beginning as I tackled my great big deck. If you like this, you are going to LOVE the DIY Copper Cabana I made for my outdoor sofa! Check it out here…you are going to want this addition to your sofa build!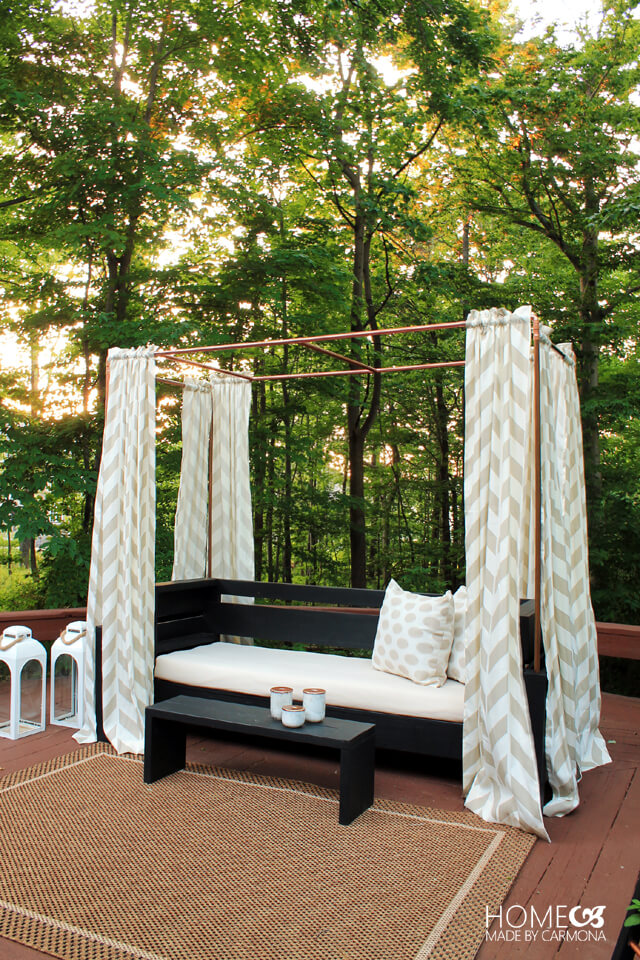 *A special thanks to Kreg Jig for sponsoring this post. The ideas, projects, and opinions are my own (as always). And yes this was my first time using a jig, and I am officially declaring myself a Kreg Jig fanatic. 😀
Like This? You'll Love These!
Tips to set up a remote workshop when a garage or woodworking shop isn't available. Whether working on a remote jobsite, or at your own home!