Compartment box, plano box, tackle box, storage containers, organizers… Whatever you call these amazing plastic containers with dividers and lids, they are great for getting organized!
Give each of your belongings (even those weird miscellaneous items) a dedicated storage space, and you'll never have to search for them again.
Affiliate shopping links below
Here are just a few great organizers and genius ways to use them:
1. Use An Adjustable Compartment Box To Store Batteries
An organizer box with adjustable dividers means room for batteries of varying sizes and shapes. Plus, when you have less of a particular battery type, and more of another, you can easily adjust to fit the supply you currently have.
2. Use A Tackle Box To Organize Hardware (Screws, Bits, Etc.)
Any handy homeowner knows it's a real challenge to keep track of screws, nails, bolts, and other miscellaneous hardware in the workshop. While most of us will still resort to the obligatory jar of screws, a plano box to sort by types is incredibly helpful.
Wall mounted organizers are another great option. Because they are stationary, I use tackle boxes for the random "found" or hand full of screws / bolts / nails, and these larger wall mounted bit boxes for collections I have larger quantities of that were purchased as packages.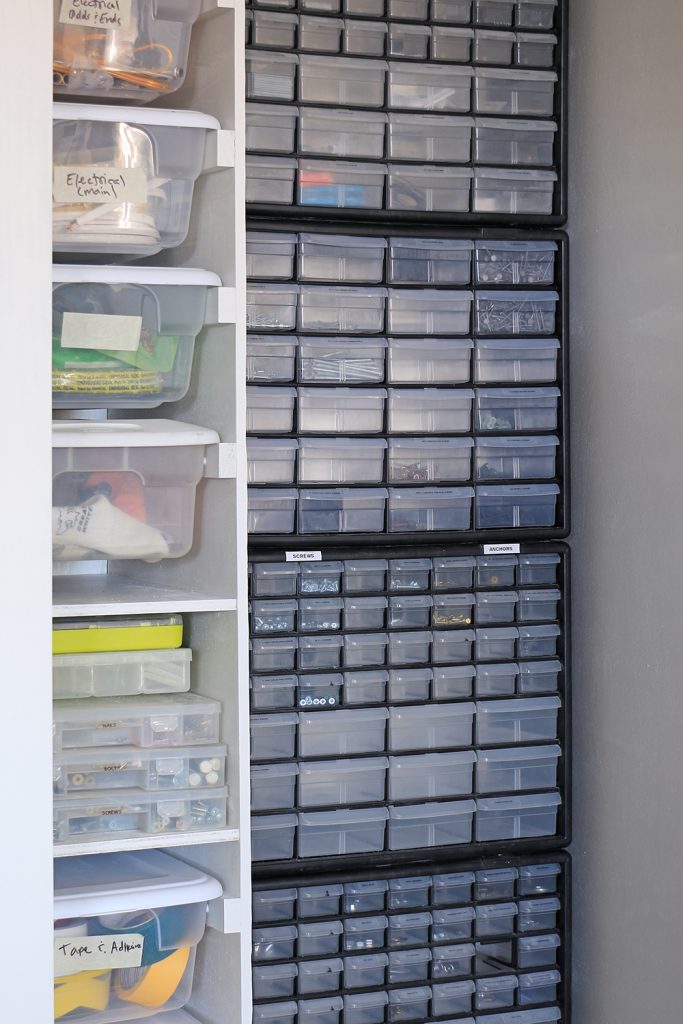 Workshop hardware to sort:
Picture hanging supplies
Screw & drill driver bits
Electrical wire nuts & supplies
See all the details of this organized workshop and custom storage solutions>>
3. Organize Game Pieces In A Plastic Bit Box
Some games have a lot of pieces that need to be stored in bags, dumped out to play the game, then sorted and put back in bags at the end of the game. It's a lot of extra time and effort. The right sized plastic organizer fits in the game box, plus you never have to dump out pieces! Play with the pieces taking each piece out of the plastic container as needed, and when finished, place each piece right back in! No real cleanup required at the end of the game.
Get inspiration by seeing the details of how I organized this game here>>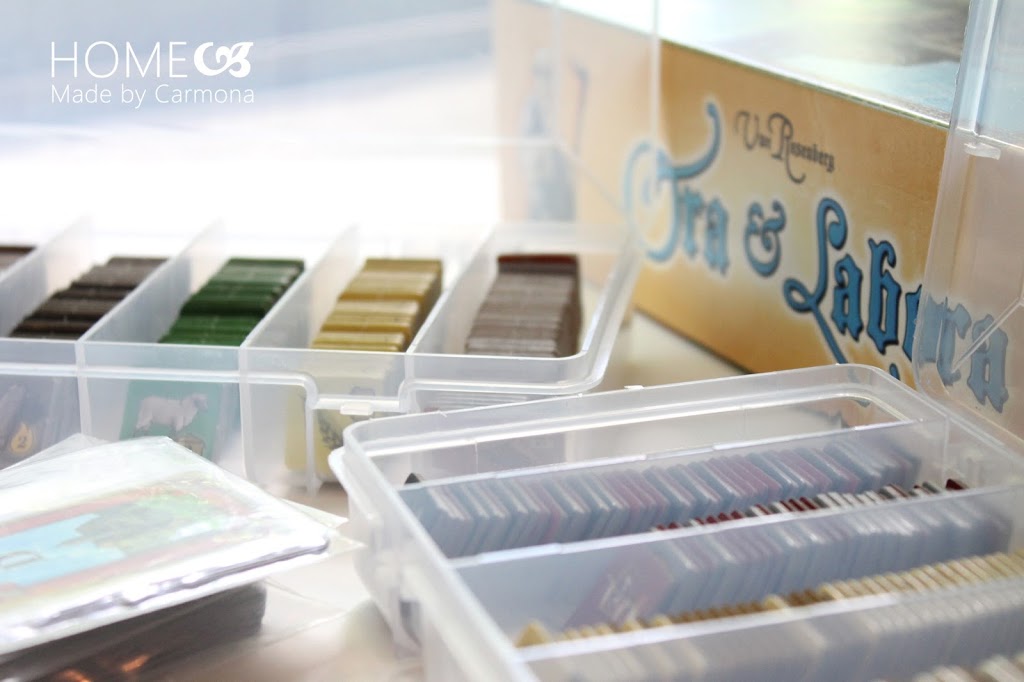 4. Sewing & Craft Room Supplies For a
Some plano boxes come as standalone containers, others come as a stackable caddy to help you keep larger items organized. Mix and match a variety of the right type of plastic organizer boxes to adequately store your supplies. Then put them all together in a file box or other carry case.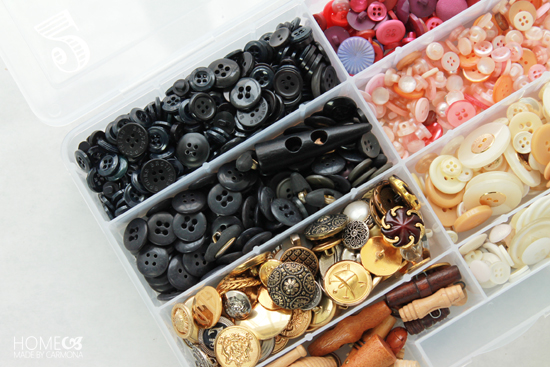 Keep crafts and crafting supplies in a bin that is easy to grab and go. The same goes for sewing supplies like buttons, needles and pins, and more.
Learn how to create a cute well-organized sewing kit>>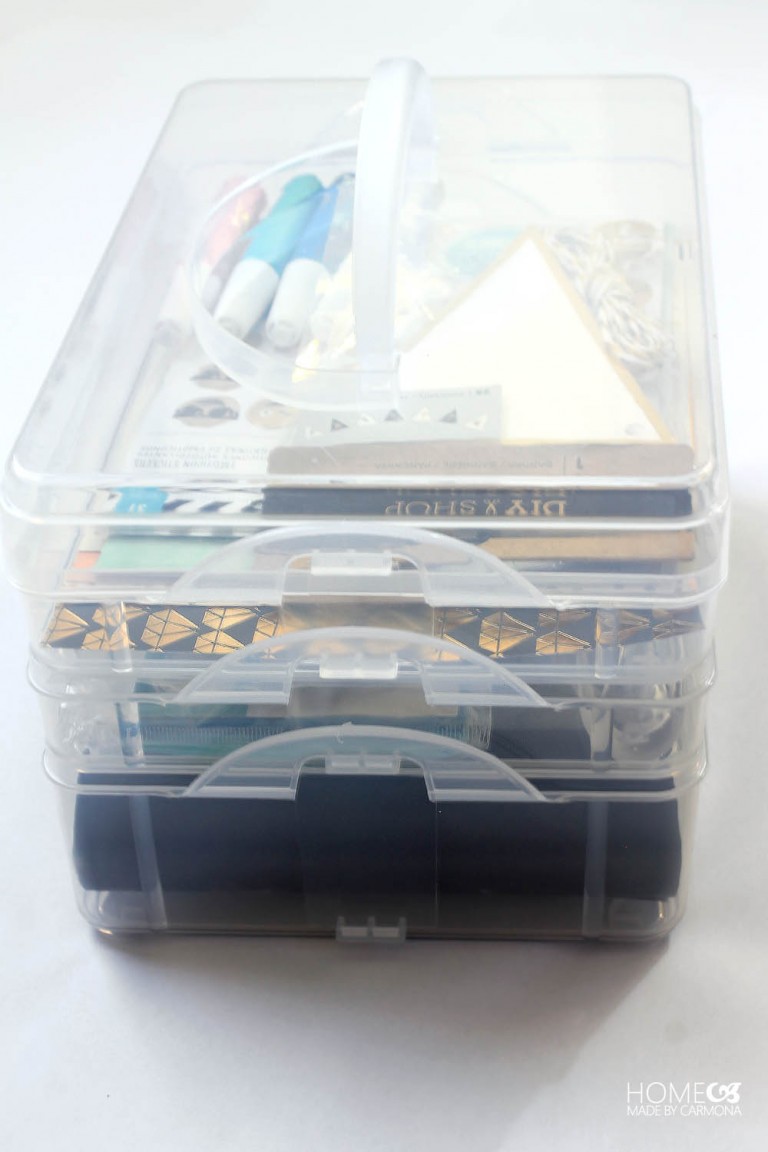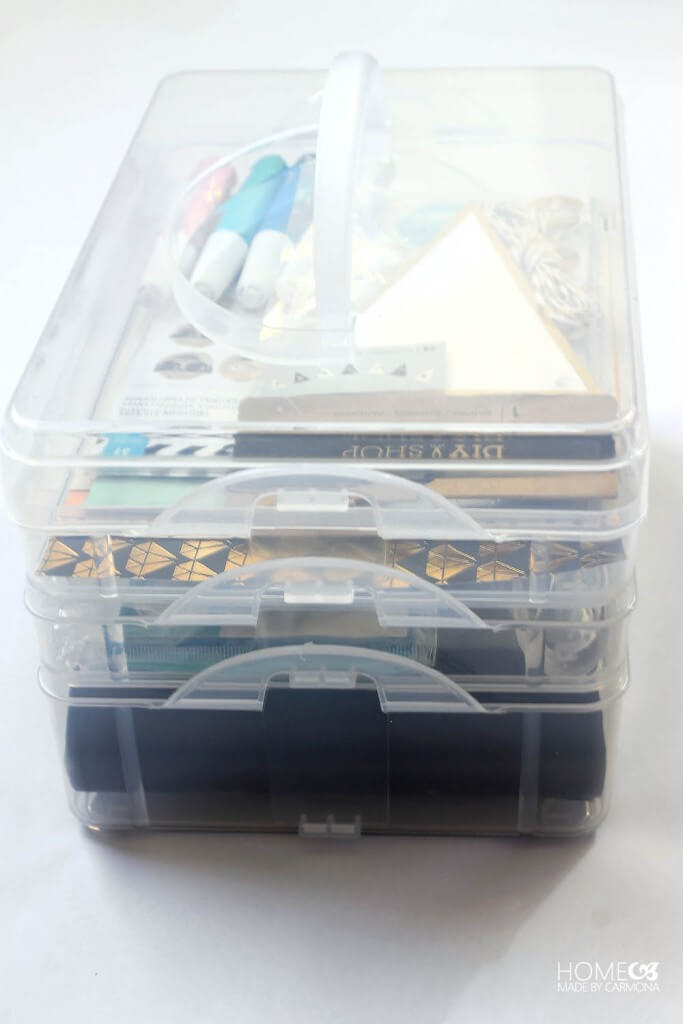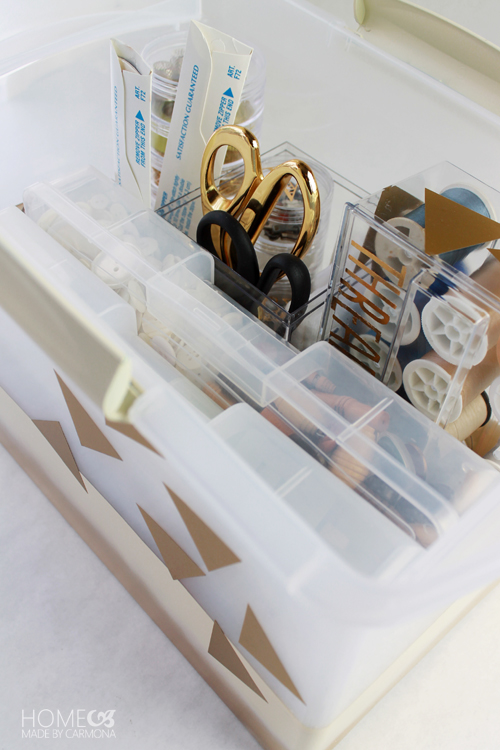 5. Phone & Camera Accessories
It's easy to lose track of the little parts that aren't frequently used for phones or cameras. Extra cords, plugs, extra ear buds and headphones, storage disks, and more.
6. Stackable Organizer For First Aid Supplies
Store band aids and other first aid supplies in a stackable bin with carry handles. Measure the types of items it will hold and ensure there are adequately sized compartments for small items like acne band aids, sized for larger bandages.
Using a transparent organizer box means you can quickly see when you run low on something.
7. Beauty Supplies
We often have our everyday makeup and beauty related supplies, and the 'special event' supplies. Keep your everyday items easily at hand, but store your less frequently used items in a storage container kept on a bathroom shelf, in a closet drawer, or in a vanity drawer.
8. Store Household Supplies & Repair Kits
Some supplies end up in the junk drawer because we don't have a dedicated space for our bits and bobs. Choose a storage solution with compartments and removable dividers to accommodate odd-end items.
Think of things like picture hanging supplies, glasses repair kits, and more.
Get ideas for organizing each of these important household kits and how to assemble a pantry to hold them>>
9. Office Supplies
An organizer box with dividers is perfect for wrangling anything from staples, to cables, and beyond.
Learn how to make custom magnetic tins for your office>>
10. Fashion Accessories
Store fashion accessories like jewelry, brooches, watches, and cufflinks in a lined organizer. It's important to store these in an organizer with a lid to prevent dust from collecting.
Round stackable organizers are perfect for belts, hair bands, watches, and more.
Get 30+ closet organization hacks to keep any closet tidy>>
Tips For Choosing The Right Organizer
Clear organizer boxes come in a variety of shapes and sizes, measure each item to be sure it will fit as expected.
Search different departments of the store for the best plano storage organizer. Sometimes the bead & sewing department will have what you are looking for, but the fishing and tackle department will have something cheaper. The hardware department will often have better adjustable plano options, and occasionally I'll find something in the office supply department! Scour the store before choosing. 
Choose boxes with sturdy durable material, like plastic rather than brittle acrylic that can easily shatter if it drops.
Shop Stylish Clear Organizers For Every Room & Function