Organized spices whether in a drawer or cabinet don't usually stay that way for long. Most of us have experienced a messy spice cabinet at some point or another. We've all found ourselves digging to find what is needed, buying duplicate spices, and cleaning spilled seasonings from time to time.
Learn how to organize spices and seasonings so you never have to dig or clean a messy drawer or cabinet again!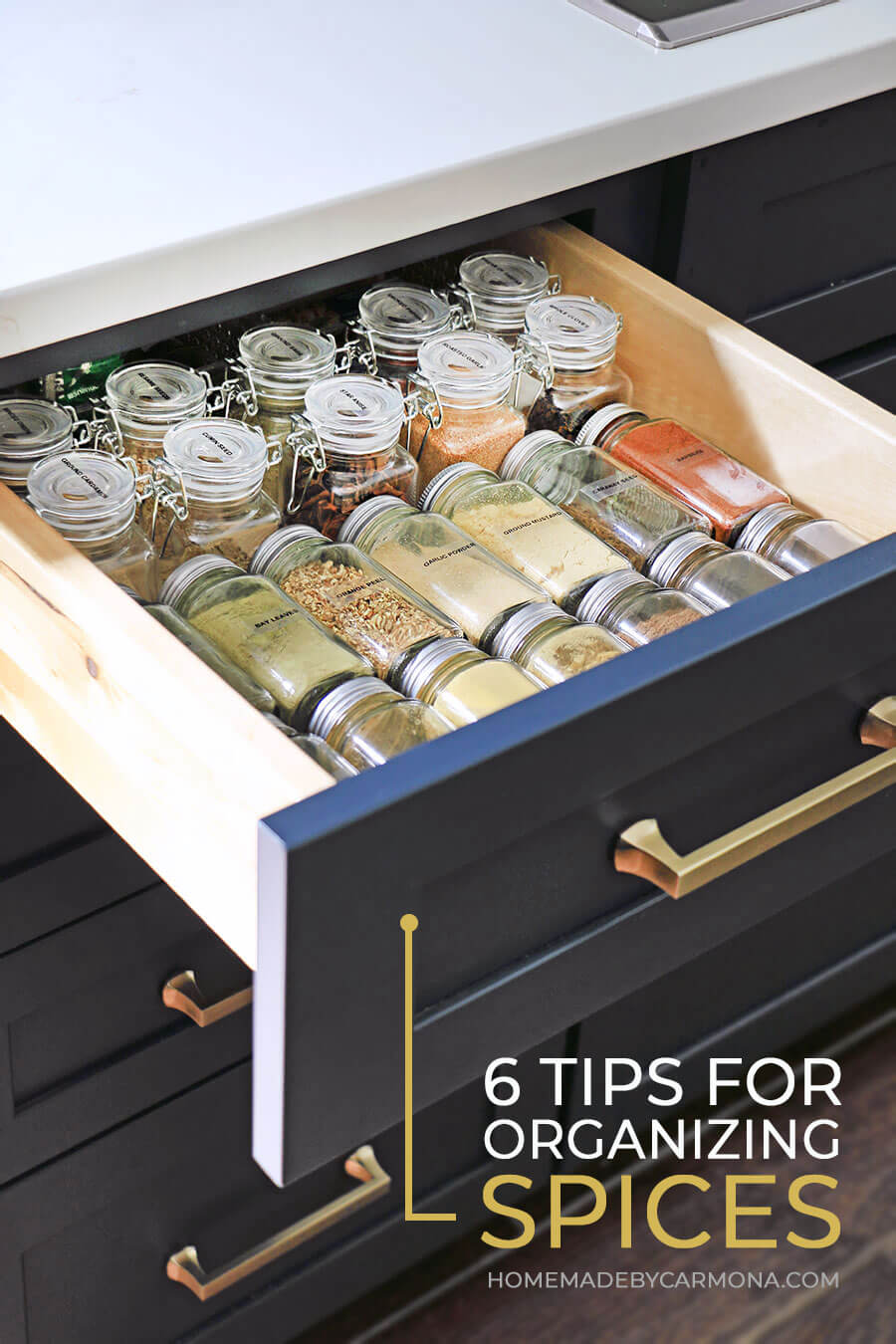 *Affiliate links contained below for your shopping ease!
In the Kitchen Organization Tips series, we're flinging open our kitchen cabinets and drawers to share how to have beautiful and highly functional spaces, even behind the closed doors!
Last time we dived into methods to organize pantry and food storage cabinets, and today we're tackling ways to organize spice drawers and cabinets with these 6 important tips:
1. Measure & Pick The Right Space
You will need to decide whether to create a spice drawer, cabinet, or both. Start by going through your existing spices and seasonings, remove any accidental duplicates and place them in groupings based on container size. Now measure the drawer/cabinet/rack you are considering.
Here are a few questions to ask when choosing the right space:
Will you have enough square footage to store all your current spices and any future spices you may add to your collection in this space?
Is it an arms length from your cook top? you want your spices to be readily available. No time to wait when that pasta is starting to overcook!
Can you access it easily? AKA no bending way down, or having to grab a step stool, or struggling to get something to open easily…
2. Finding The Perfect Spice Containers
Now comes the fun part, choosing the best bottles/containers to organize spices in. Okay, so this step isn't absolutely necessary, and a slightly more cost effective solution might be to pay a few extra cents for spices already in an attractive container when you buy them. In that case, be consistent and always buy the same brand so your spice drawer is more or less consistent.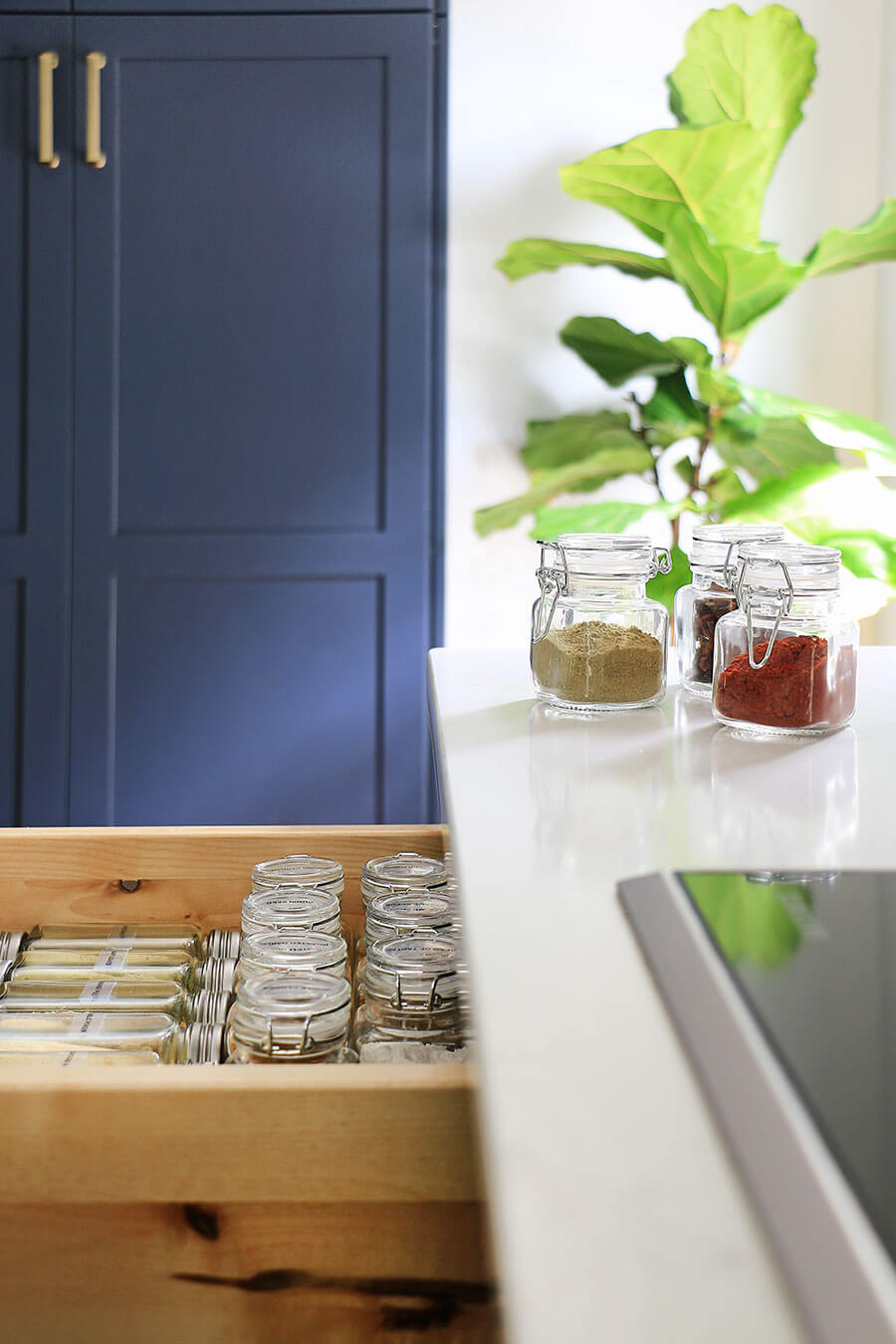 For those of you buying containers, choose the right fit for each size grouping of spices. Consider how you like to use that set of spices. Will you pop open the top and shake it or will you need to be able to easily scoop it with a measuring spoon? This may change depending on the type of spice, so adjust the container type based on the frequency of use and method of use.
I opted for three different storage types and sizes:
Square Spice Bottles (4oz): perfect for the average size spice you'll buy at the supermarket. The top accommodates shake or scoop methods.
Mini Airtight Containers (3oz): for those rarely-used small quantity spices. Usually these are for specialty recipes and will be scooped with a measuring spoon, so this type of container works best to keep them fresh and easy to scoop.
Stainless Steel Sugar Dispensers (12oz): great for spices bought in larger quantities, and used most frequently. These are more often shaken right into the dish as I cook, and are used up quickly. The dispensing top makes it easy to use without having to stop and open a lid.
3. Getting The Right Fit + LABEL EVERYTHING!
Before you finalize your spice container shopping order, there are a couple other things to check to make sure it fits your needs:
This one is obvious, but still..did you count HOW MANY spices you currently own? You need to have enough bottles for each size category (large, medium, small)
Did you measure the size of the drawer/cabinet, and calculate how many jars can fit? You might go with a slightly different shape or size to find something that fits best with your existing drawer/cabinet size
Will it fit fairly well in the drawer/cabinet without excessive wasted space? If not, consider a couple extra organizing accessories, such as expandable dividers, and containers to put miscellaneous seasoning types that can't be put in a jar (such as seasoning cubes, or grinder top lids).
Does it come with labels? If not, make sure you have a label maker with plastic tape.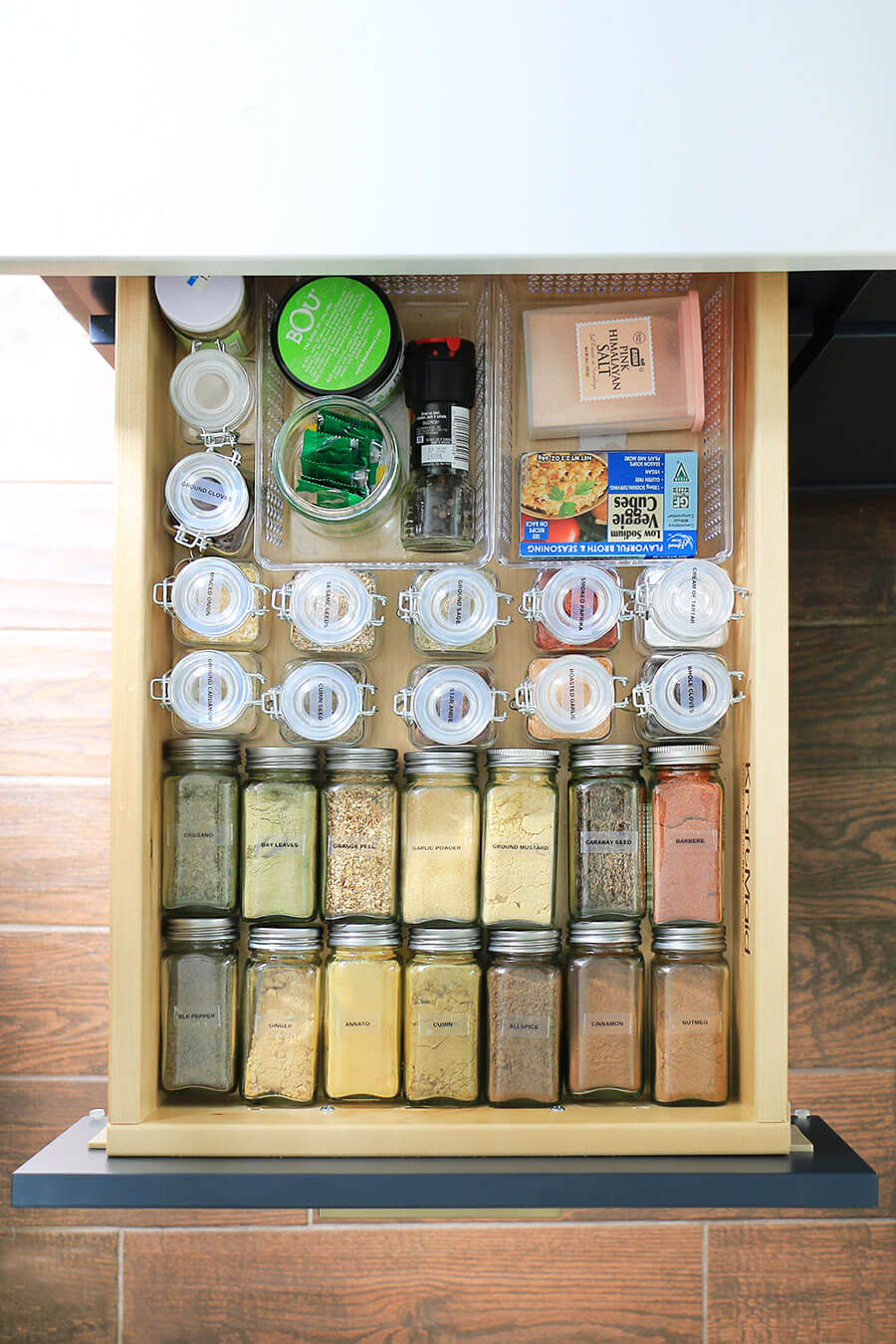 Once your new spice bottles have arrived and you are transferring everything, label as you go. This is the one space where it is essential, no matter how sure you are you will know what that spice is, LABEL EVERYTHING! You never know in the future what spice you might pick up that looks oddly close to that one you already have…
4. Do You Need An Organizer For Your Cabinet/Drawer?
Not every space will require an additional organizing solution. However consider what you need to keep every spice easily in sight, and to easily clean the space. There are a myriad of helpful storage solutions; everything from tiered shelves, to magnetic strips, to pull-down racks and beyond!
The trick is to pay careful attention to the measurements of your space…try not to leave too much wasted empty space… although some can't be helped unless you buy an adjustable organizer.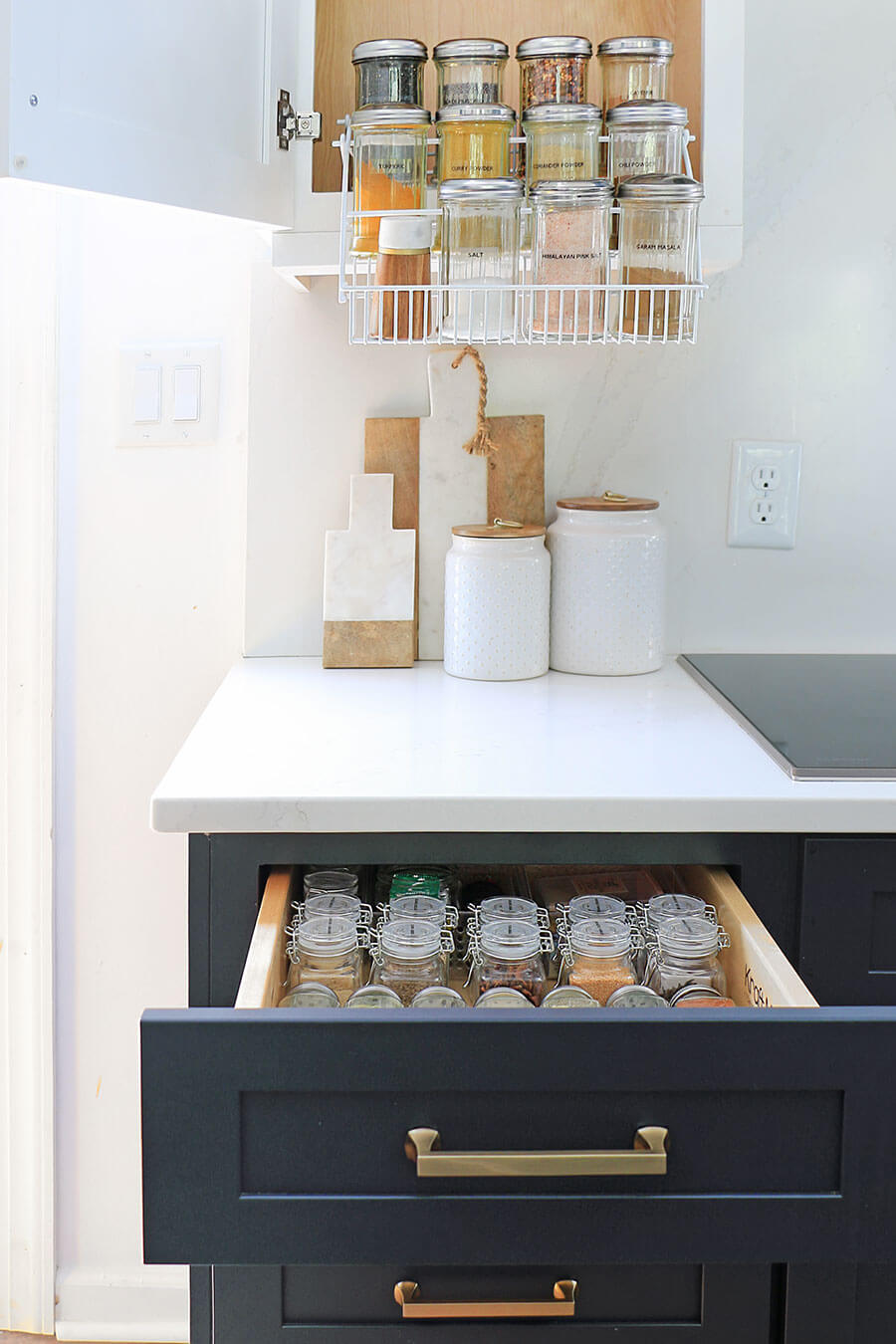 It really depends on your needs. My kids cook, so a pull down spice rack ensured the spices were easily accessible to them while cooking. Plus it acts as the ideal tiered rack for such large jars…I could not find any other rack that fit my sugar dispenser containers so well.
5. Planning For Overflow
There are a few spices I like to buy in bulk, so while I want ALL of my spices to be easily accessible and visible, there is some overflow…
Always account for the overflow! You never know when a spice or seasoning will come in an odd sized container. You don't want to have two of the same spices in two different jars in your 'easily accessible' storage. Instead, place the remaining spice in a basket higher up. This is a good way to make use of that just-out-of-reach space.
6. Maintaining Tidy Well Stocked Spices
If your cabinets and drawers are made of material easily cleaned, you might not need anything extra…however if you are in an older home with older cupboards that seem to stain easily, consider putting down a wipable plastic lining.
Then take the time and effort to maintain your spice drawer/cabinet and spices:
Never open spices over your open drawer! It just makes it prone to spills, and always clean off a dirty spice container before putting it back.
Spring clean your spice drawer/cabinet once or twice a year: use a small brush or vacuum attachment to clean out small spills, and wipe it down after.
Keep some goo gone cleaner on hand for spice containers that need a sticky label removed or other stains removed
Throw away old spices that haven't been used in the last 2-3 years, it loses it's potency after several years…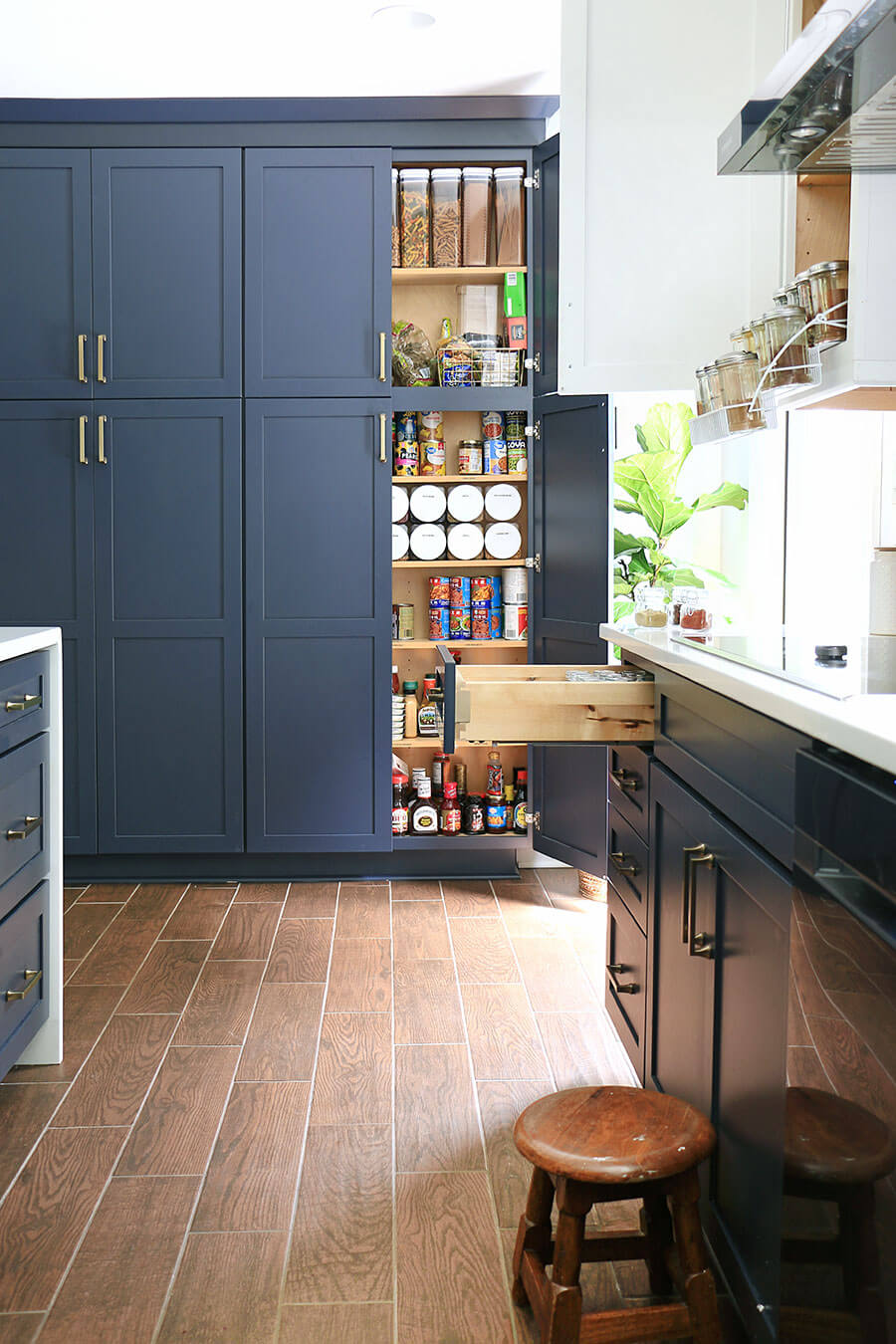 I hope these tips help you organize spices whether in drawers or cabinets. Once you are done, your organized spices will be the envy of the neighborhood!
If you missed it, don't forget to go check out best food storage organizing tips here. And follow us on Instagram for behind-the-scenes of organizing projects!




Like what you see? Check out the incredible before and after of this very kitchen here!