Create a welcoming front porch that will be the envy of your neighbors through the fall season all the way into winter!
Let's be honest, by end of summer, your often-used outdoor entry starts to look a little ragged, and is often in need of a cleanup. This is the perfect time to add cozy autumn touches while refreshing your outer entryway. After all, this is the first impression friends, family, and your delivery guy will have.
This post was awesomely sponsored by our friends at Birch Lane! Affiliate links below.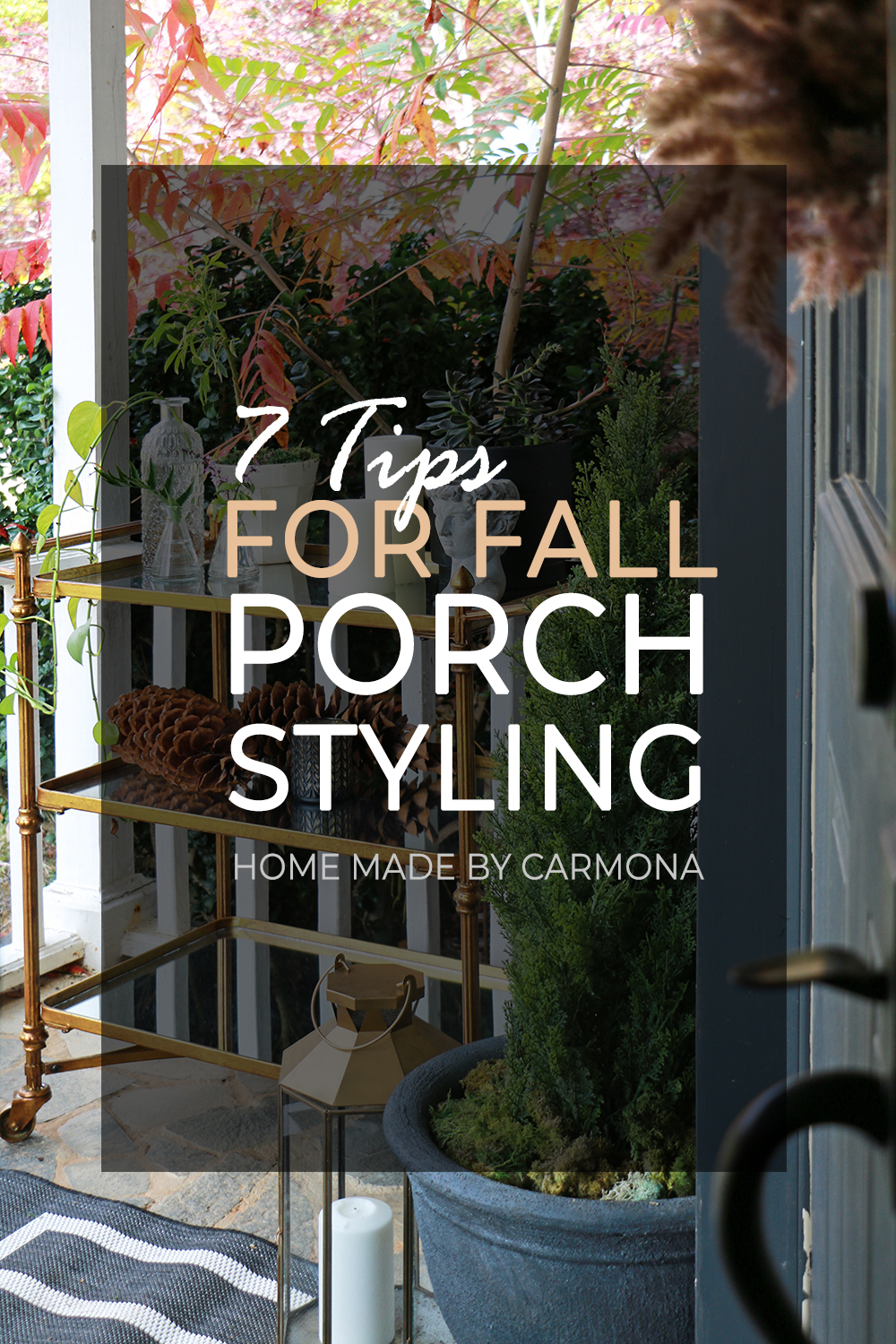 These 7 fall patio decorating ideas will help you create a stunning front porch, patio, or deck…one you can keep even after the harvest season is over!
#1. Make Your Fall Porch Cozy & Inviting
The best thing about fall is the cozy vibe added to our spaces. There's just something about crisp air, and a warm throw, while curled up with a cup of spiced drink.
Bring that same vibe into your outdoor patio space by creating a small seating area, then warming it up with a throw blanket, or outdoor pillow. Anything that invites you to linger outdoors with that morning cup of yum.
Nothing says fall than the texture and design of a knit or plaid throw on a porch swing or wicker chair… if you have room for one!
SHOP: Jeffersonville Woven Throw Blanket
#2. Use Indoor Furniture & Accents On Your Covered Patio or Porch
If your front porch is covered, you'll have much wider range of furniture options to choose from in your quest to make the outdoors cozy.
Look for pieces that won't be adversely affected by sunlight, humidity, or the rare splash of water that might make it onto your covered porch.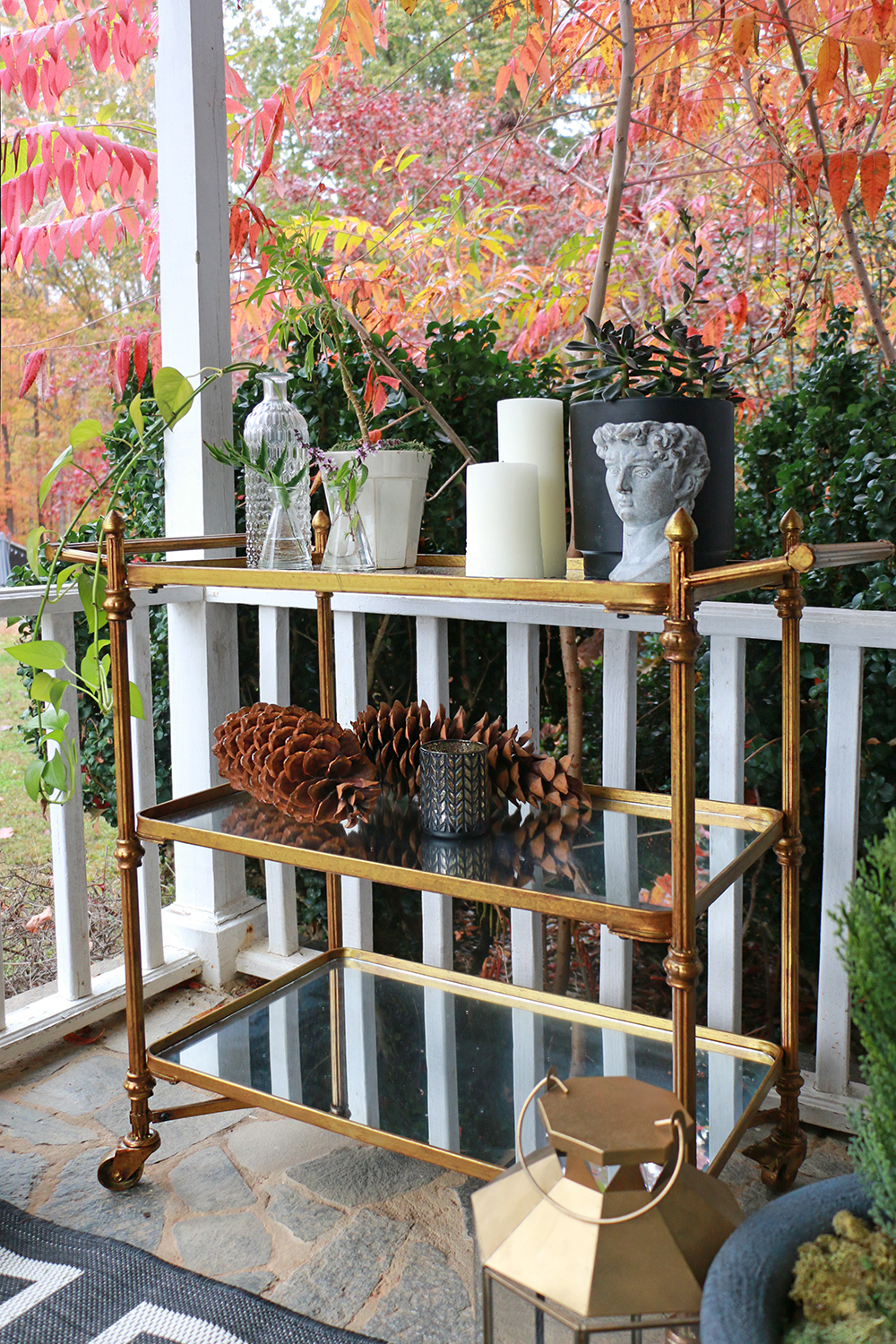 Think bar carts, pedestal accent tables, non-upholstered benches or chairs, baskets, marble, glass, or concrete accents, etc.
PRO TIP: Mix in antique pieces, or pieces that look antique, amid modern pieces for a high-end feel.
SHOP: Algiers Metal Bar Cart
#3. Add Season Specific Décor
While 80%-90% of your decorating should be timeless and work year-round, that last bit can be those fun seasonal pieces!
So go ahead and pull out those fall decorations you love most… from gourds and white pumpkins, to pinecones, to décor with dried fall foliage.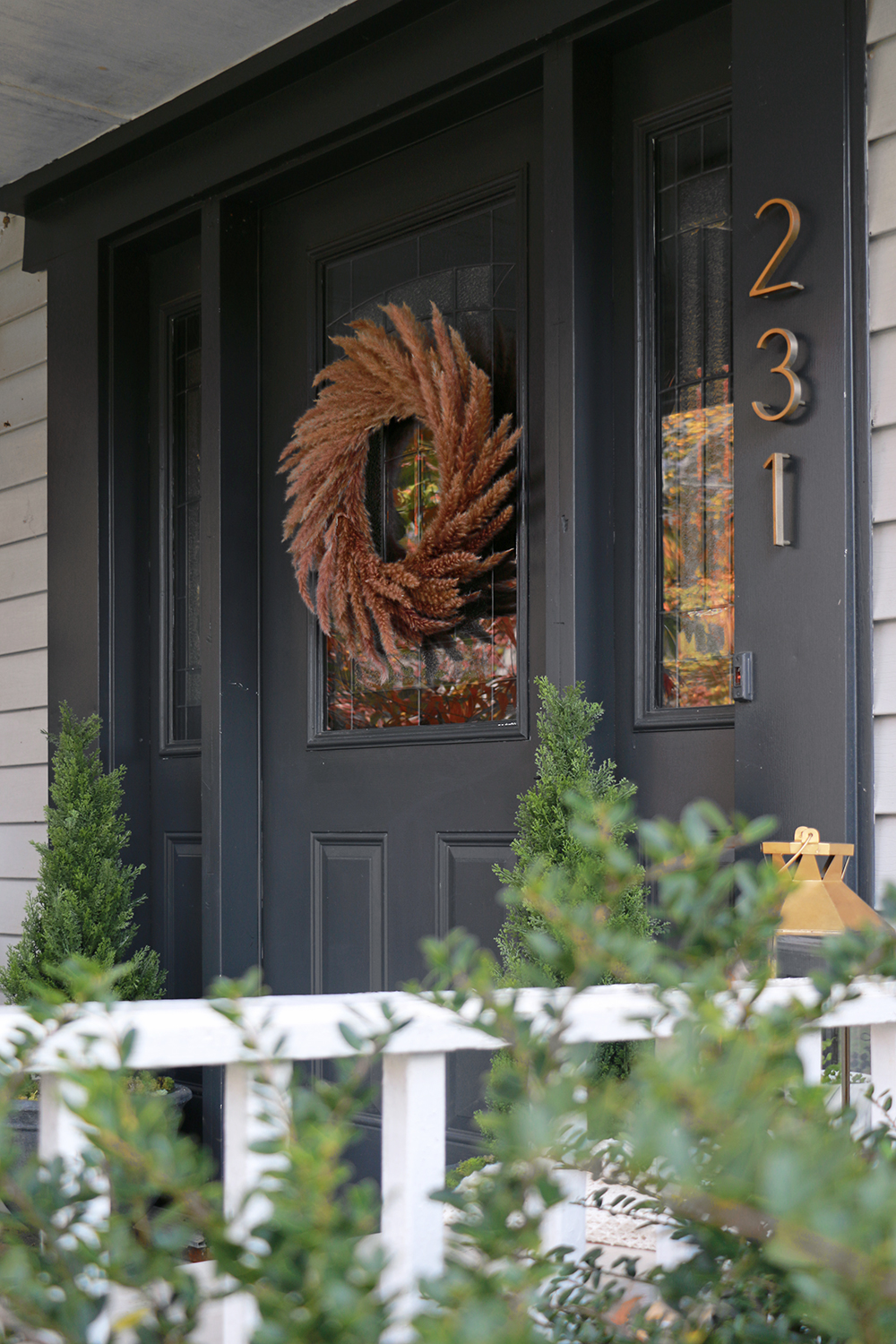 There is nothing that screams autumn more than seasonal fall wreaths. It graces your front door with added charm, and it doesn't break the bank, and it can be used year-after-year! Then come winter, you can easily swap it out for a winter wreath or garland.
SHOP: Dried Reed Greenery Wreath
#4. Maintain Greenery With Artificial Plants
Just because winter is on it's way doesn't mean your porch shouldn't have a bit of lush greenery to brighten it up.
If you have the time to maintain live plants throughout the colder months, try adding evergreens or cool-season plants like ornamental kale, cabbage, or pansies.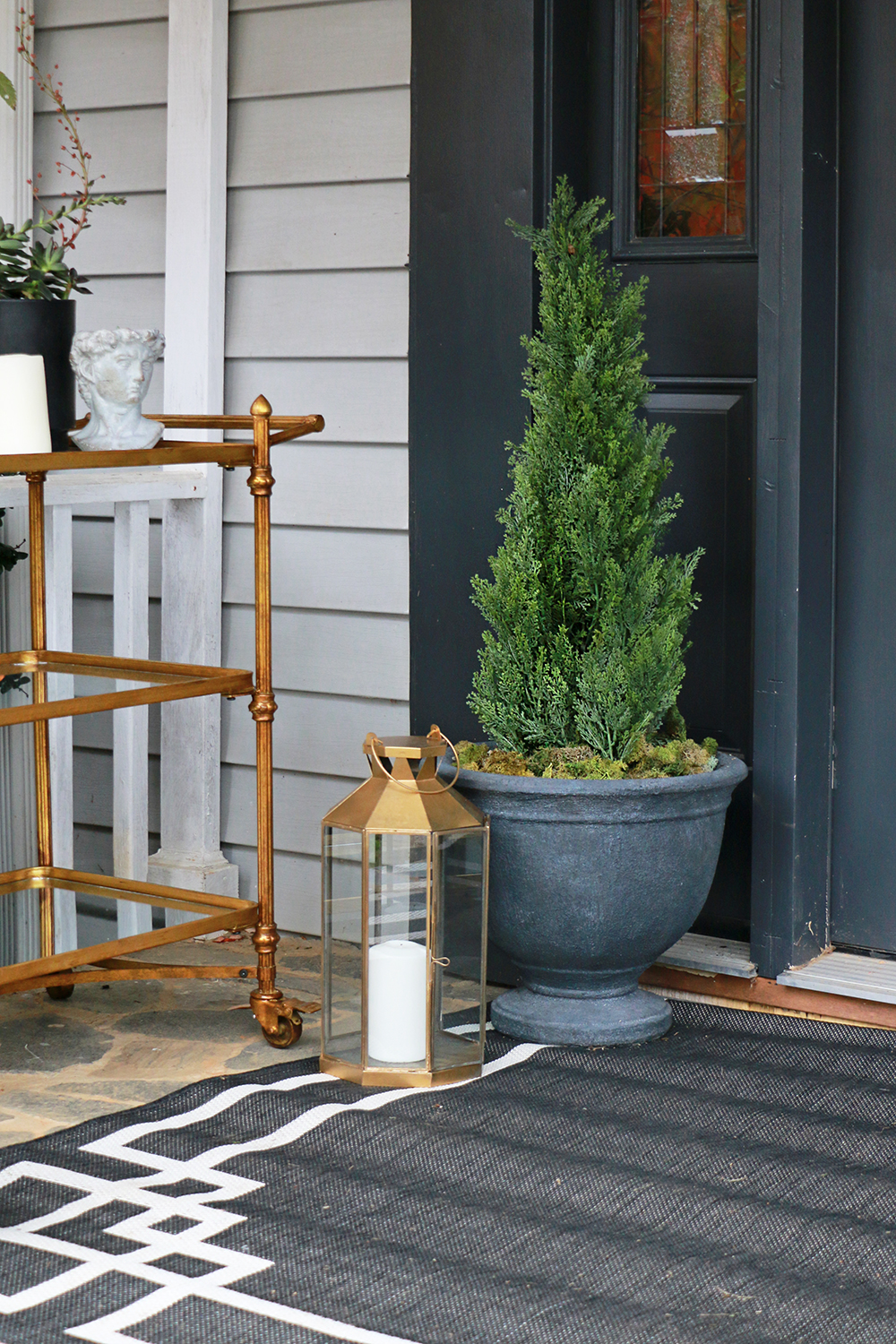 HOWEVER a great alternative is to go artificial! A Faux evergreen takes all the work out of plant maintenance on a blustery morning, and looks great year round! It's especially helpful for those of us who forget to water our patio plants.
PRO TIP: Ball up leftover bubble wrap or other packaging material in the bottom and around the sides of your faux plant. Then cover the top with moss or pebbles for a beautiful finish!
SHOP: Evgenia Faux Cedar Topiary + Surrey Composite Urn Planter Pots
#5. Embrace Moody Autumn Colors
Use colors that reflect the season… incorporate something gold/rust/brown, and swap out your brightly colored items for something a little more muted like autumn's hues.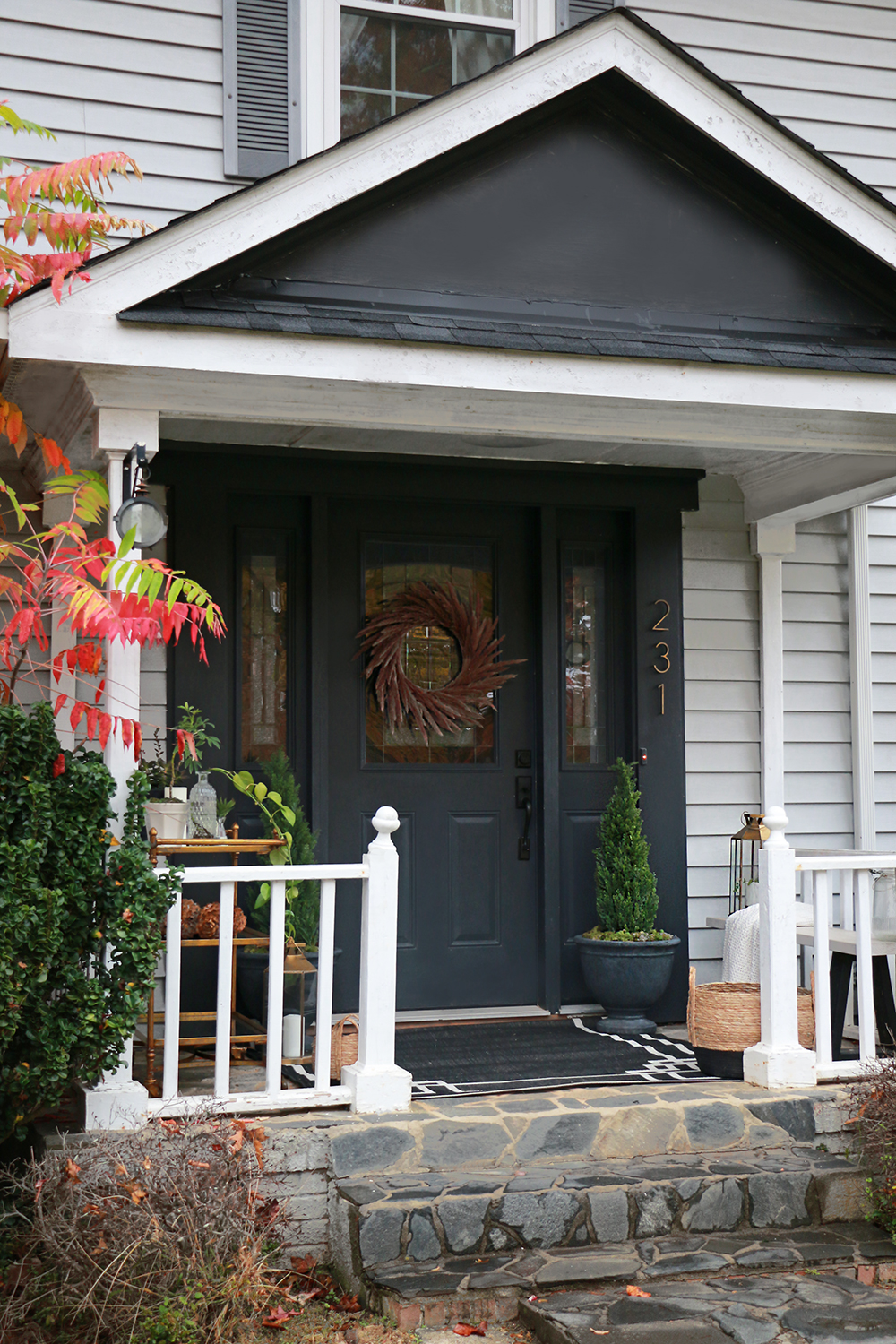 Choose dark hued area rugs, muted planters, and earth toned accents. If you love a pop of color, look to nature for direction in your chosen shade of color. Think of the colors of leaves or seasonal blooms in November. Try yellow in the shade of corn stalks, and if orange pumpkins are your thing, set it amid dark hues so it pops.
SHOP: Janie Black Outdoor Rug
#6. Add Ambiance
There are a lot of ways to add ambiance to your fall front porch. Add lanterns, candles, solar planter lights, café lights, and even opt for vintage bulbs in your outdoor light fixtures.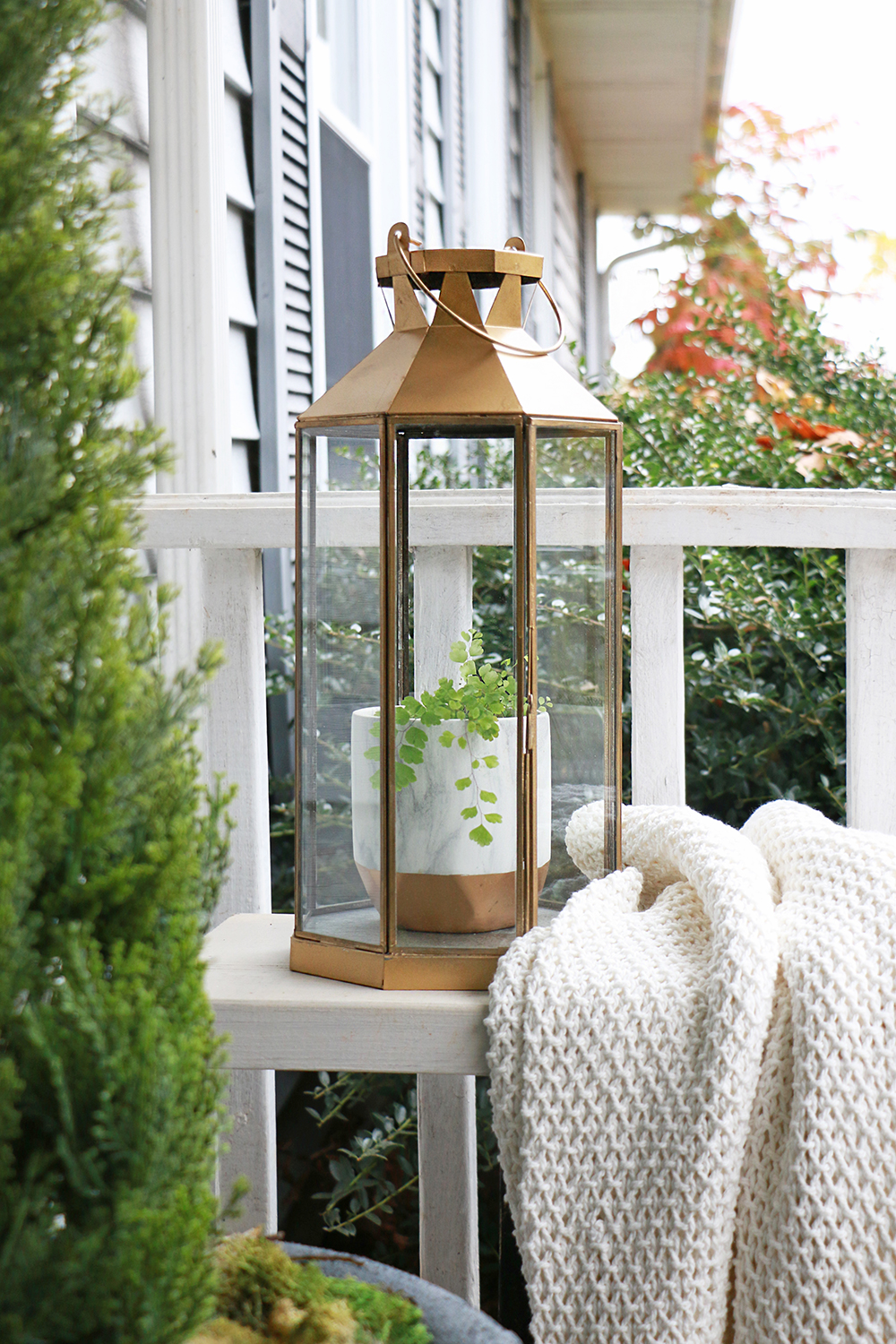 PRO TIP: Use either solar powered or battery powered sparkle lights with a timer in your lanterns. It is a maintenance-free way to add magical ambiance without fear of the sun melting your candles, or burning anything.
SHOP: Abrams Outdoor Lantern
#7. Mix In Classic Accents
It is the stylish accents that warm up a space and make it feel well put together. So when looking for fall porch decor ideas, consider timeless items like bud vases, planter busts, candles, etc.
Timeless classsics are an important fixture in addition to those seasonal touches.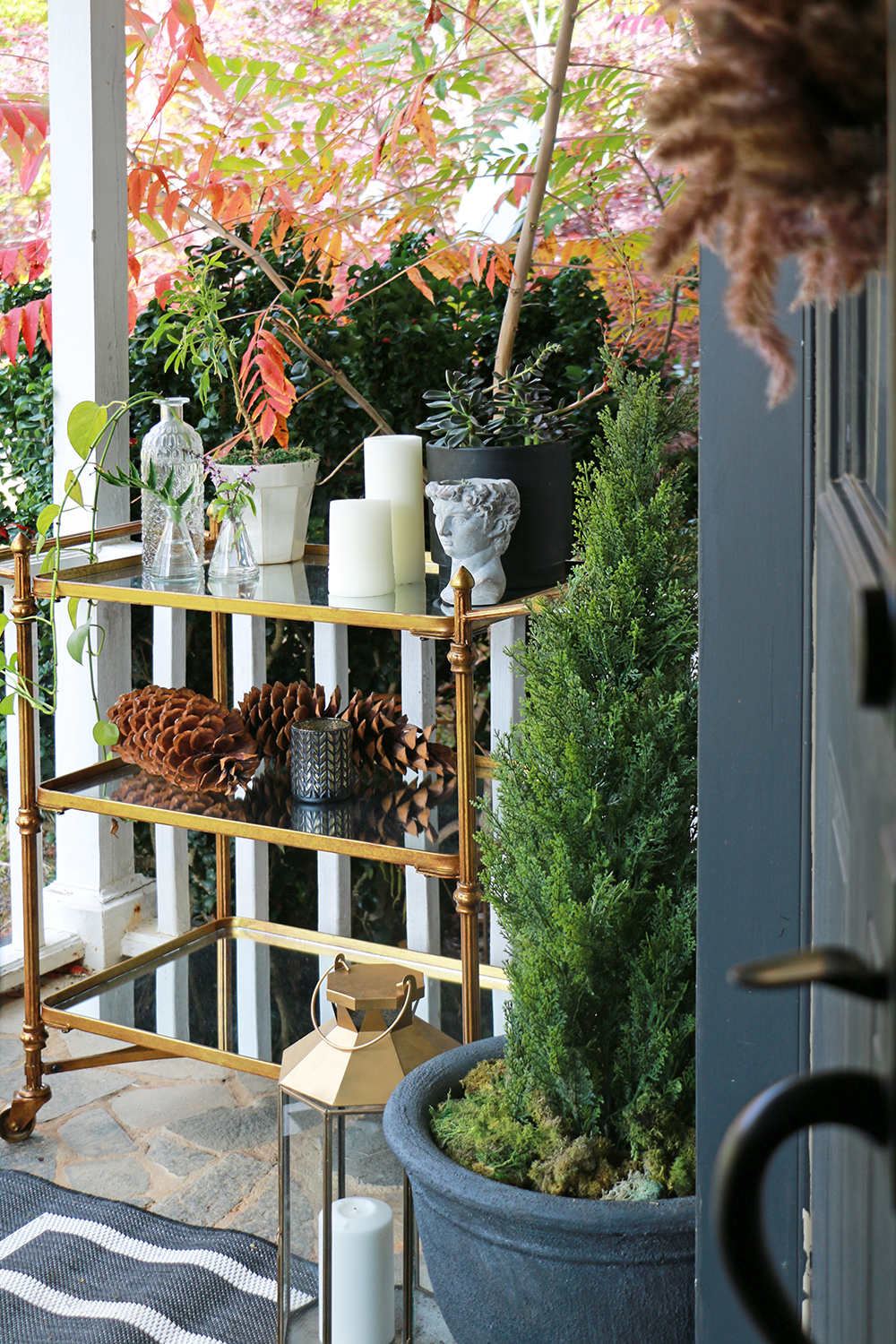 Enjoy Your Cozy New Fall Porch!
Your beautiful new outdoor entry will welcome guests in style! You don't need to have a Southern farmhouse with hay bales and pumpkin topiaries to create a stunning and welcoming autumn-inspired front porch.

More Favorites From Birch Lane
Looking for a few more pieces to add to your front porch? Here are a few wishlist items I'm loving for deck and patio spaces.

Be sure to get an early start to your fall décor so you are ready to welcome Thanksgiving guests! Happy decorating!
---
Try These Fall-Themed DIY Projects!
Like these fall front porch ideas? Try out these easy and beautiful fall DIY projects!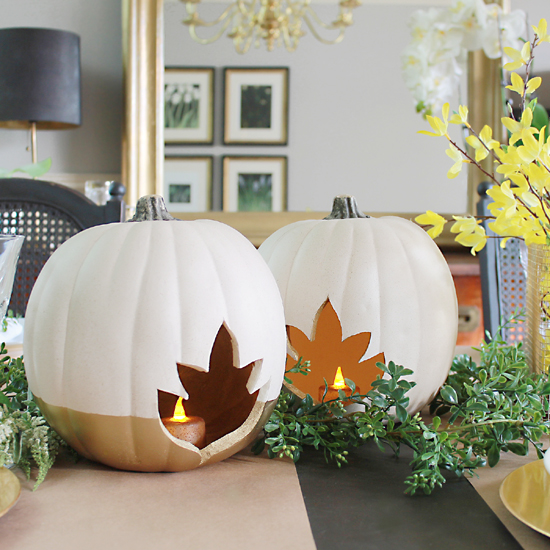 Pumpkin Centerpiece
Create an elegant fall-themed centerpiece that can be used year-after-year.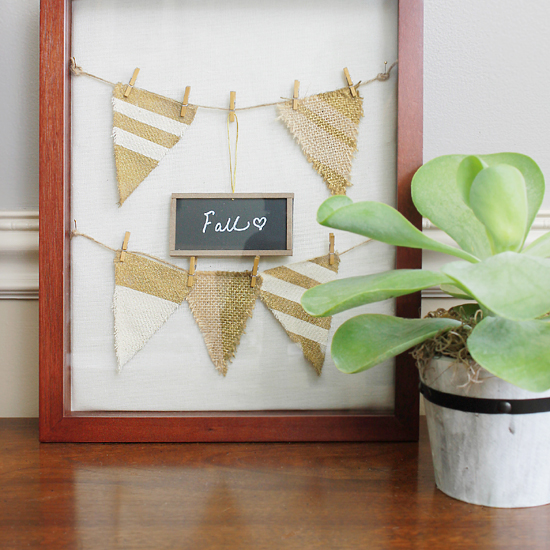 Fall Shadow Box
Create artwork that is easily changed out for the season, and adds a personal touch.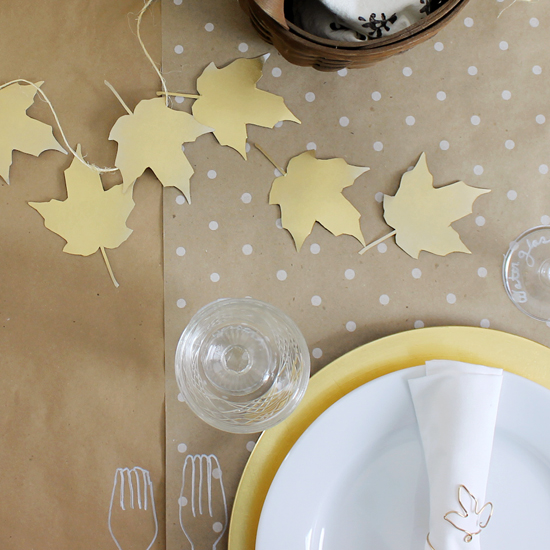 Thanksgiving Icebreaker
This Thanksgiving icebreaker game doubles as a beautiful centerpiece!