10 great (and some super necessary) dorm room essentials you don't want to overlook!
If you are looking for some dorm or studio apartment decorating inspiration, check out this mid century modern room done on a budget for a worthy student.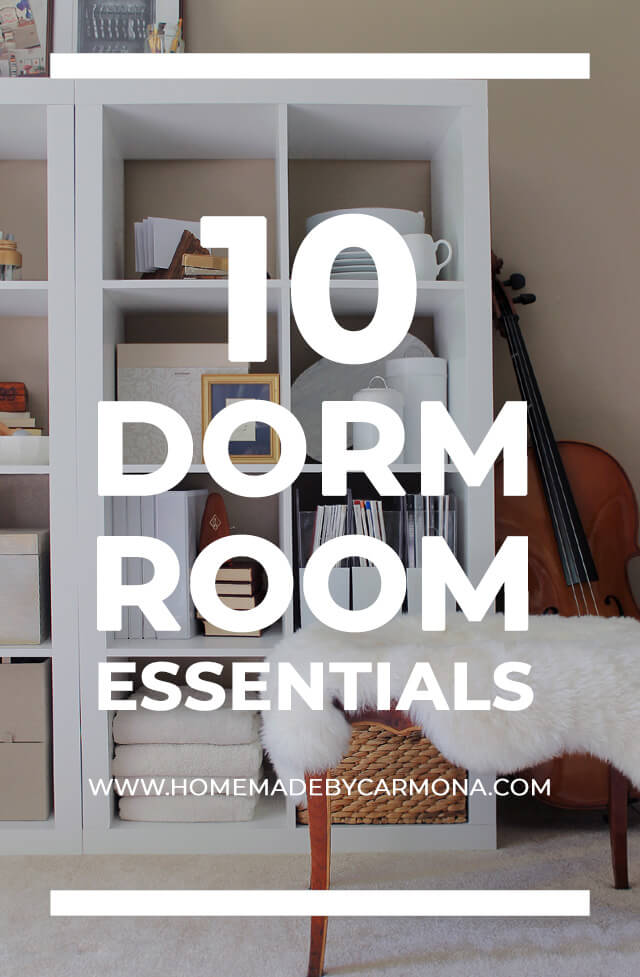 Make Your Dorm Room A Temporary Home
Going off to college for the first time can be exciting, nerve-racking, and certainly a challenge when you don't have everything you need to make that dorm a proper 'home' substitute.
I mean, hey, you (or your young adult) is very likely going to spend a year or two in this space. This isn't the time to forget the essentials or to cut corners.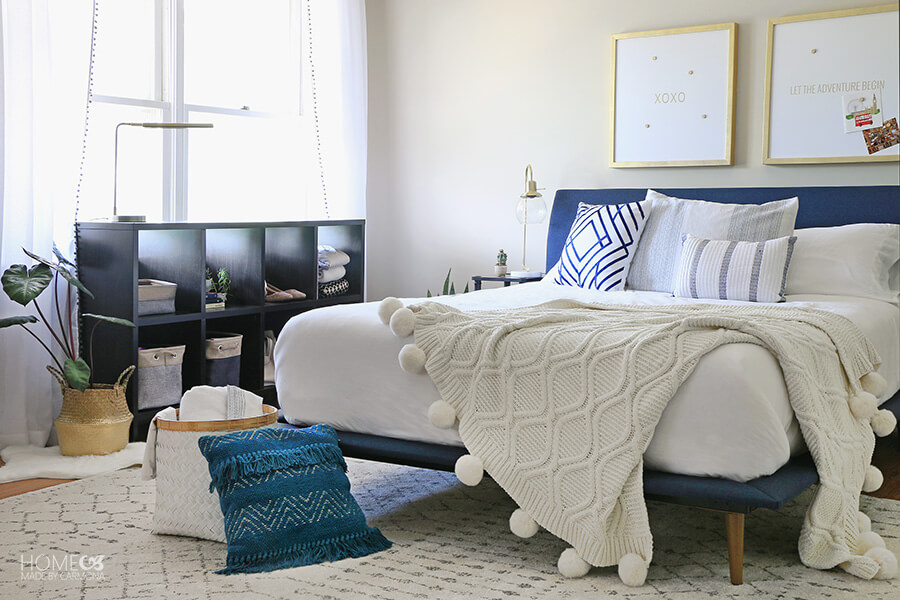 Essentials To Consider
Sure, everyones needs are different. But you'll find most of us end up needing many of these items sooner or later. Hey, why not make life easier?
*This post contains affiliate links below. Which basically means when you shop these items, it doesn't cost you any more, but I get a small commission. 😉 *
1 – Dry Erase Board + Calendar
Honestly, your brain is going to be full, who has time to remember every piece of info? A dry erase board to jot those seemingly insignificant reminders that you need to see every time you look up can be so helpful!
2 – Closet Organizers & Extra Clothes Storage
Space is going to be a problem. I mean, what closet? It's a dorm. Definitely size up your dorm room first and order some rod extenders, organizers, tiered hangers, and even a portable closet if necessary.

3 – Vertical Storage
Again, remember what I said about space being a problem? Make the best use of space by going vertical. Whether that is free standing shelves, wall hooks, over-door hooks, extra tall drawer stacks, cube organizers, or something else.
4 – "Not Your Mama's" Laundry Tote/Hamper
Choose your laundry bag depending on your particular laundry situation. Consider a bag you can cart on your back like a backpack for those who have a long trek to the washroom. Or maybe one on wheels if you are on the same level as the laundry room. A double laundry basket with one sides for darks and the other for lights…The options are endless, so don't settle for just any old hamper.
5 – Desktop Organizers
Between textbooks, and papers to write, and so much to keep up with, who needs to have to hunt for desktop necessities? Keep your pens, pencils, and papers organized with a little help from some organizing solutions.
6 – Kitchenette Items
First of all, any kitchenette appliances you buy should do double duty. They are big and bulky, and take up space…so they need to work overtime for the space they are using.
Second, determine what you need by how you tend to live when mom and dad aren't around. Will you want to nuke that cold leftover pizza before digging in? Do you get peckish in the night or prefer to wait until food is made for you?
A few appliances to consider for your lifestyle are: microwave, mini fridge, kitchen cart, water kettle, etc.
 
7- Unexpected Desk Solutions (when you don't have space for another desk)
No desk? No problem! These makeshift "desk solutions" will save on space, but still give you that work station you so desperately require.
8 – Noise Cancelling Headphones, Earplugs, & Eye Covers
There will be times when you need to block out whatever is going on around you. Whether to study, sleep, or just get a little sanity saving "alone" time.
9 – Comfort Solutions
When you sleep, you want it to be good…because it is quite likely going to be brief. Never underestimate the power of a great bed, and other comfort solutions!

10 – Bathroom & Shower Necessities
If you are lucky enough to have a bathroom shared between just a few you of you, you need storage. If you aren't, you need a really great tote, and maybe a few other helpful items.