Forget basic benches, make a stylish modern bench using these free DIY outdoor bench plans. It will immediately elevate your outdoor spaces!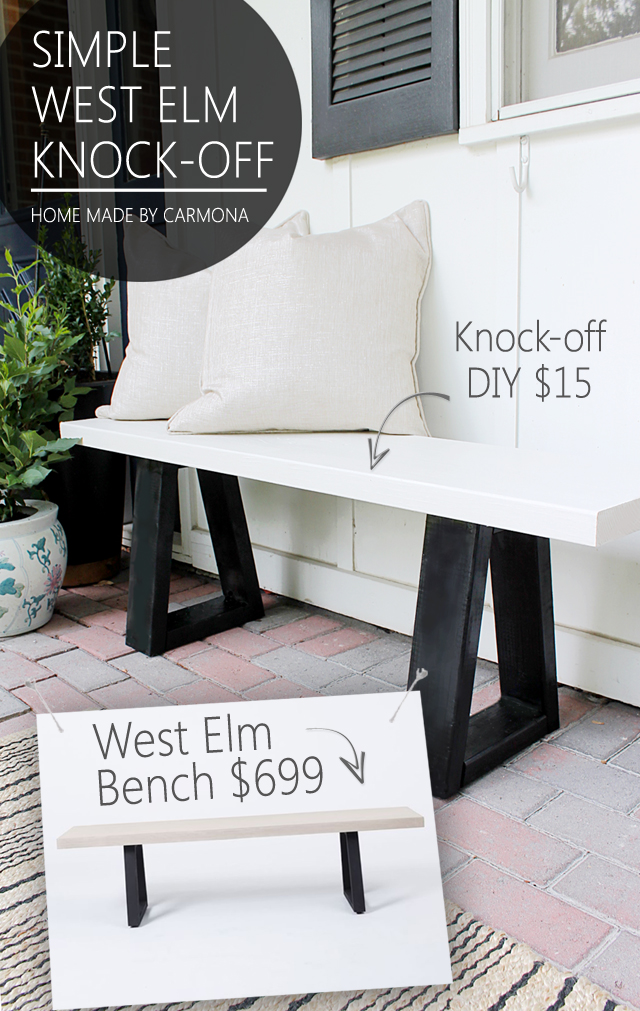 My idea of a good time is cruising through the West Elm catalog with a bag of snickerdoodles and pretending I could actually afford to buy everything in it. 😉 Like this $699 West Elm slab bench, I was pretty excited it went on sale, until I realized that on sale it costs $594…uh. okay then.
Well exciting news people. We CAN afford the stuff in the West Elm catalogs! Maybe not by always buying it outright, but this month myself and 4 other amazing bloggers are partnering up to show you how you can make your own knock-off version of that gorgeous item you wish you owned. Wishes, granted!
This month our theme is outdoor West Elm knock-offs, and we'll have more for you next month!
Myself and 4 other amazing bloggers are partnering up to show you how you can make your own knock-off version of that gorgeous item you wish you owned.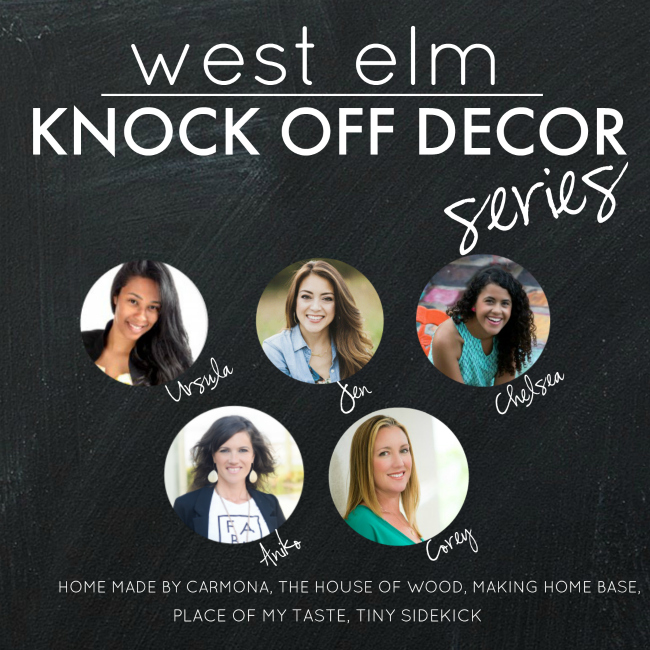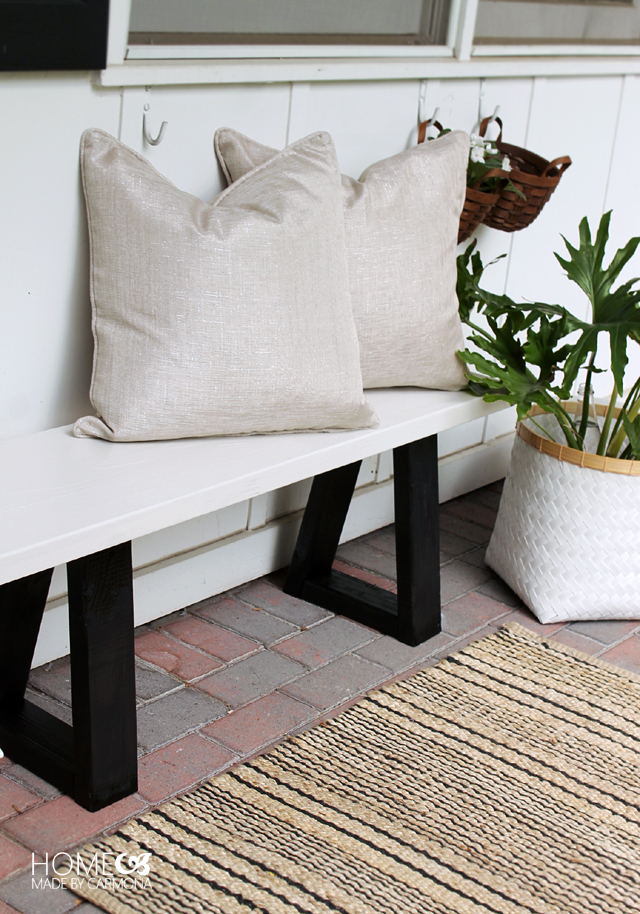 How To Make This West Elm Knock-off Bench
Today I'm showing you how to make this stylish modern West Elm bench for under $15 each! If you already have some of these materials (such as screws, paint, etc.), then it will cost even less per bench...the final total for all the materials (if you make 3 benches) will be about $45. Here's what you'll need: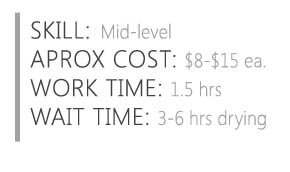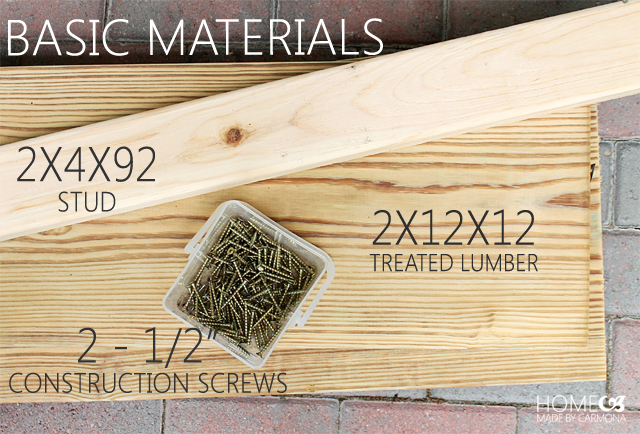 Supply List
2x4x92 studs (1 per bench)
Treated lumber: 2x12x12 (to make 3 benches), OR 2x12x4 (to make 1 bench)
2 – 1/2″ construction screws
Black spray paint (or paint of choice)
Grey-white exterior paint or stain (or paint of choice)
Ultra Polyurethane
XL furniture foot tacks (optional)
Tool List
Miter saw
Drill
Screw driver
Measuring tape
Paint brush
Pocket hole jig (optional)
Make Cuts For Vertical Leg Pieces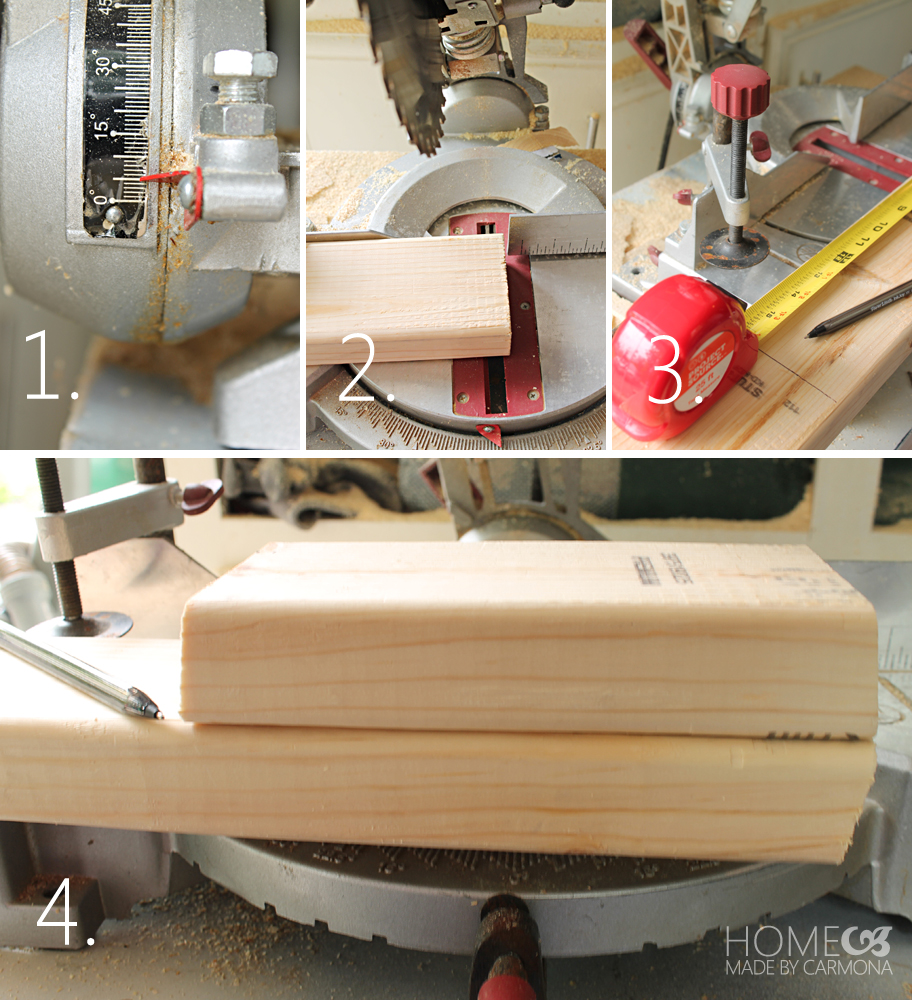 1.Set your miter saw to 10 degrees.
2. Make the first starting cut to your stud by cutting off the very end at 10 degrees
3. Measure and mark 15-3/4″ and cut, this is your first leg!
4. Just slide the wood stud down and use the first cut leg as a template. Mark and cut again. Do this 4 times for 4 vertical leg pieces (or 12 times if you are making 3 benches).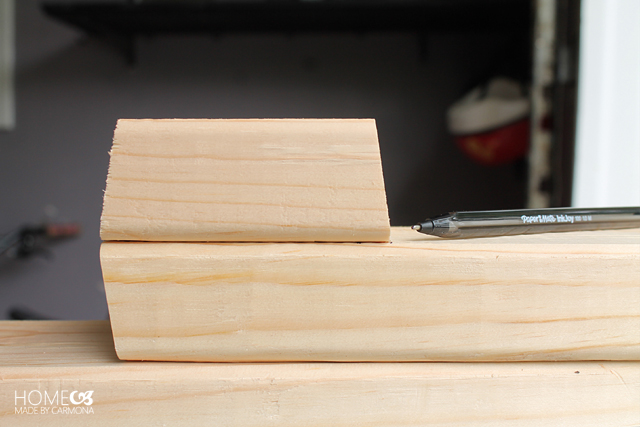 Cut Horizontal Leg Pieces & Bench Top
Next you will do the same for the horizontal leg pieces. The smaller horizontal piece measures 3-1/2″, the longer horizontal piece must measure 8-1/2″.
TIP: The trick to measuring and cutting subsequent horizontal leg pieces is to make a cut, flip the wood stud, line up both long ends of the template piece before marking and cutting.
If you haven't already had the hardware store cut your 2x12x12 treated lumber into three 4′ pieces, go ahead and cut them now. This is your bench top. Also take a moment to sand all the rough edges of your cut pieces. These are the pieces you'll have per bench, and you should be able to line them up as A-frame legs: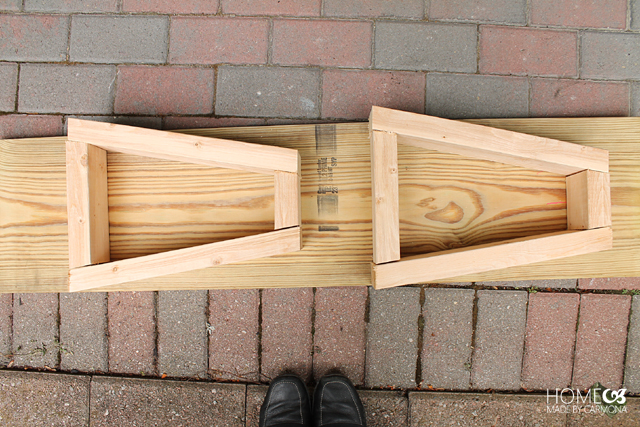 Assemble Bench Legs
The most sturdy assembly is to drill pocket holes into the top and bottom horizontal leg pieces. This also hides the screws so there is no need to use wood filler.
Just drill two pocket holes in the top facing side of the small horizontal piece, and two in the bottom facing side of the bottom horizontal piece. If using pocket holes, use 1-3/4″ screws.
No Pocket Hole Jig? Do This Instead:
Drill two holes in the top and bottom of all the long vertical leg pieces.
TIP: Be sure that you drill so that the screws will go straight across into the connecting pieces (and not at an odd angle like my first ones did). Line up your A-frame legs and screw all the pieces together.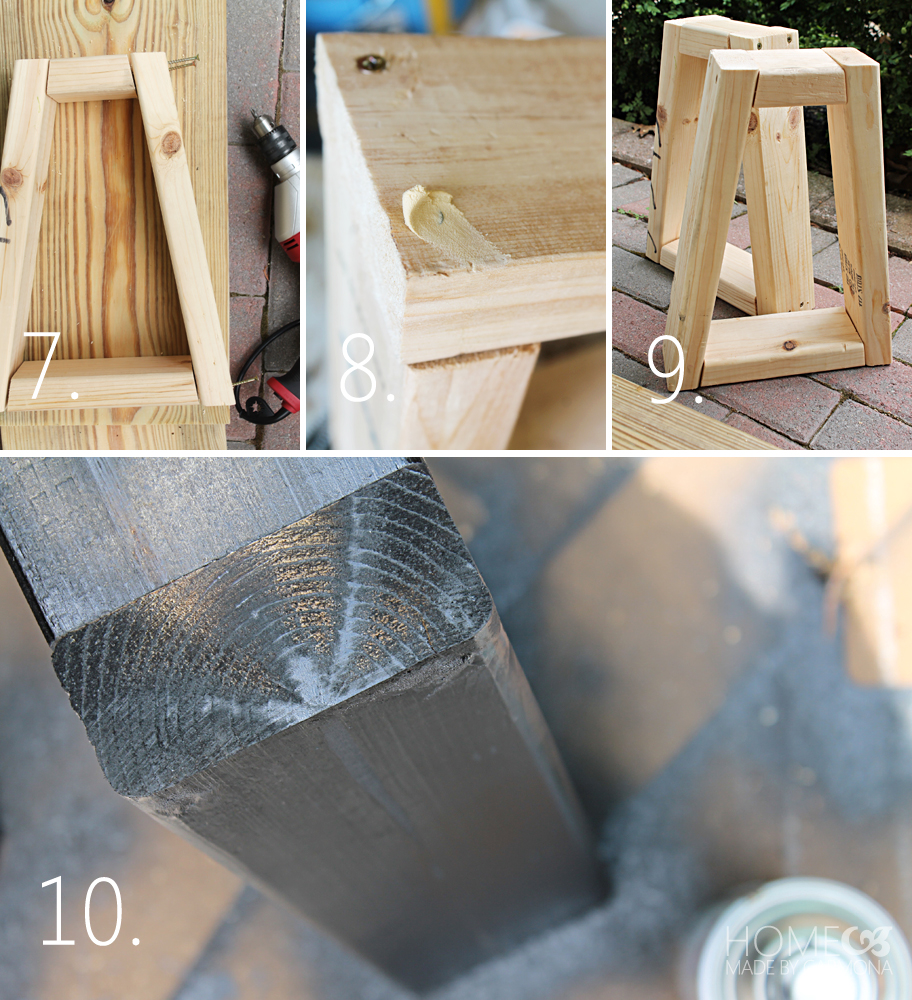 Screw it in until the connecting pieces of wood pull together (and close any large gaps) and the screw sinks deep into the soft wood. Then you can fill any other gaps and screw holes with wood filler. 
TIP: To ensure everything is flush, screw the pieces in place with the A-frame lying on it's side on a level surface. Then place a piece of wood at the top and bottom while screwing in. This helps you know it is flush even when it doesn't look like everything is perfectly lining up. Imperfections are ok as long as it is flush at the top and bottom.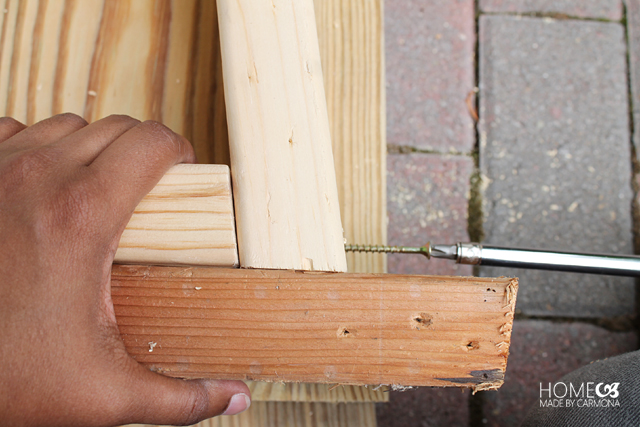 Faux Concrete Bench Top
This simple wood bench can still have a concrete benchtop look. Sift a fine cement, mix with water, and spread it thinly on the bench top (just enough for texture). Let it dry completely, then paint and seal.
TIP: Want that concrete look without the concrete? Pour a large glob of paint on the bench and allow it to dry slightly to thicken (about 30 mins), then "spread" the paint on. It will take longer to dry than the 6 hours, and you should seal it well, but it is worth it!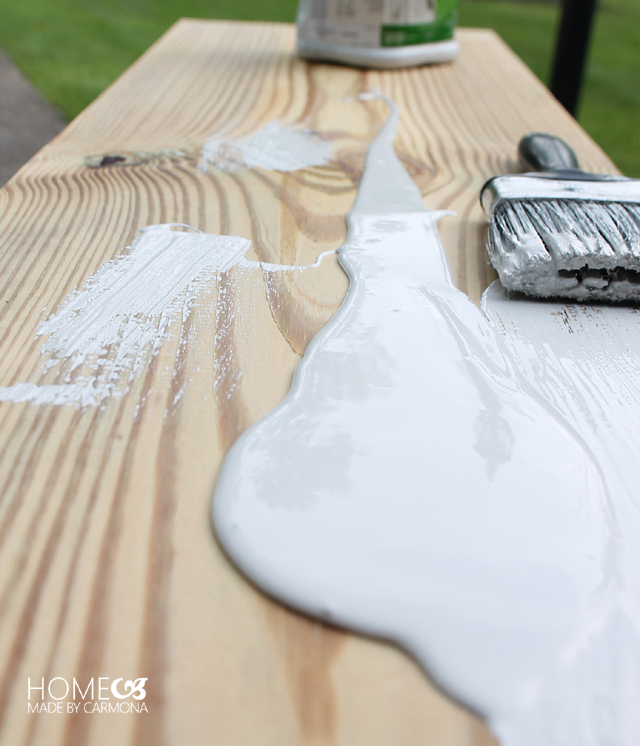 Stain or spray paint the bench legs. Let everything dry completely before sealing with a polyurethane.
Finally attach the legs to the bench top by drilling four holes and screwing into place.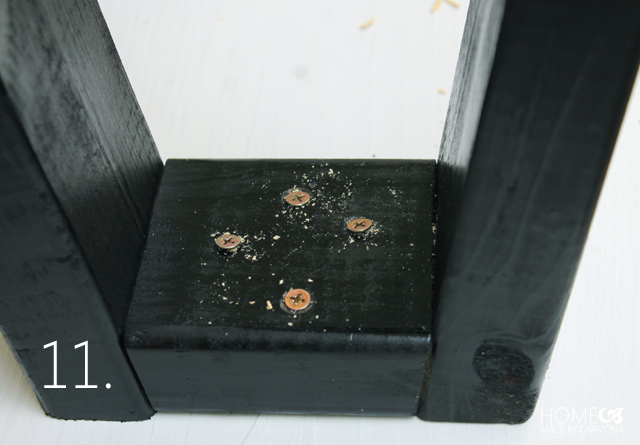 IMPORTANT NOTE: Don't set the legs too close to each other or too far from the edge. When someone sits on the edge, you don't want it to tip… the closer to the edge, the more sturdy.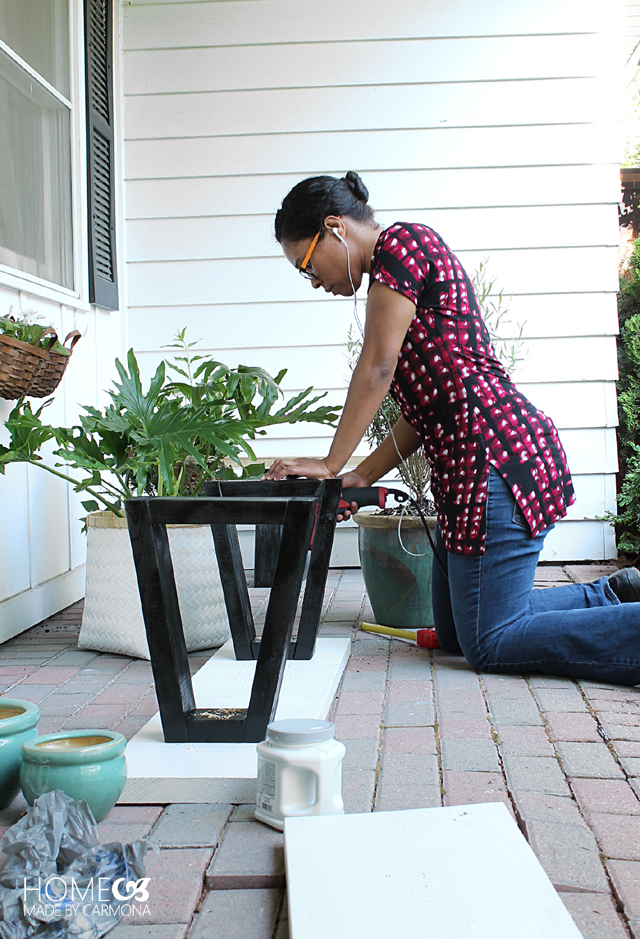 (Optional) finish with a last coat of sealant, and if you plan to use these in the outdoors exposed to the elements, I recommend nailing furniture tacks to the bottom of your benches legs. This allows some "breathing" room underneath, and moisture won't collect and damage the wood legs. This is especially important if your finished bench will be used on a deck or porch as outdoor seating.
Enjoy Your West Elm Bench Dupe!
I hope you enjoy how amazing your new West Elm bench knock-offs look!
It was time to give my whole patio a nice do over, so I started sprucing it up just a tiny bit after admiring my new benches. It looked like this early in the day.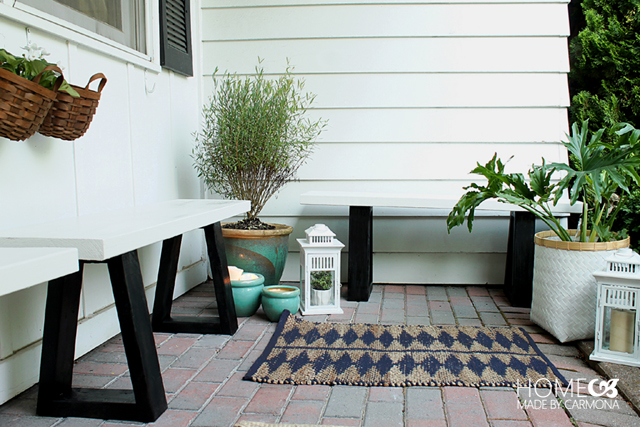 Then once I got started, it really took off and by evening I was LOVING my newly made-over space! Want to see how I gave my entire patio a whole new look in a day? It was a quick, inexpensive front porch makeover, and I've got some great tips for you via video! See more here.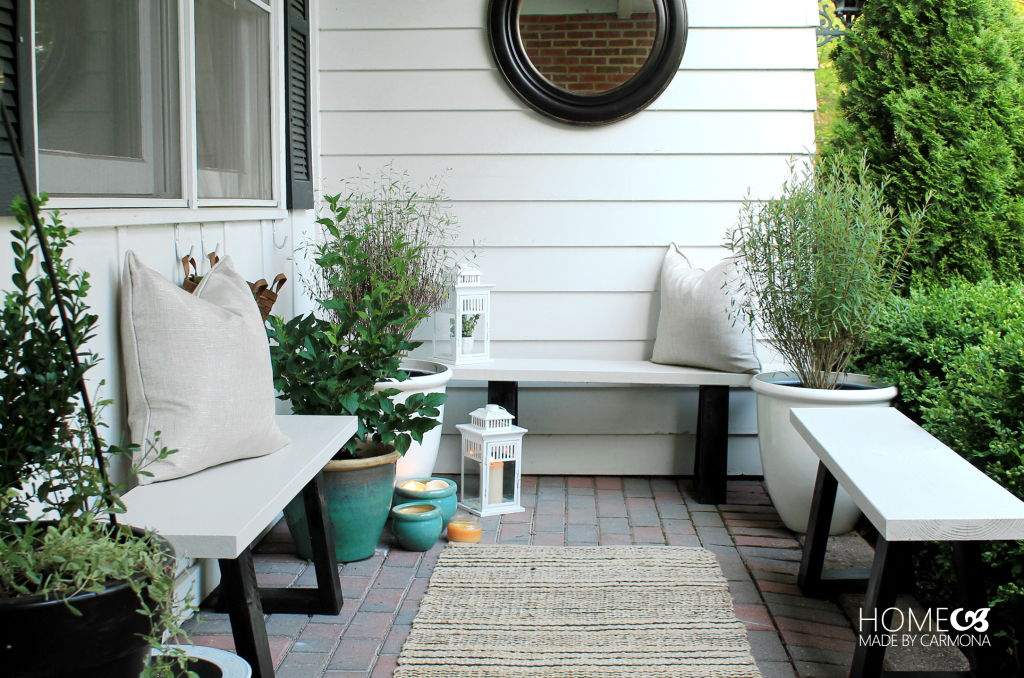 Alternatively, use this detailed build plan not only to make a beautiful bench, but customize it to make a coffee table, console table, or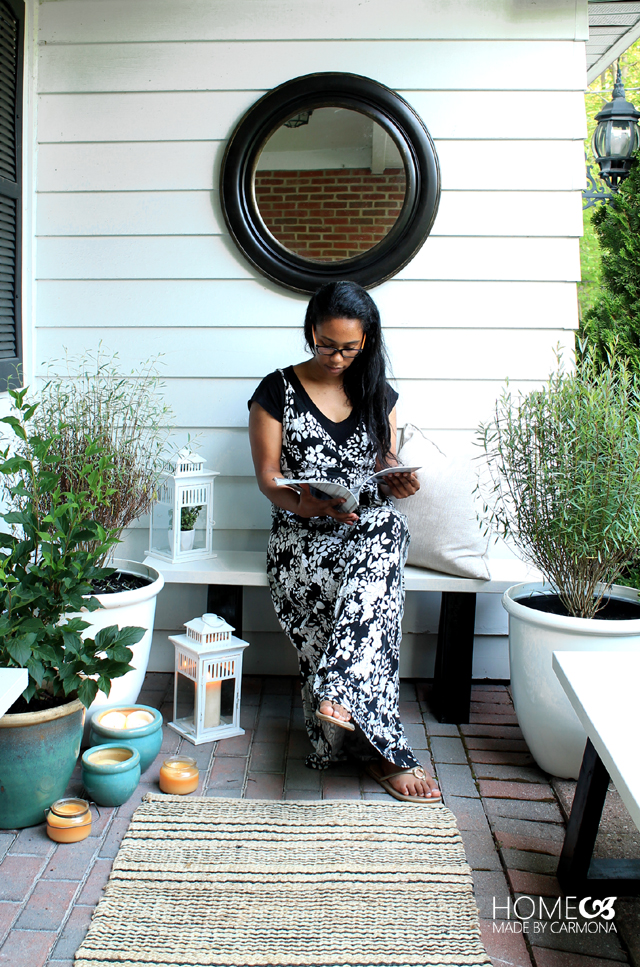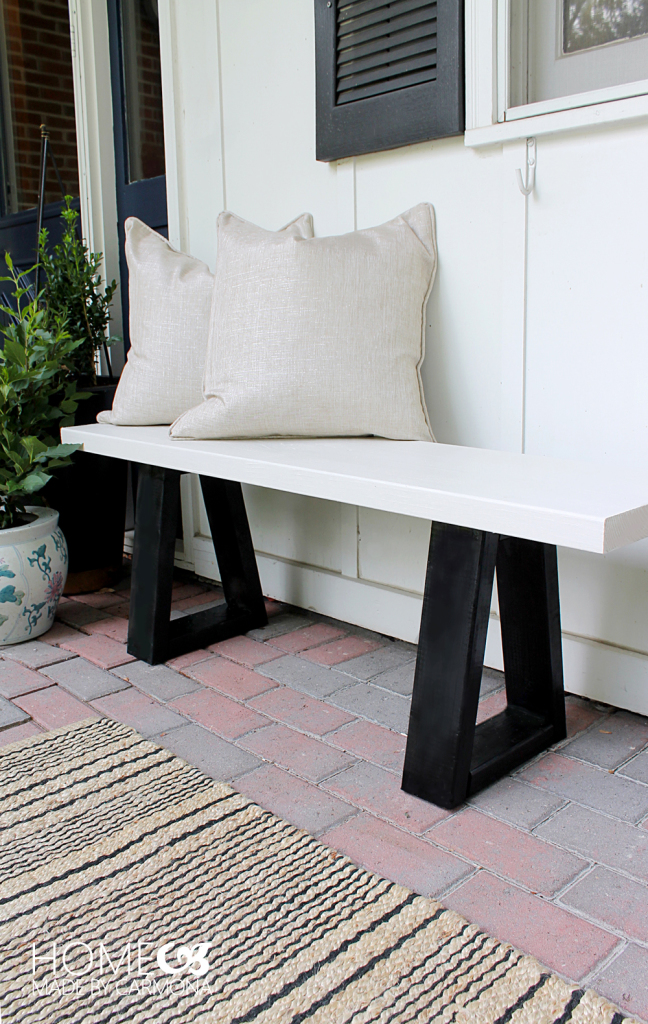 Now go check out the amazing projects below by these talented ladies. They are each showing you how to accomplish West Elm outdoor knock-offs. I'm feeling like it is going to be a West Elm kind of summer!

TINY SIDEKICK – WEST ELM INSPIRED WOODEN PLANT STAND
PLACE OF MY TASTE –WEST ELM INSPIRED STRIPED POUF
MAKING HOME BASE – DIY WOOD SLAT BENCH
HOUSE OF WOOD – DIY BUTLER STAND
HOME MADE BY CARMONA – DIY WEST ELM BENCH KNOCK OFF