Important considerations when designing a gaming room to store and play your favorite board games, video games, or other games.
Don't have a dedicated gaming room? Learn how to transform your common room into a secret game room in plain sight!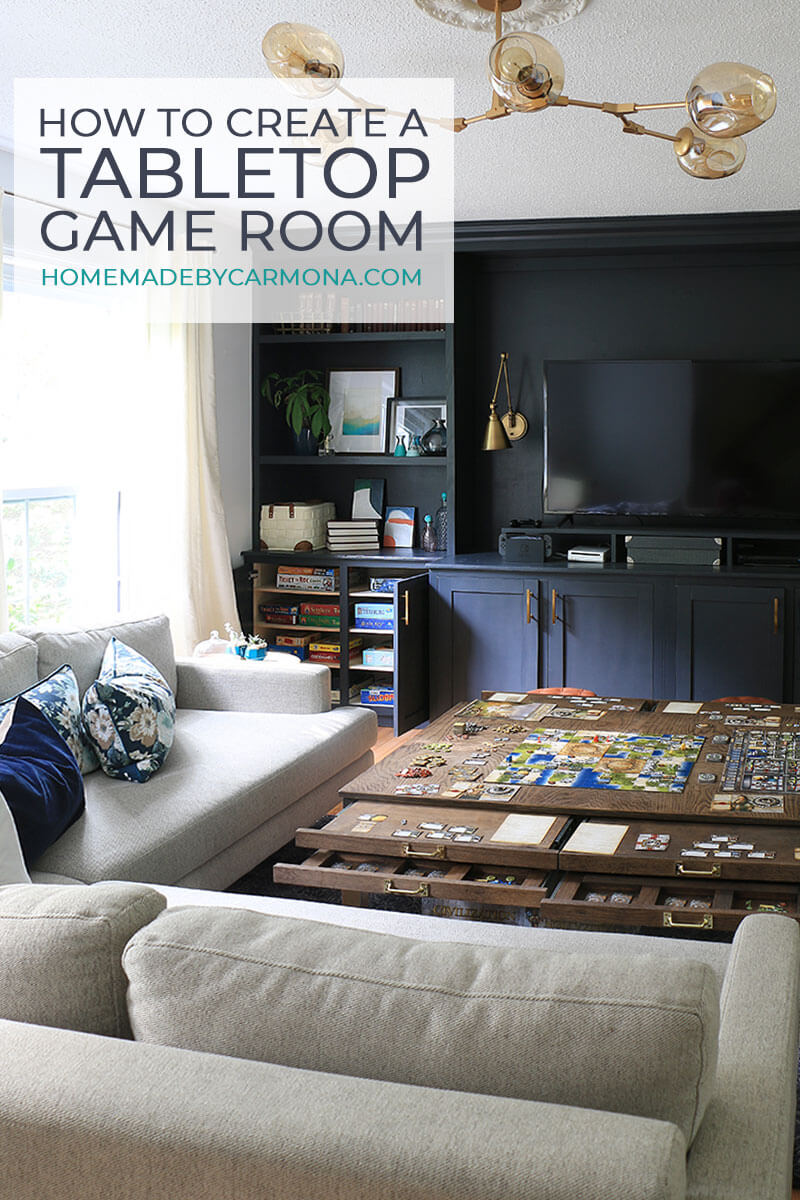 Welcome to my living room / game room! It the ideal tabletop board game room, complete with a ton of closed storage cabinets built to hide away our growing gaming collection, a DIY gamer's coffee table, and seating options for the different gaming comfort preferences. It is used for both board games, puzzles, and video gaming!
No Dedicated Gaming Room? Turn Your Common Room Into A (Secret) Game Room
Every gamer's dream is to have a dedicated gaming room with all the bells and whistles. But that isn't always practical… Some of us don't have an extra room to dedicate to all things gaming, and often there is one person in the relationship who isn't keen on the idea of room full of gaming gear.
Okay, so you have to keep your family room, home office, or other space designer friendly. No problem! By day, my living room is just an attractive living room, by night it is a comfortable gaming room for our board games, and my husband's video gameplay.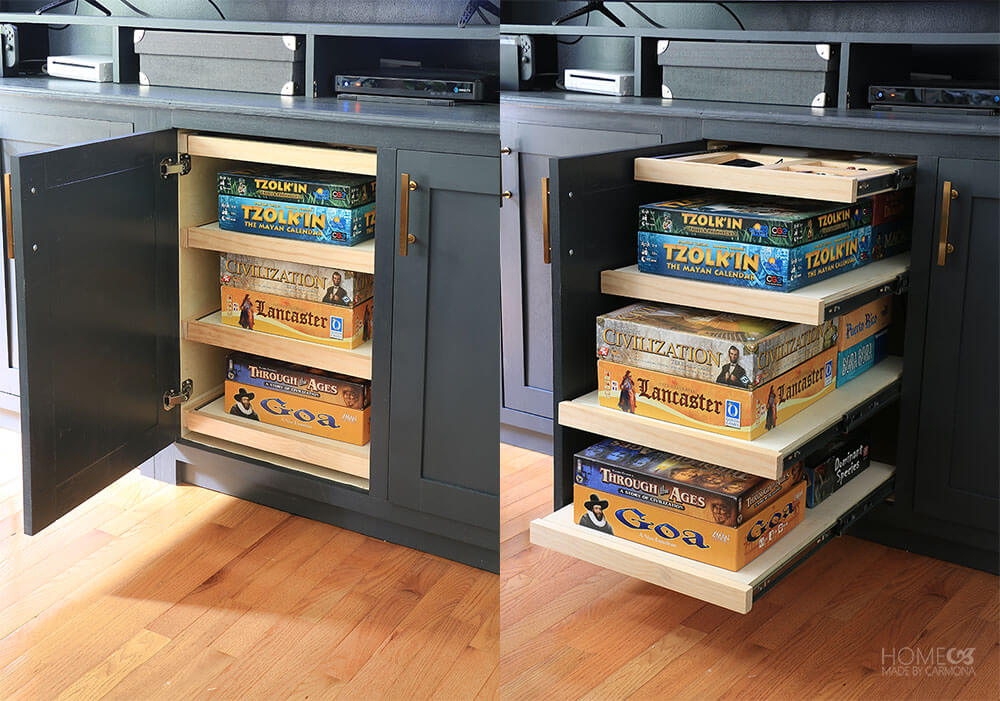 Whether you are transforming a room into a dedicated game room, or creating a "hidden" one, here is what you need to consider:

Choosing The Right Room
The best space for a multi-purposes gaming room would be wherever your entertainment center is.
Obviously this makes for the best video game room, but the same features that make for a good video gaming experience can also be helpful for board gamers as well.
In my home, that means the living room was the top choice. For others, a large office with plenty of space for game seating, monitors and TV, might be the ideal gaming room setup.

Plan For Adequate Storage Space
Keep the clutter at bay, and take good care of your board games or gaming accessories with adequate (hidden) storage.
Don't just calculate the amount of games / controllers / supplies you currently own, but estimate the amount you will probably end up owning in a lifetime. Then plan adequately for your growing game collection.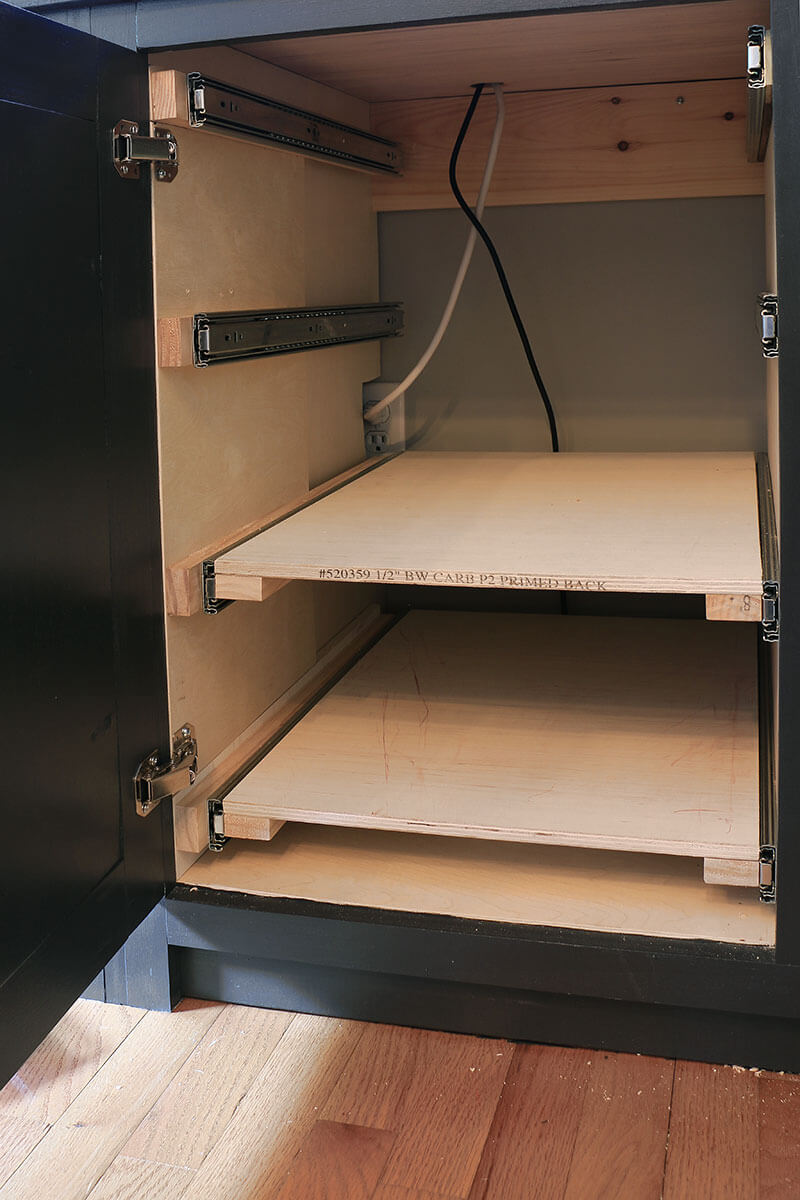 I built my own storage from scratch so I could control the precise depth, width, and height of my storage. Learn more about these cabinets and how to build them here.
However if you aren't keen on the idea of making built-ins yourself, you can add DIY pullouts to any set of cabinets by screwing 1″x2″ boards to 1/2″ Plywood and attaching full extension drawer slides (affiliate shop link).
This is a good opportunity to hide cables, add a mesh metal screen to the front of a cabinet door and run gaming consoles from inside. It's a stylish way to hide gaming hardware or TV hardware, without impeding the signal.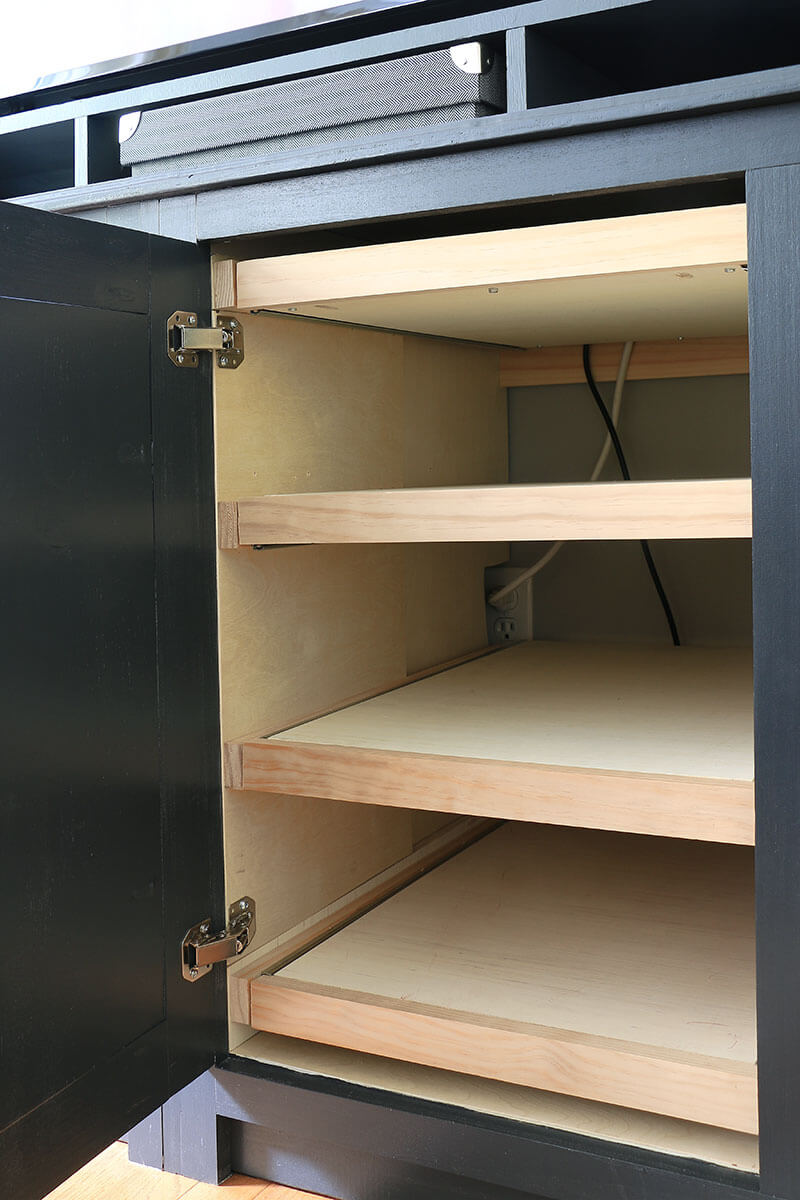 Pull out shelves are the perfect solution for storing board games, video game supplies, puzzles, and more!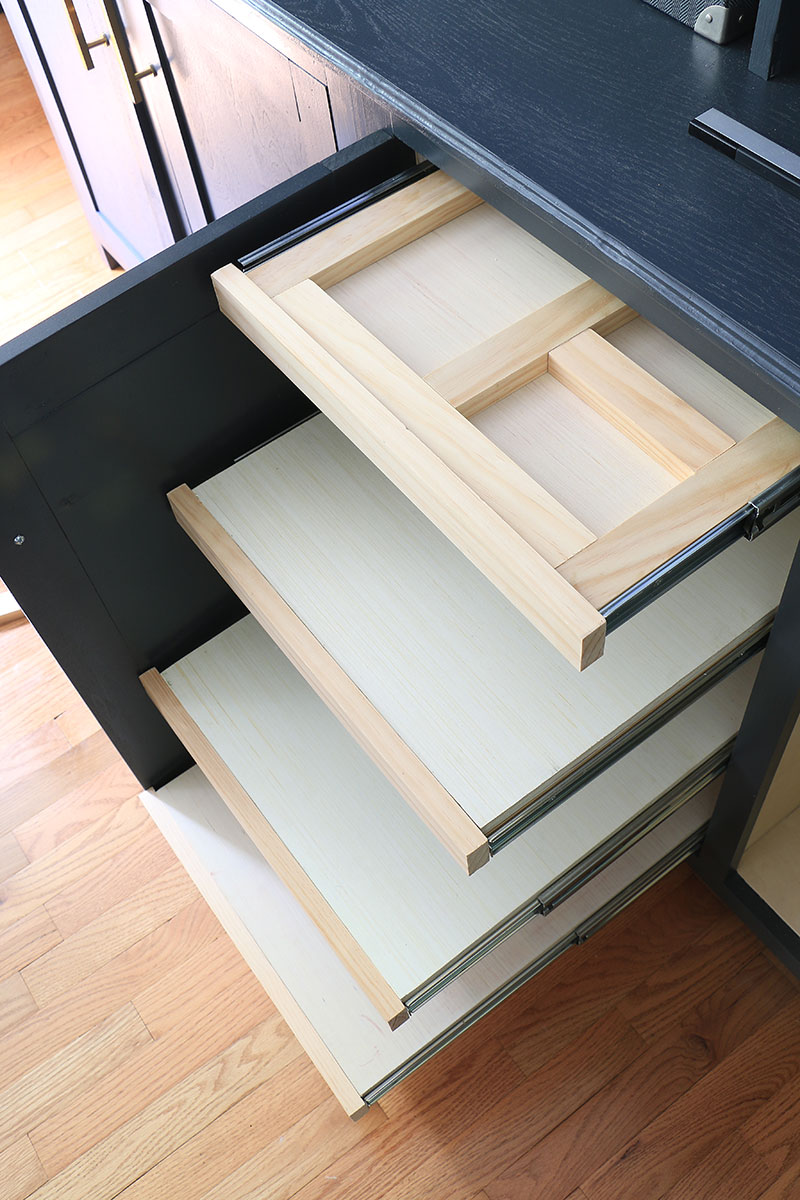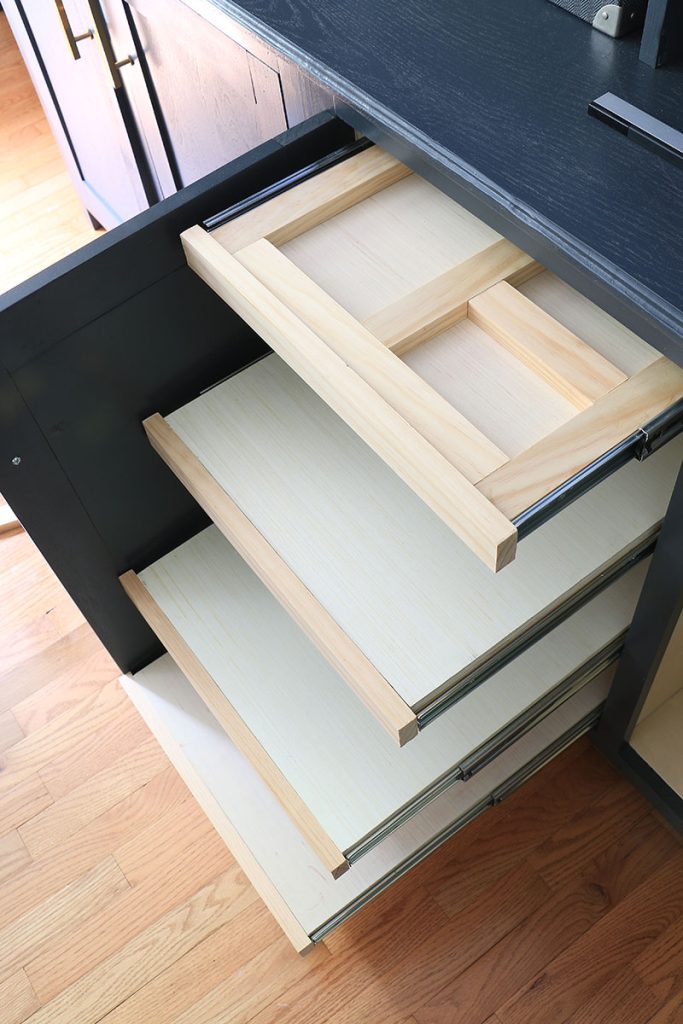 Organize Gaming Accessories / Gear
Organize various miscellaneous gaming pieces such as extra dice, drawstring bags, game piece storage baggies, etc.
Design one of your shelf pullouts with compartments for smaller items. Simply glue/nail some 1.5″ wood across the top of the plywood in the desired pattern.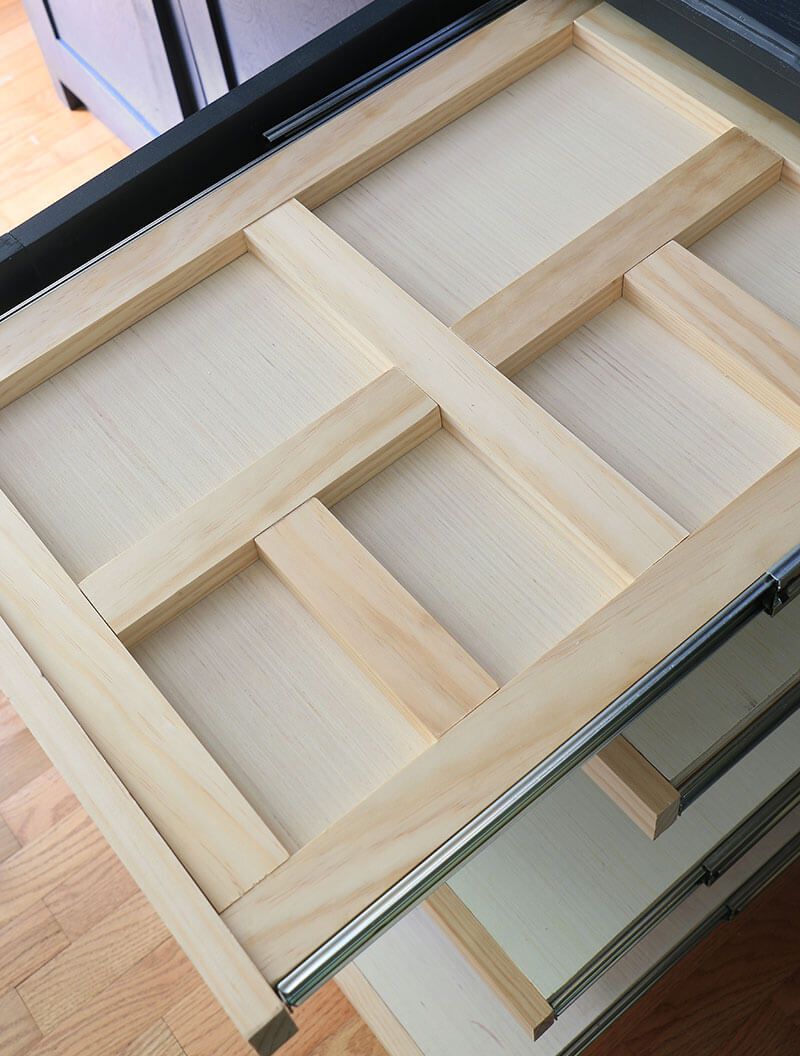 If you don't have pullouts, drawers with dividers can do the same task.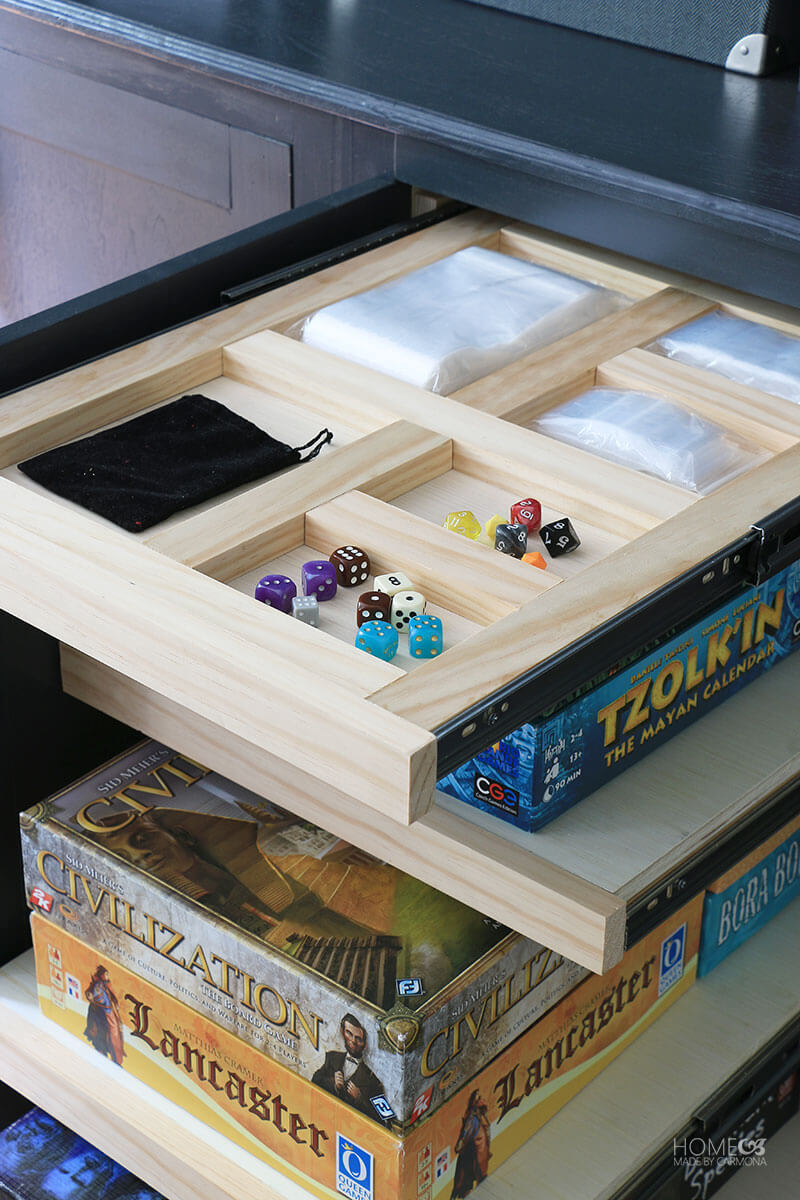 Cut upholstery foam to hold video game controllers and place in a pullout, drawer, or basket. Learn how here.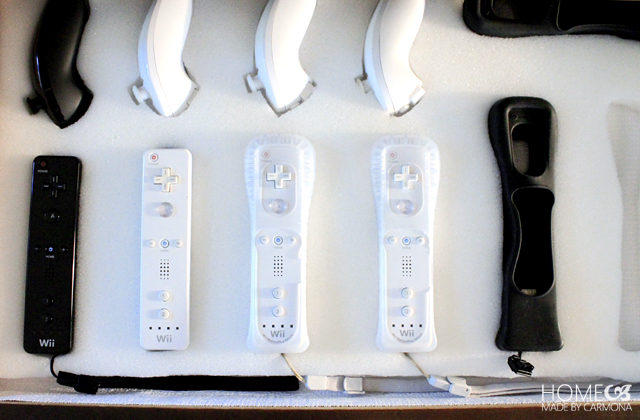 Keep less frequently used gaming tech and games tucked into cabinets, storage ottomans, or in baskets on shelves.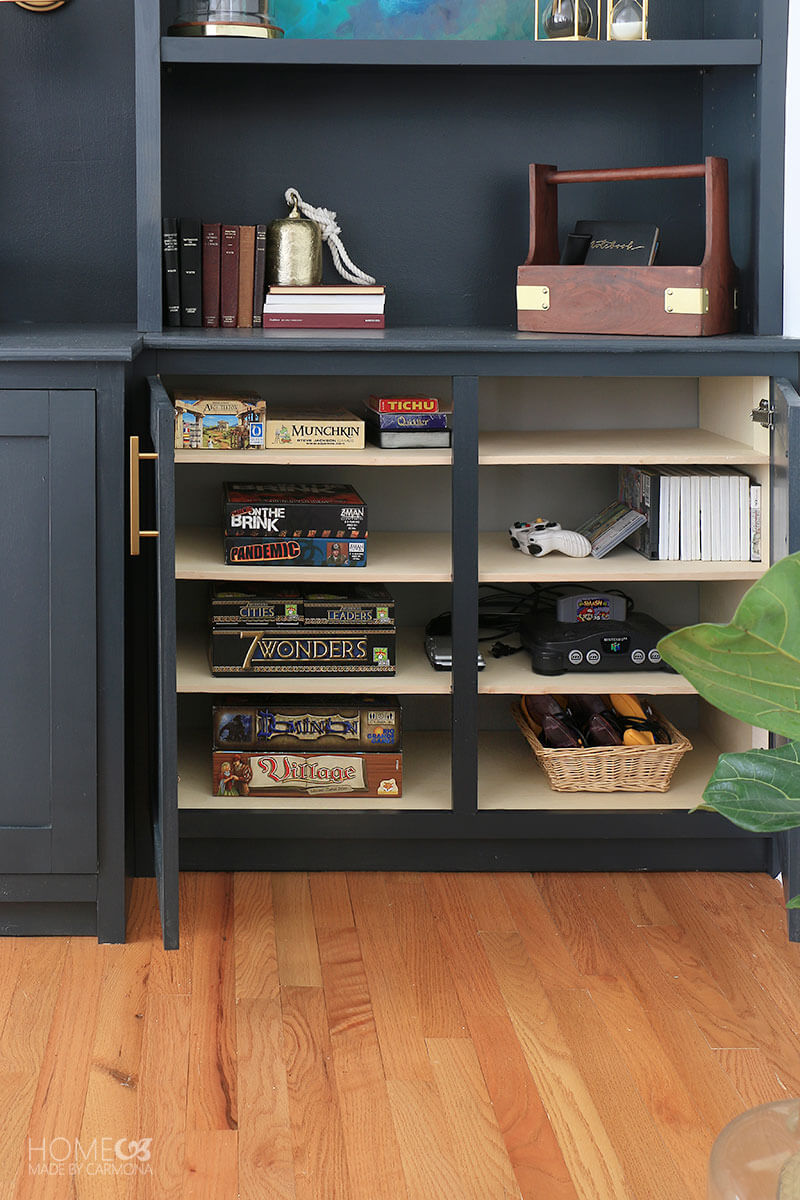 A Comfortable Seating Area
Game room furniture doesn't have to be specialized pieces. Regular furniture can do the trick, just consider the best seating for your type of gaming.
Many tabletop board gamers opt for for a round card table with uncomfortable folding chairs, which I've never entirely understood. Modern board games (also known as Eurogames) are multiple hours of gameplay, and not everyone will be comfortable on a fold out or dining chair for that long. It isn't the most comfortable chair.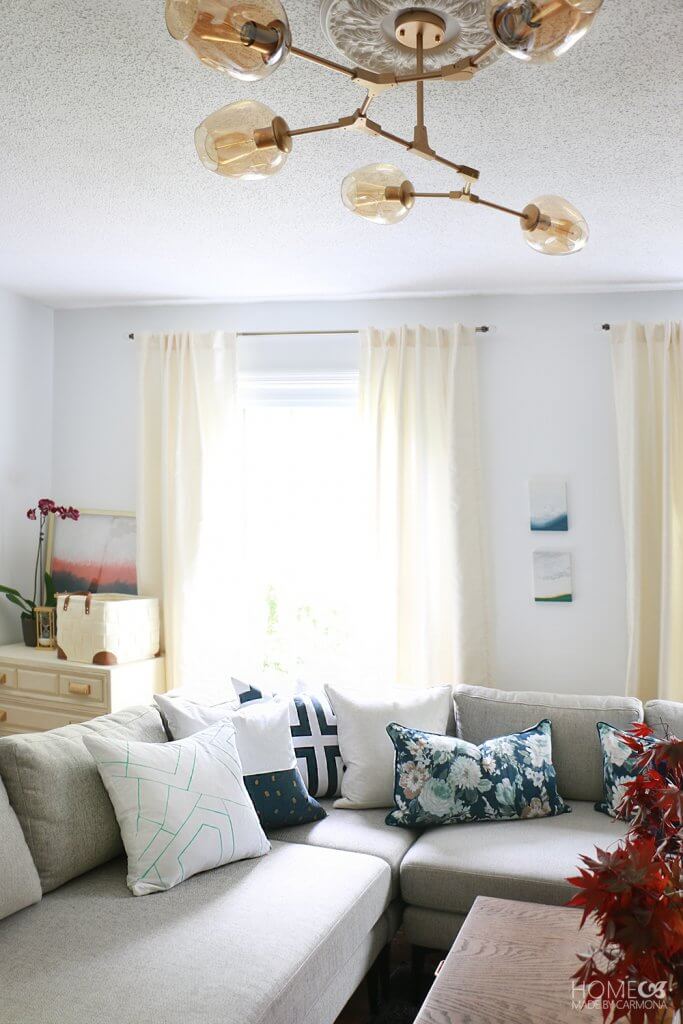 We opted for a comfortable sectional with a large DIY gaming coffee table. This is INCREDIBLY comfortable, and we also provide a few other seating options.
A swivel armchair is my ideal gaming chair, a sofa (or recliner) for my husband, low cushioned stools for my kids, and floor cushions for those who prefer to sit on the floor.
Everyone is different, and you need to take all of your player's comfort into account when planning a gaming area.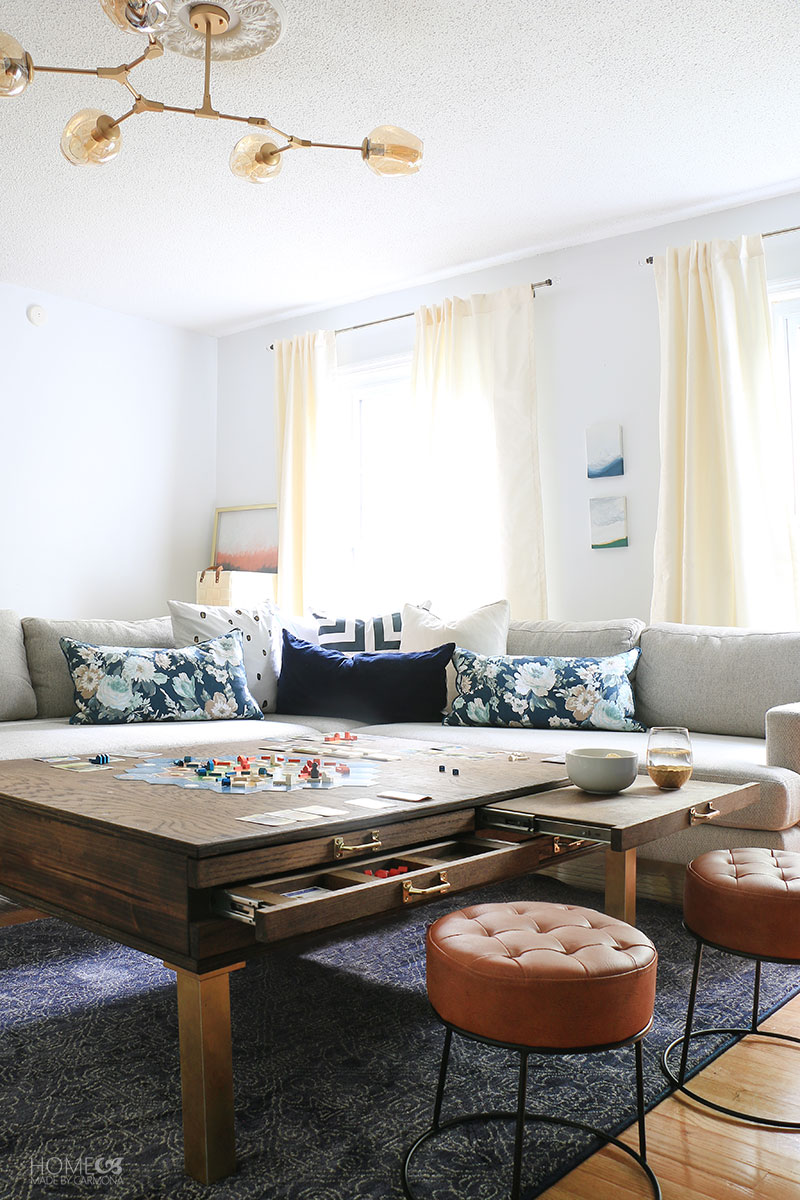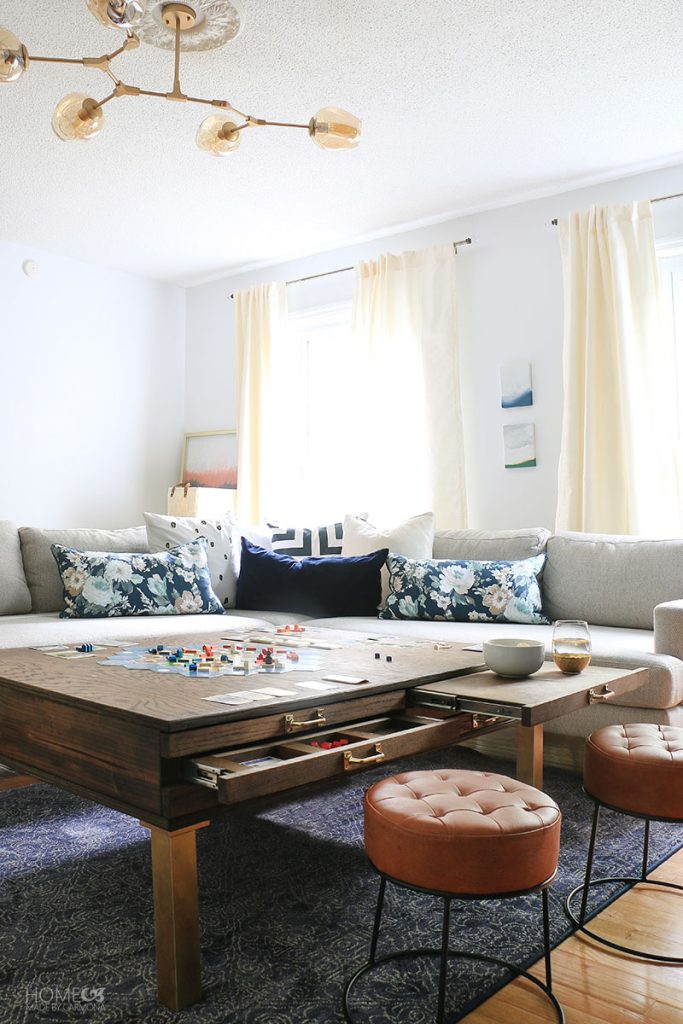 The Board Game Table / Puzzle Table
Once you have figured out what seating your players are most comfortable in you can plan for your gaming table. Consider something like an adjustable height table if you all disagree on the perfect height for your family.
Buy an extra wide coffee table, or follow my tutorial for this board game coffee table I designed (see the tutorial here). It accommodates the size of most of our large board games.
Tray pullouts expand the gaming surface when more room is needed, and compartment trays can be used for small pieces you don't want lost mid-game. Or those compartments can hold food and drink so it isn't on the gaming surface.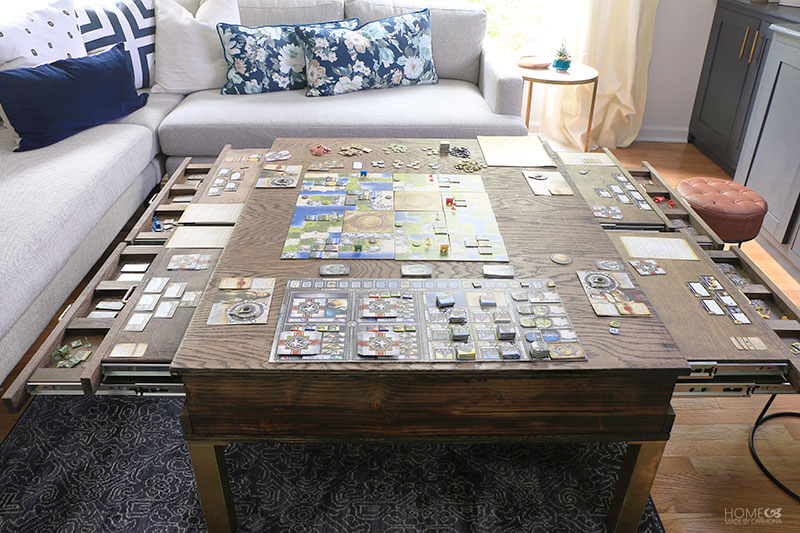 At the bottom, a puzzle drawer keeps in-progress puzzles so they don't end up with lost pieces or accidentally broken while being moved. Pull it out to work on the puzzle right there in the drawer!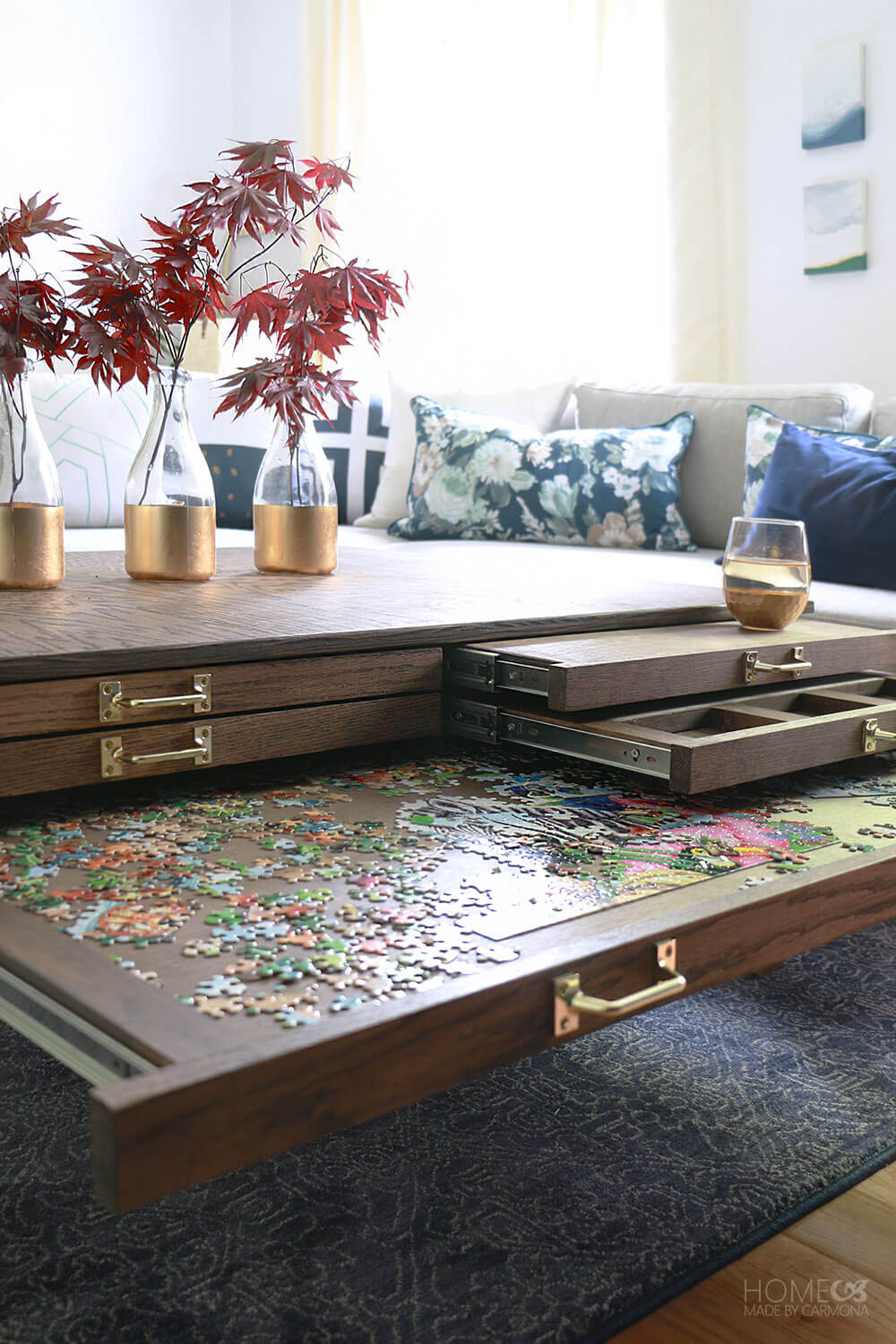 Adequate & Adjustable Lighting
Lighting and light control is very important.
Natural light (sunlight) from windows change throughout the day, so add curtains to control the amount of light and glare.
Make sure ceiling lights or other fixtures in the room are directional and can be adjusted so they don't glare on the TV or board game. Even my beautiful decorative light fixture has arms that can be moved so that the path of light can be adjusted.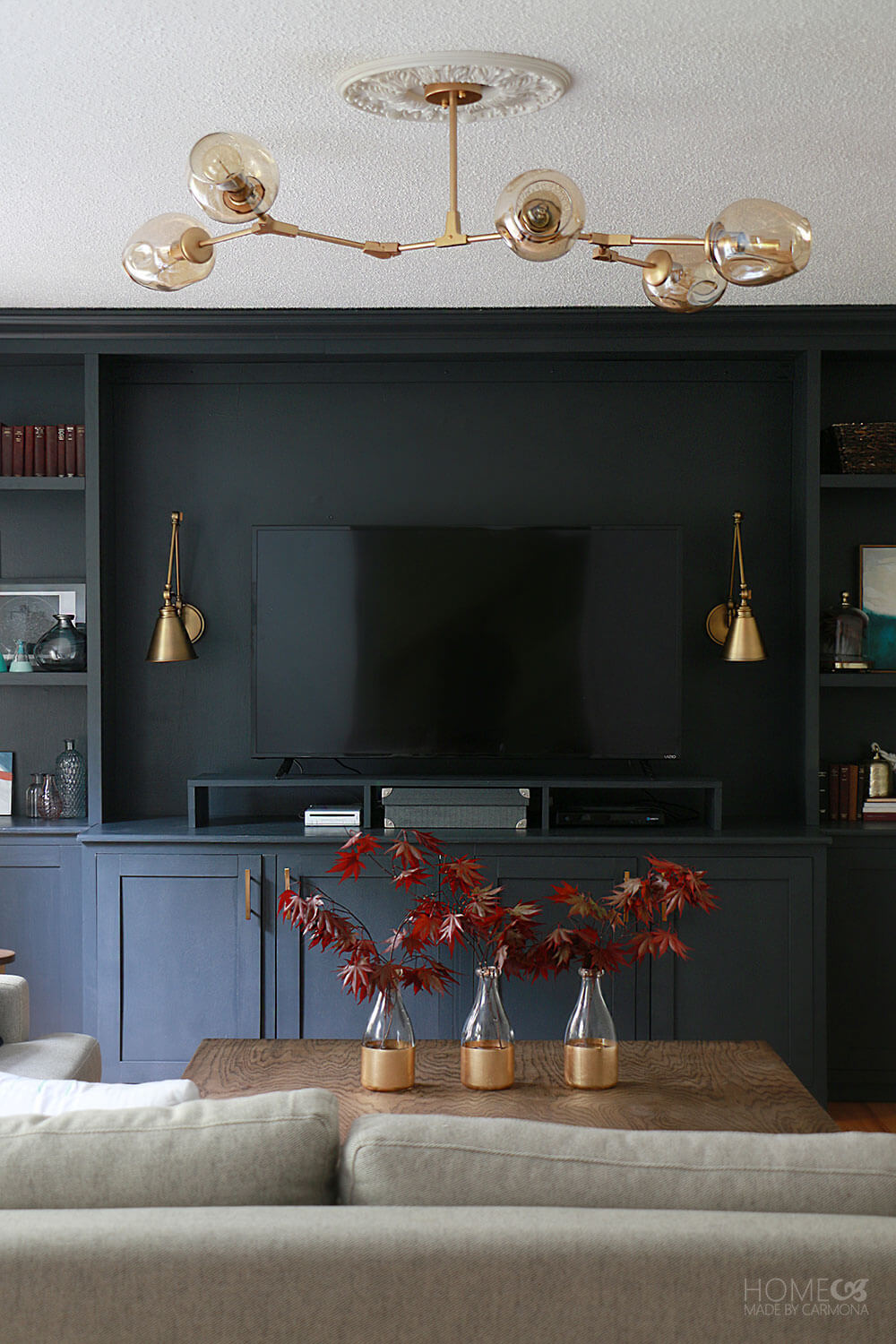 Use multiple lighting sources: a primary overhead, and some mood lighting or dimmable lighting. This is especially helpful when watching movies, or for gamers who like dimly lit rooms to reduce possibility of glare. Sconces, lamps, and strip lights as ambient lighting is also a great secondary option!

Small Touches, Big Impacts
A few small touches can make a big impact both on the players and the rest of the family. Here are a few other considerations to take into account:
TV Stand Riser: Building a simple riser for the TV acts as a space to keep the Playstation, Xbox, and other gaming consoles while plugged in. Or even to tuck away cable boxes, etc.
Surround Sound / Headphones: Incorporate inconspicuous surround sound for an immersive experience. Even some board games incorporate a sound element! And have wireless headphones / headsets available for those times you don't want to disturb the rest of the family.
Easy-Clean Surfaces & Furniture: This will be a room that snacks and food will likely be brought into. Just accept the fact, and go for dark colored, low pile area rugs that hide messes (but make it easy for game pieces to be found on). Choose upholstered pieces that are liquid and stain resistant. People should feel free to enjoy their time in this room, not be afraid of mistaken messes.
Group Games & Supplies: Group by favorite games, number of players, or time it takes to play. Quick Tip: If you organize individual board games by number of players, it will make gaming setup go much faster!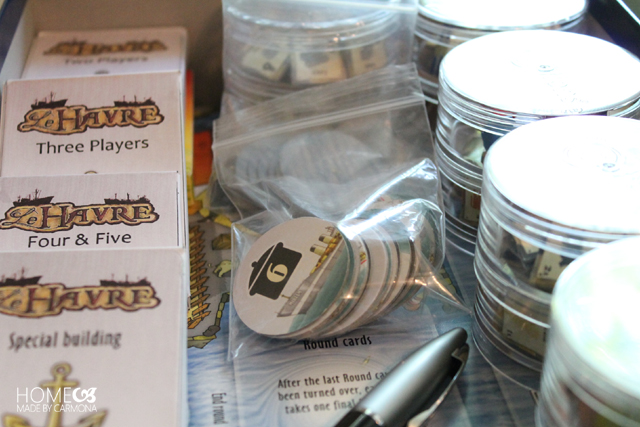 A Space Everyone Can Love…
I may be a board game geek mom and wife, but I'm also a woman who wants my house to look like a beautifully decorated space. Now the entire room reflects both my inner gamer and my inner designer.
And for all you out there who are gamers but your significant others aren't fans, this might be the right solution for you… 😉
This room isn't just great for gaming, it is stylish for normal entertaining, it makes for the perfect family movie night at home, and more!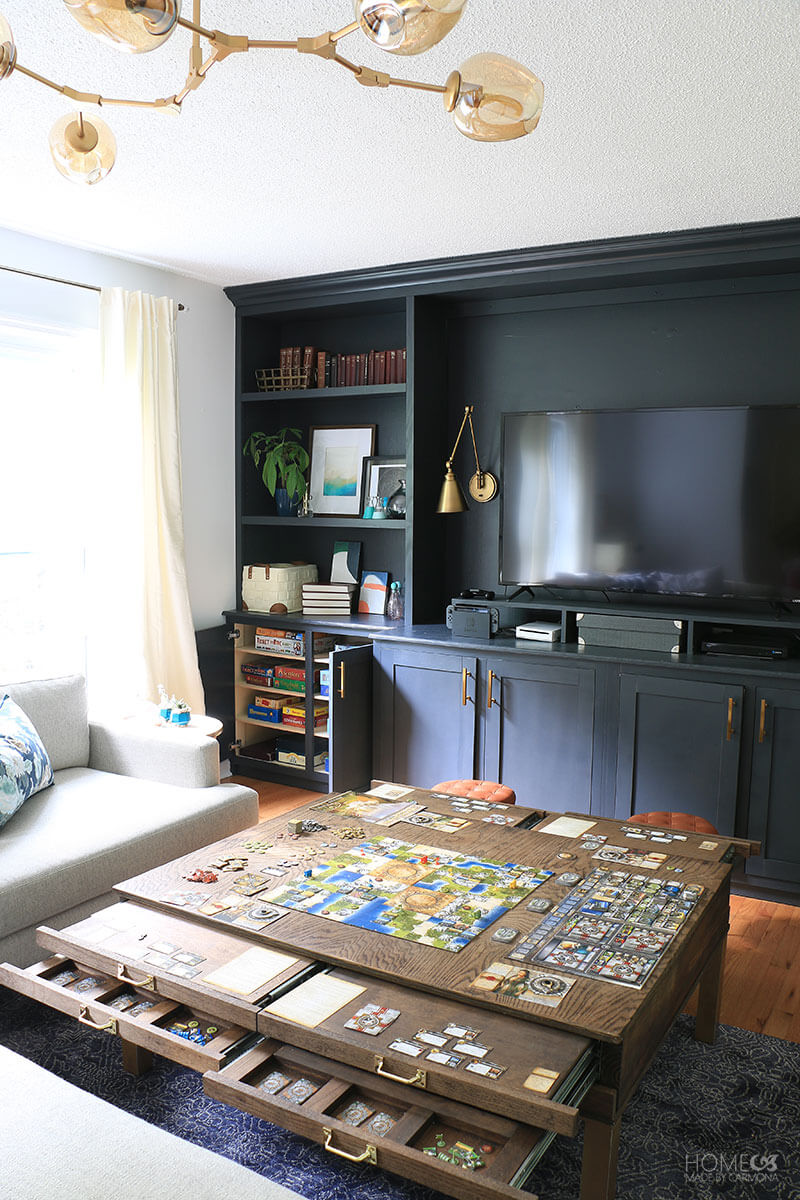 Gaming Room Ideas On Pinterest
For loads of great game room decor, plus clever gamer room projects, visit my Gaming Room board on Pinterest! See other game room decor ideas, small room ideas, gaming desk ideas, gaming table ideas, and various types of game rooms (pool, table tennis, air hockey, etc.)
---


Check out the full before and after of this space and all the details that went into this design challenge here. Yes, that below was this room before!