Design a tabletop gaming room to store and play your favorite board games. Or simply transform your living room into a game room in plain sight.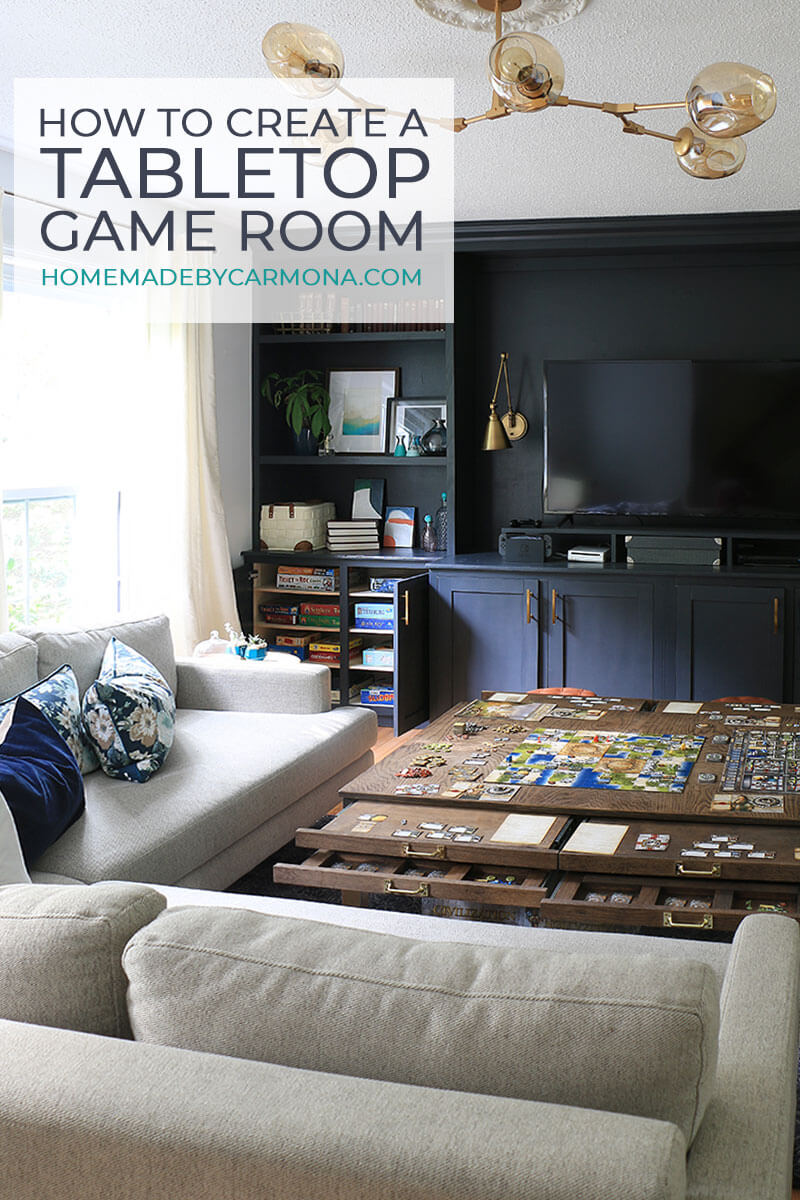 Gaming Room In Plain Sight
Every tabletop board gamer's dream is to have a dedicated gaming room with all the bells and whistles. Some of us aren't so lucky and have to use our common rooms as our gaming room.
I designed this living room to be our ideal tabletop game room, complete with a ton of closed storage cabinets built to fit our growing gaming collection, a DIY gamer's coffee table, and options for the different gaming comfort preferences.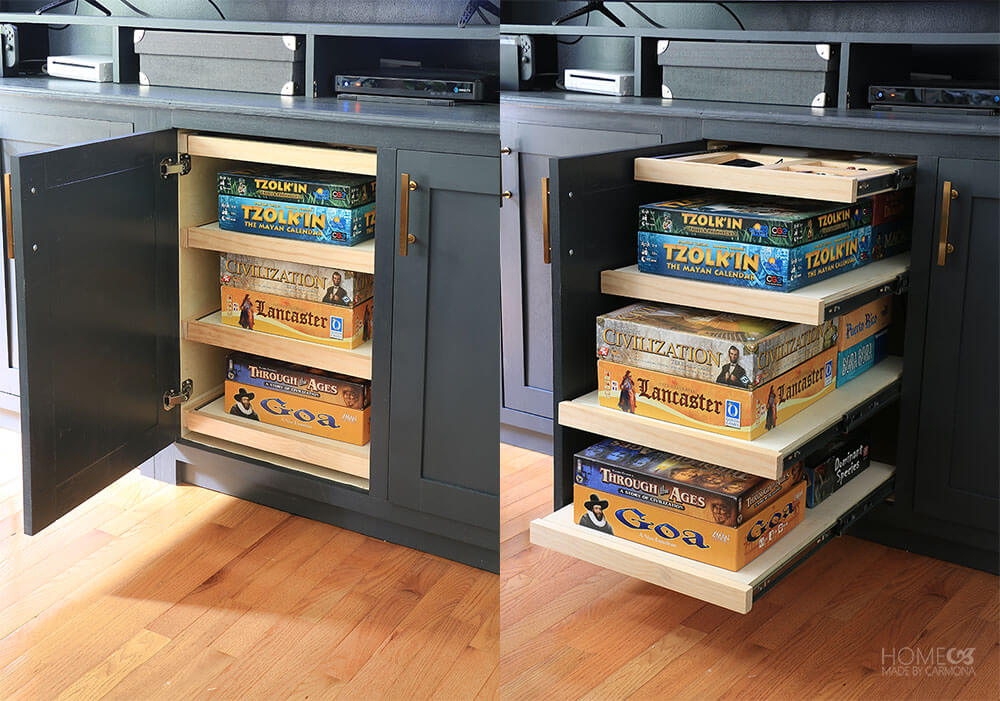 Any time a room is transformed into a gaming room there are a few considerations to take into account:

Plan For Adequate Storage
Don't just calculate the amount of games you currently own, estimate the amount you will probably end up owning in a lifetime. If you think it is going to be a LOT, it is better to go with double depth storage cabinets, and plan for future overflow.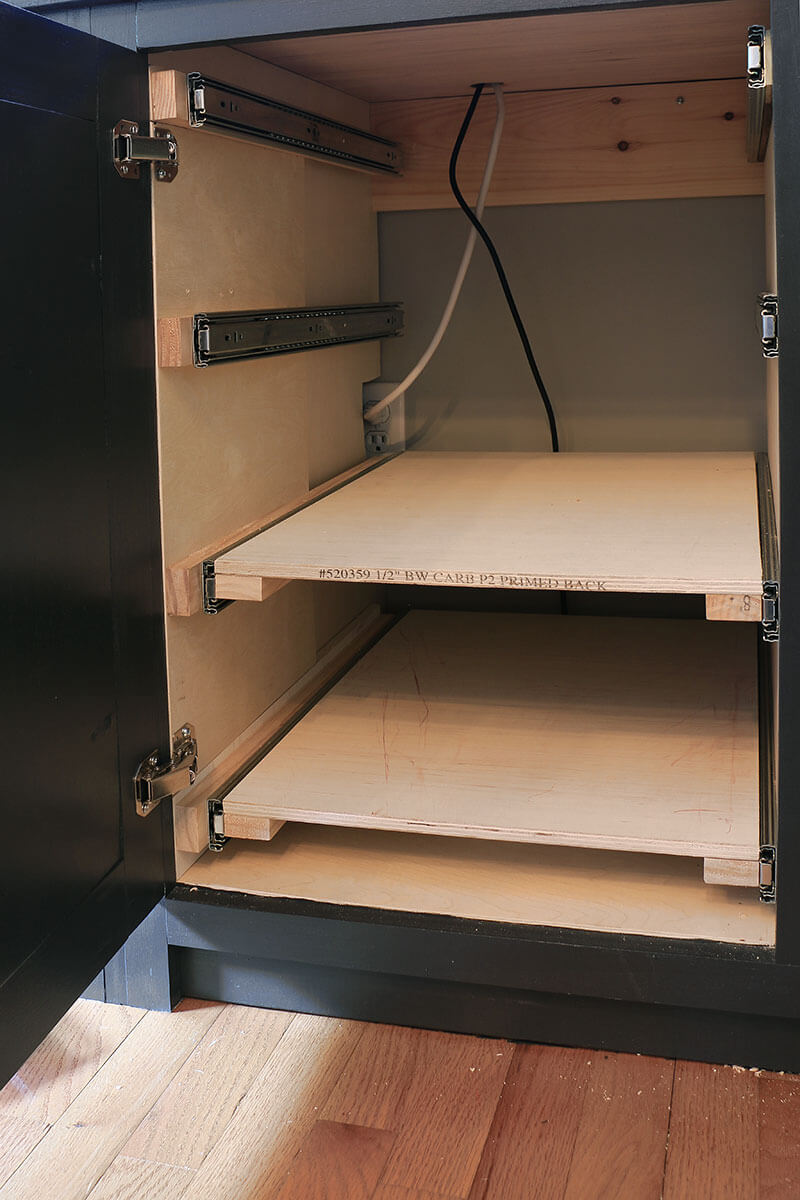 After estimating what our future game collection would look like, I opted to build my own storage from scratch so I could control the precise depth, width, and height of my storage.
I shared more about these cabinets and how to build them here, and of course building bookcases on top is simple enough.
However if you aren't keen on the idea of creating built-ins yourself, you can add DIY pullouts to any set of cabinets by screwing 1″x2″ boards to 1/2″ Plywood and attaching drawer glides. They are cheaper than buying pre-made pullouts, but if you aren't a DIY person they are worth the investment.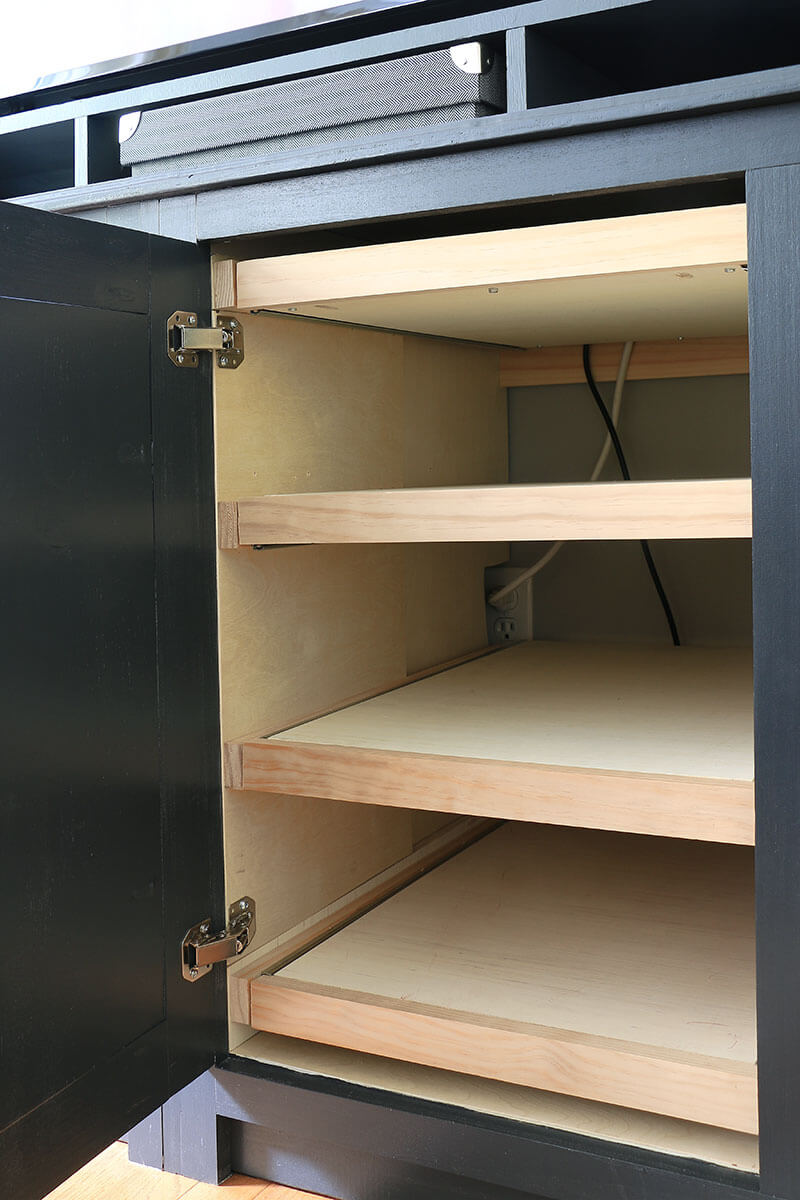 Use the same 1″x2″ boards cut to size to create fronts for the pullouts. I used pocket holes to attach the fronts securely.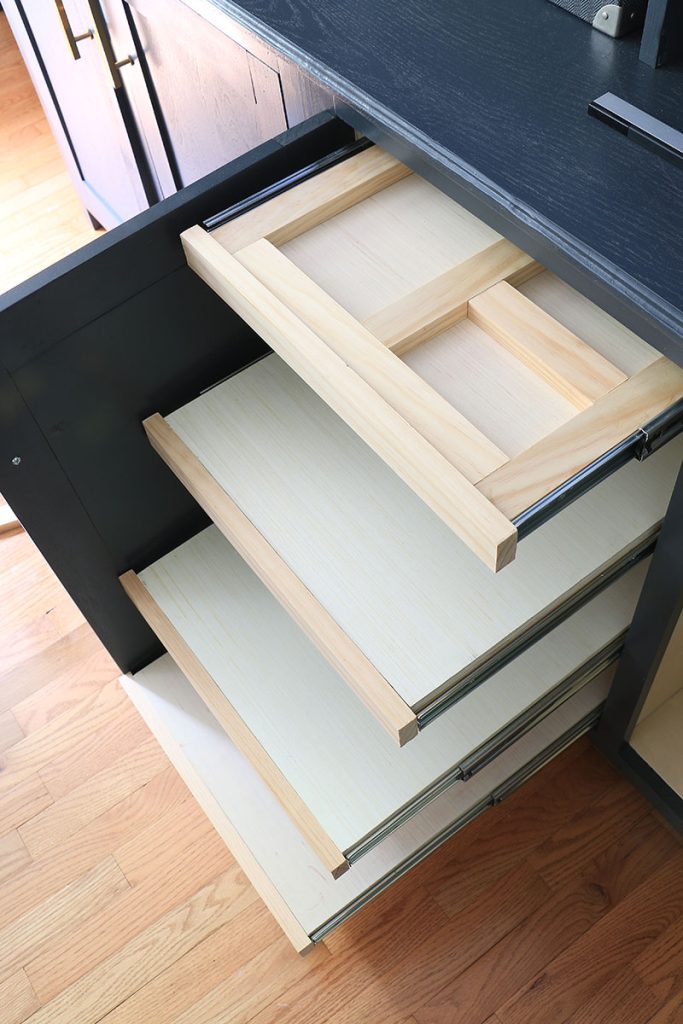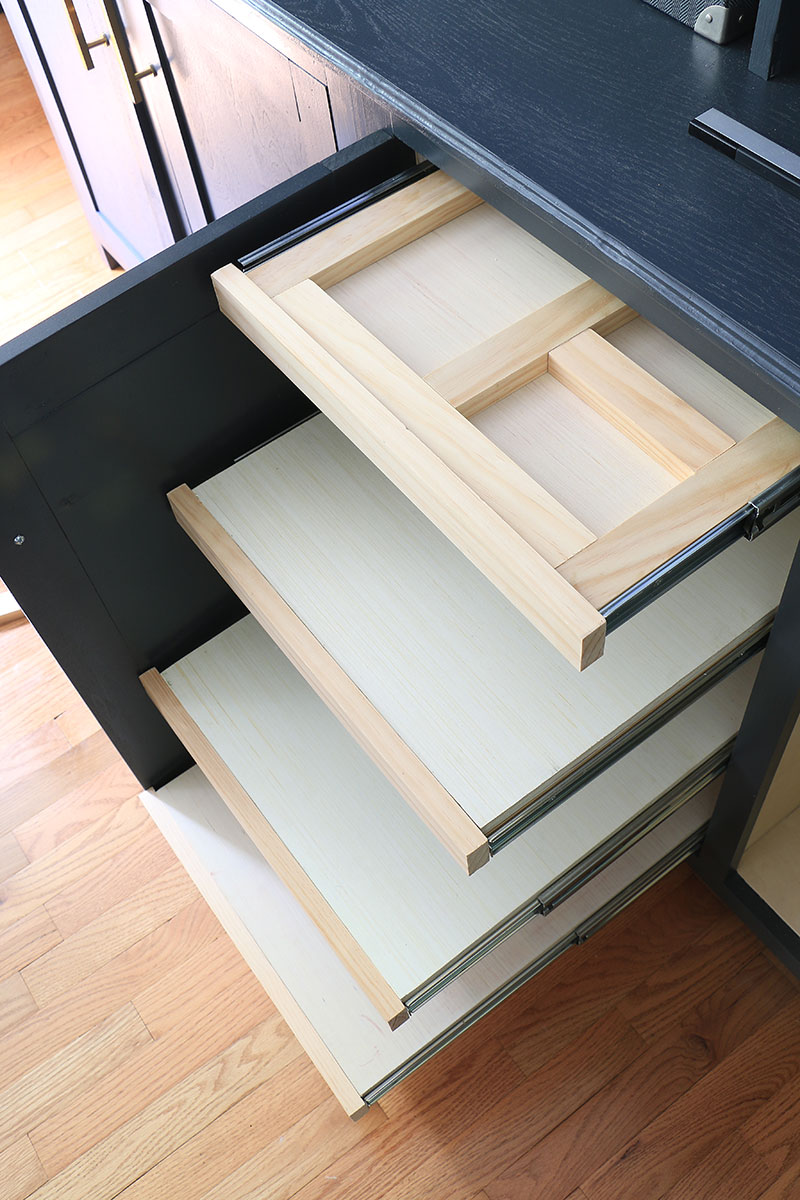 I also created a pullout with 'compartments' to hold various miscellaneous gaming pieces such as extra dice, drawstring bags, game pieces storage baggies, etc.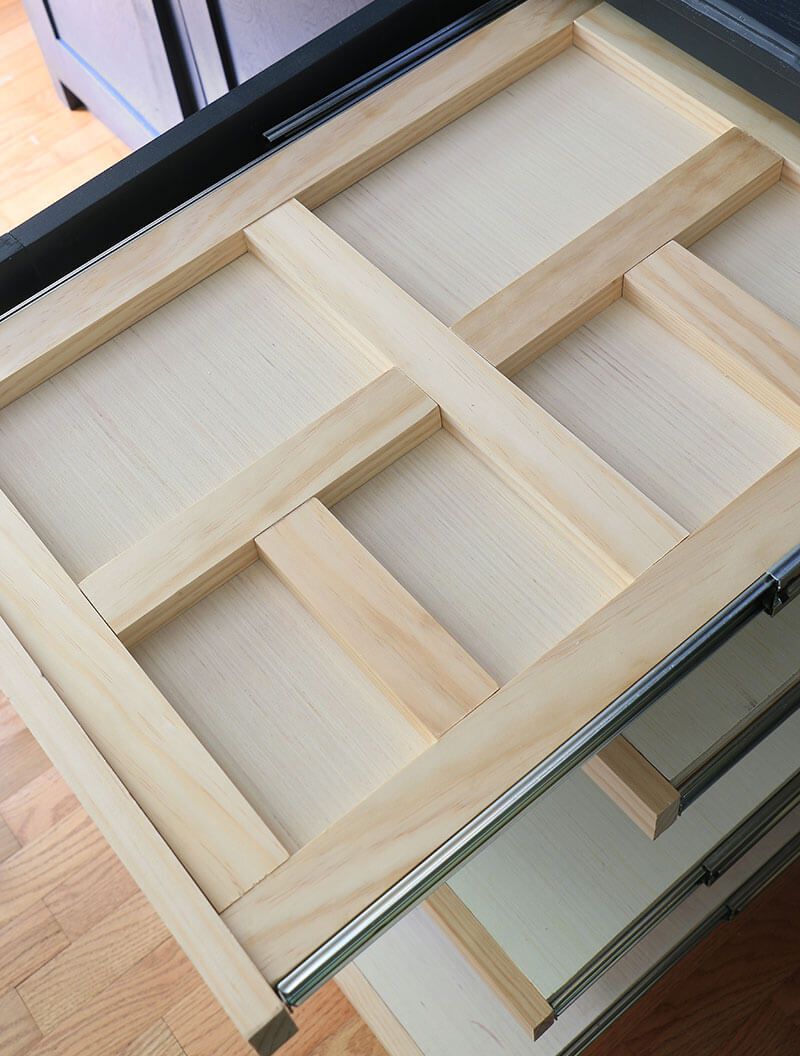 I haven't actually finished the top pullout on a couple of my cabinet units yet, but I plan to create one specially designed to hold video game controllers like I did here.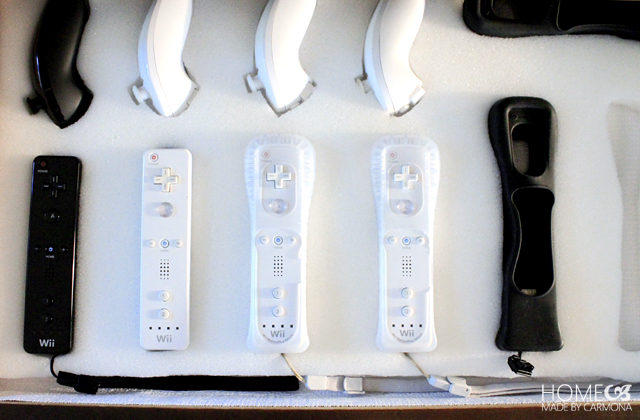 I also want to create another one for my daughter's various puzzle pieces. When you build your unit yourself, only your creativity limits you in how you want to store your items.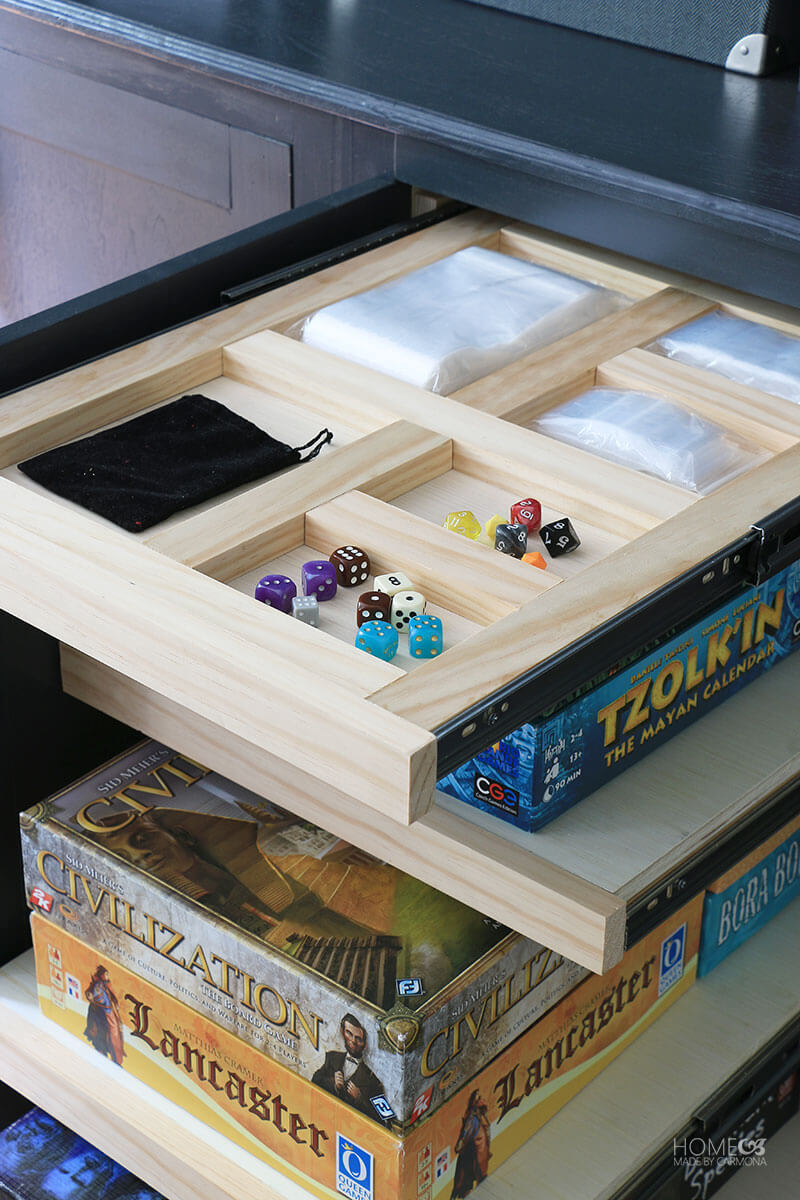 The built-in units provided SO much storage (which was the plan) that until our game collection grows again I designated one cabinet for my husbands old video games and systems, and any other oldies but goodies he wanted to store.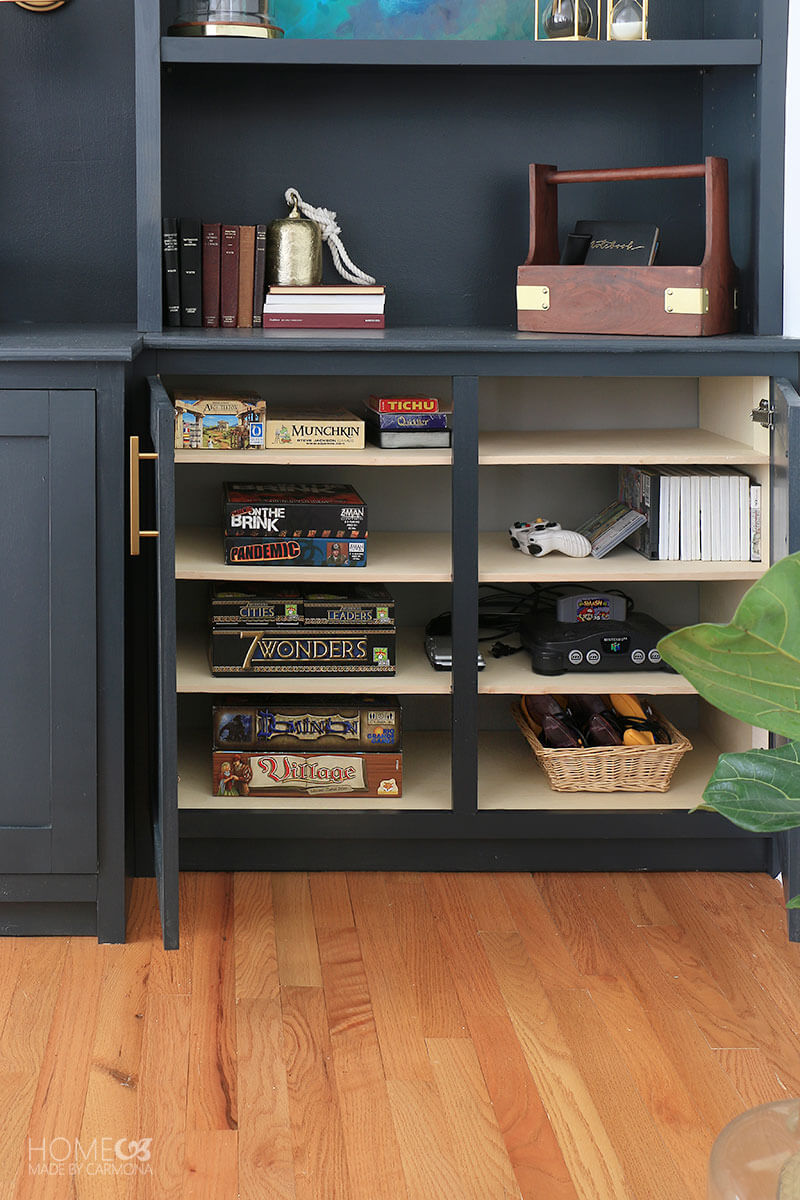 Plus I assigned one other cabinet for my kids to store their puzzles and other items in for the time being.

Comfortable Gaming Area
Most tabletop board gamers opt for for a round card or dining room table, which I've never entirely understood. Most of my tabletop Eurogames take a minimum of 4 hours, and my body has never been comfortable on a fold out or dining chair for that long.
However I realize that everyone is different, and you need to take all of your player's comfort into account when planning your gaming area.
In my case, my kids prefer to sit on the floor or on stools that are closer to the floor. My husband will choose either the floor or a couch, absolutely NOT a dining chair/fold out chair, and I can't sit on the floor at all or I might not get back up again.
For us, the ideal gaming space would be a gaming surface around a sectional sofa. However everything in this room is designed to be adjustable and movable to accommodate whatever is most comfortable.

The Gaming Table
Once you have figured out what seating your players are most comfortable in you can plan for your gaming table. Consider something like an adjustable height table if you all disagree on the perfect height for your family.
In my family (and for my living room) a gaming coffee table is perfect. I built this coffee table (see the tutorial here), but there are a few features I didn't share with you that only gamers will really understand.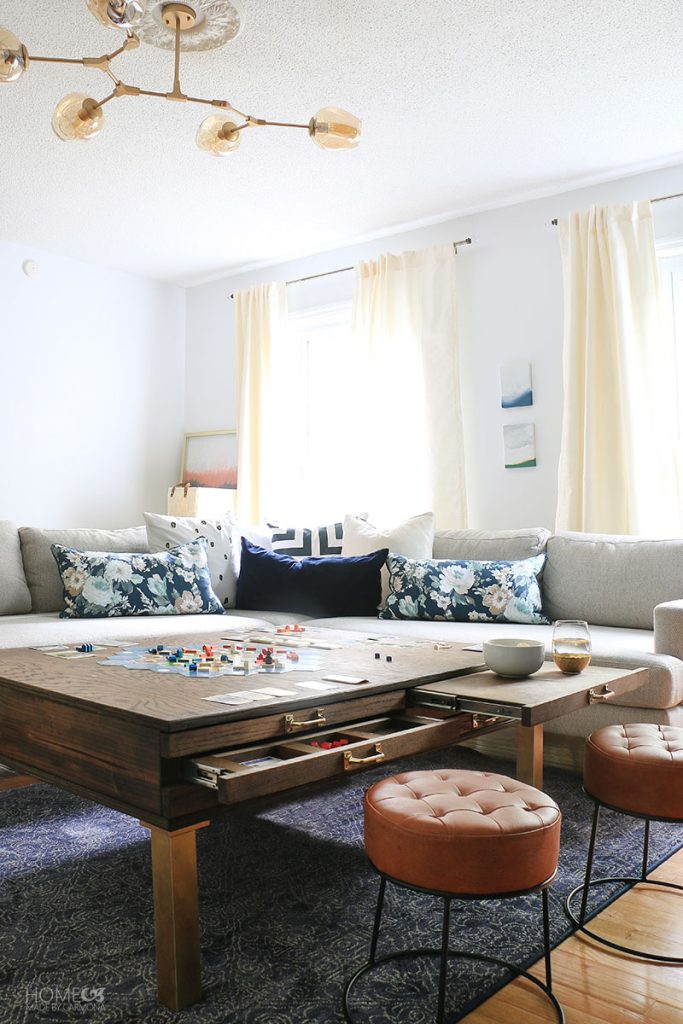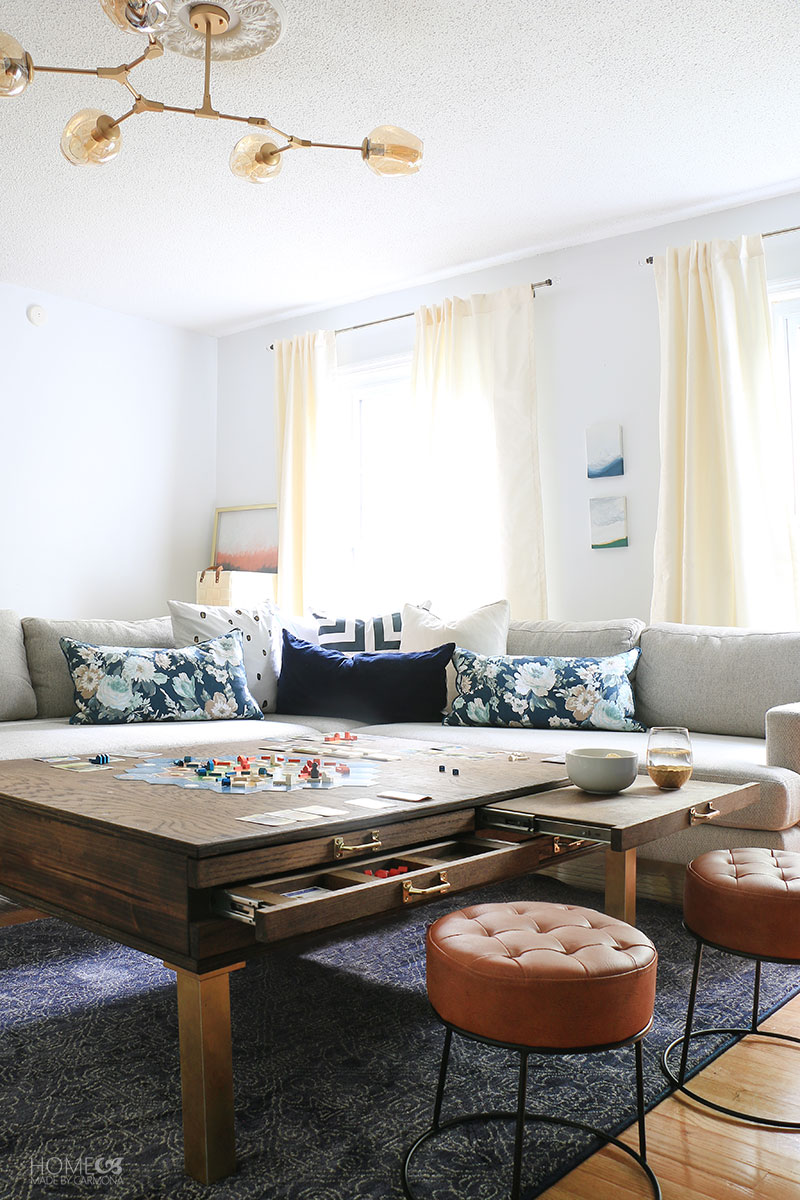 I built this gamer's coffee table to be slightly higher than a normal coffee table for a comfortable gaming height when sitting at a sofa. However I also used legs that be replaced with higher or lower legs should we desire.
I designed the length and width of the table to accommodate the size of most of our board games with extra room to spare (yet not so big that you have to reach far to play on a board).
However there are those games that just sprawl out with tons of working parts and pieces and you need extra space. That is where the coffee table pullouts come in handy.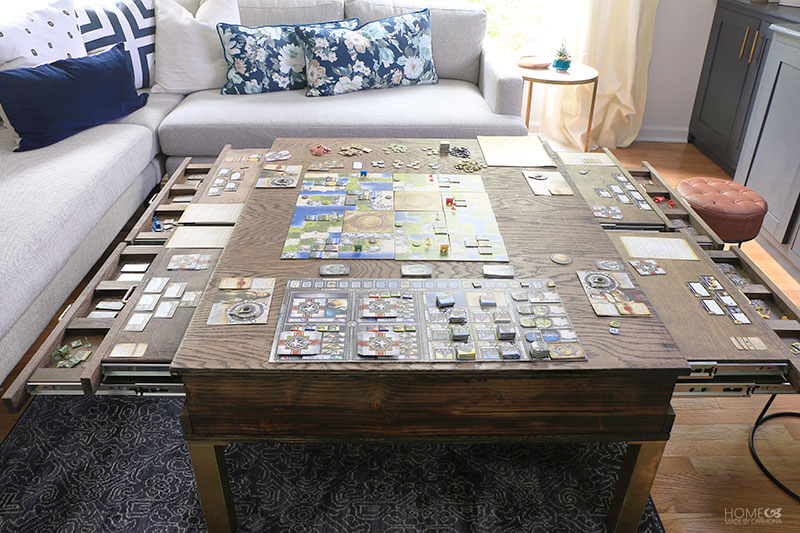 I also included a puzzle drawer for one of my puzzle loving kiddoes at the bottom. It's a great way for her to store and work on her in-progress puzzles so they don't end up with lost pieces or accidentally broken while being moved.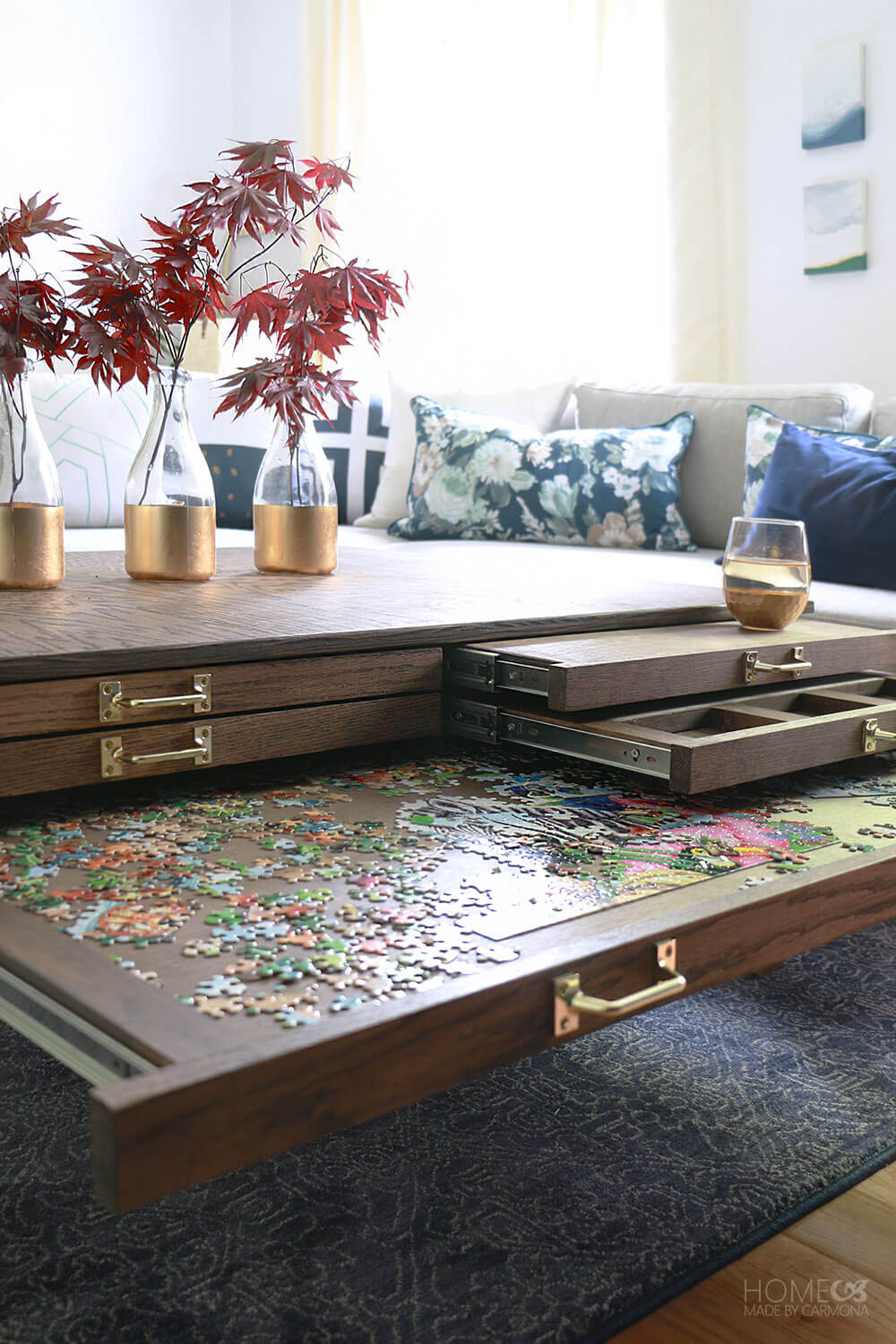 Adequate & Adjustable Lighting
Of course lighting and light control is very important. Natural light from windows change throughout the day, so being able to control the amount that comes in with drapes is important.
Make sure that if you go with pot lights or other light fixture in the room they are directional and can be adjusted.
All it takes is a glare off the top of a game to annoy a player because they can't see part of the board. Even my beautiful decorative light fixture has arms that can be moved so that the path of light can be adjusted. Even the wall mounted lights are directional, and non of the lights have LED bulbs that cause glare.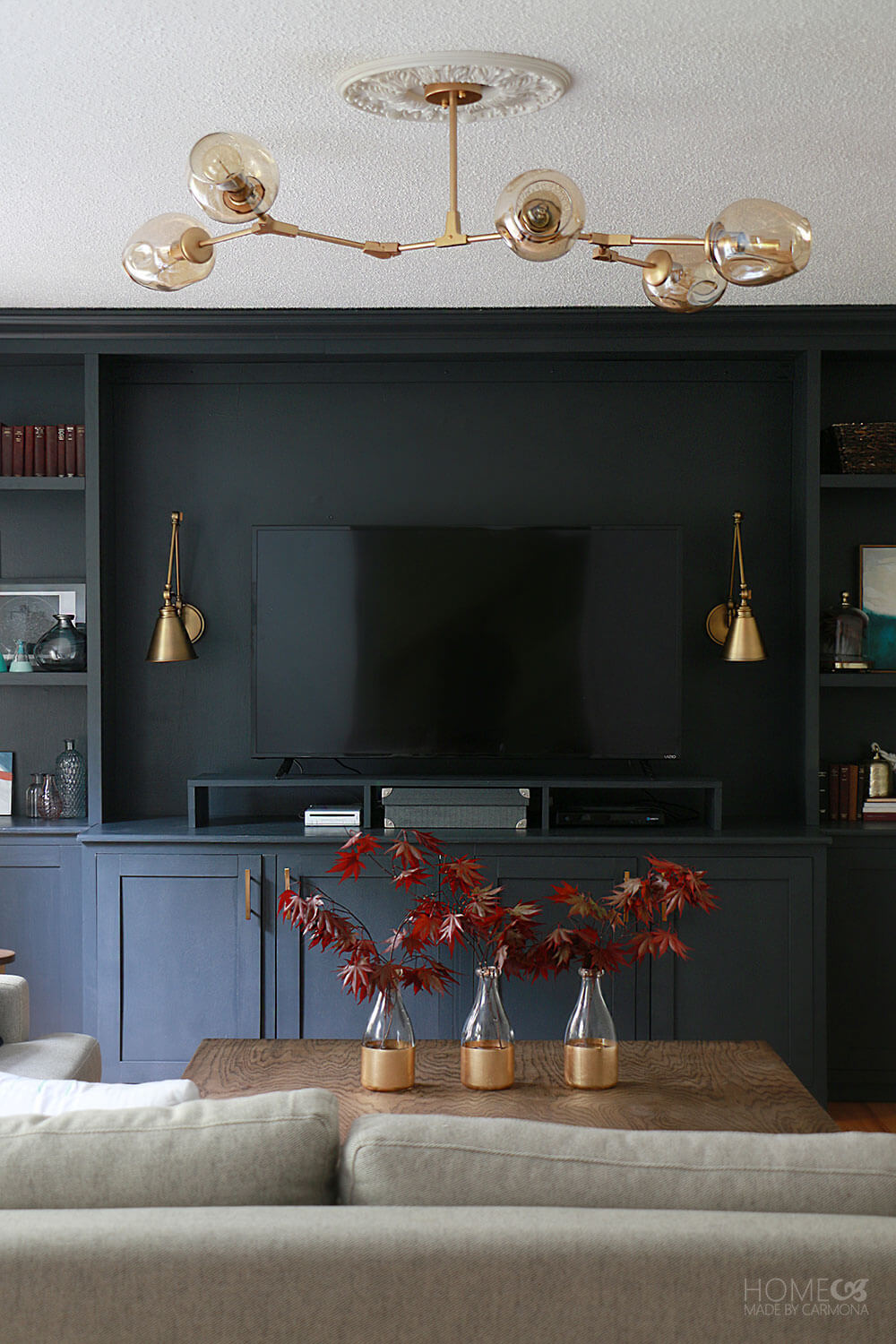 I may be a board game geek mom and wife, but I'm also a woman who wants my house to look like a beautifully decorated space. Now it reflects both my inner gamer and my inner designer.
And for all you guys out there who are gamers but your wives aren't fans, this might be the right solution for you… 😉
This room isn't just great for gaming, it is stylish for normal entertaining, it makes for the perfect family movie night at home, and more!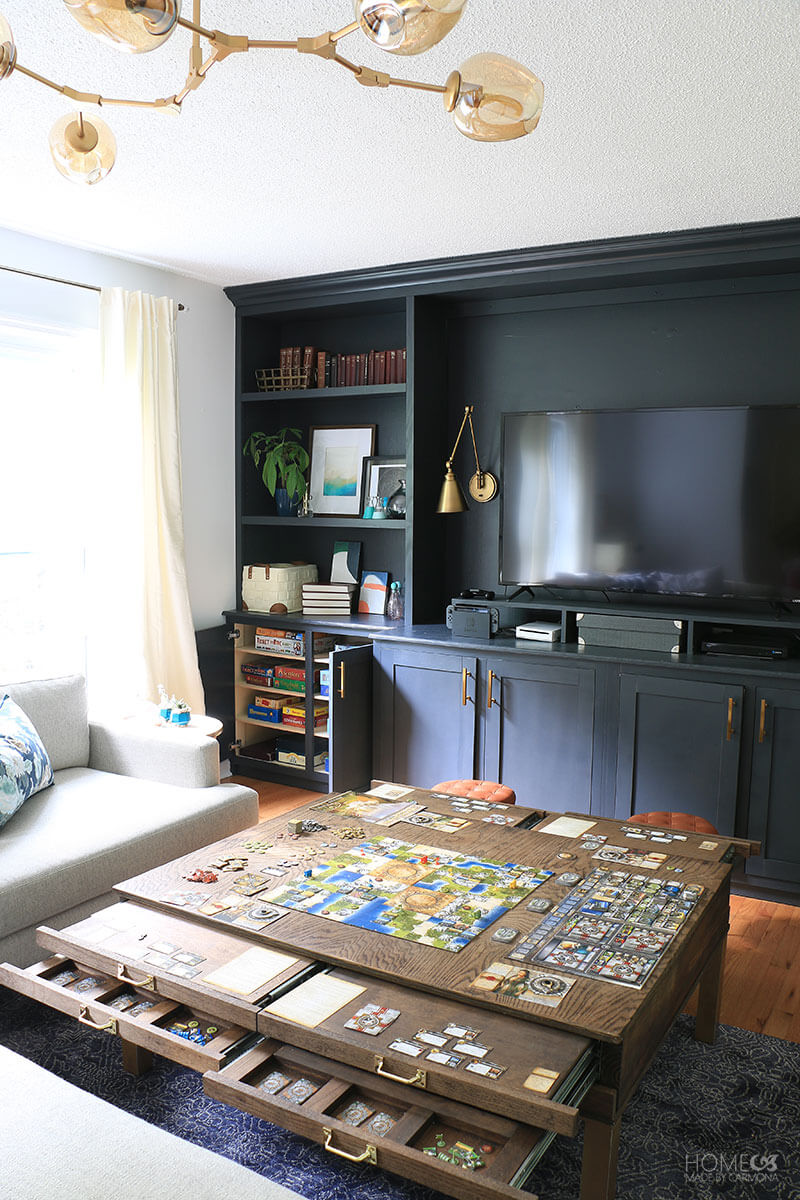 See the full before and after of this space and all the details that went into this design challenge here. Yes, that below was this room before!