Learn how to create the ultimate board game storage solution to wrangle your board game collection!
Some of you know I'm crazy about European board games, also called modern board games, or tabletop board games.
The size of the board game box makes it hard to store when you own a LOT of them. So I built a custom board game storage system, then improved on that design a few years later.
Compact, Budget Friendly, Storage Unit
This was my first storage build, which was basically just a rectangle with a divider down the middle, plus pullout shelves. Then I added a bookcase / shelving unit I got in a dumpster dive to the top to make it full hutch-like unit.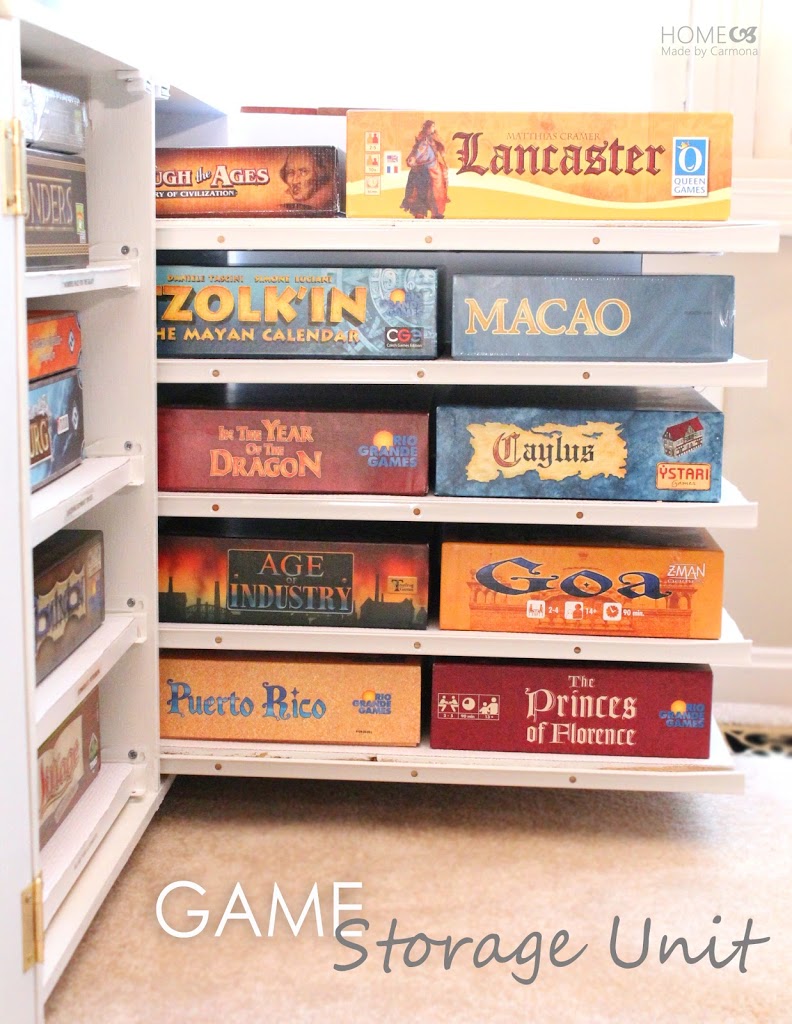 Building the base unit yourself means you can customize the size. Build the depth to accommodate two games (one in front of the other), and just wide enough for two compact compartments of games. Or adjust it to the size of the bookcase you plan to secure on top.
This is a great solution if you live in a small space, and don't want to spend a lot.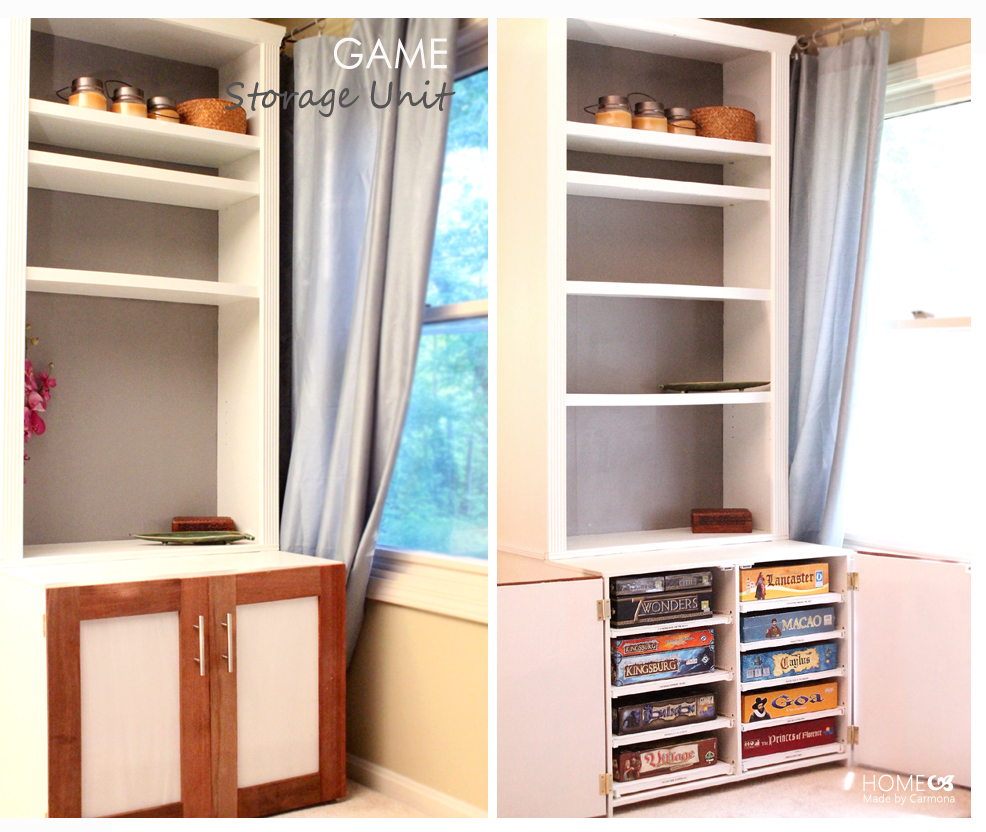 Using MDF and basic sliders kept it budget friendly. And if you use salvaged drawer sliders, or buy them from a renovation thrift shop like ReStore, you'll save even more!
The Improved Storage Unit
I made a few improvements to these when we moved and created an entire wall-to-wall unit to store our growing collection of over 100 board games.
Here Is What Improved:
#1. Pullouts to store small game pieces and dice
These units are built with plywood and 1×2-inch pieces of wood on top to make a compartment grid.
The very top is reserved for these shallow pullout drawers, and they are quite easy to build with the right tools. These do a great job keeping the game clutter at bay since there is a spot for everything! Even game piece storage bags.
You could also create a set of several shallow pullout drawers to hold smaller games and card games.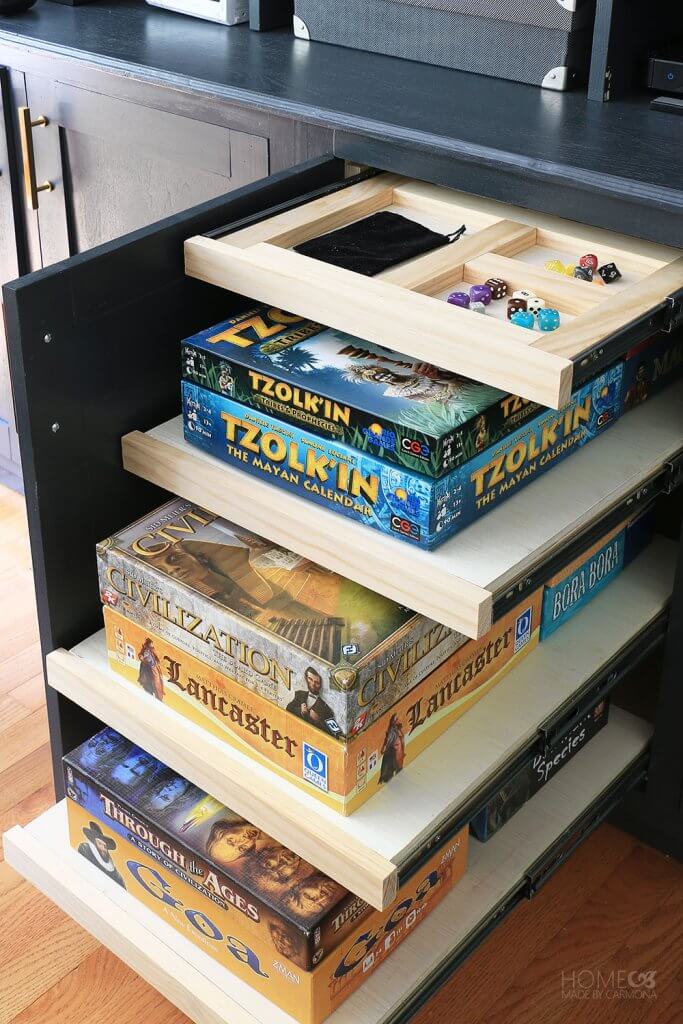 #2. Full extension drawer slides (shelves pull out all the way)
Let's be honest, side-mount full extensions slides are twice as expensive as the regular drawer slides. But they are SO much easier to install, and it is as smooth as butter!
Plus the full extension feature means you don't have to move the box in front in order to take out the one behind it. There is plenty of room when fully extended to reach anything needed.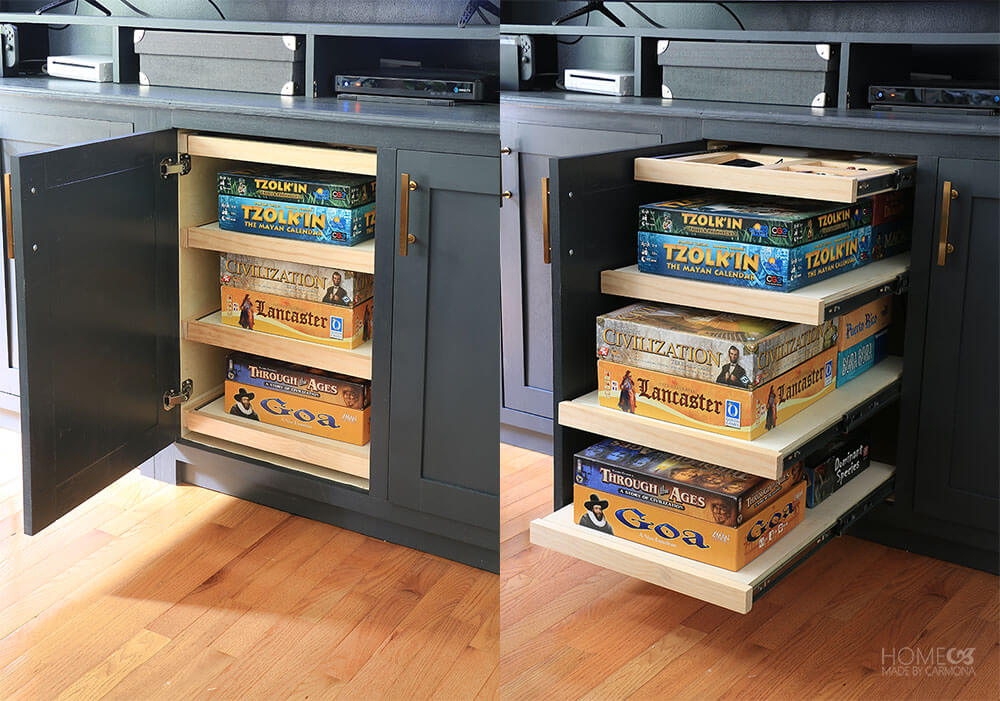 #3. Wooden shelf lip
Adding that piece of 1×2-inch pine to the front of the shelves acts as a handle to pull the drawers out and gives it a nice finished look. This is a good place to optionally add a label so you can see at a glance which games this pullout houses.
The Ultimate Game Storage System
The gaming storage system has to accommodate my husbands game storage OCD particulars as well as mine. And boy are we one particular couple. When it comes to games, the Carmona family don't play! …errr, well they do.
Our Storage Requirements:
Cardinal Rule #1. No Stacking Multiple Board Games: Too many games stacked can warp the boxes over time. I learned this the hard way! Especially if you stack varying box shapes. The exception to this rule is stacking smaller expansions of the same game on top.
Cardinal Rule #2. Don't Place Boxes On Their Side: A lot of board gamers do this, but if you store board games on the side, contents of the box can shift. Plus game boards tend to warp when not laid flat at the bottom of the box with game pieces on top to help weigh them down.
Cardinal Rule #5. Games Must Stay In Their Original Box: With SO MANY pieces, these types of games generally should stay in their original box. None of this nonsense of moving games to separate pouches, ziploc bags, or other storage bin. Plus, the box contains helpful information about each game, and are designed to uniquely fit those pieces.
Cardinal Rule #4. No Storing Game Boxes In Plain Sight: Okay so this was my rule as an interior designer wife… I didn't want my house to look like a big kid's game room. I wanted a classy home where the games were stored nicely behind closed cabinet doors or at least in a game closet. This offered us the solution to store games right there in our living room, and have it look amazing! With 8 cabinet unit compartments, we had all the storage space we needed!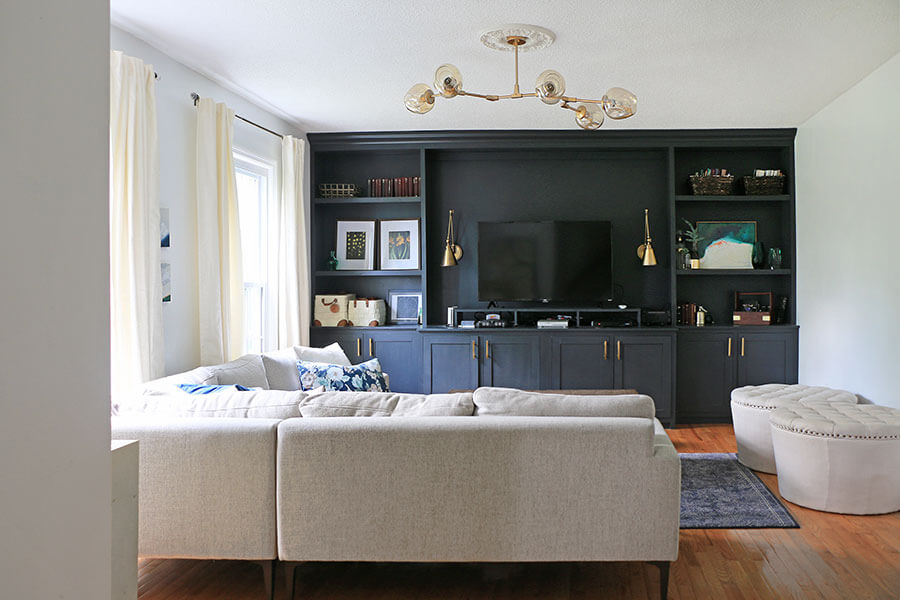 Board Game Cabinet Hack
You can custom build base units like mine (here are the plans), or you can outfit pre-fab kitchen cabinet bases with pullout drawer slides. Then simply add a bookcase unit on top, secure it in place, and add crown molding for a built-in feel, and paint! No one will be the wiser!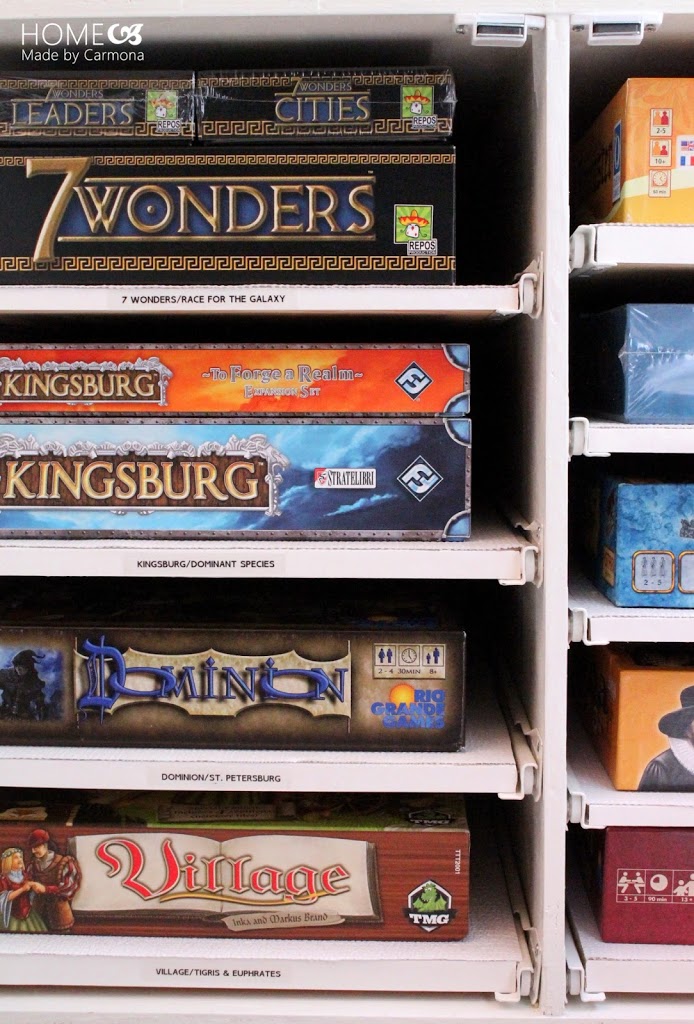 Organizing The Cabinets + The Games
Organize each cabinet units by types of games, number of players, or favorite board games. I reserve one cabinet for favorites, another for entry-level games, and then generally by difficulty. You could potentially organize by genre or alphabetically.
Another cabinet is reserved for video games, kids games, and puzzles. In these cabinets the shelves are stationary rather than pullout, and I employ baskets or storage bins to help keep it organized.
One tip to keep track of all the games you have, players amount, and play time, is to create a cheat sheet or booklet. You could also create a digital version in a spreadsheet so it is searchable by any desired factor. The next time some one asks "what game should we play now", you'll have a quick reference!
Not only do I have storage ideas for the storage shelves & cabinets, but I organize each individual game as well.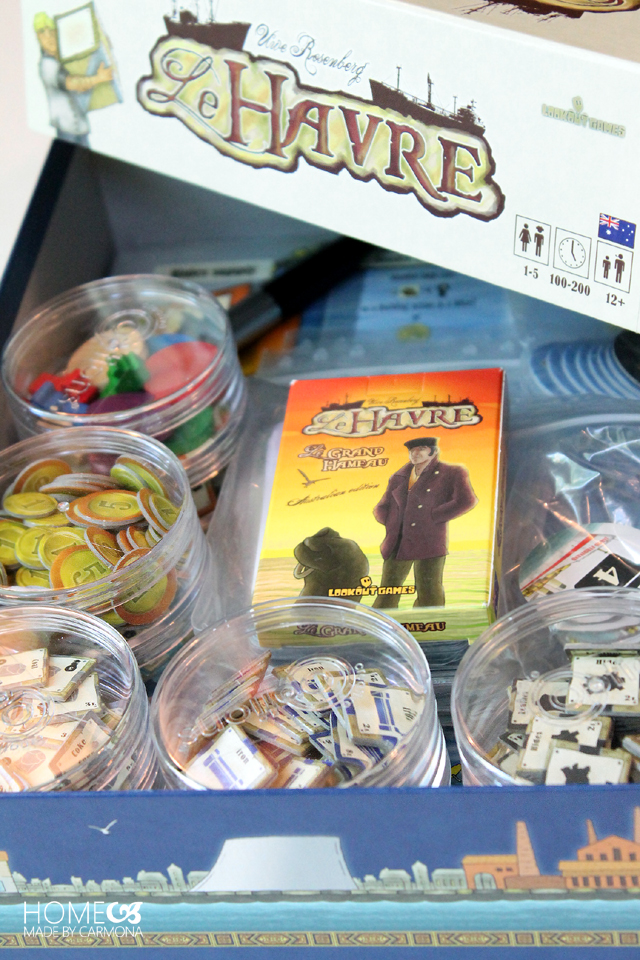 For example, if you use stackable screw on plastic containers with lids, you can store small pieces easily. Then instead of dumping them out, just place the container right on the board and take / give supplies right from the containers. No real cleanup required after!
Read more about how to organize games like LeHavre here, or Ora Et Labora here.
The Best Board Game Storage Ideas
Looking for more inspiration for board game storage or to create the ideal game room? Check out this Pinterest board for loads of storage ideas and game room decor!
Whether you build your own DIY storage unit, or add pull-out shelves to an existing one it is definitely worth the extra effort! Family game night is about to be lit!


If you like this, get tips for setting up the ideal gaming room here. Including a custom DIY coffee table with expanding pullouts and a puzzle drawer.