Hey Spring tour hoppers! If you are coming from This Is Our Bliss, welcome! If not…haha, you are still welcome.
My good friend at Monica Wants It invited a whole slew of design bloggers, including yours truly, to share their spring decorated home tour! This is going to be fun…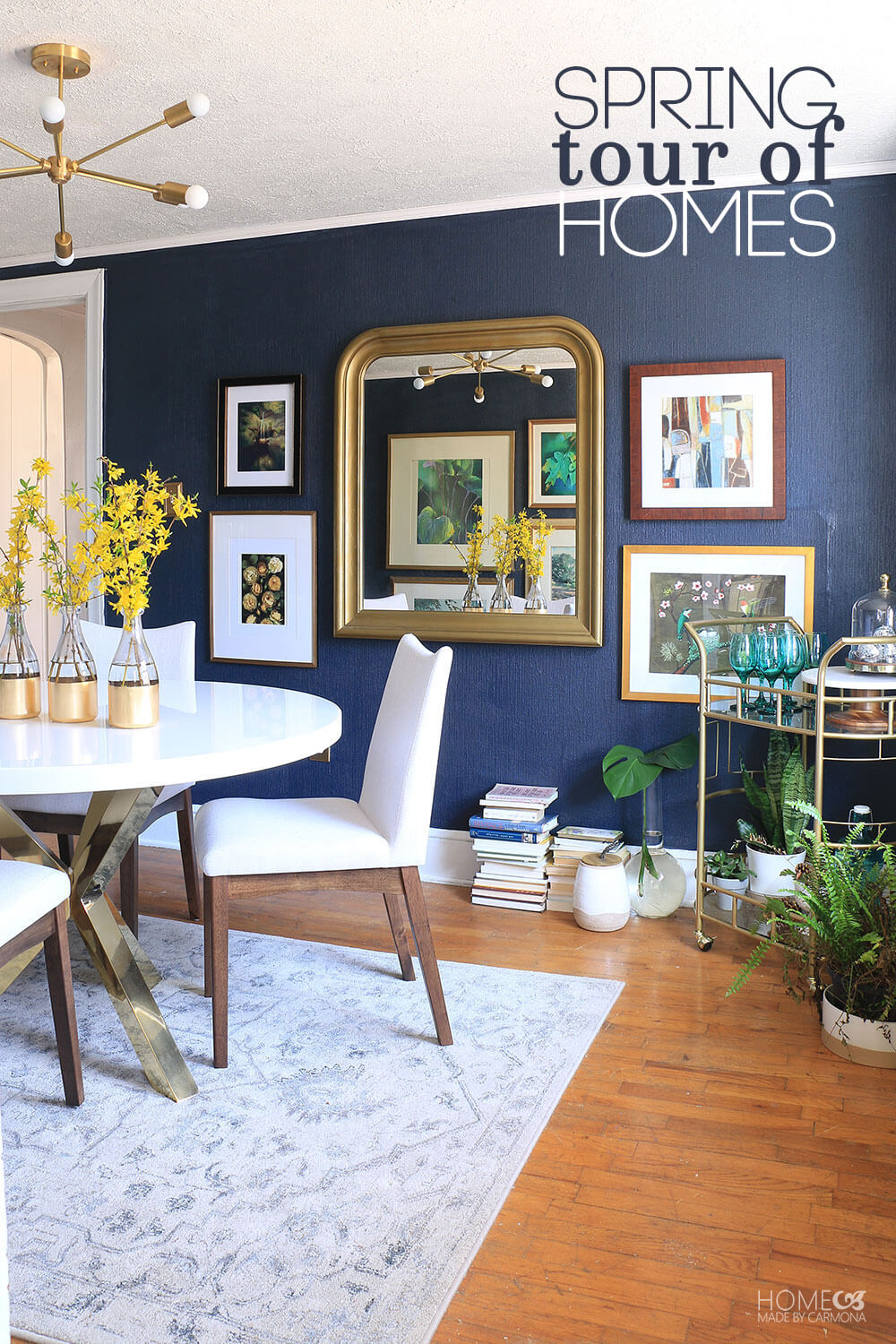 Today I am going to show you around the only clean rooms in my house… the ones in my guest house.
Haha, okay, so I'm cheating for today. My little Airbnb Cottage always stays neat and tidy for guests, so it's almost always picture perfect. Whereas my main house has 3 kids (plus me and my husband…we're kind of messy) terrorizing the house on a regular basis. I promise, I'll give you a tour of that house sometime soon (messy or not). 😉
In the meantime, welcome to the Cottage at Carmona Acres. Come on in and see how I add a little springtime love to my spaces.
The first space you see as you enter is the light and bright foyer with all it's nature inspired touches. Now, you should know that my idea of spring decorating is fairly simple; adding lots of cute little plants all over my house, any nature art, or scents that make you feel like you are enjoying the great outdoors while inside.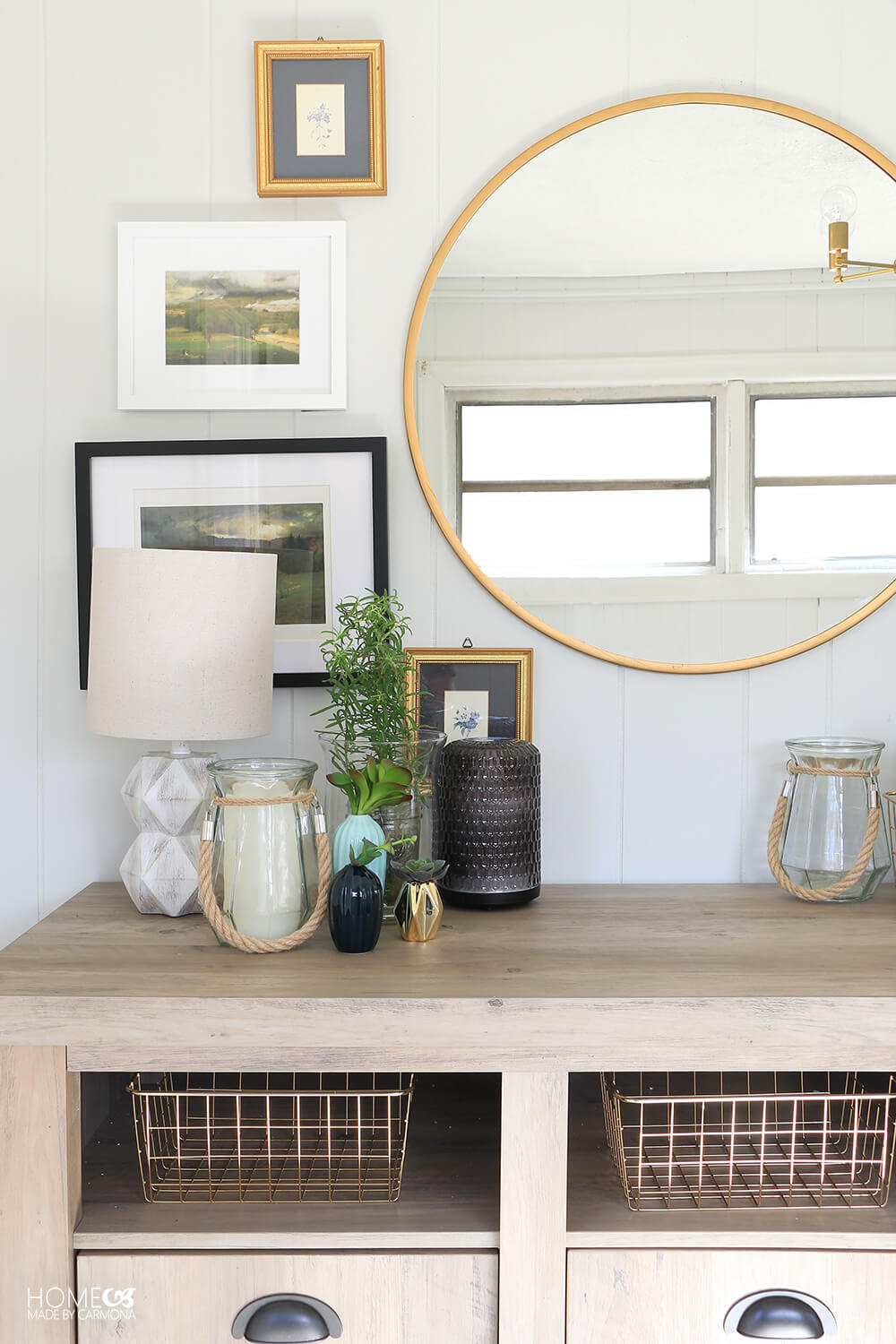 Oh, and I'm one of those people who isn't afraid to mix in fake plants amid the real plants. So if you were wondering, yes I have real succulents and fake sitting on the same entry console. What? I kill those sweet little things regularly, so I always need a buffer until I figure out how to properly take care of them! Haha.
I have a little binder for my Airbnb guests that gives them a complete breakdown of everything they need to know and what how they can best enjoy their stay.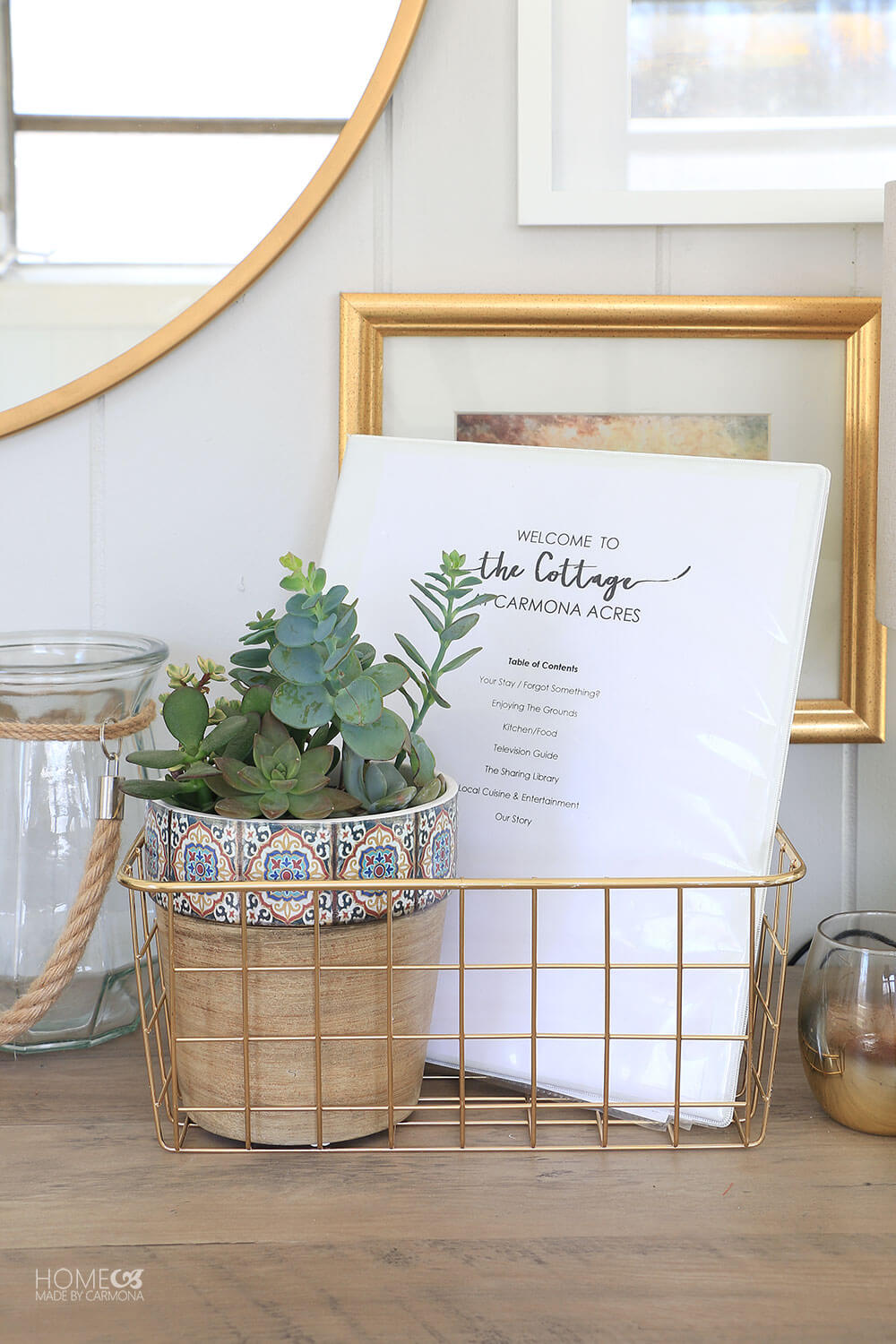 Shop my entryway here (affiliate links below):

From the entryway you see straight into the eat-in kitchen. Just wander past the little pony wall that keeps everything open and flowing into the next room.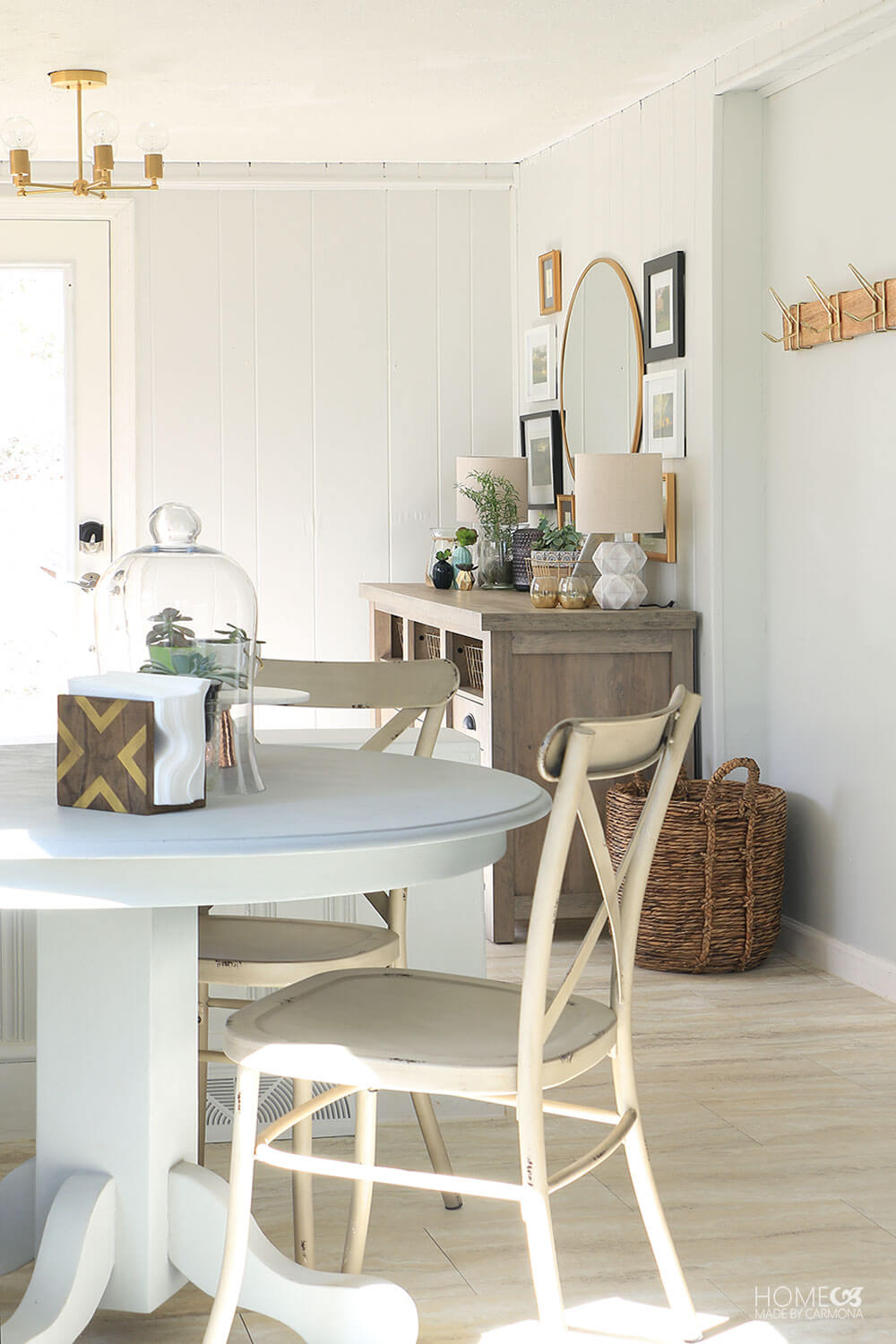 The eat-in nook and kitchen are all in one perfectly sized space for a cottage. I really wanted to bring a lot of bright touches of nature into this space as well.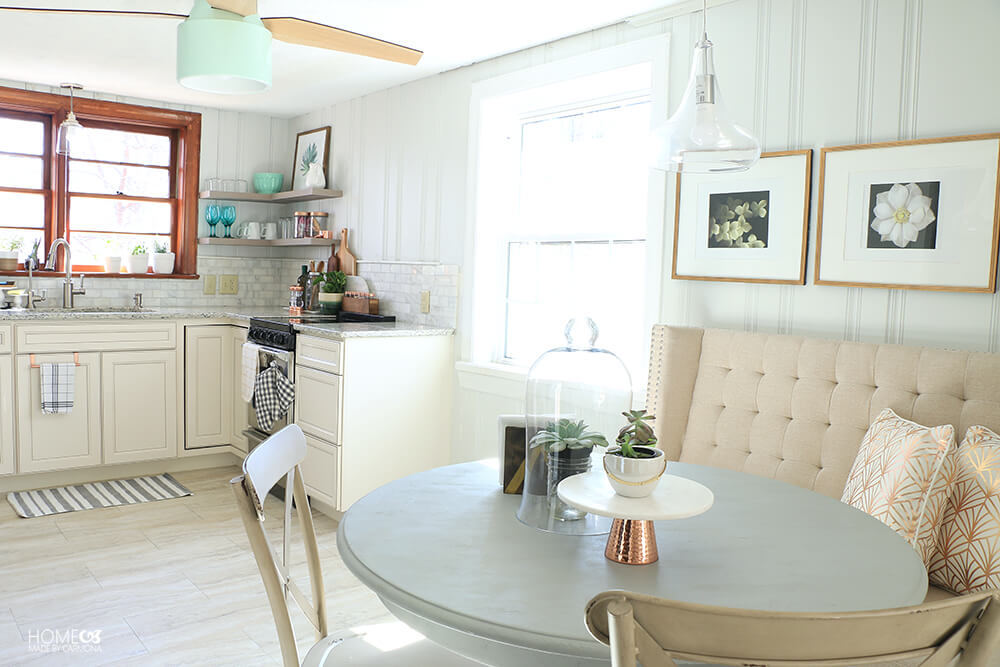 You can probably see that from the floral art, to the touches of mint greens, to the little plants speckled throughout the space.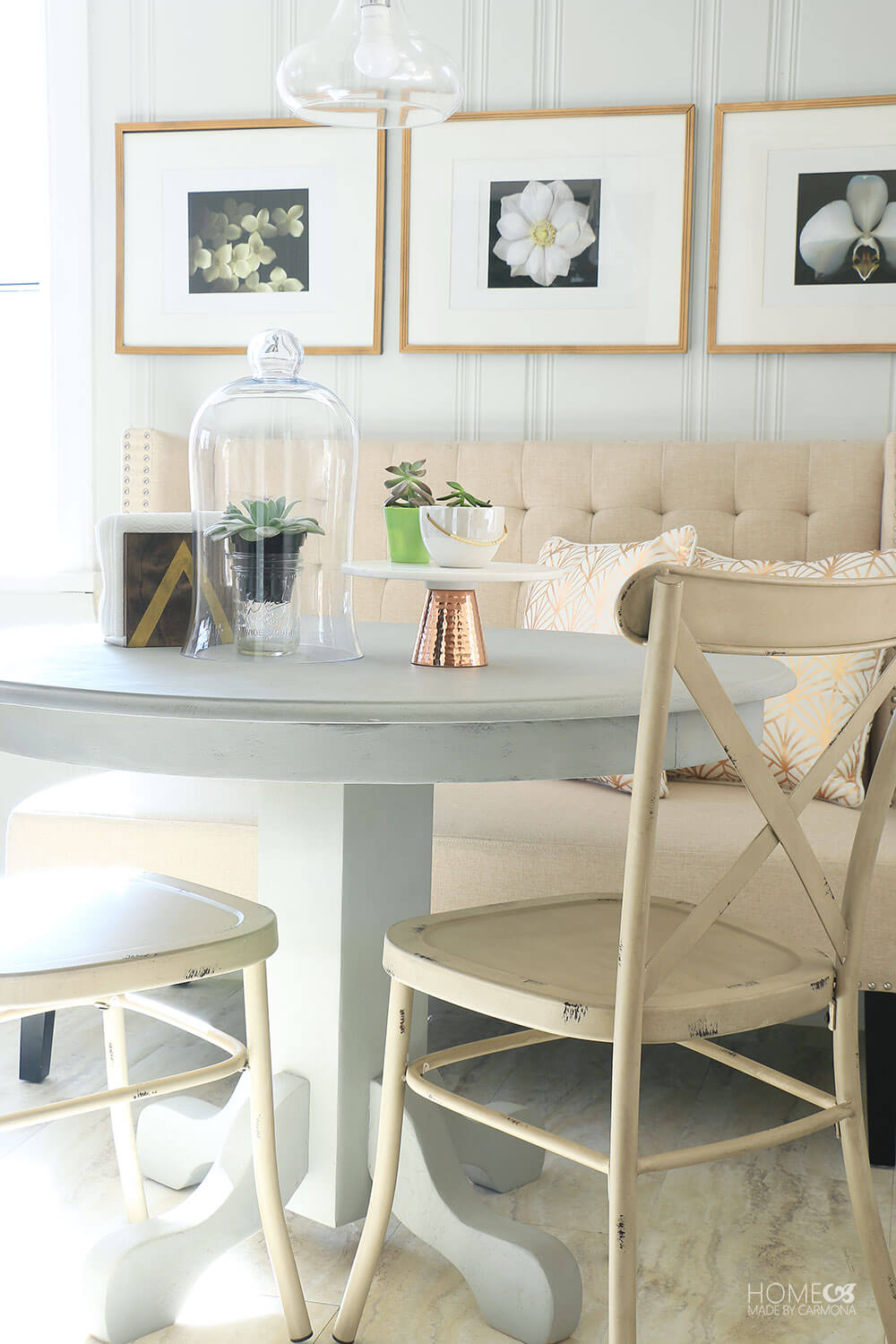 See? I told you I'm a sucker for cute little plants…especially succulents. Whether I kill them or not, I just keep buying them. Gah! And how cute is that little copper based stand?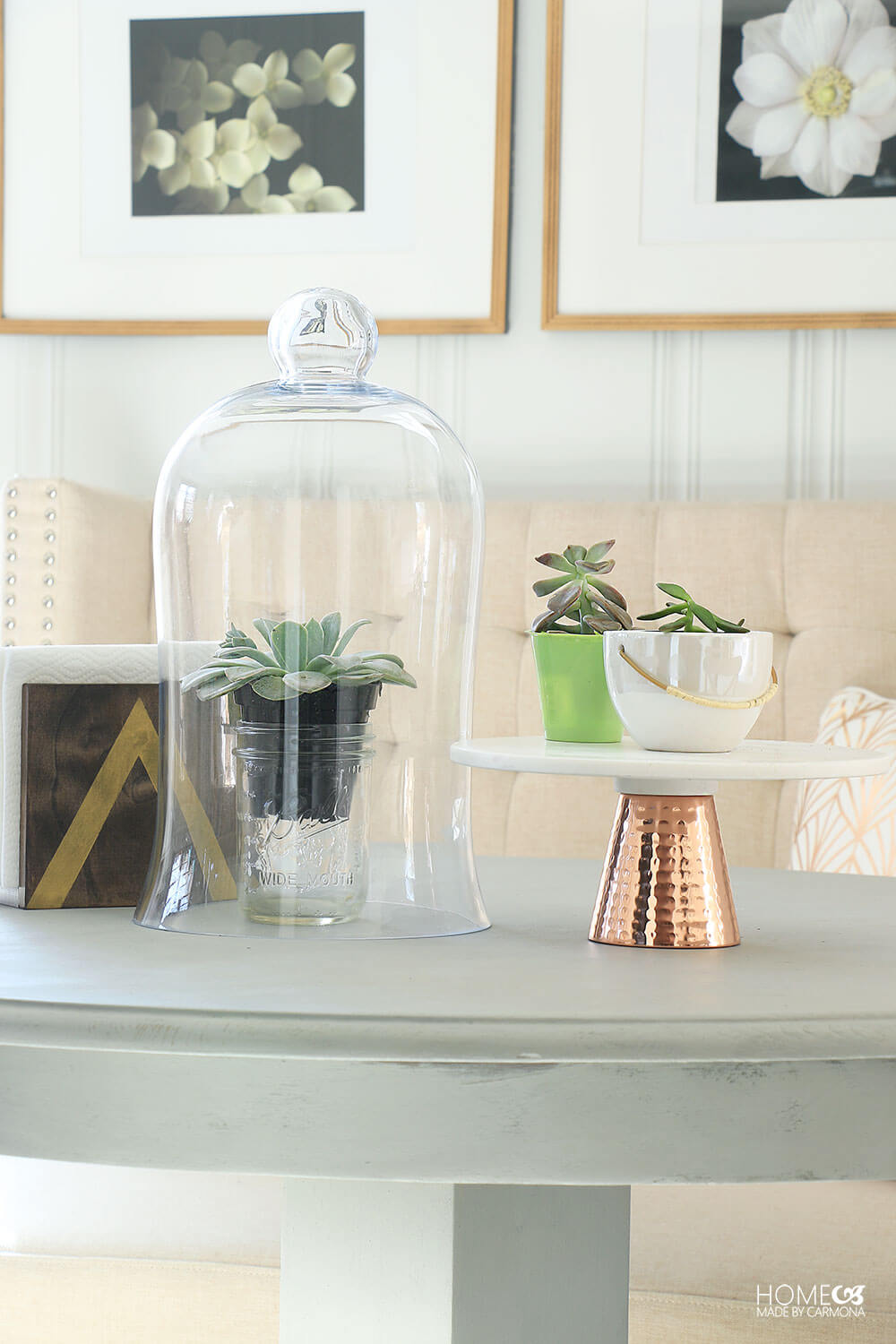 Copper, wood, greens; I love this mix! Usually I prefer gold, but for the cottage I felt like cheating on my first love just a little. Naughty naughty.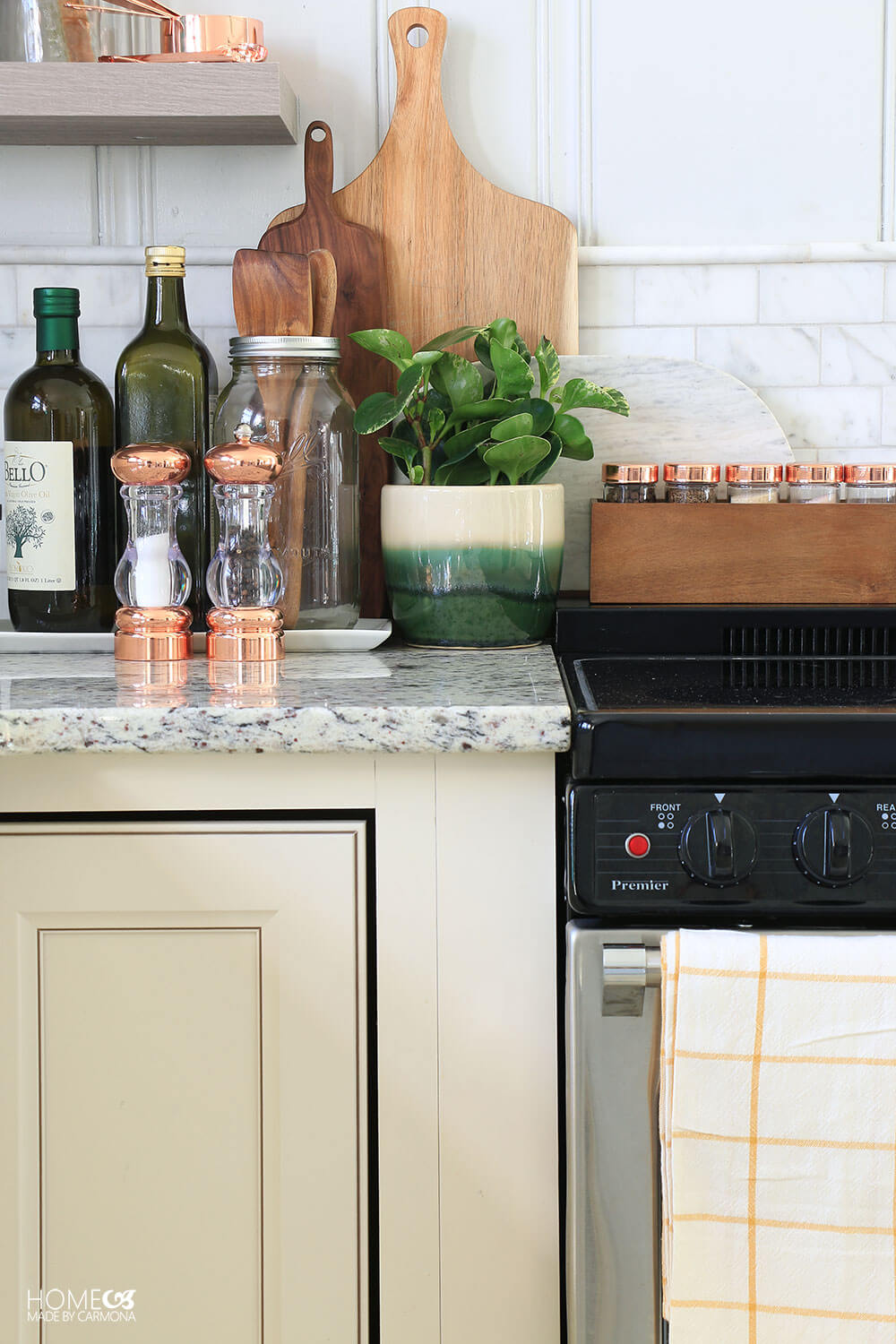 In my opinion every kitchen should have herbs growing in it. Nothing is better in cooking than fresh herbs you can clip and add directly to your dish. Mmmm. I always have herbs growing on the patio or in the kitchen of my main house, so why not make sure there are some available up here at the cottage for my guests?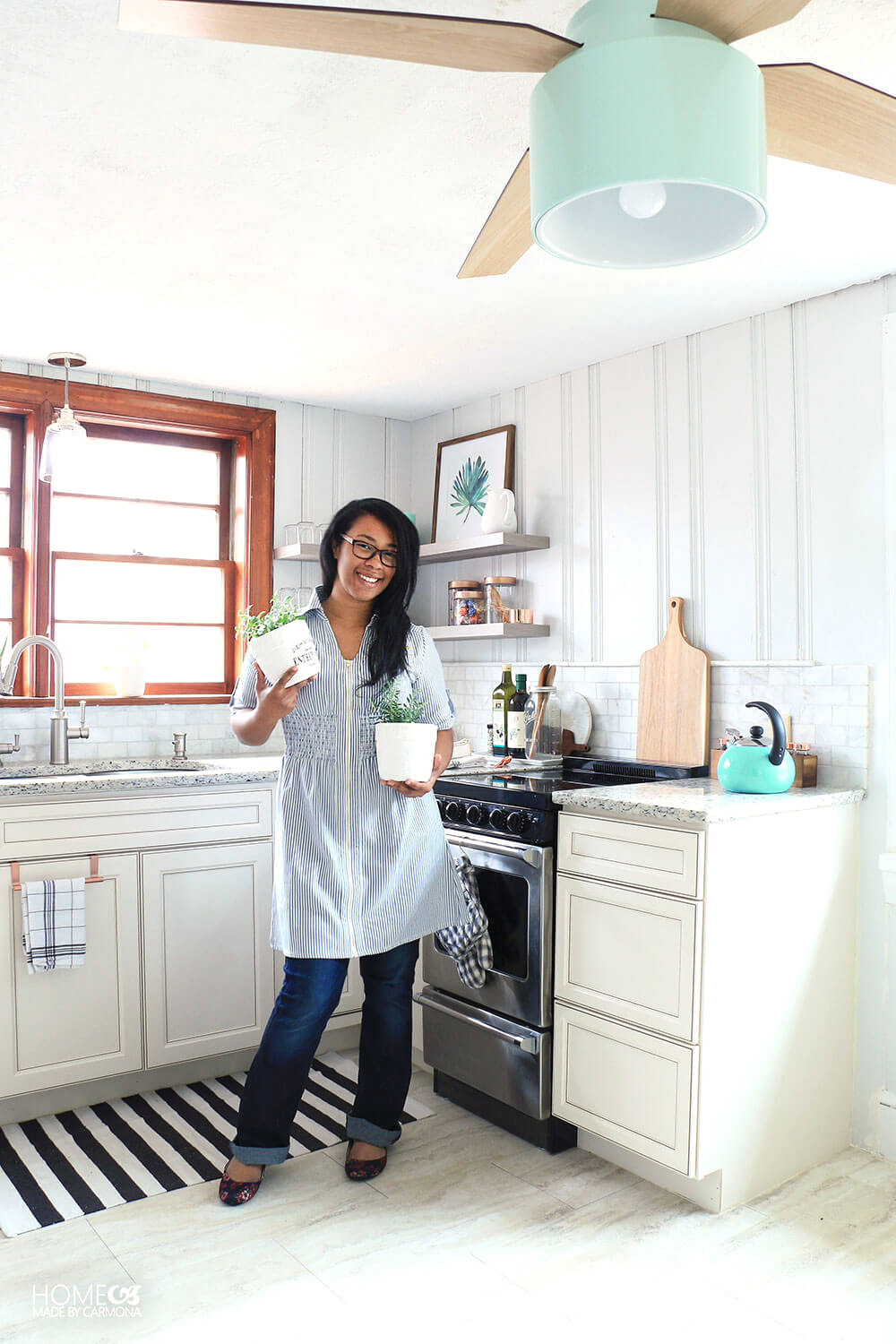 I wish I had a really deep set window right here, but this wide window lip definitely does the job to house a bunch of kitchen plants. So I'll try not to complain too much and just enjoy what I have.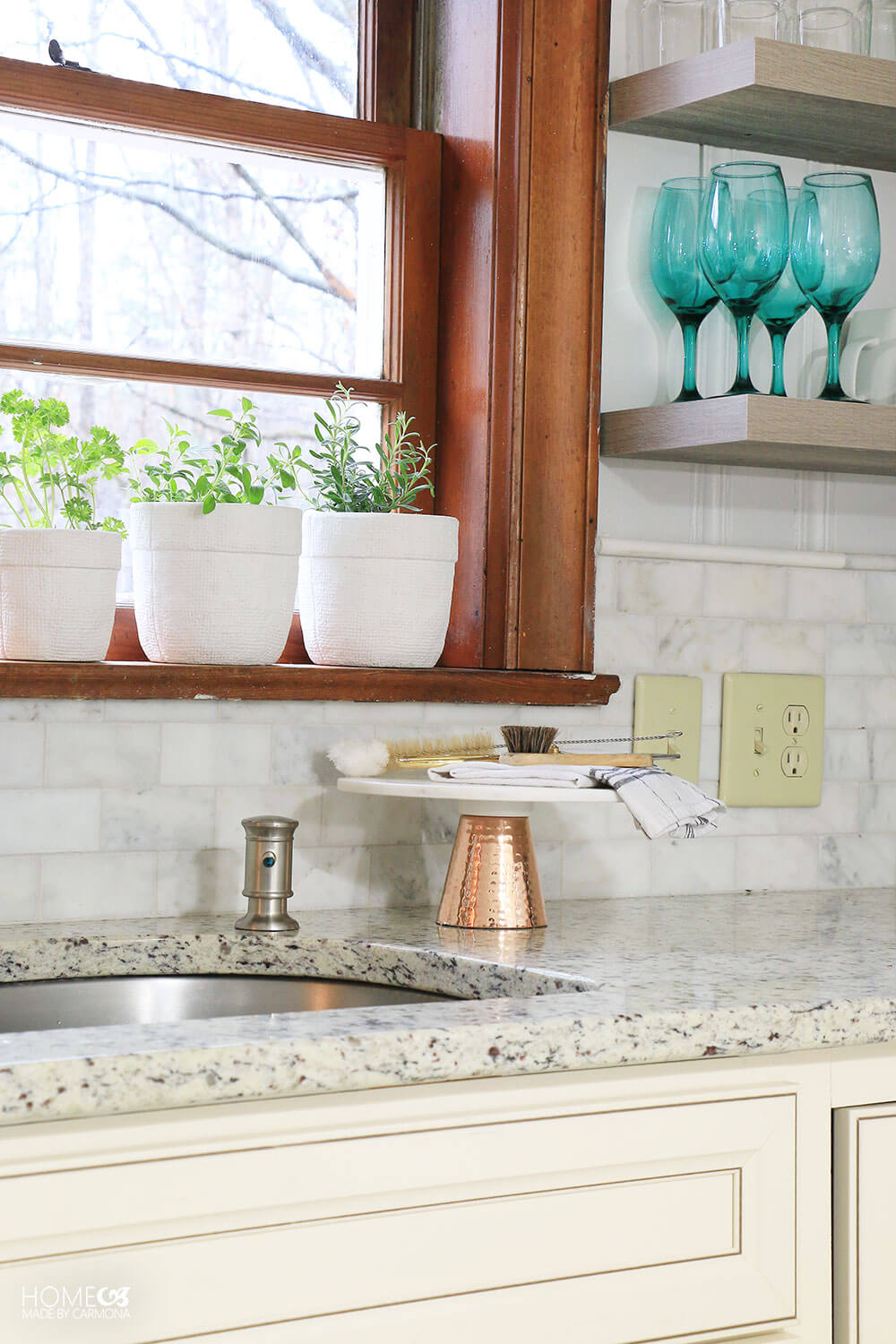 Shop the cottage kitchen and eating nook here:

I also have an incredible large south-facing window in the living room. It does pretty well despite the many trees shading the area surrounding the cottage. I tend to keep my medium light level plants on this deep window sill.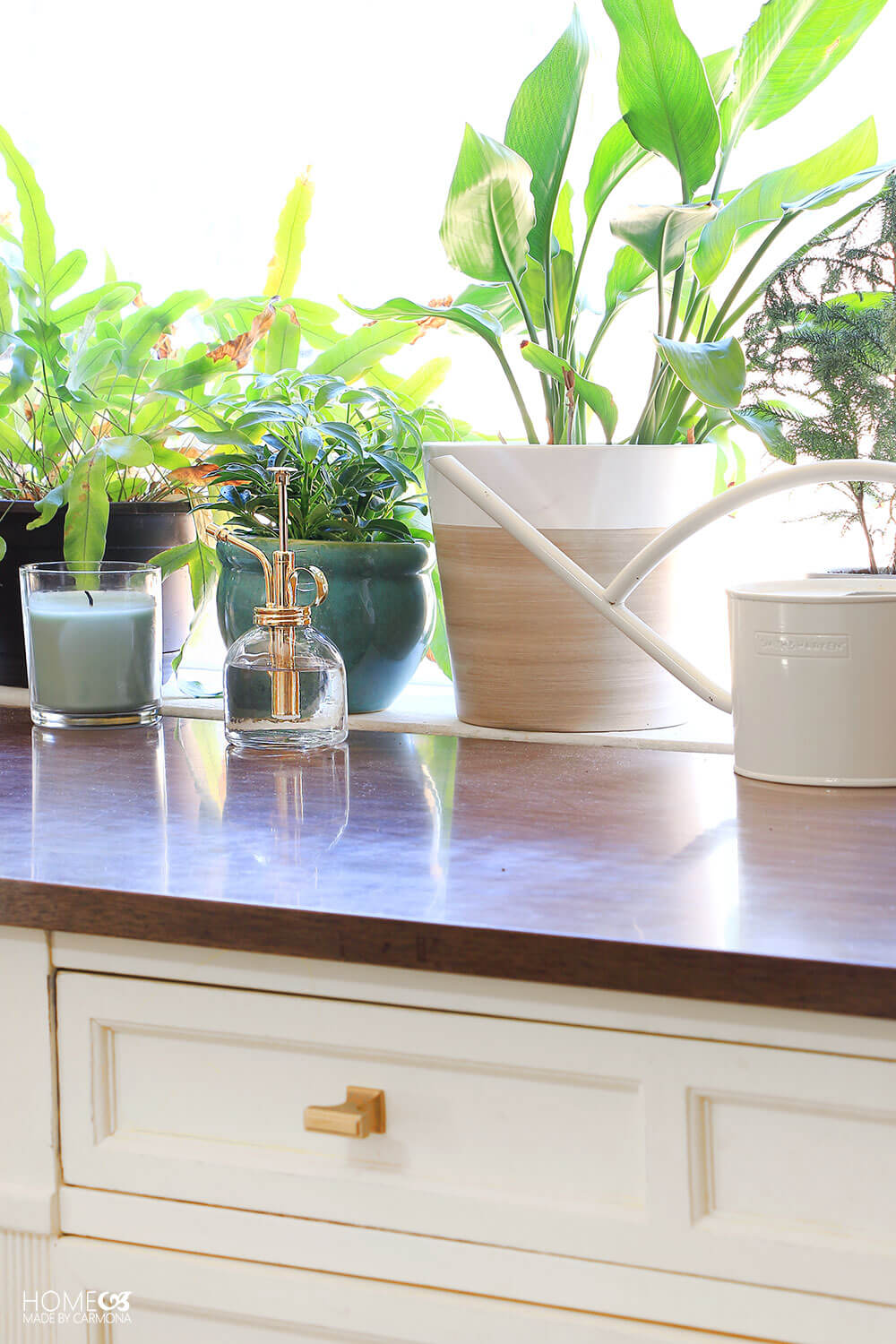 I love that I can always change up the decor in the living room just by adding new items to the bookcases.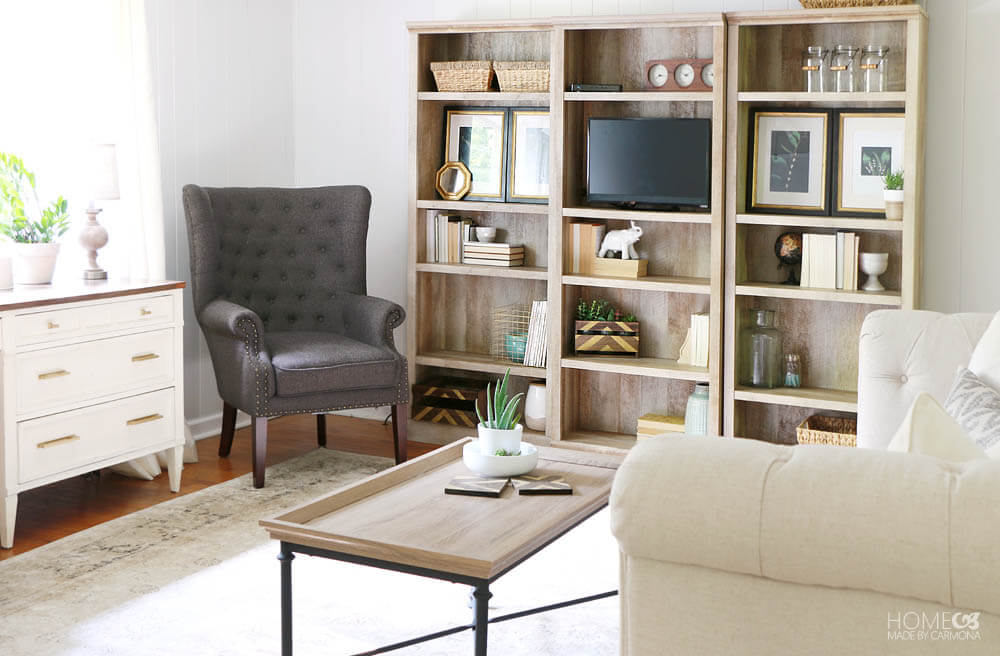 I wanted my Airbnb guests to experience the living room as a cozy style that reflects all the beautiful nature and woods all around them. Something that makes them feel instantly comfortable and 'at home'. So even when I change up the style on my bookcase I always keep that objective in mind.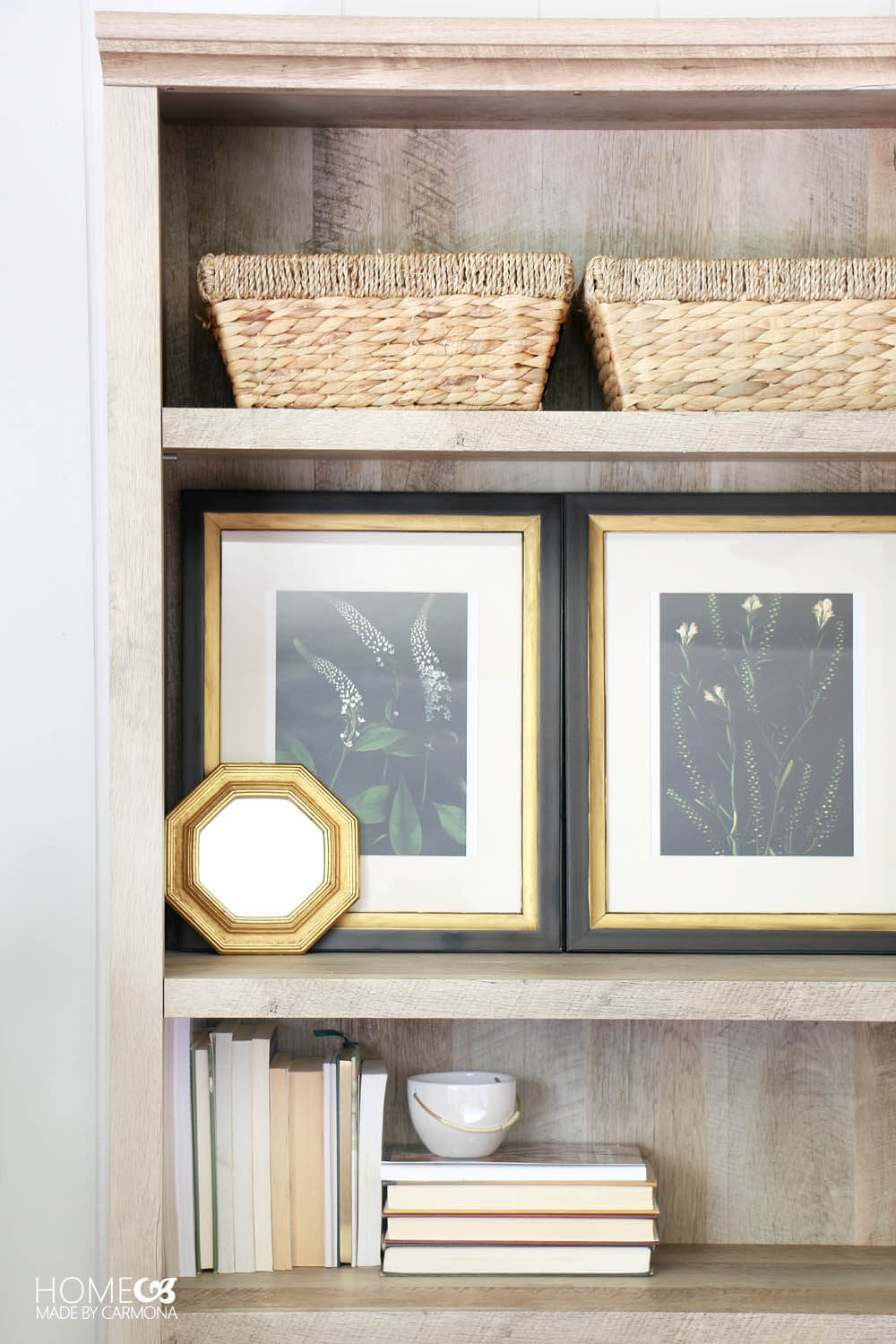 Shop The Cottage Living Room

Then there is the dining room with it's bar cart of plants. I really wanted to make the greens and golds in this room pop against those gorgeous dramatic dark walls.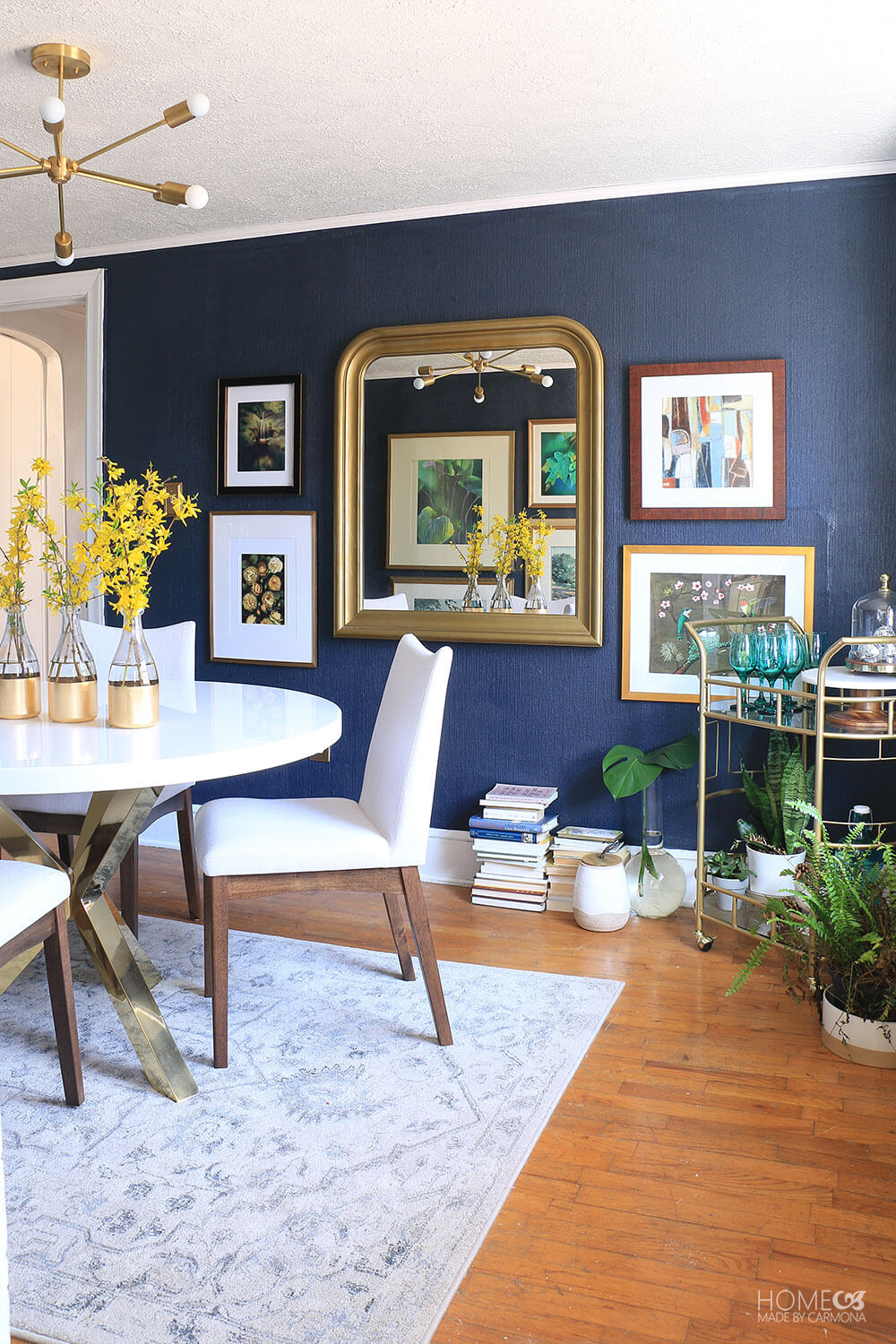 I adore dark vibrant walls. I feel like everything just stands out against them. My forsythia is in full bloom all along my driveway, and I love seeing their bright yellow against that blue.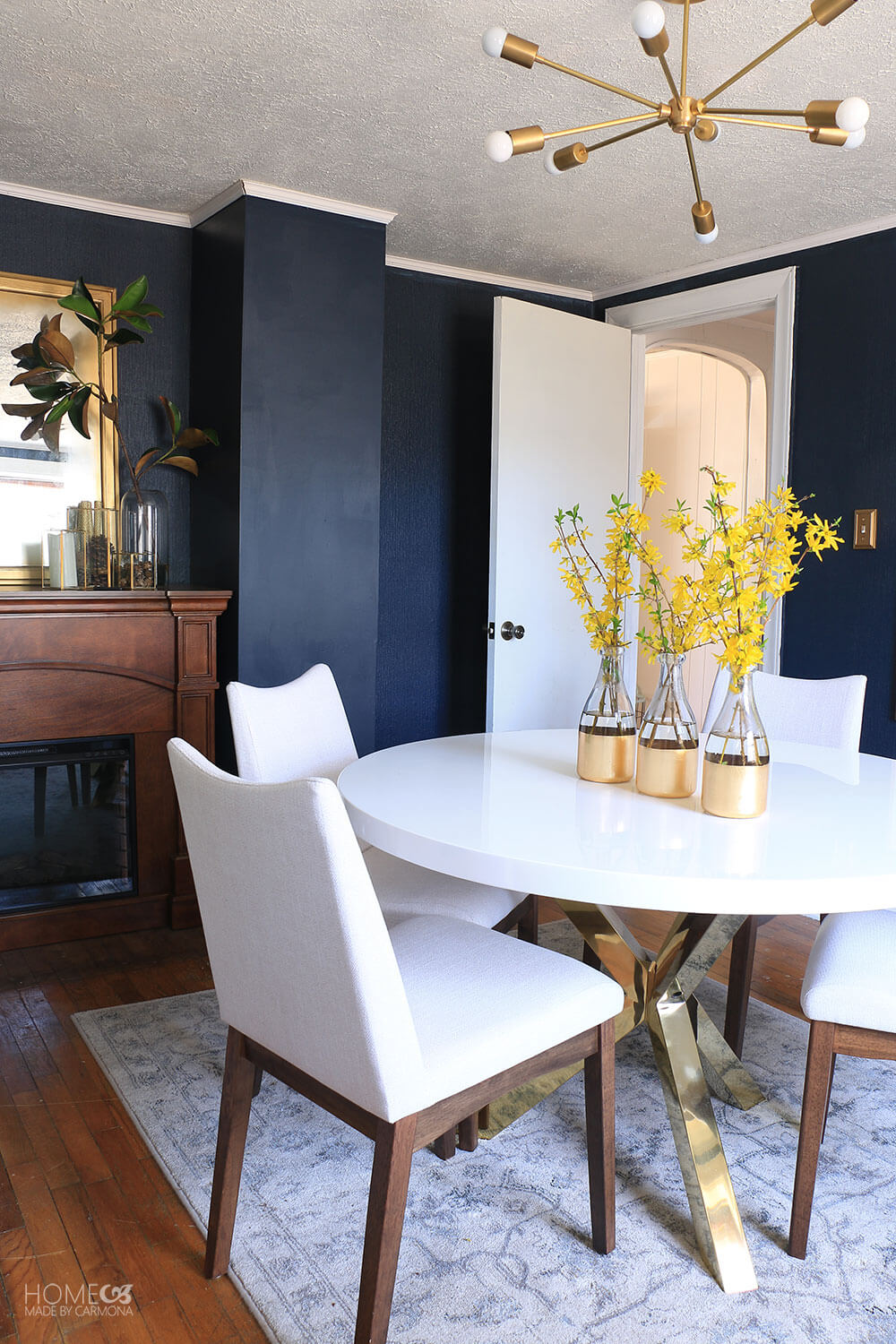 This is definitely my favorite room in the house. It screams me. I'm working to make the rest of the house reflect little bits of my style but still staying true to the cottage look and feel. The struggle's real ya'all. 😀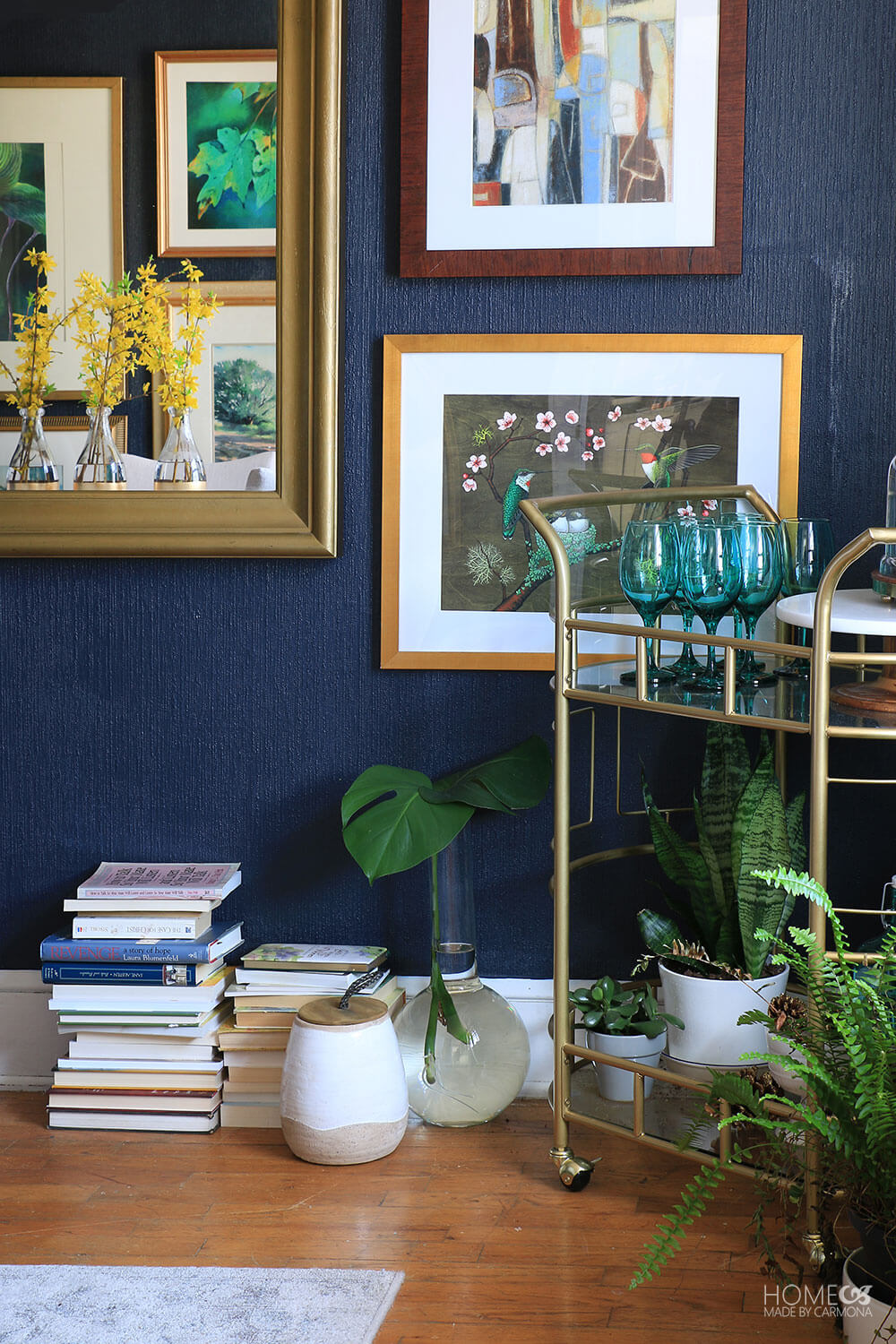 Shop My Dining Room Here:

Let's take a small brief peek into the two bedrooms of the cottage…because I know you are wondering what those look like.
I have always felt that the twin bedroom here in the cottage was plenty happy and spring-like. I love the emerald green pillows, the fun design on the area rug, and the gold mirrors that add a reflective touch.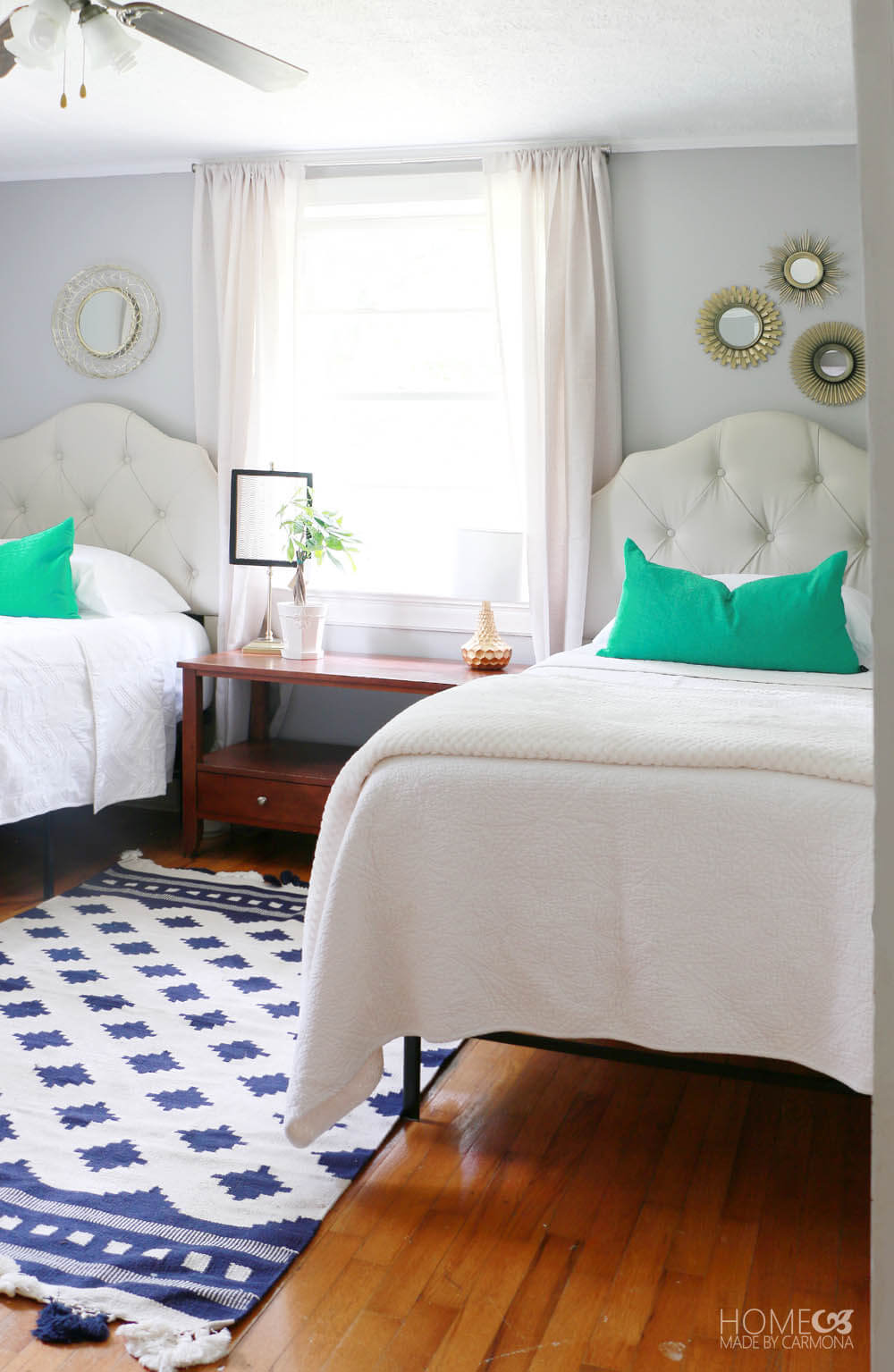 The last little peek I'm going to give you is into the master bedroom. But just a peek for today; if you want to see more you can take a look here.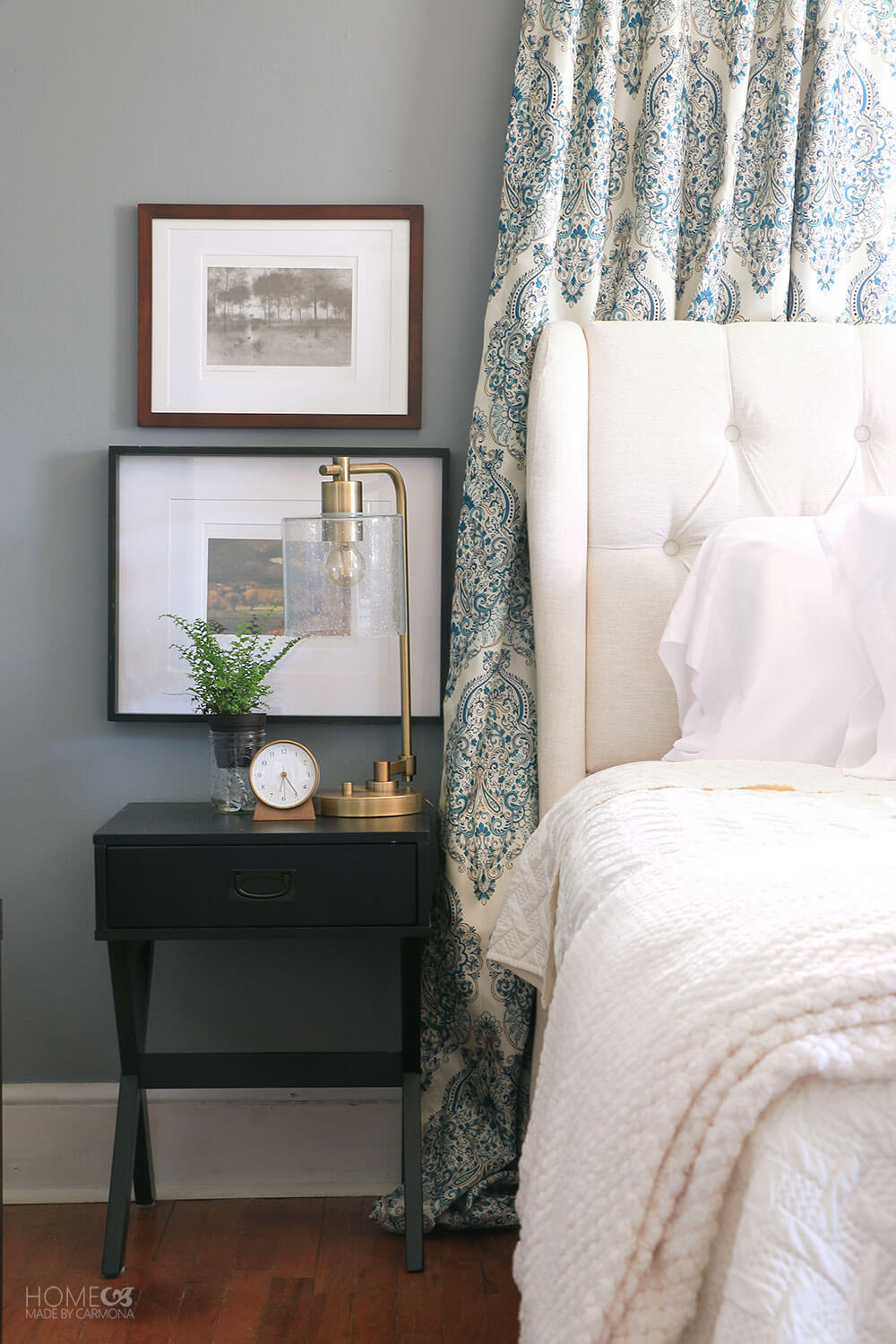 Shop The Cottage Bedrooms:

This tour is already too long and you have so many other fantastic blogger homes to explore.
I hope you enjoyed it! Your next stop today is Southern State of Mind blog, and you are going to love it.
Spring Home Tour Bloggers