Why Raised? Why Sub-Irrigated?
Do you really have to ask? My raised beds sit on my deck and are as work-free as a garden can get! They are self watering, requiring a refill once every two months, and they help extend my summer planting season. Oh, and as for weeding, well…what weeding? *swoon* I love my little deck garden! I promise to give you another peak later in the summer when all my little seedlings are fully grown.

Soooo, have you created your self-watering container garden yet? Wait what? You didn't see that post? Well ok, then you must start with Part 1: Starting Seedlings of my Garden Fever series, then go to Part 2: Container Gardening, and this is the last post in this 3 part series. If you have, then please, by all means…onward!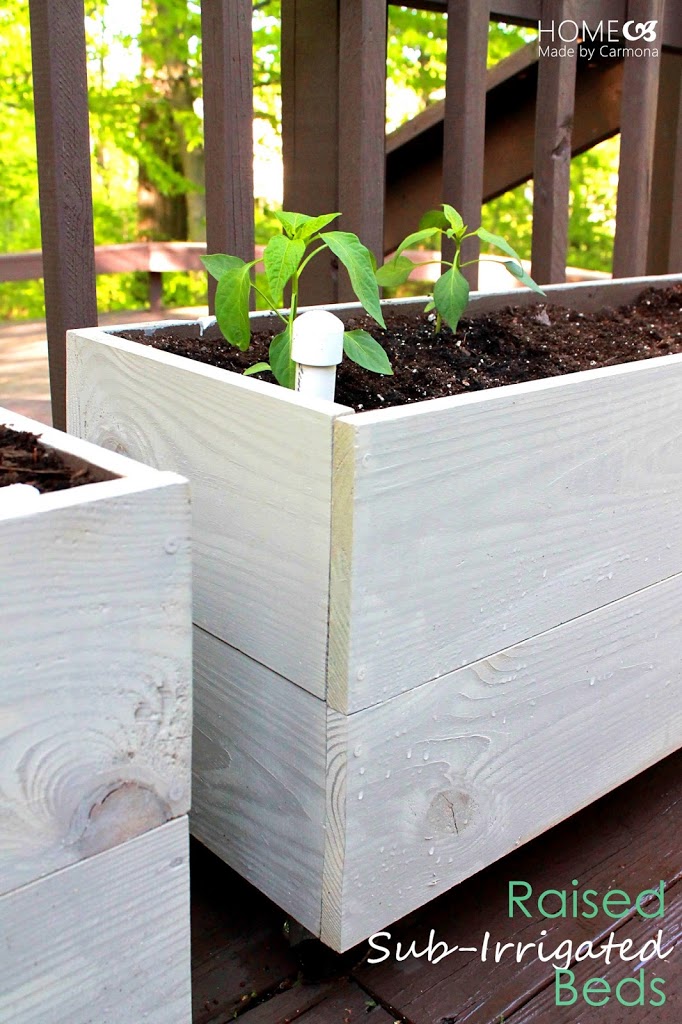 Necessary Materials
Bed Building Materials
These are the materials I used to build one raised bed, however you can simply adjust the dimensions to suit materials on sale or your desired height, length, and width. There is one reason alone why I chose the type of wood I did…it was cheap. It was $1.89 per 8 ft. board cheap!!! So believe me, if I could have found taller cedar boards at that smashtastic price, I would have used them. *wink* Basically I spent $12 to build two raised beds after purchasing 4 – 8 ft. boards, one piece of framing wood, and some soil . I used leftover deck stain & seal left in my garage by the previous owners, and  I salvaged castors from a piece of roadside furniture.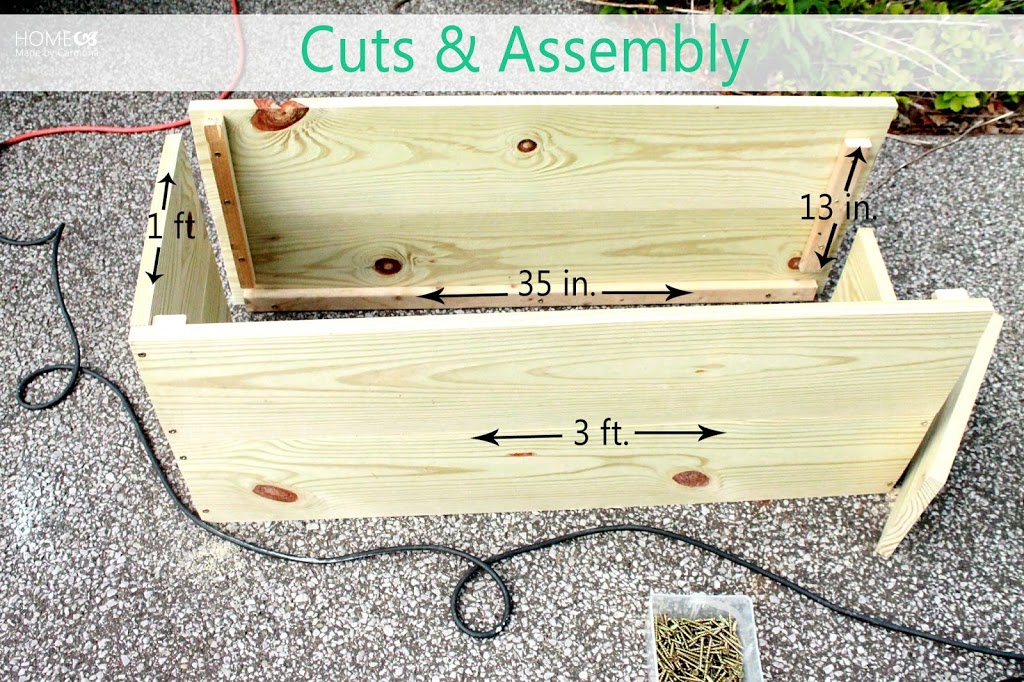 To Build One Raised Bed
2 – 1 in. x 7.25 in. x 8 ft. Cedar Board

1 – 1 in. x 1.5 in. x 8 ft. Framing Lumber

One Salvaged Pallet 

1 1/2 in. Deck Screws

Deck Stain & Seal

Castors (optional)
Sub-Irrigation System Materials
3/4″ PVC Pipe & Cap

4″ Drain Pipe

Thick Plastic Sheeting (vapor barrier)

1/2″ Vinyl Tubing

Top Soil

Garden Soil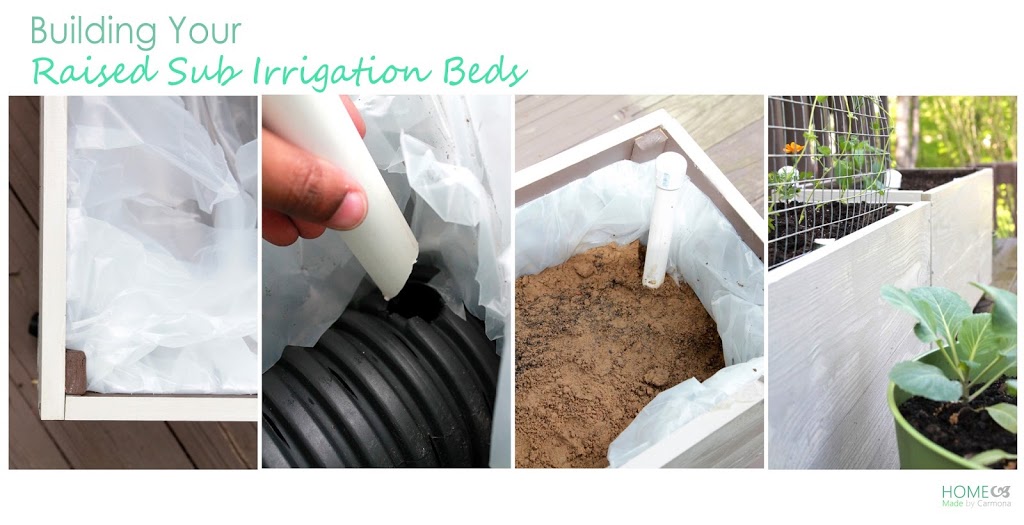 How-To Build Your Own Raised Sub-Irrigation Bed
Again, some things are just better shown in action…so I will show you via video how to build your bed, and install the sub-irrigation system. If you watched the video I did on how to create self-watering planters here then you should know the idea is the same, however the materials are a little different. 



Drainage Tip
If your garden is on a second story deck, or you just don't want it draining all over your deck floor, be sure to place a plastic drip pan under your vinyl drain tube. Or you can just do what I do, allow it to overflow into one of my planters.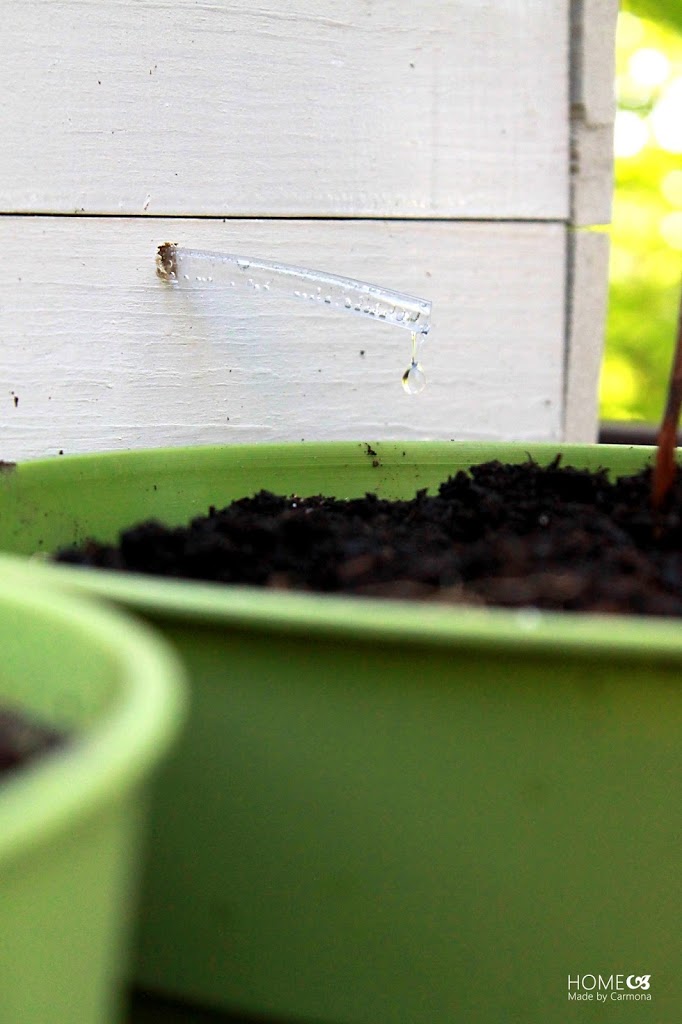 Create a Shade/Greenhouse Covering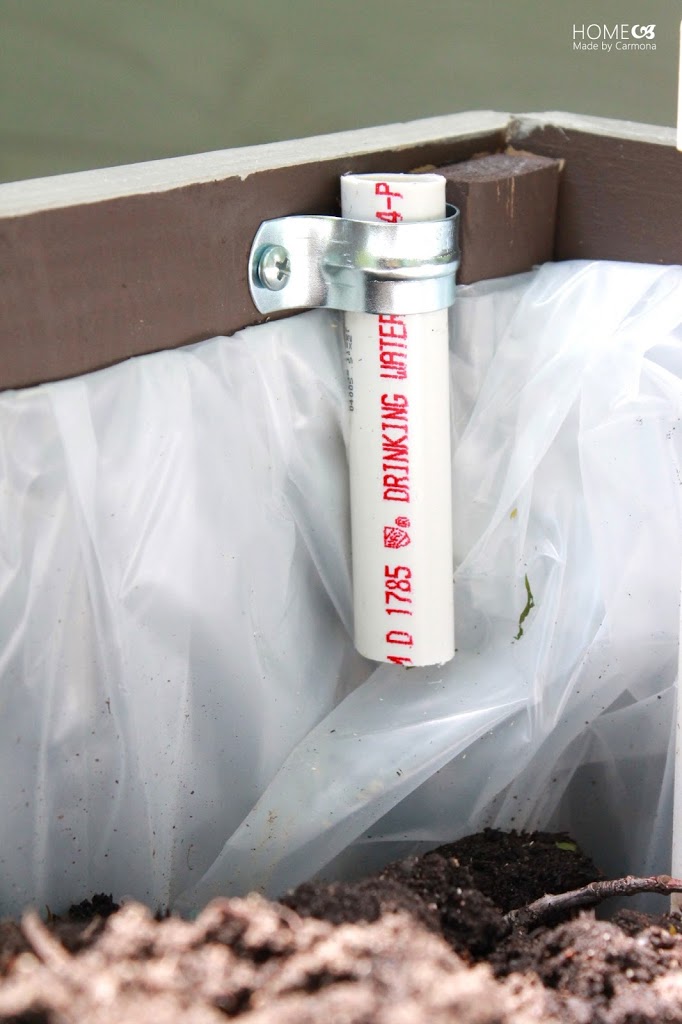 I saw this idea on Pinterest and it really appealed to me.
Use the leftover PVC pipe to create holders for a "shade" useful for those especially hot days. 
This will be very helpful for your transplanted seedlings as they acclimate. They usually can't withstand an entire day of sun, but now that they are being kept moist from the roots up, and have a shade until they are ready, nothing can get them down! 
 Use Two Hole Straps to attach the PVC to your beds. You can attach them to the outside of your bed. Or attach them hidden on the inside of your bed before filling with garden soil. 

Purchase a thinner bendable PVC that can loop over top of your raised bed. 

Create a shade by cutting garden cloth to size over the loops.

**TIP: if you created long narrow beds like I did, push them side by side and loop your shade over both as in the picture below.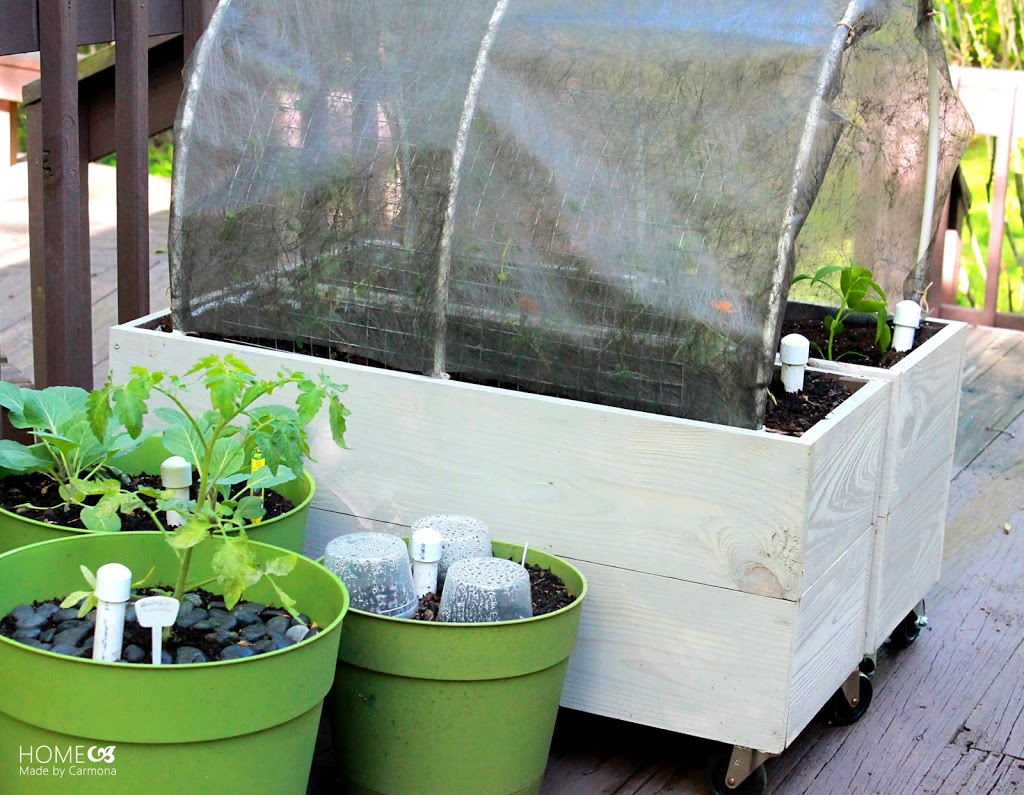 Even better, late fall replace the garden cloth with the leftover plastic sheeting to transform your bed into a greenhouse and extend your growing season. Use your plastic sheeting in the early spring and even into the summer for heat-loving plants… it also can help to warm the soil up in spring before seeding into it. 


Enjoy your raised beds! I know I will…



[go_portfolio id="gardening_gallery"]