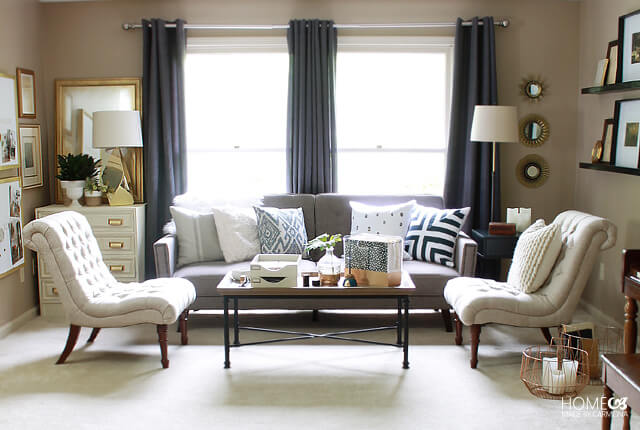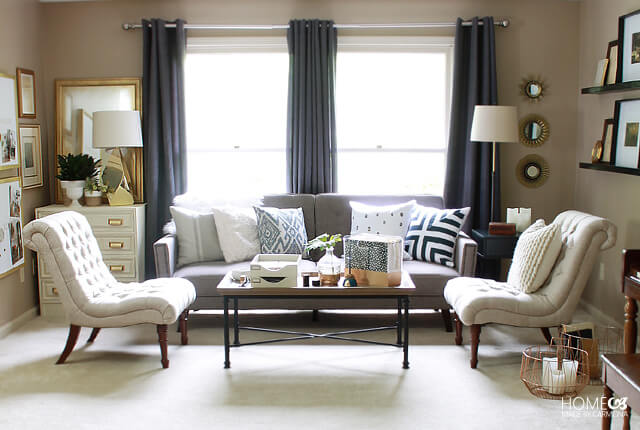 First it was a sitting room (really? Are we going to go a'court'in?), then it was an office, then it became a secret guest room hidden in a living room…ok, this space was kicking my butt. Sure, I managed to put it to some practical use over the years, but honestly it just never seemed to come together… Granted, decorating seems to be a painfully slow process around here. When you don't have the money to put into decorating, your house goes through awkward stages. Ugh, it's like my house is going through it's teenage years. It no longer looks like it did out of college, but it isn't grown up yet, and it just keeps evolving… 😀
As you know, I partner with Better Homes & Gardens brand at Walmart, every other month to bring you attainable budget friendly decorating. This month they challenged us to make over a living room, and I thought thank goodness! My poor little sitting/living-room-that-couldn't desperately needed a little tender loving care.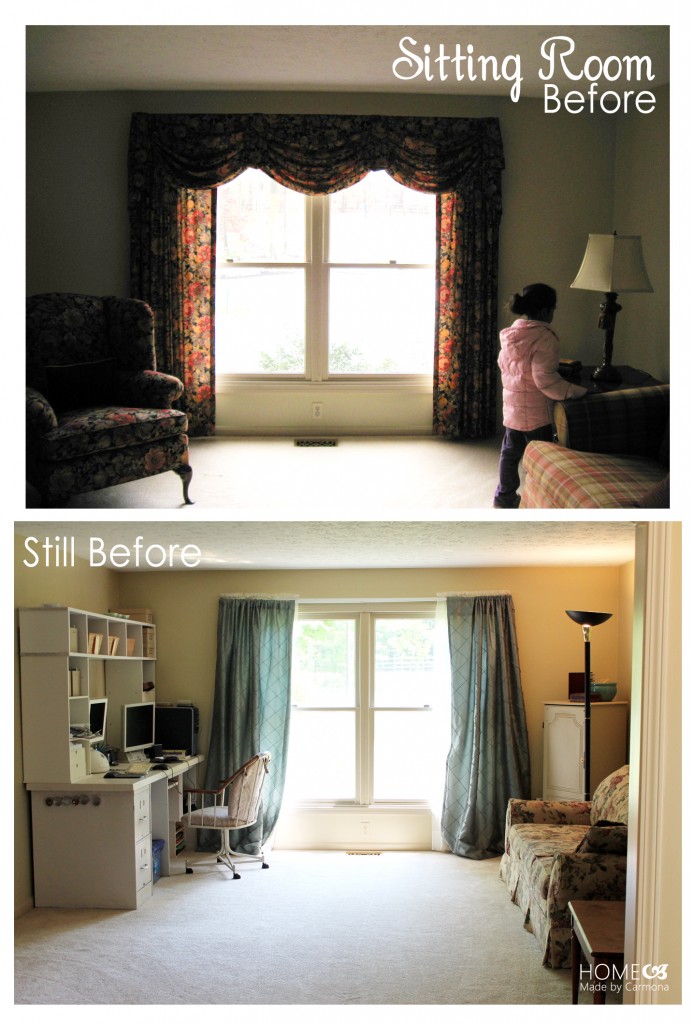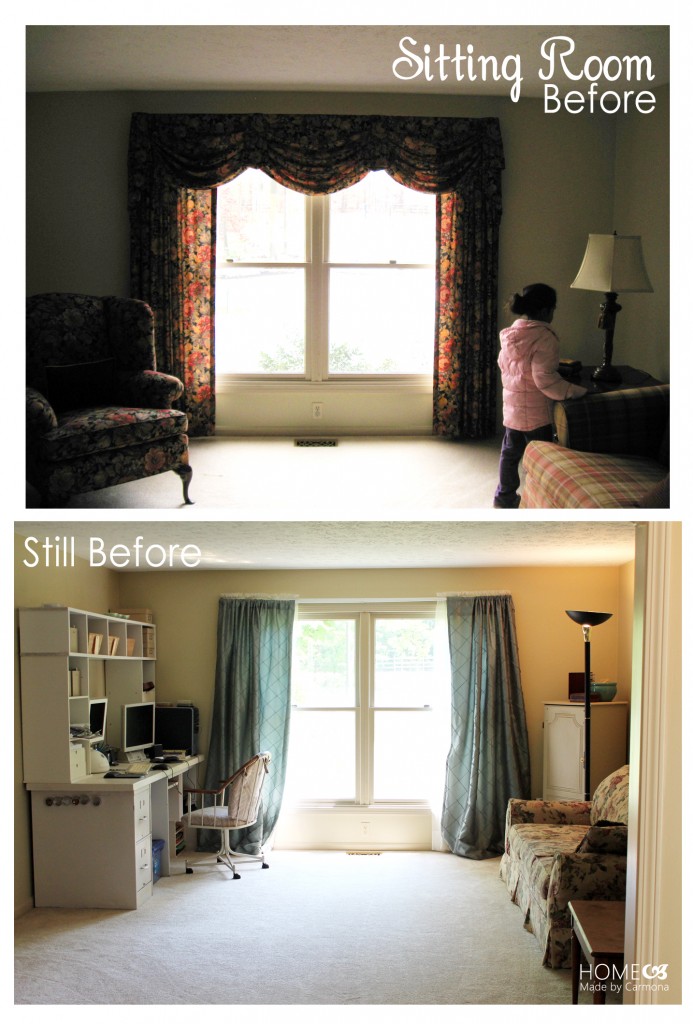 Sure, over the last 5 years I made a lot of changes that helped bring it to this point. But I'm not going to claim it wasn't a painfully slow process until right at the end.
This is what the space looked like at the end of last year… you can see it improved greatly…but it wasn't there yet. I painted the space, the ugly old floral sofa was replaced with this BHG Rowan Linen Futon, and I built these picture frame ledges.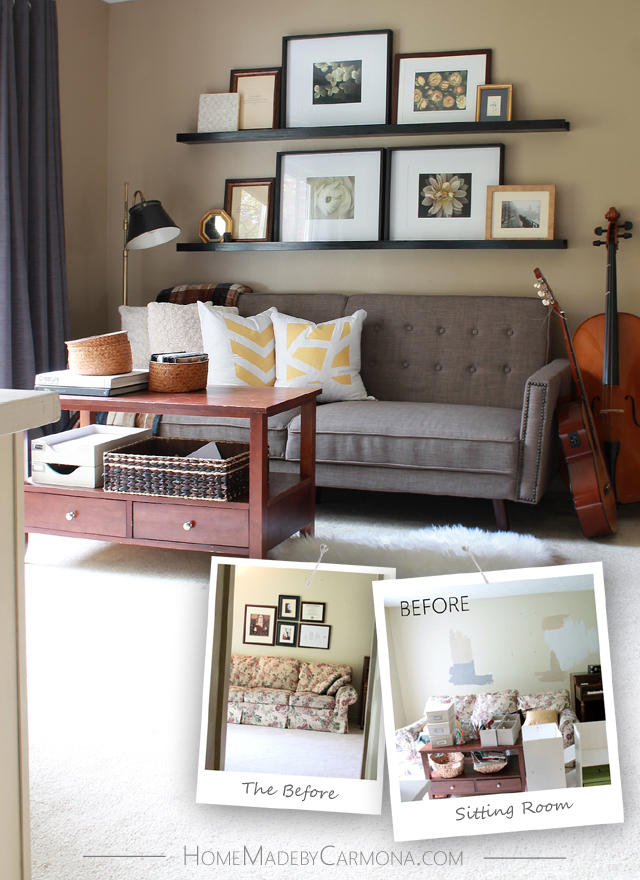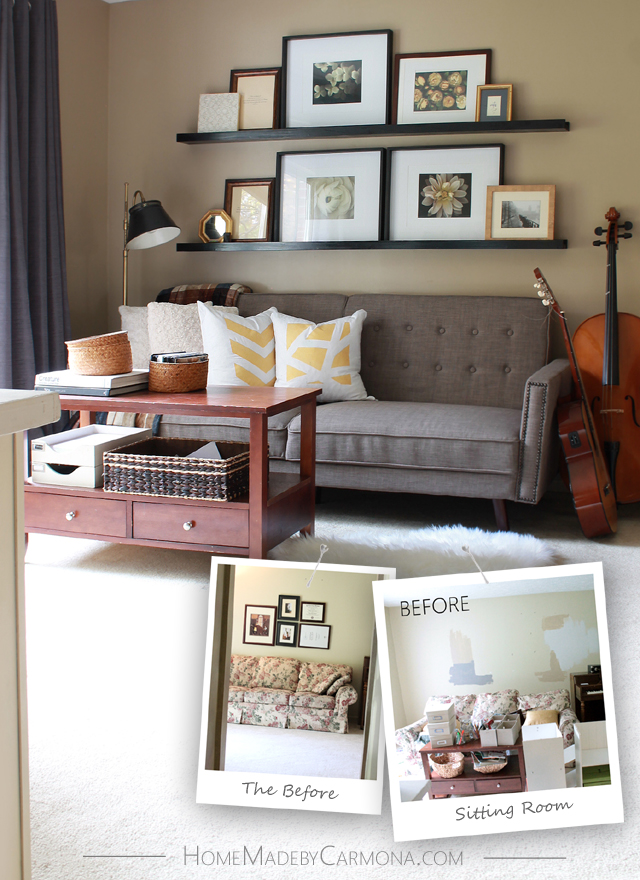 Then things started really coming together! This is what it looked like just a few weeks ago (after a LOT of rearranging and fussing with the space). I was feeling pretty happy, but anticipated the new Better Homes and Garden's items I had just ordered from Walmart.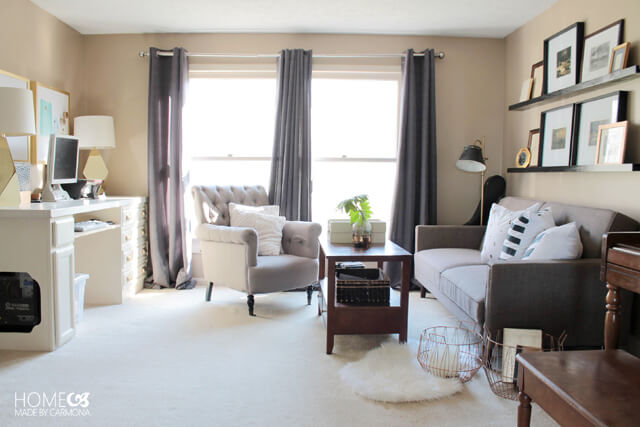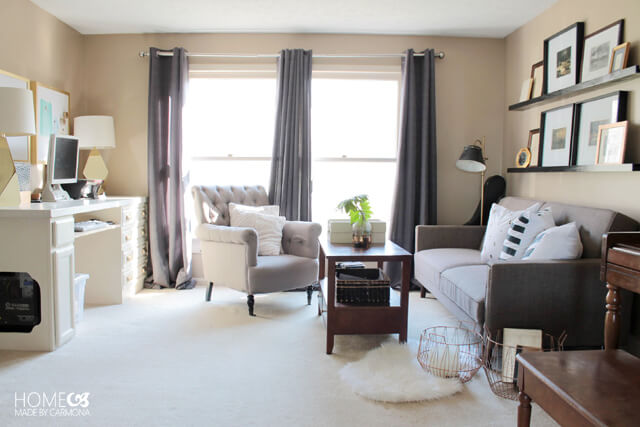 Finally all I needed was to dispense with the office. My desktop computer was out of commission, so why bother with a giant cumbersome (and very makeshift) desk? I moved that out, re-positioned the futon in front of the window, added two armchairs on either side, and I swear the whole thing just kind of fell together within a couple hours.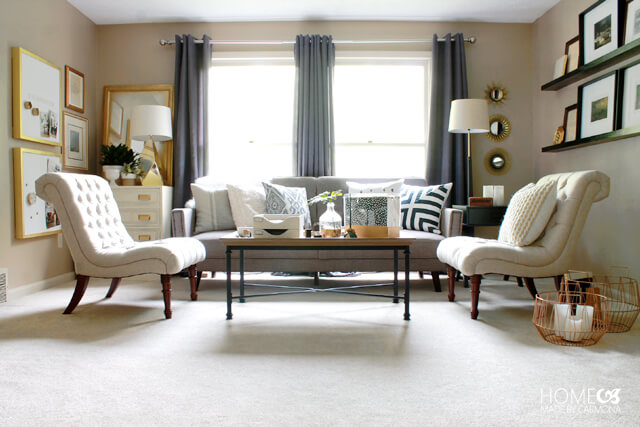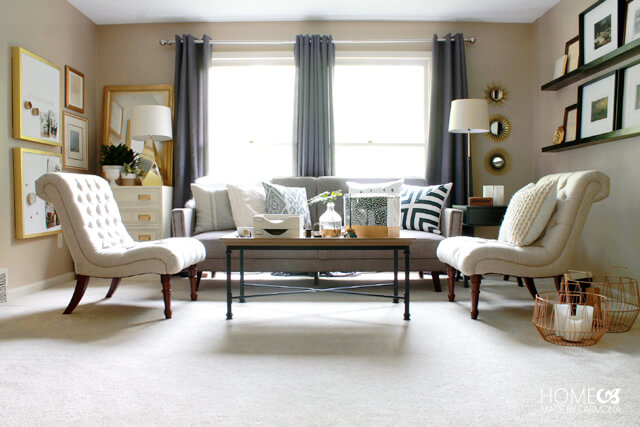 Considering I have spent the last 5 years trying to figure out the space, this day felt positively magical!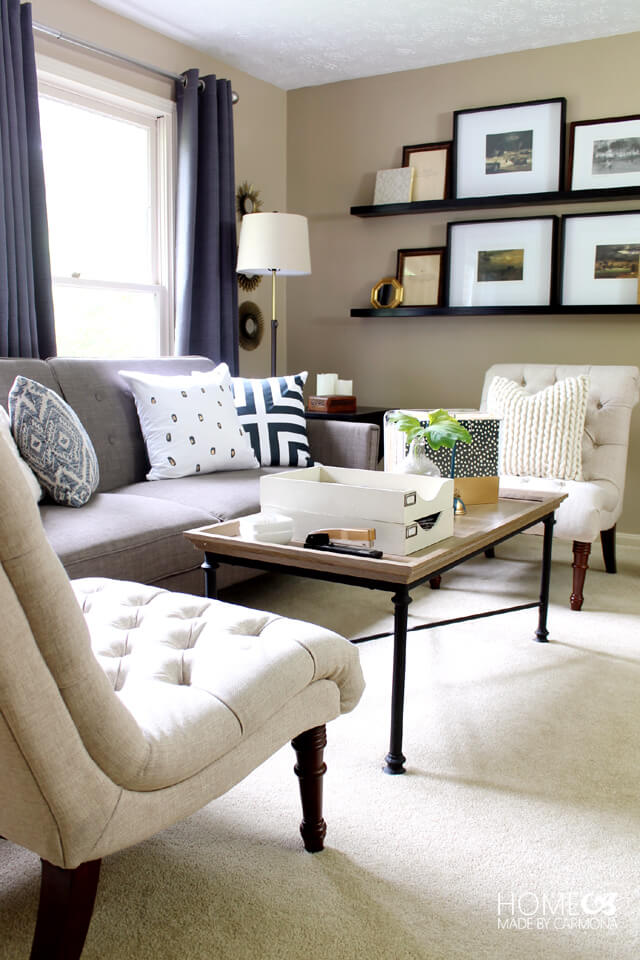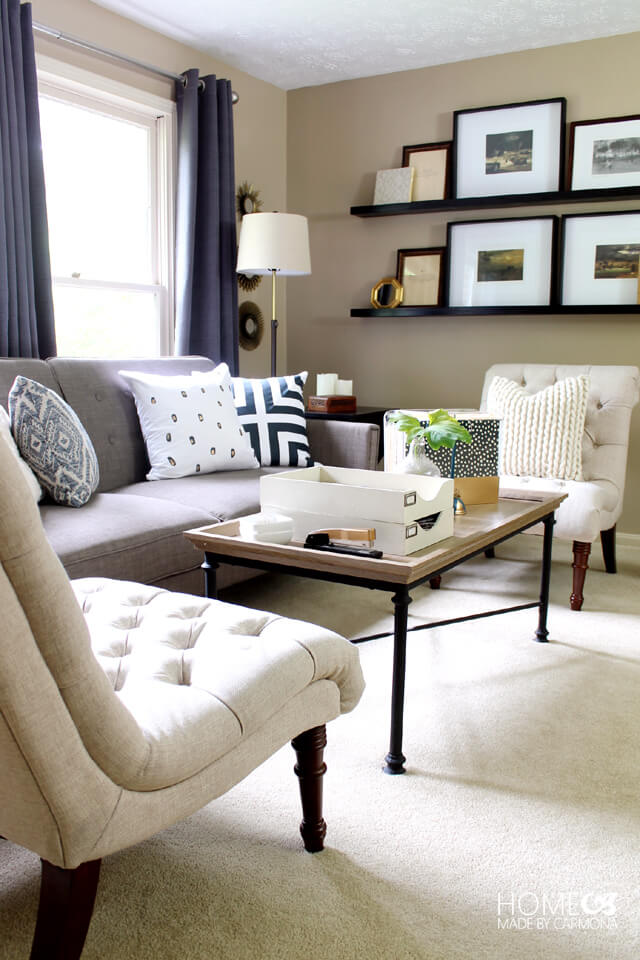 I needed a coffee table to fill in the space between the seating, but not something chunk and heavy in the space. I wanted a coffee table that you could see the futon/sofa through, so I went with this rustic BHG River Crest Coffee Table from Walmart. It is a very simple elegant design, does the job, and I love the metal legs!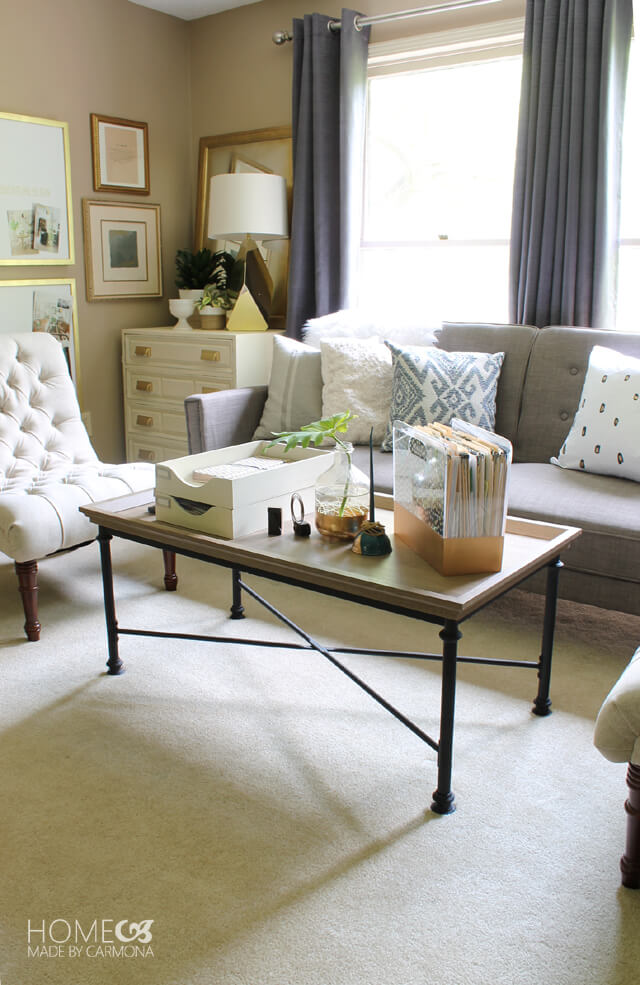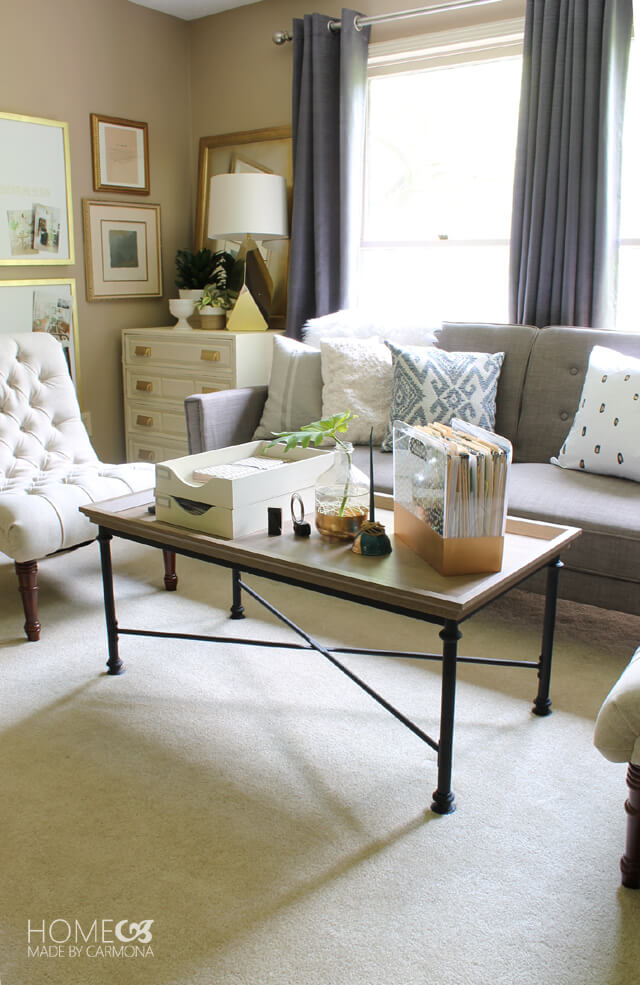 I still have some office supplies in this living room (because yes, I still use it to pay bills), so my new coffee table is filled with practical items that are also pretty. I keep a pretty spray painted file holder handy to wrangle our important papers and bills.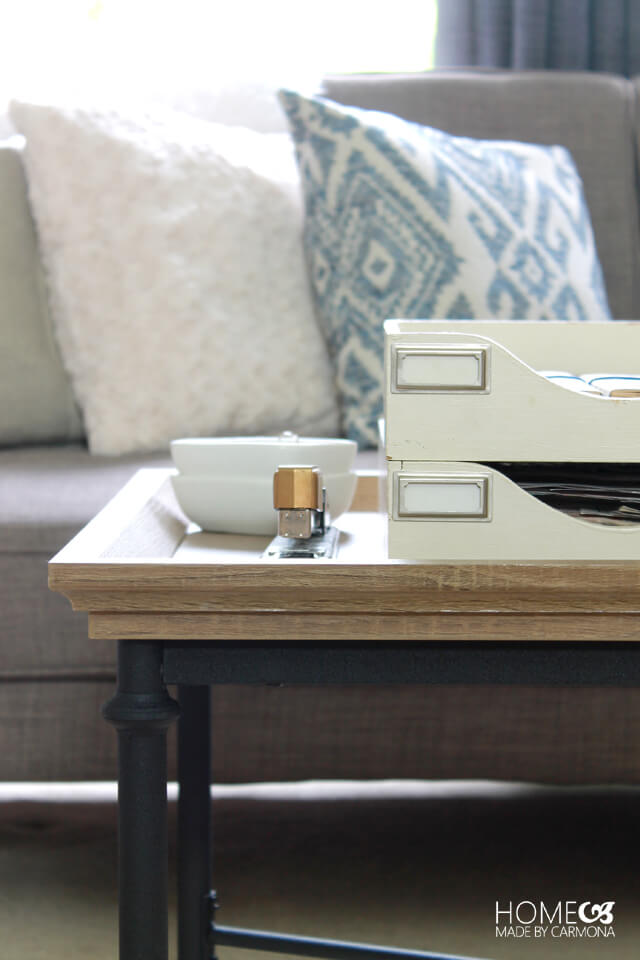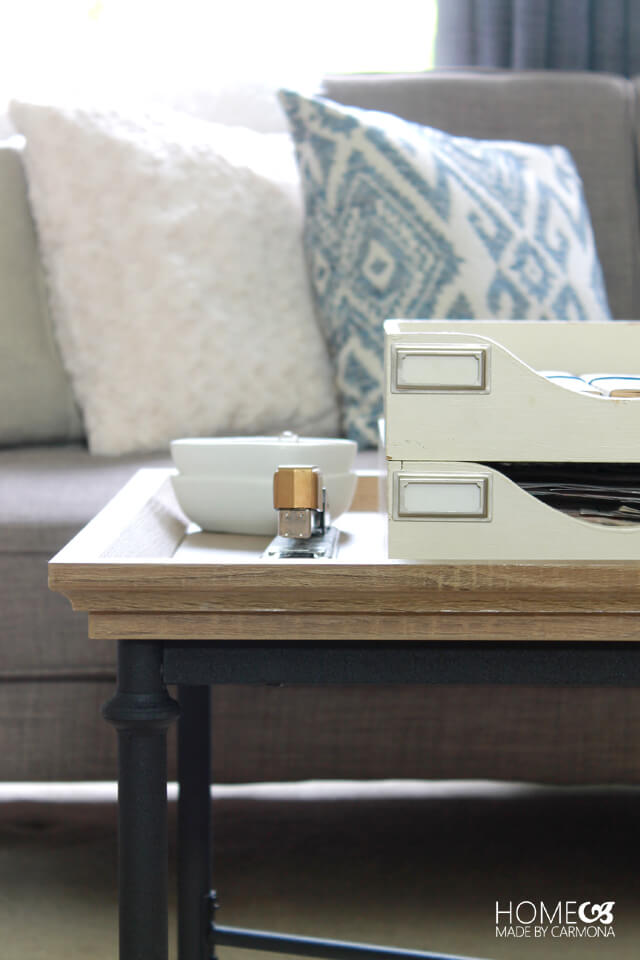 My coupons and mail are neatly tucked away in these stacked wooden holders, until they can be handled. Even my stapler and some clips are kept handy on the coffee table.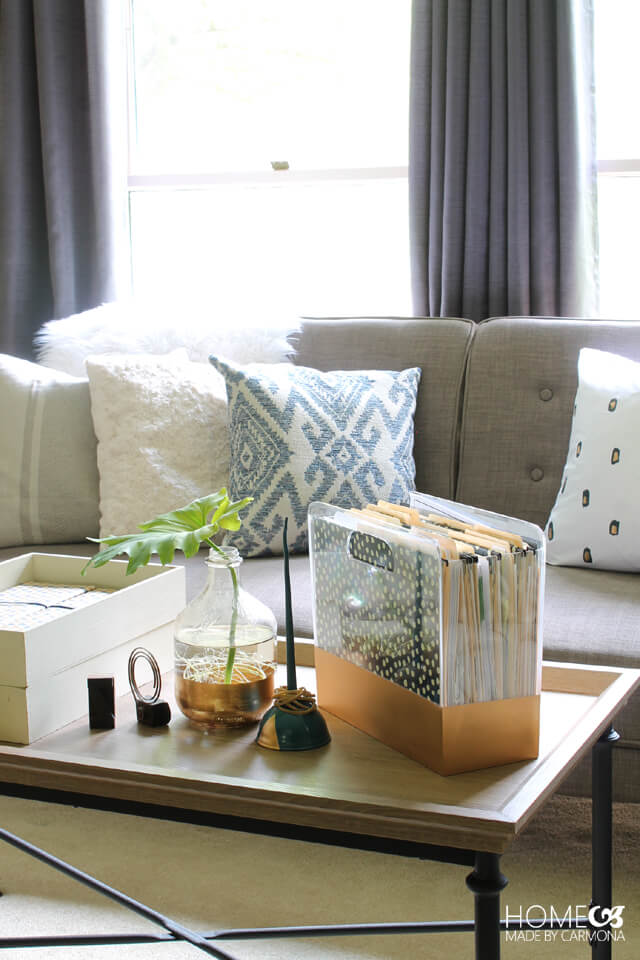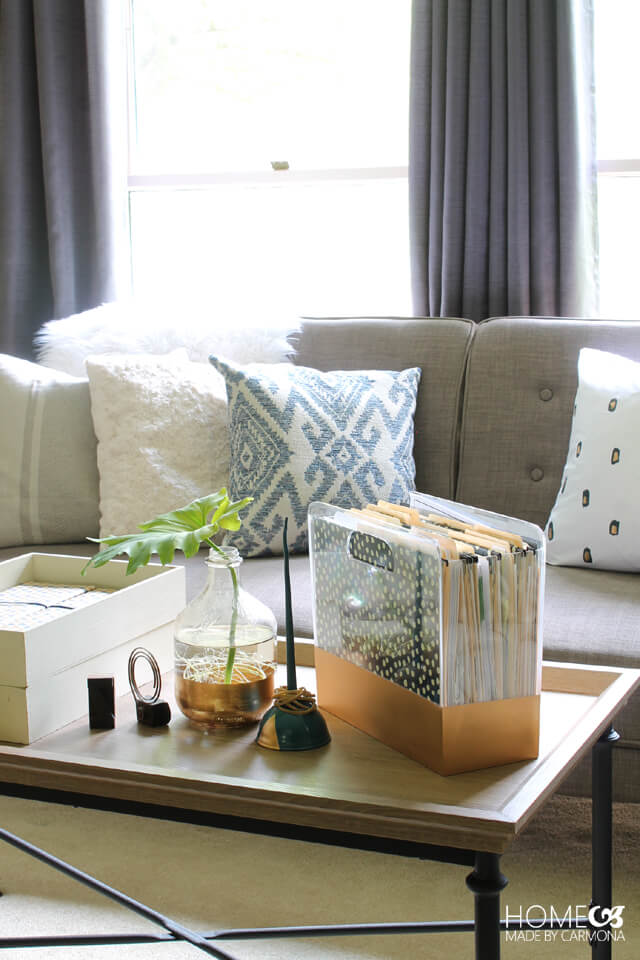 Essentially the coffee table has taken the place of the office! Aside from a couple rustic items and my little plant, it holds everything that use to sit atop the old office desk. It looks much better here, worked into the decor, doesn't it?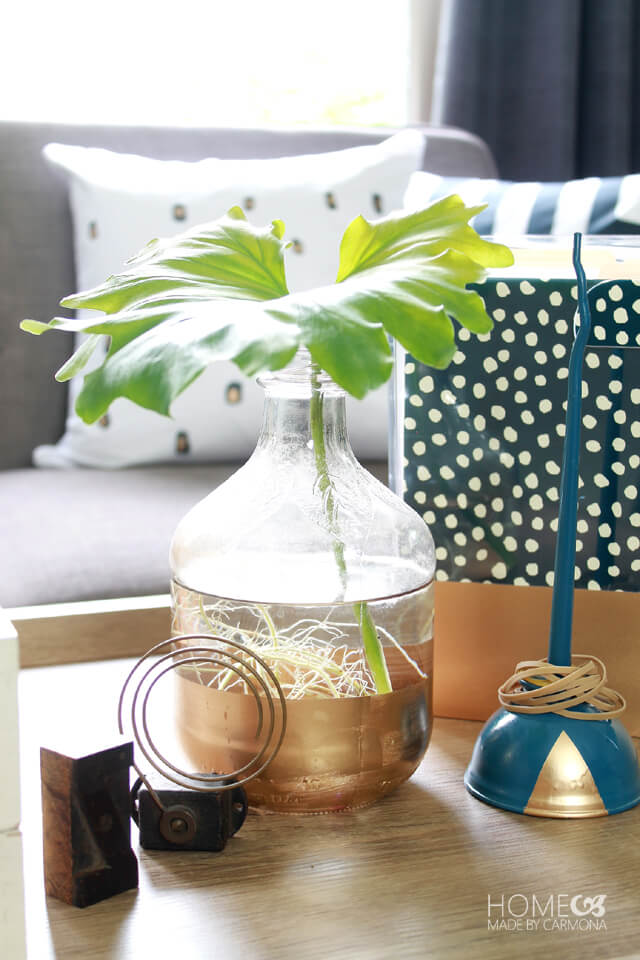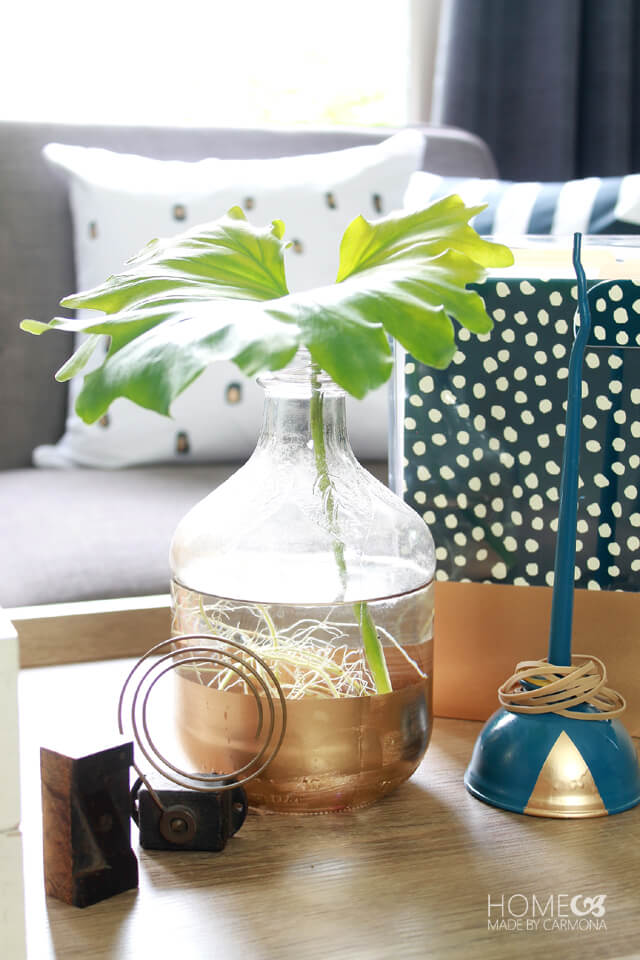 Don't think the rest of the office supplies aren't still here. The same painted drawer set that use to be part of my office desk (which was really just an over sized door set atop two pieces of furniture), now sits by itself as a side table. It holds all our papers, and hides the rest of the office supplies.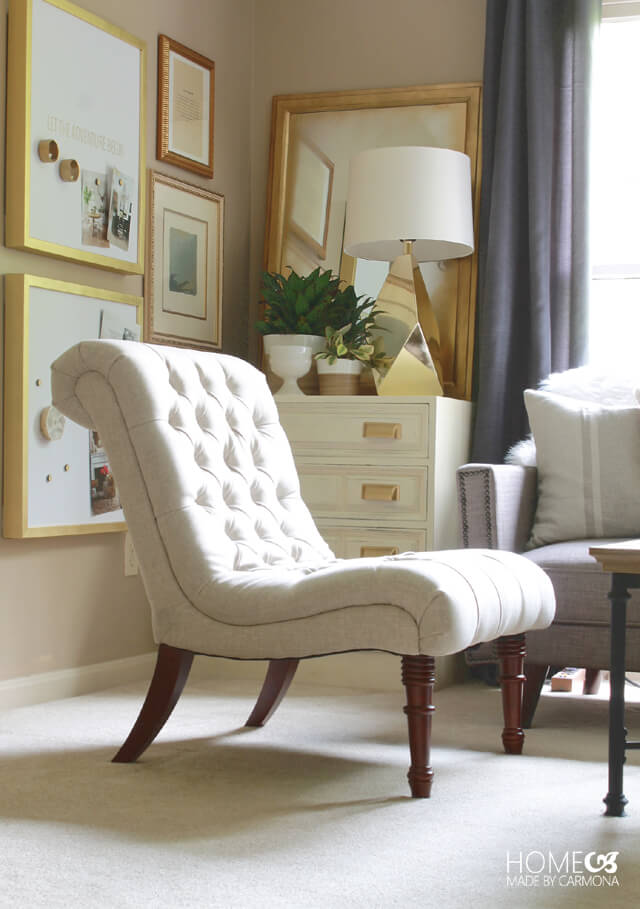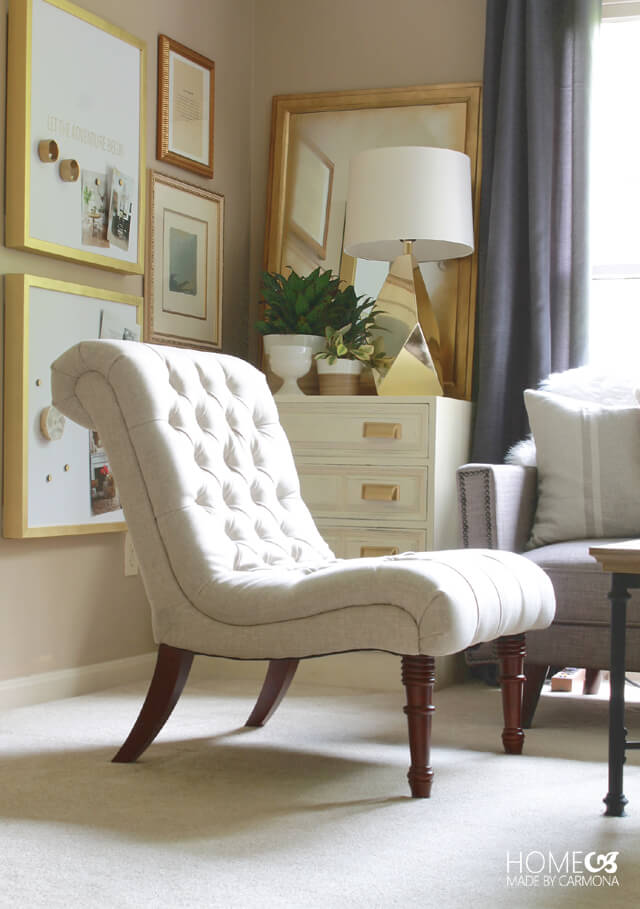 Isn't it amazing how something as simple as a mirror (a spray painted mirror!), a lamp, a few plants, and some art on the walls make the perfect vignette?
Speaking of wall art, this art actually holds a function as well. It is magnetic! Another benefit for hiding an office in plain sight.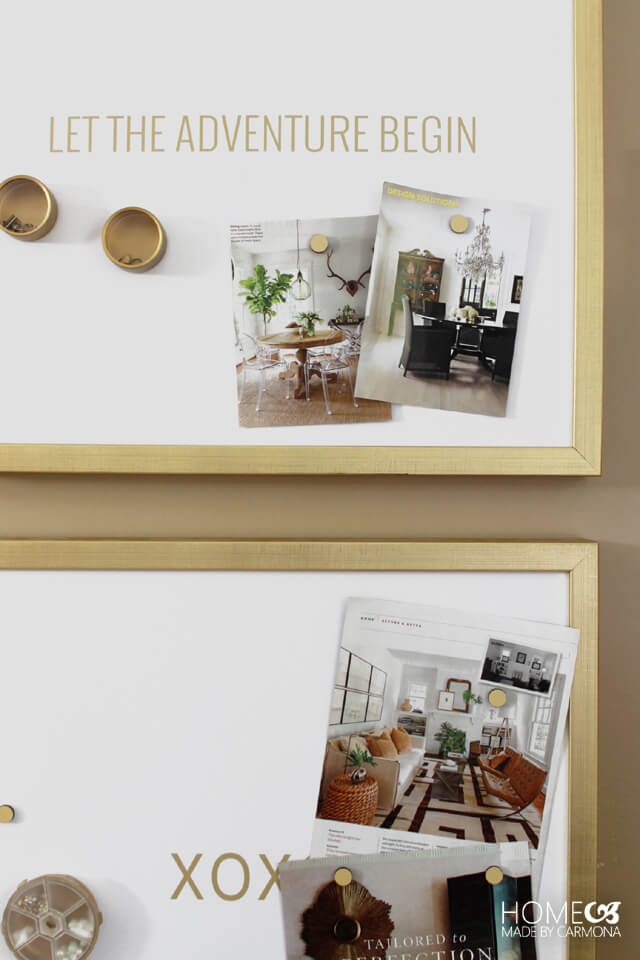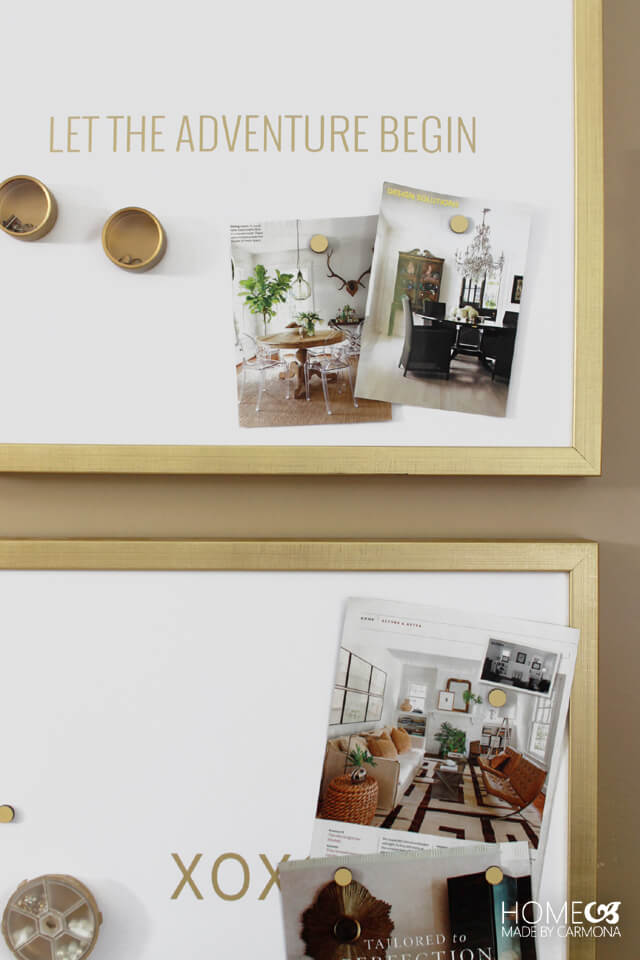 The "hidden office storage" side of the room looked great, but now I needed to fill in the opposite side of the room and create a sense of balance. I went with the BHG X-leg Accent Table in black, and balanced the height of the two sidetables by adding the BHG Bronze Shaded Floor Lamp. Just because you don't have identical accent tables on either side of your couch doesn't mean it can't look great and work well together! Never be afraid to mix and match!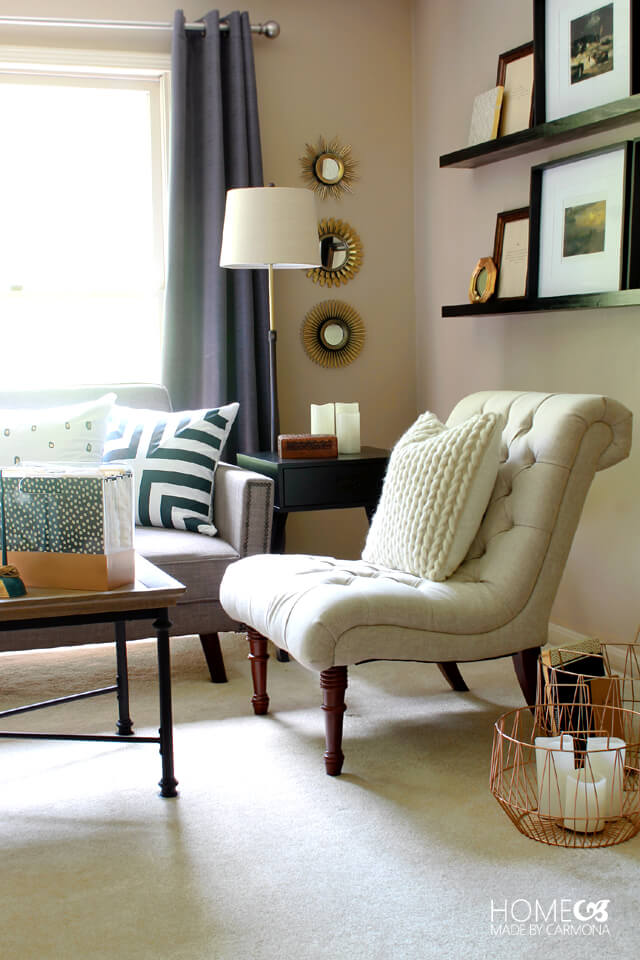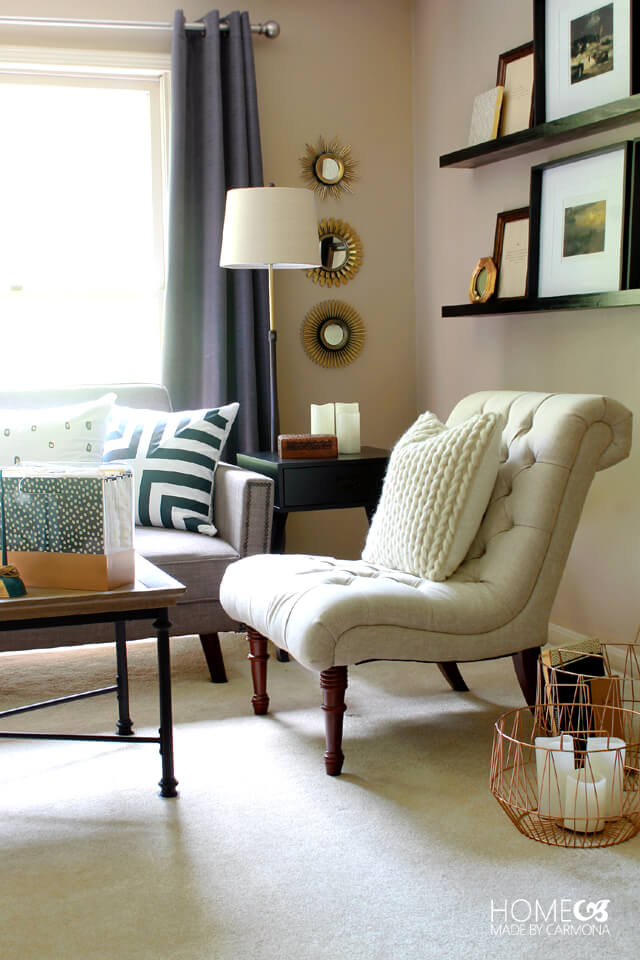 I also added height and interest by adding more mirrors. I've been eyeing the sunburst BHG 3 Piece Mirror Set for a while now. And it was such a great price for a cute little set of three!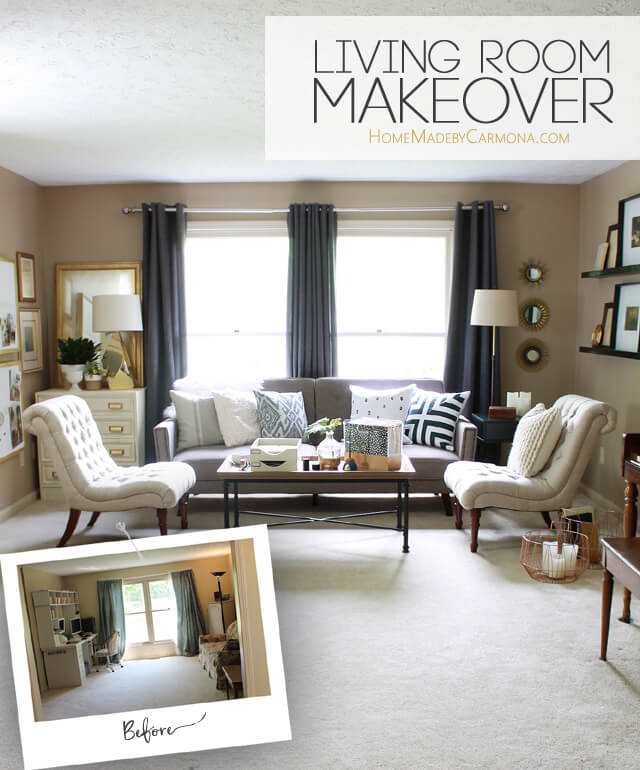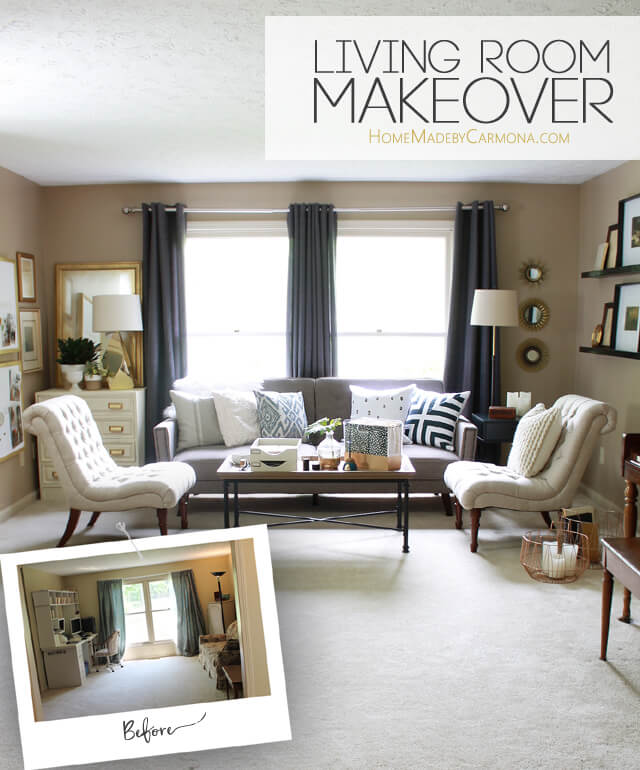 I wish you could actually sit in the space, somehow pictures just don't convey what a room feels like when you are living in it. It is wonderful! And since this is one of the first rooms you see when you walk in the front door, it is about time it stopped looking sad and awkward!
[left]
Guys, I'm so in love with this space, I keep doing that thing where you run down to take a quick peek at your new space or toy. Hahaha!
What space have you been vexed over lately? And what are your plans to remedy that? Just keep on keeping on…I promise, it will get better, and one day it will seem to magically come together. Until then, just know that real life isn't like a decorating TV show…it takes time!
[/left]
[right]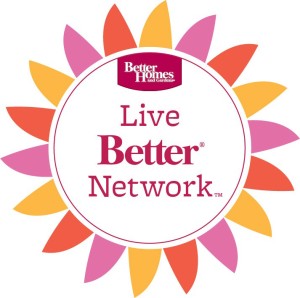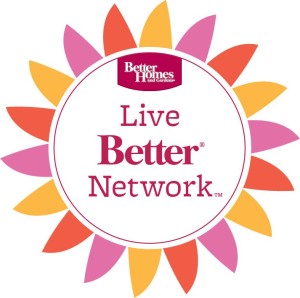 [/right]
**I am honored (and excited!) to be part of the BHG Live Better network, and to share a few of my favorite things, projects, opinions, and my own original ideas with you. Thank you to Better Homes and Gardens for sponsoring this post. Follow BHG Live Better on Facebook, Twitter, Pinterest, and Instagram.


All these beautiful products I used in my living room are Better Homes and Gardens products, carried exclusively at Walmart. Click the photo links below to shop these items.
[/col2]
[/col2]


[go_portfolio id="decorate_landing_page"]