*This post is sponsored by GLIDDEN® paint, who we officially think of as a good friend of the family (you'll see why). All opinions, projects, and messy kids are my own

.
Why does it always catch me by surprise? After three kids you'd think I would no longer be shocked at the mass level of destruction even the best of kids can inflict on a space over time.
I kid you not, every single day one week I walked into our eat-in kitchen, and breathed out a "whoa, what happened in here?" before masking my shock and squeaking out, "mmm, you made breakfast again! You guys are awesome!". My girls love cooking (which I adore them for), but sometimes I think they feed the floor, the tables, the wall, and the curtains. Wasn't that supposed to end once they stopped being toddlers? Yesterday I noticed two blue blobs (blueberry smoothie anyone?) on the shade of the light fixture.
Hey, it's important that they learn to love cooking, so I try not to focus on how quickly my kitchen and everything in it is eroding before my very eyes. Teaching them to clean up after their messes only helped so much…soon I had bare spots where the paint had been scrubbed off the walls and table.
Time to do something about my poor failing space. This time, I'm making sure it is kid proof for my little chefs. I'm excited to partner with Glidden paint to share a makeover that is both practical and beautiful! Here is a shot of the space after we first moved in. Try not to be scared. 😀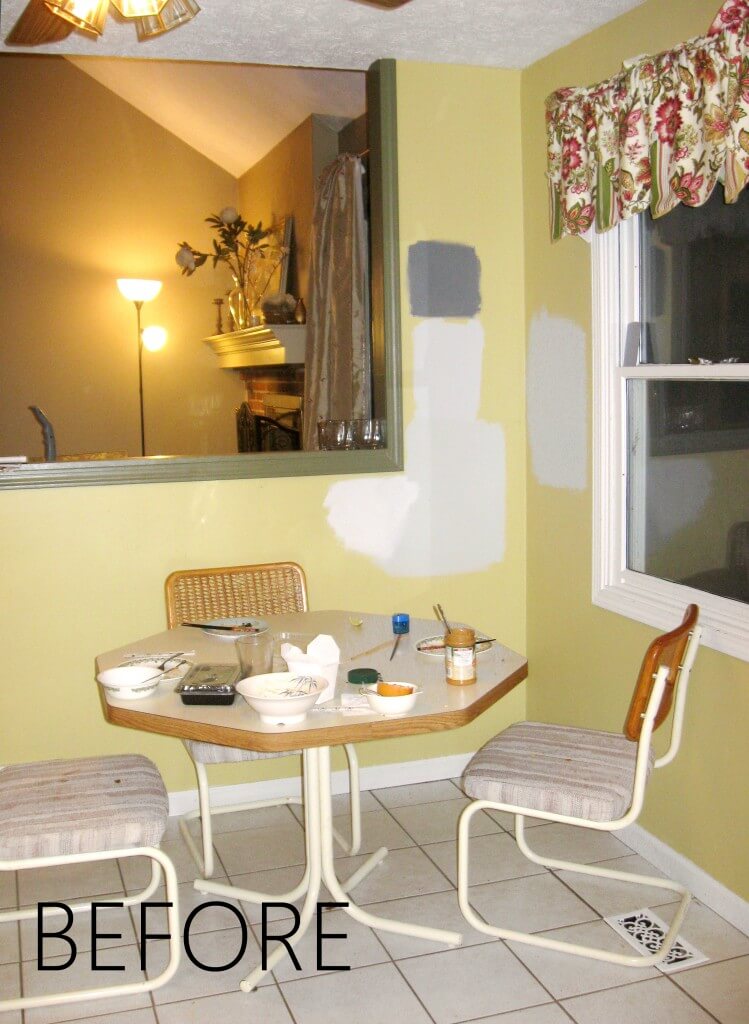 I tried to warn you! It's awful. To be fair, it was free furniture passed down to us at a time we were saving our pennies. Plus this was a week after moving into the house, so everything was at its worst. It did get better over time, but that didn't last long since the cheap paint we used began to be scratched off within a few months. This time I'm not making the same mistake, I'm starting with quality paint!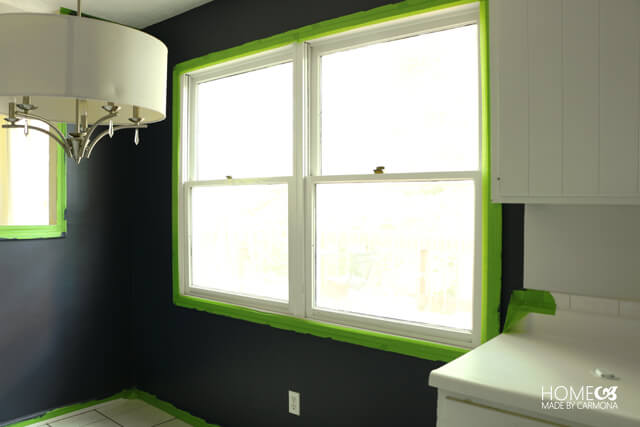 We went with Glidden Diamond™ , in Federal Blue. This paint-and-primer-in-one delivers the durability my eat-in kitchen nook requires. My kids have to be able to wipe down the walls without fear of destroying them! Not to mention being stain resistant so we aren't dealing with so many little fingerprints. Ugh.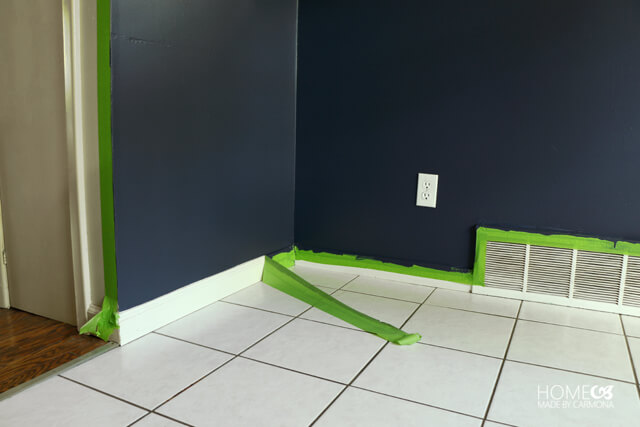 I only wish I had realized years ago that a quality paint for high traffic areas of my home was this important. Well you live and you learn.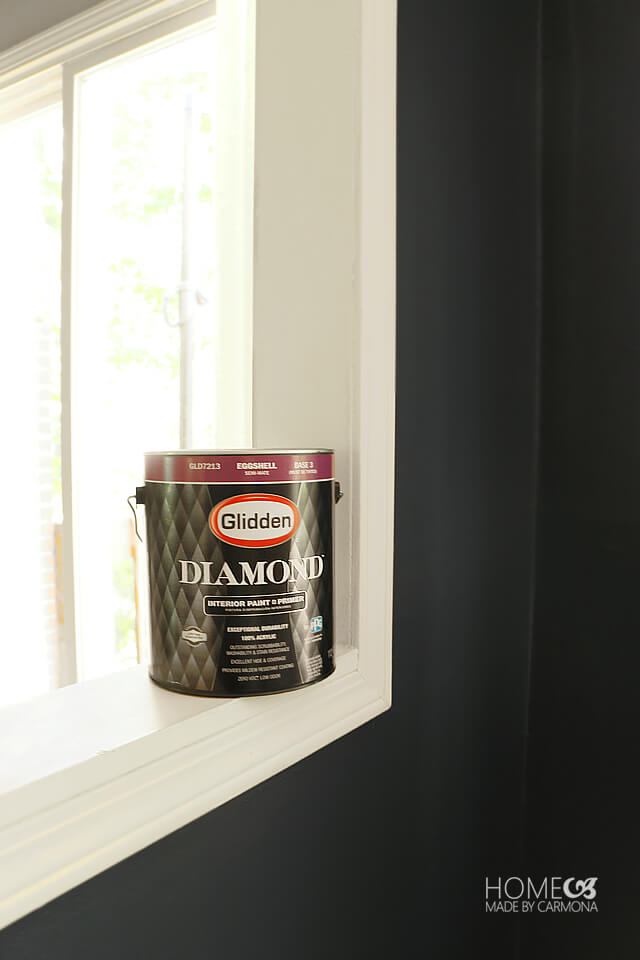 I have loved bold dark colors for a long time but only had the guts to put it in small spaces. If it wasn't for my sister saying this was the color for the space, I might not have gone for it. I'm so glad we went with this color! Go bold or go home!
My kitchen has different color lighting at the varying times of day, so you may notice a slight hue change in a couple of the photos. I think every variation is stunning! When testing a color, I always paint a large swatch on each wall to see the difference throughout the times of day.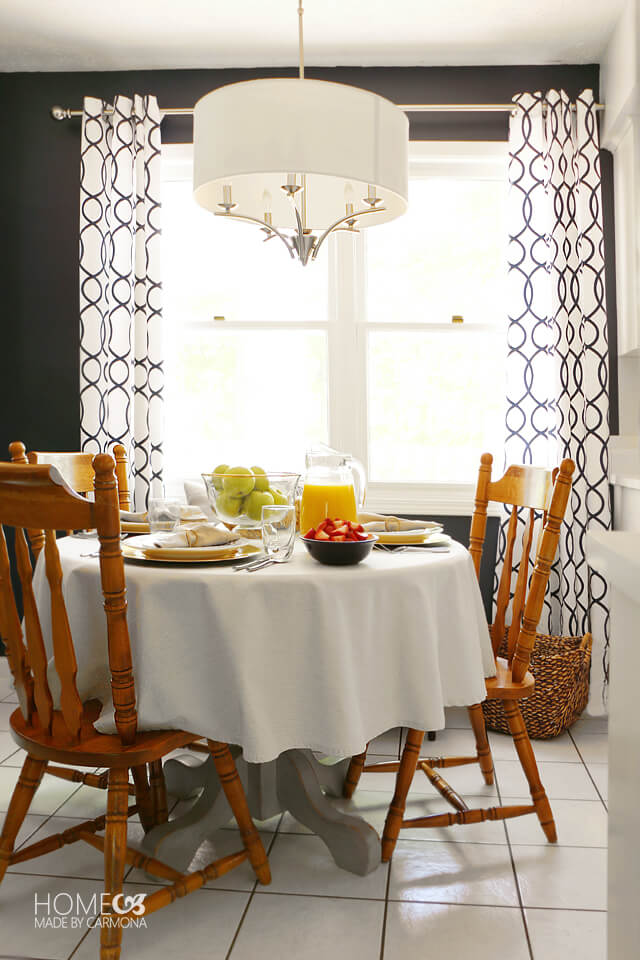 Well, what do you think of this space now? Isn't it amazing how paint can transform a space? A few decorative items later, you've got an inexpensive makeover!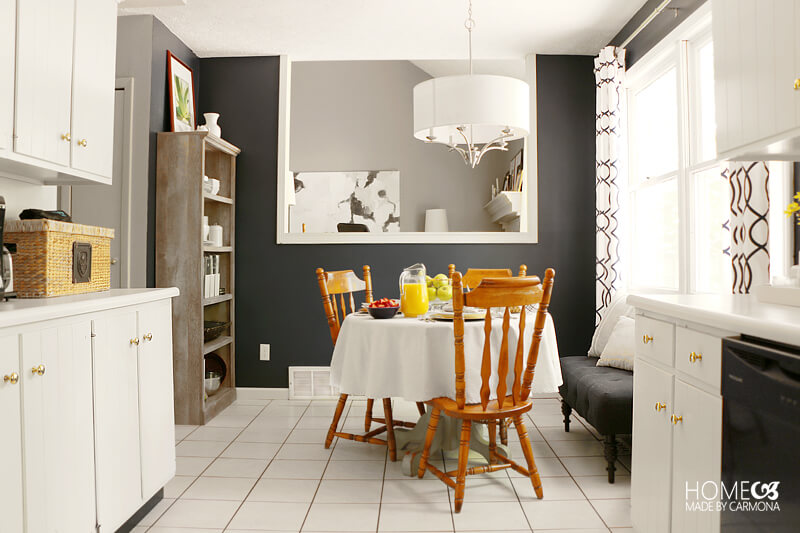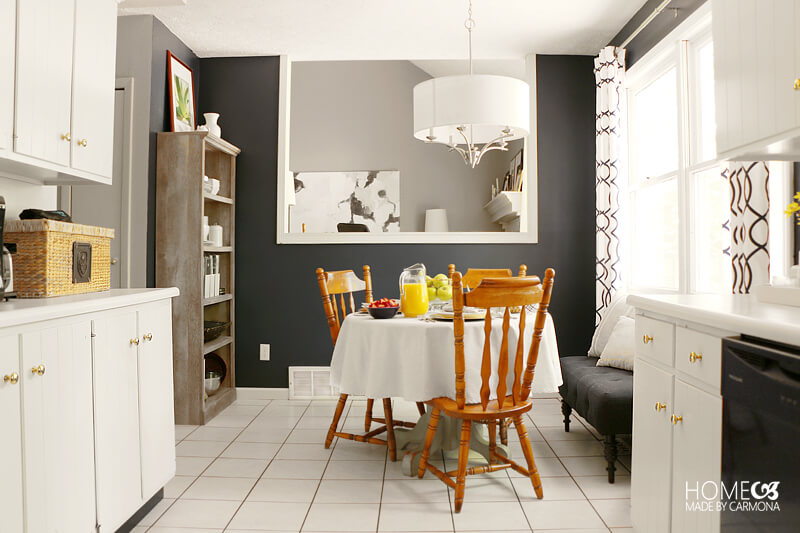 I'm still looking for the perfect chairs to go in the space. These poor old chairs I pulled from my dining room into the kitchen have been beat down and patched more times than I can count. But I don't even mind them now that the space is looking so chic.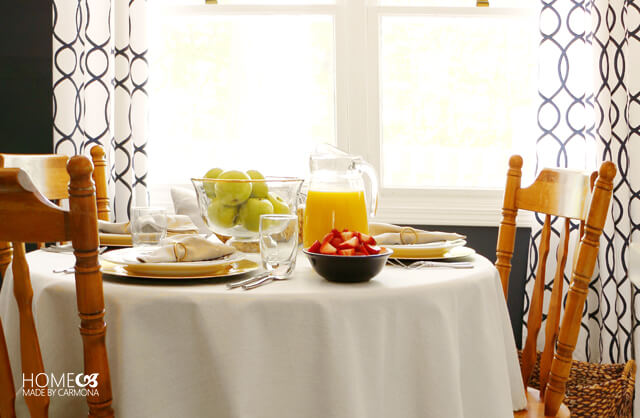 And as for mornings when my munchkins decide to cook…well let's just say breakfast is so much sweeter!
What about you? Do you have a space that got a fantastic paint-over? Upload a before and after photo to my wall on Facebook, or to Instagram and tag me. I'd love to see!
*
*A huge thank you to Glidden paint for sponsoring this post! I'm a huge fan and am totally smitten by their Glidden Diamond collection. Follow Glidden paint on Facebook, Instagram, Pinterest or Twitter for more amazing inspiration.


[go_portfolio id="diy_gallery"]