*A big thank you to Better Homes and Gardens at Walmart for sponsoring this post. Opinions and projects are always my own…and honey,  I'm excited to share them with you! This post also contains affiliate links.
It's cleanup time, and my youngest daughter turns to me, with her sweet little face all scrunched up, and in her best "baby" voice (uh, she is 8 years old!) says, "mummy, I understand organizing is super important…" she pauses to dramatically place her finger on her chin and tilt her head to the side, "…BUT do you suppose it might be different for naturally messy people like me? I think my room looks clean and organized when stuff IS on the floor, because there is a space down there for everything!"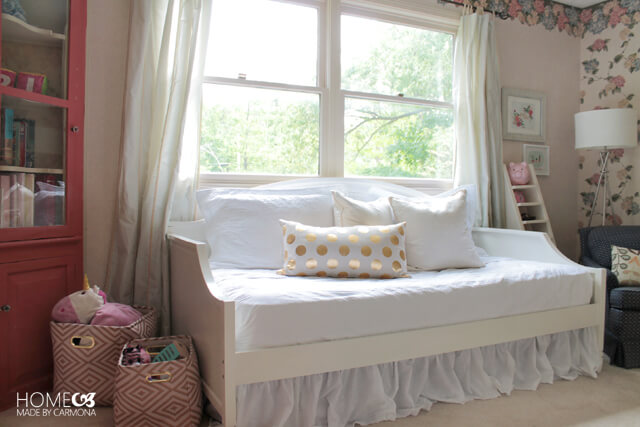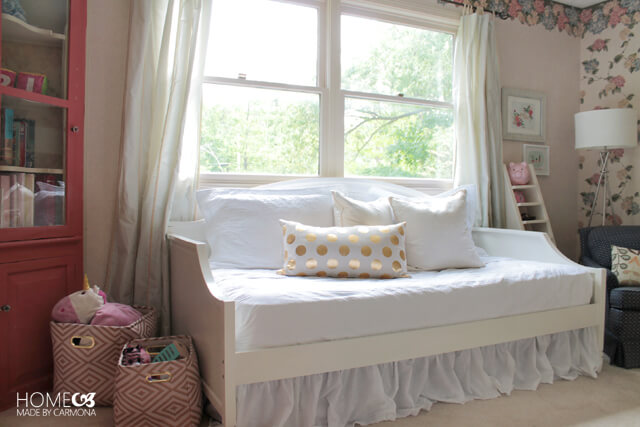 Oh my, way to lay it on thick! Hahaha! Man, the things kids come up with when they want to avoid having to clean. Although, it is true that organization will look and operate differently for each person. So I decided perhaps she was on to something, and what I needed was to provide her with techniques that would work for her and her type of "organization". Granted, she still needed to learn to keep her floors mostly clean.
Most kids rooms aren't particularly big, and when you add big toys, or a big mess, that just makes it seem so much smaller. I'm giving my daughter's space a mini refresh, and simplifying it so it can remain easy to organize.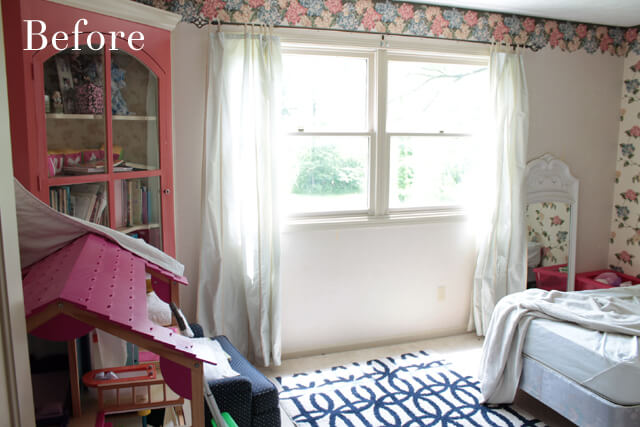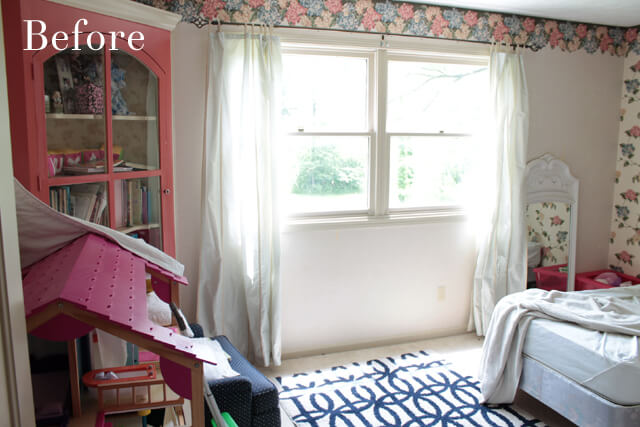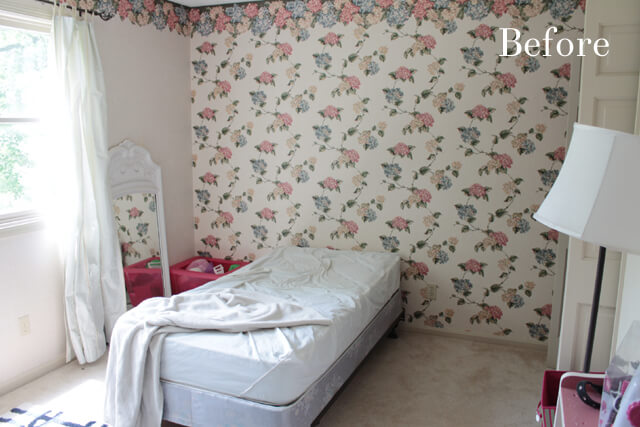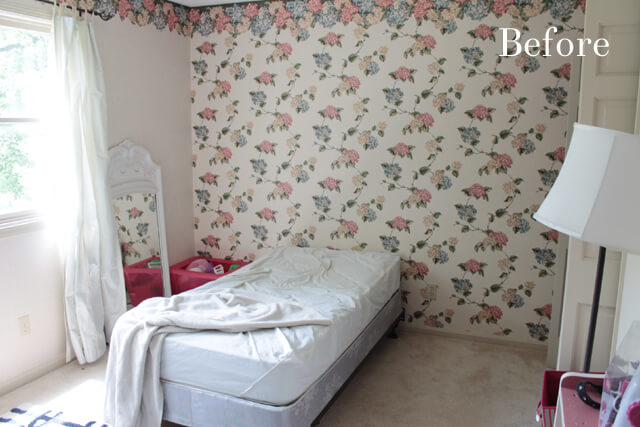 These are the 3 extremely simple solutions I used to help my daughter bring her bedroom up to mommy code, and get this small space loads of much needed storage!


I wanted my daughter to be excited about her space, and see how pretty it could be when it is tidy. So I let her shop with me to find some fun and cute decorative items she would love.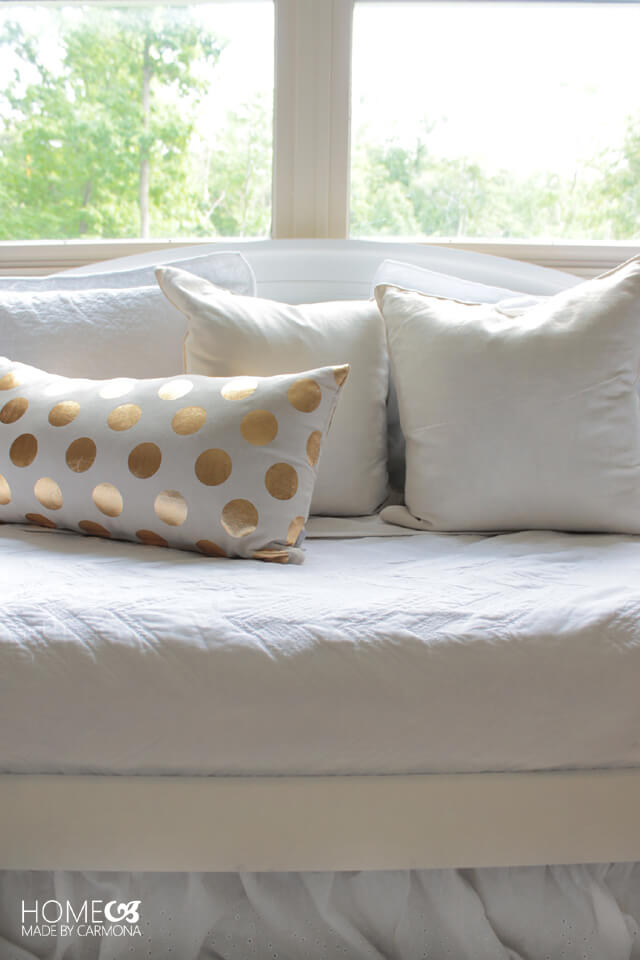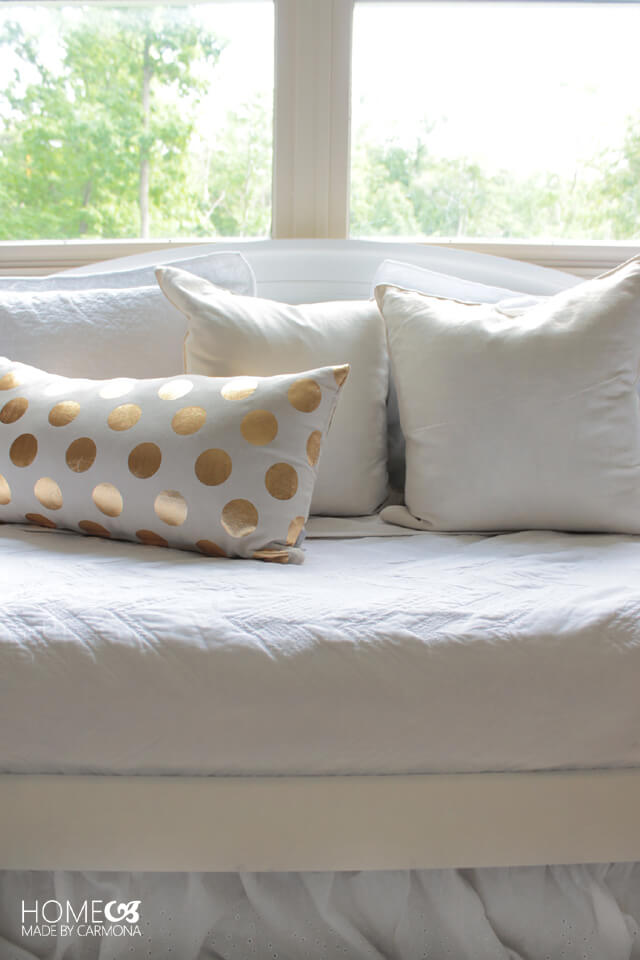 Then while she focused on pretty and fun, I focused on function. For example, I bought a variety of decorative and comfortable Better Homes and Gardens pillow shams instead of regular cases. They don't magically make their way off the pillow, and this way it looks just as cute all ruffled about and messy as it does when it is made!
I admit, I did get into the decorating fun a bit with some framed scrapbook paper. Because girls DO rule! 😀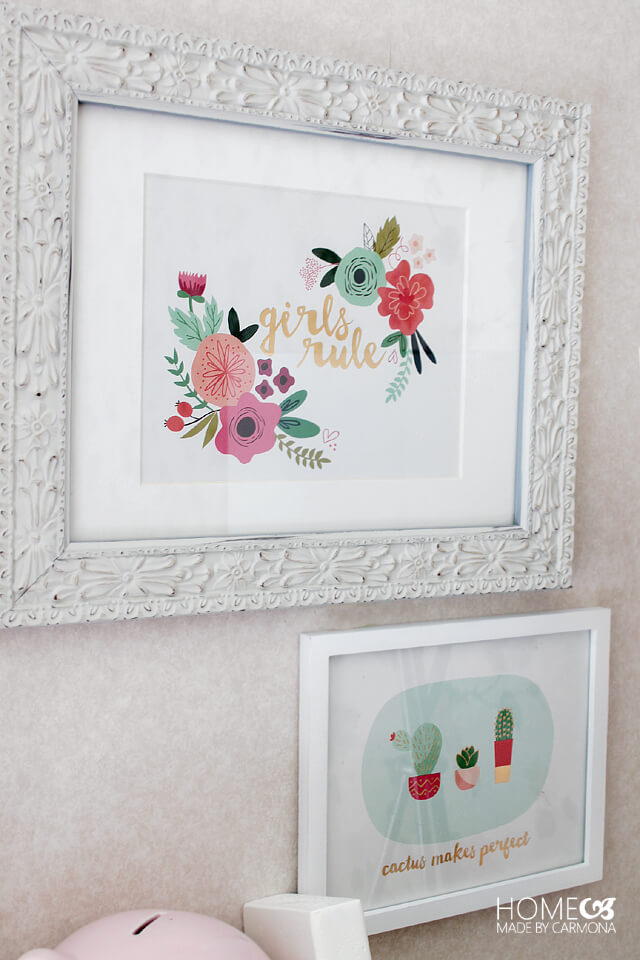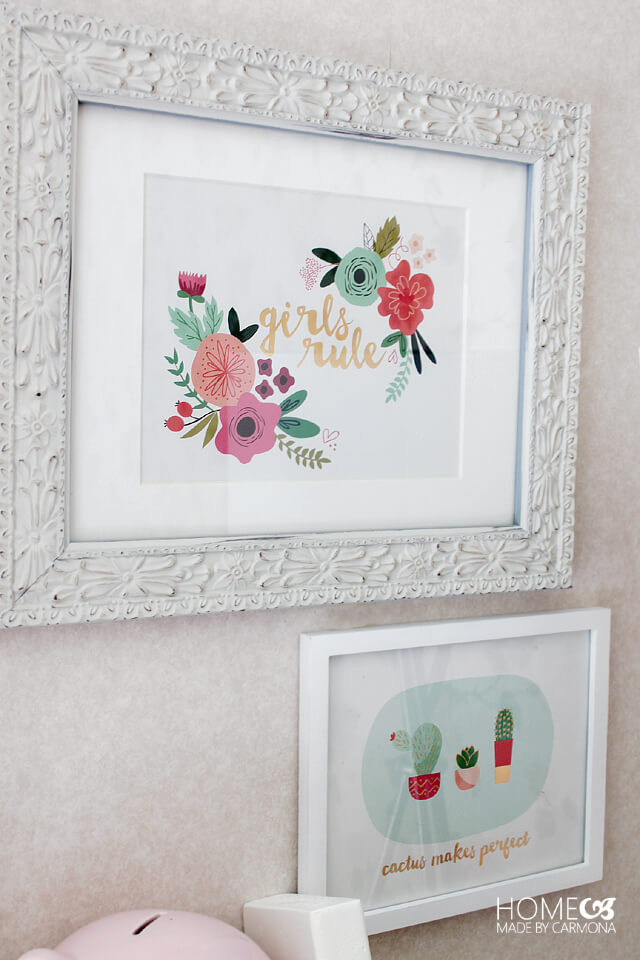 This is a great time to help our little ones learn about the benefits of simplifying and streamlining.
This is a great time to help our little ones learn about the benefits of simplifying and streamlining. Before you run out to shop for fun new items, have your kids collect old toys, and rarely used items. Donate those items as a gift to help other kids who need it more. Be sure to let your child be the one to hand off the items to your favorite local shelter or thrift store. The promise of something fun and new helps ease the reluctance to let go of the old, and the assurance that she is making a difference is priceless!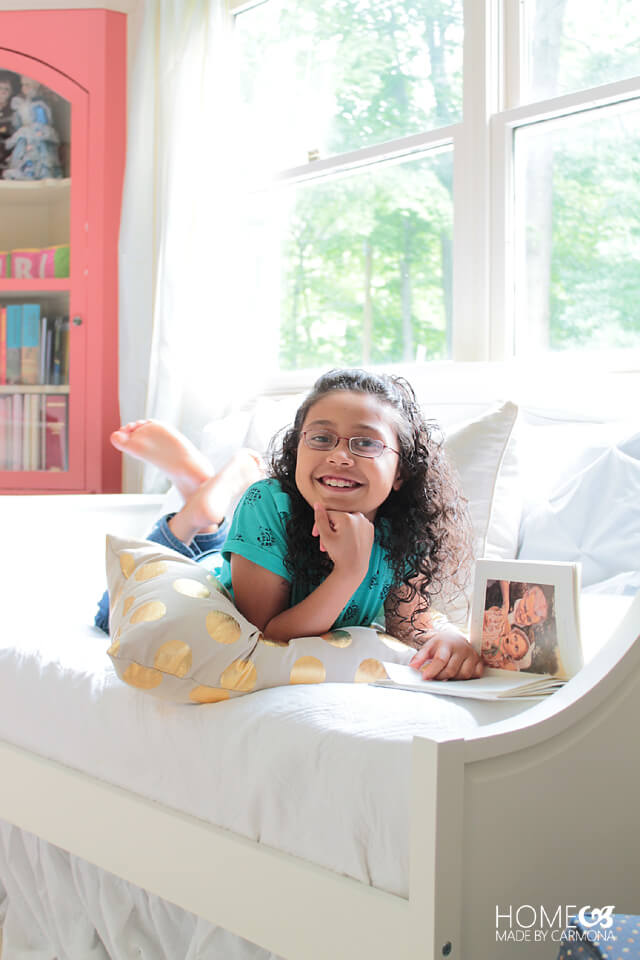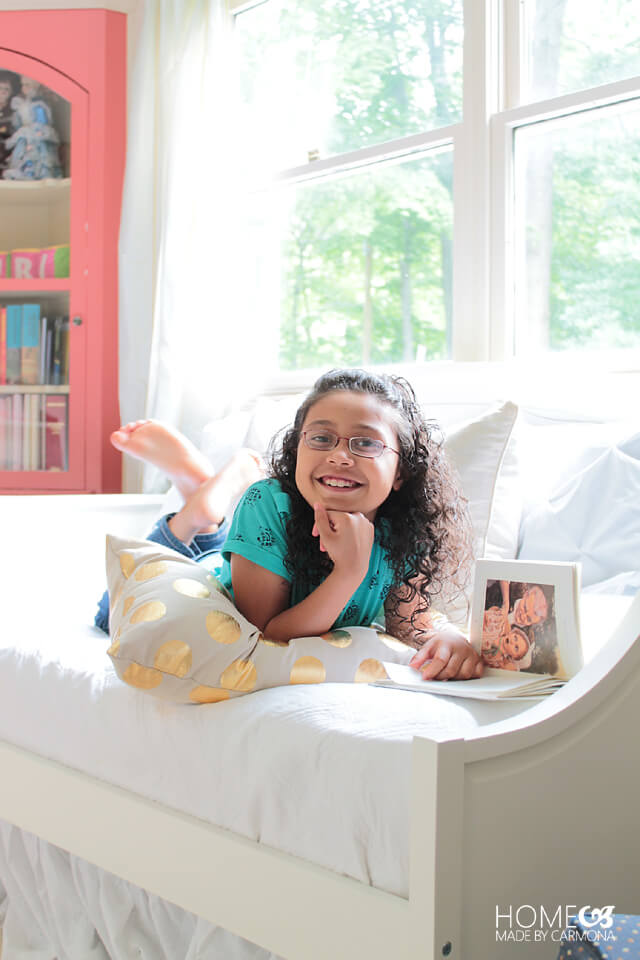 Also remind them that if they keep a smaller number of their favorite toys (and clothes!), and replace rather than add to their stuff, then cleanup time would become a breeze!


Storage for kids needs to be low and within their immediate reach (without having to stretch upward), the closer to the floor it is, the better. It is easier for our little ones to access, and makes cleanup go faster.
I started by purchasing the Better Homes and Gardens Lillian Twin Daybed found exclusively at Walmart. It is a cute new bed that will look great even unmade, but also has tons of space to stow things under the bed. I purchased two large BHG Underbed Organizers to store all her out of season clothes and shoes, then tucked them behind this adorable BHG Bedskirt. Having less clothes in her closet during that season means less clothes to end up on the floor (and to have to wash!). You can even allocate an underbed organizer for your child to keep her things organized.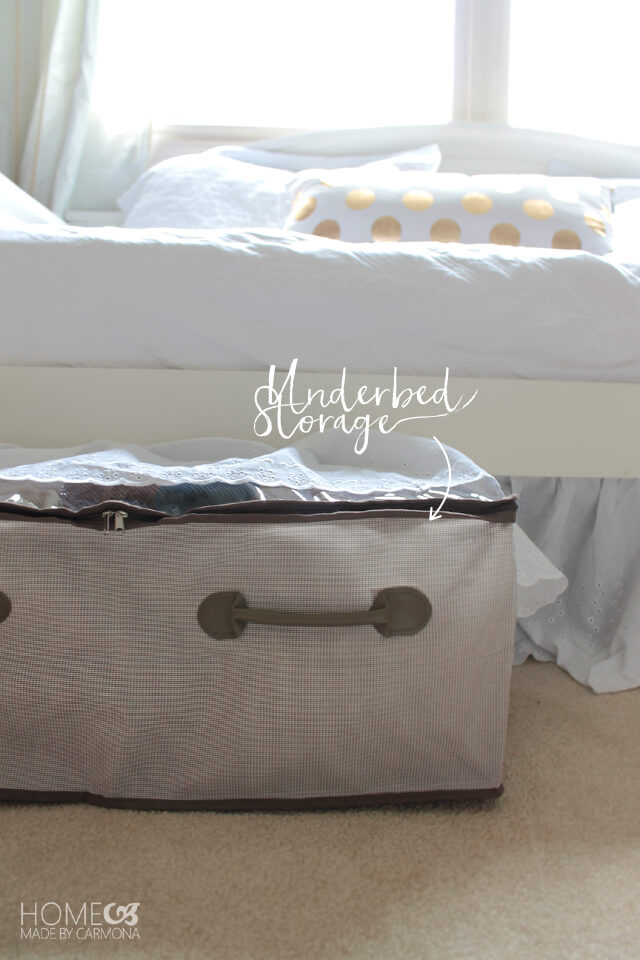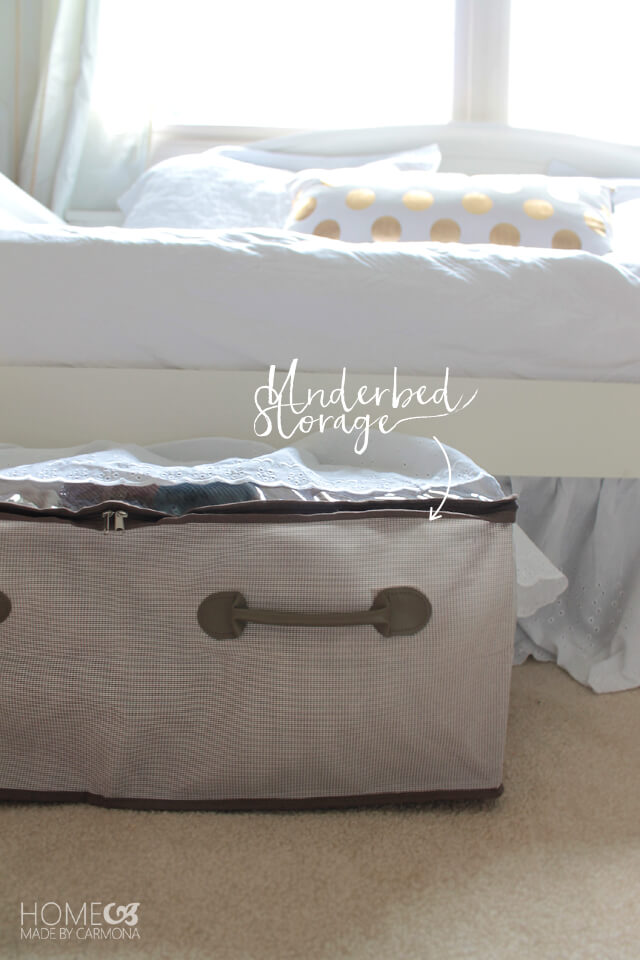 For those of you with boys, or just want other great furniture solutions, you will find a slew of options by Better Homes and Gardens found at Walmart and Walmart.com . We're talking beds with storage drawers, headboards with storage, and so much more. See the entire BHG selection of kids room sets here.
I placed easy toss bins to collect toys, and even built a handy dandy little shoe shelf that holds so much more than shoes (tutorial soon to come!). I limited the number of books and toys she has to care for, and that made a huge difference. Don't think this will leave your child deprived, you can rotate the toys out with a closed box you keep in a storage room, or by donating/selling old ones when new ones come in.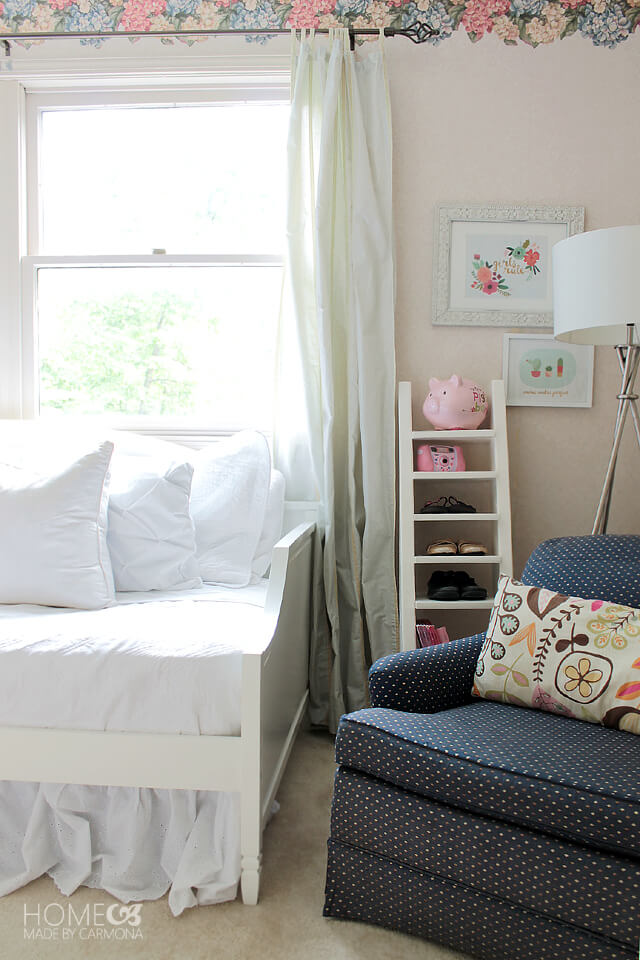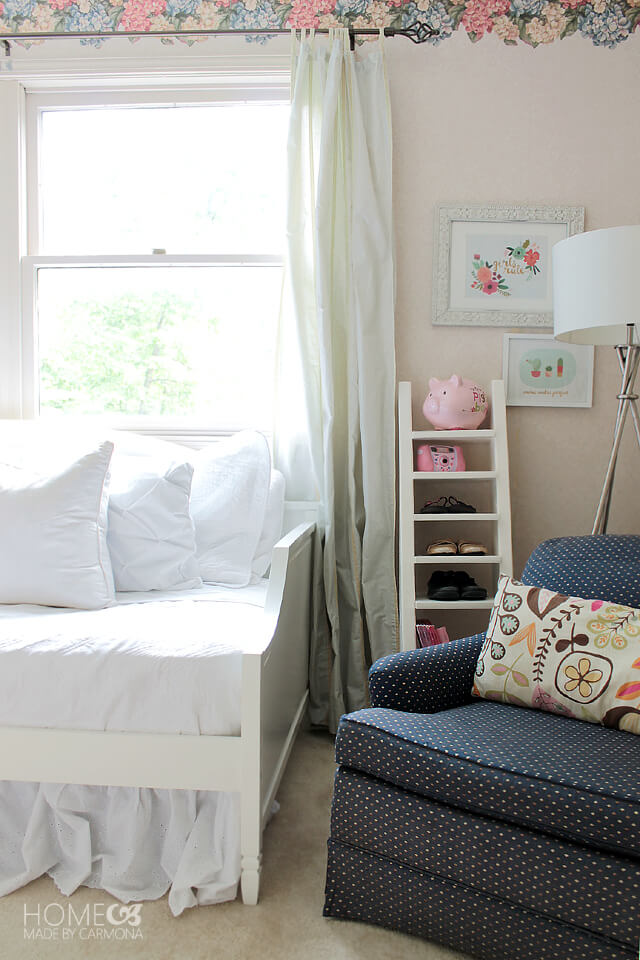 These may seem like small changes, but sometimes it is the smallest change that can make the biggest difference.
My daughter takes pride in her pretty little space, and feels like she decorated it with mommy, so it is hers to be responsible for. She is my messy one, and I have to say, she is doing a phenomenal job of learning to keep a tidy room. Yes, it took a few gentle reminders to put things away when she was done with them… but since everything is now so streamlined, it takes her less than 5 minutes to tidy her room.
There is less clothes and shoes kept in the closet to end up on the floor, her toys all fit easily into the two cloth bins, her bed is easily made (even if she isn't quite as good as mom is at it), and a single shelf with a handful of the week's library books is easy to keep up with.


[col1]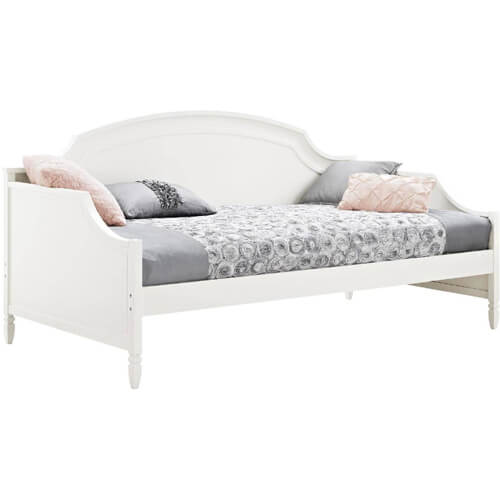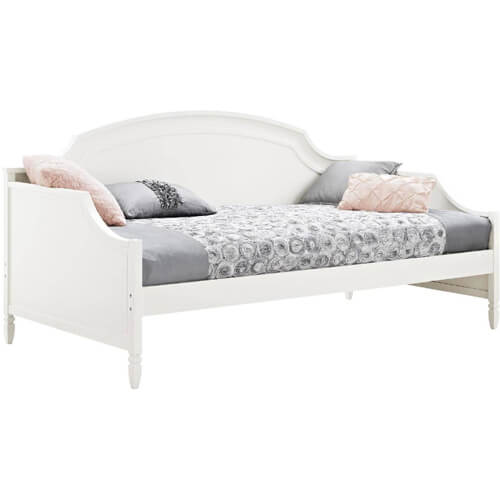 [/col1]
[col2]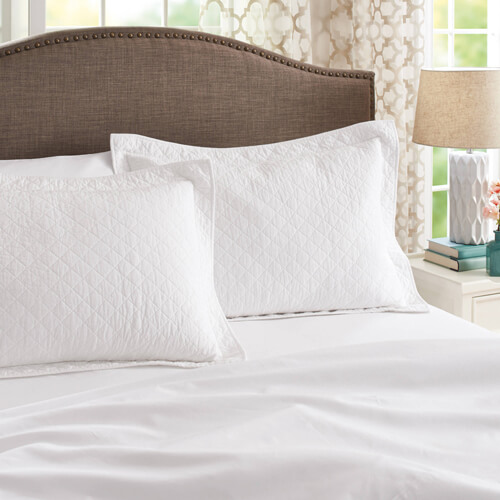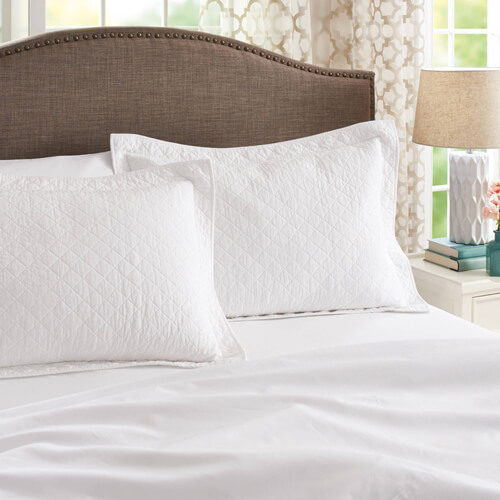 [/col2]
[col3]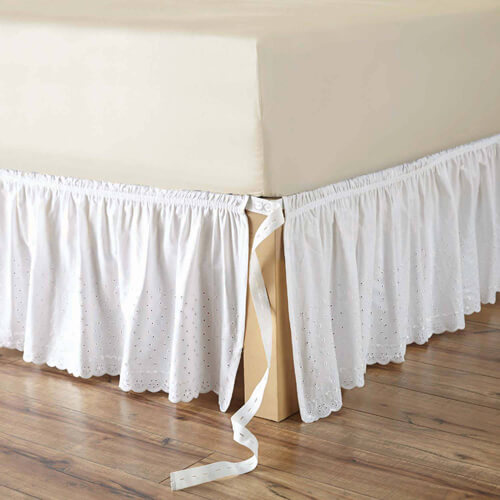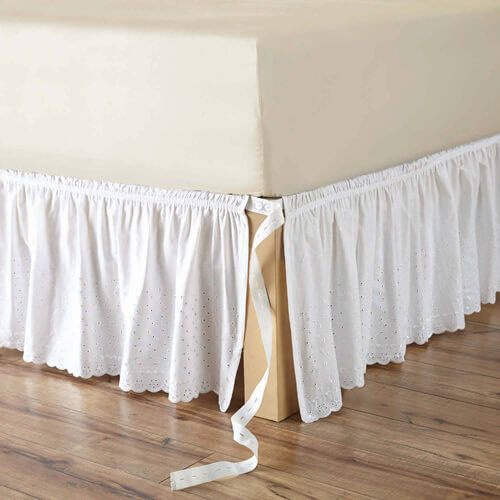 [/col3]
[col1]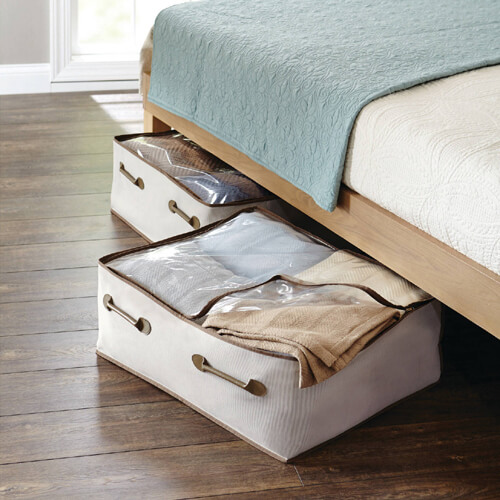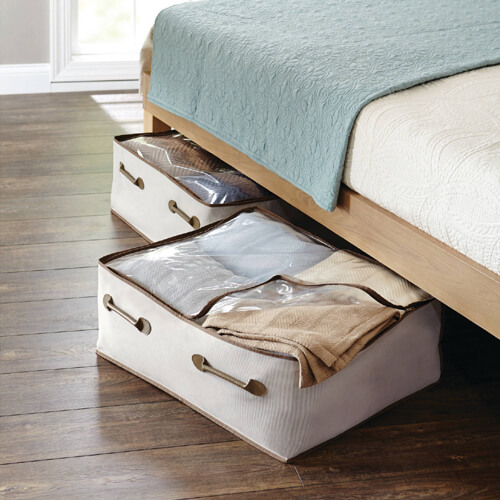 [/col1]
[col2]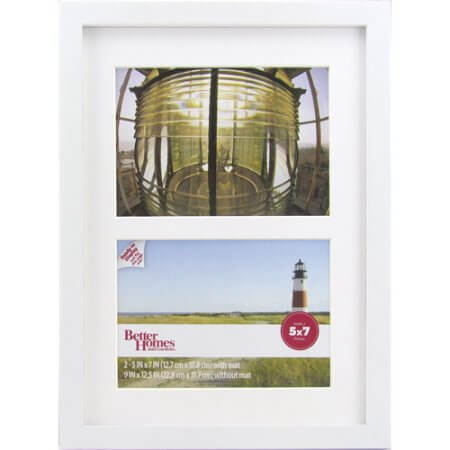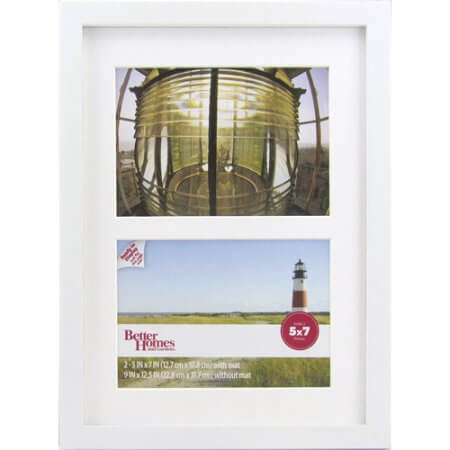 [/col2]
[col3]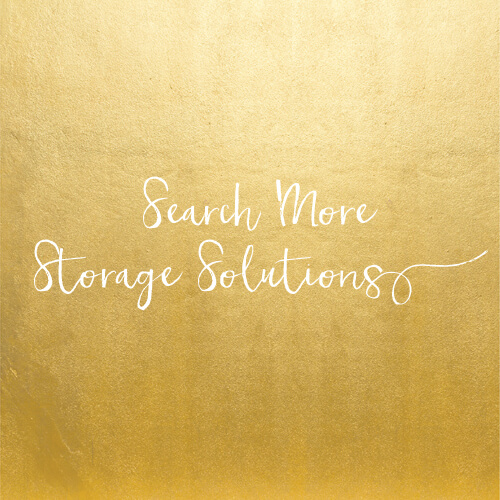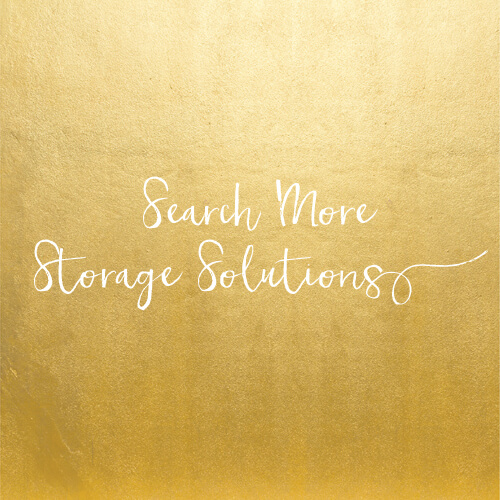 [/col3]
[left]
What awesome small space storage solutions do you employ? Do they work well for you?
*I am honored (and excited!) to be part of the Better Homes and Gardens Live Better network, and to share a few of my favorite things, projects, opinions, and my own original ideas with you. Thank you to Better Homes and Gardens at Walmart for sponsoring this post. Follow BHG Live Better on  Facebook, Twitter, Pinterest, and Instagram.[/left]
[right]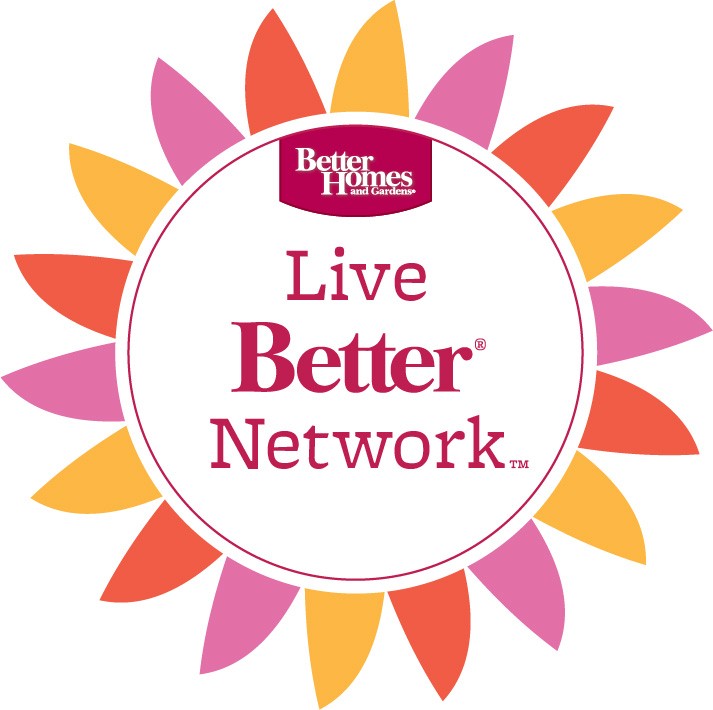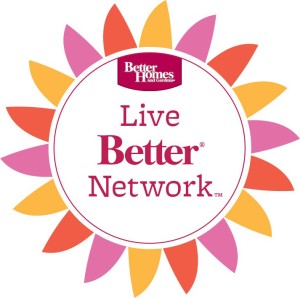 [/right]


[go_portfolio id="decorate_landing_page"]