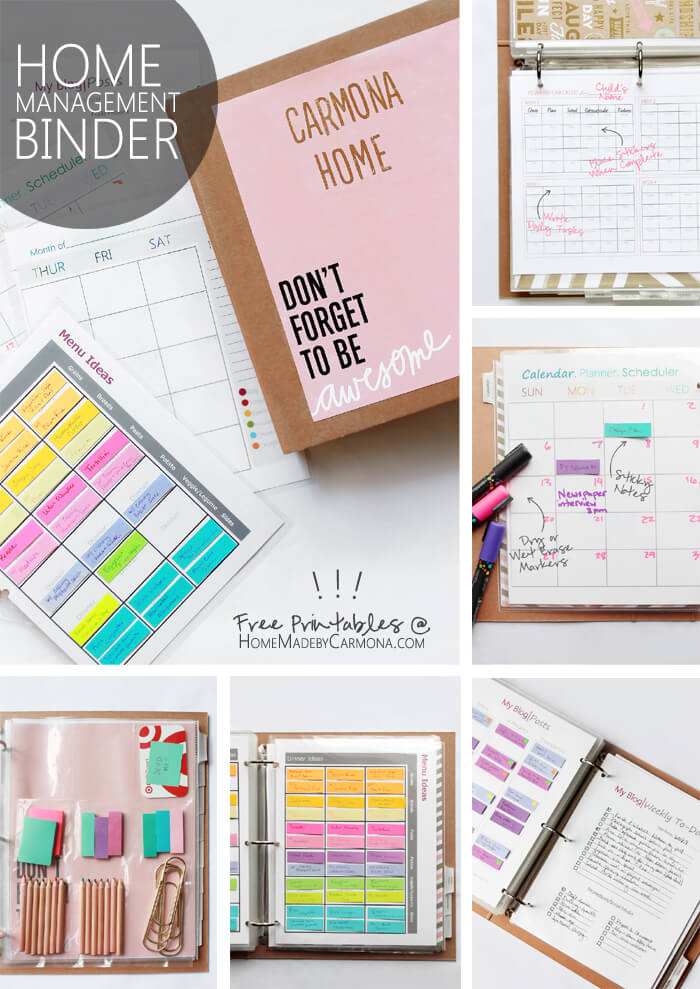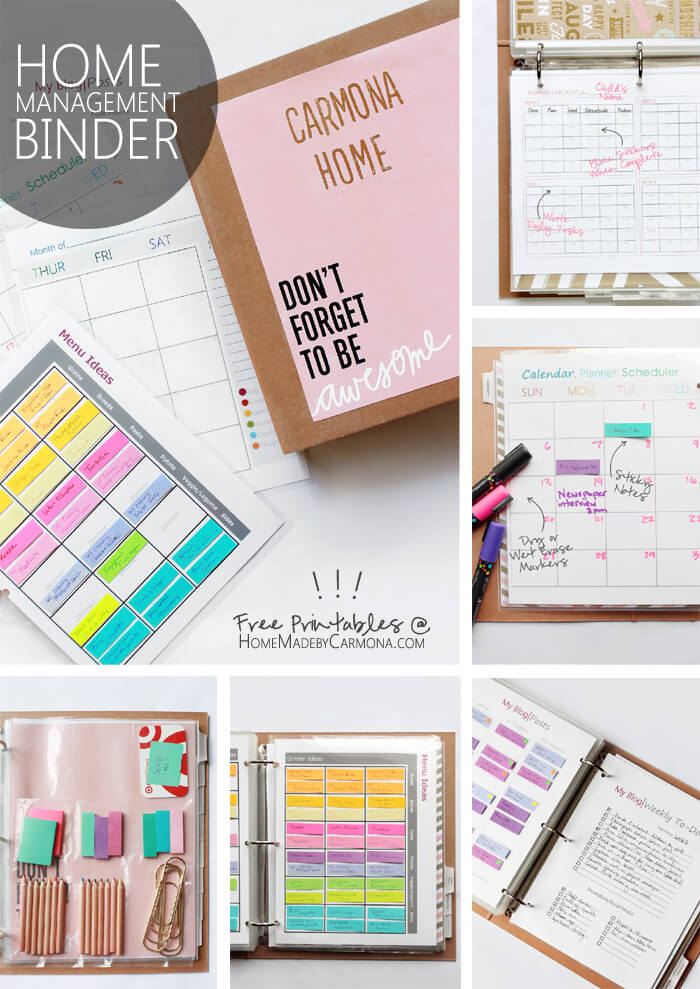 I love being my own boss and a homeschooling mom, but let's be honest, it takes a certain type of personality to do those things well. Unfortunately, about 70% of me is scatterbrained, which means I am not that ideal personality type. Often I feel like a thousand different ideas and tasks are pulling at my time and attention, and it's hard to focus, prioritize, and get anything done! Yes, I'm that person who has a dozen unfinished projects, leaves some dishes in the sink after allegedly cleaning the kitchen, and is in the process of reading 3 different books.
[left]Fortunately the awesomely organized, cool-under-pressure, alternate-reality me, which is buried deep deep deep DEEP down inside, has this plan. And it was to create the Ultimate Order-Creating Master of Operations book and life plan. Hmmm, maybe I should just call it a "Home Management Binder" like normal people do…technically a life management binder would be even more accurate.[/left]
[right][pullquote width="250″ float="left"]Fortunately the awesomely organized, cool-under-pressure, alternate-reality me, which is buried deep deep deep DEEP down inside, has this plan…[/pullquote][/right]
I live and die by my Home Management Binder. It really does help me keep on task and aid to optimize my life!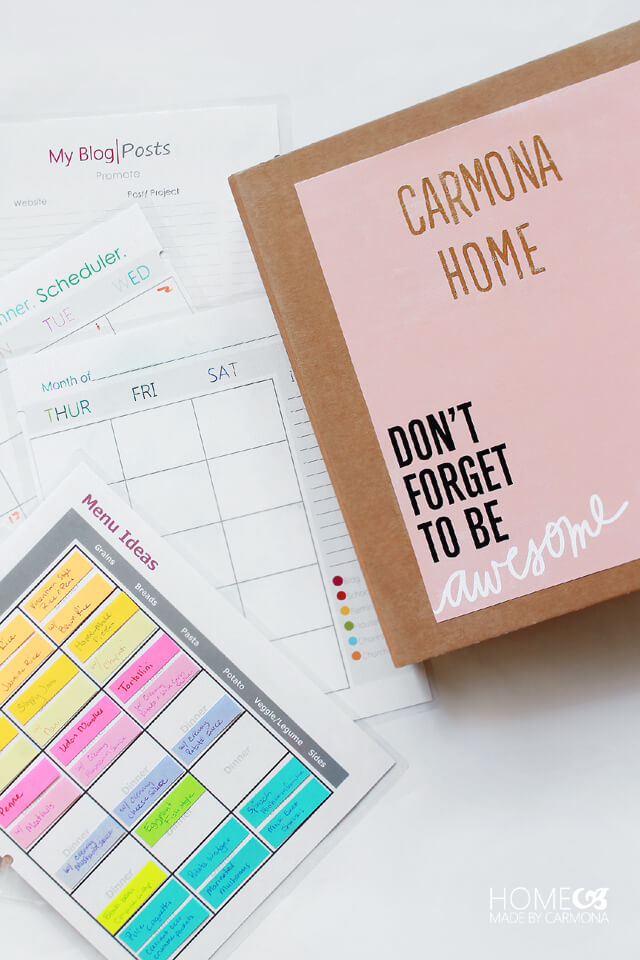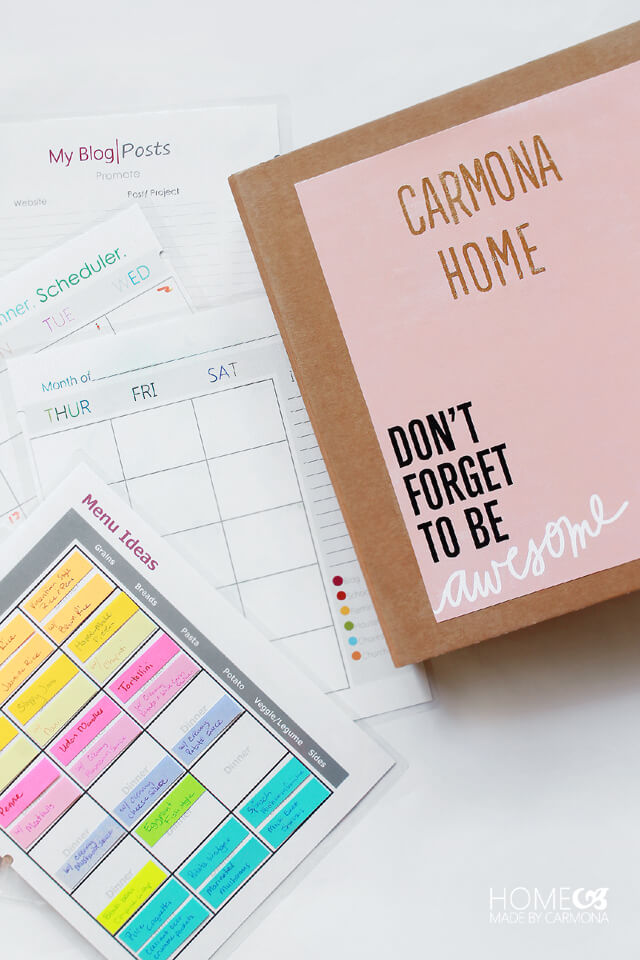 Home Management Binder Categories
Over time I have created 7 important Sections in my Home Management Binder; a Calendar, a Blog/Business Organizer, a Menu Planner, a Finance section, a Family Life Planner, an Address Book, and a Miscellaneous section. I've shared some of these sections in individual posts (including free printables), but never all in one place.
Ready to tour my Home Management Binder? Let's go!
The Calendar/Scheduler
I love flexibility in anything I spring for, I also expect to be able to use it over and over long into the future. Sadly, not many things are "buy once, use forever"…especially not calendars. Well this one is!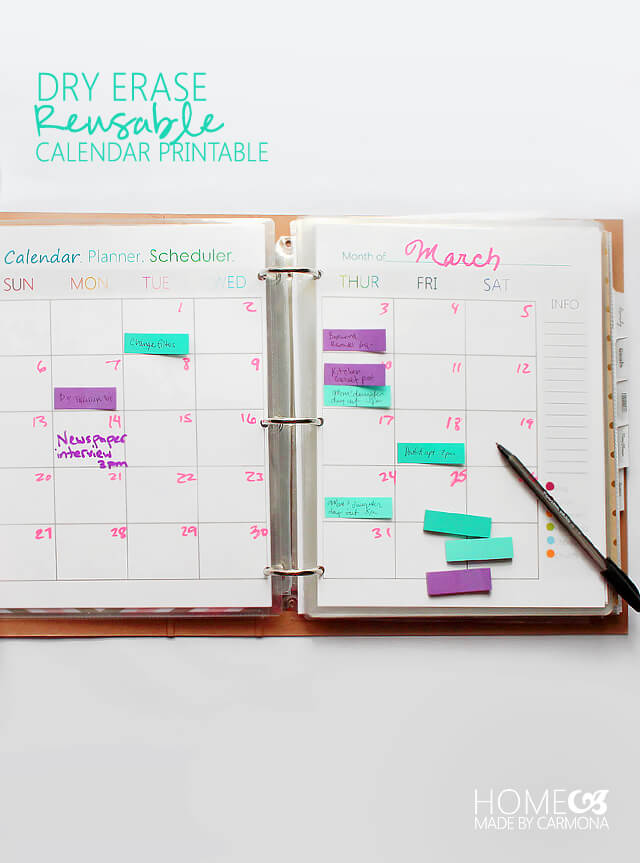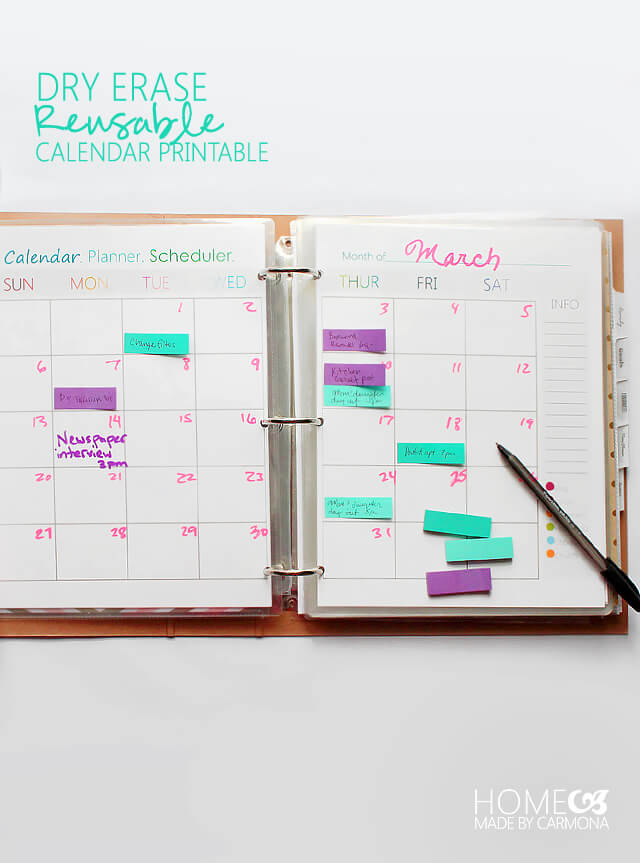 The beauty of this calendar (and many of these printable sheets) is that once they are laminated (do NOT use sheet protectors), they become a great medium to stick on Post-it notes. They also become a surface that you employ wet or dry erasers on!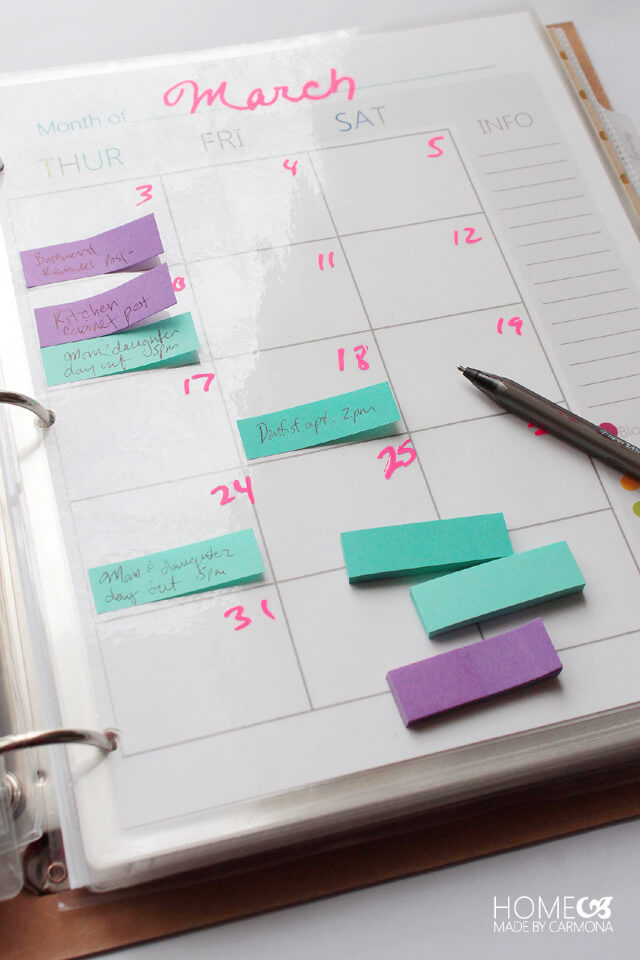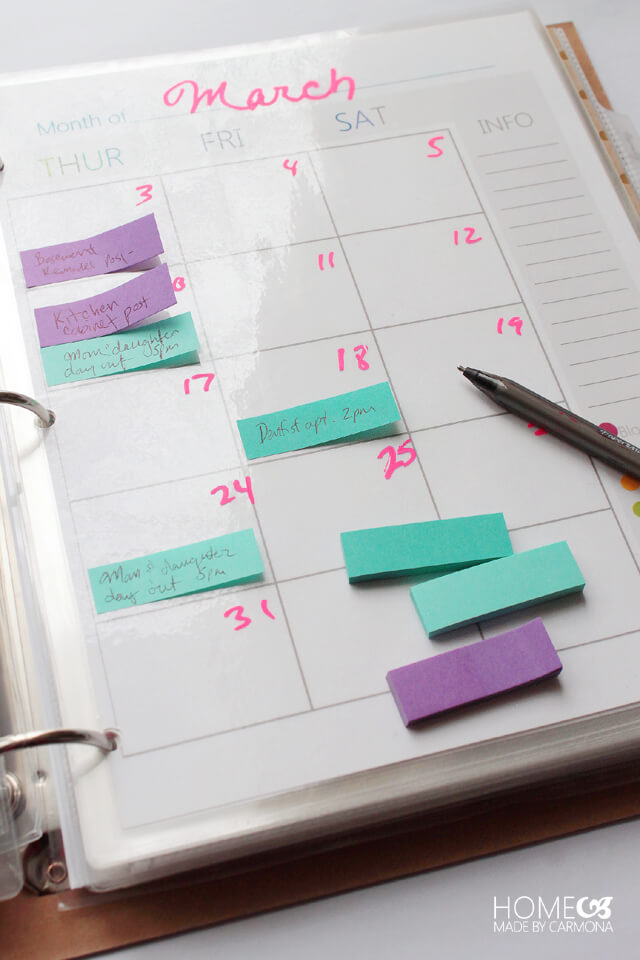 So go ahead and print up 12 Calendar sheets, because each new year you'll just erase the wet or dry erase marks and write in the new dates! No new calendar purchase necessary.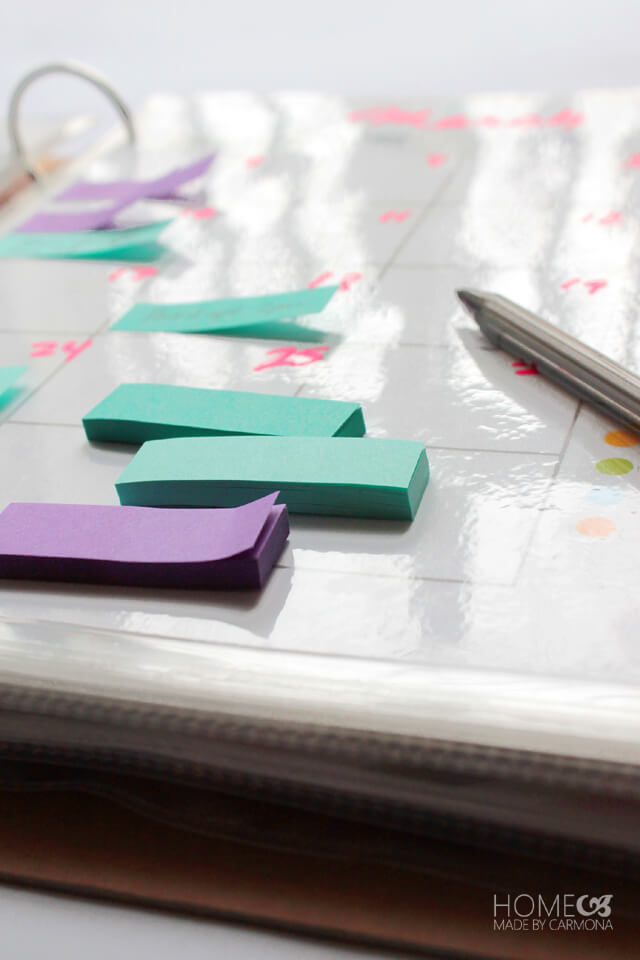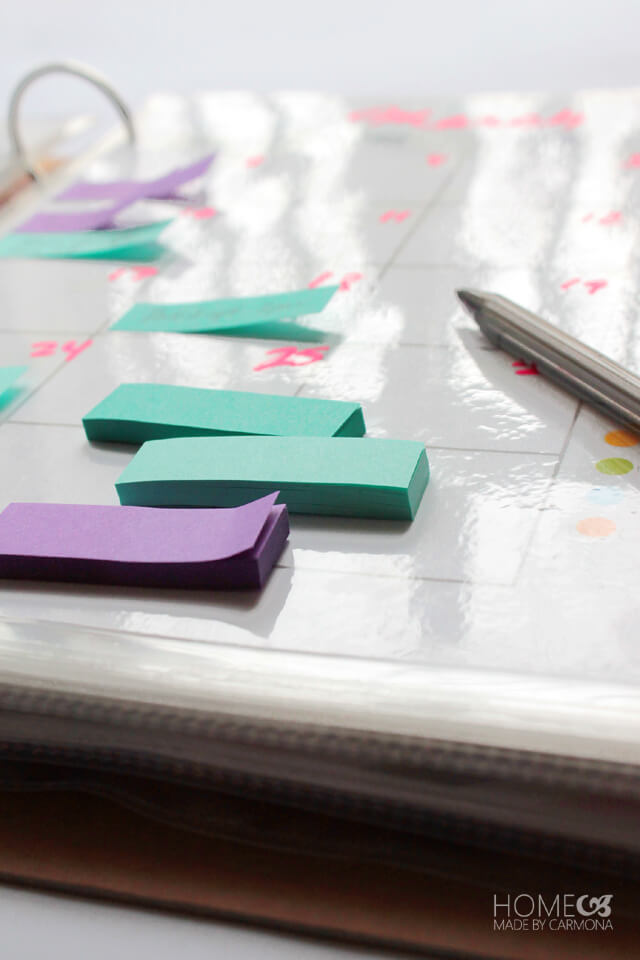 I use Post-it page markers to write up scheduled events that are subject to change. Then they are easily transferred to a new date if necessary (not crossing out, or eraser searching necessary!).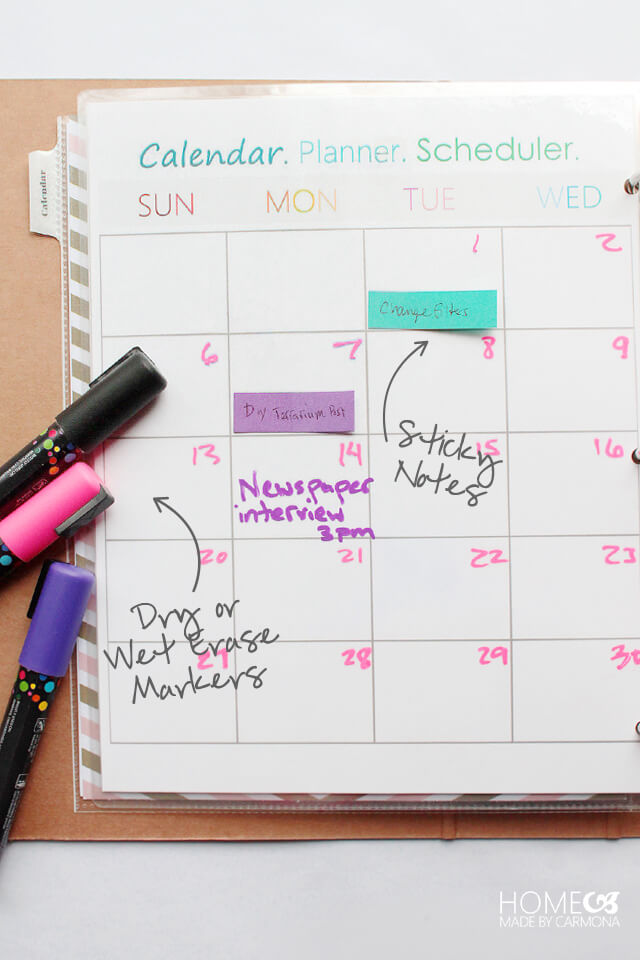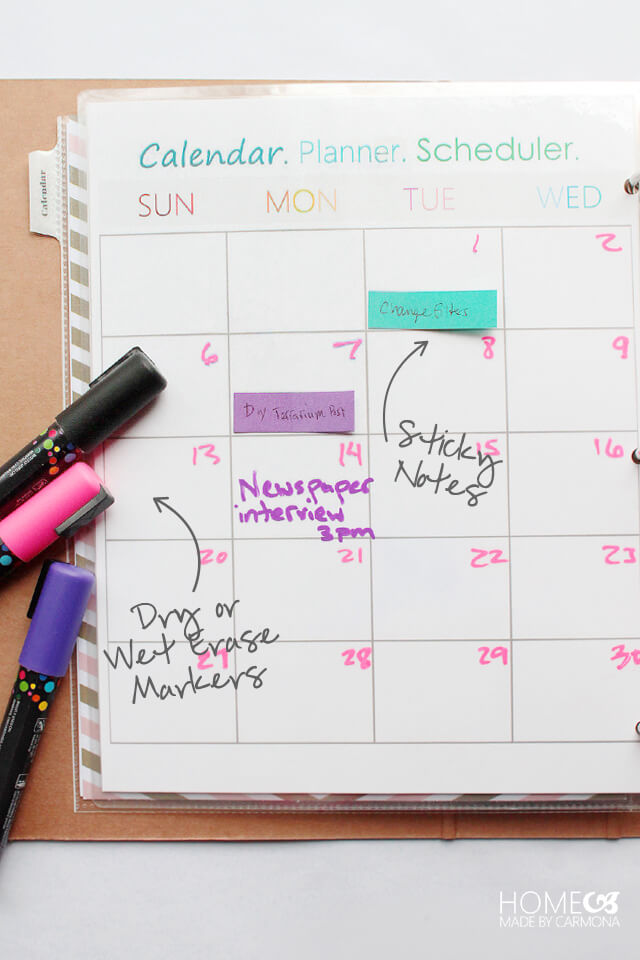 You can even move your daily meal plan (from the Menu Planner section), and your blog posts (from the Blog Planner section) to your Calendar. Find the free printables and more details about my Calendar here.
Menu Planner
Meal planning is my Kryptonite, because yes, while I am superwoman at making delicious dishes, I hate figuring out what to make (and the labor that comes with it). 😀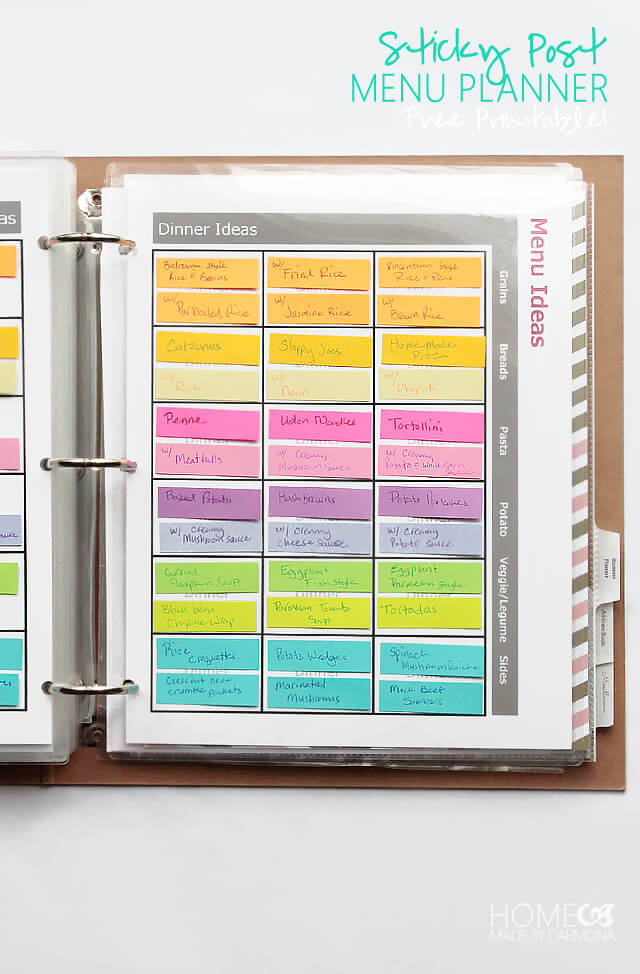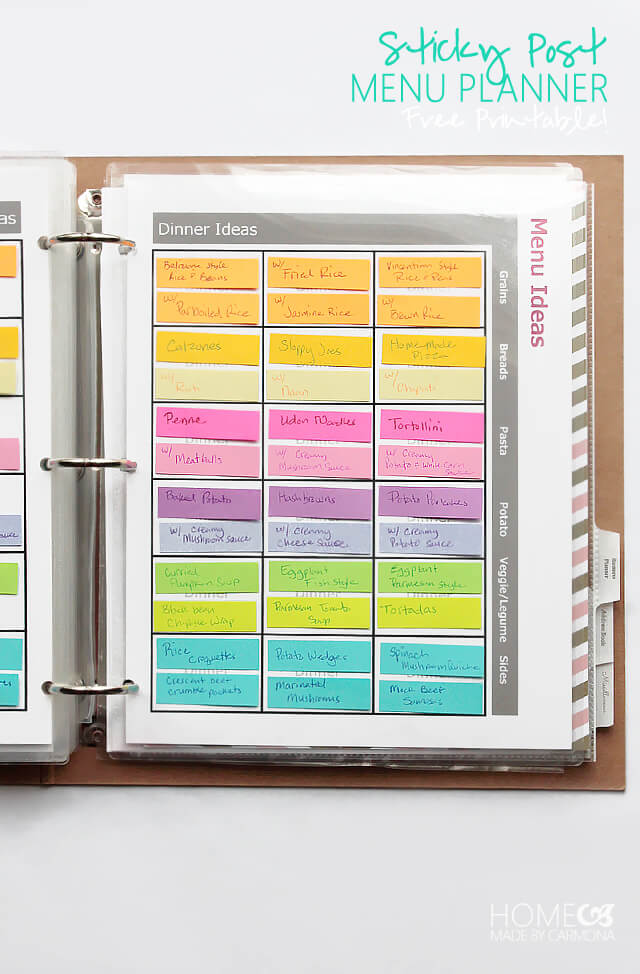 While my menu planner can't take away the effort that comes with creating amazing dishes, it can make meal prep a breeze. It contains a menu idea section which you populate with your favorite dishes, then move to the weekly planning sheet!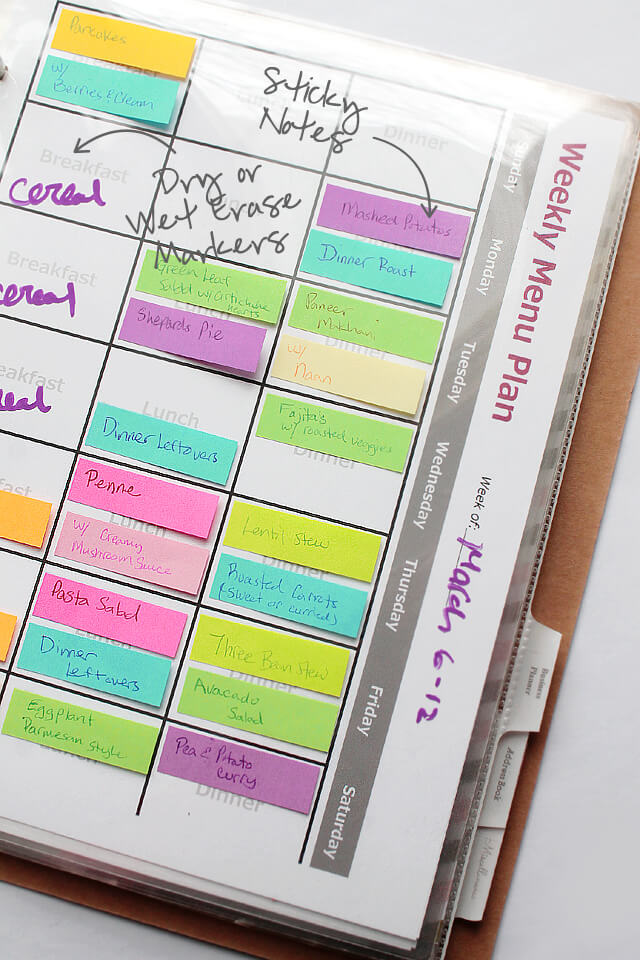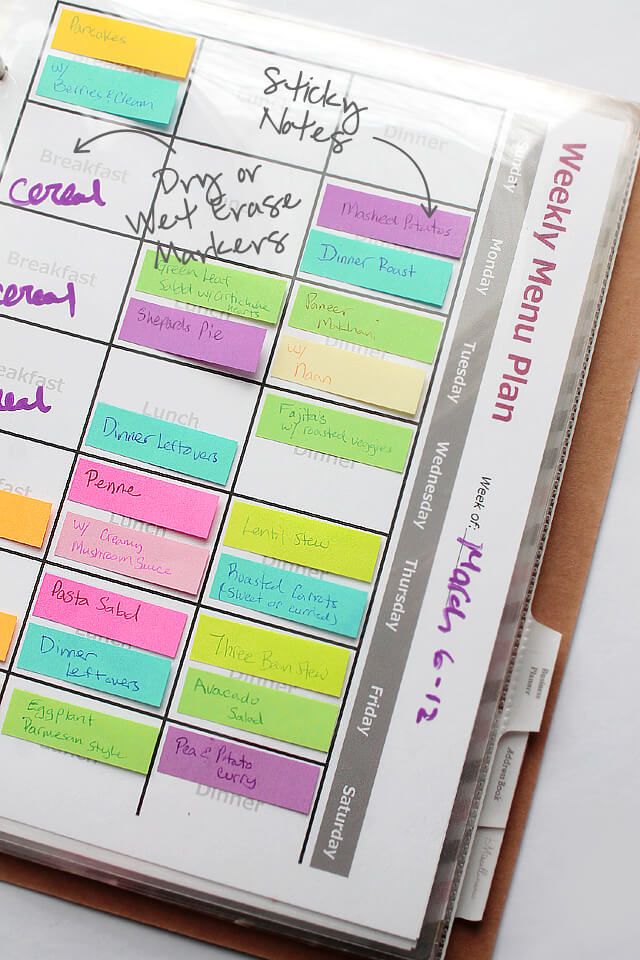 For free printable sheets, and more information on how to use your menu planner the most effectively, read more here.
Finances
We are some of the most frugal people you'll ever meet, and I swear my husband is the cheapest man I've ever meet. So keeping careful track of my spending is really important (as in marriage saving levels of importance). Hahaha!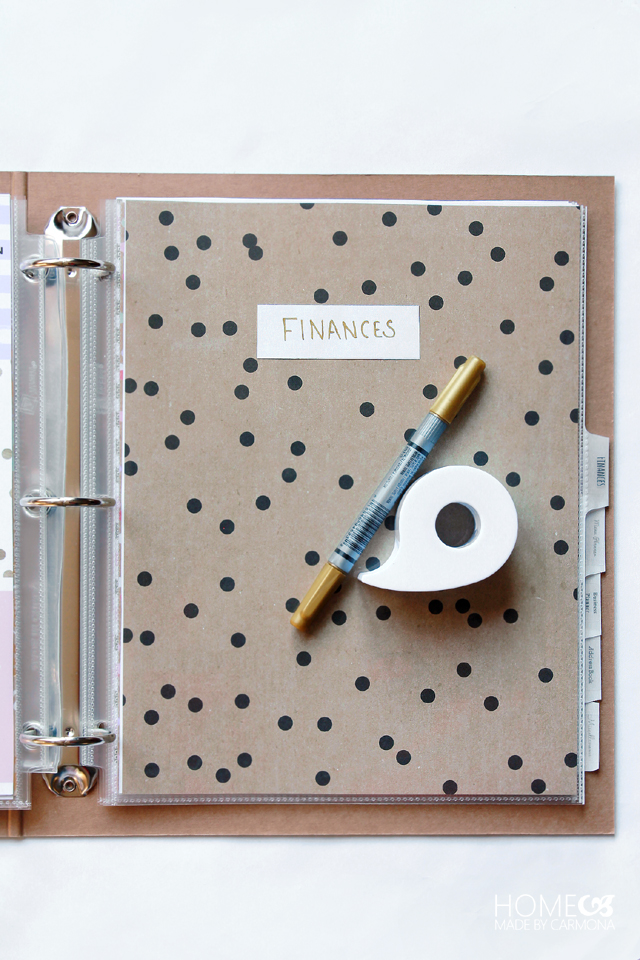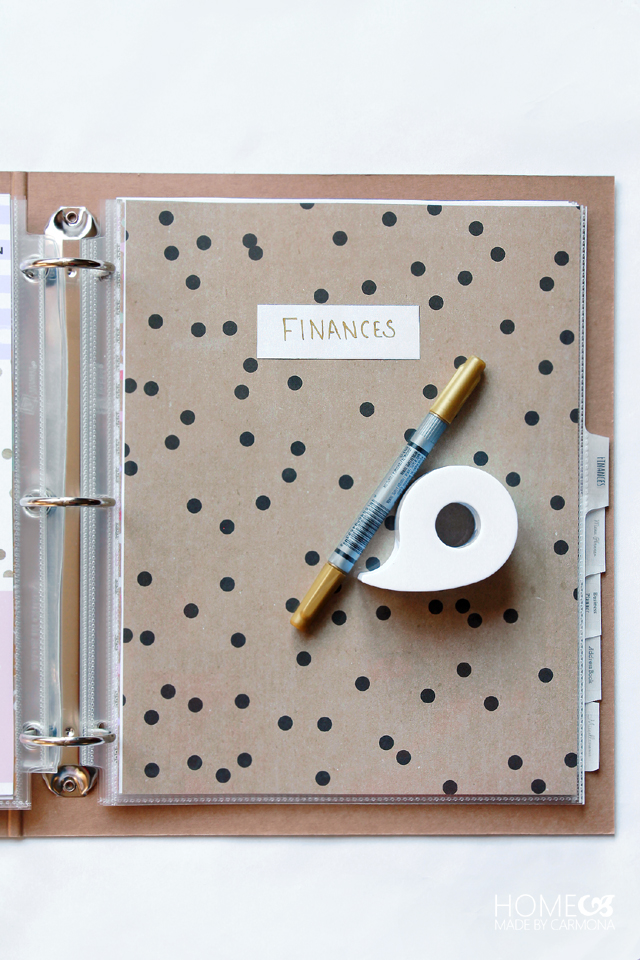 Oh, you thought I was actually going to show you my personal finances? Haha. At the moment it is a simple ledger styled sheet. I have been experimenting with the most effective way to track my spending…so stay tuned!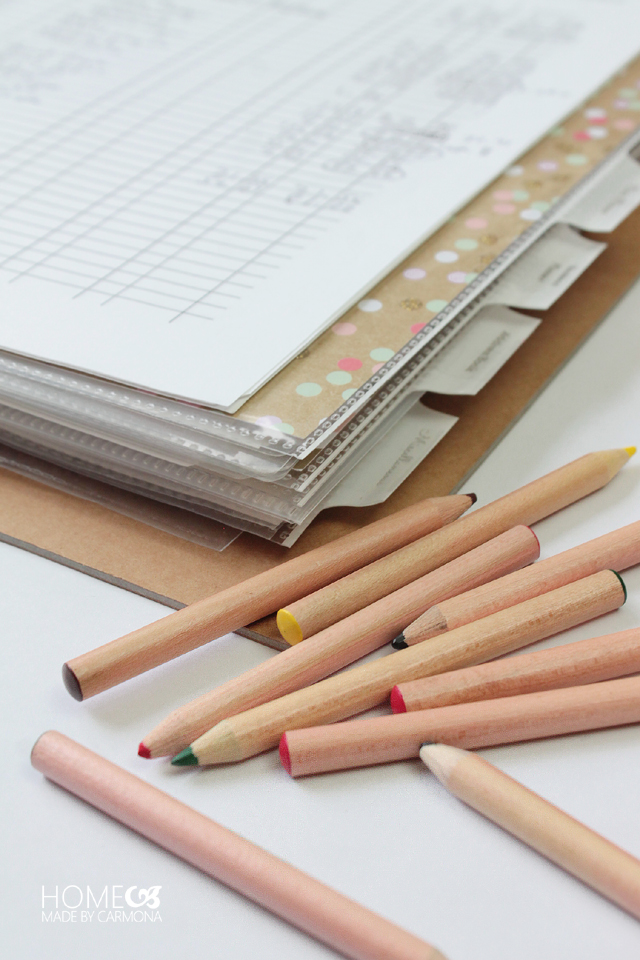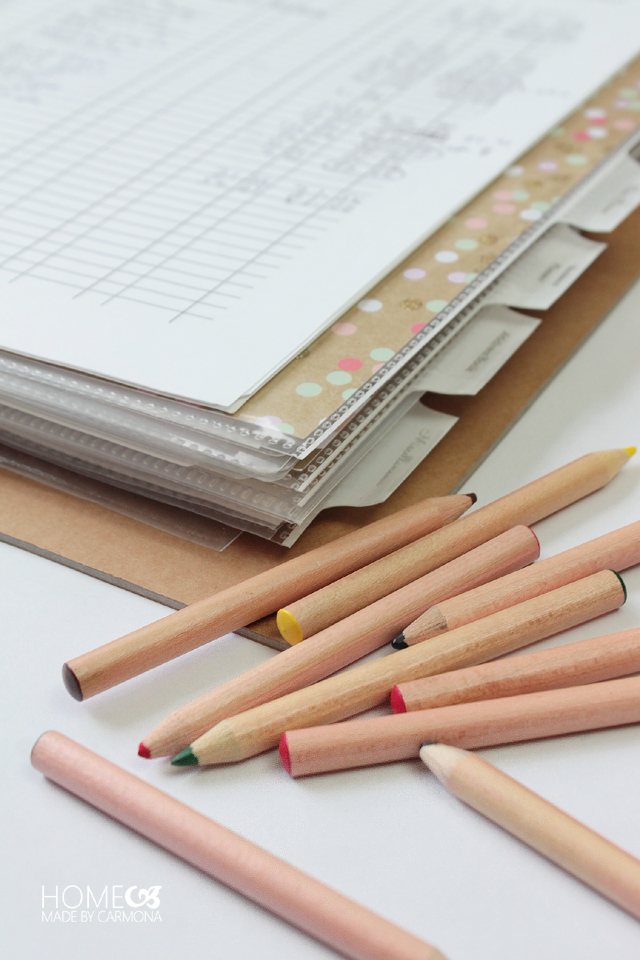 Family Life Planner
Family is my number one job. If I accomplish nothing else in my life, only the careful strategic raising of my kids matters. So often we settle for mediocrity when it comes to raising our tiny tykes, we let time pass us by and exposure does a quick work of molding them. Trust me, I've made the mistake in various ways too.
Why not take an organized approach to molding them, and help our kids accomplish their goals and craft their character each year? Together we work out each goal and set of activities for the calendar year, then we work hard together to accomplish our vision.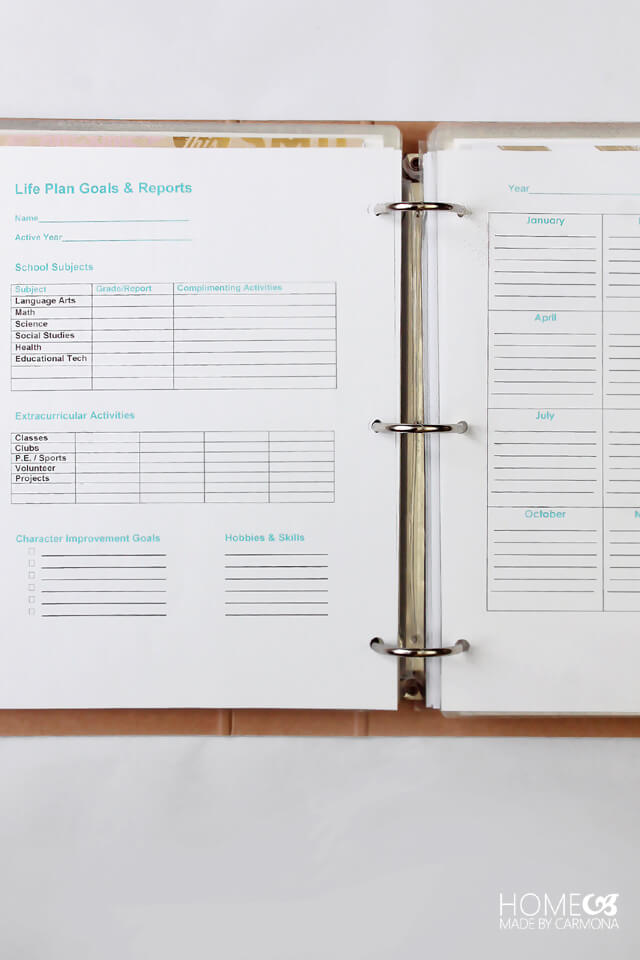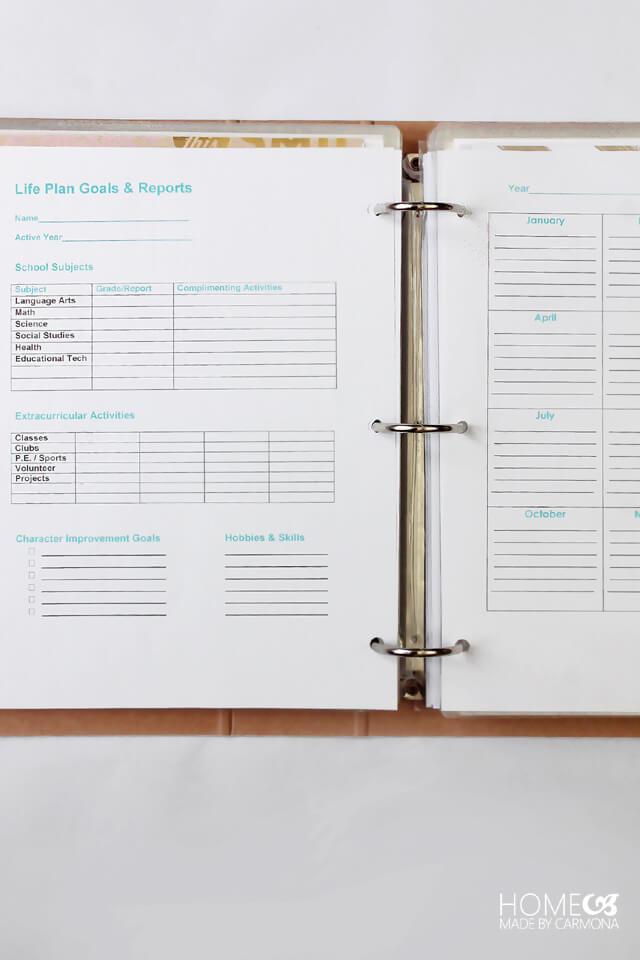 My kids are still young enough to need/love reward sheets, so I try to keep them motivated to accomplish daily and weekly tasks independently.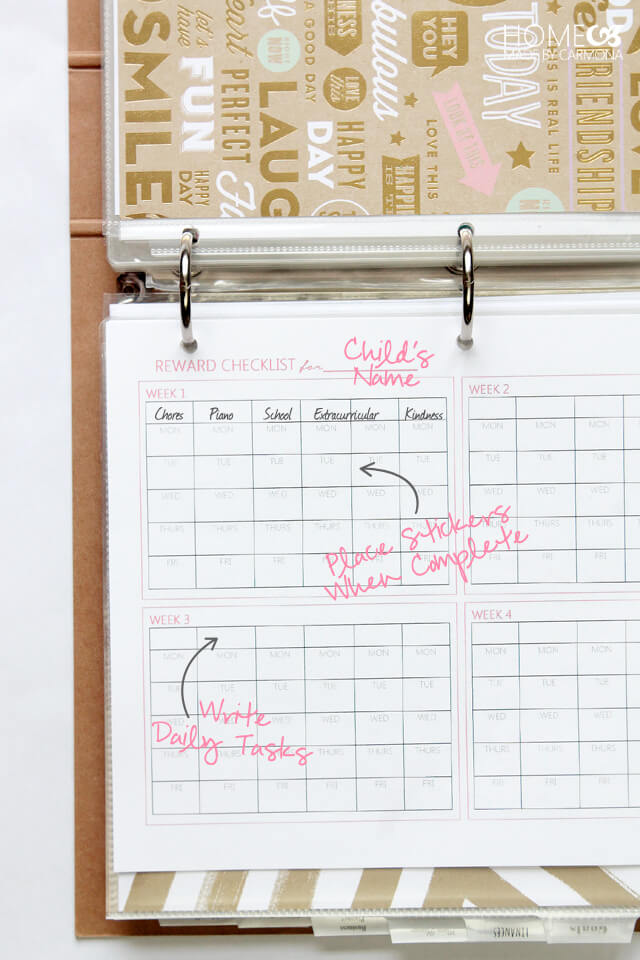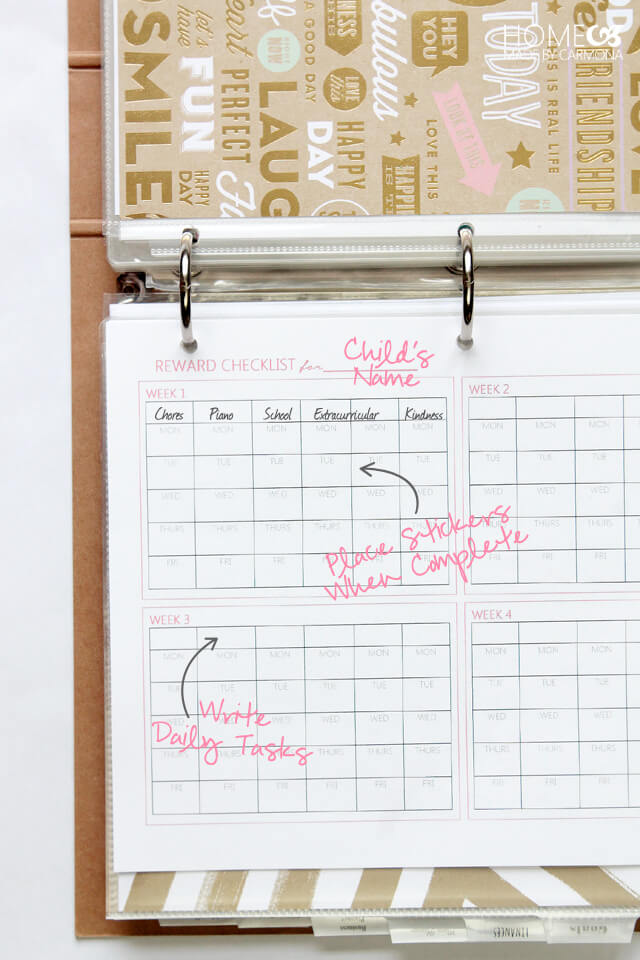 It's not just about the kids in this section either, I recently re-labeled "Family Life" to "Goals", and I am always working on my personal goals and even in the process of creating a "Life Plan Sheet" (coming soon).
In addition to these sheets, I keep certain school related papers in here…but you don't want those.
Blog / Business Organizer
My blog is something I adore doing, my dearest hobby and it is also my business. Learning what works to keep the great content coming and managing things back end can be a bit of a learning curve.
My blog post organizing sheets allow me to easily move ideas from inception to completion, all the while keeping track of what needs to be done, and what category it will be housed under once complete. Once I determine when to actually schedule my completed posts, I transfer that post-it to the calendar in my Home Management binder.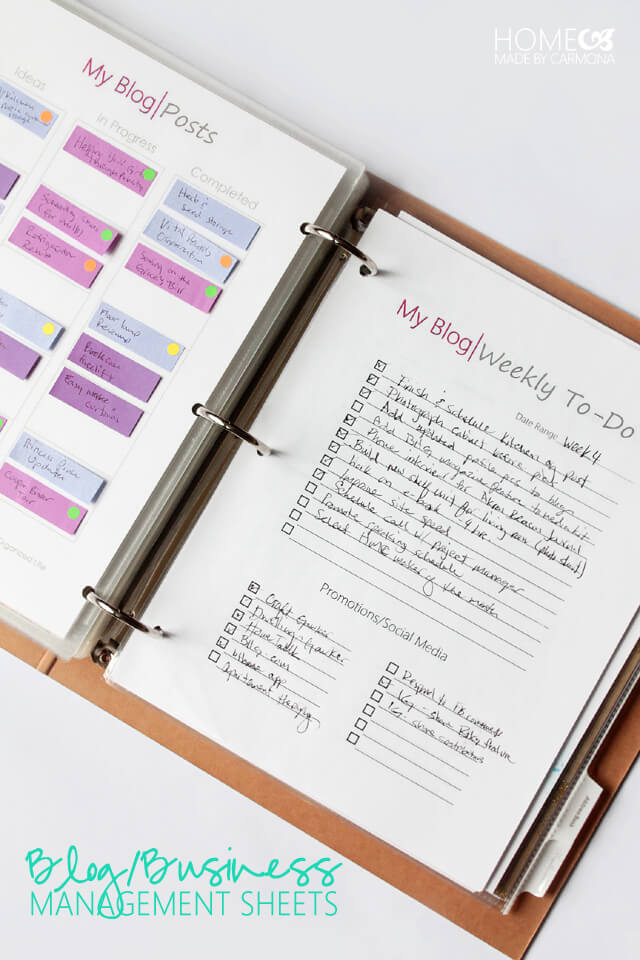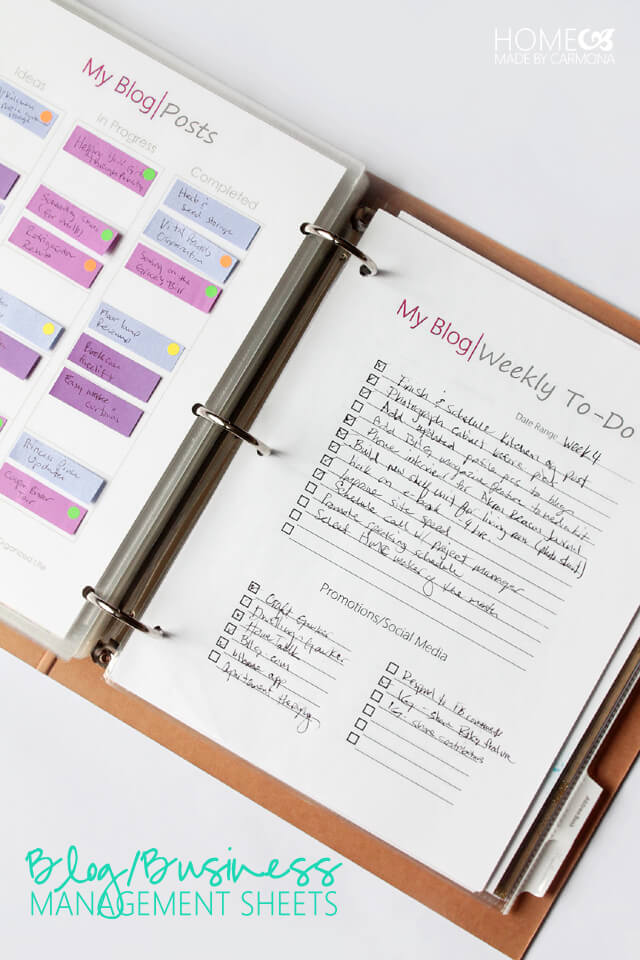 I also have a weekly blog business to-do list to keep me on task and focused on what is important.
Of course, I only know what needs to be done each day, week, month, year, because I know what my major goals are for my business and I have deadlines for each working goal. I start with my 5 and 10 year plans and work my way backward. I can then plan each individual year according to my long term plans! An annual overview is so helpful to keep me on track…a quick overview of each month's important goals and tasks are planned before the year even begins.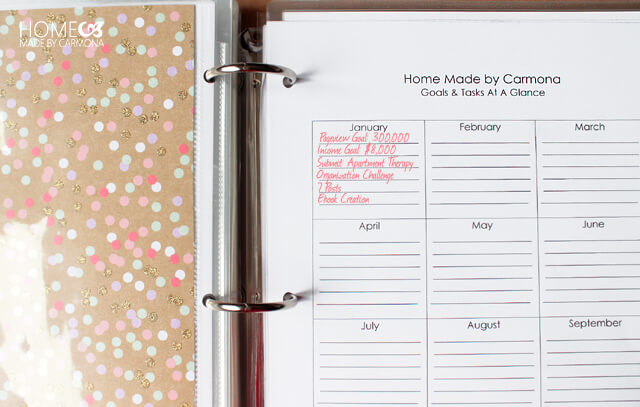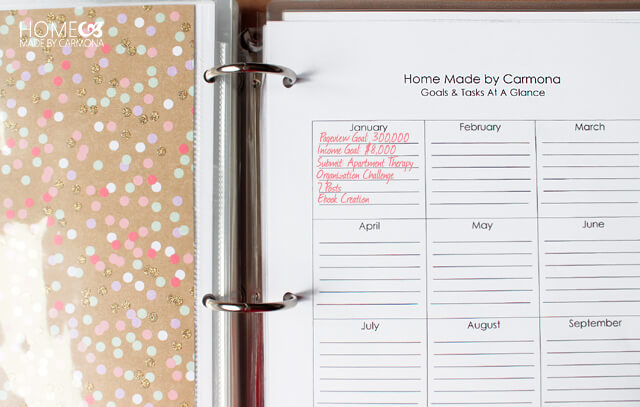 Additionally a detailed monthly report is very important to track whether you are meeting those goals, what works and what doesn't, and how to proceed.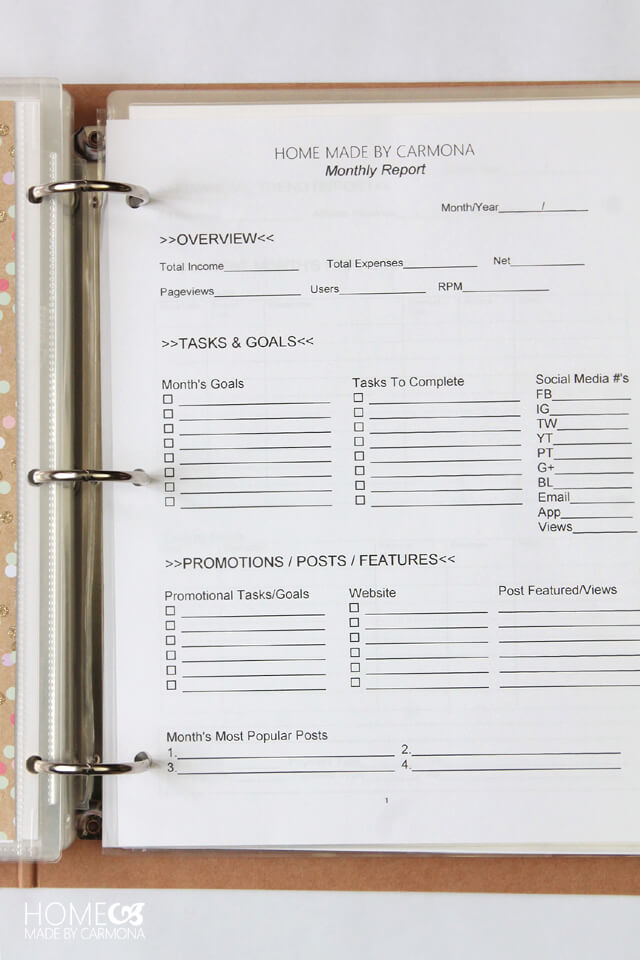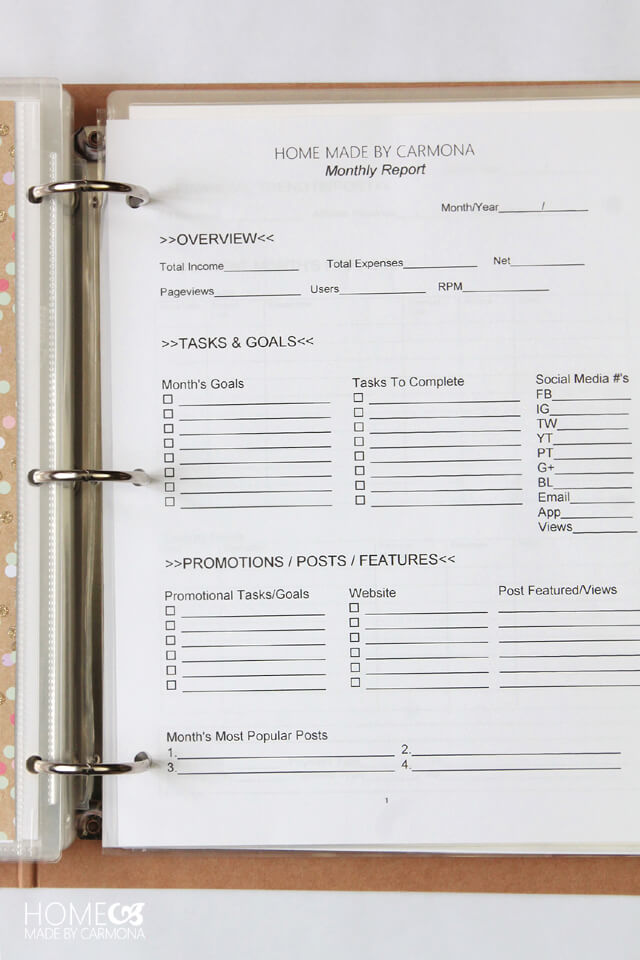 When I first started blogging I had less to report each month, so this worked wonders for me. Now that I've been at it longer (and have more to report!) I am using an excel document that is more automated, I'm sure in the future I will have to upgrade again…seasons of life! 🙂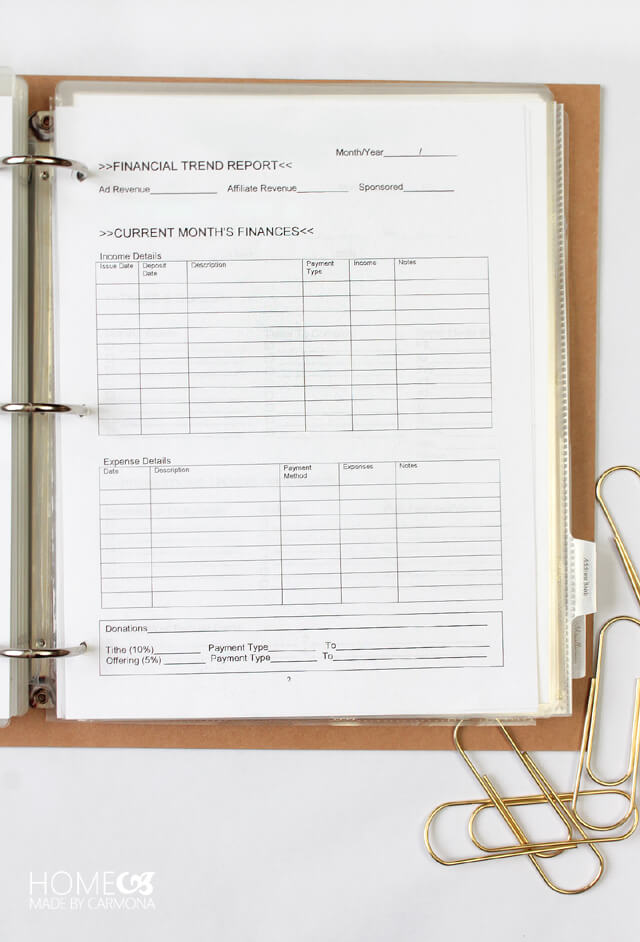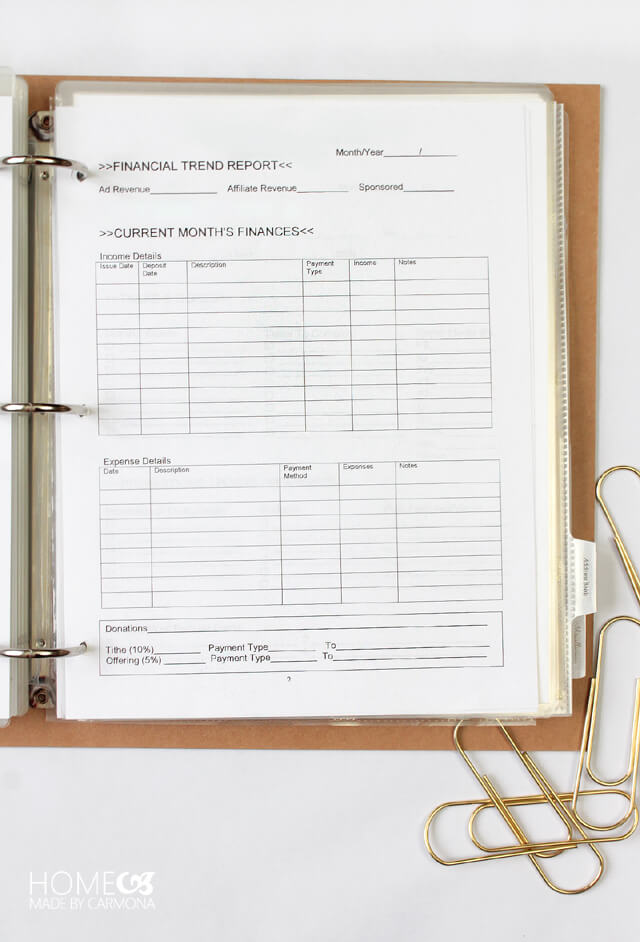 If you'd like to see a little more of my early blog planning sheets, you can find my old write-up about it and the printables here.
Address Book/Contacts
I keep labels in my address book, and a label template with the name/address of frequently used or mass mailing contacts (pretty much just family and close friends of the family). Then should I need to send out an invitation, a Christmas card mailing, a New Year letter, etc. I just have to print the labels! No effort required.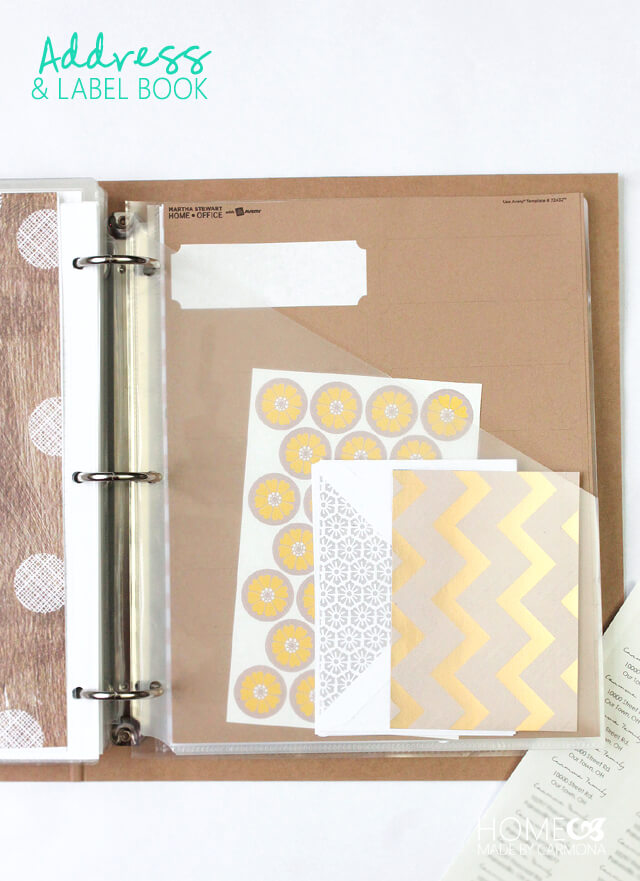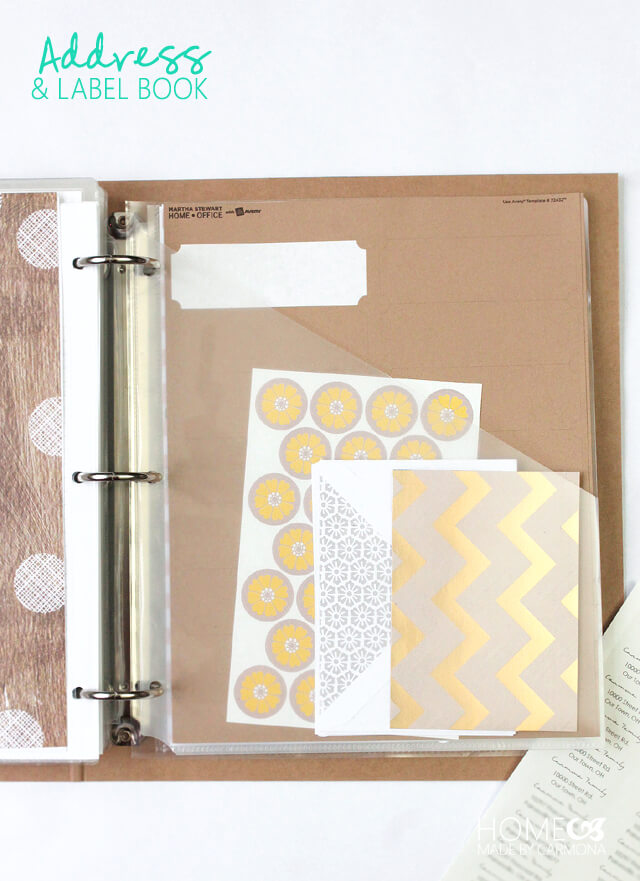 You can learn more about how it works in my post about my zero effort address book.
Miscellaneous & Binder Storage
In case you haven't noticed by now, my entire Home Management Binder is like an ode to all things Post-it or dry erase. Hehe. So I needed something to store all the Post-its, and miscellaneous binder items. A baseball card pocket sheet does just the trick!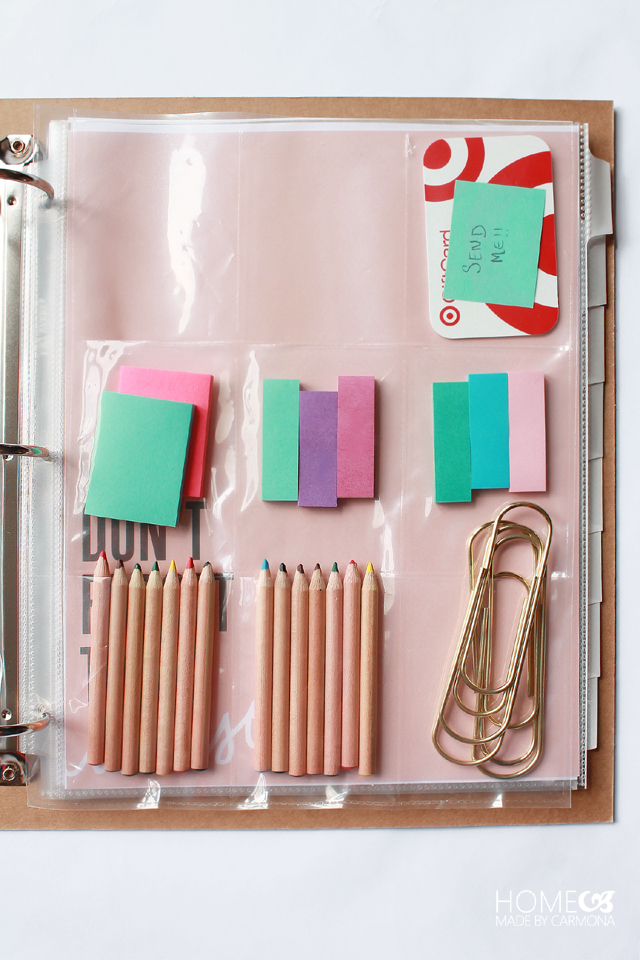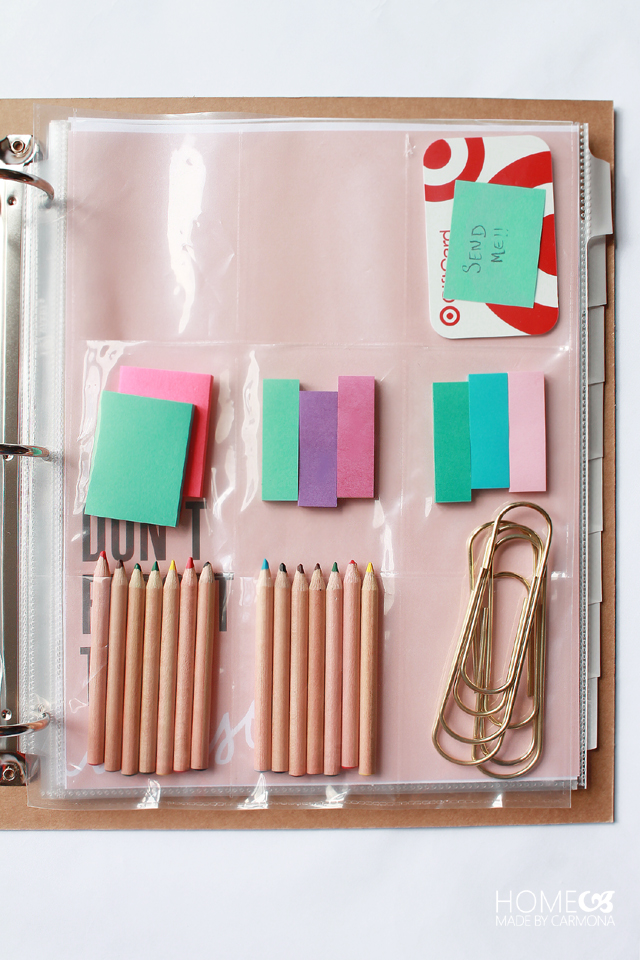 I hope you enjoyed touring my Home Management Binder!
Could apps and other device based programs do the same task of keeping me organized? Absolutely! However being a tactile individual I often choose a physical version of something rather than a software version. It also has to do with a particular season of life… For example, our family chore charts and to-do lists are all on paper and physical charts until my kids are older and begin using devices.
It's all about learning what works for you and your family, and if you need to try something out first and change techniques as you go, know that it is all part of the process. 😉
Want to learn how I create the actual Binder (isn't it cute)? Check it out here.


[go_portfolio id="organize_landing_page"]