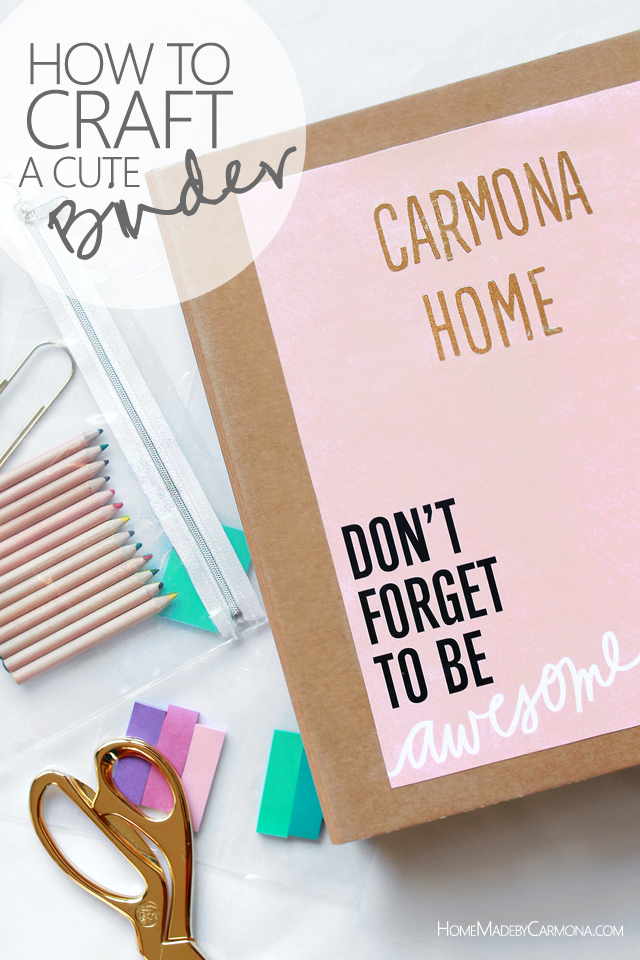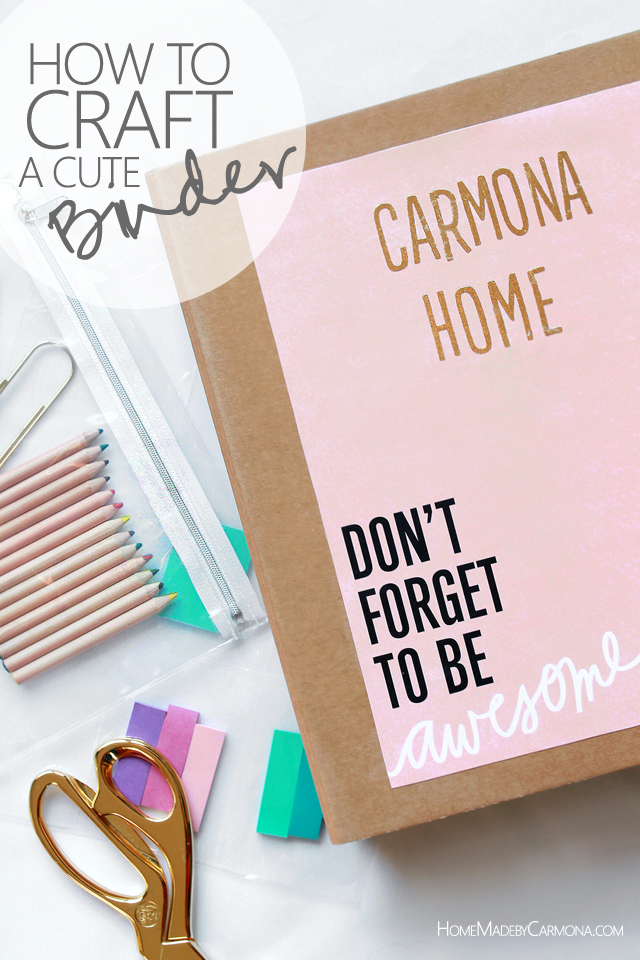 Since I'm not naturally organized (or tidy), I have to work hard to keep myself motivated and on task. So I like to pull this little Jedi Mind Trick on myself where I make something so beautiful that I'm excited about keeping it up. I have to do this for my rooms, and I also do it when I want to employ a good new habit!
This week I was noticing that I haven't been quite as faithful to use my home management binder to help keep life on task. I've lived and died by this baby for almost 4 years, but I've been slipping lately. You know what that means right? It's time to give my little binder a makeover. When she's all pretty and new again, I won't be able to put her down! 😀
Know what I mean? Mind tricks. They totally work.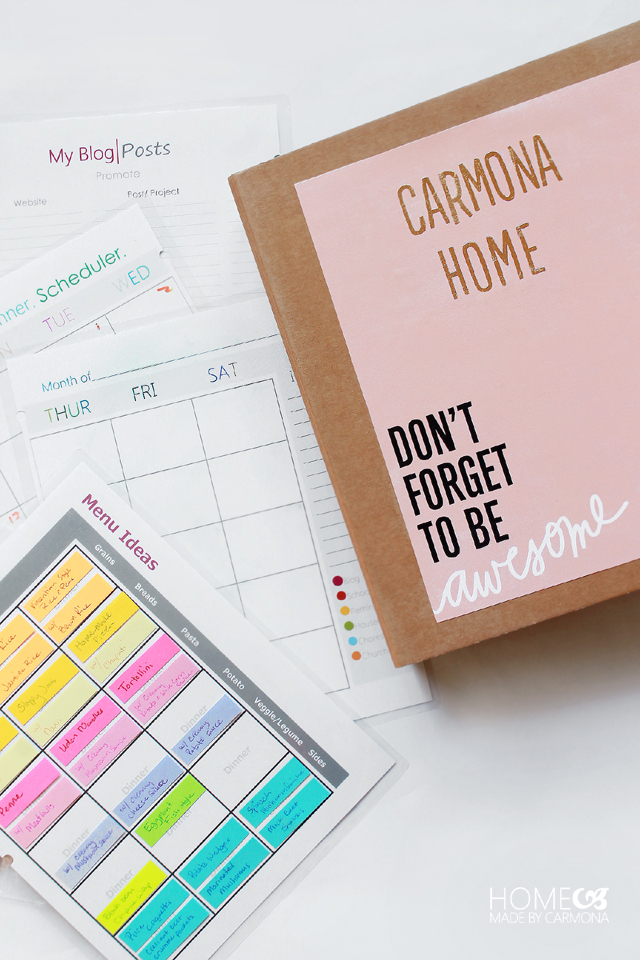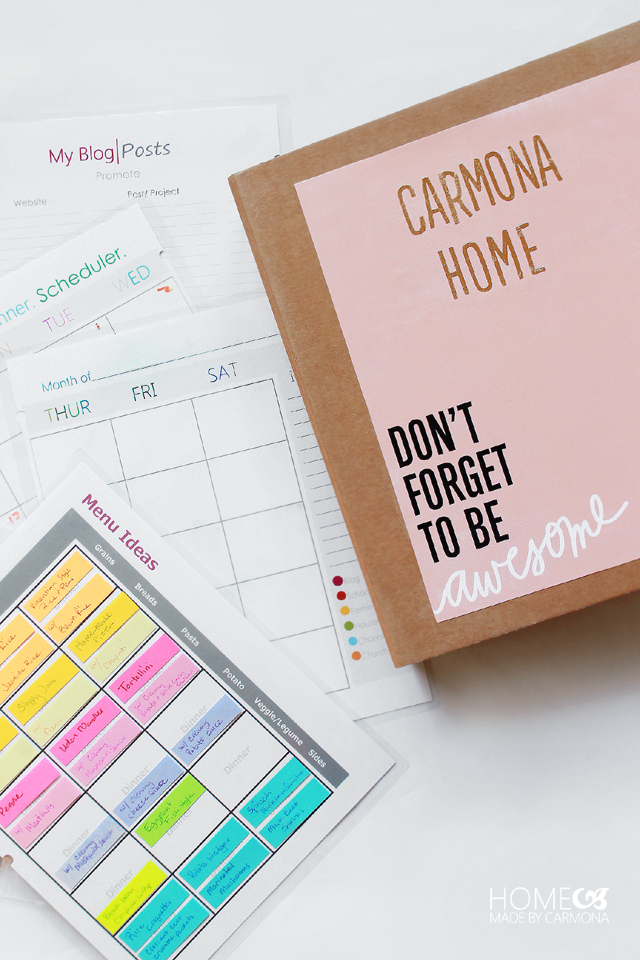 My home management binder contains my calendar, blog planner, menu planner, goal sheets, and more…but you can learn more about that in my Home Management Binder post. For now let's just talk about creating really cute binders. Whether it is for your office, or a single great binder that keeps you on track in every part of your life, you want it to rock on the outside AND the inside!
Here's What I'm Using To Beautify My Binder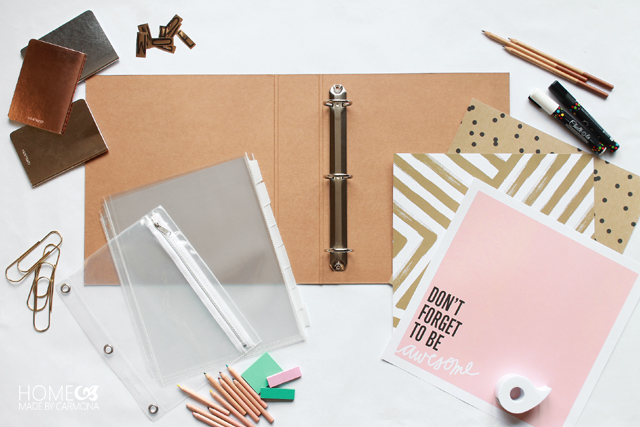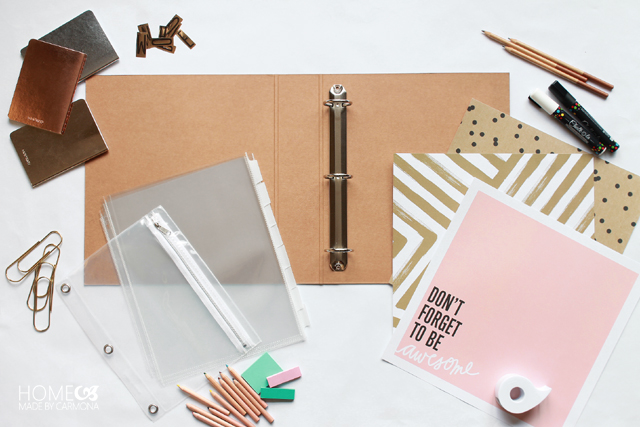 Here are a few things you'll need to get you started:
[col1]My favorite scrapbook paper sheet set:


[/col1]
[col2]You'll also need:
[/col2]
[col3]You might also want:
[/col3]
Just because I'm upping the style factor on my binder doesn't mean I won't still need the necessities. I will require post-it notes, writing implements, and dividers as usual.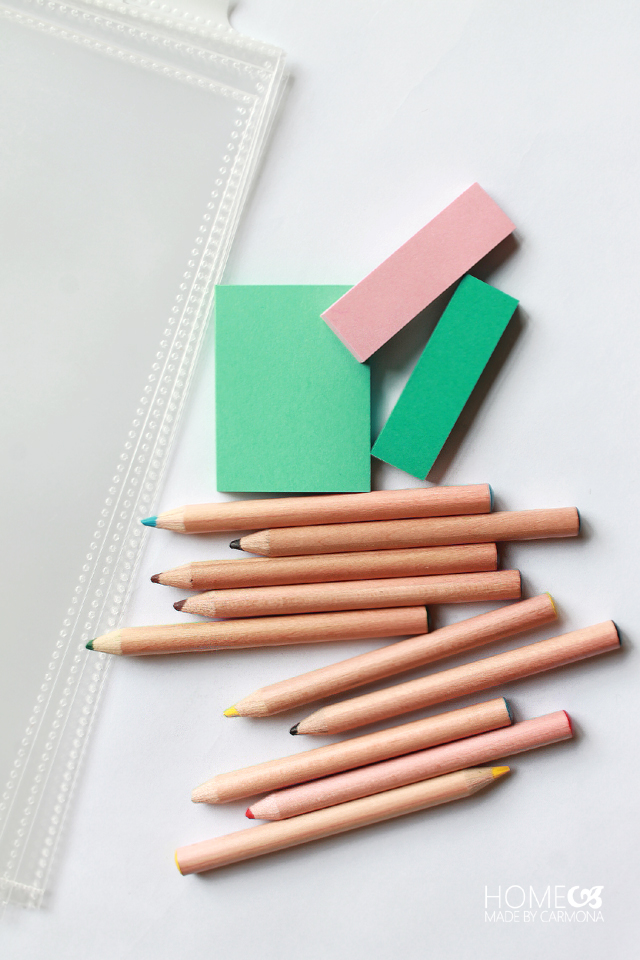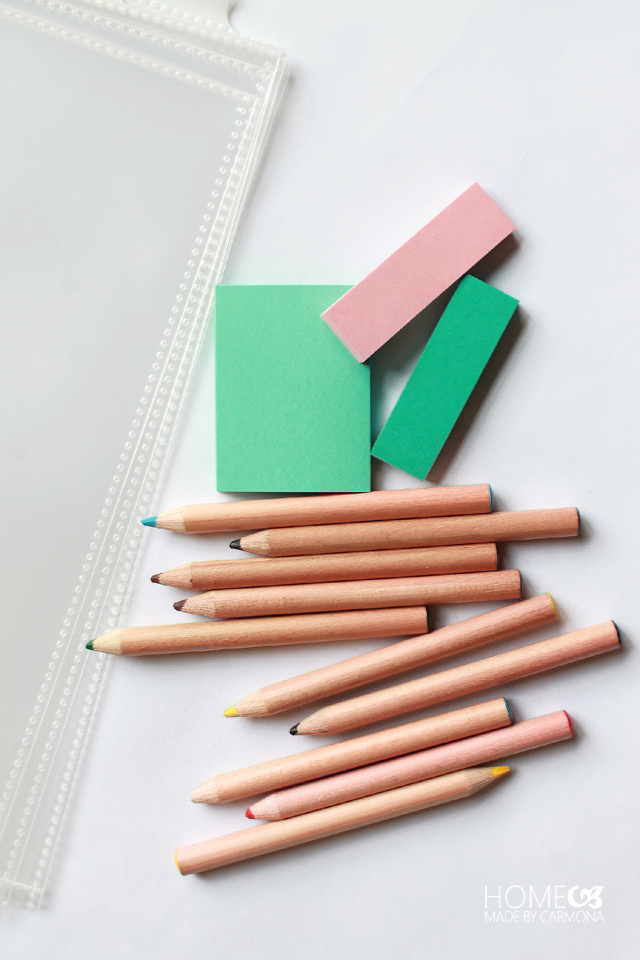 There are a couple ways I can store necessary items in my binder. I can use baseball card holders to be a catchall for the small things.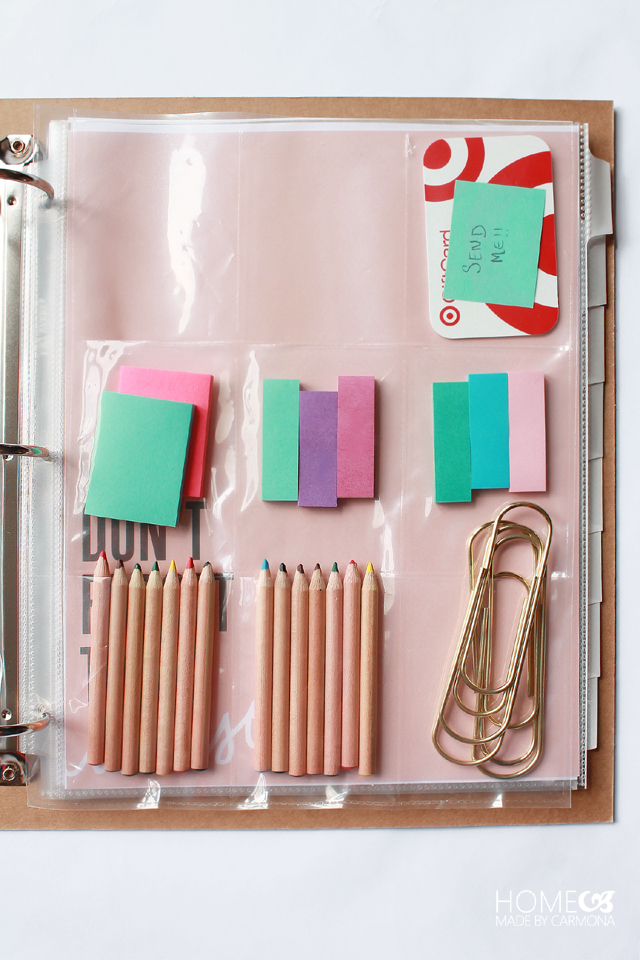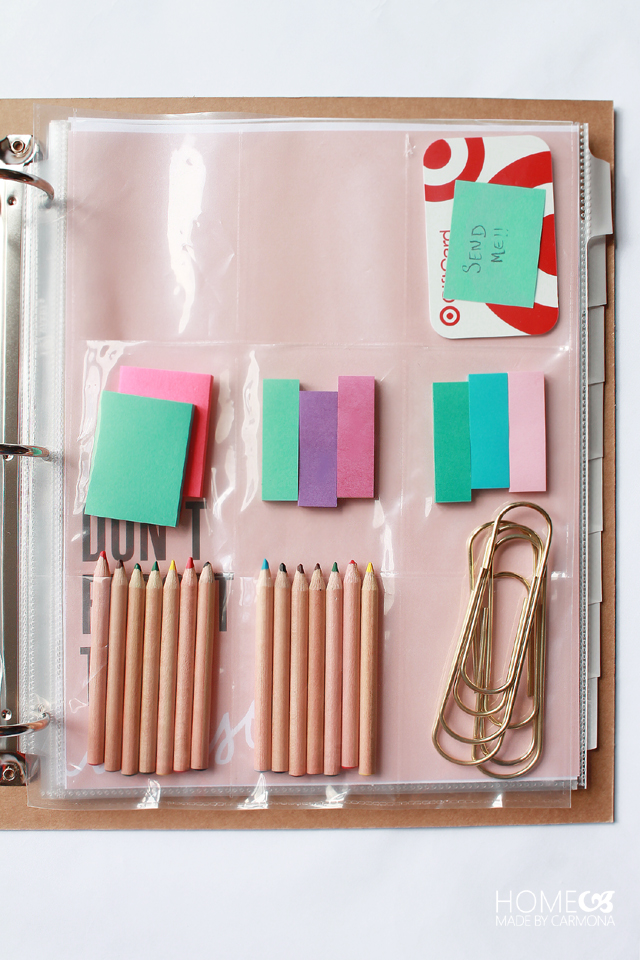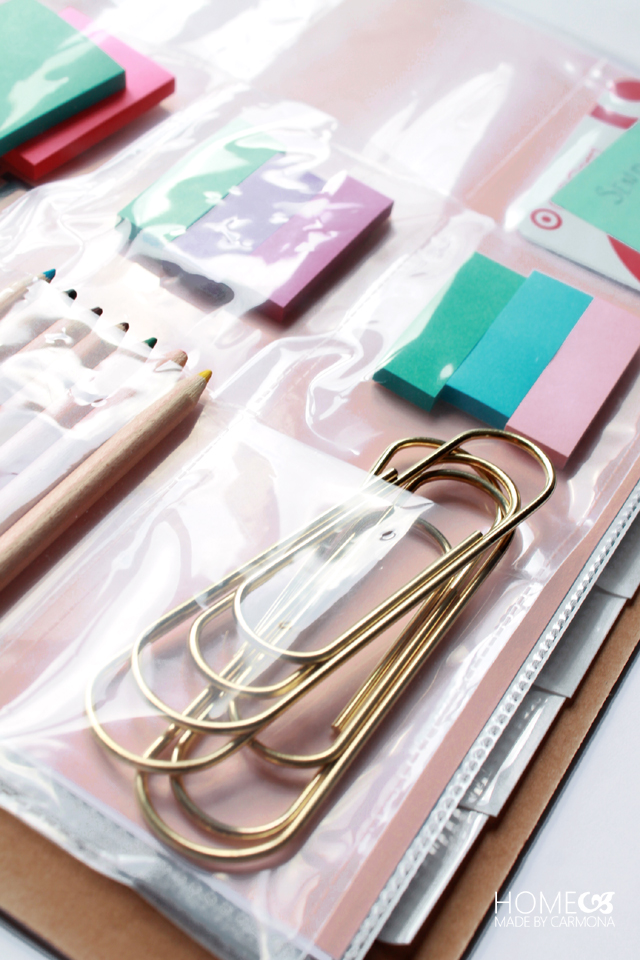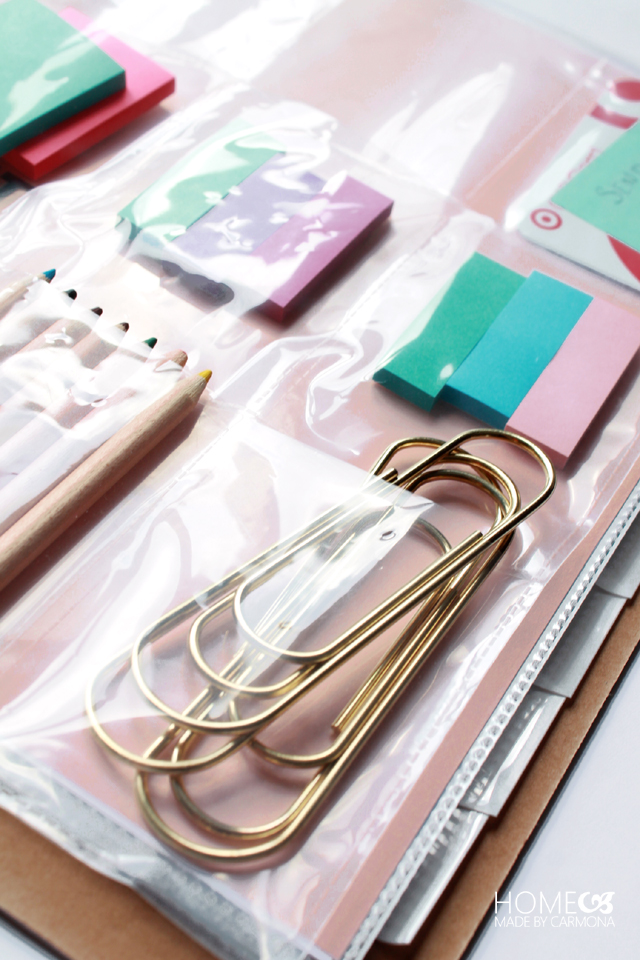 Or I can attach my sticky notes directly to the binder, and employ pencil holder cases. I also recommend using dividers that contain a pocket in the front. These elements add lots of storage to your binder and serves to catch papers you don't have time to file away yet.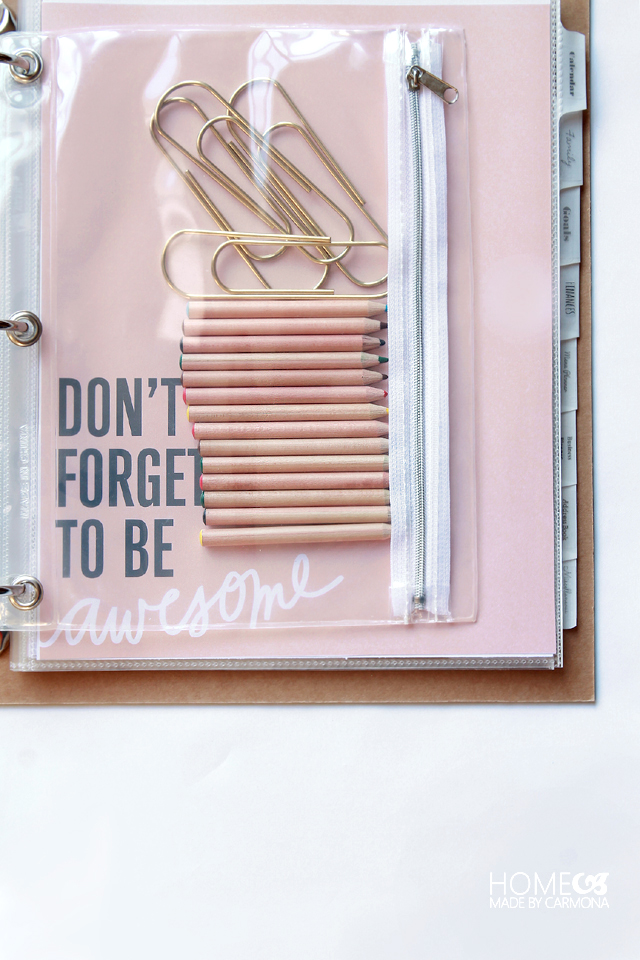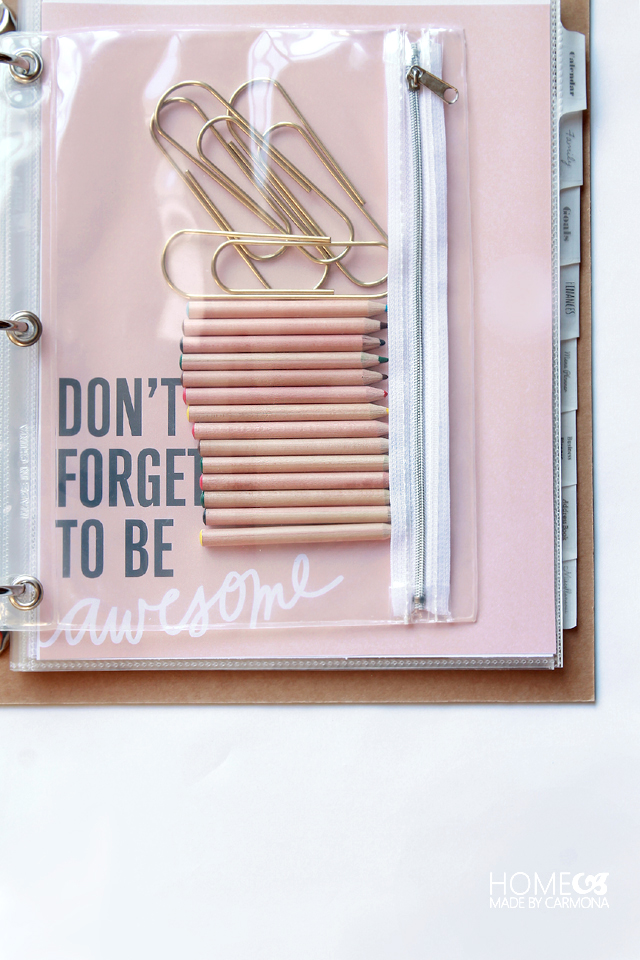 This time I'm adding pretty scrapbook paper to my dividers. Who says function can't be fully fashionable too? 😀 I love that they can be seen through the clear pockets and dividers I'm using.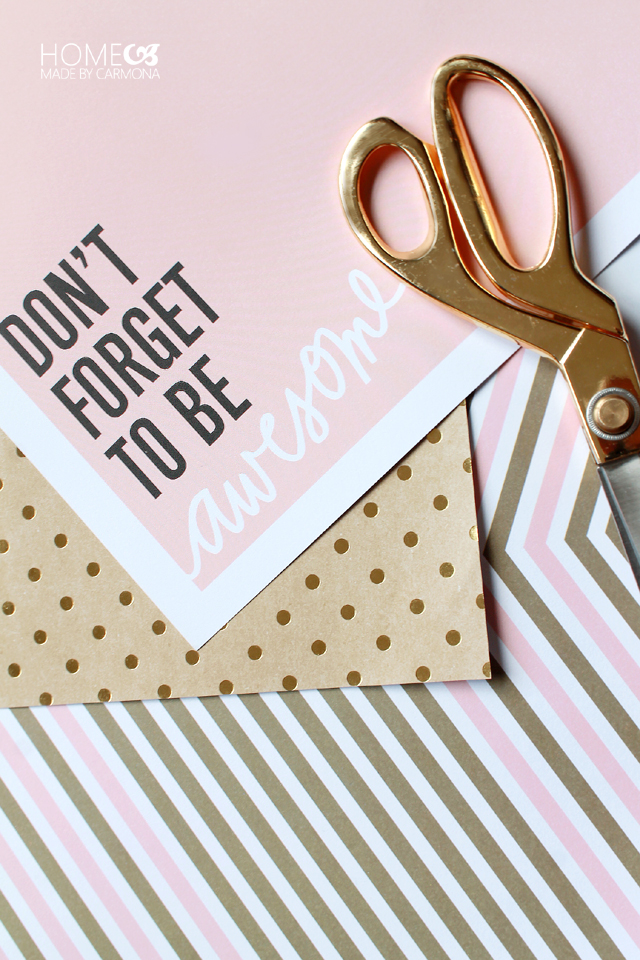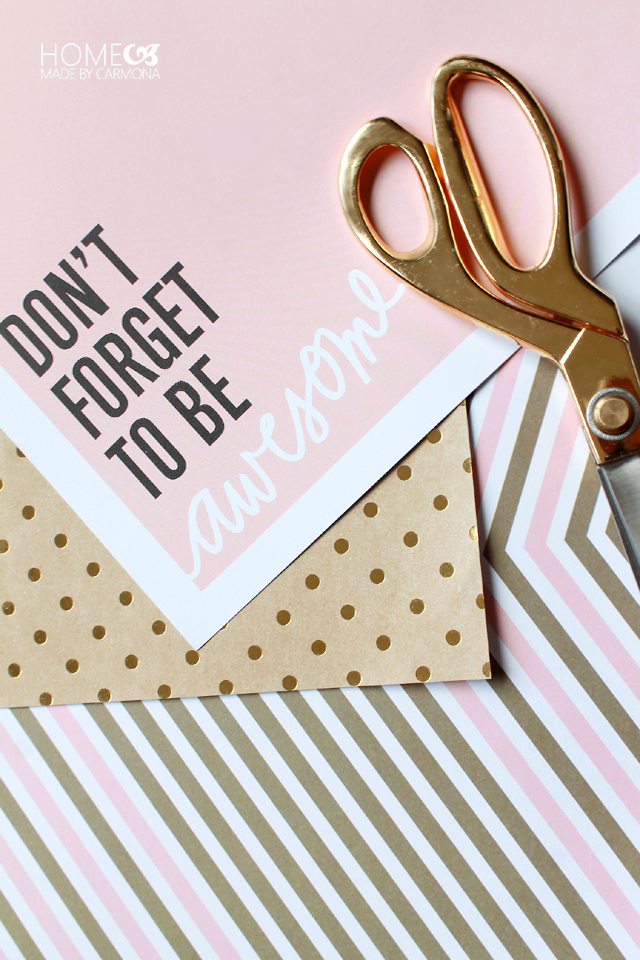 You could probably find scrapbook paper in 8×11 sheets, but the ones I found that I ADORED were a much larger size, so I'm just cutting the sheets to size then inserting them into my dividers. I found this Mambi Sheets scrapbook paper book with tons of great designs at Pat Catan's, but you can also find it online here.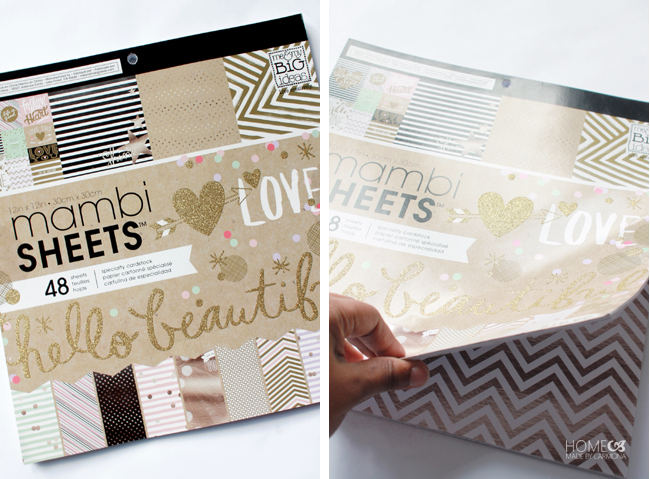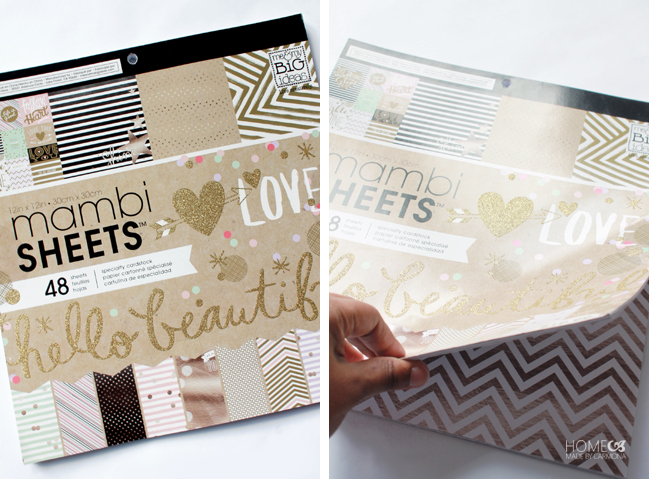 Let's talk labels. I am using some translucent Avery dividers. I love that the Avery dividers come with an online template so you can design then print your labels. Much more tidy looking than writing it by hand, and much cuter than printing it out on my label maker.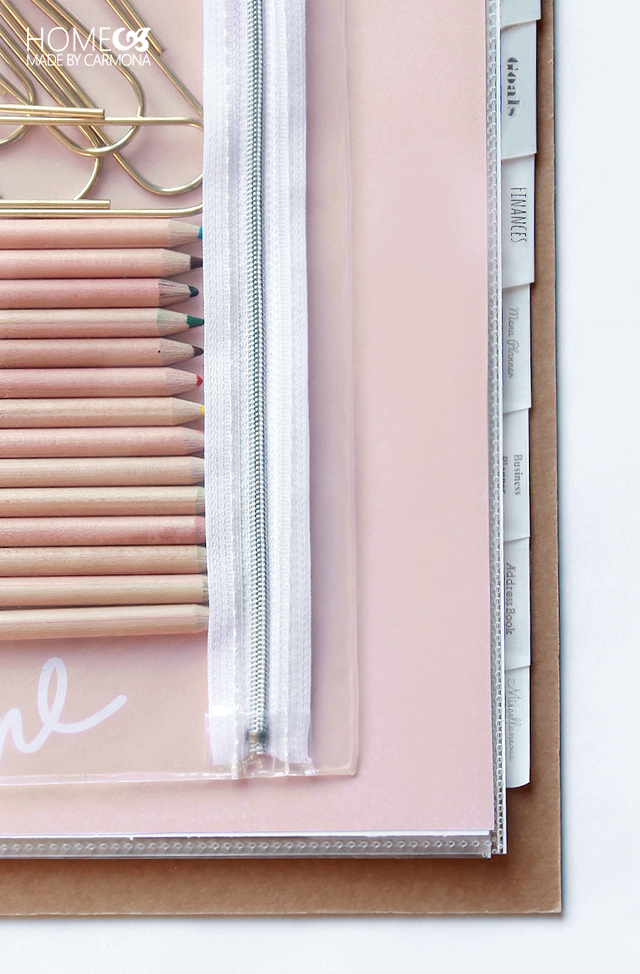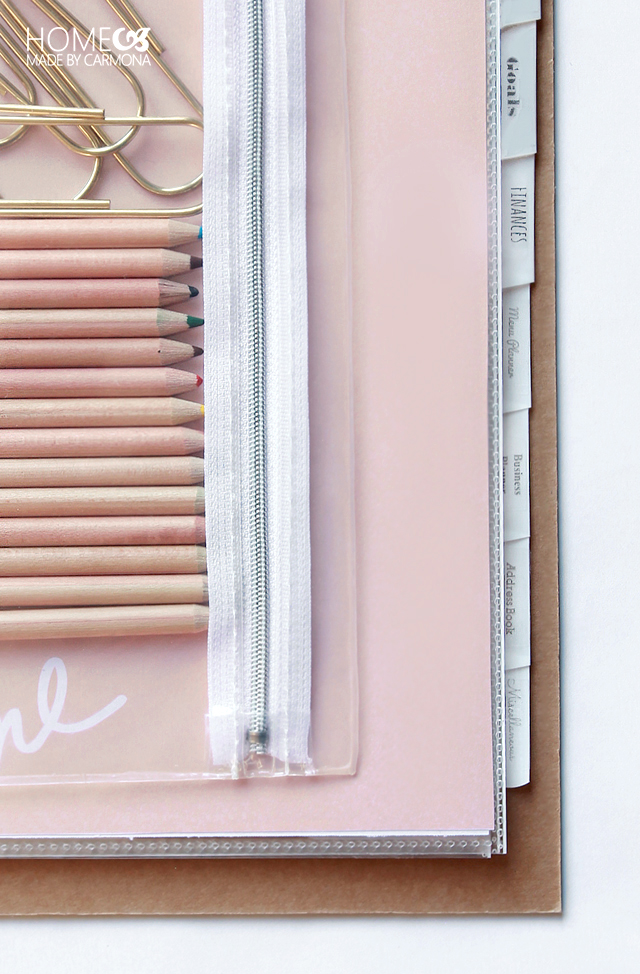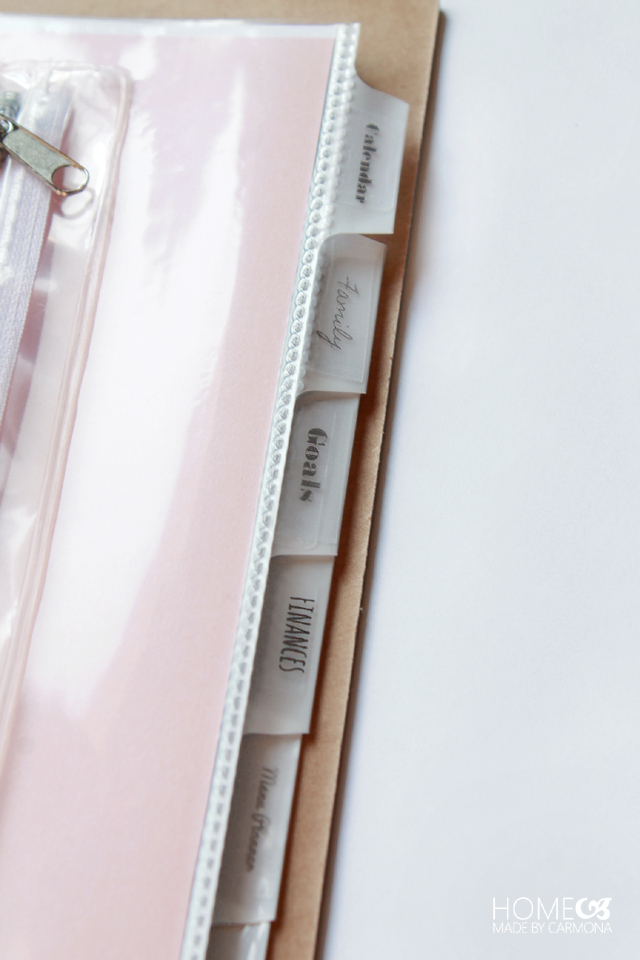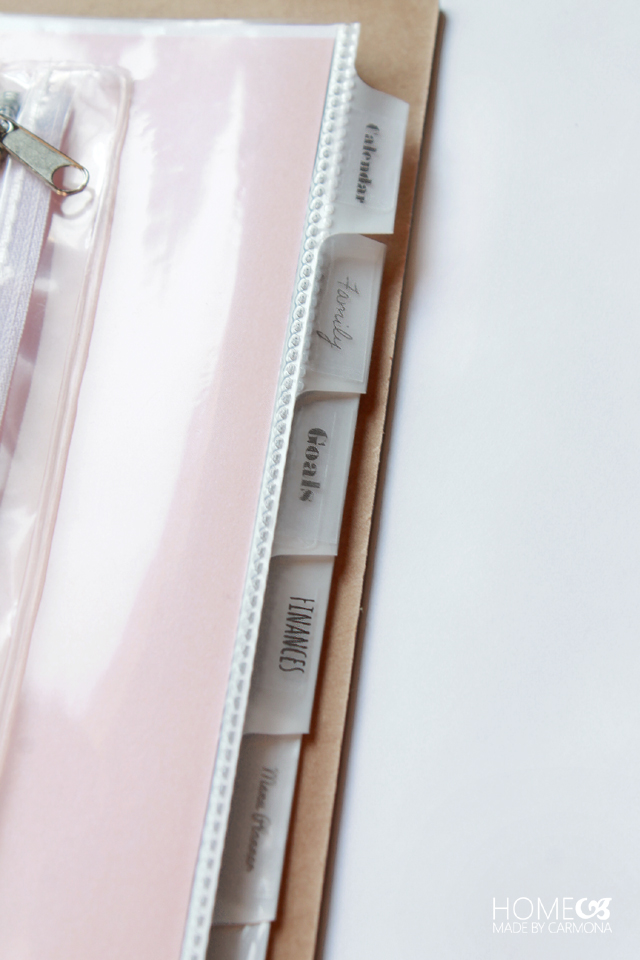 If you prefer you can use Post It tape to write on the front of each section instead (or in addition to if you want…uh, that's not redundant at all).
Speaking of labels, I also thought it would be nice to add our household name to the front of the binder using gold foil alphabet rubs. I adhered it to the front of my favorite piece of scrapbook paper.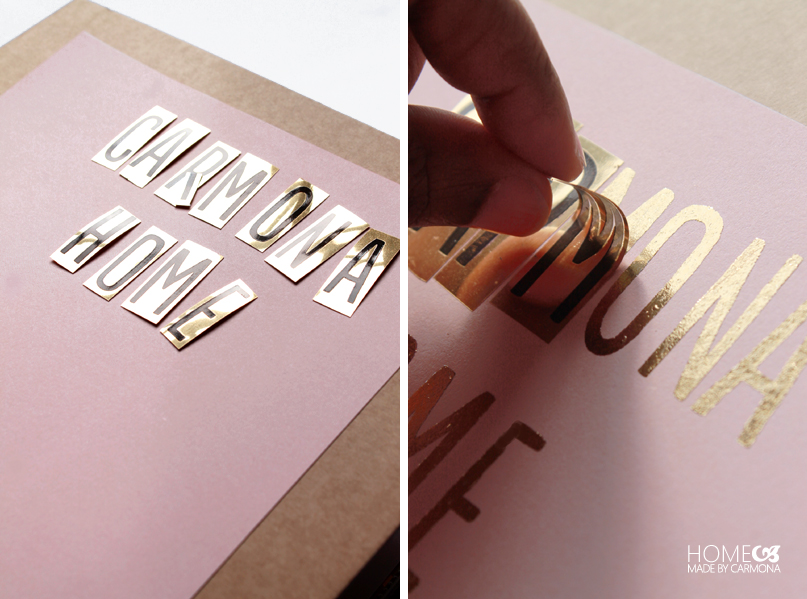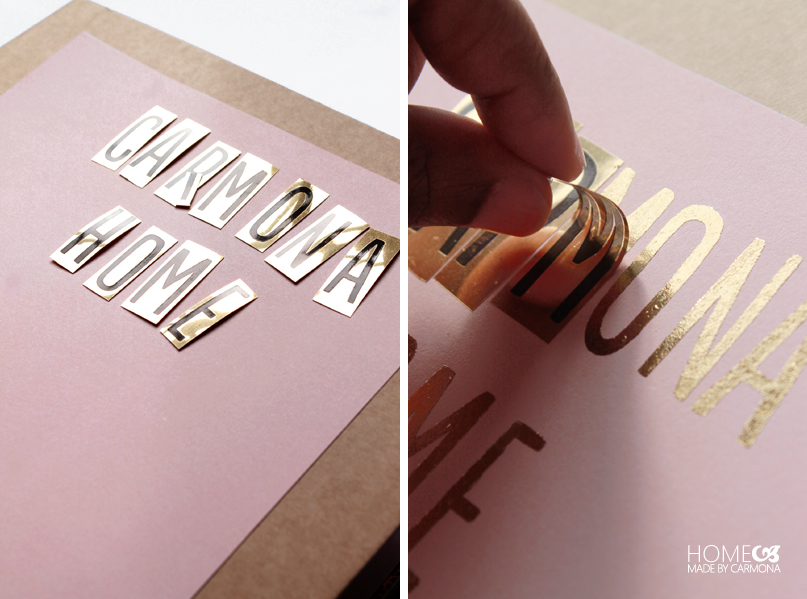 Next I Mod Podged the entire paper down to the front of the binder, then painted on two layers of Mod Podge on top to create a protective barrier. Just make sure you wait 10 minutes between each layer of Mod Podge for it to dry completely or it will create bubbles.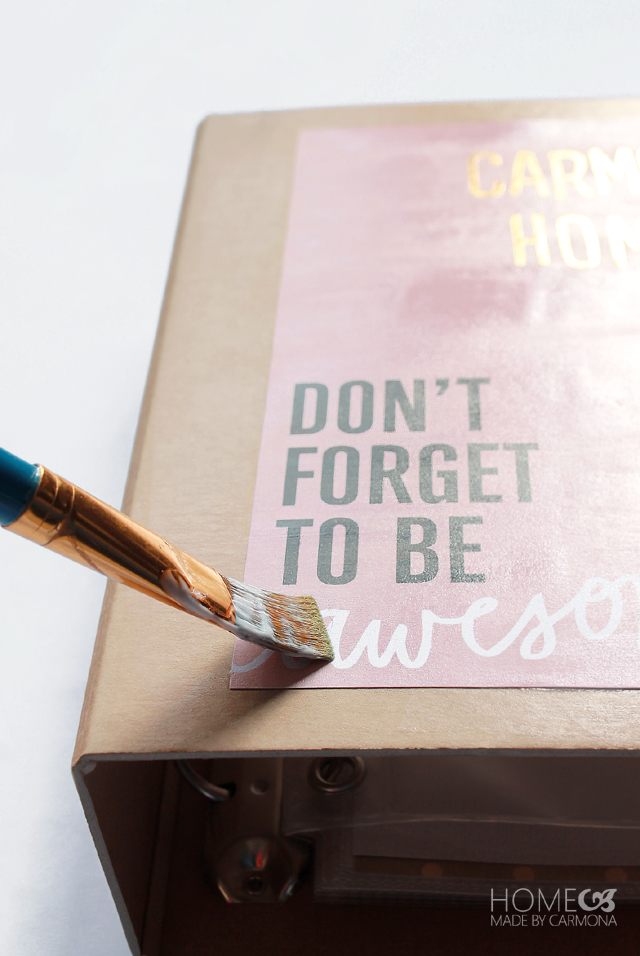 Hey, I've got to protect the front, it reminds me to always be awesome! 😀 Plus I take my binder just about everywhere in this house, so it has to withstand whatever me and my kids throw at it. Wipe-able is a good thing.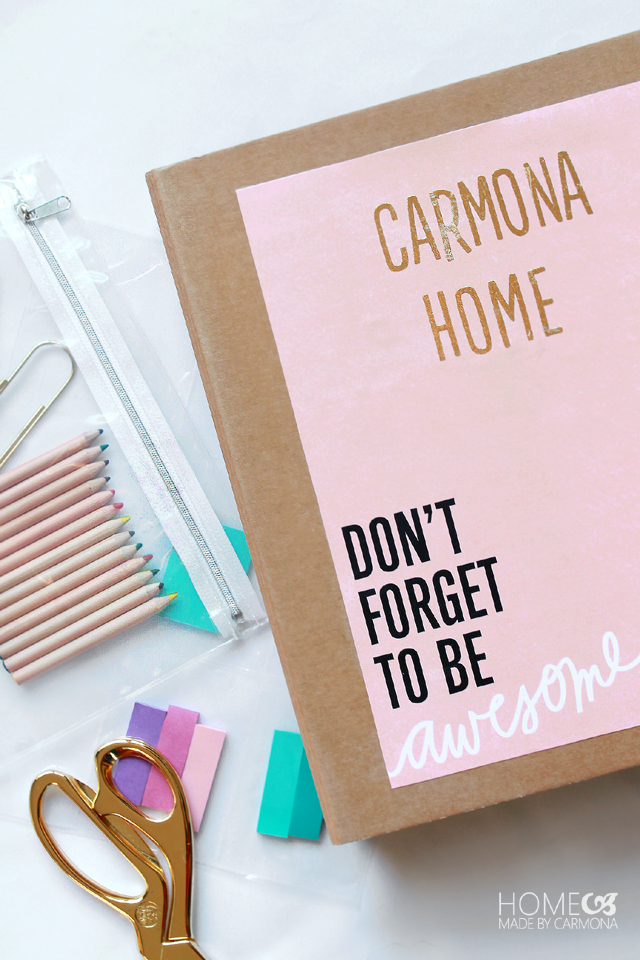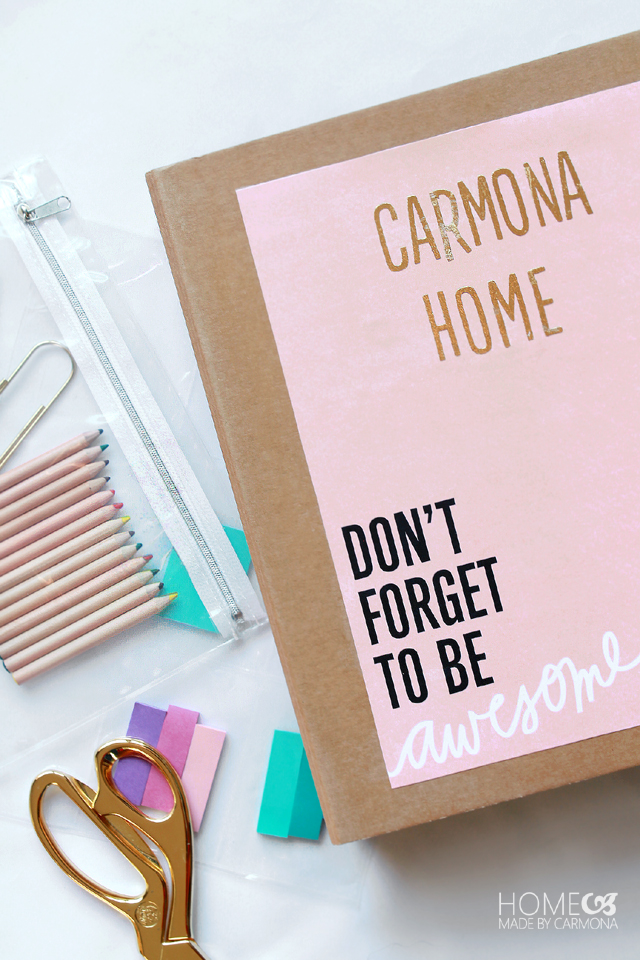 Super cute right? Well if you think this is great, wait until you see the inside! Yes, I wrote an entire post just on making your binder cute, but boy is there much more to come when I actually crack this bad boy open and show you what I use it for. 😀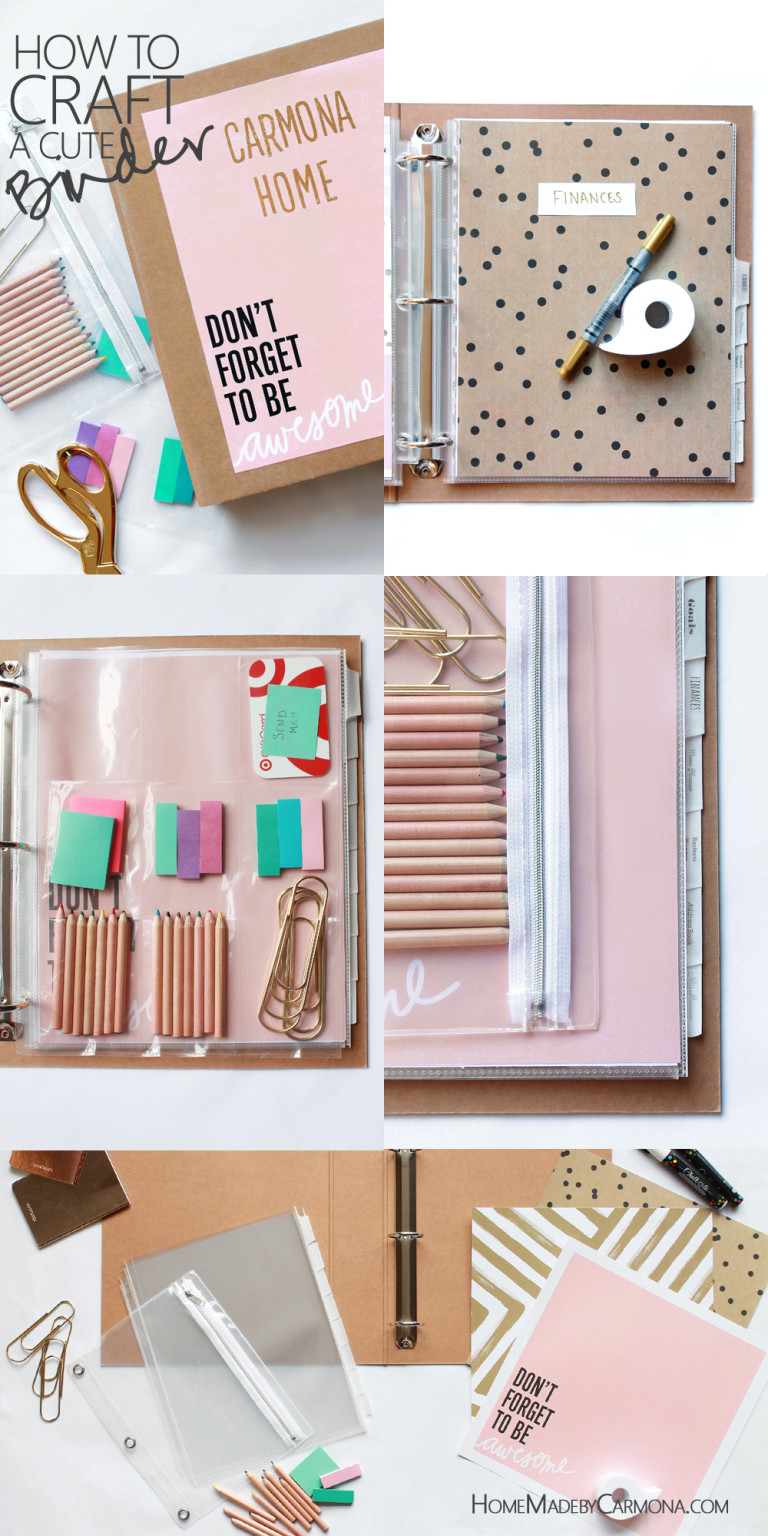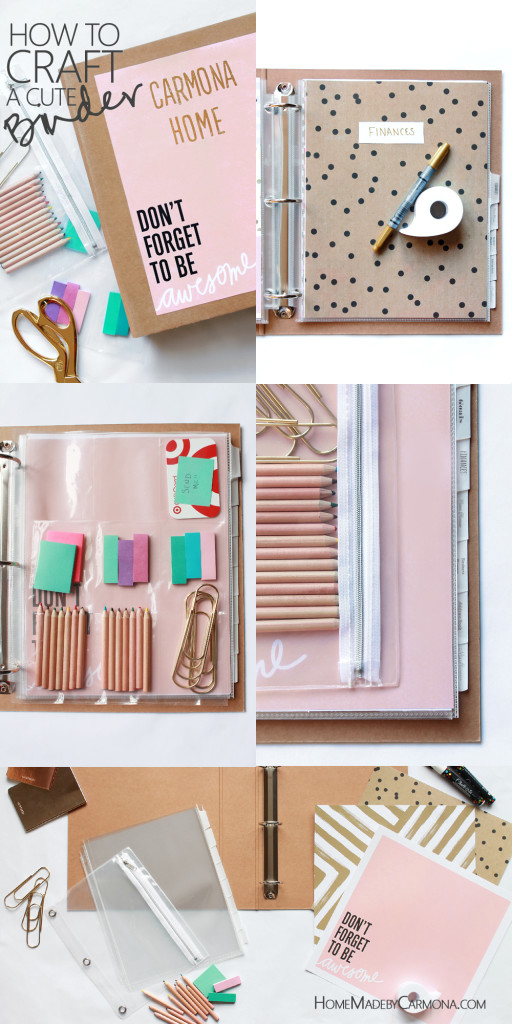 What kind of mind tricks do you use to keep home and life successfully managed?
See what I use my Home Management binder for here! 😉


[go_portfolio id="craft_gallery"]