Get free printables for this incredibly comprehensive menu planner! This smart and unique take on a meal planner includes an idea section so you never have to guess what to make for dinner again…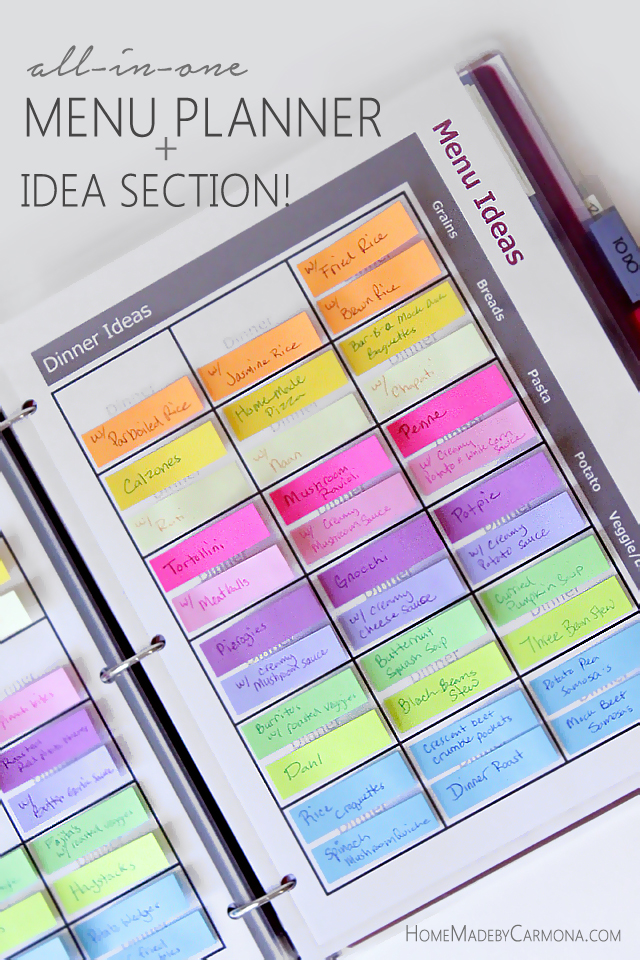 Am I the only one who finds themselves frantically scouring the kitchen just moments before meal time? All while my kids dramatically clutch their tummies and exclaim how hungry they are! Why does it seem the hardest part of making meals is figuring out what to make, and getting the gumption to get started?
I invented this planner out of sheer desperation, to meet the everyday needs of the home cook.
How This Menu Planner Works
The genius is that this planner has two important parts:
The Weekly Planner: which I reference to see what I'm making each day of the week
The Menu Ideas Section: where I choose favorite foods to populate my weekly meal plan and have my entire week (or month) planned in advance!
The Menu Idea Section is organized by food categories (grains/pasta/potato/entrees/etc.), and you can even fine tune by meal times (breakfast/lunch/dinner) if you want to! This just makes it easier to organize your favorite dishes, and put together a well-balanced meal.
Using post-it page markers allows you to easily move that recipe/dish idea from the Menu Idea section to the Weekly Planner. Just pull it off, and stick it on your plan for that week. You could even plan the whole month in advance if you are that organized.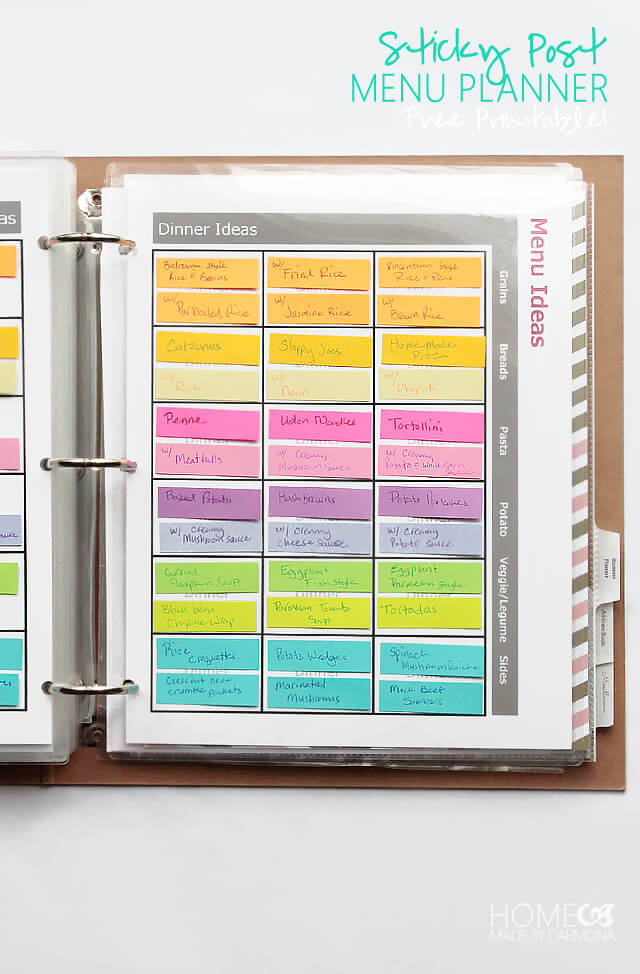 Why does it work so well? Because you don't have to expend mental energy thinking up meals… you'll have a reference of all the meals you make, and even new meals to try!
This is especially amazing for someone tactile like I am, who finds a physical planner easier to keep up with than a digital one. It also allows the whole family easy access to see what is planned without hounding you.
I also employ digital solutions, like a shopping list on my phone, and saved meal inspiration directly on Instagram. So you can use this system and incorporate whatever digital elements work best for you.
You can create an entire binder system that includes recipes and more to make your life SO much easier! But we'll talk more about that below…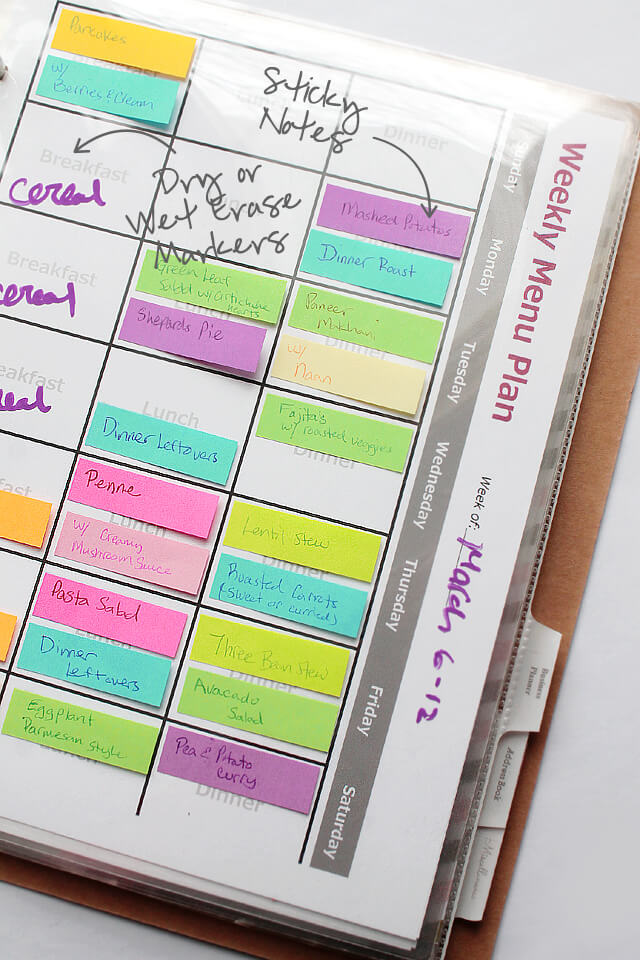 Assembling Your Meal Plan Binder
Start with a sturdy binder, and items from the supply list at the bottom of this article. Then follow these steps:
Step 1. Download Free Printable Meal Planner Template
Click the download button on either the pdf or Word doc version. Note that the editable version may get scrambled based on your version of Microsoft word, and you will need to move things back in place.
Print pages so they are front and back (or prepare to place two pages back to back in the next step)
Step 2. Laminate Each Page (IMPORTANT!!)
You MUST laminate the prints in order for the sticky notes to adhere to the page, and not get stuck to each other when you close the book. PAGE PROTECTORS DO NOT WORK! If you don't have a laminating machine, then use self-sealing laminating pouches. Make sure you place your pages so they are front and back.
After laminating, use a hole punch right through the laminated sheets to add it to your binder.
Step 3. Populate The Menu Ideas Section
First populate the Menu Ideas section. Go crazy! Write down all of your favorite dishes on post-it page markers. These little sticky notes will be easily moved between the Menu Idea section and the Weekly Plan page. Include both recipes that make you look like a superstar, and the trusty dishes you cook weekly.
Step 4. Populate The Weekly Menu Planner
Next glean dishes from your Menu Idea section to populate your Weekly Menu Plan. This is also the time to make your shopping list based on the menu plan. But if you really want to save money, choose your dishes based on the sale fliers for the week!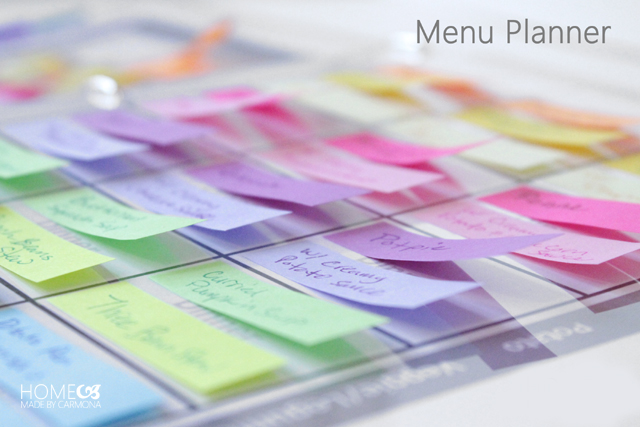 A Few Tips For Best Use
There are a few things to take into account when using this meal plan template:
Use Different Color Post-It Page Markers
Use different color post-it note markers for the different food categories. This makes it easier to put back in place and keep organized. It also indicates how varied your meals are! Are you pulling from the food pyramid for a healthy well-balanced meal? Then likely your sticky tabs will display a variety of colors that week.
Factor In Leftovers
Don't forget to include leftovers into your weekly meal schedule. It's important that you aren't wasteful and make the most of all that hard work! Make a few post-it note markers that just say "leftovers" on them. It can be included at whatever point in the week it makes the most sense, and fits with the meal plan. Or have an impromptu "leftover day" for whichever day in the week that life gets busy.
Include Snacks, Desserts, & Drinks
If you really want to get detailed, you can even include important elements like snacks, dessert items, drinks, and more! There are printable categories for each of these if desired!
Add Meal Ratings
On each post-it page marker, place a star or number rating to show which are your favorite family meals, or lowest in calories, or even how fast food prep is! Do it in a way that works best for you!
Other Helpful Tabs To Add To Your Meal Planning Binder
Your binder should now consist of the Weekly Menu Plan, and the Menu Ideas section.
But if you want to take it to the next level, here are a few extra tabs worth adding to your binder for an entire organized menu system!
Grocery List: If you use a physical grocery shopping list, then keep printable pages here that you can easily rip out and go shopping with.
Recipes Tab: At least keep your most frequented recipes easily accessible right there in your binder.
Meal Prep Solutions: Yes, you can even plan your meal prep ahead of time! Batch prep ingredients you know will be used in more than one meal that week. Anything that requires long preparation times, like slow cooker meals, can be intentionally included into your plan more than once that week, and batched prepared.
Batch Ingredients / Freezer Meals: Keep a running list of ingredients you have cut and refrigerated or frozen with the date they were cut. The same goes for frozen meals… it helps to keep an organized log because it is impossible to see the contents of the entire fridge or freezer at once.
Pantry Tracking Tally Sheet: Keep track of what is in your own pantry, and know when you need to add to your shopping list!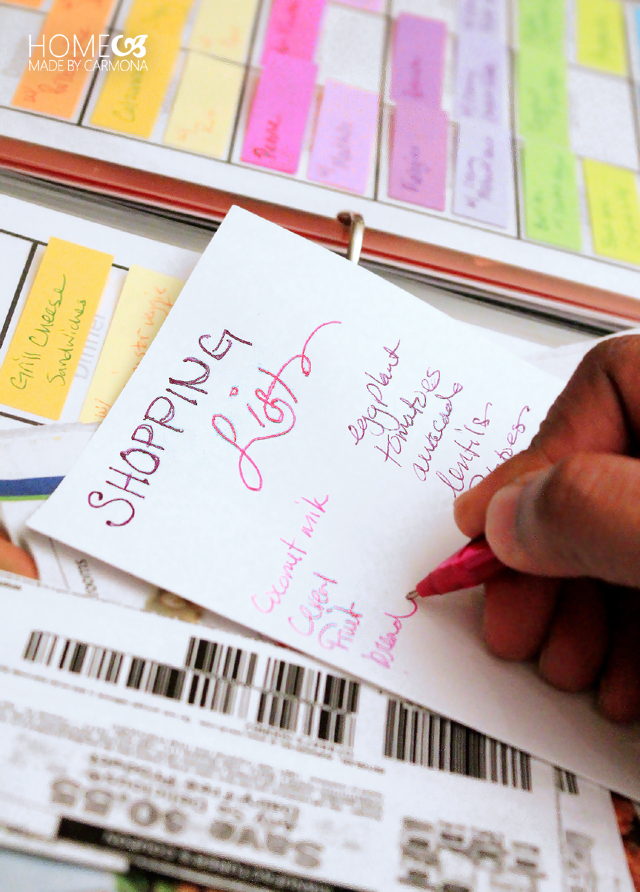 The Perks of Planning Meals
You can use this meal organization system however it works best for YOU. So if you geek out about fine tuned organization, you'll enjoy using the built-in organizational details. If you want to keep it sweet and simple, you can easily do so with this system as well!
However you use it, don't forget that there are a ton of perks to menu planning.
Think about your end goals, and put it to use in a way that best accomplishes those goals. Whether that is to save money, reduce food waste, create healthier meals, or just to make life easier.
Then get your entire family involved! Think of this as a family meal planner, so they can help prep, cook, or simply stop hounding you about what is for dinner.
What You Need To Get Started: The Supply List
Here are items you may need to assemble your Menu Planning Binder:


Like this? You'll love my Home Management Binder! Check out the full post here.