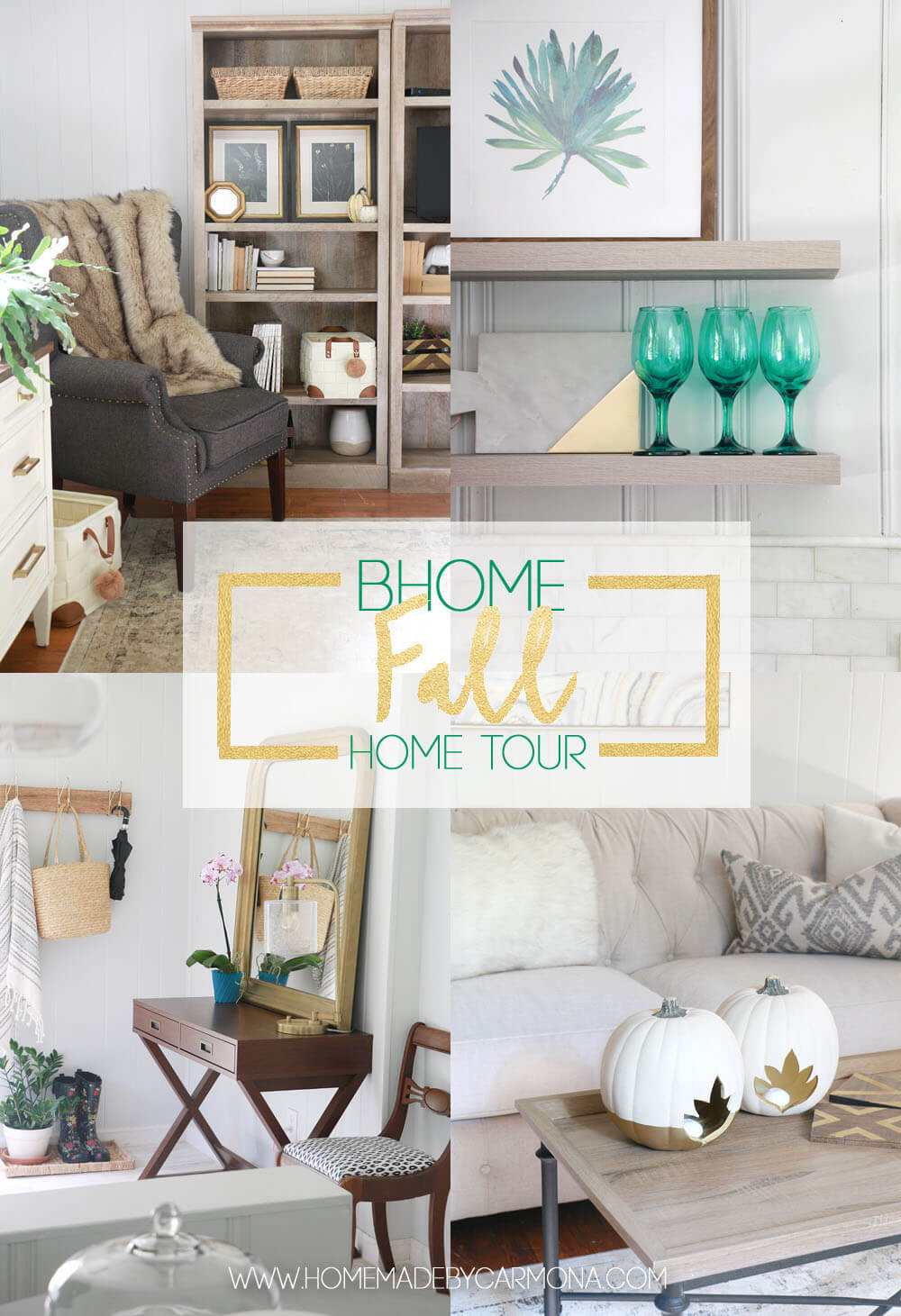 If you are coming from Houspitality Designs on this bHome fall tour, then welcome!!
If you aren't, you are still welcome, and you have just joined the most awesome Fall tour ever…so be prepared to hop from blog to blog!
Okay, guys I'm a little weird. This may be a strange fall home tour for you. Lol!
I don't do your typical holiday or seasonal decorating. I tend to prefer a more subtle approach to seasonal decorating. Haha, granted, that may be because I'm poh (not poor, poh). When you are saving all your pennies for those three kids who will probably want to go to college one day, you just don't find much money in the budget to buy new decorations for every season and holiday.
There are 4 things I think of as the essence of Fall decorating:
Furs & Fuzzy Throws: after all it is the season to snuggle and be warm
Deep Moody Colors: especially deep greens and blues
More Greenery: maybe because everything is turning yellow, I crave more green plants!
Pumpkins: obviously… 😀
As I walk you through part of my guest house and some of the subtle hints of fall decorating, I hope you enjoy! And if you leave scratching your head, that's okay, it's how my husband always feels since I tend to march to the beat of my own special drum. Haha!
Come on in! The first space you'll be welcomed into is the entryway. It is very light and bright and open. And I don't care what anyone says, succulents can totally make for a Fall wreath. Hey, that's when the succulents bloom; in the fall… just say'in.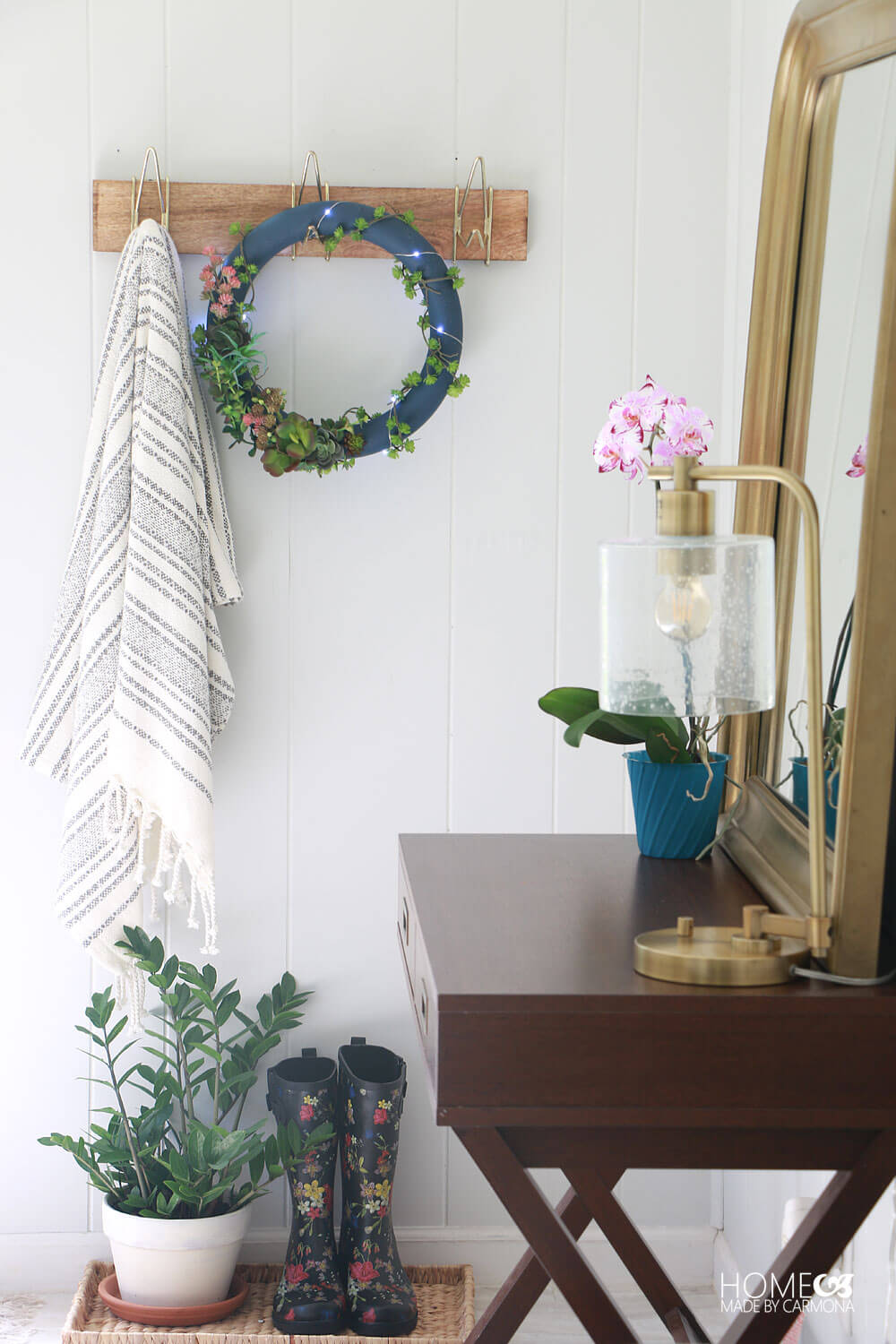 So I'm hanging up my succulent wreath, and bringing in more flora and foliage into my entry because everything is turning yellow outside.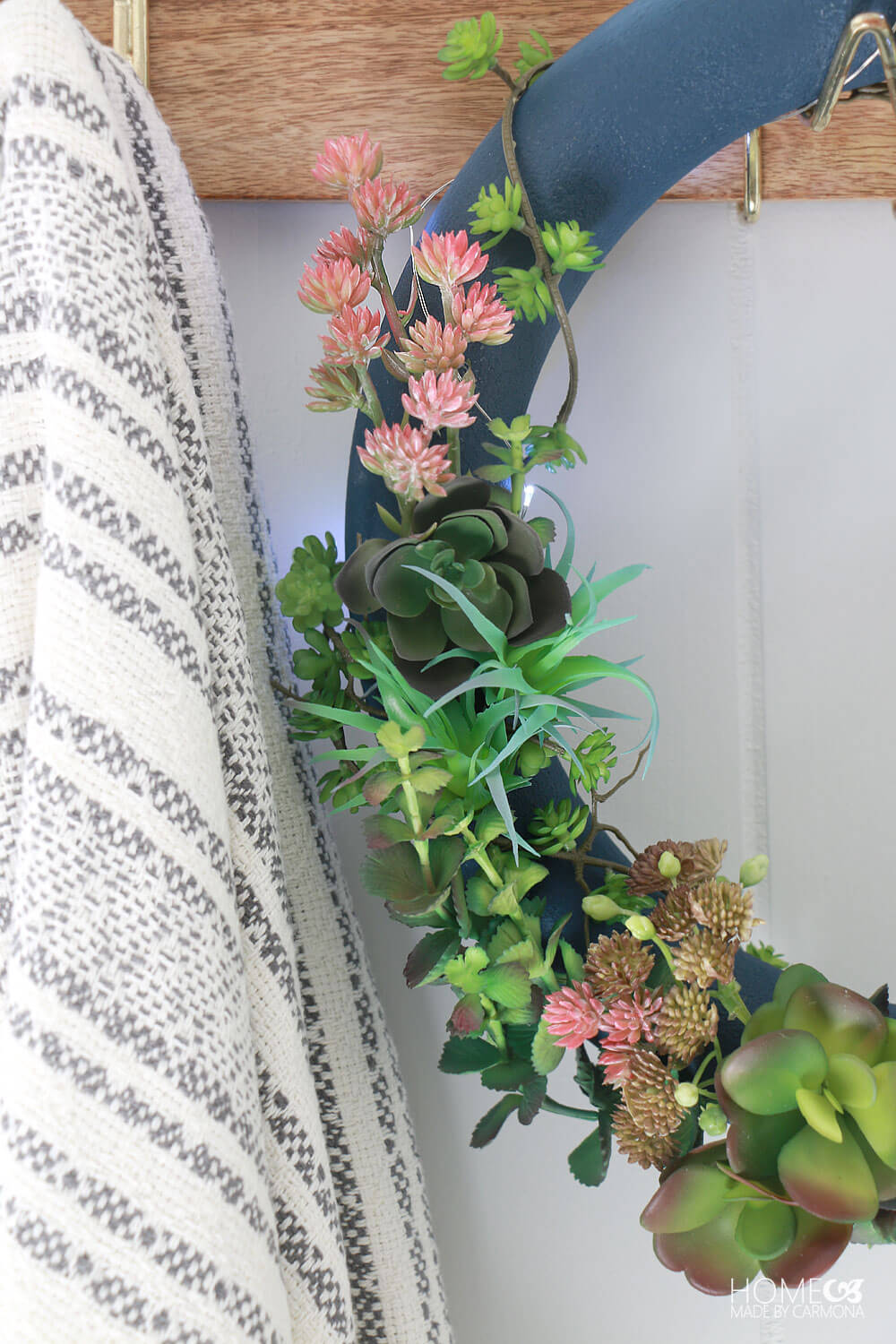 Now that the rain has picked up, and the weather has cooled, out come my gardening boots…which will stay out until next summer starts. I like to keep my feet dry, and inevitably any morning that I go out without these cute but effective boots means wet feet.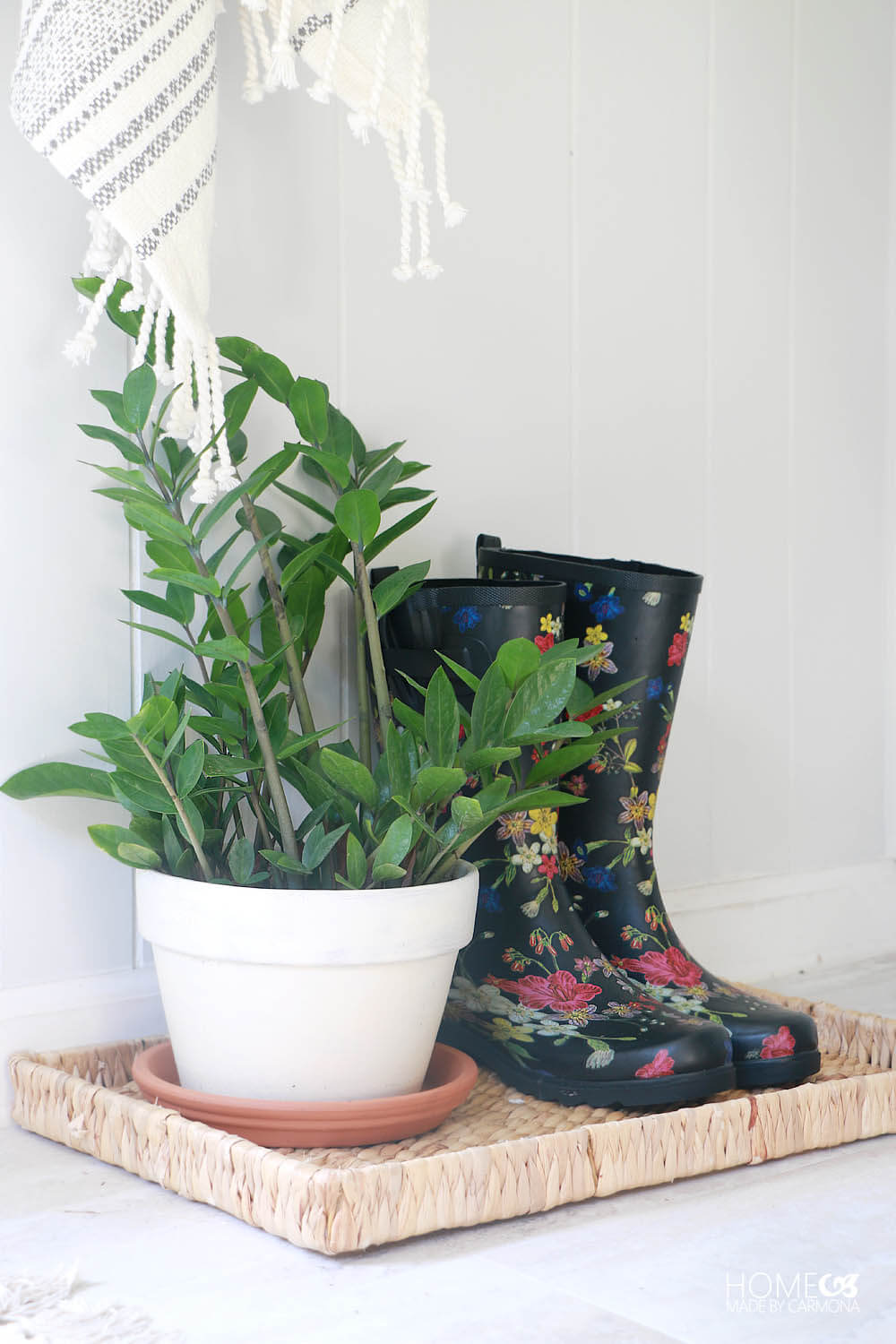 Next you'll take a left turn into the cottage living room, which I think should always be super cozy for guests. However I'm working overtime in the fall to make it even more cozy and warm.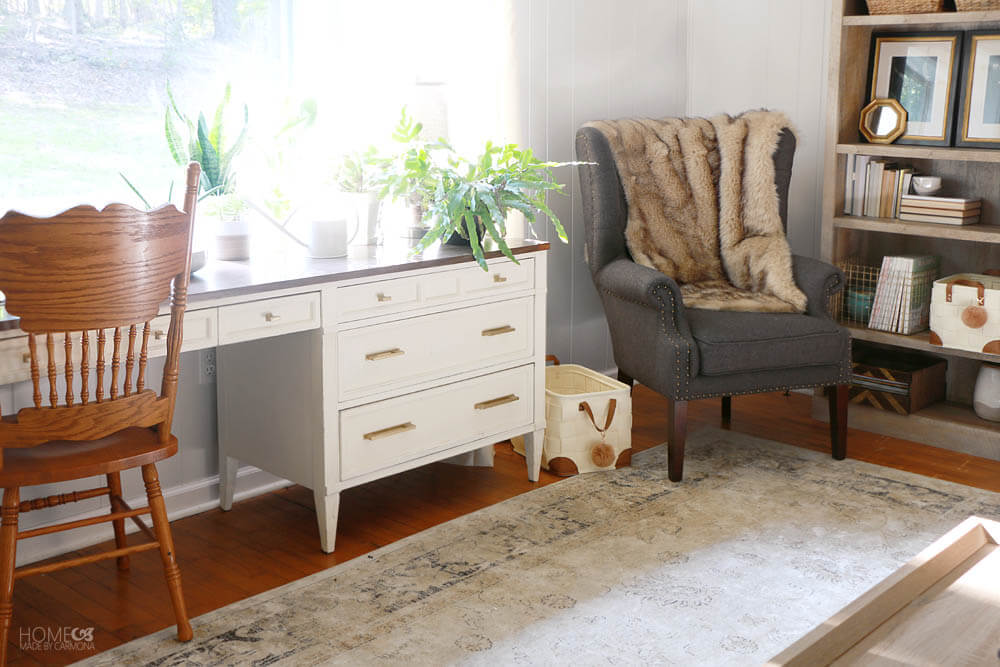 Okay, so I have to be careful not to go overboard on the faux furs, because I looooove these bad boys!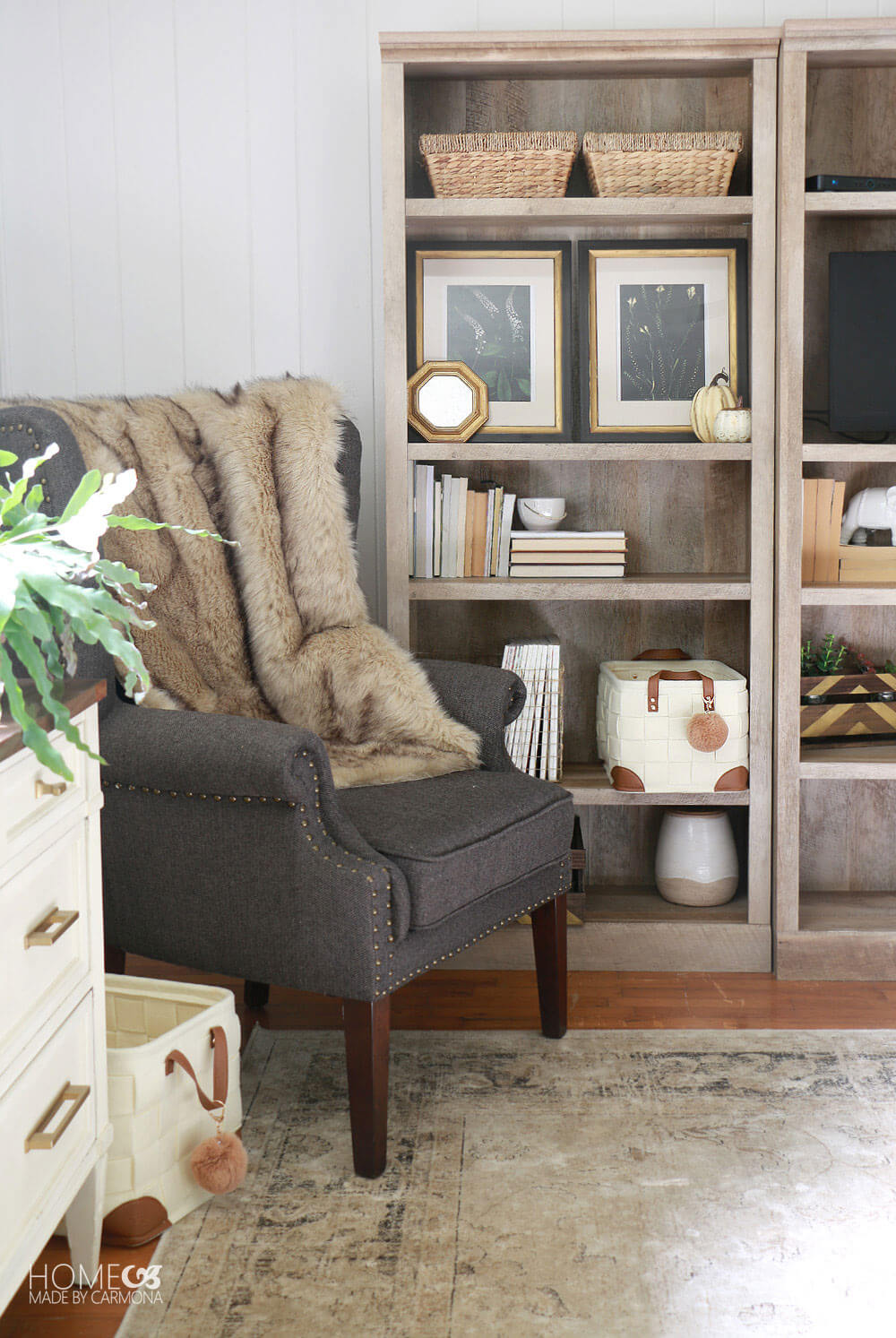 What's not to love? Just as there is a chill in the air it is time to bring out the faux fur blankets, pillows, and rugs. Cooler weather demands you fill your house will all kinds of cozy. From felt baskets, to warm throws, I'm bringing in fuzzy textures all over the place.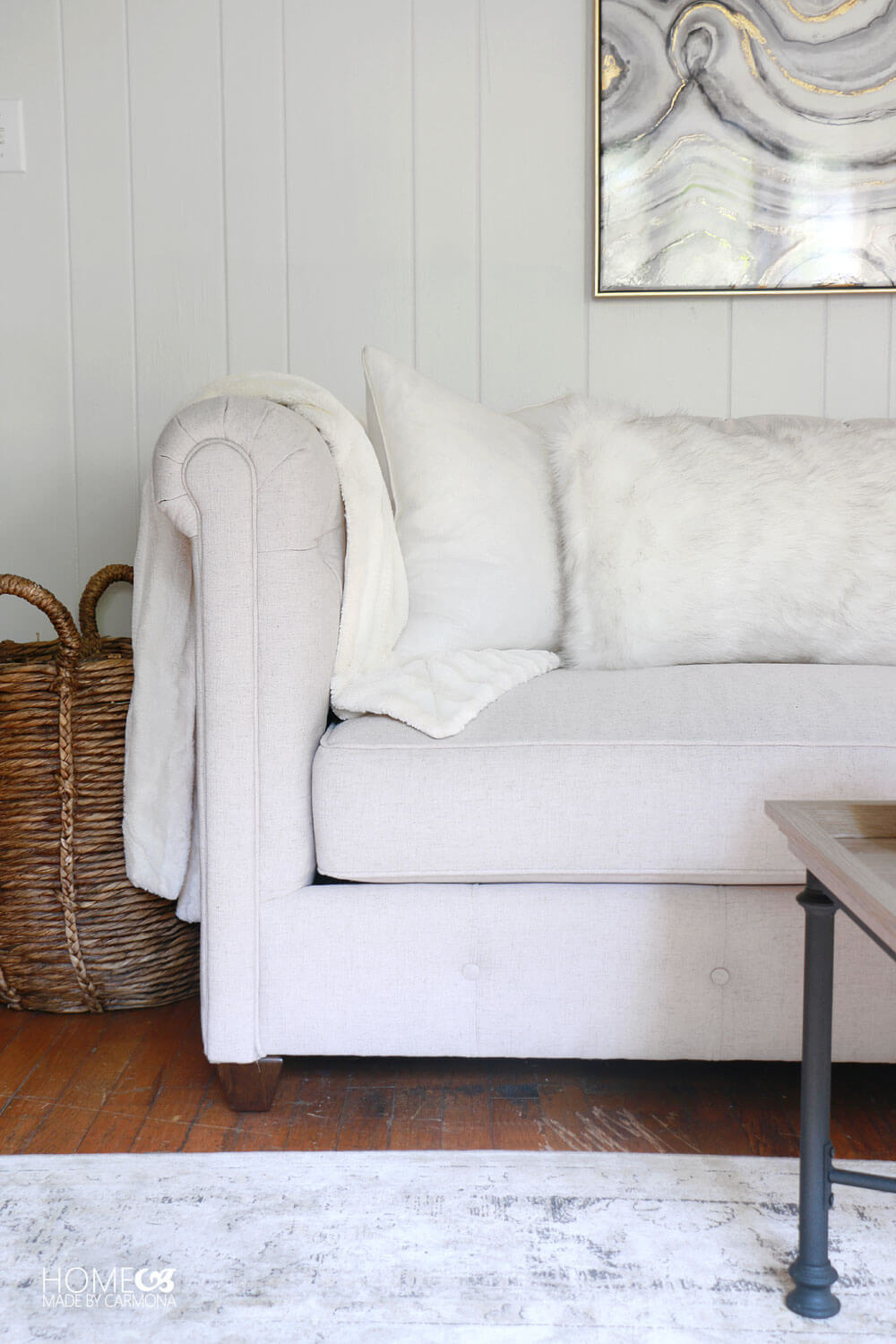 Then there are the pumpkins sprinkled throughout the living room. Because, well…fall means pumpkin spice everything, including decor.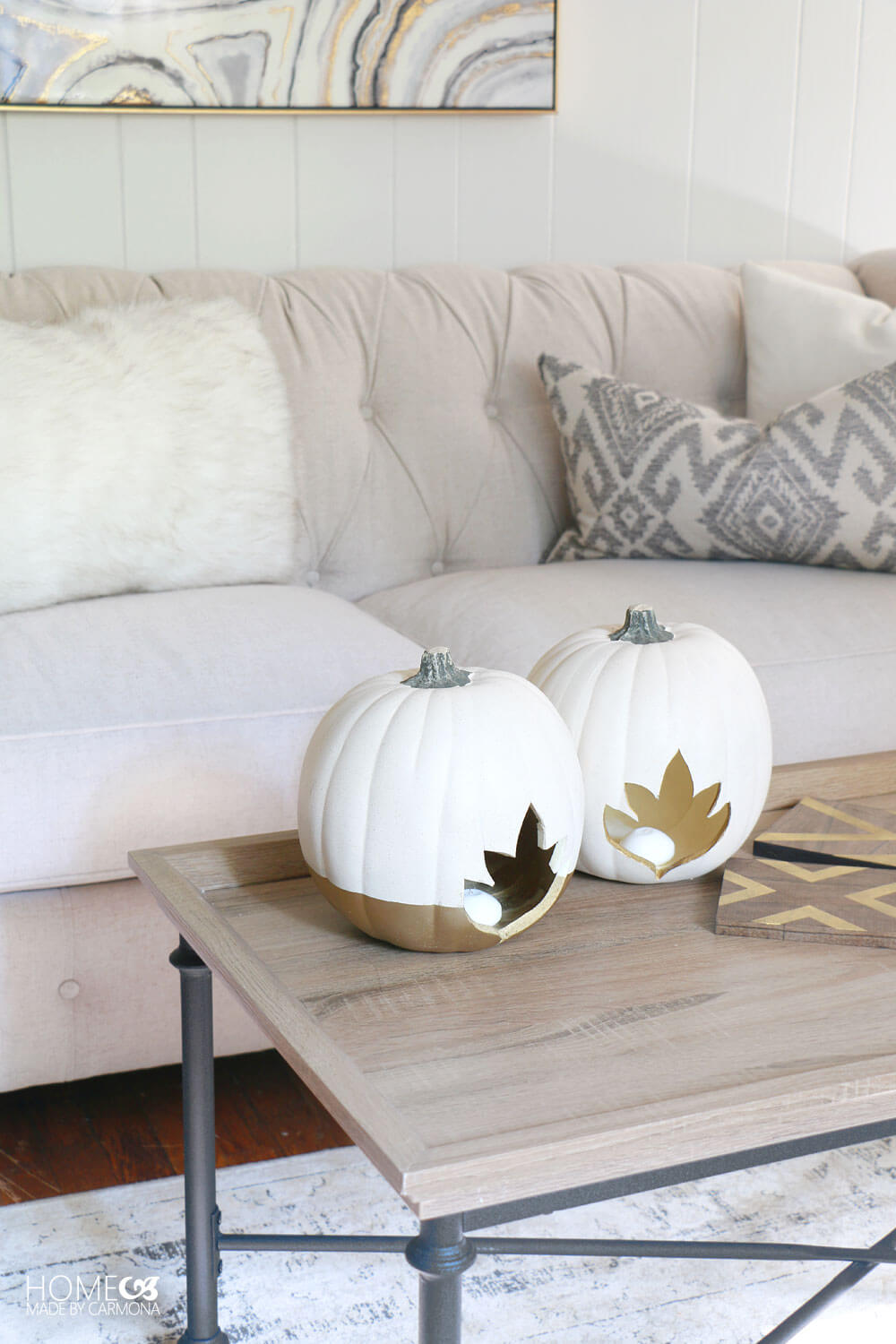 See the adorable little pumpkins all over?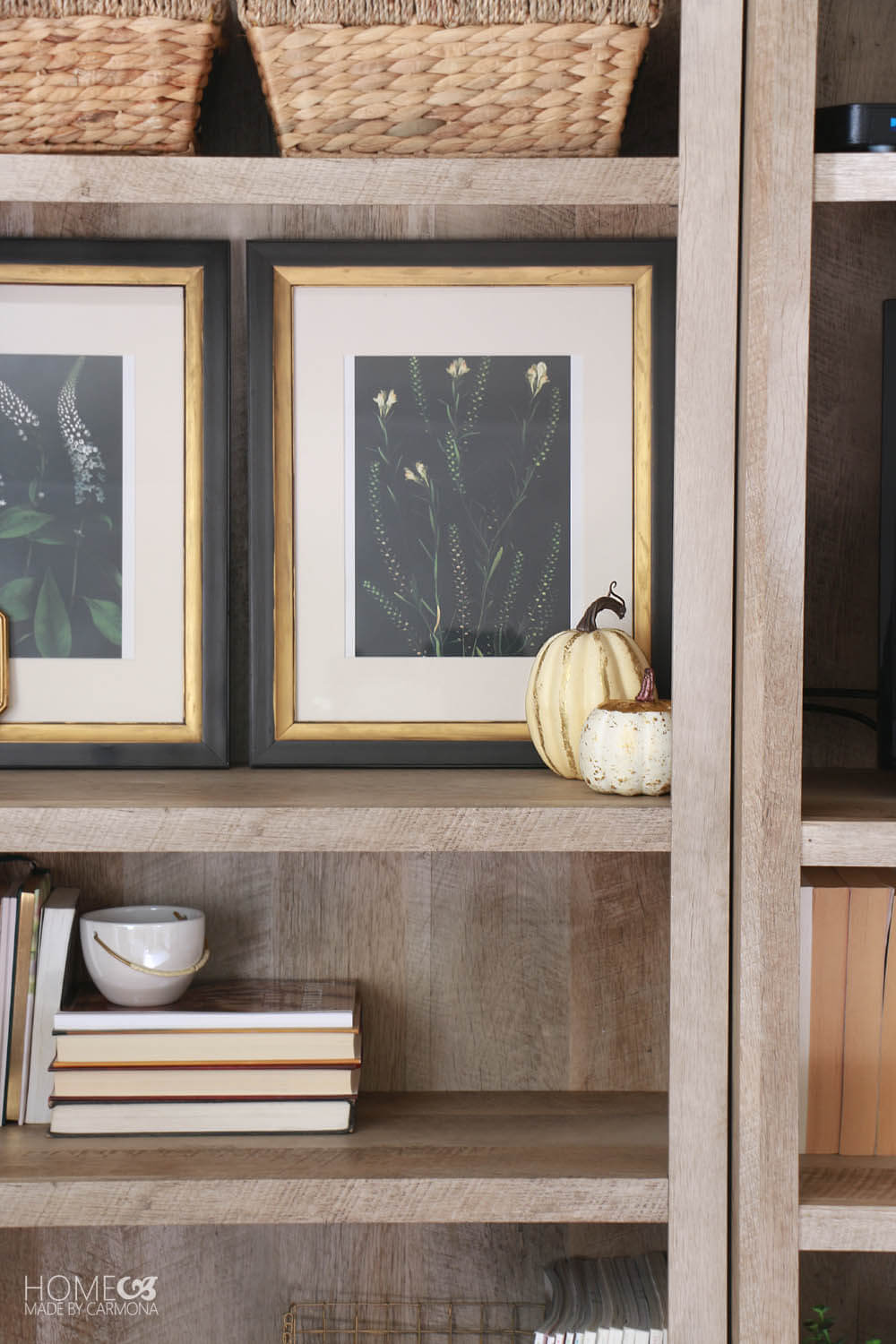 I'm just now realizing that pumpkins are probably the only seasonal item I sport that you expect to see in a fall home tour.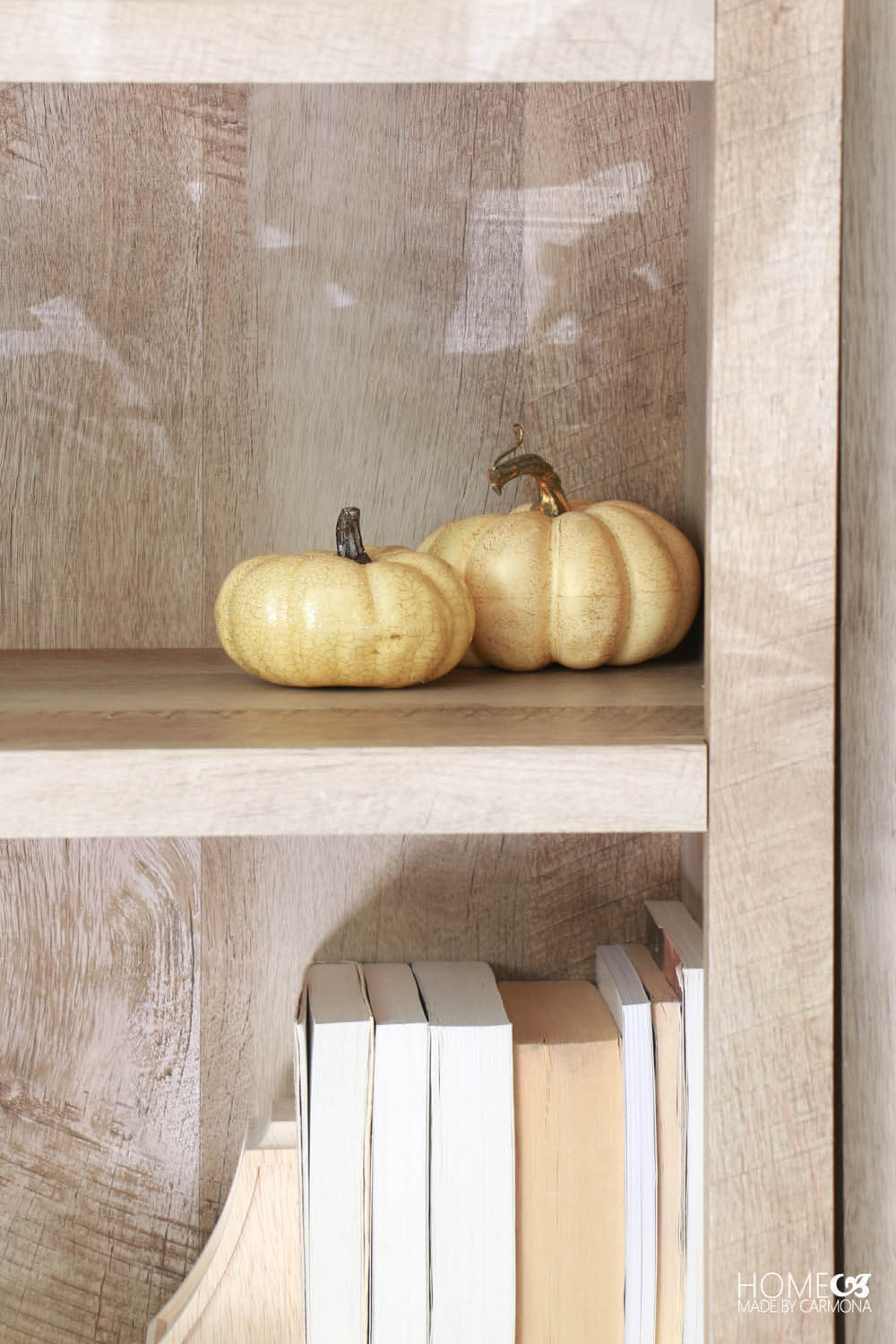 If you peek down the hall and into the double bedroom, you'll notice I've added some deep green throw pillows to the room. You may think that was just a normal decorating decision, but I assure you, it was totally brought on by the nip in the air. My girls even took note of it. I think I purchased maybe 2 or 3 bag fulls of emerald green or deep blue items as soon as it started cooling.
It's like a cold that is catching. What can I say, I sneeze emerald green.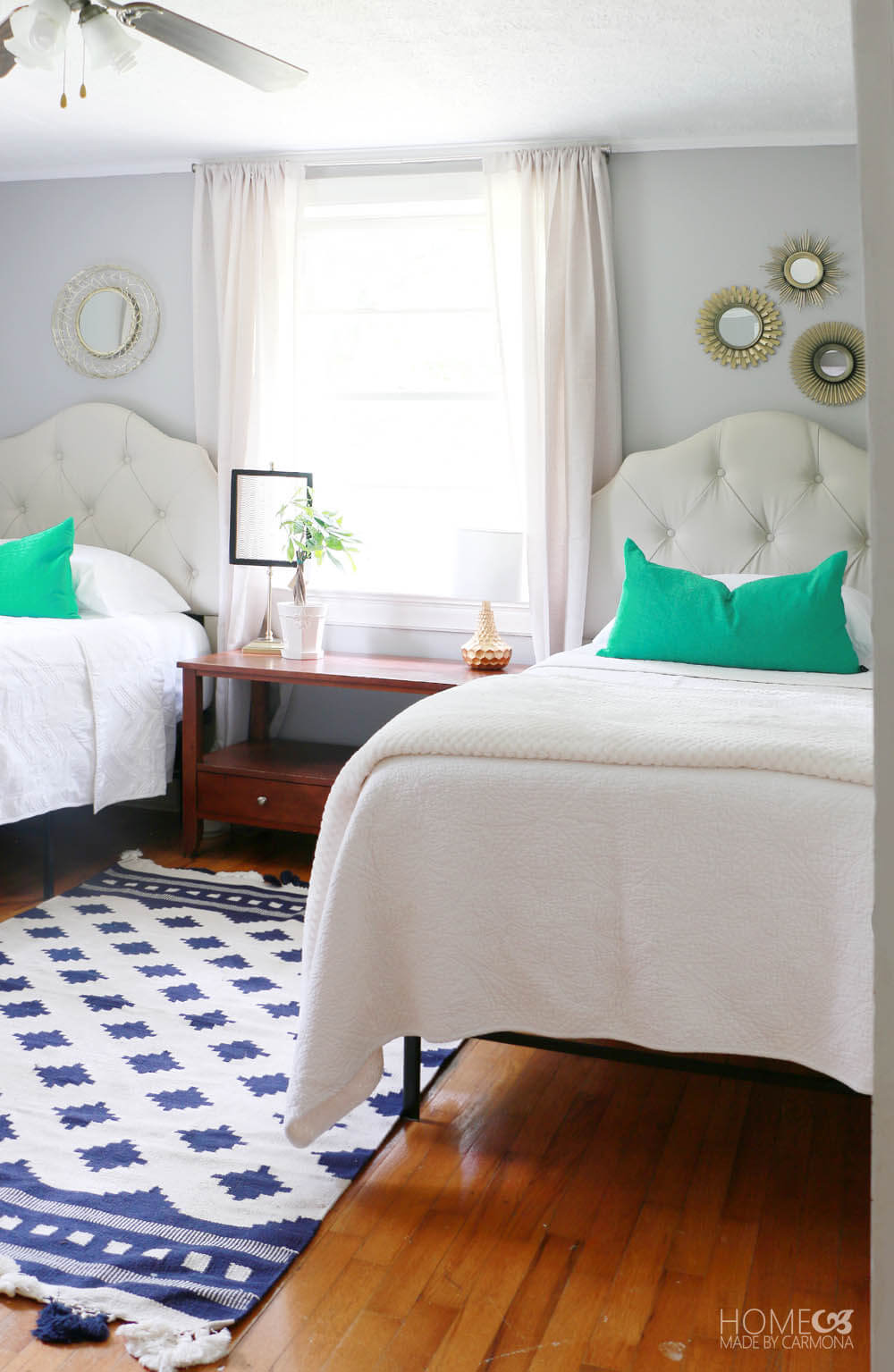 It's weird right? I just love the moody direction decor tends to go once the fall season rolls around. Spring is all light and airy, with lots of florals, but my heart is with the Autumn trends.
Anyway, speaking of deeper green and blue hues, the cottage kitchen is filled with aqua green (which I love), but I was in that deep green dramatic hue frame of mind a few weeks ago and these lovely glasses from the Dollar Store made it into those bags of 'moody decor'.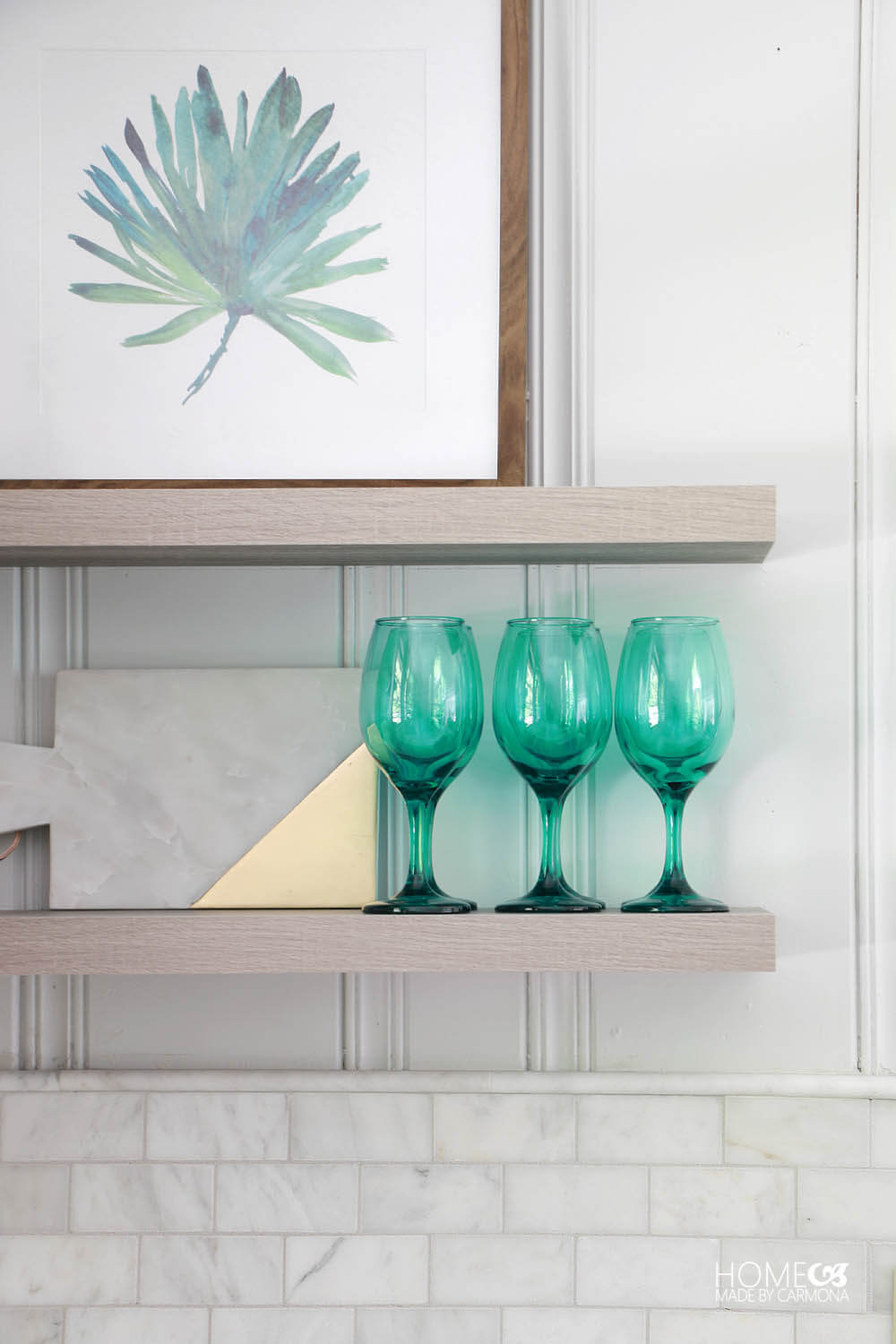 Oh, and don't forget the furs and succulents. Yep, even in the kitchen. Because, sure why not.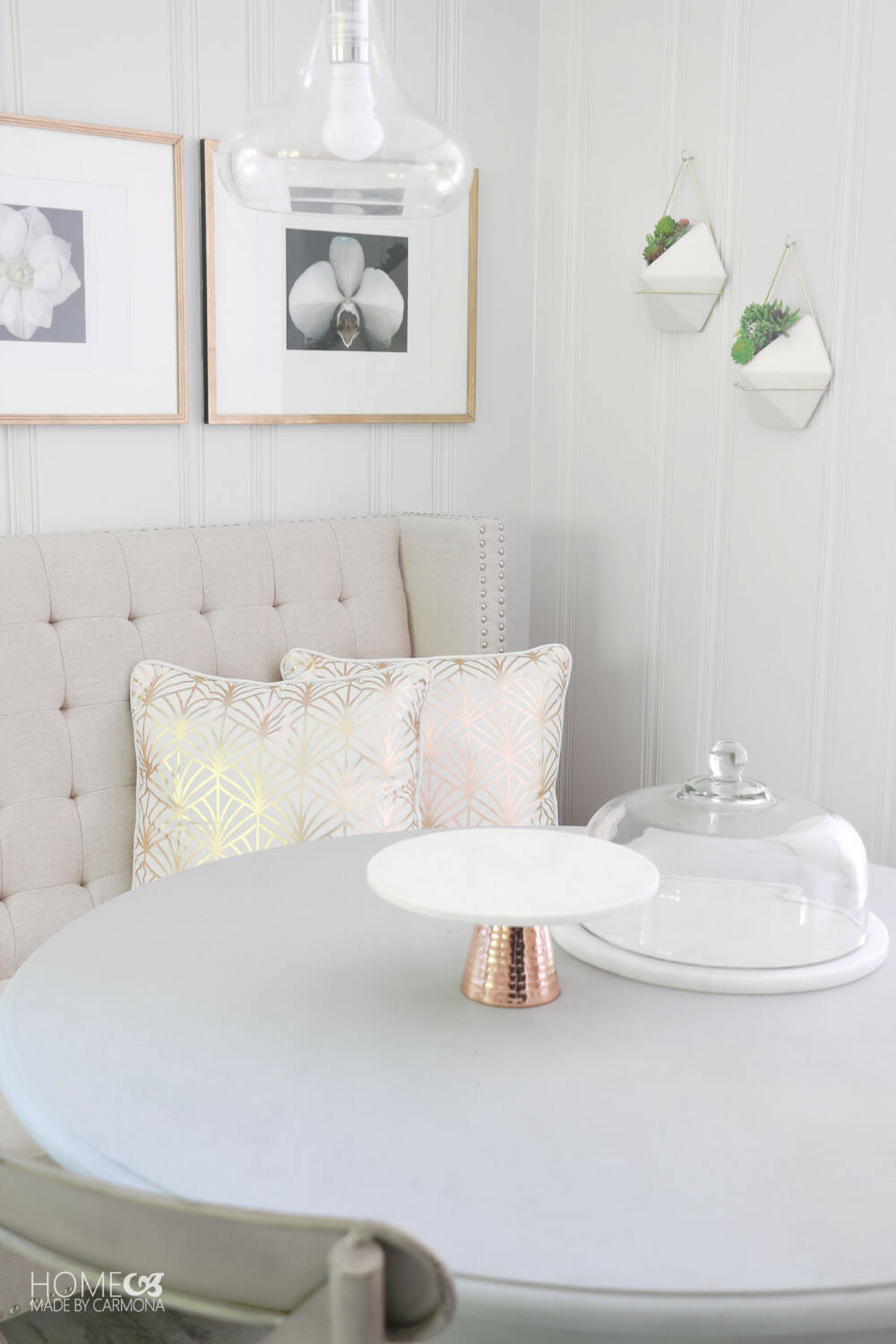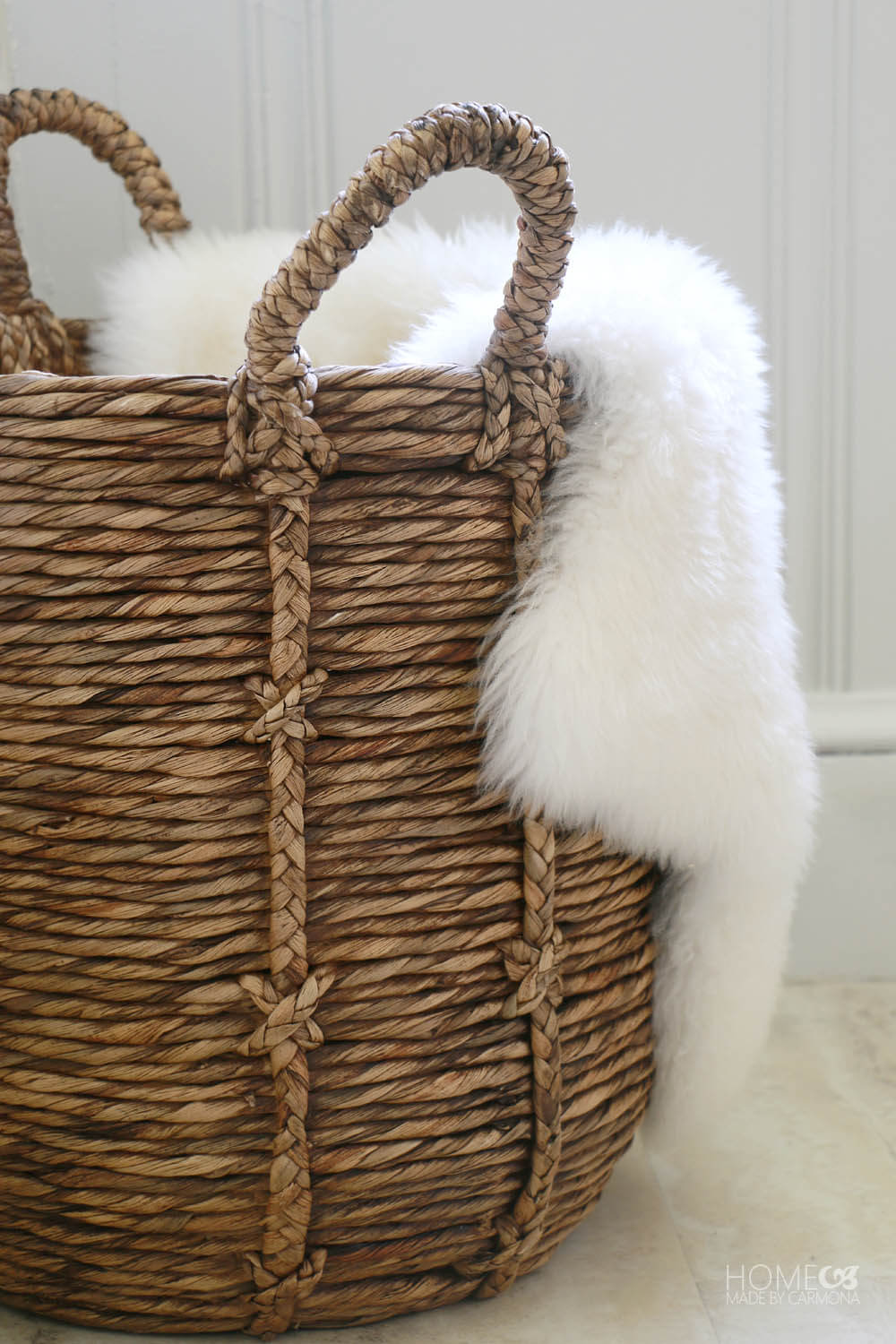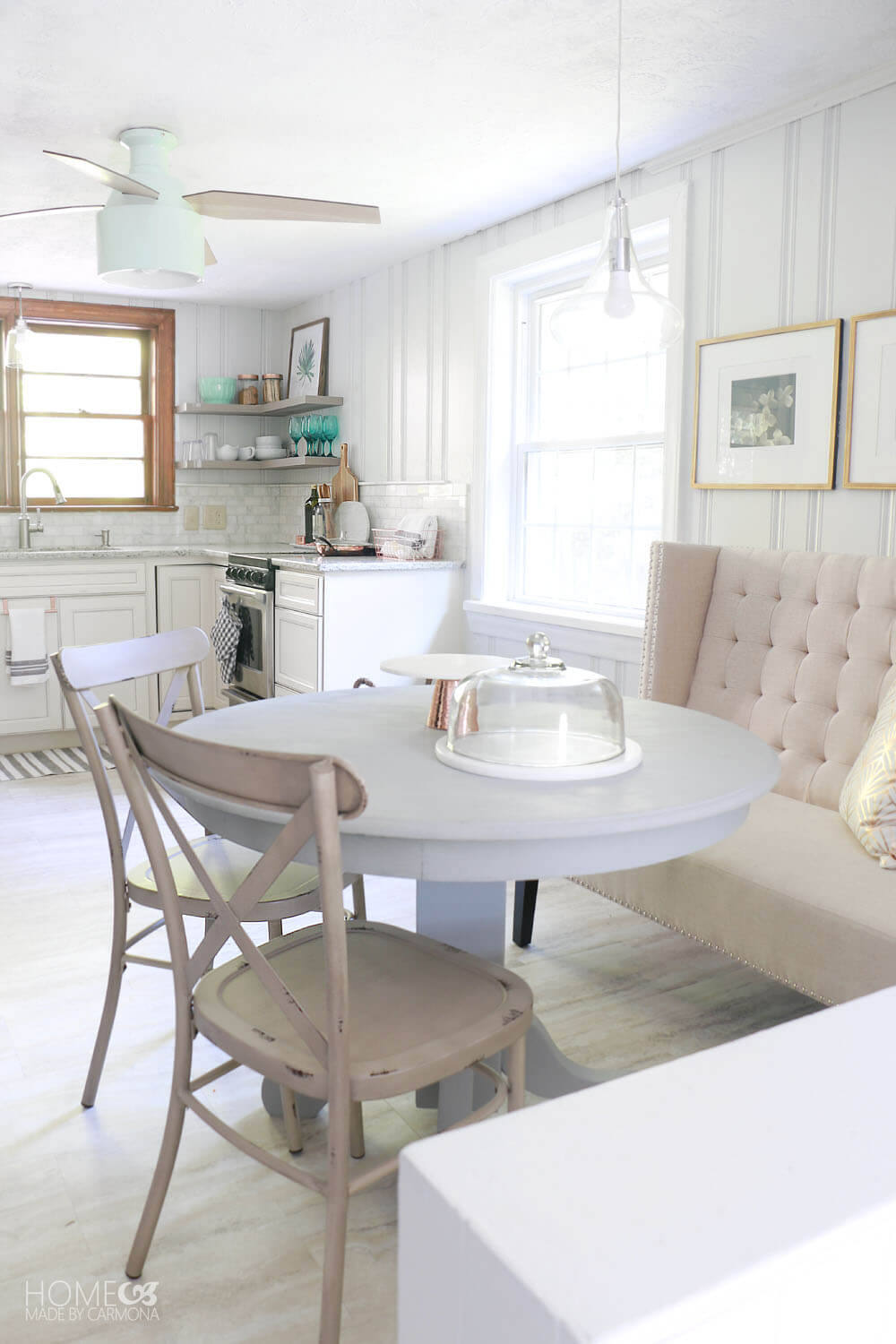 Is it strange that I have a fall related piece of decor in my kitchen? Because I tried it everywhere else in the house, and this is just where I loved it most.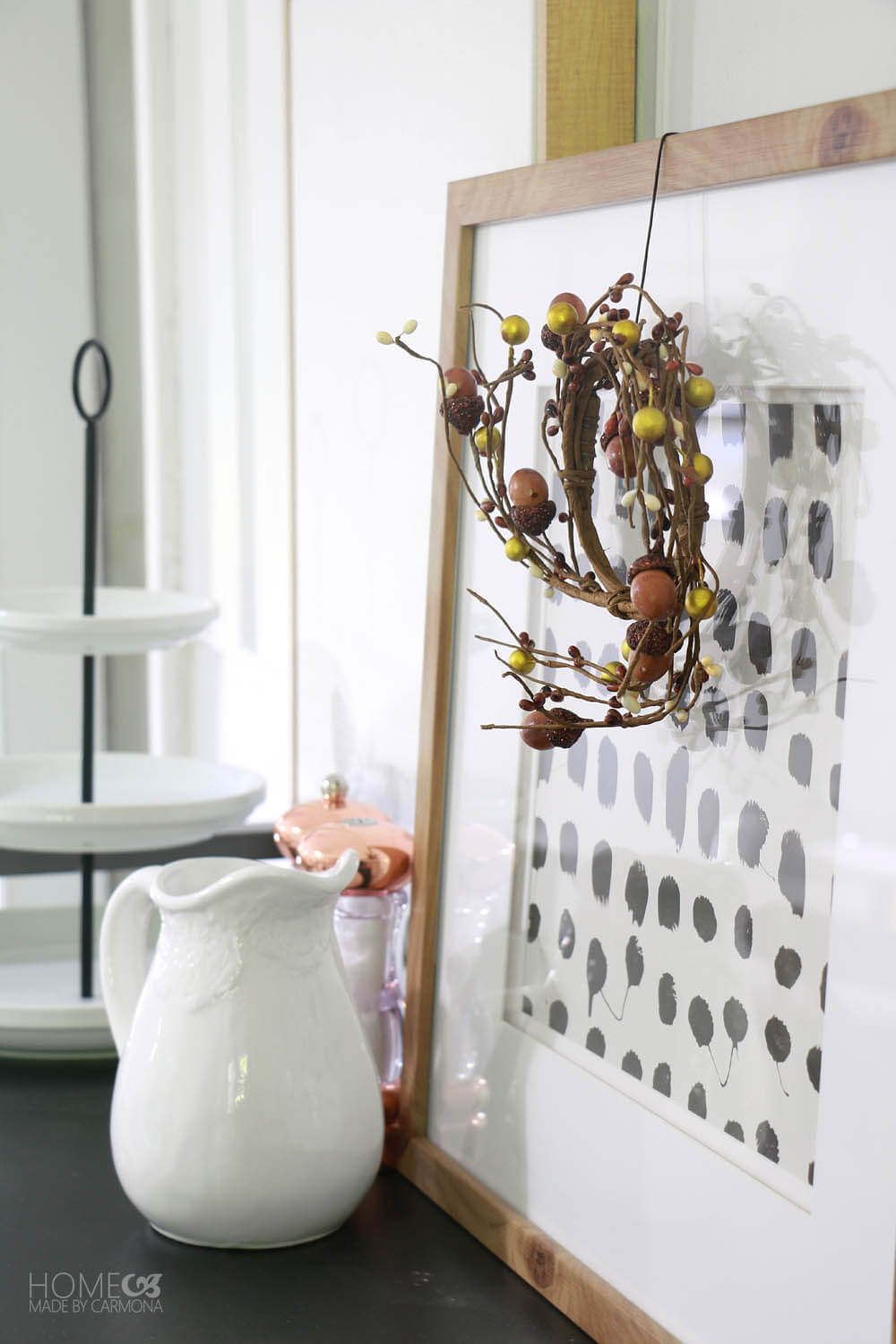 I love the view from the kitchen/eat-in nook out to the entryway. Which takes us back to the beginning of our tour and it's end. Hope you enjoyed it!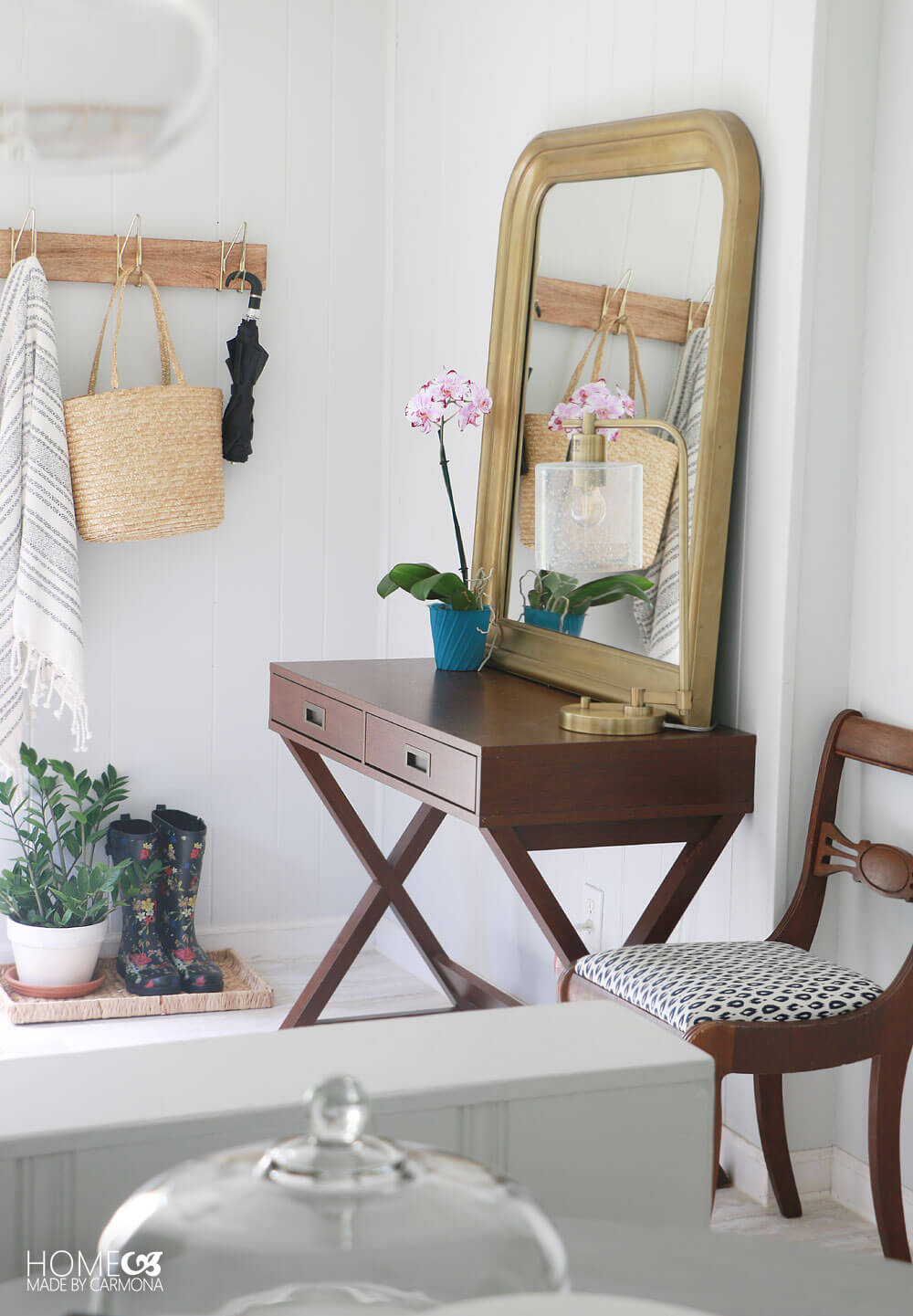 If you love modern farmhouse, you are going to adore the next stop on the bHome fall tour, Teaselwood Design. It is full of eye candy and incredible design inspiration, so poke around the website! This time they are sharing the delicious tastes of fall. Plus don't forget to visit all the bloggers on today's tour and the rest of the week!
ENJOY TOURS FROM THE FULL WEEK
Southern Hospitality|Starfish Cottage|Home with Cupcakes and Crinoline|
Celebrating Everyday Life|Savvy Southern Style
My Soulful Home | Love of Home | She Holds Dearly | Unskinny Boppy
Home Made by Carmona|Teaselwood Design|Little Farmstead|Our Southern Home|Housepitality Designs