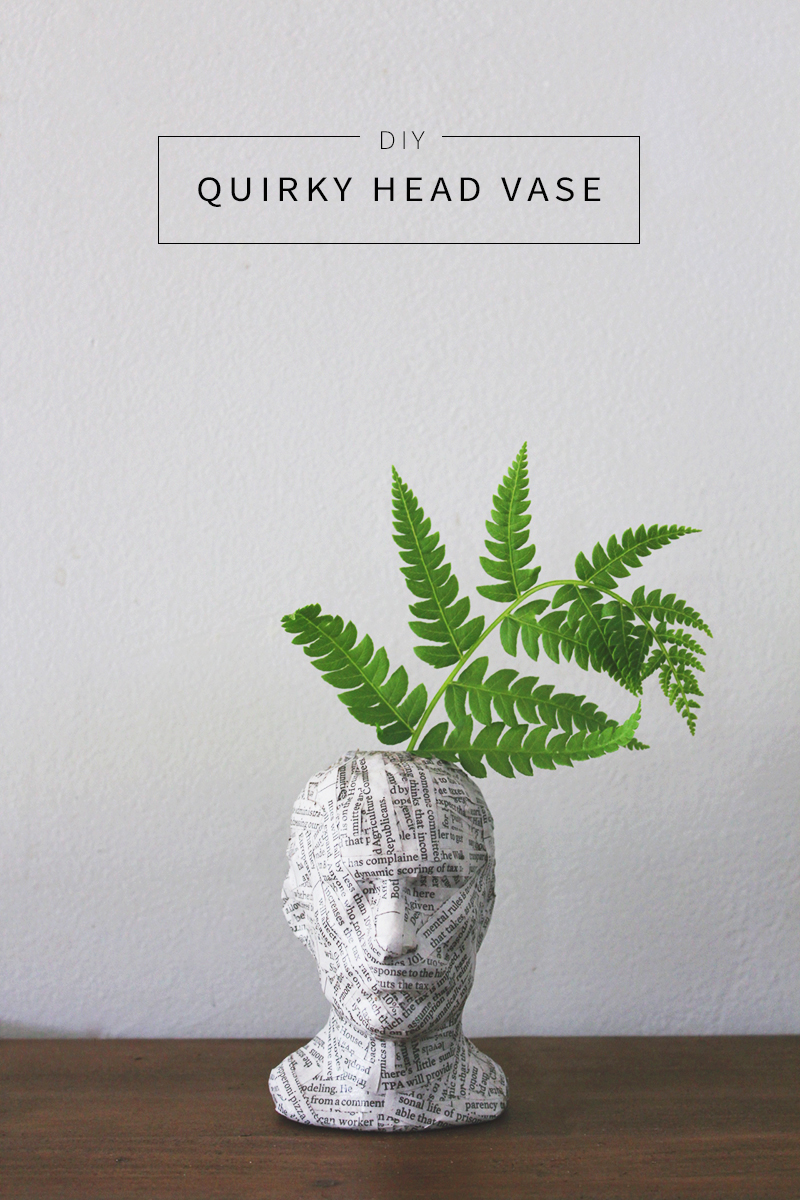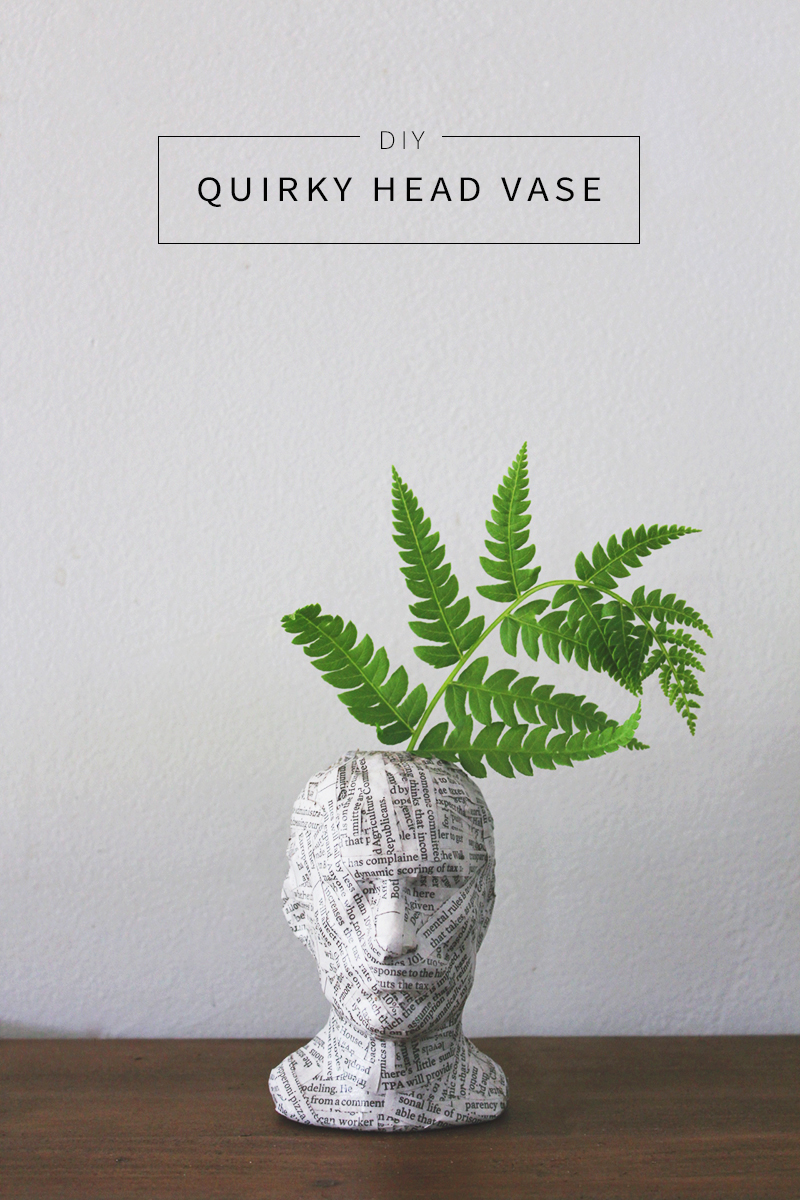 [left]
Hello! It's Anna again from Annabode, here to share with you another quick & easy DIY project (because I'm a lazy crafter, and those are the best kind!). Last time I showed you how to make a DIY leather door wedge, but today we're breaking out the mod podge and making this funky little DIY head vase: [/left]
[right]
[/right]
I posted a sneak peak on Instagram the other day, and realized I must be on a bud vase kick! (A few weeks ago I posted this minimalist bud vase). But who doesn't love a little nature in the home? Bud vases are especially useful because a single stem or clipping can make a statement by itself, and you can pull almost anything from your backyard — like the fern I found above. I don't know about you, but I definitely don't have the extra moolah to be spending on flowers — so bud vases it is! This one in particular is especially simple and inexpensive to make.
Here's what you'll need:
A small bust, preferably already a vase
Mod podge
Newspaper
Paintbrush
Scissors
My bust is ceramic, but I'm guessing if you found a plastic one (or wood) you could drill an opening. Check your local thrift stores, eBay, and Etsy — I found mine at Goodwill for $3. Use search terms like "head vase," "head planter," etc. And if you still can't find one, try Brooklyn Global.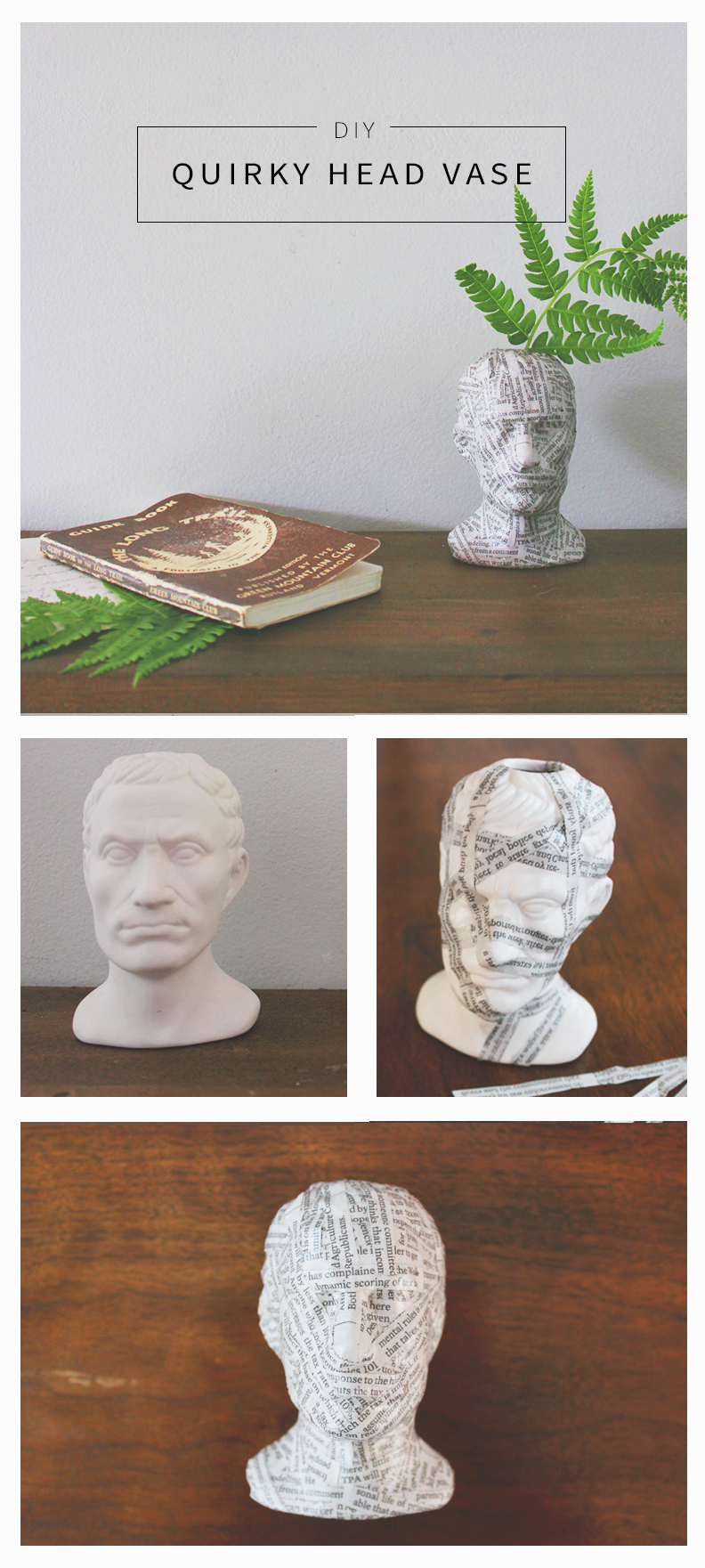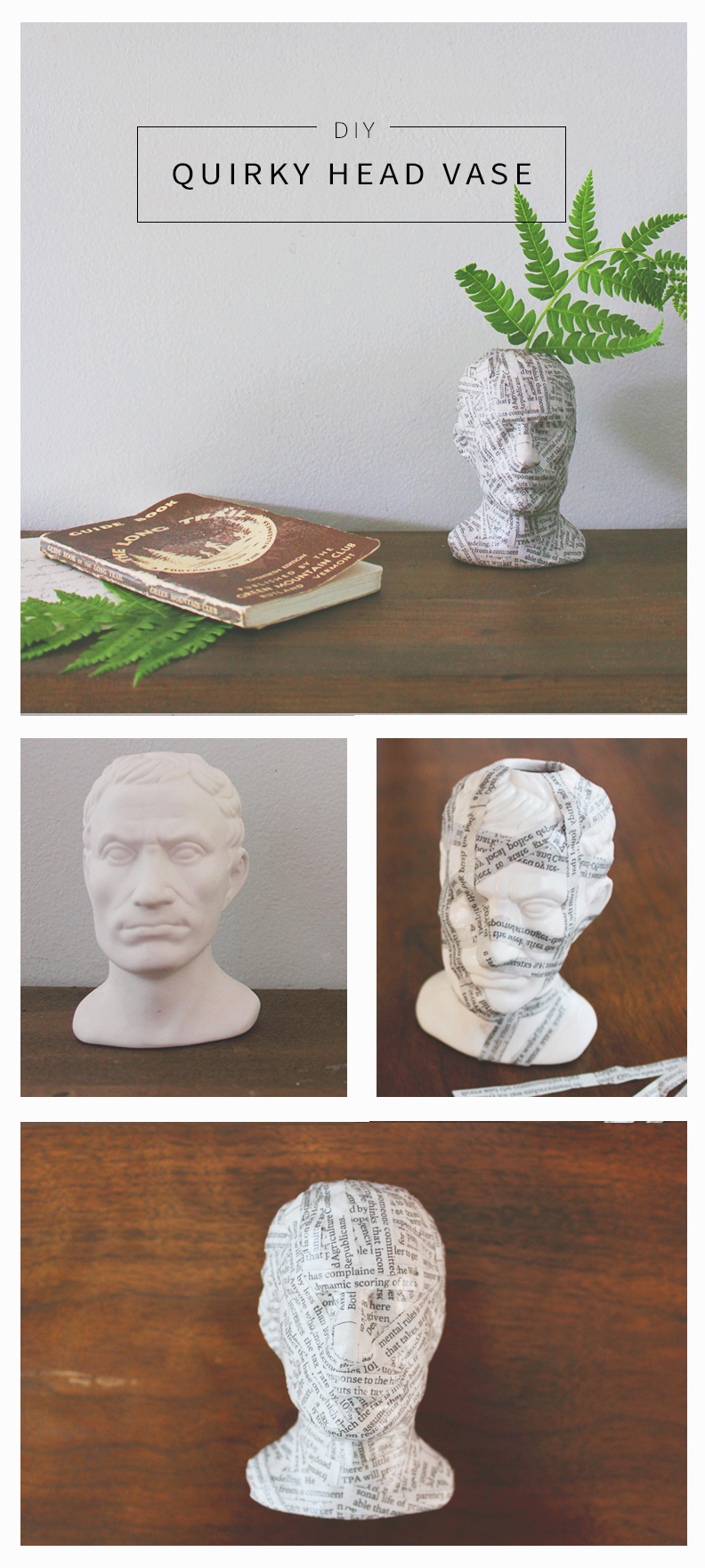 First, cut out strips of newspaper about 4″ long, and as wide as two lines of text. Apply randomly to the head in all directions using this method:
Paint mod podge onto a small area of the head, press the middle part of a newspaper strip onto it, and then cover the affixed area with mod podge. Repeat the process down each side of the strip, first spreading the glue onto the head, then pressing the paper down, and then painting on top of it.
I found it easier to start in the middle of each strip so that I could better control the area that the paper would cover. Repeat until the entire head is covered, and then seal the vase with two more coats of mod podge.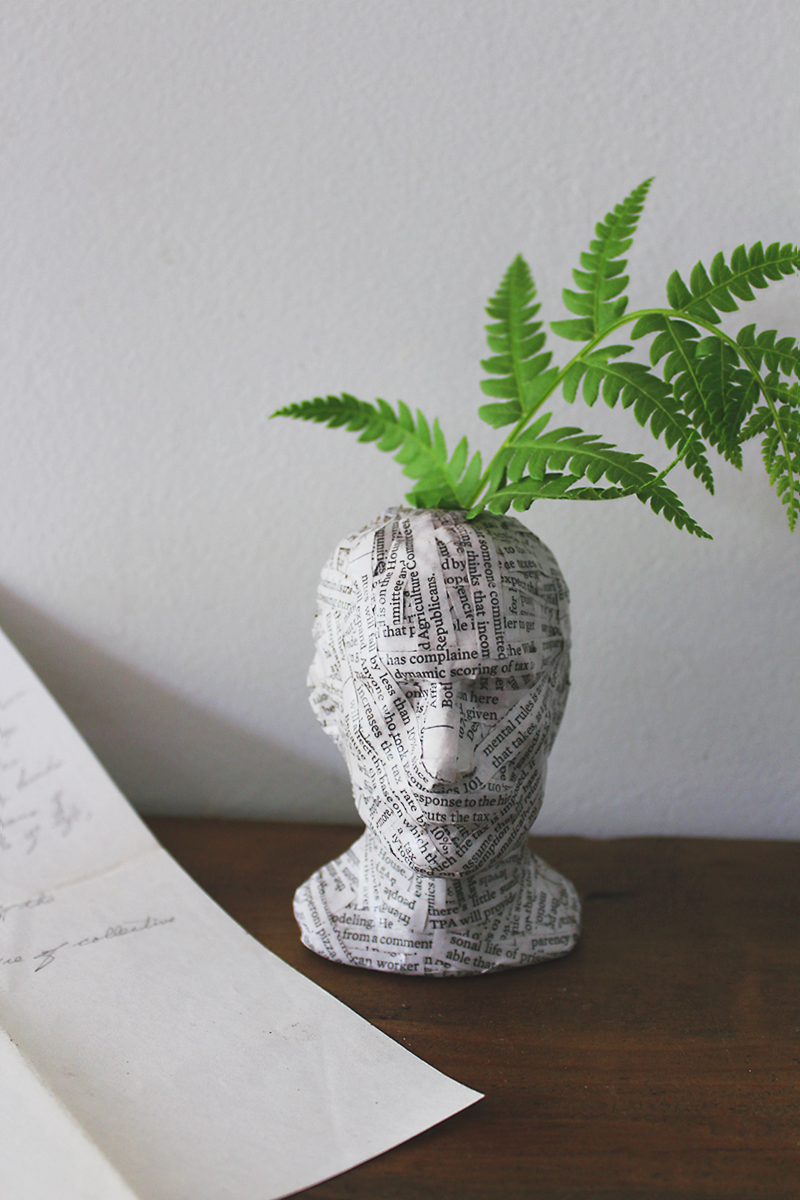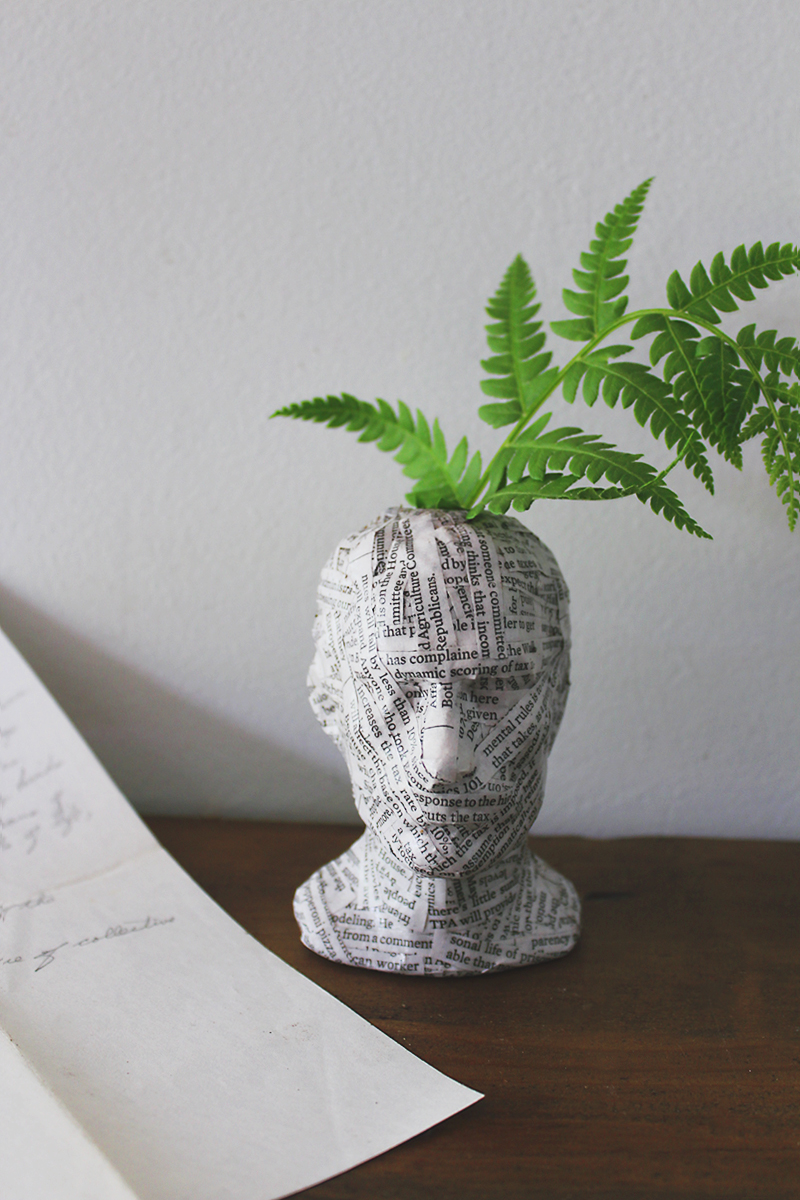 Seriously–that's it! I'm kind of loving the effect of the newspaper over the mouth here. There's this great tension between the freedom of speech that is the newspaper and the suggestion of being trapped and unable to speak. I'm looking forward to displaying him on a bookshelf in our new house!
Visit Annabode for more beautiful and creative decor!
[left]
[/left][right]
[/right]