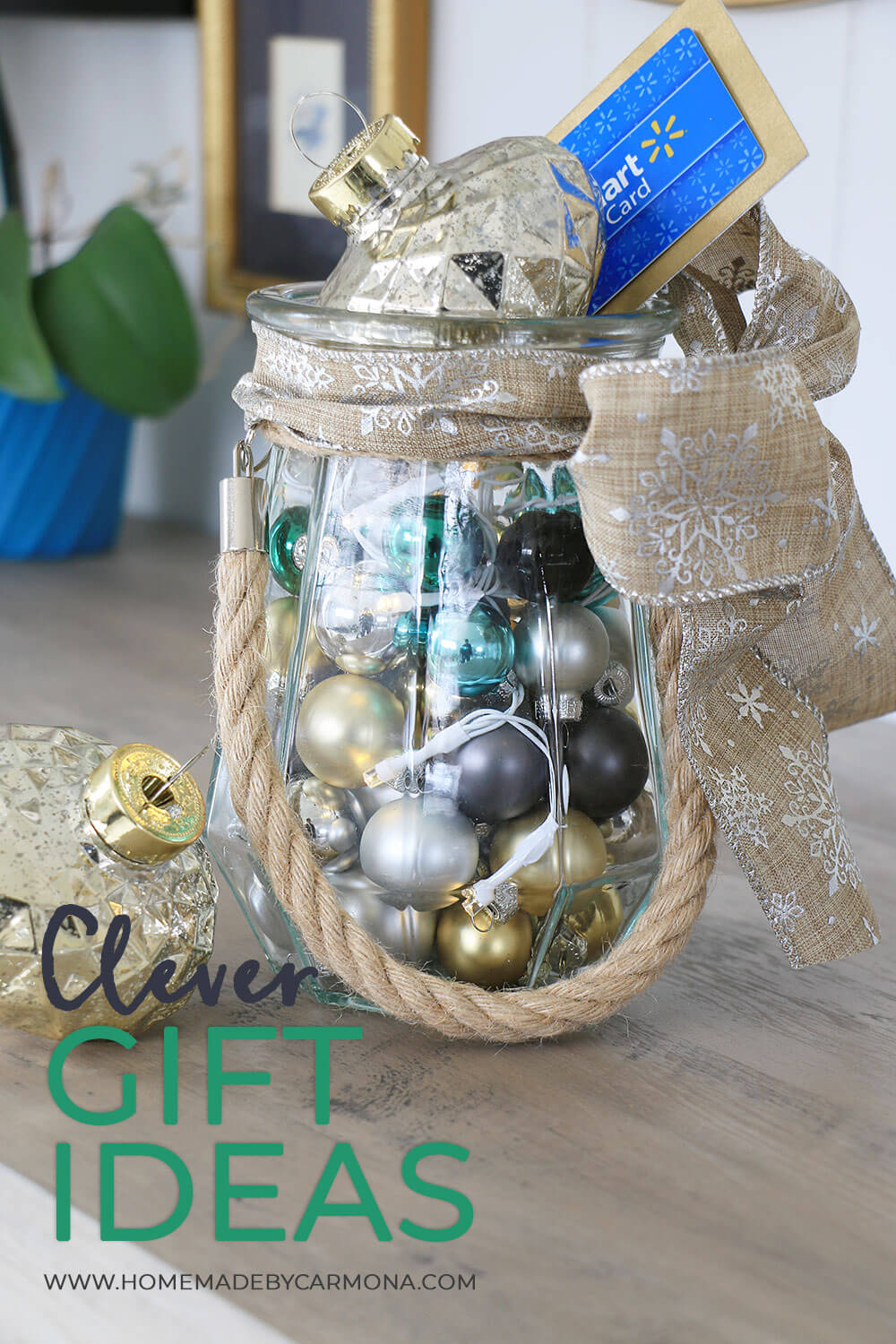 *This post is sponsored by my good friends at Better Homes & Gardens, carried exclusively by Walmart. Woop Woop!
It's that time of year when some of us struggle over gift giving.
Well I've got a few clever gift ideas for you. After all, I'd hate to see you phone it in this year, always make each gift say something special.
Gift For A Young Family
You remember that time in life when the babies were little and you just couldn't shake the shock at how many diapers they could go through, or how expensive diapers were? Yeah, it is all about the budget during that time in life, and Christmas decor can become one of those beloved traditions that becomes a bit of a burden.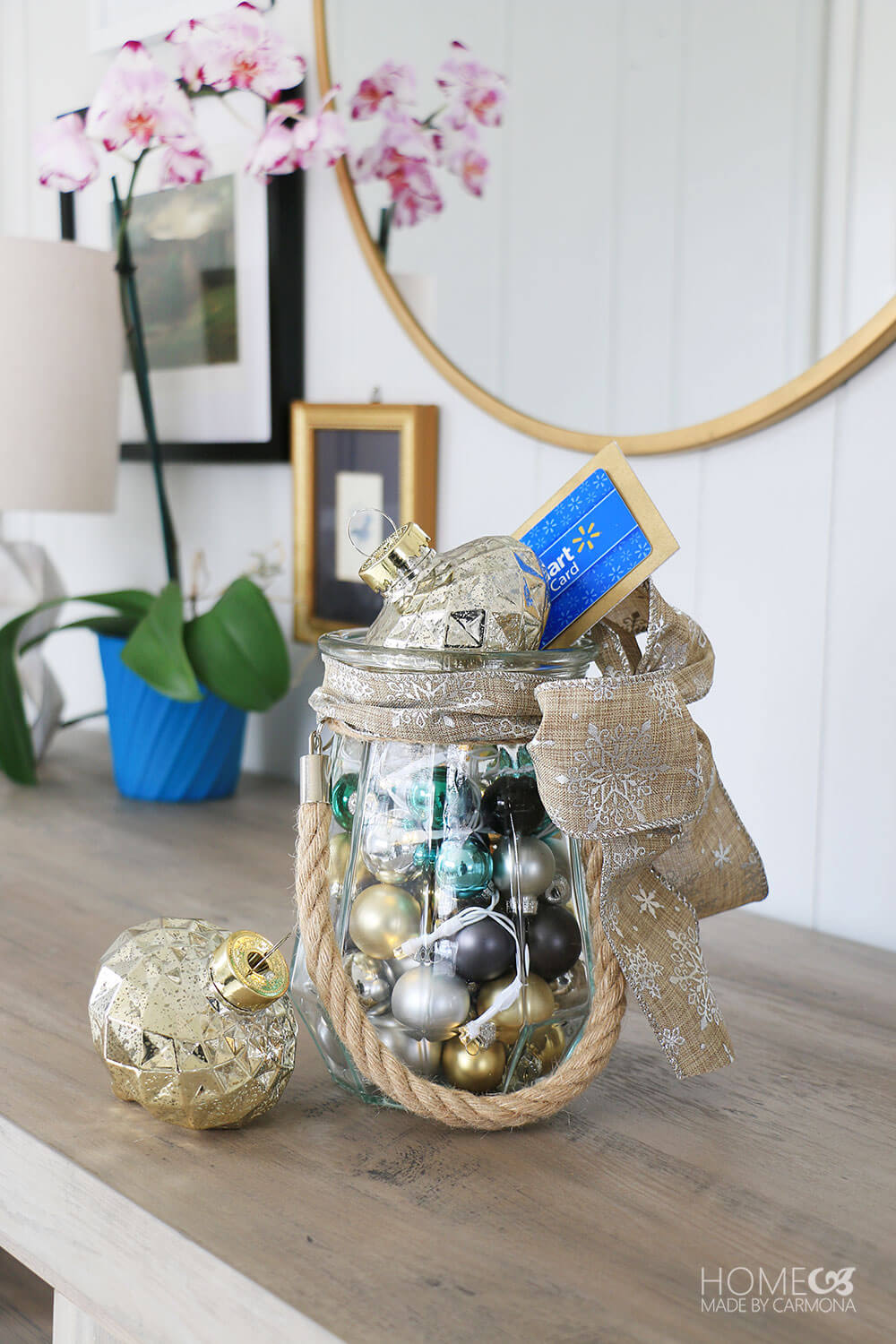 Why not relieve the burden by giving a "The Tree Is On Us" gift? Start with this cute Better Homes & Gardens Glass and Rope Lantern, and fill it with an assortment of small tree ornaments, add in some battery powered lights, and top it off with a gift card that will cover the cost of a Christmas tree.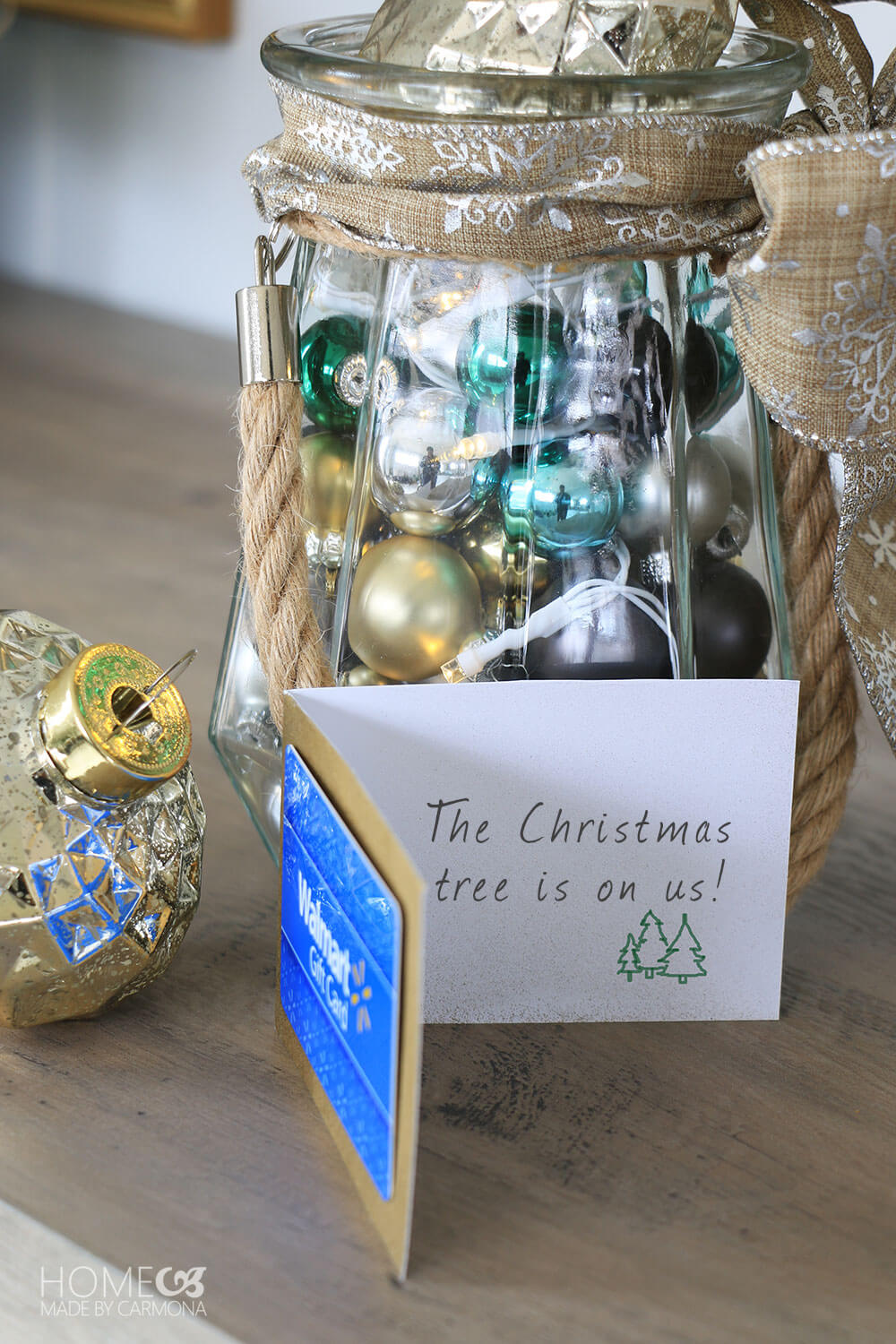 Easy peasy, cute, and such a thoughtful gift.
Trust me, the family will be moved at such a sweet and thoughtful gift. Just make sure you give it before the Christmas decorating season begins.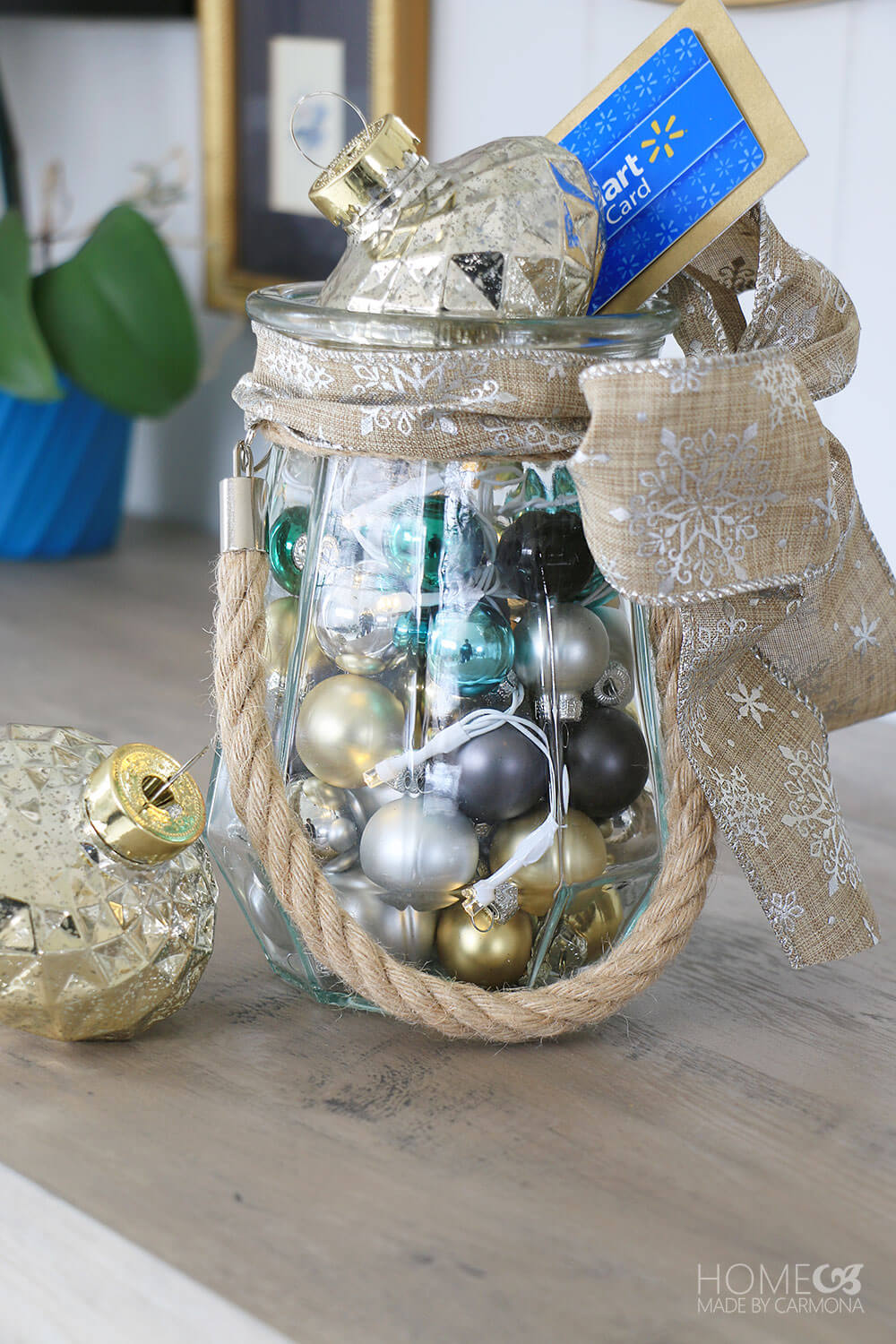 Gift For The Hostess
Show how grateful you are to not be cooking the entire Christmas dinner by yourself with a sweet little hostess gift.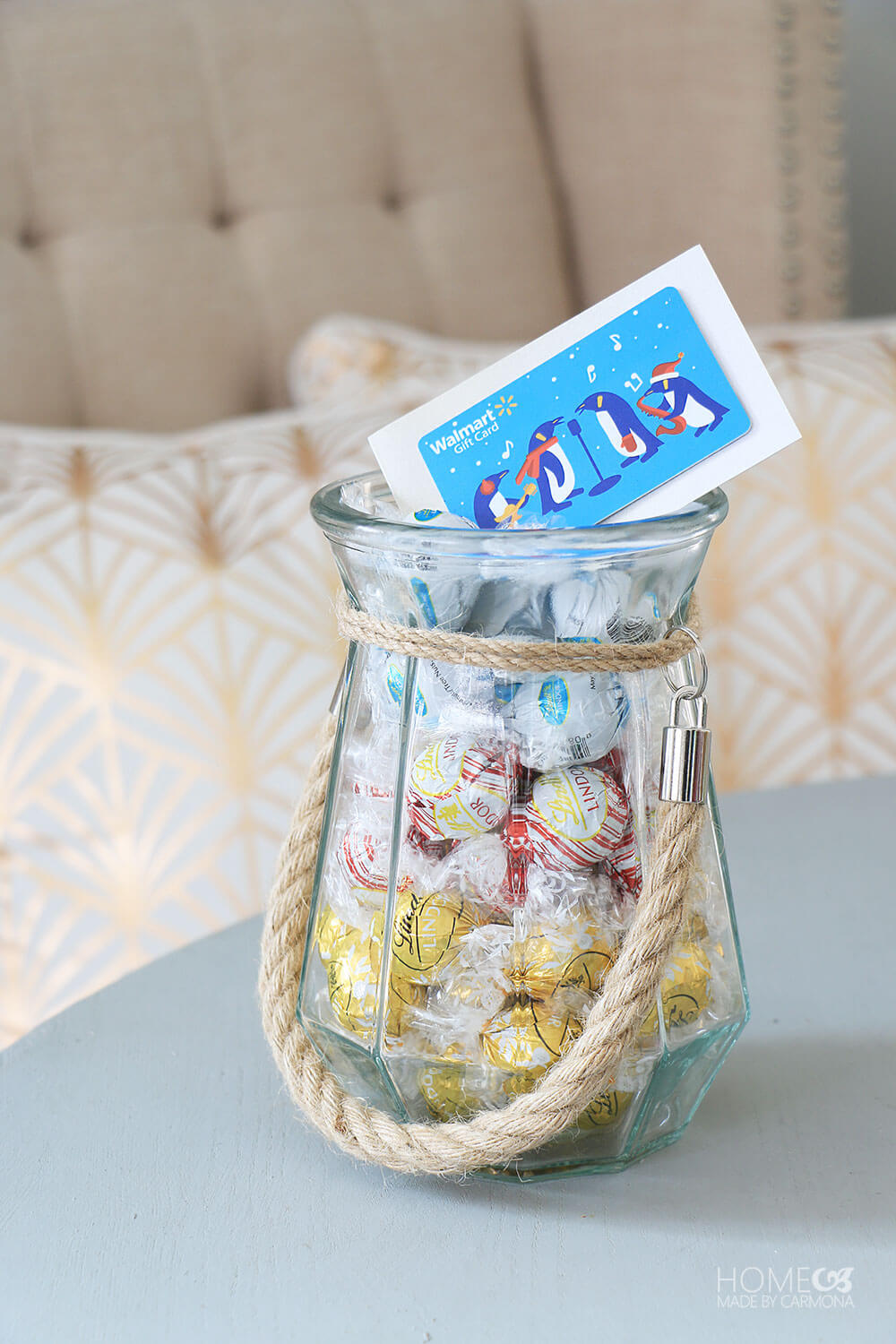 It doesn't have to be super fancy, but who doesn't love a lantern filled with goodies? It's actually a gift for everyone present. Then top it off with a little gift card for the hostess herself…after all, she's doing the dishes.
Gifts For The Kiddoes
Give yourself a gift by giving the kids a Better Homes & Gardens Colette Tufted Storage Ottoman for their toys, and give them a gift by filling that ottoman with goodies they'll love. Something for them and something for you.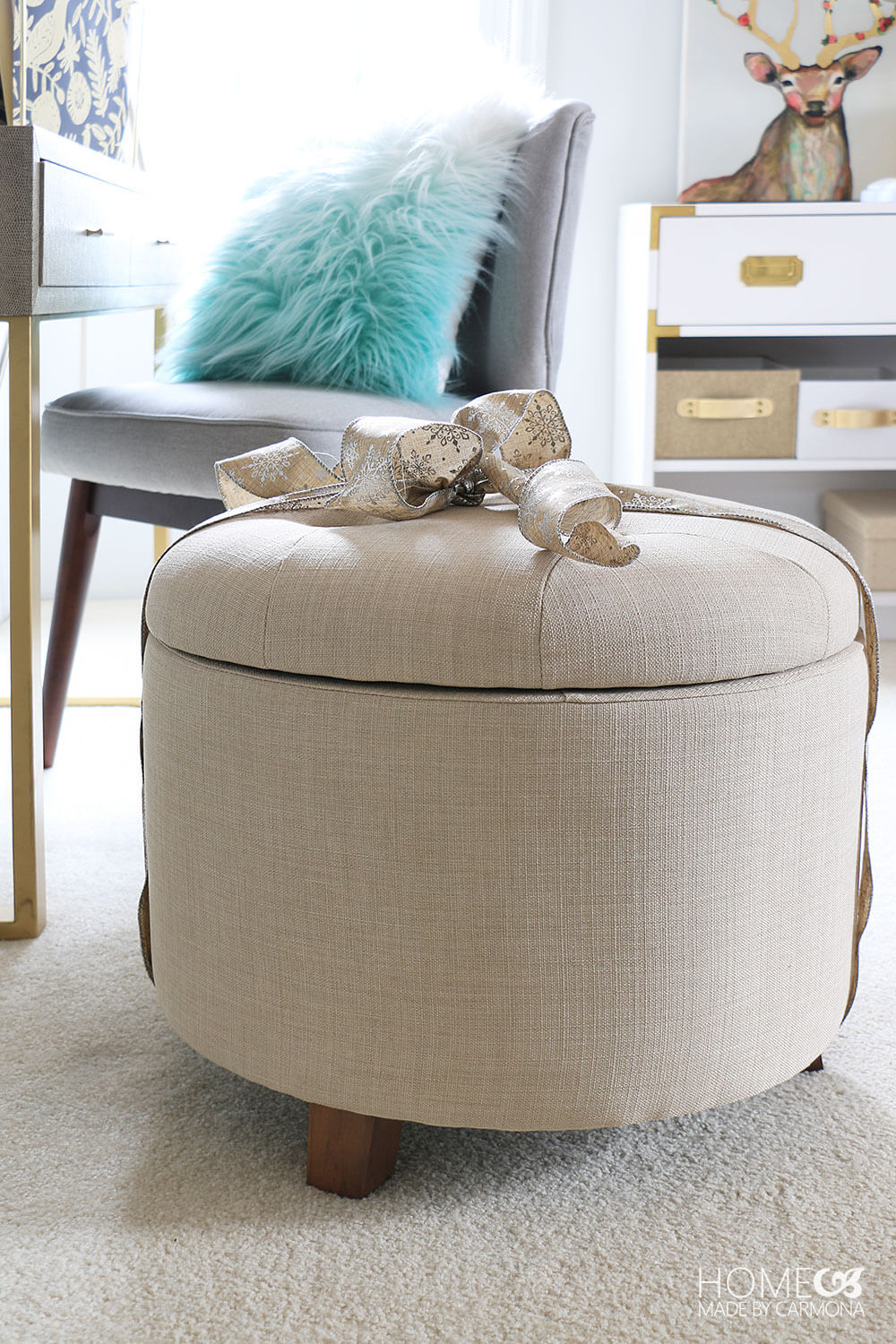 This set is for my youngest daughter…she is at that age where she is still a little afraid of the dark, so the Better Homes & Gardens Elephant Nightlight is both a cute and helpful addition to her room. Plus the cute girly little BHG Sparkle Youth Pillow with tassels, and several soft fluffy stuffed friends she has had her eye on completed the gift set.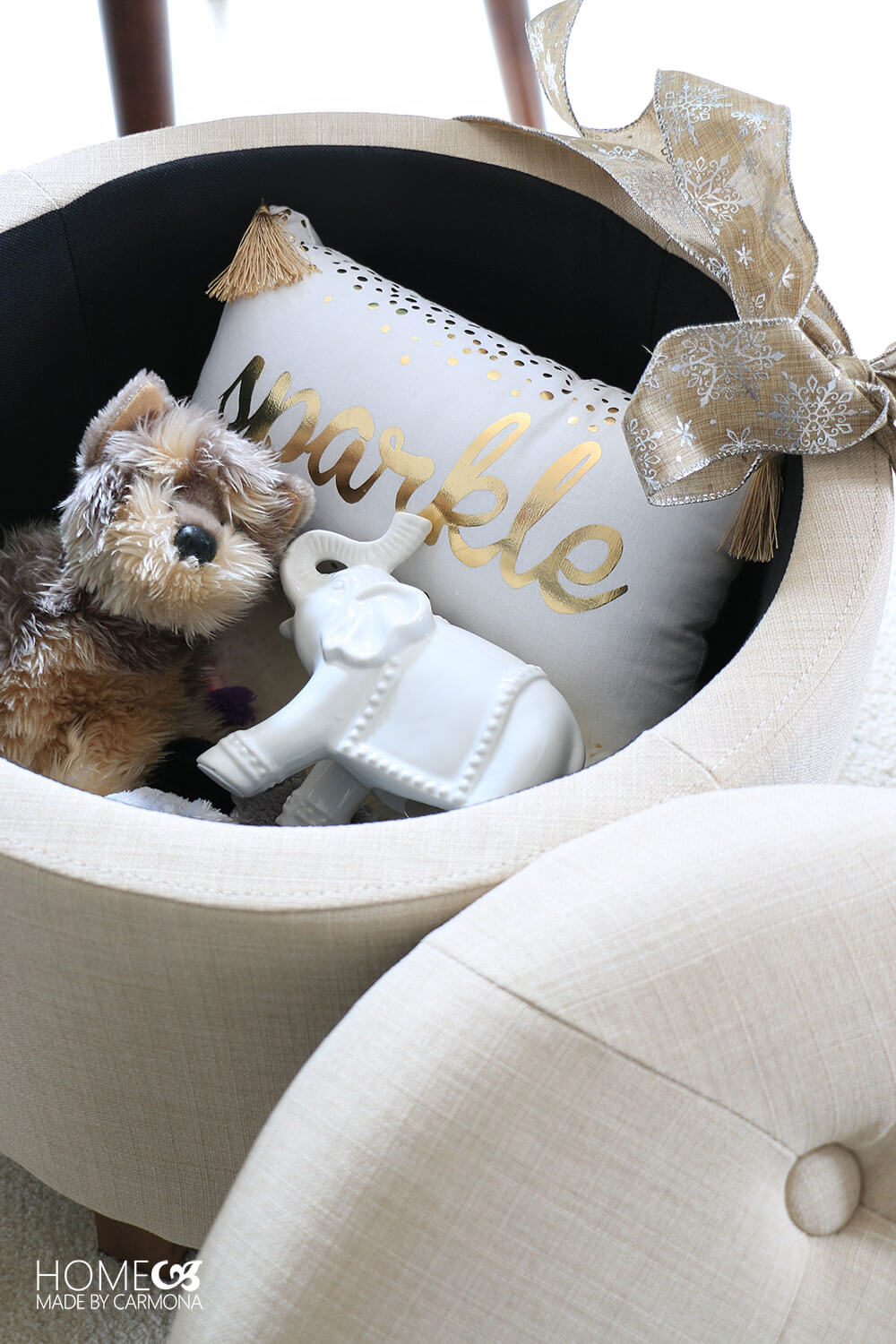 Gifts For Woman (Especially Moms)
We all need a night out, even if it ends up being a night in. So give the gift of a little "spa" package that the women in your life can appreciate.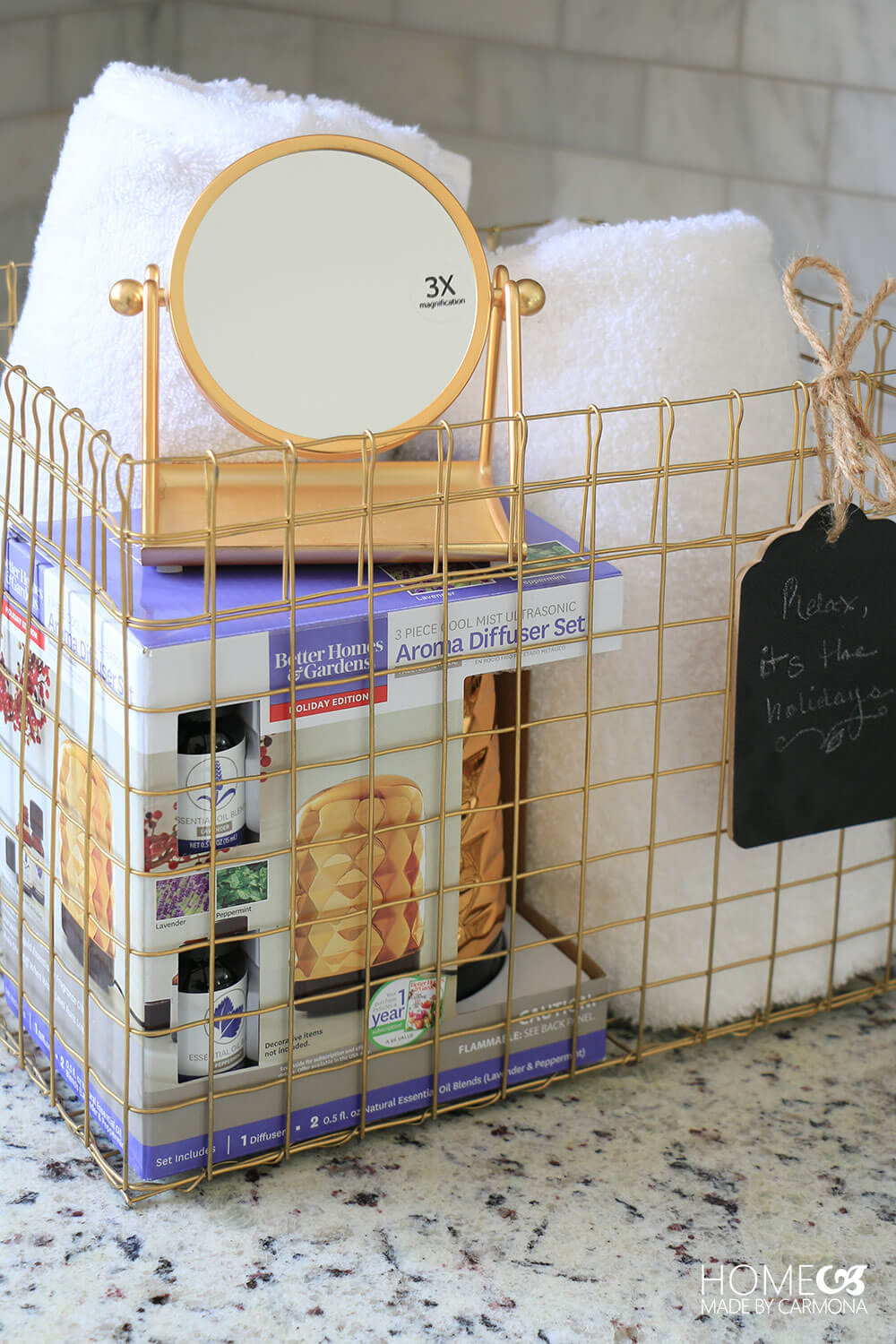 You can customize your basket to whatever you know your friend/sister/mother will love. I went with some bath time items and filled mine with two Better Homes & Gardens plush towels, a gorgeous gold BHG Aroma Diffuser Set (essential oils are SO great for relaxing or what ails), and a mini mirror. In the back I also tucked some fizzy bath salts and a candy bar…because what's a bath set with a candy bar?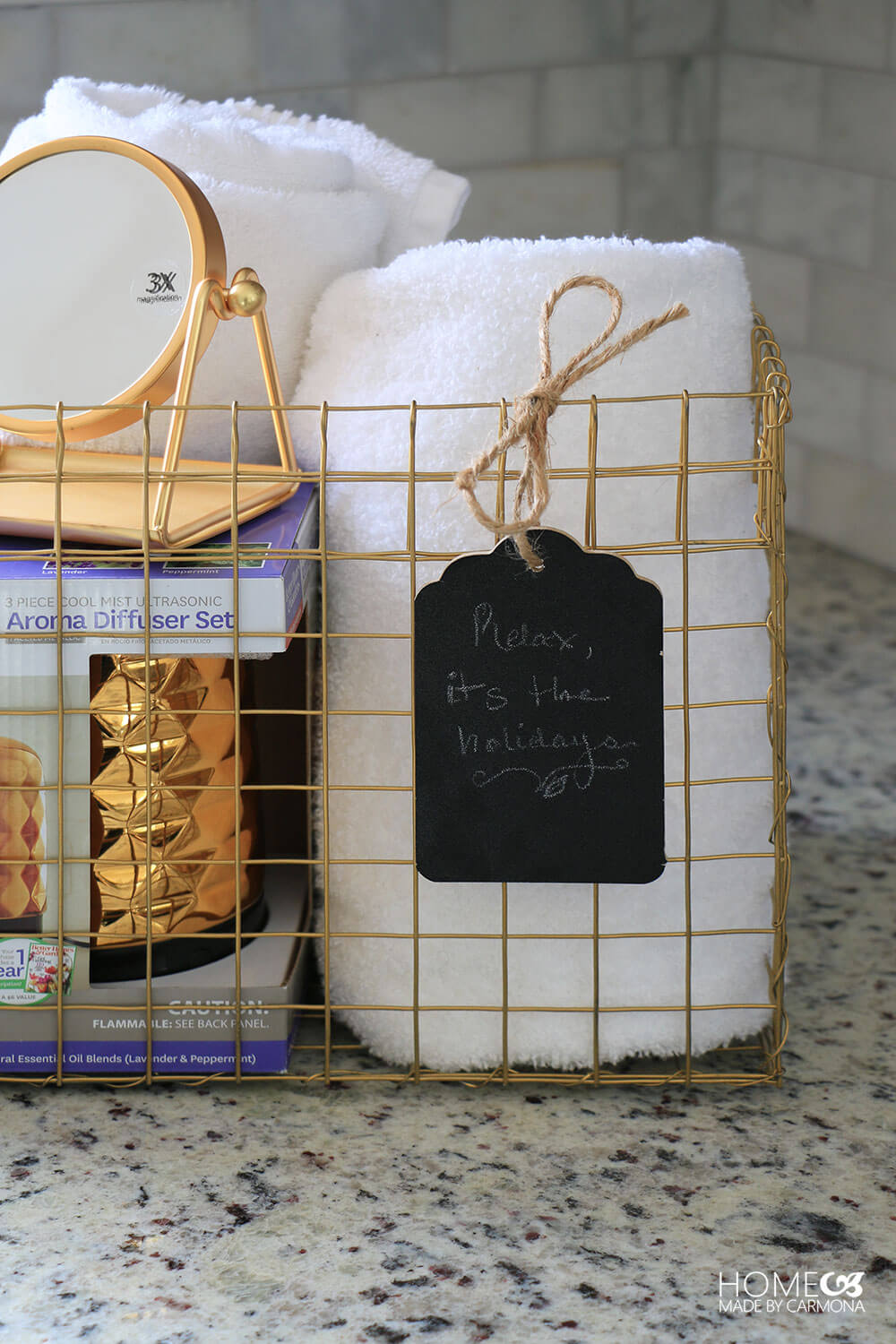 Sweetest Couple Gift
Whether it is for the sweetest couple, or whether you and your darling are that sweet couple, give the gift of a romantic picnic for two.
I included two Better Homes & Gardens Marble Melamine plates, two BHG honeycomb glasses, sparkling juice and some yummy goodies, and finally the BHG vanilla tealights and their black flatware set (found in store)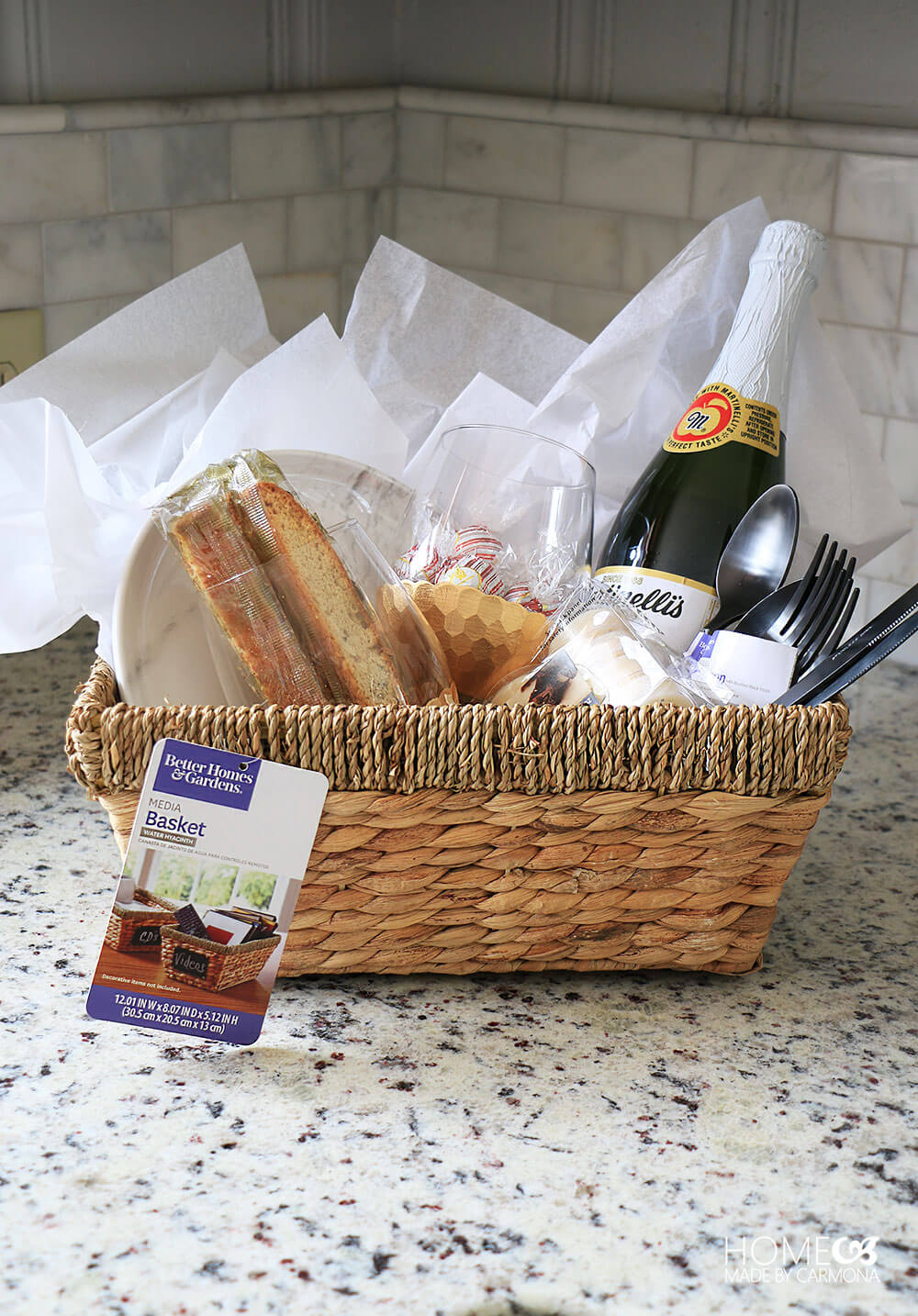 I'm giving this gift to a friend who just got married, I'm thinking about saying on the card "you two are such a sweet couple you make us sick". Haha. No but seriously, it's enough already.


Hopefully some of these ideas will help get you started on your holiday gift giving. Remember, it's actually the thought that counts…so put some thought into your gift if you are going to bother giving one.
Merry Christmas!
[left] I'd like to say a special thank you to my friends at Better Homes & Gardens for partnering with me every month on a new challenge! You can find the BHG brand line carried exclusively by Walmart. Follow BHG on Facebook, Instagram, Twitter, and Pinterest.
**I am honored (and excited!) to be part of the Better Homes & Gardens Live Better Influencer network, and am compensated for sharing a few of my favorite things, projects, opinions, and my own original ideas with you.